Stunning home on 10 acre ranch style property with "Bewitching" views of Zion. Private river access for swimming and relaxing. Large lawn areas, fire pit, and basketball court for fun and games. Views of horses grazing, wild turkeys in the morning, and ducks in the yard. Private entrance and parking. 2.5 miles to Zion with first shuttle stop steps away. Come enjoy a quiet escape with nature at its best!
This was an ideal place for exploring zion national park. The springfield shuttle stops just past the end of the drive so was really handy to use. The place is peaceful with beautiful views of the mountains. Richard and his family were so kind and welcoming and keen to help in anyway they could. Staying here feels like you are staying with friends. My children loved seeing the horses and dogs that live here and watching the huge tv after a hard day hiking!
Deborah
2017-04-08T00:00:00Z
Richard has a great place. The rooms are very cozy, clean, spacious and have a rustic charm. The most memorable thing about the stay was regarding the amazing views from the rooms. Waking up and seeing the sun peeking out of the mountains feels so good!
Rohan
2016-11-27T00:00:00Z
This is a beautiful property in a great location! The free city shuttle has a stop a short walk from their door and the host and family are super friendly and helpful. We all loved our stay here!
Mark
2017-04-02T00:00:00Z
From the start Richard was a great host, he made us feel very welcome and answered any questions we had. An amazing view and great location with easy access to the shuttle. Rooms were clean and well stocked with toiletries and towels. Would highly recommend a stay at Richard's place!
Louise
2017-04-04T00:00:00Z
Richard and his family were very accommodating. Offered information, was easy to talk to, and great to visit with. Space for stay was private, safe, and clean. Richard offered refrigerator space as well as the use of his family kitchen in order for us to make dinner so that we didn't have to eat out every night that we stayed. Very polite and inviting people. Thanks for everything!
Jessica
2017-03-23T00:00:00Z
This is a wonderful home and fantastic location to reach Zion Canyon. Richard and his family are amazing hosts, providing a beautiful and clean home with plenty of room for a family to spread out and relax! The best thing was the local knowledge that Richard was able to provide on trail information, particularly the beautiful Kolob Canyon area!
Tanya
2017-01-15T00:00:00Z
ประเภทห้อง
ห้องส่วนตัว
---
ประเภทที่พัก
บ้าน
---
พักได้
7
---
ห้องนอน
สปริงเดล, ยูทาห์, สหรัฐอเมริกา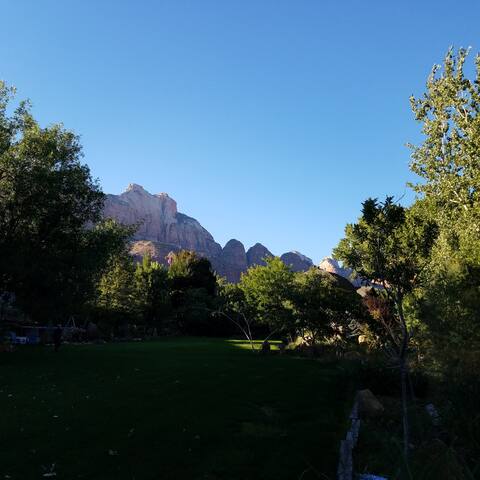 One of six identical townhomes in the heart of Springdale. Let our beautiful new townhomes be your vacation center for your trip to Southern Utah and Zion National Park. Each 1200 square foot townhome has a living room, kitchen, dining room, 2 bedrooms and 2.5 baths. Two queen beds with a pull out queen sofa sleeper in the living room. Less than 400 feet to the nearest shuttle stop. Located next to the market easy walking distance to shopping and restaurants. No smoking allowed.
We had the most amazing stay at Springdale Townhome #4! The apartment was as advertised and absolutely spotless. One feature to emphasize is the large balcony off the back bedroom. The view from the balcony is gorgeous and, 6 of us spent every night up there visiting under the stars. The location is conveniently across from the town grocery store and easy walking to the restaurants and shops in town. It's also a quick walk (3-4 min) to the town shuttle. We plan to stay here again and would highly recommend this townhouse to others.
Dawn
2016-06-23T00:00:00Z
This is the perfect place to stay when visiting Zion! Great place to unwind after a long day of hiking. We found ourselves on the back patio or deck in the mornings and late afternoon enjoying the views. It was walking distance to the town and town shuttle. And super close to the park! We loved our stay here!
Kristina
2016-09-27T00:00:00Z
Nice home for a couples or group vacation. Looks just like it's advertised. Easy access to Zion.
Terrence
2016-07-20T00:00:00Z
The property is in a nice and safe area close to city shuttle, restaurants, and grocery store. The property is very neat and clean with all the necessary amenities. Matt was very prompt In replying.
Ganapathy
2016-08-07T00:00:00Z
The townhouse was perfect, very clean. It was well stocked with everything we needed. Grocery store on the corner was very convenient. Close to bus stop.
Richelle
2016-07-17T00:00:00Z
Our stay at this lovely townhouse was wonderful! The entire home was spotless and the location was perfect. We walked to dinner both nights and made a quick and easy stop at the market which was a one minute walk up the street. Matt always responded right away whenever I had a question and even came to the home immediately when I had a question about the TV operation. We loved how the shuttle stop to take us to Zion was so close. Of particular note about the location of the shuttle stop - it is one of the first stops when traveling TO the Zion entrance so you will always have a seat. We noticed that the shuttle filled up as we picked up other passengers along the way and our shuttle was so full that the driver did not stop at some stops along the route because there was no room - another great convenience regarding the townhome location. The beds were very comfortable. In fact, both couples said that it was the best night's sleep out of the entire vacation! Thank you, Matt, for sharing your great townhome! Anne Davidso(URL HIDDEN)
Anne
2016-10-09T00:00:00Z
Springdale is a real cute town. Location of the townhouse is fantastic and walk able to near by restaurants and shops.
Sujaya
2016-07-06T00:00:00Z
The host canceled this reservation 35 days before arrival. This is an automated posting.
Ross
2017-03-02T00:00:00Z
ประเภทห้อง
บ้าน/อพาร์ทเมนท์ทั้งหลัง
---
ประเภทที่พัก
บ้าน
---
พักได้
6
---
ห้องนอน
สปริงเดล, ยูทาห์, สหรัฐอเมริกา
Nama-Stay is a journey and a destination, a genuine place nestled in the giant sand stone formations of Zion National Park. A home of Zen, richness, and wide-open views, at the end of Juniper Lane in Springdale, UT, just a 1/2 mile from the entrance of Zion National Park. At elevation of 3900 feet (1200 m), this beautiful home gives you the comfort of a sanctuary while you explore and enjoy the natural beauty of Zion National Park. From Nama-Stay you can reach almost everything within 5 minutes: the park entrance, shuttle buses, grocery store, restaurants and an array of outdoor adventure activities, and still get a sound silent sleep. What you are getting at Nama~Stay is an experience, a symbiosis that is created between nature, Nama~Stay and the people who visit this place. Nama~Stay is: - a home, for soulful stay, play and practice - a pure energy place, that often brings out the best in people - a ideal place for small retreats and gateaways - a great refuge place for leaders and creators - a wonderful place for families who like to play in nature and rejoice as a family in oneness - a nurturing place to encounter awareness and conscious growth - a great place to exchange wisdom and get inspired with new ideas Simple, beautiful amenities: • 3 bedrooms - Quanyin's Healing room with double and twin beds - Temple View with king bed, and the Sun Sanctuary with two queen beds. • Stowaway queen futon, stowaway double bed, and queen-size pull-out couch. • 2 1/2 baths • beautiful courtyard and outdoor patio spaces • gas grilling area within private Mondell Pine patio • private, off-street parking for all cars • powerful heating and cooling system • WiFi and ethernet access to the internet • Full amenity kitchen with stainless refrigerator, dishwasher, 4 burner stainless cooktop, triple sink, double batch oven, baking and cookware, settings for 8 persons. (No Microwave) Pricing: • $450/night, plus local sales tax of 12.9%, EG: $510.00 with tax. • Stay 7 nights and the only pay for 6 nights. EG: $3217.65 (with cleaning fees) • $150 cleaning fee plus tax, EG: $170.00 • $250 security deposit (held by AirBnB)
Juniper Lane is right in the center of town, yet very quiet. Nama-Stay has an especially secluded feel with a large backyard and uninterrupted views of the Watchman and Johnson Mountains.
My brother and I came to Zion for a creative retreat and we could not have been happier with Nama-Stay and our hosts. The house is right off of the main road in town, with a great grocery store on the corner, but once you are in the house, it's very private with spectacular views of the mountains. I hope to visit Zion again someday and, if I do, I hope Nama-Stay is available!
Gregg
2014-01-18T00:00:00Z
The photos do not do justice. The high ceilings and open airy home was a perfect place for us to spend our first of what may become a new tradition to visit Nama Stay. The view from the ceiling high windows provide a classic view from sunrise to sunset. Not only is the home a perfect sanctuary after a day of hiking, it's a perfect place for our family to gather for meals and just be together. The open flow of the kitchen to loving space allowed us to easily congregate and with the views from the living room and dining area kept us happily enjoyingeach other's company or quiety reading or just admiring the views. The bedrooms and closets were ample and every space was absolutely immaculately kept. The space felt calm and in harmony with the natural landscape. It is a most inviting home. But as important as the home is it's location. Incredibly convenient to restaurants, the market and to the entrance to Zion, it's tucked away enough to provide us with total privacy and quiet. And most important, Catrin and Jonathan. The hosts. Not just hosts, the best resource to Zion and the surrounding area. But that too doesn't adequately describe them. Catrin is the most responsive person patiently and quickly responding to all my many queries. We went to the best hikes, ate great meals and even tasted fresh eggs from the hens at Nama Stay. Warm genuine friendly hosts who provide a wonderful space and haven with all the amenities that one would need plus a spectacular view. We knew we made the right choice the moment we entered the driveway and was greeted by Catrin.
Carol
2017-04-06T00:00:00Z
Nama Stay was everything we could have imagined, and then some. We had a magical week that was highlighted by this 'home away from home'. Catrin and Jonathan are the most gracious hosts, and made us feel not only welcome but as if we were family. The house itself is in the bets location possible. Steps away from the center of Springdale, but so quiet that you can't even hear a car pass by. The property has magnificent mountain views from both the inside of the house, and the expansive lawn. The house itself leaves nothing to be desired. it has EVERYTHING you can imagine, from big to small, including some surprises you didn't imagine, like genuine drums and gongs that add to its mystical feel. The house has all the amenities and facilities of a modern house, including washer, drier, dish washer, central heat and A/C, fast WiFi internet, HD TV, etc, but maintains its rustic feel, mainly due to its subtle decor, and exposed wood, 15' ceilings, that makes you feel like you're in the mountains. This is truly a gem, and we can't wait to come back.
shay
2016-04-30T00:00:00Z
Our host, Catrin, was amazing. She made everything so easy. She suggested we stop at one of the large grocery stores we passed on our way to Springdale, which was a big help. We were in contact re our arrival time and she met us when we pulled into the driveway. She responded immediately to all our inquiries, whether by text or email. Likewise, she made great recommendations re hiking and things to do in all types of weather. She was a pleasure to work with. She made us feel very comfortable and welcome. I have already recommended her home to friends who are contemplating a similar trip next summer. FYI, this was my first airbnb experience. It was so positive I plan to use airbnb as often as possible for my future travels!
Mary
2014-08-16T00:00:00Z
A wonderful stay in Springdale! We appreciated Catrin's warm welcome and help thru out our stay. It was a perfect location to walk to everything you needed in Springdale and extremely close to the park. The house is spotless! I recommend a stay at Nama-Stay vacation home to a family or couples traveling to Zion. Catrin even suggested a fantastic hike that we did 2 days in a row. Thanks so much for your lovely home!
Kathleen
2015-03-13T00:00:00Z
The house is beautiful and spacious, with gorgeous views from the back yard. Jonathan and Catrin were wonderful hosts. Jonathan also happens to be a professional outdoor and canyoneering guide. Besides recommending hikes for us, he took my husband and teenagers on a terrific canyoneering day trip in the area. (We arranged this separately from airbnb.) We hope to return before too long!
Nina
2015-04-08T00:00:00Z
Everything about Nama-Stay was what we were hoping for, and more. This truly is a special house, and I couldn't recommend it more! Nama-Stay is right in the middle of Springdale, one minute away from the grocery store, maybe a three minute drive from the entrance to the park, and yet it manages to feel private and peaceful. The house is beautiful, spacious and light, facing the most spectacular close-up view on the red mountains. It's divided in beautiful spaces which manage to feel both cozy and open, spotless, essential in the best possible way. We also loved the gongs, and the little zen and feng shui notes. Catrin was absolutely wonderful, too; welcoming, helpful, we just wish we had more time to talk to her and her husband Jonathan (and we'd love to go canyoneering with him, it sounds amazing!). What a wonderful stay, I couldn't recommend Nama-Stay more, and I hope to be back sometime!
Martin
2013-10-16T00:00:00Z
Nama-Stay was a beautiful oasis at the entrance of spectacular Zion. Its high ceilings and huge windows were wonderful to return to after a day of hiking in the park. Catrin, Jonathan and Massimo were excellent hosts, providing hiking suggestions (complete with maps!), restaurant recommendations, and advice to maximize enjoyment of the amazing park. I had a wonderful time and would love to go back.
Crystal
2012-10-20T00:00:00Z
ประเภทห้อง
บ้าน/อพาร์ทเมนท์ทั้งหลัง
---
ประเภทที่พัก
บ้าน
---
พักได้
8
---
ห้องนอน
สปริงเดล, ยูทาห์, สหรัฐอเมริกา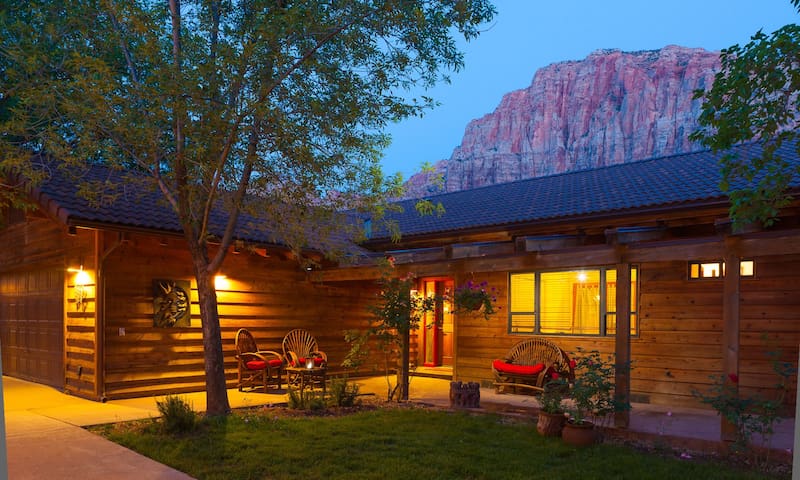 Located on beautiful Virgin River, on shuttle route to Zion National Park. Walk to local Zagat Rated restaurants. Park like back yard next to river with access for floating river. Beautiful new home with top quality amenities.
Only vacation rental home with private pool and river access on shuttle route into Zion National Park
I stayed at Riverside with some friends during a recent hiking trip. Victoria made the whole check in process super simple and was extremely accommodating. The house was even better in real life, an amazing place to come back and relax in after a long day of hiking. I'll definitely be back!
Dimitri
2016-08-15T00:00:00Z
The reservation was canceled 113 days before arrival. This is an automated posting.
Daniel
2014-06-17T00:00:00Z
Victoria was very understanding and patient with our team. She communicated exceptionally well and I appreciate her efforts to work with us.
Lisa
2015-04-13T00:00:00Z
The host was there to greet us when we arrived and showed us all the things we needed to know about the house and various amenities that it included. The pictures don't do this house justice. It is more beautiful than we could have ever imagined. The host had all the local hiking, mountain biking, and eatery information that you could possibly need. When we walked in the door, it was like walking into a day spa with an indoor fountain and the mellow music to go along with it.
Greg
2015-09-08T00:00:00Z
This is the place for a relaxing and recharging experience at Zion. We spent the weekend here during the Zion half marathon and it was heaven.
Gary
2017-04-04T00:00:00Z
ประเภทห้อง
บ้าน/อพาร์ทเมนท์ทั้งหลัง
---
ประเภทที่พัก
บ้าน
---
พักได้
8
---
ห้องนอน
springdale, ยูทาห์, สหรัฐอเมริกา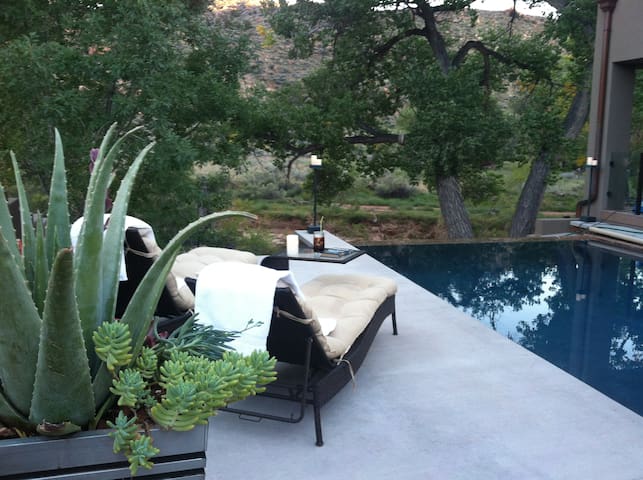 One of six identical townhomes in the heart of Springdale. Let our beautiful new townhomes be your vacation center for your trip to Southern Utah and Zion National Park. Each 1200 square foot townhome has a living room, kitchen, dining room, 2 bedrooms and 2.5 baths. Two queen beds with a pull out queen sofa sleeper in the living room. Less than 400 feet to the nearest shuttle stop. Located next to the market easy walking distance to shopping and restaurants. No smoking allowed.
Great place. Enjoyed our stay immensely.
Andrew
2017-04-08T00:00:00Z
Great location, very comfortable unit, will consider for future vacations!
Ruth
2017-03-18T00:00:00Z
Had a wonderful time visiting Zion for the first time. Stayed at a central location with superb accommodations. Matt's read ahead information enabled us the opportunity to maximize use of the trails within Zion and Springdale. Thank you for the rental convenience and ease with the process Matt.
Edwin
2016-12-28T00:00:00Z
Perfect location central to grocery store restaurants and park entrance. Matt was very responsive and a pleasure to work with. Would stay here again.
Jim
2016-11-25T00:00:00Z
Great central location in Springdale
Fergus
2017-04-02T00:00:00Z
Excellent townhouse, great location, awesome amenities and we would certainly stay there again. Matt was easy to contact. Meme's Cafe has excellent food and brilliant service and is just a minute's walk away.
Glenn
2017-02-12T00:00:00Z
Great host, amazing location close to the park. I would highly recommend this place.
Giulietta
2017-03-05T00:00:00Z
ประเภทห้อง
บ้าน/อพาร์ทเมนท์ทั้งหลัง
---
ประเภทที่พัก
บ้าน
---
พักได้
6
---
ห้องนอน
สปริงเดล, ยูทาห์, สหรัฐอเมริกา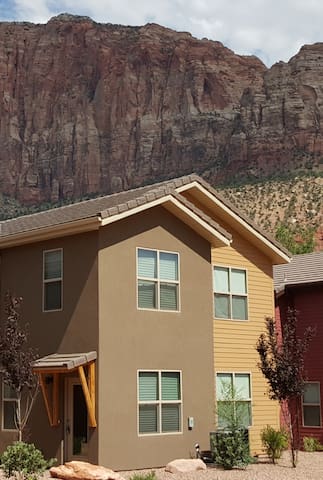 Atemberaubende Hause auf 10 Acre Ranch-Stil-Eigenschaft mit "Bezaubernde" Ansichten von Zion. Privater Zugang zum Fluss zum Baden und Entspannen. Große Rasenflächen, eine Feuerstelle und einen Basketballplatz für Spiel und Spaß. Ansichten der Pferde weiden, wilde Truthähne am Morgen, und Enten auf dem Hof. Eigener Eingang und Parkplatz. 2,5 Meilen nach Zion mit ersten Shuttle-Haltestelle Schritte entfernt. Kommen eine Erholung genießen mit der Natur an seinem Besten!
Great place, very close to the park and local joints. We had a great time in the park and loved getting to talk to Richard's family while we were there.
Henry
2017-03-15T00:00:00Z
Everything was perfect! Perfect location, accomandating host family, comfortable bedding. Ideal place to stay for a perfect Zion visit
Daixuan
2017-03-16T00:00:00Z
Although our trip to Springdale was quite short, my boyfriend and I had a comfortable stay with Richard. I wish we could have stayed longer in this cute town right at the foot of Zion!
Fiona
2016-10-23T00:00:00Z
Richard's place is great! My husband and I stayed here for 2 nights when we visited Zion NP this thanksgiving. We had a really comfortable stay. Richard and his family let us use their kitchen to fix lunch and get hot water. That really made our stay more comfortable than a hotel. His home is walking distance to the springdale shuttle stops that go into Zion national park. There are many restaurants and shops on the way. Awesome views from the house and option to grill and watch movies: if someone is looking for that kind of fun! We had a nice time. Hope this review helps!
Neha
2016-11-27T00:00:00Z
Great location close to Zion and very comfortable accommodations. Had a very pleasant stay!
Katie
2016-10-07T00:00:00Z
Richard's place provides the perfect location to Zion and to the lovely town of Springdale. Comfortable and welcoming.
Heather
2017-01-14T00:00:00Z
Richard and his family were amazing hosts- despite having delayed flights and a continuously changing arrival time, they were able to accommodate above and beyond. The home is beautiful and cozy. It's a perfect spot for a trip to visit Zion. Located town just outside the park, it's a less-than-5-minute cruise down the road to awesome local restaurants and coffee shops. We'll definitely be back again!
William
2016-12-21T00:00:00Z
Richard went out of his way re-configure his two separate listings into one single rental for us. We thoroughly enjoyed our stay. Even though the kitchen is shared with the family we felt very welcome to use it and made all our meals there.
Vishakha
2016-12-28T00:00:00Z
ประเภทห้อง
ห้องส่วนตัว
---
ประเภทที่พัก
บ้าน
---
พักได้
3
---
ห้องนอน
Springdale, Utah, US, ยูทาห์, สหรัฐอเมริกา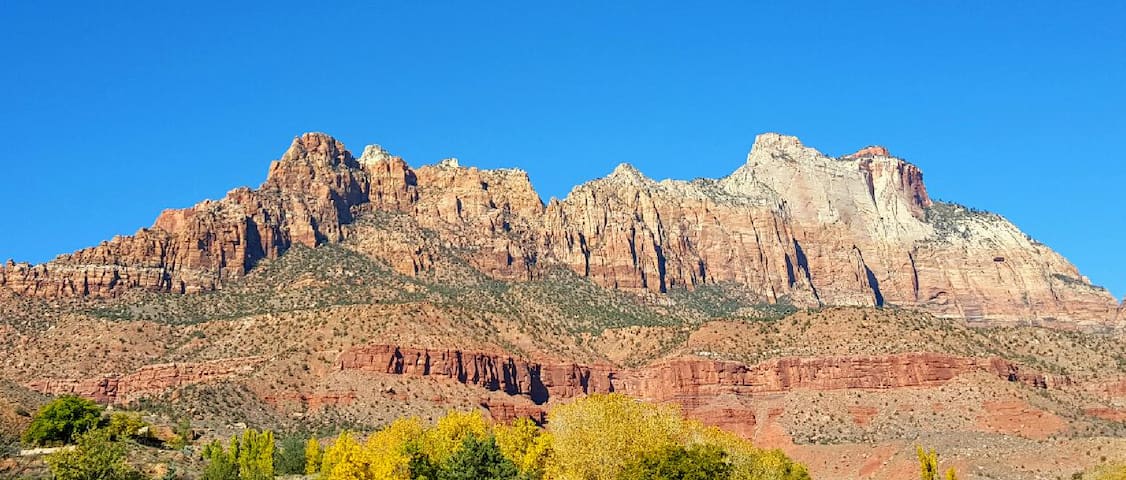 กรอกวันที่เพื่อดูการกำหนดราคาเต็ม มีค่าธรรมเนียมเพิ่มเติม อาจมีภาษีเพิ่ม