Private and comfortable bedroom. Queen bed. Large bathroom. Plenty of parking in driveway. Quiet neighborhood. Just minutes off the freeway at Barstow Rd exit off the 15 going to or from LA to Las Vegas
Private and comfortable bedroom. 1 comfortable queen bed. Large bathroom. Please note that the bathroom is a shared bathroom. Plenty of parking in driveway. Quiet neighborhood. Just minutes off the freeway at Barstow Rd exit off the 15 going to or from LA to Las Vegas.
Safe neighborhood, parking in the driveway that is gated. The neighborhood is very quiet, middle class. Freeway access is literally 10 minutes away. Grocery stores, restaurants, and many other businesses are local within a few miles.
We had a great experience during our stay in Linda's house. The room is comfortable and relax, the bed feels awesome. Linda and her husband prepared breakfast for us and we chatted to each other about fancy things in our daily life.
Gao
2016-01-12T00:00:00Z
Linda and Bob were excellent hosts. They greeted us warmly, showed us the rooms and the house, and went out of their way to make certain we were comfortable.
David
2016-08-03T00:00:00Z
Linda and Bobby were absolutely brilliant hosts, warm, welcoming and friendly and their dog Roxy was gorgeous. The room was lovely but the bed was totally amazing and awesome.
Debra
2016-11-17T00:00:00Z
On a very short notice booking we were made to feel instantly welcome by Linda and Bobby. The bed is extremely comfortable, slept like babies, very quiet. There is an adorable little dog, Roxy who wants nothing more than cuddles. We sat and watched tv in the evening and were made to feel like friends rather than paying guests. The icing on the cake was a delicious breakfast the next morning. We didn't want to leave ! Linda and Bobby were brilliant hosts.
Fiona
2015-11-24T00:00:00Z
They were so warm and comfortable persons, like mommy and daddy. I am sorry, I could not give more great gift. I don`t speak English well, but they had walked a lot of dialog. Thanks to their attention and care. Luxy, Linda, Bobby I will miss you apparently.
혜연
2015-08-10T00:00:00Z
Linda And Bobby were extremely welcoming and made us feel comfortable, relaxed and right at home. The Room was clean and cosy and the bed Super comfortable. We'd just gotten off a flight from Australia so had a perfect 12 hour Undisturbed sleep. The area was quiet and the house easy to find. Breakfast was lovely. We headed off happy and fed. Thank You.
Deannna
2015-11-20T00:00:00Z
Had a great stay! What a lovely couple and super cute dog! We miss Roxy already! Felt very welcome, beautiful house, nice bedroom with a super comfy matrass. Large bathroom. Everything very clean and organized. Delicious breakfast and great conversations. Would definately stay here again.
Marion
2015-08-26T00:00:00Z
Linda was a very hospitable host. The Jenny Room was quiet, clean and cozy. Would definitely recommend to other Airbnb guests. Thanks Linda!
Henny
2016-05-24T00:00:00Z
ประเภทห้อง
ห้องส่วนตัว
---
ประเภทที่พัก
---
พักได้
2
---
ห้องนอน
Barstow, แคลิฟอร์เนีย 92311, สหรัฐอเมริกา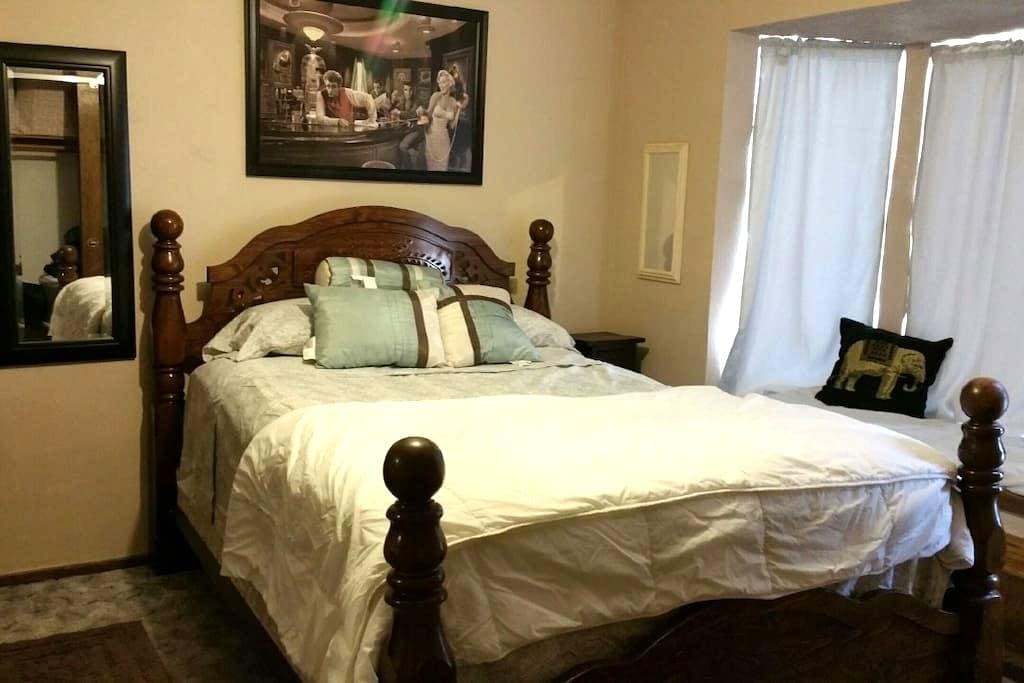 Private and comfortable bedroom. Queen bed. Large bathroom. Plenty of parking in driveway. Quiet neighborhood. Just minutes off the freeway at Barstow Rd exit off the 15 going to or from LA to Las Vegas
Private and comfortable bedroom. 1 comfortable queen bed. Large bathroom. Please note that the bathroom is a shared bathroom. Plenty of parking in driveway. Quiet neighborhood. We are 10 minutes from the freeway, I15 to Las Vegas or Los Angeles and the I40 towards Arizona, at Barstow Rd exit. There's are gas stations just off the freeway, a few places to eat, as well as, a Rite-Aid for your travel needs.
Safe neighborhood, parking in the driveway that is gated. The neighborhood is very quiet, middle class. Freeway access is 10 minutes away. Grocery stores, restaurants, and many other businesses are local within a few miles.
Linda and Bobby are both friendly, welcoming people...we were happy to return and spend another night with them
Chris
2015-03-13T00:00:00Z
I had booked two nights here and extended with an extra night, because I liked it here. Linda and Bobby are nice and friendly hosts that made me feel welcome in their home. They were easy and quick to communicate. Their little dog was very sweet, and didn't bark at all. The bed was good, and I made good use of the desk, chair and Wi-Fi for some work I had to do. Finally, I'll encourage future travellers to checkout the beautiful Rainbow Basin, just 8 miles north of Barstow. Recommended!
Lars
2015-02-22T00:00:00Z
Linda and her husband are wonderful hosts. They welcomed us warmly even in the middle of the night, made sure we are comfortable, and gave us privacy. They treated us with a delicious breakfast making sure that we won't be hungry or thirsty on the way to our destination. Also, their house is beautiful! If you need to stay or spend the night near Barstow, we highly recommend Casa Benavides!
Gergana
2015-07-12T00:00:00Z
Bobby and Linda are just great people. The house is super easy to get to and they are super accommodating. I would recommend to anyone who needs a spot between LA and Las Vegas
Humberto
2015-02-19T00:00:00Z
We only stayed overnight . Linda and Bob were very welcoming. The house was easy and convenient from the freeway. We slept well and Linda cooked us breakfast in the morning.
John Leonie
2016-05-20T00:00:00Z
The only regret we have regarding our stay with the Benavides was not staying long enough! Both Linda and her husband made us feel very welcome and at home, including cooking us a hot breakfast in the morning. The house was lovely, location was good for us as it was close to a grocery store and an easy 10minute drive to the drive in theatre. We only stayed one night but it was perfect for our stop over. Thank you Benavides!
Cassy
2015-10-18T00:00:00Z
Linda was super welcoming -- no complaints. Thanks!
Prahas David
2016-10-10T00:00:00Z
They made us feel right at home and the room was very comfortable ans cozy. Such amazing hospitality. I hope to be able to stay here again if I got the chance.
Lynnsie
2016-12-24T00:00:00Z
ประเภทห้อง
ห้องส่วนตัว
---
ประเภทที่พัก
---
พักได้
2
---
ห้องนอน
Barstow, แคลิฟอร์เนีย 92311, สหรัฐอเมริกา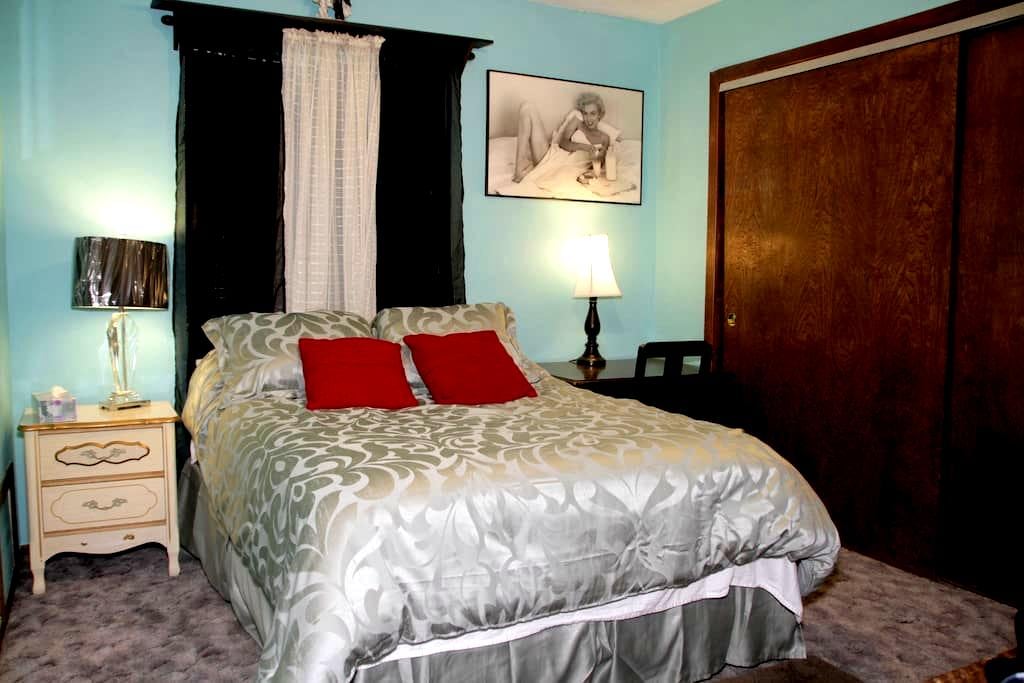 Glamping–a fun and comfortable way to spend a little time in the great outdoors. Start with a camping trip, subtract dirt and discomfort, add a hot shower and kitchenette, and you have a Mojave Desert Glamping excursion.
Glamour + camping = glamping! Come glamp in our beautiful Mojave Desert. This 1987 Terry Trailer has been fabulously decorated and stocked so you can play "pretend camp" while enjoying the comforts of home. This is a great spot especially if you LOVE the desert and need a quiet affordable get-away time. It's really quite nice inside. Designed to have fun with our grandkids, it is VERY kid-friendly. And yes, there's even a full bathroom with a proper flush toilet, sink, and small separate shower. Towels and linens provided. Full kitchen is stocked with the tools you need to cook for your stay. Working gas range, double sink, and fridge. Coffee is provided, plus a few additional snacks. There is a larger charcoal grill and a small propane grill. There are 3 bunk beds suitable for kids or small adults, a nice comfy double bed, and a futon couch. Top bunk has a 150 pound weight limit.
The Glamper is not fancy but it makes for a great base camp for desert exploration. It is on an adjacent lot to our Mojave Desert Get-Away site. Fun winter activities on public lands are nearby for those who like to explore off-road including Rasor Road Off-Highway Vehicle Area, Afton Canyon, and the Rodman& Newberry Mountain Wilderness Areas. If you are traveling to Las Vegas then it's a great place to relax before or after. Check out the newly designated Mojave Trails Monument! The famous Peggy Sue's diner is only a hop, skip and a jump away and Camp Cady Wildlife Area is just down the road for quail & pheasant hunting enthusiast. Check for hunting season regulations before-hand.
Der Aufenthalt war perfekt. Von den selbst gebackenen Cookies, der ausführlichen Hilfe bis zum Camper Komfort alles super. Dazu ein unglaubliches Erlebnis mitten in der Wüste. Kann man nur empfehlen. Danke Rose!
Kevin
2016-03-10T00:00:00Z
Lovely and unique experience in the desert! The camper is well cooled and has all the mod cons you'd need. Good outdoor space and even a pool nearby. A good option for those driving Route 66 or spending time exploring the Mojave Desert.
Thomas
2016-07-28T00:00:00Z
Photos fidèles au lieu. C'était une très bonne occasion de faire du camping dans le désert tout en gardant un certain confort
Fanny
2016-09-25T00:00:00Z
Cute and quaint place, great for families and groups of all size, would come bAck
Narza
2017-01-02T00:00:00Z
Fantastic, perfect, awesome are not enough to describe that place. We really loved it and that was the best night of our trip. If you read this comment I strongly recomend you to book NOW.
Kevin
2016-06-02T00:00:00Z
WONDERFUL two days of fun!!! Our hosts were most kind to provide snacks for two weary desert travelers. We loved the quiet peace and sitting outside for the sunsets and star gazing. THANK YOU for sharing your peace of paradise..
Marianne and jim
2016-07-17T00:00:00Z
Rose was amazing to work with! A couple girls and I came here for a bachelorette glamping get away to save money and just have a good time together. It was perfect for this! We were at max capacity so it was a little snug if we were all hanging out in the kitchen/main area inside, but it was perfect going between the fire pit, outside area and inside. Rose kept me updated with everything and was so helpful, even left us awesome treats! We drank, worked on projects for the upcomming wedding, went to a rumage sale down the street at the senior center (open Saturdays&Thursdays), did photoshoots, cooked and hung out at the bonfire. I highly suggest to bring your own food! It was raining off and on and the heater inside was perfect and kept everywhere warm. I slept in one of the above bunk beds, I suggest if you plan on having the max guests that there are guests that won't be bothered with getting up on a bunk, me and the other girl who used these had no problem and were not clausterphobic so being close to the ceiling was not an issue. The beds were pretty comfy! I slept great both nights we stayed. There was lots of room for food storage, a good sized fridge, stove & oven to work with, no microwave or toaster but that wasn't an issue for us, we don't mind cooking. Overall a great weekend getaway with a great host!
Hope
2016-01-11T00:00:00Z
It was much more than I had hoped for. We had such a delightful evening outside. The desert has it's own magic. Rose and Ron were available immediately when I wanted them. T he place was cozy, clean and homey. I was hoping for a decent place to stay between destinations. I got much more than that. This RV could actually accommodate a family quite comfortably. Outside there is everything from a swing set to tether ball. There are a variety of places to sit outdoors. We were also very comfy inside for for the later evening and early morning.
Betty
2016-10-06T00:00:00Z
ประเภทห้อง
บ้าน/อพาร์ทเมนท์ทั้งหลัง
---
ประเภทที่พัก
---
พักได้
4
---
ห้องนอน
Newberry Springs, แคลิฟอร์เนีย 92365, สหรัฐอเมริกา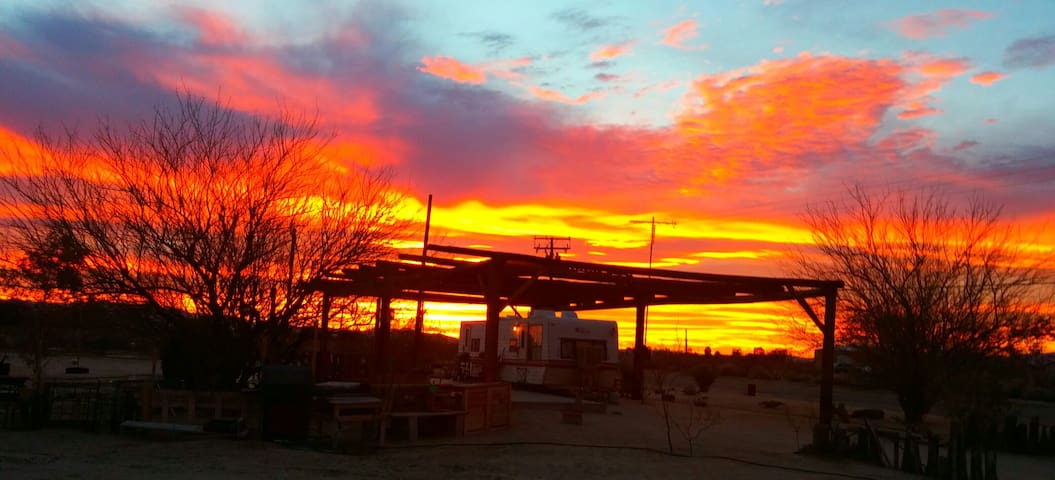 My place is close to great views, art and culture, and restaurants and dining. You'll love my place because of the outdoors space and the ambiance. My place is good for couples, solo adventurers, business travelers, and families (with kids).
ประเภทห้อง
ห้องส่วนตัว
---
ประเภทที่พัก
---
พักได้
4
---
ห้องนอน
Yermo, แคลิฟอร์เนีย 92398, สหรัฐอเมริกา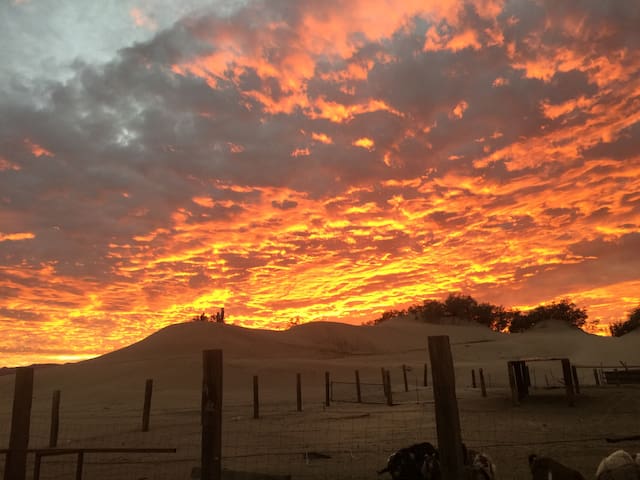 Only a block away from historic Route 66 in Barstow, 10 min away from Calico Ghost Town, 40 min from Fort Irwin. The room is quiet and has a mahogany bed set (queen size) and 47in TV. Hallway bathroom, access to kitchen, living & dining rooms. Living room sofas can accommodate up to 2 additional guests. complimentary coffee and tea. Cleaning fee of $10 is charged initially and after every 3.5 days.
Very comfortable bed Nice , clean & respectable Quite area in desert and you can't beat the price Good video games too I approve
Joel
2016-11-25T00:00:00Z
Beautiful home, good knowledge of local restaurants, clean home and extremely outgoing host.
Schaefer
2017-01-02T00:00:00Z
Very attentive and respects privacy.
Wesley
2016-12-30T00:00:00Z
Would give more stars if I could!
Matthew
2016-11-20T00:00:00Z
James was a very welcoming person. The house is huge and well decorated. The bed very comfortable, it was just perfect for a retina night in Barstow !
Bi
2017-03-05T00:00:00Z
James is an excellent host. His home is quiet, clean and close to downtown Barstow and Highway 15. He is very accommodating and kind. I highly recommend his location AirBnB.
Matthew
2017-02-16T00:00:00Z
ประเภทห้อง
ห้องส่วนตัว
---
ประเภทที่พัก
---
พักได้
2
---
ห้องนอน
Barstow, แคลิฟอร์เนีย 92311, สหรัฐอเมริกา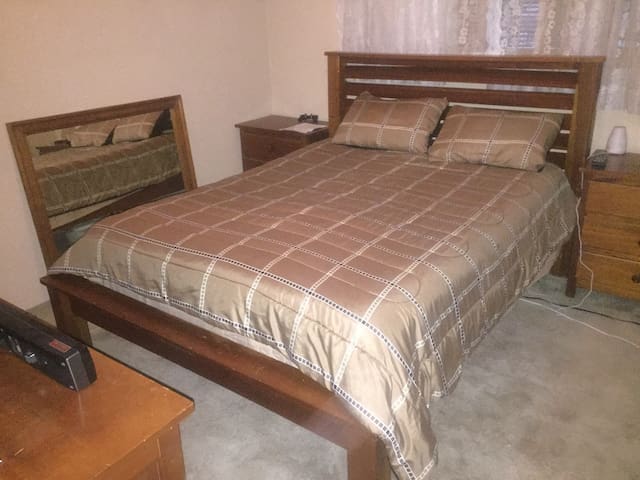 Our home has a unique private estate feeling, No neighbors, surrounded by hay fields/Pistachio farms & wide open spaces. Amazing Star gazing you'll most likely see a shooting star, Right along the Flight Path of major Airlines (no you can't hear them but you'll see them at night)Go explore the Mojave desert Calico Ghost Town and the Calico Mountains. Newer home tastefully decorated comfortable modern furnishings. We are constantly upgrading and adding
This unique property caters to a broad clientele bring your Toys or come home after work to enjoy the tranquil privacy, with no neighbors just peace and quiet with amazing Mojave Desert/Mountain Views. Newer 3 bedrooms 2 bath 1400 sq. ft. sitting on 20 acres with a 4 car garage, 400'Private dirt runway. Sleeps 10+ (extra accommodations can be arranged with Travel Trailer). *Note for long Term Tenants please let me know in advance if you need the entire garage space* Master Bedroom/ bathroom on one side of the home. 2 Large bedrooms on the other side of home separated by the great room. Beautiful views from all windows. Fully equipped modern kitchen with stainless appliances granite counter tops Propane Stove/oven, Dishwasher. Enjoy dinner on a beautiful hand crafted table seats 6 (bring in a provided extra table to enjoy 12 +). Two washing machines and one dryer provided. Work bench w/some tools provided, easily fix/maintain your toys before and after your ride. Enjoy the great room with a 65" 4K Samsung Smart TV/Blue ray / Xbox ONE – Direct TV.Master bedroom has 55" Samsung HDTV with Direct TV. Large fire pit to enjoy the evenings, City light views to the South and West. Views of the 40 Freeway and Train along with Airplanes. Huge Driveway's plenty of parking for your RV's Trailers and 25 + cars.
No Neighbors/Privacy about 5 cars drive down the road per day. Home is 2 miles from historic Route66 & Barstow Dagget Airport. 12 miles to Calico ghost town/ 11 miles from Peggy sues 50's diner/ 17 miles North of Barstow off the 40/11 miles from Baghdad Cafe.
This was truly a magnificent experience, for my entire group! Accommodations: the house itself has more than enough space for 8 to 10 people --we only brought five. The kitchen and cupboard is stocked with the supplied for cooking. Of course, bring your own food, but don't worry about the oil, butter, pans, knives, bowls, cups,etc. If you can remember it, they have it. The house is relaxing, clean, comfortable, and perfect for a weekend getaway or longer. The campfire was perfect for star gazing and lounging with friends. We spotted one scorpion, but honestly, jonathan provided a bunch of high intensity flashlights that kept us safe and aware of our surroundings at night. The surroundings: we explored the ghost town ( more touristy than we thought it would be), and then the ATV accessible mountainous Yermo area. Note: we were able to walk and climb around and had ample fun I absolutely beautiful surroundings. Our host, jonathan: Jonathan responded to every question and contact promptly, with the exact info we needed. He was helpful at all hours, and so kind to offer us the accommodations he did! I highly recommend this Airbnb to anyone who wants a unique, beautiful, friend-filled getaway.
Michelle
2016-05-31T00:00:00Z
We had such an amazing time at this location! Jonathon was wonderful throughout the entire process. The house was very clean and comfortable and included more than enough. This is the perfect location for a relaxing getaway or for anyone who is just stopping by the area.
Jorden
2016-03-25T00:00:00Z
Had a wonderful stay at Route66 house, the house is fully stocked with everything you would ever need for a day to a month stay! I was there for a week and just had a blast. The host Jonathan is very helpful and he answered my texts back very fast. Offered some information to some very cool places to go to play at. The house and property is just beautiful and very well kept from the furniture to the most comfortable bed to a awesome shower. If I am ever in the area again I will ask to stay here for sure. Thanks Jonathan for such a wonderful stay and being so kind.
MaLinda
2016-05-29T00:00:00Z
The host canceled this reservation 26 days before arrival. This is an automated posting.
Juan
The host canceled this reservation 23 days before arrival. This is an automated posting.
Stephen
Jonathan was super at questions and answers a few months before the actual stay, up through departure. The property is very nicely maintained, fully stocked facility with entertainment, foods, household items, land, etc! We loved staying here for 3 weeks, as it absolutely beats living out of a hotel! We were able to fill up the fridge and pantry with foods we purchased during our stay; cook breakfast, lunch, and dinner; have BBQs; fire pit fun; movies; games; etc. We brought our own toys as well e.g., mountain bike(s), workout equipment, espresso machine, blender, measuring cups, spices, etc. ... but most of that stuff was already there ;-) Having the garages available for vehicles, toys, and work equipment was awesome ... we got workouts and bike rides in almost everyday we were there! It is also in a super convenient (yet secluded) location for us. Next time we have to come out, this place is definitely on our list. Thanks for everything Jonathan!!!
Roger
2016-06-20T00:00:00Z
Jonathan was an amazing host - very helpful and informative at all times, and super quick to respond to questions! We had an awesome stay at the house, which was super clean, well-stocked with essentials, and in a fantastically secluded locale. Lots of space and all the amenities you could want for a weekend retreat! Seriously, we had a great time, and will hopefully come back for another visit sometime in the future!
Earl
2016-07-13T00:00:00Z
ประเภทห้อง
บ้าน/อพาร์ทเมนท์ทั้งหลัง
---
ประเภทที่พัก
---
พักได้
10
---
ห้องนอน
Daggett, แคลิฟอร์เนีย 92327, สหรัฐอเมริกา
My Apartments down the street from Barstow College it's cross the Street from Rite Aid Circle K down the street from Dollar General is a quiet neighborhood in I'm like 2 hours away from Las Vegas Nevada
Because you have your on private room
It's really quiet neighborhood
ประเภทห้อง
ห้องส่วนตัว
---
ประเภทที่พัก
---
พักได้
1
---
ห้องนอน
Barstow, แคลิฟอร์เนีย 92311, สหรัฐอเมริกา
Slow life down and take a breath in good country air, take a walk in the high Mojave desert and enjoy the night sky, away from City-life. Gaze Stars at night. One of the best spots to watch the meteor showers! Feel connected once again to the beautiful desert and limitless skies. Bring your own tent. Bring your friends! A beautiful sunrise over the high desert is best when shared in the peaceful quiet beside a good friend, furry or otherwise! experience the land we call home.
My place is close to Historic Route 66, Calico Ghost Town, Fort Irwin, restaurants and dining, great views. 40 acres, quiet enough for camping for a couple and large enough for big family or group of families!
It's super quiet, secluded and relaxing. there are a few pistachio farms in the distance. any sound carries far in the open desert. so please don't be unreasonably loud. depending on your experience in the desert, watch out for snakes and if you come across one, please don't kill them. it's their home.
We had a great time at the campsite and surrounding area! Lots of wide open space -- my dog was in heaven. But it is important to remember that it is a desert. There is a whole ecosystem there, so remember to clean up all garbage. Hot days and COLD nights. Come prepared and you'll have a great time. No running water or electricity, but my internet worked fine. No problems whatsoever driving my minivan there.
Quynh
2017-02-26T00:00:00Z
Vik had been exceptional. very responsive and clear communication. the location was just what i needed. beautifully secluded and peaceful. very refreshing. highly recommend.
Mandira
2017-01-17T00:00:00Z
ประเภทห้อง
บ้าน/อพาร์ทเมนท์ทั้งหลัง
---
ประเภทที่พัก
---
พักได้
6
---
ห้องนอน
Mojave, แคลิฟอร์เนีย 92347, สหรัฐอเมริกา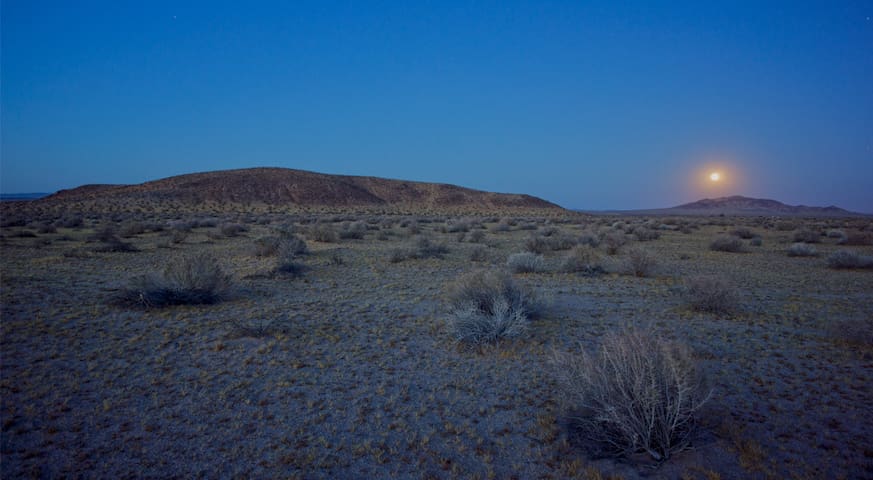 You'll love my place because of the open natural desert landscape visible as far as you can see on 3 sides. My place is good for couples, solo adventurers, with a few pets. This is a remote Mojave Desert ranch with extreme temperatures and winds.
This is a 40 foot by 8 foot travel trailer, vintage 1950, recently renovated. There is one bedroom with a full sized bed, a bunk room and a comfortable couch. There is a kitchen with refrig, gas stove and sink with hot and cold running water. There is a reverse osmosis system for purified water at the kitchen sink.The bathroom has a basin and tub with shower. The toilet connects with a modern septic tank.
The place was everything the host described. Penny was very friendly and welcoming. Very smooth experience.
Danny
2016-11-21T00:00:00Z
I'm from the suburbs of Silicon Valley and this was a very unique experience for me to be so far away from all the hubbub of life in the suburbs! Penny made me feel very welcome when I arrived and it was immediately clear that she wanted to make sure I was comfortable. Her description of the desert trailer hideaway is spot on accurate. The view from the comfortable wooden adirondack chairs outside the trailer is nothing but desert, with sunrise to the left and sunset to the right, and an amazing number of stars at night. I sat out there listening to a gentle, warm breeze one whole afternoon and heard nothing else (except the distant clucking of chickens.) The experience was like being close to nature, yet having a very clean, comfortable bed, electricity, running hot/cold water, a functioning retro kitchen and bathroom, and plenty of privacy. Not "glamping" exactly, but along those lines. I wished I had thought to turn the quiet, efficient heater on before I went to sleep because it got very cold in the trailer at night. Once I turned the heat on it became cozy very quickly! If you're curious about life in the Mojave desert, and want to unplug for a while, here's your chance! I will definitely go back!
Holly
2016-11-14T00:00:00Z
ประเภทห้อง
บ้าน/อพาร์ทเมนท์ทั้งหลัง
---
ประเภทที่พัก
---
พักได้
2
---
ห้องนอน
Hinkley, แคลิฟอร์เนีย 92347, สหรัฐอเมริกา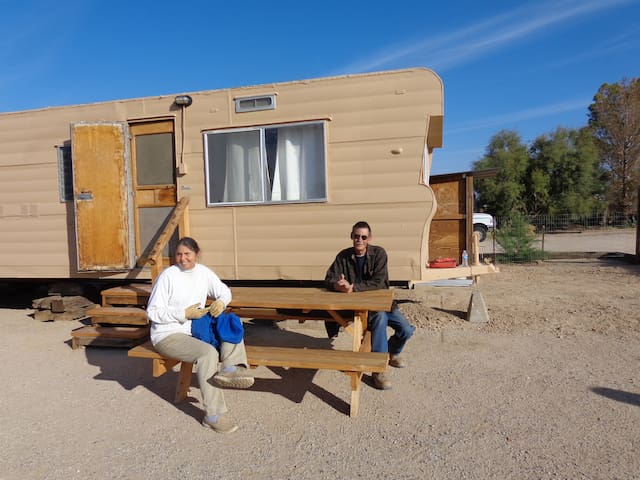 1

–

9

จาก

9 อพาร์ทเมนท์ให้เช่า
กรอกวันที่เพื่อดูการกำหนดราคาเต็ม มีค่าธรรมเนียมเพิ่มเติม อาจมีภาษีเพิ่ม