This home was built in the 1930's and served as the Kern's Brothers Hunting Lodge until the 1950's. It is beautifully preserved. We live on Nanny Creek at the mouth of Back Bay, which has great fishing and lots of waterfowl. Your space is a suite with a bedroom, private bath, sitting room and a deck and patio to relax on outside. There is a canoe or kayak for your personal use if you'd like to explore the waters. Beaches are 20 minutes away, restaurants 10 minutes.
This home was built in the 1930's and served as the Kern's Brothers Hunting Lodge until the 1950's. It is beautifully preserved. Your suite has a lovely sitting area to relax in with a reclining love seat, table and chairs and a small fridge. It walks out onto a deck and patio with a second shower outside (especially helpful on those sandy beach days).
The neighborhood of Back Bay is in the country but close enough to the city to be at Sandbridge Beach in 20 minutes and the more touristy Virginia Beach in about 25 minutes. Totally worth the drive if you love peace and quiet.
First! (I had to do it). I just recently joined the site myself. I've been traveling for a while which usually involves meeting new people. The host here is one of the nicest people you could meet. It is "off the beaten path", but that's why we visited this location. Beautiful scenery. Away from hustle and crazy cities. Bring fishing pole! Will return in the future for sure
Jake
2015-08-01T00:00:00Z
Beautiful , clean and comfortable house! Valery is a wonderful host ! i would like to stay a long time at this house next sommer in this peaceful and Beautiful place!
Paul
2015-08-21T00:00:00Z
Valerie and Doug were the best hosts you could wish for-I felt very welcome and 'at home'. The house is located in a beautiful and peaceful spot where you can recharge your batteries and reconnect to nature. I mostly enjoyed the live music, food (fabulous deer burger) and sunset boat ride which they so kindly shared with me. I will be spending more of time here and can highly recommend the place (except when I will be occupying it :) Thank you for the unforgettable Memorial weekend!
Celine
2016-06-02T00:00:00Z
Valerie and Doug welcomed us with a warm welcome in there beautiful gateway. Both of them made us feel like home and there hospitality was outstanding!!! There house is very beautiful and peaceful! I highly recommend to stay with them when you have a chance! I definitely will be back! Thank you for having us!
Frank
2015-09-30T00:00:00Z
This was my first Air B&B experience. All my future endeavors will have a hard act to follow. Mother Nature tried to dampen our vacation. But Doug and Valerie wouldn't hear of it. Our suite was wonderful! The location fantastic! Local cuisine amazing! Definitely a must do!
Laura
2016-09-27T00:00:00Z
Valerie is a wonderful host, she is very welcomone. We enjoyed our stay while we were there. She describe the place very well in the description and very beautiful!
Katelyn
2016-06-13T00:00:00Z
Can't wait to go back when we have more time to enjoy the beautiful Back Bay.
Loretta
2016-07-03T00:00:00Z
My husband and I needed a place to stay near the beach and our niece's home. We were beyond delighted to stay with Valerie and Doug. They are delightful and fun, informative and such great people. The room provided was above what we could have imagined. Beautiful , clean, earthy and just a wonderful place to stay. They are down a country lane that faces Back Bay! Breathtaking! Sunrises are beyond description. Val and Doug made it easy for us..everything was available to us..even had a meal one night with them. They are warm and a joy. This was our first experience with Airbnb so we did not know what to expect. They set the bar high. You just can't go wrong here. Don't miss it! Lynda Atkinson
Lynda
2015-11-13T00:00:00Z
ประเภทห้อง
ห้องส่วนตัว
---
ประเภทที่พัก
---
พักได้
2
---
ห้องนอน
หาดเวอร์จิเนีย, เวอร์จิเนีย 23457, สหรัฐอเมริกา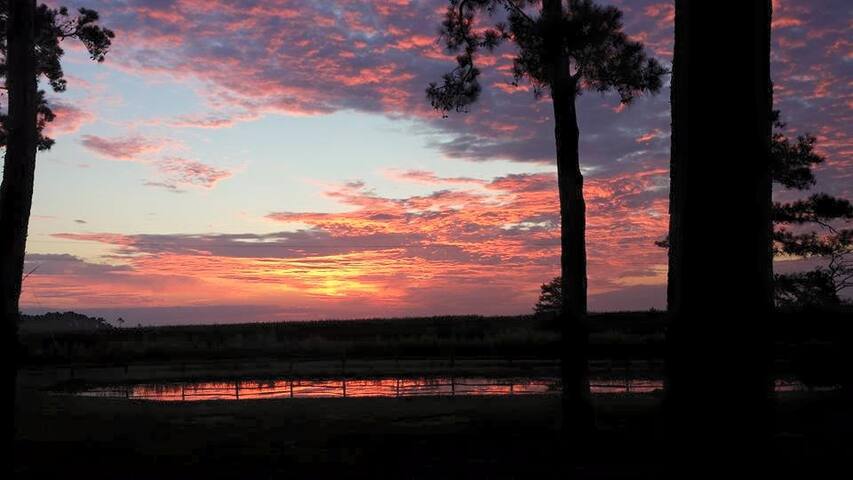 กรอกวันที่เพื่อดูการกำหนดราคาเต็ม มีค่าธรรมเนียมเพิ่มเติม อาจมีภาษีเพิ่ม