Our beach styled, comfortable and unique one bedroom open-plan villa has everything you need! It comfortably sleeps two and is centrally located on a quiet street at Spooky Beach, Angourie. Enjoy contained kitchen, beautiful bathroom and upstairs open plan bedroom and living area with private verandahs on both levels.
The most common review comment we have had is; "The photos on AIRBNB do not do the place justice - it is much better in real life". The Angourie Beach Hut is a beautifully appointed self contained private villa for couples, it has been furnished with a Beach/Bohemian flair and is a melting pot of pieces from around the world. The Beach Hut has a reputation for being presented very tastefully and always spotless. It also is in an ideal location at Angourie, walking distance to everything.
Very close by there is a great little Italian Restaurant and two small cafes less than 80m. You can walk from kitchen to Spooky Beach in less than 100 steps.
Great experience
Lucie
2016-10-03T00:00:00Z
Angourie Beach Hut was lovely. It's right on the beach entrance and only a minute walk from the restaurant/cafe and shop. The villa itself is beautifully furnished and cosy. Would recommend to anyone. We wish we could have extended our stay!
Amy
2015-09-25T00:00:00Z
Excellent place to stay and the host was brilliant. Absolutely would recommend to family and friends. We really enjoyed our visit
Luke
2016-08-30T00:00:00Z
We had a great time, thank you. We're likely to return. Kind regards, Brigitte
Brigitte
2016-11-04T00:00:00Z
Amazing place! Right next to the beach. Felt so at home, would love to just pick this place up and drop it in my home town. We will be back! thanks again
Brooke
2016-11-26T00:00:00Z
Jessie's place was amazing. Such a nice little spot. The photos definitely don't do it justice. Wish we could've stayed a lot longer
Lydia
2016-09-26T00:00:00Z
We had an amazing 3 day stay at the gorgeous beach hut. Its better in real life then the photos. Its large with a full kitchen and an upstairs living, bedroom. We spent a lot of time on the front deck, and day beds. Thanks for a wonderful stay
Cheryl and James
2016-01-15T00:00:00Z
The beach house was perfect for a couples getaway. Beautifully decorated and special touches of flowers and even icecreams! Just across the road from a beautiful beach, and down the road from a cute cafe with delicious food. Stunning national park nearby. Jesse was very helpful!
Kristy
2016-05-17T00:00:00Z
ประเภทห้อง
บ้าน/อพาร์ทเมนท์ทั้งหลัง
---
ประเภทที่พัก
วิลล่า
---
พักได้
2
---
ห้องนอน
Angourie, นิวเซาธ์เวล์ส, ออสเตรเลีย
Welcome to your Yamba oasis. Situated opposite a nature reserve and within a few minutes' drive from a choice of Yamba's 11 idyllic beaches, this light, airy, 2 bedroom Villa is the perfect place to unwind. The Villa's coastal-inspired décor reflects the relaxed nature of this seaside resort town. The luscious palm trees surrounding the front deck give you a private retreat, or you can cool off and relax at the palm-fringed pool and BBQ area in the complex.
Welcome to your Yamba oasis. Situated opposite a nature reserve and within a few minutes' drive from idyllic beaches, this light, airy, 2 bedroom Villa is the perfect place to unwind. The Villa's coastal-inspired décor reflects the relaxed nature of this seaside resort town. The luscious palm trees surrounding the front deck give you a private retreat, or you can cool off and relax at the palm-fringed pool and BBQ area in the complex. The Villa is situated within a couple of minutes' drive (or bike ride) of the Yamba Shopping Fair and the local Tavern. Yamba is a charming little coastal holiday resort town where people walk down the street and still greet each other by name. A favourite for fishing enthusiasts, water sport lovers and nature lovers alike. Explore the light-house, take a bike ride along the picturesque Clarence River & coast, sip wine by the marina or soak up the golden sunshine on the pristine beaches.
We had a wonderful 3 weeks at Theane & Ian's Home, and we would highly recommend this lovely holiday villa in the beautiful NSW town of Yamba. Set in a quiet gated community, with a private veranda and a quiet shared pool. The home has lovely attention to detail, which also included a box of toys to keep the little ones occupied. The villa has been newly furnished to a high standard. The villa is well located to beaches, town and shopping, and is suitable for a family holiday or a quiet getaway. We will most definitely come back for another visit!
john
2017-01-26T00:00:00Z
Easy prompt communication with the host. We did have some difficulty getting into the property however this was not the hosts' fault, rather their agent and it was quickly rectified. The property is as described, very comfortable. We particularly liked the outdoor area and spent much time relaxing there. Air con in living area much needed during our stay. The fans within the property were great. The main bedroom gets the full western sun and remains hot well into the evening, even using the fans. Kitchen was well stocked with everything we needed. The property is located within a small complex, it is quiet and appears mainly residential and well maintained. Pool in common area very welcome in the summer heat. The host kindly left us some essentials in the fridge which were much appreciated. Good value for money. Highly recommend.
Vanessa
2016-12-29T00:00:00Z
Beautiful clean home with gorgeous decor and comfy beds. Communication was great and the complex including pool, was nice and secure.
Stephanie
2017-03-06T00:00:00Z
I would highly recommend this property. It was clean, stocked with everything that you might need (including BBQ) and exactly as the host described. Great outside/BBQ area for meals and it was useful to have the airconditioning and fans for the really hot days. Hosts were easy to contact and checked in to make sure everything was okay (which it always was).
Megan
2017-01-06T00:00:00Z
ประเภทห้อง
บ้าน/อพาร์ทเมนท์ทั้งหลัง
---
ประเภทที่พัก
วิลล่า
---
พักได้
4
---
ห้องนอน
Yamba, นิวเซาธ์เวล์ส, ออสเตรเลีย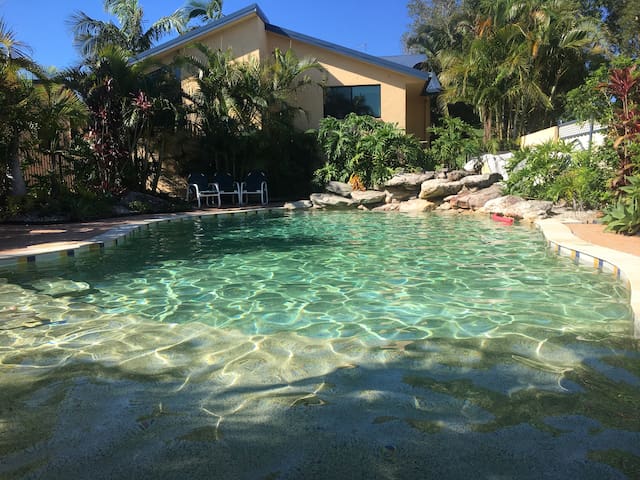 My place is close to the beach, the Clarence River, Yamba Golf club and Bowling club, family-friendly activities. You'll love my place because of Its a flat walk to Yamba Golf club, bowling club, Pippi Beach and into town where there are great boutiques, cafes and shops . My place is good for couples, solo adventurers, business travellers, families (with kids), and furry friends (pets). NO LINEN PROVIDED - please bring sheets, towels, pillow cases and tea towels - pillows and blankets provided.
This property is in a great central location - with access to the Beachside Swimming pool and spa pool. The yard is safe and fully fenced and private. Close to Yamba Golf Course and Bowling club.
This is a fantastic three bedroom house within easy walking distance to the pool and beach. It's in a quiet block and perfect for a family holiday.
Rob
2017-01-24T00:00:00Z
Myself and a group of young friends stayed at this house. Amazing location, walking distance to the beach. House felt spacious and was clean and tidy.
Tayler
2017-01-31T00:00:00Z
This listing is managed by First National Real Estate. It is not a private home but a holiday letting accommodation type. No towels were provided.
Jo
2016-11-14T00:00:00Z
ประเภทห้อง
บ้าน/อพาร์ทเมนท์ทั้งหลัง
---
ประเภทที่พัก
วิลล่า
---
พักได้
6
---
ห้องนอน
Yamba, นิวเซาธ์เวล์ส, ออสเตรเลีย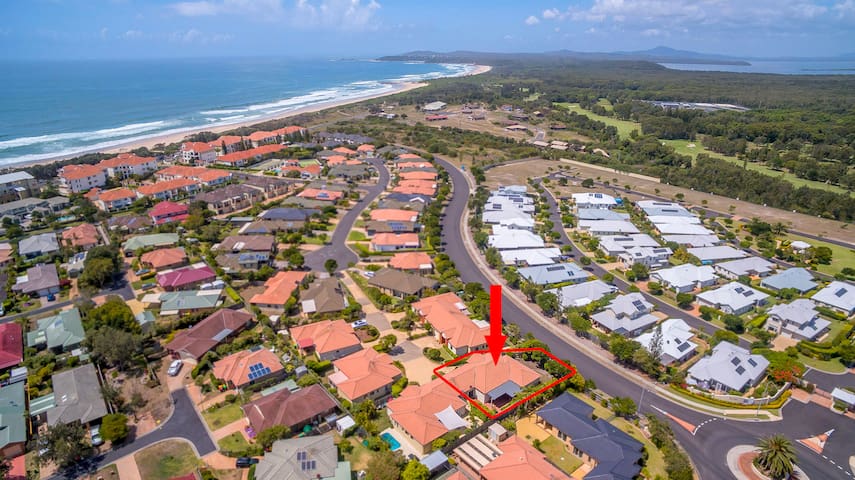 My place is close to beautiful, uncrowded beaches, restaurants and dining and surrounded by national parks. You'll love my place because of the modern open plan living, heated spa, private yard. My place is good for couples, solo adventurers, and furry friends (house trained small pets). Please note that a refundable security deposit will be charged for all guests bringing pets.
Awesome place! Friendly owners! Can't say anything bad about the place! Perfect! Loved the spa. Will definitely be back!
Jennifer
2017-03-31T00:00:00Z
Such great accommodation! Absolutely loved staying here. Very central in Evans Head with most things within walking distance. Beautiful apartment and warm welcome received by host. Definitely recommended!
Hayley
2017-01-14T00:00:00Z
Really nice welcome from our hosts, explained everything we needed to know about the apartment and surrounding areas! Very safe and quiet place, clean and private. It was exactly what we were looking for..
Simon
2016-12-02T00:00:00Z
My partner and I had a great stay at Craig's. Easy walk to beach, river & cafes.
Stacy
2017-01-17T00:00:00Z
Sandy Bottoms is a great option for a couple looking for accommodation close to the shops, restaurants and beaches at Evans Head. It provides a relaxed environment with a hot spa, beautiful garden, great kitchen and a beautiful space to relax.
Irene
2017-03-27T00:00:00Z
Great space for a couple of, very much needed, days off!! Unfortunately the busy petrol station across the road was exceptionally noisy, especially at 5am Mon morn when the delivery truck rocked up!! (Very, very loud!) No sleep ins!!!! .. and the pretty deck off the bedroom was very open .. no privacy at all. Overlooking said petrol station. Downstairs was private tho. Didn't use upstairs at all. Close walk to town, super clean and modern. Loved the spa .. so clean and refreshing as was the hottest of days!! Really great place!!
Fiona
2017-02-12T00:00:00Z
This place is nice, short walk to the city centre and the beach. Having our pet with us made the stay enjoyable as we did not have to worry about him at home. The yard is well fenced and has enough room for a small dog. The renovations are new and modern making our stay comfortable. The spa was great and we enjoyed with a few beers at the end of a busy day.
Arnold
2016-11-27T00:00:00Z
ประเภทห้อง
บ้าน/อพาร์ทเมนท์ทั้งหลัง
---
ประเภทที่พัก
วิลล่า
---
พักได้
2
---
ห้องนอน
Evans Head, นิวเซาธ์เวล์ส, ออสเตรเลีย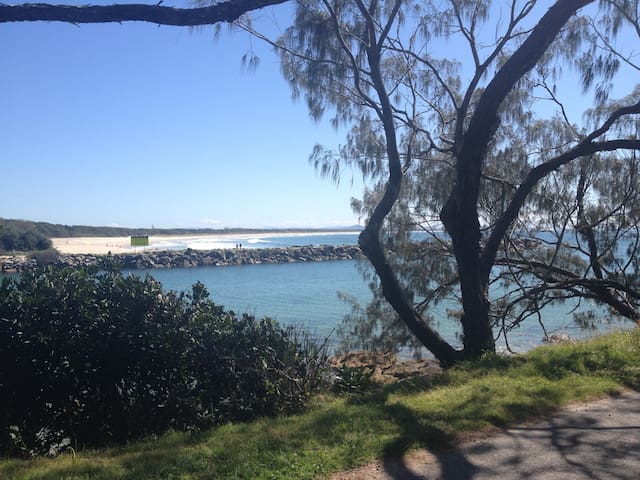 A luxury villa located in The Sands Resort, Yamba. The villas have the bedrooms and bathrooms upstairs and the living area downstairs. There are bifold doors off the lounge area leading out onto a large secure courtyard.
This Luxury Villa is located in The Sands Resort, Yamba.
Yamba is full of wonderful things to do including going to the beach, playing tennis, eating out at restaurants, catching the ferry boat, fishing, surfing and many other acitivites.
Great location, great town, the town house is big, perfect for families, TV in the main bedroom, right opposite the pool.
Michael
2017-01-29T00:00:00Z
Great property in a fantastic complex full of facilities. The house itself is beautiful, modern and well furnished. You can't beat the location...across the road from the beach and a short stroll to the town for restaurants etc. Can't wait for another opportunity to visit lovely Yamba and to stay here again!
Alex
2016-05-03T00:00:00Z
Beautiful location, beautiful villa. Everyone thoroughly enjoyed their weekend in Yamba. Only thing I'd change would be the length of the trip.
Tim
2016-02-28T00:00:00Z
Amazing spot! Great for a family. We will be back for sure.
Dee
2016-11-28T00:00:00Z
We spent the Australia Day weekend at the Sands Yamba. The town is lovely with a lot of small local shops. We stayed in a beautiful 3 bedroom villa that is only a short walk from the beach. It has a well stocked kitchen and very comfortable beds. All in all our vacation was great and would recommend the place for a relaxing family vacation.
Armand
2016-01-26T00:00:00Z
The premises were clean Minor drama with the tv remote control as the batteries were flat Bed was comfortable, however, I feel it needed to be larger.
Kim
2016-05-21T00:00:00Z
Let people know the overall property might be beachfront but this dwelling is not beach facing with beach/sea views. Also we had to follow up the host to find out how we got access to the accommodation.
John
2016-08-14T00:00:00Z
ประเภทห้อง
บ้าน/อพาร์ทเมนท์ทั้งหลัง
---
ประเภทที่พัก
วิลล่า
---
พักได้
6
---
ห้องนอน
Yamba, นิวเซาธ์เวล์ส, ออสเตรเลีย
Wooloweyah - Airbnb
:
เฉลี่ย

4.89

จาก

5

ดาวจาก

93

รีวิวผู้เข้าพัก
กรอกวันที่เพื่อดูการกำหนดราคาเต็ม มีค่าธรรมเนียมเพิ่มเติม อาจมีภาษีเพิ่ม