Brand new (finished April 2017) Loft style apartment in the neighborhood of Barracas. Two floor disposition, with bedroom and bathroom upstairs and common area and kitchen on the ground floor. Complete kitchen. Only electrical appliances - no gas installation. Short ride to the center of the city, Boca and Puerto Madero. 5-10min. Taxi ride to center of the city. Almost 10 bus lines stop a block away, bus ride is aprox. 15 mins to center. English speaking host (native speaker) lives next door.
Kitchen is fully equipped, with an electrical kitchen with four stoves and oven, blender, toaster, coffee machine and microwave oven. Common area has a couch, small table and puffs, and smart TV. The apartment has cable TV, Wifi and Netflix. Universal wall plugs installed. 110V to 220V transformers for small appliances available. The apartment was finished in April 2017, everything is brand new.
Barracas is a neighborhood in the Southern part of the city of Buenos Aires. The area where the apartment is located is one of low houses, but close to the highway that crosses the south of the city, making a taxi ride to the center of the city extremely quick (5-10 mins.).
ประเภทห้อง
บ้าน/อพาร์ทเมนท์ทั้งหลัง
---
ประเภทที่พัก
อพาร์ทเมนท์
---
พักได้
2
---
ห้องนอน
บัวโนสไอเรส, Ciudad Autónoma de Buenos Aires, อาร์เจนตินา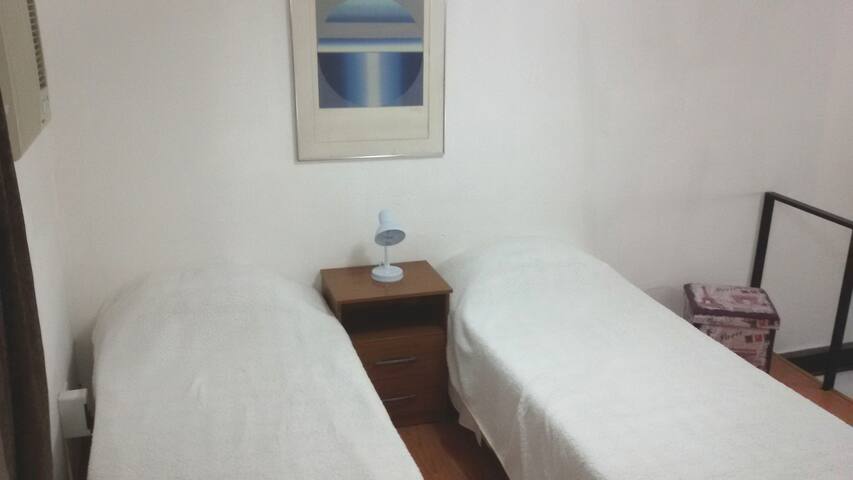 Horario flexible pero no " incondicional " :-) Cuando preguntan sobre "seguridad". He tenido más de 25 huéspedes a través de otra página. 6 han vuelto por segunda vez. Huéspedes sin español, mujeres solas, sin problemas. Hay datos OFICIALES sobre la seguridad en toda la ciudad de Buenos Aires entre las fotos de la descripcion. Solicitare que los huespedes verifiquen su identidad en AIRBNB con fotos o scan y me los envien por email antes de la entrega de llaves . Lo normal. Gracias Internet NO
Edificio nuevo super equipado, microondas tv pc Aire Acondicionado Calefacción. #wi fi para la conexión a Internet el huésped tiene que comprar un chip prepago 4G muy fácil para teléfonos inteligentes. Hay lavarropas, plancha, elementos de cocina,etc . Autobuses a toda la ciudad estan en la misma esquina. Con combinacion a las principales estaciones de Tren y Subte. Baño completo, cocina integrada, heladera con freezer. Ropa de cama, Tv en habitación, luminoso soleado. Toallas. Barrio histórico, destino turístico a 7 calles de San Telmo, 3 de hospital publico, 3 de comisaria Central de Prefectura. Declarado Distrito de las Artes, con museos y el moderno y gran auditorio de La usina del Arte a 2 calles (nuevo mega centro cultural de la ciudad) En la esquina pasan 5 buses a toda la ciudad. Podrás sentirte como en tu casa, hay supermercados y quioscos en la zona, delivery de comida y un cuartel de fuerza de seguridad Argentina: PREFECTURA. Está completo. También doy clases de español, profesor certificado por International House y soy masoterapeuta en técnica esalen o californiano. Yo viajo mucho. El precio mensual, incluídos descuentos por largas estadías lo dice Airbnb, por favor consultar la reserva online. El precio debería ser más caro, solo está reducido para que el huésped compre su chip de Internet.
El sector del barrio es muy tranquilo, casi no hay sonido de autos . Se puede estacionar en la calle. El edificio y sus vecinos son familias. Hay supermercados y bancos muy cerca. Parada de buses en la esquina y uno de los principales hospitales del pais y latinoamerica con atencion gratuita sin discriminacion de nacionalidades. Para todo el mundo. La precaucion y seguridad personal en las noches es como en todas las grandes ciudades del mundo y en ese sector se encuentra entre los privilegiados. (ver informe entre mis fotos)
El depto está ubicado en uno de los barrios mas bellos de Buenos Aires, tiene muchos medios de transporte cerca para desplazarse a donde sea. Está todo equipado. Tiene lo necesario para una estadia cómoda y tranquila. Además Fernando es muy buen anfitrión!
Susan
2017-04-04T00:00:00Z
Fernando fue un huesped muy disponible. El departamento es gracioso, bueno por una pareja. El districto es el popular y caracteristico barrio de Boca, cerca al cientro.
luca
2015-01-14T00:00:00Z
ประเภทห้อง
บ้าน/อพาร์ทเมนท์ทั้งหลัง
---
ประเภทที่พัก
อพาร์ทเมนท์
---
พักได้
2
---
ห้องนอน
บัวโนสไอเรส, Autonomous City of Buenos Aires, อาร์เจนตินา
departamento muy luminoso en un barrio muy tranquilo.
The location actually wasnt really good but as the public transportation is really close, i could go everywhere i want. And i was really worried about the safety. But i didnt really feel unsafe in here. It was nice experience of my first use in Airbnb and also in Buenos Aires!
WOOTAE
2017-02-27T00:00:00Z
ประเภทห้อง
บ้าน/อพาร์ทเมนท์ทั้งหลัง
---
ประเภทที่พัก
อพาร์ทเมนท์
---
พักได้
2
---
ห้องนอน
บัวโนสไอเรส, Ciudad Autónoma de Buenos Aires, อาร์เจนตินา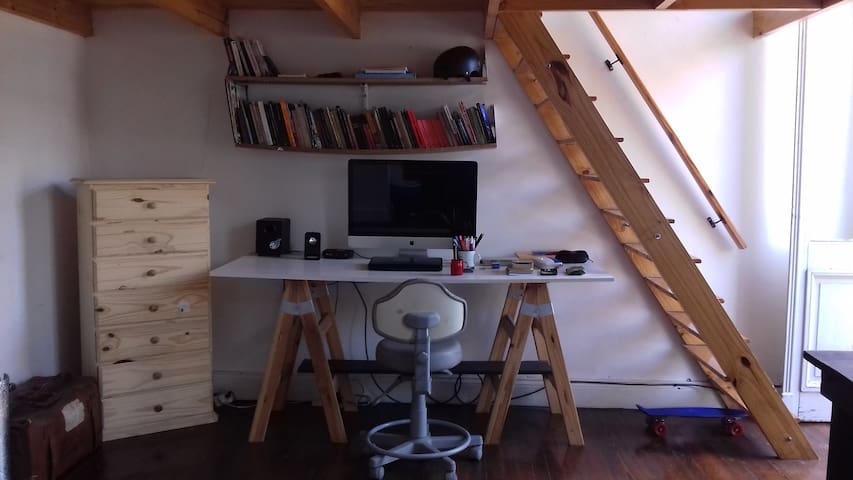 El barrio de Barracas ( capital federal ) es un barrio muy lindo ubicado a 10 minutos del obelisco en colectivo. Los barrios próximos son: San telmo, La boca, Puerto madero. Habitación con comunicación directa al baño,a la cocina y el comedor comun que es un patio con luz natural.
ประเภทห้อง
ห้องส่วนตัว
---
ประเภทที่พัก
อพาร์ทเมนท์
---
พักได้
1
---
ห้องนอน
บัวโนสไอเรส, Ciudad Autónoma de Buenos Aires, อาร์เจนตินา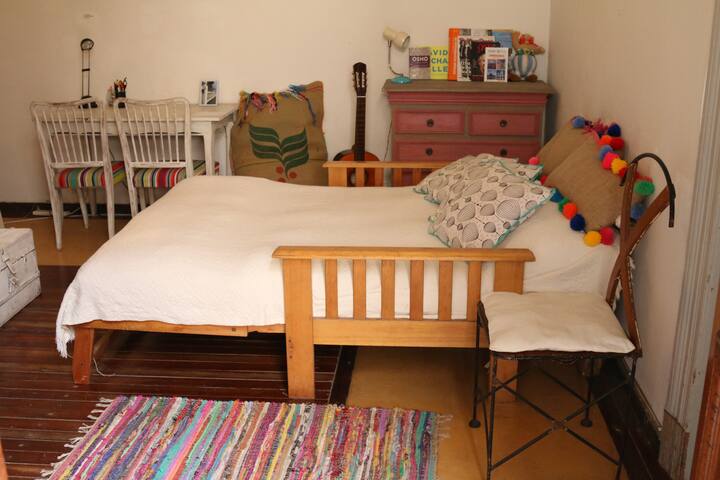 Cálido y elegante dúplex a estrenar ubicado en Puerto Pampa, un complejo habitacional moderno en el centro del Distrito de las Artes. Ubicación idónea para caminar y recorrer algunos de los íconos turísticos de Buenos Aires. A una distancia entre 10 y 16 cuadras de San Telmo, La Boca, Puerto Madero, La Casa Rosada y Plaza de Mayo. Utilizando transporte público (que para en la esquina), estarán a sólo 5 minutos del microcentro.
Si te gusta caminar, estas a 6 cuadras de Puerto Madero, y desde allí alcanzar la Reserva Ecológica Sur, el Puente de la mujer y hacer un stop en alguna de las tantas opciones gastronómicas que hay para deleitarte. A 16 cuadras estarás en Plaza de Mayo, donde podrás visitar la Casa Rosada, el Cabildo, el tradicional Café Tortoni , el Palacio Barolo, entre otros edificios históricos de nuestra ciudad. Si queres recorrer La Boca, el famoso " Caminito", el museo y casa Quinquela Martín y hasta la cancha de Boca, sólo los encontrarás a 13 cuadras. Si te gustan las ferias, los anticuarios, y disfrutar del 2x4, San Telmo te espera a 10 cuadras. Si te sentís perezoso pero igual queres disfrutar de una salida y un cafecito, la famosa Usina del Arte y alguna muestra en el Museo de Cine Pablo Ducro´s Hicken te estarán esperando a sólo una cuadra del departamento.
El distrito de Arte es una zona en crecimiento en la ciudad de Buenos Aires. El departamento está ubicado en un complejo que solía ser uno de los frigoríficos mas emblemáticos de la ciudad que en estos momentos está siendo refaccionado y convertido en un moderno espacio de " Life in Art". Está ubicado en frente a Puerto Madero y es un barrio tranquilo y familiar. Contarás con seguridad privada en la entrada del edificio y un mini-market al lado para realizar tus compras.
ประเภทห้อง
บ้าน/อพาร์ทเมนท์ทั้งหลัง
---
ประเภทที่พัก
อพาร์ทเมนท์
---
พักได้
2
---
ห้องนอน
บัวโนสไอเรส, Autonomous City of Buenos Aires, อาร์เจนตินา
Departamento luminoso, silencioso y cálido. Delicadamente decorado y equipado para sentirse en casa. Edificio nuevo con Seguridad las 24hs. A sólo 300 metros de PUERTO MADERO (la "zona chic de Buenos Aires), A 100 metros de la USINA DEL ARTE (edificio histórico de La Boca con Artes Plásticas, Música y Danza). Ubicación estratégica permite acceder también al microcentro en tan solo 5 minutos y fácil conexión con la Autopista Buenos Aires/La Plata/ Ezeiza. Los esperamos!
La calidez, tranquilidad y comodidad del lugar, estando cerca de todo. SUPERMERCADO justo en la Planta baja del Edificio. Restaurantes, cines, cajeros automáticos, Bancos, etc a sólo pocas cuadras en PUERTO MADERO. También a 150 mts de COLONIA EXRESS: para viajar en el ATLANTIC EXPRESS en solo 1.15 hs a COLONIA-URUGUAY.
This is a perfect apartment, very cosy and very homey. It has everything you need, including a great little balcony. It is in the north of the Boca neighborhood, which has a ton of great street art, and very near San Telmo which has some amazing Parrillas. It's a little distance from Palermo, but you can easily grab an Uber. Great, unique place in a cool residential neighborhood.
Matthew
2017-02-20T00:00:00Z
Lovely and clean apartment in central Buenos Aires, would tecommend
Isabella
2017-03-09T00:00:00Z
Muy linda la zona y la anfitriona una genia. Muy recomendable.
Juan
2017-03-05T00:00:00Z
Sumamente recomendable. Hernoso espacio. Tranquilo y exquisitamente decorado.
Silvina
2017-03-26T00:00:00Z
El departamento de Francesca, es simplemente hermoso, con un supermercado al lado, es un ambiente muy tranquilo, con mucha seguridad... El trato de Francesca fue muy, pero muy cordial, siempre estuvo bien dispuesta a ayudarnos y respondió todos los (SENSITIVE CONTENTS HIDDEN) y consultas. Sin miedo a exagerar es la anfitriona perfecta, de esas personas que piensan en todos los detalles para hacerte sentir lo mejor posible! Claro que recomiendo el departamento, cuando volvamos a Buenos Aires, este lugar será nuestro alojamiento! Gracias Francesca!!!
Rubén
2017-03-13T00:00:00Z
Apartamento excelente, exatamente como nas fotos, aconchegante e ideal para um casal. Muito limpo e com mercado próximo, o que facilitou as coisas. A Francesca não estava presente, mas a Valéria nos atendeu de forma muito prestativa e atenciosa! Enfim, BA é uma ótima cidade, e o conforto do apartamento da Francesca foi um grande facilitador.
Clawiston
2017-01-26T00:00:00Z
The apartment is as the description says really cozy, the bed is awesome, kitchen has everything, it is really beautifully decorated. Supermarket (a bit expensive) is just next to the apartment, a pizza place is like 2 minutes with a great fugazzetta. 2 Buses (168 and 130) take you to all of the most interesting places to visit at the city center, you can taken them literally like 4 to 5 minutes walking from the apartment. The laundry place is also around 5 minutes walking and it is cheap. The apartment is a bit far from city center but well communicated. It is around 15 minutes by bus from Caminito. A taxi from Luna Park usually charges 70 ARS which is reasonable when going to the apartment late at night, definitely recommended. 100% recommended apartment.
Francisco
2017-04-02T00:00:00Z
El departamento está muy lindo y justo lo que necesitas para llegar a dormir y estar todo el día conociendo Bs As
Montze
2017-02-27T00:00:00Z
ประเภทห้อง
บ้าน/อพาร์ทเมนท์ทั้งหลัง
---
ประเภทที่พัก
อพาร์ทเมนท์
---
พักได้
2
---
ห้องนอน
บัวโนสไอเรส, Ciudad Autónoma de Buenos Aires, อาร์เจนตินา
Expectacular duplex for three persons, with all comfort, close to Obelisco de Buenos Aires, all acces, security 24 hs, two swiming olimpic pools, laundry, SUM, Sauna, Gym and a huge private park with big trees.Open Barbecue A
perfecto todo!hermoso departamento,comodo y limpio, excelente atencion!
נתי
2017-03-23T00:00:00Z
Excelente departamento, edificio de lujo con seguridad las 24h y dos piletas gratuitas. Pero en zona algo complicada sobretodo por las noches. El anfitrion muy atento siempre contesto a los mensajes y nos enseñaron todas las instalaciones al inicio. Repetiria seguro
Borja
2017-03-29T00:00:00Z
The apartment is exactly as advertised and the amenities in the building are fantastic. Much better than we anticipated. We were travelling with our mom, in your sixties, and our three year old son. The apartment and building were brilliant for both of them. There are lots of kids in the building and a really good option if you are travelling with children. Lots to keep them entertained, a fantastic outdoor pool which is very kid friendly and an awesome indoor and outdoor play area for them. On arrival our taxi driver gave us a sober warning that the area was not safe and we must be careful. However the building has very good security and after spending three weeks in the neighbourhood we felt completely safe and had no safety concerns. We were very comfortable in the area, and after three weeks it started to feel like home. We will happily stay here again if we return to BA. We had a fantastic greeting on arrival and were given a complete tour of the apartment and the building to help us orientate. All in all fantastic stay and fantastic service.
Peter
2017-03-06T00:00:00Z
Tuvimos un problema al llegar ya que el departamento no estaba listo. Estaba ocupado. El dueño intento resolverlo pero no pudo y nos mando a otro departamento de muy mala calidad.
Matias
2016-09-27T00:00:00Z
Agradecemos la calidad en el trato personal, prontitud para responder y disipar cualquier duda, el lugar no solo es lo que se ve en las fotos, limpio, luminoso, amplio, sino que sus servicios, jardín, piscinas, parrillas, etc acompañan el placer de la estadía gracias y esperamos poder retornar en algún momento
Carlos
2016-11-17T00:00:00Z
ประเภทห้อง
บ้าน/อพาร์ทเมนท์ทั้งหลัง
---
ประเภทที่พัก
อพาร์ทเมนท์
---
พักได้
4
---
ห้องนอน
บัวโนสไอเรส, Ciudad Autónoma de Buenos Aires, อาร์เจนตินา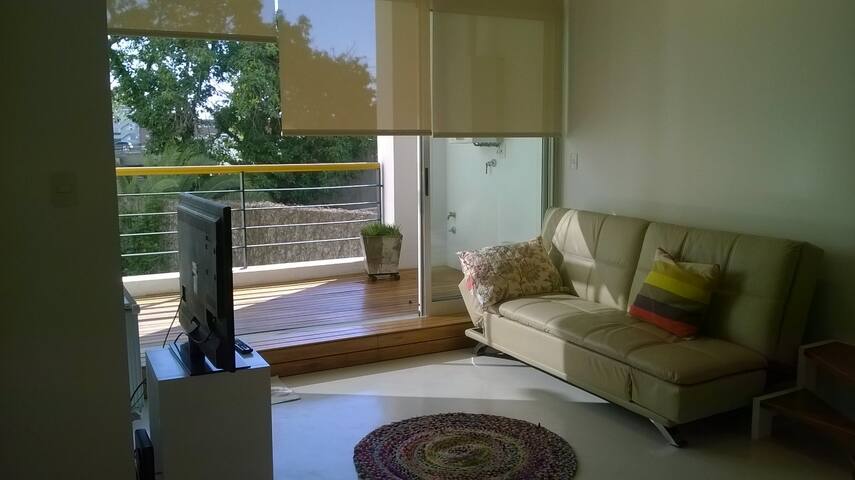 This beautiful apartment is located in the best residential neighborhood in Barracas, 3 blocks from San Telmo neighborhood and 2 blocks from La Boca neighborhood. The apartment is very close to several public transportation.
For those couples or families whose curiosity inspires them to discover Buenos Aires in its intimacy, I offer superb and well-equipped accommodation located in the best residential neighborhood in Barracas, 3 blocks from San Telmo neighborhood and 2 blocks from La Boca neighborhood. For the comfort of our guests the apartment offers high-speed Internet access, 2 Cable LED TV in both bedroom and living room, fully equipped kitchen and air conditioning. One double bed on the Bedroom and a sofa-bed for 2 on the living room. The kitchen is fully equiped so you can cook, there are lot of markets nearby to buy food. The bathroom is really spacious and it has a Hot Tub. 2D and 3D Flat: (URL HIDDEN)
The apartment is located a best residential area of Barracas, there are many nearby supermarkets and restaurants to recommend. The apartment is very close to several public transportation and within a walking distance to many touristic attractions.
Very friendly hosts that communicated well for any needs and questions. The apartment has a great location, walking distance to San Telmo, parks and subway. Quiet street. Markets, seafood markets, bakery's, quesos y fiambres and laundry within 1 block. Private apartment entrance from the street and vehicle parking allowed on the street. The kitchen is fully functioning. The bathroom is really big and the bathtub is awesome.
Gonzalo
2015-10-14T00:00:00Z
Muy comodo y confortable departamento, es tal cual se ve en las fotos, Adrian es un gran anfitrion y esta pendiente para solucionarte cualquier inconveniente. Esta equipado con todo lo necesario. Totalmente recomendable.
Mariano
2015-12-17T00:00:00Z
La casa muy cómoda y con todos los servicios, en un barrio tranquilo y seguro.
Natalia
2016-07-30T00:00:00Z
Adrian was very attentive and helpful. The apartment was as advertised, clean and very well equipped. It was close to markets and public transportation. Our stay was great!
Brenda
2016-12-25T00:00:00Z
The host canceled this reservation 40 days before arrival. This is an automated posting.
Sole
2017-02-27T00:00:00Z
Nos parecío muy acojedor el lugar, cerca de todo, lineas de colectivos y del subte, mercados y farmacias, un lugar tranquilo y seguro, muy atento y cordial el el dueño Adrian, realmente nos gustó muchisimo y nos volveríamos a hospedar allí, mi familia quedó encantada, muchas gracias!
Yordana
2015-11-09T00:00:00Z
The apartment is close to supermarkets, restaurants and public transport. Adrian was kind and attended to things when necessary. The apartment is clean though worn in places.
Kelly
2016-06-11T00:00:00Z
La descripción es tal cual se ve en las fotos, y en el barrio no hubo ningun tipo de problemas, parece seguro.
Sergei
2016-12-02T00:00:00Z
ประเภทห้อง
บ้าน/อพาร์ทเมนท์ทั้งหลัง
---
ประเภทที่พัก
อพาร์ทเมนท์
---
พักได้
5
---
ห้องนอน
บัวโนสไอเรส, Autonomous City of Buenos Aires, อาร์เจนตินา
la casa es muy linda y grande , situada en el barrio de la boca, cerca de caminito , de la cancha de boca , de puerto madero y san telmo, hay acceso a colectivos para ir a otros barrios.
Con Sebastián uno no sólo se siente en su casa sino que se consigue un nuevo gran amigo que te invita a recorrer el pintoresco e histórico barrio de La Boca...
Héctor
2016-11-24T00:00:00Z
ประเภทห้อง
ห้องส่วนตัว
---
ประเภทที่พัก
อพาร์ทเมนท์
---
พักได้
2
---
ห้องนอน
บัวโนสไอเรส, Ciudad Autónoma de Buenos Aires, อาร์เจนตินา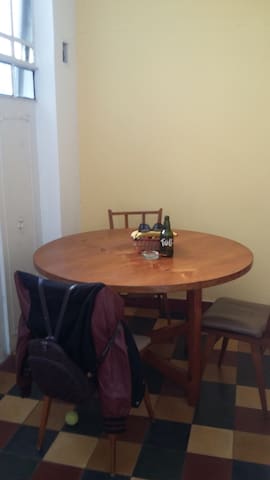 A private big room with balcony in a sunny apartment in the neighborhood of La Boca. For two guests. Mmmhh, suspiciously cheap? I'm ok with this price, I like to have people here and you can spend more money in my country.
A big private room with balcony in a sunny & big apartment in the neighborhood of La Boca. Not shared. With a double bed and the possibility of a 3rd single bed in case you are three. Mmmhh, too cheap? I'm ok with this price, I like to have people here and you can spend more money in my country. Everyone liked the place, you will too! 10 blocks from San Telmo, the historical city. 5 blocks from Caminito, the typical La Boca spot. 25 blocks from Plaza de Mayo central square and the pink house where Evita "spoke" and Madonna "sang". Bus to Palermo, the trendy neighborgood -40 minutes- night and day. The same bus puts you on Retiro central station to go to Tigre harbour and islands by train in 1:15 hour. Super comfortable. There is wifi, there is TV and there use to be a cat. Not anymore. We share the kitchen. In summer you can enjoy the roof and use the grill. I can give information about places to go and things to do and to know, if you want. You will find yourself relaxed and comfortable in my house and my neighborhood. Perhaps you will spend 1/2 day visiting the very (posibly too much) touristic area of Caminito. But the city is big and full of nice or strange things to see, to taste, to go. This is a good starting point to go for them and return when you feel tired and really need to rest a little before tomorrow's adventures. Feeling lazy? Not enough rest? Spend the hole day home! There are lots of books in spanish, some in english, swedish and german, one in french and another in portuguese. Also guides and maps. If the day is sunny, buy some fruit or something fresh, put on your headphones and take some of the sun on the roof. When you start feeling guilty, take my bikes and ride a little (ok, perhaps that day I'm using one of them). There are some safe ways -bicisendas- to go close or far and enjoy the city in a different way. If it rains there are movies in english and spanish. There is also an owen, I will be very happy smelling cake smell. -(URL HIDDEN)REFERENCE POINT The reference point to come to my home is Boca stadium. I'm 300 meters far from Boca stadium. You can tell that to the cab driver or anybody, because is a well known spot.
My neighborhood is honest, is "the real thing". Many things can happen in one moment and suddenly it is "siesta time" (nap) and nobody is in the street anymore. You can find anything in the middle.
Federico gave us the best start into Buenos Aires making us feel comfortable and familiar from the first minute in his wonderful appartment. It did not feel like staying with a host it felt like staying with a good old friend. Federico gave us plenty of tips for Buenos Aires and our further journey through Argentina. He gave us a tour through La Boca and San Telmo and invited us to have dinner with his family and friends - we had such a great time. Thank you Federico! We hope to see you again - maybe the next time in Germany (with the cats).
Nathalie
2011-10-25T00:00:00Z
Staying with Federico was an amazing experience! He is an amazing host, lives in an amazing apartment and has the cutest cat we have ever seen! We stayed in an gorgeous room in the company of Titan (the cat), had barbecue on the rooftop, had dinner at his friend's house, free bicycle ride and much more! Totally recommend...
Mariana
2012-01-12T00:00:00Z
estuvimos muy comodas. era todo lo que decia el anuncio. fede nos brindo total confianza. muy agradable para ser la primera experiencia .
Maria
2016-09-29T00:00:00Z
I'm still not sure what I did to deserve such great luck on my first AirBnB experiment. Federico's goodness is of the sincerest kind. Not only is he able to put his guests at ease, give good advice about the city, but he is also very great to have a conversation with. So generous with his time- watching movies, even taking me on a day-trip to the lovely North. I enjoyed reading and writing in the toilet journal, meeting the other guests. The inside of the space is skillfully and lovingly designed by his sister- lovely spaces, light, breezes, sounds, and things to read and contemplate. The cat was way too difficult to pry myself away from. I loved it there so much I had to prolong my stay, but not long enough. I hope everyone has a chance to get to know Federico and his part of La Boca.
Allison
2012-01-18T00:00:00Z
We loved everything about frederico's apartment, including frederico himself. The apartment is light, clean and has a real homey feel. The room is big and comfortable. We shared the kitchen with frederico, which was a joy, as he is a great (pizza) chef. In everything else we also found the perfect host in frederico. He took his time to tell us all we needed to know about BA and the neighbourhood. The boca neighbourhood is in part less touristy, but there also lies its charm. We had no problems with walking home in the evenings and bus connections are good to all other parts of town. All in all, If you want to experience some real buenos aires, stay with frederico!
Quirine
2015-11-16T00:00:00Z
Nous avons passer une excellente semaine dans l'appartement de Federico. La chambre est splendide, tous comme le reste de l'appartement. Sans parler du toit où nous avons profité du hamac et du barbecue. De plus, un supermarché, une boulangerie et un maraîcher se trouvent à moins de 50 mètres de l'appartement. La boucherie est elle à 200 mètres. Federico nous a très bien accueilli, et a toujours été disponible dès que nous avions des questions.
Alexandre
2015-04-16T00:00:00Z
We had an amazing stay with Federico in La Boca. The room is lovely with lots of light and the house very comfortable. We really enjoyed being in La Boca as well. It is a little far, but the buses are great and you can easily walk to San Telmo and other neighborhoods. Being there allowed us to experience a lot more of the city. Federico and his son were really nice and helpful with information on the city and it felt like staying with friends.
Shannon
2012-08-04T00:00:00Z
It was just fantastic staying at Federico's wonderful place. The room is great, really spacious with a cosy sofa, a small balcony, from where you can watch the football fans of famous La Boca club. Federico himself is absolutely helpful, talks to you in Spanish when you wanna learn the language and is an outstanding cook. The roof terrace is a dream (when the weather is on your side). I totally recommend this place in a terrific city.
Gero
2012-08-19T00:00:00Z
ประเภทห้อง
ห้องส่วนตัว
---
ประเภทที่พัก
อพาร์ทเมนท์
---
พักได้
2
---
ห้องนอน
บัวโนสไอเรส, Capital Federal, อาร์เจนตินา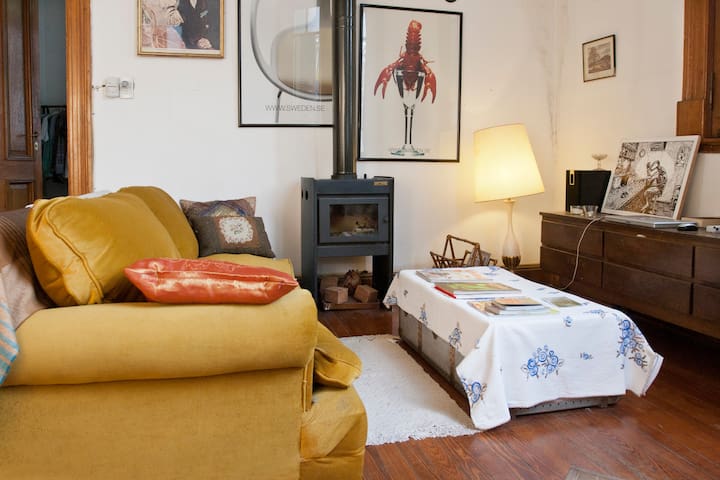 Hola! Mi departamento esta ubicado cerca de caminito, San Telmo, Puerto Madero y otros sitios de interés turístico. Es muy lindo y luminoso.
Esta ubicado exactamente dentro de un barrio de La boca llamado Catalinas Sur es muy bonito y a unas 5 cuadras de Los Barrios de San Telmo y Puerto Madero.
O espaço é maravilhoso, ótimo ambiente para dormir e relaxar. Acomodação perfeita. O local é de fácil acesso, há várias linhas de ônibus, que te levam a praticamente todos os lugares de Buenos Aires. Para quem não gosta de ônibus pode pedir Uber. E para quem gosta de caminhar, o apartamento fica a poucas quadras do estádio bomboneira, algumas quadras do puerto madero e feira de sam telmo. Lugar perfeito para ficar!
Judá Oliveira
2017-02-07T00:00:00Z
Lo mejor fue la ubicación y fácil acceso a la locomoción, incluso unos puede caminar a lugares cercanos como por ejemplo san Telmo o parque Lezama.
Andrea
2017-01-30T00:00:00Z
Florência é uma excelente anfitriã, me acolheu muito bem na casa dela. A casa é organizada e bem localizada. O quarto é bem confortável. Recomento muito. Florencia is an excellent host, i felt really welcome in her house. The house is organized and well located. The room is really confortable. I recomend.
Gustavo
2017-01-19T00:00:00Z
Florencia foi uma ótima anfitriã, muito solícita. A casa fica numa região muito agradável de La Boca, me senti segura por aqui. O acesso ao centro de transporte público é muito rápido e fácil. A casa é simples, mas atende muito bem às necessidades de uma estadia (URL HIDDEN) certeza voltaria. -- Florencia is a great host, very helpful. The apartment is at a lovely region of La Boca, I felt very safe here. It is really easy to get to the downtown by bus. The house is simple, but perfectly reasonable for a short term stay. I would definitely come back in the future.
Vivian
2017-03-10T00:00:00Z
O lugar é maravilhoso. Quarto privado, bem confortável, ótimas instalações. Segunda vez que me hospedo lá, e sempre que vinher a Buenos Aires, vou querer ficar aí. Florencia é uma excelente anfitriã.
Judá Oliveira
2017-02-14T00:00:00Z
Todo!! Muy atenta conmigo!!
André
2017-03-14T00:00:00Z
Sehr nette und unkomplizierte Gastgeberin, schönes Zimmer in schöner Wohnung und tolle Lage in La Boca
Christopher
2017-03-28T00:00:00Z
ประเภทห้อง
ห้องส่วนตัว
---
ประเภทที่พัก
อพาร์ทเมนท์
---
พักได้
1
---
ห้องนอน
บัวโนสไอเรส, Ciudad Autónoma de Buenos Aires, อาร์เจนตินา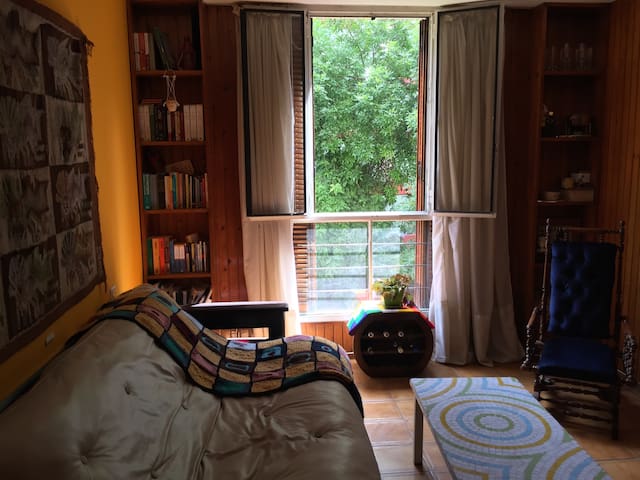 El departamento esta en la zona de Barracas, zona residencial tranquila y segura, a 10 minutos del centro de la ciudad y muy cerca de Puerto Madero y San Telmo. La habitación cuenta con una cama y otra cama plegable. En el departamento yo también vivo y ocupo otra habitación. Los servicios incluidos son televisión por cable, wifi y sabanas y toallas limpias. El departamento es muy luminoso y moderno.
El alojamiento en una habitación dentro de mi departamento. Hay una cama y otra plegable en caso de haber un huésped extra. Soy una persona tranquila a la que le gusta viajar y compartir. Sin embargo trabajo muchas horas por lo cual no estoy mucho en casa.
Es un típico barrio porteño, arrabalero y seductor! Muy cerca del centro, se puede ir caminando o ir en bus en pocos minutos
She is a nice girl , unfortunately she didn't stay with us in the apartment but although she left all the apartment to us. Nice cozy apartment in the center of Buenos Aires
Shady
2016-03-28T00:00:00Z
Fernanda has been very caring when we arrived and told us a lot of what to see and where to go. As we had just got our camera equipment stolen and laptop stolen upon arrival in BA, we were not fully able to take in everything. The flat itself is as described and seen in the pictures. For two people the room is however really small. And for a couple it's a bit imperfect that the mattresses are not on the same level. We also were lucky that we had the flat by ourselves. This way we could use the Aircon in the living room to cool down the flat a bit, as the one in the room was/is not connected. However, all in all we had a good stay and were happy with the place. Still Fernanda's place generally is more recommendable for single travelers.
David Christian
2016-01-07T00:00:00Z
Recomiendo este hospedaje, más aún para los que nos gusta y estudiamos el fútbol.
Jorge
2017-03-21T00:00:00Z
Excelente el lugar me encanto tal cual está en las imágenes todo limpio y la zona donde está ubicada es tranquila
Fabricio
2016-03-08T00:00:00Z
Todo perfecto... El barrio muy tranquilo, muy bien ubicado, la anfitriona un siete y muy buena disposición.
Michael
2016-06-06T00:00:00Z
Fue como estar en casa! El apto es mejor de lo que luce en fotos! Llegue y de inmediato la atención de Fernanda & Nico fue especial! Muchas gracias por abrirme las puertas de su casa! Está en buena zona, fácil acceso a diferentes colectivos, la cocina, la habitación, la sala de baño, todo A1. De verdad que recomendado, si volvería estará sería mi primera opción! Muchas gracias
Giovanni
2016-07-23T00:00:00Z
Fernanda y Nicolás fueron muy agradables y me ayudaron en todo lo que pudieron. Fue una estancia fantástica.
Ricardo
2016-01-24T00:00:00Z
Primero tengo qu me decir que Fernanda es muy amorosa y preocupada... Mi vuelo se retrasó y llegue a las 1 AM. Fer tenía que salir y me espero amablemente para recibirme en su hogar. Desde el principio fue como llegar a la casa de una amiga o una hermana, la acogida fue increíble. Ella estaba con unas amigas y hablamos por un largo rato con una copa de vino. Definitivamente si tengo que volver a BAires, me quedaría nuevamente con ella!! :)
Maribel
2016-05-15T00:00:00Z
ประเภทห้อง
ห้องส่วนตัว
---
ประเภทที่พัก
อพาร์ทเมนท์
---
พักได้
2
---
ห้องนอน
บัวโนสไอเรส, CABA, อาร์เจนตินา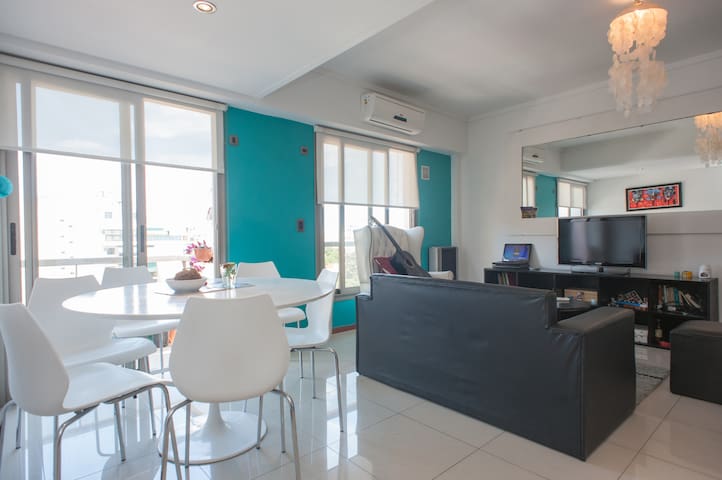 NEW Industrial Loft fully equipped - In the Arts District of Buenos Aires A 5 minutes from downtown - San Telmo and other Tourist Attractions Equipped with Refrigerator - Microwave - Coffee Nescafe - Led 50 "- Dishes for 4 people - Basic Items included : sugar coffee capsules - water -bottle of wine - including toiletries Wifi Sheets and towels first quality. Maid service included 2 bikes We seek and take you to Ezeiza Pool and Gym
El Edificio cuenta con un gimnasio, spa y pileta Esta situado en el Distrito de las Artes de Buenos Aires, a 5 minutos del centro, de San Telmo, la Boca etc. Esta incluido el servicio de limpieza diario. Podemos ayudarte a reservar excursiones y salidas Te buscamos en Ezeiza y te llevamos a tu partida El departamento esta totalmente equipado para que tu estadia sea perfecta. Te esperamos con un vino Malbec de cortesia.
El Distrito de las Artes es un proyecto que surge para promover la inversión en arte, donde convivan espacios de creación, producción y difusión cultural. Incluye a las artes visuales, artes escénicas, literatura y música. Asimismo, pretende revitalizar una zona por años relegada. La Usina del Arte Ubicada en el corazón de La Boca , el histórico edificio de la Ex Compañía Italo Argentina de Electricidad, cuenta con la primera sala sinfónica de la Ciudad (con capacidad para 1200 personas) y espacios culturales para la realización de diversas intervenciones artísticas (exhibiciones de danza, artes plásticas, etc). Dirección: Caffarena y Av. Pedro de Mendoza. Tambien se encuentra el Museo Proa, el Centro Metropolitano de Diseño, el Museo Benito Quinquela Martin, el Museo de Arte Contemporaneo, el Museo de Arte Moderno, y muchas Galerias de Arte con excelentes exposiciones. Caseros a pocas cuadras del Edificio es una callecita para no perderse, llena de buenos restos y bares - Hierbabuena un Must!
ประเภทห้อง
บ้าน/อพาร์ทเมนท์ทั้งหลัง
---
ประเภทที่พัก
อพาร์ทเมนท์
---
พักได้
2
---
ห้องนอน
บัวโนสไอเรส, Ciudad Autónoma de Buenos Aires, อาร์เจนตินา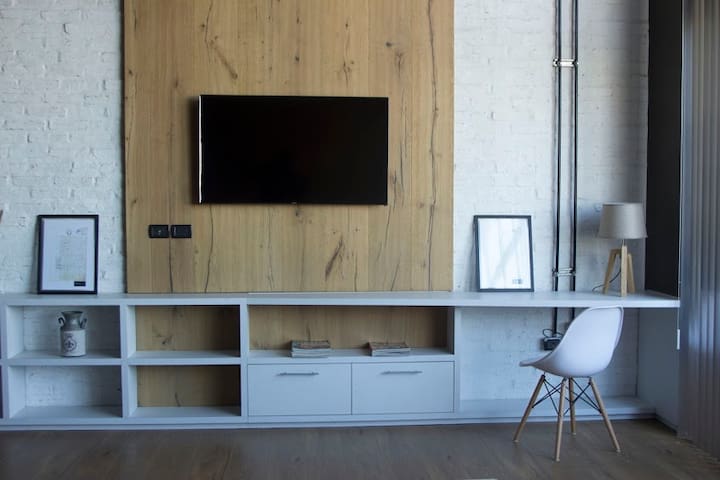 Modern and bright apartment with an excellent location. It is close to San Telmo, La Boca, Puerto Madero and City Porteña neighborhoods. The apartment has fully equipped kitchen and bar, bathroom, bedroom with Queen Size bed, living room with comfortable armchair, desk to work with natural light and a large balcony full of plants. It is equipped with two TVs, a computer and washing machine. It has a deep pool with solar and security at the door.
Ofrecemos una visita guiada gratuita para 2 personas por el barrio de La Boca o San Telmo por estadías no menores a 7 noches.
The neighborhood of Barracas is quiet and residential, is located 5 minutes walking of the tourist districts of San Telmo, Puerto Madero and La Boca. In bus is located 15 minutes from the City Porteña. There are numerous gastronomic places, San Telmo is characterized by its many bars.
Perfect value. Luciano is an amazing host. The apartment is very well equipped with everything you will need, very clean in a great area close to everything with tins of transportation
leah
2017-03-22T00:00:00Z
Hermoso depto. eqipado con todo, buen gusto muy lindo, limpio y ordenado, muy atento en todos los detalles el anfitrion. si vuelvo contactare nuevamente a Luciano.-
ricardo
2017-02-17T00:00:00Z
ประเภทห้อง
บ้าน/อพาร์ทเมนท์ทั้งหลัง
---
ประเภทที่พัก
อพาร์ทเมนท์
---
พักได้
2
---
ห้องนอน
บัวโนสไอเรส, Ciudad Autónoma de Buenos Aires, อาร์เจนตินา
Mi increíble departamento se ubica en el corazón de Barracas, barrio antiguo de la ciudad de Buenos Aires, con muchos centros comerciales, restaurantes, cafés y diferentes tipos de negocios. Este coloso departamento puede alojar a 02 personas muy cómodamente, cuenta con una habitación con cama matrimonial, living comedor, cocina independiente totalmente equipada, lavadero y balcón para disfrutar una cerveza durante el atardecer. Se encuentra a 8 calles de la estación de ferrocarriles Plaza Constitución y circulan a 3 calles más de 20 lineas de colectivos/buses que lo conectarán con todos los atractivos de la ciudad.
ประเภทห้อง
บ้าน/อพาร์ทเมนท์ทั้งหลัง
---
ประเภทที่พัก
อพาร์ทเมนท์
---
พักได้
2
---
ห้องนอน
บัวโนสไอเรส, Ciudad Autónoma de Buenos Aires, อาร์เจนตินา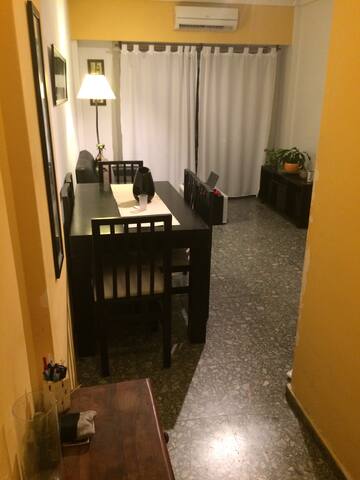 Stylish new Loft in Buenos Aires Art District. You'll love my place not only because it's cosy/homey space but also because of the extraordinary location (10min away -by foot!- from Puerto Madero District, the "Bombonera" Boca Juniors stadium, etc). Ideal place for couples, solo travelers, students, or just adventurous people who love art, culture and new experiences.
The apartment has high ceiling, warm lighting, heat/cold air conditioning system, and exclusive artistic decoration. The kitchen is completely equipment for cooking, we have a 42-in Led Smart TV, high-speed WiFi connection, an electric BBQ grill, and everything you'll need for a great time. The bedroom upstairs has a queen-sized bed, and a very spacious walk-in closet.
The apartment is located in the heart of La Boca neighborhood, one of the most traditional spots in the city, in "Puerto Pampa" condo, the most importante real estate development in the city. It is just 10 minutes away from Puerto Madero District and 15min to the city center. Besides, it is very well connected with the public transport system, with numerous bus lines that lead to any spot in the city.
Un lugar increíble a dos pasos de puerto madero. Moderno, seguro, nuevo. Todos los servicios necesarios.
Andres
2017-01-01T00:00:00Z
Súper lindo, acogedor y seguro. Se los recomiendo, tiene todo lo necesario para tu estadía y Ezequiel siempre está para cualquier consulta.
Norángel
2016-12-14T00:00:00Z
La experiencia estuvo increíble. El departamento es muy lindo. Con balcón. En un lugar donde nunca sufrí cortes de luz. Buena ubicación, cerca de transporte público. Y a un paso de Puerto Madero. El edificio es nuevo. Con seguridad 24 horas. Y Ezequiel es un excelente host. Muy atento. Lo recomiendo ampliamente.
Antonio
2017-03-25T00:00:00Z
The host canceled this reservation 3 days before arrival. This is an automated posting.
Datolo
2016-12-13T00:00:00Z
ประเภทห้อง
บ้าน/อพาร์ทเมนท์ทั้งหลัง
---
ประเภทที่พัก
อพาร์ทเมนท์
---
พักได้
2
---
ห้องนอน
บัวโนสไอเรส, Ciudad Autónoma de Buenos Aires, อาร์เจนตินา
La habitación es un hermoso espacio en un amplio departamento ubicado en un 9no piso en el pintoresco barrio de La Boca. Los anfitriones, Marta y Alex, abren las puertas de su casa y de su maravillosa terraza a la Bombonera.
ประเภทห้อง
ห้องส่วนตัว
---
ประเภทที่พัก
อพาร์ทเมนท์
---
พักได้
2
---
ห้องนอน
บัวโนสไอเรส, Buenos Aires, อาร์เจนตินา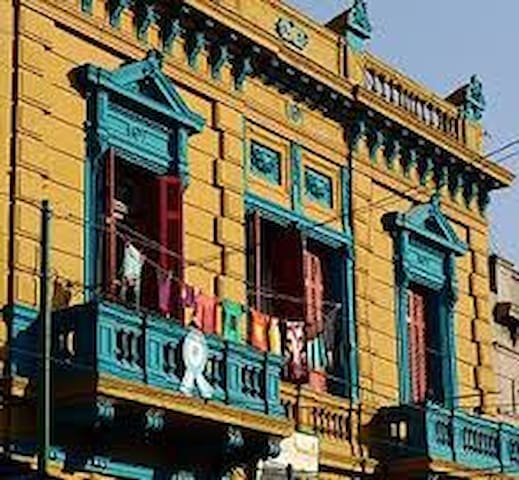 Situado en el corazón de La Boca, a 3 cuadras del estadio del Club Atlético Boca Juniors, 5 cuadras de Caminito. Supermercado y comercios varios muy cerca. Muy fácil acceso, conectado con más de 15 lineas de bus.
Amplio apartamento con una habitación con cama doble y otra cama simple en el comedor, con sábanas y frazadas
Barrio con mucho movimiento y con mucho para ver. El tango muy presente, con Caminito a solo 5 cuadras y a solo 3 cuadras del mítico estadio de Boca Juniors, La Bombonera!
Fuimos muy bien recibidos, Agustín y su mamá estuvieron muy atentos a cualquier cosa que necesitemos. El departamento es muy cómodo
Francisco
2016-08-28T00:00:00Z
Agustín y su hermana tuvieron toda la disposición para recibirnos aún cuando reservamos de último momento en el mismo día. Muchas gracias!
Jose Antonio
2016-08-27T00:00:00Z
Agustín y su hermana son excelentes anfitriones, me recibieron muy calidamente en el horario de noche, me dejaron preparado todo de la casa. Muy buen departamento, excelentes instalaciones, bien ubicado, a metros del estadio de Boca Jrs, muy lindo todo. Una estadia fantástica, salvo quizás un poco de frío en la habitación , pero se arregló con una estufa. Excelentes personas y muy buen departamento.
Luciana
2016-07-26T00:00:00Z
ประเภทห้อง
บ้าน/อพาร์ทเมนท์ทั้งหลัง
---
ประเภทที่พัก
อพาร์ทเมนท์
---
พักได้
3
---
ห้องนอน
บัวโนสไอเรส, Autonomous City of Buenos Aires, อาร์เจนตินา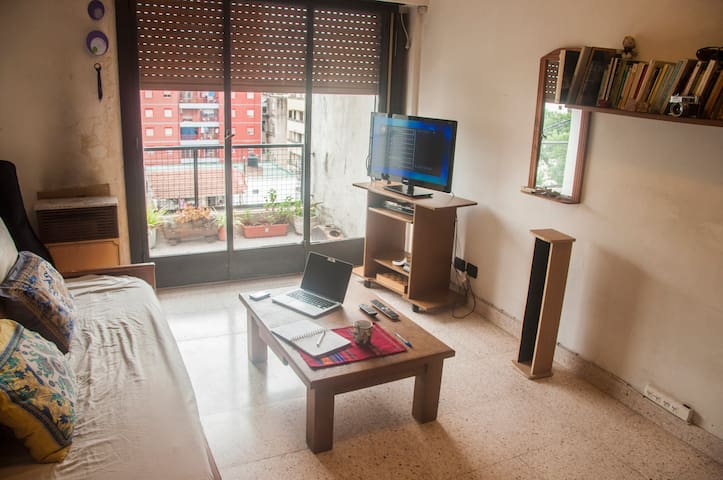 1

–

18

จาก

200 อพาร์ทเมนท์ให้เช่า
กรอกวันที่เพื่อดูการกำหนดราคาเต็ม มีค่าธรรมเนียมเพิ่มเติม อาจมีภาษีเพิ่ม