My place is close to the iconic Point Elizabeth walkway. You'll love my home because of the amazing ocean veiws, the peace and quiet, wildlife, dolphins and beautiful sunsets, you'll love the decor and the huge comfy bed. My place is good for couples, solo adventurers, and business travellers.
It's a century old villa, is surrounded by lush native bush and a wild rambling edible garden. Guests are invited to laze on the wide decks, explore the garden or walk to the beach which is just over the road, it's a beautiful wild west coast beach, great for finding special treasures like nz's unique pounamu jade, or just a 5 min further down the road is the iconic point Elizabeth walkway
Our neighborhood is nice and quiet, it's a no exit road with little traffic, there are ponies in the paddock and other small farm animals in the area
Mary's place is a calm paradise on the edge of the Tasman. It is so unbelieveably serene and beautiful. Great for a quiet getaway, but still close the greymouth. Must go!
Suez
2017-01-08T00:00:00Z
We highly recommend this location! The home sits close to the ocean and is surrounded by lovely gardens. It's private and feels remote, yet close to town. The house itself is historic and thoughtfully decorated. Enjoyed the whole experience!
Barbara
2016-12-09T00:00:00Z
Ticked all the boxes. Secluded, ocean at the front door, the sound of the waves at night, great views including snow capped mountains in February, close to walking track.
DELWYN
2017-02-23T00:00:00Z
We felt very welcomed! Mary is a charming host and our room had an ocean view. We loved our private outdoor sitting area complete with beautiful wild flowers. The house is immaculate with a great deal of charm. Mary sent us off with a delicious breakfast as well.
Margaret
2016-12-28T00:00:00Z
Fantastic experience! The house was really clean and cute. Located in a lovely spot. Mary was really friendly and helpful. I would definitely book this lovely house again!
Berta
2017-02-10T00:00:00Z
AMAZING ocean view, lovely house + great host. We couldn't imagine a better place to sleep. Unfortunately we only stayed one night, but we could easily be there a few more days. Thanks for everything
Marcel
2017-02-04T00:00:00Z
Mary was a great host and owns this woderfully secluded and cosy place with great views of the sea. Mary lives right behind the house so is always within reach if you need her.
Rupal
2017-03-13T00:00:00Z
The host canceled this reservation the day before arrival. This is an automated posting.
Larry
ประเภทห้อง
บ้าน/อพาร์ทเมนท์ทั้งหลัง
---
ประเภทที่พัก
วิลล่า
---
พักได้
2
---
ห้องนอน
Point Elizabeth, West Coast 7802, นิวซีแลนด์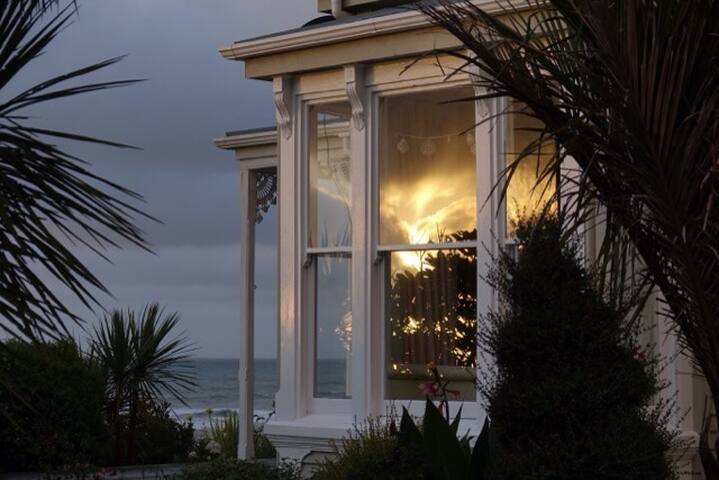 A 4 room guesthouse villa with restful, large rooms .Some would call us a private hotel, with dining and bar adjacent. Double ensuite room( if available) and two bathroom share rooms in a renovated villa. Each well appointed room has a TV and comfy viewing chairs, with a touch of romance with white linen and old fireplaces. We live next door at restaurant/home .Reefton offers bike tracks, historic rambles,river views and great heritage buildings . Our nightscape is a picture and rivals many.
We have a restaurant next door to welcome our guests, room service to spoil them and love to recommend local activities and drives.
We are situated just back from the main street of Reefton (Broadway). We are close to all shops, the river, numerous nature walks and heated town pool. A car is not required! Our location is almost perfect!
Paula was really great and very welcoming. We arrived late and she'd arranged for a pizza, from the now closed restaurant, to be brought to us with a couple of wine glasses. The place was as described and we'd stay there again.
Jean-Marc
2016-03-10T00:00:00Z
We enjoyed staying at this Airbnb. They also run a restaurant which is really handy because there is not to much to do around this area. The room was clean, tidy and comfortable. Gerard and Lucie, Alicia's parents.
Alicia
2016-01-22T00:00:00Z
The house is clean. The room too. We've our own bathroom, it was nice. No problem to find them. It's cosy and charming, we meet a another lovely couple. There is not much in the kitchen except an electric pan.
Nadia & Denis
2015-12-30T00:00:00Z
欧式房子,很不错的体验,就是厨房不大适合中国人做饭
LIZHI
2017-01-19T00:00:00Z
We stayed 3 nights in a lovely ensuite room. Paula was very welcoming and showed us around, pointed out where complimentary tea and coffee was in the shared kitchen. And there was a nice shared sitting room, and plenty of hot water in the taps! Paula and Miles also run an eatery which we can recommend. Anette and Tony, Denmark.
Anette
2016-02-18T00:00:00Z
A warm welcome to a clean room. Very welcome after a long drive.
Maureen
2016-03-30T00:00:00Z
Old villa near the town centre. The room was huge and we had our own bathroom which was clean and tidy. Unfortunately we had some bigger spiders and other insects on the ceiling and the floor of our bedroom! We had a short night and felt uncomfortable. If the room is clean you could have a good stay in an old house.
Till
2016-02-06T00:00:00Z
A welcoming place, spacious bedroom, handy in township and local cafes etc.
Murray & Jo
2016-12-30T00:00:00Z
ประเภทห้อง
ห้องส่วนตัว
---
ประเภทที่พัก
วิลล่า
---
พักได้
2
---
ห้องนอน
Reefton, West Coast 7830, นิวซีแลนด์
New independent villa with protected Lake and Mountain Views to Treble Cone . Walk down to the Lake at Bremner Bay and Eely Point - 8 mins; The cycle tracks in Sticky Forest are at the back door for you to explore, or relax in peace and quiet under the Cherry Blossom Tree in the landscaped garden. Wanaka Township with cafes and bars are just a 5 min drive, or you can walk in 20mins and keep fit amidst the beautiful scenery. Just a 30 min drive from Cardrona and Treble Cone Ski Fields
The studio has a warm and sunny aspect- bed/living with luggage rack, plenty of wardrobe space and separate ensuite with shower. There is a separate 'mudroom/ equipped with fridge, toaster, complimentary tea and coffee. Microwave is available and there is a BBQ outside for summer alfresco dining on the patio, or relax in the shade of a cherry tree. PLease note there is not a full kitchen in the suite.
Peninsula Bay is just 4km from the Lake Wanaka Township with many cafes/restaurants. The studio is an 8 min walk from Bremner Bay and Eely Point
Everything went smoothly with check in. Did not meet Yolande but her place was very nice and clean. It had all the things we needed for our one night stay. All instructions and information for the house were on a laminated page in the living room. Great shower and bathroom with heated towel rack and heated floors.
Julie
2016-02-23T00:00:00Z
Only stayed one night, place was extremely clean. Strict with rules so make sure you read them.
Rachel
2016-08-17T00:00:00Z
We had a lovely time at Wanaka vistas, the view was amazing and the unit was very comfortable with everything that we needed. We would definitely stay here again.
Brendan
2016-05-06T00:00:00Z
Great view of the lake from the unit. The accommodation was clean and secluded.
Emma
2016-02-17T00:00:00Z
Very nice little house with a good view. Outside of the city center but no problem with a car. Yolande was Very friendly.
Andrea
2017-01-03T00:00:00Z
We had a great stay in Wanaka. Yolande was very friendly and the place was great. Amazing views!
Kestral
2016-11-13T00:00:00Z
Wonderful place to stay in Wanaka. Very clean and close to town. Yolande was a great host.
Lauren
2017-02-28T00:00:00Z
Lovely apartment with friendly owner. I love this place nearby Lake Wanaka and will come again next time
子柏
2016-11-18T00:00:00Z
ประเภทห้อง
บ้าน/อพาร์ทเมนท์ทั้งหลัง
---
ประเภทที่พัก
วิลล่า
---
พักได้
2
---
ห้องนอน
วานากา, Otago 9382, นิวซีแลนด์
Kumara is a central West Coast location. Greenstone Retreat is the perfect base for resting, exploring and being in nature. This historic Villa has been lovingly restored and is a cosy home away from home. Activities include: walking, cycling, mountain biking, kayaking, star gazing, jet boating, fishing, jade hunting, historic sites and information, restaurants and dining and the beach. 20 minutes from Hokitika or Greymouth. 1 hour from Punakaiki and the pancake rocks. 2 hours from Glaciers.
Kumara is a central West Coast location. Greenstone Retreat is the perfect base for resting, exploring and being in nature. This historic Villa has been lovingly restored and is a cosy home away from home. Activities include: walking, cycling, mountain biking, kayaking, star gazing, jet boating, fishing, jade hunting, historic sites and information, restaurants and dining and the beach. 20 minutes from Hokitika or Greymouth. 1 hour from Punakaiki and the pancake rocks. 2 hours from Glaciers. Where old historic villa meets communal family style living. New business and recently renovated, this warm, quirky and loved home can be your base while you explore the cycle trails, walking tracks and local attractions. Environmentally friendly products and organic property. Warm with woodburner fireplace. Bathroom includes bath and shower. Free fast unlimited WIFI is included throughout the house. Free tea, coffee, herbs and spices. The house is in a quiet location, with lots of gardens to explore and only a few minutes walk to the play ground, local pub and shop. Listen to the abundant bird song, stargaze, practice yoga or head out to explore the local wild West Coast. Free parking and bike storage. I live on site and am available by phone whenever needed. There is free parking, however please close the gate behind you to keep my puppy in. She is called Scout and is very friendly once you greet her. Look for her unique half smile! She is still young though and can be hesitant and bouncy. Please let me know if you are unsure of dogs. I love to mingle and interact with the guests and I am passionate about recommending things to do in the area and make bookings for you. However, if you are a private group I am happy to introduce you to the house and leave you to your space. Let me know and I will do my best to make your stay perfect. As it's a new business your feedback and ideas about Greenstone Retreat will be very welcomed. Kumara is a village of approx 300 residents. It boasts a dairy, pub/restaurant, gallery and clothing shop. There is lots water to play in and around with the local lakes, river and beach. A network of tracks for walking, cycling and mountain biking. Low population and very little light pollution gives us abundant bird life and an amazing show of stars after the sunset. Lots of historic information and interesting sites and attractions. Have a (EMAIL HIDDEN) or ask me for more information. Kumara is a small town on a grid system so easy to find your way around. The West Coast Shuttle and Atomic Shuttle can bring you to the village. The wilderness trail shuttle can help move you, your bikes and belongings around the cycle trail. Pets by arrangement only. It is not fenced and dogs need to be supervised at all times, and on a lead unless playing with my dog Scout. The gardens are currently being landscaped but there is plenty of space outside whether its for a BBQ, sunbathing or watching the quiet world go by. There is no TV, but lots of board games, books and free unlimited wifi for movies. There is full kitchen facilities for you to use, so please bring what you need including milk as there is no supermarket in Kumara. Free bike and luggage storage as required.
Kumara is a village of approx 300 residents. It boasts a dairy, pub/restaurant, gallery and clothing shop. There is lots water to play in and around with the local lakes, river and beach. A network of tracks for walking, cycling and mountain biking. Low population and very little light pollution gives us abundant bird life and an amazing show of stars after the sunset. Lots of historic information and interesting sites and attractions. Have a (EMAIL HIDDEN) or ask me for more information.
Kate's place is a hidden gem. A must stay if you're in the Greymouth area. Charming house with great facilities and wi-fi. Kate was also nice enough to give us some tips for visiting the glaciers and local hiking activities.
Lea
2016-11-24T00:00:00Z
Great place for spending quite time. Highly recommended
Gabe
2017-01-20T00:00:00Z
Fanatastic stay at Kate's gorgeously renovated historic house - awesome place. Wish we could have stayed longer.
Robbie
2017-01-08T00:00:00Z
What a gorgeous home. Spacious and well equipped. This home has been renovated with an eye for detail and with many modern features. It felt very inviting and super warm.
Mo
2017-02-13T00:00:00Z
The home is lovely, a real credit to Kate ( and Scout's) hard work restoring the home. Kate made us feel at home and gave us great local info. The local pub, the Theatre hotel was a real surprise only minutes away, a quality restaurant and full of history, we all enjoyed our time in Kumara.
John
2016-11-23T00:00:00Z
Kate. You are a star! What a beautiful place you have. All we needed and more. A warm welcome from you and Scout, clean and comfy rooms, fire all ready to light. Your kind offer of advice on things to do and see. Wish we could have stayed longer, but will most definitely be back again!! Thank you.
Catherine
2016-12-01T00:00:00Z
ประเภทห้อง
บ้าน/อพาร์ทเมนท์ทั้งหลัง
---
ประเภทที่พัก
วิลล่า
---
พักได้
6
---
ห้องนอน
Kumara, West Coast 7832, นิวซีแลนด์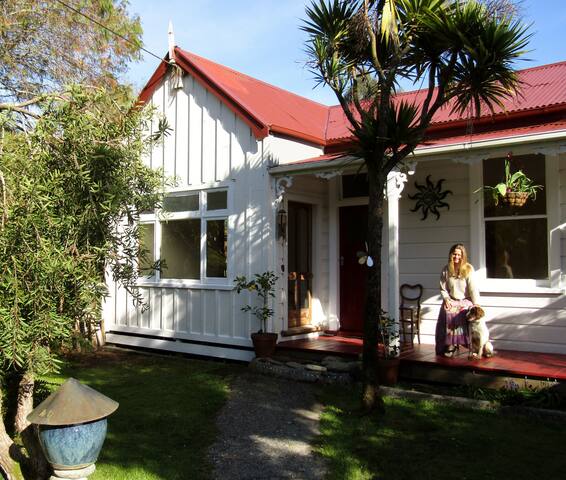 Couples $50. single $30 Dorm $20. a good quality backpacker style villa. Bunkroom sleeps 8 and private rooms. Close to town centre restaurants and bars, lock up motorbike garage. Good kitchen and showers, linen (website hidden). even if calendar shows booked rooms may still be available.
100 year old villa, good kitchen facilities, free internet, 2 lounges
Wayne is a gracious and accommodating host. He is easy to talk to and has some great recommendations for what to see around the area.
Nolan
2016-01-18T00:00:00Z
Wayne was very kind, let us stay at his beautiful and clean house, we felt verry welcome. Thanks!
Daniela
2016-01-20T00:00:00Z
Wayne and his wife are absoloutly lovely and helpful hosts. We couldent ask for better hosts!! We where really sad, that we just stood for 1 night in their dream villa. Thank you very much for everything!
Vendeline
2016-03-29T00:00:00Z
Everything was ok. Nice and beautifull house and town with friendly people.
Peter
2016-03-07T00:00:00Z
Wayne was such a helpful, kind man and made my friends and I very welcome. His house was amazing and nice and clean. We would stay again and would recommend anyone to stay there :)
Kerrie
2016-01-29T00:00:00Z
Julie-ann and wayne were super friendly and outgoing. They were always up for a chat. We only stayed for one night, but even then they took the time to get to know you. Definitely a busy house, but a great place to stay while in Westport.
Rebecca
2017-02-17T00:00:00Z
Wayne's place was exactly what we need for a cozy night in just traveling through town. We had the queen bedroom so he allowed us to choose. We had full access to the kitchen. Room was a bit chilly but the bed was nice and warm. They were both very friendly and welcoming, thank you again!
Gianna
2016-12-01T00:00:00Z
Would defiantly recommend staying here ! The room was very comfortable and the house was nice and clean with a great atmosphere. Wayne's partner is very lovely and accomodating ! Anyone looking in the area , defiantly stay here!
Steph
2016-12-06T00:00:00Z
ประเภทห้อง
ห้องส่วนตัว
---
ประเภทที่พัก
วิลล่า
---
พักได้
8
---
ห้องนอน
Westport, West Coast 7825, นิวซีแลนด์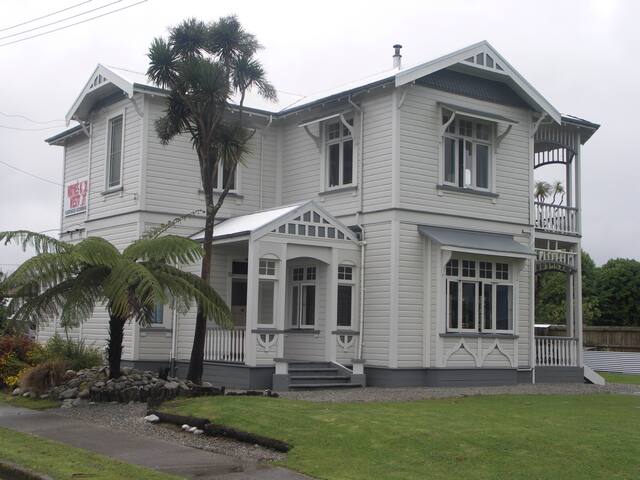 We have 4,6 and female only dorms, double, twin share bathroom and ensuit rooms . power sites for camper vans and tent sites. Modern facilities in a grand old historic mansion. Beautiful gardens.Great base to explore the northern west coast. Welcome.
beautiful 151 year old historic home, a base for all travellers, with modern facilities. Lovely gardens, pressed tin ceilings, and intricate wood work.
wonderful summer evenings. quiet after (URL HIDDEN)
nice place to stay, perfect location at the finish line (bus pick up) of the Buller Gorge Marathon. Clean and tidy
olivier
2016-02-16T00:00:00Z
The listing is a hostel, so not sure why the listing is popping up on AirBnB. The description of our private room was not given, but we booked anyway. We were surprised to find ourselves given a trailer in the backyard of the hostel with a bathroom shared amongst the other trailers and campers staying at the hotel. Shared bathroom, showers and sinks with vanity were coed and lacked privacy. Laundry service was not the best, since we had to put our laundry through three drying cycles. The hostel and its amenities were clean. Maybe not a bad choice if one is comfortable staying in hostels.
Bronwen
2016-01-13T00:00:00Z
Jack is a friendly, accommodating host. We were given the perfect room for us where our small dog Greta was also welcome. Very presentable shared facilities.
Margaret and Philip
2017-02-02T00:00:00Z
Nice hostel, we had a double room, it was quite small, but okay. The kitchen and dining area are great, in the kitchen you can find almost everything you may need for cooking.
Alexandra
2017-01-05T00:00:00Z
A lively place, all ages and persons welcome with a diversity of sleeping accommodations. Community furnishings a bit dated but probably on par for a hostel. Nicely kept grounds, lots of decking and outdoor spaces and a good barbecue area. A good stay.
Bruce
2017-02-12T00:00:00Z
Double room for single use, clean, good showers, good bed, good location close to "main street"
Astrid
2016-11-06T00:00:00Z
This was a great spot to stay. We hadn't stayed in a YHA for many years, so this place brought back many happy memories. Jack greeted us and showed us around. We had everything we needed for our all too brief stay - well equipped kitchen, nice grounds, comfortable bed and respectful house guests. I would stay here again.
Patricia
2017-01-14T00:00:00Z
Really nice and clean hostel. Kitchen and laundry room is very good and there is enough space for everybody. We can really recommend this hostel. People are also very friendly.
Johannes
2017-01-07T00:00:00Z
ประเภทห้อง
ห้องส่วนตัว
---
ประเภทที่พัก
วิลล่า
---
พักได้
2
---
ห้องนอน
Westport, West Coast 7825, นิวซีแลนด์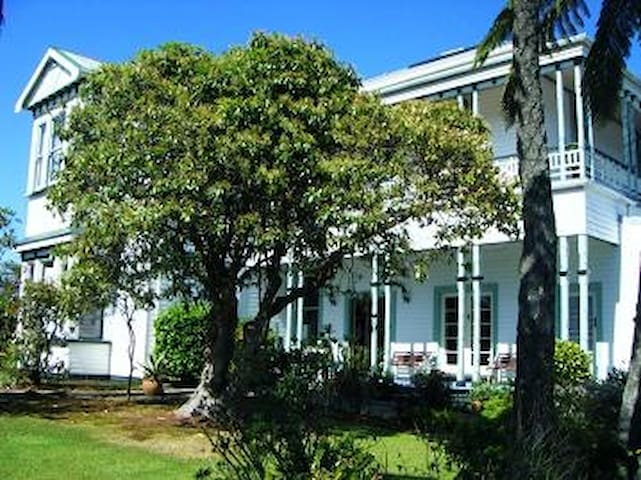 the villa is new, main bedroom has king bed, ensuite with shower,bath,etc upstairs bedroom has queen and single, using separate bathroom downstairs shower etc. full kitchen, living room, and separate sitting room.
villa is in the vineyard so ask before exploring
small housing estate 45 lots only
Two Buckets Winery was the perfect place for us to relax and unwind during our stay in Wanaka. The cottage is luxurious and very comfortable, with a stunning view of the vineyard. Duncan and Barbi are so friendly - they are great hosts! We would love to go back in the winter for the ski season.
April
2017-01-18T00:00:00Z
Two Buckets Vineyard is an absolutely dreamy place to stay whilst in the Wanaka area! As oenophiles we loved the view of the vineyard upon waking up & each evening while unwinding from our adventurous days. The home is wonderfully decorated & immaculate. We loved every minute of our stay.
Kerri & Kevin
2017-02-15T00:00:00Z
We loved Duncan and Barbi's place so much that we extended our stay! The house was absolutley immaculate, beautifully presented, spacious and quiet. Barbi even put a little toy basket together for our little boy and a soft and snuggly lambs wool in his cot. The views over the vines to the mountains are stunning. Location is a very quick drive into town and a short walk to the lake. The estate has a swimming pool, tennis court and children's playground that you can use. Excellent added bonus. I can't recommend this house (and hosts) highly enough.
Emma
2017-02-24T00:00:00Z
Duncan's place is beautiful. The views are spectacular from all windows. There was enough space for all of us to have "alone time" if required. The rooms and bathrooms were immaculate. The kitchen well stocked for plates etc that we had a few friends over for dinner. The location is great, closer enough to town that you can walk down.
kanagammah
2017-03-13T00:00:00Z
What an amazing place! It is truly a stunningly beautiful setting, with vineyards just steps outside the door and mountains all around. The pool and gym area are great, and just a short walk away. Great hosts and an awesome spot!
Andrew
2017-03-09T00:00:00Z
Such a beautiful home. Amazing views and facilities. The swimming pool was gorgeous. Duncan and Barbi have sensational taste, everything in their home is top quality (linen etc). Duncan and Barbi are extremely friendly and helpful. Amazing hosts. LOVED staying here. We didn't want to leave!
Emma
2017-01-01T00:00:00Z
Well appointed house with great services and facilities. Everything spotlessly clean and hosts welcoming and helpful. Would highly recommend.
Nicola
2017-01-07T00:00:00Z
An absolutely gorgeous place to stay. We couldn't stop taking photos of the surroundings! There was plenty of room for our little one to run around in - including having an Easter egg hunt amongst the vines - and the town was just a short drive away. We made use of the well-stocked gym, playground and pool that were free for tenants to use. Duncan and Barbi were lovely hosts and made us feel very welcome, even supplying us with a high chair for our stay.
Nicola
2016-03-30T00:00:00Z
ประเภทห้อง
บ้าน/อพาร์ทเมนท์ทั้งหลัง
---
ประเภทที่พัก
วิลล่า
---
พักได้
5
---
ห้องนอน
วานากา, Otago 9305, นิวซีแลนด์
当地选材的石头原木结构别墅坐落在32000平米的农场里。5个大卧室。4个卫生间。2个大壁炉。房子温暖而宁静。比邻著名的蒂卡波湖仅13公里。夜晚是观看天下最美星空的最佳观赏地点。Located in Burkes Pass, this holiday home is situated 17 km from Lake Tekapo. The unit is 49 km from Twizel, and guests benefit from free WiFi and private parking available on site. The unit fitted with a kitchen with a dishwasher and microwave. A flat-screen TV is available. You can engage in various activities, such as skiing, fishing and hiking.
Very beautiful house no matter inside or outside. The house is old style, made of stone and wood, full of ages and design. However, some facilities have to improve such as the hot water supply and the tv signal. The manager is very nice to help us and promise all would be fixed as soon as possible. Highly recommended when everything get ready for guest.
志锋
2017-01-30T00:00:00Z
将近晚上8点到达小屋,按着(SENSITIVE CONTENTS HIDDEN)map很容易找到。小屋确实如图片中的一样美。可惜我们只有三个人,这一栋房子人多才热闹。居然还有麻将桌!晚上一起点了壁炉,喝红酒,第一次近距离接触跟童话中一样的壁炉,非常兴奋!屋子很安静不在小镇中心也不靠湖,有特色。屋子的管理者就住在隔壁,小火车上,很方便。周围有许多兔子。屋子里有电暖器,但不知道冬天会不会很冷。台盆是冷热水分开,这一点比较不方便,没有拖鞋和牙刷。使用了厨房做早餐,很有意思。
Kitty
2017-02-22T00:00:00Z
房子不错,就是清洁度需要提升。门口好多兔子,宝贝喜欢。
lynn
2017-02-08T00:00:00Z
太差了, 1,导航导不到 2,卫生太差,到处都是灰尘和虫子尸体 3,像个鬼宅
Jianjun
2017-02-23T00:00:00Z
房子座落在大农场内,位于Farelie镇与Lake Tekapo 中间,离中心景点大约20分钟车程,1991是路边信箱号码,留意到还是很好找的。房子原布局和装饰都是不错的,一层有两房两卫,二层有三房一卫,可能由于较长时间没人住,卫生条件一般,比较多蜘蛛网,床铺有干了的小虫子,喜欢田园生活的或不介意,呵呵……晚上砍柴在壁炉生火很有气氛,小朋友玩得很开心!那个区手机都没信号,幸亏房子WlFl得力。负责接待的帅哥态度很好,还准备了牛奶鸡蛋给我们,赞一个!
SHUHUA
2017-02-06T00:00:00Z
ประเภทห้อง
บ้าน/อพาร์ทเมนท์ทั้งหลัง
---
ประเภทที่พัก
วิลล่า
---
พักได้
11
---
ห้องนอน
Burkes Pass, แคนเทอร์บูรี่ 7987, นิวซีแลนด์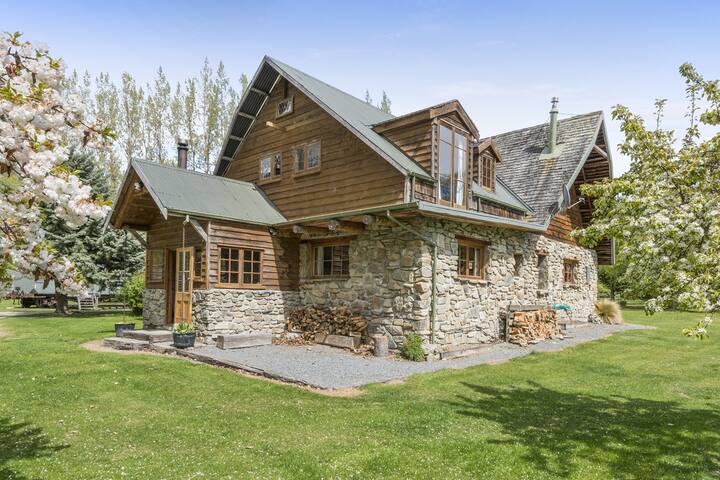 beautiful large room with ornate ceiling, ensuit private bathroom. television and wifi. Historical house with modern facilities.
clean, convenient, limited wifi
Igor
2017-02-20T00:00:00Z
Very central and comfortable in a very interesting period house with easy parking. Although it was a hostel, we were pleasantly surprised at how quiet our room was.
Peter
2017-01-12T00:00:00Z
非常干净整洁,房东热情。
立
2017-02-09T00:00:00Z
La struttura è facilmente raggiungibile in quanto si trova su una delle vie principali, noi avevamo una camera al piano superiore, spaziosa e abbastanza attrezzata e pulita. La posizione è in una zona tranquilla abbastanza vicina al centro del paese. Esperienza positiva
Stefano
2016-11-27T00:00:00Z
Thanks Jack, fabulous place to stay in Westport. We will see you again, next time we are over there
Chris
2016-11-13T00:00:00Z
Camera molto spaziosa, luminosa e pulitissima. La sistemazione è collocata nel contesto di un ostello, del quale è possibile utilizzare i servizi comuni (cucina e salotto). Nonostante fosse affollatissimo di giovani backpackers, alle 10 di sera è calato comunque il silenzio assoluto.
Laura
2016-02-26T00:00:00Z
ประเภทห้อง
ห้องส่วนตัว
---
ประเภทที่พัก
วิลล่า
---
พักได้
3
---
ห้องนอน
Westport, West Coast 7825, นิวซีแลนด์
Whats really GOOD about Cardrona Ski Chalet: 1. Luxurious, studied layout provides wonderful internal spaces + maximises views 2. World class amenities featuring swimming pool and spa in glorious rural setting 3. Light-filled, contemporary alpine luxe décor..
Sitting within a newly constructed self-contained apartment complex that boasts attention to detail throughout, simply open the door to this executive apartment and start enjoying a great stay. From the contemporary kitchen with stainless appliances and clever storage solutions, to the open plan living/dining area with gas fire and heat pump (or air conditioning, depending on your season), the modern décor will ensure comfort throughout your stay with plenty of style and grace. The three bedrooms give you options depending on your group or families requirements. They feature two Californian Singles (1 x Californian King if required); One bunk room sleeping two people which works well for either children or adults . The master bedroom's ensuite bathroom features a generous, walk-in shower and designer fittings; laundry facilities are fitted in a separate room which is ideal for leaving any ski gear during Winter. Located half way between Wanaka and Queenstown, Cardrona Villas offers stunning three bedroom Villas featuring open gas fireplaces, gear storage, kitchen, laundry, drying room and private parking. Relax in the swimming pool or Jacuzzi, have a BBQ and a drink around the brazier. Cardrona Villas are a two minute stroll to the iconic Cardrona Hotel, known for it's unique pub heritage and exciting menu. This beautiful setting is perfect for family and friends to enjoy Central Otago, Queenstown and Wanaka. The villa can be your base for hiking, mountain biking, bungy jumping, wine tours - whatever you want for a uniquely unforgettable experience.
ประเภทห้อง
บ้าน/อพาร์ทเมนท์ทั้งหลัง
---
ประเภทที่พัก
วิลล่า
---
พักได้
6
---
ห้องนอน
วานากา, Otago 9381, นิวซีแลนด์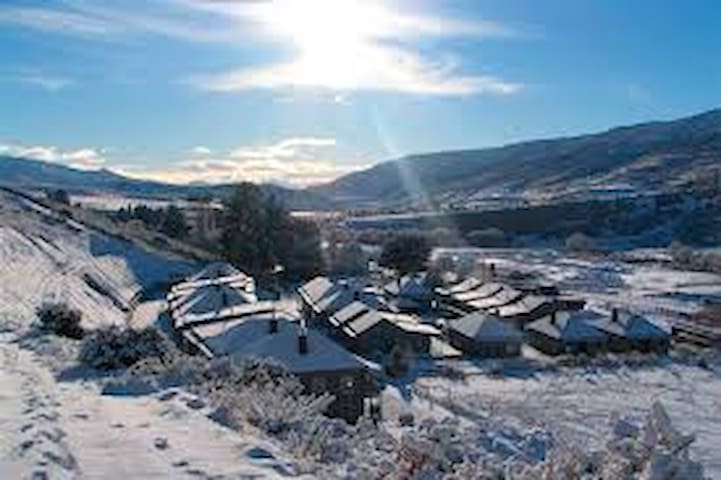 Situated within easy walking distance of the Wanaka township. Architecturally designed and with stunning views, this villa is ideal for three couples or families.
The spacious villa is split over three levels. The mid level has multiple living spaces and opens out to a large balcony ideal for summer dining and relaxing. The outside deck has fantastic views over Lake Wanaka and the surrounding mountains, and is the perfect après ski spot whilst enjoying a Central Otago Pinot Noir. The kitchen is a dream for those who want to take time, wind down and cook or you can relax whilst an in-house chef prepares a delectable dinner for you. The residence is architecturally designed and exquisitely furnished, a delight to experience. The master suite located on the top level boasts spectacular views of Lake Wanaka and the surrounding mountains. It has a large ensuite and dressing room attached. The heated indoor swimming pool is the perfect way to ease sore muscles after a long day on the slopes in winter or mountain biking in summer! The lower ground floor has two double bedrooms, and this level also has a second kitchen and the media room, an ideal spot for kids to catch up on their favourite movies.
There are many world-class attractions, sporting activities and adventure opportunities within easy reach of the Wanaka Township. Take a scenic cruise on Lake Wanaka, taste world-renowned local Pinot Noir wines or try your luck fishing the many rivers and streams. Located at an altitude of 300 metres, Wanaka is fast becoming one of the world's great playgrounds. Visitors can venture into the hills and mountains surrounding Wanaka for skiing, heli-skiing, snowboarding, mountain biking, hiking and climbing. Or just enjoy the views!
ประเภทห้อง
บ้าน/อพาร์ทเมนท์ทั้งหลัง
---
ประเภทที่พัก
วิลล่า
---
พักได้
6
---
ห้องนอน
วานากา, Otago 9305, นิวซีแลนด์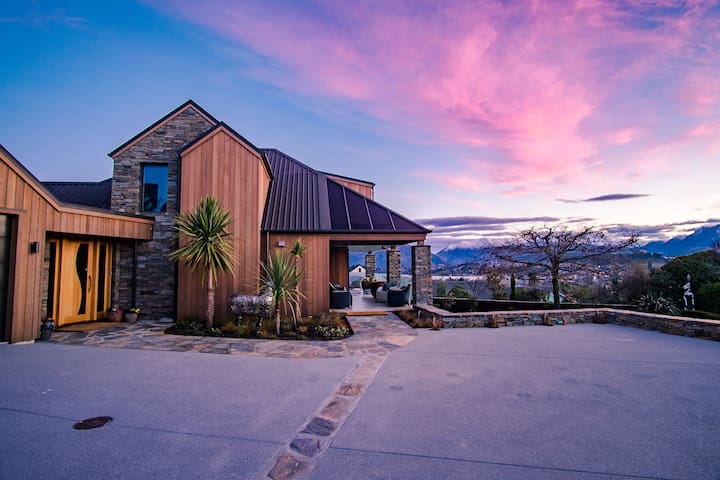 Ours is a near new home in Twizel. It has double glazing and is well insulated so is very cozy in the winter months. It is close to the lake, which is perfect for fishing, kayaking and water sports. Twizel is also on the alps to ocean bike ride and has many great moutain biking trails. In winter there are a number of fantastic ski fields within a short distance. Twizel is also a short drive to Mt Cook, Tekepo and Omarama.
ประเภทห้อง
บ้าน/อพาร์ทเมนท์ทั้งหลัง
---
ประเภทที่พัก
วิลล่า
---
พักได้
8
---
ห้องนอน
ทไวเซิล, แคนเทอร์บูรี่ 7901, นิวซีแลนด์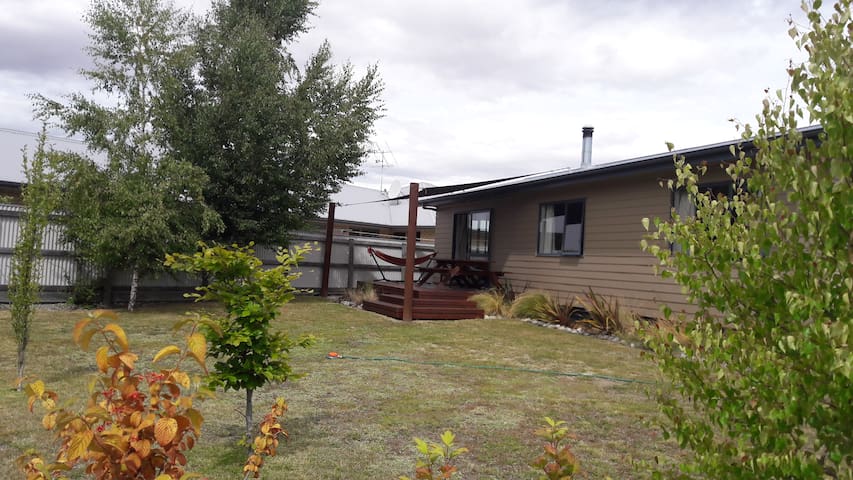 Fantastic lake and mountain views from our three bedroom Villas and just a 5 minute walk to town! These modern Villas are fully self contained with everything you need for a comfortable and relaxing stay. Heating, air con, sauna, SKY, 6 guests max
ประเภทห้อง
บ้าน/อพาร์ทเมนท์ทั้งหลัง
---
ประเภทที่พัก
วิลล่า
---
พักได้
6
---
ห้องนอน
วานากา, Otago 9305, นิวซีแลนด์
1

–

13

จาก

วิลล่าให้เช่า 13
กรอกวันที่เพื่อดูการกำหนดราคาเต็ม มีค่าธรรมเนียมเพิ่มเติม อาจมีภาษีเพิ่ม