Mon logement est proche de Bordighera et Seborga, l'aéroport le plus proche NICE, la vue exceptionnelle sur le parc naturel du Montenero et la mer, parcs botanique HANBURY de vintimille, le centre ville de Bordighera. Vous apprécierez mon logement pour les espaces extérieurs, l'ambiance tranquille, les nuits étoilées. La rivière. Mon logement est parfait pour les couples et les familles (avec enfants , attention terrain en restancle et marche d'escalier).Nous sommes à 6 km de la mer
c'est mon paradis dans les étoiles. après avoir fait le tour du monde. Rien de meilleur que d'être en communion avec la nature
Endroit calme , au milieu des agriculteurs et des oliviers. Le chant du coq, et la voie l'acté. Parfait pour les personnes qui veulent se ressourcer.Refaire le pleins d'oxygène , ou qu'il veulent réapprendre à se nourrir,.... des bons produits du jardin. Des massages à la réflexologie plantaire chinoise peuvent être une prestation (URL HIDDEN) vous désirez gouter des spécialités je vous ferait un plaisir de vous faire des repas. Ou vous apprendre à fabriquer vos produits au quotidiens...n'hésitez pas à me demander et exprimer vos souhaits.
ประเภทห้อง
ห้องส่วนตัว
---
ประเภทที่พัก
บ้าน
---
พักได้
2
---
ห้องนอน
Vallebona, Liguria, อิตาลี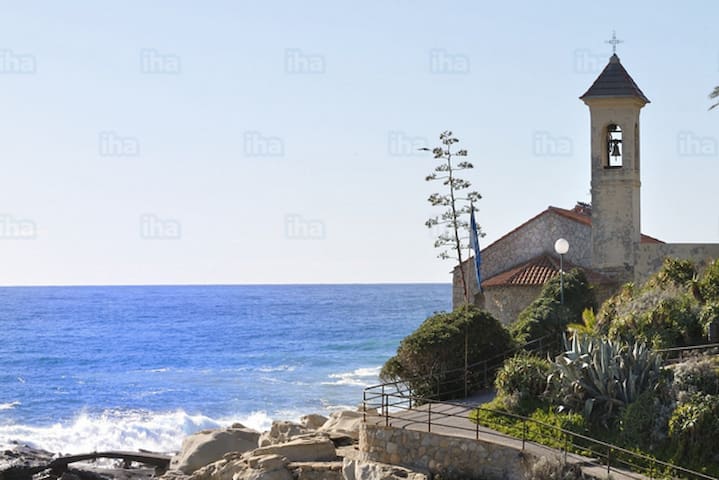 Big town house with 4 comfortable and bright bedrooms, 3 terraces and a charming inner courtyard. It is located in the centre of Vallebona, a beautiful small medieval village only 3 km away from the seaside.
The house spreads on three levels in accordance with the typical disposition of medieval villages houses. There are two spacious and bright guest bedrooms with terrace, two toilets, a living room, a spacious kitchen and a charming inner courtyard really refreshing in the warmest summer night
Vallebona is a small village with three bar restaurant, a pub, a bakery, a little supermarket, it is characterized by silence and the sound of the church bell, surrounded by a mediterranean landscape and the parfume of mimose and ginestre
Charmigt boende mitt i byn, dock lite nära klockringningen som ringer varje kvart, dygnet runt, men det vande man sig vid ;) Många trapper i huset men inga problem för vår familj. Tre jättefina terasser både i skugga och sol. Bra utrustning i köket men lite trångt i duschen. Nära till bageri, restauranger (fåtal) och morgonkaffet vid torget. Fina vandringsvägar i dalen. Vi är jätte nöjda med boendet och kommer gärna tillbaka.
Pia
2017-03-20T00:00:00Z
We stayed for six days in Vallebona. We were two families with four children from 5 to 18 years old. There was plenty of space for everyone. The apartment was nice and the surroundings beautyful. We never met Chiara but she answered all our questions right away and took good care of us. I highly recommend this apartment in Vallebona.
Halla
2016-07-08T00:00:00Z
ประเภทห้อง
บ้าน/อพาร์ทเมนท์ทั้งหลัง
---
ประเภทที่พัก
บ้าน
---
พักได้
4
---
ห้องนอน
Vallebona, Liguria, อิตาลี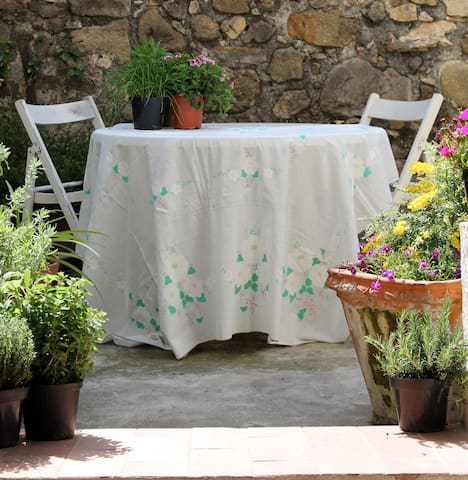 You will have an entire dependance completely restored in the garden of a villa. You will have an area of the garden with table for eating, a hammock where you can relax in the garden, a relaxation/play room and a solarium.
The accommodation is fully restructured, immersed in most absolute tranquility, 10 minutes walk from the sea, it consists of 1 bedroom, large living room with kitchenette and bathroom with large shower. It offers, in addition to the garden with dining area, hammock and relaxation area with deck chairs, also a relaxation room / play where you can play games, watch TV in peace and a wonderful sundeck among the citrus trees.
The complex is situated in the Via Romana, the most elegant street in Bordighera. Art Nouveau buildings, villas, gardens and elegant condominiums. At 5-minute walk: - a supermarket. - A covered market food and small food shops, chic and trendy boutiques. - A taxi station, bus and train station. - A large peaceful green park.
Nous sommes restés du 16 au 20 octobre chez Nirmala. Le séjour était parfait. Nous avons été accueillis pas Nirmala et sa maman, elles ont été aux petits soins avec nous pendant tout notre séjour. La maison est comme décrite sur le site, dans un havre de calme et de verdure. Nous y retournerons avec joie !
Aurore
2016-11-20T00:00:00Z
We had a wonderful stay at Nirmalas house. Nirmala and her family are very kind people and excellent hosts. Everything about this home is best quality. It is quiet and located in a beautiful garden in the city of Bordighera. The house you stay in as a guest has sunny terrasses both for the evening sun and for sun in the morning. There is a whole extra room and a shower at the first floor. Our teenage children used it as an extra bedroom. When we arrived there was a bottle of fresh made orange juice for us in the kitchen as well as cakes and coffee. There was also homemade jam and fresh fruits and later on more oranges from the garden for us to make more juice ourselves. We highly recommend staying with Nirmala and her family.
Ann Dorrit Guassora
2016-03-25T00:00:00Z
Fantastica oasi di verde , fresco e silenzio a pochi minuti a piedi dalle spiagge di Bordighera. Calorosissima accoglienza da parte di Nirmala e dei suoi genitori, che durante tutto il soggiorno si sono dimostrati host attenti e premurosi, offrendoci i frutti del loro orto e , naturalmente, la loro piacevole e discreta (URL HIDDEN) casa è accogliente e ben arredata e la piscina, grande e pulita, è davvero a completa disposizione. L'appartamento è dotato di riscaldamento, credo quindi possa offrire un piacevolissimo soggiorno in ogni mese dell'anno. Proveremo anche in inverno.
Franca
2016-07-19T00:00:00Z
Nirmala's place is a wonderful place to have privacy and quietness, sun-trapped private courtyard, a beautiful terraced orange and lemon grove with the scent of the Mediterranean. There is everything you need and Nirmala and her parents are warm and welcoming hosts. We were greeted with a bowl of fruit and beverages, a great way to start a holiday. We look forward to coming back. Claudi
Claudia
2016-11-13T00:00:00Z
La casa di Nirmala è in un'ottima posizione, centrale e a 10 minuti dal mare a piedi. La casa è molto bella, confortevole e dotata di ogni necessità. Nirmala e i suoi genitori sono stati deliziosi , sempre disponibili e pronti a soddisfare ogni nostro desiderio. Abbiamo viaggiato con un bambino piccolo e loro ci hanno fatto trovare un lettino , un seggiolone, dei pupazzi e tanta dolcezza nell'accoglierlo . Torneremo sicuramente a trovare Nirmala e la sua famiglia. Grazie!
Valentina
2017-02-27T00:00:00Z
I spent one week at Nirmala's place together with my boyfriend and two friends of ours who have a 2 year old daughter. Nirmala and her parents who live in a house next the one we rented were very kind and friendly and provided us with a lot of useful information about Bordighera and the region. Concerning check-in and check-out they were flexible and reliable and helped us whenever we needed something. The house is clean, nicely furnished and renovated and provides basically everything you need to cook a proper meal in the kitchen. The house is quite large and thus suitable for a group of persons or one to two families. The beautiful garden is huge and provides a lot of space although it has possibly to be shared with some other people if the house opposite to this one is rented. There is a sheltered table with two benches which can be used to eat and sit outside. In the garden there is also a barbecue and even a real wood stove for making pizza which we enjoyed. The swimming pool is about 100 meters away from the house and belongs to some appartment building but could be used without any restriction. The pool area and the pool itself were very clean and tidy and a great place to hang out. We had a wonderful time and I can definitely recommend Nirmala's place!
Anastasia
2016-08-16T00:00:00Z
We had a fantastic stay in Bordighera and the house was exactly as in the description, even better actually. The garden and the surroundings are stunning and the house is located in a very nice and calm neighbourhood. Very beautiful! We travelled with our two children, 6 and 7 years old, and they loved it, both the house and the pool that is located in the residence, not far from the house. The city of Bordighera is also charming and it´s easy to do day trips to other villages and to France. When we arrived we were greeted by Nirmala and her sweet parents, and they had prepared snacks and there were water, wine and juice in the fridge. Nirmala and her parents are very kind, helpful and lovely people. If you want to have a relaxing vacation with all the comforts this is the place for that!
Anna-Karin
2016-07-09T00:00:00Z
Casa molto bella e nuova, immersa nel verde e dotata di un giardino curato. Host gentile e disponibile che non fa mancare nulla. Un inconveniente ci ha fatto arrivare di sera, al nostro arrivo abbiamo trovato aperitivo, panini e marmellate fatte in casa. Consigliato a tutti.
carlo
2016-02-16T00:00:00Z
ประเภทห้อง
บ้าน/อพาร์ทเมนท์ทั้งหลัง
---
ประเภทที่พัก
บ้าน
---
พักได้
4
---
ห้องนอน
Bordighera, Liguria, อิตาลี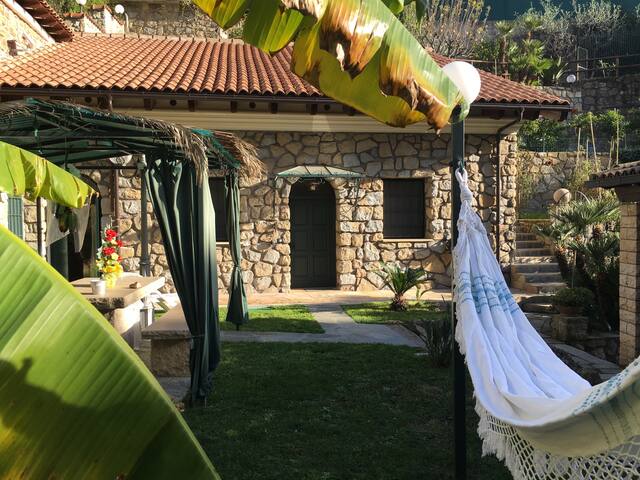 Spacious, secluded 4-bedded house close to Bordighera city centre. A lovely mix of old and new, only 3 minutes by car to the seaside and the motorway. The house is surrounded by a sunny garden, you will love it because it's detached, close to shops and facilities, it's ideal for families with children, couples and furry animals (...pets!)
The house is close to the highway bridge, and it is located on a quiet secondary road that connects the city centre to the typical village of Vallebona. Aside from a Mediterranean cuisine restaurant, two pubs and a pizzeria, Vallebona is provided with a pharmacy and a bakery. Should you need anything else we suggest going to the city centre. A supermarket with a big parking is only one km away.
Io e la mia famiglia abbiamo trascorso, in occasione del ponte dell'epifania, un soggiorno gradevole e rilassante in questo alloggio immerso nel verde della campagna ligure. La poca distanza dal mare (pochi minuti di macchina) e un clima sempre mite e soleggiato ci hanno permesso, a dispetto della stagione, di recarci spesso al mare per fare lunghe passeggiate e per godere della buona cucina proposta dai vari ristoranti situati in riva al mare. La totale disponibilità di Dorina e di Daniela hanno fatto il resto consentendoci di superare anche qualche difficoltà determinata dalla gestione e dai limiti del riscaldamento a pellet.
Andrea
2017-01-07T00:00:00Z
Bell'appartamento, grande e luminoso. Perfetto soprattutto in primavera e estate.
Matilde
2017-01-01T00:00:00Z
Dorina et Daniella nous ont accueillis chaleureusement à l'heure prévue et en français en plus car nous ne parlons pas italien. La maison, toute équipée est très confortable, il ne nous a rien manqué. J'ajouterais que la propreté était impeccable. Nous avons fait d'agréables repas ou petits déjeuners en famille et nous avons très bien dormi. Par ailleurs Bordighera est une jolie station balnéaire avec de très belles demeures et une belle promenade le long de la mer. C'est aussi à proximité de sites touristiques qui vallent le coup. Je recommande vivement ces hôtes.
Mariette
2016-08-12T00:00:00Z
Notre hote est une femme tres gentille. Sa maison à nous offert tous que nous avons eu besoin, même que les aménagements sont vieux, moyenne qualité, ils marchent assez bien. En plus, derrière la maison, il y a un ferme avec des animaux, cheval, lapin, poules, chats, chiens, c'est à beaucoup plu mes enfants! Tres bien passé et très satisfait! Merci beaucoup à Daniela et sa famille!
Miltiadis
2016-10-03T00:00:00Z
Nous avons été très bien accueillis par Dorina, Daniela et sa fille. Leur sourire et leur accueil chaleureux faisait vraiment plaisir. Le logement est tel qu'il est décrit en commentaire et en photos. Nous nous sommes sentis comme à la maison. La maison est très propre, fonctionnelle et agréable. On sent une âme familiale dans cette maison. Nos hôtes avaient prévu quelques brochures pour nous permettre de sortir et visiter. Le logement est proche de la ville, des plages en voiture, ce qui était très bien. Nous avons appréciés les conseils précieux de nos hôtes, leur gentillesse, leur connaissance en Français pour les échanges. Merci à Daniela et Giorgio d'avoir accepter cette petite soirée ensemble pour faire un peu plus connaissance. Vous êtes tous des personnes vraiment très gentilles et nous reviendrons avec plaisir chez vous. Nous espérons aussi vous revoir ici en Provence, ce sera avec plaisir qu'on vous fera visiter les environs. ;-) Nous conseillons vraiment cet endroit!!! A bientôt
Céline
2016-07-16T00:00:00Z
Красивая деревня в Итальянской Империи. очень много фруктовых садов, плодовых деревьев. Экзотично , что все это можно потрогать , и с разрешения хозяина попробовать! Море - недалеко , но пешком не добраться, так как везде холмы и автодороги и пешеходных дорог нет . Пейзаж с балкона потрясающий и вечером приятно поужинать семьей с бокалом вина под шум пальм, лимонных и мандариновых деревьев. Интерьер дома - квартира , с мебелью ручной работы . Все аккуратное и чистое. Хозяева - доброжелательные и замечательные люди. Всегда на связи и готовы подсказать .
alina
2016-08-01T00:00:00Z
Wir haben zu viert drei Tage in der Wohnung von Dorina und Daniela gewohnt. Die Wohnung ist geräumig, die Einrichtung vintage, aber mit allen Annehmlichkeiten. Die Betten sind sehr bequem. Bettwäsche, Handtücher und Küchentücher sind genügend vorhanden und sehr sauber. Die Küchenschränke sind mit allem ausgestattet, was man benötigt. Alles ist wie beschrieben. Dorina und Daniela waren immer sehr freundlich und sehr bereit uns die gewünschten Informationen zu geben. Alles in allem war es ein angenehmer Aufenthalt. Ich kann diese Unterkunft nur empfehlen.
Gloria
2016-08-15T00:00:00Z
It was a fantastic stay -- Daniela and Dorina were extremely helpful and warm, and the house was comfortable, cozy and a great value. Highly recommended!
Sarah
2017-03-13T00:00:00Z
ประเภทห้อง
บ้าน/อพาร์ทเมนท์ทั้งหลัง
---
ประเภทที่พัก
บ้าน
---
พักได้
4
---
ห้องนอน
Bordighera, Liguria, อิตาลี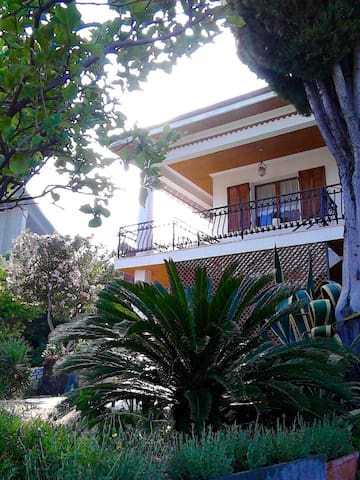 Splendido rustico appena ristrutturato immerso nel verde della campagna di Bordighera, comprensivo di posti auto, terrazza e giardino. Composto da una stanza matrimoniale, una salone e una sala da pranzo entrambi con divano letto e una cucina spaziosa. Il contorno è un giardino e molta campagna, orti e frutteti. Dalla casa partono sentieri verso la collina con viste fantastiche che hanno ispirato pittori celebri come Monet e Peynet.
Un rustico in pietra immerso nel verde, con climatizzatore, bagno spazioso, parcheggio chiuso, giardino e terrazza molto grande. Questo alloggio può ospitare tranquillamente fino a sei persone in tre stanze separate
Bar tabacchi e alimentari, due ristoranti, vicinanza a centro città, centro storico, Porto e spiaggia a 100 Mt, 4 parchi storici e naturalistici come pineta, palmeto, giardini winter e parco del Montenero fanno di questa zona una parte spettacolare di Bordighera, comoda e tranquilla, consigliata per famiglie, giovani o vacanze sportive.
Proprietario ospitale e soggiorno piacevole. Grazie Federico
Barbara
2016-08-29T00:00:00Z
Nice house, big enough for the four of us (two adults, two youngsters). Quiet surroundings, very close to the beach and to a cosy bar, beautiful centro storico nearby. Tenant was very helpful.
Wim
2016-07-31T00:00:00Z
Maison typique très bien située. Plage à 100 mètres. Centre ville à 5 minutes en voiture. Endroit très calme. On la recommande.
Patricia
2016-09-15T00:00:00Z
frederico ist ein sehr sympathischer gastgeber, war immer zu erreichen wenn ich fragen hatte. das haus ist sauber, die küche mit allem bestückt was es braucht. wlan funktioniert nicht immer, was auch an der regionalen verbindung liegen kann. die fotos und die realität der unterkunft stimmen überein, der garten des hauses ist nett aber nicht berauschend.
barbara
2016-09-25T00:00:00Z
ประเภทห้อง
บ้าน/อพาร์ทเมนท์ทั้งหลัง
---
ประเภทที่พัก
บ้าน
---
พักได้
6
---
ห้องนอน
Bordighera, Liguria, อิตาลี
Casa indipendente molto luminosa, finemente arredata, in centro città, comodissima a tutti i servizi e a 50 mt dal mare. Disposta su due livelli, due terrazze, locale lavanderia, aria condizionata, posto auto privato in garage, WI-FI, Tv satellitare.
Le logement était parfait, très spacieux et très lumineux. Nous avons été très bien accueillis par les propriétaires.
Marine
2016-05-17T00:00:00Z
Мы отдыхали семьей из 4 человек, две недели! Очень понравилась квартира своими размерами. Очень просторно!!!!. Террасы прекрасные. Шикарная кухня!!! Много посуды. . Хорошие пляжи рядом. Есть рядом супермаркет! Все очень удобно!!! Спасибо хозяевам за гостеприимство!!!
Marina
2016-07-19T00:00:00Z
Casa bellissima, posto molto carino e proprietaria gentilissima! Decisamente consigliata
Alessandro
2016-07-21T00:00:00Z
Ilaria's apartment was wonderful Ideally located near the beach, shops and restaurants it was an ideal base for visiting the Italian riviera. It was spacious and the air conditioning was really appreciated as was the fast internet connection Ilaria was very welcoming and was easy to get in touch with during our stay.
LAURA
2016-08-25T00:00:00Z
Our favorite air B and B ever! Beautiful home. Perfect location with an ocean view. Fantastic restaurants all around. The hosts were amazing. Went out of their way to make us feel at home. Helped us park our oversized car. Very safe and secure. Fast wifi. Tons of space. Cold AC. Washing machine use was a nice feature. Amazing beaches. Such a fun city to explore! I will go back again and stay in this same place.
Brian
2016-06-25T00:00:00Z
Ilaria's place is on the high end of the 'recommended' category. The place is clean, spacious, with helpful hosts, in a brilliant area of the Ligurian sea. Generic word of advice: don't drive a Hummer to towns in the neighborhood. :) Oh, and don't trust the Satnav if you arrive from the motorway, follow the Bordighera sign. Satnav brought us to a lot more complicated route.
Richard
2016-06-19T00:00:00Z
L'accoglienza da parte del propeitario è stata perfetta. Ci siamo sentiti un'ora prima dell'arrivo per organizzare la consegna delle chiavi e ci siamo trovati sotto casa. La casa è fantastica, accogliente, grande e pulita. Tutto nuovo e ben gestito. Molto soddisfatti
Giovanni
2016-06-06T00:00:00Z
We had a great time in Ilaria's place and she was so nice. She really helped us when we needed. We hardly recommend to stay here. El pis està molt ben cuidat i és molt espaiós. El lloc és tranquil i el poble té molta vida.
Mariona
2016-07-19T00:00:00Z
ประเภทห้อง
บ้าน/อพาร์ทเมนท์ทั้งหลัง
---
ประเภทที่พัก
บ้าน
---
พักได้
6
---
ห้องนอน
Bordighera, Liguria, อิตาลี
COLLINA BORDIGHERA ,CASA 100 MQ IMMERSA NELLA NATURA. GRANDI SPAZI, MODESTA MA ACCOGLIENTE,LUOGO RISERVATO SILENZIOSO CONCILIA IL RELAX DESIDERATO! 60€ AL GIORNO PER 2 PERSONE. NON IDONEO A BIMBI PICCOLI, OTTIMO X COMPAGNIE DI MAGGIORENNI E ADULTI, X DIVERSAMENTE ABILI E PER ANIMALI DOMESTICI.
Se ami stare a contatto con la natura, lontano dal traffico, dal rumore cittadino e nello stesso tempo comodo , a soli 4 km da serate mondane ed eventi . Se apprezzi il silenzio ,il fruscio degli alberi, e il canto dei volatili che passano, situato in una valle nella collina di Bordighera , potete soggiornare in un ambiente modesto ma accogliente , ampio terreno e caseggiato di 100 mq. Un ruscello costeggia tutta la proprietà, luogo intimo e riservato , spazi grandi , ogni elemento concilia gradevolmente il relax . Si accettano prenotazioni da un minimo di 2 persone . € 60 giornaliere per 2 persone in bassa stagione, ed € 20,00 per ogni ospite aggiunto. Il soggiorno richiesto va da un minimo di 1 giorno a un mese completo . Disponibile per feste , stage, ritiri spirituali. . Accessibile in auto o con piccoli caravan . servizio corriera a 300 m.– Bordighera –Seborga. Distante 700 m . dal casello autostradale di Bordighera . 4 km dal centro , dalle spiagge, dalla stazione ferroviaria e dal porto di Bordighera. 10 km da Ventimiglia e dal confine francese . 25 km dal principato di Monaco . 18 km. da Sanremo . 1 km. dalla frazione di sasso di Bordighera ( comoda per negozio di alimentari tabacchi , bar ) . 5 km. dal grazioso paese medioevale di Seborga ( ex principato ) interessante per la sua architettura e per le numerose feste e sagre estive . Ambiente naturale, spazioso e recintato per ospitare anche i vostri animali domestici . Idoneo per compagnie di amici , coppie , o famiglie con ragazzi adolescenti, predisposto e accessibile per ospitare " diversamente abili " . L'appartamento e' composto da un grande salone , grande cucina con tutti i comfort, 2 camere da letto , due bagni con doccia calda , disimpegno per armadi , all' esterno area barbecue , area colazione o cene serali , forno a legna per pizza , lettini e sedie da giardino allietano un piacevole relax sotto gli alberi di mimose , doccia esterna con acqua naturalmente semi calda creata dalle tubature esterne . Un simpatico benvenuto a tutti !
Il silenzio e la pace lontano dal traffico, la riservatezza della (URL HIDDEN) comodita' per il bus che passa a 300mt e porta al centro citta' e alle spiagge. L' autostrada a 700 mt ma non si sente il rumore.Non si e' completamente isolati perche' a 300 mt ci sono altre abitazioni.
J'ai choisi ce logement pour organiser une soirée en l'honneur d'un ami, nous étions 10 personnes. Les barbecues, la douche extérieure naturelle, la décoration, le ruisseaux qui coule juste à coté... en font un logement atypique, très sympa et calme. L'extérieure est très bien éclairé ce qui permet d'en profiter le soir. Ivana est super ! Très disponible et accueillante. Je recommanderai cette adresse et là retiens pour une prochaine fois !
Claire
2016-09-04T00:00:00Z
ivana è perfetta, disponibile puntuale e stragentile. ci ha lasciato alcuni generi di conforto e lenzuale e asciugamani profumavano. il posto è selvaggio ma molto accogliente e riservat.
Paola
2015-08-31T00:00:00Z
Vielen , vielen Dank an unsere Gastgeberin Ivana. Es war eine wunderbar erholsame Woche, in einer der schönsten Gegenden in denen ich je war . Ivana hat sich perfekt um alles gekümmert.Besonderen Dank für die vielen wertvollen Tips bezüglich kultureller Veranstaltungen und hervorragender Restaurants (Geheimtipp) Wir hatten den etwas abgelegen, etwas rustikalen Ort in sehr gepflegten und sauberem Zustand vorgefunden. Es ist wirklich ein Idyll und die Bilder sprechen für sich; und zum Meer oder zur Innenstadt sind es ca.4,5 km, (keine 10 Minuten mit dem Auto). Immer gerne wieder und hoffentlich bis demnächst......!!!!! Leo
leo
2016-08-24T00:00:00Z
What a magical, peaceful place this is! The eucalyptus trees, the sound of the brook murmuring next to the house- we immediately felt at home and as relaxed as can be. We had a lovely and warm welcome by Ivana who gave us a grand tour around the house and the terrain. The house itself is basic but has everything you need and we found it very charming. Ivana had thought of all our needs and beyond: the beds were made up with crispy clean sheets and generous pile of fresh towels, the fridge and cupboard were filled with basic groceries for us to use and she made sure that we would not hesitate to call her if there was anything else we needed. We had a lovely time and will certainly come back next year.
Tatiana
2015-08-13T00:00:00Z
Tres bon accueil d' Ivana.. tres serviable.. Maison de campagne tres calme et reposante. Possibilités de dormir à beaucoup de personnes. mise à disposition de nourriture, frigo rempli à notre arrivée.. merci Ivana
Gitte
2016-08-16T00:00:00Z
Ivana è più che accogliente e premurosa. La casa è descritta come davvero è. Essenziale ma intima e ottima davvero per gruppi o per chi cerca riposo. La zona ha tante cose da vedere e ancora una volta Ivana si è mostrata ospitalissima. La casa ha tutto il necessario. Ottimo.
ALESA
2015-08-24T00:00:00Z
Che dire!Ivana è fantastica ci ha aspettato all uscita dell autostrada per accompagnarvi verso casa. Ci ha indicato tutto l occorrente per poter soggiornare al meglio possibile. Il posto l abbiamo trovato super adatto anche per i nostri tre amici pelosi. Le spiagge intorno sono molto belle! Ivana ci ha accolto in maniera strepitosa e senz altro ci ritorneremo!
Silvina
2016-08-13T00:00:00Z
ประเภทห้อง
บ้าน/อพาร์ทเมนท์ทั้งหลัง
---
ประเภทที่พัก
บ้าน
---
พักได้
10
---
ห้องนอน
Bordighera, Imperia -Liguria, อิตาลี
Two-family house with garden, reserved parking spot, placed near the center of the city, 300 m away from the sea, 100 m away from stores; can accomodate families with animals, it's furnished, with kitchen-diner, tv, two bedrooms, and balcony
Esperienza assolutamente positiva. Una volta confermata la prenotazione ho contattato Marco e ci siamo accordati per l'arrivo. All'arrivo ci hanno accolto Marco e sua moglie che ci hanno mostrato l'appartamento decisamente conforme alle aspettative ed a quanto indicato nell'annuncio. Una cosa che abbiamo apprezzato che il riscaldamento era già stato acceso e la casa era veramente accogliente. Ringraziamo ancora Marco per la disponibilità.
Damiano
2015-01-20T00:00:00Z
The house was perfect! Marco was a great host! He showed us around in the neighbourhood when we arrived & made us feel very welcomed! The location is great, lovely food Market around the corner, supermarkets, the beach and the trainststation super close. The house is very charming and clean with a lovely garden to have breakfast and dinners in. My 3 year old niece loved the house too :) Thank you Marco!
Kicki
2015-07-18T00:00:00Z
L'host è stato gentilissimo, ha addirittura acquistato un forno a microonde in occasione della mia richiesta. L'immobile è un po'datato, come l'arredamento, ma la locazione e gli spazi sono perfetti. A poche centinaia di metri dal mare e da tutto ciò che serve. Il parcheggio privato e lo spazio recintato diventano essenziali in stagione estiva e sono un plus straordinario. Letti comodi e riscaldamento efficiente. Cucina adeguatamente attrezzata ed uso della lavatrice. Tornerò ancora, di sicuro.
alberto
2015-11-10T00:00:00Z
Marco is very hospitable host, cheerful, he spoke about local attractions and traditions, he treated various goodies. The house is equipped with everything necessary, a 5-minute walk from the beach, in the courtyard of the house there is a small garden with lemon trees. Near the house are several supermarkets, restaurants, a small market. Thank you Marco for your hospitality and a unforgettable stay at his house! Марко очень гостеприимный хозяин, веселый, рассказал о местных достопримечательностях и традициях, угощал всякими вкусностями. Дом оборудован всем необходимым, в 5 минутах ходьбы от пляжа, во дворике дома есть небольшой сад с лимонными деревьями. Вблизи дома несколько супермаркетов, ресторанов, небольшой рынок. Спасибо Марко за гостеприимство и незабываемый отдых в его доме!
Siarhei
2015-07-29T00:00:00Z
Casa molto spaziosa e fornita di tutto. Spazio esterno grande, perfetto per bimbi e cane e per mangiare al fresco. Vicinissima al mare e al centro. Marco e suo fratello super disponibili e gentili. Consigliatissimo.
Elena
2016-07-18T00:00:00Z
We (4 adults and 4 small children) had a fantastic time at this place in Bordighera. The locations of the house we llike very much - in quite area, not noisy, but 5 minutes walk to the beach, 5 minutes to the city center, 2 minutes to pizzerias and gelaterias, local market, supermarket. The garden is gorgeous! The big tree in the middle of it creates wide shadow - our children had a good time playing there! The house itself is nice and clean, contains everything you need. Marco is very welcoming and sincere host. Definitely recommend it!
Oleg
2015-07-23T00:00:00Z
My parents' stay in Bordighera was really pleasant. Marco's house is pretty and near the beach, the shops, the children playground (my child stayed with them and did enjoy). Marco is extremely kind and very helpful. A place where to return, definitely.
Francesca
2015-09-05T00:00:00Z
Emplacement parfait dans la ville, près des commerces, de la vieille ville et de la plage Le jardin et l'emplacement voiture rendent cet endroit très attractif L'aide de Marco et de son frère concernant la gestion des poubelles nous a bien aidés Maison facile à vivre
Simona
2016-08-27T00:00:00Z
ประเภทห้อง
บ้าน/อพาร์ทเมนท์ทั้งหลัง
---
ประเภทที่พัก
บ้าน
---
พักได้
5
---
ห้องนอน
Bordighera, Liguria, อิตาลี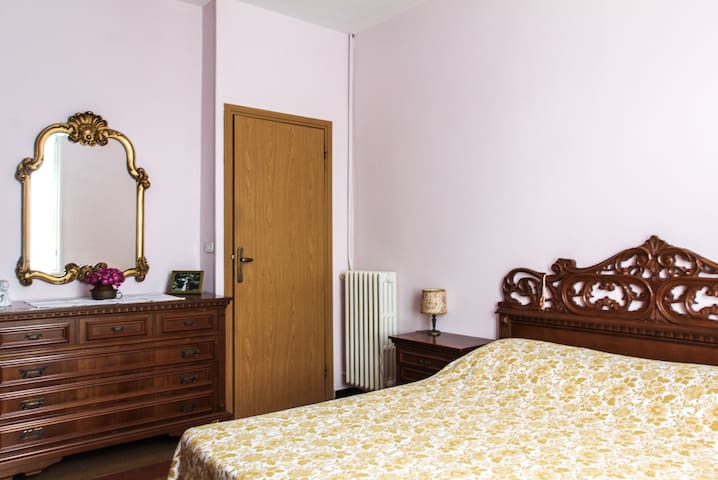 L'alloggio è immerso nella tranquillità più assoluta, a 10 minuti a piedi dal mare, costituito da 2 camere da letto, soggiorno con angola cottura e 2 bagni con doccia. Avrete a disposizione una zona esterna con tavolo e forno a legna.
L'alloggio è immerso nella tranquillità più assoluta, a 10 minuti a piedi dal mare. dependance su 2 livelli: 1° piano costituito da 1 camera da letto matrimoniale,1 camera da letto con un letto a castello un bagno con doccia; al Pian terreno: soggiorno con angola cottura e 1 bagno con doccia. Avrete a disposizione una zona esterna con un grande tavolo per pranzare e un forno a legna.
Il complesso è situato in via Romana, la via più elegante di Bordighera. Palazzi in stile Liberty, ville, Giardini e condominii eleganti. A 5 minuti a piedi : - un supermercato. - Un mercato coperto alimentare e piccoli negozi di alimentari, boutiques chic e alla moda. - Una stazione di taxi, autobus e la stazione ferroviaria. - Un grande incantevole parco verde.
Wir waren als Familie mit zwei Teenagern für 10 Tage bei Nirmala. Der Aufenthalt war super, die Anlage mit Pool sehr gepflegt, der Strand und die Altstadt fußläufig nah. Besonders schön war auch der Garten, die Essecke mit Grill und Pizzaofen. Nirmala und ihre Eltern waren sehr hilfsbereit.
Simone
2016-08-22T00:00:00Z
Le logement est parfait. La maison très agréable, telle qu'elle est décrite. Nirmala était en déplacement donc nous avons été accueilli très chaleureusement par sa maman. Un accueil incroyable et très apprécié après un long trajet. Nos enfants ont adoré également le jardin.
Céline
2016-05-09T00:00:00Z
Nirmala replied immediately to all our questions-- email, SMS, (SENSITIVE CONTENTS HIDDEN). When we arrived, there were appetizers and wine and a bowl of fresh fruit on the table, and a few food items to get us started in the morning. We were met by Nirmala and her parents and were given a tour of the apartment, swimming pool, parking, and grounds which are beautiful. The location is fantastic-- just far enough away from traffic to be super quiet, but walking distance to the Lungo Mare Argentina. This place is wonderful!
Jan
2016-09-29T00:00:00Z
Nirmala, her Mum & Dad could not have done more for us ! They personally welcomed us to the beautiful house, fresh fruit and water was awaiting us. The location is excellent - very peaceful, within easy reach of the beach and many bars & restaurants. The whole family are very kind and genuine - there to help if required but not intrusive. Bordighera is a great place to stay - we could have easily stayed another week...or two !
Andrea
2016-09-11T00:00:00Z
It was amazing arriving. We were met and greeted by Nirmala and her parents Mr. and Mrs. Di Lerna. They had prepared light dinner for us, bread, Mozzarella, fruits, biscuit, wine, milk, water and more. We did not have to go to the store the first night. The apartment and the surrounding were so nice that we hardly believed it was ours. The apartment was much better than we expected and the garden was great. The swimming pool and neighborhood were very nice. Everything was within walking distance, grocery stores, the beach, restaurants – everything you needed. Mr. and Mrs. Di Lerna and Nirmala were extremely nice. Always making sure everything was in order and if they could be of any help. We had a very nice neighbors in the next apartment from Kiev and one night The Di Lernas held a BBQ party for all their guests and there we met very friendly people from Sweden. It seems to us that they all really care for their guests and try all they can to make the stay comfortable. You would not need any attention in this surrounding but they were so helpful and nice that we felt that we were visiting old friends or family instead of strangers. We will coma back to Bordighera and preferably stay with them again.
Petur
2016-06-24T00:00:00Z
We had a great stay at Nirmalas house in Bordighera. It was clean, quiet and had a great location in the city. We got a warm welcome from Nirmala and her mother and all the help we needed for a good vacation. We warmly recommend this house for your stay in Bordighera.
Johanna
2016-08-01T00:00:00Z
Tutto perfetto, estremamente gentili e disponibili. Location top.
Andrea
2016-03-31T00:00:00Z
Very kind and welcoming host. Quiet and nice neighborhood with access to a pool with trampoline.
Janne
2016-07-03T00:00:00Z
ประเภทห้อง
บ้าน/อพาร์ทเมนท์ทั้งหลัง
---
ประเภทที่พัก
บ้าน
---
พักได้
5
---
ห้องนอน
Bordighera, Liguria, อิตาลี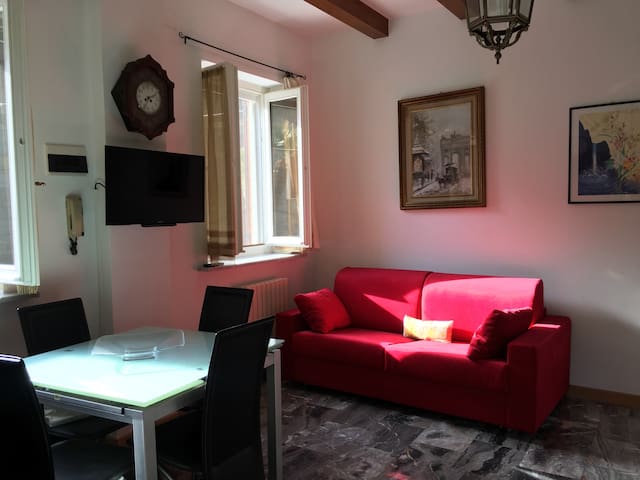 L'appartamento si trova al primo piano di una villetta privata. E' in un contesto molto tranquillo ma allo stesso tempo si trova a 100 mt dal mare e 50 mt dal centro.
Villa Bettina e' comodissima, situata in una via tranquilla ma a 1 minuto a piedi (50 mt) ha un supermercato aperto 24h/24h , banca, giornalaio, tabacchino, farmacia, e tutti e servizi che possono servire. Stazione ferroviaria a 200 mt di distanza. Distanza Aeroporto di Nizza Costa Azzurra (NCE) circa 62 km (circa 50 min), Genova (GOA) circa 150 km ( 1h e 40 minuti circa). Il lungo mare con tutte le spiagge e' a 5 minuti, ed è lungo due km, e si alternano spiagge libere a spiagge private. VILLA BETTINA HA DUE APPARTAMENTI DISPOSNIBILI !!!
Casa indipendente nel centro di Bordighera a due passi dal mare.
The host canceled this reservation 29 days before arrival. This is an automated posting.
Valter
2016-11-17T00:00:00Z
ประเภทห้อง
บ้าน/อพาร์ทเมนท์ทั้งหลัง
---
ประเภทที่พัก
บ้าน
---
พักได้
5
---
ห้องนอน
Bordighera, Liguria, อิตาลี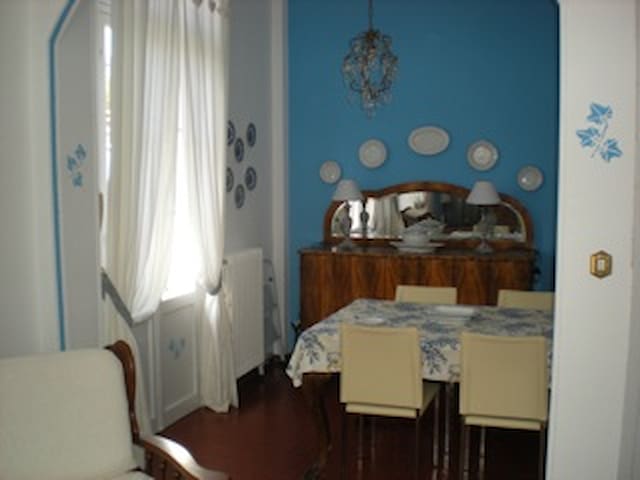 A beautifully situated villa , with swimming pool, hot tub and outside pizza oven. Close to the elegant seaside town of Bordighera. Very accessible from the motorway and convenient for Monaco, only 15 minutes drive away and the French Riviera.
ประเภทห้อง
บ้าน/อพาร์ทเมนท์ทั้งหลัง
---
ประเภทที่พัก
บ้าน
---
พักได้
11
---
ห้องนอน
Bordighera, Liguria, อิตาลี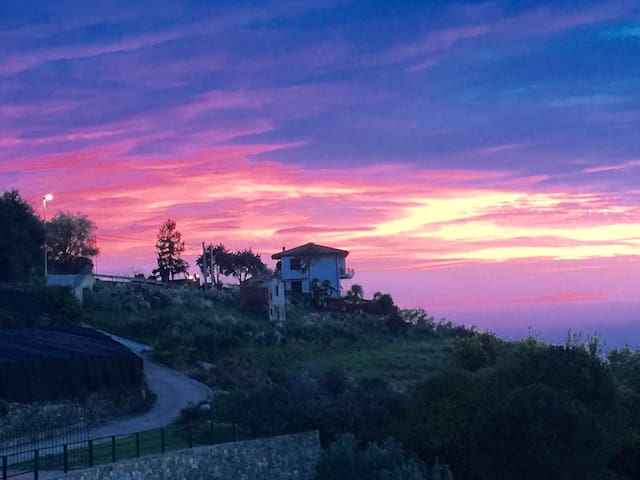 Villetta indipendente situata in una zona tranquilla di Bordighera a 100 metri dal mare. Due camere da letto matrimoniali più due posti letto. La casa è dotata di un ampio e luminoso soggiorno, una cucina ben attrezzata e un bagno con doccia, ripostiglio, posto auto privato e un ampio terrazzo attrezzato che si affaccia sul giardino.
Villetta indipendente situata in una zona tranquilla di Bordighera a 100 metri dal mare. Due camere da letto matrimoniali più due posti letto. La casa è dotata di un ampio e luminoso soggiorno, una cucina ben attrezzata e un bagno con doccia, ripostiglio, posto auto privato e un ampio terrazzo attrezzato che si affaccia sul giardino.
Il quartiere dove è situato l'appartamento è estremamente tranquillo e silenzioso. A pochi minuti a piedi dal mare e a dieci minuti dal centro di Bordighera.
ประเภทห้อง
บ้าน/อพาร์ทเมนท์ทั้งหลัง
---
ประเภทที่พัก
บ้าน
---
พักได้
6
---
ห้องนอน
Bordighera, Liguria, อิตาลี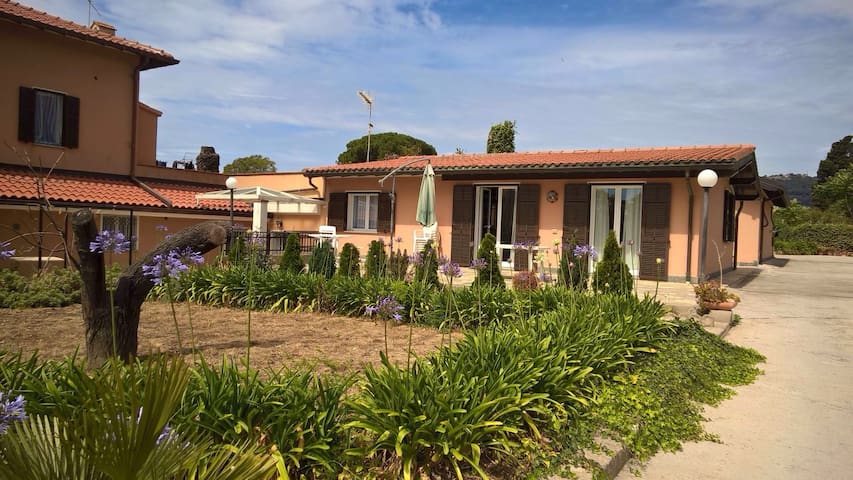 In typical Ligurian house of the sixteenth century in the medieval town of Coldirodi (Sanremo hilly fraction). apartment of 50 square meters and convenient services 3 km away from the beaches of Ospedaletti. In typical Ligurian house of the sixteenth century in the medieval village of Coldirodi (Sanremo fraction of hills). apartment of 50 square meters of useful services and 3 km from the beaches of Ospedaletti and 4 from the center of Sanremo. A large free parking in front.
Sanremo - Coldirodi, at the beginning of the historical center and accessible by car. Bedroom apartment of 50 sqm composed of living-room and kitchen, bedroom, bathroom and balcony overlooking the bay of Ospedaletti. More and relevance of the house a further attic bedroom with window and a private entrance adjacent to the main one. A short walk from the square with public parking, convenient services.
IT: Vicino al centro, ampi parcheggi gratuiti, vista aperta verso il mare, no traffico del centro. EN: Near the center, ample free parking, open view to the sea, no traffic of the center. FR: Près du centre, un grand parking gratuit, vue dégagée sur la mer, pas de circulation du centre.
L'appartamento è ben arredato, pulito e c'è tutto quello che serve. Ne vale la pena anche solo per la vista sul mare. Flavio è stato molto disponibile ci siamo sentiti davvero ben accolti . Lo consiglio!
Silvia
2017-03-26T00:00:00Z
Flavio war ein toller Gastgeber der sich sehr um das Wohl des Gastes bemüht hat. Die Unterkunft war sauber und ordentlich. Alles was man zum Kochen an Utensilien benötigte, war vorhanden. Vom Balkon hatte man eine sehr schöne Aussicht auf die Hügel und das Meer. Vielen Dank an Flavio für den schönen Aufenthalt.
Sebastian
2017-03-12T00:00:00Z
Super endroit très calme avec magnifique vue sur la mer. Flàvio nous à guidé tout la durée séjours. On a adoré le lit chauffant:) Endroit super pour se reposer 2-3 jours.San Remo est à pour se balader .Mais on a trouvé tout en village. Le boulange, le resto et le bar sympa.
Ladislav
2017-02-27T00:00:00Z
Cosa mi è piaciuto? Tutto perfetto.... Ampia possibilità di parcheggio.
Gian Luigi
2017-02-11T00:00:00Z
Julian
2017-03-18T00:00:00Z
Appartement très sympa sur les hauteurs de Sanremo.
Claire
2017-03-04T00:00:00Z
Casa molto pulita e accogliente, non difficile da trovare. Il proprietario è stato molto preciso e gentile, si è anche preoccupato di lasciare attrezzata la cucina, il bagno e di fornirci della colazione. Rapporto qualità-prezzo perfetto!
Emanuele
2017-04-04T00:00:00Z
ประเภทห้อง
บ้าน/อพาร์ทเมนท์ทั้งหลัง
---
ประเภทที่พัก
บ้าน
---
พักได้
3
---
ห้องนอน
ซานเรโม่, Liguria, อิตาลี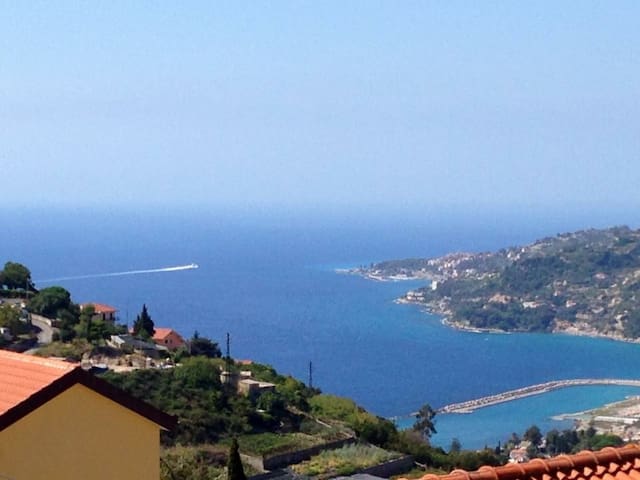 Our family villa is well situated for the lovely Beach town of Bordighera only one and a half kilometres away. It is a very easy drive from Nice airport which is only half an hour away. The French Riviera is also within easy reach.
ประเภทห้อง
บ้าน/อพาร์ทเมนท์ทั้งหลัง
---
ประเภทที่พัก
บ้าน
---
พักได้
4
---
ห้องนอน
Bordighera, Liguria, อิตาลี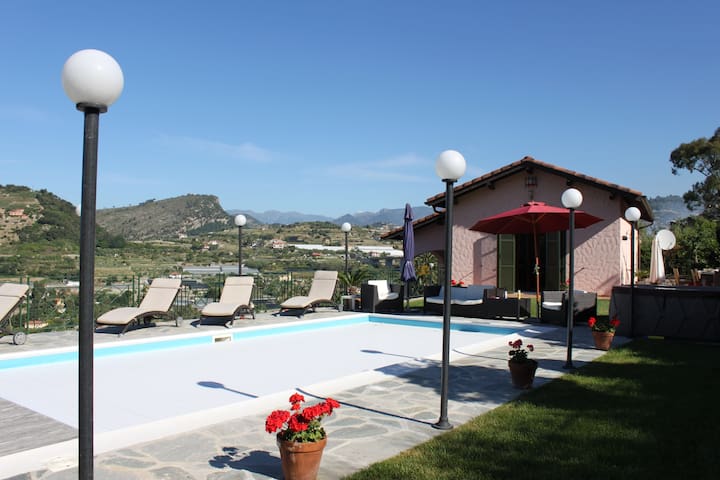 the room has a private entrance and a private bathroom with shower. We are always willing to share our kitchen space both internally and externally, by prior arrangement, thank you. We do not use TV but many books and plants, we love nature and we try to respect it, we will practice the sorting of waste, kindly ask you to respect the local regulations, we hung in the room instructions, thanks for your cooperation.
we like to share with the travelers
ประเภทห้อง
ห้องส่วนตัว
---
ประเภทที่พัก
บ้าน
---
พักได้
2
---
ห้องนอน
ซานเรโม่, Liguria, อิตาลี
Newly renovated, in which period house (early 1900) retains the features and interior frescoes opens onto a large Italian garden with adjoining garden and orchard from which you can enjoy a wide view of the gulf
Panoramic views, vast spaces both indoors and outdoors. cozy and romantic atmosphere.
very quiet and comfortable: located not far from the center and the nearby international highway The first location on the sea front of the hill allows you to enjoy the unique sunrises and sunsets. Very close to the Campo International Equestrian and Tennis club.
Nico and his family were very welcoming and helped us a lot to move around! We're always asking how everything was and giving lots of recommendation!!! He also gave us fruits from his garden. Lovely people!!!! My only recommendation is the bathroom and to improve the cleaning.
Natalia
2016-07-02T00:00:00Z
Мы провели чудесную неделю в этом доме. Семья из 2 взрослых и двух детей (2 и 5 лет). Апартаменты занимают весь первый этаж дома. 2 просторные спальни с удобными кроватями, 2 санузла, большой хол, гостиная, кухня со всем необходимым. Прямой выходом в сад из кухни и холла. В саду есть шезлонги, стол и стулья, барбекью. Потрясающий запах хвои и лаванды. Мы приятно проводили время в саду, особенно вечерний ужин с видом на море. Очень красивый дом со столетней историей. Старинная деревянная мебель, полы, роспись на потолках - во всем чувствуется итальянский стиль и вкус хозяев. Очень чисто и уютно. До супермаркета, пляжа и центра города 5 минут езды на машине. Отдельное спасибо Серене и Доменико, очень гостеприимные и радушные хозяева. Мы чувствовали себя как дома и уже скучаем по нашим друзьям. А дети ласково называли Доменико "дедушка".
Natalia
2016-08-17T00:00:00Z
Bella (e rilassante) vacanza in famiglia in questa villa d'epoca ristrutturata di recente. Ottima posizione, bella vista, piacevoli il giardino e l'agrumeto a disposizione totale degli ospiti (e del nostro cane). Nico é stato davvero gentilissimo, sempre a disposizione per suggerimenti e necessitá. La cucina é grande e super equipaggiata, frigo e dispensa sono pieni di generi alimentari a totale disposizione degli ospiti. Consigliata!
Anna & Stefano
2016-06-06T00:00:00Z
Wonderful house, stunning view and most hospitable hosts ever! It was a wonderful vacation! You'll have everything you need and even more! Villa is very beautiful and cosy at the same time, beautifuly decorated with love and style. Antique furniture, the painting on the ceiling - it was a very special experience! And it's always cool inside. Nico and Serena are very delicate and generous hosts - always ready to help and recommend interesting places around. It was like staying at best friends house! If you want something special and going to explore the surrounding area - it's a perfect place to stay! We hope to visit Sanremo again just to stay at Nico and Serena again!
Evgeniy
2015-08-27T00:00:00Z
This is a lovely place to stay in the riviera! Nico and Serena are amazing hosts, making you feel right at home while not being intrusive at all. They are the sweetest people, and they always made sure we had everything we needed. The house is just beautiful and the view is stunning. The location is perfect for exploring the surrounding area in Italy as well as for going into Monaco and France for the day. Highly recommend!
Erica
2015-07-23T00:00:00Z
The villa was very nice and the host very welcoming. Beautiful view, I would recommend to everyone!
Susan
2015-11-16T00:00:00Z
Our stay was perfect, Dominique was a great host and like others have said before me, is kind and subtle and generous. The house was beautiful, clean and very comfortable. I would highly recommend hiring a car or a scooter as there isn't a footpath on the road. There was private parking were we managed to park a large Audi A8 (although it took some practice) We spent every evening sitting on the terrace overlooking the amazing view to the sea, the appliances were great, especially the coffee machine, with unlimited capsules and the fresh orange juicer. The kitchen is very well equipped and if you need anything in particular I'm sure Dominique will find it for you. So overall our stay was perfect and I can definitely see myself returning for future holidays.
Andrei
2016-07-17T00:00:00Z
We had a great few days in the villa of Nico. He welcomed us really great and uncomplicated with everything we needed at his house and an allready filled fride :-) Anytime we would recommand to everybody to make visit to San Remo and the villa of nico! There is a good parking behind the house for your car and the centre is good reachable by car and taxi. The great view over San remo and especially the sea is great and has not to be missed. We would love to come again.
Dirk
2016-08-02T00:00:00Z
ประเภทห้อง
บ้าน/อพาร์ทเมนท์ทั้งหลัง
---
ประเภทที่พัก
บ้าน
---
พักได้
5
---
ห้องนอน
ซานเรโม่, Liguria, อิตาลี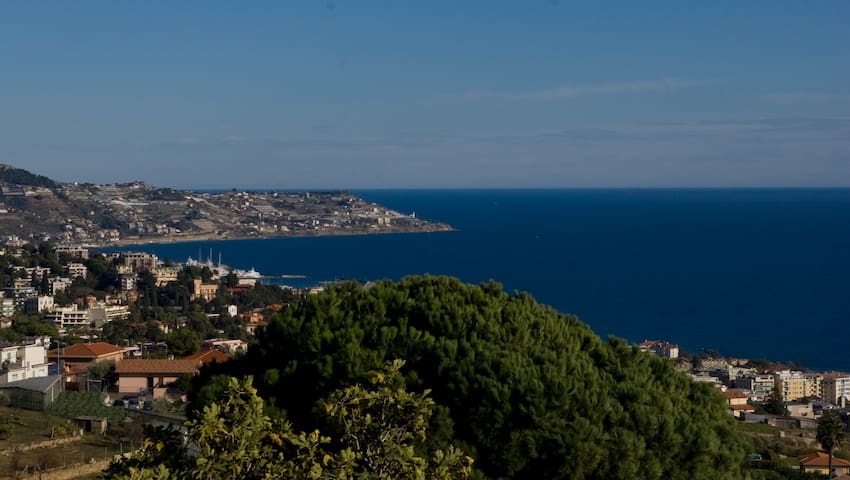 I will be pleased to welcome you at my property,a countryside newly built house in Ponente Ligure next to the French Coast.A private bedroom with a large and private bathroom will be at your disposal. Private parking inside the property.
A large bedroom of 20 square meters connected with a private bathroom of 12 square meters. The bedroom (indicated for 2/3 people) is composed of one double bed,one single sofa bed,two night tables,a wardrobe,a table with three chairs and a fridge as well as a kettle with chamomile,herbal tea,tea,sugar and milk . You will find as well some flyers regarding the best places you can visit all around! The bathroom has a corner bath tub with shower,two sinks,shower gel,shampoo,first aid kit,towels,etc.
The house is located on the top of a hill,so in a quiet place surrounded by olive trees,the typical Mediterranean greenery with brooms,mimosas,eucalyptus,etc.and the Ligurian sea in front of you. I usually recommend the sunset with its unique colours...maybe from the terrace and a glass of wine!
Le meilleur rapport qualité/prix. Allez y les yeux fermés ! Sylvia est au petit soin et son logement est fantastique, et la vue est surprenante. Merci sylvia!
benjamin
2015-03-06T00:00:00Z
Message in a Bottle è un posto davvero incantevole, vale davvero la pena passare un po' di tempo qui. La natura che circonda questa bella casa, rende il tutto molto rilassante, ideale per chi cerca proprio il riposo. La Camera è molto ordinata ed elegante, il bagno grande e confortevole. Sulla terrazza è possibile godersi una piacevole colazione, con vista mare mozzafiato. Infine Silvia, la proprietaria, è una persona davvero molto gentile e cordiale, solare e simpatica, che riesce sicuramente a mettervi a proprio agio, garantendo ancora migliore il soggiorno. Assolutamente un toccasana, consigliatissimo!
Tommaso
2015-05-25T00:00:00Z
This was really everything I needed. It was a beautiful apartment, full of roses and that blossom the Riviera and Côte d'Azur is so much famous for. The bed was comfortable in the room everything you need and more. The bath was huge ... I mean really huge with all the peaces you would expect but in double version. The terrace ... I really don't want to tell you .... it was so beautiful that I would like to keep it in secret. The big blue, the green, the olives, Monte Carlo lights. I already would call it now Grand-hotel da Silvia but if you would know Silvia with all her gentleness that would not mean enough. She welcomed us with flowers, fruits, drinks and he most friendly and gentle smile which she kept with for all the days. Ever morning we got something she calls continental breakfast ... Well I need to find out where else they serve that version ... I think must be in the sky. Croissants, Brioche, Cake fresh from the oven, Milk, Juices, Fruits, selection of honey, marmalade, jam and what we missed was there the next day. I will come back, and come back and come back and will not stop wishing to be already back. My very most thank you very much.
Marko
2014-10-27T00:00:00Z
Abbiamo soggiornato solo una notte ma l'accoglienza calorosa di Silvia, unita ad un servizio impeccabile e alla sua piacevole dimora con una splendida vista, esattamente corrispondente alla descrizione fornita, hanno reso il nostro soggiorno molto speciale! Assolutamente consigliato, speriamo di ritornare per un periodo più lungo.
Paola
2015-07-29T00:00:00Z
Ich habe bei Silvia wunderbare Tage verbracht, eine liebe und herzliche Gastgeberin, wertvolle Tipps , Unterkunft und Frühstück lassen keine Wünsche offen. Vielen Dank , für die schöne Zeit Helmut
Helmut
2016-06-25T00:00:00Z
What a perfect experience! Silvia was one of the nicest people ever. The room was flawless, the view unbeatable, the drive up the mountain to the house wonderful. She served me a breakfast fit for a family of 12, and it was outstanding. Silvia is an exceptionally beautiful woman, inside and out. I may have a crush. = )
Jason
2015-11-01T00:00:00Z
we had a wonderful time in a lovely place with an open-hearted host. Silvia took care of us in every single matter: we had home made cake, roses from her garden, good advices for the rainy days we had ,great laughter together and really good chats. You are just great Silvia, there is nothing to add and thanks to your husband for repairing the shower holder... Ci vediamo we have to come back ursula and matthias
ursula
2015-10-03T00:00:00Z
Message in a bottle fut un vrai havre de paix, la description était très fidèle mais cela ne nous a pas empêché d'être agréablement surpris par l'endroit. La chambre avec accès privé est refaite à neuf et décorée avec goût. Un vrai coup de coeur pour cet endroit qui n'est pas sans lien avec la grande qualité d'accueil et de coeur de son hôte, Silvia. A recommander, les yeux fermés ! Le seul inconvenient de ce séjour est qu'il fut trop court ! :)
Christelle
2015-03-22T00:00:00Z
ประเภทห้อง
ห้องส่วนตัว
---
ประเภทที่พัก
บ้าน
---
พักได้
3
---
ห้องนอน
Camporosso, Liguria, อิตาลี
This beautiful apartment is located in the hills over San Remo - only a 10 min. drive to the city center. It is a quiet place which offers you an own garden, a pool with see view & a secured parking. These 80 sqm. offer place for 2-4 per.
It is a comfortable apartment for 4 adults. For additional kids we do offer a children bed as well. The private see view pool belongs to the house & is only used by us & our guest.
Freundliche Begrüßung und gleich gabs eine selbstgemachte Pfirsichmarmelade als Willkommensschmankerl. Und dann die hausgemachte Tomatensauce mit Basilikum im großen Glas und (!) die Nutzung des eigenen Gartens: Auberginen, Tomaten, Paprika, Feigen etc. Also das war nicht nur schmackhaft sondern sehr großzügig. Großzügig war auch der Esszimmer-Wohnraum. Dazu hatten wir 2 Schlafzimmer, ideal für 4 Personen. Genügend Aufbewahrungsmöglichkeiten (Schränke und Kommoden.) Badezimmer ist ebenso groß genug. Rundum passend. In der Küche ist alle vorhanden, was man (Frau) so braucht. Highlight ist die Geschirspülmaschine, die leider nicht in der Objektbeschreibung zu finden ist. Vom Frühstückstisch, der Wiese draußen und vom Pool gibt´s eine tolle Aussicht aufs Meer und rüber nach Sanremo. Entweder ein tolles Refugium für den Erholung Suchenden und guter Ausgangspunkt für viele Besichtigungsaktionen vom Markt, Altstadt, Hafen etc. in Sanremo, bis zur kurzen Reise rüber nach Monaco. Kleiner Wermutstropfen ist ein fehlender Sonnenschirm; wir sind schon mal vor der Mittagshitze in die Wohnung geflüchtet. Die grünen Fensterläden schotten die Hitze aber gut ab. Auf jeden Fall vielen Dank für Ihre Freundlichkeit; wir kommen gerne wieder und empfehlen Ihr Anwesen weiter.
Hannsgeorg
2016-09-12T00:00:00Z
Fantastisch! Wij hebben genoten van de gastvrijheid van de lieve eigenaren, die werkelijk alles hebben gedaan om het ons naar de zin te maken! Het huis is ruim, schoon en de bedden zijn heerlijk. Alles wat je nodig hebt is aanwezig. Het uitzicht op zee is onbetaalbaar. Tijdens ons verblijf (augustus) was het warm en dan is het heerlijk om in het grote zwembad een frisse duik te nemen. Wij voelden ons welkom en zijn verwend met heerlijke groenten, jam en aandacht! De communicatie met Daniela was uitstekend. We kregen duidelijke reisaanwijzingen van zodat we bij aankomst het huis makkelijk konden vinden. Het is ook vast een prima bestemming voor in het voor- of najaar. Deze vakantie locatie kunnen wij iedereen van harte aanbevelen! Wij komen graag terug!
Patrice
2016-08-21T00:00:00Z
The place was very nice and the hosts too, it's a great place to go for holidays.
javiera
2016-07-31T00:00:00Z
Wir haben bei unseren Gastgebern eine wunderschöne Zeit verbracht. Der Kontakt vorher und auch während des Aufenthalts war ausgezeichnet. Alles sauber und der Ausblick von der Terasse wunderschön. Wir kommen wieder! ----- We spend an amazing time with the hosts. Great place to stay. Clean and super friendly. Thanks a lot!
Max
2016-07-11T00:00:00Z
Wir hatten wunderschöne 10 Tage im Appartement! Daniela und ihre Eltern waren super Gastgeber und in jeder Hinsicht hilfsbereit! Das Appartment war groß genug für 4 Erwachsene und 1 Baby! Auch der Garten und der private Pool werden gepflegt! Der Ausblick vom Garten aus lässt keine Wünsche übrig. Wenn man zum Strand oder einkaufen gehen möchte ist jedoch ein Auto erforderlich (bei guter Verkehrslage ca. 10-15 min. Fahrzeit). Preis-Leistungs-Verhältnis TOP!!
Philipp
2016-08-17T00:00:00Z
It was great staying at Danielas in sanremo. Both she and her family were very warm and welcoming and the apartment and views were fantastic
Toby
2016-06-23T00:00:00Z
We had a super nice stay! Lovely apartment, fantastic view, nice pool and kid friendly! We are already planning next years trip. Amazing hosts also! Will recommend it any day! We are so pleased!!
Erik
2016-08-27T00:00:00Z
Danke Daniela! Grazie a Caruso! Un grand merci à Daniela et Caruso qui ont vraiment le sens de l'hospitalité et nous ont accueillis avec beaucoup de générosité. L'appartement correspondait parfaitement à la description. Il était très propre, spacieux, bien équipé, calme, idéal pour une famille de 4 personnes. Le jardin est très agréable, la vue est magnifique, et il est très appréciable de prendre ses repas et de profiter de la piscine face à la mer. Nous avons passé une super semaine de détente à Sanremo chez Daniela et Caruso, et nous reviendrons sans doute passer quelques jours dans cette très belle location.
Christine
2016-08-07T00:00:00Z
ประเภทห้อง
บ้าน/อพาร์ทเมนท์ทั้งหลัง
---
ประเภทที่พัก
บ้าน
---
พักได้
4
---
ห้องนอน
ซานเรโม่, Liguria, อิตาลี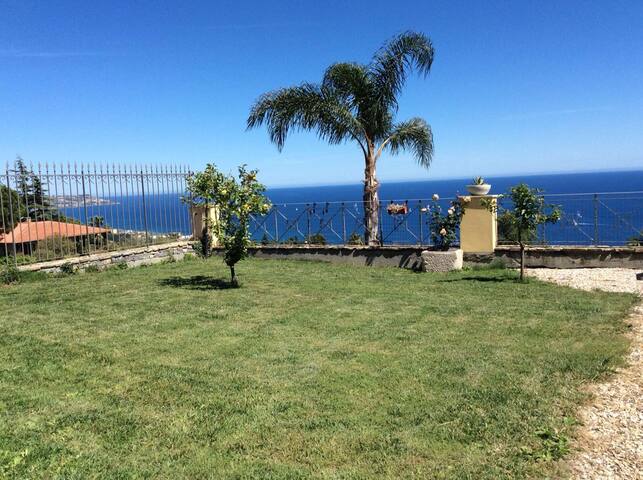 Vallebona - Airbnb
:
เฉลี่ย

4.86

จาก

5

ดาวจาก

247

รีวิวผู้เข้าพัก