Perfect retreat for skiing, hiking, wine tasting and enjoying the Hudson Valley only 45 mins from NYC. Open floor plan, bright, with cathedral ceilings, roomy kitchen, 65" smart TV with surround sound and huge outdoor deck with table & BBQ grill.
Everything was accurate and the stay wss comfortable
Mike & lisa
2016-07-30T00:00:00Z
John was an excellent host. We felt very comfortable in his home. The home is roomy, cozy, bright and comfortable. We were snowed in and the fireplace was great! The home is on a beautiful property but also close to parks and shopping. We would stay again!
Jessica
2017-02-18T00:00:00Z
The house is very pretty and cozy. All the amenities available for home accommodations, should you be looking for that. Lots of window area for beautiful sunshine to brighten the house. We enjoyed cooking outdoors and sitting in the patio area. Although it was snowing and a bit cold when we were there, we enjoyed the change from our home in Florida. We loved the kitchen area for cooking and hanging out. The living area is open and close to the kitchen, so made it convenient when watching football to get goodies. Plenty of wood for the fireplace which kept us warm. Bedrooms are upstairs and are situated well and spacious. Bathroom is roomy and it's a pretty view from upstairs. Enjoyable and accommodating is this pretty house in the mountains of Tuxedo Park area.
Nancy
2017-01-01T00:00:00Z
My girlfriend and I were extremely pleased with everything this location had to offer. Having traveled from FL to NY to visit her friends and family, this house was the perfect relaxing, yet reachable, getaway. Accommodations were spacious and very comfortable. Both the indoor and outdoor spaces were equally enjoyable with plenty of room to cook & grill. In addition, John was an exceptional host. We were able to reach him with a guaranteed quick response if we had any questions. Would definitely recommend staying here.
Mike
2016-07-02T00:00:00Z
John's cabin in the woods was perfect for my colleagues and I for a work event we were doing in Tuxedo Park. Beautiful house set in the woods, relaxing with a wood burning fireplace and a porch made for entertaining. I wish there was a house manuel when we arrived that gave us directions for wifi, TV, AC, etc instead of contacting the host constantly asking questions. Also, the house was not as clean as we would have liked but not terrible by any means (sofa bed was covered in cat hair and dust on bottom and fridge was not cleaned out for us to put groceries in) but overall we had an excellent stay. John got back to me with any questions we had and was very accommodating for the 4 nights we stayed there. Wish we could have stayed longer and enjoyed the space!
Heather
2016-06-21T00:00:00Z
ประเภทห้อง
บ้าน/อพาร์ทเมนท์ทั้งหลัง
---
ประเภทที่พัก
บ้าน
---
พักได้
8
---
ห้องนอน
Tuxedo Park, นิวยอร์ก, สหรัฐอเมริกา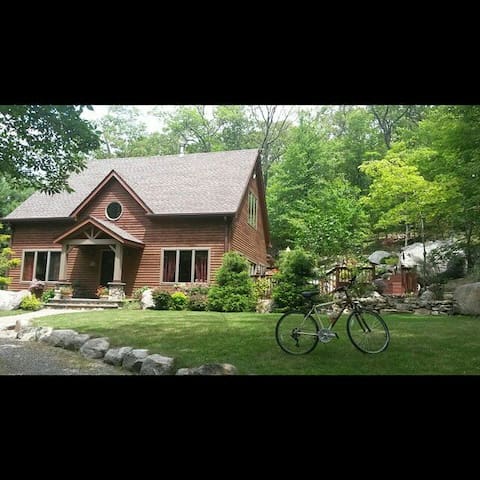 Former carriage house overlooking a brook, totally refurbished in 2013 by architect owners. A fabulous kitchen opens up to a large, luxurious living space, full dining room, three bedrooms and baths, in the exclusive gated community of Tuxedo Park. AVAILABLE MONTHLY STARTING IN THE FALL / WINTER 2016.
A fabulous kitchen opens up to a large, luxurious living space with 75" flat screen TV, two large couches and charming fireplace. Dining room seats 6-8, with a breathtaking bay window overlooking a babbling brook. Casement windows, a large patio and flat 1 acre of yard and woods. This cottage is nestled between grand estates in historic gated Tuxedo Park. Nature lovers can walk, hike, and explore this amazing escape only one hour from New York City. Minutes from state parks, and 15 minutes from world-class shopping at the Woodbury Commons outlets.
Tuxedo Park is a gated community established in the 1890's by tobacco heir Pierre Lorillard, who envisioned this escape as a summer playground for New York society. Great mansions were constructed, many of which remain today.
ประเภทห้อง
บ้าน/อพาร์ทเมนท์ทั้งหลัง
---
ประเภทที่พัก
บ้าน
---
พักได้
6
---
ห้องนอน
Tuxedo Park, นิวยอร์ก, สหรัฐอเมริกา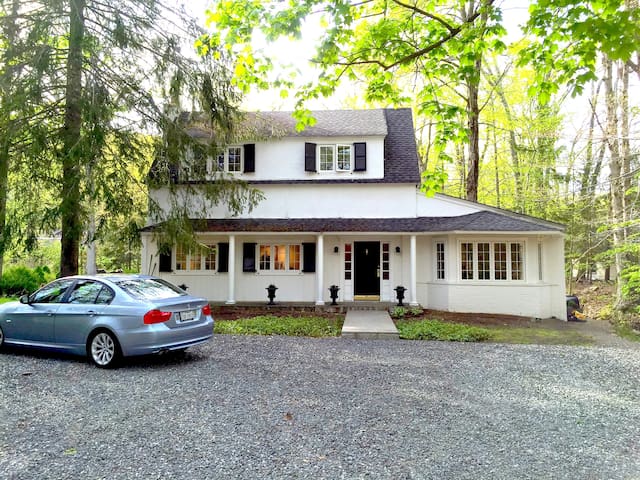 Built in 1930, this magnificent brick country house, set on a lake in historic Tuxedo Park is 4000 square feet large with five bedrooms and 4.5 bathrooms.
.
Brian
2016-02-23T00:00:00Z
The host canceled this reservation 35 days before arrival. This is an automated posting.
E
2016-07-15T00:00:00Z
ประเภทห้อง
บ้าน/อพาร์ทเมนท์ทั้งหลัง
---
ประเภทที่พัก
บ้าน
---
พักได้
6
---
ห้องนอน
Tuxedo Park, นิวยอร์ก, สหรัฐอเมริกา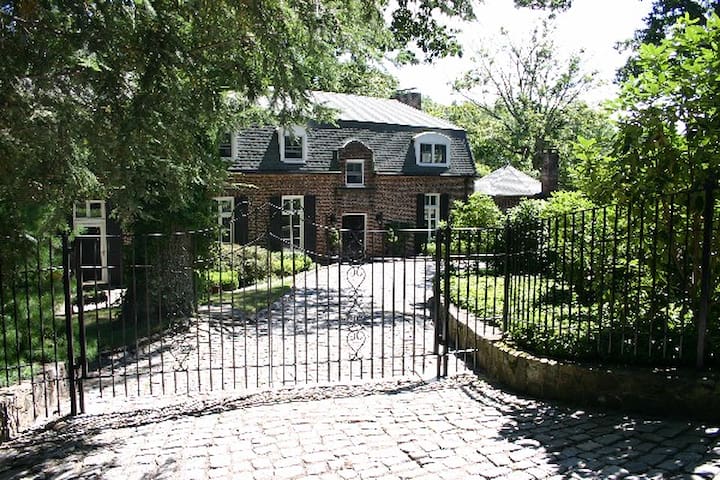 Historic Shingle style home located on a very private cul de sac. 35miles from NYC situated close to the Catskills at the base of the Hudson Valley. Lots of outdoor activities,museums,shops,antiquing! A perfect place to unwind+get away!
This historic home from 1886 located in the cradle of the Hudson Valley only 40 miles from NYC, offers 6+ bedrooms with each one evoking a different proof of time and place. Sleep in Tuscany one night, Venice, another, a Shaker village the next, an English Manor rose room and a petite corner of France. There is a small maid's/au pair room with walk in closet. There is a whimsical playroom with a walk in closet full of toys,board games and a full entertainment center. A young child's and adults delight! The downstairs with 14' ceilings features a grand dining room, living room, kitchen, great hall, biblioteque and TV/game room. The dining room is beautifully decorated with an antique Baronial dining table that easily seats 12. The living room is perfect for entertaining and has mini music entertainment center with a Bose sound dock. The kitchen has top of the line appliances an 8 burner range with 2 indoor grills. There are two ovens and two dishwashers. There is a large outdoor area with grill, picnic table, hammock and Adirondack style chairs to relax by the fire. Among the many things you see and partake in, visit the Dia Museum, West Point Military Academy and various civil war sights, visit and picnic at the Storm King outdoor art center, beautiful Harriman State Park, shop at the famous designer outlet Woodbury Commons, and all of Manhattan is at your doorstep. If you don't like a house with personality , this house rental isn't for you. Remember on Airbnb, you rent a home , not a hotel room.
Tuxedo Park is a 5000 acre wonderland located a mere 1hr drive north of Manhattan. The village is home to three stunning lakes, endless forests, rolling hills, and unforgettable scenery. It has been home to prominent figures such as Mark Twain and Emily Post and a number of celebrities.
Paola was one of the nicest hosts I've ever stayed with! When our taxi didn't arrive to pick us up from the train station to the house, she picked us up instead, and we were astounded by her generosity! Additionally, everything inside the house was well maintained and clean, and we had a great time overall!
Sergei
2016-08-15T00:00:00Z
Paola was a wonderful host, and we had a very nice time staying in her home for a family vacation. She was generous, communicative, and extremely sweet—it was really lovely getting to meet her and find out about the history of the house. The space itself is ENORMOUS, with over six bedrooms, a regal dining room, and several living/congregating areas. There are numerous antique curios and collectibles that she's acquired over the years displayed throughout the house, ranging from portraits to little statues and trinkets to a collection of masks from around the world and some interesting taxidermy. Her kitchen was stocked full of the necessary pots, pans, and spices we needed, and she was kind enough to provide us with English muffins, toast, butter, and assorted breakfast items. Paola also accommodated a few special requests we had (early check-in, late check-out, last-minute changes in the number of guests), and we really appreciated her flexibility. She also attended to a slight SNAFU we had immediately—very, very helpful. She truly went above and beyond for us (thank you!!!). While we had plenty of space in Paola's house, and enjoyed her unique point of view in design and decorating, one caveat is that most of the walls upstairs are covered in a beautiful silk brocade fabric, which is hard to tell in the photos. This caused some allergy flare-ups for a couple members of our family, so if you have an especially sensitive nose, bring a lot of Claritin! Thanks again, Paola, for being such an excellent host.
Brinda
2016-07-17T00:00:00Z
This listing was everything as advertised and more. Paola was a gracious hostess who helped us make this a memorable Thanksgiving weekend. Our group was nine people and we fit into the house without ever feeling cramped for space. Overall, a wonderful experience.
John
2015-11-28T00:00:00Z
Paola was an incredible host. Upon arrival, she greeted us and gave us a tour of the entire house. The refrigerator was stocked with plenty of breakfast items...juices, coffee, muffins, yogurt and lots of extras! We were a group of 6 women in our mid-60's that hadn't been together in almost 50 years since our early college days. The house was very spacious and we each had our own bedroom. All rooms were as depicted in the listing. We had wonderful dinners at the baronial dining room table. Since we had so much to catch up on, we didn't venture out into the town, but took advantage of the beauty of the area and did lots of walking. The area is breathtaking!
Barbara
2015-11-17T00:00:00Z
Paola's house is exceptionally unique and will undoubtedly be a memorable experience our group - we will be talking about our time there for years to come. We had a barbeque in the outdoor yard next to the fire pit and enjoyed a flame-lit meal with candles, tiki torches, and the fire itself. Apart from the house itself, Paola is a very gracious host. She was accommodating of our late arrival, and provided us with english muffins, orange juice, milk, eggs, and coffee for breakfast the next day. She was available by phone if we needed anything. I'm delighted that Paola does the utmost to make even a large group feel at home.
Andrew
2015-08-31T00:00:00Z
Paola was very prompt with replying to email messages prior to our stay and gave us detailed instructions on arriving to the house. We celebrated a bachelorette party and wanted a comfortable home in the Hudson Valley. A few things: the entire community is gated. It's about a 10 minute drive from the gate entrance to the house. The exterior of the house is quite old compared to others in the neighborhood. The house itself is very large and accommodated all of 8 of us. The inside of the house is old and it looks and feels that way. The house is ridiculously cluttered with trinkets EVERYWHERE. For some, this offers a unique feeling but for others, it's just overbearing. The house feels dusty, old and smells like old/moldy fabric...I think because it's impossible to clean around everything in the house. The sheets didn't feel particularly clean and almost had a damp/moldy feel too. The kitchen is quite stocked. The outdoor area is really nothing that can be used. The picnic table/ benches and hammock were falling apart and had cobwebs on them. While the house is very artistic and unique, we were disappointed with the lack of openness and cleanliness. We were surprised by all the reviews left before us.
Aparna
2016-06-06T00:00:00Z
Paola, the host, was amazing! She made us feel at home right from the start. The actual house was exactly as shown in pics. The neighborhood was very clean and amidst lakes and woods. We did a bonfire in the evening as well. Also there was enough space for 14 of us to sleep as per the description. I would love to visit it again!
Nikit
2015-08-10T00:00:00Z
Paola thoughtfully accommodated our large party, including great directions, a personal introduction to the property, a bag of trucks for the 5 year old grandson, tablecloths for outdoors, and instructions on how to properly care for her extremely interesting and comfortable home. It is a truly unique property, restored as labor of love. It is historical, well and personally cared for and restored. The house is filled with family pictures and travel treasures - a truly loved personal home. We enjoyed our time there even though the occasion that brought us there was a sad family occasion. Paola understood and accommodated our needs so sweetly. I recommend this property highly.
Tod
2016-06-27T00:00:00Z
ประเภทห้อง
บ้าน/อพาร์ทเมนท์ทั้งหลัง
---
ประเภทที่พัก
บ้าน
---
พักได้
13
---
ห้องนอน
Tuxedo Park, นิวยอร์ก, สหรัฐอเมริกา
Our vacation home in Warwick, NY- a perfect getaway for a couple or family. Charming, contemporary log home has mountain views, rustic details and all modern comforts. House sits on seven mountain acres on a quiet private road 75 mins drivefrom NYC.
Our vacation home in Warwick, NY is the perfect summer rental or weekend getaway for a couple or family. This charming, contemporary log home has seasonal mountain views, rustic details and all modern comforts. The house sits on seven mountain acres on a quiet private road, just off the Appalachian Trail and minutes from vineyards, biking, boating, berry picking, a petting zoo and the world's best ice cream.
Beautiful Warwick, New York is an undiscovered gem 55 miles from NYC. In the quaint downtown you'll find antique shops, an independent bookstore, independent toy store, chocolatier, yoga studio, funky cafes, great restaurants and friendly folks! The surrounding rolling countryside is full of farms, orchards and wineries -- lovely to drive or bike through and take home some local produce! The Appalachian Trail is just two minutes away – hike out the front door or take a quick drive to Waywayanda State Park for hiking, biking, canoeing and more. Skiing at Mt. Peter is next door. Five minutes to Greenwood Lake beaches and boating, 10 minutes to Sugar Loaf arts and crafts village, 20 minutes to Mountain Creek skiing, Woodbury Commons outlet shopping, and Minerals Spa in Vernon, NJ. This place has it all!
The home was very nice and cozy, with superb surroundings. Pretty good atmosphere overall, with plenty of cute interior design pieces. Kudos for the play room, very well furnished with lots of toys and children books. Excellent patio and porch areas to hang around outdoors.
Fabio
2015-12-31T00:00:00Z
Great place; owner very nice and attentive.
Nikolas
2016-10-02T00:00:00Z
The host canceled this reservation 4 days before arrival. This is an automated posting.
John
2015-10-06T00:00:00Z
The reservation was canceled 33 days before arrival. This is an automated posting.
Adam
2015-04-20T00:00:00Z
Hari was a wonderful host! Incredibly gracious. He was quick in response and left great area recommendations from restaurants to grocery stores and everything in between The house was absolutely adorable. Perfect little log cabin getaway adorned with a wood burning stove/fireplace. Well furnished with chic little touches. The stay was easy, comfortable and relaxing in a serene setting. Would definitely come back.
Shelly
2016-09-12T00:00:00Z
We had a great peaceful Valentines Time Perfect for family with kids as you can go skiing close by or even just couples looking for a romantic gateway Thank you for having us
kelly
2017-02-15T00:00:00Z
ประเภทห้อง
บ้าน/อพาร์ทเมนท์ทั้งหลัง
---
ประเภทที่พัก
บ้าน
---
พักได้
4
---
ห้องนอน
วอร์วิค, นิวยอร์ก, สหรัฐอเมริกา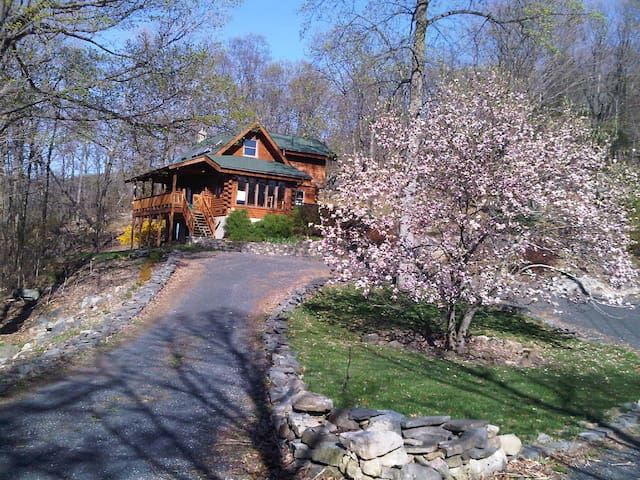 My place is close to Woodbury Commons Premium Outlets (25 minutes), Renaissance Faire (12 minutes), hourly Bus to New York City NYC, lake and private lake, mountains, library, boat ramp, restaurants, bars. You'll love my place because of Is a quiet private neighborhood, year round amenities (dining, fishing, hiking, hunting, swimming). In New York State and away from the city. My place is good for couples, solo adventurers, and business travelers.
Small house by the lake, wooden floors. Has deck and fireplace, bbq grill, bicycles, and firewood available.
Quiet neighborhood, summer houses, retirees, boaters, fishermen, bikers.
Sergio was a great host who ensured I was at home and comfortable. The area is great for rest and relaxation. There's transportation into New York City just a short distance from the house. The home is very comfortable and area is very safe and friendly. I would book another stay there, especially in the summer.
Anna
2017-03-08T00:00:00Z
ประเภทห้อง
ห้องส่วนตัว
---
ประเภทที่พัก
บ้าน
---
พักได้
2
---
ห้องนอน
Greenwood Lake, นิวยอร์ก, สหรัฐอเมริกา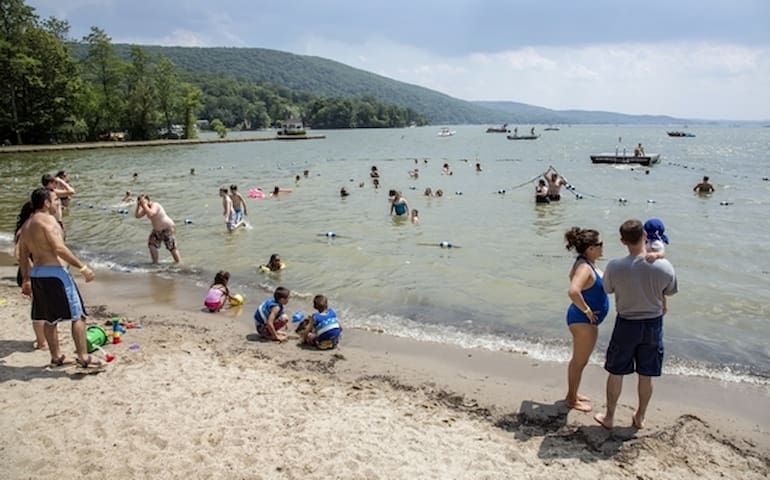 This 4 BR home with dock on Greenwood Lake is available for full or partial rental with a 2-night minimum.
The main part of this house was built as a hunting lodge. It retains much of the original rustic charm but has been updated with traditional furnishings and antiques. It has been scouted as a photo site for Ralph Lauren and housed Hollywood actors during the filming of THE MAGIC OF BELLE ISLE in the summer of 2011. Guests have access to all rented spaces and amenities on the property except that running water in the bath house is turned off in winter. Also, the property includes a carriage house that is not currently offered for rent. When the downstairs is rented alone, the host may stay and access the upstairs from the main staircase through the living room. The host retains access to the waterfront and carriage house at all times and may perform reasonable maintenance on the property whenever necessary. The house is in a residential lakeside community with a mix of full time, seasonal and weekend neighbors. There are many natural features to visit in the surrounding area including Sterling Forest, Harriman State Park, the Hudson River and the Appalachian Trail. Kayaks, sailboats and paddle boards may be rented from local vendors. Warwick has a public golf course and riding stables. There's a water park at Vernon, NJ and historic attractions in Warwick, Monroe, and West Point. In winter, Sterling Forest, Mount Peter and Vernon Valley/Great Gorge all offer skiing and snow boarding nearby. The Renaissance Faire and Warwick Applefest are annual events that attract many visitors. Woodbury Commons claims to attract more visitors than the Statue of Liberty, Empire State Building, and UN combined! The area is accessible to the public by train from Penn Station or bus from the Port Authority Terminal in New York City but, once here, visitors without vehicles may find it difficult to get around, so it's a good idea to rent one in advance. Four wheel drive vehicles are recommended in winter. In summer, the area is ideal for biking, though Mount Peter will present a definite challenge. There is ample parking at the house. There are some nice restaurants in the area, particularly, Italian and German, but most local places tend to be casual and simple. The police are vigilant about drinking and driving. Warwick shows movies at a drive-in and has a bowling alley. All the surrounding communities have farmers' markets. Sugar Loaf features a number of galleries and specialty shops. But mostly, this is a place to enjoy relaxing at home.
The house is in a residential lakeside community with a mix of full time, seasonal and weekend neighbors. There are many natural features to visit in the surrounding area including Sterling Forest, Harriman State Park, the Hudson River and the Appalachian Trail. Kayaks, sailboats and paddle boards may be rented from local vendors. Warwick has a public golf course and riding stables. There's a water park at Vernon, NJ and historic attractions in Warwick, Monroe, and West Point. In winter, Sterling Forest, Mount Peter and Vernon Valley/Great Gorge all offer skiing and snow boarding nearby. The Renaissance Faire and Warwick Applefest are annual events that attract many visitors. Woodbury Commons claims to attract more visitors than the Statue of Liberty, Empire State Building, and UN combined!
Great House, perfect getaway to relax with some friends !
Amaury
2016-09-26T00:00:00Z
Amazing house on a beautiful site. The immaculate, historic interior is a perfect vacation setting. Dining room is perfect for a scenic brunch. Highly recommend this house.
Ariella
2015-09-14T00:00:00Z
The house was beautiful and had lots of great character! Towels were left out for all and the house was very clean. John was very accomodating as well with anything that might help make our stay better. The dock had a nice little seating area for us to enjoy ourselves during the day. There is not a ladder currently on the dock, but there was a rocky shore off to the left side and if you have water shoes it will make it even easier to get in. The outside shower looked to need a bit of repair, but that was ok with us as we did not really need. Overall, a wonderful place. We wanted to stay even longer and we definitely want to come back!
Kelly
2014-09-02T00:00:00Z
I saw John's listing summer of 2014, waited too long to book and I lost that weekend. I pre-booked a year in advanced and was not disappointed for this years MDW! Wonderful home with a quiet location right next to the lake. Dealing with John was a pleasure and I recommend him and his home to anyone. VERY pleased!
Steve
2015-07-06T00:00:00Z
The house was everything could of wanted and more. Very spacious, beautiful property, dock right on the lake was nice. It had a haunting charm to it. John was very helpful. Would come back again.
Matthew
2016-10-09T00:00:00Z
John's lake house was a really nice weekend getaway. The place is exactly as described with a stunning view.
Erica & Doug
2014-10-13T00:00:00Z
John was a spectacular host! The house was beautiful and clean, and could accommodate our 6 guests very comfortably. The view from the house was amazing, and the dock to the lake was a great place to have morning coffee and hang out for the day. The lake was warm and nice to swim in. We were also very close to the drive in movie theater, and the Warwick Winery, as well as the Renaissance Faire. Lots to do!
Danielle
2015-08-03T00:00:00Z
John's house is absolutely incredible. So much character and history packed into a beautiful home accompanied by the serene dock and breath taking views. John is a most accommodating host and we look forward to coming back every year.
Ryan
2015-09-30T00:00:00Z
ประเภทห้อง
บ้าน/อพาร์ทเมนท์ทั้งหลัง
---
ประเภทที่พัก
บ้าน
---
พักได้
8
---
ห้องนอน
Greenwood Lake, นิวยอร์ก, สหรัฐอเมริกา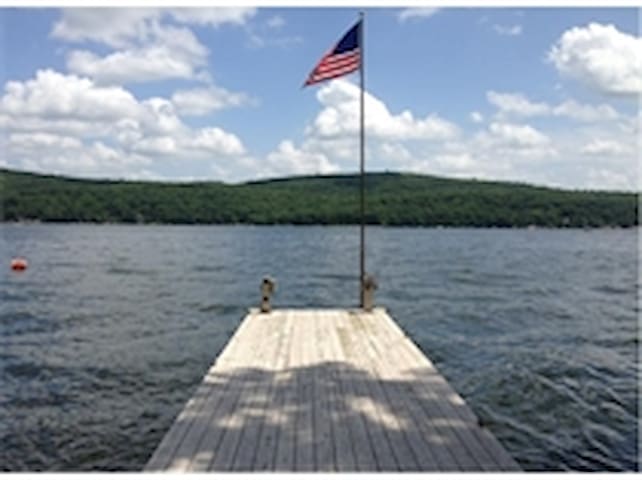 Beautiful lakefront home with balconies, patios, amazing views, outdoor hot tub and private beach! Only minutes to 2 skiing mountains (!!), shops, restaurants, vineyards, and orchards. Kayak, canoe and now a paddle board available with vests, etc. in the summer! B-B-Q and fire pit available. A truly great getaway!
There are 6 bedrooms now, and this house now sleeps 12!! There are only 12 people allowed in the house at any time, please. One of the bedrooms has a futon on a futon frame as a bed, which we love and is very comfortable, and we were advised to inform you all of this. One of our guests actually broke one of the beds and then wrote a critical review of a broken bed, but we obviously fixed all of that and got a new bed so please disregard any reviews about broken or unsatisfactory beds, or other negative comments.
Lovely home. We all had the best three days of our lives. The lake was incredible and the view was breathtaking. Highly recommend!
Lauren
2015-09-16T00:00:00Z
We had a wonderful time at Nicky and Michael's beautiful lake house. The house and the lake are beautiful and we were very comfortable with 10 people. Will definitely book again. Thank you!
Emma
2017-03-05T00:00:00Z
The house was fine but there was no wi-fi and no cable channels. The beds were really hard and not everyone enjoyed that.
Kyle
2016-10-03T00:00:00Z
The hosts were extremely helpful, and their house accommodated everything from cooking to entertainment. The house's description does not do it full justice, because pictures cannot account for the sense of cleanliness the owners ensure. The space is generous, and the kitchen is perfect for anyone wanting to cook and stay in for the night. Well done.
Josh
2015-01-19T00:00:00Z
We had a great time! The house and views are beautiful. We had a lovely stay and a fabulous time swimming and playing tetherball, which we hadn't played since grade school! The restaurant just down the road had great food as well! The house is about a 40 minute drive from the USMA, not too far if you're a family of drivers. If you enjoy driving winding back roads, this is for you, it is a gorgeous drive. The king, queen, and twin rooms were fantastic. Beautifully decorated with very comfortable beds. Our only complaint is regarding the beds in the full size rooms. Both rooms had very hard futon type mattresses. In the main floor full size room, the mattress is just on the floor. This was difficult for our mobility impaired family member who stayed in that room due to stair difficulties. The full size bed on the first floor is on a futon bunk bed frame that is missing pieces which means that each side is prone to dipping down, placing the bed at an angle. My husband had issues when laying on it by himself, for both of us to lay on it required some improvising with propping each side up. I highly recommend the house, it was fantastic, but please be aware of the bed situation. We had 4 couples and only 2 comfortable beds for them. We would definitely stay again if the bed situation is remedied or with a smaller group.
Caroline
2015-05-25T00:00:00Z
Nicky was very communicative and checked in on us via telephone. She made sure we had everything set up and that our stay was comfortable. The house was perfect for a large group, with many places to hang out inside and outside. The lake and hot tub make the house perfect for all weather. The house has a ton of fun activities, such as a rope swing, hammock, canoe, kayak, hot tub, mini pool/pingpong table, and its own mini beach! The house was clean and comfortable.
Megan
2015-05-12T00:00:00Z
This lake house has a cozy cottage feel that makes you forget that you're only an hour outside of New York City. We spent nearly every waking moment in the kitchen and living area chatting, laughing, making home-cooked meals, napping, and relaxing. Only two of us got the chance to enjoy the hot tub, which is amazing if you don't mind the frigid air that blows at night. We made better use of the fire pit on the ground floor. We hope to rent this listing again when the weather is warm again.
Malarie
2015-11-15T00:00:00Z
Our experience at Nicky and Michael's lake house was great! Nicky was incredibly fast at responding to any of my questions and their home was clean, charming, and inviting. Would highly recommend!
Kate
2016-05-16T00:00:00Z
ประเภทห้อง
บ้าน/อพาร์ทเมนท์ทั้งหลัง
---
ประเภทที่พัก
บ้าน
---
พักได้
12
---
ห้องนอน
Greenwood Lake, นิวยอร์ก, สหรัฐอเมริกา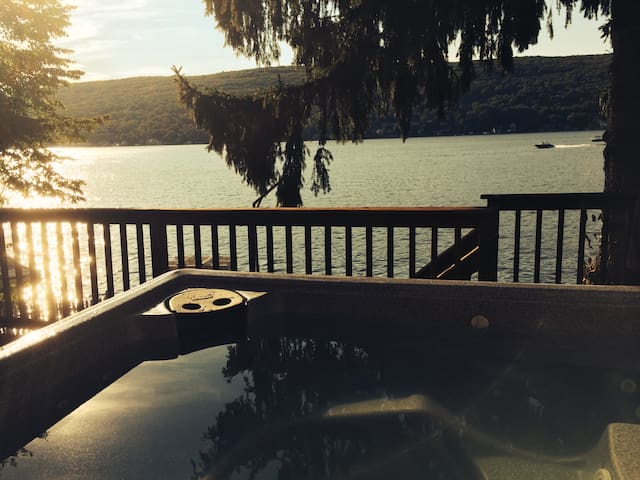 Charming, secluded modern home with high ceilings, ample light and wrap-around deck backing sterling forest with access to hiking trails directly behind the house and the appalachian trail nearby. Location is walking distance to lake and also less than 15 minutes away from golf, wineries/breweries/cideries, orchards, drive-in theatre, lakeside restaurants, renaissance fair, skiing, Bellvale Farms the #1 ice creamery in the US(!) and more. Close proximity to NYC within 1 hour drive to bridge.
Christina was so easy to communicate with and flexible. She even let us check in early as we had an event to go to. The house was beautiful! Spacious with lots of light. The modern bathroom was really nice and clean. The surrounding woods are gorgeous and it was so nice to be able to get up in the morning and be in wilderness just a right behind the house. It was a great place to stay and I'd definitely come back!
Katie and Matt
2016-09-25T00:00:00Z
Christine is very easy to work with, however, if cleanliness is your thing, look elsewhere. The house is nice, but could use some tlc.
Patricia
2016-11-25T00:00:00Z
The house is perfect for a getaway weekend. The feel is very cozy & the spaces are all grand. My family and I had a great time and would love to come up and spend time in the surrounding neighborhoods and inside the house because we were barely home. Inside the house you will find everything you need for a great stay and the outdoors is just breathtaking.
Franchesca
2016-10-30T00:00:00Z
The host canceled this reservation 81 days before arrival. This is an automated posting.
Sawyer
2016-11-14T00:00:00Z
The home was cozy. Christina answered all our questions as soon as possible. She gave us detailed information of the area (supermarkets, cvs and even wineries!!) We contacted her on Saturday evening with a home question and she replied immediately. I would definitely stay here again and recommend it to anyone. It's an awesome "home" away from "home". Thank you Christina!!
Marisol
2016-11-27T00:00:00Z
We had a great time in this house. I went with some friends for the weekend, and it was exactly what we needed: plenty of space, plenty of privacy, and plenty of nature! The property is beautiful.
Elyana
2016-11-20T00:00:00Z
This is a great house for entertainment and recreation near the lake in the summer and near a ski slope in the winter..
Robert
2016-12-27T00:00:00Z
Dan and Christina were great hosts, they were very communicative and their home was even better than we expected. The perfect relaxing weekend getaway, close enough to the lake and tons of other activities -- thanks for a great stay!
Michelle
2016-09-05T00:00:00Z
ประเภทห้อง
บ้าน/อพาร์ทเมนท์ทั้งหลัง
---
ประเภทที่พัก
บ้าน
---
พักได้
6
---
ห้องนอน
Greenwood Lake, นิวยอร์ก, สหรัฐอเมริกา
Lakefront House. Best Views on Greenwood Lake. Nice 3 Bedroom Lakehouse on flat lakefront. The living room and bedroom have sliders that open to the deck. Downstairs bedroom opens to the lakefront. Swimming and fishing off the boat dock.
The house is a beautiful 3 bedroom on a quiet street. The views are incredible. Watch the sunrise and sunset from the deck. There are sliders from the living room and bedroom to the deck, and sliders from the downstairs bedroom to the lake. You can swim and fish from the boat dock. Also, the house is a one minute walk to Thomas Morahan Park public beach. On Saturday nights you can sit on the deck and hear the concerts. The deck also has a great view of the Fourth of July fireworks. You can also walk to the village.
We had a great time at the Lakefront Home in Greenwood! Michele was extremely easy to work with and super friendly and accommodating. The views were spectacular, the lake was wonderful, and with everything Michele provided, we were able to enjoy it all.
Tani
2016-06-27T00:00:00Z
This house was absolutely incredible. It was spacious, beautiful, clean. The location was as perfect as you would want on this lake. Between the fire pit and nice decks, we literally were in heaven.
Paul
2016-07-06T00:00:00Z
The house was wonderful - so close to NYC, an easy escape. Conveniently located just outside a small town, shops and restaurants easily accessible. Backyard and house were very spacious, with large decks overlooking the lake. Very easy and flexible check in and check out process. Couldn't have been a better weekend!
Will
2016-05-31T00:00:00Z
Michele was a great host, and accommodated our group very well. The place was as-described, and everything we needed was easily found in the cupboards. Restaurants/pubs are within walking distance and the nearby park has lots of potential for summer activities. The group was quite comfortable during our stay. Thank you!
Gabriel
2017-03-20T00:00:00Z
We spent two very relaxing days at Michele's lake house. Michele was a great host. She was responsive and available to answer questions as we needed, and she provided very helpful written descriptions of the house and the area before we arrived. Everything was spotlessly clean, and the lake views from the rooms and the porch are terrific. We enjoyed renting a canoe (one of Michele's suggested activities) and exploring the lake that way, and we had a great breakfast at the Village Buzz Cafe, which is a short, pleasant walk from the house.
Andrew
2016-09-08T00:00:00Z
Beautiful view; quiet neighborhood; very relaxing!
Michael
2016-09-19T00:00:00Z
The house is beautiful right in front of the lake. We also loved the private beach not too far walking distance. Host was very nice and responsive to all our questions. A great place to relax and enjoy! Thanks Michele
Milagros
2016-07-30T00:00:00Z
Our stay was great! Michele was a wonderful host with a great house!
Matt
2016-09-10T00:00:00Z
ประเภทห้อง
บ้าน/อพาร์ทเมนท์ทั้งหลัง
---
ประเภทที่พัก
บ้าน
---
พักได้
6
---
ห้องนอน
Greenwood Lake, นิวยอร์ก, สหรัฐอเมริกา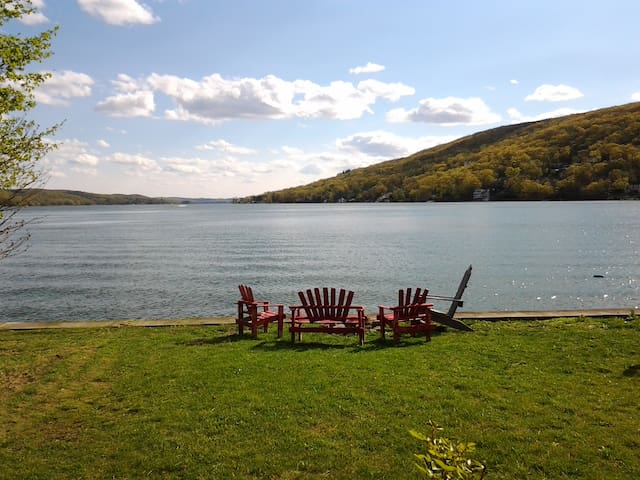 With beautiful views of Greenwood Lake, private beach access, use of our kayaks, tons of hiking trails, and proximity to local restaurants and wineries, our home is perfect for families, couples, and friends. We have a modern aesthetic and a minimalist, clean style. No wood paneling here, folks. No car? No problem. Take NJ transit straight from Port Authority almost to our doorstep. The lake and beach are within walking distance, as is the Appalachian Trail connector for some great hiking.
ประเภทห้อง
บ้าน/อพาร์ทเมนท์ทั้งหลัง
---
ประเภทที่พัก
บ้าน
---
พักได้
6
---
ห้องนอน
Greenwood Lake, นิวยอร์ก, สหรัฐอเมริกา
Charming & quirky cottage is waiting to provide you a place for solace, tranquility, romance & entertaining in the outdoors just north & west of Manhattan.
This home is my own personal little treasure decorated with love to provide guests with the opportunity to either entertain or have some well deserved R&R or both! I hope you enjoy it as much as my previous guests have. House is situated in a cliff overlooking Orange County's largest lake - Greenwood Lake & the Sterling Forest Mountain. Perfect location for New Yorkers looking for a city reprieve as well as travelers interested in a well rounded NYC get away where both country and city can be found within a 1 hour 40 minute bus ride. House has water & mountain views but it also is surrounded by trees which affords plenty of privacy and a great hideaway for bird enthusiasts. Greenwood Lake is only 41 miles north west of the George Washington Bridge but fills all the senses with the country life. The public access for the lake is only a mile down the road or if you choose to rent kayak/paddleboards, there is an even closer beach within walking distance (just requires walking back up a steep hill!). Pease note, since this house is in a cliff, there is not direct lake access with the house. No car needed (although recommended) as NJ Transit bus 196/197 brings you back and forth to NYC in 100 minutes. An additional transit option is NJ Transit / Port Jervis Train Line to Tuxedo station (approximate 60 minute ride). From there, a taxi is a 15 min ride. Lake and mountain views are all season and the Appalachian Trail can be accessed in a 5 minute car ride Summertime affords seasonal blossoms with lavender bushes which attract a variety of butterflys. My rose garden is a work in progress that I refuse to give up on! Iris's & peonies bloom in the earlier part of the season. These outdoor gardens and chiminea, along with screened in porches, provide outside comfort. Indoor comfort includes stone fireplace, oversized sofa, oversized flat screen smart TV. TV is equipped with Netflix & Basic TV channels and movies can always be purchased using the (SENSITIVE CONTENTS HIDDEN) Play app. Greenwood Lake hosts free concerts and events at our town beach every weekend during the summer. This allows for a wonderful & inexpensive night out. If you want to exude even less effort, concerts can always be heard from chaise lounge chairs in yard while warming your toes in front of the chiminea. The lake is home to many largemouth bass, muskies, and smallmouth bass in addition to Chain Pickerel, Yellow Perch, Bluegills, and Walleye. There are also good populations of catfish. It is rated among New Jersey's top 3 Largemouth bass waters. Experienced boaters can rent pontoon boats from South Shore Marina. And if ice fishing is your thing, it is a favorite Winter sport here. For winter enthusiasts, Greenwood Lake is surrounded by three family & fun friendly ski lodges: 1. Mountain Creek - Vernon NJ - 15 miles 2. Mount Peter - Warwick NY - 3 miles Greenwood Lake is part of the town of Warwick which offers the small town shopping experience of a main street filled with boutiques, antiquing, cafes & independent book stores. Local reknown activities include wineries, Rennaissance Faire, ski resorts, spa's & golf. Your outdoor activities can be nicely finished off with a delish fireside, casual dinner at the Iron Forge restaurant. For those who love to shop, Woodbury Commons is dangerously close and is only a 20 minute drive. All toiletries, towels & bedding are provided for up to 6 people. Board games, cards, poker chips, etc are also provided. Downstairs bathroom has been newly remodeled to include gorgeous claw foot porcelain tub which rests on heated floors. The view from tub affords the lake, mountains & trees. Restaurant and bar is not only within walking distance, albeit a steep street, but it also provides delicious food, excellent wine selection & weekend entertainment. House includes Grill Dish washer WiFi Smart TV Netflix Iron Ironing Board Blow Dryer Bath Products Clean & Fluffy Towels Bedding Coffee maker along with coffee varieties Milk/Tea/Sugar/Honey Pantry full of spices Cooking equipment Who this house is perfect for & Why: House can be described as an "upside down" house because the entrance level is where the two guest rooms and guest bath are. The Master Bedroom & Bath are downstairs and are in the lower portion of the guest house. The stair case going to the Master Bedroom is steeper than average which can make it difficult for the elderly or young to ascend/descend. If your goal is to have privacy from the aforementioned, than it is a great spot as the upstairs only has two steps which can easily be managed. If your goal is to have privacy from the aforementioned, than it is a great spot! I think the people who enjoy this home the most are those that want to be near the wineries, lake, hiking trails but can then come home and grill, read, relax and take a fantastic nap in a glorious hammock or oversized papasan chair or super comfy sofa or futon. People who love to watch storms are in for a treat! Great viewing areas on both levels. Families who want to spend family time together but then also have enough space to retreat to their own R&R, love the coziness the house has to offer. House is not suited for large/loud parties as it can only accommodate 3 cars. Please note, house is precious but it is also not perfect. You will not find granite counter tops or stainless steel appliances but you will find everything you need to cook & host a fantastic dinner. Hope this helps give you some insight into the ever so challenging task of picking just the right Airbnb to suit your needs! Feel free to contact with any questions. I look forward to hosting you! Sincerely, Beth
Near wineries, Appalachian Trail, Warwick antiquing, Ski Lodges, Woodbury Commons, West Point, fishing holes, stellar restaurants & cafes & more!
Beth was incredibly responsive, warm and inviting when opening up her home. We felt her heart and soul in the house and thoroughly enjoyed our stay, even if in the dead of winter! The dogs were happy, the kids were happy and it proved to be a wonderful working environment for my boyfriend and I while songwriting. I would highly recommend a stay at Beth's to anyone looking to explore Greenwood Lake!
Lisa
2016-02-16T00:00:00Z
The house and neighborhood was very relaxing. A little bit of traffic from the road below, but very peaceful. Grocery store is about 9 miles away, but the closest town has a lovely wine/liquor store where the people got us so excited to stay and recommended some delicious wine. I got plenty of rest and spent the majority of my stay on the balcony looking out over the lake.
Christopher
2016-05-16T00:00:00Z
We were welcomed to the gorgeous lake house with stunning views, comfortable quarters AND a complimentary bottle of Pinot Noir! We explored the house and found it beautifully decorated and the relaxing atmosphere charming. The profile photos were a perfect representation of the house, deck and yard area. Within about a half an hour of our arrival, I got a call from Beth, welcoming us to the house, making sure everything met expectations, and asking if we had any questions. She answered all our questions about possible boat rentals, eating establishments and other local entertainment. It was truly a pleasure to receive such thoughtful attention. The word I would use to best describe this house would be "enchanting." We will absolutely be returning to enjoy this little piece of paradise again.
Bethany
2015-08-24T00:00:00Z
Beth was a fantastic host and the house was great! Before we arrived, she recommended we visit Pennings Farm (our 2-year old daughter really enjoyed the animals, and the food was fantastic!). Upon arrival, she greeted us with beverages and gave us the tour. Very cool house, exactly as advertised. We especially loved the screened upstairs patio area. We also went to the Greenwood Lake beach and Warwick Winery, both recommended. Overall excellent experience, thanks Beth!
Shawn
2014-07-31T00:00:00Z
Very comfortable house, and Beth was great to deal with. Although the house easily sleeps up to 6 people, the amount of furniture is more suited for 4. The lake is great, just at the end of the street, and there is a kayak and a canoe. If your'e coming from New York, NJ Transit will take you right to the house in 90-120 minutes (however you probably want a car once you're there). In all, a great location for a relaxing weekend away from the city.
Sarah
2012-07-30T00:00:00Z
Beth was the most superb, warm, and welcoming host. Her home is stunning and original with its cozy nooks, beautiful fireplace, and lovely lake views. We extended our stay and she made it really easy for us to do so! If you have a chance to stay here, do so! Her home has everything you need for a perfect getaway. We will be back!
Jessica
2015-11-29T00:00:00Z
Beth was an amazing host! The house was perfectly as lovely as it was shown to be and was exactly what we needed for a peaceful, relaxing escape from the city. Beth pointed us to everything we needed in the area (groceries, recreation, restaurants, events…) and was extremely generous with her space - every tiny detail helping to make you feel comfy and at home. We enjoyed a super fun night at Pennings Farm, only a 20 minute, scenic drive away, with live music, cheap drinks and a delicious plate of fish and chips! Great recommendation, Beth! We would definitely love to make it back in warmer weather so we can enjoy actually being in the lake (although, grilling a delicious meal and then eating it under the covered porch while the thunderstorm rolled through over the lake was pretty satisfying too…). It must be gorgeous in the fall, with all of the trees surrounding Greenwood Lake. Overall, our experience was lovely and our host was lovelier. Thank you for making our short vacation nothing but sweet! :)
Allison
2014-05-26T00:00:00Z
The house was much larger than you would expect from the pictures, and Beth definitely earned her super host status. Everything was very clean, fridge and house was stocked with lots of tasty treates, and she had a chilled bottle of wine waiting for us when we arrived. Very peaceful and relaxing weekend. We BBQ and dine alfresco, relaxed on the hammock and day beds outside, and watched Netflix and chilled next to the crackling fire place.
Stephen
2016-10-09T00:00:00Z
ประเภทห้อง
บ้าน/อพาร์ทเมนท์ทั้งหลัง
---
ประเภทที่พัก
บ้าน
---
พักได้
6
---
ห้องนอน
Greenwood Lake, นิวยอร์ก, สหรัฐอเมริกา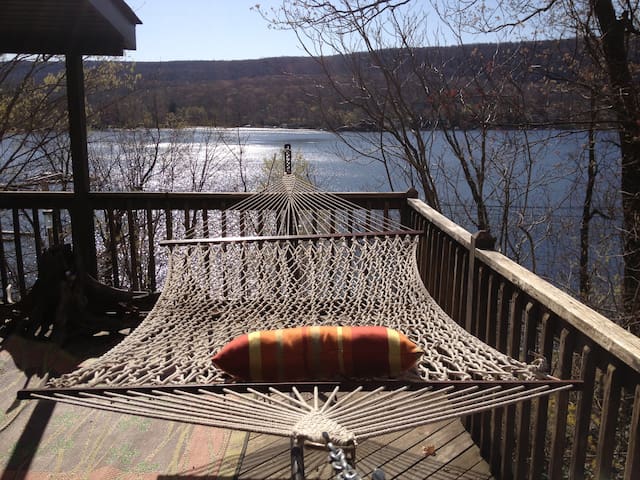 My place is close to o Woodbury Commons Premium Outlets (25 min), Renaissance Faire (12min) hourly Bus to New York City NYC, private lake, mountains, library, boat ramp, restaurants, bars. You'll love my place because it is a quiet private neighborhood, year round amenities (dining, fishing, hiking, hunting, swimming, biking). In New York State and away from the city. This room is good for solo adventurers, and business travelers. Small room with small bed. Sleeps one. Closet, 2 windows.
Small house by the lake, wooden floors. Has deck and fireplace, bbq grill, bicycles, and firewood available
Quiet neighborhood, summer houses, retirees, boaters, fishermen, bikers.
ประเภทห้อง
ห้องส่วนตัว
---
ประเภทที่พัก
บ้าน
---
พักได้
1
---
ห้องนอน
Greenwood Lake, นิวยอร์ก, สหรัฐอเมริกา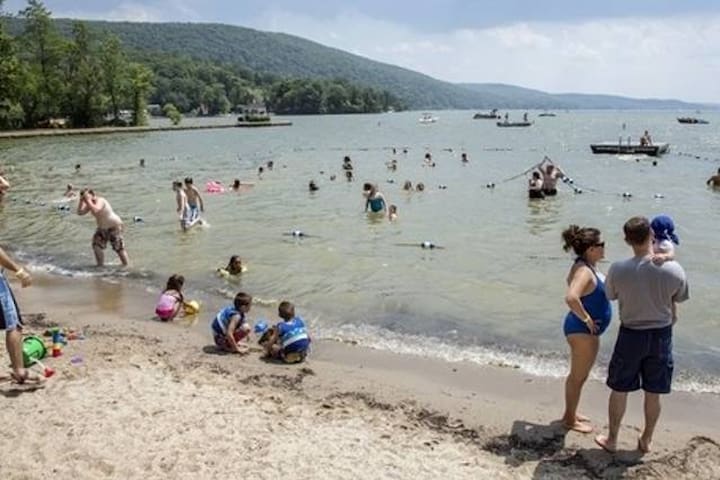 Our home is a great base for adventures or a well-deserved rest just 50 miles from Manhattan. Enjoy beautiful Greenwood Lake and nearby wineries, the pretty town of Warwick, and Woodbury Outlets. Lakeside, you can rent boats/kayaks/boards, or enjoy our private community beach. On land, hike the Appalachian Trail or play Frisbee golf. At night, cook in the modern kitchen or have a waterfront dinner. NJ Bus from Port Authority is a 5 min walk to house. In Oct: Applefest & fall foliage!
The House and the access to the lake were great! My friends and I were quite comfortable.
Euvin
2016-09-06T00:00:00Z
Dave and Betsy were amazing hosts - responsible, flexible, and informative. Their home was even more beautiful than in the photos and we had a lovely weekend staying in Greenwood Lake. I would not hesitate to go back!
Aliza
2016-10-23T00:00:00Z
Our communication with Dave and Betsy was fantastic from the beginning. We stayed here with another family, so there were 4 adults and 3 young children. The home had several areas for us all to hang out, including a spacious kitchen, a cozy living room and a deck with a great view. Because of the weather, we didn't get to enjoy the nearby lake, but the town and surrounding area were beautiful for an October stay. We would stay here again. Thank you , Dave and Betsy!
Kendra
2016-10-04T00:00:00Z
My husband and 2 sons had an amazing time this past weekend. We would love to make this an annual trip. The house was perfect - a great kitchen and bbq plus a cozy living room and 3 beds. Dave and Betsy were only a text message away for any questions that we had. We can't say enough great things!!
Jackie
2016-09-25T00:00:00Z
We stayed here for a girls' weekend and could not have been more pleased with this lovely home. All that we needed to know about the home was provided to us ahead of time so we knew exactly what to expect upon arrival. We loved using the wood burning fireplace at night while relaxing with some wine and Netflix! Only 15 min from Warwick and Penning's which is awesome and 25 min from Woodbury Commons. As for restaurant selection... do not NOT go to the New Continental... overpriced and food was poor quality. We loved Village Buzz Cafe! Thanks Betsy and Dave for a great place to stay!
Kristen
2016-10-17T00:00:00Z
Dave and Betsy were incredibly communicative, kind, and responsive to all of our needs during the stay. They are absolutely fantastic hosts and I can't recommend them enough. Having stayed at a few dozen Airbnb properties, I can tell you that these are the kind of hosts that will do everything that you can to make sure that you have an enjoyable stay. I would recommend that you stay here on that basis alone. The property is in fantastic condition, with ample space for a family of 4-6 and a great view of the lake from the back patio. Greenwood Lake town centre is only 2 minutes drive from the house. The lovely town of Warwick is a brief 15 minute drive from the house. Bellevale Farms Creamery was only an 8-minute drive. Lots of farms selling fresh fruit only minutes from the house. Would happily stay here again upon our return. Thanks so much Dave and Betsy!
Kevin
2016-08-26T00:00:00Z
From the very beginning, even before arrival, Dave and Betsey were really great at answering my many questions and communicating with me. They sent us detailed welcome packets with all the information we needed and it was so helpful! The home was really cute, clean, and comfy! We enjoyed being surrounded my nature and enjoyed the grill and the deck! Definitely recommend a relaxing get away here!
Niina
2016-10-09T00:00:00Z
Betsy and Dave were extremely communicative and helpful. They made sure my friends and I had everything we needed for a wonderful weekend. Their home is beautiful and very comfortable. We were also very close to Greenwood Lake and it was great to have access to the private beach. We all had a great time and would love to come back!
Hallie
2016-09-11T00:00:00Z
ประเภทห้อง
บ้าน/อพาร์ทเมนท์ทั้งหลัง
---
ประเภทที่พัก
บ้าน
---
พักได้
8
---
ห้องนอน
Greenwood Lake, นิวยอร์ก, สหรัฐอเมริกา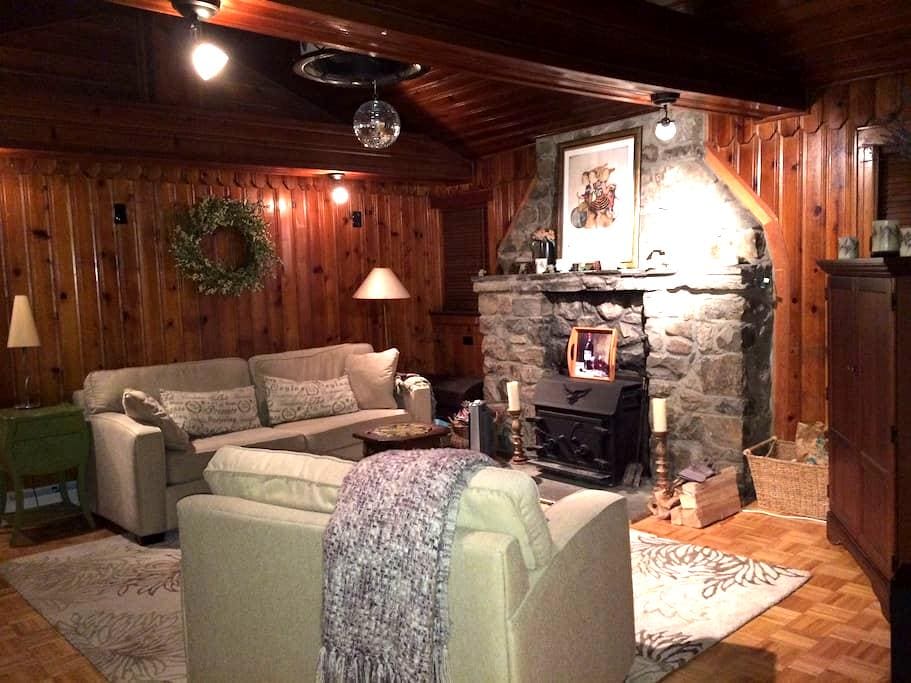 Just 1hr+ from NYC. Designer home w/2 bed, 2 bath, large & open w/ mountain & amazing water views, NYC bus stop, huge deck,grill and stone fireplace. Fun for all seasons w/ wineries, apple picking, hiking, swimming, paddle boarding, kayaking, waterfront restaurants, skiing, tubing and more.
Bright, sunny, 2500+ square foot home with open floor plan and designer touches throughout. It's like loft living on the lake but with cozy bedrooms and nooks to curl up in. Perfect for a writer, musician, couple looking to get away, yoga, ski, foodies looking for a big gourmet kitchen to cook excellent meals with local ingredients and wine from The Warwick Valley & outdoor enthusiasts of all ages. Light a cozy fire & put your feet up after a long day of apple picking, hiking, skiing, biking or wine tasting:)) Enjoy the Winter Carnival on 2.15.14 right down the road! Celebrate at our authentic month long Oktoberfest every weekend in October just 1/4 mile down the road at a waterfront German restaurant. Located in Greenwood Lake , a cute, country village of the beautiful, bucolic Town of Warwick. Enjoy al fresco dining on our outdoor deck and enjoy watching the boats and sea planes go by. Lounge out on our outdoor sectional sofa and dream the day away. We have a paddle board shop just 1/2 mile down the road that rents by the hour, 1/2 day and full very reasonable. The Appalachian trail runs behind our house and there are several entry points nearby. Bring your dog down to a little secluded (B Beach) where you can launch non motorized boats and play fetch. Marinas rent pontoon boats. Spectacular sunrises and sunsets are just an added treat:) 1 bedroom has a queen size bed, dresser and no lake view but a babbling brook that runs outside the window for a tranquil sleep. The other bedroom has a couch, dresser and a queen sized bed with amazing, sweeping waterfront views and sunrises outside your window. 20 min to Warwick Valley Winery, 10 min from 2 family friendly and affordable ski resorts ( Mt. Peter & Tuxedo Ridge) and 1/2 hour to Mountain Creek in Vernon, NJ.
Tight, close knit private community. Village has several quaint waterfront bars/restaurants, coffee shops and a beautiful waterfront park with free concerts on the weekends etc. We are part of the Town Of Warwick which is just a short 10 min drive to many more boutiques, little eateries, antiques and more!
We had a WONDERFUL time at the Lake House. Alison was very sweet and showed us where everything was in the house, down to where the light switches were and how to properly operate the fireplace so that after she left, we knew exactly where everything was - it felt like home! Alison also has a very helpful booklet that she put together herself with phone numbers to local grocery stores and taxi service - very useful! The house is spacious, quiet and relaxing. The patio is HUGE and if you can't grill outside, the stove in the kitchen has an indoor grill. The bedrooms were cozy and warm and the indoor fireplace was a perfect addition to the weekend. We are definitely coming back!
Elena
2014-11-30T00:00:00Z
My friends and I really enjoyed our stay at Alison's. She was a wonderful host and greeted us with wine and cheese upon arrival! The lake is also the perfect place to go paddleboarding, jet skiing, even just swimming. Thanks again Ali!
Shannon
2014-07-07T00:00:00Z
The house is beautiful in a perfect location to the lake. Having a car is best, but you can do this for a short weekend without a car. The deck views are wonderful and there are a lot of rooms and space for living and sleeping. Very tastefully decorated house. Owners are very friendly. Paddleboard rentals are numerous, and so is hiking Try ordering groceries online for delivery from shoprite. The only thing that may not be for everyone is the well water that contains iron and therefore stains laundry, dishes, and even in the shower. They do provide large systems with clean water for drinking, but would've liked filters on a shower head and the kitchen sink.
Anna
2015-07-05T00:00:00Z
Our stay at Alison's was fantastic. It all started from the moment we arrived. Alison was onsite and gave us a tour of her home and made us feel very at home. The property was clean, the fireplace awesome and the home fantastic. If you are looking for a nice easy short getaway from NYC then this is the place for you.
Francis
2016-01-03T00:00:00Z
Ali made a last minute holiday possible for us with prompt replies, and shifting her personal schedule. The house was well appointed, and had a beautiful view of Greenwood Lake. Check-in/out was smooth, and instructions clear and easy. We had a lovely stay and would recommend to any guest. Thanks!
Dana
2016-11-25T00:00:00Z
The host canceled this reservation 2 days before arrival. This is an automated posting.
Megan
2015-10-07T00:00:00Z
Ali was a great hostess- she gave us a comprehensive tour, let us know the best places to visit and hike while we were there, and showed us the wonderful amentities of the house. The rooms were breezy and comfortable, and it was so easy to have a few people over for cooking and grilling. She went above and beyond, opening her home to us and allowing us to use everything we needed to make our stay comfortable.
Anca
2014-05-27T00:00:00Z
Thank you Ali for a great weekend in your home. We enjoyed relaxing by the fire place and loved the open feel of the house. Watching the snow fall over the lake was a real treat. For those who stay, do be aware that the well water isn't very palatable and you should bring lots of bottled water, and you may want to brush your teeth and wash your face with it. The well water also has a bit of a sulfur smell. There is no access to washer and dryer so come prepared with proper amount of clothing, although you may not want to wash clothes in the hard water anyway, as it can stain. The house is great for babies and dogs! There is a large television, but only gets basic channels. Bring DVD's, as there is a dvd player. We loved going to the Warwick Winery and eating out at local restaurants like Grappa. We ordered in from the Helm, also delicious.
TARA
2016-01-18T00:00:00Z
ประเภทห้อง
บ้าน/อพาร์ทเมนท์ทั้งหลัง
---
ประเภทที่พัก
บ้าน
---
พักได้
6
---
ห้องนอน
Greenwood Lake, นิวยอร์ก, สหรัฐอเมริกา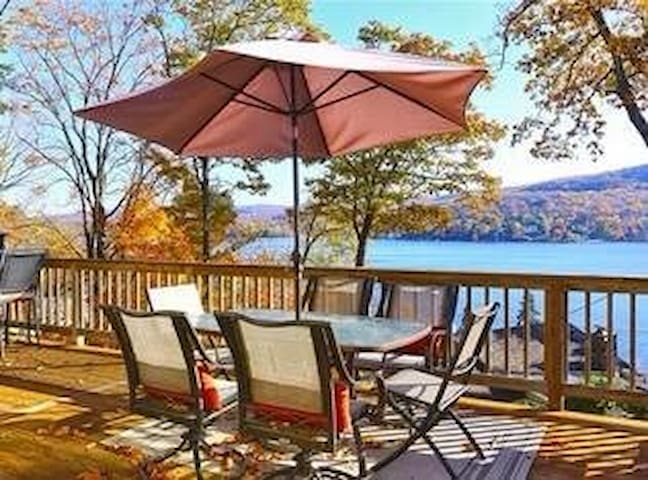 Large flat (most are not) lake front all year around home. Gas fireplace in living room, huge sunroom, walking distance to town, 3 ski facilities short distance away. House is always very clean. No bachelor or other parties allowed, quiet neighborhood. Backyard is large with a fire pit. Winery tours, golf, fishing, good food nearby. We only rent when our family isn't using it. Easy transportation from NYC area bus / train
*NOT A SHARED HSE*! if u book u have it to yourself. 60 mins from NYC. Can use mass transportation to and from NYC / Hoboken, easily 8 people can stay comfortably (any additional must be pre approved, extra charge will,apply). One of the flattest properties on the lake that is literally on the lake.3 ski / tubing within short drive of home as well as wine tasting etc.Fully functional as a home. Owners use it when not rented. We charge a cleaning fee to ensure all bedding etc are clean for you and the next guest. Very quiet neighborhood. Great for family vacations year around.
Quiet, friendly people if you are to them
Beautiful spot for spring and summer enjoyment!
Jerry
2017-01-14T00:00:00Z
ประเภทห้อง
บ้าน/อพาร์ทเมนท์ทั้งหลัง
---
ประเภทที่พัก
บ้าน
---
พักได้
8
---
ห้องนอน
Greenwood Lake, นิวยอร์ก, สหรัฐอเมริกา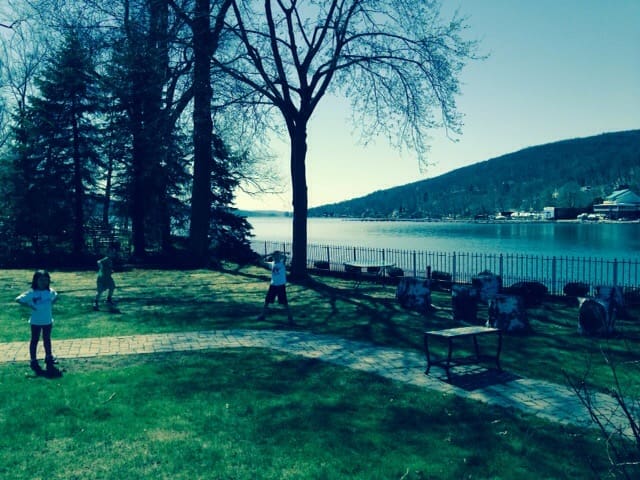 My place is close to Warwick NY, Sugar Loaf Arts Community's, Sterling Forest, Woodbury Commons, West Point, the entire Hudson Valley and wineries and drive in theaters.
Tara House has it all. 5 bedrooms sleeping up to 15 people. Indoor recreation with pool table, table tennis, large kitchen, large living and dining room and granite countertops and island. Outdoor 7 person massage therapy pool set at 103 degrees year round, volleyball, horseshoes, stand up paddle board, pontoon boat (additional charge) and more.
Great views, concerts on the beach,quiet walks around the town, great restaurants, great ice cream place, drive in theater and the most beautiful scenery anywhere.
This house is actually biugger than the pictures make it out to be. The house is nice and spacious, quiet, and the neighbors are nice people. It is not too far from the grocery stores and pizza places. Would recommend to stay at this place again in the summer time when we could utilize all the outdoor activities.
Bryan
2017-01-16T00:00:00Z
Fabulous all around, highly recommend!
Stefan
2017-03-05T00:00:00Z
The description is 1000% accurate. The house is open, spacious, and nice. The host is very accommodating and willing to compromise. I look forward to going back and would suggest this house to everyone!
Rebecca
2016-12-18T00:00:00Z
I found this home for my group of 12 guests to book a weekend getaway filled with skiing and fishing. The host Kevin is one of the kindest people that I ever dealt with. He is extremely quick to respond to messages and although I did not end up staying at his home, he was kind enough to help me find another home elsewhere with all my check lists. If you are planning a special trip, I recommend booking the Tara house – you won't be disappointed and the host will help make your trip a memorable one! Thanks Kevin!
Melissa
2017-01-29T00:00:00Z
x
Roshan
2016-11-27T00:00:00Z
The host canceled this reservation the day before arrival. This is an automated posting.
Samantha
2017-03-23T00:00:00Z
ประเภทห้อง
บ้าน/อพาร์ทเมนท์ทั้งหลัง
---
ประเภทที่พัก
บ้าน
---
พักได้
15
---
ห้องนอน
Greenwood Lake, นิวยอร์ก, สหรัฐอเมริกา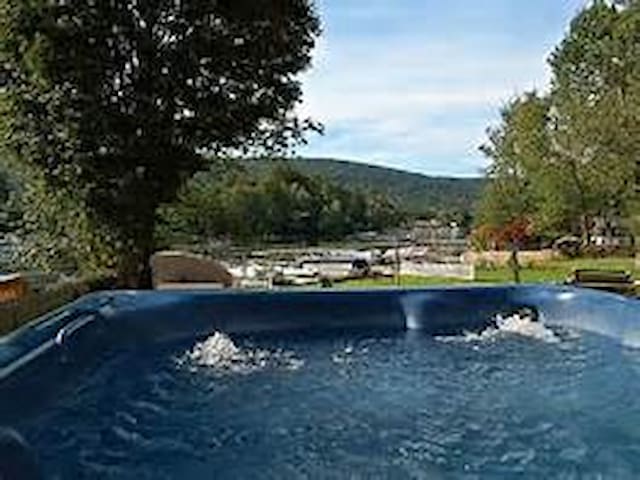 My place is close to Harriman State Park, hiking trails from the back yard, Mount Peter and Sterling Forest, restaurants and dining, art and culture, and Greenwood Lake Beach access. You'll love my place because of the outdoor space being private, and the neighborhood is friendly and peaceful. My place is good for couples, solo adventurers, and business travelers.
Newly renovated one bedroom with private lock. There is a full closet and dresser, in addition to a work area. Full bathroom is shared with other tenant.
Neighborhood is friendly, quiet and within walking distance to the Village of Greenwood Lake. It is also within walking distance to the bus, and the Town beach at Greenwood Lake. It is a 3 minute drive to Mount Peter Ski Center, 25 minute drive to Mountain Creek, 20 minutes to Woodbury Commons, 10 minutes to Renaissance Faire.
ประเภทห้อง
ห้องส่วนตัว
---
ประเภทที่พัก
บ้าน
---
พักได้
2
---
ห้องนอน
Greenwood Lake, นิวยอร์ก, สหรัฐอเมริกา
Tuxedo Park - Airbnb
:
เฉลี่ย

4.91

จาก

5

ดาวจาก

312

รีวิวผู้เข้าพัก
กรอกวันที่เพื่อดูการกำหนดราคาเต็ม มีค่าธรรมเนียมเพิ่มเติม อาจมีภาษีเพิ่ม