Beautiful Colorado 8000 feet high mountain ranch with spectacular views. Use our 2 BR Guest Suite with exterior entrance, living area, kitchen, 1 bathroom. Normally sleeps 4, accommodates 10. Opens to inside 30' pool, hot tub and long wet bar and Much More. IMPORTANT NOTE: YOU MUST READ ALL DETAILS OF GETTING AROUND BELOW. 4 wheel drive or chains are needed for heavy snow or rain. We cancel reservations if very severe weather is forecast. And you MUST NOT use GPS on these mountain roads.
We are full time owners with a single guest suite that is located in our large Santa Fe style home on our 35-acre beautiful high mountain Colorado ranch. It is part of the exclusive Santa Fe Trails Ranch Association that maintains the roads, fire department and water system for 400 other ranches together in the association. Views are spectacular with Rocky mountains, tall pines, Spanish Peaks, and many miles of private roads that can be used for All Terrain Vehicles.
Spectacular Colorado rocky mountain views, scenery and wildlife everywhere in the neighborhood.
We had a wonderful stay at Curt & Margarita's home. The suite was really nice with a great entertainment area and a good, functional kitchen. The rooms were clean and comfortable and the whole family loved the pool & hot tub area - gorgeous and a real treat! Margarita was super helpful when we checked in and available whenever we needed anything. The views were gorgeous and the directions to get to the property were perfect and descriptive. It was over favorite stay on our trip!!
Lori
2016-07-26T00:00:00Z
Hosts were very helpful and accommodating. Apartment was clean and the space was kid friendly. After enjoying the indoor pool and hot tub, we roasted s'mores with the kids in the outdoor fire pit. The experience was relaxing and rejuvenating. We enjoyed amazing mountain views from the deck and watched wildlife in the morning. Great place to get away!
William
2016-06-30T00:00:00Z
Amazing place, we will definitely be back. Curt and Margarita were so nice and very accommodating. We even had a special request they worked hard to fulfill. The pool/hot tub are the draw but don't forget about the solitude and the gorgeous views. A perfect place to get away and relax.
Alicia
2016-07-06T00:00:00Z
Incredible experience from beginning to end. Curt and Margarita were such welcoming hosts, that truly cared about the experience we had while staying with them. I took my girlfriend up here for a romantic getaway and came back with a fiancé. Curt and Margarita greeted us and provided a tour of their mountaintop home that had incredible views of the surrounding mountains and valleys. They showed us the quaint 2 bedroom 1 bath guest suite available and the incredible enclosed pool and hot tub room they have, which separates where they live from the guest suite, providing privacy. The guest suite was complete with a kitchen and living room with all the comforts of home including a big flat screen with Netflix, Amazon, Blueray, and Satellite TV. They also had stereos with USB hookups, in both the guest suite and pool area, that were available to connect our phones and play music. The views of the stars were surreal while we stayed there and Curt and Margarita have the set up to really enjoy them, featuring views from the pool, hot tub, and two wooden decks attached to the guest suite. The pool has sky lights allowing you to float and look up through the sky lights to enjoy the view. The hot tub is set in the corner of the room next to two walls that have windows that allow you to enjoy the show from inside the hot tub. And finally there is a wooden deck outside of the pool area and another one a story up with an entrance to one of the guest suite bedrooms on the second floor. The area that they live in has a number of animals including some turkeys that like hanging around the neighborhood and Curt's home. Curt graciously offered to take us to a few locations or give of directions to enjoy some of the local wildlife and provided times we would most likely be able to see them. We also enjoyed the old ruins of a mountain town and church that we drove through on the way to Curt and Margarita's home. I would recommend staying here for anyone looking to enjoy the mountain views/living while having some bonus amenities for your pleasure and enjoyment. Curt and Margarita have carefully thought about safety and have made an environment that the whole family can enjoy. It would also be a great mountain retreat for anyone looking to get away from the every day grind of life or a romantic getaway. We enjoyed our stay and plan on coming back sometime soon. Possibly again for another romantic get away or perhaps with a few friends to share this gem of a mountain hideaway.
Cole
2016-05-09T00:00:00Z
Margarita came to meet us after we got lost which was very helpful. The setting is wonderful. It reminded me of the ranch I grew up on in New Mexico. My only regret is we got in a little late due to the wildfires in the area and didn't get to enjoy the place to the fullest. No problem. It just gives us an excuse to come back. Staying here is a real treat for the nature lover. I'm glad there are people willing to share properties like this. It is truly a special place.
John
2016-07-13T00:00:00Z
We loved our stay! Hot tub and indoor pool were awesome. Beds were comfortable and the views were amazing. Will definitely stay again.
Jessica
2017-03-13T00:00:00Z
Very receptive welcome to a stunning and cozy location. Would stay again only this time for more nights!
Amanda
2016-08-07T00:00:00Z
We had a really nice stay at Kurt and Margarita's house. We had booked the place for one night, but just as soon as we got there we started thinking of extending our stay for one more night, since the house is located in a very beautiful spot. It has a nice balcony with a incredible mountain view. Also Kurt and Margarita were really nice and friendly hosts, and Kurt explained everything about the house as we arrived there. Their house is located in the middle of jungle on a hill and you can really enjoy the peace and quiet of staying in a remote area. We unfortunately could not stay more than one night, since they had other guests coming in. All in all, it was a wonderful experience, and for sure we will be visiting Kurt and Margarita in future.
Ali
2016-06-12T00:00:00Z
ประเภทห้อง
บ้าน/อพาร์ทเมนท์ทั้งหลัง
---
ประเภทที่พัก
อพาร์ทเมนท์
---
พักได้
10
---
ห้องนอน
ตรินิแดด, โคโลราโด 81082, สหรัฐอเมริกา
Thirty minute drive to Trinidad or Raton. Completely furnished guest house on our remote property in the foothills of the Sangre de Christo mountains. Upscale decor with bedroom, living room, kitchenette, bathroom and outdoor patio.
Rest and relaxation in a very secluded, heavily wooded mountain retreat. Spend your days exploring our land, going to nearby attractions or just relaxing in our private guest house. Spend your nights gazing at amazing star filled skies and listening for wildlife. Great place to escape from your stressful routine. Perfect location for artists and writers looking for a quiet place to work.
We live on a very secluded ranch in the foothills of the Sangre de Christo mountains. We can walk out our door and hike for miles, enjoying tons of wildlife and beautiful views. With 300 days of sunshine on average a year, the weather is almost always pleasant, even in Winter.
Great hosts and awesome views from anywhere on the property. Definitely planning on making another trip up here.
Brandon
2017-01-08T00:00:00Z
Staying at Brian & Denise's BEAUTIFUL guest house was one of the best travel experiences we have ever had. My only regret is not being able to stay about a week, and the next time I'll have to. We arrived late and still received an inviting welcome. The space is styled and dialed-in, and the breathtaking forest separates you from anything or anyone else. We cannot wait to come back through, cheers!
Genette
2016-12-16T00:00:00Z
This cabin is absolutely lovely and well-furnished with a big bathroom, large, functional kitchen (there's no stove/oven; they have a hot plate but intend to install a stove soon) with snacks and staples available in the pantry. The bedroom is cozy with a firm, comfortable memory foam bed and plenty of places to sit. The space is heated by a blower stove, so even though it was pretty chilly outside, we were toasty indoors. Brian was an awesome host with many helpful suggestions for activities to do around town. If it's snowed recently or might snow during your stay, you should definitely drive a 4WD vehicle up to their property as the roads can be icy and piled high with snow. We will definitely be back!
Kate
2017-01-02T00:00:00Z
Thank you for everything Brian, Denise and Adaline! Rob and I had a wonderful time and can't wait to stay again!
Cindy
2017-01-04T00:00:00Z
This is truly a "winter wonderland' place. The description is spot on so, if you are looking for a secluded mountain experience, this is the place! We stayed six nights. The hosts, Brian and Denise, are very up front about the mountain road that leads up to this little, paradise place. We visited during Christmas time so Trinidad had snow. We did use our 4 wheel drive to get there, however, Brian told us he could come down and pick us up, if needed. The house was very warm (both with heat and "vibes") and was furnished really cute. It was complete with everything we needed, even to cook Christmas dinner! The bathroom was stocked with everything we might have forgotten. Brian and Denise live next door so they were there to help us and answer any questions we might have. We were delighted every time we walked or drove around with all the wildlife we saw plus the beautiful scenery. Trinidad is a funky, cool place to visit so we enjoyed our trips we made but were always enchanted when we drove back to our secluded house. If you want to have a mountain experience near a cool and quirky town like Trinidad, we encourage you to try Brian and Denise's place. You will love it! It's equipped, warm, scenic, safe and worth the drive. We hope to go back!!!
Ginger
2016-12-28T00:00:00Z
The only downside would be the fact that you really need a 4x4 to get to the location. On the other hand, that means that you will get to stay at a wonderful place away from civilization. As far as the hosts go, they went above and beyond for us. Truly amazing people. I most definitely recommend their place.
Masaru
2017-01-19T00:00:00Z
ประเภทห้อง
บ้าน/อพาร์ทเมนท์ทั้งหลัง
---
ประเภทที่พัก
อพาร์ทเมนท์
---
พักได้
3
---
ห้องนอน
ตรินิแดด, โคโลราโด 81082, สหรัฐอเมริกา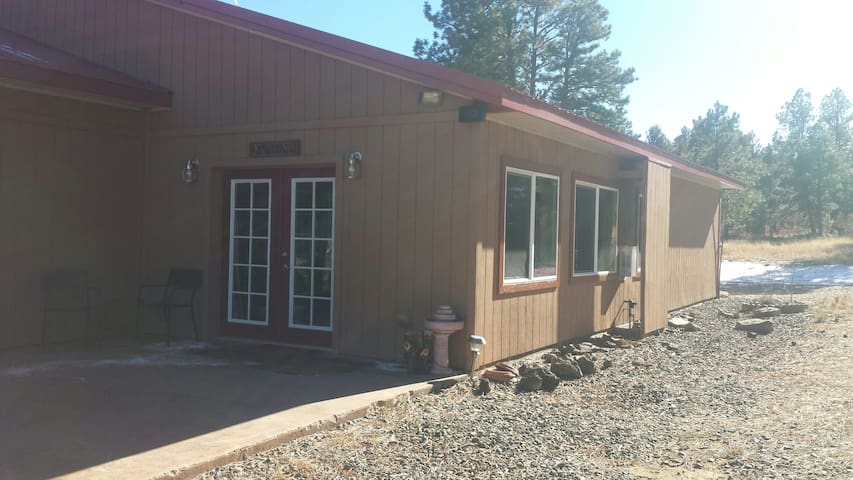 Great option for those needing weekly or month to month housing! HUGE 2BR apartment close to downtown Trinidad, but nestled in a beautiful, peaceful valley. Just a couple miles from the beautiful lake, and all that Trinidad has to offer! Come discover a beautiful Victorian gem of a town--with a great theater group, galleries, a fantastic brewery, and lovely restaurants! Not to mention endless outdoor activities! Trinidad is an up and coming TRUE Colorado experience!
1,000 square foot 2BR apartment with VERY large bedrooms and kitchen area. Unit is upstairs, and has a beautiful view of Fisher's Peak, the iconic image of Trinidad. Kitchen is stocked with all utensils needed to create a great meal, and good coffee is always on deck! There is a Safeway just a couple miles away, and you can also take advantage of the wonderful Farmer's Market on Saturdays for groceries. Comfy, newer furniture gives this an upscale feel, and cable TV provided with premium channels. SO much better than staying in a hotel!!!
This is located in a newer neighborhood--apartments are surrounded by very nice homes. Crime rating is "lowest". Close to downtown, Trinidad State Park, Mt. Carmel Wellness Center, Highway of Legends.
ประเภทห้อง
บ้าน/อพาร์ทเมนท์ทั้งหลัง
---
ประเภทที่พัก
อพาร์ทเมนท์
---
พักได้
6
---
ห้องนอน
ตรินิแดด, โคโลราโด 81082, สหรัฐอเมริกา
1

–

3

จาก

3 อพาร์ทเมนท์ให้เช่า
กรอกวันที่เพื่อดูการกำหนดราคาเต็ม มีค่าธรรมเนียมเพิ่มเติม อาจมีภาษีเพิ่ม