ประเภทห้อง
บ้าน/อพาร์ทเมนท์ทั้งหลัง
---
ประเภทที่พัก
วิลล่า
---
พักได้
3
---
ห้องนอน
Austinmer, นิวเซาธ์เวล์ส, ออสเตรเลีย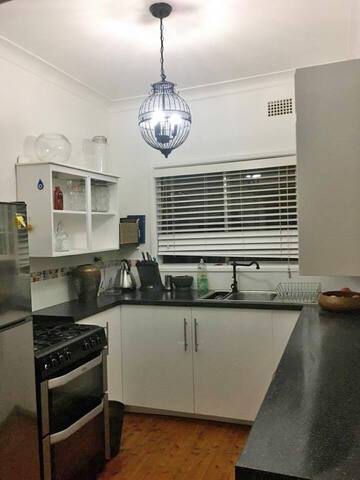 Construida en 2016, esta como nueva unidad autónoma 2 dormitorios se encuentra en una ubicación privilegiada a 100 metros de la playa. La cocina tiene nevera, microondas y cocina. 5 minutos a pie de siempre popular pequeño lago y también Warilla Bowling Club además de un perezoso 15 minutos paseando por la playa de la vibrante Shellharbour Village. Wi-Fi gratis Tenga en cuenta que en temporada alta y los fines de semana hay una estancia mínima de 2 noches
DAYZ perezoso es una marca nueva, totalmente independientes, unidad de 2 dormitorios situado en Barrack Point siempre popular. Está convenientemente situado a menos de 5 minutos a pie de Warilla Bowling Club, Little reserva del lago ya sólo 100 metros de la playa. Además, es sólo un paseo de 15 minutos a lo largo de la playa de la vibrante Shellharbour pueblo conocido por sus numerosas cafeterías, restaurantes, boutiques y por supuesto Shellharbour hotel. Hay 2 dormitorios, uno de los cuales tiene una cama de matrimonio y la otra que tiene 2 camas individuales y ambos incluyen un armario para sus pertenencias. El salón está muy bien presentado y cuenta con 2 salones, uno de los cuales se convierte en un sofá cama si es necesario para una persona quinta. Esta unidad espaciosa moderna puede atender a las necesidades de nadie -si usted es una pareja que busca en algún tiempo fuera de casa hay un precioso dormitorio de matrimonio o si hay familiares o amigos llegando a lo largo abrimos el segundo dormitorio más si hay un quinto persona tenemos el sofá disponible. La cocina está totalmente equipada con microondas, estufa, nevera y todos los applicances cocina. Otras características incluyen un cuarto de baño completo, un patio pequeño y encantador para relajarse bajo el sol, de ciclo inverso de aire acondicionado y TV / DVD con una gran variedad de DVDs para ver. También hay un gran oferta de libros para lectura o juegos a jugar si wish.There es también wifi gratuito para su beneficio LAZY DAYZ es el lugar perfecto para utilizar como base para todo lo que es conocido por Shellharbour (de buceo en el Bass Point en nuestro campo de golf estilo links). Usted también está a menos de 20 minutos en coche de otras atracciones como Jamberoo Recreation Park, Illawarra Fly con su nueva atracción tirolina, Wollongongs franja costera y el faro y el famoso paseo costero de Kiama a Gerringong que ofrece las vistas más espectaculares del océano le alguna vez se pueda ver (el paseo está situado a 6 de un modo u 12 kilometros para la ida y vuelta.) también está a 45 minutos en coche de la Sublime Point y más nuevo hito de Illawarra, el puente del acantilado del mar Ya sea sólo por un fin de semana o una estancia más larga, creemos, le encanta la sensación de hogar y moderness de LAZY DAYZ y todo lo que la hermosa zona de Shellharbour tiene que ofrecer.
Barrack Point es una zona residencial exclusiva, ya que se encuentra justo en la playa y siempre popular Pequeña reserva del lago. Es una zona muy tranquila donde Lazy Days está situado pero están a sólo 5 minutos a pie de Warilla Bowling Club ya un corto paseo de 15 minutos por la playa hasta vibrantes Shellharbout pueblo lleno de cafés, tiendas de diseño y mucho más
Thank you for such an amazing stay! Steve and Karen were more than helpful by providing us with information to get to the unit and how to enter. Very new and clean. First time using Airbnb and we were more than satisfied. Overall 10/10
Jamal
2016-06-14T00:00:00Z
We met Steve on arrival; was easy to find and easy to access. The inside was very clean and quaint. Lots of movies and some books and board games to go through. The only negative thing I could say was the beds weren't that comfortable but we really enjoyed our stay overall. Recommended
Wafa
2017-02-26T00:00:00Z
A very modern and well fitted out apartment, but no breakfast provisions supplied. Great accommodation and communication; top stay so long as you arrive with your own food.
John
2016-12-22T00:00:00Z
Was a fantastic stay, would happily stay again.
Rob
2017-02-21T00:00:00Z
Steve was really welcoming and went the extra mile in lending some little surfboards to my 2 kids. The place is well equipped and clean. The area is lovely too!
Bianca
2017-03-31T00:00:00Z
Felt right at home at Lazy Dayz Shellharbour, very nice place, short walk to the beach, clean with all the amenities. Strongly recommended for short or long stays.
Peter
2016-07-19T00:00:00Z
Amazing hosts, they go the extra mile to make their comfortable. We have experienced it! Nice clean property, great communication, nice location - easy walk to flagged beach and family friendly swimming areas/picnic spots.
Prasanth
2017-04-02T00:00:00Z
STEVE 的房子是新建的, 里面的用具都是新的,离海湾很近,冲浪的好地方。 房东太太很热情。
kathy
2016-04-02T00:00:00Z
ประเภทห้อง
บ้าน/อพาร์ทเมนท์ทั้งหลัง
---
ประเภทที่พัก
วิลล่า
---
พักได้
5
---
ห้องนอน
Barrack Point, นิวเซาธ์เวล์ส, ออสเตรเลีย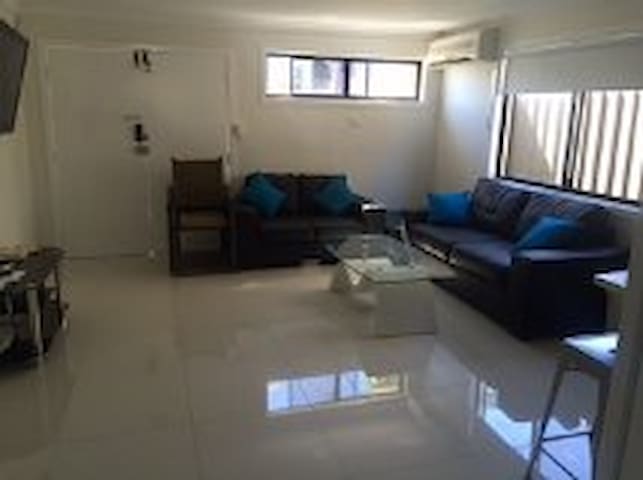 - 60 sqm Self-contained Pool House - Tv's in both bedroom & lounge room - Free Wifi - Queen bed - Access to outdoor pool - External access to pool house - Treadmill & Exercise bike available for use inside the pool house
Quiet location, pool house at rear of main house. Pool and gym facilities for use. Separate granny flat style, self contained and very private from main house.
Quiet, friendly neighbourhood.
Was a last minute decision to stay a night in Wollongong with the missus.. Luckily we found this little gem of a place to stay.. So friendly, secluded, and very private... When I find myself staying in area again you'll find me here....
Chris
2017-04-02T00:00:00Z
Chanel's place was lovely - it's really spacious, comfortable and well-equipped. We only stayed one night, but it was perfect for being close to the beach, etc. I highly recommend booking it!
Heather
2017-02-18T00:00:00Z
This property was perfect for our family and the hosts were fantastic who made us feel very comfortable away from our home. The facilities were amazing, comfortable and I'll be recommending all my friends and family to stay here if they are travelling.
Michael
2016-12-28T00:00:00Z
The Pool House isa modern and comfortable in a central and quiet location (with a car) Good restaurants close by and lovely walks with views of escarpment. Beaches only a five to ten minute drive. The pool is terrific and right outside your door. comfortable and easy place for a short stay. Chanel and her father are wonderful hosts. Very approachable and welcoming. Highly recommend
Martin
2017-01-02T00:00:00Z
Great space, great communication and reasonable price. We only stayed one night but we felt at home!
Monica
2017-01-21T00:00:00Z
I would highly recommend this place for the fellow travellers. It was tidy, clean, cozy and self sufficient. The pool was clean though we couldn't enjoy it. Hosts were warm and welcoming. Accommodated us late in the night, when we were running around for places. Very patient and understanding. Would visit again if plans made. Cheers Swat!
Swathi
2017-03-10T00:00:00Z
As our first time on airbnb, this place could not have been any more perfect! It was private and beautiful. If we ever come back this way it will be the first place we choose. Thankyou very much Chanel
Hayley
2017-04-05T00:00:00Z
Best spot! Highly Recommended.
Adam
2017-03-11T00:00:00Z
ประเภทห้อง
ห้องส่วนตัว
---
ประเภทที่พัก
วิลล่า
---
พักได้
2
---
ห้องนอน
Corrimal, นิวเซาธ์เวล์ส, ออสเตรเลีย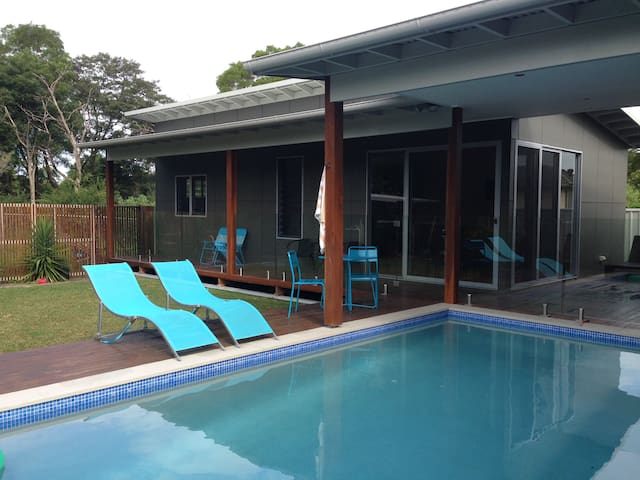 Wollongong is a scenic area, you a Sydney-hour drive, but also trains, transportation is very convenient. There are broad beaches, lakes, hills, beautiful scenery, the most suitable place to vacation. Various activities of various clubs everywhere, only seven minutes away from the shop there is a large supermarket, there are a variety of restaurants have Thai food, Chinese food, Western food, is a very convenient place. The house is a detached house, a total of eight hundred square meters, has a front yard backyard. Front yard garden design mainly continental style, backyard with Chinese design-based, somewhat modeled on the design of Suzhou gardens, bridges, pavilions there. Very, very comfortable, quiet, the most suitable holiday friends live here.
ประเภทห้อง
ห้องส่วนตัว
---
ประเภทที่พัก
วิลล่า
---
พักได้
2
---
ห้องนอน
Figtree, นิวเซาธ์เวล์ส, ออสเตรเลีย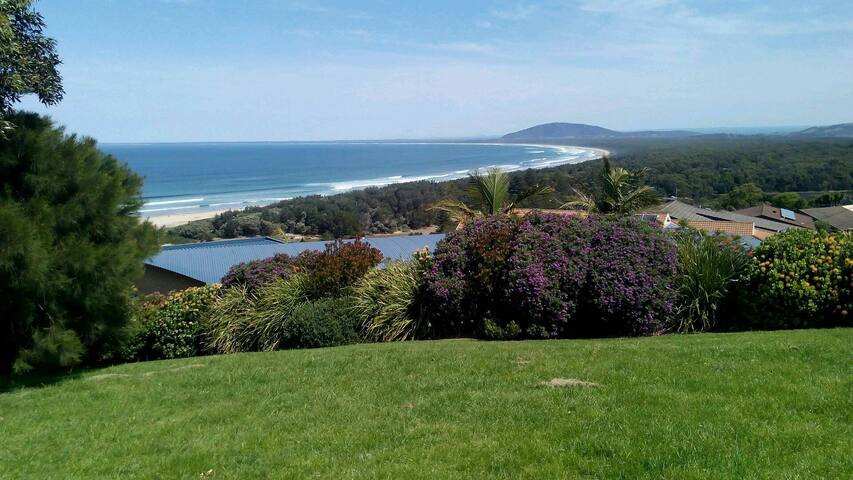 Loft-Stil Villa mit Blick auf Park in unmittelbarer Nähe zum Strand, Cafés und Restaurants. Moderne offene Wohnraum mit großen Schlafzimmer, im Freien Unterhaltungsbereich mit Spa. Erwarten Sie einen komfortablen, ruhigen Aufenthalt in unmittelbarer Nähe zu facitliteis, Unterhaltung und lokalen Websites. Öffentliche Verkehrsmittel an der Tür.
Sichere Nachbarschaft
Lovely house, exactly like the pictures. Great location for checking out beaches in the area. Unfortunately the weather was a bit rainy at times and we have a toddler so we spent our evenings in- only disappointment was no Netflix/foxtel!
Zia
2017-01-04T00:00:00Z
Lovely stay at Kerry's place. The property is well equipped and comfortable, the outdoor spa is a great addition! We were a group of 6 adults staying for 2 nights (Two large bedrooms with one smaller). Kerry was very responsive in the lead up to our booking and during our stay. Thanks again
Amy
2016-11-26T00:00:00Z
We had a wonderful stay at Kerry's Shellharbour house for three nights over Easter. It was the perfect size for my wife and I, our adult daughter and her partner, plus an English friend. The Easter eggs were a nice welcome gesture from Kerry and the house was very modern, as described. We enjoyed the outdoor spa each evening. The region is beautiful - plenty of beaches, rolling green hills and shopping villages. The house does not have a view but is in a classy area, only a short drive to everything.
Graham
2015-04-06T00:00:00Z
We stayed here for 3 nights, its a beautiful and a well furnished house with a BBQ. The property was neat and clean and would recommend it to anyone who wants to stay for a few nights in Shellharbour.
Asit
2016-09-25T00:00:00Z
What a wonderful stay! The house was beautiful and well presented, the location superb and the host helpful. Really couldn't have asked for anything more. Highly recommend if you are considering staying in the region.
Noa
2015-01-17T00:00:00Z
In one word ... Fantastic! The home is beautiful and conveniently located. Kerry is wonderful. We requested extra fans at night and she had them delivered next morning. Thanks Kerry. i would definitely recommend this place for anyone wanting to spend some quiet time with friends and family.
Ashish
2014-01-27T00:00:00Z
Great space for us to celebrate Christmas with extended family who lived nearby. Easy sms communication with host. Quiet area. Spa was a nice way to wind down at night time.
Sharon & Paul
2014-12-26T00:00:00Z
Great base from which to enjoy Shellharbour and surrounds. Very clean, comfortable and roomy and worked really well for our 4 kids. Really appreciated Kerry's friendly, flexible and speedy responses whenever I had questions.
David
2015-01-26T00:00:00Z
ประเภทห้อง
บ้าน/อพาร์ทเมนท์ทั้งหลัง
---
ประเภทที่พัก
วิลล่า
---
พักได้
6
---
ห้องนอน
Flinders, นิวเซาธ์เวล์ส, ออสเตรเลีย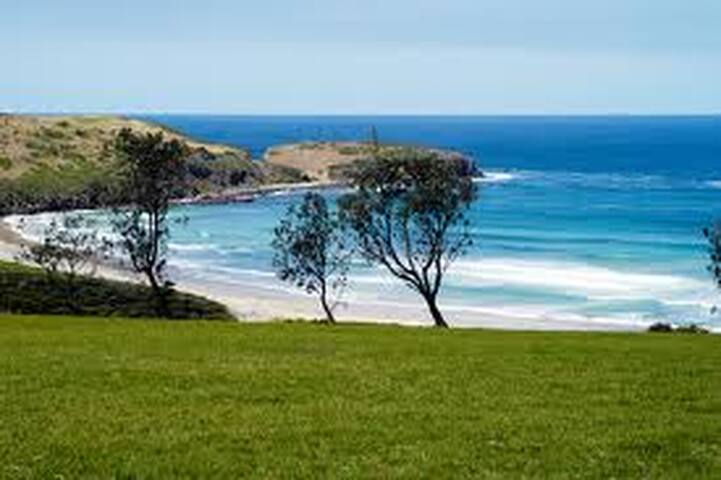 We would happily recommend to our friends and family! The villa is very modern and has everything you could possibly need. The pool was incredible!
Amy
2016-12-03T00:00:00Z
What a wonderful home and Scott and Donna were wonderful hosts. The beach is literally just around the corner but relaxing in the heated pool was just as nice. This is a perfect place for a family weekend getaway, especially for us as we wanted to bring our dog. Thank you Scott and Donna.
Ivan
2016-12-11T00:00:00Z
What an amazing place! We were mind blown the whole weekend. Hosting was superb and the residence itself exceeded our expectations. We will be back for sure! Thank you so much Scott and Co.
Ben
2017-02-25T00:00:00Z
This place is amazing. Highly recommended. Scott and Donna are the perfect hosts.
Kerry
2017-03-25T00:00:00Z
Loved the whole place, even though we came on a rainy weekend we didn't need to leave the house! We loved every bit of it!
nicole
2017-03-04T00:00:00Z
Beautiful and comfortable house close to the beach. The pool area is nice. The dog Calypso was adorable. Thanks Scott and Donna for your hospitality! We had a wonderful time!
Rim
2017-02-11T00:00:00Z
The villa is well equipped and well furnished and decorated. The pool, BBQ and deck area were great areas to enjoy with kids. The house is pet friendly and fully fenced. The location was close to the beach and easy access to Shell harbour. We would absolutely stay here again, and it's a nice weekend break from Sydney. Scott and Donna and their family were great hosts. With the villa being behind their house, arriving and departing was super easy.
Anne
2016-10-02T00:00:00Z
Enjoyable place, Highly recommended!
yuan
2017-04-12T00:00:00Z
ประเภทห้อง
บ้าน/อพาร์ทเมนท์ทั้งหลัง
---
ประเภทที่พัก
วิลล่า
---
พักได้
6
---
ห้องนอน
Warilla, นิวเซาธ์เวล์ส, ออสเตรเลีย
My place is close to family-friendly activities, public transport, the city centre, and nightlife. You'll love my place because of the cosiness. My place is good for couples and solo adventurers. I would prefer female guests
Its a quiet location but close to Town and public transport
We were celebrating a birthday and just wanted somewhere to sleep that didn't cost a packet. Janet's place was 10mins from the restaurant we were going to, so just perfect for our overnight stay. Janet was very welcoming and helpful. The house was clean and the bed comfortable, thank you Janet.
Melissa
2016-12-09T00:00:00Z
My fiance and I had a great stay with Janet. She is really lovely, very accommodating and her house is close to everything. We would definitely stay again.
Arielle
2016-12-17T00:00:00Z
ประเภทห้อง
ห้องส่วนตัว
---
ประเภทที่พัก
วิลล่า
---
พักได้
2
---
ห้องนอน
West Wollongong, นิวเซาธ์เวล์ส, ออสเตรเลีย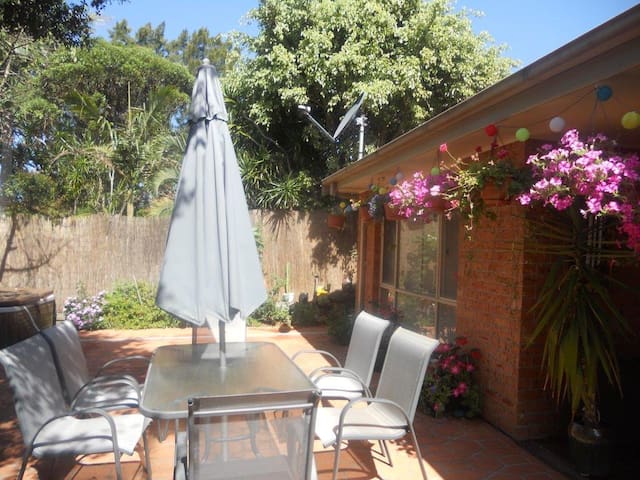 把车留在家里步行到一切Thirroul或奥斯汀莫(Austinmer)村来!我们现代化的别墅都只有很短的平步行到海滩,咖啡馆,商店,火车站和餐馆。您可在我们充满阳光的院子里,或享受在我们的现代厨房或在我们的烧烤烹饪。空间和大量的东西向一个周末或一周的假期做在夏季或冬季
ประเภทห้อง
บ้าน/อพาร์ทเมนท์ทั้งหลัง
---
ประเภทที่พัก
วิลล่า
---
พักได้
4
---
ห้องนอน
Thirroul, นิวเซาธ์เวล์ส, ออสเตรเลีย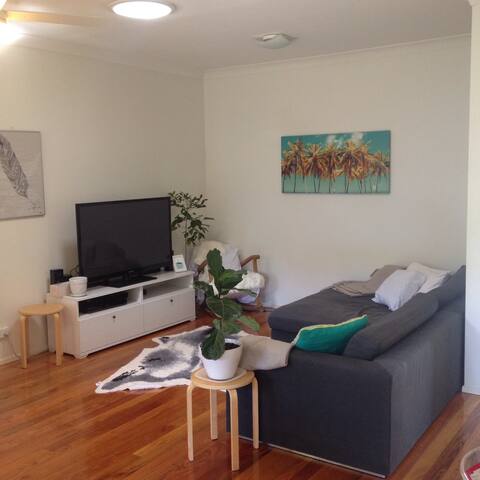 Denne smukke rustikke tema sommerhus er en stor flugt for par eller venner.
I hjertet af landet kun 1 ½ time syd for Sydney i den maleriske dal Jamberoo vil du opdage det himmelske, Idle Times Estate. En smuk rustik tema sommerhus tilbyder en uforglemmelig oplevelse for alle besøgende. Dette studie sommerhus er en perfekt flugt til to personer ,. Huset ligger på en 65 acre ejendom isolerer dig fra byens lys og gør det muligt for dig at forkæle dig selv med naturens gaver. Ejendommen har en betagende udsigt over Kiama, Saddleback Mountain og de rullende bakker i Jamberoo og i det fjerne, havudsigt. Sun-tørret linned og håndklæder er forudsat. Der er en omvendt cyklus air-condition. Der er en tennisbane, som deles med en anden hytte, hvis du ønsker at bruge det, du er også velkomne, skal du blot medbringe din egen tennisketsjere og tennisbolde. I nærheden: • 3 minutters kørsel fra landsbyen Jamberoo, hvor der er en pub, café, IGA, park og bageri. • 10 minutters kørsel til Jamberoo Action Park • 15 minutters kørsel til byen Kiama hvor de maleriske blæsehullet og strande ligger, samt cafeer og restauranter. • Minnamurra regnskov ligger 16 minutters kørsel fra ejendommen • 25 minutters kørsel til Illawarra flyve
Cute little getaway surrounded by nature And a helpful and informative owner. A definite repeat!
Roula
2016-11-20T00:00:00Z
Aleshia was a great host, access to the property was just as she described and she checked in with us to make sure we had settled in ok. She also kindly upgraded us to the 3 bedroom property which was a super nice surprise just before we departed Sydney! The house was really nice, I suspect newly renovated but I must say the real winner was the grounds of the property itself. From horses to deer to kangaroos as well as a variety of birds, it was complete serenity. We walked the grounds each evening and the views out over the valley were beautiful. The pictures do not do the grounds justice, they are so well kept - just bliss. We will definately be back :)
Niamh
2015-12-06T00:00:00Z
The perfect place for a weekend getaway to relax and unwind. Beautiful drive to get there, very secluded and close to nature. Lots of options to drive nearby to explore walks and national parks. The pub at jamberoo was full of character and friendly locals. Would recommend!
Kate
2017-01-28T00:00:00Z
I would not recommend this accommodation to anyone. The stable appears to be clean and inviting but in fact we experienced the complete opposite. We were greeted by a fowl smell upon arrival, which gradually got worse throughout the weekend. The place was infested with vermin. A rat ran across the room on our last night. Aleisha the owner promised us a partial refund but failed to even contact us after the experience. Please think twice before you plan a weekend in the stable.
Sarah
2016-03-30T00:00:00Z
Absolutely wonderful and serene place to holiday. Highly recommend for anyone looking for a nice weekend retreat! Aleisha was incredibly helpful with directions, and made the whole experience delightful.
Hannah
2016-01-25T00:00:00Z
Had a lovely weekend staying in the Idle Times stable with my girlfriend. We arrived late in the night with the only view being headlights on a very long driveway, and were absolutely blown away with the vast property and amazing scenery surrounding us in the morning. For two landscape photographers it was like winning the lottery, especially with the added perk of being able to wander and explore the huge property as we please. Aleisha was the perfect host! She made our late night check-in easy with detailed directions and even let us know she had left the stable lights on for our arrival. The stable itself was clean and tidy and had everything you would need for a quiet, comfy getaway. For our first airbnb experience, we can't fault a thing!
Liam
2016-11-26T00:00:00Z
Aleisha provided a wonderful place for our getaway. Situated on a beautiful property, which allowed for beautiful evening walks with breathtaking views, the renovated stables was very comfortable and had everything we required(URL HIDDEN)
Esther
2016-01-03T00:00:00Z
Had a wonderful time at the stable. The host, Aleisha was very helpful and easily contactable despite being overseas. Location is beautiful and easily located, despite a long drive down a laneway. The converted stable is perfectly appointed and we had fresh towels and chocolates on arrival. Cereal and milk also provided which was fantastic. Can recommend the charming jamberoo pub in the nearby quaint town of jamberoo.
Michael
2016-09-18T00:00:00Z
ประเภทห้อง
บ้าน/อพาร์ทเมนท์ทั้งหลัง
---
ประเภทที่พัก
วิลล่า
---
พักได้
2
---
ห้องนอน
Jamberoo, นิวเซาธ์เวล์ส, ออสเตรเลีย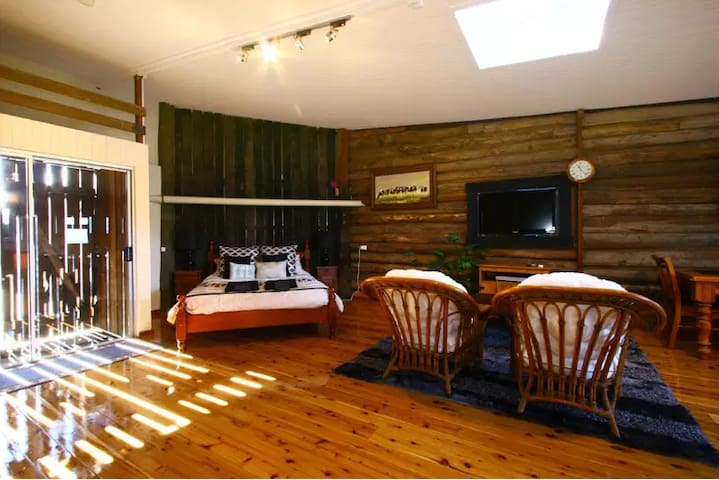 A pocos minutos de la playa y el lago Illawarra Windang esta privada, tranquila villa ofrece lo mejor de la playa, el lago y el estilo de vida costera a un precio asequible. Claramente presentada y abastecido con pequeñas comodidades que este es un lugar para el refugio de unos días de descanso, la recuperación y el romance.
AMARÁS - Caminar a la playa a sólo 2 minutos de la carretera ya través de la ruta de tierra de Bush - Paseando los 3 minutos para el lago - Dos acogedoras habitaciones con camas dobles - Esta es una gran base para explorar la zona y luego escapada para un poco de paz - La comodidad del aire acondicionado, la nevera llena y cocina y lavandería Esto ofrece PRINCIPAL Un fresco, aireado y lugar luminoso para una escapada y acceder a lo mejor de la vida costera sin romper el banco. HABITACIONES Dormitorio 1 - Cuenta con una cómoda cama doble y un armario Dormitorio 2 - Cuenta con una cómoda cama doble El baño tiene un aseo, ducha y un lavadero. VIVO salón de planta abierta, comedor y cocina ofrece un ambiente común con un montón de espacio para relajarse. Con TV, DVD y aire acondicionado se puede disfrutar de estás abajo tiempo con comodidad. La cocina tiene una nevera grande, congelador, cocina, horno y microondas y proporciona una fácil preparación y la cocción para que pueda darse un festín de mariscos, cocinar una carne u hornear algo delicioso. AL AIRE LIBRE Un porche soleado en la parte delantera ofrece una buena ubicación para tomar el sol y disfrutar de un café o una refrescante copa de vino. pequeños extras Toda la ropa incluida (excepto toallas de playa)
LA LOCACIÓN Windang es una joya escondida en la costa, poco conocido, pero un favorito entre los locales que cuenta con una playa preciosa, con unas vistas espectaculares de las cinco islas que se sientan frente a la costa de Wollongong. Tiene un gran parque de ocio con mesas de picnic para barbacoa, al abrigo, un parque infantil y carril bici. Un gran lugar para la pesca, kayak y muchos deportes acuáticos. Es también una posición central para utilizar como base para disfrutar de lo mejor de Shellharbour al sur y Wollongong hacia el norte.
ประเภทห้อง
บ้าน/อพาร์ทเมนท์ทั้งหลัง
---
ประเภทที่พัก
วิลล่า
---
พักได้
4
---
ห้องนอน
Windang, นิวเซาธ์เวล์ส, ออสเตรเลีย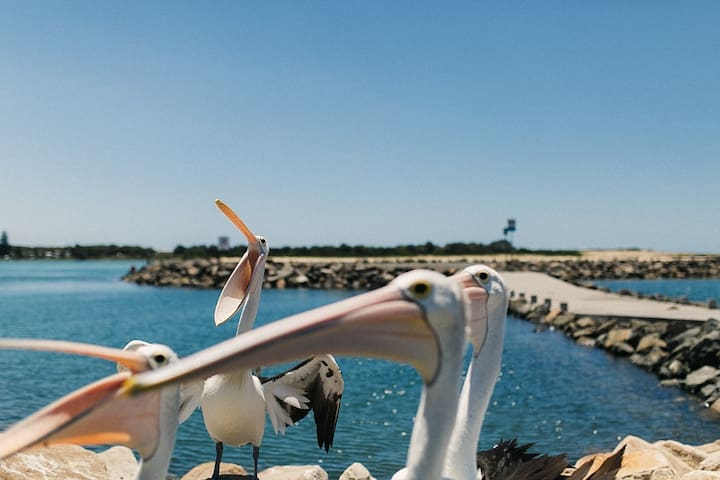 Quiet, modern villa with private courtyard and vegie garden to relax in. Stroll to shopping centre, cafes, library, Olympic Pool and train station. A stones throw to beaches, cycleways and the University. Only a one hour drive from Sydney.
Before we arrived, we were warmly welcomed by Annie in her emails answering our queries about the villa. When we arrived at her place, she went out of her way to make us feel at home. The amenities were plentiful and the villa was in a relaxing space that helped us relax to the max. With only a short drive to some wonderful beaches, we enjoyed the villa's location as well as comfort. This villa has several places and spaces for people to find their own space to unwind as well as having large open planned kitchen/lounge that we enjoyed in the long summer evenings. I would recommend friends and family to stay here, and would come back when we holiday in Corrimal again!
Guy
2016-01-02T00:00:00Z
The house was great! Really well equipped and kind of secluded because it was off the street which was nice. It's less than ten minutes drive to the beach and about ten to fifteen minutes to Wollongong city. My friends and I had a great stay.
Peachy
2016-01-17T00:00:00Z
First time Airbnb user. It couldn't have been made easier. The house was perfect, close to all amenities for a peaceful weekend away.
Timothy
2016-01-26T00:00:00Z
Annie is a wonderful host, she went out of her way to make us all feel welcome and comfortable. The house description was accurate and amenities were more than what was listed on the website. Annie has payed a lot of attention to details. We would definitely stay here again. Overall a very positive first experience with Airbnb.
Manjukishan
2015-12-29T00:00:00Z
ประเภทห้อง
บ้าน/อพาร์ทเมนท์ทั้งหลัง
---
ประเภทที่พัก
วิลล่า
---
พักได้
6
---
ห้องนอน
Corrimal, นิวเซาธ์เวล์ส, ออสเตรเลีย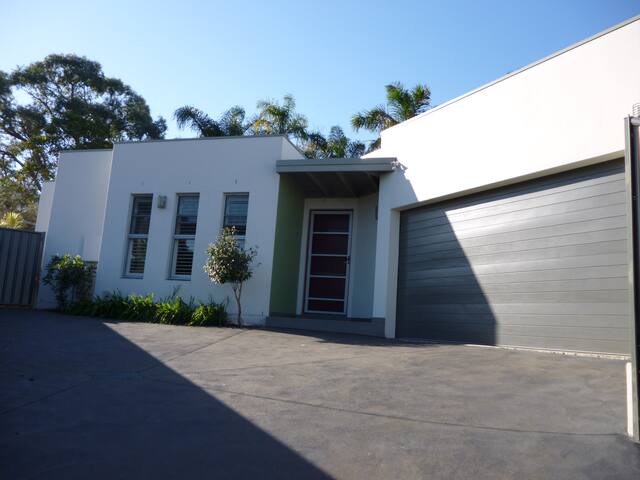 Fidel was very friendly. Accommodation was quiet. A great plus that it is pet friendly.
Elana
2016-11-22T00:00:00Z
Really really nice house. The photos actually failed to show it all. Fidel is a friendly guy. We had a very enjoyable stay.
Anchin
2017-01-01T00:00:00Z
Fidel's house was neat and tidy. The yard is dog friendly and Fidel was happy for our dog to be left while we went and had dinner. Very accommodating and gave us a fan for the room as it was a very warm day.
Benjamin W
2017-01-28T00:00:00Z
Fidel and his Aunt were such lovely hosts. The room was clean and actually better than the photos show. The house is in a great location, was easy to find and has a secure garage. We enjoyed our stay :)
Lauren
2016-08-08T00:00:00Z
Fidel is a great host, easy communication and he is very flexible as well. The place is nice and comfortable. Thanks
Gloria
2017-01-21T00:00:00Z
A nice quiet location, but still reasonably close to down town Wollongong. Fidel made us feel very welcome and was happy to share his home with us. Good meals available at League Club just around the corner.
Evan
2016-10-01T00:00:00Z
Very nice Chinese landlord. Nice house be clean.
su
2016-05-18T00:00:00Z
Great place, perfect location and clean room. Fidel was very helpful with everything and we really enjoyed our stay.
Mingran
2016-12-28T00:00:00Z
ประเภทห้อง
ห้องส่วนตัว
---
ประเภทที่พัก
วิลล่า
---
พักได้
2
---
ห้องนอน
Balgownie, นิวเซาธ์เวล์ส, ออสเตรเลีย
Stroll away beach/trains and cafes Nightlife 5 minute drive or take a train out and sightseeing will be appreciated that way Thank you
Simple but Cosey and comfortable
I love that I could just ride on push bike then jump in sea pool Or that I can just hop on the train and take it anywhere and come back home
We truly enjoyed staying at Fifi's place. Fifi and her son are both so kind and friendly, really helpful with everything, the best hosts. We felt really welcomed there. We had everything we needed and even more. Rooms were all clean and the bed was comfortable. Fifi even provided us with some great travelling tips around the area. Thank you Fifi and Noah!! Wouldn't hesitate to stay there again :)
Eliis
2017-02-08T00:00:00Z
The host canceled this reservation 11 days before arrival. This is an automated posting.
Tatiana & Jan
2017-02-12T00:00:00Z
I had such a wonderful time staying with Fifi and her precious son, Noah. The location was perfect, I got to try some of her delicious traditional food and we had wonderful long chats about life in general - she is a beautiful, find lady and I will definitely go back one day (:
Louise
2016-08-29T00:00:00Z
The host canceled this reservation 8 days before arrival. This is an automated posting.
Ali
2016-09-16T00:00:00Z
ประเภทห้อง
ห้องส่วนตัว
---
ประเภทที่พัก
วิลล่า
---
พักได้
3
---
ห้องนอน
East Corrimal, นิวเซาธ์เวล์ส, ออสเตรเลีย
Overlooking the lush green pastures of the Milton Park Estate are the privately owned country villas. Guests of the villas are able to enjoy the grounds and some of the amenities of the estate such as the gardens, the restaurant, and the recently opened Day Spa. Villa 6 has soaring cathedral ceilings that give the property a charming open plan country feel.
ประเภทห้อง
บ้าน/อพาร์ทเมนท์ทั้งหลัง
---
ประเภทที่พัก
วิลล่า
---
พักได้
7
---
ห้องนอน
Bowral, นิวเซาธ์เวล์ส, ออสเตรเลีย
We are 10mins from Fitzroy Falls and Burrawang Pub & 20mins to Bowral. We are a short walk to the escarpment overlooking Kangaroo Valley. You can also do an array of exciting activities onsite from high trapeze, tree climbs, archery and giant swings with one of our qualified instructors. You'll love our place because of it's beauty, tree ferns & rainforest. The place is great for intimate to large groups with a games room, fire pit, tennis court, putt putt, commercial kitchen and indoor fires.
Alison and her family were great hosts! They met us promptly as we arrived and were always friendly and easy to get into contact with if we needed any help. This place was really great. It was very spacious for my group of friends and has a lot to offer in terms of onsite activities such as a games room and outdoor sports with all the equipment provided
Rachael
2017-01-03T00:00:00Z
When we arrived at Fitzroy falls conference & convention center, Alison welcomed us with warm and heartfelt greeting. Then she took us to our house which was a 13 beds house. As soon as we walked into the house, there was an enormous (it is really big) room which is combined with dining space, lounge and of course the fireplace. A well equipped kitchen with all amenities is also located next to the dining space, which was really convenient to cook and easily accessible. Then we went to see our bedrooms and all the rooms were preheated, exactly what we needed in this early winter morning. The beds were done nicely with fresh sheets and blankets. In addition to that, all the amenities were provided such as towel, hand soap etc. The bathrooms were nice and clean too. Just outside the big room there was place to sit and also a BBQ machine. Then we followed her to the best part the entire property which is the games room located just outside the house. We had so much fun in that games room that we wish we could stay few more days. There were Foosball, Table Tennis, Dart, Air Hockey, Pool which kept us so busy that we didn't realize we spend 4 hours just there. This is probably why we had great time there even though it was raining outside. The best part of this property is that there is a lot to do inside the property which kept us occupied even though we couldn't go out because of the rain. We didn't feel bored for once. In terms of location, the house is located the best place possible if you wish to visit the national parks around such as Budderoo, Fitzroy falls, Carrington falls etc.
Ahmed
2016-07-08T00:00:00Z
Ian and Allison were forthcoming and easily contactable prior to arriving at the site. While we were there everyone was very accommodating (they even gave us a lovely sticky date pudding!) helping us with directions to the nearby waterfall and turning on the appliances. Being the end of winter it was sitting around 3 degrees but all the bedrooms had a heater and the living area had a wood fire to keep us warm and toasty. I also loveedddd the two doggies buster and mini who were lovely. Buster took us for a walk to the waterfall!
Amelia
2016-08-29T00:00:00Z
Alison and Ian we great hosts. They made our stay a very pleasant one. Ian came and lit the fire for us, took our kids to do some fun activities (flying fox and giant swing) which topped off the trip. I would highly recommend this place if you want the kids to get off their iPads and into the great outdoors.
Rebecca
2017-01-05T00:00:00Z
Great place in the outdoors, friendly host who visits 2/3 times per day. Good facilities
Stacey
2017-03-26T00:00:00Z
ประเภทห้อง
บ้าน/อพาร์ทเมนท์ทั้งหลัง
---
ประเภทที่พัก
วิลล่า
---
พักได้
13
---
ห้องนอน
Wildes Meadow, นิวเซาธ์เวล์ส, ออสเตรเลีย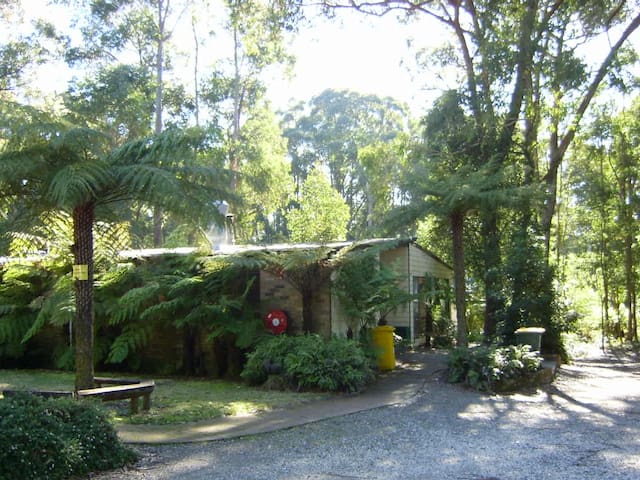 Private french inspired BB villas on 12 acres boarding World Heritage Thirlmere Lakes National Park. (1 hr by train from Airport) Hydrotherpay spa, sauna ( in winter) and atelier, kangaroos et petit animaux too. Price listed is per villa $250
Two french inspired provincial villas. Choose either Villa Le Petit Palais ( sleeps 3) or Villa Mediterranee ( sleeps 3 plus) or perhaps you wish to book both villas $250 per villa, extra guests can be accommodated at $40 per person per night. Access to the hydrotherapy spa all year and wood burning eucalyptus sauna in winter
World Heritage Thirlmere Lakes National Patk is a short stroll away from our property. Fantastic bushwalks in the area, wineries, local farms to visit, Trainworks Steam Train museum 1 km away, markets and antiques shops galore. 20 minutes to the Southern Highlands and 40 minutes to the beautiful South Coast beaches!
Highly recommend this beautiful place. The owners were so lovely and the villa was absolutely beautiful. Great escape from the city life and a great place to experience nature
Grace
2017-04-08T00:00:00Z
ประเภทห้อง
บ้าน/อพาร์ทเมนท์ทั้งหลัง
---
ประเภทที่พัก
วิลล่า
---
พักได้
4
---
ห้องนอน
Thirlmere, นิวเซาธ์เวล์ส, ออสเตรเลีย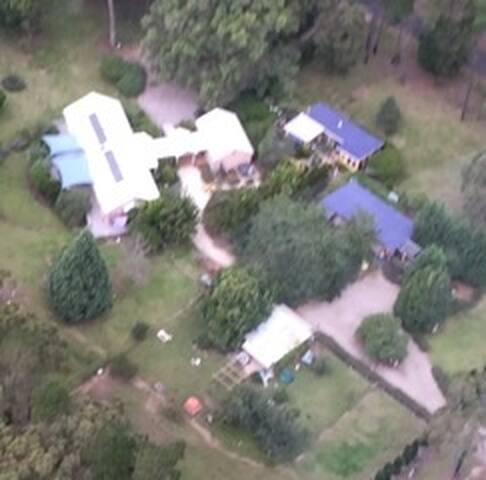 Tahmoor - Airbnb
:
เฉลี่ย

4.55

จาก

5

ดาวจาก

173

รีวิวผู้เข้าพัก
1

–

16

จาก

วิลล่าให้เช่า 16
กรอกวันที่เพื่อดูการกำหนดราคาเต็ม มีค่าธรรมเนียมเพิ่มเติม อาจมีภาษีเพิ่ม