A house in Aiguafreda, 30 minutes from the cosmopolitan Barcelona by car and 20 from "La Roca Village" .You will be able to enjoy the benefits of a gardened house with a 100% private pool. Our house is perfect for relaxing in a peaceful village atmosphere after the city, with absolute privacy. At the same time, within five minutes walk, you have all the necessary services (bus to Barcelona and Vic, supermarket, bakery, pharmacy,
Our house can accommodate up to six people, although in this case, two have to sleep on a sofa bed in the TV room, some objectively losing comfort. (Hence our preference is to stay 4) is divided into two floors, with a double room on the ground floor and a double on the first floor also. On the first floor, a large room with TV and a games area with table. There we have a library, board games, music and DVDs. If you are traveling with small children, so we have games and story books for their entertainment.
We live in a residential neighborhood, quiet but at the same time perfectly community and nearby you'll find the services needed without having to take the car.
Disfrutamos de una estancia muy agradable y tranquila en casa de Maria. La casita, aunque pequeñita, es muy cómoda y está totalmente acondicionada y limpia. Maria y su esposo son unos amfitriones magníficos que nos hicieron sentir como en casa siempre respetando nuestra privacidad. Definitivamente un lugar más que recomendable para pasar unos días tranquilos en familia. Muchas gracias Maria y Jordi!
Merce
2014-08-17T00:00:00Z
Séjour très agréable chez Maria nous n avons pas été déçus tout etait comme prévu , la salle de bain est quand même très petite , le jardin et la piscine superbe ainsi que l environnement magnifique et très calme. Maria est une hote charmante qui a été de très bon conseil pour les Resto à découvrir. Ah les tapas ! Adresse à retenir sans hésiter . Forza valentinoooo
PASCALE
2016-06-07T00:00:00Z
Hem passat 4 dies fantàstics a casa de la Maria. És una casa molt acollidora amb uns grans anfitrions. Té tot el que necessites i més (estris de cuina, jocs de taula,...). El barri és molt tranquil, i la zona molt ben situada, té un super a 2 minuts caminant. Anàvem amb 3 petits q s'han sentit com a casa.
MERITXELL
2015-12-09T00:00:00Z
Vi fik en meget varm modtagelse. Maria var venlig og hjælpsom med alting. Huset passede fint med det vi havde forventet, udstyr og alting var i top.
Dánjal Pauli
2016-07-04T00:00:00Z
Excellent accueil malgré notre arrivée un peu tardive Maria et son mari ont été très accueillant et très gentil. De plus logement très agréable et conforme à la description. Nous reviendrons avec grand plaisir
Sonia
2016-11-01T00:00:00Z
La casa es magnífica. Para 4 es perfecta aunque 6 esta bien para un fin de semana. Maria nos resolvió todas las dudas rápidamente y fue una gran anfitriona. En la casa tiene miles de películas y juegos y no falta de nada! Aconsejo la casa sin duda.
raquel
2016-06-27T00:00:00Z
Very nice house in a little village conveniently located close to the highway 30 mins away from Barcelona. Maria and Jordi are very nice and made us feel at home.
Jocelyne
2014-08-24T00:00:00Z
We really enjoyed our stay, house is in a great location for all the sites and getting into the mountains. Maria and family are very welcoming and helpful, our kids loved it too!
Sheena
2015-05-31T00:00:00Z
ประเภทห้อง
บ้าน/อพาร์ทเมนท์ทั้งหลัง
---
ประเภทที่พัก
บ้าน
---
พักได้
6
---
ห้องนอน
Aiguafreda, คาตาโลเนีย, สเปน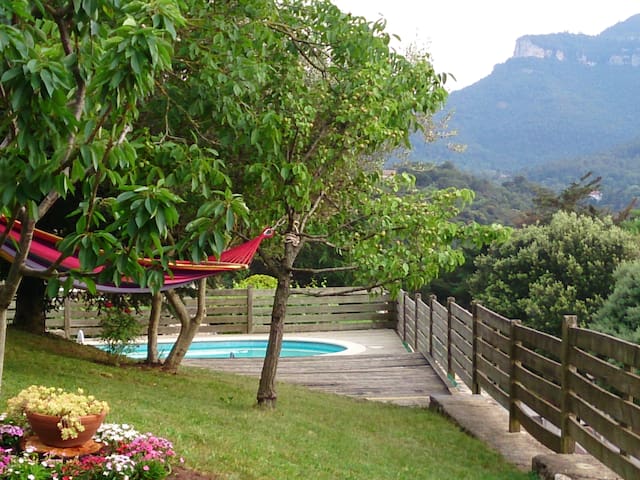 Les Casetes del Congost Vilatge Resort Barcelona, us ofereix aquesta masia del segle XVII restaurada molt acuradament, forma part del Patrimoni Arquitectònic de Tagamanent i Catalunya, està situada al sector oriental del Montseny en el terme municipal de Tagamanent.
Disposa de sala-menjador, cuina, 2 Banys, 1 Sauna Finlandesa, 1 Jacuzzi i 3 dormitoris dobles, Xemeneia, Calefacció, TV, WI-FI, Barbacoa, Piscina. La capacitat màxima és de 8 persones. L´entorn és enjardinat i empedrat on podreu fer les vostres trobades familiars o romàntiques. Tenim una zona d´aparcament pels vostres vehicles.
Aquest habitatge és indicat per aquelles persones que volen ésser al costat de la gran ciutat (estem a 35Km de la capital catalana "Barcelona"), i així poder fer excursions per l´entorn immediat o escapades a la Costa Brava, Costa de Barcelona o bé a l´alta muntanya, estem a un lloc estratègic, al bell mig de Catalunya, ben comunicats per la C-17, C-25 i AP-7. Una excursió obligada és la del Turó de Tagamanent on gaudireu d´una panoràmica única de tota la plana del Vallès i Osona i la visita als Pous de Glaç més ben conservats d´Europa al veïnatge d´Avencó, també a Tagamanent. A la comarca n´hi han un munt d´esdeveniments assenyalats com les curses de motos o automòbils al Circuit de Catalunya, curses de muntanya i esdeveniments culturals tot l´any.
L'experiència ha sigut molt bona, molt recomanable, un lloc molt tranquil i amb molt bones vistes. En Josep ha estat en tot moment disponible i ha sigut molt amable.
Laura
2016-12-28T00:00:00Z
Perfecte experiència al costat de Barcelona! La casa està molt ben equipada. El tracta del Josep Angel... Excelent!
Ana
2016-02-01T00:00:00Z
Het is een mooi en sfeervol oud huisje op een prachtige locatie: uitzicht op de bergen en niet ver van Barcelona. Met de auto ben je in ongeveer 10 minuten bij een treinstation (la Garriga) vanaf waar de treinen je in ongeveer 3 kwartier naar het centrum van Barcelona brengen. Ook de buitenruimte is erg mooi en goed verzorgd. Het zwembad is niet groot, maar groot genoeg om lekker in af te koelen wanneer het heet is. Bij aankomst staat Joseph klaar om je welkom te heten en vragen te beantwoorden. Grootste nadeel van het huis is dat het wat aan de kleine kant is, kleiner dan de foto's en het aantal slaapplaatsen doen vermoeden. Op de bovenverdieping is van elk plaatsje gebruik gemaakt om bedden neer te zetten. Wij zijn er met 2 families geweest en dan is het huis toch wat aan de krappe kant, zeker omdat de meeste slaapkamers geen deuren hebben. Een ander nadeel is dat de WIFI vaak niet goed functioneert.
Erik
2016-08-14T00:00:00Z
Josep es un muy buen anfitrión: amable, disponible, comunicación inmediata tanto por la app como por teléfono... confianza total.
Enrique
2016-09-04T00:00:00Z
La estancia en esta casa ha sido magnifica,el entorno y sobre todo el trato personal de Josep. Realmente la recomiendo sin ninguna duda,podreis disfrutar de un entorno y una casa muy agradable
SALVADOR
2016-07-18T00:00:00Z
Josep ángel es un estupendo anfitrión, responde rápidamente a los mensajes y se preocupa de que los inquilinos estén cómodos en su casa. La casa esta muy bien, la única cosa es que para 6 personas adultas esta bien, para 8 la veo un poco justa.
Sílvia
2015-08-24T00:00:00Z
Casa fantástica donde hemos disfrutado de un espectacular fin de semanan en família.
Quim
2017-03-26T00:00:00Z
Josep Àngel va ser molt atent en tot moment i molt agradable. Ens va fer sentir com a casa. Ens va explicar la història de la masia i el seu entorn i es veu que és una persona que es desviu perquè la gent es trobi com a casa seva i visqui una experiència inolvidable. L'entorn magnífic, tranquil i enmig de la natura. La piscina molt bé també perquè té coberta i ens va ploure però ens vam poder banyar. Moltes gràcies per tot.
Ingrid
2015-07-22T00:00:00Z
ประเภทห้อง
บ้าน/อพาร์ทเมนท์ทั้งหลัง
---
ประเภทที่พัก
วิลล่า
---
พักได้
9
---
ห้องนอน
Tagamanent, Catalunya, สเปน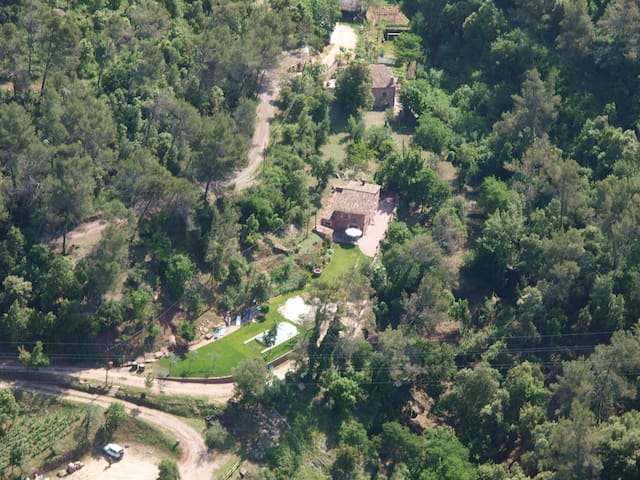 Alojamiento en ambiente familiar, piso-duplex, en habitación simple o doble, tranquilidad, aire puro, 480 mt de altura, rodeado de naturaleza, vista al río Congost y a la montaña, muy cerca del Parque Natural Montseny. Excelente sitio para senderismo
El entorno natural, completamente alejado de sitios urbanos, destacando la ausencia de contaminación de cualquier índole (polución, ruidos, etc.) lo hace un lugar muy agradable si estás buscando silencio y tranquilidad.
Patricia és una amfitriona muy amable y atenta. Todo en la casa es correcto y muy cèntrica para ir andando al pueblo, restaurantes, etc o bién empezar una excursión por la montaña.
Oriol
2016-03-09T00:00:00Z
Fuimos con mi pareja al piso de Patricia y fue todo estupendo. El piso está muy limpio, impoluto, nuevo y es muy cómodo. Es muy grande, sobre dos plantas, y casi no nos cruzábamos. La habitación es muy mona, y muy luminosa. Pudimos utilizar la cocina, poner alguna cosa en la nevera, dejar las maletas el último día para poder hacer una última caminata, todo como estar en casa. La zona es un pueblo así que es muy tranquilo. Se escucha un poco la carretera pero no molesta, con las ventanas cerradas se duerme perfectamente. Está a 5 mins de todo, del tren, de Aiguafreda, de los restaurantes (recomiendo el Raco en Aiguafreda! Super autentico!) y de los caminos para ir al Montseny. Queríamos calma y naturaleza, era perfecto. Una caminata que me gustó mucho fue Las Cingles de Berti, sale justo detrás la estación de tren de Sant Marti y ¡es precioso! Por fin Patricia ha sido una anfitriona simpatiquísima! En seguida nos puso cómodos, ¡y nos echamos una buenas risas! Me encantó conocerla y compartir con ella pequeñas experiencias de viajeros por el mundo.
Marie
2016-03-28T00:00:00Z
We had a break during our trip to Rupit here. Patricia gave us a very warm welcome and provided us this room. The room is facing the mountain and the river. It is great! The location is very easy to find and the flat is tidy and comfortable. We arrived very late in the night and left early in th morning, so we bothered Patricia a lot. But she is very nice.
Feifei
2015-08-03T00:00:00Z
Perfecto
Toni
2016-03-21T00:00:00Z
Fue un placer poder compartir buenas conversaciones y la estada allí fue perfecta, muy atenta y amable. Sin duda repetiría si hiciera falta.
Joan
2016-03-31T00:00:00Z
Patricia and her husband were very welcoming and friendly :) The room was nice and clean. Apartment was centrally located and not far from restaurants in the town!
Victor
2015-04-05T00:00:00Z
Patricia and her husband were wonderful hosts and made us feel very at home. They were very friendly and helped with directions to shops, etc. The apartment was clean and comfortable. The road and river were a little noisy but didn't bother us. We would happily stay again :)
Catherine
2016-10-14T00:00:00Z
Tot molt correcte: atenció, neteja, cordialitat i discreció.
Josep
2017-01-14T00:00:00Z
ประเภทห้อง
ห้องส่วนตัว
---
ประเภทที่พัก
อพาร์ทเมนท์
---
พักได้
2
---
ห้องนอน
Sant Martí de Centelles, Catalunya, สเปน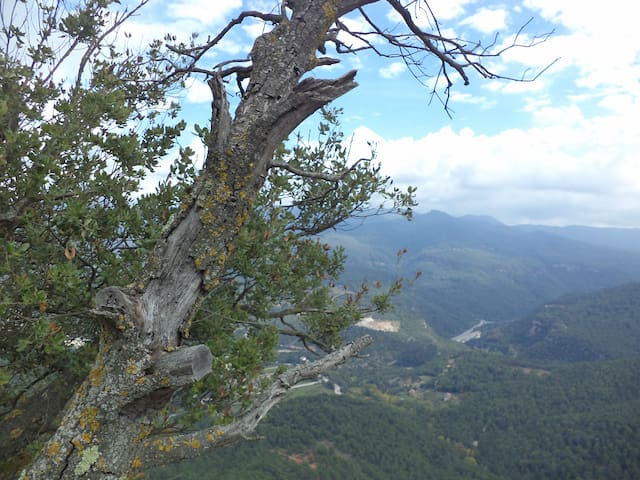 Lugares de interés: Situada al pie del Montseny, en la vall del Congost. Existen múltiples rutas de senderismo y ríos dónde disfrutar de la naturaleza. El pueblo de Aiguafreda está a un minuto con todos los servicios (farmacia, restaurantes, estación de trenes).. Te va a encantar mi lugar debido a belleza natural de su ubicación, las vistas y sus animales en libertad. Mi alojamiento es bueno para parejas, aventureros, familias (con hijos)
Masia catalana completamente reformada y equipada. Se alquila la casa entera. Dispone de dos habitaciones grandes, con espectaculares vistas, gran baño y cocina equipada. Dispondreis de privacidad ya que está anexa a nuestra vivienda pero el acceso es independiente y tiene baño, cocina y comedor para vuestro uso independiente al nuestro. Minuciosamente decorada con muebles antiguos. La casa es bonita, limpia, soleada y tranquila. Dispone de muebles vacíos y limpios para colocar vuestros enseres personales. Ubicada en un entorno idílico, aislada completamente, a 2 minutos en coche de la salida de la c17 y del pueblo de aiguafreda ( con todos los servicios: restaurantes, bares, farmacias, supermercados, tiendas, etc) a 45 min. de barcelona en coche, dispone de estación de tren. La finca se encuentra en una montaña privada y vallada, con ganado y lleguas en semilibertad. En verano la casa es fresca, de dia hace calor para bañarse en la piscina o visitar los sitios naturales de agua que hay en los alrededores pero de noche se duerme fresquito. Se ofrece servicio de masaje californiano en contacto con la naturaleza, sesiones de Reiki y de terapia floral (flores de bach y flores de california) a precios asequibles. Preguntar por más información y precios
Hay rutas al parque nacional del montseny, numerosas zonas naturales de agua para refrescarse. Hay monumentos históricos, numerosas ferias gastronómicas en los pueblos vecinos de las que estaremos encantados de informarte. Dentro de la finca hay rutas para pasear y disfrutar de la naturaleza en donde no encontrarás a nadie.
Dani and his wife are very welcoming, we had a fantastic weekend away from Barcelona. The house is very clean and very comfortable. If you are looking for a great place to escape, this is the place to be. Muchas gracias Dani para todo :)
David
2016-08-08T00:00:00Z
J'ai passé une semaine dans ce logement et c'était très agréable . A profiter en famille. Parfait si vous voulez vous éloigner du bruit et de la pollution. Vous ne vous ennuierez pas il y a beaucoup de choses à faire autour sans forcément passer par Barcelone . Je vous recommande pleinement :)
Zeynep
2016-08-06T00:00:00Z
We had an idyllic family holiday at Daniel and Miriam's villa. The villa is big enough for five (2 adults and 3 kids) and set in beautiful scenery. The high point for us was the pool overlooking the mountains and valley. We had trips to Vic, Girona, Barcelona and to a Water Park in Lloret de Mar - all within an hour or so driving. Daniel and Miriam were great hosts and have a lovely spot in Catalonia.
Mike
2016-08-19T00:00:00Z
Estuvimos, mi pareja y mi perrita Lola el pasado 23 de junio de 2016 aquí hospedados, y la experiencia ha sido inmejorable, el lugar idílico para desconectar y conectar con la naturaleza, tranquilidad absoluta, la casita super acogedora y bonita, y el trato por Miriam y Daniel buenísimo, son encantadores. Mi puntuación es un 10!! repetiremos!!Muchas gracias por todo!!!!!!
Ester
2016-06-25T00:00:00Z
Hemos pasado un fin de semana genial. El entorno es una naturaleza tan bonita y tranquila que resulta ideal para desconectar y descansar. La casa limpia, acogedora y llena de detalles. A nivel practico inmejorable; encontrarte elementos para el desayuno, las toallas... es fantastico y mucho mas cuando uno viajas con niños y debes cargar con tantas cosas. Los anfitriones encantadores, muy pendientes de cuaquier cosa que pudieramos necesitar. Muy recomendable, nosotros desde luego volveremos muy pronto.
Eva
2016-07-18T00:00:00Z
Todo ha salido muy bien, pasamos unos dias entre amigos en la masia de daniel, quien nos ha tratado muy bien. El aviso coincide con la realidad. Recomendable.
Juan Pablo
2016-07-25T00:00:00Z
ประเภทห้อง
บ้าน/อพาร์ทเมนท์ทั้งหลัง
---
ประเภทที่พัก
บ้าน
---
พักได้
6
---
ห้องนอน
Aiguafreda, Catalunya, สเปน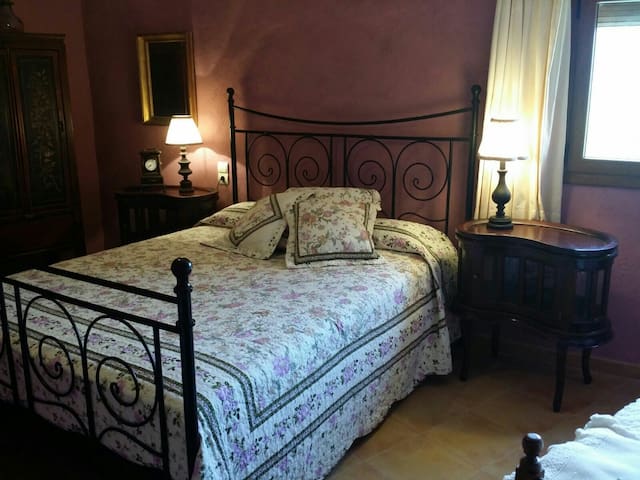 Sunny house at 4 winds in the natural environment in a cozy village. 40 km from Barcelona, 56 km from the airport. 20 km Circuit de Catalunya, 114 km of ski slopes and 36 km from the beach.
Pros: Nora is super sweet and was very flexible and communicative. The place was quiet, easy to find, and provided my wife and me with beautiful scenery. It was a very spacious place and had a real Spanish charm. Cons: Though the photos show a sparsely furnished bedroom, we found that the room had quite a bit of clutter and random bookshelves and odds and ends in there. In general, the place could have used some dusting and sorting through some of the clutter. The dust began to bother my wife's allergies.
Stephen
2015-01-04T00:00:00Z
Todo muy bien, acorde a la descripción del anuncio. Nora atenta y dispuesta para lo que necesitáramos.
Daniel
2015-06-01T00:00:00Z
Todo fue perfecto, casa totalmente equipada 100% recomendable y Nora se portó genial con nosotros. Muy contentos la verdad!!
Jaume
2015-12-07T00:00:00Z
Very nice house and owner Nora. It was pleasure to stay at Nora"s house:) enjoyed stay with all family!
Mindaugas
2014-09-16T00:00:00Z
Très bon séjour passé chez Nora. Accueil chaleureux, maison conforme à l' annonce. Bien équipé, à 20 minutes de Barcelone. Idéal pour un court séjour dans la région.
OLIVIA
2014-08-28T00:00:00Z
Casa en perfecto estado y equipada tal y como se describía en el anuncio. La anfitriona (Nora) muy amable y dispuesta a resolver cualquier duda o incidencia. Estancia muy agradable y alojamiento recomendable.
David
2015-09-10T00:00:00Z
Après un long voyage depuis la Suisse ( le week-end du 15 août), quel plaisir d'être accueilli simplement par un sourire et quelques mots de bienvenu. La maison est parfaite pour les 4 voyageurs que nous sommes. Tout est comme précisés dans les mails échangés lors de notre préparation de voyage. A 30 minutes de la plage, et 45 minutes de Barcelone, au coeur d'un charmant village paisible et coloré, nous avons gouté aux joies d'un repos bien mérité, dans des conditions idéales. Merci Nora, pour cette belle semaine.
Thomas
2014-08-24T00:00:00Z
Situada entre el mar y la montaña, la casa ofrece muchas comodidades. Nora se ha preocupado de que nuestra estancia haya sido lo más agradable posible.
Ion
2016-12-29T00:00:00Z
ประเภทห้อง
บ้าน/อพาร์ทเมนท์ทั้งหลัง
---
ประเภทที่พัก
บ้าน
---
พักได้
4
---
ห้องนอน
Figaró-Montmany, Barcelona, สเปน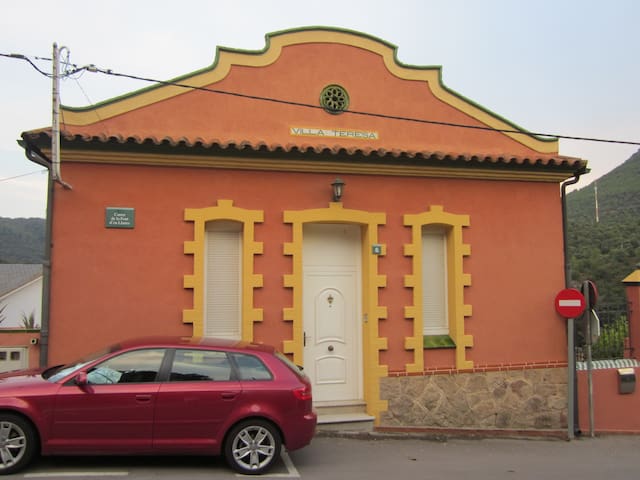 Les Casetes del Congost Vilatge Resort Barcelona, us ofereix aquesta masia del segle XVII restaurada molt acuradament, forma part del Patrimoni Arquitectònic de Tagamanent i de Catalunya.
Masia spotted two floors Living room and kitchen One toilet and one bathroom 1 Pantry 1 large loft bedroom: 1 double and 3 single bed (Upstairs) Cabin-1-Whirlpool Bath fireplace, SPA Pool 1 Heating TV Wi-FI Barbecue Swimming
This property is suitable for those who want to be close to the big city (we are 35km from the capital Catalan "Barcelona"), and thus immediate surroundings for hiking or trips to the Costa Brava and Costa de Barcelona While the high mountains, we are in a strategic location in the heart of Catalonia, well connected by the C-17, C-25 and AP-7. An excursion is a must on the Tagamanent Hill enjoys a unique panorama of the entire plain of Vallès and Osona and a visit to the ice wells best preserved in Europe d'Avencó neighborhood, also in Tagamanent. In the region there are a lot of events marked as auto or motorcycle racing at the Circuit de Catalonia, mountain races and cultural events throughout the year.
Gracies Josep per la teva hospitalitat, tot un plaer!
Willy
2016-08-30T00:00:00Z
ประเภทห้อง
บ้าน/อพาร์ทเมนท์ทั้งหลัง
---
ประเภทที่พัก
วิลล่า
---
พักได้
5
---
ห้องนอน
Santa Eugènia del Congost, Catalunya, สเปน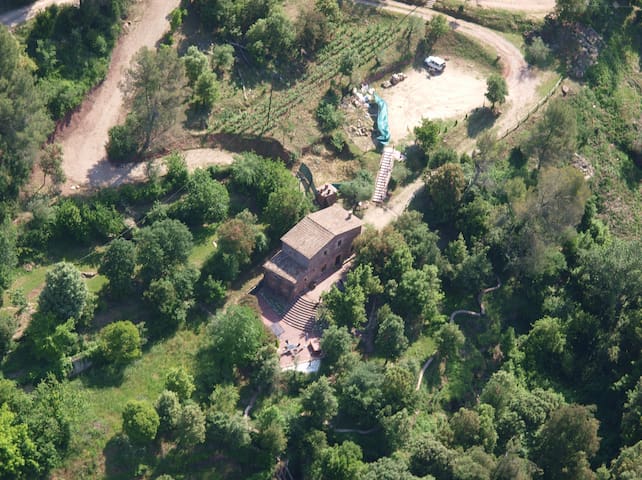 Casa modernista con suelos hidráulicos, con bonita y confortable decoración. Perfecto para vacaciones y para visitar esta preciosa zona. A 30 minutos de Barcelona. A 20 km de Vic. A 32 km de Montmeló. A 34 km de la Roca Village.
Esta preciosa casa modernista de 150 m2 se encuentra en Aiguafreda a 30 minutos de Barcelona en un entorno urbano y a la vez cerca del Parque Natural de Montseny. Cuando se entra encontramos el comedor para 6-8 comensales y un salón con cómodos sofas, chimenea y televisor. Consta de 3 dormitorios, 1 doble con una cama de 1.50 cm, armario ropero y televisión. El segundo dormitorio tiene 2 camas individuales de 0.90 cm y 1 armario ropero y televisión. El tercer dormitorio tiene literas. Encontramos una estupenda cocina con todos los utensilios que se puedan necesitar, también con nevera, vitrocerámica, horno y lavavajillas. 1 baño completo con bañera. En el exterior encontramos un jardín privado de 700 m2 con una zona de barbacoa en donde os podreis preparar unas estupendas comilonas. No encontrarás un lugar mejor para esos días de descanso o vacaciones en compañía de los tuyos!!!
Cerca del punto de información turística
ประเภทห้อง
บ้าน/อพาร์ทเมนท์ทั้งหลัง
---
ประเภทที่พัก
บ้านพักตากอากาศ
---
พักได้
6
---
ห้องนอน
Aiguafreda, Catalunya, สเปน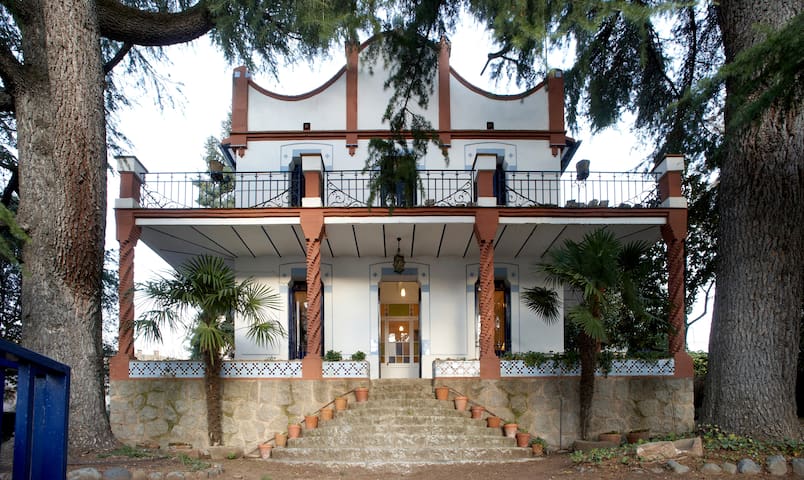 A nice house in the mountain, but near Barcelona. Quiet, relax and beauty espace to stay in your Barcelona trip.
Una habitación cálida e independiente dónde sentirte como en casa en plena naturaleza. Habitación con cama doble, baño completo y zona de estar privada. Comienza el día en el medio de la montaña con un buen desayuno, hecho con pan y mermeladas caseras, frutas y de nuestra huerta y sal a disfrutar de la naturaleza o la ciudad. Cuando quieras te esperamos para charlar, tomar café o aperitivos, en ambiente relajado e informal. Te ofrecemos asesoramiento para salidas a museos, rutas de senderismo, trekking y la cosmopolita ciudad de Barcelona. Servicio de guias y transporte. Nuestra casa es un sitio ideal para l@s niñ@s, las parejas, l@s mascotas y l@s amig@s La zona del Tremolencs es un área rural, con olivares, viñas e hípica. Estamos en la ladera de la montaña por lo que se necesita coche para subir. Es un sitio ideal para descansar, estar en contacto con la naturaleza Para llegar a casa es imprescindible moverse en coche o moto, o tener unas buenas piernas para subir unos 25 minutos andando. Desde el pueblo de La Garriga estás a 30 minutos en tren o bus a Barcelona ciudad. La casa es un edificio antiguo, una Masia clásica pero plenamente restaurada.
La Garriga es un pueblo modernista, estilo Gaudí, con buenos restaurantes y zona de compras. Estamos en la ladera de la montaña por lo que se necesita coche para subir. Es un sitio ideal para descansar, estar en contacto con la naturaleza y cerca de la vanguardista ciudad de Barcelona.
Fue un fin de semana espectacular! Gracias a Jerusa y familia por acogernos con tanto cariño y generosa atención. La casa y el lugar son preciosos, en medio de la naturaleza. El cuarto, la cama, el baño todo perfecto. La cena preparada por Jerusa con ingredientes de la huerta es super deliciosa. Totalmente recomendado. Acabamos de llegar a casa y ya queremos regresar nuevamente a visitarlos.
Natalia
2017-03-12T00:00:00Z
si vous souhaiter le calme, c'est chez Jérusa qu'il faut aller. Sa jolie maison tout au bout du chemin, la grande piscine et sa gentillesse en font un lieu très agréable.
Gerard
2015-09-03T00:00:00Z
Mini vacaciones perfectas!!!!! Has sido un fin de semana inmejorable!! La casa, el entorno,comida, La Paz y tranquilidad. Pero sobre todo Jerusa; una persona maravillosa; gracias por sentirnos en casa. Volveremos seguro!!!!
Raina
2016-06-27T00:00:00Z
My boyfriend and I loved to stay in Jerusa house. It's a very spacious and charming house in the wood and close to Granollers in the same time. She is a very sweet woman, generous and kind. She made us feeling like home, shared her catalan culture and told us where to go when looking for special stuff. We took the dinner option, she asks only 11€ for a generous meal with many courses and wine, desert, coffee, tea... We found these option very convenient and enjoyable, sitting at the big table next to fire wood. Also, she's a good cook, all is fresh and local. If we ever need to come back around, we'll for sure, be back to Jerusa place. Thank you and your sweet family for having us. It's was a real pleasure staying with you. Hi to Oame!
Claire
2017-01-18T00:00:00Z
A nice place to relax in the country. Great pool and friendly People. You feel really at home.
Jo
2016-08-31T00:00:00Z
La acogida a sido sencillamente espectacular, el cariño y el interés para que todo fuera de nuestro agrado a sido marabilloso, como en casa... o mejor... Gracias Jerusa&family&friends !!!!
Ferran
2016-07-18T00:00:00Z
Мы с мужем очень довольны путешествием. Тихое прекрасное место, природа, горы, птицы поют. Большая веранда для завтраков. Много свободной природной территории. Сохраним самые лучшие впечатления о гостеприимной хозяйке. Херуса очень внимательная, творческая и жизнерадостная, вкусно готовит. Заботливое отношение к гостям, как к родным людям. Большой красивый дом, много прекрасных картин и керамики. Дом оставил самое большое впечатление, он хранит историю, в нем есть душа. Вечерами мы проводили время у камина, уютная обстановка для семейной пары. Мы заказали ужин и завтрак в первый день-было вкусно и много: салат, мясо, сок, чай и кофе, молоко, печенье, йогурты, домашний хлеб и яйца, зелень со своего огорода. Очень удобная и чистая ванная комната, наполненная всеми необходимыми принадлежностями для душа. Была холодная погода, но Херуса всегда включала нам отопление. Было много теплых пледов в шкафу. Большая комфортная кровать с ортопедическим матрасом. Очень добрые умные позитивные собаки и кошки. В будние дни было спокойно, в доме только мы, а вечерами Херуса с маленьким чудесным сыном. В выходные дни дом наполнен родными и друзьями, очень веселыми и добрыми людьми. Удобно, что у нас были свои ключи от дома и автоматических ворот. Мы могли свободно приезжать из поездок домой. Чтобы добраться домой, обязательно нужна машина, желательно высокая, так как дорога горная-щебень. Херуса выслала русскую инструкцию, как до нее точно добраться. Большое спасибо, так как без инструкции мы не могли найти дом. Но после этого каждый раз уже очень легко добирались. Этот дом мы рекомендуем на 100% всем нашим друзьям-путешественникам.
Irina
2016-05-17T00:00:00Z
There couldn't be a better way to begin our holiday in Spain than spending the first two days at Jerusa's warm and welcoming country home. Little cherubic Saúl brought us more joy. She is a Spanish teacher who also speaks very good English. Jerusa was a great host,sat down with us to chart out our entire trip giving us the minutest details, shared her home grown vegetables and home made Olive oil. If you are looking for a relaxed stay at around half an hour's distance from Barcelona city and if you can appreciate a place that has retained its old world charm, this place will suit you just right.
Mit
2016-09-10T00:00:00Z
ประเภทห้อง
ห้องส่วนตัว
---
ประเภทที่พัก
ที่พักพร้อมอาหารเช้า
---
พักได้
2
---
ห้องนอน
La Garriga, คาตาโลเนีย, สเปน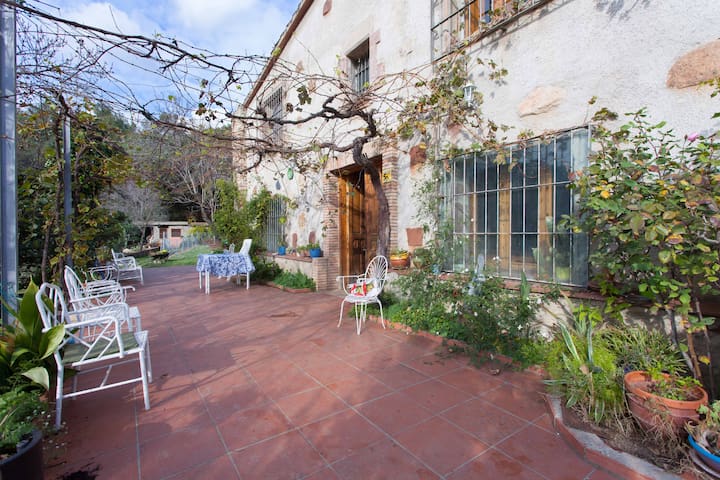 El estudio superior tiene 33 m², teniendo mejores vistas que el estudio básico, balcón francés e iluminación natural en el baño. Equipado con ropa de cama, toallas, utensilios básicos de cocina, frigorífico, televisor, y acceso inalámbrico a internet. Inscrito en el registro de turismo de Catalunya con número HB4401. Ofrecemos a nuestros huéspedes el mejor confort por el mejor precio.
nice clean place. It was really quite and the flat is exactly as shown in the picture . It has been comfortable, manuel is veri friendly. Enjoy!
lorenzo
2016-07-23T00:00:00Z
Manel actually manages a group of serviced apartments in the hills above La Garriga. The place is run like a hotel so it has everything...air conditioning, small kitchen, card key entry , towels , soap. etc. Manel keeps the place running smoothly and get's many guests who want to spend the day in Barcelona but don't want to pay $200 a night for a room. If you have a car there is plenty of on street parking..or you can pay a little and keep your car in their parking garage. It's a short drive down to the trainstation where you can pick up tickets and the train to Barcelona...and back (I think the last train returns at 10:30 pm). There's free parking at the La Garriga train station. We liked our stay so much we tried to book an extra day...but they were completely booked so we had to check out. Highly recommended.
Ernest
2016-07-09T00:00:00Z
This was the nicest stay in the Airbnb community that we had. New, clean, spacious and handy to everything, if you want to avoid the craziness of Barcelona. Parking was easy and if you have a working gps..., getting to the commuter train is easy and cost efficient as well. The washer was a bonus halfway through our trip, but we couldn't figure out if we were using it correctly. Manel is lovely and helpful to tourists in his area.
Connie
2016-07-30T00:00:00Z
Manel est toujours aux petits soins. On peut le contacter via l'application mobile et il arrive dans les 5 min devant la porte. L'hôtel est surplombé de magnifiques collines et lorsqu'on est véhiculé on rejoint Barcelone en 30 min. Le seul Bémol ce sont les chiens qui aboient toute la nuit et on entend beaucoup ce qui se passe dans les chambres à côté.
Thierry
2016-08-09T00:00:00Z
Très bon séjour, très accueillant, l'appartement est bien et fonctionnel. Merci et à bientôt.
Nicolas
2016-01-02T00:00:00Z
Apartamento muy limpio y cómodo, con muy buenas vistas al parc natural del Montseny. Está a 45 minutos andando del centro del pueblo, por lo que es recomendable tener vehículo propio o procurarse antes un transporte. Muy buena experiencia.
Jordi
2016-08-15T00:00:00Z
Manel en todo momento nos prestó su disposición y nos resolvió todas las dudas que teniamos. El alojamiento es exactamente como en la foto e incluso nos regaló una bebida de bienvenida. Sin duda repetiremos si volvemos!
Saskia
2016-05-09T00:00:00Z
Todo perfecto!! Como no teníamos coche nos fue a buscar a la estación de tren. El apartamento muy limpio, con todo lo necesario y vistas inmejorables! Repetiremos!!
VERONICA
2016-03-29T00:00:00Z
ประเภทห้อง
บ้าน/อพาร์ทเมนท์ทั้งหลัง
---
ประเภทที่พัก
อพาร์ทเมนท์
---
พักได้
3
---
ห้องนอน
La Garriga, Catalunya, สเปน
Our house is a nice and welcoming building with the perfect mixt between old and new. The little house annexed is a apartment with 2 full equipped rooms. One big bathroom. A nice kitchen and a dining room shareds and a cute private salon. With wi-fi and TV. But in the middle of the mountains in Montseny .
We live in Montseny Natural Park. Near to Barcelona city (25 minutes by car) near the beach (30 minutes to Mataró). But at the same time is a quite green area full of trees and organics gardens
ประเภทห้อง
บ้าน/อพาร์ทเมนท์ทั้งหลัง
---
ประเภทที่พัก
บ้าน
---
พักได้
4
---
ห้องนอน
La Garriga, คาตาโลเนีย, สเปน
Este estudio con terraza tiene 33 m² + 25 m² de terraza privada equipada con mobiliario chillout, la terraza dispone de iluminación por la noche para poder cenar a la fresca. Equipado con ropa de cama, toallas, utensilios básicos de cocina, frigorífico, televisor, y acceso inalámbrico a internet gratuito. Inscrito en el registro de turismo de Catalunya con número HB4401. Ofrecemos a nuestros huéspedes el mejor confort por el mejor precio.
Muy bien todo correcto y muy amables
Guille
2016-03-26T00:00:00Z
Manel answered quickly our answers after our direct reservation. When we arrived, he was helpful with the explanation of the apartment electrics and other procedures. The apartment itself is spacious and effectively furnished , with a large private terras. Al the equipment we needed was there!
Wilko
2015-08-18T00:00:00Z
Apartahotel tal como indican las fotos, muy limpio y lugar para relajarse!
Marcos
2016-12-18T00:00:00Z
ประเภทห้อง
บ้าน/อพาร์ทเมนท์ทั้งหลัง
---
ประเภทที่พัก
อพาร์ทเมนท์
---
พักได้
3
---
ห้องนอน
La Garriga, Catalunya, สเปน
Habitación para una familia con un hijo, baño completo con bañera
ประเภทห้อง
ห้องส่วนตัว
---
ประเภทที่พัก
บ้าน
---
พักได้
3
---
ห้องนอน
Sant Martí de Centelles, Catalunya, สเปน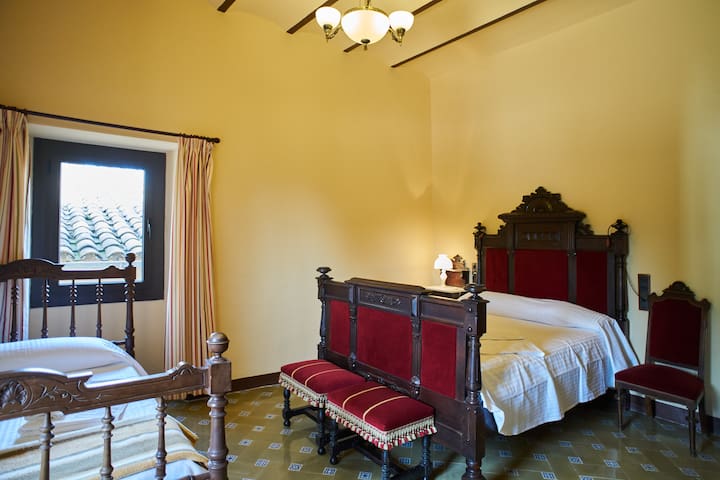 Inscrito en el registro de turismo de Catalunya con número HB4401. Ofrecemos a nuestros huéspedes el mejor confort por el mejor precio. Tiene todas las comodidades que necesitas para pasar unas vacaciones estupendas! Muy cerca de la Playa.
Es tal y como se ve en las fotos o incluso mejor. El edificio es nuevo y las instalaciones están en perfectas condiciones, todo muy limpio y acogedor. Las vistas son muy bonitas, cuenta con un servicio de transporte. Muy amable en todo momento y disponible para cualquier duda. Un 10 en todo, sin duda repetiremos.
Ed
2016-06-21T00:00:00Z
Geniaal! repetirem segur
Victor
2017-03-26T00:00:00Z
ประเภทห้อง
บ้าน/อพาร์ทเมนท์ทั้งหลัง
---
ประเภทที่พัก
อพาร์ทเมนท์
---
พักได้
3
---
ห้องนอน
La Garriga, Catalunya, สเปน
Casa independiente, acogedora, con jardín y piscina. Situada en urbanización tranquila y espaciosa en L'Ametlla del Vallès, a media hora de Barcelona y playas. Nº registro HUTB-014136.
Independent home, with garden, pool nd barbaque. Located in spacious urbanization and very, very quiet, easy parking right in front of the house. Perfect for relaxing, swimming in the summer or make a fire in the fireplace in winter. A half hour drive from Barcelona City and beaches. Near to mountain "the Montseny" and in direction to the Catalan Pyrenees. The house has 180 square meters. Ground floor (with access to garden): 4 bedrooms: Room 1: double bed Room 2: individual Room 3: two individual beds Room 4: individual plus a bunk bed On the ground floor you will find these 4 bedrooms and two bathrooms with shower. One of the bathrooms makes up a "suite" with the "double bedroom", the other is intended for the other 3 bedrooms. At the top are the living room (with fireplace) and dining room and kitchen (oven, microwave, fridge, dishwasher), courtesy and service room with washing machine and freezer. We recommend to enjoy the house if you have car. Because this whole area is very comfortable to drive (fast connections to Barcelona, beaches, C-17 to Puigcerdà, highway to Girona / France), whereas public transport is not good. The nearest train station is La Garriga. At 5 minutes drive there is a Carrefour, Aldi, Mercadona, Dia, Lidl and Eroski / Caprabo. Nice grocery market in La Garriga on Saturdays. And on Sundays in nearby Granollers/Canovelles. In the garden there is also a trampoline.
Marchez ou court haute en voiture au sommet "Puiggraciós". De là, vous avez une belle vue sur les villages nachfliegenden. Par temps clair, à Barcelone.
Très bon séjour, maison très fonctionnelle, piscine très agréable. Lucia et Gina sont adorables.
ALEXIA
2016-07-30T00:00:00Z
la maison est tres sympa et tres fonctionnelle avec 4 chambre et 3 toillettes et 2 salles de bain , la piscine est au top avec son ptit barcbecue a 20 min du centre en voiture , voyage reussie
Enver
2013-09-02T00:00:00Z
We came back and stayed two weeks in this nice house, comfortable and very quiet on its sunny hill. ¡Volveremos!
Marie Bernadette
2014-02-03T00:00:00Z
Just great! After spending a few days with the kids in the exciting and hot Barcelona city the house (as well as the pool) of Lucia was very welcome. We had time to relax, to read, to swim and to climb the Montseny mountains. The village and the neighborhood are not touristic but for us this didn't matter. Moreover there are very good restaurants in Amettla, one should certainly try La masia. Greet Van de Vyver, Belgium
Greet
2014-07-13T00:00:00Z
A welcoming house, on the hill, with a nice view, generously providing all that is needed for a perfect stay. "Comme à la maison !".Thanks Lucia, we shall come back.
Marie Bernadette
2013-11-25T00:00:00Z
We had excellent communication with the host and with her colleague Gina who greeted us (even though we arrived early) and showed us through the home. The house is amazing - a perfect paradise for a family of three small children and two adults, complete with pool and lots of space. With a car, we had no trouble reaching the local supermarkets/stores and visiting attractions in nearby towns and Barcelona. The house is neat and tidy, the neighbourhood quiet and the people friendly. We'd love to go back!
Yumiko
2014-06-09T00:00:00Z
Tout était parfaitement conforme aux photos, il y avait tout ce qu'il fallait dans la maison, très jolie, située non loin de Barcelone mais au calme. Nous avons passé quelques jours très agréables et, par la chaleur, la piscine était appréciable ! Les nombreux moustiques ont été le seul point négatif.
Sophie
2015-07-06T00:00:00Z
La casa es estupenda, todo funciona bien, no hubo ningún problema, las fotos reflejan a la perfección la realidad. La piscina estupenda. Hay mucha vegetación y por eso caen hojas pero se quitan facilmente. Limpian la piscina con frecuencia y si no se les avisa y lo hacen. Se duerme muy bien porque se está muy fresco en las habitaciones. Hay un montón de juguetes para todas las edades, que pudimos utilizar. Y hay un restaurante a pocos metros que se llama "Masia Can Sous" que tiene cuidadora de niños mientras se come, y además se come bien, con buen servicio. Nos ha encantado!
Paloma
2015-08-02T00:00:00Z
ประเภทห้อง
บ้าน/อพาร์ทเมนท์ทั้งหลัง
---
ประเภทที่พัก
บ้าน
---
พักได้
6
---
ห้องนอน
L'Ametlla del Vallès, คาตาโลเนีย, สเปน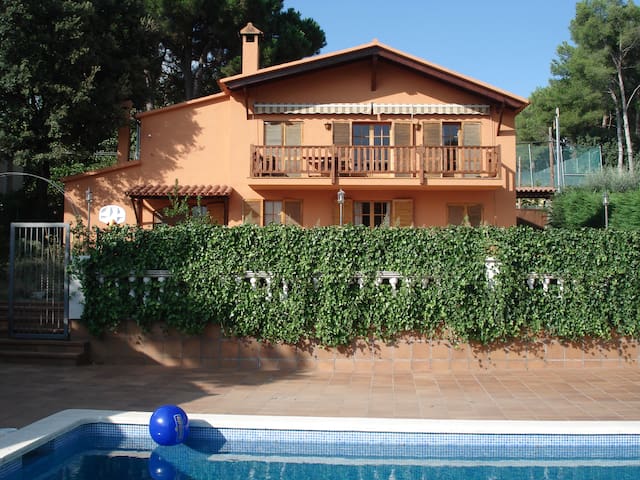 Je loue une chambre pour 2 personnes. Couchage très agréable. Je parle français et espagnol. Nous sommes dans un quartier très calme, près de la gare, dans le centre du Village. Ligne directe pour Barcelone. Nous disposons d'un parking public et d'une place de parking devant la maison, car nous sommes dans un lotissement. La maison est mitoyenne et dispose d'une terrasse.
La Garriga est un village moderniste de 17000 habitants, réputé pour ses eaux thermales, qui dispose d'un environnement rural et naturel fantastique. Possibilté de faire de nombreuses excursions, promenades, visites culturelles... Plages à 20 minutes en voiture À 10 minutes du Circuit de Catalogne Parc naturel du montseny à 25 minutes en voiture La Roca Village à 20 minutes en voiture Barcelone à 40km environ En train ou en voiture
Vivimos en una urbanización muy tranquila
ประเภทห้อง
ห้องส่วนตัว
---
ประเภทที่พัก
ทาวน์เฮาส์
---
พักได้
2
---
ห้องนอน
La Garriga, Catalunya, สเปน
Es un apartamento de 2 habitaciones dobles i dos individuales, cocina, comedor.
Great location, easy check in, nice apartment. There was 6 of us staying, but there would be extra room for 2 or 3 kids. Kitchen is basic, but has most of the things necessary. Really appreciated the ability to book for just 1 night. Only 1 toilet/shower. Was not an issue for us though.
Aliaksei
2016-11-13T00:00:00Z
ประเภทห้อง
บ้าน/อพาร์ทเมนท์ทั้งหลัง
---
ประเภทที่พัก
อพาร์ทเมนท์
---
พักได้
6
---
ห้องนอน
Sant Martí de Centelles, Catalunya, สเปน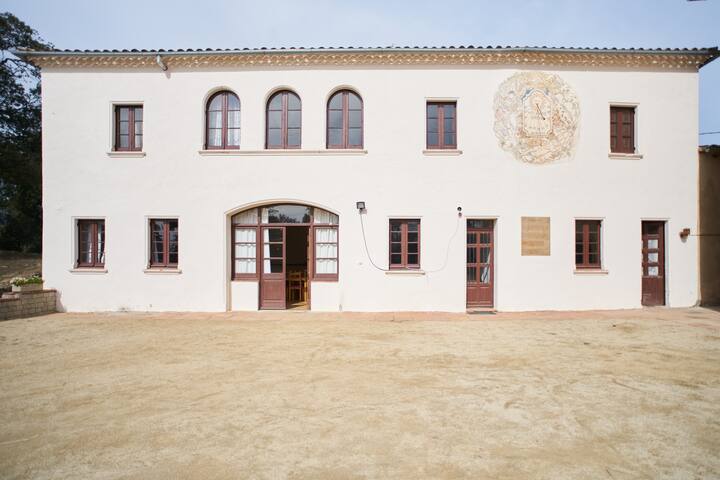 Inscrito en el registro de turismo de Catalunya con número HB4401. Ofrecemos a nuestros huéspedes el mejor confort por el mejor precio. Tiene todas las comodidades que necesitas para pasar unas vacaciones estupendas! Muy cerca de la Playa.
These smart studios and apartments are located in a quiet residential neighbourhood on the edge of the Montseny Nature Reserve. All feature an automated intelligent home system, and some have a balcony. Sono Apartamentos offers bright and modern apartments with remote-controlled lighting and shutters. Each includes free Wi-Fi, a flat-screen TV and a fully equipped kitchen. There are many shops, bars and restaurants in the town of La Garriga, just 2 km away. La Roca del Vallès upmarket outlet shopping centre is 25 minutes' drive away. La Garriga Pitch & Putt Golf Club is a 15-minute drive away. Sono Apartamentos is 3.5 km from La Garriga Train and Bus Station. The centre of Barcelona is a 45-minute train journey away and the airport can be reached in less than 1 hour by car or train.
Es una zona residencial muy tranquila.
Zone très tranquille, endroit très propre, hôte très aimable A recommender
Zineb
2016-08-07T00:00:00Z
Una acollida professional. Juntament amb un regal sorpresa no esperat I si agrait.
Dayman
2016-06-12T00:00:00Z
Le séjour s'est très bien passé. Manel est très accueillant, et sais resté discret. Nous sommes restés 1 semaine et il n'y a rien à redire sur le ménage. Changement des serviettes pendant le séjour et nettoyage du studio par la même occasion. La Garriga est situé à 30 minutes de Barcelone, l'appartement est situé hors du centre ville mais reste très bien desservi. Le studio à tout de confortable, literie, salle de bain, cuisine (manquerais tout de même un four). Manel a pris soin de nous dire au revoir et de savoir si le voyage s'était bien passé. Je conseil vivement cet hôte, le tarif pour une semaine est vraiment raisonnable pour un bien comme celui-ci.
Nicolas
2015-07-04T00:00:00Z
Este monoambiente está muy bien y todo estaba muy limpio. El lugar es un poco alejado para llegar sin auto, pero hay un buen restaurant cerca. Lo que más nos ha gustado fueron los paseos por el parque de Montseny que se pueden comenzar a un par de metros del apartamento. Se recomienda para fanáticos de los paseos, pero hay que procurar llegar con información o GPS ya que es difícil encontrar los senderos o conseguir un mapa de senderismo.
Juan Miguel
2014-03-11T00:00:00Z
집이 먼 편입이다. 바르셀로나에서 40분 정도 걸리고 내리면 그만큼은 또 걷습니다. 저는 5일 있으면서 걸은 적은 왔다 갔다 한 번씩이었고 나머지는 셔틀버스를 타거나 (동생이 직접 태워줌) 아님 친절한 이웃분들이 태워주곤 했는데, 차가 있는 분들이라면 숙소 자체는 좋습니다. 에어컨도 나오고 뜨거운 물도 잘 나오구요. 셔틀버스도 100%응답이 오케이이긴 했습니다.(돈은 내야함) 지금이든 한 시간후든 말만해주면 언제든 해주기는 했습니다. 이곳은 집을 빌린다기 보다는 호텔인데 에어비앤비에 올린듯한 느낌이고 이 분들도 이게 비지니스 개념입니다. (그래도 친절하고 대답해주는 것은 깔끔합니다) 제가 여기 첫 한국인이었는데 과연 얼마나 더 머물지는 모르겠네요ㅎ
hanlkkoma
2015-06-20T00:00:00Z
Excelente opção próximo de Barcelona. Quarto exatamente como estão nas fotos. O Anfitrião foi muito prestativo e tivemos conforto e privacidade além do esperado. Lugar bastante tranquilo que nos proporcionou boas noites de descanso. Recomendo fortemente!
Marcos
2016-08-10T00:00:00Z
El apartamento es tal y como muestran las fotos. Es un Studio totalmente equipado. El lugar está en una zona tranquila y hay pequeñas rutas para salir a caminar. La señora que nos entregó las llaves fue muy amable y nos explicó cómo funcionaba todo. Y Manel es una persona agradable y no hubo ningún problema a la hora de alquilar el apartamento. Seguramente vuelva alguna otra vez.
Gino
2015-10-16T00:00:00Z
Clean, stylish and modern appartments. The place is good for driving by car to Barcelona. But it's pretty far away from shops, city and beach. Also the neighborhood is very quiet - good to sleep. Manel was very helpful and kind. and we slept very well. Highly recommended!
Viktor
2014-08-28T00:00:00Z
ประเภทห้อง
บ้าน/อพาร์ทเมนท์ทั้งหลัง
---
ประเภทที่พัก
อพาร์ทเมนท์
---
พักได้
3
---
ห้องนอน
La Garriga, คาตาโลเนีย, สเปน
Lugares de interés: Barcelona, Playas, Montaña, formula1, circuito de Catalunya..
ประเภทห้อง
บ้าน/อพาร์ทเมนท์ทั้งหลัง
---
ประเภทที่พัก
บ้าน
---
พักได้
2
---
ห้องนอน
El Serrat de Latmella, Catalunya, สเปน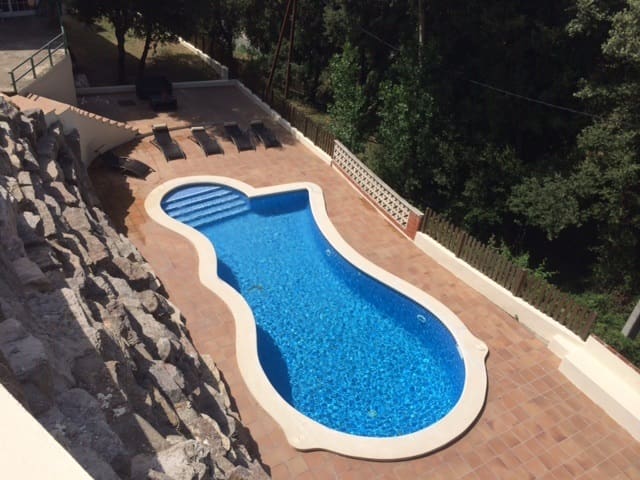 Tagamanent - Airbnb
:
เฉลี่ย

4.52

จาก

5

ดาวจาก

211

รีวิวผู้เข้าพัก
1

–

18

จาก

ที่พัก 54 รายการ
กรอกวันที่เพื่อดูการกำหนดราคาเต็ม มีค่าธรรมเนียมเพิ่มเติม อาจมีภาษีเพิ่ม