Minutes from Madison but located in the beautiful lake area of Lake Kegonsa. Views of the lake with available kayaks and canoe at your disposal. A large loft suite with a King size bed awaits you with your own private bath . A great place to relax and have fun.
The spacious king size bed suite offers privacy and a great "get away" feeling. Internet connection and a desk area in the suite also offers time for work if needed! Spacious kitchen island lets you relax with tea or coffee with a delicious breakfast that will be there for you. Take time to sit out on the deck or relax inside , both with great views. A definite place to feel comfortable in with or without your pet. We are pet friendly and a fenced in back yard is available. No cats please. Area also offers great walking or biking opportunities. State Park is located across the lake and there is vehicle parking on site.
Safe friendly neighborhood
Rita, CJ and Chuck, the pup, were great hosts! You get your own loft with anything you could ever need in their beautiful log home, and this paired with three friendly hosts make for a convenient, pleasant stay.
Jake
2016-11-06T00:00:00Z
Breakfast, friendliness, openess. My parents stayed here after I referred them (due to the great time I had when I stayed there). They said I did not brag enough about it. I highly recommend a stay!
Danielle
2016-10-05T00:00:00Z
It was a privilege to have been CJ and Jan's first guests. They are excited to be new hosts and worked hard to make everything wonderful for us. They are open and friendly, offered the use of, and helped us take out their canoe for a Sunday morning outing on the lake, offered a variety of foods for breakfast and even left little mints in the bathroom! Definitely one of our best airbnb experiences.
Melanie
2016-09-05T00:00:00Z
CJ and Jan were amazing hosts. They made us all feel very welcome. They are very big dog lovers, and welcomed my Beagle with open arms (and some doggy goodies, which she won her over real fast), and the large fenced in yard was a big doggy bonus. It was great to use their canoe and kayaks on the lake, which Jan helped us bring down to make sure we had no issues. She provided a map and info of lake, along with a box to keep our phones dry. CJ cooked a delicious egg omelette, accompanied by bagels, fruit and yogurt. They have a beautiful home and are a lot of fun. Extremly helpful and accommodating.
Danielle
2016-09-06T00:00:00Z
What a wonderful retreat! Cj and Jan were wonderful hosts. The communication regarding our late evening arrival was fantastic. The loft was roomy, clean, and very, very comfortable. We are "dog people" and Charlie was a treat! The location cannot be beat! It was a quick trip into Madison and also easy access to neighboring towns. Our paths did not cross much during our stay but on our last evening we had a wonderful visit on the deck with a view of Lake Kegonsa. We even ended up with a dinner invitation and a wonderful meal. It was fun learning of Cj's passion for cooking and to partake in the fruits of his labor! Many, many thanks. Cheley and Gregg
Cheley
2017-04-10T00:00:00Z
Great location and excellent accommodations. Clean, spacious and the hosts gracious and fun. Coffee and breakfast a nice touch -) The location has a lake view and close to Stoughton. Our visit was to attend a show at the Stoughton Opera House. The weekend was perfect - along with 65 degree weather in November. Sorry I am sure the hosts won't be able to replicate any time soon.
Michelle
2016-11-19T00:00:00Z
The loft area was beautiful and spacious and the neighborhood was quiet. The street did not have a lot of traffic, so it was perfect for walking our dog in the morning. The warm breakfast was an unexpected surprise. We would love to stay here again.
Sarah
2017-02-26T00:00:00Z
Lovely home in a beautiful location. The hosts are both very welcoming. I recommend staying at their home any time of year.
tanya
2017-02-16T00:00:00Z
ประเภทห้อง
ห้องส่วนตัว
---
ประเภทที่พัก
บ้าน
---
พักได้
2
---
ห้องนอน
Stoughton, วิสคอนซิน, สหรัฐอเมริกา
Newly remodeled 1 bedroom cottage on the shores of Lake Kegonsa. The cottage offers a large bedroom, living room, and galley style kitchen. The interior was just fully remodeled with new paint, flooring, and bathroom. If you need more space for a larger group please consider our 3 bedroom cottage that is located immediately adjacent to this listing.
Renovated 1 bedroom cottage on the shores of Lake Kegonsa. The cottage features a large bedroom with a queen size bed and also a twin daybed. Dining area with seating for 4. Renovated bathroom with tiled shower and washer and dryer. Galley style kitchen is cozy, however, offers a fridge, stove, dishwasher and coffee maker. Spacious Living room with TV (broadcast channels) and DVD player. WIFI is offered for free (non-high speed).
Stoughton, Wi offers a small town charm with modern conveniences. The downtown offers shops and restaurants with local flare. Madison, WI is only 20 mins away that offers a world class University, theater, restaurants, a great farmers market, and numerous other activities.
ประเภทห้อง
บ้าน/อพาร์ทเมนท์ทั้งหลัง
---
ประเภทที่พัก
บ้าน
---
พักได้
4
---
ห้องนอน
Stoughton, วิสคอนซิน, สหรัฐอเมริกา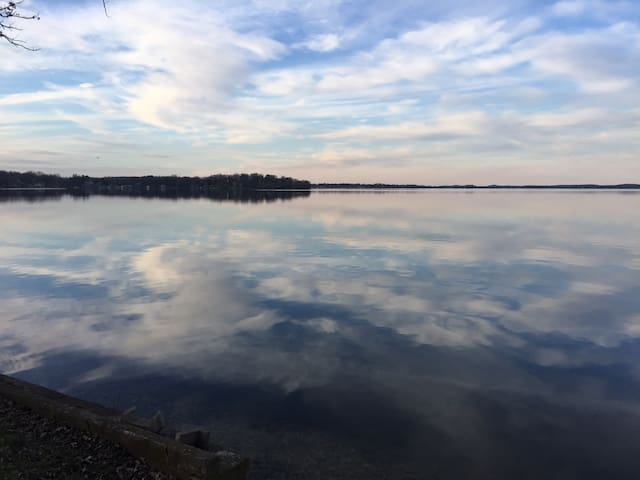 Outside...enjoy amazing sunrises over the lake... small gardens around the house...birds that come to the feeders, and the purple martins in the summer. Inside... there are comfortable beds, fluffy towels, a dining area that seats 6-8, and a fully equipped kitchen ready to prepare meals.
The kitchen is fully equipped for preparing meals. There are at least 12 place settings of tableware, flatware, and drinking glasses. There's a coffee pot and a toaster oven. The cookware is 18-10 stainless and I'm working on frying pans. If there is anything you need, let me know and hopefully I have it. There's a TV and dvd player. We have kid's movies for the grandkids and some of our own you are welcome to watch. We have a baby crib with sheets and a highchair available. We also have 2 additional twin beds that we can set up if needed. We are working on a 3rd bedroom that is currently my photography studio, but will suffice as bedroom when needed. It is not as bright as the rest of the area. There's tub with a shower in the bathroom. The bathroom is huge! Works great as a dressing room, or to chat while you're doing your hair. I am putting together a binder with local restaurants, things to do, house rules, cable TV channels, etc.
Our neighborhood is very quiet.
ประเภทห้อง
บ้าน/อพาร์ทเมนท์ทั้งหลัง
---
ประเภทที่พัก
บ้าน
---
พักได้
6
---
ห้องนอน
Stoughton, วิสคอนซิน, สหรัฐอเมริกา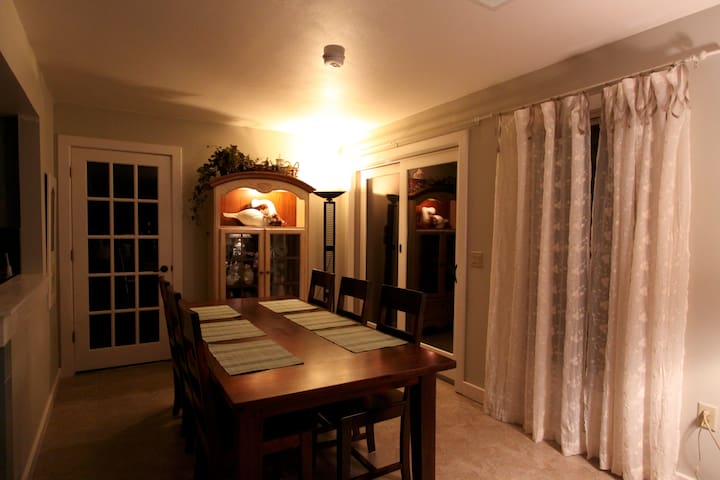 You'll be close to the charm of downtown Stoughton, while only 20-30 minutes to all parts of Madison. You'll love my place because of the outdoors space to relax, the comfy bed, the quiet neighborhood, and the laid back feel of the home and your hosts. My place is good for couples, solo adventurers, and business travelers. We have one indoor/outdoor cat - won't bother you but fyi if you have allergies.
We live on a quiet, three block section of the street. T's at a elementary school on one side and into houses on the other.
Samuel and Jason were very welcoming and had a very lovely home in Stoughton. The bedroom and bathroom were both very clean. They were welcoming and invited us to drinks, but also respected our privacy. I would highly recommend this location!
Drake
2016-10-16T00:00:00Z
Sam was a wonderful host--so friendly and helpful! The room was immaculate, and we were provided everything we needed, including use of the kitchen and living room should we have wanted. Lovely home in a quiet neighborhood, yet near Main Street, Stoughton where we ate at several great restaurants. We will definitely stay here again and would indeed go out of our way to do so. Thumbs up!
Robin
2016-09-11T00:00:00Z
This was a great place to stay for the night! It completely surpassed our expectations. Sam stayed up to greet us at the door and showed us to our room where everything as perfect and even had some toiletries for us if we needed. The house is adorable the hosts are Really do a great job at hosting, we would defiantly stay here again!
Ben
2016-08-11T00:00:00Z
Samuel was a wonderful host. He was friendly and helpful, even going as far as to invite me to dinner with his family. We all ended up watching TV later on during the night. The space is comfortable and cozy and the neighborhood is extremely quiet and safe. Stoughton has a classic small town, middle American feel; very quaint. It is also about 30 minutes away from Madison, making the location very convenient. I definitely would highly recommend staying with Samuel.
Carol
2016-10-23T00:00:00Z
Lovely stay! Very accommodating with our later evening arrival, and times coming and going during our stay. Very clean and comfortable. Had everything we needed to enjoy our weekend. It was our first experience staying in an occupied home, and would definitely do it again!
Sue
2016-10-30T00:00:00Z
ประเภทห้อง
ห้องส่วนตัว
---
ประเภทที่พัก
บ้าน
---
พักได้
2
---
ห้องนอน
Stoughton, วิสคอนซิน, สหรัฐอเมริกา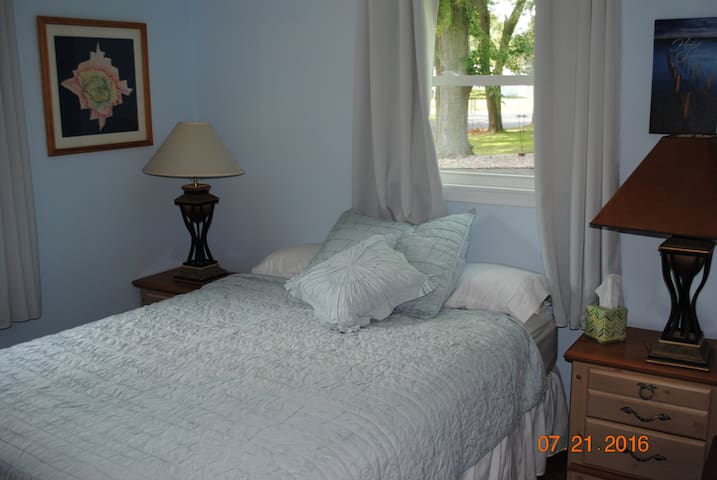 Welcome to Lake Kegonsa, our quiet retreat.
The cottage is ideal for families or groups of friends who want to enjoy relaxing by the water. The house has the rustic charm of being over 100 years old while still offering the modern amenities which make you feel at home.
We love that Stoughton is a quiet small town. But at the same time, we are only 13 miles drive to Madison which offers great restaurants, city life and the University of Wisconsin. There will be a list of our favorite things to do and places to eat in the house, but here is a quick list of major attractions which are nearby. Stoughton Opera House, Frank Lloyd Wright's Taliesin House, The town of New Glarus and the Brewery, Eugster's Farm and Market, The House on the Rock, Deer Park Buddhist Center, Coachman's Golf Resort, Mandt Park, Stoughton Cinema (URL HIDDEN) name a few.
Lauren's place is very cute, and right on the lake. We were there in Feb, so it was a cold weekend, but the area is lovely. We had a few bumps during our stay (like frozen pipes, not any ones fault) and Lauren worked very hard with us to try and get the issue resolved. She was very responsive to questions, and had a lot of information about her place and the area, which was very helpful.
Jennifer
2016-02-16T00:00:00Z
My family of 6 enjoyed a wonderful Thanksgiving weekend at this lovely lakeside home filled with antique furniture, comfy couches, and assorted blue and white china. We especially enjoyed the homemade mulling spices and apple cider that our host left us for the occasion. The kitchen was fully equipped, the bathrooms nicely updated with plenty of hot water and plush towels, the bedrooms cozy and warm, and the sunroom offered lovely views of the lake, even in winter. With easy access to Madison, we were also able to enjoy a movie and shopping without driving too far. I highly recommend this home.
Susan
2015-12-01T00:00:00Z
This house is a beautiful refuge: exquisitely decorated, fully stocked for cooks, warm and inviting, conveniently located to Madison and sweet, cool Stoughton. Lauren is an excellent host.
Beth
2016-03-08T00:00:00Z
Lauren was a wonderful host. She communicated with us throughout our visit. She responded quick to all of our communications. She checked in with us to make sure our arrival went well and to make sure we had everything we needed. This was the perfect location for our visit. We would definately stay at Lauren's house on future visits.
sheri
2016-09-23T00:00:00Z
Lauren was fantastic. She communicated regularly with me and when we had some problems with our stay she let us go back for another weekend to make up for it. She was so friendly and helpful and we will definitely go back!
Anneliese
2016-05-02T00:00:00Z
Excellent acceuil de notre tres sympathique ! Maison tres agreable avec magnifique vue sur le lac (splendide au lever et coucher de soleil)
Veronique
2015-10-19T00:00:00Z
Lauren was a great host. She was communicative throughout and made sure the house was set up for our stay. We stayed at the country house in Stoughton. As advertised, the lake house was adorable, comfortable, peaceful, and with beautiful views. We would certainly consider another stay at the house.
Oscar
2016-05-16T00:00:00Z
Great location on the lake, very relaxing, great communication. Would definitely stay again and highly recommend. Uber is available for around $20 to Madison Downtown and Stoughton is 5 minutes away with great restaurants and shops for supplies
Ben
2016-10-09T00:00:00Z
ประเภทห้อง
บ้าน/อพาร์ทเมนท์ทั้งหลัง
---
ประเภทที่พัก
บ้าน
---
พักได้
8
---
ห้องนอน
Stoughton, วิสคอนซิน, สหรัฐอเมริกา
alegre habitación cama individual privacidad, cerca de carril bici, la ruta de autobús, y la carretera 12 y 18. minutos en coche de la Universidad de Washington, lagos y el centro. A pie de Arboretum. cubierta grande (compartido). Dos gatos. Añadir colchón de aire para segundo invitado. puerta de entrada tiene un bloqueo de código para facilitar el registro, pero que limpiar después del trabajo así que se compruebe en la noche. (Podemos guardar el equipaje antes, si eso ayuda.) Arbolado barrio seguro con aparcamiento gratuito en la calle siempre está disponible.
sencillo y acogedor en fácil de ir a cualquier lugar en el Madison. mecedora de la vendimia en una habitación alegre. La habitación tiene una cerradura con llave para que pueda sentirse seguro.
barrio arbolado cerca de la red de carril bici, la ruta de autobús. Minutos a pie de Arboretum. Multicultural, LGBTQ, no hay prejuicios religiosos, seguro. Es fácil de conducir a la autopista, Universidad de Washington, y el centro de Madison. A pie de The Egg and I, Bonfyre American Grill, o varios pubs. Bicicleta o minutos en coche del gran danés (fábrica de cerveza local.)
Guta and Paula are wonderful. The room was exactly as described, very clean, and of good value. Definitely recommend.
Thomas
2016-12-09T00:00:00Z
Stayed one night and it was a great room with 2 very friendly cats.
Sid
2016-06-19T00:00:00Z
They greeted to us and showed the room and bathroom immediately.
Yvonne
2016-08-08T00:00:00Z
Paula was incredibly welcoming. She was accepting of my strange schedule. The room was IMMACULATE (as was the rest of the house). Wifi was fast, bed was comfortable. I'd stay here again next time in am in Madison.
Andrew
2015-11-09T00:00:00Z
I had a very nice stay at Paula's. It was clean, quiet, cozy, and I enjoyed a good cup of coffee in the morning. I am sure I will stay again.
Katy
2015-11-27T00:00:00Z
Paula is a great host -- you can tell she really cares! The house is lovely and has amazing morning sun. The bed was very comfortable, and my room even had its own key for privacy.
Emily
2016-08-23T00:00:00Z
Staying at Paula's was great. It was a very relaxing stay and the twin bed I slept in was comfy. Their 2 cats were very friendly and cute too:) just keep the door shut if you don't want them in with u lol.
Gia
2016-03-24T00:00:00Z
The stay at Paula's and Guta's house was really amazing. The house and the room I booked are cozy und thoughtfully furnished. Paula and Guta are wonderful hosts that care passionately about their guests to make them feel like home. If you like staying in a calm neighbourhood and having communicative people around you, I can absolutely recommend this place. I would definitely come back!
Dennis
2017-03-16T00:00:00Z
ประเภทห้อง
ห้องส่วนตัว
---
ประเภทที่พัก
บ้าน
---
พักได้
2
---
ห้องนอน
เมดิสัน, วิสคอนซิน, สหรัฐอเมริกา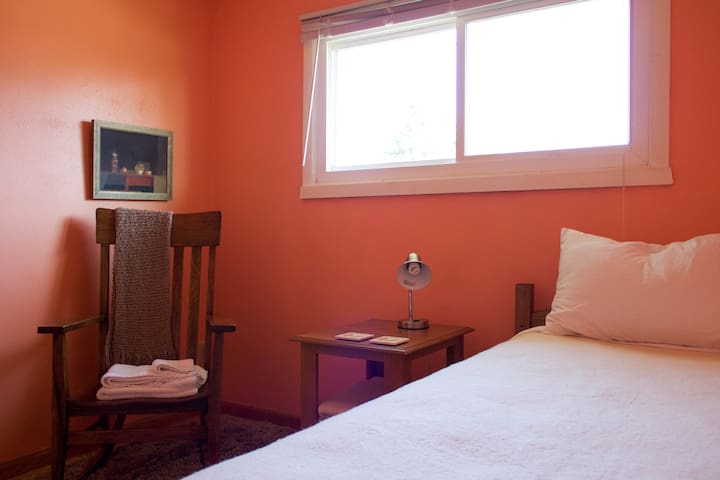 Charme, spacieux et entièrement mis à jour à la maison de 3 chambres. À seulement 10 pâtés de maisons de l'Université et le centre-ville! Mon endroit est idéal pour les couples, les universitaires et les entreprises, et les familles (avec enfants). Proche de tout, dans les deux blocs sont des cafés, des restaurants, des arts et la vie nocturne.
Very Easy! Great location, clean and Tom was a great communicator. Very cool decor !
Justin
2016-09-11T00:00:00Z
Tom's home is in a great location. It is in a safe neighborhood within walking distance of many restaurants, bars, shops, parks and all of the premier downtown Madison, Capitol and UW fun! The free parking in back of the house is a bonus. Tom has been working on remodeling the home and the improvements he has made thus far are beautiful. We look forward to staying at Tom's home again.
Ellen
2016-09-25T00:00:00Z
Tom's place is fantastic, and in a wonderful neighborhood. The house is being renovated so its a little sparse in terms of decor, but great space and light with a lot of cool architectural details and antiques. Comfy beds and all the amenities. Very walkable neighborhood with parks and water a few blocks away, and a short drive to UW and the capital. (Ladies, check out the great clothing "swap shop" called Upshift a few blocks away!) Tom also provides a thorough house manual for the stay, which is quite helpful. Highly recommended!
Wendy
2016-10-08T00:00:00Z
Tom was very accommodating for our stay, supply of toiletries and coffee and snacks. The place is very lovely and would recommend for anyone wanting to stay close in the downtown area
Sarah
2017-02-26T00:00:00Z
The host canceled this reservation 17 days before arrival. This is an automated posting.
Gretchen
2016-09-18T00:00:00Z
Clean, comfortable and great location
Lynae
2017-01-22T00:00:00Z
Great place! Tom was very helpful and quick to respond to any questions. Would recommend to anybody looking for a place to stay in Madison.
Eduardo
2017-01-15T00:00:00Z
Great place at a great location. Located just a few blocks from the lake side. The great weather really brought out the best of the place.
Zoo
2017-04-02T00:00:00Z
ประเภทห้อง
บ้าน/อพาร์ทเมนท์ทั้งหลัง
---
ประเภทที่พัก
บ้าน
---
พักได้
4
---
ห้องนอน
เมดิสัน, วิสคอนซิน, สหรัฐอเมริกา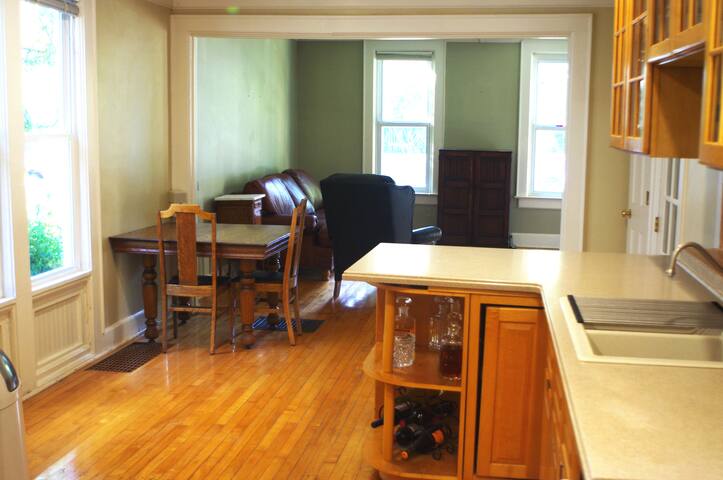 lit confortable queen, des serviettes propres, café chaud et le petit déjeuner et rapide wi-fi! Facile on / off de l'autoroute si vous êtes juste de passage, mais seulement une courte distance en voiture du centre-ville si vous voulez explorer tout ce que Madison a à offrir. Bienvenue!
Grande, quartier calme et à seulement 1 bus au centre-ville et UW Campus. À peu près un endroit parfait pour un voyageur d'explorer Madison ou juste une escale sur un voyage sur la route; à seulement 15 minutes du centre-ville et à seulement 15 minutes à l'autoroute. En ville pour un match Badger? Je peux vous donner un centre de conduite pour économiser sur les frais de taxi et parking. Off street parking est pas un problème car nous avons beaucoup de place dans notre allée. En arrivant à Madison en bus ou en avion? Les chances sont avec préavis je peux venir vous chercher à l'arrêt de l'aéroport ou en bus.
Joe is a great host. He did everything to make our stay as comfortable and enjoyable as possible (included streaming Monday Night Football to the TV in our room, various restaurant tips,...). We also had a nice chat in the evening. He has a nice and lovely family (including the dog) and a cozy home. The banana/chocolate chip muffins we got for breakfast were DELICIOUS. Altogether it was a great stay at his place. We would definitely stay there again.
Patrick
2016-09-21T00:00:00Z
Awesome stay at Joe's place. Joe and his family were super friendly and really made us felt at home. Joe picked us up at the station and gave us a ride to the city center. He also gave us a lot of recommendations about Madison. The house was clean and they even left us some breakfast. I can't recommend Joe's place enough.
Eugénie
2016-06-20T00:00:00Z
Very Comfortable stay.
Bharath
2017-01-13T00:00:00Z
This was my first AirBnb stay and I thoroughly enjoyed it. Joe was very accommodating and patient, even though weather delayed my arrival. He and Shannon have a warm, welcoming home with nice touches like a list of restaurant recommendations on the bedside table and movies available in the room. If you're looking for a clean, comfortable, and relaxing place to stop in Madison- this is it.
Marisa
2016-12-27T00:00:00Z
Joe is the man. When we were doing the ratings, I wish it was possible to provide more stars. Right when we got there, he offered us a nice glass of wine, gave us a thorough tour and then gave us the amount of space we needed to get settled in. The house was warm, and the bed was comfortable. Madison was a great city to visit, and Joe definitely left a great impression for the city.
Gregory
2016-12-01T00:00:00Z
I had a great experience staying at Joe and Shannon's place. Joe was out of town so I didn't meet him, but Shannon was extremely hospitable and made me feel right at home. I enjoyed getting to know her! The room was comfortable and quiet. The location was very convenient to the airport (I had an early flight the next morning), and the hip east side of Madison. I would definitely stay with this lovely family again sometime!
Hayley
2016-08-15T00:00:00Z
Joe and his family were so nice and welcoming to us and provided us with anything that we needed. They made my first airbnb experience a positive one and I would highly recommend them for a nice place to stay in Madison :)
Shelley
2017-03-14T00:00:00Z
Joe was a warm and welcoming host. He was willing to accommodate us even with our late night travel plans. I would recommend staying with Joe to anyone visiting Madison.
Aubrey
2017-02-23T00:00:00Z
ประเภทห้อง
ห้องส่วนตัว
---
ประเภทที่พัก
บ้าน
---
พักได้
2
---
ห้องนอน
เมดิสัน, วิสคอนซิน, สหรัฐอเมริกา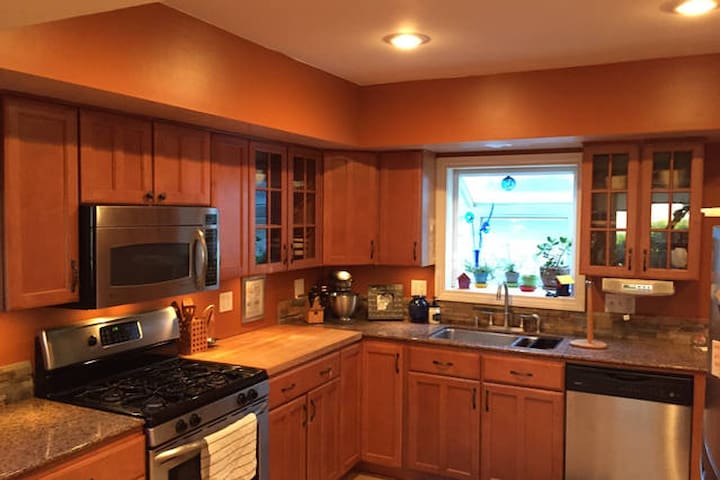 Catelyn's place was warm inviting and Central to where we want to stay. She kept it clean it was nice and inviting and a great place to rest your head for the evening. All major locations for only about a mile away and parking garages made it easy to get from place to place. Caitlin was a great experience for the first time at Airbnb and was constantly in communication with us when we had questions. We would recommend her for anybody willing to check out Madison Wisconsin
Ryan
2016-12-29T00:00:00Z
Great location & exactly as advertised. Thanks Caitlin!
Alexandra
2016-12-18T00:00:00Z
Caitlin was a lovely host. We stayed for a short night but her place is perfect for a short getaway. Since we arrived right after a snow storm, it was a little hard to find the driveway but we managed. Her upstairs neighbor was also very nice.
Caitlyn
2016-12-13T00:00:00Z
Very clean and comfortable. Easy to check in and out. Nice neighborhood. No complaints.
Andy
2017-04-02T00:00:00Z
Great cozy apartment to stay at. Very clean and lots of places to walk to.
Jeremy
2017-03-19T00:00:00Z
The house was in a great location. Close to a lot of restaurants and bars. Caitlin also responded really quickly whenever I had a question. It was a great stay.
Nick
2017-02-23T00:00:00Z
Caitlin was a fantastic host, and her home was lovely. She's in an amazing location, and her communication is even better. I highly recommend Caitlin as a host and would definitely stay here again.
Robert
2017-03-10T00:00:00Z
Caitlin was great and always responded right away. She was very accommodating about our schedule. We loved the whole Madison vibe about the place. Great location! If you just wanted to get away and not have to do anything everything you need is within a block-restaurants, clothing stores, mini markets (and there is a great Festival Market 3 blocks away), a tea shop, excellent Venezuelan restaurant, breakfast place (Sophia's-although it is only open for breakfast and lunch on Saturday and Sunday), Bernie's Rock Shop, a liquor store (Cork and Bottle) and you can even get your hair cut across the street at Lumen. But we came there to see the old college sites and to visit family and friends. Perfect. Again, great location and easy access to everything. And it was very quiet and I slept like a rock. Parking can be a pain in downtown Madison but there is a bus line close by that can take you where you want to go. All in all a wonderful experience. Just be aware that there is no microwave, coffee maker or dishwasher (not a big deal for us) although there is a full kitchen with laundry. We'll be back!
Dore
2016-11-27T00:00:00Z
ประเภทห้อง
บ้าน/อพาร์ทเมนท์ทั้งหลัง
---
ประเภทที่พัก
บ้าน
---
พักได้
3
---
ห้องนอน
เมดิสัน, วิสคอนซิน, สหรัฐอเมริกา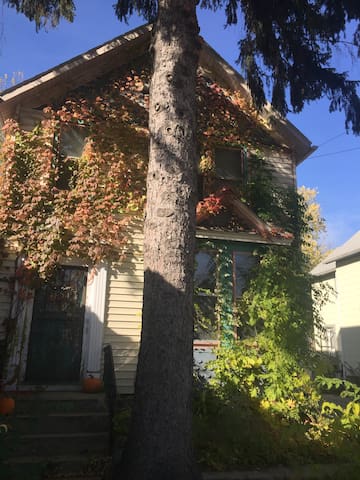 Nuestra casa fue construida en 1916. Se trata de una casa de artes y artesanías de estilo que hemos tomado gran orgullo en la renovación en los últimos 15 años. Nos encanta nuestra casa y esperamos que también lo hará! Estamos ubicados en la hermosa Bahía de Monona. Usted tendrá una habitación privada en el segundo piso de nuestra casa. La habitación tiene una cama de matrimonio. El baño está al otro lado del pasillo de su habitación con una ducha y una bañera con patas para su uso.
Nuestro barrio es una joya escondida. Es un pequeño bolsillo que consta de 4 calles a la derecha en Brittingham Park y Monona Bay. Una bicicleta / caminar / correr camino hermoso es directamente al otro lado de la calle. Estamos justo enfrente de la calle del Barco Brittingham (stand up paddle, kayak y alquiler de canoas) que está abierta durante los meses de verano. En los meses de invierno se puede hielo pescado, patinar sobre hielo o esquí de fondo en la bahía y en el lago Monona (dependiendo del año). ¡Las posibilidades son infinitas!
Our stay with Amanda and Peter was great. Amanda was there to greet us when we arrived and showed us around. The room was nice and the work they've done on the house is great. The location couldn't be more perfect to experiencing everything in and around Madison. I would recommend their place to anyone that wants to be in the center of everything Madison has to offer, without being stuck right in the middle of students.
Jason
2016-10-30T00:00:00Z
Mandy and Peter made me feel very welcomed, and their pets are very sweet. They did a beautiful job designing their renovation, and the location is so central to everything in Madison--right off of Monona Bay and the Bike Trail. I really hope to come back and stay again when I have more time to enjoy the amenities and great location. I highly recommend this home and the delightful hosts!
Bill
2016-12-17T00:00:00Z
Pete & Mandy were fantastic hosts; gracious and accommodating. Their home is welcoming and comfortable, and in a great spot: across the street from the lake, minutes from downtown Madison, and in a quiet neighborhood (I'm a little jealous!). I really enjoyed my stay, and would stay there again in a heart-beat.
AJ
2016-10-27T00:00:00Z
Great hosts, very friendly and a very comfortable bed. Mandy was there to greet me and get me all set up and when it was time to leave the next day not only did Peter get me a much needed cup of coffee but we had a great chat about Madison and my brewery. Felt like old friends.
Joe
2016-10-12T00:00:00Z
If you are looking for a quiet, clean room in a charming home right on the lake, we highly recommend Amanda and Peter's. You'll feel like a local in this highly walkable location and get to play with their dog and cats too! They will give you recommendations and are easy to contact throughout your stay.
Emma
2016-12-07T00:00:00Z
Mandy and Pete were such gracious hosts! They made me feel at home and were easy to get in touch with. It was my first time in Madison and I didn't know anyone and they even invited me to have dinner with their family. I would highly recommend staying with them!
Megan
2016-11-05T00:00:00Z
It was great staying at Amanda and Peter's place. I had a free night to stay at Hilton but I didn't even bother checking in there. Amanda's and Peter's place is impeccable, cosy and very warmly decorated. Peter and Amanda were very accomodating. I really liked them personaly and I appreciated that we shared so many values. I left wisconsin with the best impressions and my stay at the guys place contributed largely to this experience.
Lefteris
2016-11-12T00:00:00Z
Warm and welcoming hosts, engaging and a lovely environment.
mary
2017-02-05T00:00:00Z
ประเภทห้อง
ห้องส่วนตัว
---
ประเภทที่พัก
บ้าน
---
พักได้
2
---
ห้องนอน
เมดิสัน, วิสคอนซิน, สหรัฐอเมริกา
Nuestra Airbnb se ha registrado en la Ciudad de Madison. El estudio es parte de nuestra casa en un tranquilo barrio lado este. Estamos en bucle de la bicicleta de Madison alrededor del lago Monona. Restaurantes y cafés son sólo unas pocas cuadras de distancia, y se necesita sólo un coche muy corto para llegar a la capital del estado y la universidad.
Un estudio independiente que está aislado del resto de la casa. Tiene su propia entrada para que los huéspedes pueden entrar y salir cuando lo deseen.
El lado este, cerca de es conocida por sus restaurantes, cafés y bares. Estamos a sólo cuatro cuadras de la calle Willy (Williamson Street) por lo que los servicios locales están a tiro de piedra. La casa no está junto al lago, pero la calle es. Usted puede tomar paseos junto al lago hermoso de la casa y disfrutar del lago Monona.
The room was perfect. The house is located in a charming neighborhood and very close to the lake. Sue is lovely and she looked after us putting an extra heating because the weather was freezing.
Carla
2016-02-14T00:00:00Z
Great neighborhood, great stay!
Elias
2016-09-07T00:00:00Z
I had a great time in Madison! Sue is wonderful and I enjoyed staying at her beautiful apartment. Great neighborhood and so close to Lake Manona! Thank you!
Franziska
2015-09-12T00:00:00Z
Really great. This is technically just a room, but it is actually a separate room and bathroom that sits off of the main house. Almost like a tiny apartment. Great area too.
Jacob
2016-11-16T00:00:00Z
Swell space! Super comfy and with a union jack beanbag to boot.
Jackson
2015-12-07T00:00:00Z
'loved the neighborhood . . . beautiful gardens, close to the lake, many beautiful Victorian homes . . .' serene, stylish, modern, fresh, quiet accommodations with private entrance. Very comfortable bed!
Lois
2016-08-14T00:00:00Z
The room is as advertised and I had a great time. Excellent communication before my stay and Sue was flexible with the checkin time. Great location if you like organic food, the Willy Street coop is very close. One thing that I missed is a table or desk and a chair.
Michael
2016-06-12T00:00:00Z
The quiet neighborhood on the lake, close to great local businesses was even better than described. It's a beautiful and comfortable little space. Exactly what you want in Madison if you don't want to be right on the capitol square. Sue was a fantastic host and we can't wait to stay there again whenever visiting Madison.
Seth
2015-07-19T00:00:00Z
ประเภทห้อง
ห้องส่วนตัว
---
ประเภทที่พัก
บ้าน
---
พักได้
2
---
ห้องนอน
เมดิสัน, วิสคอนซิน, สหรัฐอเมริกา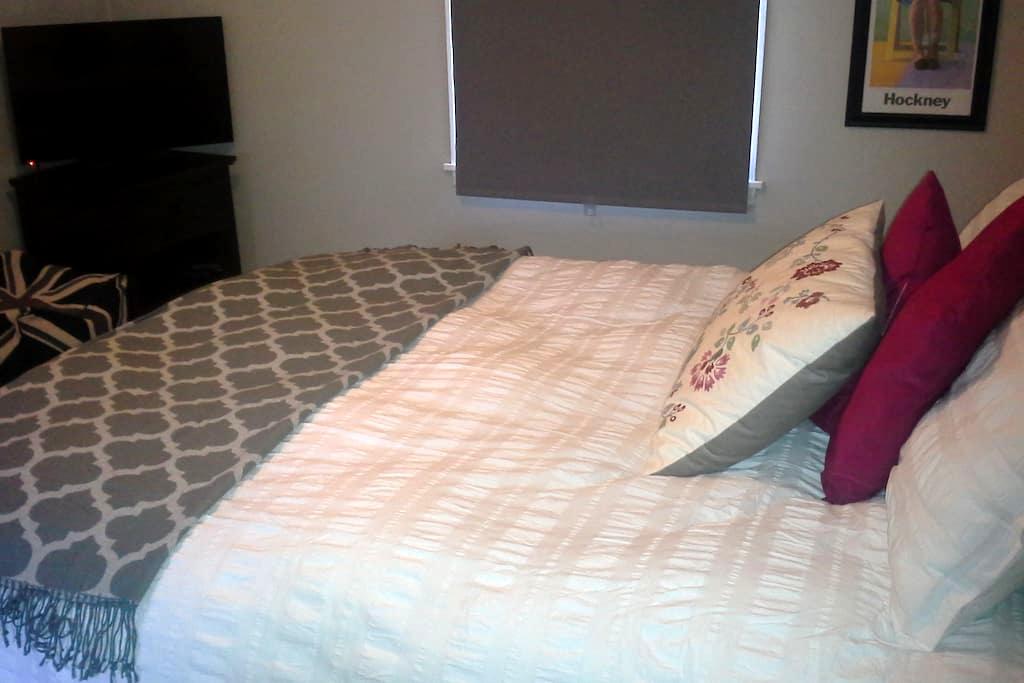 Nuestro lugar está cerca de actividades para la familia, la vida nocturna, transporte público, el centro de la ciudad, la Universidad de Washington, hospitales, y la carretera. Te encantará nuestro lugar debido a la gente, el ambiente, el espacio al aire libre, comodidad. En general, nuestro lugar es bueno para parejas, aventureros en solitario, viajeros de negocios y familias (con niños), ya que tenemos varios anuncios (echa un vistazo a Bienvenido a nuestro porche). Estamos abiertos a trabajar con sus necesidades de viaje, nos hace una pregunta, adelante. :)
Una acogedora habitación privada fuera de la cocina, el acceso a un vaso de agua, incluso en el medio de la noche. El cuarto de baño está justo al lado de esta habitación.
Nuestro barrio es un barrio muy diverso culturales, sabemos que nuestros vecinos y disfrutar de ellos metiendo la cabeza en el patio de casa para ver lo que estamos creciendo, también parar cerca cuando nos ven en los jardines de en frente. Es divertido escuchar que disfrutan de ver nuestro patio y oler las flores a medida que pasan. Tenemos la suerte de estar justo donde estamos.
Sandi provided a very inviting room for us. Candy bar on the bed, sweet treats in the basket on the desk, fresh towels, privacy. A very welcoming place and peaceful. A quiet location. Close to our daughter who we were visiting. Our stay was short and sweet. Unfortunately we did not meet our hosts but enjoyed their abode immensely! We would recommend this location to anyone and would stay here again if the occasion arises.
Rhonda
2016-11-25T00:00:00Z
The neighborhood was a quiet, residential area. Sandi and Bill were very gracious hosts, pleasant, helpful, and welcoming. They had a great balance of interacting with us and giving us our own space. Their home was delightful (we stayed during the holidays), it was warm and cheerful.
Jo
2016-12-11T00:00:00Z
Sandi's place is very cozy and the bedroom was nice and clean and set up with lots of nice detailed touches. Sandi is a very kind and considerate host who made our short stay in Madison a pleasant one. I would definitely recommend staying at Sandi's place to anyone.
Chuck
2017-02-19T00:00:00Z
Bill and Sandi are great people, very hospitable and kind.
Michael
2017-01-22T00:00:00Z
Adorable, cozy and clean spot for a weekend stay. Sandi was great at communicating and flexible with check-in. The South Park neighborhood is quiet and residential - you'll get a good night's sleep! Thanks again for a lovely stay, Sandi and Bill!
Erica
2017-04-02T00:00:00Z
very welcoming, accommodating, warm and cozy room with a VERY comfortable bed. Private, very sweet and informative host. Nice stay!
noreen
2017-02-16T00:00:00Z
Warm. Comfortable. Friendly. Excellent.
Linda
2017-03-13T00:00:00Z
Sandi and Bill were great hosts, really welcoming and friendly. The house was clean and not too far from hikes and shops. They made us a delicious breakfast and a goodie bag for our travels which was a really unexpected, thoughtful gesture. We got to chat with them in the morning, so found out a bit more about them and shared some of our own stories. Definitely recommend staying with them if you get the chance!
Ryan
2017-02-12T00:00:00Z
ประเภทห้อง
ห้องส่วนตัว
---
ประเภทที่พัก
บ้าน
---
พักได้
2
---
ห้องนอน
เมดิสัน, วิสคอนซิน, สหรัฐอเมริกา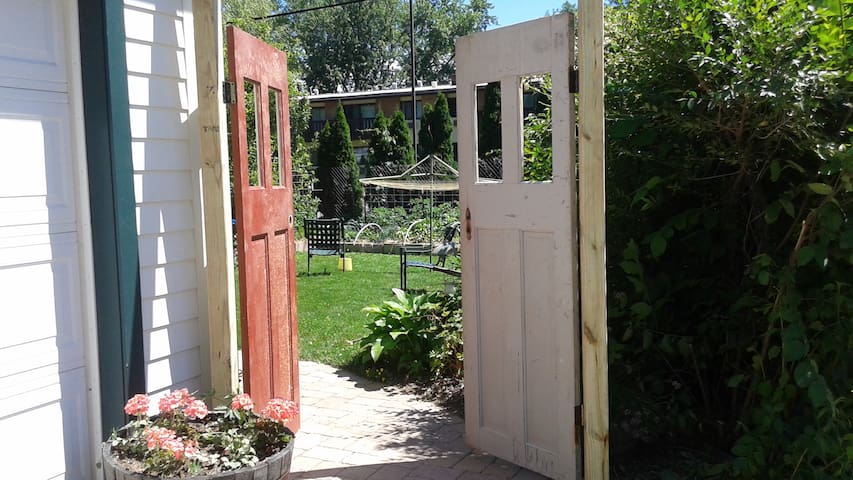 I gerir um 3 quarto no primeiro andar apartamento próximo ao centro e quadras do Capitólio! Este espaço acolhedor é o lugar perfeito para relaxar depois de desfrutar a cidade ou passar o dia em uma conferência! Eu mantenho o meu lugar muito organized- com tudo que você precisa em sua casa longe de casa. Eu conheci uma série de pessoas maravilhosas por hospedagem em Airbnb e ansiosos para tornar a sua viagem ainda mais agradável! Bem vinda! Janeiro 2017 meu amigo Zach e seu gato Bengal estará vivendo na casa também.
Você estará compartilhando uma brilhante e convidando 3 quartos casa 1 casa de banho com (a possibilidade de) outros convidados Airbnb (e às vezes você pode ter o espaço para você mesmo!) As áreas comuns incluem caminho de entrada da frente, sala, cozinha, banheiro e corredor . Você vai ter o seu próprio quarto- privada com uma chave separada, e colchão BRAND NEW rainha da espuma da memória!
Este apartamento está localizado no meio de tudo o que é grande sobre Madison. Perto da animada Rua do estado (cerca de 5 blocos), a duas quadras da praça do Capitólio e meu restaurante tarde da noite menu favorito, o quarto Tornado. O belo lago Monona e John Nolen caminho é a apenas duas quadras de distância, bem! Há amplo (grátis *) estacionamento nas redondezas quadras, e está perto de um parque de estacionamento para maior segurança. Estamos apenas longe o suficiente da universidade para evitar a festa tarde da noite barulho, mas perto o suficiente para caminhar para a maioria partes do campus!
great place
Justin
2017-01-28T00:00:00Z
Megan's place was centric and the checkin process was smooth. The linen was sparse in the room. We had to crank the heat up.
AJAY
2017-04-05T00:00:00Z
Great place!
Nick
2017-02-12T00:00:00Z
Megan was a great host, very accommodating and always quick to respond to my messages. At some point, I was unsure of the duration of my stay, but Megan made sure to put my mind at ease, guaranteeing that should I decide to stay longer, she'd have a spot for me. Overall, my stay at Megan's was very pleasant.
Henry
2017-01-18T00:00:00Z
Had a great stay. Just blocks away from downtown.
Lindsay
2017-03-14T00:00:00Z
Megan was so easy to be in touch with, and getting in to the apartment was very convenient. The bed was comfortable and the room was nice enough. The rest of the common areas (kitchen, bathroom) were a bit dirty (dishes in sink, food on floor, hairs from shaving all over the bathroom sink) so that was a disappointing. I am glad I did it have to use the shower as it didn't seem very clean. We did not see the cat, but we smelled it. The apartment is pretty much a college house for rent. For one night it was what we needed so we were happy with it.
Julia
2017-01-21T00:00:00Z
Not a bad place to stay for a quick overnight visit to the city.
D'ontra
2017-02-01T00:00:00Z
ประเภทห้อง
ห้องส่วนตัว
---
ประเภทที่พัก
บ้าน
---
พักได้
2
---
ห้องนอน
เมดิสัน, วิสคอนซิน, สหรัฐอเมริกา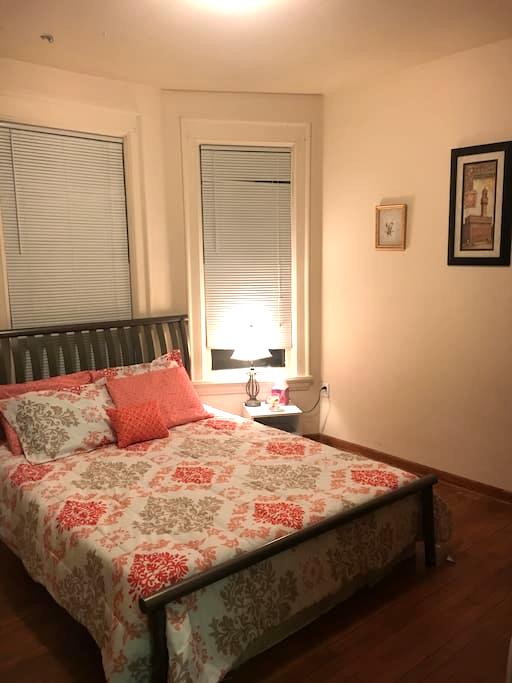 Hell, sauber, privates Zimmer in einem älteren Backsteinhaus auf dieser modische Ostseite Nachbarschaft. Eigener Eingang, absolute Privatsphäre, Gastgeber, falls gewünscht zur Verfügung. Die Nähe von Madison flippigem Willy Straße Co-op, Cafés, lokaler Lebensmittelmarkt, Bars mit guter Musik, die besten Restaurants in der Stadt. Ein Block vom See, eine Meile von der Innenstadt und die Heimat der außergewöhnlichsten Reihe von Musikfestivals im Sommer! (URL HIDDEN)
Dies ist ein gemütlicher, sauberer, Schiffsformraum (11'x10' ) mit einem Queen-Size-Bett super bequem in einem englischen Garten Cottage-Stil Ziegelsteinhaus. Das Zimmer und die Nachbarschaft ist ruhig, in der Nähe der Buslinie, einen Block vom See, und im kühlsten Teil der Stadt. Es gibt keine Küche, aber es gibt einen Mini-Kühlschrank, ein elektrischer Wasserkocher, Haartrockner, zwei Gepäckträger (kein Koffer auf dem Boden ...) und einen kostenlosen Highspeed-WLAN. Es gibt viele Orte, wie auch in Ihren Gadgets zu stopfen! Es gibt keinen Fernseher - es scheint nicht nur mit dem Gefühl des Raumes zu gehen - aber das WiFi ist toll, so beobachtete die Dinge auf Computer scheinen gut zu funktionieren.
Meg gave clear instructions for access her well appointed guest room in her home on a tree lined street. The location is on The Isthmus, a short walk to Lake Monona, Capitol Building, shops and restaurants. The neighborhood it full of well kept gardens that makes walks a pleasure. Access is separate so a guest can manage an independent schedule.
jay
2016-05-22T00:00:00Z
My friend and I had a delightful experience at Meg and Margaret's English cottage. They are kind, considerate, and welcoming hosts. They are even mailing back a pair of eye glasses that we accidentally left behind! I would be happy to stay in their cozy room anytime I pass through Madison.
Christina
2016-05-31T00:00:00Z
Meg's place was great! So close to all the cool things on Willy street, and the room itself was super comfy and had everything I needed. Would definitely recommend.
Alexandra
2016-09-24T00:00:00Z
Great stay as always in this quiet and private room.
Julien
2016-11-10T00:00:00Z
Meg's English Cottage was an amazing place to stay while we were in Madison for the weekend! We loved the ability to walk 200 steps to Lake Monona and only a few blocks from the awesome Willy Street. The city is very walk-able and this place makes for a great starting point. The bed was wonderful and we felt very welcomed both nights we stayed. The co-op was only a few blocks away and only 1 more block to the Weary Traveler. We will definitely stay here again when we return to Madison.
Philip
2016-04-18T00:00:00Z
Meg was very responsive to our messages and provided very detailed instructions on how to find and access the place, which was great as our internet was patchy on our trip. There were two cold beers waiting for us in the fridge, as well as a list of nice restaurants in the neighbourhood - we tried two and both were delicious. The place is very nice and clean, and the location means that you can quite easily walk into the city centre and the university district. All in all my girlfriend and I had a great time in Madison. Thanks Meg!
Daniel
2016-07-09T00:00:00Z
Great little place to stay with its own bathroom and private entrance. It also has a little fridge to keep drinks cold . Walking distance to Willy Street, great food ,drinks, bcycle bikes and buses to get anywhere.
Cate and Mike
2016-10-12T00:00:00Z
Lovely, exceptionally clean room with lots of great amenities; Meg and Margaret thought of everything! I would absolutely recommend it and will definitely be staying here next time I visit Madison.
Samantha
2017-02-25T00:00:00Z
ประเภทห้อง
ห้องส่วนตัว
---
ประเภทที่พัก
บ้าน
---
พักได้
2
---
ห้องนอน
เมดิสัน, วิสคอนซิน, สหรัฐอเมริกา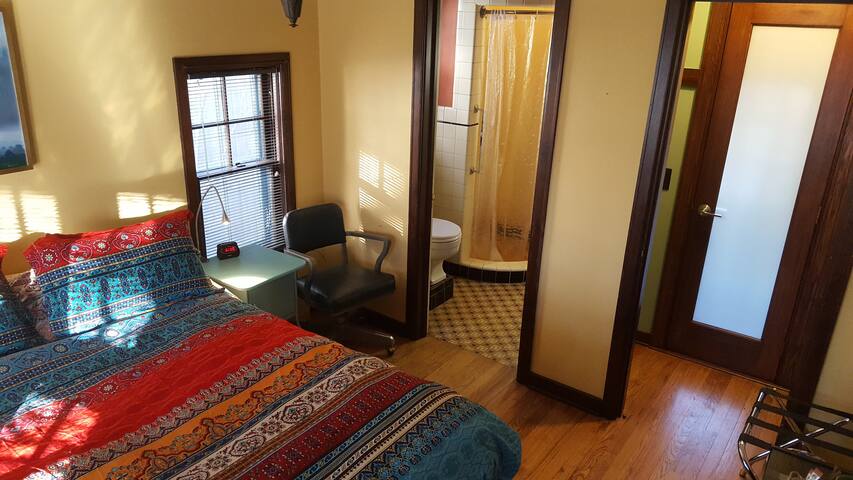 Møbleret soveværelse i en ombygget 2 seng / 1 bad hjemme lige på Monona Bay i det centrale Madison. Perfekt beliggenhed tæt på centrum landtange, UW-Madison campus, Alliant Energy Center & Coliseum, og mere!
Phenomenal! Quiet, leafy neighborhood right on Monona Bay with an amazing view of the State House. We didn't get to meet Ali, but she was great at communicating via message and text. Her house was clean and neat as a pin. After a week on the road, we were happy to do our laundry in her like-new washer and dryer. We got two good nights' sleep and recharged for our trip back to Boston!
Kate
2016-08-16T00:00:00Z
Alexandra was always responsive (and quick to respond), and thorough in giving instructions. Her place is very well organized, clean, and inviting. Very comfy guest bed! The house is less than a block from the lake. Highly recommend staying here. Thanks again, Alexandra!
Sara
2016-04-03T00:00:00Z
We had a fantastic trip to Madison and Alex's house was a main reason we had such a good time. The house is cozy but has a cute dining room, nice kitchen and living room, and a comfy bed. Due to the location, we were able to travel Madison by bike and foot by using a nearby BCycle Station and by accessing a very close bike trail. We weren't at the house too often so we didn't cross paths that much with Alex, but she made it easy to get in and out on our own. The neighborhood was nice and we had no worries at all! Great place, thanks Alex! Very eco-friendly.
Hannah
2016-08-06T00:00:00Z
Clean, comfortable and quiet house, with an excellent guidebook!
Julie
2016-07-21T00:00:00Z
We stayed one night as we were traveling from Chicago to Eau Claire. The house is small, but very cute and in a very convenient location. Alexandra was not there, but gave us an access code to get in the house which made are arrival very easy. The bed was very comfortable. Our only complaint was that there was no hot water, so we were not able to shower in the morning.
Karen
2015-07-18T00:00:00Z
Great house!! Super cute on the inside and all amenities that one could want. We only stayed for one night but wanted to stay longer! Quiet location in an easily walkable neighborhood. Alexandra was easy to communicate with and even gave me suggestions on places to eat in Madison!!
Gretchen
2016-06-20T00:00:00Z
Alexandra had every ready for us, including clean linens and towels and directions on how to operate several things in the house (tv, internet, etc.) The house was very cute and in a nice, convenient location.
Nancy
2016-10-09T00:00:00Z
A great place to stay!. Clean, quiet, and close to downtown Madison. Alexandra communicates clearly and is a fantastic host making sure everything is ready upon arrival. Highly recommended.
Eric
2016-10-21T00:00:00Z
ประเภทห้อง
ห้องส่วนตัว
---
ประเภทที่พัก
บ้าน
---
พักได้
2
---
ห้องนอน
เมดิสัน, วิสคอนซิน, สหรัฐอเมริกา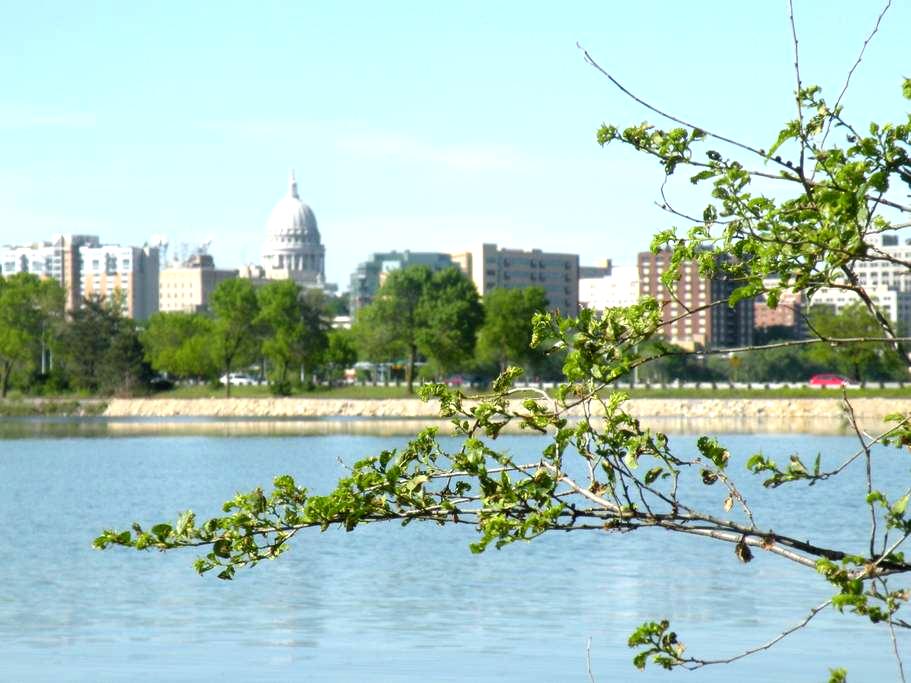 Nuestro lugar es bueno para parejas, aventureros en solitario, y viajeros de negocios. Especialmente adecuado para aquellos que quieren obtener la experiencia completa de Madison. Los visitantes les encanta vagar por el barrio para las vistas del lago Monona, patios eclécticos y los muchos Shoppes cervecerías, restaurantes, helado y chocolate!
Excellent hosts
joshua
2017-02-13T00:00:00Z
Jeff&MarySue provided very clear and easy directions on our arrival to their home. We were able to park our car in the driveway and had a nice room in the back of their home. They are great people and extremely accommodating - even had coffee and breakfast pastries waiting for us in the morning! Definitely would recommend for anyone looking for a weekend stay in Madison.
Katherine
2016-11-13T00:00:00Z
I had an excellent stay. The house is beautiful, and the room was very clean and pleasant, and in a quiet and secluded part of the house. In addition, Jeffrey and Mary Sue were very welcoming hosts, who were a pleasure to get to know. Atwood is probably the loveliest neighborhood in Madison, a great place to walk around and relax. Highly recommended.
Molly
2016-09-14T00:00:00Z
Jeff and MarySue were friendly and inviting, the location is quiet and in a very scenic part of Madison and the room is clean and cozy. Highly recommended.
joshua
2017-01-23T00:00:00Z
I found the hosts warm and welcoming, the location ideal, and the space very comforting. I plan to return someday to see more of the area, and intend to stay here again!
Jorge
2016-09-19T00:00:00Z
Mary Sue and Jeff were great hosts and very accommodating. They even went out of their way to offer breakfast and coffee both mornings. Go Badgers!
Will
2016-10-16T00:00:00Z
Our accommodations with Mary Sue and Jeff in their beautiful Victorian home was wonderful. Their home is located on the east side of Madison walking distance to Lake Monona. Our room was cozy and quiet. The bed was firm and comfortable. The bathroom near the bedroom is beautifully decorated with a stunning mural on the ceiling I could stare at indefinitely. You'll have to stay with Mary to see this masterpiece. Mary is very welcoming and pays attention to detail for a relaxing stay. Coffee or tea in the morning and toiletry details and wifi were very much appreciated.
Olga
2017-01-29T00:00:00Z
The People: Mary Sue and Jeff are the warmest, kindest and most caring hosts I have ever come across. An almost 24-hour journey from across the world had left me exhausted. They did everything in their power to make my stay comfortable. I was in Madison for an important event and twice they made the effort to drop me to the venue in the center of the town early in the morning. Their gesture helped me a great deal for a very important presentation. Jeff even dropped me off to the airport. Mary Sue did a quick round of the lakes for my viewing just so that I don't leave Madison without having seen them. From hand-softening handwash liquids to fresh new towels to warm bedding to thoughtful lighting to setting up an ironing board for me - nothing escapes her attention. She invested everything with her generosity. The Place: The Victorian Manor is a splendid little historic structure in a quiet, homely neighbourhood. It is beautifully decorated and kept together by Jeff and Mary Sue. The room I was given was cozy and welcoming with some wonderful old furniture. The powder room has captivating vintage interiors with a bookshelf, a stained glass window and a Michelangelo ceiling. The blue washroom has clean pretty modern interiors full of mirrors. Aside from everything Jeff and Mary Sue are great conversationalists. From politics to people to life - it was great fun to talk to them. It is so nice to meet kindred spirits from across the globe. I couldn't have had better luck with hosts on my maiden visit to America.
Medha
2016-10-23T00:00:00Z
ประเภทห้อง
ห้องส่วนตัว
---
ประเภทที่พัก
บ้าน
---
พักได้
2
---
ห้องนอน
เมดิสัน, วิสคอนซิน, สหรัฐอเมริกา
Mi casa está en el barrio de moda Atwood y se sienta a lo largo del carril bici, que le da acceso a un montón de restaurantes de moda y bares de la zona. Estoy a poca distancia de Casa de malta y Alquimia (dos de mis favoritos) y siempre disfrutar montando en bicicleta una milla más a la zona de Willy St por un café y desayuno en Lazy Jane o de compras de la vendimia en la decoración de rebobinado.
Lindsay was under the weather when I checked in so she left her door unlock so I can easily just came in myself. I was immediately greeted by Miley, she is a big friendly dog! And her two cats are also adorable! Her place was nicely decorated and very welcoming. I only stayed for one night but if I come back to the area I will definitely book her room again!
Jiaqi
2017-03-26T00:00:00Z
If you need to sleep during the day in a comfortable bed, dark room and quiet home, this is the perfect place!
Jessie
2017-01-29T00:00:00Z
Great location and space!!! Would definitely stY here again!!!
Ashley
2017-01-25T00:00:00Z
I had a few good days here.
Yauhen
2016-12-22T00:00:00Z
Wow....Hands down one of the nicest bnb s that we have stayed in....I give you my word that this is a great place in every way...Book here and dont worry about a thing
Randy
2017-01-21T00:00:00Z
Clean bed, great location, friendly hostess with friendly pets. What more could you want?
Christian
2017-02-16T00:00:00Z
Lindsay was an awesome host. She has a very beautiful, comfy and cozy home. The pets are def a plus. A cute playful kitty and the sweetest dog (Miley) I'm very glad that my boyfriend and I chose to book with her. Her home is close to awesome restaurants, bars and public transportation. We will def book with Lindsay again the next time we visit Madison.
Marie
2017-01-15T00:00:00Z
Great place to stay! Clean, comfortable, and only a few minutes from downtown. Interacting with her incredibly sweet pets alone make it worth the rental fee! Lindsay was very communicative and flexible as I arrived relatively late for a weekday (8:30 PM). The only note I might have is for travelers with physical ailments that keep them from bending and raising easily as the bed is very low to the floor. Would definitely stay again!
Cassie
2017-03-01T00:00:00Z
ประเภทห้อง
ห้องส่วนตัว
---
ประเภทที่พัก
บ้าน
---
พักได้
2
---
ห้องนอน
เมดิสัน, วิสคอนซิน, สหรัฐอเมริกา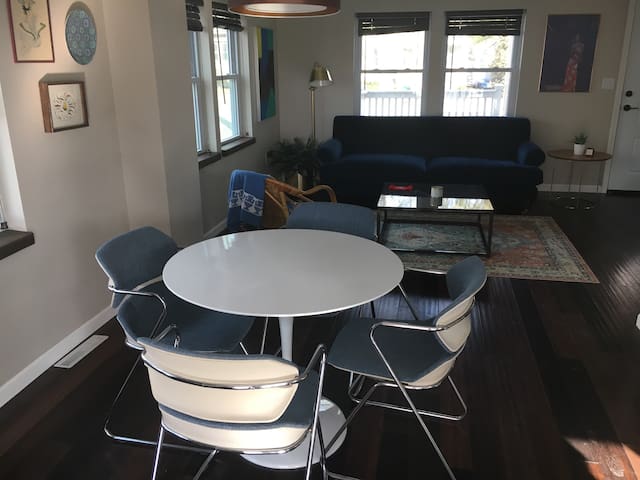 Stoughton - Airbnb
:
เฉลี่ย

4.88

จาก

5

ดาวจาก

652

รีวิวผู้เข้าพัก
1

–

18

จาก

165 บ้านให้เช่า
กรอกวันที่เพื่อดูการกำหนดราคาเต็ม มีค่าธรรมเนียมเพิ่มเติม อาจมีภาษีเพิ่ม