In the hamlet of Rosebud, Alberta - home to famous Rosebud Theatre - cozy artist's home. 1/2 hr to Drumheller, 1 hr to Calgary airport. Queen bed. Free run of the house. Includes wifi, Netflix, Apple Music. No meals provided, but tea and coffee and access to kitchen to cook your own meals. Check my other listing if you prefer a room with a double and a twin bed or need more room for your party.
This is an artist's home and is decorated with original paintings. You also have access to art supplies and equipment to create your own art.
Right next door to the famous Rosebud Theatre and only a half hour from Drumheller, home of the Royal Tyrell Museum of Palaeontology and The Canadian Badlands Passion Play.
The stay was great. Randall was more than accommodating and Rosebud was a quiet, peaceful little spot. Just what I was looking for.
Zach
2016-05-08T00:00:00Z
What a great first Airbnb experience! Randall was a warm and welcoming host and the house had lovely charm and character. It was also neat and clean and the bed was super comfortable. I really appreciated being able to use the kitchen as well. We absolutely loved our stay.
Katrina
2016-05-25T00:00:00Z
We had a great stay in Randall's beautiful home- cooking meals in the lovely kitchen, experiencing a local theatre performance, exploring nearby Drumheller and watching movies in the comfortable living space during downtime. A friendly and helpful host and talented artist!
Melissa
2016-05-31T00:00:00Z
We stayed at Randall's place for 3 nights and we had a great time. The house is very cosy and we loved watching Netflix on the big TV during downtime. Randall was nice enough to sell us discounted tickets to the theatre since we really wanted to go. Overall it was a wonderful stay! We have stayed at many Airbnb's and this was most definitely our favourite.
Sargam
2016-10-02T00:00:00Z
Nice stay!!We have a wonderful night ,this house is very comfortable and full of design.We really enjoy our stay at this place.
Hueiting
2017-04-03T00:00:00Z
Randall's place was absolutely gorgeous. It's a beautiful little house in a tiny quaint town! The perfect weekend getaway!
Lara
2016-09-19T00:00:00Z
Even though we were early he welcomed us into his home. Called a friend to confirm our play information.
Judy
2016-06-25T00:00:00Z
Randall was an exceptionally welcoming and informative host. He gave me a heads up about service availability in Rosebud and was very flexible with my itinerary. The place was immaculate and comfortable, very inviting. Could not have asked for a more ideal place of rest on my adventure, and was very impressed with Rosebud itself. Would definitely recommend.
Emily
2016-05-05T00:00:00Z
ประเภทห้อง
ห้องส่วนตัว
---
ประเภทที่พัก
บ้าน
---
พักได้
2
---
ห้องนอน
Rosebud, แอลเบอร์ตา, แคนาดา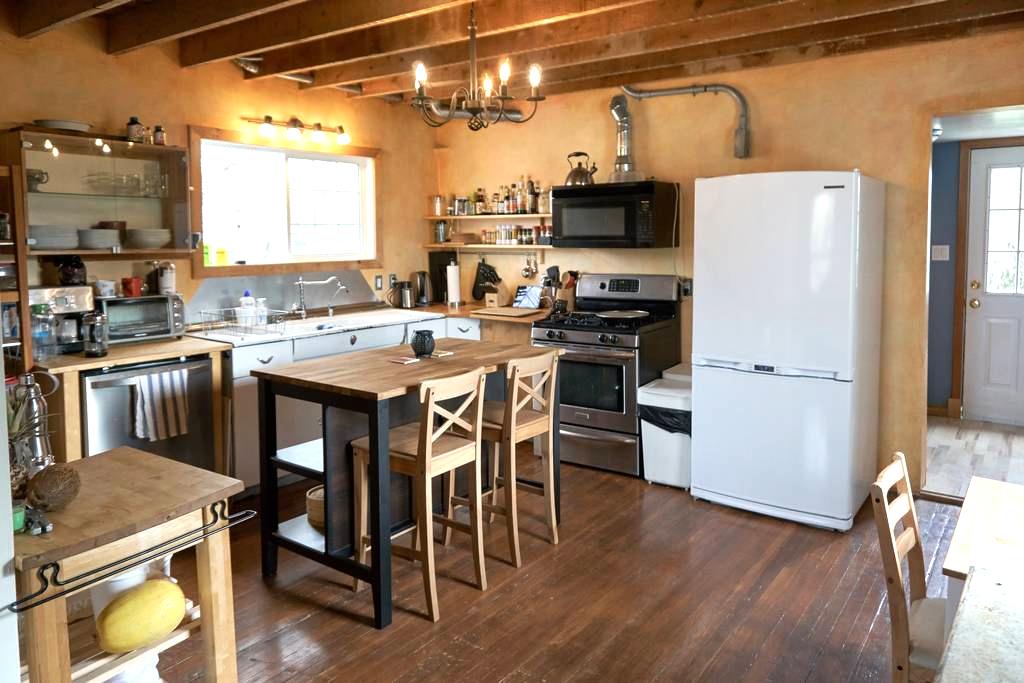 In the hamlet of Rosebud, Alberta - home to famous Rosebud Theatre - cozy artist's home. 1/2 hr to Drumheller, 1 hr to Calgary airport. Double and twin beds. Free run of the house. Includes wifi, Netflix, Apple Music. No meals provided, but tea and coffee and access to kitchen to cook your own meals. Check my other listing if you prefer a room with a queen bed or need more room for your party.
This is an artist's home and is decorated with original paintings. You also have access to art supplies and equipment to create your own art.
Right next door to the famous Rosebud Theatre and only a half hour from Drumheller, home of the Royal Tyrell Museum of Palaeontology and The Canadian Badlands Passion Play.
Randall was a wonderful host! It was raining when I arrived with my two children and he came out to my car to help bring in our bags. He showed us around and made us feel at home. He made us some delicious farm eggs and put on a movie for my boys to watch before bed. Wonderful experience!
Theresa
2016-07-31T00:00:00Z
Great location for our visit to Drumheller. Randall was very friendly and the beds were comfortable.
Philip
2016-10-03T00:00:00Z
Randall was a fantastic host and made us feel welcome right away. He has a lovely home that was clean and tidy and offered exactly what is posted. And he certainly made a wonderful impression on our young daughter, so much so that it was quite a challenge to get her out the door! Randall had a great selection of high quality teas and coffee available for guests to use and gave us full access to his kitchen. Thanks for a great stay, Randall. We enjoyed your company and the interesting conversations.
dia
2016-08-18T00:00:00Z
Great location proximity to dinner theatre. Very comfortable beds. Pleasant host.
Elli
2017-04-09T00:00:00Z
Randall greeted my cousin, Barb, and I and showed us around the house and told us everything we needed to know. He made us feel very welcome. We love Rosebud! We saw two plays in one day (a musical at The Opera House and a two-man play at the Studio Stage), and one of the actors was staying at Randall's as well, and we got to talk to him too, which was cool. My cousin is an artist and really enjoyed seeing Randall's paintings. We hope to make this an annual get together. Thanks, Randall!
Sharon
2016-07-21T00:00:00Z
Randall had great reviews which is why we chose him as our first Airbnb host. We had an excellent experience! Randall was very welcoming and the accommodations were great. Nothing to complain about at all. Thanks for hosting me and my family, Randall.
Amanda
2016-08-03T00:00:00Z
Staying in Rosebud at Randall's "cozy rural art retreat" was like going to visit a friend. He made me feel welcome and at home from the moment I arrived. I am a solo traveler and am always looking for homey experiences and friendly people along the way. Rosebud is an amazing little place, like a little oasis in the middle of the prairies. I actually was in the area to take in the Drumheller dinosaur scene but was attracted to Rosebud as an interesting place to stay. It is! Everything in the house was very clean and newly fixed up, especially the bathroom and shower.
Fern
2016-09-17T00:00:00Z
A lovely country home in a quaint town. We throughly enjoyed our one night stay. My husband and I liked that we could put our son to bed and still enjoy a movie in the living room. We felt very comfortable. Randall was very nice and helpful host. The room is cozy and easily accommodated our family of three. I would recommend to anyone wanting to stay near Drumheller to stay at this room in Rosebud!
Katelyn
2016-08-01T00:00:00Z
ประเภทห้อง
ห้องส่วนตัว
---
ประเภทที่พัก
บ้าน
---
พักได้
3
---
ห้องนอน
Rosebud, แอลเบอร์ตา, แคนาดา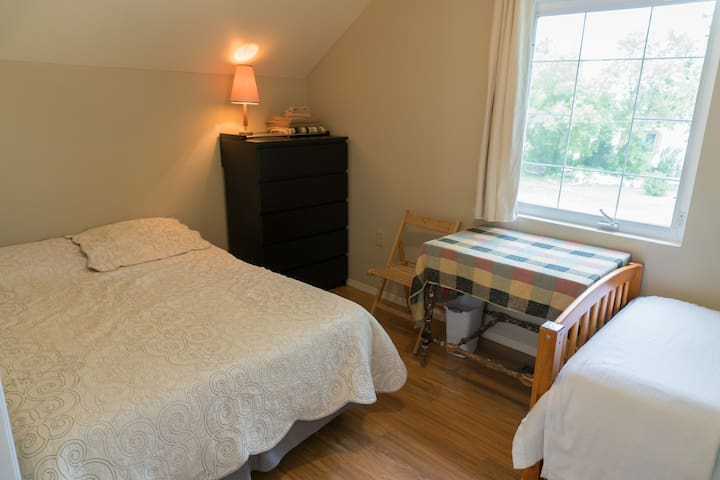 Rosebud Dinner Theater, Drumheller Badlands and Dinosaurs, Hoodoos and Mud Wrestling events. Water-slides. Stampedes and Rodeos, Travel Alberta Events. Conventions. Badlands Motorsports resort. Airport pick up and help touring the area and its secrets. Tour the Eleven Bridges to Wayne and see the "Last Saloon"
Host is a super cook! Great for tourists..host has 30 years experience.
You are entering the county of Wheatland Alberta which is the host for many rodeos stampedes parades and fun family events. Travel Alberta has many listings for fun things to do in the area
ประเภทห้อง
ห้องส่วนตัว
---
ประเภทที่พัก
ที่พักพร้อมอาหารเช้า
---
พักได้
7
---
ห้องนอน
Standard, แอลเบอร์ตา, แคนาดา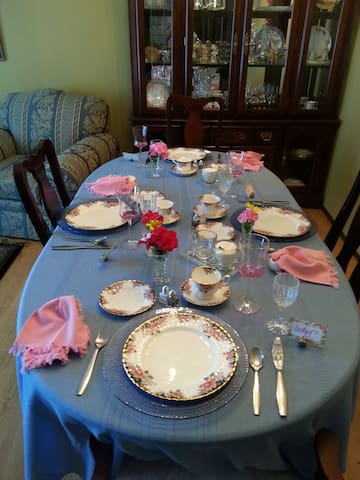 Quiet, Country setting. Health Inspection approved, business approved by the village. Owner has safe food handling certificate, & customer service awards.
Elegant Country Setting close to Rosebud Dinner Theater, Royal Tyrell Museum, Badlands, Rodeos, Calgary Stampede and more. Elegant Hot breakfasts; Homemade Specialty Waffles! or Full Ranch Style Breakfast of Bacon or Sausages or Ham with Two Eggs, Toast, Hash browns, and Fruit. All breakfasts include; juice, coffee or tea, and fruit. Catering to your special requests if needed. We can create a Welcome Basket for an additional fee. Romantic Get-a-way, special occasions? We can create that atmosphere for your mini vacation. Plenty of parking as well as RV Parking Pad at back.
(URL HIDDEN) (URL HIDDEN) (URL HIDDEN) (check us out on (SENSITIVE CONTENTS HIDDEN)) Deer Elk Moose Owls Birds (URL HIDDEN) (The village sells Licences) Hunting Game.
ประเภทห้อง
บ้าน/อพาร์ทเมนท์ทั้งหลัง
---
ประเภทที่พัก
ที่พักพร้อมอาหารเช้า
---
พักได้
4
---
ห้องนอน
Standard, แอลเบอร์ตา, แคนาดา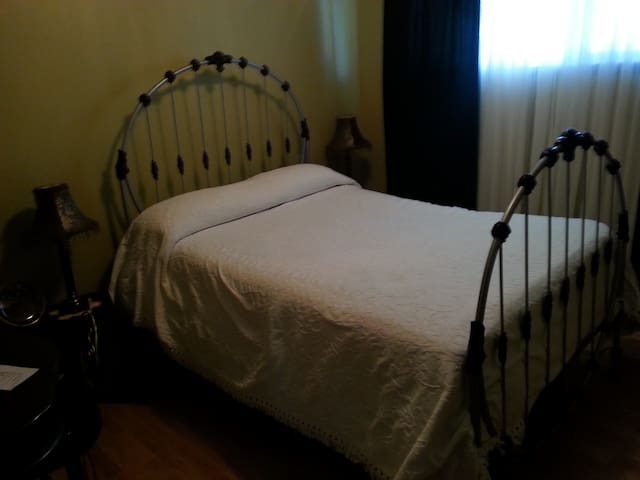 Bed and bale, room for 4 horses, corral and auto waterer. Outdoor kennel with 2 large dog houses. Double bed- new mattress and support- functional antique bed. Bathroom with shower. Breakfast if requested. Distances: Strathmore rodeo grounds 8 minutes, Calgary airport 45 minutes, Drumheller 60 minutes. Animals negotiable.
Room for equine and canine friends. Great view. Cat hair is free. Quiet acreage, lots of parking.
Country living. Easy 45 minute drive to Calgary airport, close to Strathmore, hr drive to Drumheller badlands/ hoodoos/ dinosaur museum.
The place had everything as advertised and the host, Pam, was amazing and super helpful. She provided me with everything I needed and more. I was able to be social with her and visit the animals without feeling at all uncomfortable. Tea is always hot and steeped. Overall it was a very welcoming experience and I look forward to staying there again!
Katie
2017-01-06T00:00:00Z
Super comfortable bed and pillows. Pam is a great host, grounded, helpful and lovely. The scenery is so nice.
Casey
2017-01-15T00:00:00Z
Pam was very easy to communicate with. She was very welcoming and accommodating. Her dogs, cats, and horses were all so adorable and well-behaved! The room was very comfortable and clean. The farm is also very close to town, about 10 minutes. I would recommend staying here.
Jennie
2016-09-03T00:00:00Z
We had a nice stay with Pam, she is welcoming and helpful in many ways.
Anaïs
2016-08-02T00:00:00Z
Séjour très agréable... A proximité de strathmore et son célèbre rodéo... Chambre calme et propre... Hôte très accueillante et sympathique. Bon déjeuner... A recommander, très bien :-)
laurent
2016-08-01T00:00:00Z
ประเภทห้อง
ห้องส่วนตัว
---
ประเภทที่พัก
บ้าน
---
พักได้
2
---
ห้องนอน
Strathmore , แอลเบอร์ตา, แคนาดา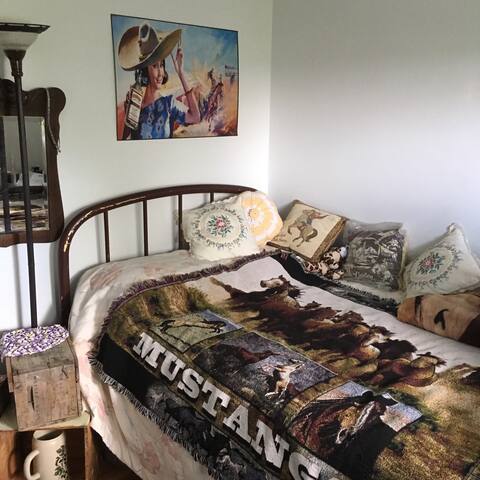 Peace and Quiet away from it all. Fresh country air, cozy beds, and a delicious elegant breakfast served in our dining room. Candles, Bone China, Privacy, - most guests enjoy the atmosphere and are surprised, so bring your camera.
Elegant Country Setting close to Rosebud Dinner Theater, Royal Tyrell Museum, Badlands, Rodeos, Calgary Stampede and more. Elegant breakfasts which are always a delightful surprise so bring your camera. Specialties are homemade waffles, hearty country breakfast and much more. We can create a Welcome Basket that includes wine and chocolate for your Romantic Get-a-way, or special occasion. We can create that atmosphere for your mini vacation. Plenty of parking as well as RV Parking Pad at back.
(website hidden) (website hidden) (website hidden)(phone number hidden) (check us out on (website hidden)) Deer Elk Moose Owls Birds (website hidden) (The village sells Licences) Hunting Game.
ประเภทห้อง
ห้องส่วนตัว
---
ประเภทที่พัก
ที่พักพร้อมอาหารเช้า
---
พักได้
2
---
ห้องนอน
Standard, แอลเบอร์ตา, แคนาดา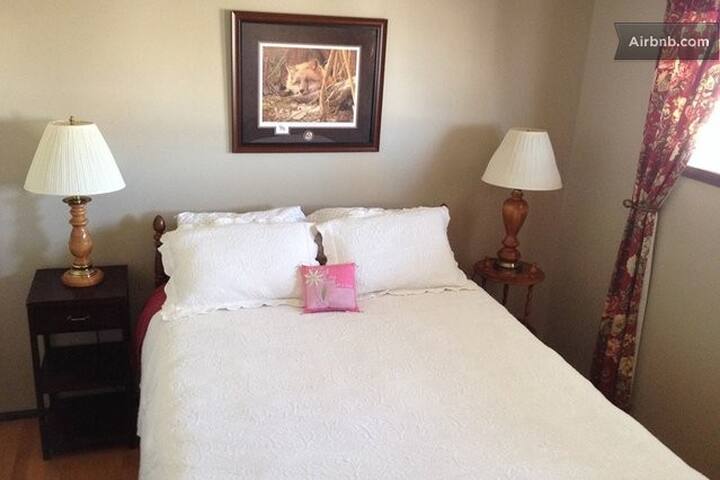 Unique updated 800sqft house features a touch of modern with the rustic charms of the original house. Close to all the action and amenities you can walk to all Drumheller's downtown attractions.
Original hard wood floors in living room Comfortable back yard for bbqs and fires Clean and cozy house to explore all Drumheller's unique adventures.
My daughter and I spent a week in April at William's cosy cabin. The cabin was equipped with everything one needed. The kitchen was very new, the bed was comfortable, the futon sofa bed was also comfortable, lots of hot water .Large screen TV for watching movies. Cosy, warm , quiet area , within walking distance or a short drive to the museum. We would go again Sandra April 2017
Sandra
2017-04-11T00:00:00Z
This cozy place worked just great for our family. It was awesome being so close to downtown and the huge dino! Though an older home this place was very clean and had nice updates. The bed/bedding was very comfortable. It was awesome having the tv too, thanks for the use of netflix, my kids were very happy!
Amy
2016-08-31T00:00:00Z
Convenient location, close to downtown, great for small family, easy and prompt communication, all very uncomplicated. Recommended!
Esther
2016-11-14T00:00:00Z
Clean and comfortable as advertised. We thoroughly injoyed our stay. The house was just a couple blocks away from downtown and provided excellent access for enjoying Drumheller on foot.
james
2016-10-03T00:00:00Z
Great location for staying in town! It's a very quiet location and only a block to downtown. We liked the cozy, clean and cute little house. We wanted a quiet weekend to ourselves and got just that. We'd stay here again. Bonus: we appreciate the fact the cost is the cost (no cleaning fee).
kris
2016-10-09T00:00:00Z
William made our arrival easy and accommodating, we had no trouble finding the house and check in and out was a breeze. The home is located close to pretty much everything, and was a nice home base for our trip. He had fast responses and we felt safe and comfortable in the home.
Karley
2016-10-24T00:00:00Z
Very simple check in. Good location. Comfy bed.
brett m
2016-09-25T00:00:00Z
ประเภทห้อง
บ้าน/อพาร์ทเมนท์ทั้งหลัง
---
ประเภทที่พัก
บ้าน
---
พักได้
4
---
ห้องนอน
Drumheller, แอลเบอร์ตา, แคนาดา
Our large comfortable room with attached jacuzzi tub is located right in the centre of town. From here you can walk to parks, river trails, fitness facility, restaurants and bars. We are located on gallery row where most shops are located.
Your private room is in our loft type home above an Art Gallery. 26 stairs take you up to your private room with adjoining bathroom and jetted tub and hand shower. Great to relax in after your day in the badlands. Guest can expect a quiet stay as this room is in the centre of the building with little to no street noise. Pet alert: we have a house cat We are located in heart of downtown on Gallery Row. Within 2 blocks, there are restaurants, movie theatre, gift shops, convenience stores, hair salons and pharmacies. Our new Badlands Community Facility with gym, coffee shop and banquet rooms is just 3 blocks away. You will be staying in a 1920's building called the Newcastle Block. It was built by the miners and used as offices for the Newcastle Coal Mine under the direction of Jessie Gouge. You will be sleeping on a Queen Size Murphy Bed in a large private room, with space for yoga, exercise or just hanging out. Free on street parking right in front of the building.
We have lived in downtown Drumheller for over 20 years and we love it. Our street is Gallery Row with galleries and shops within walking distance. There is a movie theatre next door, and 2 pharmacies within 2 blocks. We are a 5 minute walk from our fitness facility, library and walking trails.
Historical building added character to our room and experience. Nice quiet location. Loved soaking in the jet tub. Thank you Carol. Ride safe Mike.
Erwin
2015-08-27T00:00:00Z
Carol was very helpful and friendly. She gave me directions and it was very easy to find and enter. The place was nice and clean. The room had its own bathroom with clean towels. I would stay here again if traveling to Drumheller again. It was right on the main strip of Old Town and a very nice area. Thanks again Carol.
Ryan
2015-07-15T00:00:00Z
Carol was a very welcoming hostess. The room was clean, comfortable, and spacious. The jacuzzi tub and roof patio were welcome additions. Would stay again! Thanks Carol!
Nathan
2015-08-10T00:00:00Z
My husband and I both enjoyed our stay in this unique, historic building. Carol and Mike were quick to recommend things to do in the area and allowed us to settle in without interference. They gave us use of the kitchen which had we been there longer we probably would have used. The rooftop patio was a particular highlight of their property. You can tell it's a place they love. I felt very at home. Bed was comfortable (more so than it looks) and the room/washroom were clean. Loved the central location. Everything was ready to drive to and there were some great shops and restaurants within walking distance. Can't ask for much more!
Natasha
2015-08-09T00:00:00Z
Mike and Carol were great hosts. They're really friendly and comfortable people to be around. A number lock on the door gave me access even though they weren't in the house when I arrived and the guest room was clearly labeled, so I knew where to go. Mike showed up just a couple of minutes after). Both of them work in the gallery/shop downstairs so they are very easy to reach. I was traveling by bus and foot, so the fact that their place is just across the street from the Greyhound stop and also very close to several touristy things in Drumheller was fantastic. They also gave me a ride to the Royal Tyrell Museum, which was really kind. The room itself is VERY spacious, has its own bathroom (toilet, tub & basin only; shower in shared bathroom), and also a television set up for Netflix that provided a nice bed-time movie. Great place to stay in Drumheller!
Chris
2014-09-13T00:00:00Z
Carol was lovely. She gave us suggestions for restaurants etc. The room was nice and big, very comfortable, as was the bathroom. It was exactly as advertised. We were not there very long, so not much else to say. It was clean and comfortable, and Carol gave us use of the fridge which was much needed!
Christine
2014-07-08T00:00:00Z
Great experience! Would definitely stay there again. Room was very clean and central with a fabulous roof top patio. Carol was a great host!
Leanne
2016-07-06T00:00:00Z
The description was accurate. Very welcoming. Carol and Michael gave lots of valuable information on the area. They were very obliging. Thoroughly recommend staying here.
Paul
2016-08-05T00:00:00Z
ประเภทห้อง
ห้องส่วนตัว
---
ประเภทที่พัก
ลอฟท์
---
พักได้
2
---
ห้องนอน
Drumheller, แอลเบอร์ตา, แคนาดา
This 1350 sq,ft. totally refurbished self catering country cottage located on 16 acres 21 kms west of Drumheller on Hwy 575 R.R. 22-1. 1 mile south of #575 on the Hesketh road. Wifi, Satellite TV, bbq, 2 verandas, 1 deck. Badlands and Tyrell Museum
This 1918 Eatons Calalogue house sits on 16 acres 21 kms west of Drumheller.. It is 1350 sq ft 3 bedrooms totally self catering all you need is your food. We will greet you upon arrival. You will love the privacy and the quiet country setting . We are 20 minutes from the world class Tyrell museum and 30 minutes away from 4 golf courses
The most unique part of the stay here is that it is out in the seas of land , we have a little oasis in the prairies , with beautiful starlit nights and incredible sunrises and sunsets
Kent and Janice were wonderful and open hosts from beginning to end. The cottage is spotlessly clean and well appointed. The grounds were fun to walk around and have a wonderful back story that they are happy to share. We will be sure to book again and can't say enough about it!
Matteo
2016-07-10T00:00:00Z
We had family come from Germany and booked them here to stay. We had hoped to come as well but unexpectedly only our family from Germany could go and we had to be at home. They reported that the place was not hard to find but nice that it was a bit off the beaten path. They had a comfortable and excellent experience. I did all the booking and organzing and found the hosts to be very responsive and helpful in answering all questions. Thank you!
Bryna
2016-07-06T00:00:00Z
We were welcomed as soon as we arrived, and given a tour of our digs. Both were very pleasant and welcoming. The cottage was beautifully appointed and there were very discreet and tasteful reminders posted throughout the house. A nice touch while still reminding the renters their responsibilities while enjoying their stay. Everything we needed was available. A lovely, quiet and private stay. We would highly recommend the "Cottage". Julie and Maria
Julia
2016-07-02T00:00:00Z
This sweet cottage was the perfect getaway! As an Albertan, it is so easy to forget what amazing landscape we have here. The drive and the property beautifully express the stillness and subtlety that is at the heart of rural Alberta. Our hosts greeted us upon our arrival, and gave us a complete overview of the property, and told us we were welcome to explore. Inside, the cottage was cool, with fans and nice air flow, plenty of light, sweet touches like a fireplace and window seat, french doors separating the living area and kitchen, greenery and flowers surrounding the property, and a bottle of wine for us. The cottage was supplied with all of the cooking utensils, linens, and necessities we could need including hair dryer, wifi (that didn't cut out despite being in a remote location), curling iron, blender, kettle, etc. There was not one moment of "I wish we had a ______." Small reminders around the house regarding keeping doors closed to keep bugs out, septic system regulations, etc., were tasteful, polite, and non-invasive. The beds were comfortable, the morning sun in the back yard idyllic, and we left knowing that one night was not long enough. Our hosts met us to say goodbye, brought us parting gifts (fossilized bone fragments found that morning!) and even took a picture of our group for us. On top of that, after posting our stay on social media several people contacted me wondering where this little gem was hidden. I would absolutely love to go back. The sooner the better!
Jess
2016-07-11T00:00:00Z
The place we stayed in was simply beautiful. Would love to stay for more than jus one night in the future. Great and very friendly hosts Kent and Janice made our stay a wonderful experience. Would love to recommend as a very special place!
Szymon
2016-08-16T00:00:00Z
Janice and Kent were very welcoming and consumate hosts. They truly created a family environment and provided excellent service while respecting our privacy. The place is just like the photos, very cozy and comfortable, and we really enjoyed the private backyard space. All amenities you would need are available at the cottage. We toured around the area a lot and really enjoyed the experience. I would, and already have, recommended their place to friends and family. We would stay there again. Thanks for the great vacation experience!
Anita
2016-07-31T00:00:00Z
Janice & Kent welcomed us upon arrival. Kent provided us with good trails & sights to see around Drumheller. Janice showed us the house, which was very well equipped with coffee, spices, kleenex, napkins, foil, everything you need to bbq. There is a cute little deck out back totally secluded where we sat and played games that they had provided in the house. The Stars were bright at night, and the birds sang in the morning. If you want a quiet, relaxing place to stay outside of town then you will love to stay here.
Shirley
2016-07-29T00:00:00Z
Kent and Janice were very accommodating for all of our needs. We instantly felt welcome as they were most gracious in sharing their space and make lovely hosts. We enjoyed the house as it fit 6 adults and 1 child comfortably. We would definitely recommend a stay here especially for big groups!
Jennine
2016-07-27T00:00:00Z
ประเภทห้อง
บ้าน/อพาร์ทเมนท์ทั้งหลัง
---
ประเภทที่พัก
กระท่อม
---
พักได้
6
---
ห้องนอน
Drumheller, แอลเบอร์ตา, แคนาดา

My place is located in the heart of the badlands, within a 0 to 15 kilometre radius to all of the tourist attractions including Atlas Coal Mine, Wayne Historic Hotel and Bar, the Tyrrell Museum, the Hoo Doos, the Suspension bridge over the Red Deer River, and Drumheller town centre. You'll love my place because of the cosiness, the accessibility, the views and the many outdoor activities. My place is good for couples,families (with kids), group travellers and your furry friends (pets).
the rooms are on the upstairs level of the house and the washroom is in between them both. The rooms are comfortable and have lots of natural light. If you are missing anything, don't hesitate to ask!
We are located right beside a campground so if you would like to host a special event at our place, there is room for more guests next door! The river and suspension bridge are a beautiful walk away from our place along with tons of other trails to check out
ประเภทห้อง
ห้องส่วนตัว
---
ประเภทที่พัก
บ้าน
---
พักได้
5
---
ห้องนอน
Drumheller, แอลเบอร์ตา, แคนาดา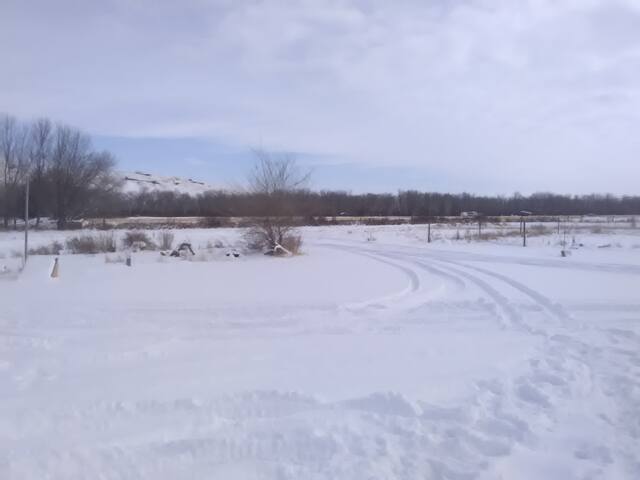 Our beautiful views of the Red Deer and quiet acreage are just a few highlights of our open style, walk out basement home. Close to walking trails and amenities.
River front property. Close to amenities, yet a quiet, 0.85 of an acre, lot. Easy access to hiking trails.
Quiet and private
The host canceled this reservation 172 days before arrival. This is an automated posting.
Claire
2017-03-04T00:00:00Z
ประเภทห้อง
บ้าน/อพาร์ทเมนท์ทั้งหลัง
---
ประเภทที่พัก
บ้าน
---
พักได้
6
---
ห้องนอน
Drumheller, แอลเบอร์ตา, แคนาดา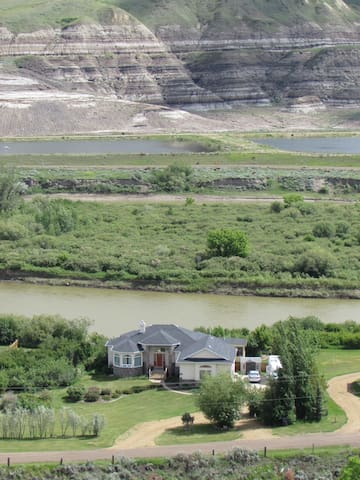 Great 2100sqft home perfect for families and guests of all ages! The location cannot be beat for your time exploring the Drumheller area. Beautiful kitchen & also downstairs wet bar in the rec/game room. It has a huge landscaped yard, covered deck with BBQ & patio furniture. Please see more info below!
Main floor has kitchen, dining room, cozy living room with grand stone fire place, master bedroom with walk in closet and great ensuite bath. Access to massive deck & yard off of dining room. Second floor has laundry room, bedrooms 2 & 3 and full bath Lower level has wet bar, game/Rec room with futon/convertible bed, bedroom #4, and another full bathroom.
The location cannot be beat! It is nestled in a quiet cul de sac and located 2.5kms from the Royal Tyrell Museum, 2.5kms from the biggest dinosaur in the world & aquatic centre, 3km from downtown Drumheller. A 5 min walk gets you to the Red Deer River, and a great dinosaur themed park & Fossil World just around the corner. There are also extensive walking/biking trails at your doorstep.
ประเภทห้อง
บ้าน/อพาร์ทเมนท์ทั้งหลัง
---
ประเภทที่พัก
บ้าน
---
พักได้
10
---
ห้องนอน
Drumheller, แอลเบอร์ตา, แคนาดา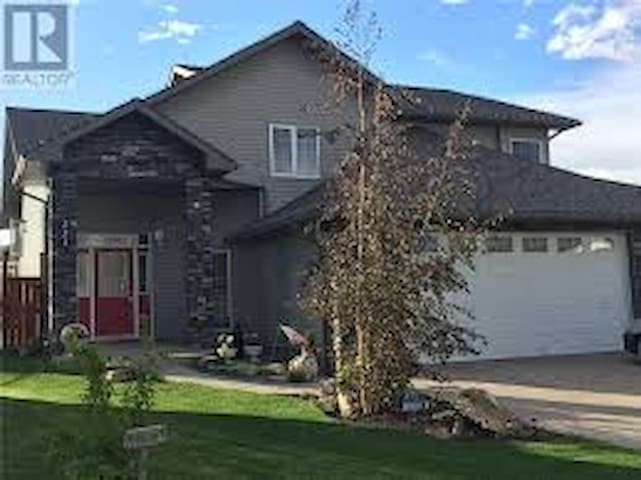 Clean and well maintained Downtown Drumheller Loft. Includes in suite laundry, private backyard, close to all amenities, walking trails and 1 parking space. Queen size mattress and queen air mattress on floor for 2 extra adults or children.
Open concept loft with great natural light and windows facing downtown. In suite laundry and soaker tub/shower combination. Vaulted ceilings and comfortable furnishings. Fiber Optik TV also available.
Located in downtown Drumheller close to many restaurants, bars, shopping and grocery stores
Very clean and very nice place. Well stocked kitchen and very well placed within the town not very far from anything
Cassidy
2016-07-30T00:00:00Z
We loved having a private suite that was very comfortable to come home to after site seeing! We enjoyed the decor, it felt like home! The tv area was especially nice to relax in and the kitchen was well stocked with everything you needed to prepare a meal. The bathroom was also really nice and having a washer and dryer was a bonus. Crystal was very easy to communicate with and always immediately responsive if we needed something. This is a great place to stay and we will recommend it to anyone we know doing the Drumheller circuit!
Melodie
2016-08-06T00:00:00Z
The loft was very clean and attractively furnished. It was nice to have a full kitchen, washer, and dryer. I found Drumheller to be a cute and friendly town. I'd stay here again for sure.
Jeff
2016-08-27T00:00:00Z
Great place to stay in the Dinosaur crazy place which is Drumheller! Really nicely done out place which immediately feels like home. Would definitely recommend.
Ben
2016-06-04T00:00:00Z
Staying at Crystals loft was fantastic! She brought out a crib mattress for our 4 year old to sleep on so we could all have our own space. The loft was super conveniently located and we were able to walk everywhere we wanted to go with in the town (splash park, big dinosaur, dinners, etc.). We would not hesitate to stay at this listing again.
Jaclyn
2016-08-29T00:00:00Z
The loft was really spacious and open but also felt super private despite having the skate shop right underneath. It's also in a great location! Lots of things are within walking distance. I would definitely stay here again if I come back to Drumheller. Only downside was for some reason it was super noisy outside in the mornings. It most likely would have been fine if we had kept the windows closed though. I also think the sound came from the highway which you can't really get far away from. All in all it was a great time and having a nice place to stay always improves a trip. Thanks Crystal!
Sally
2016-06-08T00:00:00Z
Crystal was very friendly and accommodating. Great clean, quiet, functional space and location, with easy access to amenities and the Badlands Community Facility. Very pleased with value for money.
Caitlin
2016-03-09T00:00:00Z
Great stay! Crystal was great at communicating and the place was better than expected! Kids loved Drumheller and the place was well enjoyed by our family!
Jimmy
2016-08-24T00:00:00Z
ประเภทห้อง
บ้าน/อพาร์ทเมนท์ทั้งหลัง
---
ประเภทที่พัก
ลอฟท์
---
พักได้
4
---
ห้องนอน
Drumheller, แอลเบอร์ตา, แคนาดา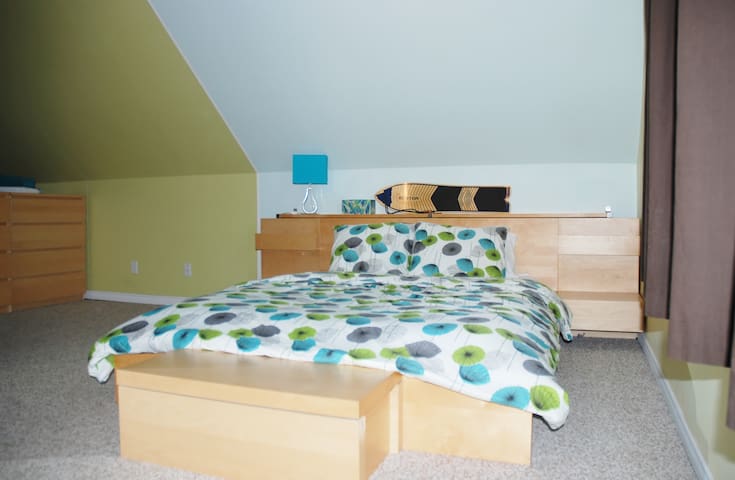 Fully furnished in down town Drumheller, Alberta
In the heart of down town where the streets are lined with tall trees and walking distance to many amenities.
ประเภทห้อง
บ้าน/อพาร์ทเมนท์ทั้งหลัง
---
ประเภทที่พัก
บ้าน
---
พักได้
3
---
ห้องนอน
Drumheller, แอลเบอร์ตา, แคนาดา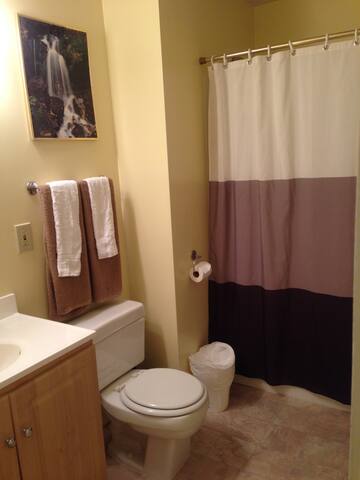 Home located In Nacmine 3 minutes west of Drumheller. 2 bedrooms, 2 king beds, bathroom with two sinks, vanity, shower/bathtub, 65" TV, 5.1 Surround home theatre, full size fridge, dishwasher, portable cooktop and microwave. Laundry upstairs. The Space has unfinished concrete floors and is not closed off from the upper floor, this is not a private space.
Basement has unfinished concrete for Flooring in main living area. The Main Bedroom is spacious with a King size bed and two nightstands. Second bedroom also has a king size bed. The Backyard is currently being landscaped. Property Backs onto the Red Deer River where there is a fire pit available for use (bring your own firewood). Beautiful View. Private Deck. Entertainment system with Netflix. Free internet access.
Nacmine is a short 5km drive to Drumheller. Even shorter drive to the Passionplay site. Home is located in a quiet new and safe cul-de-sac. Landscaping in progress.
Steven is a nice host, the place very beautiful and comfy. We get two night good sleeping. The rocking chair in the room is so cozy, we like it. next time to Drumheller, i will be select the house again
WEIREN
2016-07-16T00:00:00Z
The reservation was canceled 10 days before arrival. This is an automated posting.
Brian
2014-08-27T00:00:00Z
We had a good stay at Steven's. Our major purpose was to go in the Badlands fondo. Steven's place was excellent for this purpose.
Brian
2016-06-28T00:00:00Z
We were warmly met by Nancy and children. The house is in a new, quiet and very safe neighbourhood. The bedroom and lounge area for guests was very spacious and nicely furnished. The bed was extremely comfortable and the bathroom was equally clean, neat and tidy. We were provided with coffee, milk, juice, fresh fruit and bagels. We enjoyed our stay and if we are ever back in Drumheller we would stay here again.
Romina
2014-07-28T00:00:00Z
This was a great place to stay. The host family were lovely and welcoming. They have kids and a dog as they say on the listing but they were quiet at night and really nice kids in any case. Bedrooms and bathroom were great. Great big basement space with TV and Netflix. The Badlands where they live are worth a visit - check out the Orkney view point, Bleriot Ferry crossing and a must see is the Tyrrell Dinosaur Museum. It was Amazing!
William
2014-08-16T00:00:00Z
Steven a été très réactif et arrangeant avec notre heure d'arrivée et de départ. Cette belle maison offre un très grand basement, confortable et lumineux. Petit déjeuner inclus, en terrasse quand il fait beau et en compagnie des biches ! Excellent rapport qualité prix.
Camille
2016-08-17T00:00:00Z
We found this to be a spacious place and in a quiet neighbourhood, exactly as described in the listing
Rachel
2016-08-19T00:00:00Z
The basement suit was awesome, clean, spacious and kids friendly! We are a family of four, with two kids. We all had a great time there. Especially our kids enjoyed playing with the big trampoline and in the toy room. Steven was so kind and caring. Thank you so much!
Komaki
2015-08-01T00:00:00Z
ประเภทห้อง
ห้องส่วนตัว
---
ประเภทที่พัก
บ้าน
---
พักได้
5
---
ห้องนอน
Drumheller, แอลเบอร์ตา, แคนาดา
This a My Grotto is actually the bottom of a cottage typical of (URL HIDDEN) the name Grotto implies it is my she cave, but because of my taste for eclectic color scheme and the Mexican influence guys love it too. There are two windows in the back of the Grotto, a semi sunny bedroom/bathroom space
ประเภทห้อง
ห้องส่วนตัว
---
ประเภทที่พัก
กระท่อม
---
พักได้
1
---
ห้องนอน
Drumheller, แอลเบอร์ตา, แคนาดา
1

–

18

จาก

ที่พัก 45 รายการ
กรอกวันที่เพื่อดูการกำหนดราคาเต็ม มีค่าธรรมเนียมเพิ่มเติม อาจมีภาษีเพิ่ม