My place is on Lake Congamond only 15 minutes from Bradley Airport and Springfield Ma. Perfect for a single, couples or families. It has a new queen bed and 2 bunk beds! You'll love my place because it is perfect for the one or two night getaway to relax lake side. I have a SUP, kayak and canoe you can use or just chill on the comfy chairs on the dock or in the gazebo. There are two fire pits as well! Inside, it has a 65" TV, Xbox, Pinball, Bubble Hockey and fridge. Make yourself at home!
The guest house is so cozy and warm with an open concept, wood finish, gas fireplace, bowling alley floors and amazing views of the lake. It has a full bath, a new queen bed in the bedroom, 2 bunk beds and 2 amazing recliners that you just melt into. Mini Kitchen area with microwave, fridge, keurig and toaster oven. Plates, glasses and coffee mugs are there too!
Only 15 minutes from Bradley Airport (BDL) and Springfield MA! Southwick is a rural town west of Springfield. It is famous for the Summer House where you can get great burger melts, shakes and ice cream. Don't forget to hit the famous Mrs. Murphy's donuts or for breakfast or lunch Legends on the Lake! The Grind is also a great place for coffee.
We had a lovely time here. It was cosy and welcoming. Great large TV and games for the kids. We had fun on the lake using Ricks Kayak and his recommendations for food were great. The Hangar pub food was lovely and a short drive away. Rick was quick to respond to texts. Beds were comfy as were the large reclining seats to watch the tv. As there are no kitchen facilities it would not be ideal for a long stay, but as a place to spend a night or two it is an excellent place.
Paul
2016-10-24T00:00:00Z
Rick was fantastic, the house was beautiful and the lake was gosgeous!
Luke
2016-10-30T00:00:00Z
Rick's place was great! We had 5 adults, 1 toddler, and 1 baby. The pinball machine and large screen TV were perfect for keeping the little ones entertained. The view was fantastic from the cabin. It was too cold for us to take advantage of the gazebo or canoe but they both looked like they'd be really great. There weren't any amenities we missed with the exception of a hair dryer, but that was minor when compared to how much we enjoyed the place. I highly recommend this if you're staying in the area.
Cindy C
2017-03-11T00:00:00Z
We used this home for a writing retreat and it was perfect! Right on a lake. We were a little worried it would be too cold, but our retreat (Jan 1-3) was perfect time to walk on the frozen pond and still bundle up and sit outside by the lake. Note that there is no kitchen, but the hosts were very helpful in connecting us to food nearby!
Lissa
2017-01-03T00:00:00Z
We did spend a romantic weekend at in the cabin at the lake and loved it! Great place to come down, relax and do some trips from there into nature. We would come again! Thank you for your great hospitality :)
Marcel
2017-02-25T00:00:00Z
Rick's home is beautiful, the grounds make you feel like you're on vacation at a resort. The guest home is so cozy and comfortable! I only wish we had more time to spend there. I'd love to come back in the summer and really get to enjoy the outdoor amenities he has to offer.
Jillian
2017-01-17T00:00:00Z
This little place was exactly what we needed for our one-night stay. The beds were comfortable, the bathroom was clean, and the living area was small but has a very open and spacious feel. The view is gorgeous and although it was cold outside, we were still able to enjoy the fire pit for a few 'smores. If we ever have another event in Springfield or if we're looking for a fun place in the summer where we can enjoy the lake a little more, we will definitely be back! Rick was extremely responsive and went above and beyond to make sure we had what we were looking for ♡
Jen
2017-03-25T00:00:00Z
Great location. Easy walking distance to restaurants and live music. Cozy and comfy. Great place to chill and hangout. My husband and his brother went for a getaway and absolutely loved it! Next brothers trip they will definitely keep Rick's place in mind. Beautiful views and location. Very clean. Pinball machine is so cool! Loved it! Thanks for having us!!
Launa
2017-01-22T00:00:00Z
ประเภทห้อง
บ้าน/อพาร์ทเมนท์ทั้งหลัง
---
ประเภทที่พัก
เกสต์เฮาส์
---
พักได้
6
---
ห้องนอน
Southwick, แมสซาชูเซตส์, สหรัฐอเมริกา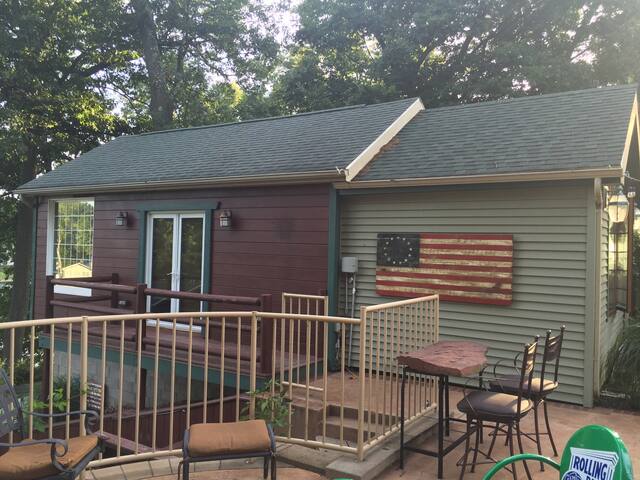 Lakefront home located on Congamond Lakes North Pond, includes a private dock! Close to the rail trail, hiking, golf course, farms, and restaurants. Great for families, couples, business, or solo trips. 20 minute drive to Bradley airport, Basketball Hall of Fame, Six Flags, and the Big E.
ประเภทห้อง
บ้าน/อพาร์ทเมนท์ทั้งหลัง
---
ประเภทที่พัก
บ้าน
---
พักได้
8
---
ห้องนอน
Southwick, แมสซาชูเซตส์, สหรัฐอเมริกา
This pretty LAKEFRONT home is perfect for couples, friends, family or business traveler. Located on Congamond Lake "Middle Pond", it's the perfect spot to start your day sipping coffee by the water and end it with a glass of wine by the fire. You'll love it! 25 mins...Big E, Six Flags, Basketball Hall of Fame, Bright Nights. Close to the bike trail, hiking, parks, farm stands, airport, grocery store, restaurants, golf courses and more. Do you need a getaway? this is it!! AMAZING....
WATERVIEWS from almost every room. So comfortable & relaxing, unplug and day dreams are possible. Beautiful new patio, covered gazebo by water and big dock to sit on top of the water. At night, plug in the lights, so romantic and magical! The view is so pretty, it's hard to focus on anything else.
It's a quiet dead end street.
Bella has a very nice lake home. She made us feel very welcome and it was very easy to feel comfortable once we arrived.
Zack
2016-11-18T00:00:00Z
Anabela was extremely available and eager to help, she genuinely felt invested in making our stay as easy and pleasurable as possible, and it truly was. The house is beautiful and comfortable, the lake and dock are amazing, everything was great.
Jeffrey
2016-08-26T00:00:00Z
Bella was a great host and the house was wonderful !
Kim
2016-08-22T00:00:00Z
What a great stay! Bella was easy to communicate with and greeted us warmly upon arrival. She had provided breakfast, fruit, and other provisions. The house is on a beautiful lake and completely and comfortably furnished; outside there is a fire pit, a sandy beach, a gazebo and table by the lake, and a dock. Lake Congamond is crystal clear and the girls enjoyed swimming, and there is a miles-long paved bike trail just down the road. Shopping and amenities are all close by. As Bella did, we recommend Red Riding Hood's Basket for breakfast or lunch (pumpkin French toast, who knew?!). The house itself is large and well equipped, with three full bedrooms and three bathrooms, a full kitchen, great living room with TV, good wifi, etc. etc. Would be great to come back for a relaxing week here.
David
2016-09-25T00:00:00Z
Our stay at Anabela's home was nothing short of amazing! We had an incredible time at the house and she was a gracious and easy going host. She even provided us with some toys for our daughter to play with during our stay and made our little one feel comfortable by showing her her own special bed she had set up with stuffed animals and all, so cute. The home is absolutely immaculate and very charming. Plenty of comfortable beds for the family and lots of stuff to do, tv, wifi, etc. We spent many nights sitting out by the water having a fire and enjoying the beautiful lake. There is also a very nice bbq we put to use and made our dinners. The surrounding area provides lots to do for families, and Anabela provided many menus and suggestions as to where to dine and visit. We are so looking forward to coming back next year for a nice relaxing visit by the lake!
shane
2016-09-18T00:00:00Z
Two of my co-workers traveled with me to Anabela's house. They never used airbnb so they were not so convinced before we arrived. But when we left, they said they definitely use airbnb next time they travel. Anabela is a very friendly and caring host and we really enjoyed our staying in her beautiful house.
Lei
2016-09-11T00:00:00Z
Bella's home and hospitality are nothing short of EXCELLENT! She was a wonderful host greeting us there, giving a quick tour, and instantly conveying to us that "mi casa es su casa" before heading back to her home. She checked on us once or twice by text to make sure all was well with the home... and it was perfect! Her home is on the lake with wonderful views. We spent Christmas there with a family of 6 and two family visitors that came by each day. Bella's home had all the amenities available for us to fix a wonderful Christmas meal and relax afterwards... allowing the TV to watch us (we all fell asleep from being so relaxed)! :-) I simply have to repeat my 8 yr old granddaughters comments that, "this is the BEST AirBnB we've ever stayed in!". She was a bit blown away that Bella had set up the little girls room with all kinds of activities - dolls, children movies, and even more - just for for them. We will definitely request to stay again... hopefully every time we visit the area. Bella is a fabulous AirBnB host and sets the bar for all others. She is a wonderful person - warm and has a very natural hospitable personality. Making you feel like family as soon as you meet her upon arrival.
EstebanandSharon
2016-12-26T00:00:00Z
Bella was a fantastic host to my coworker and me, she was very welcoming and friendly. She has a lovely home - I just wish we could have stayed longer to enjoy the beautiful lake.
Hillary
2016-09-29T00:00:00Z
ประเภทห้อง
บ้าน/อพาร์ทเมนท์ทั้งหลัง
---
ประเภทที่พัก
บ้าน
---
พักได้
8
---
ห้องนอน
Southwick, แมสซาชูเซตส์, สหรัฐอเมริกา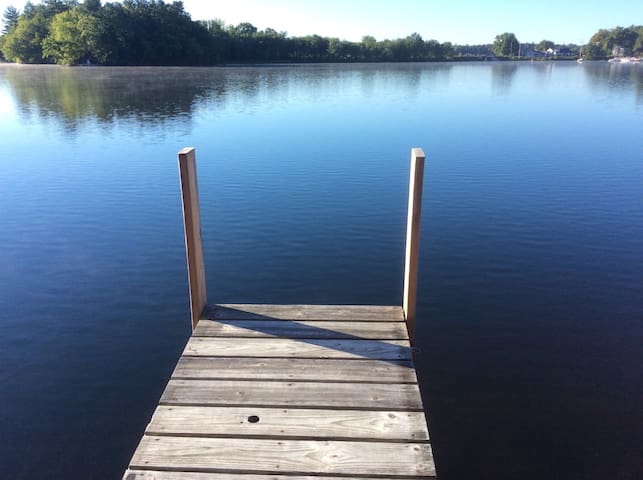 Come relax on our serene & beautiful spot on Congamond's North pond. Perfect for couples, solo travelers, and families. Fantastic neighborhood filled with friendly lake loving neighbors. Lake front location, complimentary dock space, walking distance to three fantastic restaurants featuring great food & live music, and a short drive to many other local attractions (Six Flags New England, Basketball Hall of Fame), restaurants, and more!
Welcome to our property on Congamond's pristine North Pond - just twenty steps off the water! One of three bodies of water that make up the Congamond Lakes, North Pond is a quiet & cozy place, perfect for couples or families looking for a week long or weekend getaway! By day, you'll find boaters lounging and playing on the sandy, uninhabited shores of the far side of North Pond and fishermen/women exploring the water throughout the day. By night, you'll be able to sit on the porch or by the lake enjoying a serene, quiet atmosphere, watching the stars, sitting by the fire bowl and enjoying a drink that you fancy. We have a nice dock, available for use at no cost - motor boats & non motorized boats are welcome! Jet Skis are not allowed on North Pond per MA law, but can be launched nearby on Middle Pond with ease. The neighborhood is welcoming & filled with very friendly lake living neighbors and weekenders. It's a family oriented atmosphere, with many residents living in their current homes for 10, 20, 30+ years. Our home has three bedrooms upstairs + finished basement living area downstairs, one bathroom, two queen beds, one full size futon, one single bed and twin bunk beds - and also features a pullout couch. The home would comfortably accommodate a family of 6-7, and could easily accommodate a couple more. Granite counter tops, wide pine hardwood floors, a big leather sectional, and modern amenities fill the home - Keurig with a selection of coffee included, dishwasher, washer/dryer available for use, propane grill, and fire pit. All bedrooms & living room have separate air conditioners as well. Outside on the deck, enjoy time in a screened tent to stay out of the sun yet enjoy the lake. It's truly a place where you can throw your car keys in the fish bowl and not touch them for a week if you didn't want to. Within walking distance are three fantastic places: Legends of the Lake, a perfect spot for breakfast, lunch or dinner, - on the water; Nora's Restaurant, a mid to higher end restaurant that overlooks the lake from a nearby hill - a great place to enjoy a nice steak; and Louie B's - a restaurant/bar on the water featuring live music every weekend and rocking back deck. *$100 in Complimentary dining gift cards provided with each week long (5 night minimum) booking!* $50 - Nora's; $25 - Legends of the Lake; $25 - Louie B's Within a short drive, there's everything you would ever want - pharmacy, grocery store, gym, spas/salons, golf, antique shops, farm stands, one of the best fresh Donut shops (Mrs. Murphy's!) in New England, an ice cream shop (Summer Shack), brewery (Westfield River Brewery), and more. See below for a LONG list of nearby attractions and amenities!! We've got loads of board games at the house for families to enjoy, as well as a flat screen Smart TV with Netflix subscription included.
We had a lovely stay at Tim's home. We stayed for a few nights during the off-season and loved his spacious house and the quiet of the frozen lake. We enjoyed cooking in the gorgeous kitchen and were very comfortable during our stay. Tim was easy to communicate with, and was helpful and prompt replying to all of our questions. Thank you, Tim, for a relaxing get-away and a great experience!
Callista
2017-01-01T00:00:00Z
Tim's house was clean, comfortable and accurately depicted. Tim was very easy to communicate with and there if we needed anything or had any questions. Tim was the epitome of what an Airbnb renter should be. Would suggest and recommend his home for anyone looking for a relaxing weekend, stress free weekend on the lake.
Brian
2016-07-05T00:00:00Z
Beautiful house inside and out stocked with everything we needed for a great stay.
Martin
2016-07-06T00:00:00Z
Staying at this house was a slice of luxury in rural New England. The view of the lake alone from the kitchen and the master bedroom was breathtaking. The house was well equipped with any and all amenities one would want/need, and the privacy and quiet of the neighborhood provided the perfect backdrop for much needed R&R. Tim, the host was always on top of making sure we were having a comfortable stay. I would highly recommend this listing for anyone looking for a private elegant retreat.
Bradford
2017-03-28T00:00:00Z
Tim is awesome! He made us feel like we were his best friends when he introduced himself. The house exceeded our expectations and so full of everything needed to make a family of 5 comfortable. We swam, floated, fished, saw town fireworks from the deck, baby ducks ate right out of our hands!! We played classic board games ( of which there were many!!) Fantastic beds! So comfortable! The house was warm and inviting!! Wished we could have stayed longer and would absolutely return!!
Bonnie
2016-07-23T00:00:00Z
ประเภทห้อง
บ้าน/อพาร์ทเมนท์ทั้งหลัง
---
ประเภทที่พัก
บ้าน
---
พักได้
6
---
ห้องนอน
Southwick, แมสซาชูเซตส์, สหรัฐอเมริกา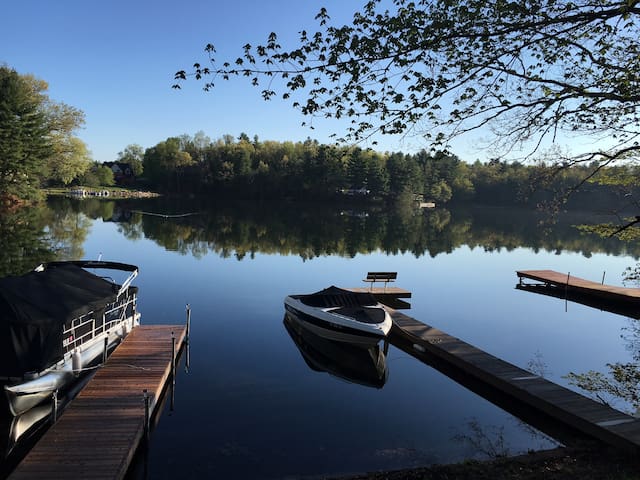 63 acre organic farm with beautiful vistas, walking trail. 5 min drive to Lake Congamond with Public Beach and biking trail. 20 min to Hartford, Ct and Springfield, Ma. Ten minutes to Bradley Airport. Use of private living quarters. Full bath, refrigerator, coffeemaker, amenities. Full n twin bed available.
Separate room and bath from rest of house with use of front porch.
No neighbors are the best neighbors!
Diana was very welcoming and accommodating! She got us an AC unit and even brought over freshly baked treats. She was very flexible with arrival and departure times too. Great host! She even took the kids on a nature walk. The room is as advertised - not glorified, but great for 3 adults and a kiddo to stay way cheaper than a hotel and a stone's throw to CT. Fridge and table allow you to make basic meals too.
Jessica
2016-07-31T00:00:00Z
Felt welcome
Susan
2016-07-22T00:00:00Z
We had a lovely time at Diana's...it was a great place to get out of the city (though if you like to sleep in and are a light sleeper, ear plugs might be in order for when the roosters crow. For us it was no problem as we tend to get up early anyway). The accommodations were comfortable and we had everything we needed to enjoy our stay. Diana even made us homemade scones! It is a farmhouse so don't expect a hotel experience...though we had a sink, mini-fridge (with freezer) and coffee setup which was nice to have. Would stay here again...much more interesting than a motel/hotel!
Philip
2016-05-31T00:00:00Z
This is a lovely old farmhouse with a big room for sleeping and hanging out, a kitchenette, and a full bathroom, as well as a pretty front porch with chairs and a table. Diana was a lovely host and we enjoyed the many critters on her property (including chickens, dogs, and cats). It's on a gorgeous country road, but only ten minutes from two town centers (Granby and Southwick) if you need supplies (including the best donuts in New England). We loved staying here!
Susan
2017-01-07T00:00:00Z
ประเภทห้อง
ห้องส่วนตัว
---
ประเภทที่พัก
บ้าน
---
พักได้
4
---
ห้องนอน
Southwick, แมสซาชูเซตส์, สหรัฐอเมริกา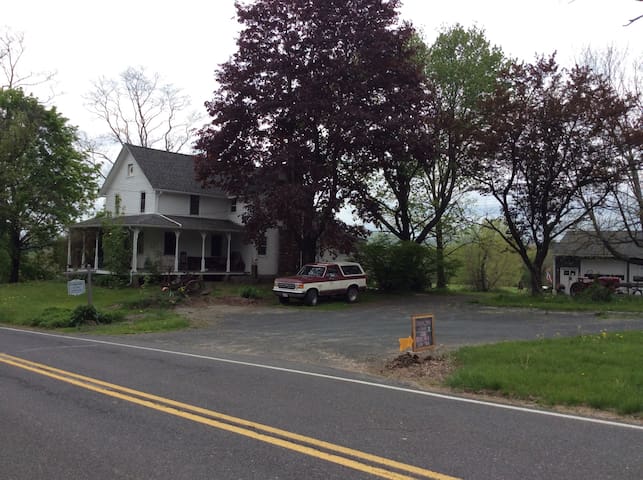 Come relax on our serene & beautiful spot on Congamond's North pond. Perfect for couples, solo travelers, and families. Fantastic neighborhood filled with friendly lake loving neighbors. Lake front location, complimentary dock space, walking distance to three fantastic restaurants featuring great food & live music, and a short drive to many other local attractions (Six Flags New England, Basketball Hall of Fame), restaurants, and more!
Tim's Lake House is wonderful, spacious & comfortable house with a beautiful lake front setting and view. The area is very scenic and you can walk to lakefront restaurants and bars. We highly recommend Tim's place and hope to return some day.
Stephen
2016-11-21T00:00:00Z
This is a spectacular home, in a perfect neighborhood and really everything I would have wanted in a home was there! This is a great place for a large family needing to relax right on a lake! Great nearby town too!
Gregory
2016-12-23T00:00:00Z
Great house. My wife and I traveled with our kids, including a couple, for a last minute family event. Tim responded quickly and provided a great home for us to stay in. House is brand new, well appointed and decorated. Amazing view. Everything you need is provided. Area is somewhat secluded but there are a few good shops and restaurants nearby. Would like to use the house again for future stays. Thank you for making a difficult event easy.
Vincent
2017-03-17T00:00:00Z
My friends and I stayed at Tim's beautiful home for a weekend and we couldn't be happier with the house and location! Tim is awesome! He stopped by the house prior to our arrival to clear the snow from the walkway and driveway and turned up the heat in the home. Communication with Tim was great as he responds quickly and was clear with directions and answers. The home was extremely clean and spacious! The home is right on the lake and unfortunately we couldn't take advantage due to snow, but we hope to return over the summer! Definitely recommend this home if you are looking for a getaway, yet with all the conveniences nearby. Also, must try the Westfield River Brewing Company, great food and unique beers! Thank you for everything Tim! :)
Jeanette
2017-02-12T00:00:00Z
The house was beautiful, spacious and very clean. We loved the view and only wish it was warm enough to go outside and spend time on the lake. Tim was quick to provide answers to questions and the house was good for kids 2 plus. Thank you again Tim. We hope you will have us back.
Jennifer
2017-01-16T00:00:00Z
The house was perfect for my family and everything was exactly as described! I was able to reach Tim with any questions or concerns within minutes or faster! You could not ask for a better host and I plan on staying at the home many more times!! Thank you for a perfect, enjoyable stay for my family and I !! Jon Cape Coral, FL
jonathan
2016-11-03T00:00:00Z
The home is located in a peaceful setting overlooking lake and is always clean and exactly what I expect when I rent from Tim. Tim's communication is fantastic and I look forward to more future stays.
jonathan
2017-03-06T00:00:00Z
The house was a true find for us as it provided the space our team needed. It was close enough to where we needed to go and yet provided a respite. New construction in a beautiful setting We count it as yet another wonderful airbnb experience.
Fran
2016-11-15T00:00:00Z
ประเภทห้อง
บ้าน/อพาร์ทเมนท์ทั้งหลัง
---
ประเภทที่พัก
บ้าน
---
พักได้
6
---
ห้องนอน
Southwick, แมสซาชูเซตส์, สหรัฐอเมริกา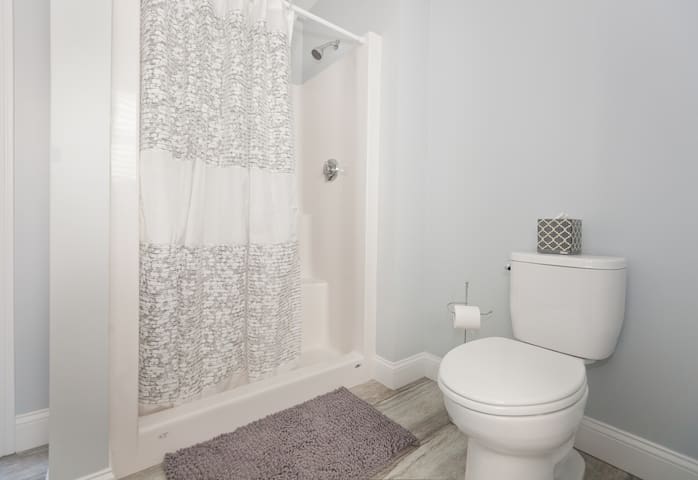 Magical authentic 1940's cozy cabin nestled in the pines, on "The Island" (walk over foot bridge) Congamond Lakes ! private boat dock,bring your canoe, kyac, power boat or rent a boat at local marina - ! 2 Restaurants/Bar with live bands. Very peaceful & tranquil yet lots of action on the lake ! Back To Basics ! Rustic living ! .... summer/seasonal cottage (NO HEAT or air conditioning - space electric heaters for fall). Bike Trail & Public Beach nearby - Bedroom 1 has a double bed for sleeping 2. Bedroom 2 has two twin beds. There is a sleeper sofa on the porch. Hot Water is limited to 5 minute shower ! with 10 minute recovery for next shower ! Stereo, Tiki Bar, Small T.V. for VHS & DVD movies (Red Box Rental 2 miles away!!, Grocery Store, Gas Station, CVS, Ocean State Job Lot all less than 2 miles away ! The Berkshires 30 minutes, 6 Flaggs New England 15 min, Yankee Candle - 30 min, 15 min to Hartford, CT - or Springfield, MA home of Basketball Hall Of Fame & Doctor Suess ! SIMPLE PLEASURES !! Play Cards & Board Games ! Clear Your Head Here !! Very Cozy, homey cabin. Pricing varies - $125 per night mid-week to $250 per night weekends/holdidays. Please inquire and confirm pricing and dates !! Linens provided for an additional $50.00 fee.
Walking distance to bike trail great for walking and biking ! Many restaurants, grocery, gas station, etc. very close by ! Local winery 10 miles up the road for tastings !
Brenda was a great host. She pays attention to the details, and couldn't be more hospitable. The Lake House is a great getaway for a couple. We had a very good time.
Jurek
2012-10-08T00:00:00Z
This was our second time at the cabin. It is a very special place where great memories are made.
Sarah
2015-06-07T00:00:00Z
Brenda is a wonderful host. She made us feel right at home before we even arrived- offering to pick us up and grab groceries. She brought us some thoughtful necessary items like eggs knowing we'd be biking in. She was available with any questions and amazing to communicate with. The cottage was a perfect hideaway for us. We will definitely be back.
Caroline and Scott
2014-05-26T00:00:00Z
Brenda's little cabin was the perfect romantic getaway ! When we arrived she was totally accommodating, answered all of our questions, and was incredibly helpful. She even gave us an awesome ride on her boat ! The cabin is fully equipped with everything you need to have a really fun time. The deck is a sweet spot at night to hang out as are the lower areas near the lake, including the dock itself (all of which are totally private!) If you go, make sure you build a fire at night, cook some sweet corn, and watch the stars with a glass of wine ! Swimming in the lake is fantastic, as the water is clean and refreshing. Brenda even allowed us to take out the raft that she keeps underneath the deck which allowed us to cruise around the island. The location is also very close to the main town where there are a variety of restaurants and stores. The Berkshires are also easily accessible, about 30 minutes away. We would love to return in the future and explore some of the other great things in the area such as the bike trail. Overall we had a wonderful experience and Brenda is a charming, delightful host !
Luke & Debbi
2012-08-25T00:00:00Z
Brenda was an awesome host. The place is adorable. My crew was so happy with accomidations. The waterfront, firepit, fireplace who can beat it. We kayaked around the island and even swam in October. We will be coming back next year if we can. Loved it!!!
Sarah
2013-10-14T00:00:00Z
Brenda greeted us and quickly went to work making frozen drinks to combat the heat. A very nice touch and much appreciated considering the heat wave. The cottage was GREAT! Very clean and a perfect location for staying with kids. Right on the lake and most of our time was spent in the water. A kayak and inflatable boat were there for our use, as well as a number of other water toys, life jackets, etc. There is no a/c, which is plainly mentioned, but it didn't really matter with the fans. And let me say again, it was hot while we were there! Go, spend all day in the water, come in at dark and you'll be fine. Can't recommend this place enough.
Stacy
2013-07-07T00:00:00Z
This adorable cottage was just as listed and described. We had a great stay, wished we could have stayed longer. We enjoyed the beautiful views of the lake. Was nice to take a "tech" break for a few days, no internet or cable, it was very enjoyable. Hoping we can come back in the spring!
Cecelia
2014-10-19T00:00:00Z
We loved our stay at the Lake! The cottage was perfect -- even sweeter and more comfortable than the pictures make it seem -- and the lake was great for swimming and kayak-exploring. Loved early morning swims, napping on the screened-in porch, and watching rain and lightening over the lake. It was a great week with family and friends. T
Jessica
2014-07-05T00:00:00Z
ประเภทห้อง
บ้าน/อพาร์ทเมนท์ทั้งหลัง
---
ประเภทที่พัก
กระท่อม
---
พักได้
6
---
ห้องนอน
Southwick, แมสซาชูเซตส์, สหรัฐอเมริกา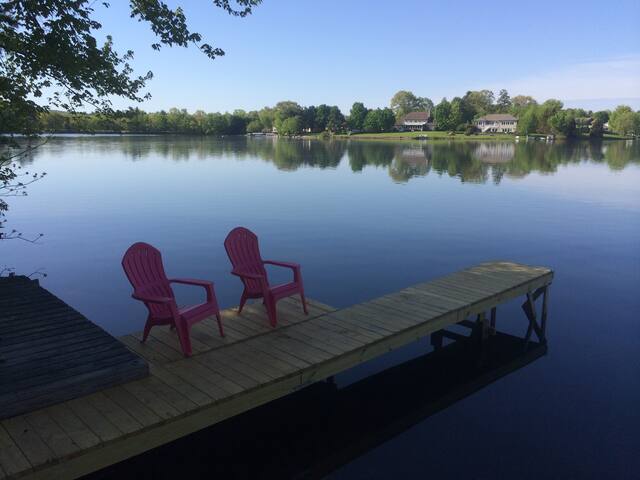 segundo piso entero, barrio de la familia bastante, espacioso y luminoso, con muchas ventanas, porche precioso con vistas al parque / zona de juegos, cómodos colchones, un montón de almohadas, sábanas suaves, suaves toallas gruesas, champú, Wi-Fi, Netflix / honda, Lavadora y secadora en el sótano. Cerca de colegios (Mount Holyoke, Smith, Hampshire, Amherst, Umass) también (Williston Northampton y la Escuela MacDuffie), MassMutual Center, Hospital Estatal Bay, Big E, Hospital Cooley Dickinson, Delaney House, Log Cabin.
Nuestro lugar está situado en un barrio muy tranquilo, recientemente renovado, amplio, un montón de ventanas. Fácil acceso a la I 90 y 91, la ubicación central, que está a 15 minutos de Northampton (Smith College), 20 min de (la Universidad de Hampshire), 25 min de (Umass), 15 min de Springfield (hospital del estado de Bahía, MassMutual , etc), West Springfield (Big E), South Hadley (Mount Holyoke College), Granby (MacDuffie School), Agawam (Six Flags), Chicopee (Westover Base, Conferencia MassMutual), Westfield (Barnes Aeropuerto), (Westfield universidad) . A 10 minutos del banquete cabaña de madera y la casa Delaney (D hotel y restaurante).
La casa está situada en una zona muy tranquila justo al otro lado del parque (ideal para niños) con una bonita vista desde el porche. el amistoso del restaurante está justo arriba de la calle, Dunkin Donuts, chino (palillos de oro) y un pequeño restaurante tailandés / Deli (seda) a poca distancia. Holyoke hospital está a 2 minutos. Holyoke Mall está a sólo 7 minutos en coche. Farmacias y tiendas de comestibles están a pocos minutos en coche
This was a fantastic experience staying with Joesph. He was very responsive and helpful. The house was ideal for us, very clean and nice. We really enjoyed our stay!!
Chas
2016-10-02T00:00:00Z
We had a great experience with the apartment. Having a kitchen and living room was great. Super easy, clean quiet. We were in nearby Northampton at the cyclocross races and cooked one night, went out to eat the other, made our breakfasts and lunches at the apartment. Worked out great.
Erik
2016-11-13T00:00:00Z
Joe was such a gracious host! The place was clean and quiet. Joe introduced himself to us and showed us the features of the house. He was more than accommodating to us when we had questions or needed anything! This was a prime location for where we needed to be all weekend. When we were leaving Joe came out and said "goodbye and safe travels". Such a great man! Thank you so much! We will definitely stay again if we ever come back out this way!
Michelle
2016-10-08T00:00:00Z
My family and I had a wonderful stay at Joseph's place. We were a family of 5 adults and it was perfect for us! Joseph was a very attentive host.
Brennan
2017-03-20T00:00:00Z
Me and my group loved staying in this home. Has everything you could ask for and more. Very clean and wonderfully set up. I would definitely recommend it!
Sean
2016-12-04T00:00:00Z
Avant même d'arriver nous avions les instructions très claire pour prendre possession de l'appartement avant l'heure prévue. Joseph s'est présenté à notre arrivée pour s'assurer que nous avions fait bonne route et s'assurer que nous étions bien installer. Aucune déception, l'acceuil, la grandeur de l'appartement, la propreté. Nous avons eu quelques demandes quant aux ustenciles pour la cuisine et nos hôtes ont su répondre promptement à nos besoins.
Louise
2016-10-16T00:00:00Z
This is a clean, basic, straightforward, comfortable home. Just exactly as described. Four of us stayed here over the long weekend for a work thing, and it worked just fine. Three of us each had our own bedroom, and one took the couch, and we shared the one bathroom -- I'm glad everyone was very gracious about that, as I'm sure not every group of four could do that well. I had a room with a queen bed and it was very comfortable, with lots of pillows. While the room itself was small and a little snug to walk around the bed, that was fine by me, as I worked all day and night, and just wanted to crash hard at bedtime, not pay for a luxurious large bedroom to walk around in. I slept like a log. The bed was just right, not too firm and not too soft. Joe emailed me ahead of time with all the details I needed to know. When I first arrived, Joseph called to make sure I had everything. When we met briefly, he assured me I could call any time or even knock on the door, as they live downstairs. We never heard them, and I can only hope they weren't bothered by us, either. Nice kitchen, big fridge, toaster oven, microwave, coffee maker, toaster, gas stove/oven, really, it was perfect for us. Our project is in Springfield, about a 15 minute drive away, so this house was just right for us. We had one car and Uber worked great for separate trips. I definitely recommend this stay.
Lisa
2017-02-05T00:00:00Z
Joseph's AirBnB was clean and comfortable. The two queen beds were firm but comfy with lots of pillows and soft sheets. There's a softer mattress in the double. Loved the thick, soft towels, too! Friendly's is just up the street as is a cute little "Thai/deli" called Silk; grocery store and pharmacies are just minutes drive away. Only 15 minutes to Baystate Medical center and fewer than 10 to the mall (important for us.) We stayed and cooked mostly, and had what we needed to prepare basic meals and snacks. Joe introduced himself and was very kind and responsive. We would stay again.
Amy
2016-12-30T00:00:00Z
ประเภทห้อง
บ้าน/อพาร์ทเมนท์ทั้งหลัง
---
ประเภทที่พัก
บ้าน
---
พักได้
5
---
ห้องนอน
Holyoke, แมสซาชูเซตส์, สหรัฐอเมริกา
My husband and I went to Holyoke to visit my daughter who is a sophomore at Mt. Holyoke College. We had a wonderful stay at Lisa and Richard's. Their home is beautiful and big which allows for privacy anytime you need it. Lisa and Richard are very friendly and warm and they put a lot of care in the details to make you feel comfortable and "at home". Our room and bathroom were very clean, the bed was comfortable and both the bedding and the towels made us feel like we were in a 5 star hotel. I was particularly touched by a self-care basket that we had in our room. We enjoyed the proximity to Northampton (10 minutes away). We went shopping, took walks and had dinner with our daughter there. We highly recommend that you stay at Lisa's and Richard's home if you are planning a trip to that area.
Sabina
2017-04-10T00:00:00Z
ประเภทห้อง
ห้องส่วนตัว
---
ประเภทที่พัก
บ้าน
---
พักได้
2
---
ห้องนอน
Holyoke, แมสซาชูเซตส์, สหรัฐอเมริกา
This was a lovely Airbnb experience! Marjorie and Denis have a beautiful home. They were both very happy to offer advice or recommendations if asked for them. Breakfast of homemade yogurt and granola plus fruit and coffee were more than enough each morning. I stayed in the twin bedded room which is adorable yet a little on the small side (if you have a lot of luggage, which I did.) The twin bed also has a foot board so if you are over 5'7'' tall, you will have difficulty stretching out your legs at night. The queen bedded room (which was slightly more per night than the twin) is good sized and I would most likely book that one on any future visit, just because I know I always travel with a lot of "stuff" and like to spread out. I highly recommend this beautiful home and thank Marjorie and Denis for welcoming me into it. I look forward to being able to stay there again in the future.
Ginny
2015-10-21T00:00:00Z
Majorie is a super host, who has turned her home to an oasis! Highly recommended regardless of the purpose of your travel, business or relaxation.
Heba
2017-03-03T00:00:00Z
Marjorie and Denis were such gracious and warm hosts! It was a pleasure to stay here, and feel right at home. Tucked in a lovely treed/garden setting, it is a peaceful and beautiful retreat, and very convenient location, very cozy. Marjorie made sure the lights were on for my evening arrival, and the house was easy to find. It was great to get to know Marjorie and Denis, and find out more about what was going on in Holyoke--a city that I'm intrigued with. They were easy to talk to, and very fun!
anne gatling
2014-10-03T00:00:00Z
What a delightful place to stay. Very accommodating, delightful hospitality. Marjorie and Denis are a wonderful couple and have created an elegant and rich place to stay.
David
2015-11-13T00:00:00Z
Marjorie et Dennis ont été adorables, accueillants et disponibles. Leur maison est superbe et idéale pour se reposer, lire et se ressourcer. La chambre était petite mais parfaite et très propre. Par contre, grande salle de bain agréable avec baignoire et douche comprenant vraiment tout le nécessaire, même pour se prélasser dans un bain ;) Superbe petit-déjeuner . Le petit plus : la piscine lorsqu'il fait très chaud. Mon séjour a été parfait. Merci Marjorie et Dennis.
Imane
2016-09-03T00:00:00Z
Unique home with unique friendly host!
Heba
2016-12-02T00:00:00Z
Warmth, charm and comfort.
Heba
2017-02-10T00:00:00Z
Superb interiors, warm hosts and very pleasant stay. Thank you Marjorie for your attentiveness to details.
Heba
2017-02-03T00:00:00Z
ประเภทห้อง
ห้องส่วนตัว
---
ประเภทที่พัก
บ้าน
---
พักได้
1
---
ห้องนอน
Holyoke, แมสซาชูเซตส์, สหรัฐอเมริกา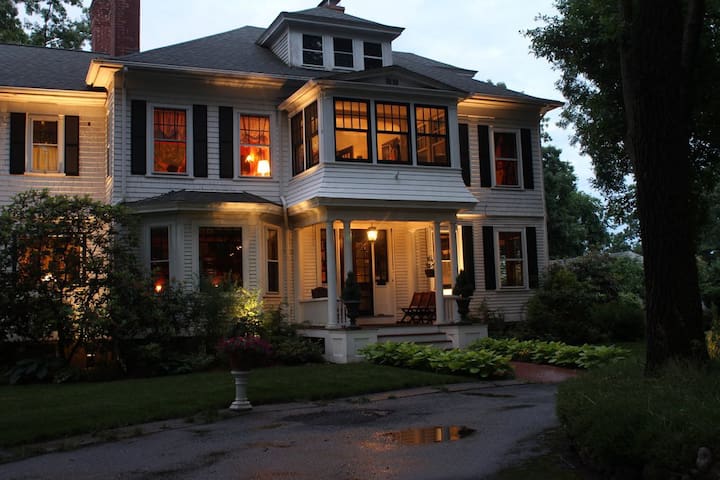 Bryan was very welcoming and the property is wonderful. Communication prior to my arrival was clear and timely. I wished I had spent more time talking but I was very busy during my visit. I would definitely book a stay again.
Stuart
2016-10-23T00:00:00Z
Bryan is a fantastic host! Extremely friendly, helped us get settled once we arrived, and gave us suggestions of things to do in the area. Could not have asked for more! Except for more time to spend with Bryan and his partner.
emily
2016-08-22T00:00:00Z
Bryan and Flavo went above and beyond in making me feel at home. They showed me how to catch the bus in that area, showed me places I could go for a dinning. For a 18 year old traveling on my own for the first time they really made it easy.
Adam
2016-11-19T00:00:00Z
Overall my stay was quick but I felt at home right away. I was traveling and stopped in Holyoke. Bryan and Flavio were very comfortable and flexible. They provided an awesome room. There were plenty of pillows and a gorgeous bathroom. The best part was the desk. It was great to have a space to work at while on the go. Lastly the air conditioning was a blessing, especially for the humid summer night. I really enjoyed my stay and loved the house!
John
2016-08-22T00:00:00Z
My husband and I have vacationed in the Pioneer Valley many times and this was by far the most completely enjoyable stay we've had . The location and the neighborhood couldn't have been better. Tree lined streets embrace majestic homes and our hosts have filled their beautiful home with warmth, creativity and beauty - perfectly reflecting their intelligence, talents and caring. Our bedroom was quiet, the bed very comfortable, closets , desk all just as we needed. The bathroom is a delight with a great tub and excellent shower. The kitchen is gourmet and a joy to use. As well there are porches and outside gardens for an early morning coffee or evening socializing. Because there are endless opportunities for stimulation in this area , achieving a balance of relaxation and activity has always been a challenge. On this trip we were able to do this Holyoke is uniquely located - a lovely tranquil neighborhood and yet 10 minutes to the active town of Northampton, with easy access to lakes, parks , rivers as well. We were generously guided by our hosts who freely offered their knowledge of the area and many wonderful suggestions of the area's happenings. As well, they are each such smart, sensitive and enjoyable people that we had the bonus of getting to know 2 terrific people. With a light touch they allowed us to lead in determining the balance of privacy and conversation we desired. The difficult part was leaving! We look forward to returning . Thank you so much!!
Paula
2016-09-04T00:00:00Z
Bryan was a great host.I really enjoyed our conversations.I felt right at home and had everything I needed.If I am back in the area I would love to book again. Thanks!!
Jonathan
2016-10-10T00:00:00Z
Bryan & Flávio's Garden Suit went above and beyond my expectations. It was warm, cozy, extremely clean and comfortable. I would 100% recommend it to a single person stopping into town like myself, or a couple looking for a homey feel and stay. Either way, it is wonderful!
Lillian
2016-11-13T00:00:00Z
Bryan was very welcoming and quickly guided me to a clean, well-kept bedroom on the second floor and provided a key for the side entrance. The bed in the room is comfortable-- the chocolate bar on the pillow was a nice touch! The house is a beautiful, spacious Queen Anne Victorian. Bryan is happy to share the history of the house and neighborhood, and is easy to talk with about anything. Yet, if you're looking for a quiet time, he is respectful of your space. The location is ideal near Mt. Tom, which has a great bike and running path. I also liked that it was a close drive to Northampton, East Hampton, and Springfield. You will enjoy your stay here! No regrets for me.
Tim
2016-06-07T00:00:00Z
ประเภทห้อง
ห้องส่วนตัว
---
ประเภทที่พัก
บ้าน
---
พักได้
2
---
ห้องนอน
Holyoke, แมสซาชูเซตส์, สหรัฐอเมริกา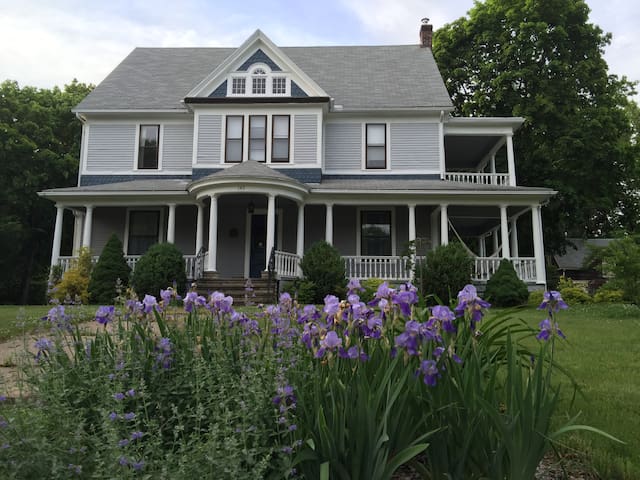 Dalia and paul house is the best I ever booked on Airbnb. They both are the best landlord I've ever met during this trip. Their house is amazing for art atmosphere every where, so very beautiful and comfortable. Super clean. They prepare for us breakfast and fruit every morning and cook coffee for us. On the day we leave, they even prepared cookies for us. We're so happy and impressed. When They heard about my daughter is applying for high school here, they brought me to a famous high scholol just located around the house. This information is very important for us. So i really appreciated for them. Now we've become friends. I'm looking forward to meeting them again.
alisha
2016-08-06T00:00:00Z
Our stay at Dalila and Paul's house was an absolute delight. The hosts are very communicative and the house is beautiful and immaculate. Everything that you need is available. The beds are comfortable. And they have the best coffee! Highly recommended. Thank you Delila and Paul.
Haruko
2015-11-14T00:00:00Z
The house and neighborhood were great and exactly as advertised. The hosts were very gracious and welcoming. We couldn't have been happier with our stay in their house.
Bill
2015-05-09T00:00:00Z
Dalila and Paul are just lovely people. Their home was immaculate! Everything was clean, comfortable and spacious. We were made to feel very welcome. Breakfast was a real treat, granola (homemade!), fresh berries, scones, yogurt and good strong coffee! We would unreservedly recommend their place. I should mention it was very easy to get to from the highway, beautiful neighborhood. Thanks D & P!
terry
2015-09-20T00:00:00Z
Dalila and Paul 's house is very very beautiful . It's the best Airbnb we have stayed . They are super welcoming , friendly and thoughtful host . Paul picked us up from the bus station and Dalila welcomed us with a glass of red wine and delicious noodle dinner . The breakfast they prepared was healthy with fresh fruit and homemade cake . Paul's parent came next morning ( as bother if them need to work ) to drive us to the college my daughter planned to visit . It's a pity that we could only stay for one night . We highly recommend to anyone going to the area as it's one of the highlight of our trip .
Heidi
2016-07-29T00:00:00Z
Dalila and Paul were wonderful, welcoming hosts with a beautiful and immaculate home. We had our own private wing on the first floor and were welcomed to make ourselves at home. There was even a lovely outdoor seating area that looked so inviting; hopefully we will have the time to relax out there on our next visit; yes, we will be back. The location was on a nice quiet residential street, yet only a few minutes from the interstate. Our room looked just like the photos on their site, large and comfortable, with that high bed and the most comfortable mattress ever. It was our pleasure to be welcomed as their guests!
MaryAnn
2016-09-14T00:00:00Z
This was our first AirBnB experience, and it couldn't have been better. The house was comfortable and clean, with every convenience. Paul and Delila were accommodating, gracious and engaging hosts. Highest recommendation.
Douglas
2014-08-04T00:00:00Z
Dalila and Paul have a beautiful home, very conveniently located to all the places in the Pioneer Valley that my friends and I wanted to go. There were 4 of us traveling in from 4 different places, and D&P not only accommodated all of us with ease but also all of our cars. D&P also provided us with breakfast both days, which we were not expecting but it was so nice of them and delicious! Excellent hosts, excellent location, excellent trip!
Dominique
2015-10-04T00:00:00Z
ประเภทห้อง
ห้องส่วนตัว
---
ประเภทที่พัก
บ้าน
---
พักได้
4
---
ห้องนอน
Holyoke, แมสซาชูเซตส์, สหรัฐอเมริกา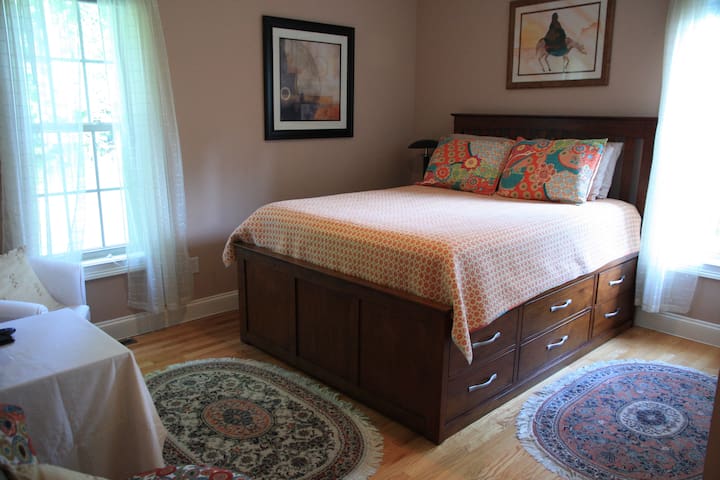 Perfect!
Stephanie
2017-03-06T00:00:00Z
The home is even more beautiful in person! We found it very peaceful and accommodating! Mark was very helpful and great to communicate with!
Stephanie
2016-02-28T00:00:00Z
Mark's cute townhome was wonderful, it was perfect for our stay to tour the colleges in the Amherst/Northhampton area. It is a spacious unique experience from the late 1800's that was clean and very spacious. We flew in from Seattle and Mark was very helpful in providing information. I highly recommend you stay at Mark's place.
Joseph
2016-04-05T00:00:00Z
Quiet, lovely, historical home. My family thoroughly enjoyed their stay and Mark was very helpful and responsive.
Erica
2016-09-19T00:00:00Z
Mark's town house was spacious, warm and inviting.
Doug
2016-10-16T00:00:00Z
Mark's place was great. Very unique. He wasn't around but was very responsive in communication. Would stay there again for sure.
Danielle
2016-11-25T00:00:00Z
This is a beautiful old row house with the biggest windows I've ever seen! Really unique, clean, and comfortable. Mark was easy to communicate with, and very accommodating to our needs. Easy access to the 5 college area and right off the highway. Definitely recommend.
Christine
2016-05-09T00:00:00Z
Mark's place was great. Beautiful vintage furniture and a great collection of books. It was a pleasure staying here.
Alejandro
2016-09-04T00:00:00Z
ประเภทห้อง
บ้าน/อพาร์ทเมนท์ทั้งหลัง
---
ประเภทที่พัก
บ้าน
---
พักได้
4
---
ห้องนอน
Holyoke, แมสซาชูเซตส์, สหรัฐอเมริกา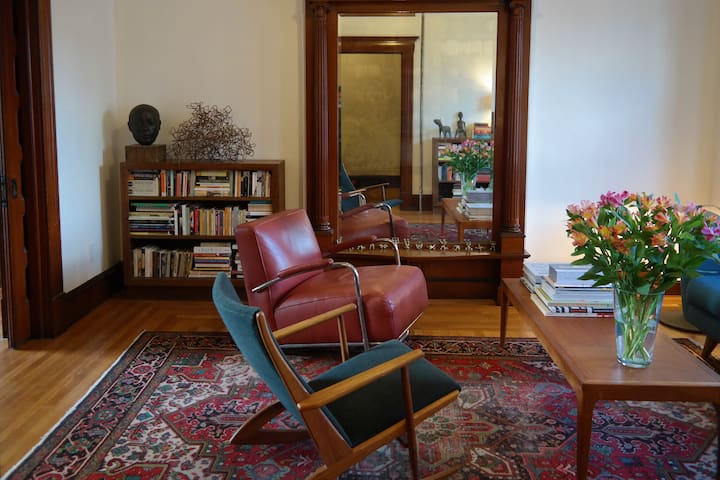 在RT5中央到5大学区分钟I(PHONE NUMBER HIDDEN)艺术设定rt202接近mt.Tom国家公园散步,恐龙足迹国家公园。非常小的安静的街区,公共汽车站分钟的步行路程。根据要求私人厨师avaliable。
ประเภทห้อง
ห้องส่วนตัว
---
ประเภทที่พัก
บ้าน
---
พักได้
2
---
ห้องนอน
Holyoke, แมสซาชูเซตส์, สหรัฐอเมริกา
The host canceled this reservation 53 days before arrival. This is an automated posting.
George
2015-05-29T00:00:00Z
ประเภทห้อง
ห้องส่วนตัว
---
ประเภทที่พัก
อพาร์ทเมนท์
---
พักได้
2
---
ห้องนอน
Holyoke, แมสซาชูเซตส์, สหรัฐอเมริกา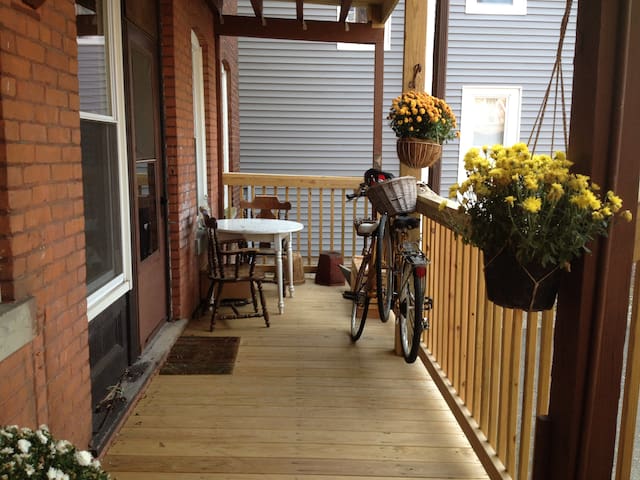 Amelia made me feel super welcome by kindly opening up her space to me and accommodating my needs when she could. The description was definitely accurate, it is a really nice/sweet place. The neighborhood was also lovely and there are bus stops nearby!
Anastasia
2015-09-01T00:00:00Z
Great room for a great price! Perfect for medical students rotating at baystate medical center. Quiet and comfortable. She's a welcoming host and always ready with advice for the surrounding area!
Meagan
2016-10-22T00:00:00Z
This room fit exactly what I was looking for. I was doing a month-long rotation at Baytate and the room was close to the medical center while also being very accessible to the freeway. I can't speak to the traffic because I was out pretty early and back late on most days. Amelia was super nice and was very easy going. She really knew the area and suggested activities to do. Recommended for people doing a rotation at Baystate!
Jonathan
2016-09-24T00:00:00Z
I had a great experience at Amelia's place. The description was accurate, apartment was very cute, located in a safe neighborhood. I was there for almost 5 weeks and really enjoyed my time. Amelia was extremely accommodating and laid back. She showed me running trails in the area and always offered to help if I needed anything. I definitely recommend staying here!
Emily
2016-04-28T00:00:00Z
ประเภทห้อง
ห้องส่วนตัว
---
ประเภทที่พัก
อพาร์ทเมนท์
---
พักได้
3
---
ห้องนอน
Holyoke, แมสซาชูเซตส์, สหรัฐอเมริกา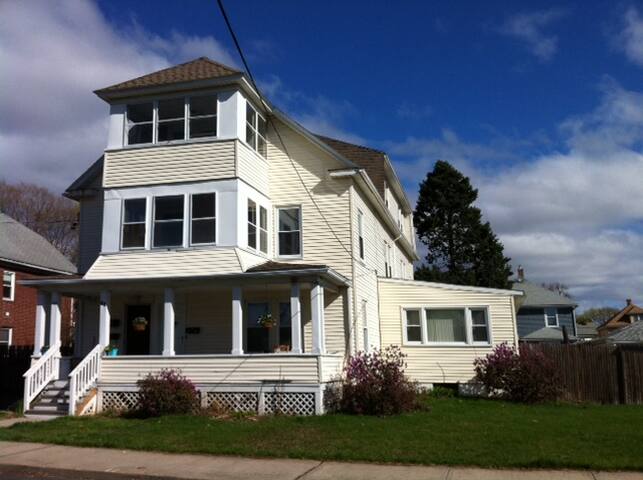 We had a lovely stay with Majorie and Dennis in their lovely home. In the morning we were treated to an amazing breakfast. We had a great time!
Inkeri
2014-02-17T00:00:00Z
This was our second visit and it was just as great as the first time. It really feels like a home away from home!
Elizabeth
2015-12-02T00:00:00Z
We stayed with Marjorie and Denis for a quick overnight on our way home from Canada. Their home is an eclectic combination of art and antiques with beautiful architectural details. They have updated the kitchen and generously welcome guests to use the kitchen and other rooms in the house. Denis greeted us, showed us around and recommended several restaurants in Northampton for dinner. The bedroom was cozy with a bathroom down the hall. Living in an old house ourselves, we could appreciate the beauty of the architecture and the work they have done to make their home comfortable and functional. We met Marjorie in the morning, had a lively conversation while Denis cooked breakfast and left shortly afterwards. They are easy going, friendly, accommodating hosts and we highly recommend them.
Bonny and Meff
2014-09-18T00:00:00Z
Marjorie and Dennis were perfect hosts and did everything possible to make us feel welcome. The house, like many before us have said, was like an art gallery and just beautiful. I only wish we had more time there to explore the house and the area more. Thank you so much again for everything, including the breakfast!
Carissa
2015-05-17T00:00:00Z
This was an amazing airbnb experience! Marjorie and Denis are incredibly welcoming hosts and warm, interesting people. They made us feel completely at home in their beautiful, eclectic, art-filled home. We even bought one of Denis' wonderful paintings right off the wall! Not only was our bed super comfortable, both the room and the bathroom were lovely and well-appointed, and we felt completely at ease roaming the house for our choice of a cozy nook in which to read and relax. The fireplace and pellet stove were a great perk on a cold weekend, and a tray of tea to bring to our room (after we returned from an evening in Northampton) was a gracious touch . Can't say enough about the experience and we'll definitely be returning when we are in the area again.
Gail
2014-12-07T00:00:00Z
This was probably the most pleasant airbnb experience I've ever had. Marjorie and Denis were wonderful hosts - such friendly, helpful, interesting and talented people. The accommodations are wonderful, particularly the bathroom! They live in a beautifully decorated historic home, adorned with fabulous artwork (much of it by Denis) and wonderful furniture, lamps, etc. Best of all, though, were the breaksfasts of homemade yogurt and granola, served with berries and a side of papaya, served in their cheery enclosed plant-filled enclosed porch with sunlight pouring in. All in all, a lovely and memorable weekend.
Daniel
2015-04-19T00:00:00Z
Our relaxing stay at The Walnut Grove was beyond - way beyond - expectations. We had to arrive late in the evening and both Marjorie and Denis were waiting to make us feel right at home from the start. Our room (as was the entire home) was beautifully decorated and every detail was perfect. The bathroom was a few steps down the hall and beautifully appointed and lush with light. The soaking tub was inviting and the walk in shower had a large delightful head so showering was a pleasure. The grounds are beautifully maintained and relaxing with views of the mountains from the porches and decks. The home is filled with Denis' art work which we truly enjoyed. Both of the hosts were kind and delightful to converse with. They provided us with an incredible breakfast: homemade granola, fresh berries, scrambled eggs, fresh bread, Canadian bacon, avocado slices, cheese and coffee and juice. It was incredible! I can not wait to have a reason for a return visit to this perfect experience!
Susan
2014-04-20T00:00:00Z
My daughter helped plan my trip through the states and it was her that put me in Holyoke on route to Newport . I am so glad that she did this as staying with Marjorie and Denis was a fantastic experience . I enjoyed looking around the suggested places they gave me info about .The house is large and beautiful , a very comfortable bed and lovely grounds that also has a swimming pool if the weathers warm . I could easily just off hung around the house and pool but being on a tight schedule made that not possible . The house is adjourned with beautiful art ( Denis is an artist ) and although I don't have an artistic bone in my body , Marjorie and Denis invited me and my wife to a Art related party . This we enjoyed very much with our hosts . Although we were only there a short time I felt we struck up a great friendship which is one of the best aspects of airbnb . Obviously I would recommend anybody considering staying with Marjorie To do so as they are simply Great Hosts .
Peter
2014-08-25T00:00:00Z
ประเภทห้อง
ห้องส่วนตัว
---
ประเภทที่พัก
บ้าน
---
พักได้
2
---
ห้องนอน
Holyoke, แมสซาชูเซตส์, สหรัฐอเมริกา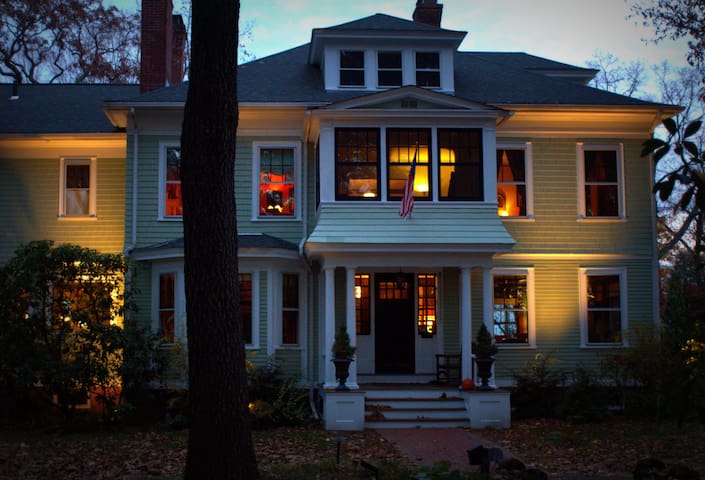 这间迷人的,明亮的房间的维多利亚式建筑地理位置优越,位于5大中专院校,靠近I-91和路由5霍利奥克附近。舒适的床,漂亮的家具,在一个宽敞的房子,当然,wifi的旧世界的魅力!私人独立浴室。
这间客房是我们迷人的民间老维多利亚女王时代的家在霍利奥克的二楼。你将有一个几乎独家使用二楼的和你自己的,独立的私人浴室。我们将为您提供一个关键。 客房设有一个完整的床上用枕头和一个漂亮的羽绒被。三个窗口使这个阳光明媚的房间和法国古董家具赋予了它旧世界的魅力。请注意,房间不临街,所以有可能是噪音有时,但通常是安静。 有大量的路边停车,在房子前面。您的私人浴室是刚刚从你的房间大厅,给你足够的私人空间。浴室内设有带淋浴,基座下沉和存储您的洗浴用品。毛巾用或欢迎您自备。 高速无线上网的逗留期间是可用的。 我们是一个护士,谁花时间在家里做晚上吃饭,看书,关心我们的孙子,家庭游,看电影或绘画的艺术家。
请注意,我们的房子是在一个密集的街区上适度繁忙的街道。我们位于91号州际公路附近,路线5和路线202.父母探望子女在任何地区高校会发现我们的家极为方便。 我们的一些最喜爱的景点包括: - 该威斯塔里亚赫博物馆:历史故居博物馆。 (霍山) - 尼克的巢:热狗和冰淇淋。 (霍山) - 米克:在德莱尼家不错的晚餐(霍山) - 约翰尼的酒吧和烧烤:良好的食物和氛围。 (南方哈德利) - 渴心灵咖啡和酒吧:咖啡好地方。 (南方哈德利) - 称雄:有趣的咖啡馆。适合午餐。 (北安普顿) - Herrell的:我女儿最喜欢的冰淇淋的地方。 (北安普顿)
I went to stay at Grace and Preston's home during a weekend visit to Mount Holyoke College and ended up with so much more. One of the very best parts of Air B&B is the people that you meet, and Grace and Preston are the epitome of that. They were warm, gracious and lovely to spend time with. Right away I felt like I was at home and I relished our time together. I am very grateful to have met them as well as for their hospitality. They really made my weekend something special.
Debbie
2015-10-25T00:00:00Z
Warm welcome, peaceful stay, accurate description - perfect stay
Susanne
2016-11-06T00:00:00Z
I loved spending time in the Holyoke area, Grace and Preston were very gracious hosts. Both were very accommodating/helpful, and we enjoyed having conversations with them. We couldn't hear them going about their day downstairs, but if we needed something, they'd be there in a heartbeat. Preston is a fantastic painter, you'll enjoy his works of art in the hallways :) Thanks, Grace and Preston!
Michelle
2016-10-23T00:00:00Z
Grace and Preston were very welcoming in their beautiful, well-located home. The room was nice and as described. The bathroom was close by, and I had the second floor to myself.
Will
2016-10-02T00:00:00Z
Grace and Preston made us feel very welcome, indeed! Their house is a restored mid-19th century neighborhood home. Lovely throughout. Beautiful woodwork, wall covering, paintings, lighting -- being there was a real treat!
Daniel
2016-05-16T00:00:00Z
ประเภทห้อง
ห้องส่วนตัว
---
ประเภทที่พัก
บ้าน
---
พักได้
2
---
ห้องนอน
Holyoke, แมสซาชูเซตส์, สหรัฐอเมริกา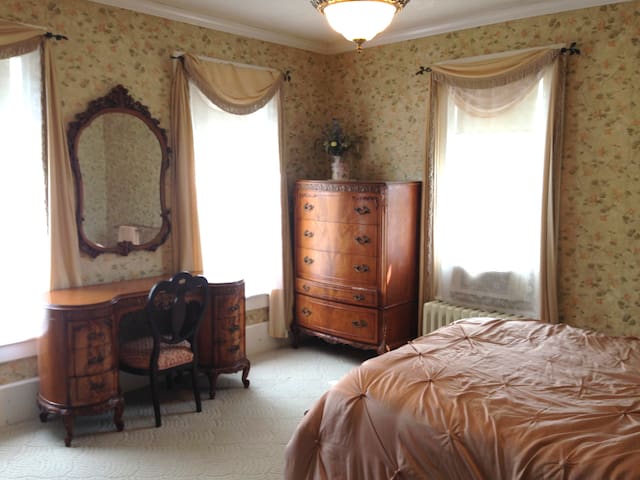 1

–

18

จาก

ที่พัก 178 รายการ
กรอกวันที่เพื่อดูการกำหนดราคาเต็ม มีค่าธรรมเนียมเพิ่มเติม อาจมีภาษีเพิ่ม