El nostre barri és "-rural que mira" amb vaques, cavalls, conills i cérvols com a veïns. En un camí de terra i grava, però 10-15 minuts amb cotxe de les carreteres i autopistes. Prop de belles Lake Tapps, major llac recreatiu del comtat. Hi ha una carretera molt transitada darrere de la cabina (que seu en un banc alt). La màquina de soroll blanc ajudarà a difondre la soroll de la carretera a la nit si ho necessita. A només 10 minuts en cotxe a qualsevol de la ciutat pintoresca de Sumner, llac Bonney o Lakeland Hills per anar de compres i restaurants. 15 minuts a Puyallup - parcs d'atraccions i esdeveniments de l'estat de Washington.
The cabin was exactly as described. The host was very gracious and a lovely lady. I probably won't stay there again as it was a bit of a drive to anywhere. However, the price was right! The cabin itself was charming.
Anoop
2017-04-04T00:00:00Z
Host was great, cottage had everything we could possibly need and want, the cabin and whole experience was truly warm and comfy, even with cold winter days in February. Thanks for everything.
Mary
2017-02-27T00:00:00Z
The lodge is lovely, very clean and comfortable. Couldn't ask for a better getaway cabin.
Caroline
2017-01-15T00:00:00Z
Host met me upon arrival. Host very available for questions or concerns. The cabin was nice, clean and cozy. Everything I needed for my stay was in place. The bed was comfortable.
Laura
2016-12-30T00:00:00Z
Great, clean, cozy cabin in the woods. Wonderful place to relax.
Jeff
2017-04-05T00:00:00Z
Our stay at Cottontail Haven Lodge was perfect. Kristine is so sweet and friendly. She was ready to greet us when we arrived, gave us a brief tour, and let us know about what restaurants and activities were nearby or happening during the weekend we were staying there. Communication was great - she was always quick to reply and let us know to text her if we needed anything at all during our stay. The rabbits everywhere were the icing on the cake. Highly recommended and we would definitely stay again!
Heather
2017-03-12T00:00:00Z
We've stayed at many cabins and I would say this is definitely one of the best. Location is perfect, the cabin itself is very well maintained. My fiance and I were greeted by our kind host Kris who introduced us to the bunnies lol, and gave a us a brief tour of the cabin. The places got everything you need, a full kitchen, a comfy bed, a full shower and a few classics such as Grease and footloose to watch. We really enjoyed our stay! Thanks Kris for making our Valentines Getaway relaxing. Definitely will be visiting again soon
Mat
2017-02-16T00:00:00Z
Cottontail Haven was a great weekend cabin for our daughter/mom weekend. Nice of "extras" the host provides makes for a great treat!
Kristina
2017-03-26T00:00:00Z
ประเภทห้อง
บ้าน/อพาร์ทเมนท์ทั้งหลัง
---
ประเภทที่พัก
กระท่อม
---
พักได้
4
---
ห้องนอน
Lake Tapps, วอชิงตัน, สหรัฐอเมริกา
This place and its people are good for your soul. I wanted out of the hustle and bustle of the city, while remaining close to nearby cities where I was conducting business, and this property exceeded my hopes and expectations. Your host, Chris, is following her passion of being a host and creating a memorable and enjoyable environment and experience for her guests. I spoke with her husband on my first night there, while we relaxed by their new "mini-lake", and asked him why they rented the room. His response had to do with life being about experiences with the people you meet along the way. Everyone in the home is a well trained professional, with interesting stories and life experiences. A co-worker of the Hosts, lives in the finished basement and has his own outside entrance to his residence below. The laundry facilities are downstairs, and you can use them without having to worry about disturbing Stan, due to the way the basement is designed. I felt that everyone at the property was there for me if I needed something or if I was feeling social. When I had work to do, they recognized that, and gave me the space I needed to do my work. Their mountain dog Kinley is a bit shy at first, but warmed up to me quickly enough. She enjoys shaking hands and popcorn. She's very self sufficient and won't be a bother. The cats weren't really present as often as I thought they might be. It seems they have things to do outside, more than inside. There are two new koi that were added to the pond on my last evening. My work is stressful and I really enjoyed hanging out with Chris for an hour or so, just relaxing and watching them get acclimated to their new home. She was spot-on when she said "this is better than t.v.!" Your upstairs room has a window that faces the pond and waterfalls. I left my window open at night and slept very well with the sound of cascading water in the background. The bed is incredibly comfortable as well. Head to Sumner (5-10minutes) for breakfast, lunch or dinner. Chris has recommendations written down for you, and I enjoyed the food and experience at all that I tried. I became a "regular" at Craft19 and the Italian restaurant. I visited a nice farmers market about 10-15 minutes away and that didn't disappoint either. Their kitchen is something a chef would enjoy working in and should you decide to eat at "home" the deck out back is the perfect place to do just that. If weather gets in the way, they have a large and beautiful dining room and dining table. People they know stopped by on occasion, and everyone they associate with is as kind a personable as they are. Their friends made it a point to introduce themselves to me and ask about my stay. Without question, I'll be back. Thank you Chris,...
Steve
2016-08-26T00:00:00Z
I stayed with Chris and John for 1 month. I was looking for a quaint and peaceful place to stay in Washington or Oregon, and I found it here (WA). The house and property is absulutely beautiful. The description and photos on the listing page are accurate. They have a Bernese Mountain dog and 2 cats, so you have to like pets. The communication before I arrived was good. When staying here expect to be treated like a roommate, not guest. They make you feel like apart of them. There's another gentleman that lives with them, but the house is big enough for everyone. I work online, so I need high speed internet. They got it! I would definitely recommend this place to others! Enjoy :)
John
2016-05-23T00:00:00Z
Chris was a very kind host with a wonderful, spacious log cabin! Awesome king sized bed with clean bedding and very comfortable. I enjoyed the sound of the man-made waterfall with swimming pond right outside my window. It wasn't too loud, but the sound I did hear with the window open was refreshing. The home was built in he 70's but has been updated where needed, so nothing was inconvenient at all about the home. I would stay here again if I'm back in the area!
Doug
2016-08-08T00:00:00Z
Chris made me feel very welcome, like we had been friends for years. Communication was excellent before I got there, and everything written in the listing was very accurate. The log cabin home was stunning, there was a huge hot tub and custom waterfall lagoon. It was an amazing experience and will definitely sty there again when im in WA!!
Ritchard
2016-07-13T00:00:00Z
Great place to stay!
Michael
2016-08-09T00:00:00Z
It was a peaceful and wonderful stay! Chris was very welcoming and accommodating.
Carolyn
2016-07-11T00:00:00Z
The log cabin is truly beautiful, with a tranquil environment. The hosts were extremely accommodating and kind. They have the most adorable dog.
Cornel
2016-09-11T00:00:00Z
I had the opportunity to propose to my girlfriend, now fiancé, at Christine and Johns place. They were more than accommodating and helped make the day perfect by getting everything set up and even taking photos for us. The property is absolutely beautiful, more than I could have ever hoped for. Would definitely come here again and highly recommend it to anyone wanting a relaxing stay with easy going people!
Kevin
2016-08-14T00:00:00Z
ประเภทห้อง
ห้องส่วนตัว
---
ประเภทที่พัก
บ้าน
---
พักได้
2
---
ห้องนอน
Lake Tapps, วอชิงตัน, สหรัฐอเมริกา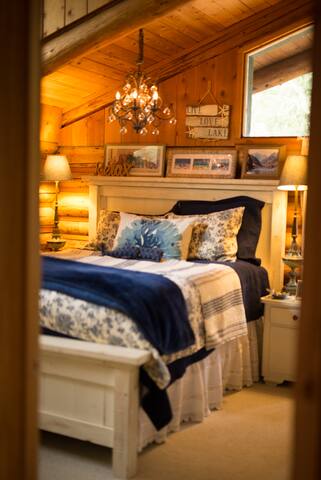 ประเภทห้อง
บ้าน/อพาร์ทเมนท์ทั้งหลัง
---
ประเภทที่พัก
บ้านพักตากอากาศ
---
พักได้
8
---
ห้องนอน
Lake Tapps, วอชิงตัน, สหรัฐอเมริกา
Paul was personable, gracious, and just generally awesome! We had a great time! The room was comfortable (with a great bed), the bathroom was roomy and nice, and the breakfast was delicious. We will come stay again!
Ryan
2016-08-08T00:00:00Z
he met us at the door, offered to help and made great individualized breakfasts for us.
Bob
2016-08-23T00:00:00Z
Paul was a wonderful host. He provided breakfast and went out of his way to make us feel welcomed and comfortable! His communication with us was stellar!
Jana
2016-07-31T00:00:00Z
This place rocked
Devesh
2017-03-05T00:00:00Z
Paul went well above normal hosting duties. While I was injured (non stay related) he did extra help that really eased my circumstances. Very attentive host without being stifling. I will be going back to the area in a few months, and will be staying with Paul again, for sure. If you are going to enjoy Lake Tapps, its a perfectly located. You will enjoy your stay here.
Jaime
2017-02-03T00:00:00Z
Paul was a fantastic host. He made breakfast for us and it was very good. The accommodations you couldn't ask for better. Paul had even gone out of his way to accommodate us. I would definitely stay there again.
Denis
2016-07-12T00:00:00Z
We had a great time a Paul's place. The location is good, with access to the lake and driving distance to mount ranier, Seattle and Tacoma. Paul was so friendly and helpful with everything and the breakfasts were amazing! Highly recommended :)
Katie
2016-08-15T00:00:00Z
Paul was an AWESOME host!!! His place was great (is way better in real life than in the photos) The bed was also super comfy. Paul is great company, and we had fun staying up having a Scotch and a laugh together. Also he puts on a MEAN feed for breakfast, go for the spicy hash browns!!! Would recommend to anyone and will be staying again next time we are in town. Thanks so much for having us!
Thomas & Catherine
2016-09-17T00:00:00Z
ประเภทห้อง
ห้องส่วนตัว
---
ประเภทที่พัก
บ้าน
---
พักได้
2
---
ห้องนอน
Lake Tapps, วอชิงตัน, สหรัฐอเมริกา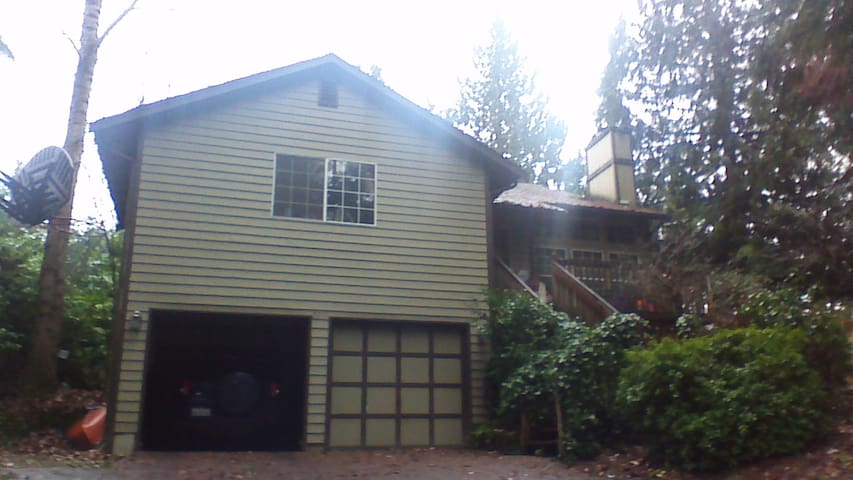 Shannon was very accommodating and she even left us a bottle of wine. The house was better than in the pictures and was decorated nicely. The dock was fully stocked with floaties and was deep enough to park our wakeboard boat there. Would defiantly stay here again.
Chelsea
2015-08-24T00:00:00Z
We had an overall wonderful experience at this home. We were a bridal party that needed a place to stay before the wedding, and Shannon made her home very inviting and special for us. The hot tub was running when we arrived, and it was hot and amazing. Just what we needed. Shannon was kind and easy to communicate with. We were however surprised to find that the beds did not sleep 7 people. It is listed as accommodating 7, but I would say it only accommodates 5, plus a couch. So one of us ended up sleeping on the floor being as there is a queen bed, a full bed and a twin bed (and couch). Overall, it was a good experience for us.
Stephanie
2015-08-30T00:00:00Z
Shannon was a fantastic host, very responsive. The home is charming and cozy...and the lake frontage and amenities are amazing.
Chris
2016-09-29T00:00:00Z
Shannon was a fantastic host. She was timely in her responses, exceedingly hospitable, and very accommodating. She made us feel truly at home during our stay. The home has three bedrooms with a twin in one, full in another, and queen in the master. There is a full bathroom with a bath/shower combo and a half bath in the master. There is a great hot tub area off the kitchen and a deck with a great view off the dining area. As you go down to the lake there is a a bar, covered grilling area, large seating area and a dock to enjoy.
Bobby
2015-08-09T00:00:00Z
The property was great and the host was very accommodating. She makes you feel very welcome. The house has everything you need for a short or long stay. The house overlooks beautiful Lake Tapps and was perfect for boating, swimming and relaxing. The grounds are large and covered with lush gardens. The neighborhood is quiet at night and the lake is not too busy during the day. It was one of the most relaxing holidays I've ever had. I tell you that one cannot beat an afternoon at this house, enjoying a beer on the deck and watching the sun set over Lake Tapps.
Patrick
2016-08-01T00:00:00Z
My two sons and I stayed in this Lake Tapps home while waiting for our new house to close. Shannon was very gracious and highly communicative. She made the process very easy, and then took the time to write a personal welcome note for us! The house sits on top of a hill on Lake Tapps, and has wonderful views of the lake from the house, the upper deck and from the lower deck. The house was well appointed and very peaceful. It was the perfect place for us!
Brad
2016-06-21T00:00:00Z
We had an amazing week in such a beautiful, relaxing home! Shannon was a great host and we would love to stay again!
Rosemary
2016-08-04T00:00:00Z
Shannon did an excellent job of making us feel welcome - she sent personal messages before our arrival asking what time we would like to arrive. My husband and I were traveling out with our 13 month old son for a wedding on Lake Tapps. I had a lot of last minute requests for hair and makeup on the bride and bridal party and Shannon was so accommodating to our special requests for an early check in. When we arrived there were fresh flowers on the table, classical music playing on the stereo and a bottle of wine on the counter. Perfect welcome! This place has everything - a comfortable home, wonderful deck, lounge area by the water and all kinds of water toys/amenities to use. We had a wonderful stay!
lucy
2015-08-11T00:00:00Z
ประเภทห้อง
บ้าน/อพาร์ทเมนท์ทั้งหลัง
---
ประเภทที่พัก
บ้าน
---
พักได้
5
---
ห้องนอน
Lake Tapps, วอชิงตัน, สหรัฐอเมริกา
Konrads place is absolutely beautiful! It was all we expected and more. Plenty of sleeping room, we were a group of 14 one night and had ample space.
Alexandra
2015-08-16T00:00:00Z
This was the perfect house for our large, mixed group. We needed four full bedrooms and plenty of bathrooms, as well as places to gather, eat meals together, and spread out. We also had a 14 and 9 year old with us - and they loved both the front and back yard spaces. The kitchen is high end - top notch appliances - which made cooking in extremely easy (even if that only happened one night!). Sunsets out back on the lake were impressive - as was all the outdoor furniture on the back patio (large table for 8!), the seating area down off the dock, and more. The backyard was as impressive as the very impressive house. This is a great location - for us close enough to town, restaurants, and the U.S. Open parking for the event at Chambers Bay. Half of us enjoyed the golf tournament and the other half felt like they were on a vacation on the lake - a great combination for our group. The owner was easy to work with and excellent at communications before and during our stay.
Mike
2015-06-21T00:00:00Z
Konrad was an excellent host. He answered my questions quickly and I felt welcome from the very beginning. The house was in a beautiful location and right around the corner on a short walk there are stunning views of Mt. Rainier. The neighborhood was quiet and peaceful. The lake view in the mornings was wonderful. We really enjoyed our stay here and would return again.
Claudia
2015-11-23T00:00:00Z
The house is gorgeous and has lots of amenities. It really is great value for a large group. We put up our out of town guests here for our wedding and they really enjoyed the place. That being said there are quite a bit of rules as far as cleaning/maintaining the home which I completely understand, but they are a bit tough to swallow when the place hasn't been completely cleaned before arrival and paying a rather large cleaning fee. However, I felt those were small issues and would gladly recommend Konrad and his lake house to friends and family.
Joe
2015-08-09T00:00:00Z
The location was terrific. We loved the amazing views, the enormous patio, and the lake and water toys. It's an attractive house, too, with a true gourmet kitchen. Konrad was lightning fast responsive throughout and was able to shift our stay by a day which really helped us out. Unfortunately, it appeared that meant they didn't have time to have it professionally cleaned despite the unrealistic cleaning fee. There were plenty of air mattresses, bedding, a pullout couch, and beds, but our group of 11 had a couple issues. The floor plan is pretty chopped up without a large indoor gathering/seating area. The family room seats five adults. Although if it had been warm enough (first week of August) the patio would have been the main gathering place. The house also has lots of little stairs here and there which a child, a teenager, and an adult all fell on during the week. Overall a good experience and a great view.
Heather
2016-08-08T00:00:00Z
ประเภทห้อง
บ้าน/อพาร์ทเมนท์ทั้งหลัง
---
ประเภทที่พัก
บ้าน
---
พักได้
10
---
ห้องนอน
Lake Tapps, วอชิงตัน, สหรัฐอเมริกา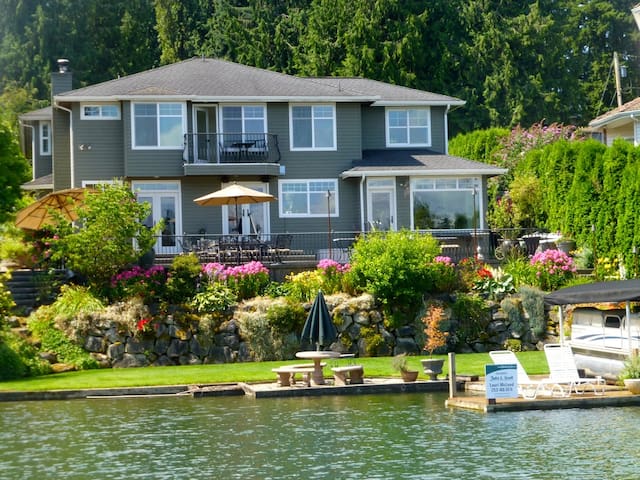 米洛房间非常适合在塔科马巨蛋巡回护士,未来的UPS学生和教师的事件,或那些简单地停止在塔科马同时考虑在西北太平洋!
欢迎来到Balay妮克拉伦斯,3间卧室,2个浴室,1921年工匠家在塔科马的历史北端。我们的家坐落在一个安静的街道上只有很短的步行10分钟到普吉特海湾(UPS)和当地的商店和餐馆大学(查看我们的指南)。 米洛房位于二楼,设有一张大号床(新Leesa床垫),豪华床单,全季节被子,四个枕头,毛巾,卧室拖鞋,浴袍,基本的洗浴用品,衣柜,梳妆台,行李架,电视与Netflix,亚马逊(随意使用HDMI线缆上你的笔记本电脑,如果你想)高速无线上网,和一个小笔记本电脑桌和椅子,如果你想在你的房间的私密性工作。 帮助自己我们的装载有咖啡,茶,水果和点心,麦片和燕麦片的厨房,或者我们一起吃饭,并告诉我们您的行程是怎么回事。如果您需要在旅途中做了改装,随意使用我们的洗衣机和烘干机。我们还提供各种特殊场合或工作面试熨斗和烫衣板。我们也有一个无线扫描仪/打印机和一些办公用品欢迎您使用。
我们已经在"命运之城爱上了这个历史街区"在我们的指尖,我们有机会获得工匠咖啡店和烘焙,餐饮,酿酒厂,学校(普吉特湾大学,华盛顿大学 - 塔科马,长荣学院,贝茨技术学院,和安妮·赖特寄宿学校),博物馆,和第六大道的夜生活。
Richard and Clarence are awesome! they were very welcoming and friendly and generous. the home was clean and spotless. the area was safe and peaceful. I highly recommend anyone to them
Ali
2017-04-06T00:00:00Z
The house was wonderfully charming, perfectly located, immaculate. The hosts are accomadating and kind. The bed was very comfortable and the room had all the comforts of home! Thank you for an amazing stay
Jamie
2017-04-04T00:00:00Z
Beautiful quiet spot a little out of the downtown area but close enough to get everywhere easily. They were wonderful hosts.
Julie
2017-04-13T00:00:00Z
Awesome experience!!!
Ali
2017-04-10T00:00:00Z
We had a wonderful night's rest after a warm welcome from Clarence and Richard. The home is located in a very charming with cafe's in easy driving distance. We definitely would stay again and highly recommend it.
Trisha
2017-04-02T00:00:00Z
Rich and Clarence are exceptional hosts. The communication was stellar, check-in and check-out were smooth, and the stay was wonderful. The North End neighborhood is such a charming and quaint area; Rich and Clarence fit right in. Their house is remarkable--vintage charm mixed with modern amenities--quite an experience! The Milo room is the perfect size for a single occupant or for a couple. The bed was extremely comfortable, and the in-room amenities perfect for a weekend stay. Our hosts gave us free reign of the kitchen, living/dining room, and backyard; something you don't always have when staying at other Airbnb locations. Rich and Clarence made our stay spectacular; we will definitely return!!
Damaris
2017-04-09T00:00:00Z
ประเภทห้อง
ห้องส่วนตัว
---
ประเภทที่พัก
บ้าน
---
พักได้
2
---
ห้องนอน
ทาโคมา, วอชิงตัน, สหรัฐอเมริกา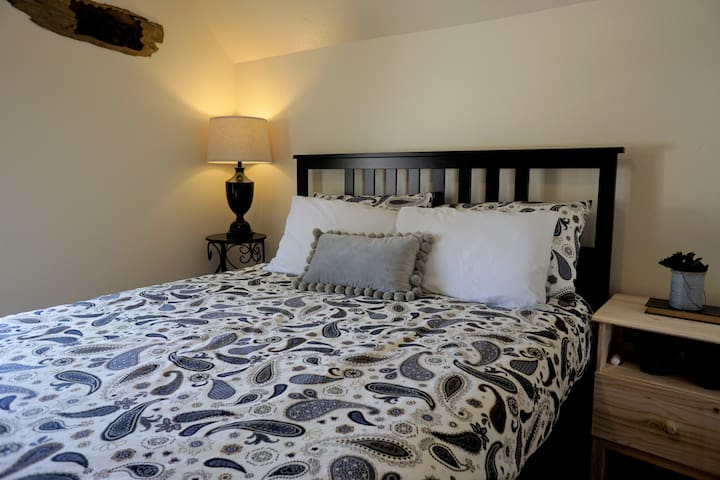 Dies ist ein Zimmer in einem großen 4 Schlafzimmer, 3 Badezimmer Haus zur Verfügung gestellt. Das Zimmer ist mit einem schönen 4-Stelle Queen Himmelbett ausgestattet, Kühlschrank, Mikrowelle, und Standard-Annehmlichkeiten des Hotels wie Shampoo, Handtücher, Smart TV, Keurig. Getränke an der Bar zu Anschaffungskosten zur Verfügung.
Super saubere Haus, schönes bequemes Bett, Fitnessbereich mit Hantel, Hanteln, etc. in voller Größe Bar mit einer Auswahl von über 51 Cocktails, kostenlose Parkplätze.
Safe, obere Mittelklasse Nachbarschaft mit militärischen Familien. Genügend Parkplätze.
Super hospitable host!!
Nasim
2016-12-09T00:00:00Z
Rhett has a great room with great amenities, you cannot beat it! Quiet and safe!
Alonzo
2016-11-11T00:00:00Z
Rhett is an amazing host. His house is real clean and comfortable. He also has a cute and Big Fat Cat to guard his house. It was a very pleasant stay and would stay again.
Apek
2016-12-14T00:00:00Z
Wonderful spot off the beaten path. Comfortable beds, easy access, cool house with cool bar .
Kenan
2016-12-23T00:00:00Z
A great place to stay!! Very clean and neatly kept. Easy place to park and unload your luggage easily. Modern lock technique (easy entry with your cell phone) that was fun to use!
Mike
2017-01-08T00:00:00Z
Was a very nice house. amenities were great.
Tammy
2016-10-09T00:00:00Z
The space was wonderful, and the people involved were great to be with, Rhett was out-of-town visiting family when I arrived and left but he was very responsive to my text messages. I would recommend the excellent value conveyed. It brought back some memories of being in the furniture business as the bed is terrific and very comfortable. Keep it up Rhett!
Kalani
2016-12-26T00:00:00Z
It was a great place! My parents loved the room and quietness of the area. Housemates were awesome as well. Thanks again.
Joel
2016-12-19T00:00:00Z
ประเภทห้อง
ห้องส่วนตัว
---
ประเภทที่พัก
บ้าน
---
พักได้
2
---
ห้องนอน
ทาโคมา, วอชิงตัน, สหรัฐอเมริกา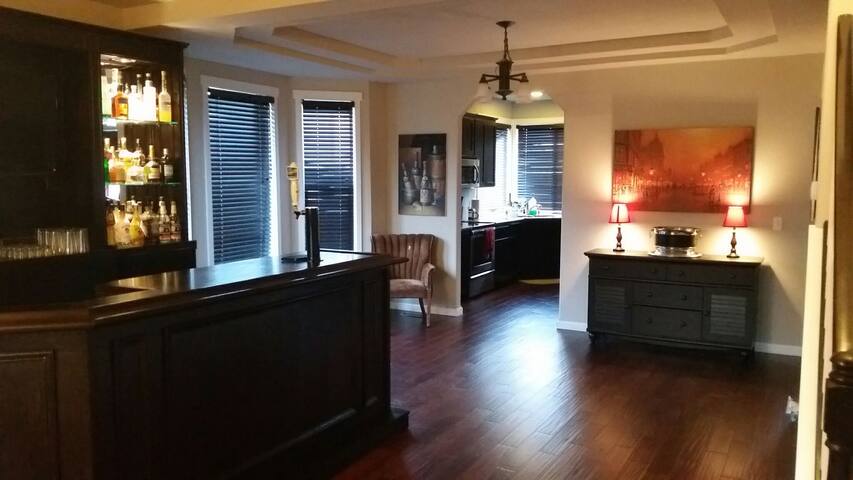 Welcome to our home. We are close to the WA State Fairgrounds, Good Samaritan Hospital, Mt. Rainier, NW Trek, Puyallup and Sumner train stations, downtown Tacoma and easy freeway access to Seattle, Tacoma, SeaTac Airport or Olympia. We offer a private king sized bed with a really great view and your own private bathroom. We also have a small Boston Terrier named Luca who always loves to meet new people.
We have an electronic keypad entry system programmed with your own personalized code, and you will have access to our living room and kitchen downstairs as well as the quiet backyard terrace for taking in the views. We offer a very comfortable king size "Heavenly bed" by Westin in a quiet upstairs guest bedroom with beautiful views of the Puyallup Valley, downtown Tacoma and Commencement bay. On a clear day you can see the Olympic Mountains. You will also have access to your own private bathroom.
We live in a newly developed quiet and safe community with plenty of street parking and some really excellent views and all of our neighbors are friendly and welcoming. If you like to take evening walks, there are different routes with different levels of difficulty. Since we live on a hill, the terrain can sometimes get your heart rate going!
Understated comfort and value. Beautiful home and kind, thoughtful hosts
Carole
2017-03-25T00:00:00Z
This is a beautifully decorated, very clean place to stay with friendly hosts. The view from the room and back deck is spectacular. My husband especially enjoyed the manly bathroom products and the nice smelling, fluffy towels. Kevin and Casey left us a number of breakfast options and delicious dark roast coffee. I'd recommend their place to anyone visiting the Seattle/Puyallup area.
Julie
2017-04-03T00:00:00Z
Kevin and Casey were warm and gracious hosts. The bed was incredibly comfortable and their home was beautiful. Could not have asked for more!
Amanda
2017-03-22T00:00:00Z
Casey and Kevin are wonderful hosts. They were very accommodating and respectful. They have the smartest, sweetest, quietest, most well-behaved, little dog who made me feel very welcomed and loved too. This was my first AirB&B experience and I was visiting Puyallup to see my Father who is very ill. My heart is always very tender when seeing my Dad, but Casey, Kevin and their sweet dog made this trip really, really good. They went above and beyond in making sure I was well taken care of and that my time in their home felt like "home". Their home is beautifully decorated and exceptionally clean. They gave me a tour when I arrived and explained the household to me and how things worked. Everything was just as described in their ad. In addition, they provide a small safe for valuables in the bedroom and there were a couple of bottled waters in there as well. The bed was extremely comfortable and I had a view of Tacoma from my window. Very pretty. It was quiet and I slept well. I did hear the train once or twice in the distance when first going to bed, but I absolutely love trains so that was just fine with me. The private bathroom was well-stocked and the towels provided were plush and really nice. I had access to the Keurig coffee maker and they offered me a variety of bread options, fruit and yogurt for breakfast. One morning they even made me some eggs. Their neighborhood is new, very nice and quiet. I will definitely stay there again and I definitely recommended their place.
Lia
2017-02-27T00:00:00Z
Outstanding property and hosts! Perfect in every way. Modern yet warm, open concept with soaring, high ceilings perfectly accommodating the sweeping staircase to our room. If you like clean, you'll love the meticulous attention your hosts bring to your surroundings. Your bed, linens and towels are all of the highest quality adding a luxurious touch few properties can offer. Morning found us enjoying a healthy, extended continental breakfast to start our day. Kevin and Casey, you do this right!
James & Jennifer
2017-03-17T00:00:00Z
Kevin and Casey were great hosts! They were so sweet and made me feel right at home. Set up a Lil continental breakfast to have if I wanted. The bed room was super plush and SO comfortable. I felt like I was at a luxury hotel. Beautiful view to watch the sunsets. Highly recommend if ever in Puyallup!
Lola
2017-04-01T00:00:00Z
Great stay! Definitely will stay with them again...
Ned
2017-03-29T00:00:00Z
Like home away from home. Awesome views. Centrally located. Very clean and tidy
Jorge
2017-03-09T00:00:00Z
ประเภทห้อง
ห้องส่วนตัว
---
ประเภทที่พัก
บ้าน
---
พักได้
2
---
ห้องนอน
Puyallup, วอชิงตัน, สหรัฐอเมริกา
Older neighborhood that is charming, peaceful, cozy and quiet. Two Private Bedrooms each with a Queen Bed, with a shared full bath. Only 10 minutes from the South Hill Mall, and Fairgrounds, Farmers Market, close to all main Restaurants and Eateries. Easy access to all freeways within 10 minutes.
There are two bedrooms with a Queen size bed in each room, 1 full bathroom that is is shared if bother rooms are rented out. Locks and keys provided for each bedroom. Pricing is set per person, per night up to 2 guests per room with a minimum 2 night stay, discounts for weekly and monthly. If you choose to rent both rooms at the same time there is a discount. There are dressers and plenty of closet space in each room. We do live in separate quarters on premises with our own private entry, kitchen area is shared and other common areas. We do keep to ourselves most of the time. Guests have access to 1300 square feet of additional living space. A continental breakfast served daily from 8:00 am to 10:00 am. for guests staying 5 days or less, coffee and tea available all day. Washer and dryer available for guests staying longer than a week.
Our neighborhood is older established very peaceful, cozy and quiet ...you can take walks or take a bike ride and be totally comfortable and safe. We encourage you to take your daily walk with ease. There is a walking trail 2 miles long at local park 5 minutes away, neighborhood is friendly and safe. We do have a full security system with video on the premises for your additional safety.
Teri was so welcoming - a great hostess. She had helpful information about the area, and left us a nice breakfast each morning, complete with to-go cups for our coffee. She really thought of absolutely everything. The beds are comfy and we had everything we needed. Her neighborhood is very quiet and safe, and the house is quite clean, making it a relaxing place to stay. We were out until 10 or 11 most nights but could come and go without bothering anyone, and could park right in front of the house on its enormous driveway at any time. Teri's place is much nicer than staying in a hotel, and we would be happy to come back, or recommend it to others.
Erika
2016-09-05T00:00:00Z
I have never felt so comfortable and welcome in someones home!! The food was delicious and hospitality was heart warming!! Perfect stay with a great person.
Robert
2017-02-15T00:00:00Z
We were in town for a wedding and stayed with Teri in her cozy home. She really made us feel like we were at home. Her house was spotless and she even made us breakfast every morning as well as dessert every evening since we were the first people to stay with her! Our rooms had keys which we could lock, and our linens/towels were very clean and tidy which I very much valued. Plenty of closet space, and basketball hoop for those that like to play! Teri also allowed a friend of mine, who was doing the Bride's hair and makeup, to sleep on the couch for her unplanned stay over night, which was really nice. She even gave each couple a parting gift which was really sweet! For us the entire experience worked out great, but future bookers would probably want to know that although it is advertised as "entire home," it is really more a "shared place" as Teri and her husband live in an attached room to the house and you will see and talk with them often. We really enjoyed that but for those who would rather not interact much with owners, this may not be your ideal situation. Given that we were the first to stay it might also be helpful for Teri to know that it would be nice for the bathtub to have a plastic shower curtain for future stayers as the current linen shower curtain did not hold up the water and thus created a large water mess all throughout the bathroom every time someone showered. And the sink drain stopper in bathroom does not work. Overall great stay! Thank you Teri for your hospitality!
Tábata
2016-07-17T00:00:00Z
Fan-freaking-tastic!! My parents stayed here for my wedding in Steilacoom. They loved it. Wonderful woman Teri is.
Lacey
2017-04-03T00:00:00Z
Teri was a GREAT hostess and everything was as advertised.
Richard
2016-08-07T00:00:00Z
We were in Puyallup at an Expo, and after a long day, staying at Teri's was like staying at a spa! Everything was spotless, cozy and comfortable. Teri is a wonderful and giving host. i would highly recommend staying there - except the first week of March - because I plan to book again for 2018!
Pamela
2017-03-05T00:00:00Z
Loved this place first time for my dad and he loved it wonderful host and beautiful comfortable home
Laura
2017-02-19T00:00:00Z
Teri was a wonderful host. Her home was very warm and inviting. We had a great stay. Awesome breakfast and the rooms and bathroom were always clean when we got back. Definitely be back! :)
Rachel
2017-01-01T00:00:00Z
ประเภทห้อง
บ้าน/อพาร์ทเมนท์ทั้งหลัง
---
ประเภทที่พัก
ที่พักพร้อมอาหารเช้า
---
พักได้
4
---
ห้องนอน
Puyallup, วอชิงตัน, สหรัฐอเมริกา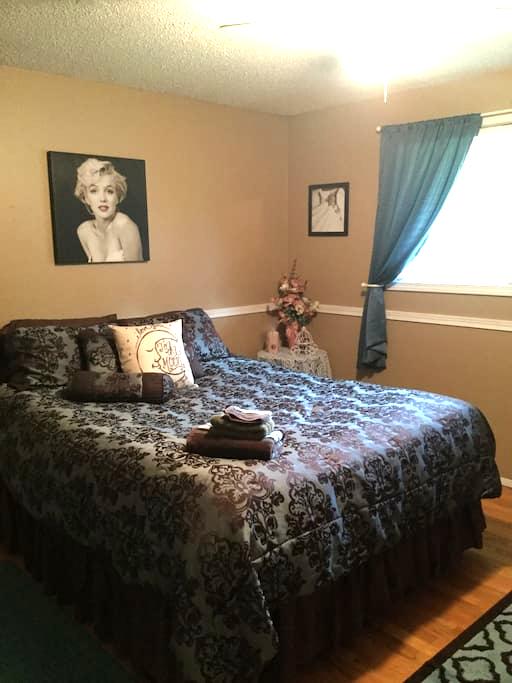 Our comfortable and elegant 3 story townhome with stainless steel appliances and granite countertops has a true city feeling! It comfortably fits a couple or small family and is centrally located on a quiet street in front of Steel Lake and less than half a mile to the freeway entrance. Enjoy a gourmet kitchen, high speed internet, your private patio, easy access to all major public transit, Steel Lake, $2 Movie theater, Restaurants, Airport, Skatepark & Shopping Mall!
What makes our space unique is that it is our home: a place we consider our safe haven from the stresses of what life may bring. If you are looking for a nice, quite place to make your home away from home, this is the place for you! We love to cook, we love to read- so our library is something we hope you will appreciate. We are active so the area is great for outings and kid friendly activities as well. We look forward to seeing you soon!
From Dash Point State Park to Wild Waves to the Farmer's Market, there are so many things to love about Federal Way, WA for everyone!
Very clean and cozy home.
Tim
2017-04-06T00:00:00Z
Krystal and Donovan are awesome !! They made me feel so welcome and at home. Their townhouse was perfect for my weekend stay. Their townhouse was clean, quiet, and comfortable. Krystal even made street tacos for dinner ... Amazing :) I would definitely stay with them again !!
Jay
2017-04-02T00:00:00Z
ประเภทห้อง
บ้าน/อพาร์ทเมนท์ทั้งหลัง
---
ประเภทที่พัก
ทาวน์เฮาส์
---
พักได้
2
---
ห้องนอน
Federal Way, วอชิงตัน, สหรัฐอเมริกา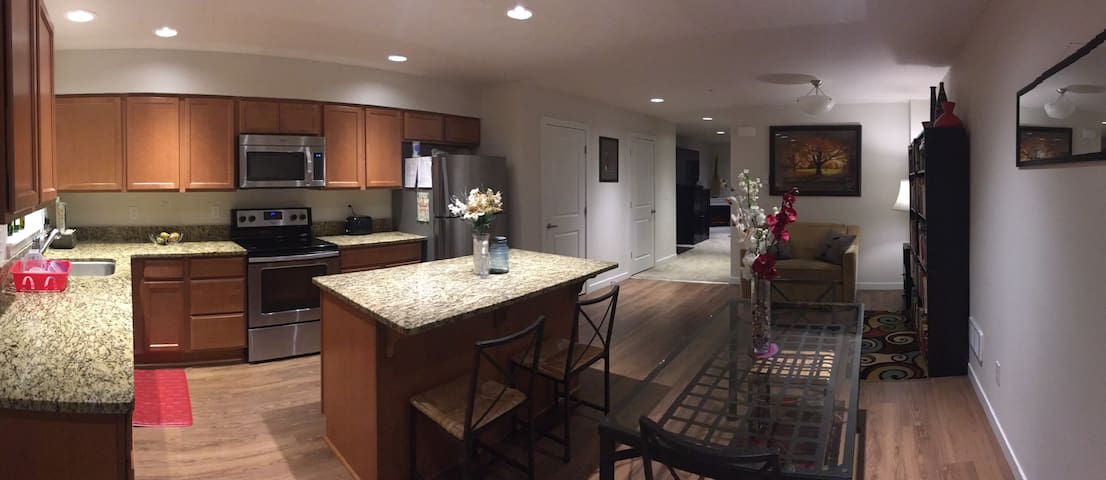 Warm, private mother-in-law detached 250 sq ft studio with kitchnette, cable, DVD player and wifi. Less than 1 mile from downtown and Washington State Fairgrounds. Close to freeways, Mt. Rainier and bus lines.
Studio includes stove, fridge, microwave, Keurig and shower. There is plenty of street parking. Self check-in so late arrivals welcome! Check in time may be flexible so just ask. Less than 1 mile from downtown including shops, restaurants, bars and Saturday morning market. Close to bus line. About 3/4 mile to Washington State Fairgrounds. 32" TV with DVD player and wifi. New router as of January 26th for improved wifi access, netflix tested and works great :). Movies including HBO and Starz, and books provided for rainy days. A few blocks from large park with trails and playground for the sunny days!
Quiet side street in an unique old neigborhood, downtown Puyallup. Main house was built in 1912.
Our experience at Deidre's place was very enjoyable. Our stay was a bit over a month long, so we had time to really settle in. We loved the very quiet neighborhood and the trees and open spaces in the yard. The space, while small was well situated for my husband and I and very comfortable. It was great to walk to the farmers market and town for good eats. Fridge, coffee maker and a complete kitchen made the stay that much better. Our hosts were very responsive to the few questions we did have.
Lenore
2016-09-28T00:00:00Z
Cozy and clean, perfect for my stay of two nights as it was within 3 miles of a friend's place. Clean and exactly as described in listing. Dierdre was responsive and everything was great. I would stay there again. Thanks, Shelley
SHELLEY
2016-06-25T00:00:00Z
Had such an amazing stay, was a little bit of home, very nice and clean. Beautiful area would definitely recommend this place to my friends and family. Definitely stay here again.
Marcela
2016-11-13T00:00:00Z
Our stay was easy and convenient. The place was clean and the bed was very comfy. We would stay there again. Thank you!
Marcy
2016-11-06T00:00:00Z
Great place to stay while in town for a class. Very comfortable and clean. Well stocked with basic supplies.
Karen
2017-01-29T00:00:00Z
What an adorable place! Deirdre and Joe were such great hosts. And made us feel (EMAIL HIDDEN)fortable bed and great DVD collection.
Amber
2016-05-11T00:00:00Z
Really clean bedroom with kitchen not too far from SeaTac. I had a great experience and recommend it.
Sarah
2016-08-12T00:00:00Z
I loved that they gave us space and privacy, but when we crossed paths in the morning were made to feel welcome! The home was quiet and private & decorated prettily. Best part was it was in a nice neighborhood and walking distance to many bars and restaurants.
Michelle
2016-06-13T00:00:00Z
ประเภทห้อง
บ้าน/อพาร์ทเมนท์ทั้งหลัง
---
ประเภทที่พัก
อื่น ๆ
---
พักได้
3
---
ห้องนอน
Puyallup, วอชิงตัน, สหรัฐอเมริกา
我的地方是靠近JBLM,塔科马(8分钟),西雅图(40分钟),并且只有几步皮划艇,独木舟,钓鱼,或鸟类远离观看Steilacoom的湖。足够接近大城市地区外出吃饭,并足够远,完全放松。 阁楼是完美的个人撤退和/或喘息为您的商务旅行。提供为您的舒适和享受耳塞,洗浴用品,咖啡,茶和点心。窗帘在楼梯间创建了一个私人空间。 星巴克只有2分钟。赶走。
这间小屋坐落在一个私人车道,并与大家分享了一些小屋的海滨码头。这是一个安静和古朴的街区,非常适合休息和放松。只有35英里的车程到西雅图。星巴克是步行能够距离(10分钟)/或短2分钟。赶走。你会在这间小屋临湖享受温馨的氛围和环境光的阵列。
这家坐落几个小屋毗邻湖泊共享私人驱动器上。
If you've ever wanted to find a place that feels like "a home away from home," you won't find a better experience anywhere!! Hillary is hands down, The Best!!!
Michelle
2017-02-15T00:00:00Z
The host canceled this reservation the day before arrival. This is an automated posting.
Jeff
2017-02-16T00:00:00Z
Hillary was incredibly kind and helpful and noticeably put in the effort to make my stay comfortable. The place is beautiful with many unique details and thoughtful notes and items for guests. I only stayed a night, but will be returning soon and greatly look forward to it.
Amanda
2017-04-08T00:00:00Z
Hillary's Place was incredibly easy to relax and retreat. I was welcome like royalty. Every detail matters to her and she is 100% the best host I have ever experienced. The location is incredible you won't find a better host or place to stay. Every detail matters. I will be back. I love it!
Destiny Ashley
2017-03-11T00:00:00Z
Hillary was very friendly and hospitable. The place was quiet and close to the lake. I was shown how to get down to the shared dock. I went down the next morning to relax by the water before I started my day. The bed in the loft was very comfortable for me and the view of the woods was relaxing. There is no door on the loft just curtains but it didn't bother me and she provided earplugs in case of noise. I would stay there again!
Monte
2017-03-27T00:00:00Z
You will never find an AirnB experience like the one Hillary provides. She is simply FABULOUS!!!
Michelle
2017-02-23T00:00:00Z
Hillary was excellent at communicating with me from beginning to end. She provided me with the flexibility and convenience needed to work around my schedule. After I walked in the place is was delighted to see that it was super clean, cozy, and stocked with coffee and snacks! The bed was very plush and comfortable as well. If you're looking for an awesome place to stay for whatever reason, look no further.
Drake
2017-03-31T00:00:00Z
"Appetizers at 7pm!" Hillary consistently rolls out the red carpet for her guests. She deserves an Academy Award for her gift of hospitality. Staying here is like a slice of heaven. LOVE IT HERE!!!
Michelle
2017-03-15T00:00:00Z
ประเภทห้อง
ห้องส่วนตัว
---
ประเภทที่พัก
บ้าน
---
พักได้
2
---
ห้องนอน
ทาโคมา, วอชิงตัน, สหรัฐอเมริกา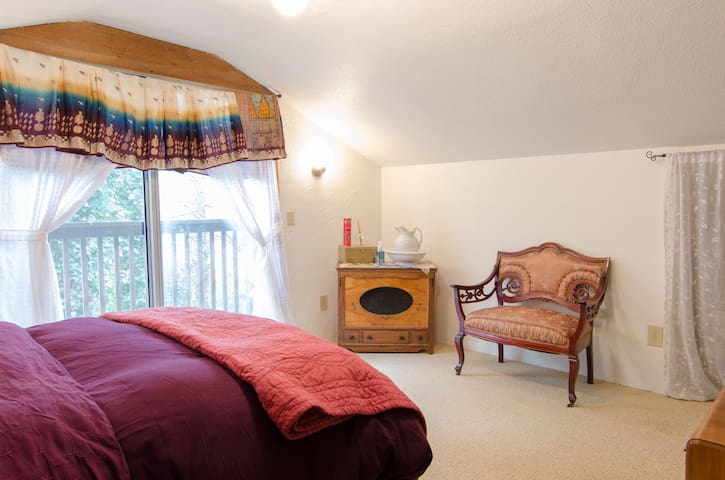 Charming Lakefront rakennettu vuonna 1903 kuin pojat kuntosali, muunnetaan 12 erillinen asunto yksiköitä 1950-luvulla. Tämä studio yksikkö, jossa on oleskelualue erotettu keittiö. Yksikkö sijaitsee 3. kerroksessa ja on upeat näkymät järvelle.
Alun perin kuntosali varten poikien koulu, tämä viehättävä 12-yksikön taloyhtiön istuu tilava Lakefront paljon, asuinalueella. Tämä on 3. kerroksessa, studio yksikkö nukkuu 2, 1 kylpyhuone (ei kylpyamme). Pieni olohuone vedellä katsella ja keittiö Tämä yksikkö on upeat näkymät ja kaikki mukavuudet kodin. Ei hissiä. Täysin varustetussa keittiössä on kaasuliesi, leivänpaahdin, kahvinkeitin (kahvia, teetä, kaakaota, kylmiä juomia, kuten punaviiniä, olutta, ja mehu), ja jääkaappi. Ohukaisjauhe ja perus ruoanlaitto välttämättömyyksien (öljy, mausteita) tarjotaan avuksesi. On pieni kansi, 3. kerroksessa aivan yksikkö on upeat näkymät. Paddleboat ja vihreä kanootti on tarkoitettu oman käytön. Pelastusliivit on käytettävä. Muista sitoa takaisin paddleboat laiturille ja jätä se puhtaana ja samassa paikassa kuin poimia niin, että muut asiakkaat voivat myös olla sama nautintoa. Kanootti on palattava maalla ja jätti Löytöpaikka. Kaikki muut vesilelut kuuluvat meidän vuokralaisten, älä käytä niitä.
Lakefront omaisuutta, jota ympäröi kauniita koteja. Omaisuuden istuu lähes 1 hehtaarin. Se on hiljainen, mutta hyvin lähellä ravintoloita, kauppoja ja elokuvateatteri. Se on kävelyetäisyydellä Lakewood Towne Center ravintoloita, kahviloita, ruokakauppoja, elokuvateatteri, ja ostoksia. 5.1 mailia jaostoihin Bay Golfkenttä 1.67 mailia Fort Steilacoom Park (300 hehtaarin puisto) 7.5 mailia Fort Lewis / McChord Air Force Base. 10.8 mailia Tacoma Dome, Amerikan Automuseo, Museum of Glass, ja Point Defiance Zoo. 30.2 mailia Sea-Tac Airport 42.2 mailia Seattle 53.8 mailia Mt. Rainier National Park
This is a fantastic studio with a homey feel. It is tucked in a quiet area on a beautiful lake with a great view of the lake, feels cozy, is nicely decorated, has a great functional kitchen, a nice bathroom and shower, and all of the essentials in terms of kitchen supplies, cleaning supplies, and linens. The hosts are courteous, gracious, and readily available if needed. You get welcomed with a bottle of wine, good beer, and snacks. This is a place that we would definitely stay at again.
Derek
2017-03-25T00:00:00Z
Place was as described. It was as very comfy and perfect for 2 people. Hosts were lovely, very informative. Snacks and wine were provided which was very nice. Also a nice view of the lake. Will definitely be back!
Mia
2017-03-19T00:00:00Z
Great spot....will come back!!
Richard
2017-04-10T00:00:00Z
Great place wish I could of stayed longer.
Jayson
2017-03-02T00:00:00Z
This was such a beautiful stay for my husband and I and the hospitality was top notch. Absolutely loved it here!!!
Laura
2017-04-01T00:00:00Z
Great location and super easy check in and out. The AirBnB hosts live on site and are very friendly and accommodating. Would definitely stay at this place again in the future.
Todd
2017-03-10T00:00:00Z
A great stay in a newly renovated room !! Communication with Renu was excellent. I was met by Markis and Karen and they took time to show me around the entire property. The room was newly remodeled and very comfortable. The view of the lake out the window is beautiful. The building is currently undergoing renovation, so there was construction debris in the hall. It didn't bother me and I would anticipate they will be done with construction soon. I really enjoyed my stay ... I would definitely stay there again. Thank-you Renu, Markis, and Karen !!
Jay
2017-03-05T00:00:00Z
Great Place. Quiet, on a beautiful lake, near to Tacoma for any big city stuff. Lots of extra amenities. Our studio had a great view of the lake, on the third story, but stairs were pretty easy. I had hip replacement surgery 7 weeks ago, and the stairs were spaced out well, with a banister. It's perfect for a couple. Hosts were very gracious and accommodating. Great decor in the studio. The options to boat and hang out by the lake are great, but weather and our plans were not conducive to that at this time.
Mary
2017-03-12T00:00:00Z
ประเภทห้อง
บ้าน/อพาร์ทเมนท์ทั้งหลัง
---
ประเภทที่พัก
อพาร์ทเมนท์
---
พักได้
2
---
ห้องนอน
ทาโคมา, วอชิงตัน, สหรัฐอเมริกา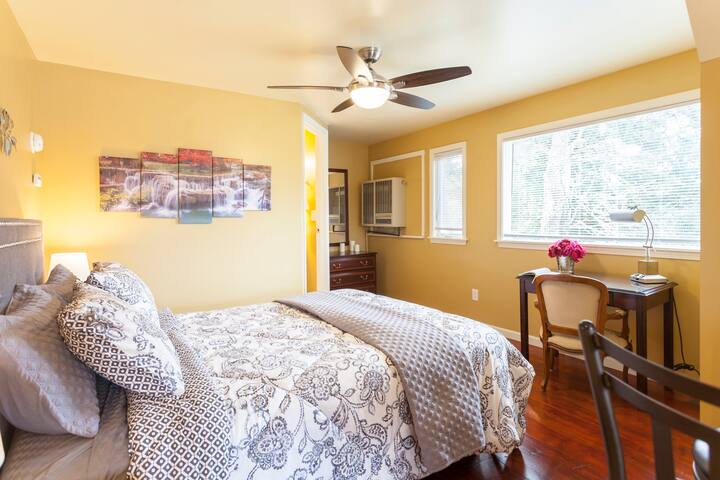 Schöne ruhige Umgebung, Mein Platz Einkaufszentrum in der Nähe ist, The Mall, Öffentliches Verkehrsmittel, Minuten zur Innenstadt Tacoma / Puyallup, Orte zum Essen, Nähe Service Station. Sie werden meinen Platz wegen der Lage, der Gemütlichkeit lieben. Mein Platz ist gut für Paare, Solo-Abenteurer und Geschäftsreisende. ES IST AUCH fahrbar, mit Rampen.
该公寓是一个三Plex的类型公寓的大楼。大约700平方英尺。该公寓有它自己的停车位(砾石停车便利,位于大甲板)。便捷的洗衣房和拥有自己的私人露台烧烤炉和所有,部分围栏对于隐私。
Sie sind nicht weit von der Innenstadt Tacoma, Seattle. Restaurants, Einkaufszentren, Nachtclubs, Coffee Shops. Einen Besuch wert Sightseeing! Sie können die Lyft Oder Uber anrufen! Reisen mit dem Bus, Zug Sounders * Emerald Queen Casino 7 Meilen (10 Min) JBLM Golf Course, Chambers Bay Golf Course. 11,3 Meilen (22 Min) JBLM Fort Lewis / McChord Air Force Base. 14,0 Meilen (20 Min) Tacoma Dome, Amerikas Car Museum, Museum of Glass. 7,0 Mil (16 Min) Die Puyallup Messegelände. 7,3 Meilen (12 Min) South Hill Mall, 6,4 Meilen (10 Min) Tacoma Mall. 7,5 Meilen (11 Min) Northwest Trek, 23,8 Meilen (39 Min) Point Defiance Zoo. 13 Meilen (27 Min) Sea-Tac Airport. 27,7 Meilen (34 Min) Seattle, Space Needle, Fischermarkt, Einschienenbahn, 37,5 Meilen (50 Min) Fort Steilacoom Park A 300 Acre Park. 9,4 Meilen (20 Min) Mt. Rainier National Park. 51,0 Meilen (1 Std 13 Min)
Rick was very easy to work with throughout the booking process, and also went out of his way to make sure we felt welcome. The stay was a great value for our business trip. Thanks, Rick!
Julia
2016-11-22T00:00:00Z
This was our 2nd time staying. And it was just perfect. Thank you again.
Cathy
2017-02-28T00:00:00Z
Highly recommended. Mr. Gómez was a very accommodating host and made sure we had everything we needed from fresh towels and sheets to a refrigerator full of complimentary food. The apartment was clean and very welcoming. The neighbors were quiet, kept to themselves and when on the rare occasion of coming in contact with them, they were all very polite and friendly. We really enjoyed our stay.
Nalleli
2017-03-26T00:00:00Z
Great place to stay. Has everything like home. Great host. And clean. Thank you. hope to come back.
Cathy
2017-01-29T00:00:00Z
This is a great full apartment! There is everything you need to cook. And the washer/dryer is super convenient and reasonable! And the host is great and responsive!
Christina
2017-01-13T00:00:00Z
This place is quaint and simple. It was clean. It is just perfect for a single person or a couple. The owner was very attentive and always checking to make sure everything was okay during my stay.
Robert
2016-10-31T00:00:00Z
Great location. Quite neighborhood. Definitely clean and organized. Only complaint I had was communication. I will definitely recommend for the "bang for bug" factor.
Davis
2017-02-21T00:00:00Z
Rick is awesome and a quick responder. Place was very clean and cozy! Would definitely stay again.
Tammy
2017-01-20T00:00:00Z
ประเภทห้อง
บ้าน/อพาร์ทเมนท์ทั้งหลัง
---
ประเภทที่พัก
อพาร์ทเมนท์
---
พักได้
4
---
ห้องนอน
ทาโคมา, วอชิงตัน, สหรัฐอเมริกา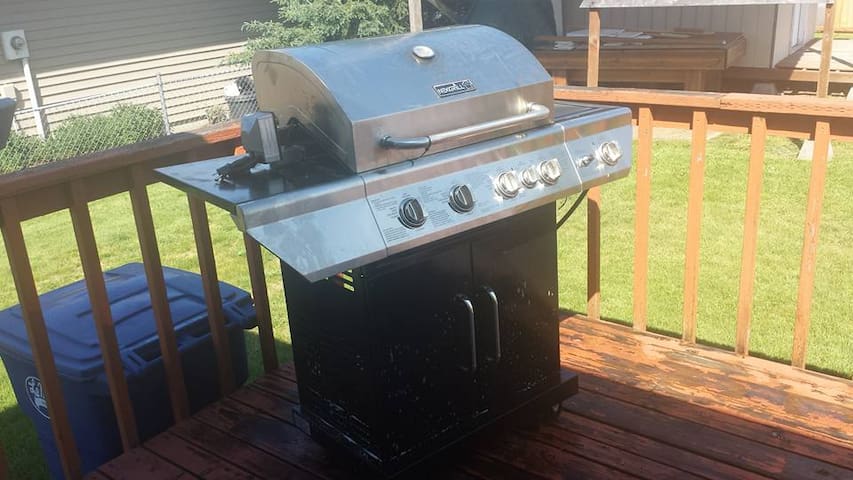 Enjoy the great views along this wooded drive to Northwest Trek and Mt. Rainier. Close to JBLM, Thun Field, Boeing Fredrickson plant. 15 minutes to 512 toward Tacoma or Seattle. A great location if you are here for the Western Washington state fair.
We felt extremely welcome and generously provided for in this beautifully tasteful home. Overall we would definitely return if in the area!
Sydney
2016-09-04T00:00:00Z
Great place! We just needed a room for a last-minute overnight. Georg was very friendly and his house was perfect for a quick stay -- clean, quiet, and comfortable.
Jacob
2016-09-18T00:00:00Z
Place was easy to find in a well-maintained gated community. Although there was no keypad at the front door, and being hesitant to knock at such a late hour, Georg immediately responded to my knock, even offering to help me with my luggage. Georg is very inviting man, reminds me of John Malkovich, a very mild, engaging, and thoughtful personality and is 420 friendly. His dog is adorable and well behaved. Bed was large with memory foam. House and neighborhood was extremely quiet. Bedroom was fully furnished, even with a chair, a small but much needed amenity in a bedroom. Towels and soap were on my bed when I arrived. Door hooks in the room for drying towels and whatnot. House was huge with many things to look at. Asian, African, Native American and other artifacts. Picture a retired Indiana Jones displaying his finds, each with a story. He's very flexible on check in and check out. He alluded to moving in the future, a definite loss to the BnB community if he does. This is a 10 at a good price.
John
2016-11-22T00:00:00Z
It was an awesome room and he's a great and understand person!
Shirorekha
2017-01-23T00:00:00Z
Georg's place was perfect! He was very quick in responding and his home is lovely. Myself and my husband needed a last minute place to stay for the night and we both left wishing we could stay longer! His home is very clean and quiet and we felt comfortable and welcome. We would definitely stay here again if in the area.
Sara
2016-10-07T00:00:00Z
Everything was perfect. It was exactly what I needed. Thanks Georg!
Mark
2016-10-28T00:00:00Z
We had a quick short stay at Georg's that we enjoyed very much. He was there to greet us during our late arrival and even offered to park our car. His home was clean and had everything we needed. Great stay!
Jeffrey
2016-09-19T00:00:00Z
(Recommended. Return guest; see previous reviews.)
Melanie
2017-02-11T00:00:00Z
ประเภทห้อง
ห้องส่วนตัว
---
ประเภทที่พัก
บ้าน
---
พักได้
2
---
ห้องนอน
Puyallup, วอชิงตัน, สหรัฐอเมริกา
From the time we checked in til' we checked out, Susan has been such a great host. Words and reviews can not describe how excellent Susans hospitality was. During our stay, Susan would send us 'check in' texts just to make sure we were OK and see if we needed anything. My wife and I were in Tacoma for a wedding and did not get to tour Tacoma, but this wont be our first and last time staying at Susans place.
Jerick
2017-04-02T00:00:00Z
Great spot, the nicest airbnb I have every stayed in. Clean, well-equipped and very charming indeed!
Patille
2017-03-04T00:00:00Z
This is a wonderful, comfortable place to stay. There was lots of room and a very comfortable bed. Susan was an informative and hospitable host. It was much more than we expected, and we were only sorry that we could only stay 2 nights. We plan to return.
Barbara
2017-04-05T00:00:00Z
This was our second time staying at The Proctor Suite. We loved it just as much as the first time and Susan is a great host. All of our needs were met during our stay. We always feel right at home when we stay at the suite.
Brooke
2017-03-20T00:00:00Z
We have stayed at Susan's many times always she is an amazing host. Comfy bed and large dining and family room Susan always checks in to be sure all is well. We will be returning.
Joanne
2016-12-27T00:00:00Z
Susan's place is fantastic, as is she! When I walked in, I thought "I could live here if they would allow pets..." and my husband was teasing me that I would just mysteriously not return home. It is comfy, cozy, and feels like a haven. The place is in a great spot close to lots of restaurants and shops, though I was unable to visit them since I was in Tacoma to take the bar exam. Susan even offered to make me dinner one night when she knew I was stressed and busy studying. I let Susan know that I have trouble with wheat and dairy and she filled the place with delicious baked goods that I could ACTUALLY EAT! It was delightful. The place has its own entrance and was sufficiently isolated from the rest of the house that I didn't feel like I was intruding on my host's privacy and had plenty of my own privacy too. Thank you, Susan, for not only providing me with a comfortable and calming place to stay during a stressful time, but for also providing me with the holy grail of gluten-free eating- an actually delicious bagel!
Elizabeth
2017-02-22T00:00:00Z
This is one of those classic problems where you like a place so much you hate to tell the world about it, so you can save it for yourself. But this has been one of the best AirBnB experiences I have had. Susan is an incredible host, and her place is very nicely put together and has lots of little, very thoughtful amenities. It's difficult to say enough good things about it or her. It's very comfortable, quiet, peaceful, yet in a great location for accessing the nicer parts of Tacoma. It's also a great location for walking, close to Proctor and UPS, and easy driving to everywhere else. This will be my go-to place for all future visits here.
Daniel
2017-02-19T00:00:00Z
Susan was such an amazing host. She has thought of everything that might bring guests comfort while they are traveling. We enjoyed "discovering" all of her hidden treats. The shower was warm and inviting and I loved the helpful dispenser built in with shampoo, conditioner and body wash. We wore our terry cloth robes daily and enjoyed snacking on all the wonderful treats Susan provided, including fresh fruit, baked goods, homemade hard boiled eggs and locally made ice cream for dessert. When we needed help with dining, Susan had endless helpful selections. She is a gracious host and we truly enjoyed spending our time in her lovely home.
Elizabeth
2015-07-25T00:00:00Z
ประเภทห้อง
บ้าน/อพาร์ทเมนท์ทั้งหลัง
---
ประเภทที่พัก
อพาร์ทเมนท์
---
พักได้
3
---
ห้องนอน
ทาโคมา, วอชิงตัน, สหรัฐอเมริกา
Ann's place is quiet and neat. The room was very nice and accommodations very pleasing. Highly recommend this stay.
Jeremy
2017-02-15T00:00:00Z
Easy to communicate with and was more like a bed and breakfast. Ann was kind and did everything to make stay wonderful. Best stay.
Michelle
2016-09-29T00:00:00Z
We found Ann and her husband to be warm and hospitable. They made sure all our needs were taken care of and went beyond our expectations. The house had a very soft bed, clean bathroom, breakfast in the morning and a homey feel. Gracious hosts and a great stay.
Eileen
2016-10-01T00:00:00Z
Was a pleasure to meet such two wonderful people. My stay was amazing, worked ungodly hour's in the morning and they didn't mind. I ensured that I was quite not to disturb them as they slept. I give this place a gold
Marcela
2017-04-01T00:00:00Z
Ann's place is welcoming and both she and her husband are great hosts.
Jeremy
2017-03-08T00:00:00Z
It was a very warm and cozy home which makes you feel like home. Ann and Norm are lovely hosts and always available if needed. The room and the bath are in very good and clean condition. Ginger, the dog, is very cute - as well as Violet (the 5 months granddaughter), when she was there ;)
Ute
2016-10-27T00:00:00Z
Ann and Norm were really hospitable. They made me feel welcome and like I could relax in their house. We watched some football together and chatted when I had time. Their dog Ginger is also very sweet! The bed was quite comfortable and the bathroom very nice. They made me coffee each morning and had boiled eggs, bagels, and muffins to eat. I would stay there again if I found myself in need of a place to stay in that area again. Thank you Ann and Norm!
Scott
2016-08-30T00:00:00Z
Such a sweet family. I swear , Ann should be a supper host. With such a beautiful house, comfortable bed, and all the baby stuff and love a family would ever need. I would stay hear again.
Ciondra
2016-09-19T00:00:00Z
ประเภทห้อง
ห้องส่วนตัว
---
ประเภทที่พัก
บ้าน
---
พักได้
2
---
ห้องนอน
Spanaway, วอชิงตัน, สหรัฐอเมริกา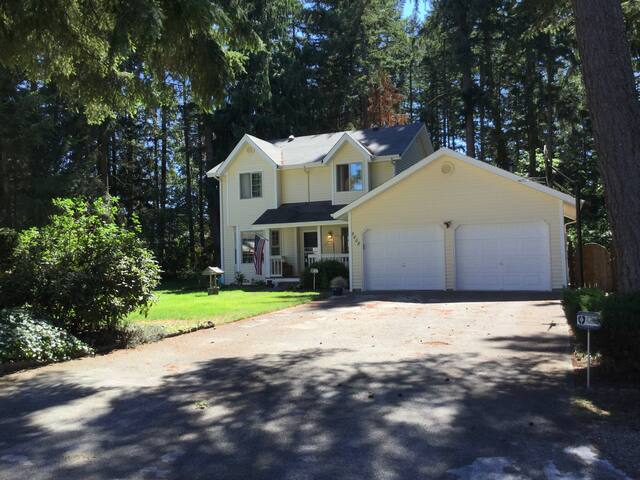 กรอกวันที่เพื่อดูการกำหนดราคาเต็ม มีค่าธรรมเนียมเพิ่มเติม อาจมีภาษีเพิ่ม