2-在客厅4'x9'湖景窗户装饰精美东方人,樱桃木地板。塞内卡湖的颜色是深蓝色到绿色emarld.Protected大院子有舒适的柳条家具和4椅子桌子。两张大私人卧室,1个拥有舒适拔出沙发分享1双人按摩浴缸和淋浴的大浴缸。克里格,室内微波炉和冰箱。可能的厨房(预订前接触。天井与侧燃烧器的燃气烧烤炉,私人入口和停车场。
对面的私家18洞高尔夫球场(SPC率)要求 一个邻居的北界 ) 翻过18洞高尔夫球场
Julie greeted us when we arrived and was welcoming and lovely. She showed us around the property and gave us details on everything in the house and made us feel very comfortable. The views out to Lake Seneca were spectacular! The villa was in the perfect location to go into town for dinner and close to multiple wineries.
Kay
2016-10-10T00:00:00Z
John and Julie's place was amazing. Everything I expected and more. The view of the lake was spectacular. The kitchen was equipped with everything needed to prepare and cook dinners. The house itself was so well decorated and very comfortable. Things like the giant jacuzzi tub to the comfortable beds. Thanks again John and Julie for the great experience on Seneca lake.
Jeffery
2017-03-12T00:00:00Z
Great place for a vacation
Manish
2017-02-20T00:00:00Z
Julie was very welcoming and helpful. She obviously loves the Seneca Lake Area. We loved the Villa we rented. It was very clean and had everything we needed. The beds were very cozy and comfortable. You can't imagine the beauty of the sunrises from the huge windows in the living area of the villa. It was magnificent! We loved our experience and hope to return again.
Jody
2016-11-13T00:00:00Z
Beautiful spot on lake Seneca! Wonderful views from the two living areas, dining room and outside porch. The villa was close to downtown Geneva and several local wineries. Having lake access was great and the water was perfect in early September. Julie was helpful with information on restaurants suggestions and local attractions. Thank you!
Lora
2016-09-10T00:00:00Z
Julie was great. She was available despite our constantly changing time of check-in. She was a lovely host, ensured we felt comfortable.
Gurmeet
2016-06-25T00:00:00Z
We were warmly welcomed upon arrival. The house is breathtaking. Essentially two different living room areas with slightly different views of the lake. Both are beautifully and comfortably decorated, as is the entire home. There are two outside areas above the beach. The first is just off the dining room with 3 sitting areas, including one very comfy area of wicker furniture. It overlooks the lake, which was crystal clear that day. The second smaller area is a bit lower, still overlooking the lake. This patio has 2 fireplace options - a pit and a chimney. We got a couple bundles of wood at Wegmans just a few miles away. The Kitchen has everything you need, plus there's an outside grill. They even stocked foil and plastic bags and left us with coffee, eggs (great as we forgot ours) and bacon. The location was perfect as well. A few miles to Belhurst castle and tons of wineries up and down the lake. This was the nicest AirBNB I have rented to date.
Andy
2016-05-02T00:00:00Z
This is a beautiful house on the lake shore. The huge windows in the drawing room look directly into lake Seneca and provides a sense of peace and serenity. Julie is a warm and welcoming host. I would love to come back to this house any day and would highly recommend for anyone in the area. There are great vineries in the neighborhood too which also come highly recommended.
Aditi
2016-09-06T00:00:00Z
ประเภทห้อง
บ้าน/อพาร์ทเมนท์ทั้งหลัง
---
ประเภทที่พัก
วิลล่า
---
พักได้
4
---
ห้องนอน
เจนีวา, นิวยอร์ก, สหรัฐอเมริกา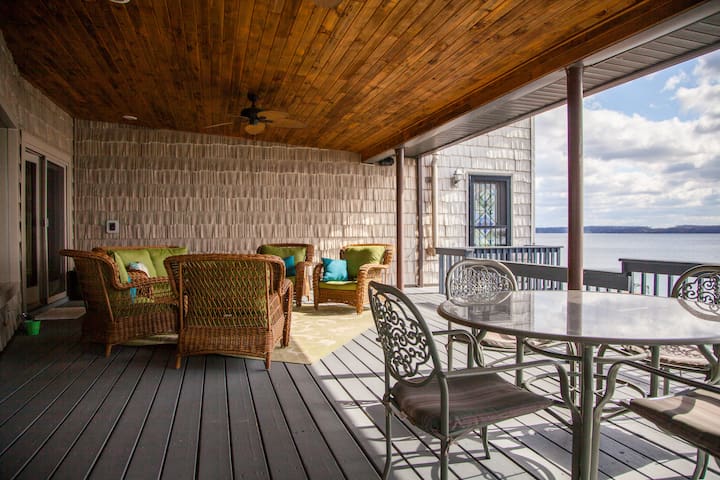 Maintenant en ligne! Villa 2 est un LRG privé très romantique BR w / 36' vue sur le lac avec de grandes fenêtres en verre / Portes françaises, un bain à remous. 4 lit à baldaquin, 2 causeuses sur un sol en noyer noir avec tapis oriental. Salle de douche. Chambre potentiel 2e King a trouvé au niveau inférieur avec salle de bain privée. patio couvert et foyer. Cuisine. Jusqu'à 120 pieds. Plage de sable fin. Sud vous ne voyez rien que de l'eau et des arbres, le 15 Juin au 30 Août son une location de toute la maison jusqu'à 14 personnes
2.8 miles de la ville de Genève .... 170 pieds. Plage de sable fin ... Seneca Lake a la plus forte concentration d'établissements vinicoles et des brasseries dans Finger Lakes Wine Country. Année vues rondes - Seneca Lake ne gèle jamais. Grand parking privé. Réputé bien manger à proximité sur l'autoroute. 14. Ou bien privé à manger MORGAN SAMUELS INN.com Transport disponible
Le quartier est tout à fait unique car il est sur un chemin privé avec d'autres maisons du front de lac. Sud de nous est une baie et vous voyez pas de maison juste ouvert au décor naturel des arbres et des petits animaux en profitant du bord de l'eau du lac Seneca. Si votre tôt pour le lever du soleil, vous attraperez aperçu d'un jeu loutre et la natation. Au lieu de regarder sauter dans l'eau rafraîchissante claire et jouer vous-même.
Lovely place. Great view!
Tom
2016-05-23T00:00:00Z
Was a great place with great location and views.
Jayashree
2016-06-27T00:00:00Z
Check in was a bit chaotic as Julie was doing many things at once. Our kitchen did not have any utensils, plates, toaster, etc and I found it awkward having to go to the other kitchen to borrow things. Julie was welcoming and explained most everything but my experience with other bnb's is that everything is ready to go. We had to roll out the grill as well. Also, the description "entire home" is misleading - if other family was not friendly that would be an issue.
David
2016-06-20T00:00:00Z
The property was exceptional. Julie was an excellent hostess and welcomed us upon arrival. The pictures don't convey how incredible the lake views are and how close (just a few steps) you are from the lake. The patio was also excellent for sitting outside. The house is split into 3 apartments, so you might see others on the first floor or sharing the patio and beachfront. When we visited there was another group on the first floor, but they were friendly.
Kyra
2016-08-28T00:00:00Z
From the moment we got out of car and walked towards the door, Julie greeted us and made us feel like family. she spent lots of time with us, showing us where everything was located and made us feel welcome. The house is stocked with everything you need plus more. It's absolutely beautiful and doesn't seem like just an ordinary rental, the decor and detail Julie and John put into the home is top notch! The restaurants Julie recommended were exactly how she described and we would definitely return. The outdoor fire pit was delightful, especially on a cool brisk night....We sat there listening to the small waves break on the sandy shore line. I can't wait to return to John and Julie's lake house retreat!
Justine
2016-11-13T00:00:00Z
John is such a nice guy and his house is beautiful and sweet. It is really good for family trip!
Sixu
2016-11-25T00:00:00Z
ประเภทห้อง
บ้าน/อพาร์ทเมนท์ทั้งหลัง
---
ประเภทที่พัก
วิลล่า
---
พักได้
4
---
ห้องนอน
เจนีวา, นิวยอร์ก, สหรัฐอเมริกา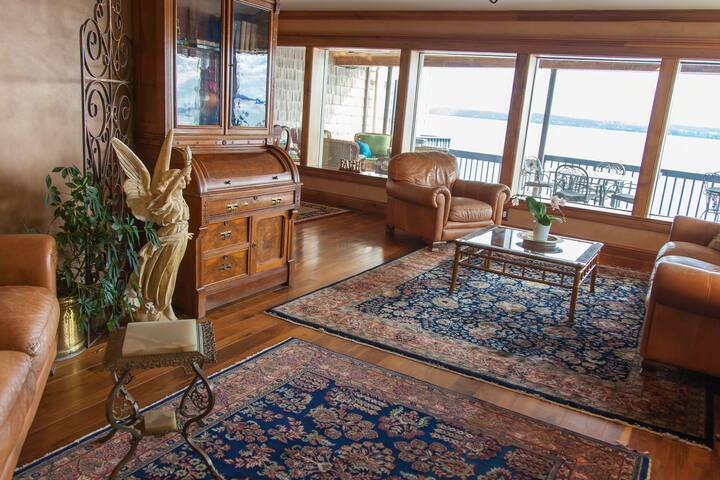 กรอกวันที่เพื่อดูการกำหนดราคาเต็ม มีค่าธรรมเนียมเพิ่มเติม อาจมีภาษีเพิ่ม