Een prachtig appartement met kook eiland . Waar je sta te koken met uitzicht op het meer. Twee slaapkamers met allebei een eigen badkamer. Op loop afstand van Schagen en 25 minuten fietsen van het strand . Binnen en buiten zwembad op 5 min, lopen
Een prachtig ruim app ,met twee aparte slaapkamers met twee badkamers. Heerlijk dakterras op het zuiden waar je kan zonnen zonder dat iemand je kan zien.
Schagen is een mooi stadje met veel eet gelegen heden, en winkels. Het is een prachtig wandel gebied en je kunt ook heerlijk fietsen. Vissen is ook geweldig in het meer.
Jan hat uns persönlich begrüßt, die Wohnung gezeigt. Er ist sehr freundlich, die Wohnung ist ausgesprochen schön, geschmackvoll eingerichtet und großzügig ausgestattet - man fühlt sich sofort wohl. Ich kann diese Adresse sehr empfehlen.
Hartmut
2015-12-15T00:00:00Z
The host canceled this reservation 46 days before arrival. This is an automated posting.
Ludwig
2016-02-28T00:00:00Z
Our stay with Jan was the highlight of our European adventure! His home was clean and his hospitality was unparalleled. We are still talking about how kind he and his family were, and how much we appreciated getting the chance to meet them. We loved every minute of our stay in Schagen!
Isobella
2015-09-14T00:00:00Z
Fijn appartement, keurig onderhouden zoals op de foto's te zien. Leuke omgeving en op korte afstand van het centrum van Schagen
Winnie
2016-04-30T00:00:00Z
Wir haben uns bei Jan sehr wohl gefühlt. Das Apartment ist wie auf den Bildern zu sehen und die Umgebung auch sehr schön. Als kleines Extra haben uns seine Beiden Katzen mehrmals täglich besucht :). Wir könnten uns sogar noch Fahrräder von Ihm leihen. Wir würden die Wohnung jederzeit wieder buchen und weiter empfehlen.
Harald
2016-10-11T00:00:00Z
Jan war sehr freundlich und die Wohnung genau wie auf den Bildern. Es war schön, und wir kommen gerne wieder!!!
Ralf
2016-03-22T00:00:00Z
Everything was perfect. Jan was a great host. He gave us tips for exploring the surroundings and was very caring. The apartment was flawless, clean and modern and the view from the balcony was idyllic. We felt very comfortable and enjoyed our stay a lot. In addition we loved the visits from his two nice cats. We really recommend the apartment to everybody. Thank you. We will come back!
Jessica
2015-12-24T00:00:00Z
It was a beautiful weekend at Jan´s Appartment. An amazing view out of the Window. A cool new Kitchen, Bedroom and Bath ! Everything was clean and comfortable. We felt like home and Jan was a brilliant host. Thanks for this nice Weekend, Jan ! Martin & Tina
Wilhelm
2015-11-23T00:00:00Z
ประเภทห้อง
บ้าน/อพาร์ทเมนท์ทั้งหลัง
---
ประเภทที่พัก
อพาร์ทเมนท์
---
พักได้
4
---
ห้องนอน
Schagen, Noord-Holland, เนเธอร์แลนด์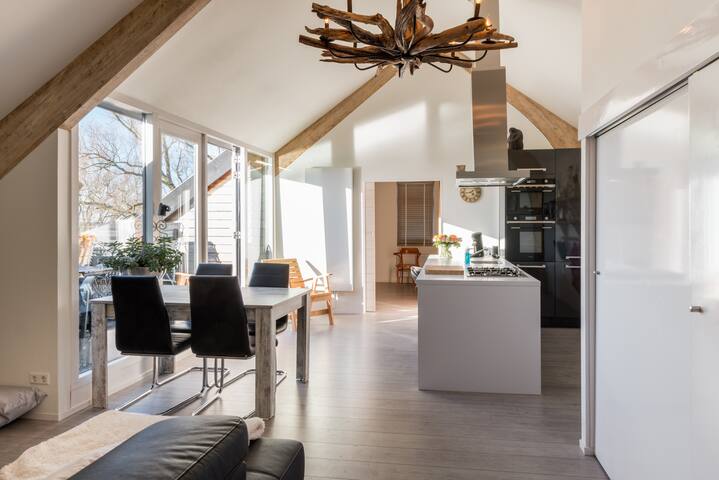 Our place is close to the beach. You'll love our place because of the idyllic location as it's in the middle of the countryside. There are many places to visit a few minutes drive away and after a day out you will enjoy the quietness at the apartment. Our place is good for couples, solo adventurers and small families.
Our spacious apartment is situated in the south-west side of an authentic North Holland "stolp" barn conversion. It has two bedrooms and a modern bathroom. Its large and complete kitchen includes a cooker, coffee machine, microwave/oven and toaster. Enjoy the beautiful view of the countryside and our horses. You can even see the dunes in the distance.
Our place is close to the beautiful seaside resorts Callantsoog and Julianadorp. The Netherlands sunniest town, Den Helder (also the naval town and port to the island Texel), is just a short ride away.
Prima verblijf gehad. Erg gastvrij ontvangst. Ruim, schoon, compleet. Welkomstwijntje viel goed in de smaak.
Johan
2016-08-07T00:00:00Z
This is really a lovely place. As we arrived we felt welcome. Stephany is such a nice person, same her mum. The appartement was more than clean and the surroundings are unique. Out of the living room you can directly watch the beautiful horses. It is just five minutes by car to the beach and the suggested places on their page are very helpful and worth to heed. All in all a beautiful place to relax and to enjoy.
Juliana
2016-08-07T00:00:00Z
Nous avons passé un très bon weekend dans un site qui combine l'attrait de la proximité avec Amsterdam (70 km) et le charme de la campagne : chevaux dans la famille, variétés de poules superbes, champs de tulipes à perte de vue, mer sauvage à moins de 10 km...
Marie-Helene
2016-11-13T00:00:00Z
Great place and super friendly hosts.. Recommended
Craig
2016-12-28T00:00:00Z
We had a super time in the B&B. Stephany and her parents are adorable people and made us feel at home. We had grandchildren visiting and they enjoyed it on the farm, taking care of the horse. Although it was bitterly cold outside, the place was very comfi, clean and just all one needs. The bed is excellent, we had good sleeps. Thank you for taking care of us the way you did, greatly appreciated. Rein
Rein
2017-01-26T00:00:00Z
Goed en mooi verzorgd huisje. Je hebt er echt alles wat je nodig hebt om er eens lekker tussenuit te gaan en te ontspannen. Ook het uitzicht is prachtig. Zeker een aanrader als je deze kant op wilt gaan!
Bibienne
2017-02-27T00:00:00Z
I can say that our stay at Stephany's place was one of my best AirBnB experiences. She is a very welcoming and kind person and ready to answer all of your questions. The place itself is very warm, clean, and silent. If you want to take a break from the city this is where you need to go: You'll live on a pony and horse farm (great sunsets) which is not far from the wonderful dunes (5 min drive). We would love to be Stephany's guests again and recommend her place to our friends.
Damla
2016-09-28T00:00:00Z
Wer das Landleben liebt, ist hier genau richtig. Die Gastgeber sind sehr nett und hilfsbereit, die Unterkunft gepflegt und sauber. Auch die Betten sind praktisch "wie daheim"! Alles für einen rundherum gelungen Urlaub ist hier vorhanden. Die Gastgeber sprechen Englisch und Niederländisch, aber es geht alles irgendwie immer. Von uns gibt es für die Unterkunft und für die Vermieter glatte fünf Sterne! Alles, wie in der Beschreibung angegeben und super nette Leute! Danke für den überaus schönen Aufenthalt!
Carmen
2016-08-16T00:00:00Z
ประเภทห้อง
บ้าน/อพาร์ทเมนท์ทั้งหลัง
---
ประเภทที่พัก
อพาร์ทเมนท์
---
พักได้
3
---
ห้องนอน
Callantsoog, Noord-Holland, เนเธอร์แลนด์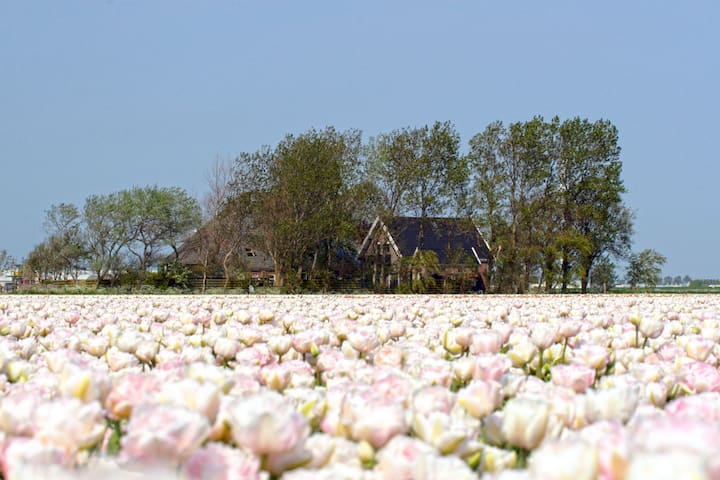 Een prachtig appartement aan een meer. Op het terras kijkt u over het meer en er speelt zich daar een natuur film voor u af . Heerlijk om te vissen. 10 min lopen van het centrum van Schagen. Er zijn twee gratis fietsen beschikbaar. Het strand is op 25 minuten fietsen. Het overdekte zwembad met met alle toebehoren is op vijf minuten lopen, geweldig voor de kinderen. Schagen is een heerlijk stadje met alle voorzieningen en op donderdag een mooie markt.
Het is een prachtige appartement voor 4 personen aan een meer Met 2 slaapkamers en 2 badkamers. Super plek als je van rust houdt, maar voor de afwisseling ben je binnen 10 min. op de fiets in het gezellige Schagen. Vissers vinden het er geweldig. Buiten kachel incl.hout
Het app. ligt vlakbij Schagen. 15 minuten fietsen van het strand. 5 min.lopen openbaar overdekt zwembad. 5 min .met de auto naar golfterrein.
We hebben een heerlijke week gehad op een prachtige plek! De beschrijving klopte met wat we aantroffen...een heerlijk ruime woning aan een meer waar veel vogels aan het broeden waren, een attente gastheer en alles in de buurt wat een weekje weg tot vakantie maakt. En ondanks de weersverwachting hebben we het super getroffen!! Jan...petje af wat je daar gerealiseerd hebt! We hopen zeker nog eens terug te keren!
Folkert en Jelly
2016-04-12T00:00:00Z
Beautiful Apartment, Jan is a very nice guy and we enjoyed our stay really much. The little sea behind the House is absolutely gorgeous. 5 Stars!
Fabian
2017-01-22T00:00:00Z
Jan war wie im vergangenen Jahr immer da wenn wir ihn brauchten bzw. Fragen hatten. Er ist ein unaufdringlicher Gastgeber, was uns sehr entgegen kommt. Die Wohnung war wieder wie wir sie kannten und erwarteten sauber und jahreszeitlich dekoriert. Die Betten waren fertig gerichtet, Handtücher und andere Dinge mehr als ausreichend vorhanden, so dass der Urlaub ab der ersten Minute beginnen konnte. Wir kommen wieder!
Ursula
2017-01-03T00:00:00Z
Fijn verblijf gehad bij Jan. Goed verzorgd appartement, met uitgebreide keuken van alle gemakken voorzien. Erg schoon. Mooi uitzicht over het meer. Leuke omgeving. Jan is een flexibele en gastvrije host, wij wilden last-minute graag nog een nacht extra blijven, dat was geen enkel probleem. Kortom, een aanrader!
Silvan
2017-01-08T00:00:00Z
Sehr schöne Wohnung. Alles sehr gut durchdacht bei Aufteilung der Räume und Inventar. Sehr schöne Terrasse am See. Ruhige Wohnung. Freundliche Aufnahme bei der Ankunft. Die umliegenden Städte wie Schagen u. Alkmaar sind ein Besuch wert. Sehr schöner Strand und Dünen sind mit dem Fahrrad erreichbar Wir werden bei nächster Gelegenheit wieder hinfahren. Alles gut .
Manfred
2016-10-13T00:00:00Z
Een heerlijke week doorgebracht in het appartement van Jan aan de Valkkogerdijk. Het Noord-Hollandse landschap lag aan onze voeten. Voor mijn vader, 85 jaar oud en geboren en getogen in Schagen een fijne uitvalsbasis om plekken met herinneringen te bezoeken en zo maar eens aan te lopen bij zijn broer in Valkkoog. Het appartement is echt van alle gemakken voorzien. Het uitzicht over het water van de Wiel is prachtig en heerlijk rustgevend. Wij komen zeker terug!
Jos
2016-10-27T00:00:00Z
Zeer mooie locatie, perfect rustige ligging, 2 goede slaapkamers en 2 badkamers, heerlijk.
Joep
2017-03-01T00:00:00Z
Wir haben wunderschöne 5 Tage in dem Apartment verbracht. Täglich wurden wir mit dem tollen Ausblick auf einen kleinen See und eine Koppel mit Schafen belohnt. Das Apartment ist geschmackvoll eingerichtet und lädt zum Wohlfühlen ein. Die Umgebung ist ruhig und ländlich. Von den naheliegenden Straßen hat man kaum etwas mitbekommen. Ein idealer Ort zum Auszuspannen. Wir würden es jederzeit wiederholen.
Nha Tam
2017-03-10T00:00:00Z
ประเภทห้อง
บ้าน/อพาร์ทเมนท์ทั้งหลัง
---
ประเภทที่พัก
อพาร์ทเมนท์
---
พักได้
4
---
ห้องนอน
Schagen, Noord-Holland, เนเธอร์แลนด์
De Traphoeve The "Traphoeve" is a beautifully restored farmhouse in North-Holland. The farmhouse stands close to the monumental Westfrisian Dyke, at a unique location surrounded by green meadows and several ponds.
Apartment A.N.W.B. classified with 5 stars, 6-persons apartment Big living with large kitchen including oven, Microwave, dishwasher and fridge Seperate livingroom with televison Two seperate bedrooms with each 2 single beds Cupboardbed for 2 persons, for romance and coziness ((SENSITIVE CONTENTS HIDDEN)!!) A large, brandnew bathroom including shower,toilet, bathroom furniture and floor heating Beautifull views!
What you find here is the rest, wide views, beach, very historic and atmospheric Centre with shopping centre and shopping street. In the summer every Thursday market with West Frisian Folklore Parade/dance, etc! Only 1500 meters from the Farmhouse is the market town of Schagen where a range of shops, cafe's, restaurants and terraces can be found. Around Schagen you can enjoy beautiful cycleroute's by the North Holland landscape. And the most energetic place of Netherlands, (within walking distance) the Maria Chapel to the Keins! On cycling distance you will also find the beach of Callantsoog, where you can enjoy beautiful sunsets or a drink on the terrace of one of the many beach bars. E.g. "Woest". Enjoy hiking, including the "Zwanenwater" with its spoonbills!
We had a great time at Corine's appartment. She received us with a bottle of white wine and fresh starwberries. They have 4 bikes available and gave us good ideas of what to do. The cabin was neat, beautiful and cozy! I totally recommend this place.
José Francisco
2016-07-13T00:00:00Z
Afgelopen weekend heb ik met in totaal 6 personen een ontzettend fijn weekend op de Traphoeve gehad. Jan Ed en zijn vrouw Corine ontvingen ons hartelijk. En toen we er even niet uitkwamen met de kachel, hielpen ze ons meteen. Verder is het huis van alle gemakken voorzien en heel erg schoon. De bedstee bracht mooie herinneringen aan onze jeugd naar boven. Naar Schagen zijn we zowel gelopen, als gefietst. En ook Callantsoog hebben we met de fiets een bezoekje gebracht. Oftewel, wij hebben een heerlijk familieweekend gehad. Dankjewel Jan Ed & Corine!
Mette
2015-11-15T00:00:00Z
We had an amazing stay an Jan's apartment is super cozy with a fire place and enough space for a family. The surrounding country side is super pretty and just a car drive away from a day trip to the beautiful island Texel. We could even rent out bikes at the apartment. The hosts were super friendly and helped us with anything.
Kiara
2015-10-31T00:00:00Z
We enjoyed a wonderful weekend eat de Traphoeve in Schagen. The apartment is situated in a beautiful farm building with lots of space around it. It takes you about 10 minutes by car to get to a nice beach and dunes area. The place was very clean and cosy. We could have spent the entire weekend just hanging out in this comfortable space. The mattresses were very comfortable as well. Would recommend it to anyone!
andreas
2016-03-21T00:00:00Z
Nous n'avons pas rencontré Jan Ed et Corine en arrivant qui étaient partis en vacances, mais la maison nous attendait, ouverte par un voisin très sympathique qui nous a très bien accueillis en leur place. Il a fait la visite guidée et de petites réparations. La maison était conforme aux photos. L'appartement se situe à l'étage ; il est confortable et bien équipé. Les draps et serviettes de toilette sont fournis. Un classeur rassemble la documentation touristique sur le secteur (en néerlandais ou en allemand). Le site est isolé, mais très proche de la ville de Schagen. On se sent vraiment à la campagne, avec tout ce que cela comporte d'agréable (deux hérons nichent juste à côté et des moutons paissent dans les prairies voisines), ou de désagréable (nous avons eu droit un soir aux mauvaises odeurs liées à l'épandage des boues). La situation permet de rayonner dans la région en voiture, ou en vélo et de découvrir les villes touristiques de Hollande. La location convient parfaitement pour une semaine, pour une famille avec deux enfants, petits ou grands. Au-delà, l'absence de machine à laver le linge risquerait de poser problème. Als wir angekommen sind, haben wir Jan und Ed Corine nicht getroffen, weil sie im Urlaub waren. Aber ein sehr freundlichen Nachbarn hat uns das Haus geöffnet und gezeigt. Er hat auch kleinere Reparaturen gemacht. Das Haus war das gleiche als die Bildern. Die Wohnung befindet sich im ersten Stock; es ist bequem und gut ausgestattet. Bettwäsche und Handtücher werden gestellt. Eine Arbeitsmappe bringt touristische Informationen über die Region (im Niederländisch oder Deutsch). Das Haus ist isoliert, aber sehr nah von der Stadt Schagen. Man fühlt sich wirklich in der Landschaft, mit allem, was angenehm (zwei Reiher nisten nebenan und Schafe weiden in der Nähe Weiden) bringt oder unangenehm (wir bekamen eine Nacht, um den schlechten Geruch, der mit der damit verbundenen Ausbringung von Klärschlamm). Die Lage gibt der Möglichkeit, die touristischen Städten von Holland mit dem Auto oder mit dem Fahrrad zu besichtigen. Das Haus ist ideal für eine Woche für eine Familie mit zwei Kindern, alt oder jung. Darüber hinaus konnte keine Maschine waschen problematisch sein.
Isabelle
2014-08-10T00:00:00Z
Mooi appartement, sfeervol ingericht en goede ontvangst.
Ton
2017-02-26T00:00:00Z
Een heerlijk weekend gehad met de familie. Een sfeervol ruim appartement met alle gemakken, vriendelijke gastheer en leuk ontvangst met flesje wijn en wat lekkers op tafel. Prima locatie; strand in de buurt of bv een dagje Alkmaar. En in overleg bleek er veel mogelijk. Een plek om terug te komen :)
Julia
2016-03-29T00:00:00Z
Heerlijke plek midden in prachtig Hollands landschap. Zeker in het voorjaar met overal bloeiende tulpen! Boerderij is ruim, schoon en heel compleet. Kinderen hebben ook genoten van de ruimte binnen en buiten. Strand bij Callantsoog is heerlijk en de prachtige bossen van Schoorl zijn niet ver rijden.
Lobke
2016-05-04T00:00:00Z
ประเภทห้อง
บ้าน/อพาร์ทเมนท์ทั้งหลัง
---
ประเภทที่พัก
อพาร์ทเมนท์
---
พักได้
6
---
ห้องนอน
Schagen, North Holland, เนเธอร์แลนด์
Ons appartement is vlakbij het strand en het gezellige dorpsplein met goede restaurants (2 min. lopen). Ook de supermarkt is om de hoek! Het appartement heeft een kamer/keuken en een aparte slaapkamer + douce/toilet. Het zit aan ons huis vast maar heeft een zelfstandige opgang. Het is geschikt voor 2 personen (2 eenpersoonsbedden)
We zijn op het moment nog bezig om het appartement te renoveren. Vanaf juni kan het geboekt worden.
ประเภทห้อง
บ้าน/อพาร์ทเมนท์ทั้งหลัง
---
ประเภทที่พัก
อพาร์ทเมนท์
---
พักได้
2
---
ห้องนอน
Callantsoog, Noord-Holland, เนเธอร์แลนด์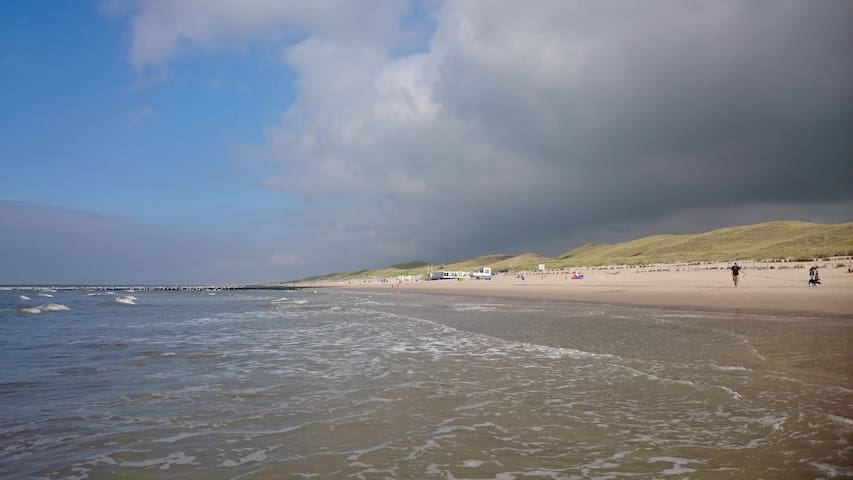 Near the beach of Julianadorp aan Zee (800 meters), is above our garage to our unique apartment, "Under the Dune" for rent for a short or longer break. Our apartment is suitable for 4 people, 2 adults and 2 children in the kitchen is a sofa / bed. The bedroom has two single boxspringbedden.Gratis 2 bicycles, towels and linens. There is a secluded garden on the south. And outside there is a sauna (for a fee), there are several games available.
Eine gemütliche Unterkunft, alles da, was man braucht, ein wunderbares Empfangskörbchen mit Obst, Getränken, Knabbereien und Kaffee, Gewürze, Tee gehörten auch zur Ausstattung. Sehr empfehlenswert!
Linda
2017-03-26T00:00:00Z
Appartement Onder de duin ligt in een rustige woonwijk. De auto kan gratis geparkeerd worden. Na 15 minuten wandelen sta je op het strand. Vanuit Julianadorp ligt lekker centraal en er zijn leuke uitstapjes te vinden dicht in de buurt. Ook het winkelaanbod in Julianadorp is voldoende. Het appartement heeft een standaard slaapkamer met TV. Er is en ruime douche & WC en de douche heeft een eenvoudige douchekop die op twee standen is te stellen. Er is ruimte genoeg in de twee halletjes om jassen en tassen neer te leggen. Het woonkamertje met slaapbank en keuken is knus en zeer compleet ingericht. Het slaapbankje slaapt redelijk voor een nachtje of twee. Een zeer geschikt appartement als je rustig wilt slapen, gratis wil parkeren en met slechts 15 min wandelen sta je op het strand. Omdat de woonkamer zo knus is voelt het appartement voor een gezin met 2 volwassene en 2 kids toch wat aan de kleine kant.
Olivier
2017-01-07T00:00:00Z
Sweet little homevas described. It was a short nice stay at merco and roelanda's place. I recommend it highly. Thanks a lot :)
mehdi
2016-10-09T00:00:00Z
Das Apartment Onder de Duin hält was es verspricht. Es ist sehr sauber und die Umgebung ist ruhig. Marco und Roelanda sind überaus freundliche Gastgeber. Ich kann es nur Empfehlen.
Melanie
2016-10-28T00:00:00Z
Perfect place, perfect hosts. Very comforting. Highly recommendet. Roelanda and Marco were very very helpful.
Sebastian
2016-09-05T00:00:00Z
Апартаменты полностью соответствует описанию и фотографиям. Хозяева также любезно нам предоставили детскую кроватку, стульчик для кормления и детскую ванночку. Очень чисто, светло, уютно. Приятным сюрпризом стали прохладительные напитки в холодильнике от хозяев. Хотелось даже остаться на несколько дополнительных ночей, но жилье уже было забронировано. Очень рекомендуем, а также сами с радостью вернемся в будущем.
Максим
2016-09-11T00:00:00Z
We had a wonderful stay in Julianadorp at Marcos & Roelandas home. We arrived with the train and the host picked us up at the station. Thank you for this! The accomodation was clean, friendly and in a perfect location, very near to the sea (3 minutes with the bike). Everything we need to live comfortable was there (personal highlight: sandwich maker). Thank you for everything! Big thanks :)
Hanna
2016-09-27T00:00:00Z
Uns hat es bei Marco und Roelanda sehr gut gefallen. Wir sind als Paar mit einem Kleinkind gereist. Für unsere Bedürfnisse war die Wohnung super und groß genug. Sie war nicht weit vom Meer entfernt und schnell mit den bereitgestellten Fahrrädern zu erreichen. Ein Kindersitz war auch vorhanden. Marco hat uns nett empfangen und alles erklärt. Wir hatten jederzeit die Möglichkeit uns an die Gastgeber zu wenden. Nur zu empfehlen.
Wiebke
2017-01-02T00:00:00Z
ประเภทห้อง
บ้าน/อพาร์ทเมนท์ทั้งหลัง
---
ประเภทที่พัก
อพาร์ทเมนท์
---
พักได้
4
---
ห้องนอน
Julianadorp, Noord-Holland, เนเธอร์แลนด์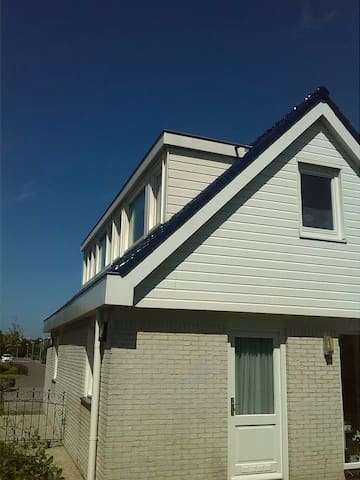 Het appartement is landelijk gelegen in de polder van Wieringerwaard nabij het dorpje Oudesluis, tussen Alkmaar en Den Helder.
Het appartement is voorzien van een ruime woonkamer met TV, keuken. Met douche- en toilletgelegenheid op de benedenverdieping en de slaapkamer op de gehele bovenverdieping. De keuken is voorzien van een koffiezetapparaat, waterkoker, koelkast, kookplaat, magnetron en wasmachine. De slaapkamer heeft een 2-persoonsbed, evt te verdelen naar 2 maal 1-persoons. Een terras met tafel en tuinstoelen is aanwezig. Het appartement beschikt over Wifi en is voorzien van cv en ventilatie. Huisdieren en roken zijn niet toegestaan.
Het appartement is landelijk gelegen in de polder van Wieringerwaard nabij het dorpje Oudesluis, tussen Alkmaar en Den Helder. U kunt heerlijk fietsen door de polder en door de duinen, het strand van Callantsoog ligt op 11,5 km bij ons vandaan. Toeristische attracties zijn o.a. in het zomerseizoen de markt in Schagen met de westfriese folkloristische optocht, de kaasmarkt in Alkmaar, een dagje Texel, naar de dierentuin Blanckendaell in Tuitjenhorn of landgoed Hoenderdaell in Anna Paulowna. Kortom alles voor een paar heerlijke dagen er tussen uit.
We hebben een heel fijn weekend gehad in het huis van Karin en Stefan. Het ligt op een rustige locatie in de polder. Het huis is nieuw en volledig ingericht. Alles was aanwezig voor een geslaagd verblijf. Een weekend was te kort en we komen graag nog een keer terug voor een langere periode.
Ronald
2016-10-16T00:00:00Z
Upon arrival we were welcomed by Stefan & his wife Karine very well with full demonstration of the home and utilities. We thoroughly enjoyed the stay there and near by places.
Priyesh
2016-09-12T00:00:00Z
It was so great we could stayed in your House! We liked it very much, but the time was too short... Maybe we will come again for a Holiday! Thanks for your hospitality!
Lisa
2016-09-08T00:00:00Z
It was a pleasure for us to be your first guests. The apartment is placed in an very quiet Area at the countryside. We have loved the silence especially at night. The accomondation includes everything you need. The next market and beach are a few miles away, it would be an advantage if you travel by car. The beaches in northern-Holland are beautiful. The landlords Karin en Stefan are very pleasant and will give you good tips about the area.
Dominik
2016-07-17T00:00:00Z
Abbiamo passato una vacanza meravigliosa, questa casa è perfetta sia per la collocazione perche é vicino al mare, ad Alkmaar e soprattutto immersa nella natura e nella tranquillità. La casa é provvista di tutto sia per la cucina sia per il bagno. Stefan e Karin ci hanno accolto molto bene , sono stati molto disponibili ma allo stesso tempo hanno rispettato la nostra privacy. Consigliamo di soggiornare in questa casa a tutti quelli che vogliono una vacanza tranquilla e in relax.
Mattia
2016-08-23T00:00:00Z
Karin und Stefan waren beide sehr freundlich und haben uns herzlich willkommen geheißen. Das Ferienhäusschen war sehr sauber und super ausgestattet, es hat an nichts gefehlt ! Die Unterkunft liegt ca. 500 Meter vom nächsten Ort entfernt. Zur nächst größeren Stadt waren es ca. 5 min mit dem Auto. Auch die Entfernung zum Meer sind mit dem Auto in wenigen Minuten zu schaffen. Im Großen und Ganzen waren wir sehr zufrieden, daher kann ich die Unterkunft von Karin und Stefan nur weiter empfehlen.
Marvin
2016-07-26T00:00:00Z
Very nice appartment a few minutes (by car) away from the sea. All was very new and clean and some cute cats visited us for breakfast outside. The hosts were friendly and helpful. Its recommended that you travel by car because the next villages are a few miles away.
Alexander
2016-07-23T00:00:00Z
Das Haus von Karin und Stefan hat eine gute Lage in Nord Holland. Man ist schnell am Meer oder in Schagen, Alkmaar und anderen schönen Städten. Das Haus war sehr sauber und gemütlich eingerichtet.
Rebekka
2017-01-03T00:00:00Z
ประเภทห้อง
บ้าน/อพาร์ทเมนท์ทั้งหลัง
---
ประเภทที่พัก
อพาร์ทเมนท์
---
พักได้
2
---
ห้องนอน
Wieringerwaard, Noord-Holland, เนเธอร์แลนด์
The Cowshed offers complete privacy, own entrance, unobstructed view of meadows, flower fields, cows, surrounded by beautiful peasant ditches, near beach, sea, dunes, plenty to do and lovely to relax romantic. The animals: dog Otto, two alpacas Carlijn and Carel, three dwarf sheep Cora, Conny and Coosje, two hanging ears Milou and Marloes and nine chickens (Rupert TRex Zero Eggplant Penne Orange Pipo (URL HIDDEN) Get away from it all!
Spacious hall with storage, spacious lounge area with sofas, TV and DVD player, kitchenette with refrigerator, 1 burner electric hot plate, microwave, kettle, coffee machine, toaster iron, cooking utensils, dining table and chairs, bathroom with whirlpool tub, separate shower, 2 sinks and hairdryer, separate toilet, 2 beautiful bedrooms with two beds and opportunities for additional sleeping and infant cot (extra fee varies depending on type of place to sleep). Childre(URL HIDDEN)years free if camping cot brought in themselves. Children 4/17 years 12 euros per person per night; per week 80 euros.
The immediate surroundings invite you to enjoy the rural peasant life, the beautiful hamlets, churches and houses and the meadows with ditches and hares, walking, cycling, skating, admiring the mill of the neighbor, horseback riding, golf, enjoy the blooming bulb fields , the West Frisian Omringdijk, bird watching, fishing, boating, canoeing, etc. a 5 minute drive away (free parking) or fifteen minutes cycling through the dunes to the beach and sea, where you can relax in a good beach bar and food. Also 5 minutes drive atrractiepark Goldfish (t / m 11). 10 minutes Schagen, a nice, well equipped town with lots of activity, shops, restaurants, bars, cinema, swimming pool, bowling alley and museums. On 20 minutes the Hondsbossche sea wall, the magnificent bird and dunes of Camperduin and Schoorl and "Wells", the nature reserve "Swan Water", Alkmaar, including the cheese market, the open-air museum in Broek op Langedijk, Den Helder including more a sea aquarium and the ability to spot seals, to sail to Texel and visit the Wadden Sea, etc.
Yvette kwam gastvrij en vriendelijk over op mij.
margriet
2016-04-12T00:00:00Z
Vielen, lieben Dank für den tollen Aufenthalt bei Yvettte und das tolle, reichhaltige Frühstück (auf jeden Fall mit buchen ;-). Wir haben uns rundum wohl gefühlt. Schöne Wanderungen am Meer und in den Dünen von Hargen an Zee mit unseren 3 Hunden.
Thomas
2017-02-28T00:00:00Z
Zeer gezellige B&B die door Yvette van alle comfort is voorzien. Een aanrader.
Pim
2016-12-12T00:00:00Z
Wij zijn heel goed ontvangen Yvette heeft ons rondgeleid. De kamers etc waren heel schoon wij hebben heerlijk geslapen. De volgende ochtend ontbijt was helemaal af.
Dirk
2015-12-21T00:00:00Z
Yvette ontving ons leuk, was heel open en behulpzaam. We wilden nog wat dingen weten over eventueel huren van fietsen en een bootje, waar ze direct voor ons achteraan ging en later op terug kwam, ondanks dat ze zelf druk was. Verder het hele weekend goed aanspreekbaar en Yvette kwam af en toe vragen of alles naar onze zin was. Kortom, prima en heel vriendelijk!
Britta
2016-08-29T00:00:00Z
Warm welkom in een gezellig appartement, met een attente gastvrouw. Ontbijt zeer zeker aan te bevelen. Prima uitvalsbasis voor een aantal dagen Noord Holland. Het lichtplan in het appartement is wel een uitdaging.
Nico
2015-10-22T00:00:00Z
Afgelopen weekend heb ik met 6 andere vriendinnen geslapen in de Riant luxe, landelijk appartement van Yvette. Toen wij aankwamen had Yvette een fles prosecco koud gelegd voor ons en we voelde ons al meteen heel erg welkom. Sleutel overdracht ging goed en alles was schoon en mooi en het rook lekker naar aardbeien. Wij hebben heerlijk geslapen in de bedden en werden uitgerust wakker met z'n allen. Ook heeft het appartement een lekkere grote douche. Het is een rustige buurt en je kan tot ver uitkijken over grote weilanden, op veel van deze weilanden staan tulpen en levert dus een prachtig kleurrijk plaatje op. Thuis hebben we nog wat geborreld. Ik gaf aan dat wanneer er overlast was van muziek dat ze mij kon bellen en dan zette wij de muziek zachter, ook dit was geen probleem voor Yvette. Ook wanneer ik vragen had over taxi's en plekjes in de buurt kon ik bij haar terecht. De laatste dag hebben wij nog uitgewaaid op het strand, wat heel dichtbij was. Het was een top weekend. - Zeer aan te raden !
Willemijn
2016-05-02T00:00:00Z
Thank you Yvette for having us three days! It was our best AirBnB so far. You are a very good host and so kind and friendly. The place is very nice and clean. It also a nice quite area near to Amsterdam and other places. We really enjoyed the stay and we are sure that we will come back :) We recommend your appartment! Best wishes!
Daniel
2015-12-31T00:00:00Z
ประเภทห้อง
บ้าน/อพาร์ทเมนท์ทั้งหลัง
---
ประเภทที่พัก
อพาร์ทเมนท์
---
พักได้
8
---
ห้องนอน
Sint Maartensbrug, Noord-Holland, เนเธอร์แลนด์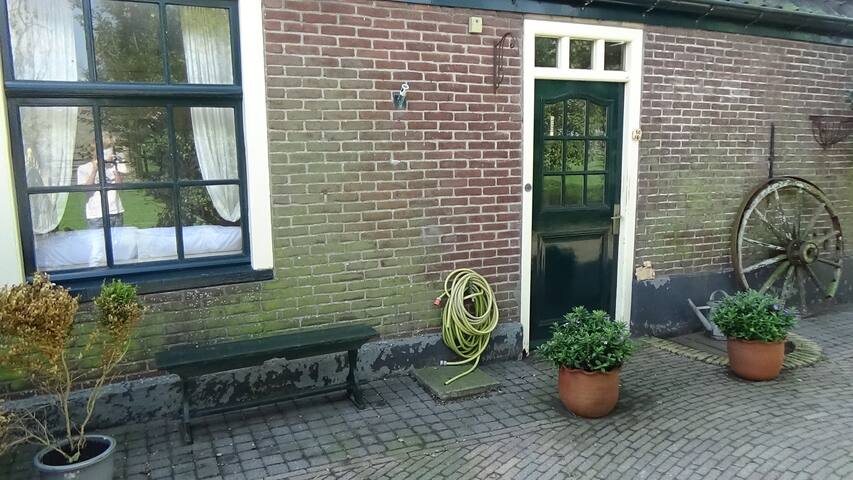 One bedroom loft which sleeps 3/4. 100 Mts from dune area/nature reserve. 2000 Mts from miles of beaches and sea. Private terrace and common barbeque terrace in authentic farmyard. Shops and restaurants around the corner of this tiny, quiet village.
Attractive and trendy loft appartment only seperated by beautiful dune area from from North Sea beaches! Situated in romantic farmhouse garden on quiet village road. Ideal for holiday retreat with small family or creative retreat year round. Central heating. Sleeps 3: double bed, bed sofa and futon. Bathroom with shower. Simple but fully equipped kitchenette, electric cooking, oven/microwave, coffeepadmachine. Flexible space arrangement: i.e. change into (yoga or painting) studio. Painting easel, drawing tables, ceramic oven for pottery. Free parking, wifi, tv/dvd. Terrace for outdoor eating. Barbecue place. Bikes available. Shops, pub, restaurants around the corner, bus stop to Alkmaar railway station 50 meters (14 km - Amsterdam: 40 km) . Bedsheets, duvet covers and pillowcases € 6 ; towels € 2 per person. You may bring them along as well. You can follow oil painting lessons in separate garden studio. Walking distance to beach 2 kms or 25 minutes, by bicycle or car 10 minutes. Fashionable village Bergen at 5 kms.
It is a cosy tiny village that clings to the dunes provided with all amenities for a shorter or longer stay. Supermarket, bakershop, (mountain)bike rental, pub, restaurants on walking distance. It is popular with families and has a much favored picturesque wedding church.
Wederom waren wij te gast bij Peter op de zolder. Een heerlijk licht, ruim en sfeervol appartement waar alles is wat je nodig hebt. En, heerlijk warm. Het dorp Groet heeft een slager, bakker, en supermarkt. Op loopafstand van het appartement. Plus fijne restaurants en een goeie kroeg. Dichtbij duinen en wat verderop de zee. Leuke dorpen en steden op rijafstand. Peter zelf is een aimabele man met goede tips voor de omgeving. Als je hem nodig hebt, reageert hij direct. Verder laat hij je met rust. Kortom, ideale stek!
Josee
2016-01-08T00:00:00Z
The host canceled this reservation 4 days before arrival. This is an automated posting.
Jörg
2015-05-20T00:00:00Z
Onze vakantie in Groet was precies wat die moest zijn. Een zonnig, eenvoudig appartement met alles om de hoek. Heerlijk uitwaaien in het prachtige duingebied, aan zee, de polder of fietsen tussen de bollenvelden... De tuin met terras was ook zeker een meerwaarde en zo gezellig met de poes, hond, konijn, kippen en.. kuikens! Peter was erg vriendelijk, flexibel en had veel goede tips, perfecte gastheer.
Jimmie
2015-05-09T00:00:00Z
We zijn goed ontvangen en het appartement voldeed aan de verwachtingen.
Ad
2016-12-20T00:00:00Z
An artistic spacious and quiet apartment at a beautifull location! Peter is a friendly and helpfull host.
Margriet
2017-03-14T00:00:00Z
Das Appartment ist sehr schön und gemütlich. Peter ein serh freundlicher und unkomplizierter Gastgeber. Und es gibt Biofrühstückeeier von den eigenen Hühnern!!! Die Umgebung ist ein Traum. Mit den Rädern zum Strand, durch die Dünen, alles sehr empfehlenswert!!
Michaela
2014-03-25T00:00:00Z
Very nice and smooth communication with Peter, who even offered us some fresh eggs from his own chicken in the garden. Very flexible attitude, too apartment features everything that you need for a short stay in the beautiful dunes of this part of the NL - garden as well as bicycles are included / can be used, too
Mathias
2015-04-28T00:00:00Z
Es hat uns sehr gut bei Peter gefallen. Er ist ein freundlicher und aufmerksamer Gastgeber. Die Wohnung ist perfekt für 2 Leute und entspricht genau den Fotos. Sein Haus in Groet liegt mit einem idyllischen Garten ca. 2 km vom Meer entfernt. Wir waren immer mit seinen zwei Fahrrädern in dieser wunderbaren Dünen-Landschaft unterwegs. Wir kommen demnächst bestimmt wieder.
Bärbel
2014-06-02T00:00:00Z
ประเภทห้อง
บ้าน/อพาร์ทเมนท์ทั้งหลัง
---
ประเภทที่พัก
อพาร์ทเมนท์
---
พักได้
3
---
ห้องนอน
Groet, North Holland, เนเธอร์แลนด์
At the foot of the dunes of the Netherlands and on the road to Schoorl Groet located. Attractively furnished double house, the apartment is located on the front of the beautiful farmhouse. Great place to enjoy.
An apartment with great atmosphere, where it is nice to come home after a day at the beach or a bike or hike through the beautiful dunes and polder. A nice day of shopping in Bergen, terraces and visit Museum Kranenburgh is also recommended!
In the immediate vicinity are many fine restaurants and shops. And do not forget the most beautiful coastline of the Netherlands. Beautiful surroundings for walking biking, horseback riding or just a lazy day at the beach. There is also a fantastic mountain bike trail through the dunes.
Wir wurden bei unserer Anreise mit frischen Blumen und einer Flasche Wein begrüßt und haben uns über die gesamten Tage hinweg in Jeanets Apartment sehr wohl gefühlt. Das Apartment ist sehr gemütlich und schön eingerichtet und bietet alles, was man für die eigene Versorgung benötigt. Auch die Lage ist perfekt, denn man ist in wenigen Gehminuten in den Dünen. Auch zu den Geschäften in Schoorl sind es nur wenige Minuten. Wir hatten, trotz eher regnerischen Wetters eine wunderschöne Zeit und können das Apartment nur wärmstens empfehlen!
Volker
2015-09-08T00:00:00Z
Meinem Freund, meinem Hund und mir hat es bei Jeanet in Schoorl sehr gut gefallen. Sie war uns eine nette und hilfsbereite Gastgeberin. Die kleine aber feine 2-stöckige Wohnung war mit allen wichtigen Dingen ausgestattet und gemütlich eingerichtet. Auch das Bett war sehr bequem! Einzig die WLAN-Reichweite wäre zu bemängeln, wobei uns dies persönlich nicht gestört hat. Die Wohnung liegt direkt an einer Bushaltestelle. Leider können wir hier nur sagen, dass man mit dem Bus nach Alkmaar Hbf ca. 15 Minuten braucht (von dort noch einmal 37 Minuten nach Amsterdam). Mit dem Auto braucht man ca. 7 Minuten zum Strand (Hargen aan Zee) und den wirklich traumhaften Dünen. Parkplatzkosten (von 10-19Uhr) sind pro Stunde 1,90€, wobei maximaler Tagessatz 6€ betragen. Hunde sind hier von 10-19Uhr an der Leine zu führen, danach war keine Leinenpflicht mehr und viele Hunde und deren Besitzer haben sich zum Gassi gehen getroffen. Da die niederländische Bevölkerung aber nicht ganz so spießig ist wie die deutsche ;-), hat es hier keinen gestört, wenn man den Hund auch mal tagsüber am Strand frei laufen lassen hat - allerdings natürlich in Begleitung. Am Strand befindet sich auch ein sogenanntes Strandpavillon - eine Art Restaurant mit großer, einladender Terrasse mit Blick auf den tollen Sand-Strand. Einkaufsmöglichkeiten sind mit dem Auto in ca. 3 Minuten zu erreichen (Schoorl Zentrum). Ebenso gibt es reichlich Möglichkeiten zum Essengehen. Hier ist allerdings zu erwähnen, dass in allen (von uns besuchten) Restaurants die Speisekarten ausschließlich auf niederländisch sind. Die netten Kellner waren aber immer hilfsbereit. Alles in allem können wir sagen, dass wir uns in Jeanet's Wohnung und Schoorl sehr wohlgefühlt haben und jederzeit wieder kommen würden. Danke Jeanet, danke AirBnB :)
Alisa
2016-07-22T00:00:00Z
Prima welkom, alles besproken en aangevuld bij aankomst. Gewoon goed geregeld. Beschrijving behoeft enige verduidelijking (bijv. aanwezigheid van handdoeken). Leuke accommodatie met brocante achtige inrichting
Peter
2015-05-08T00:00:00Z
Das nette Appartment hat genau die richtige Größe für ein langes Wochenende oder auch eine Woche zu zweit, selbst bei mäßigem Wetter ist es auf zwei Etagen geräumig genug, dass man sich nicht gegenseitig auf den Füßen herum steht. Begrüßt wurden wir mit einer Flasche Wein und frisch geschnittenen Blumen auf dem Tisch, Jeanet ist uns eine sehr freundliche und hilfsbereite Gastgeberin gewesen. Wir kommen gerne wieder.
Jan
2015-08-13T00:00:00Z
Een prima huisje, gezellig en heel sfeervol. Aan alles was gedacht. Jeanet is Een spontane, enthousiaste gastvrouw waardoor we direct het gevoel kregen alsof we thuis waren. De omgeving is prachtig vooral met het mooie weer dat we hebben gehad. En we hebben heerlijk gegeten bij Struin en lekker Puh! We komen vast nog eens terug.
Petra
2014-10-18T00:00:00Z
Jeanet und Ihr Mann waren sehr aufmerksam und für Fragen offen. Die Lage ist für einen etwas aktiveren Urlaub prima. Es ist ein guter Startort um mit Fahrrad zu fahren oder durch die naheliegende Dünenlandschaft zu laufen. Die Bilder und die Beschreibung der Ferienwohnung sind passend. Uns hat es dort an nichts gefehlt und zum einkaufen kann man gut einen kleinen Waldweg, mit dem Rad, von 1 km zu 2 Lebensmittelläden nach Schoorl fahren. Wir werden bestimmt wieder kommen.
Martin
2016-09-07T00:00:00Z
Wir können Jeanets Unterkünfte weiterempfehlen. Die Wohnungen (wir hatten Gelegenheit die andere Wohnung zu besichtigen) sind stilvoll eingerichtet und gut ausgestattet. Bei unserer Ankunft steckte der Schlüssel bereits im Schloss. Wir konnten direkt in die Wohnung. Jeanet und ihr Mann kamen etwas später. Schoorl ist ein toller Ort für einen Urlaub - auch mit kleinem Kind. Mit dem Rad erreicht man in ca. 10 Minuten den Strand und kann entlang der Küste schöne Radtouren machen. Die Strecken sind sowohl für gemütliche Touren als auch für Rennradfahrer geeignet. Jeanet ist eine herzliche Gastgeberin. Wir wären am liebsten länger geblieben, empfehlen die Unterkunft weiter und kommen gerne wieder.
Johanna
2016-07-15T00:00:00Z
Woeste Hoeve ist ein wunderschönes altes Haus mit Rieddach. Das Wohn- und Esszimmer mit Küchenzeile und Zugang zur Toilette ist sehr gemütlich und ruhig. Das Schlafzimmer im ersten Stock mit Zugang zur Dusche ist hell und geräumig. Alles, was man braucht ist vorhanden. Wenn etwas fehlt, kann man Jeanet und ihren Ehemann gleich nebenan fragen und erhält bald das Gewünschte. Wir haben die 2 Wochen dort sehr genossen und uns gut erholt. Einziger Kritikpunkt ist die Nähe zum recht stark befahrenen Heereweg, so dass das wirklich hübsche Plätzchen neben dem Haus unter einem alten Apfelbaum nicht wirklich entspannt benutzt werden kann. Alles in allem aber eine sehr schöne Ferienwohnung in einer sehr schönen Umgebung. Tipp: auf alle Fälle Fahrradfahren!!!
Wolfgang
2016-08-29T00:00:00Z
ประเภทห้อง
บ้าน/อพาร์ทเมนท์ทั้งหลัง
---
ประเภทที่พัก
อพาร์ทเมนท์
---
พักได้
2
---
ห้องนอน
Schoorl, North Holland, เนเธอร์แลนด์
It is a fine holiday for two people if necessary. with small children, couples and business travelers. Bus stop and supermarket at 50 m. Possibly. a free crib, high chair and playpen. You will find everything you need during your stay. It is located on the quiet village street. Beach, Alkmaar or Schagen are 10 to 15 km away. Broeker Veiling, the thousand island kingdom and the swimming pool are within a radius of 5 km. Amsterdam is 45 minutes by car or one hour by train.
It is a bright and airy apartment with no thresholds. The bathroom and toilet are spacious. You will find everything you need to make your stay enjoyable. possibly can in the bedroom. a crib stand and we also have a high chair and playpen. 'd Have to declare in advance.
The apartment is located on the main street. Oudkarspel is an old and rural farming village. Together with North Scharwoude Zuid-Scharwoude, Broek op Langedijk and St. Pancras is a long ribbon village. It is quiet, but you're so on the coast or in the city. Within 15 minutes you are in Alkmaar or Schagen and Den Helder with 30 minutes evt.ook where you can take the boat to Texel for a fun day out. Amsterdam is approx. 45 min. By car and one hour by public transport. The coast is 10 to 15 km depending on where you want to go. Callantsoog Camperduin, Hargen, Schoorl, Bergen and Egmond.
Wir hatten eine wunderbare Zeit bei Cintha. Das Apartment ist gemütlich und bietet genügend Raum für zwei Personen. Cintha war darüber hinaus immer zur Stelle wenn man etwas benötigt hat. Oudkarspel ist ein ruhiges, kleines Örtchen und für Spaziergänger ein Paradies. Die Einwohner sind sehr freundlich und umliegende Städte gut zu erreichen. Sehr gern wieder. Vielen Dank für alles.
Franzy
2016-10-16T00:00:00Z
Het appartement van Cintha biedt heel veel ruimte voor het geld. Je hebt zitkamer, slaapkamer, ruime badkamer en aparte toilet tot je beschikking. Waar vind je dat voor deze prijs? Alles is keurig afgewerkt en heel schoon. Het bed slaapt prima. Cintha is heel snel met reageren op berichten en heel vriendelijk. Tot slot biedt het appartement voldoende privacy. Een aanrader!
Kees
2016-08-28T00:00:00Z
Een prima plek om te verblijven. Alles werd gedaan om het on naar de zin te maken. Zeker een aanrader dus.
Siska
2016-08-14T00:00:00Z
Sehr schöne und saubere Wohnung, die in einem netten und ruhigen kleinen Dorf liegt. Wir wurden mit einem tollen Tablett mit Kaffeepads, Tee, Wein, Leckereien und Blumenstrauß begrüßt. Super nette und hilfsbereite Gastgeberin. Wir kommen gerne wieder.
Benjamin
2016-08-21T00:00:00Z
We enjoyed our stay at the apartment - it is very well equipped, cozy and beautiful. Cintha was very kind as she picked us up at the train station at night after our flights had been delayed. We were also invited to eat traditional pancakes and borrowed bikes to discover Alkmaar. This is perfect place to relax and enjoy the landscapes in the surroundings.
Ella
2017-01-03T00:00:00Z
ประเภทห้อง
บ้าน/อพาร์ทเมนท์ทั้งหลัง
---
ประเภทที่พัก
อพาร์ทเมนท์
---
พักได้
2
---
ห้องนอน
Oudkarspel, Noord-Holland, เนเธอร์แลนด์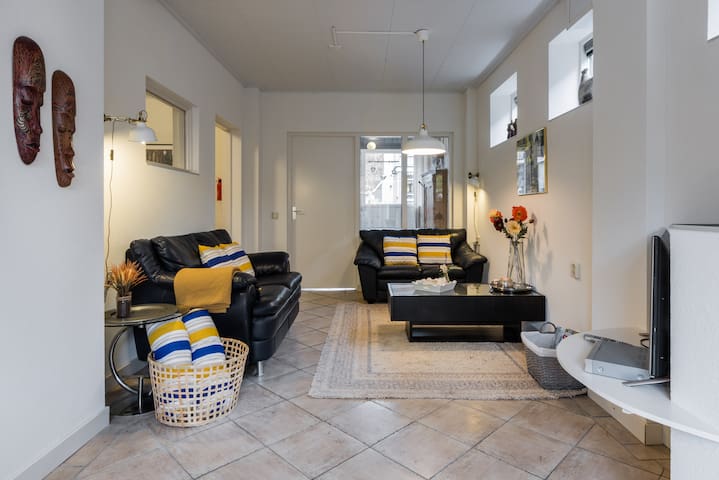 With patio doors to a private terrace facing south, you enjoy the rural views. On the ground floor: living room with kitchen hallway and bathroom with shower, toilet, washbasin. The first floor: alcove, hall, bedroom. We can arrange a snack basket and a 3 day breakfast basket. (No public transport) The sea, nature area (12km). In May, bulb fields. And 5 km from the town of Schagen with great shops, restaurants. The cheese market in Alkmaar is worth a visit.
The guest house has central heating - refrigerator - microwave - coffee maker - kettle - TV - Radio - Terrace - umbrella - garden table - 4 chairs. towels and kitchen towels are provided. Your bed is made upon arrival.
Only 12 km is the sea, where you can walk with your feet healthy in the sea. There is also a beautiful natural area '' The Swan-water '' with several short trails for hiking. In several months you can wander through the bulb fields. About Westfriesedijk is a bike route from leaf to leaf. 5 km to the town of Schagen is with great shops and restaurants, each week the West Frisian market in the summer months a West Frisian dress costume parade with horse and carriage. The cheese market in Alkmaar is worth a visit, make the cheese carriers an entire show. In the nearby ancient fishing village Kolhorn see such nice walk with a guide or a round pace. In short, plenty to do as well in nature or something else fun. In the residence, several leaflets present with activities and attractions.
ประเภทห้อง
บ้าน/อพาร์ทเมนท์ทั้งหลัง
---
ประเภทที่พัก
อพาร์ทเมนท์
---
พักได้
4
---
ห้องนอน
Barsingerhorn, Noord-Holland, เนเธอร์แลนด์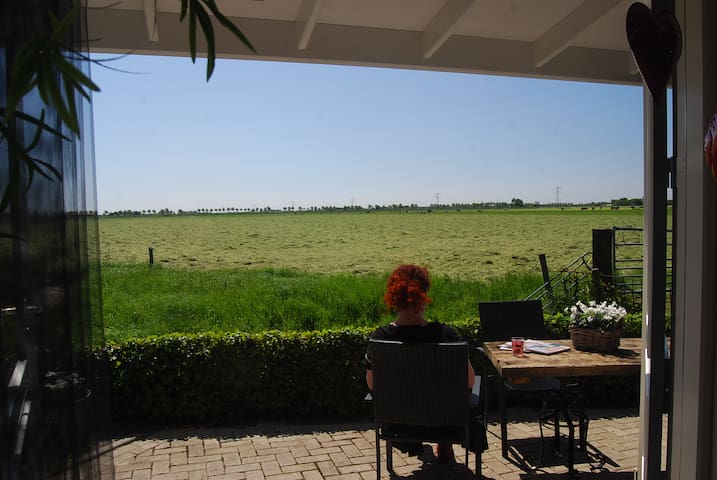 Het Gastenverblijf is gelegen in een Noord-Hollands stolpboerderij aan de rand van het gezellige stadje Schagen op 100 m. van de historische Westfriese Omringdijk en slechts 10 autominuten van het strand. Een prachtig gebied voor wandelaars, fietsers en natuurliefhebbers. Het gastenverblijf heeft een eigen ingang en is geschikt voor maximaal 4 personen. Er is voldoende parkeergelegenheid voor auto's, motoren en fietsen (afsluitbare stalling met oplaadpunt). Optioneel: ontbijt € 7,50 p.p.
Gastenverblijf Benedenverdieping: Het gastenverblijf heeft een eigen ingang met hal, toilet en garderobe. Het woongedeelte is gezellig ingericht met een zithoek met t.v., gratis Wifi en een leeshoek De open keuken is compleet met koelkast, magnetron, inductieplaat en afzuigkap. Optioneel: Ontbijt € 7,50 p.p. Eerste Verdieping: Op de eerste verdieping van de boerderij zijn 2 gastenkamers gesitueerd. Elke kamer heeft zijn eigen thema: "De Schapenboet en "De Koeienstal". Beide kamers hebben comfortabele box spring bedden, een gezellig zitje met gelegenheid om koffie en thee te zetten, t.v., gratis Wifi en een eigen badkamer met ruime douche, toilet, badmeubel + föhn.
Ligging * Bij Westfriese Omringdijk * 10 Minuten rijden van zee * Aan wandel- en fietsroutes * Bushalte voor de deur (bus naar strand, centrum en station) * Overdekt zwembad + recreatiemeertje met strandje op 2 km * Centrum op 1,5 km met o.a. overdekt winkelcentrum * Station op 2 km * Diverse restaurants in de omgeving * Bioscoop op 2 km
ประเภทห้อง
บ้าน/อพาร์ทเมนท์ทั้งหลัง
---
ประเภทที่พัก
อพาร์ทเมนท์
---
พักได้
4
---
ห้องนอน
Schagen, Noord-Holland, เนเธอร์แลนด์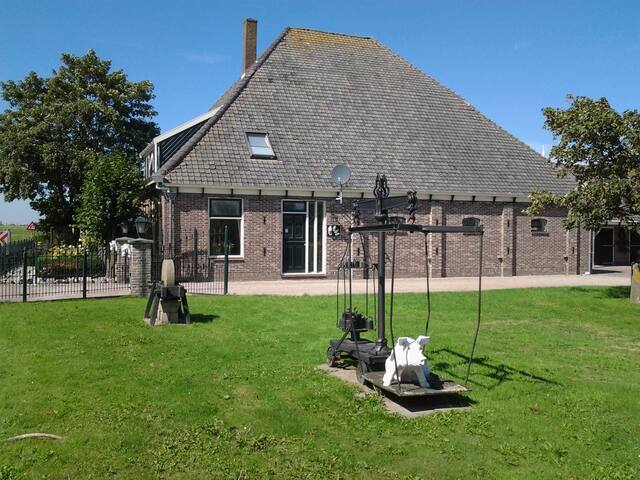 My room is near the beach and restaurants and eateries. You will enjoy the beautiful views across the fields to the hondsboschezeeweering and behind the beach and sea. From the house you can make trips to Amsterdam, Alkmaar, Hoorn, Schagen. The location is very central. Despite being on the road from Alkmaar to Schagen here almost not notice, Enjoy, the best view in to see an even more beautiful sunset from the garden, jacuzzi, bank.
Separate living room with kitchen stove pallet, with wall behind a double bed. Luxury band room with steam room. big garden. 1 separate bedroom with 2 single beds.
Stand
Leuk huisje, perfect voor 4 personen. Een beetje afgelegen, maar daar kies je voor. In een mooie omgeving.
Bas
2017-01-02T00:00:00Z
ประเภทห้อง
บ้าน/อพาร์ทเมนท์ทั้งหลัง
---
ประเภทที่พัก
อพาร์ทเมนท์
---
พักได้
4
---
ห้องนอน
Burgerbrug, Noord-Holland, เนเธอร์แลนด์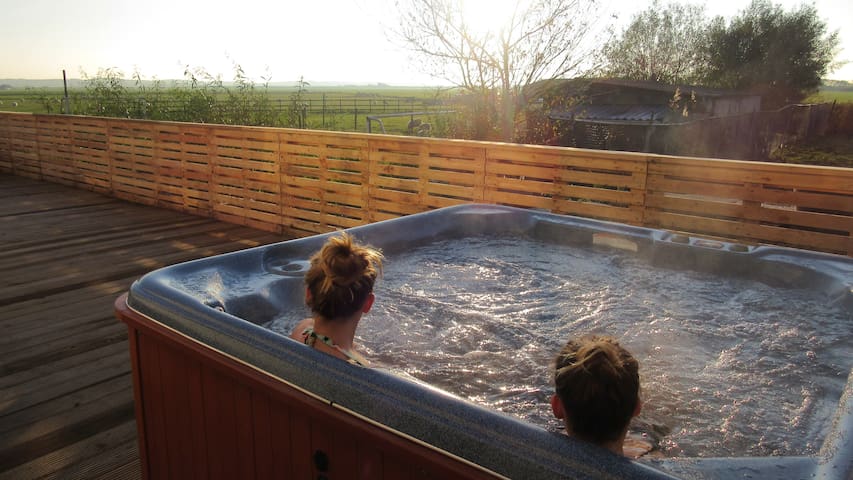 Idyllically situated apartment within walking distance of the lively center of Bergen. A comfortable apartment fully furnished with kitchen, bathroom, bedroom and terrace. "The holiday feeling": - Berger forest and dunes within walking distance. - Great cycling and walking routes. - Expansive polder areas. - Golf course 18 holes (short distance). - Swimming pool (500 meters). - Cozy cafes / restaurants.
Peace, space and romance.
The many possibilities offered by this location, dune, forest, nature center.
Wir haben uns in dem Ferienhäuschen von Bea und Dick sehr wohl gefühlt und uns gut erholt. Das Haus haben wir sehr sauber vorgefunden. Es ist sehr modern und geschmackvoll eingerichtet und mit allem Notwendigen ausgestattet. Bei schönem Wetter kann man auf der Terrasse gemütlich sitzen. Die Lage des Hauses ist sehr ruhig, man ist aber in wenigen Minuten im Zentrum von Bergen. Der Kontakt zu Bea und Dick war aufgeschlossen, sie haben uns auf Anfrage gute Tipps bzgl. Aktivitäten in der Umgebung gegeben.
Ingo
2016-07-11T00:00:00Z
mooi appartement en hele fijne gastheer/dame , erg behulpzaam
Hein
2016-07-03T00:00:00Z
Schöne und sehr gepflegte Unterkunft – genau wie in der Beschreibung/auf den Fotos zu sehen. Die Gastgeber waren hilfsbereit, sehr freundlich und hatten gute Tipps zu Urlaubsort und Umgebung. Wir werden definitiv wiederkommen!
Jan
2016-07-22T00:00:00Z
The host canceled this reservation 130 days before arrival. This is an automated posting.
Peter
2017-03-16T00:00:00Z
Als je een paar dagen wilt genieten van Bergen en omgeving, kun je prima bij Dick en Bea terecht. Het appartement is mooi en tot in de puntjes verzorgd. Dick en Bea zijn erg vriendelijk en behulpzaam. Het appartement is op loopafstand van het centrum van Bergen.
Marieke
2016-07-18T00:00:00Z
ประเภทห้อง
บ้าน/อพาร์ทเมนท์ทั้งหลัง
---
ประเภทที่พัก
อพาร์ทเมนท์
---
พักได้
2
---
ห้องนอน
เบอร์เกน, NH, เนเธอร์แลนด์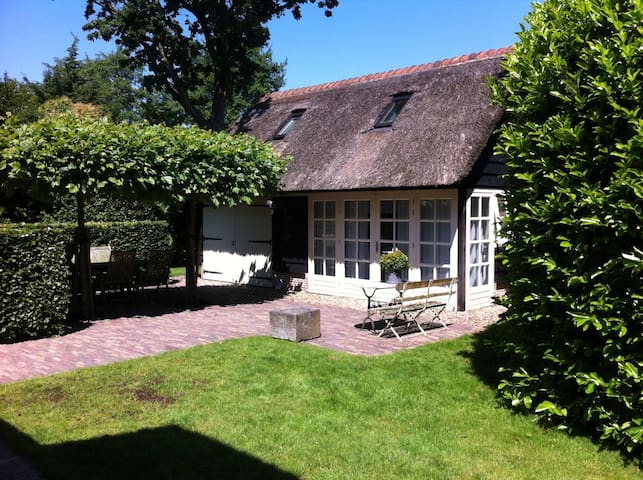 Ruime en lichte gemeubileerde kamers in een woonboerderij. Gelegen in de landelijke Groeterpolder te Schoorl en toch dicht bij alle voorzieningen, zoals winkels en stad Vlakbij strand, duinen en bossen
*Vlakbij strand, duinen en bossen. *Onze woonboerderij ligt aan de brede duinroute een prachtige fiets route. *De Hondsbosche Zeewering tussen Camperduin en Petten, waar sinds kort een enorm breed strand is gerealiseerd. *Vanuit de woonkamer (27 m2) heeft U een prachtig uitzicht over het weidse polderlandschap. *In de slaapkamer van 18 m2 staat een lichimo bed (2 1/2 pers.) om heerlijk in te slapen en als U wakker wordt heeft U een mooi uitzicht vanuit uw raam. *De badkamer heeft een bad. *Je kan gebruik maken van het terras en van de grote tuin van 1500 m2 waar je kan voetballen, vliegeren, lekker onder de bomen een goed boek lezen, enz. *Gratis parkeren op eigen terrein.
*De woonboerderij ligt in het natuurgebied de Groeterpolder. *Vlakbij strand en duinen en bos. Hargen aan Zee Camperduin aan Zee Schoorlse duinen en bossen *Er is een mountainbike route in de duinen. Braderieën in de omgeving Maandag braderie Groet Dinsdag braderie Schoorl Donderdag Westfriesemarkt te Schagen Vrijdag Kaasmarkt Schagen Zondag winkels open in Alkmaar
The host canceled this reservation 26 days before arrival. This is an automated posting.
Hanspeter
2016-06-20T00:00:00Z
The host canceled this reservation 44 days before arrival. This is an automated posting.
Karla
2016-06-20T00:00:00Z
Die FeWo liegt mitten im Polder - Naturschutzgebiet, etwa 2 km außerhalb der Ortschaft direkt neben einer historischen holländischen Windmühle. Ans und Ihr Mann sind sehr nette Gastgeber, Verständigung in deutsch und englisch klappt gut. Die Wohnung ist geräumig, beim Frühstück schaut man auf die Windmühle, sehr romantisch. Für Strandurlauber ideal.
Rainer
2014-08-11T00:00:00Z
Das Apartment ist schön, großzügig und gepflegt, die Begrüßung durch Ans war sehr nett. Tolle Aussicht auf die alte Windmühle. Fahrräder konnten im Garten abgestellt werden. Der große Strand in Camperduin war per Rad in knapp 15 Minuten zu erreichen. Wir kommen gerne wieder.
Sabine
2015-06-08T00:00:00Z
We had a pleasant stay with Ans and her husband. Ans is a very lovable and friendly hostess. Verbal communication on German and English works very well. The apartment is large and spacious and equipped with all necessary items. The house is surrounded by meadows and fields and by car there is about 5 minutes to the beach. We really enjoyed our time there and can recommend the apartment.
Boris
2014-08-26T00:00:00Z
Die Ferienwohnung liegt sehr idyllisch umgeben von weiten Feldern, Kühen und Schafen :) hinter dem alten Deich. Die Windmühle des Anwesens bietet ein Postkartenmotiv, das vorbeifahrende Fahrradfahrer immer wieder als Fotostopp genutzt haben. Die Unterkunft liegt an einem kleinen Feldweg, auf dem man mit Auto oder Fahrrad in wenigen Minuten Camperduin und auch den Strand erreicht. Für unseren Urlaub war es der optimale Ausgangspunkt. Ans hat uns herzlich empfangen und mit ihrem kleinen Enkel die Ferienwohnung gezeigt. Auch sonst war sie eine sehr nette Gastgeberin. Es gab nichts zu beanstanden und wir haben uns sehr wohl gefühlt. Absolut weiterzuempfehlen.
Julian
2015-08-26T00:00:00Z
Wir waren zu zweit und mieteten die Wohnung für 2 Wochen. Bei unserer Ankunft wurden wir von Ans (der Gastgeberin) sehr herzlich empfangen. Es gibt einen Stellplatz für die Autos, so das man diese nicht auf der Strasse stehen lassen muss. Es wird jedoch etwas eng, sollten dort mehr als 2 gleichzeitig parken wollen. Dann besser auf der Strasse parken, was auch kein Problem ist da es dort kaum Verkehr gibt. Überhaupt ist das Anwesen sehr ruhig gelegen. Für Ruhe suchende also ideal. Der nächste Ort, Groet, mit Bäcker, Supermarkt und Restaurants ist ca. 5 -7 min mit dem Fahrrad entfernt. Die Wohnung selbst war sauber und sehr geräumig. Die Kochecke enthielt das notwendigste und ist ausreichend um das Frühstück aufzupeppen bzw. mal ein paar Nudeln zu kochen. Da es nur 2 Kochstellen gibt, ist man doch etwas eingeschränkt. Der zum Haus gehörende Garten ist sehr groß und lädt mit seinem kleinen Teich durchaus ein, auch mal hier zu bleiben und nicht an den Strand zu fahren. Von unserer Wohnung aus hatte man einen schönen Ausblick auf die benachbarte Windmühle und die umgebende Landschaft. Überhaupt ist die Umgebung mit den Dünen und den endlosen Stränden wunderschön. Der nächste Strand, Camperduin, ist problemlos in 15 min mit dem Fahrrad zu erreichen. Ein Fahrrad ist jedoch ein absolutes Muss wenn man hier Urlaub macht, es sei denn man möchte alles mit dem Auto machen, da man fußläufig doch etwas entfernt von dem nächsten Ort liegt. Ans und ihr Mann sind sehr liebe und hilfsbereite Gastgeber. Alles in allem würden wir hier wieder herkommen.
Thomas
2015-07-29T00:00:00Z
De verhuurder is een vriendelijke gastvrouw. Er was een concrete uitleg en er stond een flesje wijn voor ons klaar. Heel leuk. Het appartement is op de 1 e verdieping, zeer ruim, schoon en compleet. Heel fijn dat je gebruik mag maken van de tuin. De ligging is ideaal: vlakbij dorpje Groet, duinen en strand.
Maria
2014-09-06T00:00:00Z
ประเภทห้อง
บ้าน/อพาร์ทเมนท์ทั้งหลัง
---
ประเภทที่พัก
อพาร์ทเมนท์
---
พักได้
2
---
ห้องนอน
Schoorl, North Holland, เนเธอร์แลนด์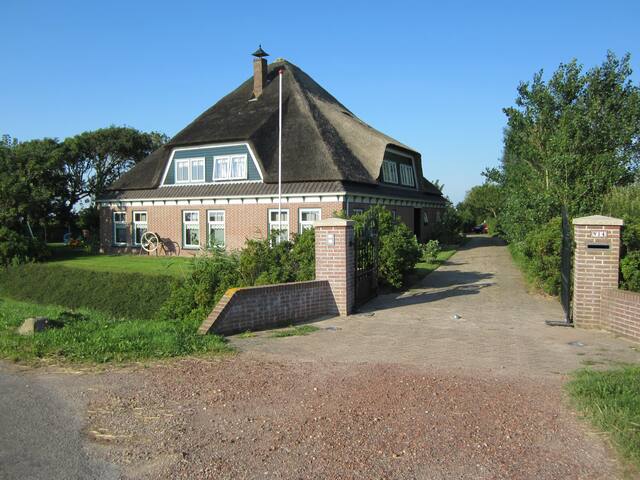 My house is near the beach, nightlife and family activities. My accommodation is good for couples, lone adventurers, families (with children) and furry friends (pets).
We hebben echt een heeeeeerlijke paar dagen gehad in het huisje! Alles is er, privacy, rust en een prachtig uitzicht. Het was wel vervelend dat de douche niet schoongemaakt was; die was echt érg vies. Ook was er in de huiskamer niet gestofzuigd. Toch zou ik zo weer teruggaan. We hadden er gemakkelijk weken door kunnen brengen, zo fijn was het!
Maaike
2016-08-19T00:00:00Z
Het huisje is heerlijk, 5 min fietsen naar schoorl centrum, rustige omgeving, tuin en prima voorzieningen. Absolute minpunt is de slechte hygiëne. Er was al een hele tijd niet goed schoongemaakt. Op ons verzoek is er nog gestofzuigd, verder hebben we zelf schoongemaakt. De host zit in Berlijn en zijn bejaarde ouders verzorgen de verhuur en schoonmaak en geven zelf aan dat ze dit eigenlijk niet meer aankunnen. Ze waren ook onvoorbereid op onze komst. Jammer, want het is verder een leuke plek.
Natalie
2016-09-11T00:00:00Z
Thank you for the personal welcome and the really nice stay. We will return! :-)
Hendrik
2016-08-15T00:00:00Z
ประเภทห้อง
บ้าน/อพาร์ทเมนท์ทั้งหลัง
---
ประเภทที่พัก
อพาร์ทเมนท์
---
พักได้
3
---
ห้องนอน
Schoorl, Noord-Holland, เนเธอร์แลนด์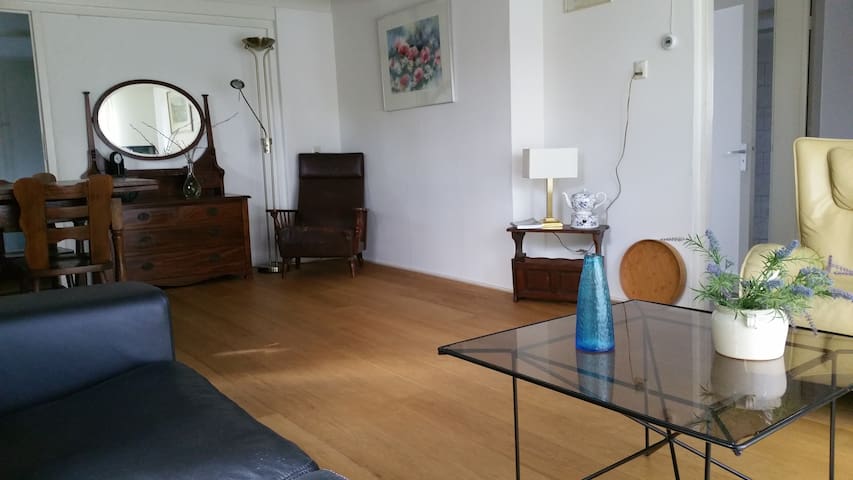 Kerkepad no. 28, is a 2-4 person apartment in the middle of Schagen. Where the sun goes under on the balcony ;-). Furthermore the location is roughly 15 min from the beach and forrest. The railway station is at 5 minutes by foot, perfectly for visiting city's like Amsterdam, Haarlem, Alkmaar or Hoorn. These cities can be reached by train within an hour. There is Free parking available, outside the blue zones.
ประเภทห้อง
ห้องส่วนตัว
---
ประเภทที่พัก
อพาร์ทเมนท์
---
พักได้
4
---
ห้องนอน
Schagen, Noord-Holland, เนเธอร์แลนด์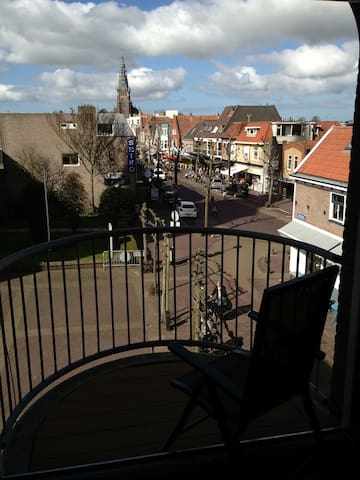 1

–

18

จาก

62 อพาร์ทเมนท์ให้เช่า
กรอกวันที่เพื่อดูการกำหนดราคาเต็ม มีค่าธรรมเนียมเพิ่มเติม อาจมีภาษีเพิ่ม