My property is near Berlin. You'll love my property because of the comfort. My accommodation is good for couples. A small garden area with Mobilar, chairs, grill and fireplace is also available.
The apartment is located on the outskirts of Berlin in a quiet side street. Parking outside the property. 100 m walk from Berliner Stadtforst. 10 min. Walk to the S-Bahn Berlin "Rahnsdorf" or 1 bus station. S-Bahn Berlin-Mitte 30 min. or car 30-45 min. Distance. For Berlin Müggelsee with beaches are 15 min. by bus. A garden area with barbecue and loungers is available separately.
We are in a beautiful woodland garden culture community, greenery and nature in the neighborhood.
ประเภทห้อง
บ้าน/อพาร์ทเมนท์ทั้งหลัง
---
ประเภทที่พัก
อพาร์ทเมนท์
---
พักได้
2
---
ห้องนอน
Schöneiche bei Berlin, Brandenburg, เยอรมนี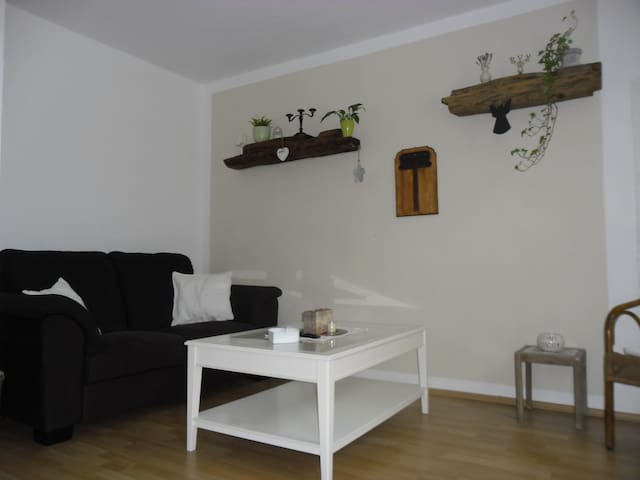 You'll love my accommodation for special living - environment - outdoor space. My accommodation is very good for couples, groups suitable up to 5 persons, individuals adventurers and business travelers.
The apartment is very good for families and groups up to 5 persons. There are 3 bedrooms (2 doubles, 1 single), 2 TV, 2 showers with WC, 2 inputs. There are to provide the double as single beds in the Studio 1 has the chance. For those arriving by car there is always free parking in front of the house. Bed linen, towels, hair dryer, cots and iron are provided.
Beautiful, perfect, a little far from the center but perfect for an authentic experience with locals, including the landscape and the neighborhood
William
2017-03-13T00:00:00Z
Wir hatten ein paar sehr schöne Tage hier verbracht. Die Wohnung ist angenehm und gemütlich eingerichtet, sehr sauber und mit allem ausgestattet, was man für ein paar Tage braucht. Die Gegend ist ruhig und wir konnten sehr gut schlafen, auch weil die Betten sehr bequem waren. Auf Anfrage hatte uns Gundula noch ein Babybett dazu gestellt. Der Kontakt war sehr nett und wir kommen gerne wieder, sollte sich noch einmal die Gelegenheit bieten. Alles in allem sehr empfehlenswert.
Andreas
2017-02-26T00:00:00Z
The place was clean, economial and quite.. its a great deal if u dont mind taking a bus and a 30min train ride to the center.
Kirill
2017-03-31T00:00:00Z
ประเภทห้อง
บ้าน/อพาร์ทเมนท์ทั้งหลัง
---
ประเภทที่พัก
อพาร์ทเมนท์
---
พักได้
5
---
ห้องนอน
Schöneiche bei Berlin, Brandenburg, เยอรมนี
Relaxing on the outskirts: The converted attic of a detached house overlooking the park-like garden is decorated harmoniously. For business travelers, there are fast-Fi. Couples find comfort and rest after a busy day. Adventurous are fixed in Friedrichshain or Kreuzberg. By car to you in 30 min in Alexanderplatz, just as with the S-Bahn, which runs every 10 min. There are two motorway junctions in the area, each about 10 minutes away (about 6km).
Für eine Kurzreise kann man mit relativ kleinem Gepäck anreisen; das Apartment ist komplett ausgestattet. Wäsche: Ihr findet Handtücher und Bettwäsche vor. Küche: Mikrowelle mit Back-und Grillfunktion, Geschirr, Besteck, Töpfe etc. sind vorhanden. Es gibt eine Grundausstattung an Zutaten wie Mehl, Zucker, Salz, Gewürzen, Essig und Öl, aber auch Nudeln, Nudelsoße und Müsli. Übrigens auch selbstgemachte Marmelade :) Bad: Duschbad, Shampoo, Zahnpasta und andere Toilettenartikel sind vorhanden.
Highlights: In the neighborhood the racecourse Hoppegarten is within walking distance and a race day an exciting experience. In Neuenhagener Mansion high profile music events. Neuenhagen has an attractive outdoor swimming pool. Here one could schwimmmen a few cars in summer evening after a trip to town yet. If interested, riding lessons or trail rides to be mediated. You can go shopping at Edeka, Aldi, Rewe, net, in the health food store: Daily Values. There are pharmacies, post office, optician, Locksmiths etc., but also a chic shoe store or a bookstore.
In einem roten Weihnachtsteller auf dem Wohnzimmertisch erwarteten uns leckere Weihnachtsgummibärchen und köstliche Winterschokolade - kann ein Willkommensgruß himmlischer sein? Wir hatten eine großartige Zeit im schneebedeckten Neuenhagen. Die Gastgeberin ist äußerst zuvorkommend und hilfsbereit. Es hätte nicht traumhafter sein können. Wir werden wieder kommen.
Diana Monika
2017-01-08T00:00:00Z
Birgit ist super nett und sehr hilfsbereit. Die Unterkunft war klasse. Wir hatten sogar einen eigenen Carport. Die Unterkunft war sauber und hatte viele Extras. Es gab verschiedene Teesorten, Cornflakes, Milch, alkoholfreies Bier, viele Gewürze, selbstgemachte Marmelade etc. Für die Zeit unseres Aufenthaltes hat Birgit ihre Monatskarte für die öffentlichen Verkehrsmittel zur Verfügung gestellt. Wenn wir eine Frage hatten, konnten wir uns jederzeit an Birgit wenden. Alles in allem ein rundum gelungener und schöner Aufenthalt. Sehr zu empfehlen!
Christin
2016-11-06T00:00:00Z
Einfach toll!
isabelle
2016-09-12T00:00:00Z
Sehr nette Gastgeber, Birgit und ihr Mann sind stets bei jedem anfallenden Problemchen zur Hilfe. Schicke kleine Wohnung, sauber, alles da, was man zum Leben braucht. Da wir weiche Betten gewöhnt sind, lagen wir etwas hart und es dürfte nachts etwas dunkler sein. Ansonsten alles picobello. Verkehrsanbindung mit der S-Bahn ist Reichweite, Gegend ist sehr ruhig und schön.
Frank
2017-03-18T00:00:00Z
Die Zeit in Birgits Unterkunft war sehr schön. Es wurden uns Fahrräder zur Verfügung gestellt und wir hatten das Angebot, die Monatskarte zu nutzen. Abholung vom S-Bahnhof hat gut geklappt. wir haben uns wohl gefühlt.
Lara
2017-01-02T00:00:00Z
If you are planning to spend some time in Berlin, do not think about it twice! This is the best place you can choose! The house, the neighborhood, the S-Bahn connection are perfect. But more important is that Birgit and her family are truly the best hostess you can get.
Javier
2017-02-12T00:00:00Z
Es hat von Anfang an alles reibungslos geklappt. Uns hat eine liebevoll eingerichtete und saubere Wohnung in einer wunderbaren Lage in Neuenhagen erwartet. Der Kontakt mit Birgit war sehr freundschaftlich. Sie hat sich um all unsere Anliegen gekümmert. Man man kann sich dort einfach nur wohlfühlen. Das Carport, welches wir nutzen durften, hat dafür gesorgt, dass man früh sein Auto nicht vom Eis befreien musste. Danke für alles.
Katrin
2016-12-14T00:00:00Z
Tolle Unterkunft, tolle Gastgeber, alles perfekt.
Jennifer
2017-03-26T00:00:00Z
ประเภทห้อง
บ้าน/อพาร์ทเมนท์ทั้งหลัง
---
ประเภทที่พัก
อพาร์ทเมนท์
---
พักได้
2
---
ห้องนอน
Neuenhagen bei Berlin, Brandenburg, เยอรมนี
Das Appartement befindet sich im Haus TonART in Schöneiche in der Nähe von Berlin. Es ist geeignet für Paare, alleinreisende Abenteurer, Geschäftsreisende, Familien und Haustiere. Unser Appartement hat einen Wohn-Schlafraum mit 3 Einzelbetten. In die Lehmwände sind Keramikintarsien mit floralem Muster eingearbeitet. Die kleine Küche hat einen Tisch mit Sitzgelegenheiten, eine Spüle, einen Kühlschrank und eine Kochgelegenheit mit zwei Platten.
Was uns von anderen Pensionen unterscheidet: * Freizeitangebote wie Keramikkurse für Erwachsene und unsere Kindersommerwerkstatt, die wir mit Erfolg schon über 20 Jahre durchführen * ein Angebot für Kindergeburtstage, die durch die kreative Betätigung der Kinder in der Keramikwerkstatt und die entstandenen kleinen "Kunstwerke" für sie zu einem bleibenden Ereignis werden * Veranstaltungsraum mit fast 70 m², der sehr geeignet ist für Familienfeiern (Hochzeiten, Taufen, Geburtstage) und Seminare mit ca. 30 Gästen - bei möglicher Nutzung der Terrasse auch mit doppelter Gästezahl und mehr
3 bis 30 Minuten von unserer Pension entfernt findest Du interessante Ausflugsziele wie den Kleinen Spreewandpark, den Museumspark Rüdersdorf, den Müggelsee, Woltersdorf und natürlich Berlin. Von unserem Haus aus sind viele Gaststätten fußläufig zu erreichen.
ประเภทห้อง
ห้องส่วนตัว
---
ประเภทที่พัก
อพาร์ทเมนท์
---
พักได้
3
---
ห้องนอน
Schöneiche bei Berlin, Brandenburg, เยอรมนี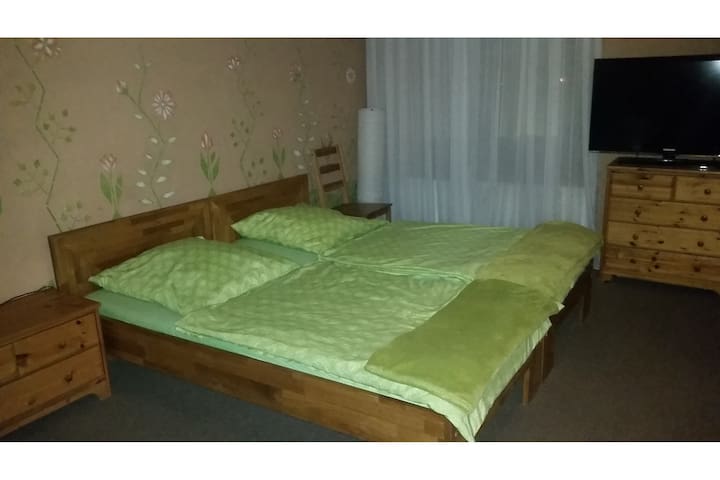 พาร์ทเมนท์ที่ตกแต่งอย่างสวยงามในบ้านวันหยุดของเราในเขตชานเมืองที่ร่ำรวยเบอร์ลินมีสามห้องนอน, ห้องครัว, ห้องน้ำและห้องน้ำสำหรับแขกที่มีฝักบัว สวนที่มีสนามเด็กเล่นของเด็กเล็กและพื้นที่บาร์บีคิวใช้ได้
อพาร์ทเม้นของเราคือประมาณ 100 ตารางเมตรพาร์ทเมนท์ชั้นกว้างขวางขนาดใหญ่ที่มีทางเข้าแยกต่างหากจากภายนอก เกี่ยวกับมุขที่คุณสามารถอยู่ในน้ำฝนที่มีการป้องกันในอากาศที่บริสุทธิ์คุณจะได้รับเข้าไปในห้องโถงของอพาร์ทเม้น พื้นที่ใช้สอยเป็นอุปกรณ์ที่มีขนาดใหญ่ที่นอนสบายที่สามารถแขกทั้งสองมากขึ้นที่จะนอนหลับอย่างสบายถ้าจำเป็นและทีวีจอแบน โต๊ะรับประทานอาหารขนาดใหญ่ 8 คนนอกจากนี้ยังมี ห้องนอนแต่ละห้องมีโทรทัศน์ ห้องครัวที่มีคุณภาพสูงของเรารวมถึงเตา (เตาเซรามิก) พร้อมเตาอบ, เครื่องไมโครเวฟ, เครื่องชงกาแฟ, ตู้เย็นและตู้แช่แข็งเครื่องล้างจาน, กาต้มน้ำเครื่องปิ้งขนมปังและเครื่องถ้วยชามทั้งหมด ห้องน้ำทุกห้องได้รับการปูกระเบื้องและติดตั้งอย่างมีรสนิยม มีมากมายของที่จอดรถ, พื้นที่นั่งเล่นที่มีร่มกันแดด, บาร์บีคิวและกรอบการปีนเขาขนาดเล็กที่มีภาพนิ่งสำหรับเด็กในบ้านที่มี เว็บไซต์ที่มีการรักษาความปลอดภัยและล็อค
บ้านพักตากอากาศของเราคือการจราจรที่ไม่ซ้ำกันอยู่ โดยรถยนต์ที่คุณสามารถเข้าถึงใน 5 นาทีถนนวงแหวนเบอร์ลิน (A10) จากการที่ภูมิภาคสามารถสำรวจได้อย่างดีพอทสดั, เบอร์ลิน โดยจักรยานซึ่งคุณสามารถเช่าประตูถัดไปขวาคุณสามารถเข้าถึงในเวลาสั้น ๆ ในพื้นที่บริเวณใกล้เคียงเช่น. คนอื่น ๆ Müggelsee, Kalksee, Stienitzsee เช่นเดียวกับที่จอดภาพยนตร์ Rudersdorf มีให้เช่าเรือและว่ายน้ำเกือบทุกทะเลสาบ ในSchöneicheมีร้านค้าและร้านอาหาร เหล่านี้อยู่ในระยะที่สามารถเดินได้ในเวลาอันสั้น
Very clean and organized. Nice place to stay at!
Raul
2017-01-01T00:00:00Z
Silke war eine außergewöhnlich tolle Gastgeberin. Trotz unserer langen Anreise und vor allem sehr späten Ankunft haben wir uns sofort willkommen und gut aufgehoben gefühlt. Silke hat die Wohnung liebevoll für uns vorbereitet und für die Ankunft den Kühlschrank mit einigen Getränken befüllt. Wir sind in die wunderschöne Ferienwohnung mit 2 Erwachsenen, vier Kindern und 2 Hunden eingezogen. Der Garten eignet sich hervorragend zum gemeinsamen toben und wir haben dort viele schöne Stunden beim Grillen verbracht. Wir können die Ferienwohnung wärmstens empfehlen. Besonders für Familien mit Kindern und Hunden. Die Lage ist toll. Man ist von Schöneiche relativ (30-35 min bis Berlin Mitte) schnell in Berlin. Silke ist eine sehr umsichtige und flexible Gastgeberin. Sie hat uns sogar noch sehr kurzfristig einen tollen Babysitter organisieren können. Wir würden jederzeit wieder zu Silke kommen, wenn wir demnächst wieder einmal für ein paar Tage nach Berlin fahren. Vielen Dank Silke für einen tollen Kurzurlaub.
Raoul
2016-05-09T00:00:00Z
Ferienhaus Schöneiche is a very comfortable and very well equipped flat with a lot of space outside the builing only for your own. In the back yard thera are playground for younger childrean, sunbeds and grill. The owner is very frindly person and responses to the inquiries fast. We come very late on the first day of stay and the owner adjusted her schedule without any problem which I'm very grateful. I can advice Ferienhaus Schöneiche without any hestitation.
Maciej
2016-09-23T00:00:00Z
Die Beschreibung der Wohnung ist absolut zutreffend, die gesamte Ausstattung ist sehr einladend und die Küche ist besonders gut ausgestattet ... für uns war der Kaffeeautomat - mit Kaffebohnenvorrat--ein echtes Addon und hat uns den Aufenthalt nochmals angenehmer gemacht. Leider gibt es die Einschränkung, dass die Straßenbahn relativ dicht am Haus vorbei fährt, --- bis spät in die Nacht. Das war für uns als "Dörfler" mehr als gewöhnungsbedürftig. Die Fenster konnte deshalb auch an warmen Abenden nicht offen sein.
Karin
2016-09-11T00:00:00Z
Bonne description du logement, malgré quelques difficultés à le trouver. Très bon accueil avec l'aide d'une personne qui parlait français, ce qui a facilité l'arrivée.
Marianne
2016-07-05T00:00:00Z
ประเภทห้อง
บ้าน/อพาร์ทเมนท์ทั้งหลัง
---
ประเภทที่พัก
อพาร์ทเมนท์
---
พักได้
8
---
ห้องนอน
Schöneiche bei Berlin, Brandenburg, เยอรมนี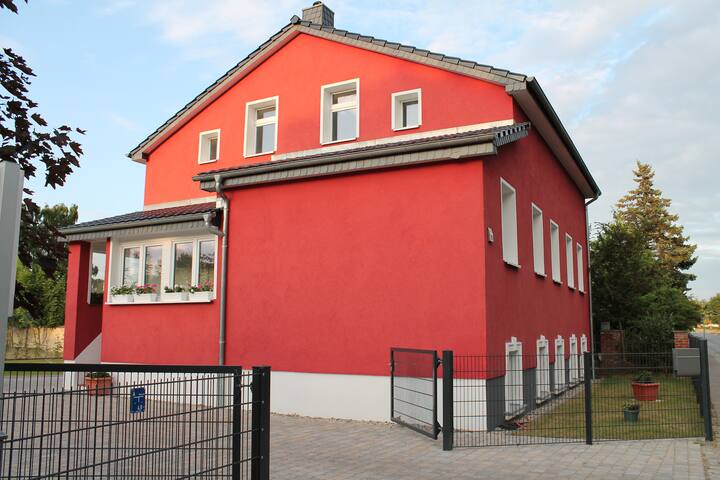 Welcome, apartment with terrace situated in the leafy Berlin district of Koepenick. Within walking distance is the Müggelsee. Ben venuto, la casa con vaganza terazza e in zona verde in Berlino-Koepenick. Vicino e largo "Müggelssee".
The apartment has 2 bedrooms / kitchen / bath and can accommodate up to four people. Around the corner is a supermarket and the bus stop from Rahnsdorf. The city center is about 30 minutes drive away (every 20 minute). Il appartamento ha due stanze per dormire / cucina / bagno e 4 persone possono vivere. Vicino c'e un mercato per alimentari e la fermata da autobus in Rahnsdorf. Tempo di viaggio a centro e approssimativo 30 minuti (circola nell ritmo 20 minuti). The 2-room-apartment with kitchen, bathroom and terrace accomodates up to 4 people. Right around the corner there is a supermarket as well as the Rahnsdorf bus stop. The Berlin city center is a 30 minutes drive away. DIRECTIONS: S-Bahn S3 (direction Erkner from Ostkreuz) to station RAHN VILLAGE. Then Bus161 (direction Erkner) 3 stops. By car from the Berliner Ring (highway) exit from ERKNER. Arrivo: treno train S3 (Erkner direzione da stazione Ostkreuz) e cendere stazione RAHN VILLAGE. Dopo cambiare autobus numero 161 (direzione Erkner) e dopo cendere 3 stazione. Con machina autostrada rampa di uscita ERKNER. DIRECTIONS: S-Bahn S3 (destination Erkner, from Ostkreuz), exit Rahnsdorf station and transfer to Bus 161 (destination Erkner) for 3 stops. If you go by car, exit the A10 Berliner Ring motorway at exit Erkner.
Berlin Koepenick
Lieselotte ist eine sehr nette herzliche Gastgeberin.Wir haben uns in ihrer Wohnung sehr wohlgefühlt. Im.Sommer,mit der.schönen Terasse,wahrscheinlich ein noch größeres Vergnügen. Zur Begrüßung erwartete uns ein Sektchen und für die Heimfahrt auch eine leckere Wegzehrung.Die Ausstattung war gut.Vielleicht gibt es im Sommer ein Wiedersehen!
thekla
2015-02-23T00:00:00Z
Einfach nur schön! Wir wurden bei unserer Ankunft herzlich durch unsere Gastgeberin begrüßt. Zum Empfang wurde uns "KAFFEE UND KUCHEN" gereicht, den wir sehr genossen haben. Das Apartment ist sauber und liebevoll eingerichtet. Lieselotte stand uns mit "RAT UND TAT" zur Seite. Wir haben uns sehr wohl gefühlt und können das Apartment nur weiter empfehlen. Sollten wir mal wieder Fernweh nach Berlin haben, würden wir gerne wieder einkehren. Lieselotte's Herzlichkeit und ihr unvergleichliches Lachen werden wir vermissen. Danke und liebe Grüße nach Berli(URL HIDDEN) Irmi u. Dirk
Irmgard
2015-09-06T00:00:00Z
Unser Aufenthalt in Lieselottes Unterkunft war sehr angenehm und der gesamte Ablauf verlief reibungslos. Obwohl Sie selbst nicht anwesend war, wurden wir durch eine Bekannte herzlich empfangen. Die Wohnung war sehr sauber und gepflegt. Das gesamte Ambiente wirkte warm und einladend. Über die vielen Blumen im Garten und den Begrüßungssekt haben wir uns sehr gefreut. Obwohl zum Zeitpunkt des Besuchs draußen richtiges Sommerwetter herrschte war es in den Räumlichkeiten sehr kühl. Für Menschen mit einer Sehschwäche sind die zum Teil dunklen Räume eher nicht geeignet. Wir hatten ein sehr schönes Wochenende in Berlin und haben vor allem die super Terrasse bei herrlichem Wetter genossen.
Michelle
2015-06-15T00:00:00Z
Unterkunft war genauso wie auf den Bildern und der Beschreibung, gute Ausstattung, sehr gute Lage der Wohnung, sehr herzliche und nette Vermieterin!!! Kann diese Wohnung nur weiterempfehlen!
Sebastian Moritz
2014-09-01T00:00:00Z
Danke für eine sehr gute Kommunikation, ein herzliches Willkommen und Komfort. Wir waren zufrieden. Velmi děkuji Lieselotte!! Hana
Hana
2014-09-22T00:00:00Z
Lieselotte nous a réservés un accueil très chaleureux. La maison était très agréable et propre. Le quartier, situé à 30 minutes de Berlin, semble agréable et pratique avec un supermarché à 2 min. À recommander ...
Eric
2014-07-11T00:00:00Z
Nice view and cozy apartment, nice and caring host.
Yazan
2017-01-02T00:00:00Z
The vacation apartment was just as pictured. It is within walking distance from a beautiful lake, a historic fisher village a grocery store and a wonderful Indian restaurant. It is a 10 minute ride from the nearest train station for an easy connection to downtown Berlin. The neighborhood is very quiet. Lieselotte is a gracious and friendly host and offered rides to and from the train station. The apartment was very clean and comfortable. For good weather there is a courtyard filled with flowers and a fountain.
R. "Kunga"
2016-04-28T00:00:00Z
ประเภทห้อง
บ้าน/อพาร์ทเมนท์ทั้งหลัง
---
ประเภทที่พัก
อพาร์ทเมนท์
---
พักได้
4
---
ห้องนอน
กรุงเบอร์ลิน, กรุงเบอร์ลิน, เยอรมนี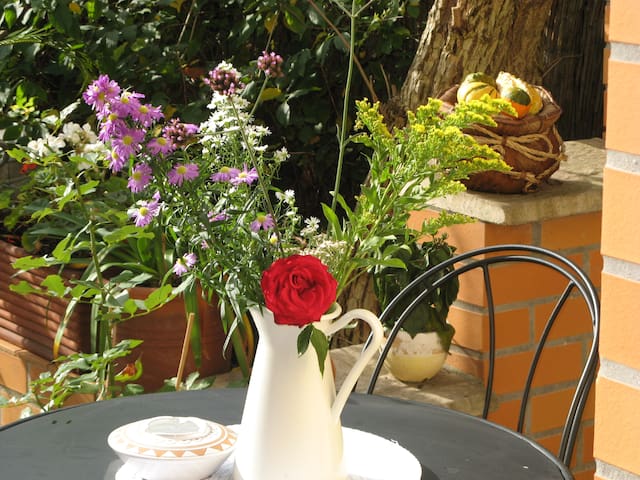 In unserer Dachwohnung können Sie sich wohlfühlen wie zu Hause. Das Haus liegt am Waldrand und ist auch für Entspannung und Ruhe sehr gut. Die Wohnung besteht aus 1 Wohnzimmer mit einer Schlafmöglichkeit,2 Schlafräume mit gesamt 4 Betten, die man zu Einzelbetten stellen kann, 1 Küche mit Essplatz,Bad/WC und eine kleinen Flur.
Es ist für fünf Personen Bettwäsche,Dusch-und Handtücher vorhanden. Die Küche ist komplett mit Geschirr und Geräten wie Backofen,Mikrowelle, Kaffeemaschine,Toaster,Wasserkocher,Kochtöpfe und Reinigungsmitteln ausgestattet.
Es ist hier eine ruhige und nette Nachbarschaft,fast alles länger ansässige Bewohner die sich gut kennen.Auf der Straße gibt es ein Bäckerladen der außer an Sonn-und Feiertagen immer geöffnet hat. Der Müggelpark mit Kinderspielplatz oder das Schloßcafe sind hier beliebte Besucherorte. TIPP: Sehr gut zum Einkaufen, Bummeln und Essen gehen ist der Nachbarort Friedrichshagen am Müggelsee gelegen mit vielen Restaurants und Kaffees.
Nagyon kedves fogadtatás, barátságos kertvárosi övezet, autóval könnyen megközelíthető tömegközlekedés, a közelben buszmegálló. Úgy éreztük magunkat, mintha szállodában lennénk. A közelben jó orvos - váratlan esetekre -. Szuper volt. Köszönjük szépen.
Andrea
2015-08-03T00:00:00Z
We spent a week in this place. House was very good. Everything was fine. Beds were very comfortable. All things are as in pictures. A very quite area. Parking was free. Train station was near by, about 10-15` walking through forest. There are nice restaurants around. Lake is very closed. I would highly recommend it
Bashkim
2016-07-04T00:00:00Z
Séjour parfait, appartement très fonctionnel, propre, spacieux, bien décoré. Idéal pour visiter Berlin. Nous recommandons vivement cette location. Gundula nous a réservé un accueil chaleureux
vanessa
2016-08-06T00:00:00Z
A very good appartement. Just a 5 minut walk to the nearest railway station. Very clean and cozy appartement. Nice beds also.
Floris
2015-11-01T00:00:00Z
The flat is located in a lovely place close to Berlin which can be accessed by train or by car easily ~30-40 minutes. The environment is really nice close to the forest and the air is fresh like in the nature :) Gundula was kind with us. The apartmant is very comfortable, clean and you can find a small beautiful garden in the background. We were spending some nice days in this flat and we will never forget this memory. Thanks for everything, László, Ágnes, Máté, Hanga, Gábor from Hungary :)
Laszlo
2016-09-13T00:00:00Z
Everything went very well, the apartment was very nice, despite it is not in the city centre you can be there in 30 min by S-Bahn. The train station is 7mins away from the house, so it is pretty convenient, Gundula and Robert were superb host, and they provided us everything we wanted to,
Mateusz
2015-09-06T00:00:00Z
The host canceled this reservation 7 days before arrival. This is an automated posting.
Marion
2016-08-03T00:00:00Z
Appartement confortable et bien aménagé. Le centre de Berlin est à 30 minutes en voiture. Accueil sympathique mais nous n'avons pas vu Gundula.
Cécile
2015-08-23T00:00:00Z
ประเภทห้อง
บ้าน/อพาร์ทเมนท์ทั้งหลัง
---
ประเภทที่พัก
อพาร์ทเมนท์
---
พักได้
5
---
ห้องนอน
Schöneiche, Brandenburg, เยอรมนี
Unsere gemütliche Ferienwohnung befindet sich im Erdgeschoss einer liebevoll restaurierten altberliner Villa im wunderschönen Stadtteil Berlin-Wilhelmshagen in unmittelbarer Nähe zum schönen Müggelsee.Ob Ihr Kultur und Lifestyle in Berlins Zentrum sucht oder Euch von einer Vielzahl an Wassersportaktivitäten an den nahe gelegenen Seen überraschen lassen wollt;unsere Ferienwohnung ist der ideale Ausgangspunkt,um Berlin und seine Umgebung per Rad,Bahn,Auto oder auch einmal per Boot zu erkunden.
The host canceled this reservation 2 days before arrival. This is an automated posting.
禹锡
2017-02-09T00:00:00Z
The house is in a quiet suburb of Berlin. It is much better than the pictures are shown. Clean, fully equipped, with exquisite furnitures and incredible taste.Andy and Nadine are always there to help you in anything you need.Perhaps it is the best choice someone canmake who is visiting Berlin for a short vacations.
Giorgos
2017-01-07T00:00:00Z
Die Kommunikation mit Andy per E-Mail, SMS und (SENSITIVE CONTENTS HIDDEN) hat sehr gut funktioniert. Schlüsselübergabe bei An- und Abreise hat sehr flexibel und spontan geklappt. Die Wohnung war genau wie in der Beschreibung, es war alles sauber und sehr gut ausgestattet. Ich kann die Wohnung und Andy als Gastgeber uneingeschränkt jedem weiterempfehlen! Es war ein super Aufenthalt, 5/5 Sterne.
Linus
2017-01-02T00:00:00Z
ประเภทห้อง
บ้าน/อพาร์ทเมนท์ทั้งหลัง
---
ประเภทที่พัก
อพาร์ทเมนท์
---
พักได้
4
---
ห้องนอน
กรุงเบอร์ลิน, กรุงเบอร์ลิน, เยอรมนี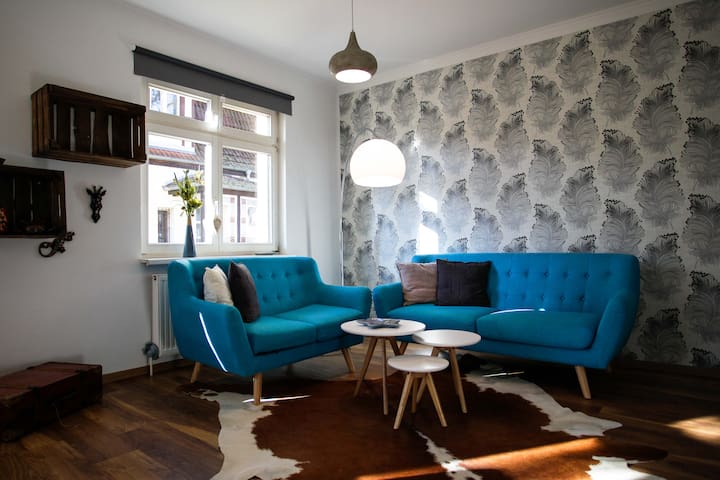 Entspannen mit Blick auf den See und mit der Bahn in 20 Minuten in der City. Abfahrt alle 10 Minuten, Regio oder S-Bahn. Autobahnauffahrt in 5 Minuten. Supermärkte, Restaurants, Post, Bank, Kino, Kanuverleih, Dampferanleger, Wald, See...
Vogelzwitschern und Ruhe im Grünen und am See, Rad oder Kanu/Floß fahren (Verleih in der Nähe), Baden im Müggelsee. Aber in 20 Minuten mit dem Regio oder der S Bahn in Berlin. Alles im Umkreis von 5 Minuten, Supermarkt, Restaurants, Kino, Post, Banken, Bahnhof, Autobahn.
Es gibt überall Wasser, Wald und Radwege. Radfahren rund um den Müggelsee, Segeln oder Kanufahren. Und Du bist in 20 Minuten mit der Bahn in der City, viel schneller als mit dem Auto. Vom Ku'damm zu meiner Arbeit im Friedrichshain sind es mit Bus und U Bahn 45 Minuten, vom Appartement mit dem Regio nur 30 Minuten. Der Supermarkt um die Ecke hat allerdings nur bis um 22:00 Uhr offen.
Thomas was extremely helpful and obliging and saved us a huge amount of time and difficulty in our particular circumstances. The apartment was ideal for our purposes and had everything we needed. It has a delightful lookout over the lake and is very convenient to both shops and public transport. The apartment is comfortable, well set out and attractive.
Vivien
2016-07-19T00:00:00Z
An Airbnb experience to repeat! Spacious, very clean and comfortable apartment with all amenities as described, plus a lovely view of the lake as a bonus! The area is really quiet and safe. My husband and I loved coming back to the heated and cosy apartment after a long day out in the wintry cold of Berlin! We bought an ABC ticket for 7 days and this took care of our transport needs during our one week stay in Berlin. It also allowed us to visit Potsdam and covered the public transport there as well. Thomas is an exceptional host! Very kind, friendly and with a great sense of humour. Communication with him (before and after our arrival) was great. Arriving late, we were very surprised to find him waiting for us at the train station close to the apartment with a bag of groceries for us in his car! I had mentioned to him earlier my hope that the supermarkets would still be open by the time we got there and, knowing that we would arrive after the supermarkets closed, he did some simple grocery shopping for us (under 20 euros)! We were so grateful for that wonderful gesture! In addition, there was a bottle of wine and some biscuits as a welcome gift in the apartment! A few days later, Thomas very kindly printed our boarding passes for us when we had some difficulty with regards to that. Thank you so much for all this, Thomas, and for including some of the local products in that bag of groceries :) You truly deserve the title of 'Super Host'. We highly recommend your Airbnb listing and wish you and your family, all the very best in 2017!
Wina
2016-12-21T00:00:00Z
Thoma is a Lovely host and very good in communication. The view on the lake is amazing and Berlin is good to visit by train. You can walk from the apartment to the trainstation. Near by is a little shoppin(SENSITIVE CONTENTS HIDDEN) and stores. You are also near by nature with all his option. So, we recommend you the apartment and Thomas a an host. Thanks for everything! Have a nice stay at Thomas's apartment :)
José
2017-01-08T00:00:00Z
Thommi ist ein absoluter Hit. Er war ständig erreichbar und hat nicht nur mit so wertvollen Tipps, wie dem besten "Griechen" der Stadt, einfach sechs Sterne verdient.
Marcus
2016-12-06T00:00:00Z
An excellent airbnb experience! Thomas is a great host, very caring and always ready to help us and answer our questions. The house is beautiful. It has a great lake view and it is close to a supermarket and to the train station that takes you to Berlin crater in about 30'. Connections are great,no need for a car to move while there. The kitchen was very well equipped and a glass of fine red wine was expecting us upon arrival. Highly recommended.
Antigoni
2016-12-12T00:00:00Z
we had a wonderful time in Thomas's appartment. Erkner is a nice quiet suburb of Berlin where you can find tranquility and peace. With train or S-bahn you're in Berlin Center within 20 minutes. This combination was perfect for us. The appartment has everything you need. Thomas was very welcoming and provided us with the information we needed. I would definately recommend this place!
Marlou
2015-08-30T00:00:00Z
Die Wohnung war super, alles vorhanden was man so braucht. Lage direkt am Wasser. Verkehrsanbindung der öffentlichen Verkehrsmittel in 5 min. Gastgeber Tomas war super, nett, erklärte alles und war stets für Fragen erreichbar. Super Zeit am Rande von Berlin.
Karsten
2016-11-18T00:00:00Z
Great place. Very clean and comfortable place. The neighborhood is calm and quiet and have a beautiful view from the lake. Is far from downtown but is just 5 min by walking of a train station, so that make it a very good connected place. The host is great, he waited for us 1 hours cuz we got lost in the city and also very friendly.
Bruno
2016-10-02T00:00:00Z
ประเภทห้อง
บ้าน/อพาร์ทเมนท์ทั้งหลัง
---
ประเภทที่พัก
อพาร์ทเมนท์
---
พักได้
2
---
ห้องนอน
กรุงเบอร์ลิน, Brandenburg, เยอรมนี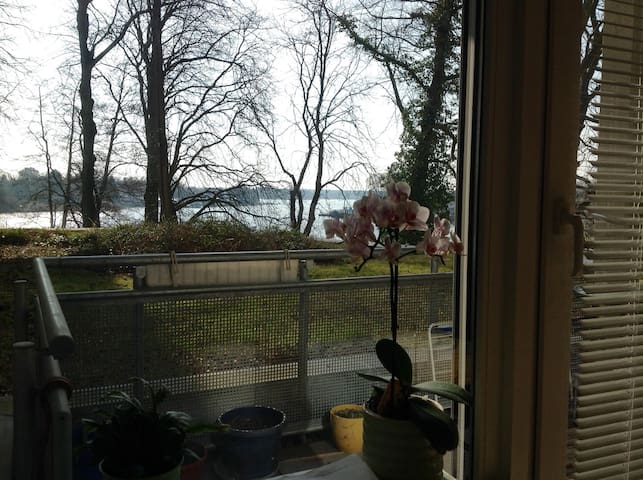 The apartment is located in our beautiful garden city 250 m to the S-Bahn. 35 min to Alexanderplatz, 45 minutes to the zoo. In the summer swimming pool and barbecue. Children welcome. 150 m great Indian restaurant. 3 km to the motorway. Transfer to the airport for about 30 euros possible. 22 min for IGA
The pool and barbecue area, renovated and modern furnishings. Bread delivery surcharge possible.
The apartment is located in the center of our garden city, but by the size of the property is free from neighborhood noise and road noise
Niedliche Unterkunft, perfekt zum Ausspannen wenn man tagsüber auf anstrengender Sightseeing-Tour war. Auch wenn etwas außerhalb aus Berlin, alles war zu jeder Zeit mit der S-Bahn zu erreichen - auch in späten Stunden. Sehr netter Gastgeber, sehr saubere Unterkunft & komplett ausgestattet. Der Kühlschrank war für uns gefüllt & auf Wunsch bekommt man morgens auch frische Brötchen.
Dennis
2017-04-03T00:00:00Z
ประเภทห้อง
บ้าน/อพาร์ทเมนท์ทั้งหลัง
---
ประเภทที่พัก
อพาร์ทเมนท์
---
พักได้
2
---
ห้องนอน
Neuenhagen bei Berlin, Brandenburg, เยอรมนี
Das Appartement befindet sich im Haus TonART in Schöneiche bei Berlin in der Nähe von öffentlichem Verkehr, Stadtzentrum, Kunst und Kultur, Parks. Du wirst es lieben wegen der Lage am Waldrand. Meine Unterkunft ist gut für Familien mit Kindern und Haustieren. Haustiere sind in diesem Appartement nicht erlaubt. Die Pension befindet sich direkt am Rand des Kleinen Spreewaldparks.
Was uns von anderen Pensionen unterscheidet: * Freizeitangebote wie Keramikkurse für Erwachsene und unsere Kindersommerwerkstatt, die wir mit Erfolg schon über 20 Jahre durchführen * ein Angebot für Kindergeburtstage, die durch die kreative Betätigung der Kinder in der Keramikwerkstatt und die entstandenen kleinen "Kunstwerke" für sie zu einem bleibenden Ereignis werden * Veranstaltungsraum mit fast 70 m², der sehr geeignet ist für Familienfeiern (Hochzeiten, Taufen, Geburtstage) und Seminare mit ca. 30 Gästen - bei möglicher Nutzung der Terrasse auch mit doppelter Gästezahl und mehr
3 bis 30 Minuten von unserer Pension entfernt findest Du interessante Ausflugsziele wie den Kleinen Spreewandpark, den Museumspark Rüdersdorf, den Müggelsee, Woltersdorf und natürlich Berlin. Von unserem Haus aus sind viele Gaststätten fußläufig zu erreichen.
ประเภทห้อง
บ้าน/อพาร์ทเมนท์ทั้งหลัง
---
ประเภทที่พัก
อพาร์ทเมนท์
---
พักได้
4
---
ห้องนอน
Schöneiche bei Berlin, Brandenburg, เยอรมนี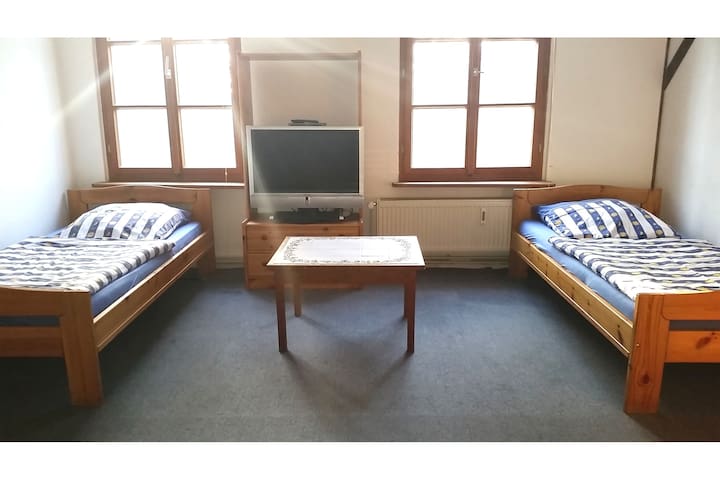 Apartment on the outskirts of Berlin (200m) and yet in the countryside. Conference hotel situated on the River Spree and the Dämeritzsee, surrounded by forest, meadows and Spree beaches. With the Regio, the station Erkner (walking distance 5 minutes) You are in 21 minutes at the Alexanderplatz in the bustle and the city. The great room is Souterrian with large windows and has a new bathroom with shower, sink and toilet. The garden you can along-use, sun loungers and barbecue waiting for you.
Rooms in the countryside, close to the lake (200m) and the train station (5 min walk). Ca 25m² spacious room for two, with two single beds that can be put together if required, small kitchenette with refrigerator, microwave, kettle and coffee machine. Private bathroom with shower, sink and toilet.
Robert hat mir ein Upgrade gegeben. Die größere Wohnung war absolut super! Habe mich sehr wohl gefühlt! Robert war hilfsbereit und sehr nett! Absolut weiter zu empfehlen!! Komme bei der nächsten Fortbildung sicherlich wieder!
Anja
2016-11-20T00:00:00Z
Alles war sauber und schoen gemacht. Das Haus war super schoen und auch das Umfeld (der See)! Robert war super nett und generoes. Nichts war kompliziert oder Mangel habend. Vielen Dank noch mal Robert!
Zwoisy
2017-01-01T00:00:00Z
Alles gut. Leider haben wir uns nicht kennengelernt.
Juliana
2016-12-29T00:00:00Z
My frends were very pleased with the whole experience, the host was very helpful ,the home was nice and clean . We can only recommend staying here ;)
Atanas
2016-09-25T00:00:00Z
ประเภทห้อง
ห้องส่วนตัว
---
ประเภทที่พัก
อพาร์ทเมนท์
---
พักได้
2
---
ห้องนอน
Erkner, Brandenburg, เยอรมนี
For a pleasant and relaxing stay offers the country of New Venice, a 54m² large, bright apartment in a comfortable setting in a prime location. This is located in the basement of a family home. All rooms, as well as the kitchen and bathroom, have windows and a normal ceiling height. The spacious apartment can accommodate up to four people. A friendly and warm furnishings to make a longer stay a pleasant experience. The apartment has underfloor heating, automatic blinds and WLAN. The kitchen, the bathroom and the entrance area in the hallway are tiled, the bedroom, the living room and in the rest of the corridor is laminate. Smoking in the home is not desirable, but possible on the terrace. Whether pure relaxation or impressively rich experiences, the country of New Venice in the southeast on the outskirts of Berlin is ideally located for holiday trips in the area or a trip to the attractions of the region. At the same time you will find the necessary rest to recover from the rigors and impressions of the day. The advantages of our situation in detail: Thanks to the water-rich corner of the city there is a lot of nature and interesting places, which for example can be reached by boat or hiking destination - Biking to the various places of interest - A varied cultural and leisure activities for young and old - A wide range of dining options - Good transport connections by car, bus and train - The arrival is particularly suitable from the water possible (own water access, by appointment), so for water hikers The S-Bahn station Wilhelmshagen is about 10 minutes or 2 stops away by bus! From Wilhelmshagen S-Bahnhof up as the central station are about 40 minutes. Until Ostkreuz station takes approx 22 minutes. The equipment of the apartment: The kitchen: Dishwasher, fridge freezer, microwave, electric stove with oven, coffee maker, egg cooker, kettle, toaster, vacuum cleaner, washer-dryer and much more. The shower / bath: Shower, shower stool (on request), wall WC, Mirror, small cabinets, hair dryer, towels, etc. The bedroom: a double bed 180x200 lying area, 2 dressers, 1 wardrobe, 1 large mirror, 1 Cable / TV, Radio Alarm Clock, Towels The corridor: hall stand, shoe cabinet with mirror, Flyer - shelf, Berlin - wall plan The living room: Sofa bed approx 160x200 lying area, 1 lounge chair, 1 coffee table, 1 dining table for max. 6 people, 1 wardrobe with mirror, 1 cable Germany HD receiver / LED TV, 1 phone (for national calls in the German fixed network for free), 1 sideboard The terrace: on the terrace there is a table with 4 chairs, 2 sun beds, a fire bowl, a charcoal grill and firewood and an umbrella.
Berlin is with all the cultural and touristic attractions worth a visit. Historic buildings, brand new buildings are close together, a vibrant nightlife and the Berlin charm can easily overwhelm a visitor to Berlin. To turn to those same impressions, there is the country-New Venice! It's amazing what variety Berlin has, if one is willing sometimes very different ways than those proposed by tourist guides paths to tread. Berlin Koepenick is the county with the most water, many canals, lakes, forests. In the immediate vicinity you should definitely make a trip by boat through the canals and on the Müggelsee. Various boat rentals make trouble.
Es war alles sehr hübsch ausgestattet, bequem, sehr ordentlich. Gerne wieder! LG to.
Marc
2016-12-26T00:00:00Z
ประเภทห้อง
บ้าน/อพาร์ทเมนท์ทั้งหลัง
---
ประเภทที่พัก
อพาร์ทเมนท์
---
พักได้
4
---
ห้องนอน
กรุงเบอร์ลิน, กรุงเบอร์ลิน, เยอรมนี
The apartment (living area approx. 110 m²) located in the district of Rahnsdorf Berlin-Köpenick on the outskirts of Berlin in forest and water nearby. Particularly appealing is the combination of urban, natural and active holiday. In my travels, I would like to make a few concessions to the from home creature comforts and standard itself. For this reason, I have tried, the apartment equip so that it meets even high demands and my guests will find an attractive environment.
- Cozy and functional kitchen (dishwasher, oven, microwave, coffee maker) with a sofa bed for two people - lunchroom with extendable table and six comfortable swinging chairs - bedroom with a large, comfortable double bed - bedroom with additional seating and Paraventes separated sleeping area - covered balcony (west exposure ) with sofa - bathroom with corner bath, separate shower, heated floors and a washing machine - sitting / barbecue area for six people at the house - linen and towels included - Internet Access - lockable bike shed -
ประเภทห้อง
บ้าน/อพาร์ทเมนท์ทั้งหลัง
---
ประเภทที่พัก
อพาร์ทเมนท์
---
พักได้
6
---
ห้องนอน
กรุงเบอร์ลิน, กรุงเบอร์ลิน, เยอรมนี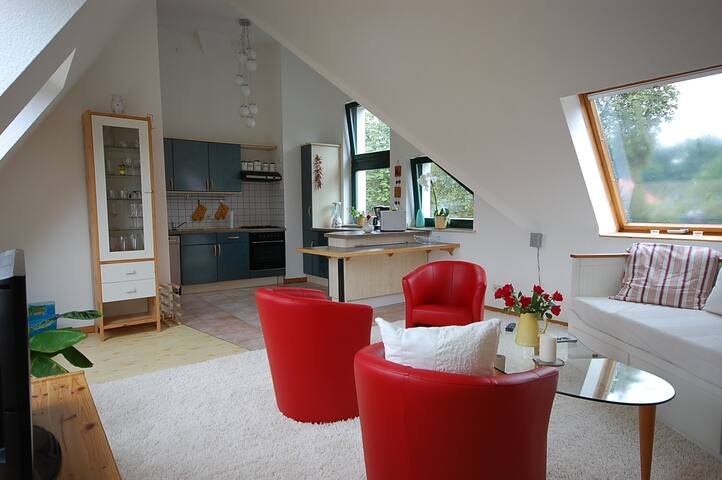 A newly furnished studio in a building with classic East German architecture just by the side of Lake Großer Müggelsee.
The host canceled this reservation 8 days before arrival. This is an automated posting.
Amy
2016-09-26T00:00:00Z
Very clean and tidy apartment. Location is very good. Abel is nice and helpful host. Communication is on the highest level. We liked our weekend very much! Thank you!
Fedor
2016-04-05T00:00:00Z
Abel is a super friendly host. Super flexible. Even tho i didnt know when i would arrive exactly i ve met him at his apartment and he took his time to explain me everything. its not center berlin, but around this place are plenty of restaurants and other possibilities to eat, walk and cycle. (he offered us to use his bikes!!!) the room and even more important the bathroom was super clean and new. im completely satisfied. i would to it everytime again.
Oliver
2016-03-28T00:00:00Z
Abel the host was very warm and friendly, communication was perfect and he is very kind. This studio was exactly what i needed to visit Berlin for a few days as it was affordable and very clean i may add. The view from the common space balcony was breathtaking.Right under the apartment building there was sunbeds and chairs and a table as there is a lake right by the house where you can actually swim if you please to do so.There's a bus stop a one minute walk away which connects you to all the Berlin train stations in order to get to the main city (URL HIDDEN) all honesty i felt more than lucky to get this newly furnished apartment for this price.I recommend this place to all.
Katerina
2016-08-24T00:00:00Z
Everything very nice.
Daniel
2016-04-12T00:00:00Z
The apartment was lovely and in a very nice area. Abel was a very nice host and everything ran very smoothly.
Fran
2016-09-13T00:00:00Z
It was a great time in Abel's apartment, when we arrived it was a little bit scary because the house, an old mansion, looks like a haunted house, it's quiet old and they're renovating it. Inside, everything's new and nice. We were only in the center and hadn't time for exploring the neighbourhood, but Müggelsee seems to be a really lovely area. The apartment has everything you need and we loved the bathroom which is modern and kind of special. The next train station is Friedrichshagen which is like 10 or 15 minutes away. There are many restaurants and stores near the apartment, though it's in a quiet street. You can easily find free parking spaces when you arrive in the morning, in the evening it seems harder but we finally found on 10 minutes away so that was okay.
Katharina
2016-10-14T00:00:00Z
We enjoyed staying at Abel's place very much! We were welcomed with all we needed plus some chocolates. Everything was very clean and the place and view even better than on the pictures.
Angela
2016-05-09T00:00:00Z
ประเภทห้อง
บ้าน/อพาร์ทเมนท์ทั้งหลัง
---
ประเภทที่พัก
อพาร์ทเมนท์
---
พักได้
2
---
ห้องนอน
กรุงเบอร์ลิน, กรุงเบอร์ลิน, เยอรมนี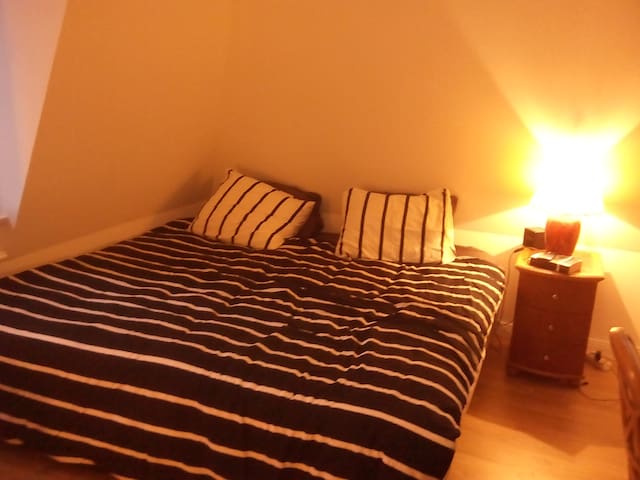 chic loft apartment 300 meters from the Müggelsee, with many small cafes and shops, cinema, sauna, Comedy, beach cafes, marina - ideal for shopping - bummlen, eat and relax 2 rooms in a quiet area, kitchen, bath with terrace very sunny
The attic apartment is centrally located with sunrise in the living room and - sinking on the terrace. 73m2 bright and very spacious. The living room with 30m2 invites to rest and if you would like in nature, is directly opposite a bicycle rental. The terrace can accommodate 2 deck chairs. In the kitchen, you can eat and the bathroom is large and bright as the spa. Tram, bus and train are in close proximity in front of the door.
Young people and families.
Wir haben die Wohnung für ein Wochenende als Rückzugsort während eines Familienfests genutzt. Friedrichshagen mögen wir beide sehr, daher war die Lage der Wohnung in einem Hinterhaus an der Bölschestraße optimal für uns. Danielle hat uns im Vorfeld per Mail und sms über alles, was für unseren Aufenthalt wichtig war, informiert- super! Die Wohnung haben wir genossen; Danielle hat dort eine besondere Atmosphäre geschaffen und wir wären gerne länger geblieben. Der Blick vom Balkon direkt in die Baumkronen ist phantastisch; im Sommer sicherlich der perfekte Ort für lange entspannte Abende. Bölschestraße 120? Gerne wieder! :-) Vielen Dank sagen Hartwig und Astrid
Hartwig
2016-05-17T00:00:00Z
Everything was great until we encountered wifi not working issue and from there it went downhill. Instead of taking the wifi issue seriously host told us to find free hotspots from the city and we communicated lots of useless texts (i had to use payable mobile data roaming) for that and host sent a neighbour on the third (!!!) day to check up wifi, only to confirm the fact that it wasnt working at all. I have used airbnb very frequently ( and getting good reviews from hosts 100%) but this experience ruined our holiday slightly.
Regiina
2016-08-19T00:00:00Z
Alles war gut.
Uwe
2016-11-19T00:00:00Z
ประเภทห้อง
บ้าน/อพาร์ทเมนท์ทั้งหลัง
---
ประเภทที่พัก
อพาร์ทเมนท์
---
พักได้
2
---
ห้องนอน
กรุงเบอร์ลิน, กรุงเบอร์ลิน, เยอรมนี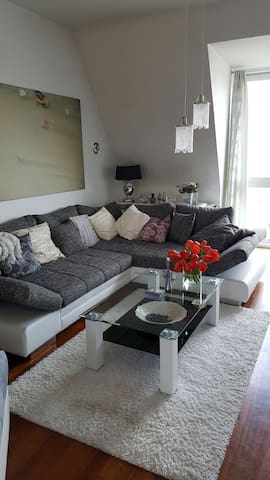 We rent our apartment a few steps from Müggelsee away. It has a separate entrance and parking in the yard. Our accommodation is good for couples, solo travelers, adventurers, business travelers and families with children (under 10 years).
Our apartment is 35 square meters and offers space for two people; an extra bed for a child is possible. - Combined living room and bedroom - Separate kitchen; Cooking facilities, refrigerator, coffee maker, kettle, toaster - Bathroom: shower, toilet, hairdryer - terrace - Garaging for bicycles
The seaside resort of Friedrichshagen with its five-meter diving is only two minutes walk.
Schöne Ferienwohnung, die, wie beschrieben, keine 200m vom Müggelsee entfernt liegt. Die Wohnung bietet viel Stauraum und alle notwendigen Küchenutensilien (nur Kaffee und Tee muß man selbst besorgen). Die Kommunikation war einwandfrei und Infomaterial ist reichlich vorhanden. Ganz klare Empfehlung.
Tatjana
2016-06-28T00:00:00Z
we arrived late at around 10.30 pm, and were really happy that the hosts came outside the gate and welcomed us as we were about to call them. Also they provided us with basic provisions for our kid as it was saturday night and all shops are closed. we really appreciate this and our hearty thanks. The apartment is clean. The tram stop is just a few steps from the home, making it easy to commute to the nearest railway station. Kitchen utensils are all there. Enough towels were provided. Hot shower is availble to bath and refresh. And a lovely backyard or garden to walk and chat. The photos exactly matches the apartment. Overall, it was a good stay and we enjoyed every moment of it. Thank you Stefanie & Norman
Deivaseelan
2016-11-01T00:00:00Z
Great little apartment for a few days in Berlin. It is small but more than comfortable for 2 people and it is super close to public transport to get where it is your going. We had a very comfortable stay, recommend to other travelers.
Stephen
2017-02-12T00:00:00Z
ประเภทห้อง
บ้าน/อพาร์ทเมนท์ทั้งหลัง
---
ประเภทที่พัก
อพาร์ทเมนท์
---
พักได้
2
---
ห้องนอน
กรุงเบอร์ลิน, กรุงเบอร์ลิน, เยอรมนี
Das Appartement befindet sich im Haus TonART in Schöneiche bei Berlin in der Nähe von öffentlichem Verkehr, Parks, Kunst und Kultur. Es ist geeignet für Paare und Familien (mit Kindern und Haustieren). Die Pension befindet sich direkt am Rand des Kleinen Spreewaldparks. Haustiere sind in diesem Appartement erlaubt.
Was uns von anderen Pensionen unterscheidet: * Freizeitangebote wie Keramikkurse für Erwachsene und unsere Kindersommerwerkstatt, die wir mit Erfolg schon über 20 Jahre durchführen * ein Angebot für Kindergeburtstage, die durch die kreative Betätigung der Kinder in der Keramikwerkstatt und die entstandenen kleinen "Kunstwerke" für sie zu einem bleibenden Ereignis werden * Veranstaltungsraum mit fast 70 m², der sehr geeignet ist für Familienfeiern (Hochzeiten, Taufen, Geburtstage) und Seminare mit ca. 30 Gästen - bei möglicher Nutzung der Terrasse auch mit doppelter Gästezahl und mehr
3 bis 30 Minuten von unserer Pension entfernt findest Du interessante Ausflugsziele wie den Kleinen Spreewandpark, den Museumspark Rüdersdorf, den Müggelsee, Woltersdorf und natürlich Berlin. Von unserem Haus aus sind viele Gaststätten fußläufig zu erreichen.
ประเภทห้อง
บ้าน/อพาร์ทเมนท์ทั้งหลัง
---
ประเภทที่พัก
อพาร์ทเมนท์
---
พักได้
4
---
ห้องนอน
Schöneiche bei Berlin, Brandenburg, เยอรมนี
1

–

18

จาก

194 อพาร์ทเมนท์ให้เช่า
กรอกวันที่เพื่อดูการกำหนดราคาเต็ม มีค่าธรรมเนียมเพิ่มเติม อาจมีภาษีเพิ่ม