Belissímo espaço com jardim e muito sol:)
Casa de madeira com varanda, situado num jardim de uma casa do século XIX, reabilitada. Servida com uma excelente rede de transportes, com a Estação de Metro da Trindade apenas a 5 minutos a pé, de autocarro mesmo ao lado e estação de comboio nas proximidades. É perto de alguns dos marcos históricos da cidade, como a Câmara Municipal do Porto, "Trindade", "Avenida dos Aliados" e "Casa da Música" e "Coliseu". Tem todas as condições necessárias para ter uma ótima estadia: internet e TV, roupa de cama e toalhas. Uma grande variedade de restaurantes / Snack-bares e bares ao redor da casa. Tem 2 supermercados não mais do que a 100 metros de distância e há muitas lojas tradicionais próximo. Pode utilizar a mesa do jardim e fumar no exterior, mas nunca dentro de casa.
Perto da casa existem supermercados , restaurantes , papelarias e lojas tradicionais. E não podemos esquecer que é no centro e muito perto da Câmara Municipal , Avenida dos Aliados, Casa da Música, Igreja da Lapa ou Igreja da Trindade . A vida noturna na cidade do Porto está próxima e você pode caminhar até lá.
If I visit Porto again , it is very likely that I will stay here. The description was accurate, the location was perfect, the place was very lovely and exactly what I needed! Both hosts were super kind, thoughtful and gave me really good recommendations during my visit. Everything was above my expectations. I'm very grateful for that! (:
Marimer
2015-04-02T00:00:00Z
Muy agradable mi estancia, la hospitalidad inmejorable, me encontré como en casa, tranquila y acogedora. Muchas gracias por todo, volveré.
Mkbule
2016-08-05T00:00:00Z
when I visit there, there is a problem. but Lurdes is very helpful about the thing.
Yeji
2015-12-12T00:00:00Z
Ruhige Lage, sehr empfehlenswert.
Nicole
2015-10-15T00:00:00Z
Perfect. calm, clean, helpful - everything I wanted. thank you very much
Martin
2016-03-26T00:00:00Z
I loved staying at Lurdes and Aderdito's. They made me feel very welcome. My room was very clean and well provided for in linen, cutlery and everything I might want or need including wifi or television. The house was very central (and very nicely restored) and perfect located for everywhere I needed to go.
Kerry
2014-09-06T00:00:00Z
The studio in Lurdes and Aderito's house is exactly as what is displayed on page. The host are both very welcoming and warm-hearted. I spent three nights as a relaxing vacation and it was super because it is quite, although the dogs might wake you up every morning. Very nice for solo vacation and am likely to go back again.
Haitong
2015-02-05T00:00:00Z
Lurdes and her partner could not have been more helpful right from the detailed briefing with a map of Porto to guide my first afternoon's walking exploration. The accommodation was very comfortable and well looked after as well as being quiet (at the end of a garden in the middle of the city block. Convenient walking distance from Trindade metro station, the nerve centre of Porto's transport network.
Niall
2015-05-18T00:00:00Z
ประเภทห้อง
บ้าน/อพาร์ทเมนท์ทั้งหลัง
---
ประเภทที่พัก
บ้าน
---
พักได้
1
---
ห้องนอน
ปอร์โต, Porto, โปรตุเกส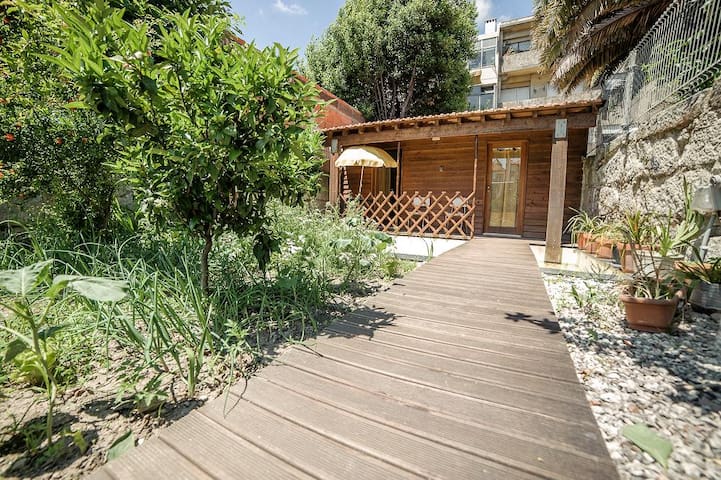 The house is located in the center of Porto, next to a subway station, in a small "travessa"(a small street), that retains the old layout of the city. It consists of a large open space with the kitchen and living room. It also has a big bedroom, bathroom, a shower room and an outdoor patio.
The house is located in the center of Porto, next to Faria Guimarães metro station, 10 minutes from Trindade and very close to the shopping and entertainment district. The street is a small"travessa" retaining the old layout of the city, paved with stone, a small haven of tranquility in the middle of the Avenue of Camões. The house consists of a large open space with living room and kitchen, a bathroom, a shower room and a big bedroom. In addition, our house has a patio, very nice to spend summer days!
The apartment is located in the center of Porto, 10 minutes walk from Trindade and next to Faria Guimarães Metro. Lapa area is very comfortable because it is quiet and close to the shopping and entertainment district. You can visit the center on foot without transport.
This flat is a pure jewel!! It was spot on and exactly like in the pictures. It is decorated with a lot of love and detail and we felt immediately at home. This was also thanks to the very warm welcome by Julia and Bruno. They stayed up until very late to welcome us and had even prepared a detailed list with places where to go. We followed their advice twice and were delighted! Although the flat is not exactly in the centre it is in an easily walkable distance and gives you the opportunity to see a less touristic neighbourhood. Should we go back to Porto, my boyfriend and I would definitely stay at this place again.
Leandra
2016-12-04T00:00:00Z
Julia a décoré son appartement, très bien situé, avec goût ça nous a tout de suite plu ! Et Ana nous a accueilli chaleureusement avec pleins de bons conseils. Merci à toutes les deux
Laure-Marie
2017-03-08T00:00:00Z
La maison est parfaite : quartier tranquille et central, très propre, lit très confortable (pas toujours le cas dans les airbnb), logement avec beaucoup de charme et une petite terrasse pour prendre un verre en fin de journée. Je n ai pas pu rencontrer Ana mais la communication fut parfaite, beaucoup d'indication sur comment se garer, que visiter. Au top.
Morgane
2017-04-03T00:00:00Z
We were pleasently surprised by the house and the accommodation available for this price. Also the map and the extra information delivered by Anna came in handy! We had a wonderful time in Porto, though the rain was sometimes a little heavy. But luckily we had a dry and cosy place to warm up. Overall we had an amazing time.
ariadna
2017-01-30T00:00:00Z
En general, el apartamento es estupendo. Tal y como aparece en las fotos, muy bien comunicado y a 10 minutos andando del centro. La anfitriona es muy simpática y nos dio todas las facilidades del mundo e información para hacer turismo por Oporto. El único problema es que la cadena del W.C. no funcionaba correctamente, aunque nos dijeron que lo iban a arreglar. Recomiendo este apartamento.
Elena
2016-08-05T00:00:00Z
Eu e três amigas resolvemos passar a passagem de ano no Porto e com pesquisas de ultima hora encontramos esta casa que é super acolhedora e com os essenciais necessários. Fomos muito bem recebidas e o Bruno foi impecável, mostrando-se sempre disponível para qualquer coisa. Obrigada pela hospitalidade!
Tatiana
2017-01-01T00:00:00Z
Ana à été charmante. Nous n avons pas eu de chance car il a fait froid et pluvieux.
chantal
2017-04-01T00:00:00Z
The apartment was very cozy and truly good value for the money. Ana was very nice and welcoming and she had made a special effort about finding good tips for all kind of travelers. Highly recommended :-)
Pekka Oskari
2017-03-02T00:00:00Z
ประเภทห้อง
บ้าน/อพาร์ทเมนท์ทั้งหลัง
---
ประเภทที่พัก
บ้าน
---
พักได้
4
---
ห้องนอน
ปอร์โต, Porto, โปรตุเกส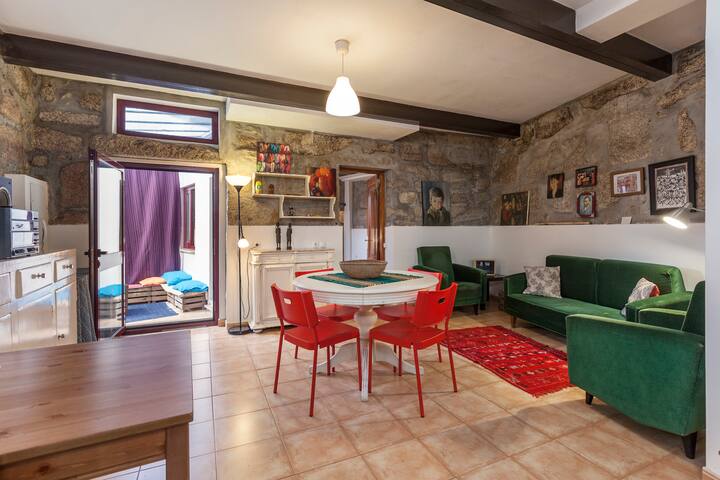 Quarto privado para casal. bastante espaço - 45m2, com sofá, mesa 3 janelas. Excelente para jovens casais, bastante luz, a 5 min. a pé da zona de bares, restaurantes, galerias
Quarto em casa secular
Proximidade do centro da cidade e centro histórico.
Excellent place + nice host! Unfortunately we only could only stay here for one night before flying home. Loved the creative bathroom construction! Pedro provided us with thick warm blankets and an electric heater, we had told him before our stay that we were afraid to freeze (Beginning of April, colder weather than we had anticipated in Portugal). We were able to check in in the late evening, even later than announced due to a missed train, glad that wasn't an issue! :)
Martin
2016-04-06T00:00:00Z
Ottima posizione centrale e la camera è veramente comoda e originale, un vero peccato esserci state solo per una sera. Pedro è gentile e i consigli che ci ha dato sono stati molto utili. Se mai dovessi ritornare a Porto, so già dove prenotare!
Giulia
2016-05-27T00:00:00Z
During my whole trip through Portugal I found this place the most creative and interesting of all! The room I stayed in was wonderful! Coolest bathroom I have seen so far! Pedro was very friendly! A relaxed and kind person. I defenitly recommand this place!!
Daniel
2015-07-08T00:00:00Z
We had a great time in Porto thanks to Pedro. The house is awesome, good breakfast, good company, and great location. Definitely would stay there again.
gwendoline
2015-08-26T00:00:00Z
This was a very nice area to stay in. Porto is not a big city, so it´s short to walk to the historical center. Pedro´s neighborhood is on the border of the touristic old town, but around his place there are nice bars and cheap restaurants popular by the locals. Pedro was an excellent host, very welcoming and always willing to help out and answer any questions. The room is very big, very clean and we both (me and a friend that both stayed in the room) thought the decoration was nice. I recommend booking at Pedro´s.
Snaebjorn
2015-07-17T00:00:00Z
good experience
fan
2016-05-04T00:00:00Z
I can only agree with the good rating this apartment has!! A welcoming family living in a very interesting and big house, also in walking distance from the city centre. You can have your privacy or join the family and other guests for a nice conversation in the living room. I felt very good during my stay in Pedro´s house and would return at any time!
Raluca
2015-09-02T00:00:00Z
The house is really interesting. Old stuff, very artistic. Pros : It is a good place to stay due to its position on the porto attraction map. Not more than 15-20 min to the farthest touristic point. The bathroom is clean. The kitchen is well equipped. The room is really big. Advices : The front door key locker can be more adjusted to be accessed by enlarging the digging in the wall. A device that make the flies bugs go away or imobilize them can be mounted. It is not a big issue, but it improves the view in the room. Good luck and take care of you! Best regards,
Razvan-Viorel
2016-07-11T00:00:00Z
ประเภทห้อง
ห้องส่วนตัว
---
ประเภทที่พัก
บ้าน
---
พักได้
2
---
ห้องนอน
ปอร์โต, Porto District, โปรตุเกส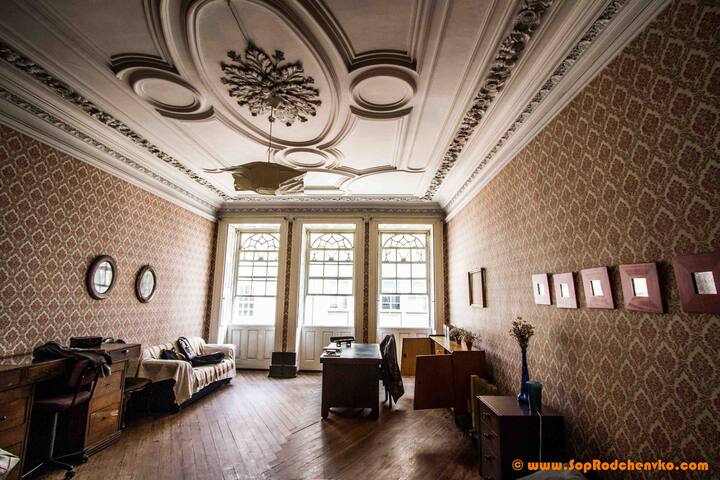 The tradition is still what it was! A cross of Fontainhas, one discovers this neighborhood of narrow streets, but wide acceptance, as befits the Northern people. Wandering through the streets, open doors haunt us, inviting us to enter. Neighbors talk of a house to the other, with a carefree vocabulary, so typical of this city. Cats sprawling up, children play, even the clothes on clotheslines seems to open our arms. Who comes out feels at home.
The house has been renovated, retaining its original features. On the ground floor, common space with the living room and the kitchen, equipped with the essentials, you can prepare meals, watch television, rest and sleep. On the first floor, the bedroom and the bathroom, has storage and a window that opens to the rua.Com minimalist décor, it is a typical house, coupled with the modern. A unique and cozy space.
Oporto House 31 in Herculaneum district, located in the heart of Porto, in the center of town, between the Praça da Batalha, the S.Lázaro Garden and the Square Poveiros, starting point for the low, where they multiply the local shops and where the old buildings stubbornly exist, resisting the time. Passing through the flagship theater of St. John, follows to Santa Catarina Street, the main shopping street. In this street is the coffee Majestic, witness the "Belle Epoque", a meeting place for writers and artists of the 20s of last century. The middle of the street, the chapel of Souls, one of the many that fill the city. Down, between streets and alleys, one comes to the Avenue of the Allies, city stage. A 20-minute walk or 5 m, funicular descends treated to the Ribeira, the oldest district of the city, where the street vendors, restaurants with typical food, the century-old bridge D. Luiz I and the Douro River with the Rabelo boats, where our eyes are lost, calling the trip.
we loved the location, living amongst the locals in the Barrio and everything was close by when we needed it. Final approach is on foot only but worth the effort.
Jill
2017-02-25T00:00:00Z
Very nice, cosy, clean and modern appartment close to city center of Porto in a cute picturesque neighborhood ! We were welcomed very warmly by Isabel and had a perfect stay in Porto, we would highly recommend this place :)
Fanny
2017-01-01T00:00:00Z
Le logement est Super, dans un quartier typique. Il est proche de tous les lieux touristiques, le centre historique, le quartier ribeira et les monuments principaux... Tout peut se faire à pied. Super expérience, super séjour. Isabel et sa famille sont à notre disposition pour tous nos besoins (aéroport, conseils...)
Florian
2017-01-18T00:00:00Z
Great typical street and the house is exactly like on the pictures. Warm welcome from Isabel and nice place to stay in.
diane
2017-03-24T00:00:00Z
Venant de la campagne, on recherchait 1 logement plutôt au calme, sans les bruits et la pollution de la grande ville, mais très proche à pied pour visiter , faire les courses et aller au resto! on n' a pas été déçu car cet appartement indépendant est dans 1 ruelle typique...à voir. Ce logement est neuf et très propre. Je suis certaine qu' Isabel y apportera des petits plus avec le temps.On a apprécié d' avoir le lit fait ,les serviettes de toilette et torchons et le PQ pour notre séjour d' 1 semaine.
elisabeth
2017-02-16T00:00:00Z
La casa es nueva, moderna y bien equipada. Igual que en las fotos. El barrio es pintoresco pero muy seguro, está bien comunicado y es muy silencioso. Cerca hay un sitio ideal para desayunar y un restaurante Top Porto muy bueno. Falta algo de aceite/gel de baño pero la wifi es buena y la casa es cálida. Recomendable sin niños ni problemas de movilidad.
Eloísa
2017-04-03T00:00:00Z
Very cosy and clean. Looks like the pictures. The host was very flexible and nice.
samia
2017-02-05T00:00:00Z
Excelente acolhida, anfitriã está sempre disponível e nos recepcionou muito bem, a casa possui um ótima localização e a estrutura é perfeita. Esperamos retornar em breve.
Maurício
2017-02-01T00:00:00Z
ประเภทห้อง
บ้าน/อพาร์ทเมนท์ทั้งหลัง
---
ประเภทที่พัก
บ้าน
---
พักได้
4
---
ห้องนอน
ปอร์โต, Porto, โปรตุเกส
House 2 floors, 1 toilet, air conditioning, TV with national and international channels, bedroom with double bed and sofa bed. Kitchen, Laundry. washing machine, microwave, toaster, refrigerator. Bike rental possibility. Next Square Batalha, Ribeira Porto S. Bento station, Clerigos Tower, Café Magestic, Via Catarina, Bolhão Market, Theatre St. John Infante Bridge Luis I Bridge, Cathedral, Paris Galleries, transportation (taxi, subway, bus , rail), supermarkets, cafes, nightclubs.
House with 2 floors. Upstairs consists of double bed, TV (national and international channels) WI-FI, wardrobe, 2 nightstands, toilet. downstairs living room, sofa bed, kitchen, dishes, table and chairs for dining, refrigerator, microwave, refrigerator, toaster. Possibility of bike rental for an additional payment (ask number of bicycles at time of booking).
Neighborhood located in the historic area of Porto, close to places of great interest as Dom Luis I bridge, Batalha Square, Café Magestic, S. Bento railway station, Via Catarina Shooping, City Market Bolhao, Clerigos Tower, Paris Galleries ( nightclubs) Church Cathedral, between wrapping other ...
One of the best Airbnb experiences I've had. The family was happy accommodate all our needs and went over and beyond to make our stay pleasant and comfortable. They know all the good spots to go and see. The house is in a nice quiet neighborhood, very clean and comfortable. Thanks so much for making our Porto experience unforgettable. Fica bem!
Quinn
2016-09-26T00:00:00Z
Nous avons apprécié cette petite maison dans un quartier typique et proche à pieds de tout les lieux touristiques de la ville . Geronimo et son épouse sont adorables , ils sont venu nous chercher à la station de métro et les petits gâteaux maison nous attendaient sur la table . La maison est bien tenue et rien ne manquait pour passer un bon séjour . Un petit plus , Geronimo et son épouse parle un peu Français . Nous recommandons vivement cette hébergement pour son emplacement , calme , typique et la gentillesse de ses hôtes ...(URL HIDDEN) Marie et Patrick
Patrick
2017-03-31T00:00:00Z
Perfect small home for a short stay - clean, comfortable, near the centre
David
2016-12-08T00:00:00Z
Jeronimo et sa femme sont des personnes vraiment charmantes. Un accueil des plus chaleureux. nous nous sommes sentis attendus et avons eus toute leur attention durant notre séjour. une maisonnette très agréable et très bien située, très avenants (nul besoin de la carte "andante" !) pour découvrir l'atmosphère de Porto. des voisins très avenants et tout cela nous à permis de vivre une très belle expérience Nous reviendrons avec plaisir
benoit
2016-09-19T00:00:00Z
Jeronimo and his wife was very kind. They brought a bed for our little daughter. We are very happy for that. The apartament was lovely. Everything was clean and we could find everything we needed for our stay.
Neringa
2016-10-16T00:00:00Z
Nice stay in Porto, à beautiful city. Warm welcome by jeronimo and his Wife at the station when we arrive (with little cakes and porto wine) Great location close to station and city centrer Nice appartement with conveniant kitchen, sleeping room and small bathroom I recommand :)
Mathilde
2016-09-07T00:00:00Z
Jerónimo y su mujer nos hicieron un recibimiento estupendo incluso guardando una plaza de estacionamiento en la zona, nos explicaron todo perfectamente y estuvieron atentos durante toda la estancia.
Ana
2016-08-15T00:00:00Z
Le logement est bien situé dans une toute petite rue, même si (très) proche de la situation. Il n'y a qu'une chambre et pas de porte qui la sépare du reste du logement. Le voisinage est assez bruyant même la nuit, mais ne dérangera pas les fêtards!
Lucile
2016-10-08T00:00:00Z
ประเภทห้อง
บ้าน/อพาร์ทเมนท์ทั้งหลัง
---
ประเภทที่พัก
บ้าน
---
พักได้
4
---
ห้องนอน
ปอร์โต, Porto, โปรตุเกส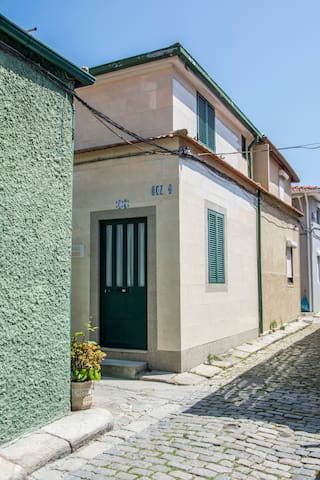 You will be here in the best location to visit Porto. In this location you are in the heart of the cities of Gaia and Porto, close to the world famous Porto wine cellars in the left margin of the Douro river. Just open the window and let you amazed by the panoramic view of Ribeira.
This accommodation is a Cozy Studio in a Unesco world heritage site.
Apartamento pequeño pero nuevo, muy cuidado y decorado con buen gusto, en la realidad era mejor que en las fotos. El anfitrión atento y detallista, nos dejó golosinas de bienvenida y nos permitió dejar las maletas después del checkout hasta que nos fuimos al aeropuerto. El único fallo es la baja potencia contratada de electricidad y que no hay calefacción, si encendiamos el secador y la estufa a la vez se iba la luz, aunque nos avisaron al darnos las llaves (por el precio que pagamos tampoco se puede pedir más). Zona céntrica, para llegar a Porto solo teníamos que cruzar el puente de Luis I, una gozada por las vistas de la Ribiera y el Duero. Las vistas del apartamento eran las mismas, para enmarcarlas y ponerlas en una postal. Gracias por haber sido un anfitrión atento, estamos muy contentas y esperamos repetir! :)
Montse
2017-02-13T00:00:00Z
ประเภทห้อง
บ้าน/อพาร์ทเมนท์ทั้งหลัง
---
ประเภทที่พัก
บ้าน
---
พักได้
2
---
ห้องนอน
Vila Nova de Gaia, Porto, โปรตุเกส
At the city center, this studio is fully furnished and equipped. With a tasteful decoration and ideally located where easily can go explore the city. With 50 meters from Metro and with buses at the door.
ประเภทห้อง
บ้าน/อพาร์ทเมนท์ทั้งหลัง
---
ประเภทที่พัก
บ้าน
---
พักได้
3
---
ห้องนอน
ปอร์โต, Porto, โปรตุเกส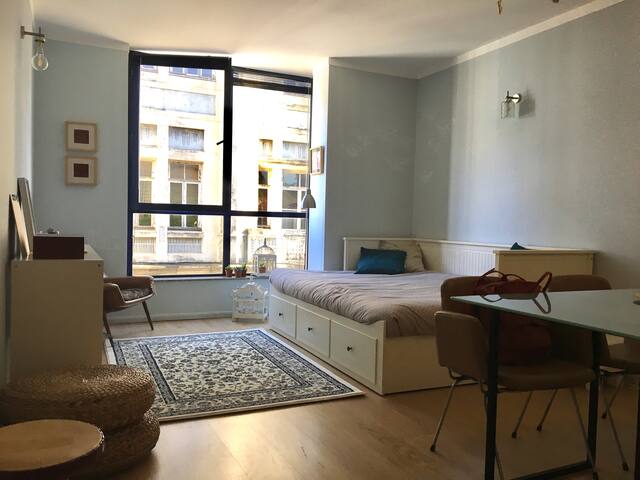 It's a very simple suit, with good area, confortable bed and bathroom. It is located in a private house and in the donwtown area, from where you can walk all arround city center or take any public transportation. The down side of this room is that you can listen a little bit the sound from the street, but it is normaly a very quiet street. This accomodation is Bed & Bathroom only, no breakfast nor access to the kitchen. So if you are good with these conditions, you're very welcome! :)
ประเภทห้อง
ห้องส่วนตัว
---
ประเภทที่พัก
บ้าน
---
พักได้
2
---
ห้องนอน
ปอร์โต, Porto, โปรตุเกส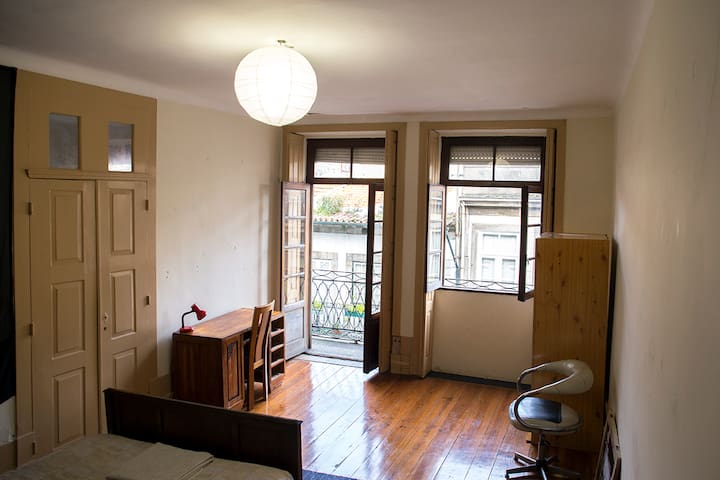 A Dukes Corner Guest House está localizada num emblemático edifício do início do século XX (1908) que foi recuperado mantendo a sua traça original. Bem localizado, numa antiga zona nobre, arborizada e calma apenas a 10 minutos, a pé.
A Dukes Corner Guest House está localizada num emblemático edifício do início do século XX (1908) que foi recuperado mantendo a sua traça original. Bem localizado, numa antiga zona nobre, arborizada e calma apenas a 10 minutos, a pé, do centro da cidade do Porto e a cinco minutos de distância da estação de Metro mais próxima. No centro da cidade podem ser visitados diversos locais de interesse turístico, como a Torre dos Clérigos, o Palácio da Bolsa, a  Sé Catedral, a Câmara Municipal, a Estação de S. Bento, as Igrejas da Misericórdia, do Carmo, e das Carmelitas assim como a Reitoria da Universidade. Ainda dentro do perímetro do centro da cidade é de visita "obrigatória" o percurso pela Rua das Flores, conduzindo os visitantes a uma das partes mais antigas da cidade, com destaque para a zona da "Ribeira", junto ao Rio Douro. Na Dukes Corner orgulhamo-nos em proporcionar aos nossos hóspedes um atendimento familiar de forma a satisfazer as suas exigências para que repitam a sua visita. Temos à vossa disposição 7 quartos (sendo um deles uma Suite), todos mobilados de forma diversa, sem prejuízo da elegância da época e do conforto atuais. Todos os quartos têm Casa de Banho privada, acesso a Wi-Fi gratuito, TV por Cabo e Ar Condicionado. Podem ainda usufruir da nossa Sala de Pequenos-Almoços, Sala de Estar para repouso, leitura ou convívio e ainda relaxar na acolhedora zona exterior, enquanto saboreiam o nosso variado e delicioso menu acompanhado de um excelente vinho.
Bem localizado, numa antiga zona nobre, arborizada e calma apenas a 10 minutos, a pé, do centro da cidade do Porto e a cinco minutos de distância da estação de Metro mais próxima.
ประเภทห้อง
ห้องส่วนตัว
---
ประเภทที่พัก
บ้าน
---
พักได้
2
---
ห้องนอน
ปอร์โต, Porto, โปรตุเกส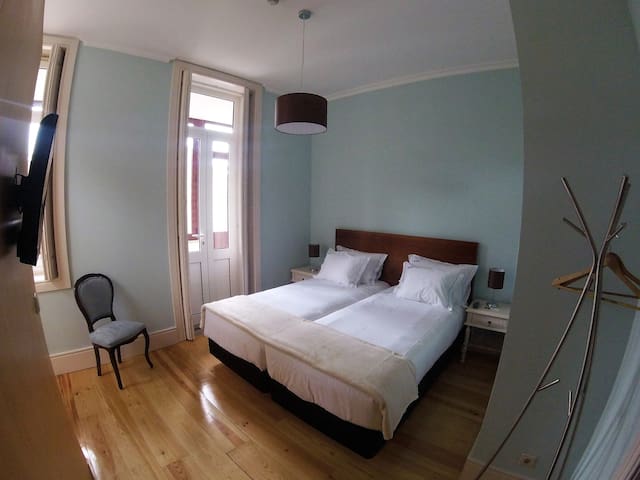 Casa duplex totalmente renovada em 2014. Tem capacidade para 6 pessoas e muito bem localizada. Ideal para grupos ou famílias e casais. Acesso a Wi Fi ilimitado.
Os espaços foram transformados em ambientes com apontamentos de cor e conforto, práticos e acolhedores. Todos esses espaços representam alegria, que é isso que pretendo transmitir, que todos hóspedes se sintam muitos felizes ao passarem pelo Porto e pela minha casa. A casa tem capacidade para 6 pessoas: O piso superior pode receber até 4 pessoas, tem um quarto principal que possui uma cama de casal e outro quarto com duas camas de solteiro. Todos os quartos têm janela, um deles com varanda, são ambos com luz directa e com bastante privacidade. Ainda conta com um WC completo de apoio aos dois quartos. A casas de banho além de sabonete, gel de banho tem também secador de cabelo. No piso (email hidden) kitchenette transforma-se de forma muito prática num amplo quarto caso seja necessário. Tem também um outro wc de serviço, de apoio à sala e cozinha. A casa apresenta as mais variadas comodidades e equipamentos. A sala e cozinha possui também duas janelas, que oferecem à casa uma luminosidade natural. A cozinha está equipada com uma vasta gama de electrodomésticos tais como, fogão, exaustor, micro-ondas, máquina café, torradeira e máquina de lavar louça, frigorífico, congelador. A sala possui uma mesa jantar com cadeiras para 6 pessoas, sofá cama e um cadeirão. Conta também com um LCD com Smart TV e acesso à internet WI FI. A localização da casa, é ideal para explorar a pé o centro histórico do Porto, onde se encontram os principais pontos turísticos da cidade (avenida dos aliados, torre dos clérigos, Livraria Lello, ...) e está inserida na zona de Night Spot (zona de restaurantes, bares) embora se encontre num local tranquilo e silencioso. A Back-to-Back House está localizada a apenas 200 metros da Estação de Metro da Trindade bem como a poucos minutos a pé das principais atracções turísticos da Baixa e da zona da Ribeira. Hospedes têm acesso à casa inteira. Por norma eu ou o Rui estaremos presentes no check in, para entregar a chave e dar algumas sugestões de visita à cidade do Porto. Durante a estadia estamos sempre disponíveis para qualquer esclarecimento ou dica adicional. Local envolvente muito tipico do Porto, recentemente renovado. Existem àutocarros mesmo à porta da casa e o metro fica a 200 metros. A estacção de metro mais próxima é a estação da trindade, que faz ligação direta ao aerporto (40 minutos). Temos estacionamento privado nas redondezas, a alguns metros da casa. Este serviço é pago como exta. A localização da casa, é ideal para explorar a pé o centro histórico do Porto, onde se encontram os principais pontos turísticos da cidade (avenida dos aliados, torre dos clérigos, Livraria Lello, ...) e está inserida na zona de Night Spot (zona de restaurantes, bares) embora se encontre num local tranquilo e silencioso. A Back-to-Back House está localizada a apenas 200 metros da Estação de Metro da Trindade bem como a poucos minutos a pé das principais atracções turísticos da Baixa e da zona da Ribeira. Por norma eu ou o Rui estaremos presentes no check in, para entregar a chave e dar algumas sugestões de visita à cidade do Porto. Durante a estadia estamos sempre disponíveis para qualquer esclarecimento ou dica adicional. Local envolvente muito tipico do Porto, recentemente renovado. Existem àutocarros mesmo à porta da casa e o metro fica a 200 metros. A estacção de metro mais próxima é a estação da trindade, que faz ligação direta ao aerporto (40 minutos). Temos estacionamento privado nas redondezas, a alguns metros da casa. Este serviço é pago como exta.
Inserido na zona de nightlife mas muito calmo. Boa vizinhança
The house is well located at centre of city with 5 minutes walking distance to Lello bookstore and Clerigos tower. There are many good restaurants and convenient stores nearby. You can easily catch Metro and bus just out of the house. The house is clean and well operated with everything you may need. Joana and her friend Paula are very nice and helpful. They responded to all my requests very quickly. If I got chance to travel in Porto again, definitely I will choose to live in the same house.
YanYan
2015-06-25T00:00:00Z
The flat was perfectly described and well equipped!
Andrea
2016-01-05T00:00:00Z
Lovely and comfortable place. The apartament is excellent, cozy and really well decorated. It is also convenient with good places to eat nearby. I would definetely reccomend the place.
Júlio
2016-03-01T00:00:00Z
El apartamento es como se ve en las fotos, es pequeño pero está al lado del centro. El inconveniente fue al abrir el sofá cama, pues no estaba limpio; las sabanas estaban limpias pero no las colchas ya que había bastantes pelos que no eran nuestros y eso deberían comprobarlo antes. Otro de los inconvenientes fue el baño de arriba, se salía el agua por abajo y algún enchufe que no funcionaba. La cocina está completamente equipada. No nos recibió Joana pero fue muy amable con nosotras y nos explicó las cosas más importantes de Porto.
Maria
2017-03-20T00:00:00Z
The house was definitely smaller than it looked in the pictures, but still so nice and clean! I believe there is a bar close by, because we could hear people yelling through the hours of the night. Overall, a great experience! I would definitely choose to stay here again, and Joana was extremely helpful and accommodating.
Morgan
2015-11-29T00:00:00Z
Joana merci très beau appartement !! Calme idéal pour visiter Porto !!! Je recommande !!
Emmanuel
2014-11-08T00:00:00Z
We had a very Nice stay. The house is located in a very quiet area of porto, which is very good! It's very close to everything. The house number is 31 you have to walk throug a steal gate to enter the little street. The only problem we had was the cold water in the shower After 5 minutes, so the next person Which wants to take a shower had cold water.
Milou
2017-03-09T00:00:00Z
La descrizione fornita dall'host corrisponde appieno all'appartamento. Ci sono due stanze confortevoli e due bagni, una cucina soggiorno molto spaziosa dotata di ogni necessario, il tutto era luminoso e pulito. L'appartamento si trova vicino alla metro trinidade e Aliados e a 10 minuti di cammino dal centro storico , ha nelle vicinanze due supermarket (pingo doce e mini markt) , farmacie , panetterie , e ristoranti economici. L'host è stata molto gentile e disponibile a fornire tutte le informazioni su osa vedere e dove mangiare .
Elvira
2016-11-28T00:00:00Z
ประเภทห้อง
บ้าน/อพาร์ทเมนท์ทั้งหลัง
---
ประเภทที่พัก
บ้าน
---
พักได้
6
---
ห้องนอน
ปอร์โต, Porto, โปรตุเกส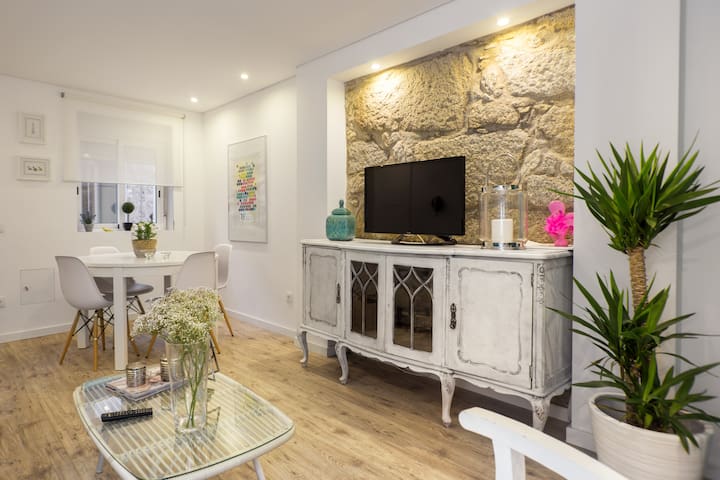 família francesa com 2 crianças, perto da estação de metro e, em uma pequena rua, sem carros, muito calmo dia e noite. wifi no café, que escolheram não ter a tecnologia! mas banheiros secos, cozinha vegetariana, por favor, tire os sapatos em casa e bem-vindo;)
espaço artístico, colourfull, e (nós tentamos) ecológico, muito calma e tranquila, você está no porto, mas também em outro lugar !!!
vivemos em um lugar chamado "ilha" (ilha), estas são pequenas casas construídas no início do século 19' 'para as pessoas que chegam ao porto encontrar trabalho. Ele ainda é um popular e typicall lugar no porto, você tem cerca de 200 ilhas no porto, muito em nosso bairro.
Nous avons apprécié l accueil chaleureux de Valérie et l originalité du lieu. Un véritable voyage dans le voyage. L emplacement proche de la gare campaña est très pratique. Nous y retournerons avec un grand plaisir ! Muriel et Pan
(EMAIL HIDDEN)
2016-10-18T00:00:00Z
The room was what we expected, clean and nice. Good location, very nice people, it was a very good experience.
Cristina
2016-05-27T00:00:00Z
Accueil super chaleureux. Quartier proche du centre ville mais très calme. Je le recommande vivement.
Marina
2016-06-22T00:00:00Z
Vielen Dank Valerie, Marco und euren beiden Kindern für die schöne Zeit, die wir bei euch in Porto verbringen durften. Ihr habt wirklich ein schönes, kreatives Haus und wir haben uns bei euch sehr wohl gefühlt. Danke, dass ihr uns so viele Tipps für Porto gegeben habt, so konnten wir die letzten Tage in Porto wunderbar nutzen!
Lea
2016-06-01T00:00:00Z
La ubicación está muy bien, la habitación corresponde con la descripción y las fotos, la limpieza era correcta. Valerie y Marco han sido unos anfitriones excelentes, simpáticos, amables, y pasar unos días en su casa tranquila y además disfrutar de la ciudad ha sido una gran experiencia. Muchas gracias por todo y hasta pronto.
Clau
2016-10-16T00:00:00Z
Notre séjour chez Valérie, Marco et leurs enfants a été court mais très agréable. La maison est un vrai cocon de verdure, calme avec pour seul bruit le chant de leurs oiseaux. La description sur le site est très fidèle. Le centre ville est accessible facilement à pied (15 minutes environ) ou en métro (station en face de la maison) et rempli de bonnes adresses conseillées par Valérie et Marco. Nous recommandons sans hésiter !
Eugénie
2016-10-02T00:00:00Z
Très bon (court) séjour chez Valérie et Marco, de bons conseils et un accueil au top :)
Sophie
2017-02-04T00:00:00Z
Sympathique séjour chez Valérie et Marco. Nous avons aimé le cadre pittoresque et le grand soin apporté à la décoration des lieux. Chambre confortable et très bien située, à 2 min de la gare + station de métro, 20min du centre-ville. Un petit moins : en séjour pendant un week-end pluvieux et humide, nous avons eu un peu froid dans la chambre (mais sous la couette épaisse, ça va très bien) et sous la douche.
Loanne
2017-03-06T00:00:00Z
ประเภทห้อง
ห้องส่วนตัว
---
ประเภทที่พัก
บ้าน
---
พักได้
2
---
ห้องนอน
ปอร์โต, Porto District, โปรตุเกส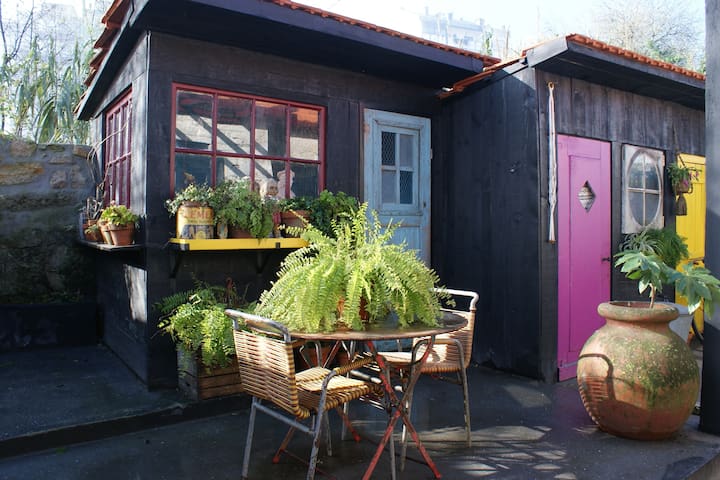 Na Vila Dona Maria poderá usufruir de um espaço onde o velho e o novo se misturam entre detalhes clássicos, modernos e vintage num ambiente acolhedor e bastante familiar que o farão certamente sentir-se como na sua própria casa.
A casa faz parte de uma moradia bifamiliar recentemente renovada. Nela poderá encontrar todas as comodidades necessárias à sua estadia: Na cozinha, poderá utilizar todos os utensílios e electrodomésticos existentes. E caso se tenha esquecido de algo do supermercado, que esteja disponível na casa, faça o favor de utilizar (a posterior reposição ou não desse consumível ficará ao seu critério...esperamos apenas respeito e bom senso quanto a isso). No WC, terá um duche e produtos de higiene à completa disposição (gel de banho, champô, toalhas, secador, etc...esperando-se novamente o mesmo bom senso na utilização dos consumíveis e manuseamento dos utensílios da casa). Encontrará uma TV por cabo apenas no quarto principal. E Internet Wi-fi disponível por todo o interior da casa. No quarto mais pequeno, encontra-se uma cama de solteiro que pode ser aberta e transformada em cama de casal (como demonstrado nas fotos), exclusivamente para as reservas efectuadas para 4 hóspedes. Terá ainda ao seu dispor um calmo e simpático jardim, nele poderá relaxar, desfrutar de um pequeno-almoço ao ar livre, de um lanche ensolarado ou mesmo de um churrasco ao almoço ou final do dia. Caso tenha uma criança pequena, poderá também requerer (sem quaisquer custos adicionais) a colocação de um berço num dos quartos. A partir desse momento,uma pequena banheira para bebé ser-lhe-á igualmente disponibilizada.
A Vila Dona Maria situa-se na zona das Antas, considerada por muitos uma das zonas mais nobres da cidade do Porto. Apesar de nos últimos anos ter ficado conhecida nacional, e internacionalmente, por ser morada principal do F.C. Porto (Estádio das Antas, e actualmente, o Estádio do Dragão), este local cresceu e notabilizou-se por também ter sido (e continuar a ser) morada de inúmeras famílias poderosas e abastadas da cidade. Facto facilmente comprovado pela presença de inúmeros palacetes e outras habitações resplandecentes, distribuídos sobretudo na sua zona mais central. Esta característica aliada ainda a avenidas, alamedas, praças e parques cuidadosamente ajardinados e arborizados, tornam as Antas um local extremamente aprazível para se viver. A rua onde se localiza a casa coloca a uns poucos metros de si: restaurantes, padarias, cafés, supermercados, farmácia, bancos, papelaria e transportes públicos (autocarro, metro e táxis).
Márcio fue muy amable. Nos esperó que llegáramos a la casa, a pesar de ser muy tarde, para entregarnos la llave y nos brindó bastante información sobre la ciudad. La casa es muy cómoda, tiene todo lo necesario para sentirse como en casa y bastante céntrica. 100% recomendable.
Diego
2016-03-31T00:00:00Z
Excellent séjour à Porto dans cette superbe villa. Accueil très chaleureux par Márcio et son amie, dans un français excellent! Márcio saura vous conseiller et vous aider si besoin durant votre voyage. La villa est très bien placée: très bon quartier, métro à proximité, supermarché... Merci Márcio pour ces petites attentions; une parfaite première expérience en airbnb!
Aurélien
2016-09-01T00:00:00Z
Très bon accueil de Marcio et toujours à l écoute. Maison très bien agencé et proche de tous commerces.
Philippe
2016-08-28T00:00:00Z
Très bon séjour chez Marcio .Très accueilllant et très sympatique. Marcio a sut nous conseiller et nous diriger sur les sites à ne pas manquer . Tout est vraiment conforme au descriptif de l'annonce . Près des transports en commun (métro-bus) .Tous commerces à proximité. Et bons petits restos.. A conseiller donc a tout personne désirant découvrir Porto et ses environs . Encore un grand merci à Marcio .
marie
2016-10-22T00:00:00Z
Muy buen anfitrión , muy agradable atento y nos dio hasta un detalle de despedida! La casa estaba muy bien y tenía sitio para el coche además de que estaba cerca del trnasporte público.
Alba
2016-03-26T00:00:00Z
L'accueil à été très agréable, le logement est très fonctionnel et tout s'est vraiment bien passé ! Adresse à recommander fortement !!! Merci
Manu
2016-04-30T00:00:00Z
Semaine très agréable chez Márcio qui n'aurait pas pu faire plus pour nous accueillir - des petits gâteaux à grignoter, des fruits, du thé, du café et des céréales pour le petit déjeuner. ....un super accueil chaleureux ; il nous a même accompagné au métro le jour du départ.
Leonora
2016-08-22T00:00:00Z
Très bon séjour, la maison est spacieuse et chauffe (un plus à Porto ), marcio est très sympa et surtout très arrangeant et réactif aux demande tardive. l accès au métro est à 5 mn je vous recommande
Jerome
2016-03-09T00:00:00Z
ประเภทห้อง
บ้าน/อพาร์ทเมนท์ทั้งหลัง
---
ประเภทที่พัก
บ้าน
---
พักได้
4
---
ห้องนอน
ปอร์โต, Porto, โปรตุเกส
Casa moderna e acolhedora completamente mobiliada. Localizada num típico e seguro bairro da cidade onde pode presenciar a vida e os modos de ser dos habitantes da cidade. Situada no centro da cidade, com transportes a 100mt, é muito perto para percorrer a pé da zona comercial, monumental e mesmo de restauração e diversão noturna.
Localizacao muito boa
Bairro típico muito calmo e vizinhança muito amável
Sergio son cousin nous a accueilli après 40 min d attente mais a été aux petits soins avec nous. Il parle français
Marina
2016-07-20T00:00:00Z
Our travel in porto was very good. Apart is clean, design, and functional. All what you need is inside. Host is nice, and helped us to make comfortable. Even if sometimes there is a little smell of humidity just need to open window and charm stay there. I recommand this appart for next visitors.
Samuel
2016-05-26T00:00:00Z
L'appartement est tout d'abord très bien situé. Il est sympa, lumineux, bien décoré.
Agnès
2016-04-23T00:00:00Z
L'appartement est super et bien placé, fonctionnel et propre. Je recommande pour un sejour à Porto !
Thom
2016-06-22T00:00:00Z
Logement très bien. Proche du centre et du métro. Quartier vivent là journée et calme le soir .
Chloe
2016-03-15T00:00:00Z
Appartement confortable et exactement comme sur les photos. Dans un quartier calme non loin du centre ville. Un accueil chaleureux de Sergio avec qui nous avons bien communiqué. Nous gardons cette adresse en mémoire pour un futur séjour.
Virginie
2016-03-24T00:00:00Z
Very very nice guy (owner cousin) and very warm welcome, showed us the city center. Free parking nearby (100m). Nice old town street with local neighborhood.
Iva
2016-08-18T00:00:00Z
Très très beaux séjours à Porto superbe appartement très bien situé près du centre commerce je vous le recommande
Antoine
2016-09-21T00:00:00Z
ประเภทห้อง
บ้าน/อพาร์ทเมนท์ทั้งหลัง
---
ประเภทที่พัก
บ้าน
---
พักได้
2
---
ห้องนอน
ปอร์โต, Porto, โปรตุเกส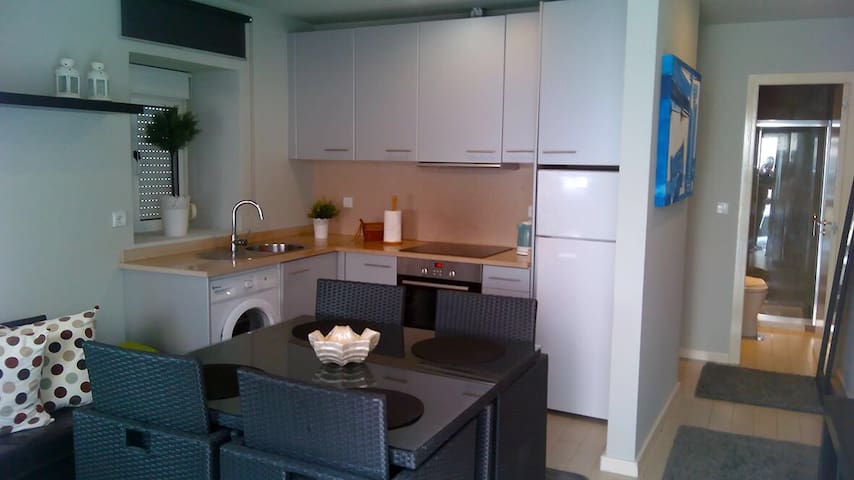 Are you coming to Porto to visit the city and wish to find the right place to relax or meet new people? Check out this beautiful house in the heart of the city and close to 24 de Agosto metro station. You will love this place! Spacious, comfortable and very bright, this charming house features your cosy bedroom - with basic and simple but still very functional facilities - four bathrooms, a nice fully-equipped kitchen, a beautiful living room, a WC and a lovely patio! Don't you love it already?
Pedro foi super atencioso a se colocou sempre à disposição para nos ajudar no que fosse necessário. A localização da casa é ótima sendo possível fazer quase tudo andando. Por ser uma casa de estudantes, é uma oportunidade muito boa pra quem quer conhecer outras pessoas. Recomendaria pra qualquer amigo que fosse pra Porto :)
Hanna
2017-01-14T00:00:00Z
ประเภทห้อง
ห้องส่วนตัว
---
ประเภทที่พัก
บ้าน
---
พักได้
2
---
ห้องนอน
ปอร์โต, Porto, โปรตุเกส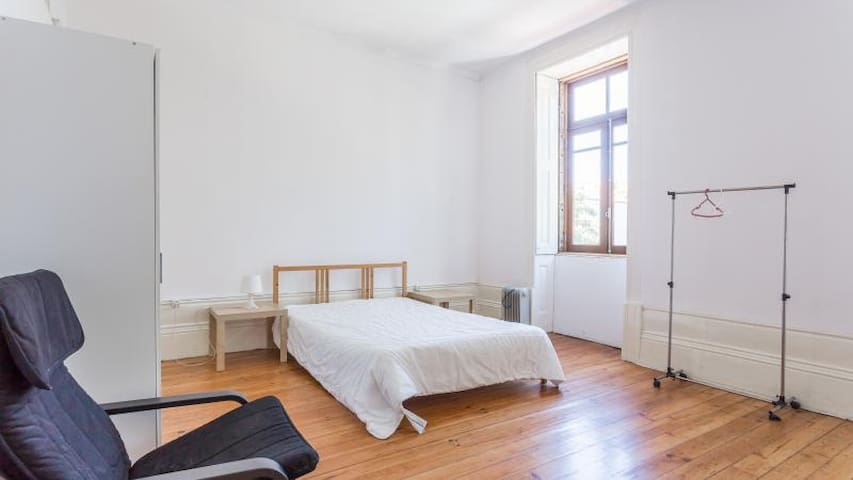 Room with street view. Sleeps 2. Private WC. Central heating. TV. Great location. Within walking distance to Casa da Musica.
Close to Casa da Musica. Three supermarkets. Two shopping centers one dedicated to food and restaurants.
ประเภทห้อง
ห้องส่วนตัว
---
ประเภทที่พัก
บ้าน
---
พักได้
2
---
ห้องนอน
Porto,, Porto District, โปรตุเกส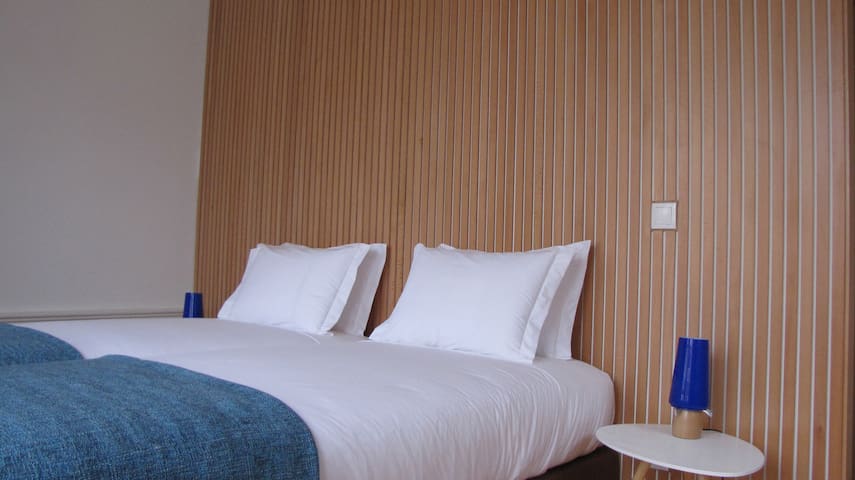 I am sure you will love staying with us as we are completely in the city centre and yet we seem to escape the rowdy noise. We are in the centre of art and culture, parks et al. We are next to Sao Bento station on one of the oldest streets in Porto, it even has its own Wikipedia page! . My place is good for couples, solo adventurers, and business travelers.
Sharon was a great host. The room was lovely and clean. Centrally based apartment minutes walk to best locations. Friendly welcome and good suggestions of local places to visit/eat/drink. Would definitely recommend Sharon's place to stay for a city break in Porto!
Laura
2016-08-16T00:00:00Z
Sharon und die anderen Bewohner waren super freundlich und haben uns Tipps gegeben, was wir uns anschauen sollten und wo man gut essen gehen kann. Sie haben uns ein super Erlebnis in Lissabon ermöglicht.
Alexander
2016-08-27T00:00:00Z
Despite our delayed arrival, Sharon received us with great hospitality. They did a great job renovating the house. It's beautifully decorated and very clean. The house is very centrally located, right next to Sao Bento Station. Therefore all of the city centre can be conveniently explored by foot but naturally the train station is quite noisy. In addition there were construction works going on next door, but Sharon was so nice to offer us earplugs, which wasn't even necessary because we came prepared. The bed is comfortable. All in all we had a great stay in Porto and felt at home at Sharon's place.
Venice
2016-07-22T00:00:00Z
It was very very nice. Thanks Sharon and Crew. I will come back! Sarah
Sarah
2016-09-19T00:00:00Z
We had an absolutely wonderful time staying with Sharon & Howard. They are so lovely and friendly! It is completely central to everything that you would want to do in Porto. The place is super cool as well, definitely recommend staying here!
Jenna
2016-09-25T00:00:00Z
Thanks to sharon and her family we had a wonderful stay in porto!!! The house is really (really really!!!) well located in the city center and looks even better than on the fotos :) She welcomed us in her home and gave as tips for restaurants which was super nice. Porto is a great city and worth for a trip. The communication with sharon and her family was really good, she also helped us with information for the train from porto to lisboa, thank you again!!! We can really recommend staying at her place!
Philip
2016-09-09T00:00:00Z
Sharon is so nice and helpful. The place is nice and confortable, as well. It is a very cosy place in a very good location, near of a lot of interesting places. This is a highly recommended place to stay.
Violeta
2016-09-21T00:00:00Z
Very lovely hosts and lovely apartment and views. Close to the main station (Apparently it's in a unesco world heritage site ) we also enjoyed the the crafted furniture and plants and its even better than the photos :)
Madiha
2016-09-01T00:00:00Z
ประเภทห้อง
ห้องส่วนตัว
---
ประเภทที่พัก
บ้าน
---
พักได้
2
---
ห้องนอน
ปอร์โต, Porto District, โปรตุเกส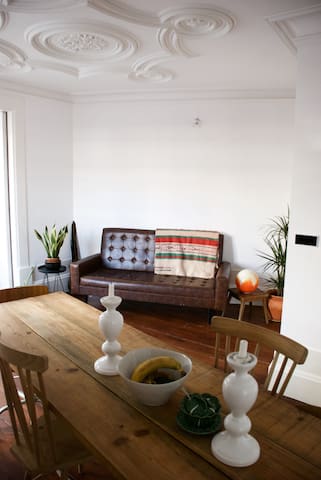 Plenty of windows, a large queen bed and one bunks with two beds each in case you're travelling with your kids or a friend!
It's a three-story high house. It has some lovely and sunny balconies, three bathrooms and one WC, two kitchens and a living room. Plenty of space outside if you want to hang around, read a book or have a bite.
Very peaceful neighbourhood.
Auch wenn wir Maria nicht kennengelernt haben, war es eine super herzliche (und schnelle) Kommunikation, die das selbständige Einchecken ganz problemlos machten. Alles war prima, supersauber; mit Metro ist man schnell im historischen Zentrum von Porto - zu Fuß dauert es ca. 30 Min.
Susanne
2017-03-30T00:00:00Z
The house is fantastic, it has a lot of space and it is very well cleaned. Regarding the room we stayed in, it was very nicely decorated and we felt great there inside. Maria was very helpful in giving the necessary instructions and also showed constant support. All best wishes and see you next time ;)
Rafael
2017-03-23T00:00:00Z
Même si nous n'avons pas rencontré Maria, tout était organisé avec les codes d'accès, un Wi-Fi ultra rapide et une très belle chambre. Top endroit !
Adrien
2017-04-01T00:00:00Z
ประเภทห้อง
ห้องส่วนตัว
---
ประเภทที่พัก
บ้าน
---
พักได้
4
---
ห้องนอน
ปอร์โต, Porto, โปรตุเกส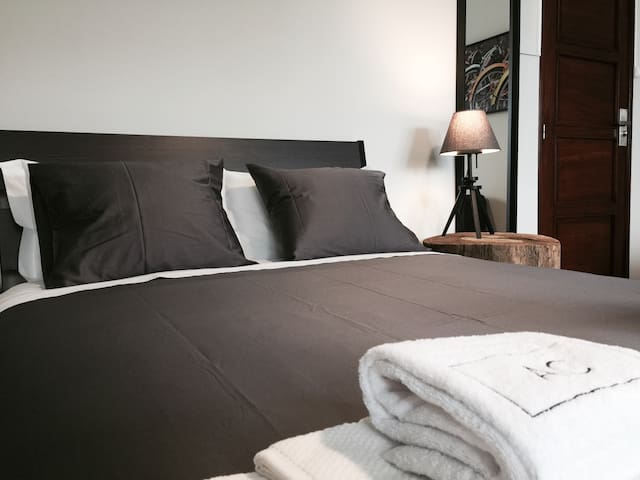 Meu espaço é perto de Taberninha do Manel, GRAHAM'S Port Lodge, The Yeatman Oporto, Croft Port, Tappas Caffé Candal, Offley. Meu espaço é bom para casais, aventuras individuais, viajantes de negócios e famílias (com crianças).
A casa PortusGaya, é uma casa histórica totalmente renovada e nova. Encontra-se em plena zona ribeirinha, junto às Caves de Vinho do Porto e da ponte Luis I. A sua decoração recorre a elementos tradicionais da cidade e do país
Bairro calmo durante a noite e com algum movimento durante o dia pois tem acesso à zona ribeirinha
ประเภทห้อง
บ้าน/อพาร์ทเมนท์ทั้งหลัง
---
ประเภทที่พัก
บ้าน
---
พักได้
5
---
ห้องนอน
Vila Nova de Gaia, Porto, โปรตุเกส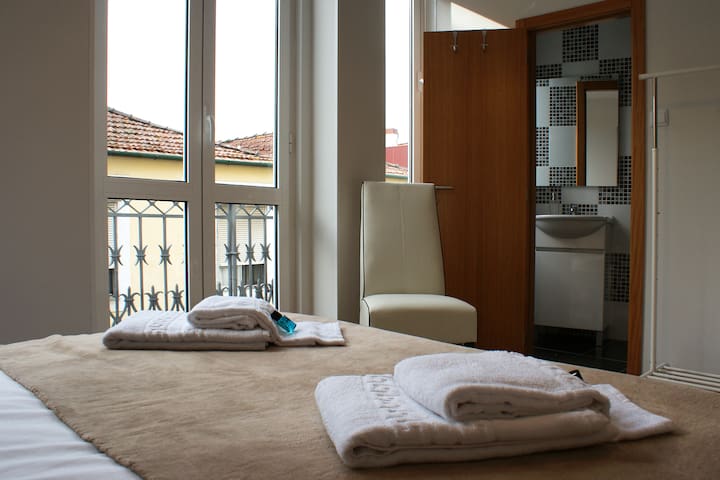 1

–

18

จาก

300+ บ้านให้เช่า
กรอกวันที่เพื่อดูการกำหนดราคาเต็ม มีค่าธรรมเนียมเพิ่มเติม อาจมีภาษีเพิ่ม