In una villa Liberty appena ristrutturata nel centro di Revere mettiamo a disposizione dei nostri ospiti una camera matrimoniale dall'atmosfera shabby chic e una cameretta per bambini arredata con le caratteristiche del metodo Montessori. Il bagno privato presenta un'ampia doccia e vasca idromassaggio. Gli ospiti potranno usufruire di un ampio salotto con televisione e maxi schermo,di uno studio,di un'area relax all'interno della torretta e della sala giochi con tavolo da Ping pong e biliardino.
Include un'ampia piscina, una torretta luminosa, una terrazza a 15 metri di altezza con vista sul palazzo ducale dei Gonzaga del '400. E tutto lo splendore dello stile liberty pienamente valorizzato. Included a wide swimming pool, a bright tower, a 15 meter high terrace with a stunning view on the Gonzaga XV century palace.
La villa si trova in un quartiere tranquillo e silenzioso, a due passi dall'argine del fiume Po, dove è possibile fare bellissime passeggiate ed escursioni in bicicletta.
Lovely house, excellent hosts, comfortable room, great breakfast. We really felt at home. Hugs to Matilda and Francesco
Warren
2017-04-01T00:00:00Z
La villa di Elena è un posto splendido: bellissima, grandissima, nuova e pulita. Entrandoci, siamo rimasti colpiti, perché raramente si ha occasione di vedere case così belle: da catalogo insomma! La nostra camera era ordinata, accogliente e curata, oltre che spaziosa, e lo stesso vale per il bagno: avevamo un angolo tutto nostro, dove soggiornare in completa tranquillità. Elena poi si è dimostrata da subito gentilissima, attenta a tutto e presente per fornire ogni indicazione utile. Durante la vacanza, inoltre, abbiamo avuto il piacere di conoscere i suoi genitori: il papà Ugo, che è una persona davvero accogliente e simpaticissima, e la moglie Franca, gentile e premurosa (ci ha anche preparato un'ottima torta al cioccolato per la colazione). Insomma, gli host ideali nella casa dei sogni! Speriamo un giorno di avere altre occasioni per tornare. Ancora grazie Elena e a tutta la sua famiglia!
Francesca
2017-01-01T00:00:00Z
Our stay at Elenas house was great. It Is a beautiful house and our room and bathroom was also very comfortable. Elena was very kind and a very good host. We Visited some friends, which were fishing. For this it was also the perfect Location. We would definitely recommend Elenas accomodation.
Maximilian
2016-11-26T00:00:00Z
È semplicemente la casa più fantastica che abbiamo mai visto. Gli host sono spettacolari e gentilissimi. un'esperienza da fare assolutamente.
Elisa
2016-10-31T00:00:00Z
ประเภทห้อง
ห้องส่วนตัว
---
ประเภทที่พัก
วิลล่า
---
พักได้
3
---
ห้องนอน
Revere, Lombardia, อิตาลี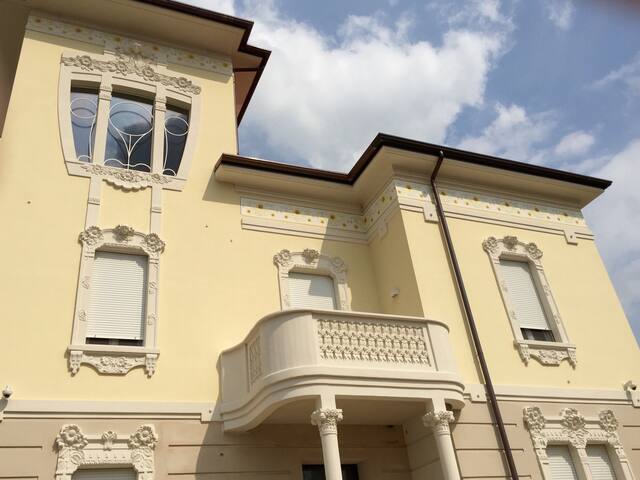 The Ca Angiola is close to the A22 highway entrance. Mantova and Modena are within half an hour by car in less than an hour you arrive at Lake Garda - Verona and Bologna. The family restaurant is close to the house .. I 'accommodation is suitable for couples, business travelers, families (with children), large groups and furry friends (pets). Nearby there is a riding where people who want to go horse riding is possible.
The house is comfortable and cozy. If you stay with us should feel at home, there are many areas in which to move the large kitchen to the living room with a TV and fireplace to the space for reading or board games Given that the house is very large it will be completely available over three guests. If you book two people please ask for the opportunity to have the availability of the entire house.
And 'it situated in a very quiet residential area. In the town center you can find public places such as Bar Restaurant Pizzeria and adjacent to the country's two supermarkets.
We absolutely recommend NOT TO rent this house. You rent it for your own but when you arrive, the owner tells you have to share it for one night and then it will be all for you. It is another lie, since there is always someone living in the house. The last day, you will share it again with the new guests, to whom the owner says the same thing. The wifi does not exist. After a couple of looks to your email and two newspapers, the wifi stops working until the next month, when the capacity is renewed. The owner bullies you by going along wth you everywhere you want to go. She insists until you go to eat at her personal restaurant and pay for at least one meal. It doesn't matter whether you make clear you want to see the village or anything else, she'll go with you although you don't want to. The owner is lying all the time. In our case, we were told that three guests (the ones that rented the house before we did) had asked her to stay one more night and, then, we had to share the house. The next day, they left, but, as I have already mentioned, you will always see at least one man wandering inside the house, controlling you, etc. The last day, you will see new guests and you will hear that the owner is telling them the same lie as we were told: that they have to share the first night because we have asked her to spend one more night. YOU WILL NEVER HAVE THE HOUSE FOR YOUR OWN ALTHOUGH YOU PAY FOR IT IT IS A FRAUD
Víctor
2017-02-27T00:00:00Z
ประเภทห้อง
ห้องส่วนตัว
---
ประเภทที่พัก
วิลล่า
---
พักได้
9
---
ห้องนอน
Moglia, Lombardia, อิตาลี

Villa Syria is the ideal place to spend holidays, isolate themselves, relax, focus, make healthy walks or have a base to visit the nearby cities, Mantua, Verona, Reggio Emilia, Modena, Bologna staying in the countryside. And do seminars and courses.
Villa Syria stems from the desire to transform a private residence in a place opened up, a meeting space of evolving souls. Villa Syria wants to accommodate families, groups of friends and seminars aimed at growth of the individual, upon contact with himself, to conflict resolution and to discover the movements inherent in the universe. Residential or daily. Our house is home to sleep up to 12 people in a family friendly, home-style, in a stay in the middle of the beauty of carefully chosen furniture by passion, a garden that tells the story of a distant time. Visit Villa Syria and find out which offers you exciting encounters on our website (URL HIDDEN)
Villa Syria is in Villarotta, a paesina a few steps from the Po in a quiet and peaceful place, not disturbed only by the hum of insects and tractors to work, the donkey braying close marks the time and green is the dominant color. A flat horizon does enjoy spectacular sunsets and by day the glint of the grain.
Faida è un'ospite favolosa e precisa. Casa molto accogliente, ampia e pulita. Consiglio a tutti.
Stefano
2016-03-14T00:00:00Z
Siamo stati da Fadia per un weekend e ci siamo trovati molto bene. Lei è stata molto carina a darci tutte le informazioni e la casa è comoda e molto grande. Consigliata per piccoli gruppi. Grazie mille di tutto!
Valentina
2016-10-30T00:00:00Z
*English follows* Se volete visitare il Mantovano e apprezzate la quiete e la privacy, o se avete qualche giorno da ammazzare e nessuna meta precisa in mente, casa di Fadia e' il posto pefetto. Fadia e la sua famiglia sono stati ottimi ospiti. La villa in se' e' bellissima: spaziosa, comoda e pulitissima. Sia Fadia che Giacomo sono stati sempre disponibili immediatamente quando avevamo bisogno e la comunicazione e' sempre stata molto cordiale. E' stato un piacere stare da lei, la mia famiglia e' rimasta soddisfattissima e tornera' sicuramente talora ci si dovesse trovare ancora nei dintorni. Me and my family absolutely adored staying in Fadia's villa. The property is absolutely huge and thanks to her family's warm welcome and the way it's laid out and furnished it immediately feels homey and comfortable. The place was spotless clean, tastefully and rustically decorated and someone was always immediately on hand when we needed something. Whether you want to explore rural Italy while still being within a short drive from Mantova and all its cultural riches or simply have a few days to kill and want to spend them somewhere comfortable and private, I couldn't recommend Fadia's place enough!
Yan
2016-04-26T00:00:00Z
Fadia was very helpful and a great host. The house was clean and spacious and very comfortable. I highly recommend this listing!
Anthony
2016-03-23T00:00:00Z
Fantastico Host e fantastica abitazione
Daniele
2017-02-04T00:00:00Z
Bellissima casa e posto in mezzo alla campagna emiliana.. Il fratello di Fadia e super disponibile e di ottimi consigli.. Grazie.. Bella esperienza troppo breve
Elisabeth
2015-09-21T00:00:00Z
Siamo stati ospiti in questa bellissima casa io e i miei parenti x la comunicazione di mio figlio, fadia e sua mamma due persone speciali nonostante la grandezza della casa ci siamo sentiti tutti accolti eravamo 11 persone in più c'era un'altra ospite di nome Fabrizia persona molto a modo e carina . Questa casa è super attrezzata con tantissime comodità e con rifiniture di pregio, per tutti noi è stata la prima esperienza ma grazie a fadia e la sua casa in futuro utilizzerò ancora questo sito ,mi è dispiaciuto lasciare quella casa sono stati giorni fantastici grazie di tutto
Raffaele
2016-05-10T00:00:00Z
We didn't actually meet Fadia in person but her mum was there to welcome us and very friendly. She didn't speak much English but with hand gestures and our basic understanding of Italian everything was soon made clear. The house was basically as described on the website. There were a few rooms which were locked but otherwise we had access to the whole house. Due to the time of year, the garden was a little unkempt but I guess we went before the first cut of the grass. It was however completely enclosed so the children were safe to play. The village itself is quite small but the towns of Mantova, Cremona, Modina, Parma and lake Garda are all within an hours' drive.
Ben and Kate
2016-04-01T00:00:00Z
ประเภทห้อง
บ้าน/อพาร์ทเมนท์ทั้งหลัง
---
ประเภทที่พัก
วิลล่า
---
พักได้
14
---
ห้องนอน
Villarotta, Emilia-Romagna, อิตาลี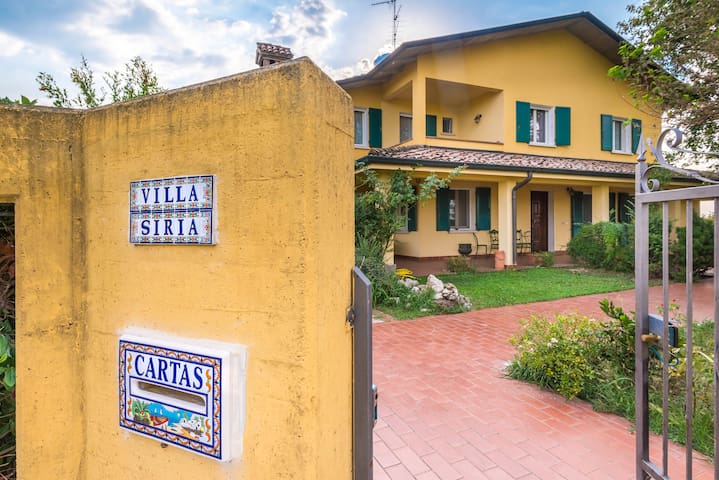 Abitazione indipendente confortevole e spaziosa, ottimamente illuminata, con ampio giardino, terrazze e porticato. Possibilità di soggiornare in ampio monolocale ottimamente attrezzato e indipendente (vedi foto). In concomitanza di eventi maggiorazione prezzo del 30%.
la villa è situata in un paese in zona residenziale e tranquilla a circa 7 km dalla città.
ประเภทห้อง
บ้าน/อพาร์ทเมนท์ทั้งหลัง
---
ประเภทที่พัก
วิลล่า
---
พักได้
1
---
ห้องนอน
Sant'Antonio, Lombardia, อิตาลี
My accommodation is close to art and culture, beautiful views and parks. You will like my accommodation for these reasons: the views, the atmosphere and outer space. My accommodation is suitable for couples, lone adventurers, business travelers and large groups. Syria Villa is the ideal place to spend holidays, isolate, relax, focus, make healthy walks or have a base to visit nearby cities, Mantua, Verona, Reggio Emilia, Modena, Bologna staying in the countryside.
Villa Syria stems from the desire to transform a private residence for a holiday open place, a meeting space of souls on the road. Villa Syria wants to accommodate families, groups of friends. Our house can sleep up to 14 people in 6 rooms in a family dimension, home-style, in a residence in the middle of beauty furniture carefully chosen by passion, a garden that tells the story of a distant time. Visit Villa Syria and find out which offers exciting encounters on our site Villa Syria
Villa Syria is in Villarotta, a paesina a few steps from the Po in a quiet and peaceful place, not disturbed only by the hum of insects and tractors to work, the donkey braying close marks the time and green is the dominant color. A flat horizon does enjoy spectacular sunsets and by day the glint of wheat.
Everything all good. Wifi is very slow but part from that everything okay. I went from there to Maranello perfect place to visit is from villarotta
Joost
2016-09-23T00:00:00Z
ประเภทห้อง
ห้องส่วนตัว
---
ประเภทที่พัก
วิลล่า
---
พักได้
1
---
ห้องนอน
Villarotta, Emilia-Romagna, อิตาลี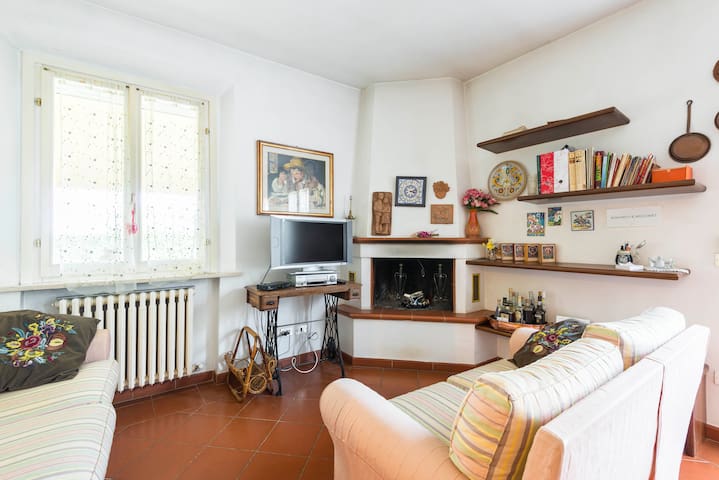 L'ospitalità è offerta in una villa nella campagna mantovana: grande giardino, piscina esterna, posto macchina, aria condizionata e riscaldamento. Le stanze disponibili sono 3: dotate di bagno privato con finestra (una con vasca da bagno), riscaldamento ed aria condizionata. Disponibili una culla e un lettino. Cucina autonoma. Possibilità di fare colazione in casa o nei bar convenzionati del paese. Posto macchina interno alla magione. L'alloggio è adatto a tutti i tipi di viaggiatori
Oltre ai 3 posti letto totali sono' disponibili: - una culla da neonato; - un lettino da bambino fino ai 4 anni - un divano letto in stanza autonoma - 4 posti letto nella roulotte di lusso marca Hobby posizionata in giardino e dotata di cucina, bagno, riscaldamento ed aria condizionata
Camilla e i suoi genitori sono stati gentilissimi e super disponibili in ogni momento permettendoci di arrivare e partire agli orari più comodi per noi. Il soggiorno è stato piacevolissimo, le camere sono accoglienti in un edificio meraviglioso ottenuto ristrutturando una cascina tipica della zona. Abbiamo passato un weekend splendido e divertente accompagnato dai racconti della famiglia di Camilla, super consigliato!
Giovanni
2016-09-05T00:00:00Z
ประเภทห้อง
ห้องส่วนตัว
---
ประเภทที่พัก
วิลล่า
---
พักได้
6
---
ห้องนอน
Quistello, Lombardia, อิตาลี
Villa Siria è il posto ideale per passare vacanze, isolarsi, rilassarsi, concentrarsi, fare passeggiate salutari o avere base per visitare le città vicine, Mantova, Verona, Reggio Emilia, Modena, Bologna stando nel verde.
Villa Siria nasce dal desiderio di trasformare una residenza privata in un luogo di vacanza aperto, uno spazio di incontro di anime in viaggio. Villa Siria vuole ospitare famiglie, gruppi di amici. La nostra casa ospita a dormire fino a 14 persone in 6 stanze in una dimensione familiare, casereccia, in una permanenza in mezzo alla bellezza di mobili scelti con cura dalla passione, un giardino che racconta la storia di un tempo lontano. Visita Villa Siria e scopri quali emozionanti incontri ti offre sul nostro sito Villa Siria
Villa Siria è a Villarotta, un paesina a due passi dal Po in un luogo quieto e pacifico, non disturbato che dal ronzio di insetti e trattori al lavoro, il raglio dell'asino vicino scandisce il tempo e il verde è il colore dominante. Un piatto orizzonte fa godere lo spettacolo del tramonto e di giorno il luccichio del grano.
Mi sono trovata bene! Fadia è disponibilissima e presente! Grazie per tutto!!
Egizia
2016-09-25T00:00:00Z
ottima accoglienza, grande disponibilità, un bel posto tranquillo
Manuel
2016-07-20T00:00:00Z
ประเภทห้อง
ห้องส่วนตัว
---
ประเภทที่พัก
วิลล่า
---
พักได้
3
---
ห้องนอน
Villarotta, Emilia-Romagna, อิตาลี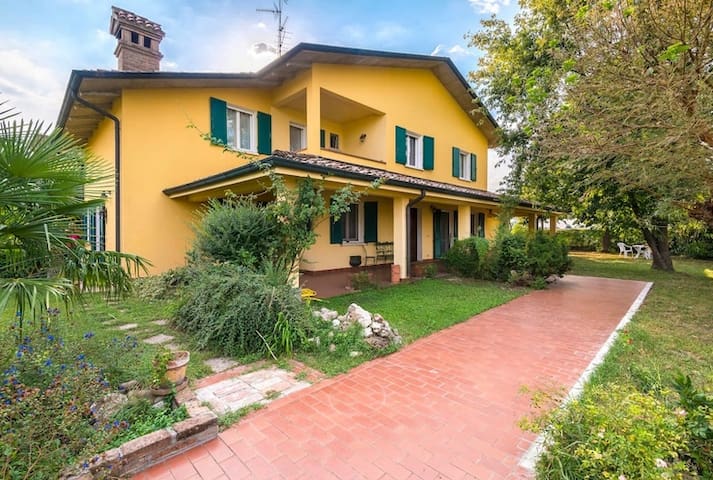 Ciao! Siamo Samuele ed Elisa, abbiamo una bella casa in bio-ediliza in piena campagna, con un grande giardino e e tutti i comfort necessari. Siamo vicinissimi alla Eurovelo8 (siamo anche noi appassionati di due ruote!).
Siamo attrezzati per i ciclisti, abbiamo un garage dove tenere le bici. La colazione è inclusa nel nostro prezzo, ma siamo anche attrezzati per prepararvi da cena se vi fa piacere.
La casa sorge in piena campagna, all'interno di una zona di ripopopolamento faunistico, lontano dalla confusione e dal traffico, poco più di un chilometro dalla Eurovelo8 e dal fiume Po.
It was an excellent and pleasant stay at Samuele and Elisa's house in the countryside. Samuele is a very friendly and warm man and I immediately felt like being at home in their family. They invited me for dinner which was outstanding and opulent, let me try various wines, Parmigiano cheese along with a very concentrated balsamico tasting like honey. The best balsamico I have ever tried. Their dog, Lisca, is a well-mannered, well-tempered and quiet fellow. It was nice to have him by my side and stroke him. Samuele is very knowledgeable about all kinds of things and if you plan to stay there for some days he can tell you a lot of useful and interesting things about the landscape, about wine, olive oil, cheese and things to see in the region. Whenever I will be around Parma I will go to stay with him and his family.
Juergen
2016-05-19T00:00:00Z
Samuele è stato gentilissimo e disponibile. La sistemazione è stata confortevole ed il luogo è tranquillo. Colazione sana e molto buona
Alessandro
2016-08-25T00:00:00Z
Accueil remarquable de par la gentillesse des hôtes ,de leur disponibilité , des prestations ,nous avons mangé avec eux (excellents cuisiniers ) nous avons été reçu comme chez des amis. Les prestations sont remarquables (repas,petit déjeuner,convivialité , etc ) à recommander.
serge
2016-08-24T00:00:00Z
Esperienza assolutamente positiva accoglienza tipica romagnola, eccellente, casa pulita rapporto qualità prezzo eccellente
Giulio
2016-05-30T00:00:00Z
Grande disponibilità e cortesia. Un ambiente amichevole e curato. Ottima colazione. E molte utili informazioni per visitare i dintorni.
Alfio
2016-11-27T00:00:00Z
This bnb is the perfect spot from which to visit Don Camillo's 'little town in the Po valley', or for anyone just wishing to have a peaceful and quiet break. It is also within a reasonable distance of Parma and Mantova, historical, and underrated towns well worth a visit. The hosts, Samuele and Elisa, are lovely people who make you feel very welcome. The house is modern, immaculately clean, and the bnb guest has their own personal bathroom with modern shower, and a cool and airy bedroom. Nothing is too much trouble for the guest's comfort. I would definitely stay there again
June
2016-06-17T00:00:00Z
Veramente un B & B speciale, ecomomico ma molto curato. Samuele e il host perfetto, un ottimo cuoco, e molto simpatico. Non mancava nulla dal reception alla partenza. Assolutamente consigliato a chi piace la natura - la casa e circondata da campagna con lepre, ucelli e faggiani. Un oasi di pace nel mondo caotico!
Paul
2017-03-03T00:00:00Z
Samuele ed Elisa sono due persone splendide, molto premurose e simpaticissime. La loro casa è deliziosa, immersa in una quiete che regala scorci campestri di impagabile bellezza. Mi hanno accolta calorosamente sin da subito, facendomi sentire come a casa mia. La mia è stata un'esperienza assolutamente meravigliosa.
Raffaella
2016-09-11T00:00:00Z
ประเภทห้อง
ห้องส่วนตัว
---
ประเภทที่พัก
วิลล่า
---
พักได้
6
---
ห้องนอน
Gualtieri, Emilia-Romagna, อิตาลี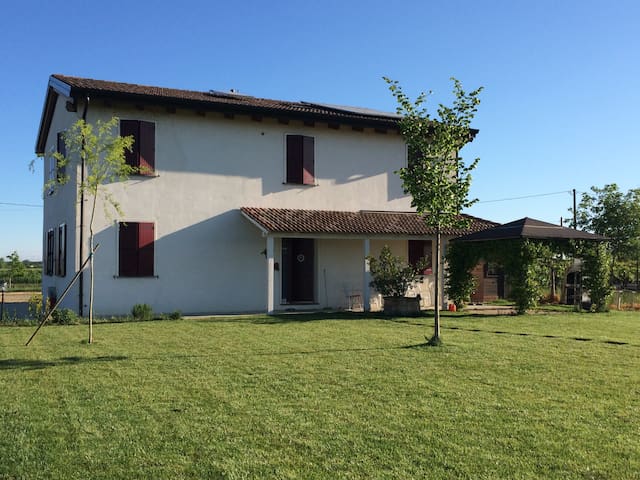 Appartamento ubicato in una bella casa attorniata dal verde,con una bellissima piscina , a due passi dal centro storico di Volta Mantovana (MN).Per gli amanti del tennis nelle immediate vicinanze un campo dove poter giocare su prenotazione e per gli amanti della bicicletta a pochi metri dalla casa si trova l'ingresso della pista ciclabile Mantova -Peschiera. La casa è situata a 25 km da Mantova circa 40 km da Verona ,15km da Peschiera del Garda, e 20km da Gardaland.
Volta Mantovana è un bellissimo borgo ubicato nelle colline Moreniche dove è possibile passeggiare e raggiungere scorci caratteristici.Nelle immediate vicinanze della casa si possono trovare ottimi ristoranti e a pochi km numerose prestigiose cantine di vini
We had a very nice stay. The owner took very good care of us!!
Lies
2016-07-23T00:00:00Z
Fantastique !!! Séjour de rêve. Super accueil, maison de rêve avec toutes les commodités. Les hôtes sont d une gentillesse et d une incroyable disponibilité. Beau petit village avec son marché typique. Belle situation mais voiture nécessaire. Tout a été parfait!! Nous reviendrons certainement bien vite. Merci à Eleonora et Maurizio pour cet agréable séjour et à très vite.
dominique
2016-08-14T00:00:00Z
Très bon accueil. Quartier calme. Logement propre.
Yves
2016-06-08T00:00:00Z
Vacanza 4 giorni con 3 bambini. Appartamento spazioso ben arredato con splendida piscina. Eleonora gentilissima, ci ha accolto benissimo. Bravissimi continuate così. Consiglierei a chiunque un soggiorno qui.
Sandro
2016-08-26T00:00:00Z
Tutto perfetto! Ho soggiornato 4 notti e mi sono trovata molto bene. Proprietari gentilissimi e disponibili. Appartamento bello, pulito, con tutto il necessario. Lo consiglio vivamente!
Valentina
2017-02-27T00:00:00Z
Très bon accueil avec de la souplesse sur les horaires de départ/arrivée. Appartement neuf, spacieux et très bien équipé, très bonne qualité de la literie neuve comme tout l'équipement. Grande piscine sans vis-à-vis. Supermarché à 500 m et producteurs locaux. Volta Mantovana est très jolie et bien située avec Vérone, Mantoue, le lac de Garde dans un rayon de 30 km environ, au cœur du 'parco del Mincio' à découvrir en vélo pour toute la famille. Seul inconvénient : la rue est très passante et on entend les voitures.
Laure
2016-04-20T00:00:00Z
We had a pleasant stay and we recommend this place - no complaints at all.
Hannu
2016-07-03T00:00:00Z
Eleonara was a great host. She was very warm and made us feel extremely welcome and at home. The place is great with a lot of character and charm - the location is very convenient esp. if you like cycling. The garden is beautiful with many little places to sit and enjoy - Overall it was a great experience!
Robert Paul
2016-08-21T00:00:00Z
ประเภทห้อง
บ้าน/อพาร์ทเมนท์ทั้งหลัง
---
ประเภทที่พัก
วิลล่า
---
พักได้
6
---
ห้องนอน
Volta Mantovana, mantova, อิตาลี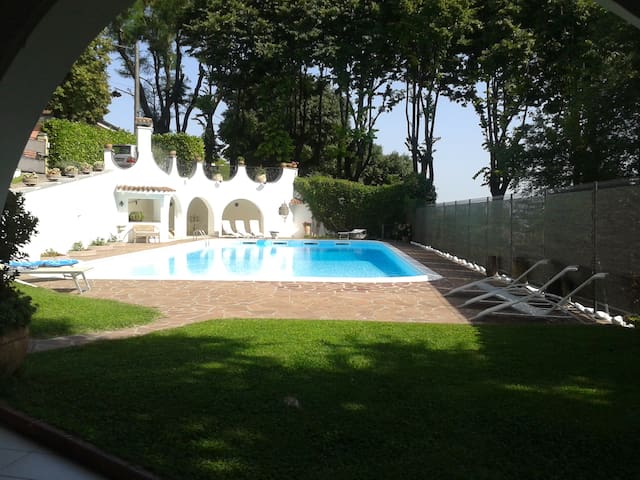 Tre camere matrimoniali disponibili in una lussuosa villa a due piani. Confortevole comodo e silenzioso, é l'alloggio perfetto per un finesettimana di relax. Parcheggio privato e ampio giardino da poter usare specialmente in estate. La villa é situata in una posizione strategica, nelle Valli Grandi Veronesi, a 2 passi dalla statale SS434 (uscita villabartolomea) e dal fiume Adige, ti permette di raggiungere facilmente Verona, Vicenza, Padova, Venezia, Rovigo, Ferrara, Modena e Mantova.
ประเภทห้อง
ห้องส่วนตัว
---
ประเภทที่พัก
วิลล่า
---
พักได้
6
---
ห้องนอน
Villa Bartolomea, Veneto, อิตาลี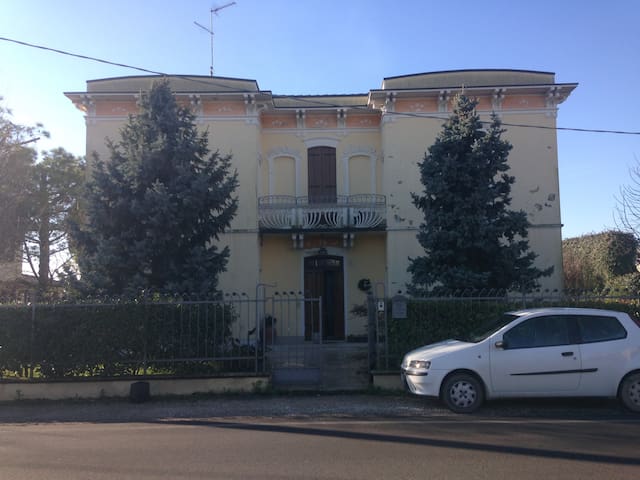 La suggestiva villa si trova vicino all'Arena e al balcone di Giulietta. Vi accoglie per una fantastica vacanza all'insegna del relax e delle visite per verona e dintorni! Curato giardino e altri comfort
Мы уже во второй раз здесь и очень довольны гостеприимством хозяев. Они деликатны и очень любезны. Прекрасное место
Gurevich
2016-08-30T00:00:00Z
Nous avons beaucoup apprécié notre séjour dans la maison de Marchesino. La maison est très bien équipée et très agréable. La piscine est superbe et très grande. La propriétaire est très réactive. Le seul bémol concerne le bruit de la route attenante à la maison mais c'est un élément qu'on oublie face à la qualité de la maison. Nous reviendrons sans hésitation dans cette maison.
Lisa
2016-08-07T00:00:00Z
We loved Camilla's house in Marchesino! It was located near enough Verona and the freeways to be comfortable for travelling and sightseeing but it was isolated enough to give us the feel of relaxation if we needed it. The pool and the house itself were spatious and well maintained and for our party of six very comfortable. The only real downside to the amazing grounds was the noise from the adjacent heavily trafficked road. Otherwise the house was perfect for a holiday in Veneto!
Kimmo
2016-07-02T00:00:00Z
We had a wonderfull vacation in Marcesino. All was according the info that we read on the airbnb website, correctly and comfort.
Gurevich
2015-08-25T00:00:00Z
ประเภทห้อง
บ้าน/อพาร์ทเมนท์ทั้งหลัง
---
ประเภทที่พัก
วิลล่า
---
พักได้
8
---
ห้องนอน
Marchesino, Veneto, อิตาลี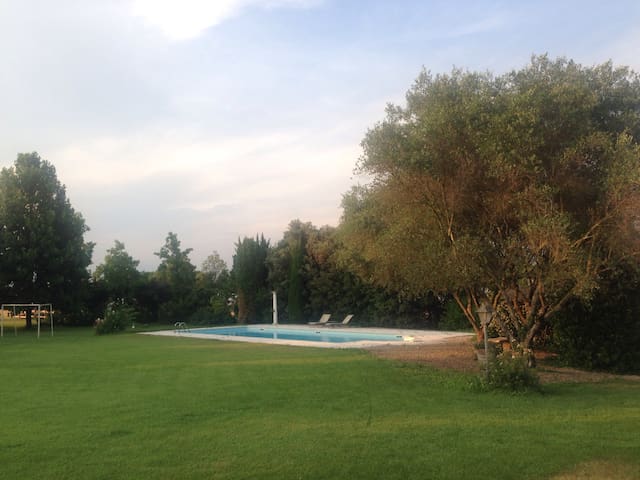 Great Villa with large garden just a few steps from the lake, with private parking, four bedrooms all with private bathroom, kitchen, living and dining room and magnificent porch where you can eat, chat and spend evenings with friends. Restored less than a year ago, turned into a bed and breakfast but for those who wish can also rent it to a whole more competitive price, especially for stays of a week, there are bicycles available to better places and visit our reach our beautiful beaches. A 5-minute walk from the center of Portese village of San Felice del Benaco where our casai you can find a bakery, a general store, two bars, a hairdresser, piadineria, pizzeria, restaurant with grilled lake fish and meat . The port of Portese is easily reached in 15 minutes' walk away and there you will find a beautiful beach with restaurant / pizzeria and ferries for a wonderful tour of the lake and to visit Garda Island. And 'the ideal home for a group of friends who want to divide expenditure or for two families. You can easily reach Verona, Sirmione, Venice, (less than two hours by train). We're two km from Salò, a delightful town full of life and also in Desenzano del Garda, another city with many things to do. Our house is really in a great place because it is in a quiet area but from which you can easily reach everything you want. Try it to believe! No guest has ever complained!
The reservation was canceled 88 days before arrival. This is an automated posting.
Stig
2015-04-14T00:00:00Z
ประเภทห้อง
บ้าน/อพาร์ทเมนท์ทั้งหลัง
---
ประเภทที่พัก
วิลล่า
---
พักได้
10
---
ห้องนอน
San Felice del Benaco, Lombardy, อิตาลี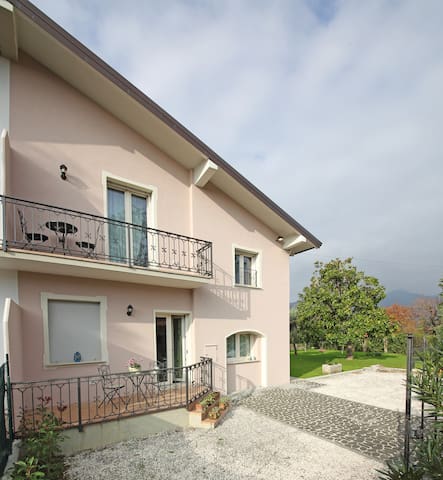 Abbiamo il piacere di condividere la nostra bellissima casa a chi ama il relax con 2 camere e bagno serviamo la colazione siamo vicini al centro citta 5 km aeroporto 2 km fiera 3 km nel periodo estivo si puo usufruire della piscina e su richiesta possiamo prepararvi la cena
Detached villa in a quiet family environment of the countryside. 5 km city center 2 km Airport 15km Lake Garda 3 km from Verona fair
Maria e Stefano sono due persone delicate che sanno farti sentire a casa, gentili e premurosi! Siamo stati molto bene!
Alessia
2017-04-09T00:00:00Z
Niente dato al caso, abbiamo soggiornato per 3 giorni e ci siamo sentiti come a casa nostra. La casa è curata nei minimi dettagli, pulitissima e Maria serve una colazione eccellente. Al prossimo vinitaly torneremo.
Nicola
2016-04-13T00:00:00Z
ประเภทห้อง
ห้องส่วนตัว
---
ประเภทที่พัก
วิลล่า
---
พักได้
4
---
ห้องนอน
Alpo, Veneto, อิตาลี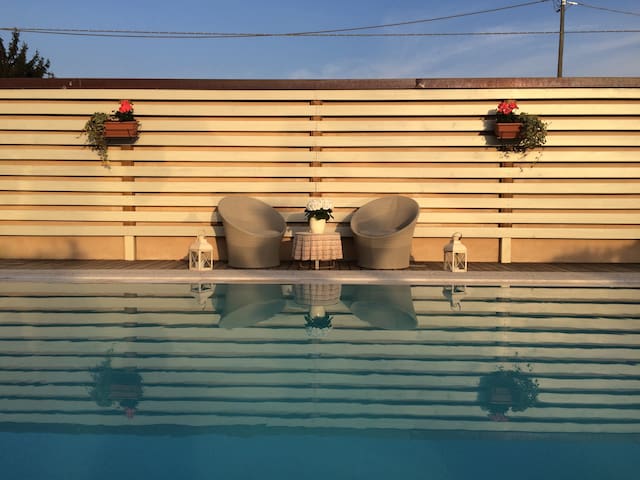 Villa with a very large park with a pond . very large swimming pool, A half hour from Verona, Venice,Bologna. In a relaxing where there is only privacy . Every comfort in a spectacular A charming villa made available to tourists for the first time.
Located in the center of the Veneto plain, framed by a hedge that surrounds the entire perimeter of the villa and its park, the "Belle Epoque" is a manor house recently renovated with excellent finishing of 600 square meters and a 18,000 square meter park, swimming pool, pond, outbuilding and garages. It was born the smallest detail of the artistic personality of Luca Residori, the owner, who has used until now as a second home. The whole area of the "Belle Epoque" is suitable for every need. It is flat in totally isolated situation. The villa is located on one floor and has been customized every aspect, including with the aid of names for each room. The villa is divided as follows: kitchen in solid walnut wood with black marble floor with long crystal table large basement with fireplace and exposed wood-burning oven for pizza Bath service Salon: the first part is furnished with modern style, colored sofa, abstract paintings from sud.america, tv, glass table, fireplace in Venetian plaster, which divides the "modern" area with the most "classical", in yellow leather corner sofa typical 800 paintings, gramophone, old trumpet, glass coffee table with capital in view, antique dresser first bedroom "Paris": the predominant color is yellow which accompanies not only the walls, but also the bed and armchairs; The sleeping area is divided from the wardrobe area with a beam ceilings and a brick wall view, the style is that of Paris of the French Revolution, gorgeous, classy, elegant second bedroom "Versailles": wrought iron bed, large wardrobe cream third bedroom "Venice": all the rooms are in Venetian style, with soft and elegant, all framed by white, white the bed, the dresser, the closet; This room has its own entrance and has a bath with shower all blue large bathroom with Greek pink and antique wooden furniture with sunken bath and shower room used as a gym with mirrors and in all the walls wellness area with hot tub "teuco" for 4 people laundry 18000 square meter park with trees centenaries drums, such as willows, maples, poplars, Sequoias. porch with a glass table and benches in white marble pool depth 2:50 long 15 m wide 6 pond with fountains and varied vegetation (lotus flowers) 2 large garages dependance with ample room with fireplace, double sofa, table, chairs, bathroom with shower central fountain long gravel path The villa has been decorated by a renowned team of Ferrara in charge of the renovation of frescoes. It is easily accessible. The street is located between Verona Ferrara Rovigo Padua precisely GIACCIANO WITH BARUCHELLA ROVIGO. At 30 minutes from PIAZZA BRA' VERONA At 25 minutes from the sea LIDI FERRARESI At 45 minutes from GARDA A 30 minutes from the center PADUA In open countryside, but only 1 km there is the largest shopping center of the low-Verona. THE LIGHTHOUSE with shops and supermarkets. At 20 minutes from Ferrara, At 25 minutes from the center of Verona At 20 minutes from Padua.
Country village equipped with cutting-edge bars and restaurants mall
Wspaniała willa z klimatem lat 30, duża i przestronna, wyposażona i urządzona ze smakiem, dająca mnóstwo prywatności, ciszy i spokoju. Bardzo piękny ogromny ogród, duży i czysty basen. Opieka podczas pobytu była znakomita - gospodarz i jego przyjaciele na miejscu dokładali wszelkich starań aby pobyt był bardzo przyjemny. Okolica bardzo spokojna, kilka wspaniałych włoskich restauracji na śniadanie, obiad czy kolację. Miasteczko ma wspaniałą atmosferę, ludzie są bardzo pomocni i serdeczni. Gorąco rekomendujemy pobyt dla każdej dużej rodziny lub dwóch rodzin, szukających relaksu i wypoczynku we Włoszech.
Bartłomiej
2016-07-24T00:00:00Z
Witam! Super miejsce na zrelaksowanie. Fajnie położone miejsce oddalone od ludzi, cisza, spokój piękne miejsce które ma niesamowity urok. Dom jest przepiękny bardzo duża przestrzeń, wiec jak sie jedzie z większą ekipą nie odczuwa się tego. Bardzi polecamy wczasy u Luka. Ja osobiście jeszcze bym tam powróciła:)
Anna
2016-08-15T00:00:00Z
We really enjoyed the honor of being the first international visitors at Luca's beautiful house in the Veneto countryside. It is a large romantically decorated house set on large grounds with beautiful landscaping and a great swimming pool. Our group consisted of two families of four people, or four children in total of the ages 0-11 years old. The house suited us quite well, there are three bedrooms in the house, one quite large with capacity for extra beds. There is also a fourth bedroom or studio in a separate house by the garage which we did not need to use. The house is extensive but as we enjoyed beautiful weather we spent most of our time outside, either in the swimming pool or on the patio where we had most of our meal on the large outside dining table. The children loved running around the grounds, exploring the pond and the trees and we enjoyed excellent privacy. The house was clean and well equipped and the air conditioning in the bedrooms worked well and was much appreciated. The area is excellent for having a calm countryside vacation, with the convenience of a large grocery store close by. It would also be an excellent base for exploring Italy with many of Italy's most beautiful cities located within driving distance. Saving the best for last the warm welcome of Luca and his support staff, Elena and Georgio, deserves special mention. All of those who received us were incredibly kind and willing to go above and beyond in helping us out with any issue, big or small. They gave clear instructions on all matters and all communication was answered promptly.
Bergþóra
2016-06-26T00:00:00Z
Belle et grande Villa, très bien pour deux familles. Le jardin, les espaces exterieurs et la piscine sont particulièrement agréables. Maison très bien entretenue, piscine régulièrement nettoyée durant nos deux semaines de presence et en toute discrétion. Très bon accueil de Luca, sympathique et prévenant.
Jean-louis
2016-08-07T00:00:00Z
Une semaine de pur bonheur entre amis! L'accueil de Luca (qui parle très bien français), Georgio et Helena a été très chaleureux. Luca a pris le temps de nous présenter l'ensemble de la villa et de nous expliquer tout ce dont nous avions besoin pour passer une agréable semaine dans la villa. Durant notre séjour Luca a toujours été très disponible pour nous renseigner sur les endroits et restaurants où se rendre dans la région. La villa « La Belle Epoque » est très spacieuse, propre et équipée de tout ce dont nous avions besoin (cuisine full équipée, lecteur DVD, salle à manger intérieure pour les soirées plus fraîches, musique disponible dans l'ensemble de la maison et même à l'extérieur !...). La situation de la villa est centrale par rapport aux différentes grandes villes de la région (Padoue, Vérone, Ferrara, Venise, Sirmione,…). Il faut toutefois compter environ 1h de trajet pour la plupart, une voiture est donc indispensable. Par contre, de très chouettes restaurants et un grand centre commercial se situent à deux pas de la villa ! Le parc qui entoure la villa est un petit coin de paradis avec sa grande piscine (ensoleillée toute la journée), son coin lecture, sa terrasse couverte, sa tranquillité, son bel étang, l'éclairage et l'arrosage automatique, l'entretien de la piscine réalisé en toute discrétion par Georgio 2-3 fois par semaine et en cas de vents forts ! Grazie mille Luca pour ta sympathie !! On ne pouvait pas espérer mieux pour notre séjour en Vénétie qui restera, pour nous tous, inoubliable. A bientôt ! La bande à Roberto :)
Pauline
2016-09-09T00:00:00Z
La Belle Époque Just a great name to a great house! This house has everything you need. Pool, nice garden, big kitchen, garage... even gym or tavern. With the huge and nice garden, it is perfect for family vacations. It is suitable for 8 person, but because of the big room (inside and outside as well) I felt that all my friends could have stay with us so we can enjoy the atmosphere together in the same time. The host is nice and you can feel, that he really wants for you to have a nice time at his residence. Thank you once again for letting us enjoy your house. It was a really big pleasure. We all wish you to have great experiences and memories by joining Airbnb. We hope to come back next year.
Kornél
2016-08-08T00:00:00Z
Luca nous a tres bien accueilli, il nous a montré la maison et surtout nous a renseigné sur les sites à voir et les moyens d'y parvenir. Giorgio est venu discretement s'occuper de l'entretien de la piscine en prenant soin de nous prevenir. La maison est idéalement placée pour visiter la Vénétie : 3/4 d'heure de Verone, de Padoux, 1h30 de Venise et des longues plages de Lido di Spina. Sur place tous le comfort : grande piscine, transats, terrain de volley, salle de sports, et centre commercial à proximité. Luca aime la France. Les chambres sont denommées par des villes françaises et très bien decorées et bien equipées. Les salles de bains sont tres bien aussi. La cuisine est tres fonctionnelle et bien equipée aussi. Les literies sont tres bien aussi. Bref une tres belle location, de très belles vacances. Merci beaucoup Luca Giorgio et Elena.
Julien
2016-08-26T00:00:00Z
ประเภทห้อง
บ้าน/อพาร์ทเมนท์ทั้งหลัง
---
ประเภทที่พัก
วิลล่า
---
พักได้
12
---
ห้องนอน
Baruchella, Veneto, อิตาลี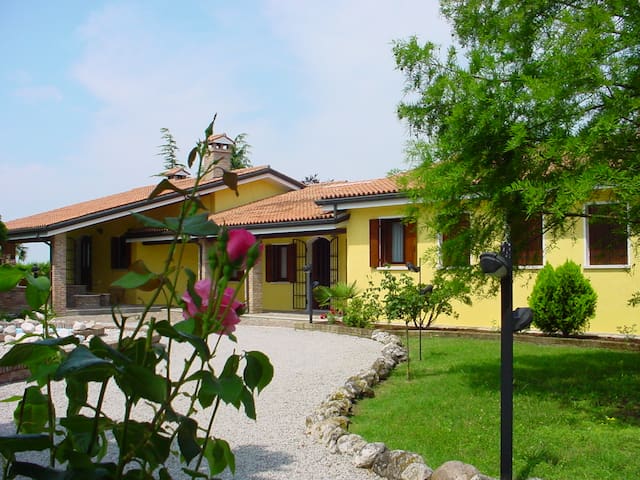 Stanza in stile barocco immersa in una struttura fiabesca
Alloggio studiato ed ideato in stile Gonzaghesco. Ricchi arredi e decorazioni immersi in un oasi di verde.
Sara was a wonderful host, and the villa is absolutely beautiful, as was our room in it! When our GPS gave us trouble finding the B&B, Sara kindly drove to where we were (which turned out actually to be very close) to help us get there. She also provided a delicious breakfast—including sbrisolona cake, a local specialty—and even sent us home with leftovers. Our room was comfortable and spacious, the large canopy bed comfortable and—perhaps best of all—there were screens on the windows, so we enjoyed waking up to the fresh air instead of using the air conditioning. The villa is beautifully situated on a tree-ringed, grassy hill just outside the old town of Volta Mantovana, with its medieval castle, Gonzaga palace and a number of cafes and restaurants. We highly recommend staying in Sara's villa if you're in the area!
Sam
2016-07-28T00:00:00Z
ประเภทห้อง
ห้องส่วนตัว
---
ประเภทที่พัก
วิลล่า
---
พักได้
2
---
ห้องนอน
Volta Mantovana, Lombardia, อิตาลี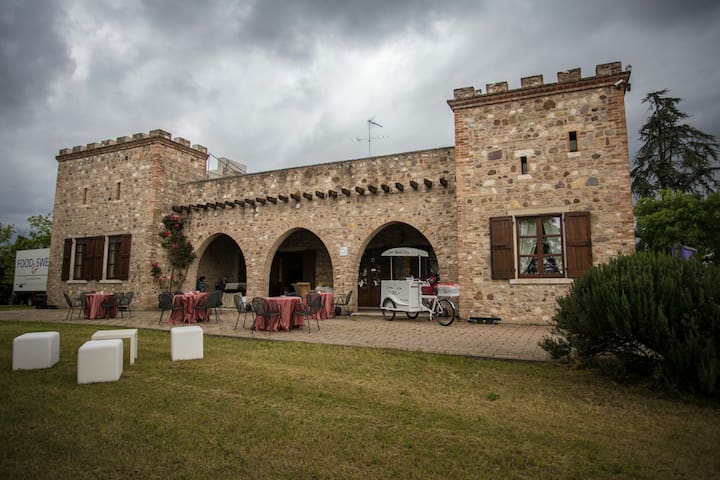 Histórica Villa Veneta del siglo XVII en el centro del campo agrícola, recientemente reformado, alquilada a un único grupo de hasta 16 personas. La villa cuenta con una colección permanente de arte contemporáneo y es ideal para amigos o familiares
Unser Aufenthalt in der Villa war super! Die Villa eignet sich super für größere Reisegruppen, welche gemeinsam ein schönes Wochenende verbringen möchten! Wichtig: Vor Ort gibt es nicht viel, deswegen sind längere Autostrecken unvermeidbar! Die Kommunikation mit Marco verlief reibungslos und unkompliziert. Wir würden jederzeit wieder die Villa buchen!
Robert
2016-10-03T00:00:00Z
Everything was perfect, the house and the garden is a dream. We had a GREAT time. Highly recommended! We were 13 people. The father of Marco and Michael the man on site are very friendly and helpful. Thank you for this unforgettable time. Love your house! Many greetings from Switzerland
Rahel
2016-05-09T00:00:00Z
The villa is perfect, more than enough space for 16 people to perfectly live together. We had a great time and Marco's father showed us around and was very attentive towards us. Don't miss the pizza oven, great experience!
Marcus
2016-09-04T00:00:00Z
The Villa is absolutely amazing! Its gigantic and offers more space than one could think of. There were sheets and towels and welcome drinks. Groceries are easy to get in the next village. The garden is spacious and offers a playground that was the best part according to my friends kids. Its only a short trip to Verona, Mantua, Padua, etc. . The host is more than friendly, helpful and welcoming. We even enjoyed a glas of wine on the last night and had great conversation. We had a really great time! I totally recommend it!
Michael
2016-09-26T00:00:00Z
From the photos and description, this property comes across as a bit of a stately home. But in truth, it is a fabulous, iconic large farm-house (8 bedrooms) and a real handful to manage. We enjoyed our time and are full of admiration for the family's effort it improving it and making it come back to life. However, future guests will be well to to understand that this is farm living with the challenges that accompany; in August, extremely hot, flies and mosquitoes everywhere, poisonous spiders (my daughter spent one day in hospital as a result), extremely poor internet connectivity and sulphorous water. The mattresses on the beds are old, hard and lumpy - several guests experienced back problems as a result during our long stay. The family worked hard to address the problems but we frankly felt they needed to know the property and environment better and prepare for our visit, rather than waiting for us to ask (for example, for fans when the temperature reached 39 degrees).
Robert
2016-09-01T00:00:00Z
ประเภทห้อง
บ้าน/อพาร์ทเมนท์ทั้งหลัง
---
ประเภทที่พัก
วิลล่า
---
พักได้
16
---
ห้องนอน
Pilastro di Bonavigo, Veneto, อิตาลี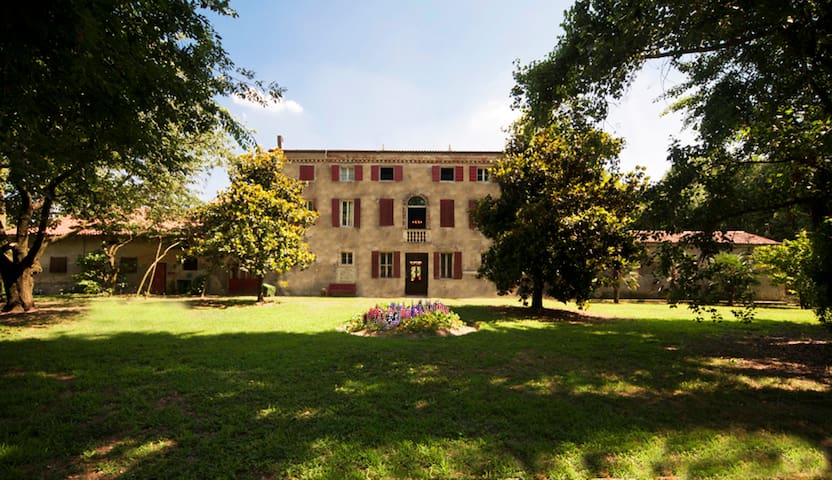 We are immersed in the green to 5 minutes from Modena, Villa Fabiola will accommodate you with a large garden with swimming pool There are two rooms for 4 people each with a shared bathroom. And 'possible to have breakfast with us with homemade jams!
The accommodation consists of two rooms facing each other with a shared bathroom. They are available singles and Doubles. For a total of 4 beds
We Between Villanova and Ganaceto, a 5-minute drive from Modena. Completely surrounded by greenery. A 5 min walk there is also the local train station Villanova 4 villas.
Accueil très sympa! Alberto a tout fait pour que nous soyons bien accueillis. Je recommande...!
stephanie
2016-07-30T00:00:00Z
Soggiorno piacevole e tranquillo. Proprietario gentile e disponibile.
Andrea
2017-04-02T00:00:00Z
Siamo stati accolti con cortesia dalla signora Luisa. La natura della nostra visita non ci ha permesso di esplorare la zona o condividere un po' di tempo con in nostri ospiti, ciò nonostante non avremmo potuto chiedere di più.
Marco
2016-12-04T00:00:00Z
ประเภทห้อง
บ้าน/อพาร์ทเมนท์ทั้งหลัง
---
ประเภทที่พัก
วิลล่า
---
พักได้
6
---
ห้องนอน
มาเดนา, Emilia-Romagna, อิตาลี
Villa di 400 mq con piscina e giardino di 1400mq. Offriamo: 1) una dèpandance di 70mq con ingresso indipendente (RED house) una camera con letto matrimoniale e letto singolo, un soggiorno completo di cucina, camino e divano letto e un bagno con doccia, max 4/5 ospiti. 2) una suite mansardata di 140mq (GREEN suite) composta da una camera matrimoniale con bagno in camera (con vasca), una camera con letto singolo, un soggiorno con divano e area TV (possibilità letto aggiuntivo), max 4/5 ospiti.
Ideale per soggiorni di relax/lavoro tra il centro di Verona e il lago di Garda. Per chi vuole godersi il relax post lavoro e fare una nuotata in piscina o semplicemente rilassarsi lontano dai rumori cittadini.
Sommacampagna si trova a 15 Km da Verona e a 15 Km dal Lago di Garda. In auto: facilmente raggiungibile dall'autostrada A4 uscita "Sommacampagna". In bus: dalla Stazione di Verona Porta nuova a Sommacampagna è disponibile la linea 160 (circa 25 min di percorrenza). Navetta Aeroporto /Stazione di Verona Porta Nuova : Il servizio collega la principale stazione di Verona con l'Aeroporto Verona di Villafranca in 15 minuti. La navetta è operativa tutti i giorni. Prime corse in partenza dalla Stazione per l'Aeroporto alle ore 5.15 6.10 poi ogni 20 minuti fino alle 20.10 poi (PHONE NUMBER HIDDEN) Dall' Aeroporto, prime corse in partenza alle ore 5.35 6.30 poi ogni 20 minuti fino alle 20.30 poi (PHONE NUMBER HIDDEN).
ประเภทห้อง
บ้าน/อพาร์ทเมนท์ทั้งหลัง
---
ประเภทที่พัก
วิลล่า
---
พักได้
8
---
ห้องนอน
Sommacampagna Verona , Veneto, อิตาลี
San Benedetto Po - Airbnb
:
เฉลี่ย

4.27

จาก

5

ดาวจาก

82

รีวิวผู้เข้าพัก
1

–

18

จาก

วิลล่าให้เช่า 36
กรอกวันที่เพื่อดูการกำหนดราคาเต็ม มีค่าธรรมเนียมเพิ่มเติม อาจมีภาษีเพิ่ม