It Has an integrated private bathroom, overlooking the large balcony. The kitchen, living room and balcony are shared. You will appreciate the location (close to public transport, sea, activities and nightlife), brightness, outdoor space, tastefully
ประเภทห้อง
ห้องส่วนตัว
---
ประเภทที่พัก
อพาร์ทเมนท์
---
พักได้
1
---
ห้องนอน
ออลบานี, นิวยอร์ก, สหรัฐอเมริกา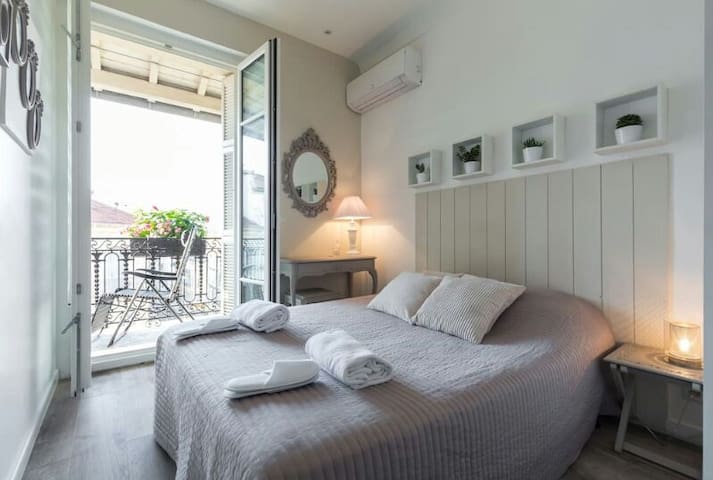 comfortable 2 bedroom, with a modern-victorian flair is unique within itself. Comfortably fitting 2, located on a quiet street only minutes from Rivers Casino, and just a short walk to upper Union Street Niskayuna. Enjoy a modern gourmet kitchen with easy access to casinos, great restaurants, luxurious malls and parks within a 20 mile radius. Complete with a full backyard for outdoor BBQ and 3 spot off street parking, you and your guest will enjoy an intimate relaxing space with plenty to do.
A comfortable 2 bedroom, with a modern-victorian flair is unique within itself. Comfortably fitting 2, located on a quiet street only minutes from Rivers Casino, and just a short walk to upper Union Street Niskayuna. Enjoy a modern gourmet kitchen with easy access to casinos, great restaurants, luxurious malls and parks within a 20 mile radius. Complete with a full backyard for outdoor BBQ and 3 spot off street parking, you and your guest will enjoy an intimate relaxing space with plenty to do. Second bedroom is converted into a lounge sleeping. Arrangements in that room is a large sofa
The neighborhood is is always quiet. Just a great place to relax and unwind
This place was great at it's price. We loved the pool table and wine.
Ryan
2017-01-27T00:00:00Z
The apartment is big, complete and comfortable; the pool table was perfect! Aaron was available and very welcoming. We wouldn't hesitate to go back at any occasion.
Sophie
2017-02-27T00:00:00Z
Very comfortable and spacious place in a convenient location. Aaron was very responsive and helpful during the check-in process - would definitely stay here again.
Kevin
2017-03-04T00:00:00Z
A last minute interview opportunity in Albany fell into my lap when I was at work on Friday for the following day at noon. Aaron was able to accommodate my last minute plans I made (around 6 pm the night of my stay) and my even later arrival to Schenectady after my drive up from Long Island. I made the drive up myself and felt completely safe when I arrived (after midnight) and had no trouble finding street parking right outside the house. Aaron's place is SO nice! I wish I could have arrived earlier to enjoy the spacious living room and pool table, as well as the lovely wine selection he had waiting for me to enjoy when I got in. His bed was unbelievably comfortable - definitely one of the best nights of sleep I've ever had. If I'm ever in the area again, I know exactly where I'll be staying - HERE!
Virginia
2017-02-18T00:00:00Z
Awesome host and awesome place to stay
Chris
2017-01-29T00:00:00Z
Very nice place! Spacious and clean. We had a very good time playing pool! We definitely recommend. Thank you Aaron
Lorraine
2017-03-19T00:00:00Z
I am touring with a show, and it's such a luxury to feel like you found a home away from home. Aaron's place was just that! He was welcoming, accommodating, helpful, kind, communicative, and made sure I had everything I needed for my stay. I really appreciated the well-stocked kitchen for my cooking needs! It was also nice to be able to park my car in the driveway. I enjoyed my stay.
Ginna Claire
2017-03-10T00:00:00Z
Comfortable and very clean apartment with all needed amenities. Aaron was very attentive.
linda
2017-02-01T00:00:00Z
ประเภทห้อง
บ้าน/อพาร์ทเมนท์ทั้งหลัง
---
ประเภทที่พัก
อพาร์ทเมนท์
---
พักได้
3
---
ห้องนอน
Schenectady, นิวยอร์ก, สหรัฐอเมริกา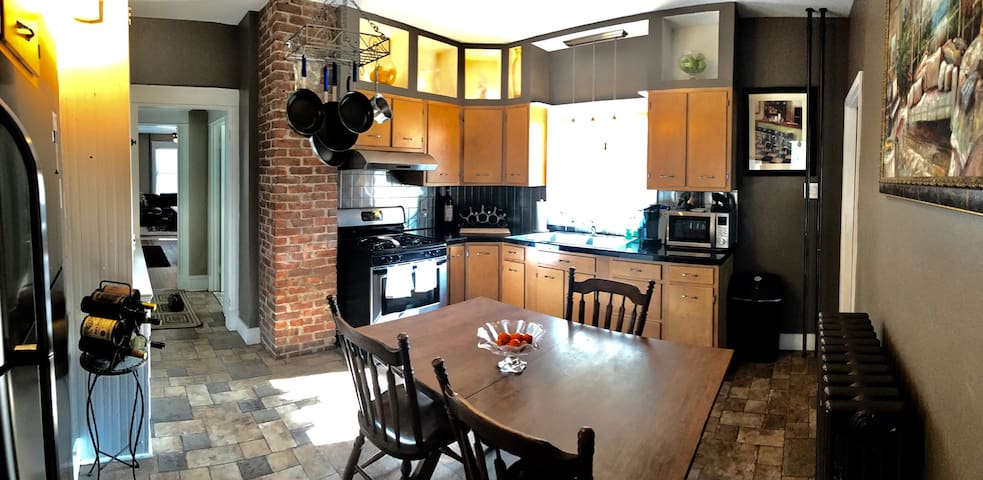 A gorgeous full-floor apartment in the heart of The Stockade historic district. Dramatic vaulted ceilings and 200-year-old details highlight this apartment that includes the original greatroom of the house, built in 1790.
This house was built in 1790 and has retained many architectural details from 200-years-ago, including a dramatic fireplace with a giant carved mirror; high, vaulted ceilings; and ornate molding! There is a hardwood floor in the main living and dining area. The apartment is furnished with a mix of regionally-crafted mission style pieces and antiques purchased in the area. The building is now two flats, I live upstairs and am renting the first floor apartment. The flat is fully furnished and includes all the amenities of a home. It is suitable for long-term stays, families or others needing a complete home away from home.
The house is located in the center of one of the oldest historic districts in the entire nation. One of our neighbors home was build in the late 1600's! We're also just a couple blocks from a quiet park on the beautiful Mohawk River. We are also very close to Union College, America's oldest university.
Great apt nice area couple good restaurants and bars within walking distance. Lots of good hiking within a 30 min drive. Very pet friendly. Donna was great and easy to communicate with.
Kevin
2017-02-12T00:00:00Z
Donna made checking in and check out very simple. The apartment was very spacious for me and my 120lbs dog. The kitchen was very equipped.
Priscilla
2016-12-30T00:00:00Z
Well located. Large, comfortable with all necessities. Would stay there again
Peter
2017-01-02T00:00:00Z
Great place to stay! Beautiful, no complaints.
Travis
2015-12-20T00:00:00Z
Donna was exceptionally attentive in her communications. We experienced a delay on our arrival and she made sure everything was ready for us. The apartment is delightful and located in an amazing historic district within walking distance of a variety of great food & drink. The famous Stockade Inn is just across the street and the neighborhood is a collection of amazing (PHONE NUMBER HIDDEN) homes. The historic Reformed Church is spectacular. Don't miss Little Italy about 10 minute walk away for Perreca's Restaurant & Bakery (breathtakingly delicious bread!) and Civitella's pastries across the street.
Kevin
2016-12-02T00:00:00Z
Donna's apartment was great...amazing old home. Very clean and well stocked. Donna is a great host..very friendly, great communication. We traveled for work and hope we can come back again for play.
paul
2016-03-11T00:00:00Z
I have stayed in may Air B&B's and this is by far my favourite, it was perfect location for me between family & friends - I loved the historic location and the cosy Stockade inn on the corner - great facilities - I felt like I was on holiday in my own home, I would stay again. Thank you Donna.
Kim
2016-12-19T00:00:00Z
Donna was very helpful from the very beginning. I was there on business and my wife came up for the weekend. Donna directed us to a wonderful bar and then a terrific restaurant. She definitely knows the area and responded very quickly to any questions we had. The apartment was over and above the description. Very comfortable and well equipped. It will be the first place I look when in the area again.
Stephen
2016-03-02T00:00:00Z
ประเภทห้อง
บ้าน/อพาร์ทเมนท์ทั้งหลัง
---
ประเภทที่พัก
อพาร์ทเมนท์
---
พักได้
3
---
ห้องนอน
Schenectady, นิวยอร์ก, สหรัฐอเมริกา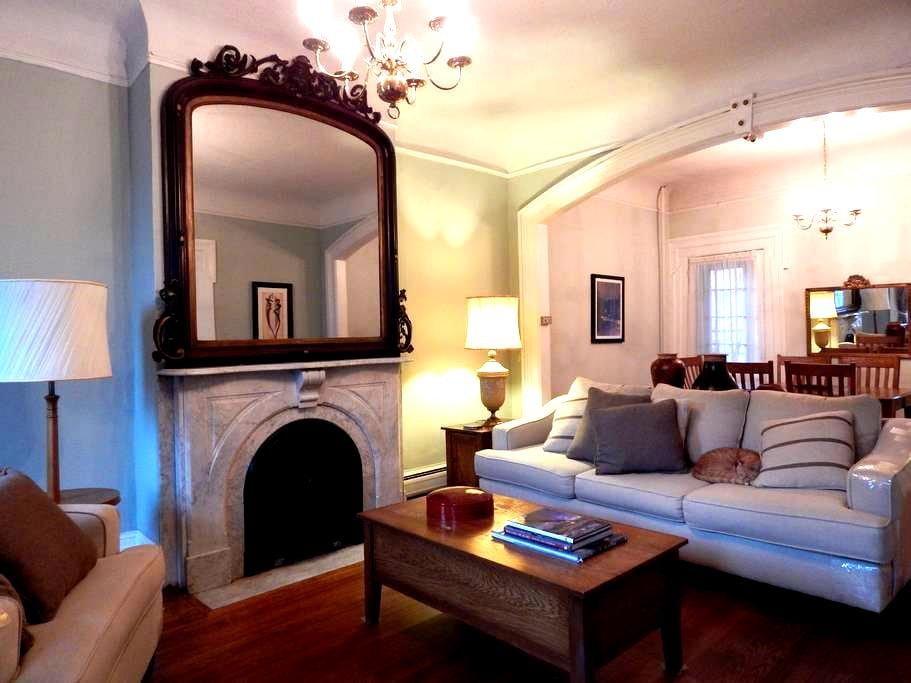 My place is close to Union/Clarkson College, downtown restaurants & shops, highway 890, main buses/trains, Rivers Casino, and The Historic Stockade.. You'll love my place because of the convenient location. My place is good for couples, solo adventurers, and families (with kids).
We have a small 2br apartment in an apartment complex. It is a quiet and comfy space. Right now we can only offer a futon and guests also have access to an air mattress in our spare room.
We live in a small community, we know everyone. Most people in our complex are elderly.
Rosa is very welcome and polite, had a great stay with her thanks Rosa
Edith
2017-02-20T00:00:00Z
Rosa's place was great. She even provided a separate key to facilitate my off hours schedule. Thank you.
ALEXANDER B.
2017-03-11T00:00:00Z
ประเภทห้อง
ห้องส่วนตัว
---
ประเภทที่พัก
อพาร์ทเมนท์
---
พักได้
2
---
ห้องนอน
Schenectady, นิวยอร์ก, สหรัฐอเมริกา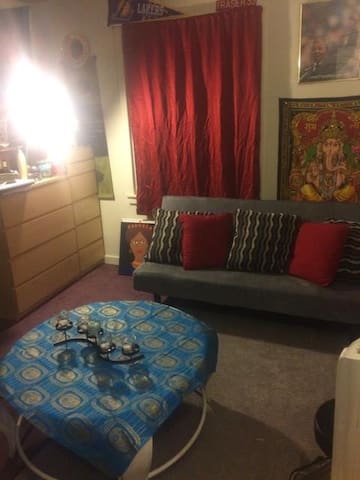 Enjoy this second story spacious apartment complete with office space, Wi-Fi, fully stocked kitchen, with washer and dryer in unit! All guests will enjoy complete quiet and serenity in a space that is reminiscent of a home away from home. Just 5 minutes away from downtown Schenectady, Ellis Hospital and the historical stockade district. 10 minutes away from Rivers Casino!
ประเภทห้อง
ห้องส่วนตัว
---
ประเภทที่พัก
อพาร์ทเมนท์
---
พักได้
1
---
ห้องนอน
Schenectady, นิวยอร์ก, สหรัฐอเมริกา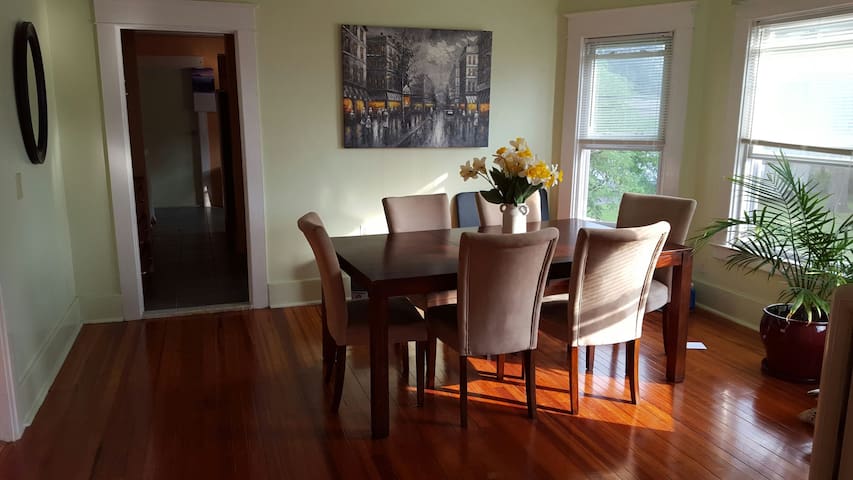 FULLY FURNISHED good location near THEATER, Casino & River Development, SCCC, GE, Restaurants, Bars, Bus, Train, Schools, Churches, Park, Shopping and Central Park with hiking, tennis, rose garden, pool, basketball courts, baseball fields, picnic areas, golf. Perfect furnished unit for three people working temporarily in the area who want their own space with a kitchen and not a hotel. Photo's were taken before furnishing were added. Please see my other listing for additional photos/reviews.
Nice Furnished Apartment,Close to Proctors and everything in very quiet building, loft= 3rd bedroom with walk in closet, 2 porches for relaxing and grilling. includes, dishwasher, gas stove, fridge,, new ceramic tile bath, vaulted ceilings, ceiling fan A/C . Heat Cable TV and Wi FI Perfect for working temporarily in the area!!!! 3- off street parking spots are included; Rent is for 3 or fewer persons Only Please. Month to Month Lease if Long Term with 1 months security required.
CLOSE TO PROCTORS THEATER AND EVERYTHING THAT YOU MAY NEED,ONE BLOCK TO BUS AND LAUNDRY LAUNDRY ; GREAT NEIGHBORHOOD RESTAURANTS AND GROCERIES ARE ONLY ONE OR TWO BLOCKS AND VERY CLOSE AS WELL
Aurora is a very gracious host. Convenient location and a short drive to Albany. Found the best bagel in town at Bagel's and Bakes just a short drive from the apartment. This Tennessee Girl loves NY Bagel's. Thanks again for being such a great host Aurora.
Arlene
2017-03-12T00:00:00Z
Aurora was a great host. She was very accessible and accommodating. I had an emergency and couldn't stay the extra night and she refunded me. I would definitely stay in her place again.
Anna
2017-02-25T00:00:00Z
ประเภทห้อง
บ้าน/อพาร์ทเมนท์ทั้งหลัง
---
ประเภทที่พัก
อพาร์ทเมนท์
---
พักได้
3
---
ห้องนอน
Schenectady, นิวยอร์ก, สหรัฐอเมริกา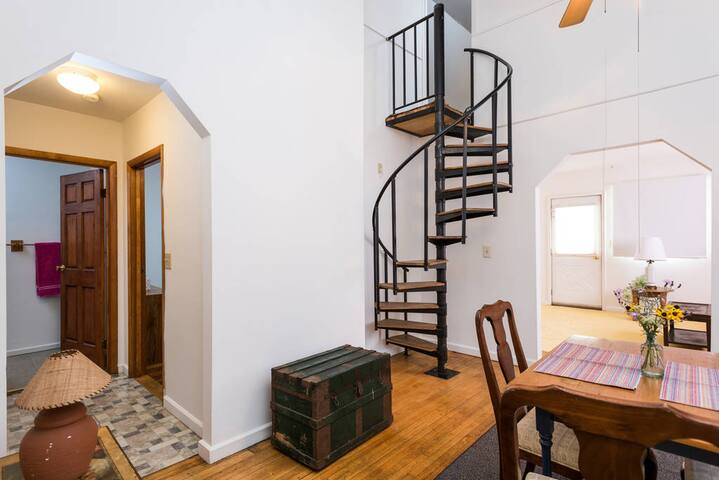 "The Oasis" is a gorgeous apartment in Schenectady, NY located on a quiet tree-lined block. The apartment features 3 large bedrooms and 1 common bathroom. The space also boasts a beautiful dining room, living room, and home office. Washer/Dryer are at the location and all utilities are included.
This location is perfect for all professionals including those of the medical field as Ellis Hospital and Bellevue Women's Center is a short 10 minute drive away.
There are many things to do in Schenectady, NY within 10 to 15 minute drive of The Oasis. Here are a few recommendations! Nature and Parks: Central Park Rose Garden, Maple Ski Ridge Museums: Museum of Innovation and Science, Schenectady County Historical Museum Comedy: The Mop and Bucket Company Concerts and Shows: Proctor's Theater
ประเภทห้อง
ห้องส่วนตัว
---
ประเภทที่พัก
อพาร์ทเมนท์
---
พักได้
2
---
ห้องนอน
Schenectady, นิวยอร์ก, สหรัฐอเมริกา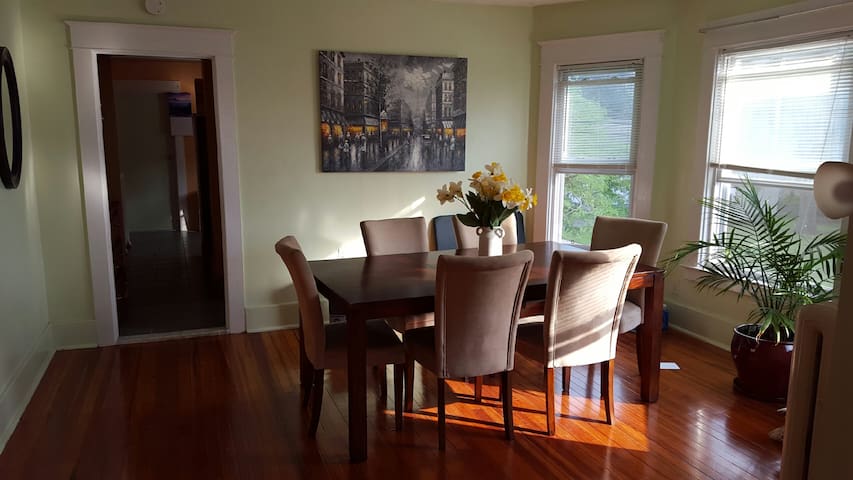 My super clean studio is walking distance to Proctors, Union College, restaurants and dining. It's a 2 minute drive to GE. You will enjoy the comfortable bed with quality linens. All the comforts of home including your morning coffee!
In this vibrant downtown area you can always find something to do. So many great places to dine.
Frank and Deanna were so kind. Great helps to make the reservation and guidance to find and get the location. Although our late arriving, Frank showed up and helped many things including parking. Super clean, everything organized well, really enjoyed our staying. Hope to come back again !!!
Simon
2017-01-01T00:00:00Z
We really enjoyed our stay at Frank and Deanna's spacious downtown apartment. The apartment was thoughtfully furnished with useful items like soap/shampoo/conditioner dispenser in the shower, a luggage rack by the bed, and a keurig coffee machine. The the bed and couch were both very comfortable and the baseboard heaters kept the apartment nice and warm. Frank and Deanna were very helpful and communicated well. They saved us a parking spot, gave us a tour of the apartment, and suggested a few local restaurants. The location is perfect for walking to the Proctor theater and many good bars and restaurants. We really enjoyed our stay and would definitely come back if we are in the area!
Billy
2016-10-29T00:00:00Z
Everything was great! Very friendly and kind. Definitely will stay here again in the future.
Alexander
2017-01-02T00:00:00Z
The host canceled this reservation 95 days before arrival. This is an automated posting.
Leslie
2016-12-11T00:00:00Z
ประเภทห้อง
บ้าน/อพาร์ทเมนท์ทั้งหลัง
---
ประเภทที่พัก
อพาร์ทเมนท์
---
พักได้
4
---
ห้องนอน
Schenectady, นิวยอร์ก, สหรัฐอเมริกา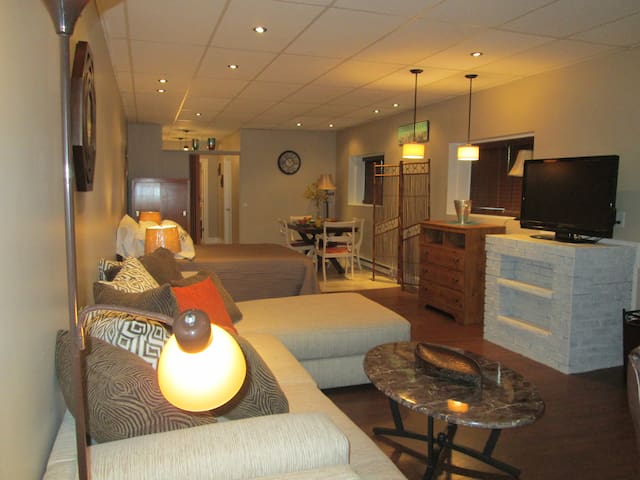 Located in the ELECTRIC City and close to over 64 restaurants and dining establishments, Pubs and Nightlife, Family-friendly activities, Cinema, Proctors Theater and the Newly Opened River Casino. Comfortably Furnished w/housewares, modern decor, and everything you need to be comfortable while you visit! Couples, solo adventurers, business travelers, small families, and furry friends (pets) are all welcome!
All New Luxury Apartment Comfortably Furnished - with Basic Cable & Internet Included! Only minutes from Proctors and the River Casino! Short term Rates! Cheaper than a Hotel, but with More Space and Privacy! Downtown Luxury Living Fully Furnished 1 Bedroom Apartment! Includes All Housewares! Live in luxury and enjoy the best downtown Schenectady has to offer This historic building has been restored into Schenectady's most in-demand residences. Great entertainment, restaurants and boutiques are waiting just outside your front door. Secure intercom entry in great Area! Walk to everything or jump on the highway right down the street! Beautiful open floor plans w/ kitchen, dining area and living room. Granite Counter top Stainless Steel Appliances including stove, fridge, microwave, and dishwasher. New Custom cabinetry! All dishes, cups, pot-n-pans included! Beautiful Large Bathroom with Mosaic tiled walk in showers. Towels and bedding ready and waiting for your visit. Good size bedroom with plenty of Closet space! Oak Hardwood Flooring Coin operated Laundry Facilities on site Designated Off Street Parking in private lot Individually Controlled Gas Heat/Central AC Time Warner Cable w/HBO and Wireless Internet 24 Hr. Emergency Maintenance Pet Friendly SMALL Pets under 25lbs welcome. A minimum stay of 1 week is required! Weekend stays are accepted with 3 day minimum.
We would be More than Happy to suggest Attractions, Entertainment, Nightlife or favorite Dining Spots for you to check out while you are here! There are over 64 Fantastic Restaurants, Cafes, and PUB's that provide an endless Variety of Cuisines from all different parts of the Globe! Walk the Downtown Retro-styled Strip, Pick up some fresh produce at the Farmers Market, Hike or Bike along the Mohawk Hudson Trails! Catch a Movie at the Downtown Cinema, or Meet up With Lady LUCK at the New Rivers Casino and Resort! Check-out Proctors Theater for the Best of Broadway shows like Wicked, Lion King, or Hamilton! Nearby there are some of the best Spas, Shopping, and Boutiques! Only a short drive to the Adirondacks, Lake George, Saratoga Springs, or New York's Capital City of Albany!
ประเภทห้อง
บ้าน/อพาร์ทเมนท์ทั้งหลัง
---
ประเภทที่พัก
อพาร์ทเมนท์
---
พักได้
2
---
ห้องนอน
Schenectady, นิวยอร์ก, สหรัฐอเมริกา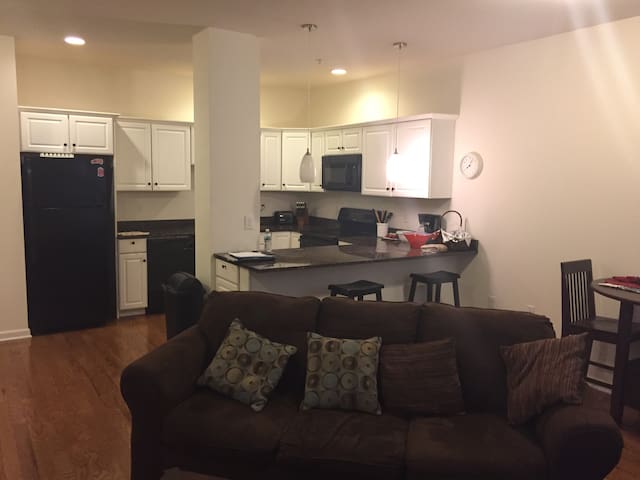 My place is close to public transport, the airport, family-friendly activities, and nightlife. My place is good for couples, solo adventurers, and furry friends (pets).
ประเภทห้อง
ห้องส่วนตัว
---
ประเภทที่พัก
อพาร์ทเมนท์
---
พักได้
2
---
ห้องนอน
Schenectady, นิวยอร์ก, สหรัฐอเมริกา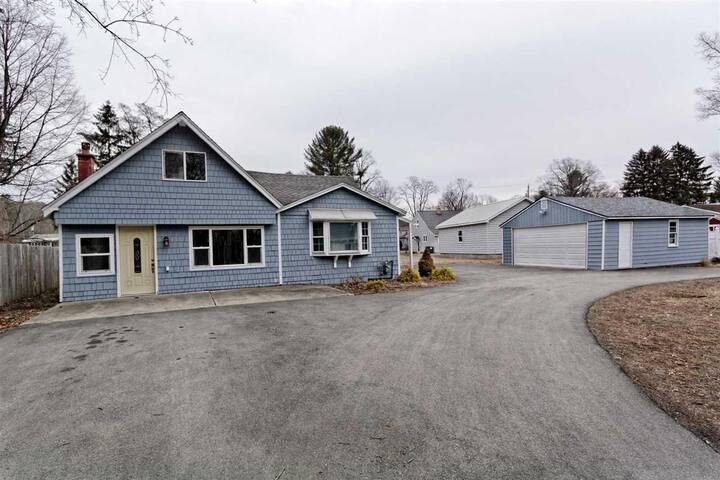 Private bedroom in condo in a quiet community in Niskayuna, NY. Private bedroom with double bed, private bathroom, use of kitchen, living room, and deck. Central Air. Owner has separate bedroom and bathroom (not shown)
Miles to Nearby Attractions: Saratoga Racetrack: 25 Union College: 2 (on bus route) GE Research Lab: 2 Knolls Research: 2 Army Reserve Center: 0 Downtown Schenectady: 3 (on bus route) Downtown Albany: 16
Ron was a great host, making me feel very welcome from the second I came in. He was cool with the fact that I arrived at a late hour after my flight was delayed, he made sure I have all that I need, and even baked some delicious vegan cornbread for me. The condo was very cosy, clean and quiet, 35 mins drive from Saratoga Springs and SPAC. Will definitely return if I'll travel in the area again. In short, highly recommended.
Reut
2015-07-06T00:00:00Z
Ron's location was very convenient for me. Everything was easy and pleasant for our stay. We arrived late and left each morning after Ron had gone to work, but had a little time to spend with him and enjoyed our exchanges and felt quite comfortable.The photographs do not do justice to the space, wall colors or simple and subtle decor. Very clean and uncluttered. My daughter and i shared the bed -- very comfortable for two.
Erin
2014-02-05T00:00:00Z
Ron was welcoming, the apartment was very clean and the residence nice and quiet. I would definitely recommend it.
Marine
2015-07-25T00:00:00Z
A tidy, spacious guest bedroom in a 2BR suburban condo apartment in Niskayuna. The location was great for me as I was driving a car locally. Also, CDTA bus stop 11286 is on bus route 351 which might work for a connection to the Schenectady Amtrak station. Ron is a quiet, nice-guy host who keeps to himself or converses amiably without being imposing (we both smirked at the political convention speeches). WiFi connection; small-screen TV in the main room by arrangement. No meals, but snacks on the order of granola bars. Comfortable bed unless you're very tall (footboard). If you like cleanliness and safety, have a car, and don't need a work desk, Ron's apartment is a fine option, and sure beats staying at the Central Ave. motels.
Bob
2016-07-31T00:00:00Z
He prepared food and snack for us , even baked zucchini bread. The information provided is very accuracy.
Fan
2016-09-06T00:00:00Z
Ron welcomed us into his home very nicely. The neighborhood was nice and quiet. We had a short,but wonderful stay.
Pauline
2015-05-04T00:00:00Z
I had a very comfortable stay at Ron's. His condo is spacious, clean and well appointed. Ron was an A+ host - he was very accommodating with my constantly changing arrival time and at the end of my stay he gave me a ride to the Greyhound bus station very early in the morning! He definitely went the extra mile to ensure I had a great stay! Highly recommend!
Luke
2014-06-10T00:00:00Z
Ron did a great job with helping me feel welcome. He opened up his home and I was able to come and go freely, which helped me to maintain my comments and enjoy my time there.
Tracy
2016-06-28T00:00:00Z
ประเภทห้อง
ห้องส่วนตัว
---
ประเภทที่พัก
อพาร์ทเมนท์
---
พักได้
2
---
ห้องนอน
Schenectady, นิวยอร์ก, สหรัฐอเมริกา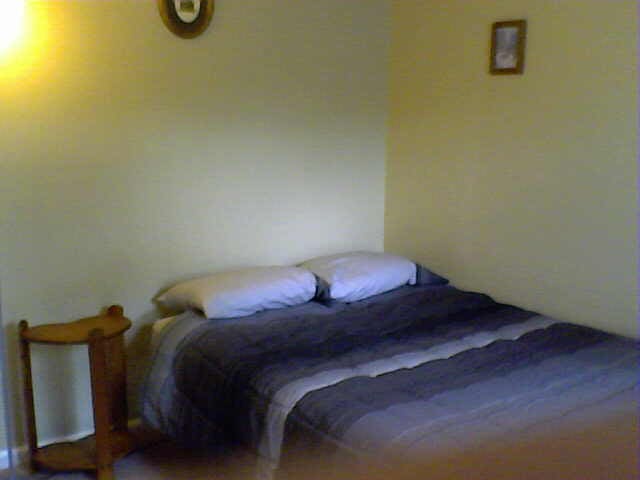 This spacious, sunny apartment is located in the heart of Schenectady. 5 minutes away from GE Headquarters, Ellis Hospital and the Historical Stockade District! 15 minute drive to University of Albany and Albany Med!
ประเภทห้อง
บ้าน/อพาร์ทเมนท์ทั้งหลัง
---
ประเภทที่พัก
อพาร์ทเมนท์
---
พักได้
1
---
ห้องนอน
Schenectady, นิวยอร์ก, สหรัฐอเมริกา
My place is close to nightlife and public transport. You'll love my place because of the light, the comfy bed, the kitchen, the coziness, and the high ceilings. My place is good for couples, solo adventurers, and business travelers.
I felt like being home in this apartment, clean, quiet, it has everything you need blocks around like restaurants, supermarket, public transportation. Best of all is Aurora and her attentions. I recommend this location for long stays (spent almost 2 weeks in my trip here).
Enrique
2017-03-11T00:00:00Z
Thanks for letting us stay with you.
Maria
2017-01-22T00:00:00Z
Basic tidiness and house rules, all the things you need for any length of stay. Aurora is a nice lady.
Timothy
2017-02-18T00:00:00Z
Our stay was comfortable and we felt very safe. Aurora was helpful in giving directions to many great area restaurants. Private parking for our car. Convenient to the local bus stop to downtown Schenectady.
Winona
2016-08-07T00:00:00Z
Our host made us feel very welcome, explained all the house rules thoroughly, and provided excellent neighborhood insight. Everything met our expectations.
Sarah
2016-10-24T00:00:00Z
Everything was excellent
Ben
2016-10-09T00:00:00Z
ประเภทห้อง
ห้องส่วนตัว
---
ประเภทที่พัก
อพาร์ทเมนท์
---
พักได้
2
---
ห้องนอน
Schenectady, นิวยอร์ก, สหรัฐอเมริกา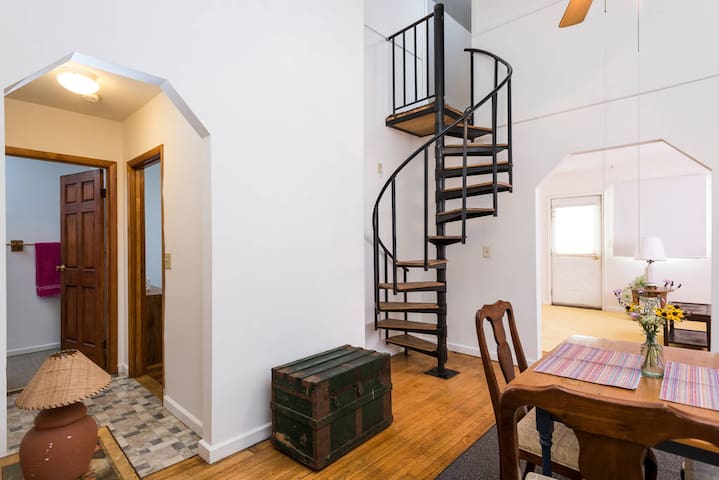 Rent our space for the week and get,free krav maga lessons
Mark is a great guy and the property was appropriate for the price. I had an issue with a smoker in the house and a missing bathroom curtain. Mark took care of both. My door had a broken lock, but there was a provisional pad lock in place to keep it secure. I am not sure the neighborhood was the safest for a single female, but thanks to the free Krav Maga class, I walked the sidewalks with confidence.
Robert
2016-05-30T00:00:00Z
Mark is a pleasure to deal with and easy to communicate with.
Tim
2016-04-18T00:00:00Z
2 hr Before my arrival, Mark texted me asking approximate time of my checking. Later showed me the room and kitchen facilities. No disturbance and quick reply for some queries.
Paramarshi
2016-06-10T00:00:00Z
Mark was a very kind and accommodating host. I actually went straight to the free self defense class that was being offered along with the accommodations where I met two of the instructors. One was quite a comic relief of sorts. Showing me the unfinished, unfurnished, unlived in office above the storefront location at 725 - when I had already discussed with Mark the actual residence. Self defense was a marvelous experience and I only pray that I never actually have to use it. They do offer classes daily at 725 State Street utilizing Krav Mega among other practices.
Cinti
2016-04-08T00:00:00Z
There should be a line around the block to stay with Mark if you need a week in the Capital District Area. The best thing about Mark was every time you spoke to him, it was always going to be, first of all, YES and the AND...and he'd come through and take care of it. Wish there were more people in the world that operated on that level like him. It made a big difference as a traveler. The room was clean and comfortable and warm. The mattress was excellent. Plenty of room for all your stuff if you were the weary traveler. Having access to a refrigerator and a stove was a blessing as I was in town for an emergency and needed a safe place to operate from and I felt safe and respected by Mark. He was accessible and reliable. The beautiful backyard in the house I stayed, with the nature and the birds, was also very relaxing. The neighborhood was friendly from the family upstairs to up and down the block people reached out to help you. Somehow everybody shared the bathroom without too much problem. Another comforting thing is that Mark has more than one room in more than one rooming house. Also, the Kraav Maga lessons thrown in the deal is very attractive and for me, worthy. The studio was cool. Finally being able to walk downtown to the library and the Mohawk river were also comfortable in terms of location. I hope that I can stay with Mark again the next time I need over a week. There was no wifi but for the price, I kept smiling all the way through. Pleasure meeting you Mark, Thank you!
Gina
2016-05-01T00:00:00Z
Mark answered any and all questions and was an excellent communicator. He pre approved me after one message. He allowed for check in exactly when I need to check in. The spot was affordable, secure, and adequate for my needs.
Tim
2016-03-28T00:00:00Z
Mark is a great communicator and always prompt.
Tim
2016-05-09T00:00:00Z
I hope Mark, the host, will make something out of it in the future. But as of now, May 2016, this is a dumpster -- unfinished space, insects, literally nothing in the room but a bed, not even a hook on the wall for your clothes, let alone a chair, table or closet. No towel or even toilet paper in the bathroom. Outrageous that a place like this is being offered on this site. I had to leave without staying there overnight. Got a refund from Airbnb. As I said, I hope this place will be turned around. Good luck!
Michael
2016-05-16T00:00:00Z
ประเภทห้อง
ห้องส่วนตัว
---
ประเภทที่พัก
อพาร์ทเมนท์
---
พักได้
1
---
ห้องนอน
Schenectady, นิวยอร์ก, สหรัฐอเมริกา
Relax in this quiet and comfortable space which features a full size bed, night stand and dresser. Ideal for the professional who enjoys peace and tranquility or the medical student in need of a quiet study environment.
ประเภทห้อง
ห้องส่วนตัว
---
ประเภทที่พัก
อพาร์ทเมนท์
---
พักได้
1
---
ห้องนอน
Schenectady, นิวยอร์ก, สหรัฐอเมริกา
My place is 1 block from public transport to the New Rivers Casino, ,Night Life, Downtown, Theaters, Restaurants, Parks ,Churches, Shopping Via Port Aquarium, Train station, Bus station and all your needs!
The space is comfortable and clean yet close to casino, restaurants, churches, parks, downtown, theater, trains busses, highways recreation and via port aquarium.
The apartment is set in a multi-diverse urban setting and close to everything.
Aurora really cares about the people she host and wants them to enjoy their stay. She is helpful and a great host. Easy to communicate. A+
Dean
2017-03-09T00:00:00Z
Aurora was very prompt in responding, very helpful about recommending places to eat and getting everything I needed. She was waiting one me when I arrived, provided a very quick and thorough tour and provided everything I needed, even an orange juice for me in the morning.
Michael
2016-08-12T00:00:00Z
Aurora was absolutely awesome she unbelievably hospitable, she had everything I could have asked for and more. She is also an extremely smart and interesting host to stay with!
Robert
2016-07-28T00:00:00Z
My host was very friendly and accommodating. The original room was actually full already so she upgraded me to the loft which is the entire upstairs area. The place is very clean, very centrally located, and she even provided breakfast! if I had to be picky the one thing I would say is that the neighborhood leaves a little something to be desired. It could just be me though. Overall a good experience.
Wesley
2016-09-19T00:00:00Z
ประเภทห้อง
ห้องส่วนตัว
---
ประเภทที่พัก
อพาร์ทเมนท์
---
พักได้
2
---
ห้องนอน
Schenectady, นิวยอร์ก, สหรัฐอเมริกา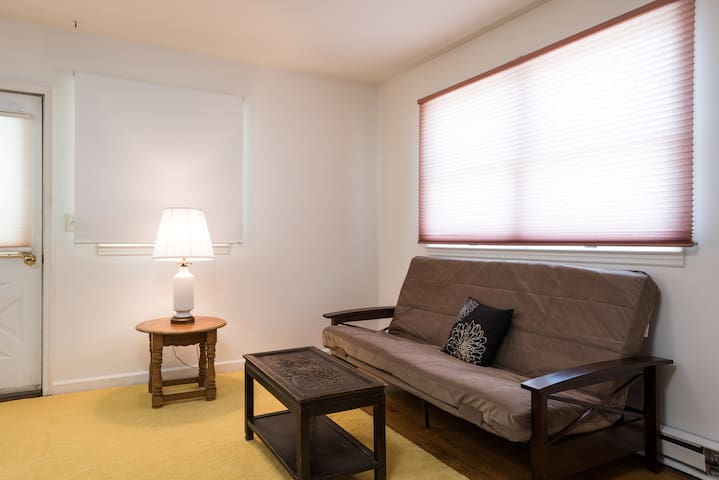 Enjoy and relax in comfort and quiet while staying in this very comfy full stocked oasis in the heart of Schenectady. 10 minute driving distance to all nearby hospitals. 5 minutes away from General Electric, Proctor's Theatre, and the historical Stockade District!
ประเภทห้อง
ห้องส่วนตัว
---
ประเภทที่พัก
อพาร์ทเมนท์
---
พักได้
1
---
ห้องนอน
Schenectady, นิวยอร์ก, สหรัฐอเมริกา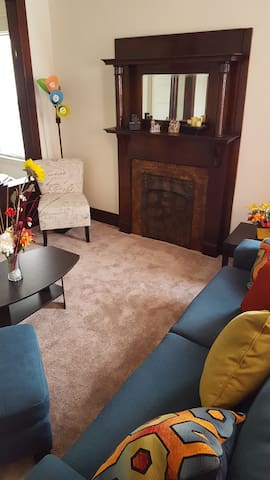 My place is close to nightlife and public transport. You'll love my place because of the light, the comfy bed, the coziness, the kitchen, and the high ceilings. My place is good for couples, solo adventurers, and business travelers.
Three bedroom apartment with spiral stairs to the loft (third bedroom). Bright and sunny while centrally located to public transportation, Proctors theater, downtown restaurants, night life , cinema and Riverfront Development Project and Central Park with many venues for recreation.
The neighborhood is a diverse Urban area with mostly homeowners living in the homes providing a safe and friendly location close to everything
Very comfortable bed, plenty of pillows provided! Nice place good value. Fruits, coffee, bagels were provided. Aurora is also very nice. Glad I booked with her.
Dean
2017-02-27T00:00:00Z
Great cost efficient no frills utility stay. Comfortable bed. Convenient location to main road, Schenectady downtown and main road. Would stay again.
ALEXANDER B.
2016-11-05T00:00:00Z
Excellent Place to stay.
Shahbaz
2017-03-22T00:00:00Z
Overall a great stay. Aurora was a great host the loft bedroom was very nice. Highly likely I'll stay again.
Gregory
2016-10-16T00:00:00Z
Aurora was extremely accommodating regarding my late arrival time (especially after United delayed my flight several times). The place is clean and more than adequate. I will definitely consider renting from Aurora next time I travel to Schenectady.
Tomás
2016-10-23T00:00:00Z
I good place to stay. Very easy to access.
Amy
2017-03-03T00:00:00Z
I had a wonderful stay with Aurora at her rental in Schenectady. Communication with her was excellent. She spent time with me on the phone, prior to my arrival, to assure my check-in was smooth and I knew how to use the apartment optimally. Happily, it went off without a hitch. The apartment was very clean. My queen size bed was very comfortable with sheets that looked brand new. My room had a brand new television set as well as air conditioner and my own thermostat. She also quite hospitably had various breakfast options already on hand for me. This included apples, yogurt, bagels, coffee & tea, along with a variety of sweeteners and half and half! The space was very cozy and had everything I would need for my stay including Wi-Fi that worked very well. The location was conveniently located with a variety of mom and pop restaurants, convenience stores, as well as national chains, a short distance away. I enjoyed the neighborhood very much and thought it's demographics added a demention to my stay that I would not have had, had I stayed in a hotel. By the way, all the hotels that I'd reviewed did not have good reviews, when I took the time to read them. It was a no-brainer to stay with Aurora who gave me real value for my money as well as the warmth of a hostess that was engaged and supportive. I would recommend Aurora and her properties and hope to stay with her again in the future!
William
2016-10-09T00:00:00Z
Aurora was very helpful. The day we arrived, we had come from a long drive and had brought a lot of luggage with us. We'd originally booked the upstairs loft, but after realizing the amount of luggage we had brought, she prepared a room for us on the lower level to accommodate or needs. We definitely felt at home during our stay and it was easy working with Aurora, she was very hospitable!
Step
2016-08-29T00:00:00Z
ประเภทห้อง
ห้องส่วนตัว
---
ประเภทที่พัก
อพาร์ทเมนท์
---
พักได้
2
---
ห้องนอน
Schenectady, นิวยอร์ก, สหรัฐอเมริกา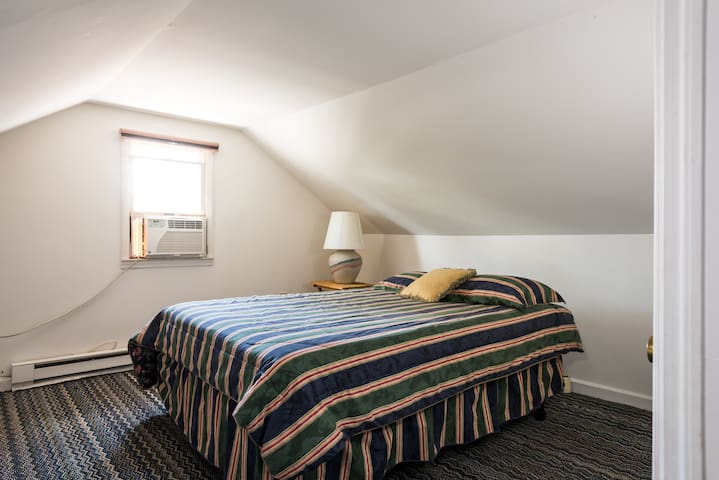 Rotterdam - Airbnb
:
เฉลี่ย

4.65

จาก

5

ดาวจาก

96

รีวิวผู้เข้าพัก
1

–

18

จาก

19 อพาร์ทเมนท์ให้เช่า
กรอกวันที่เพื่อดูการกำหนดราคาเต็ม มีค่าธรรมเนียมเพิ่มเติม อาจมีภาษีเพิ่ม