Great studio apartment with stunning views of the icebergs and of out of the ordinary. Private entrance and private terrace, with stunning views. Summer with 24 hours of sunlight or winter with the northern lights, the choice is yours.
The flat was very clean and neat. We got an amazing view on the icebergs. The location is good and you can reach shops and coffees within 20mn walk. Uffe was also very kind to pick us up and the airport.
Samuel
2016-04-19T00:00:00Z
I had very pleasant stay at Uffe place. The room was small but very cozy with everything you need. The view from the room was absolutely amazing. Every day I had a different view on the ocean with floating icebergs. The downtown of the Ilulissat is 10minutes of walk from the Uffe's place. He picks up and drop off from the airport commercially if it works with his schedule. He works as a taxi driver. Uffe is very nice and polite. I absolutely would recommend Uffe's place anyone.
Marta
2016-02-01T00:00:00Z
The appartement really has a graet view! Due to the drifting icebergs you will have a different view every morning. The appartment is small but you have everything you need to make you feel yourself at home. Highly recommendes place to stay when you are in Ilulissat!
Anika
2015-09-08T00:00:00Z
Too cramped area and we felt dirty sleeping in the same bed linen for 9 nights. Rubbish piled up because nobody collected, we placed outside eventually. Hot water available all the time, thank goodness and heating was sufficient. I was shocked to see the effluent water from the cabin, via a big pipe fell short of the sea, unlike surrounding house. Their pipes reached into the sea. I was not going to check the pool of water at the end of the pipe. Thank goodness there was always a breeze away from the cabin. Pipe needed a further 3m to reach the sea. The view showing the sea covering the boulders infront of the house, I believe is another location, unless taken in winter. Uffe is an OK guy however he was very concerned about is 2 extra night payment. In fact he came before this date to collect, would not accept visa, because then he would have to declare this money to tax authourities, so we went to bank to change money and got upset when we asked for receipt. He tried to overcharge us untill I showed him his email, saying "sorry I forgot". We had to buy toilet paper, hand washing liquid, kitchen washing liquid. No toiletries. This was a first from our 7 hosts trip this smmer.
Michael
2016-09-02T00:00:00Z
Nice studio with really beautiful view. We had great time there. It is a pity that the icebergs were so far during our stay.
Chu-An
2014-11-30T00:00:00Z
Uffe picked me up at the airport, which helped me feel welcomed. The flat is quite close to the centre of town, and has a great outlook on the ocean, just like the photos. It's also quite close to the power station, which is the starting point for the most spectacular hikes I've ever taken; it takes you to the mouth of the Ilulissat ice fjord where it meets the sea. The route is easy to follow & you must not miss out. It is amazing. The flat itself is warm and comfortable.
Carolyn
2016-04-28T00:00:00Z
Wonderful location and perfect room for two people. I give Uffes place my best recommendations.
Ida
2016-05-31T00:00:00Z
在住宿的地方就能看到浮冰,風景好,房間該有的都有。房間在屋主家樓下,晚上睡覺時會聽到樓上的腳步聲。
hsien
2016-04-28T00:00:00Z
ประเภทห้อง
บ้าน/อพาร์ทเมนท์ทั้งหลัง
---
ประเภทที่พัก
---
พักได้
2
---
ห้องนอน
Ilulissat, Qaasuitsup, กรีนแลนด์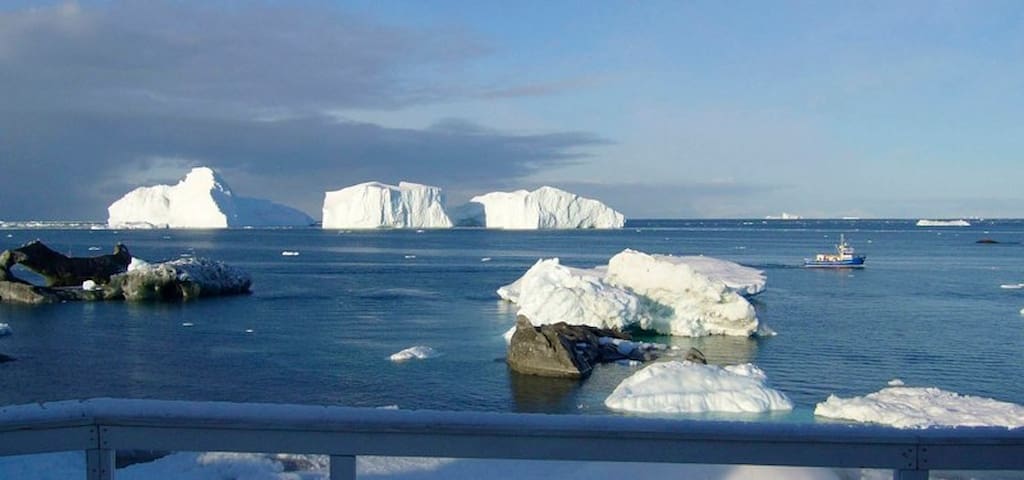 We offer 6 rooms to individuals and groups in our beautiful houses with shared kitchen and bathroom facilities. The UNESCO site is only a few minutes away on foot as well as the city centre. We look forward to welcome you and offer you the best view!
We offer 6 rooms with 2 beds in each but with space for an extra bed for families
Beliggenheden og udsigten vil jeg ikke omtale, for så bliver jeg aldrig færdig. Fantastisk. Dejligt hus, fine værelser, skønne opholdsfaciliteter. Husk at du skal være socialt indstillet i og med at du deler fællesfaciliteter med andre. Det vil være til glæde for alle parter.
Knud Fink
2016-08-26T00:00:00Z
Hold da op en fantastisk udsigt!!(billederne lyver ikke) God beliggenhed og gode faciliteter . Min mor og jeg var rigtig glade for vores 5 dage i dette guesthouse i Ilulissat :-)
Ida
2016-05-17T00:00:00Z
Had an absolutely wonderful time at the Guesthouse with Kasper and Maya. Fantastic hosts for the few days I was in Ilulissat and couldn't thank them enough. The house itself is a beautiful house in a truly stunning location, I'd challenge anybody to find a better all round Air BnB package!
Thomas James
2016-10-02T00:00:00Z
This was a beautiful guesthouse located near the hiking trails to the UNESCO heritage site. The entire house was super clean and comfortable, and entirely cosy. I do recommend this place for your stay in Ilulissat!
Mabel
2016-09-02T00:00:00Z
Excellent apartment with superb Seaview. Balcony that has full sea view where you can see Icebergs. We were lucky to catch the northern lights from the main door of the apartment. We enjoyed the northern lights from the comfort of the apartment and didn't need to brave the extremely cold windy night outside of town just like many others. The apartment has fantastic heating and shower that keep us warm at all times. It has compete cooking utensils if you need to cook. Nearest supermarket is 10 minutes uphill walk away while the town centre is about 20to 25 mins away. Thank you Kasper and his helper for the excellent experience!
Sim
2016-04-14T00:00:00Z
The Ilulissat guesthouse is really a chilled place. Sitting in the armchair you could watch the icebergs and the Northern Lights. The view is AMAZING! Everything was clean and you have a kitchen with everything you need. The Icefjord Hotel (restaurant and bar) is right around the corner and you could reach everything in town in max. 15 minutes by foot. Our host was very helpful and even organized some really amazing tours for us (snowshoewandering, boat cruise to the icebergs and dogsledging). I'm sure that I'll be back to breathtaking Greenland and hopefully the guesthouse isn't fully booked then. Thanks for everything!
Carsten
2017-02-27T00:00:00Z
Great location near fjord to the south. Two grocery stores just a few minutes walk away. Downtown is a bit further but did not really go there anyway. Was more interested in hiking to the south which was close. Big open room with two large tables - spent many nights there with computers set up editing photos - lots of power outlets. Kitchen was well supplied and very well organized (e.g. one shelf of fridge dedicated to each room).
Scott
2016-09-11T00:00:00Z
We had a beautiful time at Blue House. The location is amazing and the house lovely furnished: the living room and the terrace with view over the sea are just amazing! We really recommend this place!
Petra
2016-05-13T00:00:00Z
ประเภทห้อง
ห้องส่วนตัว
---
ประเภทที่พัก
---
พักได้
2
---
ห้องนอน
Ilulissat, Kitaa, กรีนแลนด์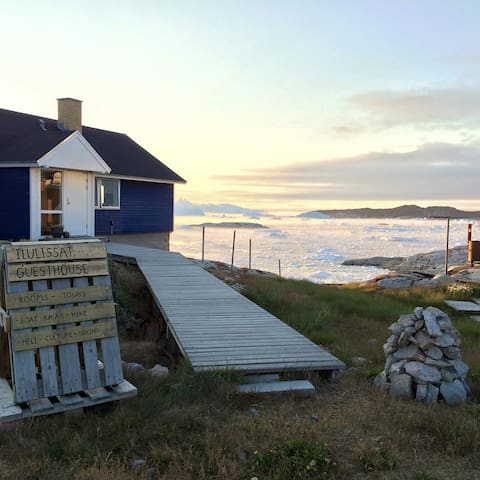 Min bolig lægger tæt på tæt isfjorden. Udsigt fra fælles terrasse.. Min bolig er god til par og soleeventyrere.
Ett fint och jättetrevligt boende! Här finns allt man behöver och det är egen ingång och lugnt och stillsamt. Och internet, vilket inte är någon självklarhet på Grønland.
Helena
2017-03-04T00:00:00Z
We had a really enjoyable stay at niels' place. He kindly picked us up from the airport and made us feel welcomed throughout our stay. His house is really close to the UNESCO hiking tracks and we also saw northern lights from his place. Supermarkets as well as the city center are nearby. We highly recommend this cosy accommodation. Andreas+Antje
Andreas
2017-01-18T00:00:00Z
Neils is a very friendly guy and you will feel living in your home when you stay in his house. The location is 10 minutes walk from the city center and not far from the starting point of Sermermiut hiking line.
Mingming
2017-02-08T00:00:00Z
ประเภทห้อง
ห้องส่วนตัว
---
ประเภทที่พัก
---
พักได้
2
---
ห้องนอน
Ilulissat, Qaasuitsup 3952, กรีนแลนด์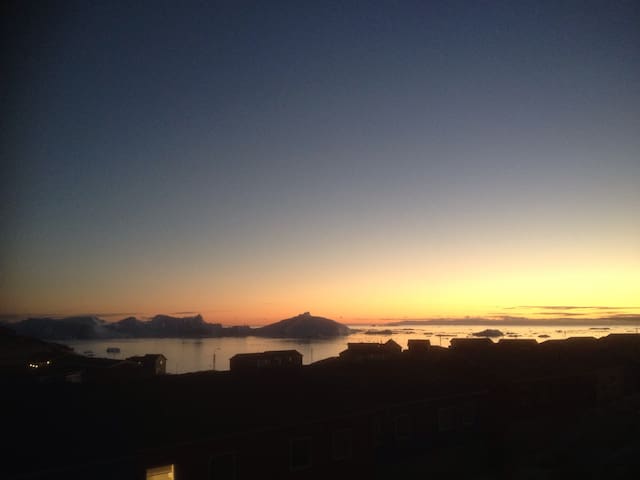 We call the house 'Hollywood' and from here you have a first class view to the harbour and the citys oldest houses. The location of the house couldn't be more central with only 200 m to shoppingfacilities, cafés, restaurants, supermarket, bank and all the touristoffices in the city. Next door is the artmuseum of Ilulissat. The house has a fully equiped kitchen if you want to cook at home some nights. Transfer to and from the airport costs 50 kr/person with a minimum of 100 kr.
There is central heating in the house
The house is located in the central part of Ilulissat right next to all the tourist offices, shopping facilities and so on.
十分舒服的房子,一切用品恰到好處。下次來一定也會預定!I will come back again!
斌
2016-09-06T00:00:00Z
Conveniently and recently renovated house with two bedrooms in the center of the town. The location is quite private and quiet. It has all the modern amenities you can think of. There are huge windows overlooking the harbor, so cannot complain about the views either. I would recommend it to anyone visiting Ilulissat
Inuuteq
2016-06-29T00:00:00Z
The host canceled this reservation 35 days before arrival. This is an automated posting.
Mia Børsmose
Flemming give us a big surprise at kangerlusuaq airport when we stop at there.☺The house is very nice,his parents are very nice! Thank them very much!
may
2016-10-08T00:00:00Z
ประเภทห้อง
บ้าน/อพาร์ทเมนท์ทั้งหลัง
---
ประเภทที่พัก
---
พักได้
4
---
ห้องนอน
Ilulissat, Qaasuitsup, กรีนแลนด์
Hus på 105 m2 centralt beliggende med fremragende havudsigt. Huset har 2 soveværelser, stor stue - køkken med fremragende udsigt. Der er en meget stor terrasse ud til vandet samt en anden terrasse med morgensol. Badeværelse er med brus samt spabad/badekar.
Vi boede 4 nætter i Uffes hus. Opholdet var ubeskriveligt fantastisk! Huset var centralt og hyggeligt at være i med stor terrasse direkte ud til isbjergene med grill, som vi var velkomne til at bruge. Udsigten til isbjergene og midnatsolen var FORMIDABEL og kunne nydes fra stort set hele huset. Uffe har været rigtig god at kommunikere med under hele forløbet! Vi kan varmt ANBEFALE at bo i Uffes hus, og kommer meget gerne tilbage!
Anne-Line
2016-07-22T00:00:00Z
ประเภทห้อง
บ้าน/อพาร์ทเมนท์ทั้งหลัง
---
ประเภทที่พัก
---
พักได้
6
---
ห้องนอน
Ilulissat, Qaasuitsup 3952, กรีนแลนด์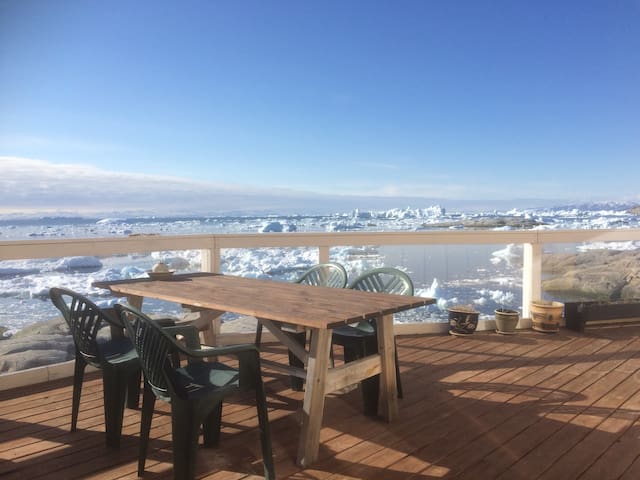 Nyrenoverede eenfamiliehuse med udsigt til havet, fyldt med isbjerge der sejler forbi byen. Ofte ses også hvaler lege og boltre sig. Der er 2 db-værelser. Der rådes også over et vandrehjem med 10 sengepladser. Også udflugter med motorbåde.
ประเภทห้อง
บ้าน/อพาร์ทเมนท์ทั้งหลัง
---
ประเภทที่พัก
---
พักได้
4
---
ห้องนอน
Upernavik, Qaasuitsup 3962, กรีนแลนด์
A place in north Greenland Uummannaq island
The view is magnificent from the rooms
ประเภทห้อง
ห้องส่วนตัว
---
ประเภทที่พัก
---
พักได้
2
---
ห้องนอน
Uummannaq, Kitaa 3961, กรีนแลนด์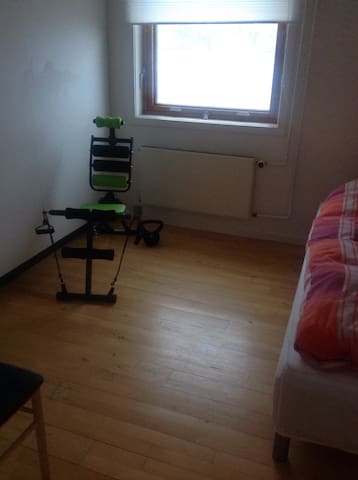 Min bolig lægger tæt på midt af byen og naturområdet. Du vil elske min bolig på grund af hygge og placering. Min bolig er god til par, soleeventyrere, forretningsrejsende og familier (med børn).
ประเภทห้อง
บ้าน/อพาร์ทเมนท์ทั้งหลัง
---
ประเภทที่พัก
---
พักได้
4
---
ห้องนอน
Ilulissat, Qaasuitsup Kommune 3952, กรีนแลนด์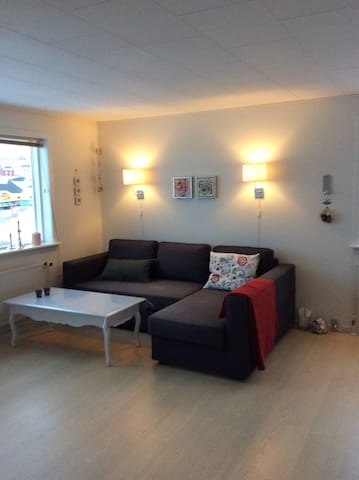 Et hus midt i byen og naturen. Der er 2 gode soveværelser, en med dobbelt seng, den anden med en enkelt seng og en sovesofa til 2 personer. Der er en hyggelig køkken samt en spiseplads til 6 personer. Toilet og bad og vaskerum.
ประเภทห้อง
บ้าน/อพาร์ทเมนท์ทั้งหลัง
---
ประเภทที่พัก
---
พักได้
5
---
ห้องนอน
Godhavn, Qaasuitsup Kommune 3953, กรีนแลนด์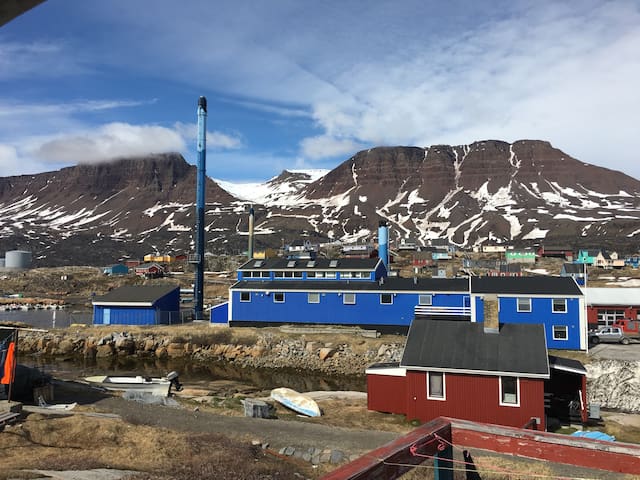 We offer accommodation to individuals and groups in our beautiful houses as well as tours to the icefiord and UNESCO World Heritage Site. The UNESCO site is only a few minutes away from our guesthouse that also offers the best view of the ice fjord. Our black house offers a total of 10 beds. We do have wi-fi which can bought online opening your browser. If you are looking for Greenland nature outside your door steep and the best view, then you will like our place.
Ilulissat Guesthouse is a long lived dream that has now come true. We opened this summer and We offer accommodation to individuals and groups in our beautiful houses as well as tours to the icefiord and the UNESCO World Heritage site Nationalpark.
Absolutely fantastic place. Stayed there for 8 days with my girlfriend and 5 month old son. I really miss sitting by the big panorama windows or on the balcony watching the scenery on the icefjord. Naja was amazingly friendly and helpful. I can definately recommend the place.
Søren
2015-09-26T00:00:00Z
The Ilulissat Guesthouse is an extremely nice location. Clean, quiet, warm, perfect equipped. Kaspar is very helpful, friendly and flexible. No complains at all.
Marcel
2016-06-02T00:00:00Z
ประเภทห้อง
บ้าน/อพาร์ทเมนท์ทั้งหลัง
---
ประเภทที่พัก
---
พักได้
10
---
ห้องนอน
Ilulissat, Kitaa, กรีนแลนด์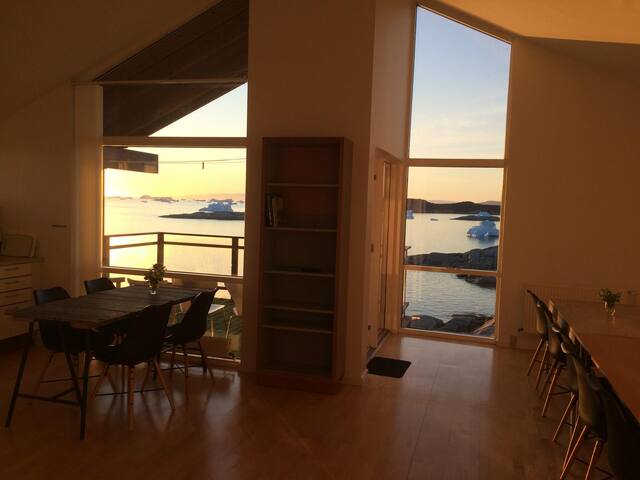 Our new guesthouse is a charming Greenlandic house with amazing view over the Discobay. From the terrace you can see giant icebergs flowting by. In the summer you can see the midnight sun and in the winter time we have northern light. Total 79 m2 The UNESCO park is only a few minutes away and offers great hikes to the icefiord. Our house has 6 beds, but it is possible to add 2 extra beds (dkk 300,- pr. bed pr. night) We offer wi-fi which can be bought online opening your browser.
It's a good place to stay in Ilulissat, particularly if you'd like to stay in a Greenlandic house.
SungHa
2016-06-25T00:00:00Z
Nice and clean house with exceptional view. Both Kasper and Maya were dedicated to help us during our stay.
Dúi
2016-06-18T00:00:00Z
房子很不错,宽敞明亮,厨房设施也很齐全,风景一流
菜
2016-07-29T00:00:00Z
The arrival was smooth. Nils was waiting for us at the blue house. We felt welcomed. The neighborhood is good, feels safe. The view from the house window is fantastic. The house is clean, warm and spacious.
Qin
2016-09-09T00:00:00Z
ประเภทห้อง
บ้าน/อพาร์ทเมนท์ทั้งหลัง
---
ประเภทที่พัก
---
พักได้
6
---
ห้องนอน
Ilulissat, Kitaa, กรีนแลนด์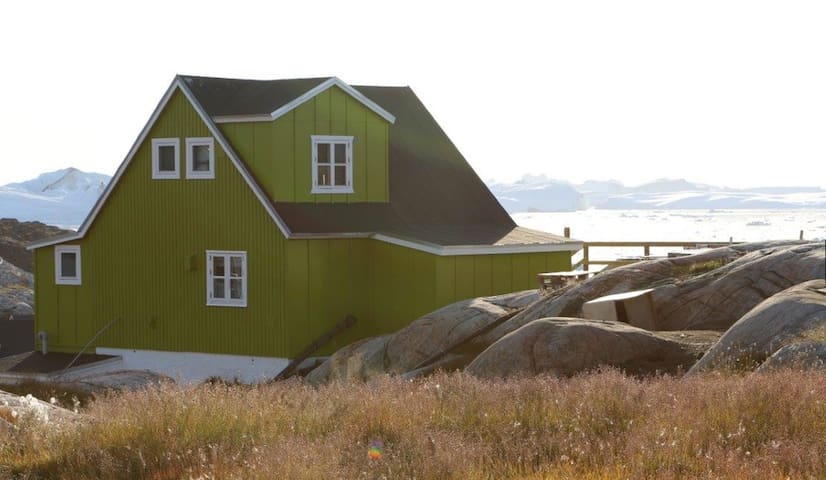 1

–

11

จาก

ที่พัก 11 รายการ
กรอกวันที่เพื่อดูการกำหนดราคาเต็ม มีค่าธรรมเนียมเพิ่มเติม อาจมีภาษีเพิ่ม