My house is located inside our quinta surrounded with vineyards and with a breathtaking landscape view from the balcony. Pinhão is just 10 min by car. When you book you get all house just for you. We offer wine tasting and cellar visit.
Très bon accueil. Dégustation sympathique, dans un cadre magnifique et surtout une très belle vue du balcon.
Claire
2016-10-30T00:00:00Z
Amazing quinta, in the heart of the vineyards, with a breathtaking view on the douro Valley. Quite, delightful and romantic ! Luis's mother welcomed us with a Porto wine and olive oil degustation, before explaining us everything for the house and giving us some tips to enjoy the region. Marvelous experience, highly recomended !
Anne
2016-09-18T00:00:00Z
Tres belle endroit très calme dépaysement total Bonne accueil bonne dégustation des vins du domaine
pavot
2017-02-18T00:00:00Z
We arrived on a cold and rainy day to be greeted by a warm fire and friendly faces. This three bedroom, three bath guest house is spacious, immaculately clean and the views are unparalleled. If you're arriving on a Sunday as we did you may want to eat on the way and/or bring provisions. We hope to return when the grape vines are in leaf and stay for a longer time. Oh, and treat yourself to a bottle of their 30 year Port.
Janette
2017-03-27T00:00:00Z
Very nice place with an amazing view!
Nicolas
2017-04-08T00:00:00Z
Très belle maison dans un cadre magnifique au milieu des vignobles
Thibaut
2017-03-21T00:00:00Z
L'emplacement de la maison est tout simplement magique, au coeur d'un domaine viticole au milieu des vignes avec une vue exceptionnelle sur la vallée du Douro. La mère de Luis nous sa accueilli avec une grande gentillesse, nous a tout expliqué et nous a même organisé une petite degustation de leur production délicieuse de vin, porto et huile d'olive, une expérience à rcommander absolument.
Séverine
2016-08-21T00:00:00Z
Quinta de ... heaven. We spent great time in Luis and his familly viniard. The house is beautifull, perfectly prepared and clean. There is everything you need. We loved the great story about wine making that we got from Luis mother. We taste unique porto and wines. We enjoyed trully beautifull view... of Douro valley, especially during sunrise. We used car to drive surroundigs. Definietly , we recommed the place. Worth staying for a longer time.
WOJTEK
2016-10-29T00:00:00Z
ประเภทห้อง
บ้าน/อพาร์ทเมนท์ทั้งหลัง
---
ประเภทที่พัก
วิลล่า
---
พักได้
6
---
ห้องนอน
Provesende, Vila Real, โปรตุเกส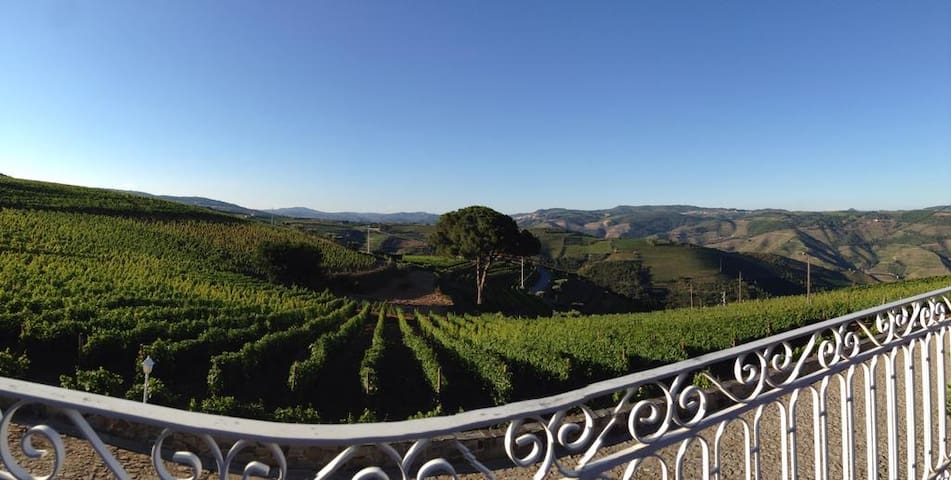 De studio met het vier meter hoge plafond bevindt zich in een traditioneel en beschermd wijndorp in de Dourovallei. Het is onderdeel van het grote authentieke woonhuis met muren van een meter dik, heeft een eigen ingang en een terras in de tuin.
We felt like at home, the town and the house are beautiful, charming and cozzy, Everything was clean and perfect, the studio was great and we had a really good night at jets place, sad we only spent there one night. Thanks so much and hope to see you soon
Javi
2016-12-31T00:00:00Z
Sadly we did not get to meet Jet as she was unavailable during our one night stay (though she called several times to make sure we were okay!) Juliette met us at the house and gave us a tour of the one bedroom unit and also of the tiny village. The room was lovely! Gorgeous old house, peaceful little terrace with view, large (well stocked) kitchen, comfortable bed, high quality bedding and towels. So fun to e experience a small, fabulous old town. Jet arranged dinner for us in a small pub ... it was excellent. We came from Porto by train for one night ... More time would have been good. Taxi to the village has amazing views. Don't hesitate to stay here. Jet runs a comfortable, professional, and cozy house!!
Marijke
2015-09-15T00:00:00Z
Very charming, quite place with an amazing view over the Douro wine valley. In the lushuous garden there are enough private seats and we received a wonderful breakfast. The town itself is very small, but charming as well, you need a car to get there. Jet and Ronald were not there, but our contact via airbnb went smoothly and Julieta introduced us to the place and was so kind to offer us a welcoming drink and to make a reservation in the local restaurant (one dish only, but it was good quality!). Definitely recommended!
Anke
2016-07-24T00:00:00Z
The studio was gorgeous, spotless, and very well-appointed, with an extremely comfortable bed, relaxing shower, and well-stocked kitchen. The location is stunning—the small and charming town is located a short drive from Pinhao atop a hill overlooking a beautiful valley. The backyard garden is gorgeous and a perfect place to sit and enjoy the magnificent view. In short, we totally loved this place—we only wish we could have stayed longer! Hope to return in the future.
Alyssa
2014-07-11T00:00:00Z
The place was perfect if you want to have Douro's experience, the little village is really welcoming, and the people well... The neighbours offered us the most delicious figs ever, we bought homemade Porto and Moscatel wine at the coffee, and fresh bread from the bakery (sr António will let you see how's the process, the bread is ready at 10am). Jet and Ronald were welcoming, they can serv you dinner and breakfast if you want... finally the house, the bed is really comfortable, nice taste decoration, even the bathroom... the garden was so relaxing. Super house!
Lisia
2016-09-06T00:00:00Z
We enjoyed our stay in the studio and the beautiful garden very much. Provesende is a very nice village, the landscape is beautiful and a perfect starting point to explore the douro region. Thanks to Jet and Ronald which are very kind and uncomplicated hosts!
Florian
2016-05-21T00:00:00Z
We had a magical one night stay at Jet's. Her home was beautiful and she was kind, available, and prompt. Provecende was an amazing retreat and we would recommend it to anyone who comes to Portugal.
Victoria
2017-02-24T00:00:00Z
Jet and Ronald were flexible and communicative. The apartment is lovely and the garden setting is restful and welcoming after busy days. The bed and shower are excellent, the studio is very well-equipped and the village is beautifully placed in the Douro.
Deborah
2016-07-01T00:00:00Z
ประเภทห้อง
บ้าน/อพาร์ทเมนท์ทั้งหลัง
---
ประเภทที่พัก
อพาร์ทเมนท์
---
พักได้
2
---
ห้องนอน
Provesende, Vila Real District, โปรตุเกส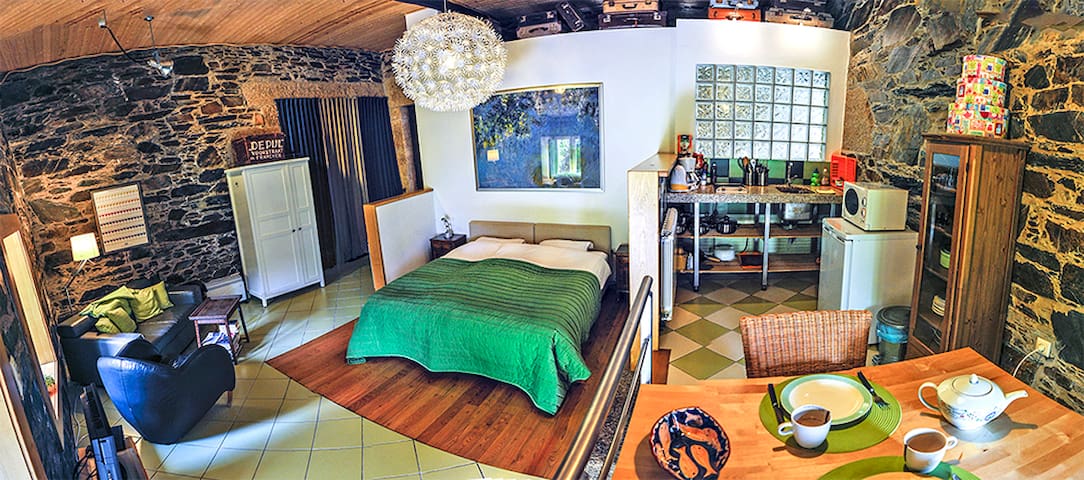 This one bedroom apartment is on the top floor of a pretty house in the attractive village of Provesende, in the heart of the port-producing area of the Douro. Surrounded by vineyards, Provesende is just off the road between Pinhao and Sabrosa.
The apartment has a sitting room with a dining table plus small kitchen with a fridge, oven and four-ring hob. There is a separate bedroom with a double bed and an ensuite shower room. It is self-catering and the owners do not live in the village but can be reached at any time by phone.
Provesende is a special place and is ideal for people who would like to get away from it all and to experience life in a traditional Portuguese village. There are plenty of walks both up into the hills and down to Pinhao where there are opportunities for wine-tasting and river trips. In the village of Provesende there is a small, inexpensive restaurant serving local food and a wonderful bakery which produces hot, fresh bread every morning at about 10.00. By the studio is a small gift shop selling baskets, pottery, rag roll mats etc from all over Portugal. The village also has a beautiful 18th century church and some fine, large country houses.
We had such a great time in Provesende and the Douro valley! Two facts that were essentially conducive to this fantastic experience: we had a car (to travel around the area) and the weather was downright marvelous. During the day we sauntered through the small village and hiked up the hills to the small chapel. The view of Provesende and the region was incredible. But we also especially enjoyed spending time in the apartment which both for its location and accommodation was perfect for us. We relaxed in the spacious living room, made dinner in the generously equipped kitchen and enjoyed moderately pricy but excellent seafood at "Cais da Vila" in the nearby town Vila Real. We also visited Pinhao where we walked along the river and stopped by Quinta do Bomfim for a delicate wine-tasting. All in all, our stay at Jane's apartment made for a terrific all-round-experience of the Douro and its natural and cultural uniqueness!
Johannes
2015-09-22T00:00:00Z
Provezende was definitely the best spot of our stay in Portugal, this is an amazing village right in the Valley of Douro, with Quintas and great rivers to swim in. The People in this village were so kind and welcoming. It is THE typical Portuguese village. The house was perfect, very clean and new, with great cachet. The communication with Jane and Paolo was great and smooth, everything went super well. We didn't want to leave, it was just perfect !!!!
Elian
2015-07-06T00:00:00Z
Appartement très agréable et joliment décoré, très calme dans un beau village au coeur du haut Douro, où nous avons été chaleureusement accueillis par Jane et les habitants. Nous le recommandons vivement.
Philippe
2016-05-16T00:00:00Z
Very lovely village with great viens from the places on the vineyards. Easy access in a narrow typical street, and a good flat, bright even with shall windows. A very good stay not far from Pinhao and Sabrosa, the Magellan's birth place. We enjoy there, but dont forget fuel in your car ! You are away from everything!
Jocelyn Hervé
2014-07-15T00:00:00Z
Very cosy, clean apartment in a wonderfull, little Portuguese village. You really experience the Douro lifestyle here! Great region. I advise to use a car in the area to see some beautifull landscapes. Recommended!
Peter
2014-08-22T00:00:00Z
Logement agréable, très bien équipé et bien décoré. Un village ancien sur les collines au dessus du Douro, plein de charme avec des paysages magnifiques. Un séjour formidable.
Michelle
2015-09-16T00:00:00Z
The apartment is located in the village of Provesende, about 10 min ride uphill from Pinhão, in the middle of the Douro area. The village is quiet but beautiful with stunning views over the mountains! The apartment is very clean and nice and a good base for exploring the area. Jane is very helpful - ask her for some advise of local things such as restaurant/dinner possibilities in the village. And she replied to our emails very fast! We had a lovely stay at Jane's apartment!
G.J.
2015-08-31T00:00:00Z
Nous avons passé un séjour mémorable à l'appartement de Jane. Paulo, son ami, nous a très bien accueillis. Les résidents de ce petit village sont très sympathiques. Je recommande à tout le monde cet endroit et ce logement. Merci Jane et Paulo.
Thierry
2016-06-28T00:00:00Z
ประเภทห้อง
บ้าน/อพาร์ทเมนท์ทั้งหลัง
---
ประเภทที่พัก
อพาร์ทเมนท์
---
พักได้
2
---
ห้องนอน
Provesende, Vila Real District, โปรตุเกส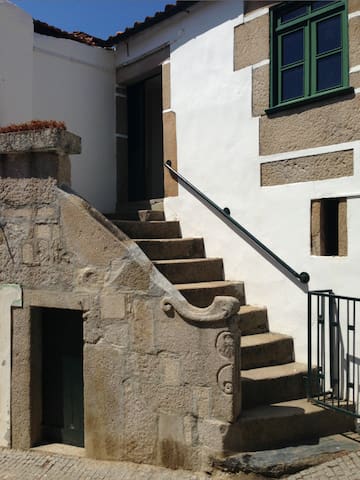 Meu espaço é perto de belas paisagens . Você vai amar meu espaço por causa de o aconchego, as vistas e a localização. Meu espaço é bom para casais, aventuras individuais, viajantes de negócios e famílias (com crianças).
the house is located in the center of the village where they have everything close by, stately houses, monuments, cafe, restaurant, bakery and beautiful landscapes with the river Douro
Located in the Alto Douro Wine Region, the village of Provesende in Sabrosa, is a retreat not to be missed. On the north bank of the Douro River, its location on a high plateau offers a unique view of the oldest wine region in the world, World Heritage of Unesco. The many vineyards that surround the main square of the village and its magnificent buildings offer a trip back in time with much to discover. Come and see this pearl of the Douro! Provesende is a well-preserved village that promises to delight with its unique and singular heritage. A long walk through the village streets observe solar granite and various noble houses that attest to the power and wealth of the region. The site preserves a beautiful Pelourinho and in the village center, next to the Mother Church, the eighteenth-century maps, is the Fontanário granite, dating from 1755. Be sure to visit also next to this source, a typical bakery whose configuration remains the same the date on which doors opened: 1940. Classified as "vineyard village Douro" in Provesende will take place in the future, the Museum of phylloxera, as it was in this village that began to fight this plague in the nineteenth century. The disease of grapevines destroyed at this stage, the production of wine from Porto in the Douro. It is worth knowing this space that tells a part of the history of the territory. A good time to visit Provesende is during the Festival of the Douro wine-producing villages, which celebrates these small places full of history and takes place between September and October. Another party season is the celebration of the Lord Jesus Santa Marinha, which takes place the last Sunday of May, in the Church of Santa Marinha. To taste the regional flavors, always in the excellent company of Douro wines, we recommend a stop at the typical village restaurant, the typical house Papas Zaide, where you can also find for sale local traditional products. To prolong the stay, choose one of the village housing units.
Meget fin lille lejlighed. Veludstyret og beliggende i rolig landsby. Nattesøvnen helt uforstyrret. Søde værter der tager godt imod. Kan anbefales.
Kit
2016-09-02T00:00:00Z
Nice place.
Rosi
2016-11-16T00:00:00Z
Small town and grateful view
Pronpan
2017-01-29T00:00:00Z
I booked at very late notice and although it took a little while to find my host by going to the local bar when her father arrived he was very affable and welcoming. I would highly recommend this place in a beautiful village.
William
2016-11-04T00:00:00Z
ประเภทห้อง
บ้าน/อพาร์ทเมนท์ทั้งหลัง
---
ประเภทที่พัก
อพาร์ทเมนท์
---
พักได้
3
---
ห้องนอน
Provesende, Vila Real, โปรตุเกส
Localizado no famoso Vale do Douro, uma região conhecida pelo seu encanto rural e vinhos requintados, este hotel oferece vistas deslumbrantes sobre as montanhas circundantes, as vinhas, e o Rio Pinhão. As comodidades do hotel incluem uma piscina exterior. Os quartos climatizados estão decorados de forma tradicional. Todos os quartos têm acesso Wi-Fi gratuito, televisão por satélite, uma secretária e uma casa de banho privada. A Quinta do Silval organiza degustação de vinhos.
A great place to stay with gorgeous views of the Douro Valley! The staff were very helpful and made you feel at home. I will recommend this place to everyone and would definitely stay there again!
Jeminie
2016-10-31T00:00:00Z
ประเภทห้อง
บ้าน/อพาร์ทเมนท์ทั้งหลัง
---
ประเภทที่พัก
ที่พักพร้อมอาหารเช้า
---
พักได้
2
---
ห้องนอน
Vale de Mendiz, Vila Real, โปรตุเกส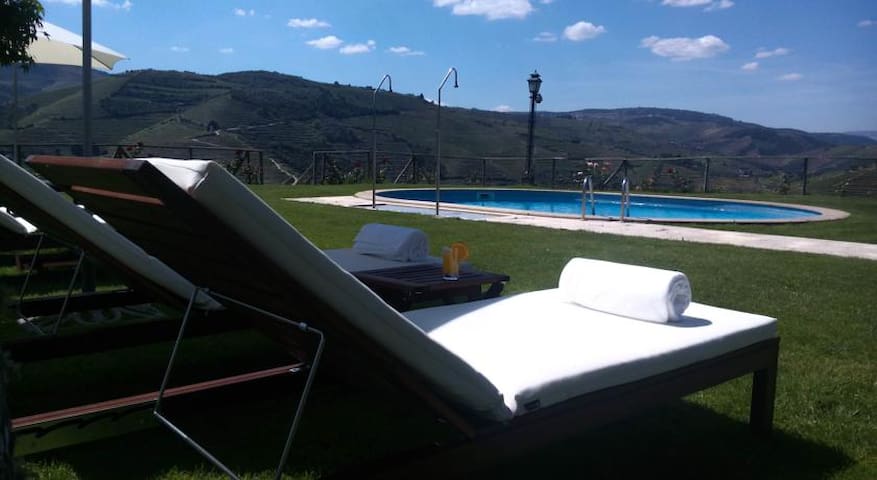 De studio is onderdeel van het grote authentieke woonhuis van de Nederlandse eigenaren, gelegen in Provesende, een traditioneel en, sinds een aantal jaren, beschermd wijndorp in het hart van de Dourovallei. Unesco werelderfgoed.
The studio was perfect for our short stay, beds were comfortable and room was very clean and well equipped. The garden was really nice and with a lot of privacy although unfortunately we did not have a lot of time to enjoy it. Jet was quite welcoming and gave us total flexibility on check in and check out times which was helpful as we were attending a party in a nearby Quinta and could not plan for exact times. All in all would definitely recommend the room for someone looking for a comfortable and cosy accommodation in Provesende.
Sérgio
2015-08-31T00:00:00Z
Supertoffe, aangename en propere studio te midden van mooie natuur. Wij hadden gerust nog enkele dagen willen blijven, wanneer ik Douro regio nog eens keertje aandoe dan zal ik zeker terugkomen. Jet & Ronald gaven ons meteen een warm onthaal .... kortom een aanrader.
Kris
2016-08-15T00:00:00Z
This is an absolutely beautiful studio that is even better than the photos. We highly recommend staying here! The garden is a joy with very beautiful views and a number of intimate seating areas. Make sure you explore some of the local walks in the area! Thank you for a fabulous stay!
Li & John
2015-08-22T00:00:00Z
Jet en Ronald zijn uitermate gastvrij, afspreken over aankomst ging soepel. De studio is schoon, voorzien van alle essentials, zeer ruim met een heel hoog plafond en dikke muren. Heerlijk bed en leuke inloopdouche, alles mooi ingericht maakt dat je je direct 'home-away-from-home' voelt. Uitzicht vanuit de tuin is geweldig! Provesende is een prachtig wijndorp in de Douro vallei. Kortom een absolute aanrader.
Dennis
2015-08-10T00:00:00Z
Le studio est conforme aux photos, et dispose d'un immense lit très confortable ! Il est situé dans un petit village de la vallée du Douro. Seul petit bémol : le wifi ne fonctionne que sur la terrasse exterieure et le studio n'est pas très lumineux de manière générale. A part ca c'était parfait.
roxane
2015-09-28T00:00:00Z
Jet wasn't there when we arrived, but a neighbor Julieta showed us the apartment. She was really nice but we had a communication problem, she could speak French but no English. It was a bit bad that jet wasn't there to explane us a bit about the area and what is there to see. The apartment was a highlight!!! The garden and the view are amazing ( bring your own food when you come late, there was no supermarket , or we couldn't find it). Also the furniture where so nice and everything was clean! Absolutely lovely!
Tatjana
2015-09-20T00:00:00Z
Great studio! Nicely decorated and designed. The building has 3 studios and 3 bedrooms for rent. Breakfast is served in a common room or outside in the garden with nice private spots when the sun is shining. We had a very nice welcome with a glass of Douro wine and received some information and tips for visiting quintas.
Arne
2016-05-11T00:00:00Z
We enjoyed our stay very much and would recommend it anytime! Jet is a very friendly host! She showed us everything, gave us some information about what we could do and visit in the region and was available for questions by mobile all the time. The house was very clean and tidy.
Sarah
2015-12-31T00:00:00Z
ประเภทห้อง
บ้าน/อพาร์ทเมนท์ทั้งหลัง
---
ประเภทที่พัก
อพาร์ทเมนท์
---
พักได้
2
---
ห้องนอน
Provesende, Vila Real District, โปรตุเกส
Provesende é uma aldeia situada no concelho de Sabrosa, na margem Norte do Rio Douro a cerca de 9 kms do Pinhão e de Sabrosa. Aldeia Vinhateira em pleno coração da Região Demarcada do Vinho do Porto. Casa independente localizada no centro da Aldeia, junto da Igreja Matriz, composta por 2 andares: R/C - Sala Comum, Cozinha e Casa de Banho 1º andar - 3 quartos e uma sala de estar. Local ideal para quem gosta de fazer caminhadas, boa gastronomia e padaria com forno a lenha.
Provesende is a village located in Sabrosa, on the north bank of the Douro River, about 9 kms from Pinhão and Sabrosa. Aldeia Vinhateira in the heart of Porto/Douro Wine region. The house was recently renovated but most of the original features were maintained including the building/house facade. Located in the center of the village with several vineyards in the proximities, for those who love hiking there are several trails just a few minutes away. House with 3 bedrooms and 1 bathroom with two floors. On the first floor, you will find the renovated kitchen as well as the living/dining room with a working fireplace. On the upper floor there is another living room with access to a television and bedrooms. Two of the bedrooms have twins beds with the their bedroom having a twin and a single bed.
ประเภทห้อง
บ้าน/อพาร์ทเมนท์ทั้งหลัง
---
ประเภทที่พัก
วิลล่า
---
พักได้
7
---
ห้องนอน
Provesende, Vila Real, โปรตุเกส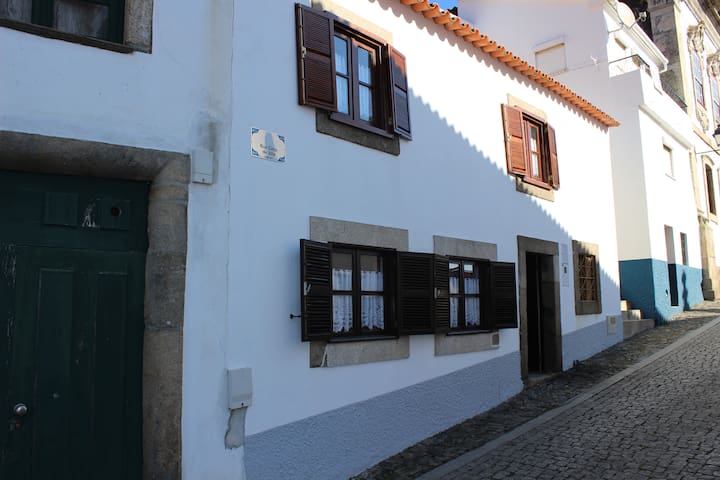 A Quinta Manhãs Douro situa-se em Provesende, uma pequena e acolhedora aldeia integrada na rota das "Aldeias Vinhateiras" caracterizada pela sua riqueza histórica e natural… o local ideal para quem procura calma e beleza...
Casa de Campo situada na região do Douro, Património Mundial da Humanidade.Considerada pelas 7 Maravilhas Mundiais da Humanidade 2010 como uma das melhores na sua categoria. Casa composta por 7 quartos, com banho privativo, sala de estar e restaurante, cozinha totalmente equipada, piscina com as dimensões de 12x6 metros e área de terreno de 16.000 metros. Óptimas paisagens e local muito sossegado.
O Hotel é rodeado por magnificas paisagens vinhateiras e uma natureza calma e relaxante.
A little piece of paradise. Hotel situated within the vineyards Beautiful(although small) room. Swimming pool welcome after a day drive from Porto. Isabelle will meet you in a perfect French. Luis is fluent in English and French so communication is no problem. Awesome breakfast can be taken outside, facing a spectacular scenery you won't forget soon. What is not to like???.... the church bells...every 15 minutes....
marc
2016-09-28T00:00:00Z
Très belle quinta , avec un panoramique exceptionnel sur la vallée de douro. Nous avons été époustouflé par la vue et l'ambiance zen qui se dégage du lieu. La piscine est très agréable et nous pouvions en profiter à toutes heures de la journée. Les chambres sont spacieuses et propres, literie très confortable. Petit déjeuner avec les spécialités du Portugal (pâtisseries). Hôtes discrets et très à l'écoute. Le village est très mignon aussi et nous recommandons le restaurant "papas zaide", bon marché , une expérience culinaire inoubliable. Mais vous pouvez également manger au quinta Manhattan douro. Promènez vous dans les vignes, il y a de belles ballades à faire!
Juliette
2015-08-15T00:00:00Z
Nous avons été bien reçus dans une chambre propre et confortable avec un petit déjeuner de qualité. Le calme et la tranquillité étaient très appréciables.
Flora
2015-09-25T00:00:00Z
We had a great stay in Manhas D'ouro. It is a beautiful, modern, clean place to stay and has amazing views. The swimming pool is amazing. Unfortunately the airconditioning wasn't powerfull enough for the room we stayed in so it was relatively warm at night. The food served is ok but nothing special (we only stayed 1 night so haven't explored any other options but the restaurant in town seems to be very good).
Layla
2016-08-19T00:00:00Z
The host canceled this reservation 16 days before arrival. This is an automated posting.
Brigitte & Noël
2015-07-20T00:00:00Z
Our stay at the Quinta Manhas Douro was the highlight of our vacation. It is a quiet retreat into the Vineyards with an incredible view and warm, hospitable hosts that will cook you traditional meals and accommodate your every request. After a nice hike amongst the charming neighboring villages you'll enjoy relaxing by the pool with a glass of port and a bowl of cherries picked right from the tree.
Olivia
2015-06-20T00:00:00Z
ประเภทห้อง
ห้องส่วนตัว
---
ประเภทที่พัก
วิลล่า
---
พักได้
2
---
ห้องนอน
Provesende / Sabrosa, Vila Real District, โปรตุเกส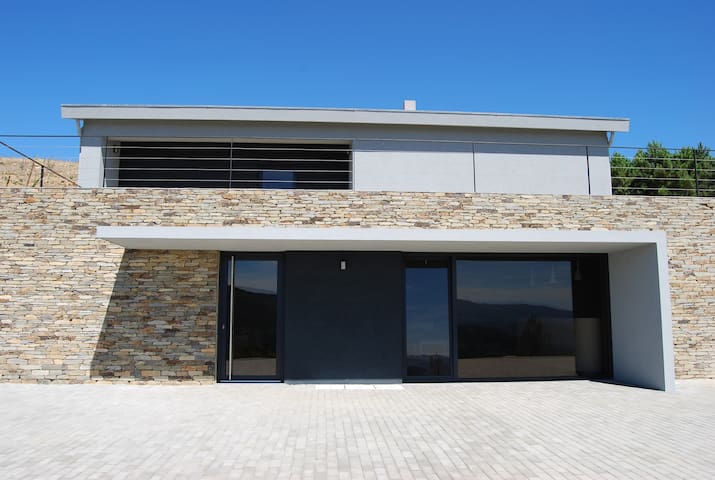 Quinta Gaspar is in the center of the wine village of Provesende, quiet location for a relaxing holiday. We give access to all the vineyards, for you to realize all process. The house has been recently refurbished to give you every comfort. Visit us!
Situated in the historic village of Provesende in Douro wine region, 8 km from Pinhão train station, 9 km north of Sabrosa and about 30 km from the city of Vila Real, this highly emblazoned village was recently included on the route of the wine-producing villages, witch take to a remodeling of the center of the village leaving her with a beautiful rustic theme very nice to visit. The house is surrounded by a beautiful farmhouse will allow guests to be in full contact with nature, and with the icon of this region, the wine, since there is a large plot vineyard and winery / cellar which at any time guests may request a guided tour by the owners entitled to proof of homemade wines. For each booking, we will be happy to offer you a tasting of that wine and if you want to purchase more in the future, you can contact us at any time.
My two fellow travelers and I had the most delightful time in this lovely and spacious apartment. The drive to get here was beautiful and exciting. When we weren't sure where exactly in Provesende the apartment was located, several of the townspeople generously and enthusiastically helped point us to the right place. We purchased supplies for a simple dinner, and enjoyed it while sitting on the terrace watching the sky darken. Manuel was the perfect host. We felt completely comfortable--charmed--to stay here. We hope to return soon.
Kathleen
2017-03-11T00:00:00Z
It was really lovely staying at Manuel's in Provesende, perfect location and very comfortable for two couples. Manuel was the perfect host, and we would highly recommend, Lisa & Mick, Maureen and Rudy, Tasmania, Australia
mick and lisa
2016-05-02T00:00:00Z
The host canceled this reservation 133 days before arrival. This is an automated posting.
Jean Yves
2016-03-26T00:00:00Z
Nous avons passé 1 nuit dans la maison de Diana et le cadre est exceptionnel. En plein milieu d'un village typique, situé sur la route des vins. L'accueil a été super avec une visite du petit vignoble du grand père de Diana et une dégustation de ses vins. Il a été très disponible pour nous indiquer les endroits à voir. En revanche je déconseille ce logement pour l'hiver car il n'y a pas un seul chauffage dans la maison. Nous avions un petit radiateur d'appoint peu efficace et une cheminée devant laquelle nous avons finalement passé la nuit. Nous reviendrons néanmoins avec plaisir en été car le cadre est très agréable.
JONATHAN
2014-12-30T00:00:00Z
Lovely relaxing place - great location! Very quiet and calm. Village is very quaint and full of character. Very clean house and everything really nice.
Simon
2015-08-16T00:00:00Z
Je pense qu'il est indécent de laisser la gestion sur place de ce logement à ce monsieur âgé qui fait de son mieux pour accueillir ses clients. Nous sommes déçus de notre séjour en raison du manque de chauffage manifeste à une période où il faisait froid; à notre demande, Manuel a allumé l'insert de la salle à manger et nous a informé de la présence de radiateurs électriques amovibles mais nous a mis en garde quant à leur utilisation en raison de la puissance électrique limitée du logement ( ne pas utiliser le micro- ondes en simultané ou autres appareils ?) Je précise que ce logement possèdent néanmoins divers électro-ménagers (lave-vaisselle, bouilloire, four électrique, grille pain, lave-linge, etc...) mais dont l'utilisation reste aléatoire!!! Dans le domaine de la propreté, l'une des chambres présentait une literie sale (notamment une couverture bleue présente dans le lit ainsi que des oreillers tachés); des serviettes de toilettes sales étaient aussi dans cette pièce!!! Visiblement, la fenêtre de la salle de bain n'avait pas été nettoyée depuis longtemps en raison des toiles d'araignées qui s'y trouvaient!!! Cet hébergement nous à coûté tout de même 98, 00 € la nuit (le plus cher de nos hébergements durant notre séjour) Je pense que le profit est une chose mais il faut aussi un minimum de respect envers les touristes.
Hugues
2016-05-15T00:00:00Z
Loved every minute of my time in this place. Found all people, including the family of the host welcoming and friendly.
Jane
2015-07-12T00:00:00Z
This was the best place we stayed in Portugal by far. The location and house is awesome and the gasper family is really nice and welcoming. We couldn't fault anything and we all would love to come back ASAP. Thanks Gaspers!
Matthew
2015-06-23T00:00:00Z
ประเภทห้อง
บ้าน/อพาร์ทเมนท์ทั้งหลัง
---
ประเภทที่พัก
บ้าน
---
พักได้
5
---
ห้องนอน
Provesende, Vila Real, โปรตุเกส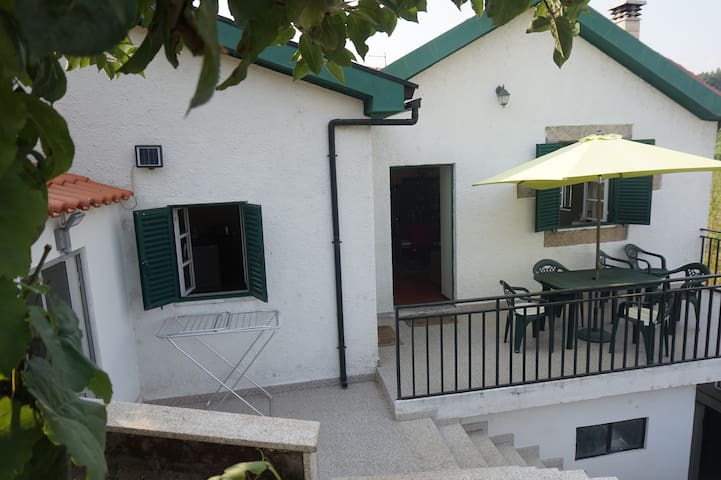 A country house located in Celeirós, a wine producing village in Douro. This two bedroom house is part of a manor house and has a small garden where you can relax. Perfect location to explore the unique landscape and the wine producers.
Typical village house, restored, part of a manor house from the 18th century. It has two bedrooms, kitchen, two toilets and a living room with beautiful views of the surrounding vineyards. There is an outside area with a yard, small garden and barbecue area.
Casa dos Vilares is located at the entrance of the small village of Celeirós do Douro, a wine producing village, Unesco World Heritage site. Celeirós is a traditional village from Douro with stunning views and nearby wine farms. It has a cafe, a small supermarket and a great bakery with fresh bread every morning and a Turism/Post office. The village also has a beautiful 18th century church and some fine, large manor houses. There are plenty of walks both up into the hills and down to the river where there are opportunities for wine-tasting and river trips.
We had a wonderful stay at Casa dos Vilares. The house is nestled in a quiet mountain village and is bigger than we expected. The house had everything we needed and Margarida even had a crib set up for our son when we arrived. Margarida was wonderful to work with and provided plenty of recommendations of things to do and places to eat, making our stay a delight. I would recommend this property to anyone looking for a quiet place to stay in the Douro region. The village of Celeiros is very cute. Just 50 feet from the house is the local bakery, where we bought bread and sausages every morning. We also hiked into the nearby river valley and enjoyed the restaurants in the neighboring town of Sabrosa. We used the house as a base to explore the Douro valley, numerous vineyards, Porto, and other surrounding towns. The house perfectly suited our needs and we thank Margarida for her hospitality.
Ryan
2016-07-07T00:00:00Z
We arrived at the house, but somehow missed the message about how to get the key. No matter-the village residents were soon in conference to help solve the problem. Within 10 minutes the lady who cleaned the place was there with a key. The man who owned the local mini market had opened up so that we could get some groceries and wine. The cafe/bar owner made us most welcome. The house itself was beautiful-two bedrooms; two bathrooms; beautiful views of the vineyards; easy parking. From the house we drove to Pinhão, worth the effort for the spectacular scenery and the beautiful train station. We arrived at the house via Porto and left it to go to Guimarães-both drives breathtaking. This is the perfect place to stay if you're off to the Douro Valley.
J Michael
2016-10-04T00:00:00Z
A casa é muito acolhedora e confortável, está totalmente equipada conforme descrição e tem todas as condições para passar uns agradáveis dias de descanso. Numa pequena aldeia muito tranquila e com uma vista lindíssima, a casa fica muito bem localizada para quem pretende explorar a bonita zona do Pinhão e do Rio Douro. Anfitriões muito prestáveis e disponíveis em todas as comunicações. Tudo está organizado e acessível e na casa existem informações úteis sobre a localidade e sugestões de passeios. Recomendo.
Isabel
2016-03-26T00:00:00Z
Adorámos a estadia! A casa é lindíssima, muito acolhedora (sentimos como se estivéssemos em casa) e tem uma bela vista sobre o douro e as suas vinhas. Fomos recebidos com muita simpatia e sempre que precisámos de alguma coisas, não hesitaram em ajudar-nos. Recomendo vivamente e vamos lá voltar.
Ana
2016-01-04T00:00:00Z
The house was great and it really added a lot to our experience. The people of the neighbourhood are very friendly and we were very well located to see all wineries. The house is spacious. Nice garden and to be frank, the house is better than it looks in the pictures. I highly recommend. Thank you. Roberta.
Roberta
2016-04-29T00:00:00Z
The property was impeccable in every sense. A real pleasure to stay there. An additional thing would be a little history of the house and the village over the years. Very surprising to find a large property with such a an impressive façade tucked away from the main street of the village. Highly recommended.
Keith
2016-07-24T00:00:00Z
Super location dans un village typique de la région. La maison était très pratique et bien équipée et offrait une vue magnifique sur les vignobles alentours. Le contact avec Margarida était facile et elle répondait rapidement aux messages. Nous n'avons malheureusement pas eu l'occasion de la rencontrer mais notre visite était très bien organisée.
Christophe
2016-08-09T00:00:00Z
ประเภทห้อง
บ้าน/อพาร์ทเมนท์ทั้งหลัง
---
ประเภทที่พัก
บ้าน
---
พักได้
4
---
ห้องนอน
Sabrosa, Vila Real, โปรตุเกส
Casa no Douro, em Casal de Loivos, junto ao Pinhão a 5 minutos da belíssima marina da vila. Paisagem deslumbrante. Casa renovada e mobilada. 2 quartos, 1 Wc, sala e cozinha. Ideal também para férias em família ou fins-de-semana. Pronta a habitar. Em Casal de Loivos, situa-se um dos miradouros mais bonitos do mundo, segundo a BBC.
ประเภทห้อง
บ้าน/อพาร์ทเมนท์ทั้งหลัง
---
ประเภทที่พัก
บ้าน
---
พักได้
4
---
ห้องนอน
Vila Real, Vila Real, โปรตุเกส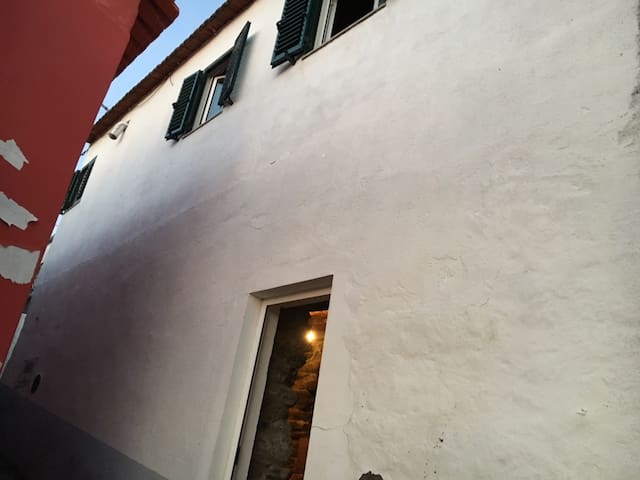 De studio is onderdeel van het grote authentieke woonhuis van de Nederlandse eigenaren, gelegen in Provesende, een traditioneel en, sinds een aantal jaren, beschermd wijndorp in het hart van de Dourovallei. Unesco werelderfgoed.
De studio is onderdeel van een traditioneel huis in een oud wijn dorp. Door zijn dikke muren van soms wel een meter dik, is het in de zomer een heerlijke koele plek om te slapen, tijdens de warme zomernachten.
Provesende heeft een prachtig kerkje, wat winkeltjes en een leuk en lekker huiskamer restaurantje, Papas Zaide,waar je op afspraak kunt eten.
Fantastic place, in a beautiful town! We were lucky enough to stay in the large upstairs room with large kitchen and terrace which was amazing. The terrace is the perfect place for an evening dinner. Highly recommend!
Byron
2015-09-12T00:00:00Z
Provesende è un bellissimo paesino che si erge sulle colline sovrastanti la valle del Douro e l'appartamento di Jet è davvero bello (risulta pure più bello dal vivo che nelle foto), grande e confortevole, pulito e tranquillo, e con una bellissima vista sulla valle. L'ospitalità di Jet e Roland è stata davvero fantastica; la sera del nostro arrivo abbiamo cenato con loro e con gli altri hosts nel balcone del loro appartamento, e Roland ci ha fatto assaggiare degli ottimi vini della zona, accompagnandoli con spiegazioni dettagliate e interessanti. Tutto davvero molto bello, estremamente consigliato.
Leonardo
2016-09-30T00:00:00Z
Nos hôtes ont été très recevant et très disponibles pour que nous nous sentions à notre aise très amicale et sourillants . Un magnifique jardin avec des petits coins de repos et de petites tables pour prendre un repas ou tout simplement un petit verre de porto avec une superbe vue sur la vallée. Le studio et de très bon goût et très chaleureux la conception et le soucis des matériaux, céramiques, pierres sont très bien agencé. Le village est calme et typique. il est bien situé pour découvrir les vignobles et découvrir la vallée du Douro
denis
2016-08-16T00:00:00Z
We had a very comfortable stay at Studio Voor and really appreciated Ronald and Jet providing a very nice dinner with specially chosen wines on our arrival evening. The studio is comfortable and we loved the garden with a wonderful view over the Duoro Valley. Definitely recommended.
Robin
2016-09-13T00:00:00Z
Super rustig dorpje met fantastisch uitzicht.
Wander
2015-05-08T00:00:00Z
Il a été très accueillant et sympathique! Logement très confortable, paisible et au milieu d'un paysage à couper le souffle!
Guillaume
2016-04-28T00:00:00Z
Lovely place with a wonderful garden and an amazing view on the douro's valley. The host were great, very friendly and helpfull ! Don't hesitate to go there ! Arthur & Juliette
Arthur
2016-08-13T00:00:00Z
ประเภทห้อง
บ้าน/อพาร์ทเมนท์ทั้งหลัง
---
ประเภทที่พัก
อพาร์ทเมนท์
---
พักได้
2
---
ห้องนอน
Provesende, Vila Real, โปรตุเกส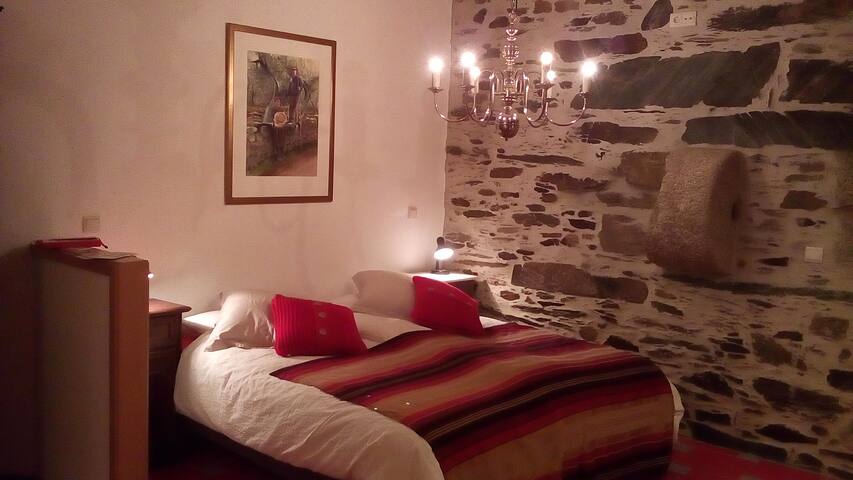 Casa de Gouvães is rented in exclusive basis as a self-catering villa. 3 double rooms with private bath, sleeps 6 + 3 extra beds. A/C, heating, TV 70 channels, Internet Wifi, pool, games room, barbecue; Breakfast included.
Casa de Gouvães has the perfect location overlooking the vineyards of the Douro Valley. The villa accommodates 9 with high standards of comfort and service. 3 en-suite double rooms and 3 extra beds available.
Casa de Gouvães is located at the end of the small village of Gouvães do Douro. Overlooking landscapes to the vineyards and olive groves. Nearby Port wine quintas and the Douro river. Pinhão is 10 minutes away.
Where to start? This property is absolutely stunning and the hosts are spectacular. All of the bedrooms have ensuite baths making it perfect for couples and families. There is a separate game room located across from the pool, which can isolate noise from the main house. The pool is refreshing, especially on a hot day and there are two stunning terraces. The lower terrace has three sitting areas and the upper terrace has a day bed for 2 with pots of strawberry and lavender plants. The views are beyond words. There is not a single detail that the hosts have missed. The house is full of interesting books, lovely furnishings, fine quality linens, and even a tablet that gives you information on the area. Our hosts Francisco and Estrela were wonderful. Communication was incredibly easy and Estrela warmly welcomed us on arrival with provisions in the refrigerator, port wine, and a delicious homemade orange cake. She also returned each day to prepare breakfast for us. The house is a short 5 minute walk to Gouvaes Do Douro, a small, but wonderfully scenic village. Walk to the village and then continue past it to the vineyards and ruins beyond. The views at dusk are incredible. Everything was perfect -- Muito obrigada Francisco and Estela!
kristin
2015-06-29T00:00:00Z
Belle maison, belle vue, contacts faciles, bon accueil, bons moments entre 6 amis à moto. Il faut un véhicule pour accéder à la maison qui est à 10 bonnes minutes de Pinhao par une jolie route entre vignes et forêt. Tout est disponible à la maison pour passer du bon temps tranquillement. Au centre de la plus belle région du Douro.
Alain
2016-10-02T00:00:00Z
Our group of 8 loved everything about the Casa. The location is very scenic, the amenities were as described - 3 bedrooms each with its own private bathroom, a game room with a pool table, a swimming pool, a very large living room and equipped kitchen and a reading/quiet room. Plus, every morning, Carla (the house care taker) made us an amazing breakfast. We couldn't be happier and can't wait to come back and spend more time at this Casa. Oh, and Carla also helped us with booking a river cruise and a wine tasting. The service was just amazing. Thank you so much for making our trip so memorable.
Chirag
2016-10-26T00:00:00Z
Francisco was extremely easy to communicate with prior to our visit. We exchanged numerous emails regarding reservations for dinners and wine tours. His attention to our requests was above expectation. He provided us with written directions to the villa. This was very helpful, as the last few miles are in a somewhat remote location. But the drive is beautiful and worth the experience. The villa was very comfortable for three couples; three bedrooms with double beds and private, modern bathrooms. The common areas are very large. The views were phenomenal and the sunrises are spectacular from the front bedroom windows and upper deck. The very best feature of this house is your hostess, Carla! To say she greeted us warmly is an understatement! She is a very friendly and giving young woman. She made recommendations about the timing of our tours, arranged cabs and has connections with area quintas and restaurants. She arrives each morning and makes breakfast, but is in no way intrusive of your privacy. The pool is large and inviting, but unfortunately, although beautifully sunny every day, it was not warm enough during our stay to enjoy it. If you like good port wine and natural beauty, a stay at this villa is highly recommended.
Valerie
2016-09-25T00:00:00Z
Carla was the best. Attentive to all of our needs in every way. We arranged a dinner the first night after a long day of travel and it was excellent. She helped arrange dinner reservations and wine tours as well. She always made you feel at home. The place was beautiful and the location perfect. Living areas and bathrooms comfortable and beautifully appointed. The kitchen had everything we needed for our cooking needs as well. I would highly recommend this place. You won't be disappointed! We will miss youCarla!!
Judy
2016-10-14T00:00:00Z
Top page photo is the one we saw when we arrived here. I felt I were in the flying island. When we drove a car from the exit of highway, we were afraid that we are on right way to get there. No need to worry. It is far from daily life. Good location, weather, food. I would like to come back soon!
Hajime
2015-08-16T00:00:00Z
Francisco did an excellent job of communicating with us prior and during our stay. Estrela gave us a warm greeting and detailed overview of the house before making us a delicious evening meal. Her morning breakfasts and help with Quinta and restaurant visits were highly appreciated. The house was perfect. An updated take on the classic village home. The sleepy village and the view for miles make for a memorable stay.
Mark
2016-05-01T00:00:00Z
Incredible views and a perfect place to explore the Douro valley from... Even on a rainy afternoon we lit the fire and enjoyed the peace and quiet! Estrella did an excellent job looking after us and is a great source of knowledge on port, wine and things to do in the local area.
Simon
2016-02-09T00:00:00Z
ประเภทห้อง
บ้าน/อพาร์ทเมนท์ทั้งหลัง
---
ประเภทที่พัก
วิลล่า
---
พักได้
9
---
ห้องนอน
Gouvães do Douro, Vila Real, โปรตุเกส
House with three suites, garden and pool, surrounded by a fantastic landscape Traditional style house fully restored in 2005. It is inserted in a property of 10 hectares of vineyard that produces its own wine and olive oil.
ประเภทห้อง
บ้าน/อพาร์ทเมนท์ทั้งหลัง
---
ประเภทที่พัก
วิลล่า
---
พักได้
6
---
ห้องนอน
Sabrosa, โปรตุเกส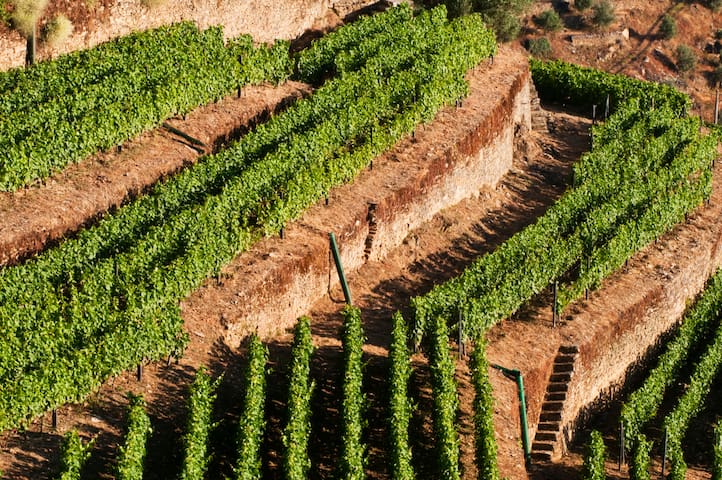 My space is close to art and culture, beautiful scenery, and restaurants and meals. My space is good for couples, solo adventures, business travelers, families (with children), and large groups.
ประเภทห้อง
บ้าน/อพาร์ทเมนท์ทั้งหลัง
---
ประเภทที่พัก
บ้าน
---
พักได้
6
---
ห้องนอน
Provesende, Vila Real, โปรตุเกส
O meu espaço fica em Casal de Loivos que se situa a 7 Km do Pinhão, com um magnifico miradouro sobre o vale do rio Douro.. Vai adorar o meu espaço porque é de Lugar ideal para descansar e apreciar a paisagem Duriense.. O meu espaço é bom para casais, aventuras individuais, e viajantes de negócios.
A aldeia de Casal de Loivos está inserida na paisagem protegida, Douro Património Mundial. Usufrui de uma beleza paisagistica única. Do seu Miradouro vê-se uma ampla paisagem vinhateira de séculos.
Endroit tres beau. Accueil simple et efficace. Recommandé
Yuna
2017-02-09T00:00:00Z
ประเภทห้อง
ห้องส่วนตัว
---
ประเภทที่พัก
วิลล่า
---
พักได้
2
---
ห้องนอน
Casal de Loivos, Vila Real, โปรตุเกส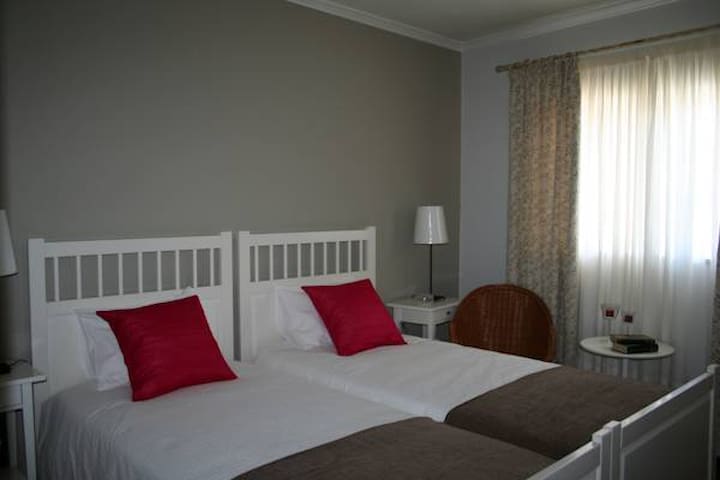 Lugar das Letras was distinguished by The Guardian as one of the 40 best holiday villas in Europe in 2015. This former elementary school in the countryside was rebuilt and converted into a self-catering villa. Rental in exclusive basis, providing high standards of accommodation and service. 4 double rooms with private bath, sleeps 8 + 3 extra beds. A/C, heating, TV 70 ch., Free Wifi Internet, pool, games room, fully equipped kitchen and barbecue. Breakfast is always included in the stay.
Lugar das Letras has the perfect location overlooking the vineyards of the Douro Valley. The villa accommodates 11 with high standards of comfort and service. 3 en-suite double bedrooms and extra beds for 3 more available.
Lugar das Letras is located at the end of the small village of Gouvães do Douro. Overlooking landscapes to the vineyards and olive groves.
We had a fantastic time in this lovely villa. Everthing is extremely well done and well looked after. The swimming pool and the pool table both gave our children hours of entertainment and the villa itself is superb. The location is great with amazing views over the valley, but it is fairly remote. Take a good supply of food with you and you won't need to leave the villa at all! We are already planning our return.
Peter
2016-08-30T00:00:00Z
This home deserves 6 stars. Our family of 5 stayed for 5 nights and fell in love with the area and home. Much of our wonderful experience was due to hostess extraordinaire, Carla. She made us a delicious breakfast every morning, helped us with reservations and provided us with great recommendations. The house itself is great; as described in the pictures. Spacious, modern, comfortable... everything you need for a relaxing vacation in the Douro. The kitchen is WELL equipped with anything you could need for cooking. The linens and beds are high quality and comfortable. The detached game room was perfect for our 2 boys to play. We highly recommend Francisco's home and will be back soon.
Charlotte
2017-02-14T00:00:00Z
A beautiful and well decorated house. A stunning view. Great accomodation and large bedrooms. Very good breakfast served by Estrela. The roads up to the village aren't easy, but it's well worth it. Only the weather was not on par, always rainy and cold, but for this Casa da Letras is not responsible for. Still, the house has enough entertainment value to keep the guests happy.
Hugo
2016-04-10T00:00:00Z
As fotos traduzem a realidade Éramos 8 pessoas com 2 bebés instalados confortavelmente Quartos espaçosos Estivemos na passagem de ano e o aquecimento era suficiente;
Heloisa
2017-01-01T00:00:00Z
ประเภทห้อง
บ้าน/อพาร์ทเมนท์ทั้งหลัง
---
ประเภทที่พัก
บ้าน
---
พักได้
11
---
ห้องนอน
Sabrosa, Vila Real, โปรตุเกส
As acomodações estão equipadas com televisão de ecrã plano com canais por satélite. São fornecidas toalhas e roupa de cama. Internet e estacionamento gratuito na propriedade. Dispõe de uma piscina exterior e salão de jogos com snooker e ping pong.
Casa de Férias Quinta da Galeira. A Quinta da Galeira está situada em Pinhão, na Região do Norte, a 40 km de Vila Real. Disponibiliza uma piscina exterior e vistas para as montanhas. Peso da Régua encontra-se a 26 km. No local é providenciado acesso Wi-Fi gratuito e estacionamento privado gratuito. As acomodações estão equipadas com uma televisão de ecrã plano com canais por satélite. Algumas unidades possuem ar condicionado e uma área de estar e/ou jantar. Existe uma cozinha com uma máquina de lavar louça e um forno. Também está disponível um micro-ondas, uma torradeira, um frigorífico e uma máquina de café. Em todas as unidades há uma casa de banho privativa com uma banheira. São fornecidas toalhas e roupa de cama. A Quinta da Galeira também inclui uma piscina exterior, durante todo o ano. Mondim de Basto fica a 42 km da Quinta da Galeira, enquanto Lamego encontra-se a 25 km. About us: Welcome to Quinta da Galeira!! This house has 2 rooms with en-suite bathrooms, and 1 room with a separate toilet. Fully equipped Kitchen with 2 living rooms. Our guests can also count with WI-Fi network, snooker room and swimming pool. With secular traditions in the production of Port Wine, Quinta da Galeira offers you the unique possibility to have your holidays in privacy and enjoy winery tours. Douro Wine Region, Portugal, a UNESCO World Heritage Site where wine has been produced for some 2000 years and an outstanding example of a traditional European wine-producing. We provide a high level of personal attention and excellence in our services to give you an unforgettable experience. We offer space, privacy, harmony, personalized service and the opportunity to commune with the breath-take beauty of Douro. The door of our house is open to receive people from various corners of the world in a family and friends atmosphere.
Great location in PInhao for exploring the quintas of Douro valley, the view over the river and valley is quite special. The apartment is spacious and private. Pedro was easy to communicate with and was available for any of our questions during the stay. Thanks Pedro for a lovely stay!
Karoliina
2016-10-19T00:00:00Z
We had the best three days at Pedro's beautiful house in Pinhao! Pedro handled everything professionally and efficiently from the time we booked through check out. He is there to help you with anything you need and goes above and beyond to make sure his guests have a great time. We left our car parked and walked into town everyday, did a boat tour, had meals at local restaurants and with enough port tastings barely noticed the walk back up the hill :) The views are amazing, and it was so relaxing to read in the terrace over looking the valley and jump in the pool when needed. One of the best Airbnbs we have ever stayed in!
Tenille
2016-07-05T00:00:00Z
Pedro's house is located on the top of a hill in Pinhao, a very convenient home base for touring the Douro Valley. The views are absolutely stunning - probably better than any you will get staying in the center of town or at most quintas. The house itself is great - fully equipped, clean, spacious, and comfortable. We loved the huge patio overlooking the river and valley. We didn't meet Pedro, but his sister and girlfriend met us when we arrived and were very friendly and helpful. They called us a taxi several times when we wanted to head into town for dinner. It is possible to walk into town, but it is a very steep hill and it was much easier to just take a quick taxi. We HIGHLY recommend staying here. It was our best Airbnb experience yet! We also highly recommend that you visit the Douro Valley - the quintas have amazing views, great wine, and an incredibly relaxing atmosphere. We also took a private sailing trip with Antonio of the company Anima Durius, which is a must-do! Their boat is docked in front of the Vintage Hotel in town and is definitely worth a few extra euros for a private trip vs. the tourist group boats.
Corinne
2016-09-16T00:00:00Z
Un paradis au cœur de la vallée du Douro...grosse villa à nous deux, la vue splendide comme sur les photos et la piscine qui est plus qu'apprécié quand la chaleur frôle le 40 degré celcius. Ne pas hésiter, sûrement un des meilleurs appartements sur Airbnb !
Christiane
2016-09-06T00:00:00Z
Wonderful stay at the Quinta, lots of space, comfortable beds, well equipped kitchen. Pedro is a welcoming and available host. The house is close to many of the top Quintas in the area and has gorgeous views. Would stay here again when we return!
Elisabeth
2017-03-25T00:00:00Z
Pedro was a fantastic host! He was super easy to communicate with and gave us good directions. He made us feel so welcome. The house was perfect for our family; roomy, clean, conveniently located and the view of the Douro River from the front terrace was gorgeous. Pedro brought us some of his homemade port, showed us his vineyard and got us some coffee. He generously offered his time to show us around the village of Pinhao and went with us on a tour of a winery, introduced us to his various family members and took our grown son out in the evening after dinner! The beds were comfy, the heaters worked well, wifi worked perfectly, kitchen was well-equipped and there are 3 bathrooms! My son and I enjoyed playing ping-pong in the rec room.
Catiya
2016-05-15T00:00:00Z
Espace généreux dans toutes les chambres, sdb, cuisine et de la terrace. La région n'est pourtant pas particulièrement propice aux randonnées.
Richard
2017-03-31T00:00:00Z
The view from the veranda is magnificent! We spent 5 nights at Pedro's and never tired of the view. Driving around the Douro enjoying the amazing views of the countryside was an unforgettable experience. Based on Pedro's recommendations we toured wineries and dined at several local restaurants and were never disappointed. The apartment is very spacious, well equipped and very comfortable. Pedro was always available to answer questions. We will recommend Quinta Galeria to all of our friends.
Brian
2017-04-05T00:00:00Z
ประเภทห้อง
บ้าน/อพาร์ทเมนท์ทั้งหลัง
---
ประเภทที่พัก
กระท่อม
---
พักได้
6
---
ห้องนอน
Pinhão, Vila Real, โปรตุเกส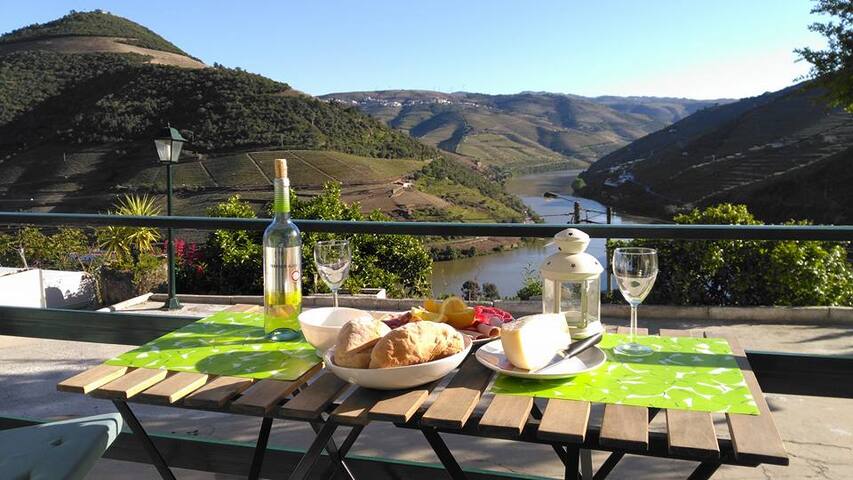 1

–

18

จาก

ที่พัก 50 รายการ
กรอกวันที่เพื่อดูการกำหนดราคาเต็ม มีค่าธรรมเนียมเพิ่มเติม อาจมีภาษีเพิ่ม