Our beautiful house is spread over a six acre property adjacent to River Ridge Golf Course. Our house is close to Foxwoods, Mohegan Sun, Mystic and i-395. You will be using the private in-law apartment attached to the house. It is a good space for couples, solo adventurers, business travelers, and families (with kids).
This place is amazing. Very clean and comfortable. Laurie is really a helpful host. It was a great stay! Would recommend to future guests!
Rachel
2017-03-06T00:00:00Z
We stayed at Laurie's place to go to Foxwoods for the night, and we had a wonderful stay. Check-in was very easy and Laurie even left us homemade cookies! The kitchen was stocked with necessities and everything was very clean. Beautiful location with a balcony and private parking. Loved our stay, thanks so much!!
Natasha
2017-02-19T00:00:00Z
Hi, I had a very pleasant and quiet stay at Laurie's place, it is a large studio apt. with a patio deck, a comfortable bed, cable tv, wireless internet, separate kitchen and bathroom, the bathroom had this really big walk in shower that I really liked, in the kitchen there was chocolate chip cookies on the table, fruit and in the frig. there was eggs, milk, butter, English muffins, jelly, water, and a few other things that I didn't expect which was a really nice.The location was great for me since it was close to the casino's and hi ways and easy to get to, overall, I had a really nice stay and the host Laurie and fiance Claude were very nice, down to earth people always checking to see if I needed anything! I would definitely consider staying there again!!!
Michael
2016-12-09T00:00:00Z
Adorable and more than adequate apartment within seven miles to Foxwoods. Laurie was a great host and the night's stay was perfect.
Kristine
2017-02-26T00:00:00Z
Perfect location, about 15 minutes from foxwood ($15 Uber each way). The place is beautiful and clean. Will definitely be coming back. Thank you
Arisbel
2017-03-04T00:00:00Z
This place is everything it says it is and more! Breakfast and coffee were great! It's right down the street from Foxwoods. All the appliances look brand new and there are many hiking trails nearby. I would definitely plan another trip here!
Kevin
2017-03-26T00:00:00Z
My husband and I visited on an overnight trip to Foxwoods. The location is very convenient and reasonable. Laurie was very welcoming. She had delicious homemade cookies and milk waiting for us when we arrived. I am very picky about my milk I like it cold and extremely fresh. I was impressed that the milk was just what I would have wanted. My husband has to stay in constant contact with his clients and the wireless internet was strong and fast. We enjoyed our stay and plan to return again.
Sherrie
2017-03-01T00:00:00Z
This was our first airbnb experience and we couldn't have asked for a nicer host and place to stay. The apartment was charming, clean and cozy. Laurie added in such sweet touches like treats and coffee, tea and milk for the morning. The bed was more comfortable than any hotel room bed I've slept in! Convenient proximity to either casino and lots of uber transportation near by. Overall a great experience!
Kaylan
2016-12-04T00:00:00Z
ประเภทห้อง
บ้าน/อพาร์ทเมนท์ทั้งหลัง
---
ประเภทที่พัก
อพาร์ทเมนท์
---
พักได้
2
---
ห้องนอน
Griswold, คอนเนตทิคัต, สหรัฐอเมริกา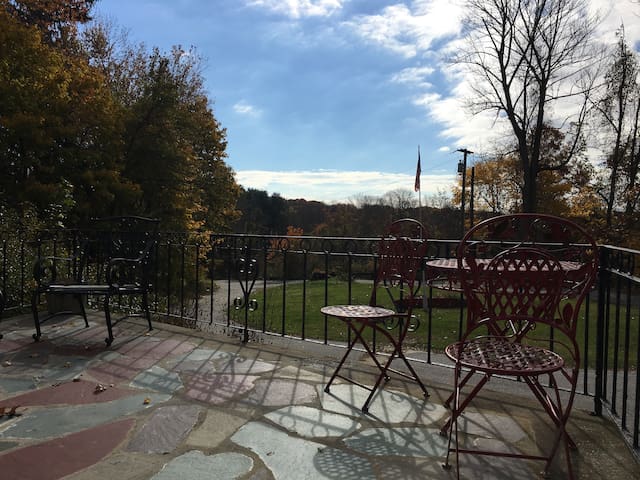 Please read the whole description of this property to make sure it is suitable for your family. There is a 26 acre lake here and some electric fencing, which may be unsuitable for young children. I think the best way to make a decision about booking is to read the reviews enclosed here. I think my guests describe the accommodation even better than I do!
We have a lovely spot just two miles off of I-95, with a 26 acre lake and walking trails. The closest town is Westerly, RI. It is a pretty town, with restaurants and shops, a gorgeous library, and a wonderful park, called Wilcox Park. Often there will be a festival or concert in the park. In the apartment, we provide information sheets outlining the best of Westerly and some other areas. Near Mystic is Stonington Borough ( love Dog Watch Cafe in Stonington) and Mystic, CT. Both towns have nice restaurants and boutiques, and are great for strolling. Watch Hill beach is gorgeous (Parking is expensive during the summer months, but free after 6:00 in the evenings). Narragansett Beach and Wickford and the surrounding towns are very nice. Newport, RI is about an hour away. Newport is known for the 3.5 mile Cliff Walk, which is the waterfront area behind the great mansions. There is also a mansion tour where you will see the interiors of these amazing homes. There is a great selection of restaurants in Newport, as well. Information sheet in the apartment. Providence, RI is 35 minutes away (north) and has a more extensive offering of restaurants. See Yelp. The casinos are less than a half hour away. Mystic Seaport and the Mystic Aquarium are 4 exits to the south. Some of my guests have taken fishing excursions. Others have gone on whale watching tours. There are ferry excursions to Block Island and to Long Island. After touring, sit lakeside with a glass of wine. The photos shown here highlight the different vantage points of the lake, not the views from the apartment windows. We recently completed our retirement home - it's a big red barn finished as a home, shown in one of the photos. The airbnb apartment is on the lowest walk-out floor of our home. The airbnb one-bedroom apartment is beneath our barn/home, on the ground level, and it is an airy, bright walk-out, with it's own private entrance, just about 100 feet from the lake, but without a view of the lake. This is not a private cabin in the woods... I just want to be clear. It is part of our home. You will hear us, but we try to be very respectful and quiet. We get up early, but stay on our top floor for the most part in the early morning hours. But, I can't guarantee absolute silence. Our home is upstairs. We move around very quietly. We have dogs, so you may here them walking around. You will have all the privacy that you need. You will not hear party sounds or moving of furniture, just the sounds of gentle living. This adorable apartment has one bedroom with a queen-size platform bed. We provide all bed linens and towels. The apartment is best suited for one couple, as there is only one queen bed. I will not rent to two couples. The apartment has a great kitchen complete with pots and pans and coffee-maker. I stock a few items in the refrigerator, but I do not serve breakfast. I let my guests make their own breakfast with the items in the fridge. Please let me know if you are vegan, dairy-free, or gluten-free, and I will try to think of some alternatives to the items I usually provide. I put in the fridge: coffee, tea, English muffins, butter, jam, eggs, and granola. I provide enough breakfast items for my weekend guests. People who stay longer will want to go to a grocery store to buy some more things, I'm sure. On our property, there are trails into the forest and it's possible to walk back to see the new pond that the beavers made. They are creating a little havoc with our water flow, but we kind of love them, too! We recently saw a pair of bald eagles! It was quite a sight to behold! Other creatures that we see : otters, foxes, deer, turkeys, and occasionally, coyotes. Tick spray is needed if you walk into the woods. Ticks are terrible this year! Parking is plentiful. You can pull up very close to the red barn home, and you will be close to the Airbnb entrance for bringing in your suitcases.,, (on left side of home,inside of a picket fence). We have 5 dairy goats and 2 Boston terriers. We have a small vineyard, a blueberry patch and a fruit tree orchard. You'll have all the amenities of a private hotel room, but you can also enjoy nature, pet the goats, row in the canoe , walk on our trails, and get to the closest beach in 20 minutes. You will love it here! I think I have become a special respite for New Yorkers looking to escape from the hustle and bustle of the city. Many have come and expressed that this place - the small, attractive, neatly-organized, new-ish apartment and the picnic spot by the lake - have been just what they needed to relax and get away from the buzz and stress of the city. Please give me an idea when you will arrive and leave. I'm asking that guests come around 3:00 PM (arrival) and check out by noon. I have to be firm about check-out time. I often have back-to-back reservations every summer, and must allow this 3 hour window to clean, change bedding, and stock the room. If you plan to come after dark, let me know and I will leave an outside light on for you. We will be renovating a pre-Revolutionary War farmhouse on the property, right next door from the airbnb apartment, but we will not make noise during your stay. Inside the apartment, I have a lot of reference information and maps. I've noted a few places to visit and to eat. As my guests give me recommendations about restaurants that they have tried and enjoyed, I am adding them to the guidebook. One place that is always great is the Matunuck Oyster Bar, about 20 minutes away. In the summer, the lines are long. Just so you know....Rhode Island recently decided that airbnb hosts have to pay sales tax and hotel tax. Airbnb will be collecting it for us, so it's included in the price that you will be charged when you book the space. Our farm may not be suitable for small children. We love them, but we do have a big, unsupervised lake and some electric fencing.
Our neighborhood is very quiet. We are close to I-95, which makes it very easy to go to Mystic, CT, which is 4 exits to the south. In Mystic, there is the Mystic Aquarium and the Mystic Seaport. Also, you will find boutiques and restaurants. Stonington Borough is 3 exits to the south. Providence, RI is about 40 minutes north on 95. Newport, RI is an hour and 20 min away. so you can get to any of the towns and cities nearby very easily. Boston is less than 2 hours away. There are not too many restaurants right in our town. I encourage guests to leave me names of places that you have enjoyed, so I can include them in my reference materials. When reading the information on my site, scroll down to the map. On the map, you will see icons of nearby restaurants, parks, wineries, and more.
Everything was perfect !!! It was so charming!!! Thanks to Marsha and Ed for the wonderful 10 days ! Joëlle, Mathieu and Xavier
Joelle
2016-07-21T00:00:00Z
Marsha and Ed were fabulous hosts! The place was clean and just as the pictures showed. The lake was beautiful, the goats were friendly and the surrounding town was lovely. We had the best weekend and hope to be back!
Julia
2016-09-05T00:00:00Z
Our first Airbnb experience and did we ever luck out. What a little gem! The charming little apartment has a private entrance and parking area and a private patio right outside the door with barbeque, tables and chairs. It is like a little doll (URL HIDDEN) sweet! The lake is dreamy...surrounded by woods and dense with beautiful water lillies. My husband loved fishing there . I loved sitting under the trees in view of the lake with a good book. Beauty abounds! Marsha and Ed are two amazing people. Marsha is a talented artist and her art decorates the walls and she seems to have thought of everything. The fridge was stocked with coffee, eggs, cream, butter, jams, muffins, drinks...even candy. On the granite counters were two kinds of coffee makers, biscotti, shortbread cookies.etc etc. Ed is a fascinating guy and we loved having the chance to talk with them both. If it is privacy you seek they will only be there if you need them...but you will have a real treat if you get a chance to speak with them. The location is perfect for exploring the surrounding towns and beaches. Westerly, is not too far and there are some nice restaurants there. We followed Marsha's tips on places to dine in the surrounding towns and they were spot on. I imagine the fall must be spectacular with the dense trees that surround the picture perfect lake. If you find yourself seeking a place to spend some time in this area...look no further. The hardest part of staying here is having to leave!
enid
2014-07-11T00:00:00Z
This was one of the best Airbnb experiences I've had so far! Marsh was a delightful host. The apartment was just fantastic, and the surrounding landscape was just spectacular. I was able to get to the beach and to Providence as well as remain on the property relaxing, reading, and writing. Marsha put all the right touches in place and set me up with a great set of delectable treats as well as all the amenities. I would highly recommend staying there and look forward to going back myself.
Ciaran
2016-09-24T00:00:00Z
The most wonderful getaway... An easy drive around scenic Rhode Island gets you to Marsha and Ed's absolutely charming and private property! The apartment was 100% stocked so that we could just get straight to bed or drop our stuff and go exploring, with priceless details that made the stay so much more amazing. We took advantage of every amenity: the lake, the beautifully appointed apartment - not just a bed and a kitchen, but a full living space to make you feel right at home - the farm area... Our favorite was meeting the goats and animals but we also had plenty of time for solitude and silence... Just a wonderful all around experience! The house is located just 15 minutes from a few coastal towns, with plenty of life in the day and at night. Super typical New England living!
Elena
2014-05-26T00:00:00Z
Marsha was a wonderful host, the lake was beautiful, the space was fill with her outstanding art work and I loved that there were eggs coffee, cream and muffins for breakfast every morning. We found some lovely beaches and spent each day there.
Arinna
2014-06-04T00:00:00Z
Marsha and Ed are impeccable hosts! Cozy and well-stocked apartment (ah, the French press + good coffee made me happy!); responsive and gregarious hosts; spectacular grounds with a pond and tables & chairs all around the manicured property; 15-20 minute drive to nice beaches, restaurants etc. We spent the first day exploring Stonington & Mystic and another day around Narragansett and Matunuck. By the way, all of Marsha's restaurant recommendations were spot-on and she went out of her way to stock the apartment with gluten-free snacks for our needs. Absolutely perfect for a beautiful, relaxing weekend to get away from the din of city life!
Manish
2015-09-07T00:00:00Z
The apartment that Marsha rents is absolutely amazing! It's perfectly situated near the Rhode Island/Connecticut border making trips throughout both states quite easy. For those who haven't traveled to this part of the country before, the location means that you can go hiking in the morning and drive to the beach in the afternoon. There are also many great restaurants, museums, and various activities in the area. The apartment, however, makes you never want to leave! The living room/kitchen area is big and inviting with guides to the area and all of the pertinent information — WiFi passwords, house rules, etc — in an easy to find place. Marsha leaves both the bathroom and the kitchen stocked with all of the essentials -- there's tea, coffee and muffins in the kitchen. The bathroom has extra towels, blankets, and other essentials (there's even an umbrella and yoga mat tucked away!). Marsha's property is gorgeous as well. There's a great lake and all of the chairs and tables are strategically places so that you can enjoy the view. It's a great place to sit with a cup of tea or glass of wine (or just a book). As for Marsha, she's incredibly accessible and helpful — if you need something, you only need to send a text and she appears — but she's happy to let you come and go as you please. I would recommend staying at Marsha's apartment in a heartbeat! I couldn't have been happier!
Amber
2014-06-02T00:00:00Z
ประเภทห้อง
บ้าน/อพาร์ทเมนท์ทั้งหลัง
---
ประเภทที่พัก
อพาร์ทเมนท์
---
พักได้
2
---
ห้องนอน
ฮอปกินตัน, โรดไอแลนด์, สหรัฐอเมริกา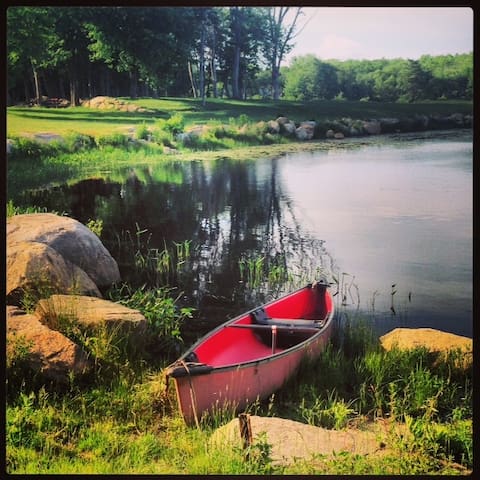 My place is close to Mystic Village for shopping and the Mystic Aquarium,a short drive to downtown Mystic with restaurants,shopping and boat trips.Mystic Seaport is just outside downtown Mystic,a few miles from Stonington Borough and Light House,we are fifteen minutes away from Foxwoods Casino.You'll love my place because of the location, the ambiance.. A plus is an oversize shower with two seats and a three way shower. My place is good for couples, solo adventurers, and business folk travelers.
All my reviews indicate that what they like is the cleanliness and the privacy.
It is a quiet residential neighborhood. Very little traffic on Forest Avenue.
The Tree House was a perfect fit. The description was spot on, and we had everything we needed for a great stay. The apartment was modern and it was a comfortable stay. Bruce had thoughtful touches and made us feel so welcome. Highly recommend!
Rebecca
2016-10-08T00:00:00Z
Bruce was amazing and accommodating with the check in times. The place was super clean and exactly as stated! It was a great stay and definitely wished I could've stayed longer.
Jennifer
2016-11-27T00:00:00Z
We had a short but lovely stay at Bruce and Cathy's home. It is very well-appointed, spotless, nicely decorated and very cozy. There are lots of windows to let in the light. The bedroom is quite roomy and the bed is very comfortable. The bathroom has everything you could need (including a big shower). Bruce and his wife are great communicators who are very friendly and helped us with directions. We had a great stay and highly recommend this spot!
Timothy
2017-03-26T00:00:00Z
This is a beautiful, conveniently-located space. The host is lovely--as is the apartment itself. I wish I had booked this location for longer, and would stay again!
Sara
2016-10-02T00:00:00Z
Bruce is a wonderful host and the place is comfortable and adorable.
Molly
2016-11-22T00:00:00Z
Roomy, big windows, lovely linens, yummy snacks, convenient location! Everything I needed was there. I felt welcome yet had privacy. Very comfortable and a great value.
Marion
2016-10-25T00:00:00Z
Bruce greeted us at the door upon arrival and showed us around which was great! He left us bagels fruit coffee and juice!
Amy
2016-11-25T00:00:00Z
Very welcoming and kind host. Clean living space, organized and better than expected. Has wifi, tv, and a great kitchen.
Brian
2017-01-08T00:00:00Z
ประเภทห้อง
บ้าน/อพาร์ทเมนท์ทั้งหลัง
---
ประเภทที่พัก
อพาร์ทเมนท์
---
พักได้
2
---
ห้องนอน
Mystic, คอนเนตทิคัต, สหรัฐอเมริกา
Located directly across from the Mystic River on Water Street in Historic Downtown Mystic. Great views from the front porch! The house was originally built in 1845 but this apartment has been completely renovated with high end materials.
Completely renovated 2 bedroom / 2 bathroom apartment with high-end finishes. First floor is open concept with living room (featuring a full sleeper sofa), dining area (seating for 6-8 people), kitchen with large island, granite counter tops, stainless appliances and spacious bathroom. Second floor features 2 identically sized bedrooms with queen-sized, memory foam beds, great views of the Mystic River from the front windows and an additional bathroom with full-sized soaking tub and full-sized washer and dryer. The front porch is great for sitting around and sipping coffee while watching the sunrise from the East over the Mystic River or for relaxing after a long day with a cold beer or a glass of wine.
This apartment is located walking distance to dozens of local restaurants, bars, shops and attractions. Just a stones throw from two of the best restaurants in Mystic, a 3 minute walk to West Main Street shops / Mystic Pizza / Mystic Drawbridge and only a 5 minute drive to the Mystic Aquarium and Mystic Seaport. Other regional destinations such as Stonington Borough, Foxwoods Resort Casino, Mashantucket Pequot Museum, Lake of Isles Golf Course, Fort Griswold, US Coast Guard Academy, US Naval Submarine Base - Groton, Watch Hill, Misquamicut State Beach and more are all within a 20 minute drive.
We had a wonderful stay! The place was very clean and well kept. It had everything we needed. The location was excellent - a close walk to town with plenty of little shops, restaurants, and bars on our street as well. There was plenty of parking. Kevin was also quick to respond to any questions we had. We had an excellent experience! Thank you!
Laura
2016-08-01T00:00:00Z
This was a great find and a great place. The location in Mystic was perfect, less than 5 mins walk to the centre. The accommodation was beautifully renovated to a very high standard, and had everything we needed for our stay. Kevin was great both with the information he provided and the very prompt turnaround to any query we had. I would totally recommend this location and property to anyone staying in this area.
Greg
2016-07-30T00:00:00Z
Everything about this property was perfect for my family and me. The house was well decorated, comfortable and clean. Everything we needed was right at hand. The locotation was so comvientient to Mystic. We walked the town and ate our way through Mystic. The Fisher Island oysters were the best at the Oyster Club almost across the street from the house. I loved evertything about our stay in this house in Mystic.
Boehl
2015-12-01T00:00:00Z
Kevin was quick to respond when I had a question and his info prior to arriving was spot on. The place was right be a marina where we could watch the boats. Great spot.
Helen
2016-05-09T00:00:00Z
We really enjoyed our stay at Kevin's cottage in Mystic. It was well appointed and very clean. The beds were very comfortable as were the rest of the furnishings. It was just a short walk to the center of town. Kevin was available and attentive to us. My family felt very comfortable there.
Nancy
2016-03-27T00:00:00Z
This apartment was a great find in every way. Kevin was an excellent host and the apartment was perfect. Check-in was fast and easy with detailed instructions. The apartment was clean and comfortable. The location was perfect and was within walking distance to restaurants and main street.
Steven
2017-03-15T00:00:00Z
Kevin was a great host, he was attentive and let us know that the weather had been difficult the day before our arrival. He was also very quick to respond with candles and flashlights when we experienced a (short) power outage in the downtown Mystic area because of high winds. Overall, the apartment is really a house, and very tastefully and thoughtfully decorated and stocked with supplies. Would certainly recommend this rental to anyone visiting the area!
Jessica
2016-02-18T00:00:00Z
Great place in a fantastic location! My son, in-laws, husband and I had a wonderful several days here when we came to CT for my son's graduation, and I would definitely recommend staying here. It's relatively central to town and just a very short jaunt to some wonderful eateries (Sift, Oyster House, etc), shops, and Mystic Seaport. Though this is an older place, it has been very nicely renovated and feels quite new. Though it's close to downtown Mystic, this place is just off the main drag and was surprisingly (and blessedly) quiet. We had two cars and were glad that parking was not an issue. As per sleeping arrangements, my teenager slept on the downstairs sofa bed and said it was quite comfortable, and the upstairs beds were comfortable as well. I think a few other folks had mentioned the AC lights in their reviews, and that was right on the mark. There's an AC unit in each room, and at night, the units each have a light that's extremely bright -- to the point that it was keeping everyone awake. Fortunately, I had an eye mask with me, and my father-in-law draped a towel over the light in his room. However, we were wishing we had a few small pieces of painter's tape just to cover those bright lights with. Along those lines, my son said the downstairs room was pretty lit up at night. So -- if you'll have anyone sleeping on the sofa bed, be sure they bring an eye mask. I can't say enough about what a fantastic location this is if you're wanting to enjoy Mystic. We walked up to Sift (coffee shop/bakery) in the mornings to grab coffee, and we very much enjoyed several of the area restaurants for dinner (I highly recommend The Engine Room and also the Oyster House!). All in all, I highly recommend this place and would gladly stay here again(URL HIDDEN)
Ginger
2016-06-04T00:00:00Z
ประเภทห้อง
บ้าน/อพาร์ทเมนท์ทั้งหลัง
---
ประเภทที่พัก
อพาร์ทเมนท์
---
พักได้
6
---
ห้องนอน
Mystic, คอนเนตทิคัต, สหรัฐอเมริกา

Located just steps away from Mystic Seaport and easily walkable to Historic Downtown Mystic, this private studio apartment is an ideal location to base your Mystic, CT adventure. - The 300 square foot, second floor apartment features a private entrance, sound dampening walls, a queen bed, a bathroom with walk-in shower, and a brand-new kitchen. We have parking available for one car and lots of local on-street parking. Perfect for couples, business travellers, and solo adventurers.
Once home to the historic 1833 House Bed & Breakfast, the apartment is located in what was the caretaker's quarters on the second floor. It includes a bedroom, kitchen, and bathroom. - The kitchen includes: -refrigerator with freezer -20-inch range -coffee maker -sink with garbage disposer -cooking and bakeware -knives and flatware -glassware -barstool seating for two
Stroll along the Mystic River to get fresh coffee and pastries in the morning. Or make coffee in your private kitchen and plan kayaking adventures, a downriver cruise, shopping excursions, or a day at Mystic Seaport- the world's largest maritime museum, all within a short walk of your apartment. Enjoy special events in Downtown Mystic without worrying about finding a parking space. - We are directly adjacent to the Mystic Seaport Preservation Shipyard and are a six-minute walk from Historic Downtown Mystic. See websites for Mystic Downtown and Mystic Seaport to learn more about our neighborhood.
We had a wonderful stay! Our host Lyndsey was attentive while also giving us our privacy, and the room was clean and cosy. The location was perfect: a beautiful 5-minute walk along the shore took us right into town. Although we didn't cook, the kitchen was well stocked and we appreciated the water, beer, and local snacks that were there upon our arrival. We'd love to come back- very highly recommended indeed.
Lauren
2016-10-11T00:00:00Z
Our hosts were kind, accommodating, helpful, knowledgeable. The space was just as presented, and very clean, neat, cozy. Two doors down from the Mystic Seaport (and bakery/coffee shop), it is an ideal quiet yet central spot for exploring Mystic. Had a wonderful stay all around.
Renata
2016-07-28T00:00:00Z
We enjoyed our stay at 1833 house ans was just as described by Lyndsey. Cozy, comfortable and centrally located to the major sites and eateries in town. We will stay here again.
Bo
2016-11-20T00:00:00Z
Fantastic location. A short walk to the Mystic Drawbridge and everything else. Great energy and great spirit. We would definitely stay again and are planning to do so.
Jason
2016-07-05T00:00:00Z
Well appointed space and great location for exploring Mystic. Lyndsey & Chris gave excellent recommendations for our short stay. Would definitely stay here again!
Wendy
2017-02-12T00:00:00Z
Lyndsey was great. The place was spotless
Alison
2016-10-08T00:00:00Z
The Apartment at The 1833 House is lovely space. Great location for exploring downtown Mystic and surrounding areas. Bed and linens were so soft and comfortable and the kitchen was stocked with snacks and plenty of beverages. I wish I could give 10 stars for cleanliness - the entire apartment was absolutely spotless! Lyndsey is a fantastic host – so welcoming and very easy to communicate with. She made sure to greet us and provided everything we needed for our stay. Highly recommend!
Katie
2016-09-12T00:00:00Z
Lyndsey was an amazing host. Her apartment was spotless and beautiful. She left us a lovely note and anniversary gift, and considered all possible needs when stocking the apartment. She also provided great recommendations about local restaurants and activities. The apartment was an easy, picturesque walk around the marina to get to Main Street, and is located right next to the Mystic Seaport. I would HIGHLY recommend this listing!!
John
2016-08-07T00:00:00Z
ประเภทห้อง
บ้าน/อพาร์ทเมนท์ทั้งหลัง
---
ประเภทที่พัก
อพาร์ทเมนท์
---
พักได้
2
---
ห้องนอน
Mystic, คอนเนตทิคัต, สหรัฐอเมริกา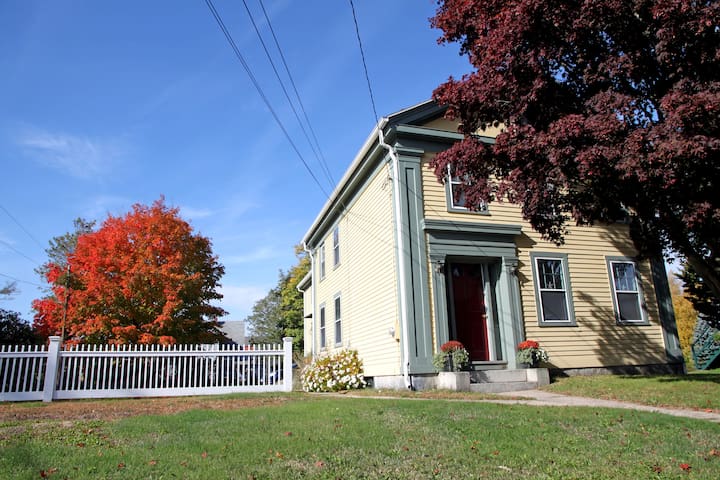 Situated on 1 1/3 acres just off exit 89 off the I95. The house is 2.1 miles from Mystic Pizza in downtown Mystic via the Route 1. A longer safe bicycle route to downtown (bicycles are available to borrow) is available by going through the sub division behind Cutler Middle School. This large sunny room is en-suite with a queen bed, couch, wood-stove and deck. It is rear attached and kept separate from the main house. Includes TV, internet, micro-wave, coffee pot, fridge, hair dryer, iron.
This apartment style room has its own driveway and private entrance via its own deck and stairs. It is a lived in space for you to totally relax in. Feel free to light the wood stove, there's plenty of wood here or for quick ease relax by the electric log fire. The house is privately situated in a quiet neighborhood surrounded by trees and nature. You can drink your morning coffee on your own deck and listen to the birds. You can grill by night or perhaps you'd like to toast marsh mallows by the fire pit. There is a desk for business work or can be used as your breakfast nook. In Summer time there are 2 kayaks available to borrow, some advance notice may be required. There are also a number of old bikes to choose from, help yourself. This home is not a show home, perfect for you to totally relax in and enjoy. Each new stay receives fresh laundered linen from mattress pads, bedspreads and pillow protectors. Your fridge will be stocked with some breakfast essentials. You can even grind beans for fresh coffee in your coffee pot. Snacks and drinks will vary but you will find some of those too. The main house will be owner occupied but the locked off apartment style room, deck and entire back yard is all yours to enjoy. This is a private stay where you can come and go as you please, chances are we wont even meet.
With-in walking distance are the Fields of Fire Adventure Park approx 1/2 mile down the road. Closer than that is access to Pequot Woods via Mystic Meadow Lane. Our local beach is approx. 3 miles away and downtown Mystic approx. 2.
Joanne was an incredible host. She has a wonderful, cozy studio apartment, that was the perfect getaway for my girlfriend and I. Sometimes it's the little things that make the biggest difference, and there soo many cool little things Joanne did, my favorite of which was a small handwritten notebook of things to do to enjoy time in Mystic, along with WiFi and other essentials. She even arranged a resounding thunderstorm for us to listen to on one of the nights ; ) Thanks, Joanne!!!
Costa
2016-06-23T00:00:00Z
This was quite possibly the best AirBnB I have ever stayed in. Super clean, solid amenities, and really nice considerations. As in, there was a coffee maker and mugs, and water bottles in the fridge. Loved every second.
Tom
2016-09-06T00:00:00Z
Amazing place! Cozy fire and a wonderful host!
Nick
2017-02-12T00:00:00Z
It was a pleasure to stay at Joanne's home. She made it easy-peasy to get in and out! The room was lovely with many little amenities and the bed was super comfy.
Ryan
2016-06-05T00:00:00Z
Great little in-law apartment in a wooded area. Was very convenient to get to Stonington/Mystic. It was very quiet and relaxing, we just stayed for one night but I would stay again if in the area.
Eric
2016-06-06T00:00:00Z
The room was great! It was stocked with breakfast, snacks, and drinks. The guides Joanne left for us were also a big help. It was also very convenient only being a few minutes drive from downtown mystic.
Jason
2016-05-30T00:00:00Z
This cozy place surrounded by trees was a dream come true for us. It was completely quiet and having the porch to sit and enjoy the clean air was rejuvenating. Our hostess was easy to communicate with. The place was so clean yet comfortable. We want to go back there soon.
Mineko
2016-08-31T00:00:00Z
Très bon accueil Prêt de vélo Logement que je recommande
christophe
2016-08-08T00:00:00Z
ประเภทห้อง
บ้าน/อพาร์ทเมนท์ทั้งหลัง
---
ประเภทที่พัก
อพาร์ทเมนท์
---
พักได้
2
---
ห้องนอน
Mystic, คอนเนตทิคัต, สหรัฐอเมริกา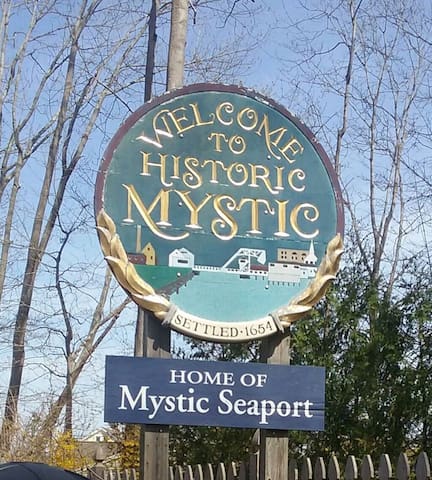 Come enjoy Mystic like a local just steps away from the very best attractions in this ideally located historic home. Originally built in 1845, this home retains some of it's old-world character while offering all of the modern comforts and amenities.
This home is set up to comfortably accommodate up to 6 guests.
This is the third time we have stayed at a home hosted by Kevin. He is the best and strives to make the entire experience the same. He responds to emails within minutes. The description of the home and its surroundings are spot on. The view from the front porch made it very difficult to go elsewhere. We were fortunate to visit during the Mystic Seaport wooden boat show. We viewed an amazing parade of old boats on the river. This rental and Kevin are an A++!
Maria
2016-06-26T00:00:00Z
Kevin was easy to reach and quickly addressed any issue. The place has great location, easy parking, and work well for our family of five.
Chris
2016-07-14T00:00:00Z
The location is perfect! The apartment was clean and modern. We enjoyed the tables on the front porch especially in the early morning and evening. Kevin was easy to get in touch with and responded quickly.
Heather
2016-06-28T00:00:00Z
We loved our stay in Mystic during our honeymoon. The house is in a perfect location to be able to easily get around downtown. Be sure to walk across the street to Sift Bakery for enormous breakfast treats then later have dinner at Oyster Club. Amazing. Kevin sent us all of the information we needed for parking and getting around. The beds were very comfortable and the house was very clean. I can't wait for our next stay!
Nicole
2016-07-13T00:00:00Z
What a wonderful stay we had in Mystic! Kevin's home is spotlessly clean, during the heatwave the Air Conditioning worked perfectly and the house was cool and comfortable, the location is an absolute dream we could walk to Mystic and savor the many wonderful restaurants and enjoy the shops and atmosphere. I love the charm of this apartment, it has every modern convenience you could need but maintains the charm and history of old Mystic. The beds were super comfy and the kitchen is well appointed. I would happily rent from Kevin in the future, it was a perfect getaway. Bonus is that Kevin is incredibly responsive, typically answering any questions immediately.
Amy
2016-08-15T00:00:00Z
Excellent location and Kevin is extremely responsive. Loved the quaintness and great proximity to all that is the Mystic Seaport. I would highly recommend to anyone!
Scott
2016-08-13T00:00:00Z
Kevin was a great host and the location of the property is perfect for a stay in Mystic. You are close to the best of the town and can walk to just about everything. Kevin was very informative and responsive and even provided local recommendations and parking information. He also checked to make sure all was well with the property after we arrived. We will definitely stay at Kevin's property again when we visit Mystic!
Joe
2016-05-02T00:00:00Z
everything was great my daughter loved mystic.
robert
2016-08-25T00:00:00Z
ประเภทห้อง
บ้าน/อพาร์ทเมนท์ทั้งหลัง
---
ประเภทที่พัก
อพาร์ทเมนท์
---
พักได้
6
---
ห้องนอน
Mystic, คอนเนตทิคัต, สหรัฐอเมริกา
1 bdrm apartment on beautiful private property with well equipped kitchen, working fireplace, private patio and garden. Second bed in living room. Bikes at the ready for exploring Mystic. Steps away from Mystic River and Fisher's Island Sound.
We had a wonderful time staying at Cynthia's apartment. It was beautiful and just as listed. Cynthia and her husband were very welcoming helpful during our stay. We would definitely stay there again.
Marc
2016-07-05T00:00:00Z
Lovely cottage in an idyllic setting. Short drives to Mystic, Groton, GLP, but in a world apart location. Clean, spacious, just as described...with beautiful grounds. While our hosts weren't in the main house during our stay, Cynthia was always available to answer questions and to help. I will be back!
Noel
2016-05-21T00:00:00Z
Lovely home on a beautiful island. Great access to Mystic downtown and Seaport. Comfortable lodging in a very peaceful setting. Cynthia was an excellent host!
Simon
2016-07-11T00:00:00Z
It was everything we had hoped for and more. Would love to stay there again on our next visit out.
kathleen
2015-08-12T00:00:00Z
We had a lovely weekend at the Mason's Island apartment. We are from CT and have gone to Mystic many times over the years with our children...we did not know that this beautiful little gem called Mason's Island existed! Cynthia was so helpful and made sure we made the most of our stay on the Island! It was truly a lovely experience and we can't wait to return!! Thank you, Cynthia!~Connie
Connie
2015-09-14T00:00:00Z
We had a great stay for our family of four. The secluded location on a beautiful island truly felt like an vacation escape, yet we were 5-10 minutes from all the Mystic attractions. Biking around the island and to the Ender Island retreat (1.5 miles away) was gorgeous and great for kids (who can handle some hills). There is barely any traffic on the island roads - just residents. Major beaches are about 25-30 minutes away. The hosts were very nice and hospitable, like opening up the garage so we could put our bikes away while not using them, etc. We would definitely love to stay again!
Emily
2016-07-17T00:00:00Z
Cynthia is a wonderful host. She actually came to introduce herself and show us around the house. She made us feel at home. It's one of the best air bnb experiences I've ever had.
Sudeep
2016-06-13T00:00:00Z
Cynthia came over right away and greeted us warmly. The pictures were perfect and the neighborhood was absolutely breathtaking! She gave us lots of great ideas about things to do, we followed her suggestions and had a great time!
cheryl
2016-06-27T00:00:00Z
ประเภทห้อง
บ้าน/อพาร์ทเมนท์ทั้งหลัง
---
ประเภทที่พัก
อพาร์ทเมนท์
---
พักได้
4
---
ห้องนอน
Mystic, คอนเนตทิคัต, สหรัฐอเมริกา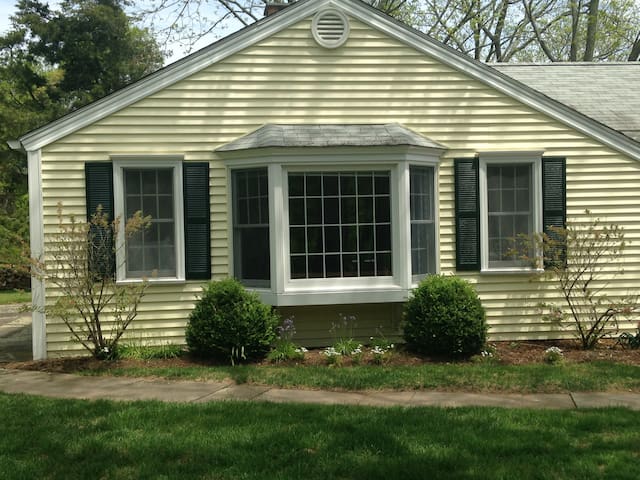 Bring your family for a getaway in our large first floor apartment. Located just two blocks from downtown Westerly and its charming mix of restaurants and shops. Close to Westerly Train station and 5 min drive to the beach! Great space for groups looking for affordable accommodation.
The house that contains this apartment was built in 1888. It used to be a boarding house where guests would rent individual rooms. It has long since been turned into three apartments. Located in the heart of the Pawcatuck/Westerly historic district, it is within walking distance to many restaurants, shops, a library and beautiful park. It is a short drive to Misquamicut and Watch Hill beaches. It is about a 20 minute drive to Foxwoods and Mohegan Sun Casinos. The house has 2 bedrooms. Each bedroom has a queen sized bed. There is a also a futon in the living room that can be opened up to a queen sized bed. This is a simple functional space. Please do not book and then leave us a review that the house is old. It IS old! This house was built in 1888 and still has the original pumpkin pine floors. It is not a hotel, so please do not expect hotel furnishing. This is a very old house which means it does not have the sound insulation that houses built in modern times have. This means you may hear everyday noise from the long term residents on the floor above. If you need absolute silence, this is not the space for you.
We love the proximity to yummy restaurants!
Thank you so much Angela! We all loved the home, and Angela provided everything we could possibly need. The home was beautiful, and very close to the town and the beach. We loved it!
Emily
2016-06-01T00:00:00Z
The place was nice, and the town was very nice. I like that is located borderline to Rhode Island !! The apartment was clean and spacious. The only 2 downs I have is that there is not tv channels / I'm glad I'm brought movies and my laptop to entertain ourselves at night, and second there was construction going on in the house next door- that woke up me very early everyday!! I was looking for peace and quite - but the hammering made it hard, but I do understand that is not Angela's fault. Thank you for everything Angela!!
Sandra
2015-12-01T00:00:00Z
When I arrived at the house I found a friendly note welcoming me into the charming apartment. It was clean and just as described. The bedroom was lovely and got lost of sunlight. My husband and I caught a show at Foxwoods which was 19 mins away by local route . I would recommend this place to anyone.
Sheina
2016-04-25T00:00:00Z
Had an excellent time. Angela was accommodating and left notes to help make everything go smoothly. Large, clean space. Would use again. Thank you.
Michael
2016-02-22T00:00:00Z
This place is so good . Angela always helpful and we from china , I was a exchange student four years ago , so many memories in westerly ! live here like our home. Room and everything is clean , quite neighborhood , easy to parking. That's awesome !
Kevin
2016-09-16T00:00:00Z
Nice, spacious home that served our need for a space where we could have the whole family together. The washing machine was also nice to have for our extended stay. Charming little town.
Ann
2016-04-18T00:00:00Z
Angela's Place was great all around. The location was perfect to restaurants, banks, bars, and local fun things to do. Angela was very quick with responding to any questions I had as well. We will definitely go back when in the area!
Lyndsey
2017-03-12T00:00:00Z
Very professional host, no need to contact her because everything was perfectly organised. I would definitely recommend this apartment to everyone who needs a valuable and spacious flat.
Rudolf
2016-08-29T00:00:00Z
ประเภทห้อง
บ้าน/อพาร์ทเมนท์ทั้งหลัง
---
ประเภทที่พัก
อพาร์ทเมนท์
---
พักได้
7
---
ห้องนอน
Stonington, คอนเนตทิคัต, สหรัฐอเมริกา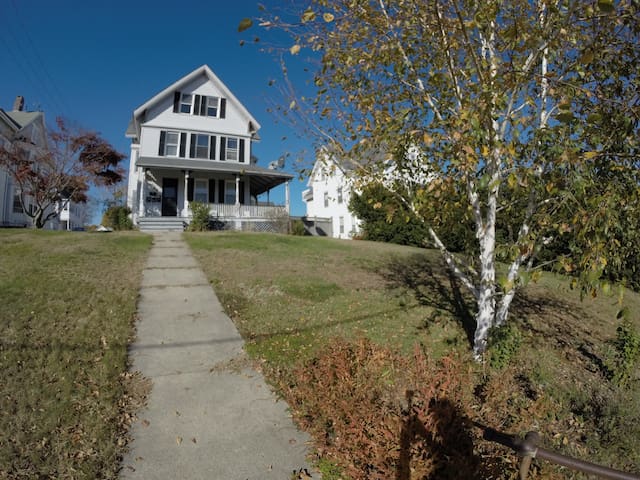 This private suite within a larger home includes a bedroom with full sized bed (not queen), full bath, kitchen and sitting room with electric fireplace. A locked door separates the suite from larger residence. Suitable for one or two adults if sharing bed. An additional folding twin bed is available if needed. Separate entrance and parking. Full flight of outdoor stairs to enter. Quiet neighborhood on dead end street. 1/2 mile to restaurants, shops, theater, and park. Beaches and Casino 15 min.
A lovely private suite of rooms within a large, owner-occupied home on a dead-end street in a very quiet residential neighborhood. Within walking distance to all amenities. Fully furnished, kitchen outfitted, and all appliances. Coffee, tea and bottled water provided . Linens and towels provided. You need only bring your personal items and groceries. Linens and towels laundered weekly. Beach towels, chairs, cooler, kayaks and umbrella available for borrowing. While we may occasionally leave snacks or treats for our guests, no meals are included in your stay.
We stayed at Corinne's apartment during a weekend visit to Westerly and Newport. It's hard to imagine finding a hotel that is as spacious, affordable and inviting. The kitchen was the perfect place to start our day -- and Corrine left out fruit and Keurig coffee and stocked the fridge with some basics, which gave it all the convenience of a hotel stay. The bathroom is spotless and spacious, and the bed was really comfortable and plenty big enough for two. There's also a cozy living room and small outdoor patio where we drank our morning coffee. The apartment is super close to town (though a friend drove us around). There wasn't a single thing we felt was missing. Corinne was helpful and friendly, but totally let us do our thing. Would stay here again in an instant next time we come back to visit.
Tom
2015-08-02T00:00:00Z
Corinne was an Excellent host! We were arriving late in the evening and she had the place warm and welcoming. The breakfast bread/coffee cake looked so good we had to have some that night. Yum! The apartment was exactly as advertised. We made dinner and settled in in front of the electric fireplace and watched some tv. The bed was very comfortable and the coffee and breakfast bread superb. We were out and about in the snow and she made sure that the stairs and the driveway were in great shape and checked on us to be sure we got back okay. We would definitely stay in this great place again.
Rebecca
2016-01-24T00:00:00Z
I received a personal email and text messages before arrival. There is also homemade coffee cake, organic apples, all sort of beverages waiting for me. After settling down, then I got to meet Corrine who is very charming and pleasant. I encountered to a bad incident, Corinne offered me her car to use for the day! There is everything I need in the apartment. I would definitely come back any time.
Aht
2015-11-02T00:00:00Z
Coriine's place was as advertised, plus there was a memory foam bed! Also, the two air conditioners kept the place cool, in spite of 90 degree temps outside....
Peter
2016-07-29T00:00:00Z
My boyfriend Andrew and I stayed here during our trip to visit Westerly and Newport. Corinne was a great host for our vacation! She had bread, apples and drinks waiting in the fridge. The apartment was spacious and very clean - perfect after our days at the beach. The neighborhood was quiet and close to everything we wanted to visit. We would defiantly recommend this to anyone traveling to the area! Thanks Corinne!!!
Emily
2016-07-14T00:00:00Z
If I could rate higher than 5 stars I would! We were coming to town for a family reunion and the location was perfect, the neighborhood was lovely and it was a perfect retreat for us. Corinne made the check in and out process seamlessly easy, we were welcomed with delicious blueberry pound cake, fruit and drinks. The towels and linens were awesome along with all of the other little touches and amenities. We can't wait to go back!
Katie
2016-07-19T00:00:00Z
We thoroughly enjoyed our 2 night stay in this lovely little hideaway. The apartment was very clean, comfortable and nicely decorated. Corrine made us feel welcome upon our arrival and we were delighted to find a delicious, home baked zucchini bread, fruit, a nice selection of coffees, as well as cold drinks in the kitchen. It really was a cozy, sweet alternative to the hotels we had previously stayed at in Mystic - far from the maddening tourist crowd. With our own entrance to the second floor including a lovely little terrace with 2 chairs and a table, we spent the first afternoon there, just enjoying the quiet after our long ride - a great escape for couples. The apt was a short drive to many amenities and we found everything we needed and could have needed in the apartment and in the town of Westerly. Thank you Corrine for a wonderful stay!
Ann Marie
2015-08-30T00:00:00Z
Corinne did everything in her power to make me feel at home and extremely comfortable. She is incredibly personable and a true lover of life. I appreciated all the keen attention to detail: classic works of literature, moist blueberry cake she left in the fridge, Keurig coffee maker that fueled my writing sessions, memory foam mattress, two powerful air conditioners, fluffy bath towels, and access to beach chairs and umbrella. The location is super close to the beach and, as a vegetarian, I found several stellar options for dining out nearby. I loved taking hot yoga classes in nearby Mystic in the mornings, and really enjoyed chatting with my charming hostess on her back porch, sipping homemade sangria and petting Heidi, her beloved (and expertly behaved) Bernese Mountain Dog. The apartment is even more lovely than it appears in the photos. Treat yourself to a therapeutic and relaxing massage in Corinne's beautiful adjoining office space. You will not be disappointed! About a three hour drive from NYC, I'm already plotting my next escape(URL HIDDEN)
Amanda
2016-08-25T00:00:00Z
ประเภทห้อง
บ้าน/อพาร์ทเมนท์ทั้งหลัง
---
ประเภทที่พัก
อพาร์ทเมนท์
---
พักได้
2
---
ห้องนอน
Stonington, คอนเนตทิคัต, สหรัฐอเมริกา
A secret gem away from the city. The Stonington borough offers a quiet escape by the sea. Just steps from the village for your morning cup O' joe or visit the local shops and walk to the beach.
UPDATED for summer 2017: The space now sleeps 6, including a master suite, a small room with bunk beds and 2 adjoining rooms with twin beds. (A sleeper sofa is also available for an additional person if needed). While a kitty does reside in the apt when we are here the kitty will not be on the premises during your stay (he travels with us, a part of our family). AC units are available for all rooms as needed. Updated pictures coming soon. Please don't hesitate to ask if you have any questions.
Quintessential New England charm, Stonington captures all the beauty of a seaside village. With the ocean, eateries and shops just steps away its a perfect place to escape.
We didn't get the chance to meet Brittany face to face, but easily coordinated our arrival & check-in. Her home was everything we were looking for! Welcoming bedrooms paired with comfortable beds, unique/artistic & simple decor throughout the home and a clean bathroom. We were walking distance to town center where we had dinner our first night & just a short drive to Mystic & surrounding towns/beaches. Nice & quiet neighborhood. Lovely place to call home for the weekend!
Lisa
2015-08-24T00:00:00Z
Stonington CT is such an amazing sleepy New England beach town. It is quaint with wonderful shops and surrounding areas such as watch hill & mystic. We loved brunch at Noah's downtown, morning runs around town, and stopping by indulge for a cup of coffee! Birdie's apartment is a two minute walk to town. It was a great apartment to stay in while we visited the area. This apartment is ideal for a weekend trip if you plan on sightseeing the local towns but not as ideal if you're looking for an apartment for a longer term stay. We were happy with our weekend getaway
Anna Bayne
2016-08-29T00:00:00Z
Cute apartment in a quiet town, a short walk from the ocean. Great place to go for a quick getaway.
Joseph
2016-05-24T00:00:00Z
great communication. clean place. close to downtown and marina. no AC in the house, could get a bit hot depend on weather.
Wei
2016-08-08T00:00:00Z
We had a great time in Stonington/Mystic area and staying at Birdie's place. She was very responsive and available in her communication with us. The place was very clean and so nicely decorated. My children loved the little children's dollhouse. One thing to note is just that the room with the moose is attached to the queen bedroom so if you're looking for privacy between rooms just keep that feature in mind (as you can see the curtain/door in picture). The location was amazing and we were so pleasantly surprised as first-time visitors. It was just what we needed for a short stay and family of four. Thank you!
Samantha
2016-09-19T00:00:00Z
Great stay in a charming space
William
2016-08-01T00:00:00Z
This was a hidden gem! Very cozy accommodations and beautiful peaceful area. We would definitely recommend! Host was accommodating and responded very quickly.
Sheena
2016-06-20T00:00:00Z
The place is very clean and well maintained, but it does need some updates. The beds are old and not very comfortable, and there is no air conditioning. There is a unit in the living room, but it is small and does not cool any of the bedrooms. The host made check in easy.
Lisa
2016-09-11T00:00:00Z
ประเภทห้อง
บ้าน/อพาร์ทเมนท์ทั้งหลัง
---
ประเภทที่พัก
อพาร์ทเมนท์
---
พักได้
6
---
ห้องนอน
Stonington, คอนเนตทิคัต, สหรัฐอเมริกา
Our spacious, warm and cozy riverside apartment is within walking distance (less than a mile) of nearly every Mystic attraction: the Seaport, the Aquarium, Mystick Village, the Drawbridge, and the hiking trails at Coogan Farm and Denison Pequotsepos Nature Center. Restaurants are equally close - check out the seafood and ice cream stands across the street, or our binder of local tips! Kitchen: fully stocked Sleeping: one queen, one full, an air mattress
Top floor of classic Mystic riverfront home. The space is completely private, with two shared stairwells. It is on the third floor, so there are two sets of steps. I also have a listing for first floor if this is arduous for you.
Located in Historic Greenmanville, the house was once owned by the Greenman brothers and rented to skilled shipbuilders and their families who worked at what is now Mystic Seaport. Historic Greenmanville produced ships and textiles that rivaled the best in the world. The area is now a museum and riverfront homes, as well as being the most exciting spot in Mystic. This is the only place within walking distance to a 24 hour convenience store, which is something to appreciate when the rest of the town is closed.
Will was an excellent host and made us feel welcomed. His home is in a great location with a waterfront view and short distance walking from the downtown area. His home was cozy, clean, and accomodating. I can't wait to stay again!
Melissa
2017-02-05T00:00:00Z
Will was very easy to get in touch with; the apartment was perfect, easy to find and a nice walk along the water from Mystic. Comfy bed, quiet, peaceful spot, well equipped kitchen and he even provided kiwi fruit just for me! Would definitely recommend staying here :)
Anna
2016-12-28T00:00:00Z
Loved the place! Will is a great host and provided great advise on things to do in the area. I will definitely stay here again next time I'm in the area
Bri
2017-02-10T00:00:00Z
Will is a great host, he tries his best to accommodate your needs but also making sure you have a blast! His penthouse is fully equipped with everything you need on your stay & by the T.V. there is a binder with everything you need to know about mystic & the home. The penthouse is bright with blue and nice paintings, it shows his love for the water. He is also a very silly guy; you will know when you shower (: I will definetly stay again!
Mei
2016-08-28T00:00:00Z
This place is perfectly located in a quiet neighborhood, close enough to walk to so many shops, restaurants, and attractions. It's also the cleanest Air BnB we've ever stayed in! It was hard to fit everything in to a weekend so we'll definitely be back and hope to stay here again!
Rachel
2017-03-20T00:00:00Z
Will was there to give us a friendly welcome and show us around the apartment when we arrived. The property was located within walking distance to everything we wanted to see and do. One of the bedrooms had a lovely view of the river. We would definitely visit again in the future.
Heather
2017-03-26T00:00:00Z
This was an amazing Airbnb. Honestly one of the better put together ones. Will provided everything we needed. Much like a hotel. It was clean and spacious plus the water view was amazing.
Sonny
2017-02-12T00:00:00Z
Remarkable view of the water. Watching the sunrise has never been so beautiful.
Donald
2017-02-25T00:00:00Z
ประเภทห้อง
บ้าน/อพาร์ทเมนท์ทั้งหลัง
---
ประเภทที่พัก
อพาร์ทเมนท์
---
พักได้
5
---
ห้องนอน
Stonington, คอนเนตทิคัต, สหรัฐอเมริกา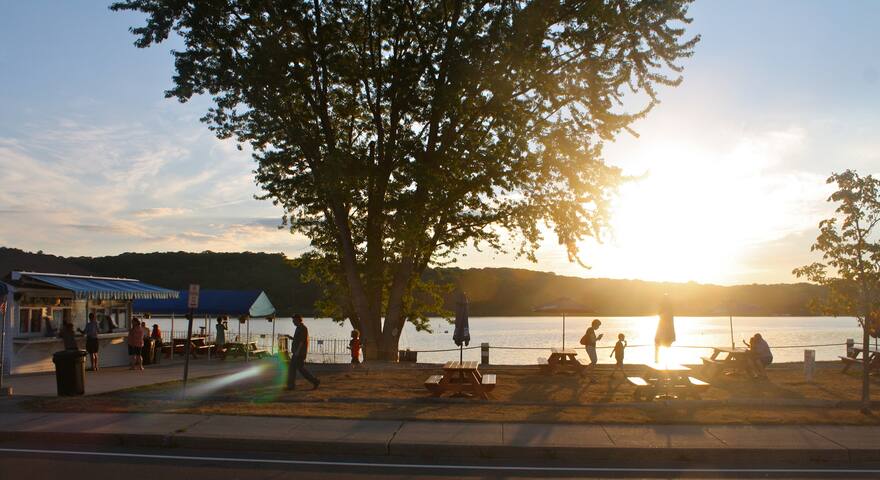 Come for Coastal family-friendly activities and great nightlife. Walk to the Velvet Mill with Art Studios, Brewery, Bakery, Cheese Maker, Antiques, shops and Stonington Borough for shops, dining, Farmer's Market, beach, tennis, fishing pier, and library. Minutes from Wineries, Mystic Seaport, Mystic Aquarium, Foxwoods Casino, Watch Hill, Westerly Beaches, surfing and great public golfing. Breezy and beautiful ocean views, perfect for couples, solo adventurers, business travelers and families.
This home has unobstructed views from all South facing windows of Connecticut's Stonington Point and New York's Fisher's Island from Little Narragansett Bay. Easy access from CT RT 1 to Westerly RI and Watch Hill RI beaches. The Stonington community is rich in tradition with The Blessing of the Fleet celebration in August. Mystic offers weekly music concerts as well as the Mystic Art Festival, Old Mystic Village and Mystic River cruises.
Come by plane, ferry, train or car for easy walking, biking, boating or car access to all of South East Connecticut highlights!
ประเภทห้อง
บ้าน/อพาร์ทเมนท์ทั้งหลัง
---
ประเภทที่พัก
อพาร์ทเมนท์
---
พักได้
4
---
ห้องนอน
Stonington, คอนเนตทิคัต, สหรัฐอเมริกา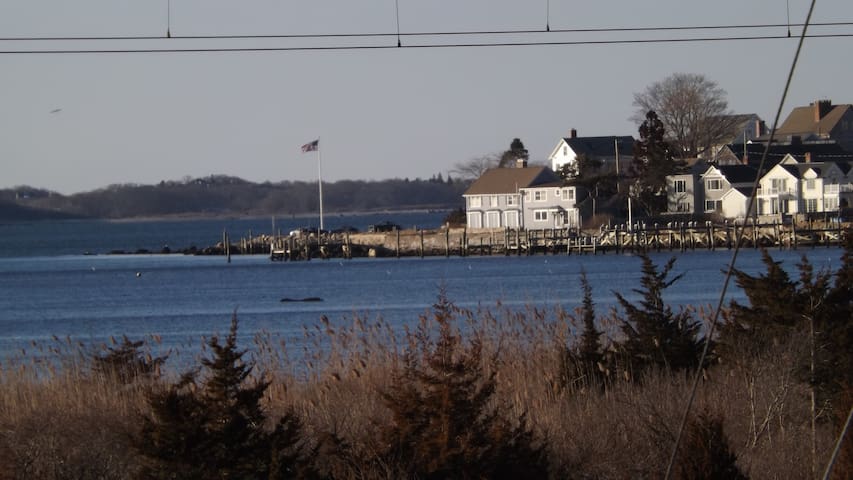 A charming first floor apartment in the heart of Stonington Village. Steps from restaurants and beaches. Fully furnished. Sleeps five. 2 bdrms - one king OR two twins, 1 double futon, 1 full fold-out. 1 bathroom with walk-in shower.
This space has two bedrooms, a private bath, a small kitchen, and a large living/dining area. There is also a front porch where you can enjoy the relaxing outdoors.
This apartment is in the heart of Stonington Borough. Steps away from restaurants and beaches.
Amanda is very good at communication before my arrival, during the stay that I felt at ease the entire stay. She is very courteous and informative. The place was neatly kept. The neighborhood is safe and walkable.
Aht
2016-11-01T00:00:00Z
A great little apartment in a perfect location close to the water and a few restaurants. Not far from Mystic and the southern CT wineries. Amanda is a great host who checks in and ensures your stay is comfortable and that you have everything you need. Would stay again!
Britt
2017-03-12T00:00:00Z
Amanda was very responsive in both the booking process and once we arrived. We were very comfortable in the apartment. My only suggestions are to maybe have some ice in the freezer and display the wifi information. Other than that - we loved the pastries we found in the kitchen, the orange juice in the fridge and the flowers on the table. Stonington is a lovely place and the apartment was walking distance to great restaurants and shops. Many thanks and I'll certainly recommend this place to others.
Shawna
2016-11-26T00:00:00Z
Amanda's place is spacy and comfortable in beautiful downtown Stonington. A great place to weekend.
Andrew
2017-03-19T00:00:00Z
Amanda's communication and welcoming demeanor made the stay really great! Definitely would recommend to others- the beds were very comfortable also, and coffee/ croissants in the kitchen were really nice to wake up to.
Ken
2017-02-12T00:00:00Z
Amanda did a fantastic job making us feel welcome. Arrival was super easy and we found a clean, comfortable accommodations with plenty of room for four friends traveling together. The porch was delightful in the morning sun on a cool fall morning!
Lisa
2016-10-24T00:00:00Z
This home was perfect for our weekend stay. It is comfortable and charming. Amanda made everything easy. We appreciated the coffee, milk, and juice she left for us, especially as we forgot to bring any. The street is quiet and pretty, and the beautiful town of Stonington is walkable from the house. In the future, when we want a weekend on the shore, we would definitely stay at Amanda's place again.
Jennifer
2016-09-25T00:00:00Z
Nice cozy living space. We had a great time with Amanda. She is very responsive and informative. She made us feel like we were at home. Only downside there is no ac, but luckily it was pretty cool when we slept. Overall I give her 5 stars!!
christopher
2016-09-11T00:00:00Z
ประเภทห้อง
บ้าน/อพาร์ทเมนท์ทั้งหลัง
---
ประเภทที่พัก
อพาร์ทเมนท์
---
พักได้
4
---
ห้องนอน
Stonington, คอนเนตทิคัต, สหรัฐอเมริกา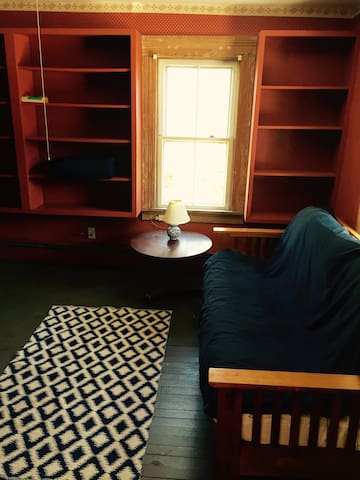 Very Private 2nd floor 1 Bedroom (Full size bed) with separate living/dining area. (NOT Handicapped Accessible) Full Size Futon in Common Living/dining area sleeps an additional 1-2 people. Set up as an efficiency with mini-fridge, cooktop, microwave, toaster, full private bath with tub/shower. Ample storage, very private and quiet; overlooking farm and woodlands. Heat/AC/Internet included. Stay includes a Sunday AM Farm Tour, meet the horses, discussion about Therapeutic programs and benefits.
Sweet 2 room upstairs apartment with Full sized bed in bedroom and pull-out futon in living/ dining area. (Air Mattress also available.) Private bath and keyed entry in private entrance. NOT Handicapped Accessible. Extra guests in the room require prior permission from hosts and may use the couch or air mattress; extra guest fees apply. Well behaved pets allowed with prior approval, extra guest fee will be applied for each pet. Cable TV in unit, A/C, WiFi, acres of park-like grounds to enjoy. Peace and tranquility abound. WiFi access at "FARM GUEST." Bibliophile, writer, artist, or sportsman's retreat. The home is an elegant Maryland-Style Farmhouse- the Apartment has it's own separate entrance at the side of the house next to the Garage Art Studio. The main entrance leads to a gracious foyer as you enter leading to the Fireplaced Library and Patio where guests may enjoy coffee and breakfast in the am. Toaster, Microwave, and Keurig always ready in the library, with a limited selection of simple breakfast offerings. Best Breakfast EVER is 1.4 miles down the road at Somewhere in Time, and they can also pack you a wonderful picnic lunch. In the winter, you may request a fire to be built in the Library if host Jim is available for your evening enjoyment (BYOB) and use the large-screen TV or listen to music. Guests are welcome to enjoy the outdoor "Cowboy Kitchen" with charcoal and gas grills (This is the only area where smoking is allowed) Occasional use of huge gourmet kitchen with 6 burner Wolf range, extra large ovens and griddle plus ample counter space is permitted by special request. Artists may enjoy our equine-friendly art studio (available on request) or work in plein-air at any time. Cable TV is available in Library except when special events are hosted there. WiFi access at "FARM GUEST." NOT Wheelchair accessible- there are 3 stairs at the front entry and 3 steps down to the bedroom wing and Library. We supply coolers, beach chairs, boogey boards and towels for beach goers, ASTM-SEI approved helmets for riders. This is a full-time working farm and there may be horses, riders, and volunteers around the facility at almost any time; hosts Lee and Jim manage the farm and run programs full time. We have 3 working cats and a small, hypo-allergenic, opinionated but friendly Therapy dog-in-training (Mini Schnauzer Bert) on site- please do not reward him for bad behavior by petting him when he barks or jumps! We use a Kirby vacuum and hepa filters to minimize dander, however if you have severe cat allergies please bring benadryl or other allergy remedies just in case. The apartment is the only space where guests may bring their pets. On Tuesday nights we may host Guest Chefs, Artists, Musicians or Speakers and we have several weekend events and/or retreats scheduled throughout the year. BNB guests are welcome to participate with a reservation based upon availability. Our Main Administrative office is sited just beyond the Foyer- hosts and staff may or may not be immediately at hand. In addition to optional participation in our various Volunteer or Ecotourism weekend vacations, workshops, lectures, clinics and events, a private farm tour may be arranged on Sunday morning or by appointment outside of program hours, or a trail ride through Jovian Equestrian Services, LLC which operates on-site on Saturday and Sunday afternoons. We can accommodate meetings, gatherings, or conferences for up to 30 people in our Library/ Conference room. All proceeds support Horses Healing Humans Equine-Assisted Activities and Therapies, a 501 (c)(3) non-profit serving people with physical, cognitive, and emotional challenges. EIN (PHONE NUMBER HIDDEN) A farm tour may be arranged on Sunday morning or by appointment outside of program hours. Ecotourism opportunity to volunteer with equine care or farm chores by prior arrangement. We can also accommodate meetings, gatherings, or conferences for up to 40 people in our beautiful fireplaced Library/ Conference room All proceeds support Horses Healing Humans Equine-Assisted Activities and Therapies , a 501 (c)(3) non-profit serving people with physical, cognitive, and emotional challenges. EIN (PHONE NUMBER HIDDEN)
This is a quiet rural residential neighborhood. Please respect the solitude of our neighbors. There is much to do to stay busy around the area from hiking, biking, fishing, water sports, ropes course and paintball, to museums, art galleries, casinos, shopping, and nightlife. Area guides are available in each room.
I thoroughly enjoyed my stay with Lee and Jim. I will definitely be back!
Janey
2016-08-16T00:00:00Z
Lee was a fantastic host. The suite, the house, and the property were all beautiful. Lee and Jim were very accommodating, nice to talk to, and gave us great recommendations for things to do in the area. We planned essentially our whole weekend around restaurants and beaches that Lee recommended to us. We'd definitely stay here again!
Jeff
2016-06-27T00:00:00Z
Was exactly as advertised. Relaxing, warm, inviting. Like a sanctuary
Rebecca
2016-07-04T00:00:00Z
Lee was great. She was very welcoming and very knowledgeable about the area. The room was even more spacious than we could ever expect. The room was in a very private area on the side of the house with a separate entrance. The beautiful farm setting was relaxing and enjoyable. I would go back in a flash! And I will! Many thanks, Lee for a great stay.
Alison
2016-09-05T00:00:00Z
Wonderful Airbnb experience! Lee was affable, welcoming (as was the adorable Bart) and made our stay stress free. The apartment itself is wonderful and I felt right at home! Its in an absolutely beautiful location just minutes from the casino. Also, tons of blankets - which is always a plus in my book :)
Kathy
2017-01-01T00:00:00Z
We were welcomed and made to feel like old friends returning.
Muriel
2016-10-11T00:00:00Z
All around great stay. Quiet and cozy. We had a nice weekend away from the city.
Joseph
2016-08-22T00:00:00Z
Our host did make us feel welcome, but that was after we were informed they don't do breakfast any more. That sort of put us on guard that they run things their way. There was no fresh grown produce any where that we saw. The garden area was by our entrance and had just been planted I'd say less then 30 days.
John
2016-06-21T00:00:00Z
ประเภทห้อง
บ้าน/อพาร์ทเมนท์ทั้งหลัง
---
ประเภทที่พัก
อพาร์ทเมนท์
---
พักได้
4
---
ห้องนอน
Stonington, คอนเนตทิคัต, สหรัฐอเมริกา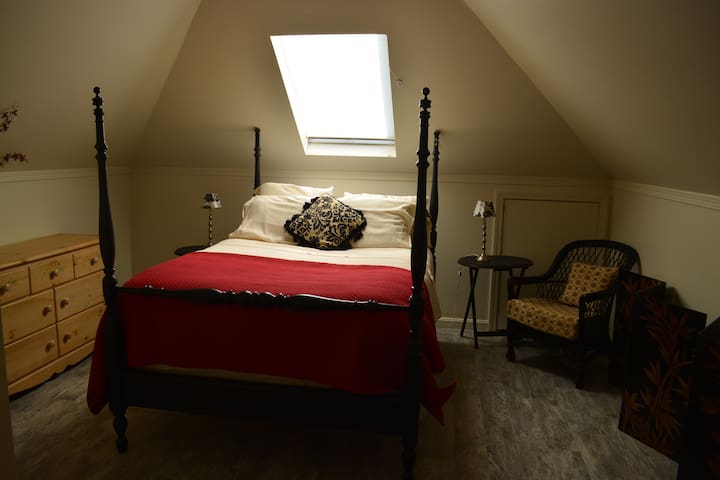 Explore the richness of the Stonington Borough. Beaches, shops, restaurants, farmers market, art galleries, and "ice cream" all within walking distance of your charming seaside getaway. Bike, kayak, or stroll you never have to get in your car to enjoy your surroundings. Foxwoods and Mohegan are just 20 minutes away.
The apartment is nostalgic, sweet and "beachy"
The Stonington Borough is true seaside Americana. Come enjoy!
A great place to feel like a local in Stonington Borough, in a beautiful historic house.
Sam
2017-01-01T00:00:00Z
This little place was just wonderful. Very comfortable, with a sweet little garden in the back. And such a nice location. We could have easily stayed longer.
Robin
2016-05-09T00:00:00Z
Martha's apartment was perfect for our getaway from the city. It was spotlessly clean and very nicely presented, exactly as shown in the pictures with everything you need for a short break...even to prepare a Thanksgiving meal! The location is great too, close to the water and a short stroll to both the beach at Stonington Point and the center of the village for shops and restaurants. We will definitely be back!
MARTIN
2015-11-28T00:00:00Z
We loved Martha's apartment! The location was great and the apartment itself was cute and charming. We only stayed a few days, but wished we had been able to stay for longer. We would definitely come again!
D'Arcy
2016-08-06T00:00:00Z
We love Martha's Airbnb in Stonington. So close to town and beach. The garden was great and we loved the fact we could bring our pup!
Aimee
2016-09-11T00:00:00Z
It was a very sweet place with all of the amenities. We loved the location, the decor and the layout of the apt. Martha was very welcoming and helpful.
Alice
2016-02-07T00:00:00Z
We really enjoyed our Stonington vacation. Martha's apartment met all of our needs and then some. The garden is a piece of paradise. The apartment is neat, beautifully decorated and perfectly situated. It really exceeded our expectations. Thank you, Martha!
Annette
2016-08-26T00:00:00Z
The apartment was exactly as described, in a wonderful location, perfectly clean and lovely. Martha was accessible whenever we needed her. It was a wonderful experience!
Tracey
2015-11-02T00:00:00Z
ประเภทห้อง
บ้าน/อพาร์ทเมนท์ทั้งหลัง
---
ประเภทที่พัก
อพาร์ทเมนท์
---
พักได้
2
---
ห้องนอน
Stonington, คอนเนตทิคัต, สหรัฐอเมริกา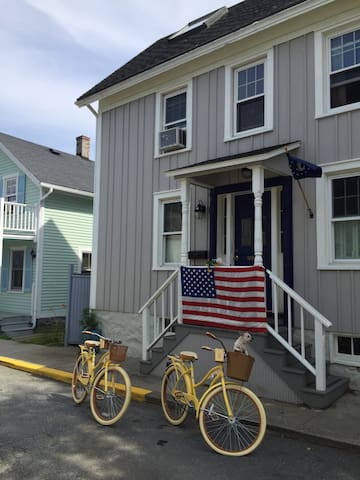 Our place is walking distance to Downtown Westerly which includes a hopping nightlife, beautiful parks, the city center and public transportation, including the Westerly Amtrak station. You'll love our place because it's a secluded historic gem! But if that doesn't grab you maybe the strong wifi and free parking does. It has been completely and extensively renovated and it is gorgeous! We are prepared to accommodate up to four guests.
We live within walking distance of two breweries and loads of great restaurants.
we were welcomed by avery nice couple who made us feel at home immediatly. the private room was small but clean and cozy.bath room was easy to use. chris even made us a rasin toast and tea in the morning. the area is beautiful for a walk on the beach and close to mistic town.
Rina and Yossi
2016-06-14T00:00:00Z
Wow! Chris and Sam have a full floor in a charming home listed on the National Register. Very convenient to nearby Mystic, CT and Westerly, RI. on a totally quiet side street. Chris is a native to the immediate area and is a treasure of recommendations for sites, restaurants and other activities. A true airbnb find!
Karl & Heather
2016-06-12T00:00:00Z
Chris is an excellent host. This was our first experience with a room in private home. It was ver nice.
Lucy
2016-10-27T00:00:00Z
It was just what we were looking for! We left our arrival time open with a reasonable curfew for first arrival (10:00) no curfew after that. It was a round 5:00, we cleaned up, took a power nap and went to the restaurant they recommended. The meal was great and the money we saved over the cheapest 1 star flea bag we could have stayed at payed for the meal!
Robert
2016-07-11T00:00:00Z
Very welcoming couple. Cute neighborhood, walking distance to everything. Clean home.
Kim
2016-10-23T00:00:00Z
The accommodations were just as advertised. It was a nice suite in a quiet very pretty Old Town like I grew up in kind of neighborhood. It was a great location for me and Chris is a delightful and engaging host who made me feel very welcome. I am familiar with the area which is a beautiful part of Connecticut, my college stomping ground. Chris's place is a great value. Its close to everything. Wi-Fi, fresh coffee in the morning. I would be happy to stay there the next time I travel up to SE Connecticut
Gary
2016-10-16T00:00:00Z
Chris and Sam's place is an attractive older but updated home in a lovely neighborhood. Easy walking distance shopping, dining, and sightseeing. I had two rooms to myself, so I could spread out a bit. There was plenty of privacy. Coffee and breakfast snacks were provided. Chis and Sam are warm and friendly hosts. I would stay there again, and I would recommend staying there. It was perfect for the price.
Allison
2016-09-04T00:00:00Z
The hosts were fantastic, we really felt welcome and attended to. The listing was exactly as described. It was VERY peaceful and comfortable. I slept like a baby with the window open listening to the crickets.I would stay here again
Denee
2016-09-18T00:00:00Z
ประเภทห้อง
ห้องส่วนตัว
---
ประเภทที่พัก
อพาร์ทเมนท์
---
พักได้
2
---
ห้องนอน
Stonington, คอนเนตทิคัต, สหรัฐอเมริกา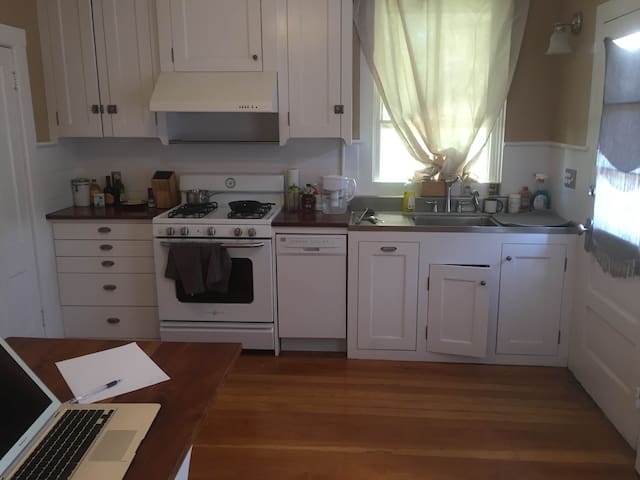 Spacious suite located in the heart of Mystic. The sunny balcony with a with a water view is the perfect launching point for explorations of this beautiful town. Semi-private entrance with main bedroom, lounge with twin beds, and in-suite bathroom.
Private, comfortable and spacious. This suite is adapted well for families as well as couples or singles looking to maintain a private space. In-suite refrigerator and microwave.
The suite is just steps away from the waterfront and charming downtown Mystic. 6 minute walk to Mystic Bridge and downtown area 3 minute walk to excellent farm to table burger joint, The Engine Room with great beer 7 minute walk to Mystic Seaport 30 minute walk or 6 minute drive to Mystic Aquarium and the other charms of Olde Mystic Village 13 minute walk to Mystic Amtrak station 25 minute drive to Misquamicut Beach
Fantastic location just a couple minutes walk from downtown Mystic. The place was cozy, with just enough space to act as a base of operations while we roamed the town and environs. Better by a mile than the commercial chain hotels out by I95!
Pete
2016-07-29T00:00:00Z
Stay was nice, location was fantastic, short walk away from downtown and mystic seaport. The house is in good shape, but may be slightly smaller than your expectation, especially if you have more than 2ppl. Would stay again, if I come back in a group of 2!
Nathan
2016-07-05T00:00:00Z
Great experience. David was right on with his recommendation for dinner and drinks on our first night in the area. The next night, we took his suggestion and walked into town and also had a great evening. Great sitting on the balcony at night and in the morning for breakfast. Couldn't ask for a better location, close to everything. Didn't need to drive around looking for parking in the town.
Timothy
2016-07-31T00:00:00Z
Had a really great time staying here. Location is in close proximity to everything in Mystic. Bronte and David were really responsive and made great suggestions on sites to see, places to eat in and around town.
Bari
2016-07-13T00:00:00Z
After a rough day of traveling I was a bit distraught when we arrived. Our host was very accommodating and patient. The rooms offered a peaceful well appointed place to lodge, central within walking distance to shops and activities. Terrific experience. Thank you
Tf
2016-10-03T00:00:00Z
Dave met us and showed us the space. Very clean and tidy. Walking distance to all Mystic is the best part of this property. The very busy corner (noisey) is the only drawback.
Leah
2016-07-02T00:00:00Z
Bronte was an excellent online communicator, while Dave was a helpful and friendly host. The rooms were clean and comfortable and the location central. Lovely visit. Great restaurant recommendation from Dave.
Kailin
2016-08-11T00:00:00Z
Our stay was great! Would definitely recommend this place to others. Dave is the owner and was super nice and helpful when he greeted us. We had a great view of the water and a short walk to the little downtown of Mystic. The apartment was very nice, clean and comfortable, and well decorated. No complaints at all with our stay in Mystic.
Greg
2016-09-06T00:00:00Z
ประเภทห้อง
บ้าน/อพาร์ทเมนท์ทั้งหลัง
---
ประเภทที่พัก
อพาร์ทเมนท์
---
พักได้
4
---
ห้องนอน
Stonington, คอนเนตทิคัต, สหรัฐอเมริกา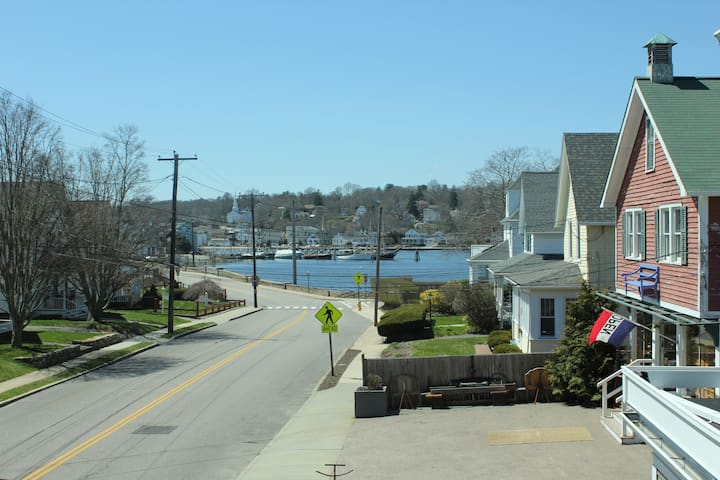 Preston - Airbnb
:
เฉลี่ย

4.85

จาก

5

ดาวจาก

643

รีวิวผู้เข้าพัก
1

–

18

จาก

61 อพาร์ทเมนท์ให้เช่า
กรอกวันที่เพื่อดูการกำหนดราคาเต็ม มีค่าธรรมเนียมเพิ่มเติม อาจมีภาษีเพิ่ม