YOU ARE CROSSING FOR A DAY OR MORE DAYS FRIENDLY HOTEL THAT YOUR INDEPENDENT HOUSING, INCLUDING STAY. KITCHEN ÉQUIPÉE.DEUX ROOMS. WC AND PRIVATE BATHROOM IS LOCATED IN THE MIDDLE OF A GARDEN WITH WATER PLAN OR YOU CAN TAKE YOUR BREAKFAST OR YOU REST IN PEACE. A BIG PORCH WITH GARDEN VIEW IS AT YOUR DISPOSAL. BREAKFAST INCLUDED
COSY HOUSING ANY TEAM IN PEACE IN THE GARDEN ARE YOU WISH YOUR INDEPENDENT FOR YOUR MEAL OR WE CAN RECEIVE OUR TABLE
HOUSING IN PROPERTY CLOSE THE MIDDLE OF THE GARDEN LOCATED IN A QUIET VILLAGE PARKING HASSLE FREE
We spent a weekend in Aveluy wth Bernard and Maryse and had the most wonderful time. Their welcome was warm, the apartment and surrounds are gorgeous, their advice on and knowledge about the local area and battlefields was wonderful and I highly recommend staying with them. A true home away from home. Most highly recommended, I hope to have the opportunity to stay again in the future and adopt them as my French mother and father hehe. Many thanks to you both for a wonderful weekend. Shauna (and Rhiannon)
Shauna
2016-07-24T00:00:00Z
Bernard and Maryse were warm and wonderful hosts for our two night stay, and the guest apartment was so very cozy, comfortable and clean! They served refreshments upon our arrival, as well as delicious breakfasts before we headed out for our busy days. Bernard was also very helpful in providing information re: the battlefields. We highly recommend their Airbnb and look forward to visiting again in the future. Valerie and Tim
Valerie
2016-10-28T00:00:00Z
Zeer gastvrije en vriendelijke mensen (alleen Frans sprekend). Mogelijk om mee te dineren voor een kleine prijs. Uitstekend eten. Bernard had veel tips voor ons en liet ons de omgeving zien (monumenten WO I slag aan de Somme). Prachtig appartement.
Sybilla
2016-08-05T00:00:00Z
Un duplex douillet complètement rénové en arrière d'une maison, au bord d'un jardin rempli de plantes et même de poissons. Une bonne surprise. Nous venions à Albert pour l'inauguration d'un cinema sur lequel j'avais travaillé, et cherchions mieux qu'un hotel, nous avons été ravis. Et l'accueil est très sympa. Je recommande
Jean-Marc
2016-10-09T00:00:00Z
ประเภทห้อง
บ้าน/อพาร์ทเมนท์ทั้งหลัง
---
ประเภทที่พัก
บ้าน
---
พักได้
3
---
ห้องนอน
Aveluy, Nord-Pas-de-Calais Picardie, ฝรั่งเศส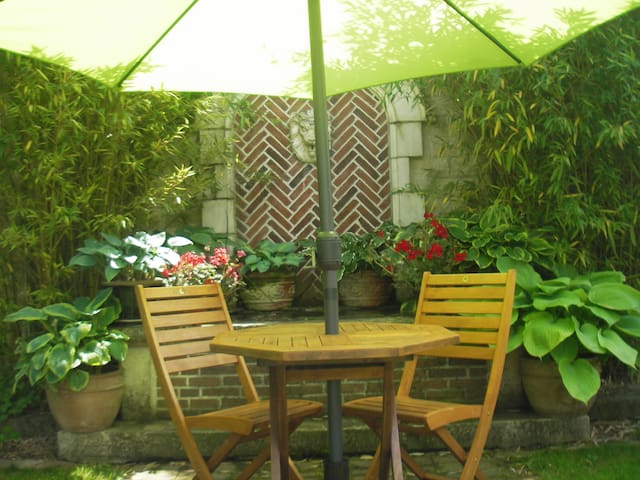 Room in house in the country near a memorial of the circuit.
ประเภทห้อง
ห้องส่วนตัว
---
ประเภทที่พัก
บ้าน
---
พักได้
2
---
ห้องนอน
Pozières, Hauts-de-France, ฝรั่งเศส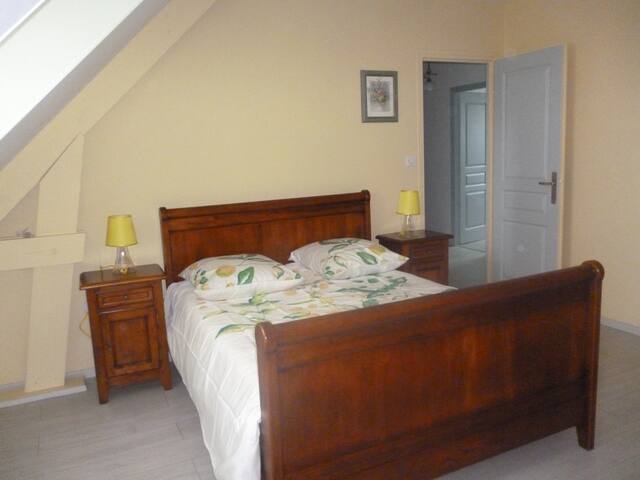 situer a proximité de nombreux lieu historique de la guerre 14-18 ma maison est un pied a terre reposant ou je pourrez vous donner des astuces pour ne rien louper des nombreux sites touristique. Je n accepte que les jeunes européen de 20 a 35ans
spacieux, calme, reposant
c est un beau village très calme il y a beaucoup de chevaux
The host made us feel very welcome. We were his first guests and he had done everything to make us feel right at home. A very friendly, charming man. The house is located in a small, picturesque village, but close to a highway, easily accessible. A small minor point: not that many restaurants nearby. Lots of places worth visiting in the area: mainly WO I memorabilia (e.g. cemeteries, monuments) and close to the Somme, also worth a visit. The host provided us with lots of tips for what to visit in the area.
Titia
2015-07-03T00:00:00Z
ประเภทห้อง
ห้องส่วนตัว
---
ประเภทที่พัก
บ้าน
---
พักได้
3
---
ห้องนอน
Courcelette, Picardie, ฝรั่งเศส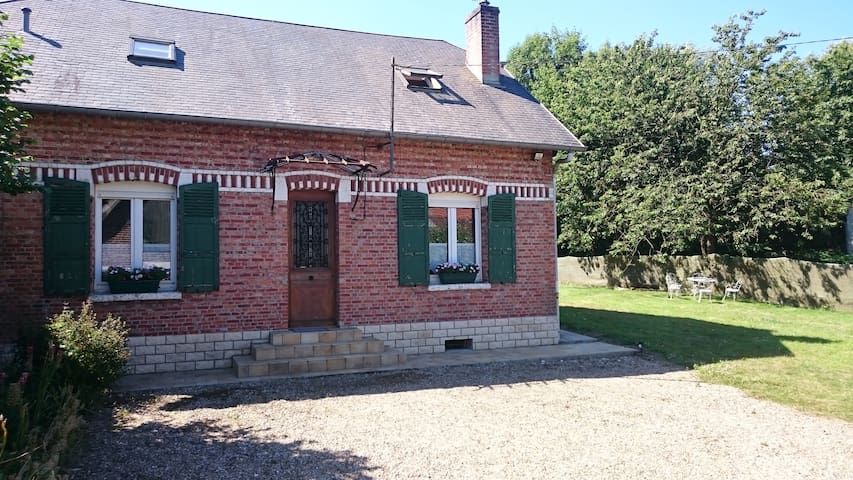 Near the center and all shops, 10 minutes by foot from the train station, 200 meters from war museum, near the main momuments.
You can find in the house all you need for a baby (bed, babycook...), Tv, confortable house. In the kitchen, you have a fridge, a microwave, an oven, coffee machine...
ประเภทห้อง
บ้าน/อพาร์ทเมนท์ทั้งหลัง
---
ประเภทที่พัก
บ้าน
---
พักได้
4
---
ห้องนอน
Albert, Hauts-de-France, ฝรั่งเศส
Notre logement se trouve dans une maison de caractère avec jardin. Un petit déjeuner complet vous est offert ainsi qu'un point chaud dans la chambre.(URL HIDDEN)Au 2ème étage de notre maison, vous disposerez de l'étage entier (chambre, coin salon et espace bureau). Salle de bain et toilettes sont privées, au 1er étage. Parking proche.
Albert est au coeur des sites des batailles de la 1ère guerre mondiale. Près d'Amiens, d'Arras, à une heure de Lille, de Lens (Musée du Louvre), de la Baie de Somme, à une heure et demi de Paris. Notre logement est très proche de la gare; ligne Amiens, Arras, Paris-Lille.
Notre maison est proche du centre ville et de ses restaurants, de la Basilique Notre Dame de Brebières, du musée Somme 1916 ...
What an amazing stay, beautiful house located close to the station and close to the town centre. Great room and facilities and the breakfast was amazing The hosts did everything they could to make the stay enjoyable
Mart
2016-06-23T00:00:00Z
Joelle and Francis made it feel like home with a fantastic breakfast, beautiful garden & great private rooms. Albert is a great town with everything you need and a central location for exploring the Somme Valley. I would love to return to Joelle & Francis house one day and continue exploring the Somme.
Simon
2016-07-28T00:00:00Z
J'ai beaucoup apprécié l'accueil vraiment chaleureux et sincère de Joëlle et Francis. Je me suis senti très bien chez eux et je reviendrai à coup sûr. Une super adresse. Merci !
Alain
2016-11-22T00:00:00Z
Joëlle et Francis sont des hôtes très chaleureux et attentifs au moindre détail pour que le séjour se déroule à merveille. Souplesse et communication sont au rendez vous et malgré un retard de ma part dû à mon travail ils ont su s'adapter et je les en remercie vivement. Je ne peux que conseiller leur chambre installée dans une superbe maison très cosy ! Petit déjeuner délicieux :)
David
2016-06-01T00:00:00Z
Joelle and Francis were perfect hosts and I enjoyed their company very much. They did everything they could to ensure my stay was enjoyable. The home made jams were a perfect touch. The house is beautiful and perfectly placed to explore Albert and the Somme region. I will certainly stay at their house again when returning to the region.
Andrew
2016-10-23T00:00:00Z
Accueil excellent et logement conforme à la description, je recommande vivement.
JB
2017-03-02T00:00:00Z
A wonderful place to stay. My husband and I spent a few very enjoyable nights with Joelle and Francis in their beautiful home. It was more like staying with friends as they were so welcoming and friendly. Albert is a very lovely small town and central for many activiites in this area such as visiting Arras and Amiens, and the many war cemeteries as well as the new Louvre in Lens. We had a car which made access to everything very easy. But when I think of Albert I will remember the many conversations with Joelle and Francis ( despite our appalling French!) and how they made us feel at home. I highly recommend staying with them.
Dianne
2017-04-10T00:00:00Z
Joelle & Frances made us feel very comfortable in their house for our one night stay - we shared a beer when we arrived and they made us a lovely breakfast. They are an extremely friendly couple and were keen to make us feel at home. Great garden! The room (on the top floor) is nice and big and has another large room attached to it, with the bathroom down the stairs. Parking is free virtually everywhere in Albert and there was space to park on the street very close to their house. It's also free to park at the train station, 1 minute's walk away. The area is great - about 5 minutes walk to the centre of town. Thanks very much!
Kevin
2016-09-11T00:00:00Z
ประเภทห้อง
ห้องส่วนตัว
---
ประเภทที่พัก
บ้าน
---
พักได้
2
---
ห้องนอน
Albert, Nord-Pas-de-Calais Picardie, ฝรั่งเศส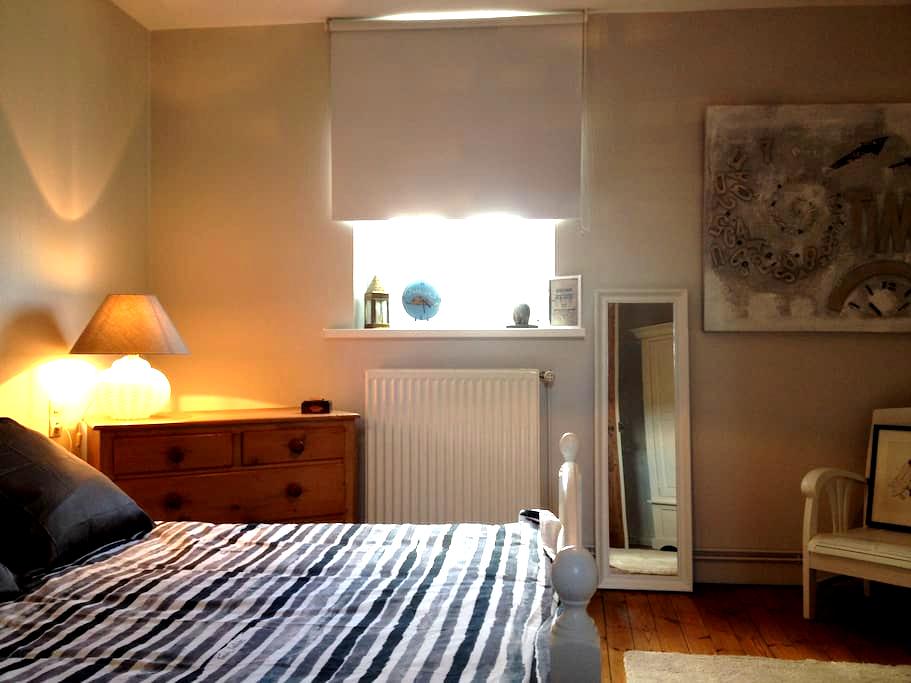 Notre maison de famille est proche des étangs de la Somme, des Circuits du souvenir et des coquelicots. Vous apprécierez notre maison pour sa simplicité, sa tranquillité, les promenades dans la campagne environnante. Parfait pour les couples, les familles (avec enfants) et les petits groupes.
Cette maison en brique typique des petits villages de la Somme est particulièrement adaptée aux réunions de famille ou aux petits week-end en amoureux ou avec les enfants. Le petit jardin non clôturé est parfait pour un apéro, une partie de foot, de badminton ou se détendre sur les chaises longues. La cuisine dispose d'une table de 8 personnes qui peut s'agrandir pour accueillir jusqu'à 12 convives. Le salon est parfait pour d'agréables soirées au coin du feu, de la télé ou à jouer. En plus des 3 chambres (dont une très grande) à l'étage vous trouverez une petite salle de bain avec baignoire sabot. Le tout vient d'être rénové et nettoyé, nous avons essayé de mélanger le confort et l'esthétisme actuel avec le charme de cette maison.
ประเภทห้อง
บ้าน/อพาร์ทเมนท์ทั้งหลัง
---
ประเภทที่พัก
บ้าน
---
พักได้
7
---
ห้องนอน
Montauban-de-Picardie, Nord-Pas-de-Calais Picardie, ฝรั่งเศส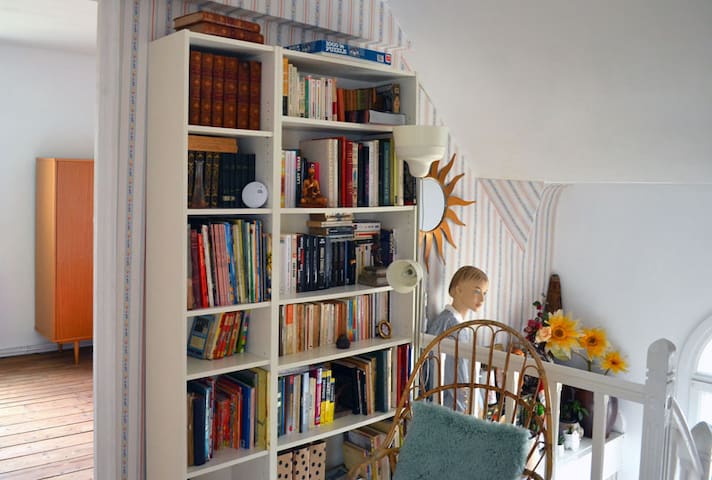 Chambre de 14m2 a l'étage d'une maison de ville donnant sur le jardin. Très calme. Literie de qualité 140x190 Cuisine et salon a disposition. Salle de bain et toilettes partagés. Possibilité d'ajouter un matelas pneumatique pour un enfant -7ans
Maison individuelle avec joli jardin dans rue très calme. Parking gratuit dans la rue. Possibilité de laisser son vélo dans le garage.
A 5 minutes a pied de la gare et du centre ville
Une famille au top! L'accueil, la convivialité, les supers pâtes carbo! ;) Ces quelques soirées avec vous étaient très relaxantes! Je recommande très fortement et sans modération!
Nicolas
2017-03-08T00:00:00Z
ประเภทห้อง
ห้องส่วนตัว
---
ประเภทที่พัก
บ้าน
---
พักได้
2
---
ห้องนอน
Albert, Hauts-de-France, ฝรั่งเศส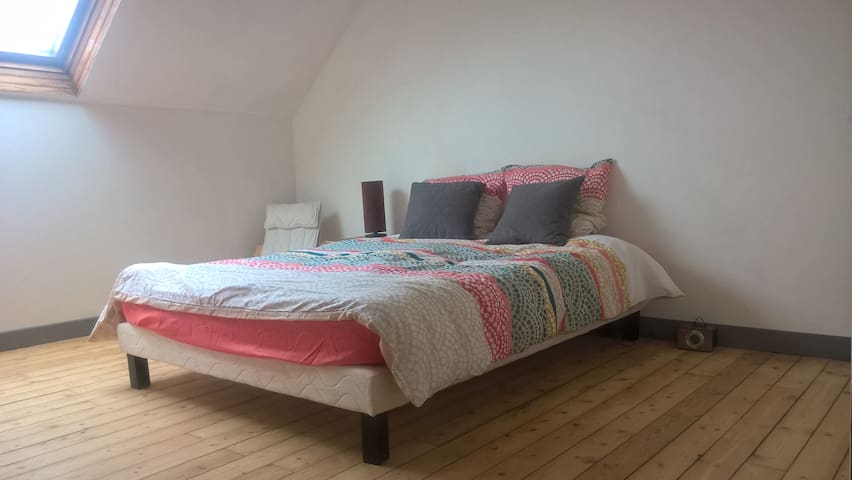 The house is located between the Thiepval Memorial and the borehole La Boisselle. Albert is located 8 km.
ประเภทห้อง
ห้องส่วนตัว
---
ประเภทที่พัก
บ้าน
---
พักได้
2
---
ห้องนอน
Pozières, Hauts-de-France, ฝรั่งเศส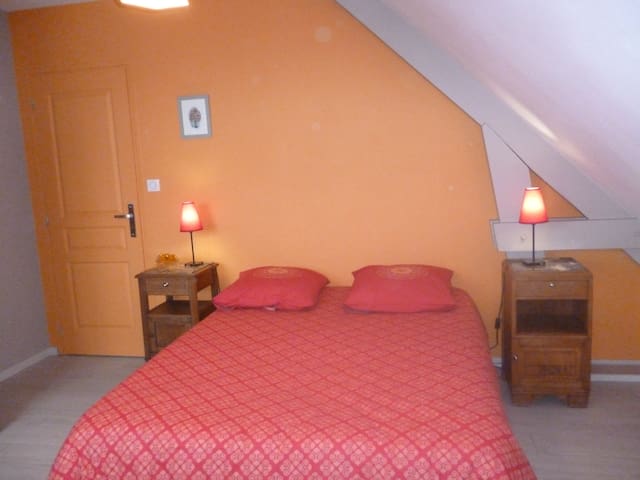 Cette maison à la décoration soignée sera idéale si vous souhaitez effectuer un séjour touristique sur les sites de la bataille de la Somme ou pour un voyage professionnel.
Jolie chambre avec lit de 140 (elle dispose d'un lit d'appoint pour enfant ou adolescent avec un supplément de 15€), coin bureau, télévision écran plat avec chaînes étrangères, salle de douche privée avec WC et sèche cheveux. Le prix inclut le petit déjeuner. Le jardin et la salle à manger sont en accès libre. Des jeux de société ainsi que des boissons chaudes(thé, café, chocolat) sont à disposition des voyageurs. Dans la maison, une seconde chambre est également proposée à la location, au même tarif que celle-ci.
La maison est située au cœur du centre ville, les commerces, les restaurants et le musée "Somme 1916" sont donc accessibles à pied. Depuis la chambre, vue imprenable sur la basilique.
ประเภทห้อง
ห้องส่วนตัว
---
ประเภทที่พัก
บ้าน
---
พักได้
3
---
ห้องนอน
Albert, Hauts-de-France, ฝรั่งเศส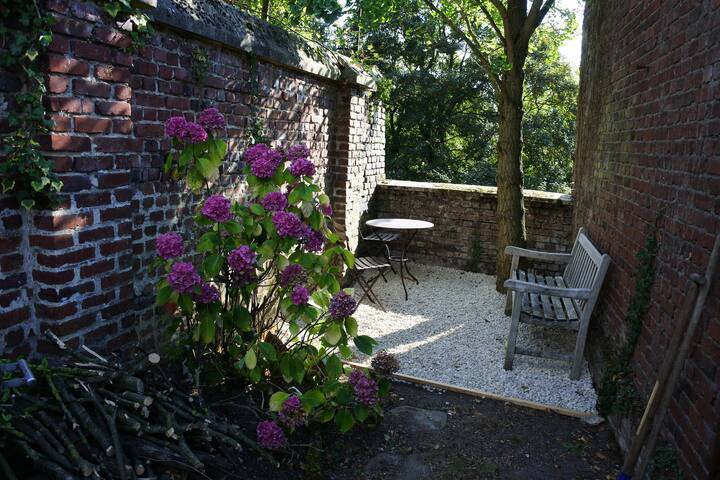 Très joli pavillon. Grand terrain agréable et arboré de 1350m2 Proche du centre ville d'Albert. Petite salle de musculation, jacuzzi gonflable, terrain de pétanque, bbq. Maison moderne et accueillante. Idéal pour effectuer le circuit du souvenir
2 chambres ( 1 lit 1m40/1m90 et 1 lit 1m10/1m90) + 1 canapé convertible dans le salon de deux places 1 petite salle de musculation (actuellement en renovation mais accessible) 1 jacuzzi gonflable dans la grande chambre au rez de chaussée: une salle de bains , wc , grande salle de vie, cuisine toute équipée Terrasse donnant sur le jardin Petit ruisseau au fond du terrain
Quartier très calme. Proche du centre ville . Albert est le point de départ idéal pour le circuit du souvenir. Parking et grand terrain arboré , barbecue terrain de pétanque et jacuzzi dans la chambre principale
On a loué le pavillon de Gregory pour un week-end en prévision d'un saut en parachute. Cela nous a permis de découvrir la ravissante centre ville d'Albert à proximité de la maison. Gregory nous a bien préparé l'arrivée en nous sortant le BBQ et les boules de pétanque pour profiter au mieux du magnifique jardin parcouru d'un petit ruisseau . Lui et ça femme nous ont accueilli chaleureusement et pris le temps de nous montré le fonctionnement de la maison, au demeurant, joliment décorée et très propre. Je recommande vivement pour un séjour découvert de la region ou de parachutisme :)
Julien
2016-04-17T00:00:00Z
Si vous chercher un havre de paix je vous conseille la maison de gregory détente assuré. Venez profiter du magnifiques jardin et du jaccuzi. C est vraiment trop court 24h vraiment pas envie de repartir encore merci
Charlotte
2016-06-13T00:00:00Z
Le séjour à été parfait ... La maison est plus que sympathique tout comme leurs propriétaires Nous y retournerons avec plaisir !
Delphine
2016-06-27T00:00:00Z
We were greeted by Sylvie as Gregory was away and she was delightful and very helpful. We received a welcoming bottle of wine and some food staples including fresh eggs from the chickens! The neighbourhood was quiet and pleasant. The back garden was wonderful with a lush green lawn and pétanque pitch (and game requirements) which we enjoyed very much. The downstairs living space was great and had a big dining table and mod cons (including dishwasher). We really enjoyed our stay which was central to the requirements of our visit.
David
2016-05-28T00:00:00Z
Très bonne adresse maison propre est agréable. Échanges faciles avec Gregory une bonne adresse sur Albert
Sandra
2016-09-12T00:00:00Z
We arrived earlier than planned but the hosts were happy for us to check in then and very welcoming. One morning we had a surprise visit from a family of ducks. The cat was content keep to himself but quite at home after the first afternoon when he sat on the kitchen windowsill when I got such a fright thinking someone was at the window. Haha!! Such a lovely home in a quiet area, we felt like we were home. Thankyou! You are wonderful hosts. We wish you and your family all the best and happy memories considering your very recent loss. Elizabeth and Brad
Elizabeth
2016-07-25T00:00:00Z
On arrival at the house we were greeted by Sylvie as Gregory was away and she was delightful and very helpful. The hosts had gone out of their way to provide local information and we loved the British/French flags on the dining table. We received a welcoming gift and a bottle of wine and some food staples including fresh eggs from the chickens! The neighbourhood was quiet and pleasant with plenty of parking and just a little way out of town. The back garden was wonderful with a pétanque pitch and BBQ which we enjoyed very much. Every morning we were greeted by a mother duck and her 6 ducklings which we loved feeding. The downstairs living space was great and had a big dining table and all the amenities (including dishwasher and a gym). The whole house was very clean and bright. We really enjoyed our stay and our local visits and would definitely book again and recommend to our friends.
Trevor
2016-07-04T00:00:00Z
ประเภทห้อง
บ้าน/อพาร์ทเมนท์ทั้งหลัง
---
ประเภทที่พัก
บ้าน
---
พักได้
5
---
ห้องนอน
Albert, Picardie, ฝรั่งเศส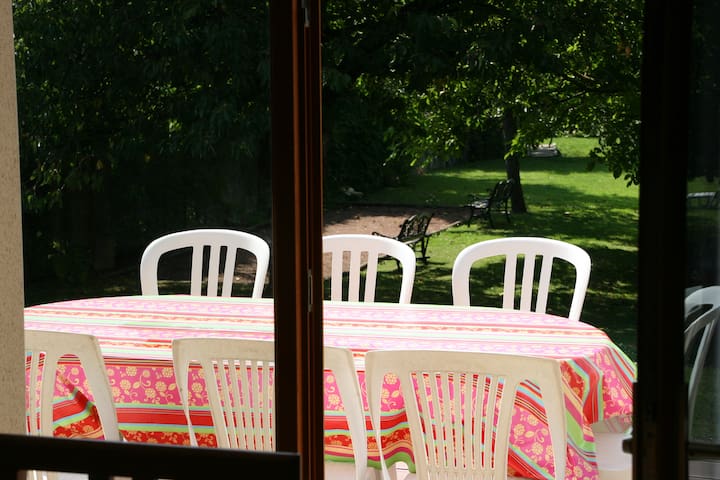 Belle maison au cœur de la bataille de la somme en centre ville d'Albert. Elle dispose d'une cuisine équipée, une salle de bain,une chambre avec lit double et une petite cour.Vous serez idéalement placés pour visiter tous les sites de la bataille de la Somme
Au cœur de la Bataille de la Somme
Basilique,musée des abris (musée de la grande guerre), Cimetiere anglais,allemand,australiens.Monument de Thiepval et tous les monuments historiques de la grande guerre
ประเภทห้อง
บ้าน/อพาร์ทเมนท์ทั้งหลัง
---
ประเภทที่พัก
บ้าน
---
พักได้
2
---
ห้องนอน
Albert, Nord-Pas-de-Calais Picardie, ฝรั่งเศส
Mon logement est proche du centre ville, parcs et commerces (10 minutes à pieds). Mon logement est parfait pour les couples, les voyageurs en solo et les familles (avec 1 enfant). J'habite au cœur des cimetières de la première guerre Mondiale. Vous serez à 25kms d'Amiens et à 40 kms d'Arras. Chambre lumineuse.
Corrine is an amazing host, very gracious and could not do enough for us. She made us feel relaxed and welcome from the start, really making our trip that much more enjoyable. Would definitely recommend :) thank you
Aj
2016-09-11T00:00:00Z
Avec de l'honeur, j'ai été le tout premier hôte de Corinne :-) Corinne a beaucoup de connaissances sur la santé, relaxing, bien être. On aborde des sujets très intéressants avec elle
Jinlan
2016-07-03T00:00:00Z
ประเภทห้อง
ห้องส่วนตัว
---
ประเภทที่พัก
บ้าน
---
พักได้
2
---
ห้องนอน
Albert, Nord-Pas-de-Calais Picardie, ฝรั่งเศส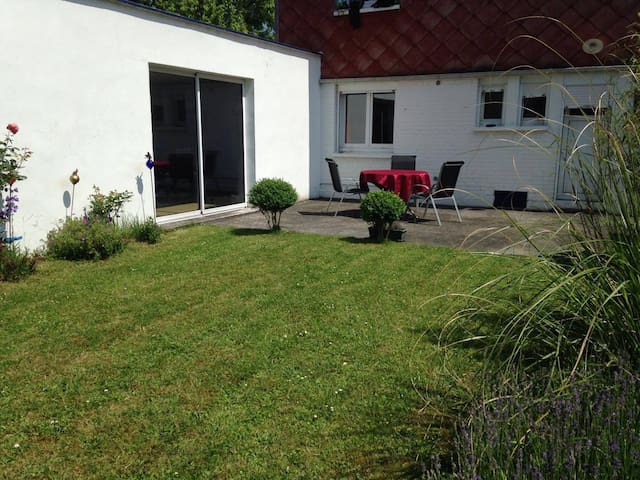 My accommodation is close to major cities and important places in the Battle of the Somme. Enjoy my cottage for its calm, its interior design and the friendly people. This accommodation is perfect for couples, solo travelers and business travelers. Located in an old farmhouse, this sunny and clear house will bring you, with its decoration made of modernity, and its comprehensive equipment, a quality of life very pleasant.
In this house, everything was thought to give it a familiar and intimate touch. In the bedroom, both beds have a high-end bedding, give you maximum comfort. The spaces are separated by a screen. The toilets are independent. The interrieure insulation was thought that one does not hear the neighbors.
Located in a quiet village, the cottage "Little Cordelier" is next to the cottage "of yesterday and today. The set can hold 12 people. Being very large, everyone can live and develop peacefully and quietly . (The large cottage has a large room of 50m2) This is very interesting for families or other groups. On the other hand, the old farm where they are located is close to the main avenue leading to the Chapel Mrs. far, the magnificent Gothic church.
The host canceled this reservation 4 days before arrival. This is an automated posting.
Ludovic
2017-03-03T00:00:00Z
Liliane and Gilles are very gracious and welcoming hosts. They have plenty of information on the local area and events and their advice did enhance my trip. The property is comfortable, clean and in a quiet village location. My plan was to visit a number of the Great War battlefields and memorials and this location was perfect for that. It is very close to the major sites of Thiepval, Ulster Tower and Newfoundland Park.
Paul
2016-09-20T00:00:00Z
ประเภทห้อง
บ้าน/อพาร์ทเมนท์ทั้งหลัง
---
ประเภทที่พัก
บ้าน
---
พักได้
3
---
ห้องนอน
Mailly-Maillet, Nord-Pas-de-Calais Picardie, ฝรั่งเศส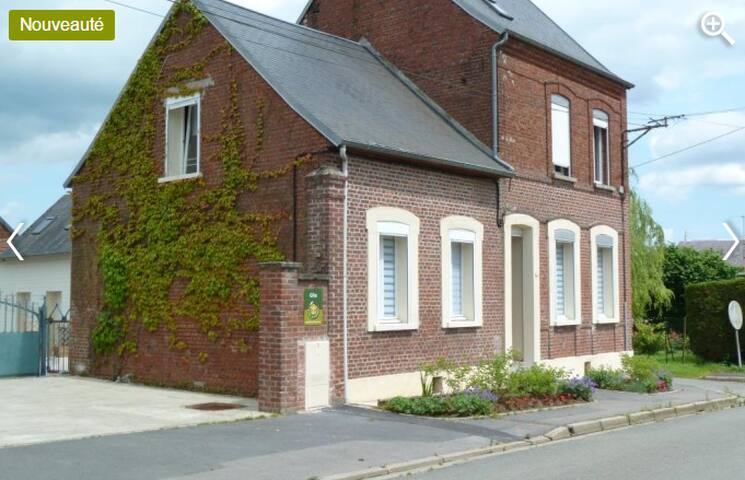 Room of 32 m2 - Coin hot drink - Lounge - Pool Area - Audio Salon - 2 bathrooms - Indoor pool heated to 29 - Fitness Equipment - Petanque - Secure Parking
Your upstairs room of about 32 m2 consists of: - Double bed new bedding 140 * 190 - a desk - A small lounge - A sofa 130 * 190 - A 80cm TV - A free hot beverage space
very quiet residential area in the country Albert 3km small town with all shops 25 minutes of Amiens and Arras 35 min. at 1:00 of the Somme and the Marquenterre park but also at 1h15 from Lille, 1h30 from Paris, 1h50 from Disneyland Paris
Très joli week-end chez Janique et Eric, le lieu est superbe, l'accueil impecable. A refaire sans hésitations.
Olivier
2016-05-02T00:00:00Z
Nous avons passé un très agréable week end! La maison est très propre, les hôtes avenants et discrets. Nous étions venus principalement pour la piscine ( 30 degrés :) ) . Janique nous a même mise à disposition des frites, ballons et autres accessoires pour nous amuser! Nous reviendrons sans hésiter!
Maximilien
2016-06-13T00:00:00Z
Merci pour votre accueil, votre gentillesse et votre générosité. On se sent presque comme chez nous dans cette belle maison grâce à la convivialité de ses habitants. De plus les activités ne manquent pas, le repas était cool, tout est au dessus de ce qu'on a imaginé. Janique et Eric vous êtes des gens en or. Ça fait chaud au coeur de rencontrer des gens comme vous quand l'on ne s'attendait qu'à un petit week end entre amis. Au plaisir de vous revoir de rediscuter avec vous et pourquoi pas repiquer une tête dans la piscine. From Val d'oise with love Valentin, Romain, Cédric et Philippe.
Elodie
2016-04-12T00:00:00Z
Des habitants et une maison très accueillants . Une premier expérience plus que satisfaisante, la maison et la piscine sont d'une rare beauté, encore bravo aux propriétaires.
Laurent
2016-08-22T00:00:00Z
Un magnifique week-end chez Janique et Éric. Ils sont aux petits soins, plein de bons conseils et nous avons particulièrement apprécié l'attention permanente qu'ils prennent pour faire en sorte que l'on se sente comme chez nous. Et que dire de la piscine que notre fils ne voulait jamais quitté. Encore tout grand merci à vous.
Philippe
2016-08-22T00:00:00Z
Bij de aankomst kregen we onmiddellijk een rondleiding met praktische tips, zeer handig! Een mooie, ruime kamer, mogelijkheid om thee te zetten, veel info beschikbaar over de omgeving. Janique en Erik boden ook ontbijt aan. Kortom, top! Ingrid en Paul (Gent-België)
Ingrid
2016-11-01T00:00:00Z
It was an absolute pleasure to stay with Janique and Eric at their wonderful home. We had fun in the pool and they were very generous by offering us some beverages whilst we improved our French and they their English. Thank you both for a great stay.
Reuben
2016-08-29T00:00:00Z
We enjoyed our stay. Thank you Eric and Janique. The boys loved starting their day with a play in your beautiful pool and your house is lovely. A great place to visit the Somme area and to experience our family history.
Helen
2016-11-20T00:00:00Z
ประเภทห้อง
ห้องส่วนตัว
---
ประเภทที่พัก
บ้าน
---
พักได้
4
---
ห้องนอน
Dernancourt, Picardie, ฝรั่งเศส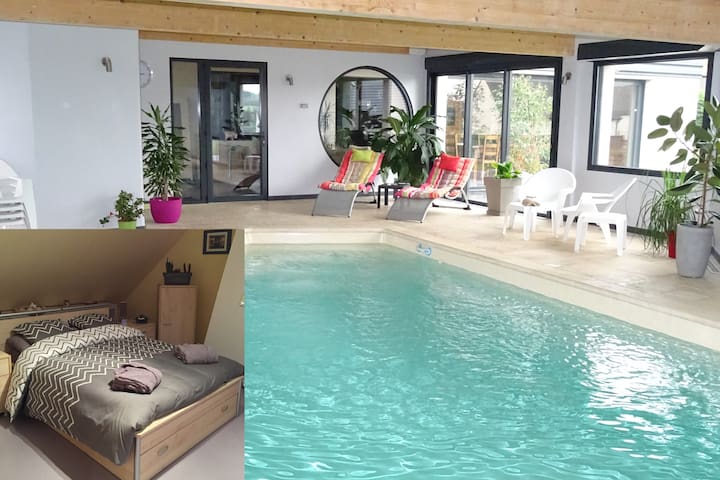 vERY NICE HOUSE, comfortable . the kitchen is very modern and all equipped, A fire place for the winter, or cold days. Two bathrooms, one with a Bath, one with a shower, Very good located: right in the middle of the WW1 battlefields, route of remembrance, poppy country; 10km from Albert, 10km from Péronne: Museums, restaurants, commemorations.
very quiet village, good location to visit all the museum about the WW1.
ประเภทห้อง
บ้าน/อพาร์ทเมนท์ทั้งหลัง
---
ประเภทที่พัก
บ้าน
---
พักได้
4
---
ห้องนอน
Maricourt, Hauts-de-France, ฝรั่งเศส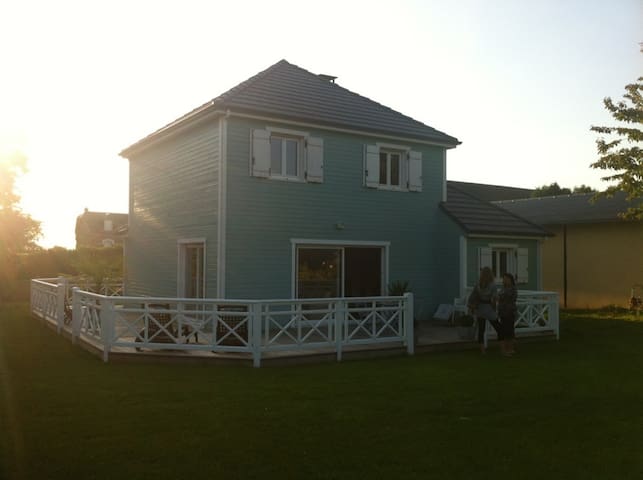 Close to historical sites of the 1st World War, enjoy exclusively to the floor of our house. Room with TV and 160cm bed, balcony, walk-in shower, TV and billiards room await you for a pleasant stay.
The entire floor of our house is reserved (more than 70m2). At your disposal a room with 160cm bed and TV, a bathroom with walk-in shower and toilet, a large area with a lounge area with TV, pool table and access to the balcony (south-facing exposure and where you can take your breakfast).
House in a village of about 500 inhabitants 3km Albert.
Aurore and Guillaume are wonderful people! The location is lovely. The accommodations are bright, spacious, and clean. There is a little balcony looking out over a beautiful field. You can walk to the village or in to Albert. If you like history, this area is rich with it (Beaumont-Hamel, Somme museum, etc...) and all with in a short distance. There is a little fridge, kettle, microwave, plates etc. They have thought of everything. I would definitely visit again
Sandra
2016-07-04T00:00:00Z
ประเภทห้อง
ห้องส่วนตัว
---
ประเภทที่พัก
บ้าน
---
พักได้
2
---
ห้องนอน
Dernancourt, Nord-Pas-de-Calais Picardie, ฝรั่งเศส
very quiet house, town house, with large lawn surrounded by wooded semi for disabled people, sheets and towels provided near the cemeteries 14-18, museums of the cottage war is far from the owner's house
At the beginning of the summer there is a barbecue outside table chairs and sun loungers (known sunbathing)
Area to visit cemeteries of war 14-18, museums, Canadian Memorial, momuments,
Nous avons passé une nuit dans la maison et tout était très bien, la maison a tout l'équipement nécessaire pour passer un agréable séjour et Nicole a été très accueillante.
Charlotte
2016-12-17T00:00:00Z
Nicole nous a gentiment accueilli et montré le gîte. L'endroit est très isolé et rural.
Nolwenn
2016-01-04T00:00:00Z
This was a very charming country home. I loved the peace and quiet and the beautiful backyard garden. This was a great place to stay and see the local historic sites. Nicole was very kind and helpful.
Erin
2016-09-17T00:00:00Z
Our stay at Nicole's house was a welcome relief after the hustle and bustle of city driving. Her charming place is just what we had expected, however the gardens were more beautiful.
Ali
2016-07-25T00:00:00Z
A good location and cosy house.
Stephen
2016-10-09T00:00:00Z
Tout était prêt et la maison chauffée lors de notre arrivée. Très bon rapport qualité prix.
Bruno
2016-10-31T00:00:00Z
Very cosy place, all necessary amenities. In a beautiful location
John
2016-06-22T00:00:00Z
Cosy house, warm and well situated for visits to the Somme battlefields. Friendly and flexible host. Recommended.
Stephen
2016-03-29T00:00:00Z
ประเภทห้อง
บ้าน/อพาร์ทเมนท์ทั้งหลัง
---
ประเภทที่พัก
บ้าน
---
พักได้
4
---
ห้องนอน
Mailly-Maillet, Nord-Pas-de-Calais, ฝรั่งเศส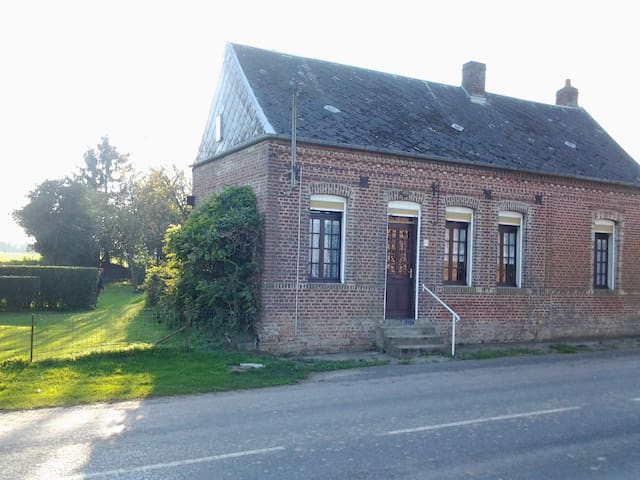 House located in the surroundings of the course of remembrance of World War .No far Thiepval, Pozières. Also located 15 minutes from the town of Albert and between Amiens and Arras (30 min drive for the two cities). My accommodation is perfect for couples, solo travelers and families (with children). There are also small shops in the village (Bakery, Butcher / Delicatessen, pharmacy, medical center, post office)
Alexandra made us feel very welcome by providing breakfast and leaving tourist leaflets for the area. The house is in a small quiet village about 15 min drive from Albert and 30 mins from Amiens. The roads are good so it is easy to drive around. It is an ideal location if you are visiting the battle fields of the Somme. There is a bakery just up the road, a pharmacy and a butchers but the nearest main shops and restaurants are in Albert. The house is comfortable and was spotlessly clean. It is well equipped with everything you need for your stay. The house is accessed through the garage,(secure off-street parking) which fronts the street, and is set back with pretty gardens to front and rear. It is extremely quiet. On the ground floor there is the bathroom - with shower and bath - a separate toilet, kitchen, living room and dining room. There is a downstairs bedroom which is not part of the accommodation on offer. Upstairs, there are 3 double bedrooms - one bedroom is accessed through the other one. They are in the eves of the house. The stair case is narrow and quite steep and just requires a little care getting up and down until you are used to it. There is WiFi, but we couldn't access it and as it wasn't important to us, we didn't advise Alexandra.
Nicola
2016-07-03T00:00:00Z
A fantastic place to say in a lovely French village. Alexandra's house is deceptively spacious and provides plenty of comfort and convenience. The three double beds are comfortable and Alexandra very kindly provides bread, juice and spreads for breakfast (a real bonus!). Alexandra's brother even dropped a fresh baguette round in the morning! The house is immaculately clean and tidy with towels provided. We were cycling on a tour of the Somme battlefields and could not have been happier with the convenience of the location and in particular the house is excellent because it has a secure and covered courtyard in which we could safely store the bikes. We arrived later than expected and Alexandra did all she could to ensure someone was there to greet us. I would wholeheartedly recommend this as a place to stay.
Tom
2016-07-30T00:00:00Z
ประเภทห้อง
บ้าน/อพาร์ทเมนท์ทั้งหลัง
---
ประเภทที่พัก
บ้าน
---
พักได้
7
---
ห้องนอน
Mailly-Maillet, Nord-Pas-de-Calais Picardie, ฝรั่งเศส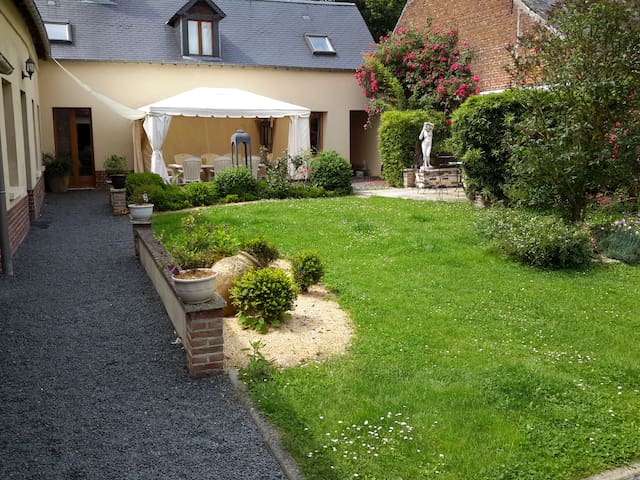 กรอกวันที่เพื่อดูการกำหนดราคาเต็ม มีค่าธรรมเนียมเพิ่มเติม อาจมีภาษีเพิ่ม