50' traditional Gaff Cutter located in Poulsbo WA . Enjoy hanging in the cockpit in a sweet scandanavian village
LILLE DANSER BOAT AND BREAKFAST Located in Poulsbo. if we are out sailing, you can see us via shipfinder- "lilledanser" Join us for a optional 2-hour hand's on sail for up to 6 passengers (add'l fee), followed by an overnight dockside on a traditional 50' gaff cutter and light breakfast in the morning. The vessel 'Lille Danser' has a double berth aft, a covered cockpit, pilot berth in the galley, and a double V berth forward that converts to a double. The galley offers a coffee/tea pot and old fashioned "ice" box. We offer a small electric heater and electric blankets. Pets and children are welcome. You will have the whole boat to yourself dockside. $5 overnight parking. Coin-op Showers and laundry. The area walking distance to shops in the small scandanavian village. This is a great way to enjoy Puget Sound. Here's a recap of fees: parking - $5 per day berth and breakfast for two = $160 base Additional guests= $10 each Pets = $20 total Sail = $200 includes up to six passengers, 2 hour hand's on sailing Inflatable rowing dinghy rental = free if you pump it up and put it away after. Ride to/or from the Bainbridge ferry to Poulsbo (11 miles) for 6 passengers-- $20 anytime.
Beginning JANUARY 1, 2017 Lille Danser will be in her new digs at the Poulsbo Waterfront. I love it-- right next to the Brass Kraken, the Loft, and the Slippery Pig. All worth checking out.
My son and I had a fabulous stay! The boat has a lot of charm and could not be located in a more beautiful spot. Bainbridge Island is gorgeous and, from the boat, It's a short dingy paddle over to catch the ferry and in 30 minutes you are in Seattle. Tami was a great host, very easy to deal with and very accommodating. I would highly recommend a stay on the Lille Danser:)
Greg
2014-04-20T00:00:00Z
This one night and sail was the highlight of our two week vacation. Tami made us feel so welcome on her boat. And what a beautiful classic sailboat she is! Everyone at the marina was nice and it was great to have a laundry facility handy for our lengthy travels too. The lovely downtown area was fun to explore and instead of cooking aboard we bought some to-go food from several places and had a smorgasbord. Great restaurant choices and delicious food from Mexican to vegan and some great wine and cheese from the supermarket. Thanks again Tami for an amazing experience.
William
2011-07-17T00:00:00Z
What a wonderful experience! Situated in a picturesque harbor, the Lille Danser is a charming sail boat with all the nooks, smells and sounds that an old sail boat should have! Comfortably housing a family of four overnight, we were lulled to sleep in the cozy cabins after a lovely day wondering around Winslow. Waking up on the boat was such a treat, the kids spent the morning exploring the waters' edge, fishing out sea stars and all kinds of anemones. A welcome break from the hustle and bustle of city life! Tami is a wonderful host and we hope to go out for a sail next time!
samantha
2011-08-15T00:00:00Z
Tami is a great host, very accommodating and a good communicator in setting up your stay, and offering help and suggestions. Oh and, YOU get to pilot the sailboat! She makes it very easy even for people with no sailing experience.
David
2012-05-07T00:00:00Z
Very unique experience in Bainbridge. Tami was great--she met us at the boat and explained everything. The boat itself has a lot of charm and we all slept well.
Joshua
2012-07-11T00:00:00Z
Do you want the most dreamy and romantic time of your life? Well than do yourself a favor aboard the Lille Danser. Tami was incredibly sweet, generous, and accommodating. She was very knowledgeable and informative on how to sail the boat. We were able to go out on a beautiful day. The boat is very unique, clean, and cozy. I highly recommend staying here and will definitely be coming back! Thanks Tami for making our anniversary special and relaxing.
Liz
2014-04-28T00:00:00Z
Unique experience to spend a night on sail boat. It would be a wonderful occasion for a faimily with little kids. You need to sacrifice comfort for fun.
JUNGTAE
2012-06-04T00:00:00Z
We had a fantastic night on Tami's beautiful Lille Danser. She took us out and we tried to sail but the wind wouldn't cooperate. We will be back to try again. We were there to celebrate our 7th wedding anniversary and loved it so much we talked about making it an annual tradition. Thank you, Tami, for a wonderful stay in your beautiful boat.
Stacie
2011-06-24T00:00:00Z
ประเภทห้อง
บ้าน/อพาร์ทเมนท์ทั้งหลัง
---
ประเภทที่พัก
เรือ
---
พักได้
6
---
ห้องนอน
Poulsbo, วอชิงตัน, สหรัฐอเมริกา
Romántico artesanal hecho a mano guestcottage sal línea de costa en la acogedora ciudad de Keyport. Perfectamente situado en el camino de Seattle a los Parques Nacional Olympic, Gig Harbor, Bainbridge Island, British Columbia, las islas de San Juan y el casco histórico victoriano de Port Townsend! linda ciudad de destino de Poulsbo justo al otro lado de la bahía!
muy pintoresco y tranquilo. gente amistosa
The Dream Cottage was amazing with attention to detail everywhere you looked inside and outside. The Viking bedroom doors are stunning and the shower waterfall very unique. Marc's a great host and very nice to provide most everything you need; wine, coffee, fresh fruit and breakfast goodies and so much more! The serene waterfront setting is only just a small part of the allure. There were more relaxing and beautiful spots to sit and enjoy the waterfront views then words allow. Sit in front of the cottage in the shady nook beneath the japanese maples and listen to the water fall. Cross over the green bridge and sit above the koi pond in the scandian hut with waterfall and endearing sculptures. Relax in the adirondack chairs in front of not one, but two fire pits. Sit in the gazebo and sip wine and enjoy the views of Liberty Bay. Walk down the hulking stone steps to the middle tier fire pit and chairs or sit under the pine trees in the green chairs. Keep going down to the beach and floating dock. Take a paddle along the waterfront in one of the two sea kayaks. Did I mention the deck lounge chairs or the hot tub overlooking the bay? Each spot had colorful flowers and plants distinct to the geographic area. There are more ways to relax here then we could take time for. The bed and seating in the cottage are equally relaxing and extremely comfortable. The ipod tunes and wood burning stove. Too much to list everything. There's even a market and deli and two great restaurants that had live music around the corner. Thanks Marc for a great stay. Will definitely come back!
Gene and Ingrid
2014-06-30T00:00:00Z
We liked this place so much that we decided to come back for a second trip. It is an absolutely fantastic setting---an incredibly cozy, beautiful, one-of-a-kind space. Plus Marc and Christine go out of their way to make you feel welcome, including a free bottle of wine. The garden is amazing, and you have access to kayaks to explore the bay. We can't say enough good things about this place.
David
2016-08-01T00:00:00Z
.
Steven
2017-01-01T00:00:00Z
I can't say enough about this wonderful "Dream Cottage". Everything was perfect. We were greeted by Christine on our arrivial and she made us feel totally welcome and at home. We enjoyed the bottle of wine they provided us while sitting in the garden overlooking the water. The home and location was perfect for exploring the surrounding area parks and quaint little towns. We hiked in the Staircase region of Olymipic N.P and enjoyed oysters fresh out of Hood Canal at Hama Hama Oyster Saloon! Our only regret was that we did not have enough days to do everything we wanted to do, or accept Marc and Christine's invitation to dinner. This is the perfect spot and you can make your time here whatever you want it to be; romantic weekend, outdoor adventure or just relaxing! We will be back! Thank you Marc and Christine.
Terry
2016-10-09T00:00:00Z
My wife and I have spent a fair amount of time visiting Airbnb's and this one was by far the most welcoming. The snacks, the chocolate, the wine. Everything was clean when we arrived and the space was exactly as described. I would recommend to anyone looking for a romantic get-away.
Grant
2015-03-15T00:00:00Z
From the moment we opened the gate, we knew this was going to be a treat. The cottage is charming with many unique features that add to the experience. The location defines the Pacific Northwest. Sitting with a cup of early morning coffee overlooking the bay, the lavender's intoxicating aroma adds a magical quality to the scene. We loved the spa shower, each of us independently coming to the conclusion that we should incorporate some of the details in our own bathroom update back home. The location is ideal for visiting the Olympic Peninsula, Seattle, Bainbridge Island, Poulsbo, Tacoma and other beautiful destination in the region. We enjoyed local Keyport restaurants and people that we met. What a find. Don't miss it.
Amy Basore
2015-10-14T00:00:00Z
Had a great time with my girlfriend at the Dream Cottage. Everything was just as described, Marc even had a fire going whrn we arrived. Its a great place to eacape it all and just relax for a few days.
Drew
2016-12-28T00:00:00Z
This property was beautiful! The space was cozy and romantic, with plenty of room to spread out. The garden and landscaping were a touch of art as well. Despite the cold weather, we actually still took the kayaks out for a paddle and were able to spot quite a few different marine species. Keyport was smaller than I imagined but actually a very cute and quiet town, adds to the ambiance of the weekend. Would love to come back in the summer
Alexa
2017-01-08T00:00:00Z
ประเภทห้อง
บ้าน/อพาร์ทเมนท์ทั้งหลัง
---
ประเภทที่พัก
กระท่อม
---
พักได้
2
---
ห้องนอน
Keyport, วอชิงตัน, สหรัฐอเมริกา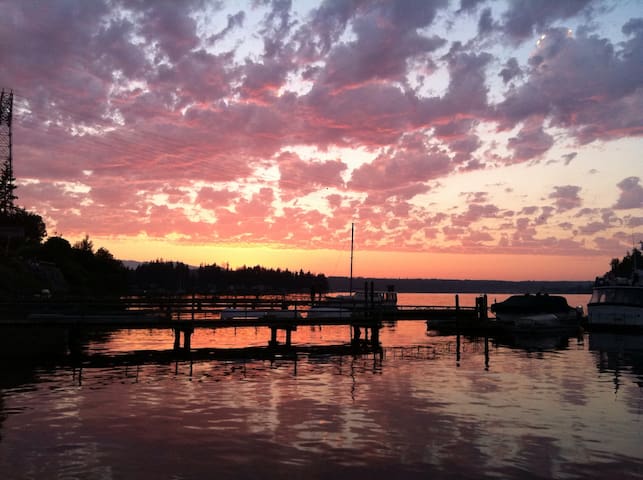 Charming rustic cottage, newly renovated. Private forested setting. Queen bed in the bedroom loft, Queen hide-a-bed in living room. Full sized and equipped kitchen. Newly remodeled bath with shower, and wall heat behind towel rack and mirror. --- Features -- Gas Fireplace - Radiant floor heat in bath and kitchen - Split log ladder-like stairway to upstairs master bedroom loft with small balcony overlooking forest - Equipped kitchen with coffee maker, gas range, new refrigerator, microwave, and dishwasher - Deck and outdoor area with morning sun, afternoon shade - Outdoor small gas 2-burner barbecue grill - No traffic, at end of private road - Birds, native squirrels, & sometimes chipmunks Sport climbing wall available with signed release --- Amenities: Coffee, tea Soap, shampoo Towels & bed linens Free wireless Internet No telephone or TV Use of inherited libraries from journalist and botanical authors There _is_ cell phone reception
Great place to stay! Troy took the time to show us around the place and made sure we had everything we needed. The cabin was cozy and bright. We loved it and hope to go back sometime.
Amber
2016-04-05T00:00:00Z
Our host, Troy, went above and beyond to make this a wonderful stay. We only stayed for one night, he went through the trouble to harness our little boy so he could experience rock climbing safely. The little one can't wait to go back out again next morning. The cabin and its fixtures and furnishings are all well designed and you can feel the owners work hard to make it comfortable. I love the workmanship. It was a relaxing and yet adventurous experience! Can't ask for more :-)
suming
2016-08-19T00:00:00Z
My husband and I loved our stay! The cabin's design and details were so cool and cozy and the grounds were very pretty. There's a rock climbing wall in the early stages of construction too which was pretty neat! The kitchen was fully equipped, which was great because we had a fun time cooking and baking together. The fireplace was wonderful as the weather suddenly got a lot cooler and overall the cabin was very quiet and private which was what we needed after a hectic few months at work. Troy was very nice and greeted us upon our arrival and he also was very helpful in explaining how different things in the cabin worked. Overall, we had a terrific time and thought this was an amazing place! We only wish we could have stayed longer haha!
Nia
2014-11-03T00:00:00Z
Wonderful cottage and great communication and hospitality from Troy. The photos don't do this beautiful spot justice.
Tsouni
2016-07-23T00:00:00Z
The Conservatory Cottage was even more beautiful then the pictures depicted! Troy was very welcoming and gracious. It was my boyfriends 30th birthday and I could not imagine a more perfect, relaxing weekend getaway. Definitely on our list of must visit again!
Jessica
2015-06-01T00:00:00Z
The cottage was fabulous! Cozy, quiet, beautiful and welcoming! We had a hard time deciding to go into Poulsbo or stay and relax inside! The location is really convenient to Poulsbo and Suquamish. We had a great time and would definitely recommend and book again!
Jen
2016-05-02T00:00:00Z
My partner, Celina and I enjoyed a fantastic evening at the Conservatory Cottage for her birthday. We were able to cook on the bbq, admire the myriad native plants around the property, and listen to the sound of owls in the forest while we were warm by the fire. Troy and Phyllis were great hosts, making themselves available and providing information and tips to make our stay enjoyable. We had such a relaxing and fun time at the cottage. A perfect getaway!
Bryan
2016-06-13T00:00:00Z
Phyllis and Troy were more than accommodating, and fit us in for a last minute trip out of the city to enjoy some quiet seclusion. The cottage is gorgeous and well depicted in the photos. Very glad we stayed here. One thing to note for parents with young kids, we arrived with a 20 month old toddler, and found the stairs to be a bit daunting for her. But of course, that fault lies with us and has no reflection upon this cottage.
T
2016-08-18T00:00:00Z
ประเภทห้อง
บ้าน/อพาร์ทเมนท์ทั้งหลัง
---
ประเภทที่พัก
กระท่อม
---
พักได้
4
---
ห้องนอน
Poulsbo, วอชิงตัน, สหรัฐอเมริกา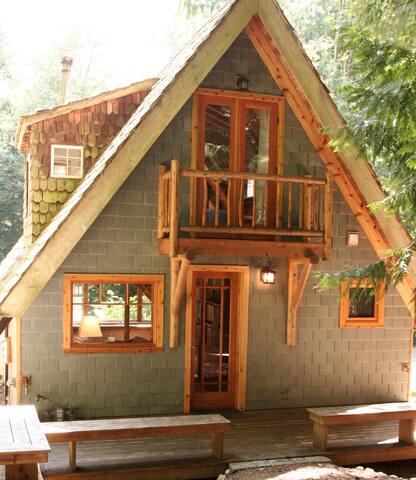 Steps from the water - and a beachside hot tub - our studio is a great place to recharge. Take a pleasant walk or bike ride to restaurants and shops - or head to nearby swimming beaches if it's hot, or go for a hike in the Olympics (45 minutes away).
The Studio at Frog Palace is our recently remodeled guest space on Appletree Cove, a mile outside of Downtown Kingston. With a luxurious, adjustable-firmness queen bed, new kitchen and bathroom, and adjacent shared washer and drier, it can comfortably accommodate up to 2 adults (air bed and outside tent spaces can be arranged). Kitchen essentials include pots/pans, dishes, electric kettle, microwave, dishwasher, and stocked coffee and half-and-half.
Although Frog Palace is secluded, there's lots to do. Along with shops, restaurants, and a movie theater all within a 5 minutes by bike or a 20-minute walk on great sidewalks, the property fronts onto more than a mile of walkable beaches, and is near great swimming spots. Outings to nearby trailheads are easily arranged (the Quinalt, Duckabush, Skokomish, and Hamma Hamma rivers are popular, along with Mt. Townsend and Mt Zion), and we can help you plan a dayhike and get weather reports/maps. Kayak and Stand-up paddleboards are also available for rent in Kingston.
Mary and Jimmy are kind and generous people who have a lovely space, perfect for a little getaway. The hot tub was wonderful to soak in under the full moon, while watching the ferry go by.
Belle
2017-03-12T00:00:00Z
Loved the location, view, hot tub, the place is perfect for a couple. So much fun walking around exploring the beach and town. The hosts are available but give you plenty of privacy. Highly recommend and we will be back!
Jenn
2017-03-29T00:00:00Z
We had a wonderful time staying at "the frog palace"!! My husband and I were on a little getaway and the cottage was just right for the two of us. Mary and Jim were the perfect hosts. They provided the basic amenities and were very conscientious of our privacy while still being available to us if/when we had questions. The house is tucked back away from the road and sits right on the cove. We could walk out into the yard and see the ferry coming and going, but we were far enough away that it was still peaceful and quiet. We would definitely stay here again and would recommend it to anyone looking for a nice relaxing time.
Melissa
2016-05-31T00:00:00Z
Great, cozy spot for a getaway; in our case that was my adult daughter and myself. It is easy to get to, a nice walk into a fun little town and a fun to soak in the hot tub under the stars. I would recommend this for sure!
Amy
2017-01-08T00:00:00Z
I loved my stay in Mary's cozy studio. The space was lovely and clean, with everything necessary to cook a meal and settle in for a couple days. The hot tub was magical and the views of the Cascades amazing. I originally booked 2 nights for a work trip, but unexpectedly needed to stay in the Kingston area for an additional night. Mary was incredibly accommodating and provided me another night last minute, even though it crunched her ability to clean the studio for the next guests. Mary was easy to communicate with, and super friendly. I highly recommend staying here!
Alexandra
2017-01-05T00:00:00Z
Cozy accommodations close to the ferry, the hot tub was out of service when we were there but it was right on the dock and is probably great when it's up and running! Nice little kitchen you can actually cook in and an adjustable firmness bed. Overall, a lovely little place.
Bevin
2017-02-05T00:00:00Z
Great place to stay!
Hannah
2017-01-30T00:00:00Z
Mary's place was perfectly located in Kingston. It was ideal for two people. Weather didn't permit us using the hot tub, but it looked like it would have been a great perk of the place.
Anthony
2017-03-19T00:00:00Z
ประเภทห้อง
บ้าน/อพาร์ทเมนท์ทั้งหลัง
---
ประเภทที่พัก
บ้าน
---
พักได้
2
---
ห้องนอน
คิงส์ตัน, วอชิงตัน, สหรัฐอเมริกา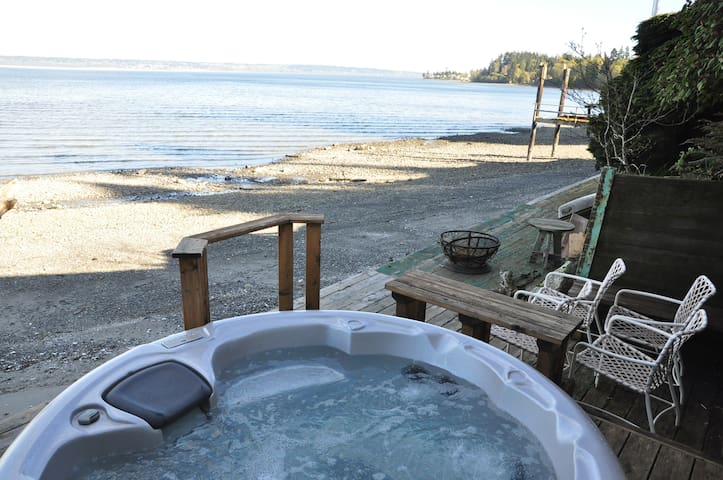 Η διάταξη είναι ένα σύγχρονο δεντρόσπιτο? οι γωνίες και την οροφή ύψους απηχεί τα δέντρα στα οποία είναι κάθεται. Τα χρώματα είναι καταπραϋντικό. Κάθε σπιθαμή του χώρου χρησιμοποιείται γι 'αυτό σας αγκαλιάζει σε μια ζεστή, ήρεμη τρόπο. Μονοπάτια πίσω από το TreeHouse οδηγήσει σε ένα πολύ ήσυχο δρόμο με αγροκτήματα, ένα αποθεματικό δάσος. Μια μισή βόλτα μίλι οδηγεί σε μια μικρή εμπορική γωνία που χαρακτηρίζει το αγαπημένο «κόλπο Hay & Feed», ένα φυτώριο / τροφοδοσίας κατάστημα κατάστημα / δώρων / και μίνι REI! Υπάρχει επίσης ένα κατάστημα PO, καφέ, άψε σβήσε Mart, και την εκπληκτική ιταλική αγορά με σπιτικά ζυμαρικά και σάλτσες.
Επιπλέον, μέχρι το δρόμο για 2 μίλια είναι Fay Bainbridge Park. Είναι μια όμορφη έκταση της παραλίας με υπέροχη driftwood, τα πεδία για την εκτέλεση του σκύλου σας, και λάκκους μπάρμπεκιου για πικ-νικ. Κοντά βρίσκεται επίσης το οινοποιείο και τοπικό αγρόκτημα. Και Winslow είναι μια μεγάλη πόλη για φαγητό, ταινίες, γευσιγνωσία κρασιού, καταστήματα και πολλά άλλα. Αυτό είναι ένα μη-καπνιστών διαμέρισμα.
Keith has created a beautiful and relaxing retreat in the Rolling Bay area of Bainbridge Island. A friendly host with great recommendations (loved Via Rosa 11 and The Bloedel Reserve!) The setting is tranquil and serene. My kids enjoyed exploring the grounds. Keith provides everything you could possibly need and more!
Maegan
2014-10-05T00:00:00Z
Keith made us instantly feel welcome and at home, he's a true gem among men! It was so incredibly awesome of him to take the time to let us know about all his local secrets! The italian resteraunt is truely amazing, he's not kidding when he tells you that!
Kim
2016-07-14T00:00:00Z
I loved my stay here. Tucked among huge trees, it is a beautiful spot. Keith responded to any questions almost immediately and was a very charming and accommodating host. Would definitely recommend staying here
Diane
2015-09-11T00:00:00Z
Everything about my stay at the Treehouse was relaxing and wonderful. What a charming little spot! Keith has thought of every detail for his guests and shared many local gems that I would likely not have found otherwise. There were wooded trails just outside the door for relaxing walks with my dog, and a general store, a cafe, an Italian restaurant, and an amazing park with a beach are just a quick drive away. The Treehouse itself is a beautifully decorated tranquil oasis full of windows looking out into the trees. The kitchen is cozy yet highly functional for making meals in, or just enjoying a morning French press coffee after a restful night in the comfy loft bed. Added touches like a dresser and rack for hanging clothes were really appreciated because who likes to live out of a suitcase? The only way I could have enjoyed my stay at the Treehouse any more than I did was if I could have stayed longer. I highly recommend it and look forward to returning for a visit.
kelly
2016-08-29T00:00:00Z
We had a great say at the TreeHouse Studio! It was obvious that the TreeHouse was furnished and built with great attention to detail. Keith was very welcoming and took the time out of his busy schedule to recommend local restaurants and sight seeing. He has two adorable dogs and it was awesome seeing them romp around the yard. The best part was waking up in the morning to the sounds of birds chirping and the sight of trees. The space has a lot of windows. Keith thank you for the opportunity to stay at the TreeHouse.
Tricia
2015-05-22T00:00:00Z
I can't say enough wonderful things about this tree house. It was the ideal way to start a 2-week vacation with my kids. The studio exceeded my expectation. It was absolutely charming. Keith went out of his way to make me and my children feel welcome. I am looking forward to returning!
Julie
2015-06-02T00:00:00Z
Keith was so welcoming when we got to the house. The place was lovely, modern and clean in a quiet wooded neighborhood. The kitchen had cereal, coffee and fruit. There was a nice side deck that was a excellent spot to have breakfast. The bed was comfy and clean. Just beware if you are a little clumsy like me, the ceilings over the bed are a little low in some spots. The Tree house is a great place to stay!
Katherine
2016-07-06T00:00:00Z
Thanks Keith! Great time. Very relaxing. Comfy bed. Beautiful home. I want to live there. Very chill weekend. Look forward to coming back.
Ashley
2015-10-18T00:00:00Z
ประเภทห้อง
บ้าน/อพาร์ทเมนท์ทั้งหลัง
---
ประเภทที่พัก
ลอฟท์
---
พักได้
4
---
ห้องนอน
Bainbridge Island, วอชิงตัน, สหรัฐอเมริกา
Belle, yourtes chaudes, confortables avec de grandes fenêtres pour laisser entrer la lumière dans la forêt. Profitez du temps communier avec la nature, de la vie enroulement vers le bas de la ville, et profiter du calme du pays.
Vivez la magie de notre petit centre éco-retraite et d'être « dans la ronde » dans l'un de nos yourtes invités. Nous avons deux yourtes invités qui sont disponibles pour les courts séjours. Chaque yourte dispose d'un lit double, un canapé / lit pliant qui sert de confortable deuxième lit, une table et des chaises, et d'une kitchenette. Les yourtes sont spacieuses, lumineuses, chaleureux et confortable - avec de grandes fenêtres donnant sur les jardins et la forêt. Les yourtes ne sont pas salle de bains privée; la salle de bain est situé à quelques pas dans la maison voisine (bien que chaque yourte a un petit pot pour une utilisation nocturne.) Vous pourrez également utiliser notre cuisine et salle de séjour dans notre belle maison ronde sur demande. Il y a de petits appareils et d'une kitchenette dans chaque yourte pour des repas simples et le petit déjeuner café / thé. Nous offrons des événements et des cérémonies à Groves Sacré que vous pouvez lire sur notre site. Les clients sont invités à se joindre à nous pour des événements, se promener dans les sentiers, prairies, bois et jardins de notre belle « Groves Sacré. » Groves est un sanctuaire sacré de la forêt de dix acres situé sur l'île de Bainbridge, un trajet en ferry demi-heure à l'ouest du centre-ville de Seattle. Il est un lieu d'approfondir votre relation avec la Terre Mère, un endroit pour se sentir un sentiment d'appartenance. En savoir plus sur nous sur le site sacré Groves. Note: 70 $ / nuit est pour une personne; nous demandons 5 $ / nuit pour chaque personne supplémentaire. Si vous restez 7 nuits ou plus, le taux tombe à 55 $ / nuit plus 5 $ pour chaque personne supplémentaire.
The hosts were most friendly, and the yurt was what we expected from the Airbnb posting. The only thing we didn't expect was the number of people around which at times created unwanted noise.
James
2015-09-14T00:00:00Z
Quiet, private, 15 minutes from busy Winslow way. The yurt has an artistic hippie flair. The lack of an en suite bathroom, utensils, cups, glasses, mirror, hot running water, etc made for a short, rustic stay. A night potty of sorts was appreciated tho I was not about to empty it into the woods as requested.
Catherine
2016-05-08T00:00:00Z
Sacred Groves is a patchwork quilt. The keepers of the grove have taken pieces of varying sizes, shapes and colors and sewn them together beautifully with love and intention. Therese wished me a happy birthday on the welcome board and when we entered the lovely sun yurt, we were greeted with a vase of fresh wild flowers and the space was lightly scented with sweet incense. It's a very relaxed and welcoming environment with a sweet little busy bee of a caretaker.
Joshua
2015-06-14T00:00:00Z
I stayed at this listing with my wife and 11 month old daughter and we absolutely loved it. The Moon Yurt was charming and spacious; and the Sacred Groves setting was the perfect environment for our little family. Therese and Tere are inspiring women who were so accommodating and very easy to communicate with. I highly recommend this listing.
Joseph
2016-09-06T00:00:00Z
We (four of us) stayed one night at Sacred Groves while attending a wedding on Bainbridge Island on July 21st, 2012. The location is beautiful and truly a treat. Therese and Tere were truly welcoming providing us with a message greeting us along with detailed information about our stay. I think the four of us learned about the little community that Sacred Groves fosters on its ten acres and I was mesmerized by the beauty of the garden and forest area. Our companions stayed in one of the Yurts outside of the round house and we stayed in a guest room. Our accomodations were nice and the bed was very comfortable. Clean towels were provided and we were greeted with fresh coffee in the morning. I think it would have been better if we could have stayed there an extra night and kind of taken in a little bit more of the ambiance because Sacred Groves is truly a retreat.
Andrew
2012-07-23T00:00:00Z
The reservation was canceled 2 days before arrival. This is an automated posting.
Jimmy K. D.
2013-06-26T00:00:00Z
Great place to stay if you want a unique experience. Conveniently located, comfortable yurts. The property is also fun to explore. Tere and Therese were such great hosts, we felt like we had made new friends.
Mary
2014-06-15T00:00:00Z
Tere greeted us when we arrived and gave us the "lay of the land". The space is approx 5-6 miles from town out in an old forest. We loved our yurt. Bathroom and sink was located inside the main house. Upscale for "camping", rather "rustic" for a hotel experience. Good energy on the property and you can tell the Hosts love their space and their way of living.
Kim
2015-07-14T00:00:00Z
ประเภทห้อง
ห้องส่วนตัว
---
ประเภทที่พัก
กระโจมทรงกลม
---
พักได้
3
---
ห้องนอน
Bainbridge Island, วอชิงตัน, สหรัฐอเมริกา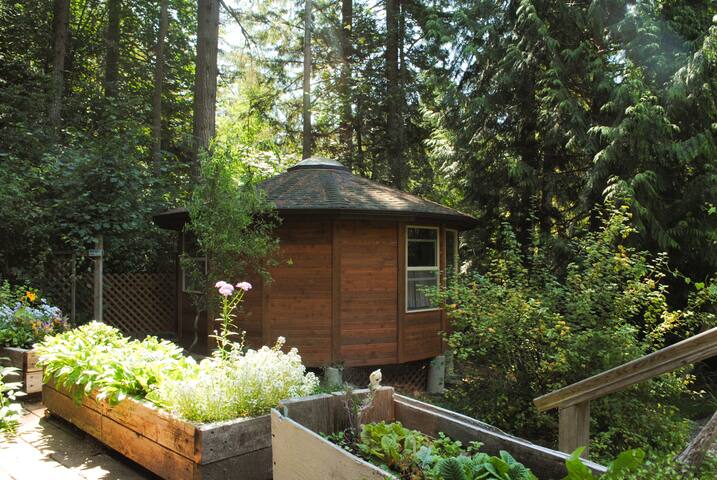 Brand new private studio cottage in wooded park-like setting. This adorable cottage is located seven minutes from downtown Poulsbo where you'll find quaint shops, art galleries and micro breweries on beautiful Liberty Bay. Sit, relax and enjoy peaceful country living. Our property hosts an immaculate mini farm where outside you can say good morning to the sheep and chickens, and inside you'll find everything you need while away from home.
This space is charming and comfortable. Everything is brand new. The queen size bed has new linens and the bath has new towels. The kitchen has everything you need with gas range, microwave, toaster, Keurig coffee maker and coffee. The porch is a great place to relax.
Jeanette & Steve did an absolutely amazing job with their comfortable cottage! I surprised my wife with a little weekend get away trip and found a beautiful, elegant, and cozy cottage tucked away, but so close to downtown Poulsbo. Everything was great and we can't wait to return!
Kristopher
2017-03-05T00:00:00Z
This place was simply serene and spectacular!
Lori
2017-04-04T00:00:00Z
I was looking for a special place to stay on my solo retreat and I found it!! I enjoyed the quiet, the privacy and the squirrel who greeted me in the morning! It isn't often that you find a place that is new and perfectly clean.
Stephanie
2017-04-01T00:00:00Z
Easy to find, cozy, comfy, absolutely delightful! Had a wonderful stay and would book it again.
Stephanie
2017-04-08T00:00:00Z
Had a very relaxing stay - wished could have stayed longer - will definitely return
Jay
2017-04-06T00:00:00Z
The attention to detail here by the host is amazing. You will not be disappointed. I hope to come back again!
Mark
2017-03-19T00:00:00Z
A delightfully furnished, cozy and comfortable cottage. Wake up (none too early) to sheep baaing and bunnies nibbling grass right outside your window. The cottage is done in perfect shabby-chick style, the hosts are friendly and thoughtful. We even had freshly made scones and raspberry jam waiting for our arrival. Highly recommended! We'll be coming again. It's just a few minutes drive into Poulsbo yet feels like you're in the countryside.
Olivia
2017-03-27T00:00:00Z
My boyfriend and I stayed here for a night and enjoyed every minute of it. The cottages was so comfortable and clean it made us feel right at home. All of the attention to detail was amazing. They had scones and coffee which was so delicious! I will definitely be coming back.
Juliet
2017-02-26T00:00:00Z
ประเภทห้อง
บ้าน/อพาร์ทเมนท์ทั้งหลัง
---
ประเภทที่พัก
บ้าน
---
พักได้
2
---
ห้องนอน
Poulsbo, วอชิงตัน, สหรัฐอเมริกา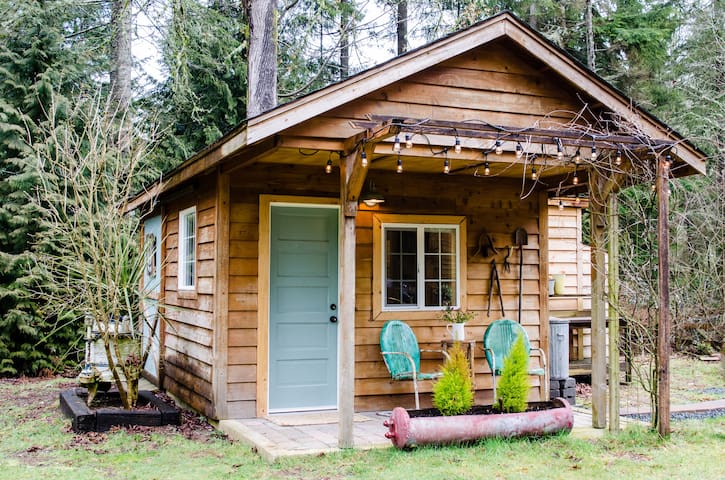 This adorable Cottage is a short 4 block walk to Downtown Poulsbo, shopping, restaurants, Poulsbo Marina, and Poulsbo Yacht Club. Kiana Lodge and other wedding venues, the Olympic Peninsula and public transport, including bus and Washington State Ferries, are also close by. You will love the vintage inspired space, the comfy bed, the nice walk-in shower, the kitchenette, the patio and the coziness. The Cottage is ideal for couples, solo adventurers, business travelers, and families (with kids).
This is a wonderful guesthouse with a cottage vibe. We recently remodeled it and used a coastal color pallette and some vintage finishes. You will love the old barn door that we converted to the shower door, the driftwood whale above the bed and the old chart of the Puget Sound on the coffee table!
Poulsbo is located on Liberty Bay overlooking the Olympic Mountain range. It was founded by Norwegian fisherman, loggers and farmers, so it has a Scandinavian feel. We are located in the historic downtown area that has several of the original founders homes that have been beautifully restored. Fjord Drive, is a lovely walk or bike ride and the downtown, a short walk away, has many wonderful restaurants, coffee shops, stores and activities including, shopping, antiquing, kayaking, pottery painting and mosaics.
We came to Kitsap County on a house-hunting trip, and we could not have had a better first-time AirBnB experience! Tracy was the perfect host, and even had freshly baked chocolate chip cookies waiting for our arrival! Anytime someone comes to visit us, I'll be suggesting the cottage!
Brittani
2017-02-15T00:00:00Z
We really enjoyed our stay, it was a nice quiet location and just a short walk to the main area. The place was cozy, comfortable and a great way to relax away from the city. We really appreciated Tracy accommodating our late arrival (9:30pm), and the cookies and fruit were a nice surprise. We definitely hope to stay here again!
Priya
2017-02-19T00:00:00Z
This place is perfect! Fast Internet Washer & Dryer Private fenced-in back patio Private driveway Cool shower Comfy bed ***Incredible Hosts***
clint
2017-03-20T00:00:00Z
, the cottage was exactly what I was looking for during a two-day business trip to Poulsbo. very well done, very comfortable and I enjoyed my stay very much. would highly recommend to anyone looking for a nice quiet cottage.
Jeffrey
2017-01-26T00:00:00Z
We enjoyed 5 days at this charming, cozy cottage near downtown Poulsbo. The location is walking distance from a quaint, bustling, waterfront business district. One morning I walked out the door and strolled a mile along the edge of the bay, enjoying sunshine sparkling across the water. It felt as if Poulsbo was in close proximity to endless possibilities: fun ferry rides (we went to Seattle), mountain hikes, beach strolls, antiques shopping, and delicious restaurants. Spectacular views at every turn. The cottage was clean, comfortable, and felt very private. The decor is light, bright, and beach-themed. I loved the creative use of materials to build and decorate this hide away. We slept wonderfully. It felt good to step out into the morning sunshine and have coffee on the flower-encircled patio. The kitchen area had fridge with a few generously-supplied staples, a microwave, toaster, electric teapot and coffee maker - everything to begin the morning well. The bathroom had space and plenty of hot water. Wait until you see how they designed the shower! There is a compact washer/dryer which comes in handy when caught in the rain. Thank you! We were comfortable reading with good light and a nice couch. I spent way too much time studying the map-topped coffee table. How cool! Thanks to the hosts, Tracy and Mike, for sharing their slice of paradise. We hope to return someday!
Paul
2016-10-12T00:00:00Z
Very cozy little cottage hidden away in a quiet neighborhood very close to the scenic downtown Poulsbo shops and restaurants. Our host was readily available for any needs and knowledgeable about the local favorite hang outs! Perfect for our girls getaway and certainly a place I will be back with my husband for a couples weekend. It was my daughters 40th birthday get away and Tracy surprised us with 4 specialty cupcakes to help celebrate the occasion. Thanks Tracy
Tracey
2016-12-30T00:00:00Z
A very quiet and comfortable cottage to visit! Cannot wait to return! Delicious lemon bars and beautiful daffodils waiting for us! Highly recommend this wonderful piece of heaven.
Vicki
2017-04-06T00:00:00Z
Comfortable and cozy cottage. So close to everything but so quiet. Lovely eclectic neighborhood and a hostess that knows all the stories.
Deanne
2017-02-25T00:00:00Z
ประเภทห้อง
บ้าน/อพาร์ทเมนท์ทั้งหลัง
---
ประเภทที่พัก
เกสต์เฮาส์
---
พักได้
4
---
ห้องนอน
Poulsbo, วอชิงตัน, สหรัฐอเมริกา
This upstairs studio is close to Poulsbo, Puget Sound, the Seattle ferry, several state parks, Olympic National Park, Olympic Mountain trails, and historic Port Townsend. You'll love this studio because of the coziness, the vaulted ceilings, the views, and the location. It's extremely quiet and very private. My place is especially good for couples, but can accommodate solo adventurers and business travelers. Features a comfortable queen-size bed, nice library of videos and reclining love seat.
This is a roomy, light, cozy upstairs apartment over a double garage. It is completely separate from our home. It has views out to the garden and the waterfront, and you can easily walk down to the bay. A great place for bird watchers, with Great Blue Herons, Kingfishers, Bald Eagles, Ospreys, Canadian Geese, Pileated Woodpeckers, Flickers, Nuthatches, Oregon Juncos, Chickadees, and more. Many interesting arctic ducks winter here. You can enjoy the view from the upstairs landing or you are welcome to sit on our covered porch to watch the tides and the birds.
Our neighborhood is very quiet, and walking on the quiet roads is very popular. We can recommend a 4 mile loop for those who'd like a pleasant stroll or vigorous run. We have a resident Bald Eagle nest up the road, and have a nice view of Liberty Bay.
This location is charming. I could not have asked for a better experience. The environment is set in nature. The gardens surrounding the home make you notice how much care is put into this property. The studio apartment was clean, organized and extremely comfortable.
Gaye
2016-08-28T00:00:00Z
Amenities were very good and a very quiet place
James
2016-09-25T00:00:00Z
Had a very nice stay, the studio was perfect. Kim has done a wonderful job. Thanks again.
Jeff
2016-10-13T00:00:00Z
We stayed 2 nights in Kim's Garden Studio during our short stay in WA, and absolutely loved it! The apartment is very clean, well organized and located in a beautiful & quiet neighborhood. Kim is a great host, easily reachable and very helpful with tips and ideas on nearby attractions and hiking. It was overall a great experience. We will definitely come back!
Eve
2016-10-09T00:00:00Z
Cozy, quiet secluded hideaway. Great communications with Kim. Excellent value.
Richard
2017-02-12T00:00:00Z
Absolutely lovely, quiet place to stay. I felt very safe and comfortable. Kim was available to answer questions as needed, and very kind and helpful. I absolutely recommend a stay here at their guest house and a visit to Poulsbo!
Stephanie
2016-11-14T00:00:00Z
This is a beautifully maintained lodging. Thoughtful touches in the kitchen area. Hosts were gracious but not intrusive. We really enjoyed it.
Chris
2017-03-18T00:00:00Z
The studio was lovely, very tranquil and a nice view out to to the small inlet. It was a cozy place to hunker down in the rain and watch the tides come in and out. Kim was inviting and helpful, though I kept mainly to myself during my stay.
Kiran
2016-10-05T00:00:00Z
ประเภทห้อง
บ้าน/อพาร์ทเมนท์ทั้งหลัง
---
ประเภทที่พัก
อพาร์ทเมนท์
---
พักได้
2
---
ห้องนอน
Poulsbo, วอชิงตัน, สหรัฐอเมริกา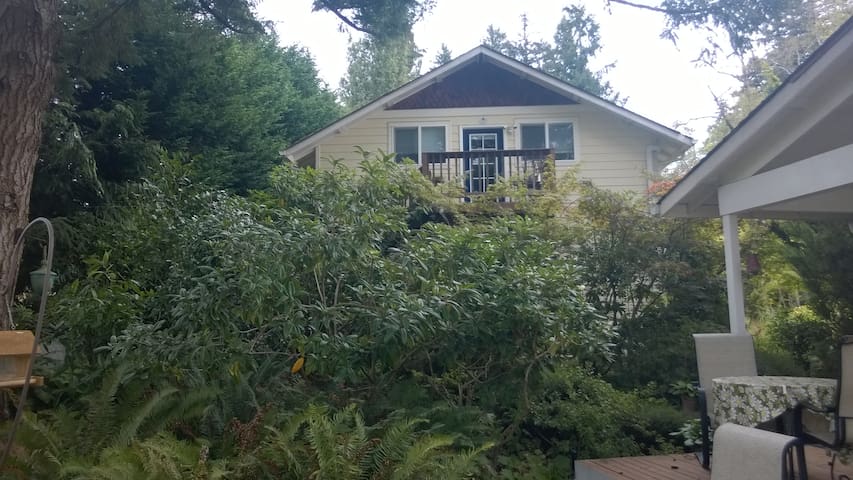 Quiet lakeside community, beautiful deck overlooking the lake, slate tile in bathroom and kitchen, walk in closet, flatscreen TV above A gas fireplace, fully equipped and outfitted kitchen, coffee and espresso machine, private entrance.
Private entrance, and 1 parking spot. Deck overlooking lake. Studio downstairs with queen bed. Ladder to loft above double and two single mattresses. Quiet and serene Per diem rate for government or hospitals
Quiet and serene
This was my first airbnb experience, and if all hosts are this awesome, I will never stay in a hotel again! Easy check in and out, and the loft's cozy amenities made me feel like I was right at home. I would absolutely stay here again, and highly recommend Chris's place to anyone looking for a well-appointed, quiet getaway with gorgeous views and easy access to everything you need in town. Thank you! :)
Becca
2016-11-22T00:00:00Z
Very nice loft in a quiet setting with a lovely lake. Chris was easy to reach and communicate with.
Adrienne
2016-08-22T00:00:00Z
I loved the home and would love to visit again. Very clean and tidy and felt very warm and cozy too. Great views of lake right on property. Loved the galley kitchen which had everything to cook a gourmet meal
Wendy
2015-12-07T00:00:00Z
Chris is really nice, a very responsive to texts and messages. He makes it very convenient to enter the loft, which makes arrival times flexible. Although I didn't meet him in person, he seems like a very nice host, and is available to answer questions when you have them. He keeps the loft looking nice, and the photos are accurate. I would note that if you are arriving in the middle of the hot summertime (like we did) and if you are sensitive to heat, this may not be the best place for you. We could not get the loft to cool down, even with the A/C unit. It was uncomfortably warm, though I don't know how many days out of the year the loft would be affected by very hot weather. Also, please note that although you can't see it from the photos, the carpeting in the unit and also in the upstairs loft is all shag carpeting, and I think it must be very difficult to clean. It was very dusty, so if you are sensitive to dust or have allergies, be wary of this location. We had trouble breathing. The beds upstairs are low to the ground, essentially a mattress right on top of the shag carpet. Based on previous reviews, it looks like my experience was unique. Most others have been really happy here. I'm not sure if it's just that we were very sensitive to the conditions or if that particular time of year (in the midst of unusually warm weather) made the environment in the loft really different. We wound up being unable to sleep at all, and had to book an expensive, last-minute hotel stay after realizing we weren't going to be able to sleep. But, others have been quite happy here. I don't want to be overly critical. This was just my experience.
Jennifer
2016-08-04T00:00:00Z
Our host greeted us and walked us through the apartment. He was welcoming and accommodating. The apartment is comfortable, luxurious and set overlooking a serene lake. We used the pretty patio, eating meals and sipping coffee (made from espresso maker) with a nice view. Board games for our daughter were used and appreciated. The bed was comfortable, with quality bedding. The shower and bathroom were nice and clean. The kitchen is small but well stocked- we cooked a fresh seafood pasta dinner and roasted vegetables with no problems. The location is good, with a short drive to Poulsbo, one hour to Pt. Townsend, and about 30 minutes to Bainbridge Island. Parking at the loft apartment is easy and convenient. We would return and recommend to family and friends.
Elizabeth
2016-06-15T00:00:00Z
Great location, amenities, etc. As advertised.
Robert
2016-09-06T00:00:00Z
This was the nicest Airbnb we've ever stayed at! All the furniture, appliances, and décor seemed brand new and nice. The projector was awesome for watching movies. A perfect spot for a relaxing weekend!
Renee
2016-01-18T00:00:00Z
We were only at Chris' loft for a couple of days but he was very welcoming and helpful in recommending places to eat in the area. The location is ideal for a weekend getaway with a lovely view of a lake. The loft was very modern and clean and immediately felt comfortable. The power did go out one night we were there. It happened across the region so there was nothing the owners could do about it. There were some candles in the loft to help us see and the fire place still worked so we were able to stay warm, despite the power outage. I would love to return in the summer or spring to enjoy the lake and the outside deck.
Padmananda
2016-03-15T00:00:00Z
ประเภทห้อง
บ้าน/อพาร์ทเมนท์ทั้งหลัง
---
ประเภทที่พัก
ลอฟท์
---
พักได้
4
---
ห้องนอน
Poulsbo, วอชิงตัน, สหรัฐอเมริกา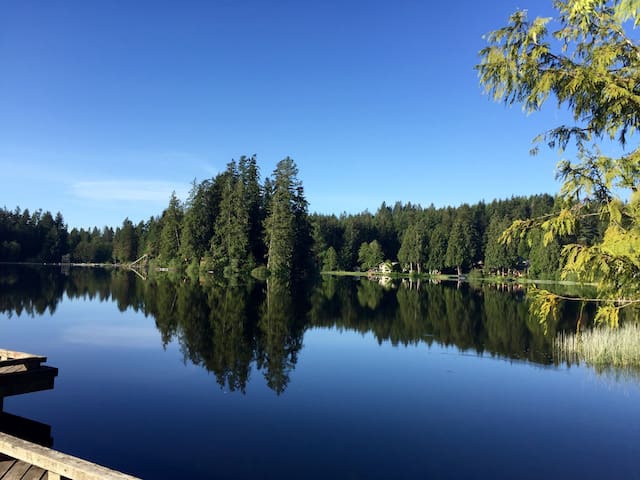 Welcome! My home is conveniently located 1.7 miles from Keyport Naval Base and 4.4 miles from Bangor Naval Base. An ideal hotel option for the business traveler or visitor. No shared space. Your secured room has a private entrance, full bath with steam shower, kitchenette with microwave and mini fridge, internet access, and Direct TV. A desk is provided for your convenience. Enjoy the beautiful country setting with a patio for your use.
Great for business trips. Secluded and comfortable. And a steam bath for relaxation!
Ian
2017-04-03T00:00:00Z
Jeffrey's place is a great value. Clean and as described. Jeffrey's also a really nice guy. I recommend this private bnb.
Steve
2017-03-19T00:00:00Z
ประเภทห้อง
ห้องส่วนตัว
---
ประเภทที่พัก
บ้าน
---
พักได้
2
---
ห้องนอน
Poulsbo, วอชิงตัน, สหรัฐอเมริกา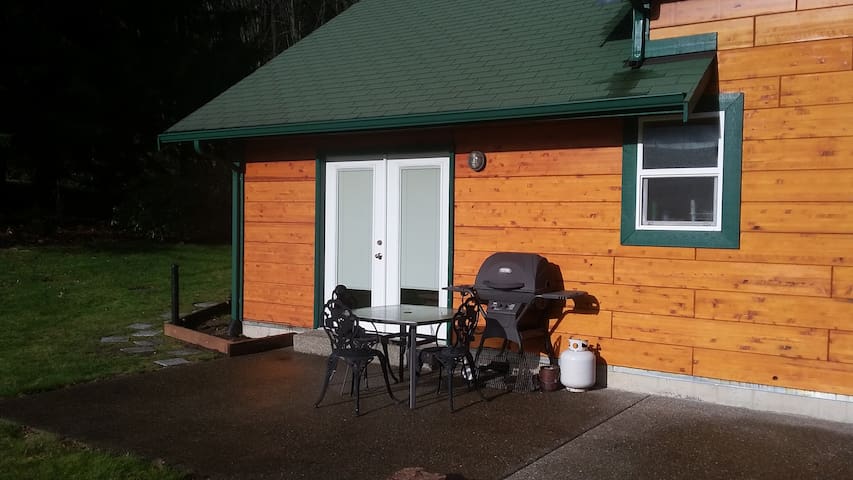 A quiet retreat in the woods of Poulsbo. Our place is situated on just over two acres of wooded land with a meadow and two majestic twin pines in the center. Close access to highway 3, highway 305 and the Washington State Ferry. Just a short 5-10 minute drive to Historic Downtown Poulsbo and waterfront. Explore quaint shops, art galleries and micro breweries on beautiful Liberty Bay. Enjoy peaceful country living in park like setting.
This cozy guesthouse has the feeling of a boat cabin and is separate from the main house that is adjacent to the property. There are two upstairs bedrooms and one bathroom along with a full kitchen, including dishwasher. In addition to the two beds, there is also a twin air mattress that can be used in either of the two bedrooms.
The property is located in a semi rural part of Poulsbo. It is close to highways, shopping and adventure.
ประเภทห้อง
บ้าน/อพาร์ทเมนท์ทั้งหลัง
---
ประเภทที่พัก
เกสต์เฮาส์
---
พักได้
4
---
ห้องนอน
Poulsbo, วอชิงตัน, สหรัฐอเมริกา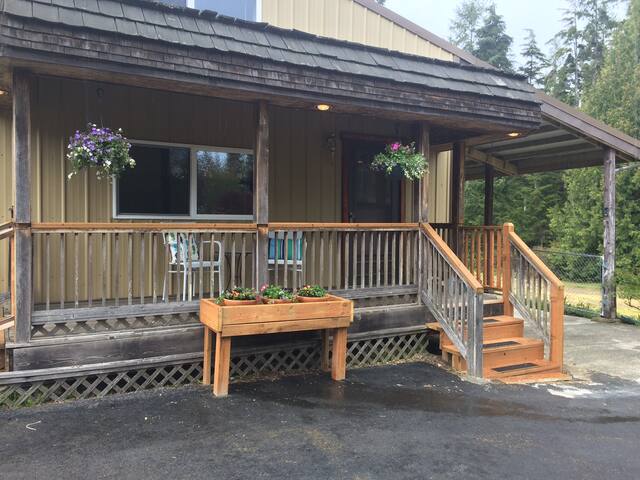 Welcome to Poulsbo! Our retreat is close to great views, restaurants, the beach, shopping, and family-friendly fun! Come enjoy activities such as kayaking or paddleboarding on Liberty Bay, walking the beaches, browsing downtown Poulsbo shops, or accessing the Olympic Peninsula for hiking, biking, camping, and sailing. Enjoy the outdoor fire pit or watch a movie by the toasty wood stove inside. It's the perfect place for an overnight, a weekend getaway, or a "base camp" for exploring this area.
You will enjoy having your own personal floor in the house! The space has a bedroom with a double bed and a closet, a bathroom with heated floors and stand up shower, wood burning stove for fires in the winter, flat-screen HD television with DVD player and surround sound, a large sectional couch that has a pull out double bed for sleeping 2 more, and a kitchenette with Keurig coffee/tea maker, a microwave, toaster, and a refrigerator.
Our location is in a quiet area surrounded by trees and open space, but is a 5 minute drive/10 minute bike/20 minute walk to downtown Poulsbo and the waterfront. Fish Park is a 10 minute walk away and is full of trails to walk or run.
We loved this place! The living room area was very spacious, and the whole rental was very clean. We appreciated the Keurig for coffee, the wood stove, and the National Park- and Hawaii-themed decorations (us being big hikers ourselves). The home is about a 30 minute walk to the more touristy area of Poulsbo, but it is very close to a good brewery (Sound Brewery) and Fish Park, which is a great area for a morning run or walk.
Laine
2017-03-05T00:00:00Z
Lew was a great host. The room was clean and well organized - a great place to stay!
Heather
2017-03-26T00:00:00Z
Beautiful place would recommend it to anyone, wish we could stay longer. Very helpful hosts! Easy check in :) cute town and gorgeous area
Lena
2017-01-05T00:00:00Z
Peaceful retreat. Appreciated all the little amenities. Private, but room with a view. Many walking possibilities. Would stay there many times over
Michelle
2017-01-30T00:00:00Z
•slovely and spacious •sgreat selection of books •sa keurig with a selection of K cup coffee, tea, and hot chocolate •sthe wonderful cozy bedroom •sreally a great landing place
Gail
2017-01-20T00:00:00Z
This is becoming a "home away from home" for me. Some of the features I enjoy include: -great selection of current magazines -love the bathroom, very stylish -expandable table great for a meal or a business work desk -business tools provided (scissor, tape, pens, note pads) -personal notes on the chalk board -the Keurig coffee maker It's a great base for exploring this area and just relaxing. I wish I had more time just to settle in front of the fire and read all their magazines and books!
Gail
2017-03-14T00:00:00Z
A home away from home for two weeks while Mom and I were visiting family and friends in the Kitsap and Poulsbo area. So comfortable and convenient!
Gail
2017-02-21T00:00:00Z
This was a great place. Very cute and well-kept. Wood burning stove was a fun cozy touch at night. Beautiful secluded location in wooded area with good view of the sound. Would stay again 100%
Nelson
2017-03-19T00:00:00Z
ประเภทห้อง
บ้าน/อพาร์ทเมนท์ทั้งหลัง
---
ประเภทที่พัก
บ้าน
---
พักได้
4
---
ห้องนอน
Poulsbo, วอชิงตัน, สหรัฐอเมริกา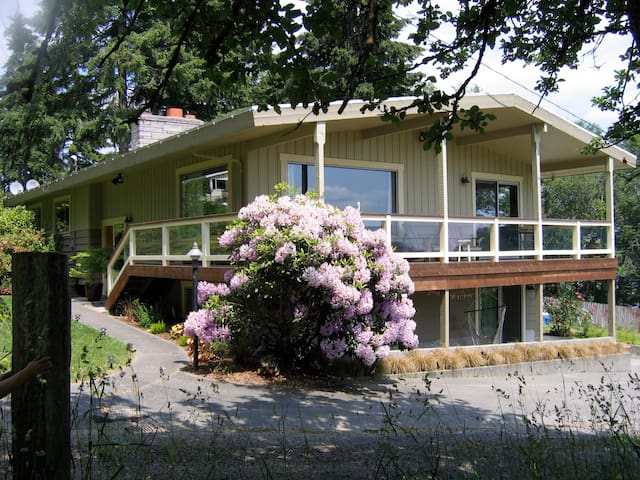 Our mountaintop home is on 5 acres at the end of a private road. It's very quiet here among the trees, yet only a 10 min drive to town. Apartment is above the garage with a private entrance and great vantage point of the trees from every window. It has everything you need to make yourself at home and stay a while. Make it a getaway for your dog too!! Plenty of room to run off leash, plus hiking trails nearby.
Cali King size bed with memory foam mattress. Small couch with extra seating, and work desk that doubles as a dining table. Kitchenette has a small fridge, microwave, toaster oven, tea pot and nespresso coffee maker. TV has Roku and Netflix, and the space has high-speed wifi. The fenced pasture is a great place to run your dog. The attached patio is for guest's exclusive use, or you can borrow a camp chair and find your own favorite spot. Millie's trailhead is across the road, it's one mile long and connects to the extensive Port Gamble trail system. Park at the base of the driveway and hike or bike the trails all over the peninsula. You can find maps at northkitsaptrails website. Millie's is trailhead 20.
Millie's trailhead across the street provides access to the extensive port Port Gamble trail system. Poulsbo marina has great restaurants and unique shopping. Central Market is the BEST, and only 5 minutes away!
Thoughtful and stress free. A nice open room that had everything you could want. As described , and had many thoughtful touches throughout. Anything you might need, was available. We brought our Dog and there were treats, waste bags, water bowl, and a towel for his paws already provided right at the door. Peaceful and quite, just what we were looking for. Would visit again.
Mick
2017-03-25T00:00:00Z
We really enjoyed our stay. The space is extremely clean, modern, and comfortable. The kitchenette is well appointed. Melody was very responsive and helpful.
Ilona
2017-03-18T00:00:00Z
Very secluded and quiet location. If you want some time away from city life and have dogs who love to run, this is the place to be! Truly off the beaten path. Comfortable accommodation.
Joel
2017-04-09T00:00:00Z
The natural beauty of the surroundings in this small but cozy retreat is restorative, and Melody goes out of her way to meet needs.
Jeremy
2017-03-11T00:00:00Z
ประเภทห้อง
บ้าน/อพาร์ทเมนท์ทั้งหลัง
---
ประเภทที่พัก
บ้าน
---
พักได้
2
---
ห้องนอน
Poulsbo, วอชิงตัน, สหรัฐอเมริกา
Under a mile from the shopping and dining of downtown Poulsbo, this bright, airy apartment boasts breathtaking views of Liberty bay. Equipped with everything you and your guests will need for a short or longterm stay, plus a gas fireplace, soaking tub, two patios, and even secret door to the master bedroom.
The Saga House is a unique secluded space, surrounded by gardens and views of Liberty Bay. On sunny mornings enjoy the 15 minute walk to downtown Poulsbo for coffee, or brew some yourself and enjoy it on the large balcony. This apartment includes modern appliances and conveniences while still maintaining its Pacific Northwest Charm. With wood floors throughout, a cozy gas fireplace, an abundance of reading material, and coffee mugs galore, this space offers an idyllic retreat from the bustle of nearby Seattle.
ประเภทห้อง
บ้าน/อพาร์ทเมนท์ทั้งหลัง
---
ประเภทที่พัก
อพาร์ทเมนท์
---
พักได้
4
---
ห้องนอน
Poulsbo, วอชิงตัน, สหรัฐอเมริกา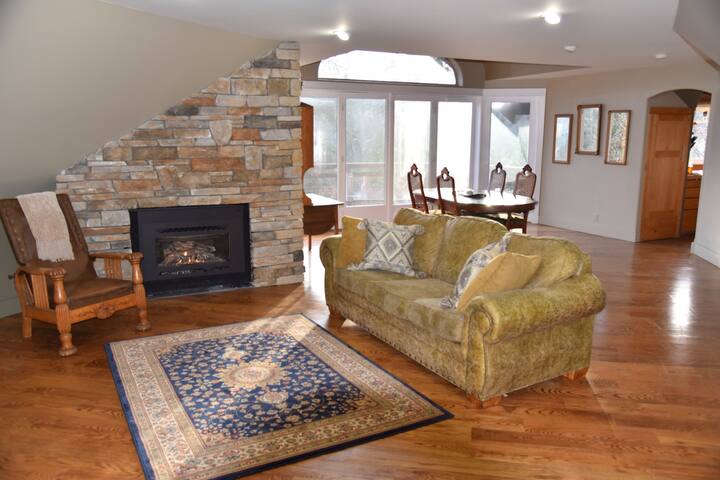 A lovely one bedroom apartment centrally located from Seattle and Olympic Peninsula on the beautiful Kitsap Peninsula. Separate bedroom, roomy kitchenette. It has a parlor size pool table, table hockey, and board games. No cars are in the garage.
The Clubhouse is a 900 sq. ft. apartment above a garage on five acres. In addition to a private bedroom, there is a living room and roomy kitchenette. We do not have a stove in the kitchenette, but we do have a microwave, broiler/oven, toaster, electric skillet, induction hot plate and full size frig. There is a queen size bed and a futon couch that folds out to a bed. We can also have a fold out single bed available. Play a game of pool on the parlor-size pool table. A table hockey table and several board games are also available. Select a DVD to watch from the DVD library or just sit around the table and chat. Our goal is to make you feel like you are at home while having a place to kick back and have fun. There's lots to do! We are five minutes from the beautiful town of Poulsbo, 20 minutes from Bainbridge Island and the ferry to Seattle, and just 1 1/2 hour to the heart of the Olympic National Park. We are 45 minutes from Pt. Townsend. We are also close by to lovely trails and beaches on the Kitsap Peninsula.
We are only 5 minutes from Poulsbo and many beautiful trails. We think Poulsbo is one of the neatest small towns in the United States. It has many cute stores and restaurants as well as a beautiful waterfront park.
We had a great time in Terry's Clubhouse apartment. We stayed for 3 nights for both a wedding and then exploration of the Olympic Peninsula. The apartment was both spacious and clean and also in a central location to all of the beautiful spots on the islands. We would definitely stay again if we are back in the area!
Adam
2014-07-28T00:00:00Z
Very enjoyable stay, clubhouse was extremely clean and stocked with necessities such as towels, coffee, etc. Beautiful location. Excellent directions and check in procedures emailed prior to arrival. Would stay again and recommend!
Kristen
2015-05-25T00:00:00Z
The Clubhouse apartment was the perfect place for my husband and I to relax for our 10 year anniversary! The grounds are shaded and peaceful. There are many amenities available and the apartment is bright and clean. There is a parlor pool table that was perfect for unwinding after our fun day of shopping in the cute town of Poulsbo. Terry, and her dog, Jed were very friendly and welcoming to us. I appreciate the extra touches around the apartment (fresh flowers, library, etc.) My husband and I would gladly stay again if we are ever back in the area! It is a true home away from home! Thanks again, Terry, for everything!! Leanne Rae
Leanne
2015-07-03T00:00:00Z
We had a great time in The Clubhouse. It was exactly as expected. Clean, well appointed, convenient, and private. Would totally stay here again!
Matthew
2015-02-16T00:00:00Z
Just like a 1 bedroom apartment, really great!
Star
2017-03-22T00:00:00Z
You will find everything you need and more at this comfortable Clubhouse. It's a birdwatchers delight!
Georgia
2017-04-06T00:00:00Z
The clubhouse is a great place it's comfortable, it has a well equipped kitchen, they have lots of movies and the space in itself is clean and well kept. I like that it's a separate building above the garage because I always feel a little more comfortable when I know I won't be making too much noise or bothering other people. I never got to meet the host but my boyfriend did and he said that Terry is lovely and he loves her dogs! Overall the stay was fantastic. Loved the space, loved the location and loved the host. Definitely recommend.
Brianna
2016-11-18T00:00:00Z
We had an amazing time staying here for two night! The place was lovely and comfortable. Terry was so sweet and provided us yogurts and bagels for our breakfast. Will definitely look to stay here again!
Shannon
2016-03-23T00:00:00Z
ประเภทห้อง
บ้าน/อพาร์ทเมนท์ทั้งหลัง
---
ประเภทที่พัก
อพาร์ทเมนท์
---
พักได้
4
---
ห้องนอน
Poulsbo, วอชิงตัน, สหรัฐอเมริกา
PERFECT GET-AWAY! Enjoy lovely Puget Sound private deluxe Guest Suite/Studio overlooking a peaceful forested acre and garden in the charming village of Poulsbo ("Little Norway"). Fabulous light & bright fireplace suite with lux bedding & bath, private entry & patio, outdoor fire pit & all the quality amenities you'd expect from a fine hotel (+ welcome bottle of regional wine!) Minutes from Bainbridge Island, historic Port Gamble & Hood Canal Bridge – gateway to the Olympic National Forest!
After a day of taking in the sights, come home to your beautiful spacious and light, contemporary deluxe Guest Suite/Studio! Enjoy luxury, complete privacy, with your own keyed entrance. The main sleeping area/bedroom features a large plush Cal King bed with soft organic cotton bedding, large closet, fluffy robes and Bose CD/stereo. The bedroom opens to a spacious sitting area, with a large gas-burning cozy fireplace, very comfortable queen-size fold out couch (sleeps 2), writing desk, Cable TV/DVD player and an armoire stocked with books, board games and DVD's for your pleasure. Quality free wifi throughout. The expansive luxurious bathroom has two sinks and a fabulous walk-in glass enclosed shower, with plenty of fluffy towels and organic soaps. Step out to your own private patio, with table, seating and a wood-stocked outdoor fire pit for summer evening fun. Outside enjoy a canopy of lush forest views, a colorful garden and busy birds at the feeders. For snacks or light meals there is a small refrigerator, gourmet espresso/coffee maker, microwave, electric tea kettle, toaster, paper goods plus an assortment of coffee/tea selections and munchies provided for your refreshment. *Please note – there is no "formal" kitchen. This wooded retreat is perfect for small family getaways or a romantic retreat! SO MUCH TO DO WHILE YOU'RE HERE! You will find a Guest Handbook with all the details, plus local travel guides/maps and a "Things to Do" binder stocked with info, maps and ideas to enrich your stay. POULSBO is centrally located just minutes from the Agate Pass Bridge entry to scenic BAINBRIDGE ISLAND's wineries, breweries, restaurants, shops, art galleries, trails and beaches (15 min). Take in the delights of Poulsbo, a former Scandinavian fishing village still known as "Little Norway." Poulsbo's historic district features lots of yummy restaurants (don't miss Sluys Danish bakery or the organic ice cream treats at Mora) shops, antique stores, galleries. NATURE CALLING! Discover countless nature walks, hiking trails, creeks, beaches along the Puget Sound waterways (popular with kayakers) in the area. Bike and kayak rentals are available locally as well! ALL SEASON DESTINATION! A gardener's paradise - spring brings fresh sprays of color at every turn. Enjoy summer's warm temperatures and plentiful produce, (local berries - yum!). In the fall trees turn glorious shades of orange and red (fresh apples!). Winter may bring a dusting of snow and a chance to enjoy the roaring fireplace. EXPLORE! Head just north of Poulsbo to historic (some say haunted!) Port Gamble! The nearby Hood Canal Bridge (20 min) – takes you to the gateway to the Olympic National Forest for year-round activities. While you're there check out historic Port Townsend, Port Angeles and the lavender fields in Sequim (45 min). Suquamish is to the east, home to the first people's tribe of the same name and a fantastic native museum (15 min). Meanwhile, miles of rural forested roads and farms are fun to explore. WHAT ELSE? Local museums are plentiful, including Bainbridge Island's new Museum of Art and KidMu a fun children's museum. Drop-by one of many farmer's markets in the area (April-October). SEATTLE BOUND? Catch the Bainbridge Ferry to whisk you across the Puget Sound to downtown Seattle (30 min) and wander through Pike Place Market, historic Pioneer Square, the museums and more. Kingston Ferry takes you farther north to Edmonds and beyond.
We are situated in small, quiet, semi-rural forested residential neighborhood, "Gala Pines" just outside of Poulsbo City limits. Pleasant and completely safe to stroll the neighborhood, you'll likely find friendly neighbors biking by or walking their dogs. You might catch sight of the local "wildlife," dozens of types of birds, lots of squirrels and the occasional deer or rabbit.
Clean, quite, attractively appointed, great shower. Plenty of clean bedding and towels. Coffee, microwave, snacks, and in our case a bottle of wine because the power was out just before we arrived. However, the heating and electric were working well during our stay even though the temp dipped to the lower 20s at night.
Warren
2015-11-29T00:00:00Z
I can not say enough wonderful things about Lisa and her studio. I felt welcomed, respected,and helped when needed. She greeted me upon my arrival and offered me a flashlight with keys. Inside the studio was immaculant just as pictures showed but better. The fireplace was just what I needed to feel cozy. The linens were top quality! The acre lot has the mostwi beautiful views. If your looking for something with class, comfort then look no more! I have used Airbnb but, Lisa blew away hostess or 5 star hotel. I also cired when leaving! Thank you, Lisa from the small things to the big things, you were Great! I will definitely be back!
Wendi
2015-11-24T00:00:00Z
I stayed here with my 2 kids (11 and 16) over a weekend as we were in town for a local soccer tournament (instead of staying at a hotel), and what a GREAT choice that was! Lisa was fantastic. Knowing we were there for a soccer tournament, she left plenty of water bottles in the fridge for us, and snacks. Very nice touch! The suite was very clean and nice. Very quiet location. We had movies, books and board games to entertain us, and she offered great advice on local beaches to check out, in which we enjoyed. Would highly recommend!
Bob
2015-08-24T00:00:00Z
Lisa is a top-notch Airbnb host. She thought of everything! And her place is super cute and very, very clean. It is super private and it is in a nice, quiet setting. The stars at night are phenomenal! Also, the bed was like sleeping in a cloud. It was insanely comfortable. We truly appreciate everything that she did to make our weekend stay comfy and cozy. Thank you Lisa!
Sarah
2016-07-18T00:00:00Z
We truly enjoyed our stay at Lisa's place. The neighborhood is beautiful! The suite is lovely and tastefully decorated. Lisa adds nice touches such as warm terry cloth robes, nice bottle of wine is waiting upon arrival. She also provides a binder full of information on where to eat and what to see. The suite is equipped with coffee, tea, bottled water, movies, games, etc. Lisa came out to meet one morning as we were heading out to make sure that we were comfortable and had everything we needed. She told us about a local Harvest Festival and printed out information, gave us directions. We had the best of times at the Harvest Festival all thanks to Lisa! She is a wonderful host and I can't say enough good things about her and the lovely suite. Thank you Lisa for making our stay perfect!
Estella
2015-09-29T00:00:00Z
We booked Lisa's place for the days after our wedding and right before our honeymoon. Lisa had everything ready for our late check-in arrival. Her check-in procedures made the process run smoothly. The flashlight was a great tool to have to navigate in the dark! The room was meticulously clean, and all amenities were very thought through. In other words, everything we needed was available. When I felt like I had a question, it was answered either by a sign or by the handy guidebook she provided. There was a bottle of chilled Champagne, a card, and fresh roses waiting for us when we arrived! That small gesture made us feel welcome and special. We didn't get a chance to meet Lisa but she made herself available through text message and email in case we needed anything. The neighborhood was very quiet and the yard outside the apartment was very well manicured and tranquil. We would love to stay again!
Alicia
2016-06-21T00:00:00Z
Our stay with Lisa was FANTASTIC! Lisa was so hospitable and welcoming when we arrived and throughout our stay. We had three adults and a pug (Lisa was very nice to him too!). The unit was wonderful: very clean, new and spacious. A few of my fave features included the in-room coffee cart, complete with a Nespresso and some light snacks and a fridge. There's a separate entrance to the unit and we really enjoyed the fire pit (she provided the wood!). The unit faces the greenbelt that's surrounded by tall, old forest trees. You can sit out there and listen to the birds sing all morning and early evening. Truly spectacular and relaxing! The location was perfect. We were able to take nice walks in the neighborhood or hop in the car to get to downtown (about 8 minute drive away). This place is also about an 8 minute drive to the Central Market -- a really cool grocery store with lots of locally sourced food and a full salad, antipasto, deli bar (perfect for take out dinners). We will definitely keep Lisa's place in mind for our next trip to Poulsbo!
Lorena
2016-06-13T00:00:00Z
Lisa exceeded my expectations. She was extremely hospitable, and the suite itself was very cozy and clean. Great location in a wonderful neighborhood. Highly recommended!
Lucas
2015-08-03T00:00:00Z
ประเภทห้อง
บ้าน/อพาร์ทเมนท์ทั้งหลัง
---
ประเภทที่พัก
อพาร์ทเมนท์
---
พักได้
4
---
ห้องนอน
Poulsbo, วอชิงตัน, สหรัฐอเมริกา
Share 2-bedroom duplex with the owner in the residential area of the town of Poulsbo, built in 1980. Stay a bright room with a queen size bed and room darkening curtains. Breakfast is included. Parking on site, swing in the yard. Extremely quiet area till it's children's football time next door. People say my home reminds them of the comforts of their grandma's home. Guest chooses 1 breakfast for all: pancakes, eggs, smoothie, hot/cold cereal, French toast, bacon or sausage, and coffee/tea.
NOTE: From April 17 to June 20, 2017 the fee for the room is higher because you'll be the only people in the apartment. No laptop or breakfast available at those times. -------------- You'll have a room with a queen size bed and lock on your door that's right next to the bathroom. The duplex is at the end of a dead-end street; the pee-wee football field is next door. Each room has its own heater, so you can regulate the heat in your room. Sometimes, instead of the colorful sheets you see in the bedroom photos (taken December 2017), the sheets will be Flannel and the color is brown/orange/cream. Ask me for my laptop and watch local Cable TV programs from the comfort of your own room. DVD available in the living room. To get to historic downtown by car or bike it's 3 minutes and a walk is 12 minutes (according to (SENSITIVE CONTENTS HIDDEN)maps). Please note, that most of the shops close at 5pm, although the restaurants are open later. Downtown you'll find many restaurants (general food, pizza, Italian, fish/chips, and many more). Don't forget to visit Slys Bakery, although check the hours it's open. Visit the history and marine museum (till 4pm), attend church, go to the theater, cinema, and get your nails or hair done. Walk along the water (Anderson Parkway) or walk the other way to Fish Park (very natural area for hiking). I have a green folder in the room with sightseeing tips.
The founders of Poulsbo came from Norway and it's sometimes called "little Norway". Even the Post Office, which is in downtown Poulsbo, has a Norwegian flair and is a sought-after photo opportunity. Liberty Bay is "down the block" and offers a walking trail to downtown Poulsbo. You can drive to the local supermarkets: Wal-Mart, Central Market, and Safeway. It's a 13-minute walk to the nearest store -- Red Apple.
Maria was the sweetest and most generous host. She even came to pick me and my girlfriend up from our night own on the town in Poulsbo. Coffee and breakfast the morning was perfect. I will definitely be staying here again.
Justin
2017-02-15T00:00:00Z
We had a nice stay with Maria, she made us breakfast in the morning and communicated very well through the phone, the place is about 15 mins from downtown.
Marine
2017-03-25T00:00:00Z
We had a great experience! Even got breakfast in the am :)
Haley
2017-03-03T00:00:00Z
ประเภทห้อง
ห้องส่วนตัว
---
ประเภทที่พัก
อพาร์ทเมนท์
---
พักได้
2
---
ห้องนอน
Poulsbo, วอชิงตัน, สหรัฐอเมริกา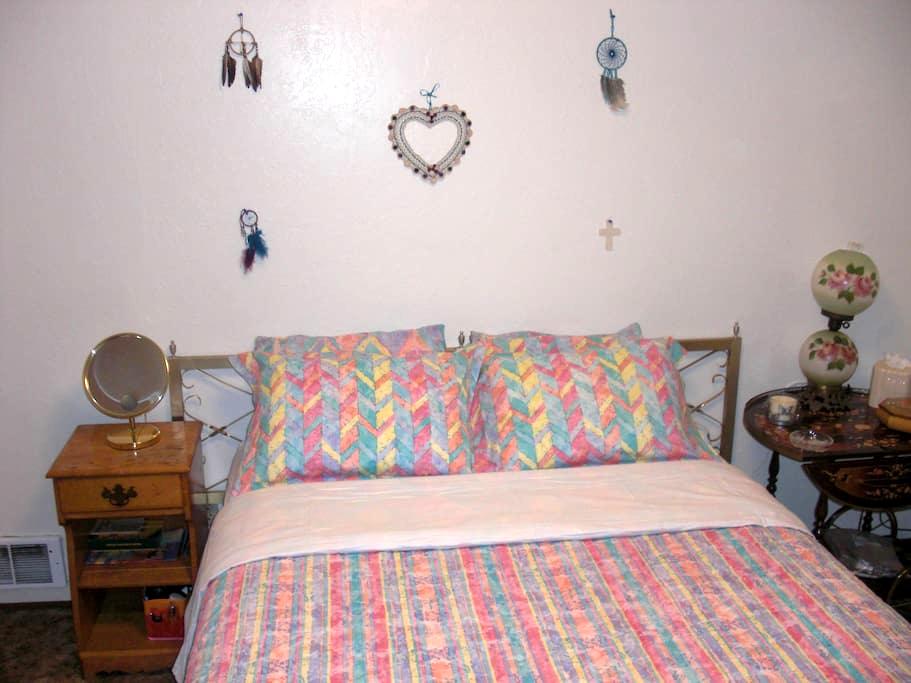 1

–

18

จาก

ที่พัก 134 รายการ
กรอกวันที่เพื่อดูการกำหนดราคาเต็ม มีค่าธรรมเนียมเพิ่มเติม อาจมีภาษีเพิ่ม