MASSACHUSETS HEIGHTS;WDC best neighborhood next to major Embassies, across from KALORAMA, Pres.Obama future residence. Close proximity to METRO/RED LINE , Kennedy Center,Reagan National Airport. Magnificent, architect designed, fully furnished home. Large oak trees in a lovely mature garden ,with ponds . Tranquil retreat in the city , walking distance(5-8 min)to mini downtown with restaurants ,food shops , wellness spa's ,swimming . Rock Creek Park ,walking distance to biking, hiking etc.
Large bedroom ,with a wall of windows ,beautiful view of the garden ,very quiet and private, adjacent marble bathroom. If requested ,for extra charge ,shared use of spacious marble kitchen, washer, drier . n outdoors patio with mature trees . Terraced garden with ponds. Perfect for summer entertaining.
The neighborhood is one of the most beautiful and upscale. It is an exclusive ,exquisite,well maintained area where embassy residences are surrounded by a lot of green,yet it is short walking distance to many city amenities ,like Kennedy Center;restaurants , wellness centers, biking and running trails in Rock Creek Park,shops,and hotels like OMNI SHOREHAM and MARIOTT.., practically across the street.
ประเภทห้อง
ห้องส่วนตัว
---
ประเภทที่พัก
วิลล่า
---
พักได้
1
---
ห้องนอน
วอชิงตัน, เขตปกครองพิเศษโคลัมเบีย, สหรัฐอเมริกา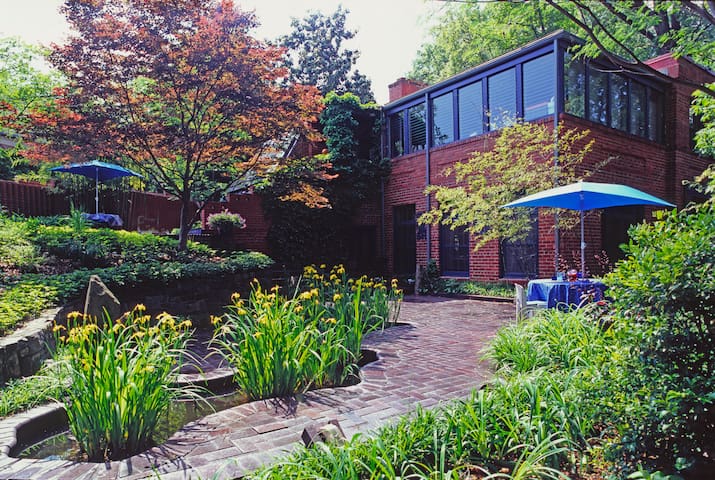 Come and enjoy STAYING IN OUR PRIVATE ROOMS 5 MINUTES TO THE GAYLORD CONVENTION CENTER AND NATIONAL HARBOR. Backs to fall foliage with wildlife(Pool Closed). Private Balcony.r Access to entire living areas in Villa, Kitchen, Large Wrap around deck over looking pool. Lower Level Patio area. Center. Shopping and National Harbor. Close to Tanger Mall Outlet and New MGM Grand Casino scheduled to open in December. 5 BEDROOMS PRIVATE ROOMS . CHOOSE ENTIRE HOUSE FOR YOUR GROUP. PERFECT LOCATI
Close to everything, 5 minute drive to the National Harbor, kayaking, river cruise, fine dining,movies, conventions, and the famous Tanger Outlet stores. 20 mins from DC, with National Mall, White House, various museums and shops, theatres and cinemas. 10 mins to Old Town Alexandria with its rich history. Quaint stores, antiques, consignment shoppes, farmers market, and notable restaurants. Taxi by water and enjoy the view from the mighty Potomac River, or take a dinner cruise on the Spirit of Washington.
Our Neighbor is quite, clean, safe, pleasant for morning or evening walks, and Has views of the Potomac River. The neighbors are friendly, serene setting for jogging, walking or biking.
The listing is NOT accurate. Don't expect to stay in the extra large suite (1st 3 pics shown). The smaller rooms are part of her 70+ pics. I was placed in a smaller room, with a small bathroom across the hallway. There is NO private bath. The house is definitely NOT a 5 minute WALK to Gaylord, but a 10 minute DRIVE. There used to be a grassy jogging/walking trail that will lead you to the Gaylord compound but it has been fenced and wired so people can't go thru. The host knows yet still continues to state it in her listing. I was initially put in a smaller room with tv & balcony, but the door will not close all the way! So she let me to stay in another smaller room. I had no choice since I don't feel comfortable sleeping in a stranger's house wherein the door to my room won't even close or lock! The pictures are so much nicer than the actual house. Carpet stairs are dirty because the host allows people to wear shoes and walk everywhere. The + side, host offers free ride ('coz it's not a 5 min. walk to Gaylord!), free breakfast, water & snacks. If you're not picky and not expecting to stay in the extra large suite w/ private bath, then book it. She usually have other guests in the room next door and I think in the basement too, although I haven't been down there. You can hear people talking & walking on the hallway even if you're inside the room. The advertising is clearly misleading. I think my first Airbnb experience may be the last after this incident. But I do have to commend Airbnb for giving a fair assessment when I complained and requested for a resolution, I received partial refund.
Kim
2016-05-24T00:00:00Z
Keith and Pamela (Janet) were great hosts. I hardly saw them and felt comfortable with my privacy when I chose. Before leaving we had some great conversations but they were easy and I could have comfortably headed out with no interaction if that was what I preferred.
Bradley
2016-05-19T00:00:00Z
Pamela and Keith were very hospitable and welcoming; I wish I would've had more time to spend with them, share a glass of wine, and enjoy more of the common areas (e.g., deck, lounge/living room). Keith took time to show me the walking route to my conference at the Gaylord (1/4 mi) since my map app had me walking 4+ miles. They also provided some excellent restaurant suggestions as well as toiletries and tasty edibles. The house is in a quiet, established neighborhood with lovely bits of nature in the backyard and comfortable, clean accommodations in which I felt safe. It also has easy access to the Gaylord, National Harbor, and its events, including watching fireworks from the deck. Although not on my needs list, the pool and television/cable were not available during my visit; however, wifi was needed but was out with the cable.
robin
2015-09-22T00:00:00Z
Our host Pamela and Keith made us feel welcome. They were very accommodating. Our stay in their home was pleasant and the breakfast was a really good (bacon). Pool was not available. Path to Gaylord was closed off by a neighbor but Keith got us to the convention center and back. Other guest were there but we hardly saw them except for at breakfast.
Beaux
2016-05-29T00:00:00Z
We were made to feel very welcome by Pamela. The house offered ample room and complimentary snacks, which were great. I had rushed to catch my flight to DC as I had just come back from another trip, so my laundry had not quite dried. Pamela allowed me to use her dryer to dry the laundry, which I truly appreciated. Unfortunately, the gate in the fence to Gaylord Convention Centre is now closed, which meant we had to drive or Uber to Gaylord every day. This new development reduces the value proposition of the property if one is staying there to attend a conference. Also, we were locked out of the house one night by another guest who had deadbolted the door from the inside. We had to stay in a hotel, which thankfully was funded by a one-night refund from Pamela and an additional contribution by AirBnB. We appreciated the financial restitution but went through a fair amount of stress while locked out. I would urge Pamela to have better communication with guests about the deadbolt. The house is large, clean, and well-maintained. I would recommend it to other guests, but would caution them about the two issues (no walking access to Gaylord & possible issues around other guests' use of the deadbolt) mentioned above.
Sahil
2016-09-03T00:00:00Z
Pamela is such a sweet and gorgeous host, and she totally levered my trip to DC. Actually she is friend, more than just a host. This is my first time travel with Airbnb, and she is the reason make me wanna do it again. If I am going to have another conference at Gaylord, I will definitely "occupy" her house again.
Yuchen
2015-10-02T00:00:00Z
The home is cozy, close to National Harbor (But not able to walk to convention center at the current time due to construction... no fault of the hosts at all) , and has fantastic, friendly hosts.
Aryn
2017-01-09T00:00:00Z
Pamela is an exceptional host. She is very attentive and friendly. I spent four days at her house, and I felt very comfortable staying there. She is a relly respectful and lovely person. Her house is also beautiful, but most important, it is very comfortable. The neighborhood is a nice and quiet place. There are a lot of green areas, and trees as well. It is very close to stores, hotels, and malls. The location of the house is excellent.
Elizabeth
2015-11-01T00:00:00Z
ประเภทห้อง
ห้องส่วนตัว
---
ประเภทที่พัก
วิลล่า
---
พักได้
4
---
ห้องนอน
ฟอร์ทวอชิงตัน, แมรี่แลนด์, สหรัฐอเมริกา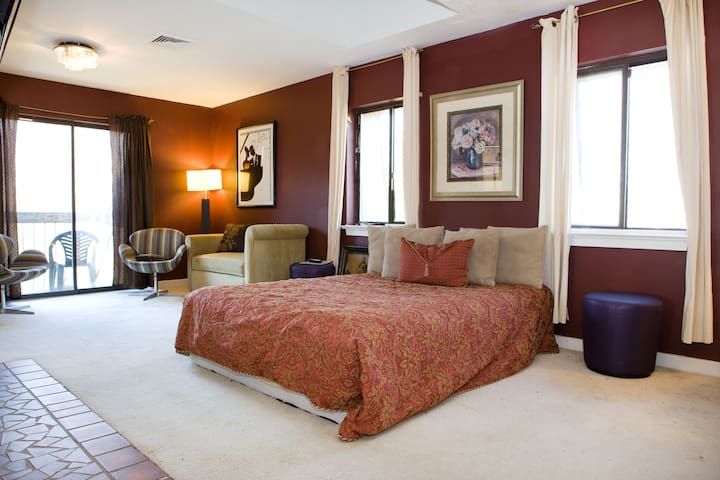 Penthouse Suite and Garden Suite in a romantic villa with private pool 20 minutes away from downtown Washington DC. Both suites for max 2 persons. Price quoted per suite and night.
Welcome in my villa in the Washington DC Metro region: a romantic Cape Cod with central air conditioning, carport and a huge garden with private pool (see photos). You can currently only the Garden Suite Book for a maximum of two persons. The Penthouse Suite is fully booked until further notice. Both suites are equipped with American Doubles queen! so you sleep like the princess (pardon: Queen) and the Pea. The PENTHOUSE SUITE has a separate entrance, parquet floor, a built-in desk, two small closets, and a full bath. The GARDEN / POOL SUITE has a separate entrance with direct access and views of the pool, wood-paneled walls, a closet and a shower. All guests are welcome to use the terrace entrance in the garden, with access to the communal dining room, living room, as well as country-kitchen with dishwasher, gas stove and a large fridge freezer. Cleaning Service (cleaning and washing) for a fee. LOCATION: The house is situated in a quiet, lush green area near several important main arteries of the Washington DC Metro region. Public transport: 10-15min walk from my villa, see the MARC train which transported during the rush hour in 20 minutes to the US Capitol. There are also several bus and metro lines nearby. By car you can reach the downtown Washington in less than 30 minutes on one of the main arteries (Connecticut Avenue or Georgia Avenue). If you would like to have less traffic lights, but more serenity, you can alternatively use the panoramic road through the forest (Beach Drive and Rock Creek Parkway). This panoramic road at Mormon Temple past you reach the downtown Washington comfortable and unstressed in 40-50 minutes (Caution: Deer Crossing!). Airport pick-up for 1 person (My car is a 2-seater): Dulles - $ 35 Reagan Nat'l - $ 25 Baltimore-Washington Int'l - $ 45 SIGHTSEEING and ENTERTAINMENT: In Washington DC, there are countless interesting museums (entrance often free), art galleries, concert halls, theaters, jazz clubs, dance clubs, cocktail parties and more, especially in summer and during the Christmas season. Ask your hostess! If you prefer to stay in the area, simply relax by the pool, your private oasis near the most powerful city in the Western world. Or go window shopping in Old Kensington (10 min walk), jogging, or take a bike tour along Beach Drive and Rock Creek Parkway. In short, there is plenty to do (or not) - you will not be bored.
LOCATION: The house is situated in a quiet, lush green area near public transport and several important main arteries Washington.
ประเภทห้อง
ห้องส่วนตัว
---
ประเภทที่พัก
วิลล่า
---
พักได้
2
---
ห้องนอน
เคนซิงตัน, แมรี่แลนด์, สหรัฐอเมริกา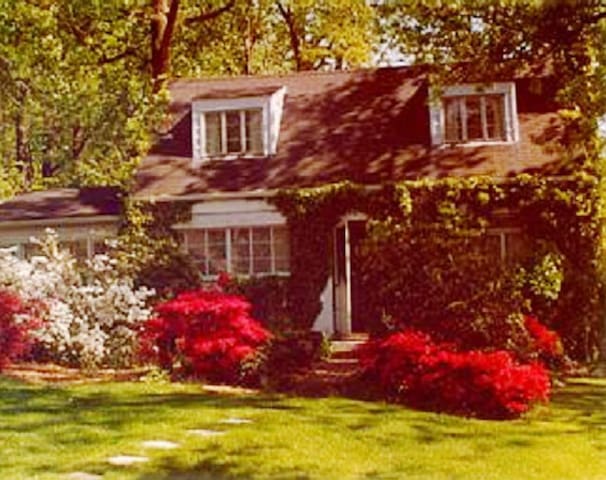 My place is close THE NEW MGM GRAND CASINO, GAYLORD CONVENTION CENTER, attend a conference, or go to MGM gaming tables.Its reasonably priced for solo travellers, small groups and couples. Take advantage of proximity to National Harbor and all the glitz the new Casino has to offer. Great restaurants and dining, the Boardwalk, family-friendly activities, and nightlife. You'll love my place it has magnificent views. Its large, fun and comfortable. Pets case by case. .
Rustic, fun and wide open concept. Sunfilled and large private yard with pool and occaisional deer and wild life. Beautiful fall foilage.
Pamela and her husband are lovely! I had an event at Gaylord resort and my uber drive was 10 minutes.. super close! The house is in a good neighborhood and its beautiful.
Ana
2017-02-26T00:00:00Z
Very easy stay. Nice, quiet neighborhood. Pamela provided everything I needed and the house was very clean. I didn't meet anyone but another guest because I was there for a conf and out early (before 6) and basically came back and slept. But Pamela communicated with me by phone to make sure I had everything settled. If you're going to the Gaylord for a conf. or whatever, note the route on (SENSITIVE CONTENTS HIDDEN) maps is accurate, you have to go all the way up and around, although the Gaylord is just 10 min "as the crow flies." I walked the long way once, it's fine, down by the river and mostly with sidewalks, but a long walk (4 miles or so?).
Roy
2016-11-12T00:00:00Z
It is a very nice quiet peaceful place, Pamela is a great host very helpful and very nice. Being this my first experience in airbnb I will consider this service as an option for future trips
David
2017-03-18T00:00:00Z
ประเภทห้อง
ห้องส่วนตัว
---
ประเภทที่พัก
วิลล่า
---
พักได้
4
---
ห้องนอน
ฟอร์ทวอชิงตัน, แมรี่แลนด์, สหรัฐอเมริกา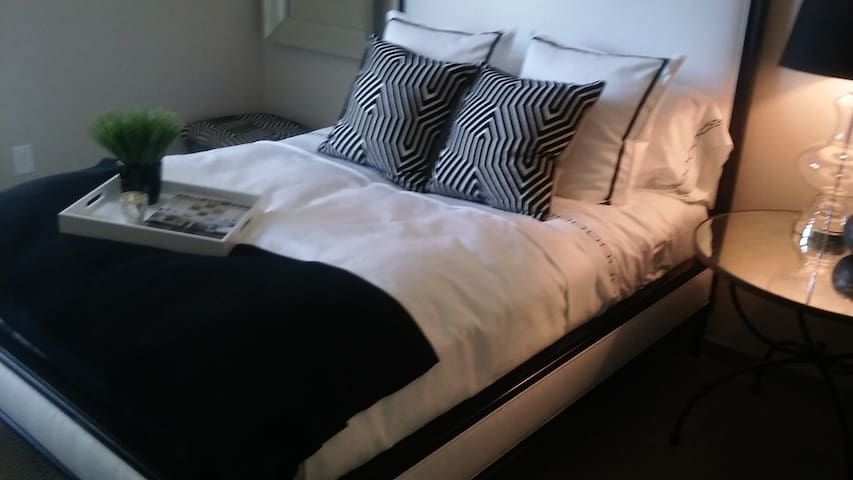 "Monet Suite", elegant furnished 2 room spacious master suite with original oil paintings; private balcony. Magnificent Blue Ridge Mountain views in artist villa located in the heart of Loudoun's wine and burgeoning craft beer breweries and Virginia hunt and horse country; bathroom suite with jacuzzi and Roman shower for two. Luxurious towels and bathrobes provided in suite.
Microwave, fridge, coffeemaker in Suite. Second kitchen is available upon special request for lite cooking, at an additional charge. Washer n dryer are available on request. Castro convertible couch can convert to full size bed for third person. Deck and grounds are available.
Philomont is a charming hidden jewel in Loudoun County, which sits up on a ridge, so the villa has spectacular views of the Blue Ridge Mountains, yet only an hour from Washington, D.C.
Great!
Weifeng
2016-08-01T00:00:00Z
Beautiful room, beautiful scenery and a beautiful hide away. Also Had a blast checking out the local breweries, vineyards and distillery. We will definitely be returning!
Austin
2016-05-26T00:00:00Z
small room nice with hall bathroom. good view. pleasant host. helpful when you catch her. private home- but share her entry hall. flexible if you want breakfast, she will make it for a fee. provides coffee. lovely grounds. close to town and very near country store.
nanci
2016-12-27T00:00:00Z
This was a nice place to get away.
Jennifer
2016-12-11T00:00:00Z
We go to Middleburg each year for the annual Christmas parade and decided this year that we wanted to stay in the area so that we could spend more time exploring the area. Maud was great! She was easy to communicate with and was able to accommodate our early arrival. She also provided chauffeur services for a fee, which was great because we didn't have to worry about parking or drinking while we were in town. Maud was great to talk to. She has so much information about the area and recommendations for wineries and the various towns nearby. The house was so charming and full of paintings! The room we stayed in was really nice. It was huge with a large shower and Jacuzzi tub. It didn't have a private entrance but we didn't mind that at all! Great views from the windows and small balcony attached to the room. Maud was so attentive and made sure we had everything we needed. I would recommend staying here if you are going to be in the area.
Susan
2016-12-04T00:00:00Z
Maud was an incredible host, and the Monet Suite was exactly as expected. Highly recommended for a countryside getaway.
Michael
2017-03-13T00:00:00Z
The Monet Suite is beautiful, unique, clean and spacious. We spent a beautiful evening in this elegant and relaxing spot. I would highly recommend this Airbnb for anyone looking for a romantic getaway or restful stay in scenic Va.
Nicolas
2017-01-21T00:00:00Z
Maud made my boyfriend and I feel very welcome, even though we only stayed for one night! We were attending a wedding at a nearby hotel, and decided to stay at Maud's beautiful place rather than at the hotel. The room was spacious, had gorgeous views, an incredibly large bathroom (jacuzzi and double shower), and a very pleasant living room area. Maud thoughtfully left out k-cups for the keurig machine, coffee mugs, tea, cocoa, wine glasses, water glasses, etc.–that plus the microwave and mini-fridge had us feeling right at home! The room is a wing of a larger house, but it is still very private. We hope to go back in the future when we can stay longer.
Lara
2016-11-28T00:00:00Z
ประเภทห้อง
บ้าน/อพาร์ทเมนท์ทั้งหลัง
---
ประเภทที่พัก
วิลล่า
---
พักได้
3
---
ห้องนอน
Purcellville, เวอร์จิเนีย, สหรัฐอเมริกา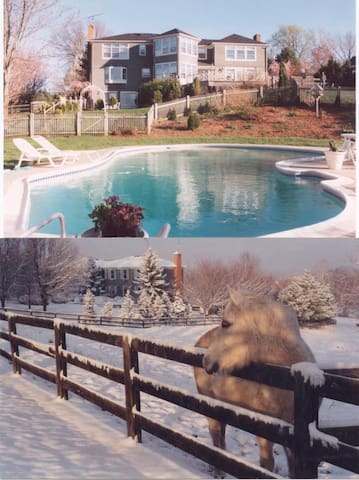 My place is close to 2 miles to Reston Metro, 7 miles to 495, 1 mile to Rt. 7, the city center of Reston is the place to spend night out there with all the clubs and Resturant only 5 miles away. You'll love my place because of the neighborhood, the kitchen, the comfy bed Pool table, Backyard view to the Pool area and Green Trees and front view, the coziness.
The house is sitting on more than 1/2 acre land, which makes a very wild and beautiful view in the backyard. The private cozy Pool in the backyard just garnishes the view. It is only 4 miles to Great Falls Village shopping center for food and resturants
ประเภทห้อง
ห้องส่วนตัว
---
ประเภทที่พัก
วิลล่า
---
พักได้
1
---
ห้องนอน
เกรทฟอลล์ส, เวอร์จิเนีย, สหรัฐอเมริกา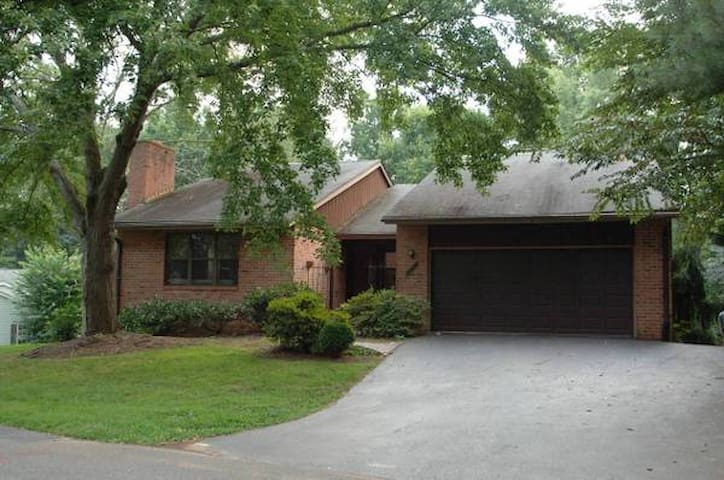 สถานที่ของเราอยู่ใกล้กับเมดิสันทุ่งนาและวอชิงตันดีซี คุณจะรักสถานที่ของเราเพราะมุมมองที่สวยงามและบรรยากาศเงียบสงบของประเทศภายในระยะไม่ไกลจากศูนย์กลางทางวัฒนธรรมและประวัติศาสตร์ สถานที่ของเราเป็นสิ่งที่ดีสำหรับคู่รักนักผจญภัยเดี่ยวนักธุรกิจครอบครัว (กับเด็ก), และกลุ่มใหญ่
Awesome place
Matthew
2016-11-06T00:00:00Z
This is a great place. Great owners. Very welcoming and flexible. Looking forward to coming back next year.
Dyllis
2017-03-12T00:00:00Z
The host canceled this reservation the day before arrival. This is an automated posting.
Antonio
2017-03-29T00:00:00Z
The place is immaculate and pictures do not do it justice. Diane was a great host and I would definitely stay at her place again. For anyone traveling in a large group, there is more than enough space to accommodate a large group. Would highly recommend.
Zach
2017-01-01T00:00:00Z
Diane was terrific! Would definitely stay again. We used it for our company retreat (10 people total) and there was AMPLE room for more. A great living room for everyone to talk in, great hiking, and two kitchens!! Highly recommend for family reunions, company retreats, and more.
Evan
2017-01-10T00:00:00Z
This home is amazing! We used the Shiloh estate to host a small wedding (25 guests), and the property did not disappoint. Not only did we have 12 people staying in the house with us, but nearby hotels are about 20 min away so all of our other guests were able to be close by. There is a full commercial kitchen with a desperate entrance adjacent to the already large "regular" kitchen so our caterer was able to come in and feel right at home. The number one thing guests were talking about was how beautiful a location we had for our wedding and we would not hesitate to recommend this location for events of a similar nature. Diane was a wonderful host as well, extremely communicative and when there was an issue with one of the furnaces in the house not only did she come out on a Saturday to fix it, she ended up getting the HVAC company out on a Saturday afternoon to make certain it was done before the ceremony started. Thank you so much Diane we will always remember how beautiful our location was when we look back at this special day!
Daniel and Jesus
2017-01-08T00:00:00Z
The house is a fantastic location for groups of friends looking for a weekend retreat. The house Stands by itself on a large beautiful terrain with scenic views on sugar mountain. It is very spacious and has a unique charming character, with beautiful common areas out- and inside including a well separated leisure room. The management is very friendly and flexible, run by a charity for autism so any proceeds go to a good cause. We are already planning our return!
Tobias
2016-12-11T00:00:00Z
Beautiful area, large house. Don't expect to use the bedroom in basement or basement because of horrible musty smell.
Page
2017-01-22T00:00:00Z
ประเภทห้อง
บ้าน/อพาร์ทเมนท์ทั้งหลัง
---
ประเภทที่พัก
วิลล่า
---
พักได้
16
---
ห้องนอน
Dickerson, แมรี่แลนด์, สหรัฐอเมริกา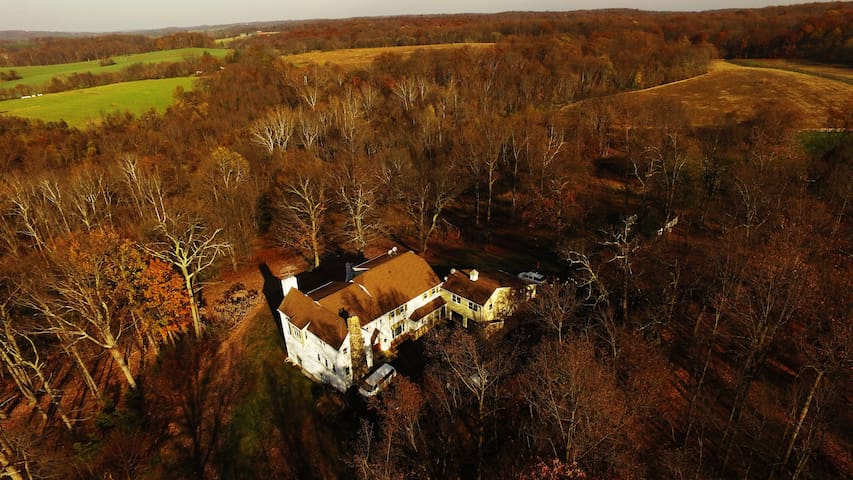 Enjoy the Cherry Blossom festival in DC.Perfect for groups travelling or solo travelers or families.Must stay two nights. Large open concept lends great space for entertaining. Let us customize your vision Chefs sized kitchen with island. HUUGE deck with seating for 25+. 3 Barbeque grills, one commercial size. VACATION AT YOUR "HOME AWAY FROM HOME"....... ! Family stays, Reunions, small bridals, girls night out, guys sports, weekend..iTS YOUR VACATION, NOT SHARED, AT YOUR OWN PRIVATE VILLA!
CLOSE TO DINING, FESTIVITIES, TANGER MALL OUTLETS, SHOPPING, PARKS, JOG , BIKE TRAILS.
QUIET, CLEAN, SAFE & GREEN
Awesome people. Very friendly and accommodating. Super easy to work with. Very spacious house that provides privacy for a large party. Would love to work with again.
Maveric
2016-05-23T00:00:00Z
Pamela was a gracious hostess and made herself available readily . The house was spacious and the neighborhood was quiet.
DeVonte
2016-02-07T00:00:00Z
ประเภทห้อง
บ้าน/อพาร์ทเมนท์ทั้งหลัง
---
ประเภทที่พัก
วิลล่า
---
พักได้
10
---
ห้องนอน
ฟอร์ทวอชิงตัน, แมรี่แลนด์, สหรัฐอเมริกา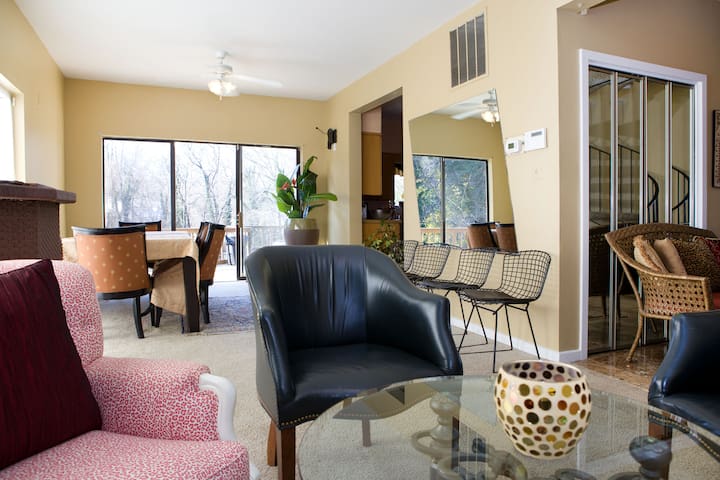 Potomac - Airbnb
:
เฉลี่ย

4.59

จาก

5

ดาวจาก

74

รีวิวผู้เข้าพัก
กรอกวันที่เพื่อดูการกำหนดราคาเต็ม มีค่าธรรมเนียมเพิ่มเติม อาจมีภาษีเพิ่ม