Charming seaside villa overlooking the castle and the lake, kitchen newly renovated room with two sofa, TV, wi fi, bedroom, garden and terrace with sun loungers and umbrellas, for an unforgettable vacation a few steps from Varenna
The villa and 'surrounded by a beautiful garden, terrace with chairs and loungers, surrounded by nature, home of 900 noble offers an experience with a spectacular view of the lake and the castle of Vezio, near grocery store, post office, bar, restaurant , private parking.
Wir haben uns in der Villa Silvana sehr wohl gefühlt. Der Ausblick, der uns morgens erwartet hat war wunderschön und ein großes Geschenk! Die Lage in Perledo mit seinen kleinen Gässchen und der Ruhe hat uns sehr gut gefallen. Die Schlüsselübergabe hat problemlos geklappt. Vielen Dank nochmal an Euch beide, Simo und Mirko!
Leila
2015-08-28T00:00:00Z
Welcome was as expected. Timely and responsive. The villa has fantastic views. That is what attracted us and we weren't disappointed. The downside is the 106 steps from gate to door, so you need to be prepared for that. Helps with your fitness and allows for a bit extra cheese and vino when you get there. Perledo is a great spot overlooking Verenna. The advert says car parking onsite but it isn't necessarily so you need to clarify. Taxi is about 10E to Verenna.
Brian
2016-06-08T00:00:00Z
Une vue exceptionnelle depuis le séjour de cet appartement au dernier étage de cette villa perchée en haut du village qui domine Varenna et le cœur du Lac de Côme. Confort très simple, accueil sympathique et flexible. La montée depuis Varenna à pied ou en vélo est sportive, difficile de prévoir plus d'un ou deux aller retour dans la journée. Pas possible de garer la voiture proche de la maison, marche en montée avec bagages/courses incontournable.
Veronique
2015-08-14T00:00:00Z
A lot of stairs - 117- to access the appartment but a nice view on the lake.
valerie
2016-08-19T00:00:00Z
As promised the view from the apartment was sensational - it was everything we could have hoped for. The apartment itself was an authentic Italian home and provided us with all the comforts required in a self catered apartment and each room had a glorious view to match. We had use of a terrace and balcony during our stay - both of which were wonderful to dine on. On the terrace, there is a plum tree which Mirko very kindly showed us and advised that we could take as many as liked to snack on. We had access to fresh water just a few steps away from the house. It was a charming little fountain and we would make sure to fill up a few bottles at the beginning and end of each day. The apartment was a short hike from the main village, Varenna. If required you could also get a taxi for 11 euros each way. There is a supermarket 5 minutes or so walk from the apartment as well as two bars/cafe. Once you head into Varenna, you have a choice of many restaurants and cafes to either dine in or just grab a coffee and look out onto the lake. We particularly enjoyed Nilus Bar - the view was spectacular and they offered a gluten free menu for my girlfriend who suffers with Coeliac Disease. In Varenna, you can also hop aboard the ferry to other parts of the lake. Mirko and Simona were excellent hosts. They collected us from the train station and answered any questions that we had. My girlfriend left a bracelet at the apartment and they even agreed to post it to us. This trip was amazing and one to never be forgotten. We would recommend a trip to Varenna and a stay at Mirko & Simona's apartment to anyone.
Ollie
2016-07-15T00:00:00Z
La vue des fenêtres et terrasses est encore bien plus belle que sur les photos ! Mirko nous a retrouvés à notre voiture, aidés à porter les valises en haut de la villa (il y a quelques escaliers à monter le jardin de la villa étant en terrasses !). Les propriétaires charmants qui habitaient aux 2 étages inférieurs ont tout fait pour nous aider tout en restant discrets et nous ont laissé profiter des 2 terrasses de manière privative. Les chambres sont grandes et la maison s'aère très bien même en plein canicule grâce à des ouvertures très nombreuses sur tous les faces. Un beau jardin et les vues "montagne et côtés" sont aussi très agréables. Salle de bains un peu petite.
Frederic
2015-08-10T00:00:00Z
Die Wohnung hat einen wunderschönen Ausblick und einen tollen Garten. Wir würden wieder gerne zurück kommen. Eine nette Nachbarschaft haben wir auch. Wir hoffen, dass in Zukunft die Qualität des Bettes und die Austattung der Küche verbessert werden.
Lydia
2016-08-03T00:00:00Z
I can't say enough about our experience. It was a bit of a hike up to the house (plenty of steps), but if there ever was a reward. The view is spectacular. I can't imagine a greater view from an AirBnb. Getting there wasn't too bad and the host was very communicative. The place is an apartment inside a large house owned by a wonderful older couple. If we go back, this is the first place I'm going to look to book. Thanks so much.
Tarek
2015-08-21T00:00:00Z
ประเภทห้อง
บ้าน/อพาร์ทเมนท์ทั้งหลัง
---
ประเภทที่พัก
วิลล่า
---
พักได้
4
---
ห้องนอน
Perledo, Lombardia, อิตาลี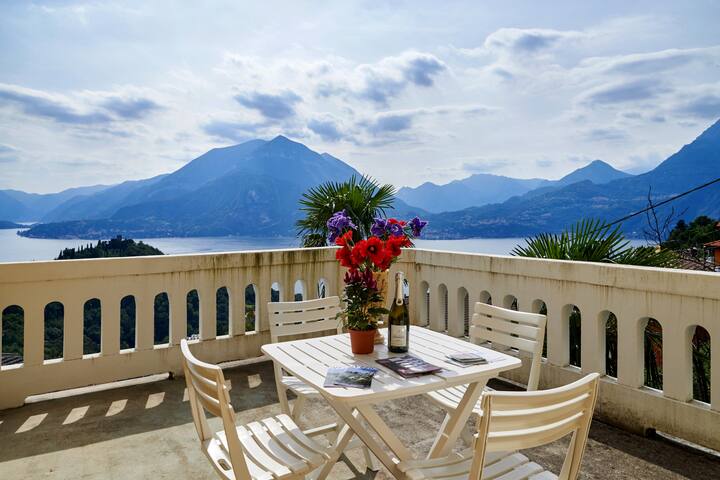 Lake view perfection! Offering spectacular lake views across the central lake, this lakefront retreat is the perfect choice for a luxury stay on Lake Como!
The spacious newly renovated duplex property enjoys the luxury of character charm and features with modern day comforts; from uplifting high beamed ceilings, impressive gothic arched floor to ceiling glazing and contemporary fitted kitchens, bathrooms and entertainment system. The gorgeous open plan living area boasts a magnificent ambience in which to entertain and unwind, with a beautiful exposed stone wall providing a romantic backdrop to the high beamed ceiling, luxury sitting area, log burning stove and chic fully equipped kitchen diner. The pair of gothic archway floor to ceiling glazed French doors allow for plenty of natural light to flood into the room and also bring the outside beauty in, with spectacular lake views to sit back and enjoy! In addition to the large indoors dining area the private lakefront terrace also offers the perfect dining experience, with a stylish dining area and spectacular central lake views towards the western shore to delight you. The sleeping accommodation is ideal for groups of up to 4, with 2 bedrooms offering flexible sleeping arrangements. The principal master bedroom is bright and spacious with a lake view balcony, air conditioning and a luxury en-suite. The second bedroom is furnished with a set of twin/double beds, a private lake view balcony and luxury en-suite. The third bedroom is located on the ground floor, with limited view and features a comfortable double sofa bed. Also at this level is an outside bathroom without shower. A third modern fitted bathroom is further provided in the property for additional convenience. Outside the private lake view terrace offers the perfect place in which to relax in the hanging wicker egg chairs or at the stylish dining area, for a memorable 'alfresco' dining experience! For added convenience, a private parking space can be booked too for your stay (subject to a daily charge). The property is perfectly placed just a stone's throw away from the Varenna Ferry port, which offers frequent car and passenger crossings to Bellagio, Menaggio and Cadenabbia. Varenna is an extremely picturesque lakeside resort town featuring café-lined cobbled streets, boutique shops, restaurants and pretty lake view vistas. The historical town also boasts Villa Monastero and Castello di Vezio as attractions and for those with a desire to explore beyond the town a frequent Lecco-Milan train service also runs from the town. Nearby highlights including Lierna Beach, the water sport activities in Bellano and the ski resort of Piani di Bobbio are all just a short drive away. The central lake further boasts a wide range of activities to enjoy from lake swimming and Lidos, power boat rental, sailing, cycling, horse riding, a Jungle Raider Park, golf, tennis and more. The central lake attractions are world famous and include Villa Carlotta and Villa Balbianello; which are arguably the jewels in the crown of Lake's Como's beauty and fame.
Stunning villa at the most convenient location right next to the ferry pier, once at the villa you dont really need a car to get around the lake. View from the villa is superb. A big plus is Kitchen is very well equipped. Will definitely come back!
Fan
2015-06-02T00:00:00Z
The host canceled this reservation 386 days before arrival. This is an automated posting.
Cheryl
2016-08-21T00:00:00Z
ประเภทห้อง
บ้าน/อพาร์ทเมนท์ทั้งหลัง
---
ประเภทที่พัก
วิลล่า
---
พักได้
6
---
ห้องนอน
Varenna, Lombardy, อิตาลี
La Località La località di Pino è posta a 100 metri di altezza sul livello del lago e dista 2000 metri dal centro di Varenna, dalla stazione ferroviaria e dall'attracco di battelli aliscafi e traghetti che permettono di raggiungere Bellagio in 10 minuti. La Posizione Incastonato nella cornice verdeggiante delle montagne, "Villetta Oleandro"è una finestra aperta sulle acque cobalto del centro lago. Raggiungibile a piedi
the Location The town of Pino is situated 100 meters above the lake level and is 2000 meters from the center of Varenna, the railway station and dall'attracco hydrofoil boats and ferries that can reach Bellagio in 10 minutes. The position Nestled in the lush green setting of the mountains, "Villa Oleander" is an open window on the cobalt waters of the lake center. Within walking distance (150 mt to rise from the paved road) through an old mule and surrounded by a beautiful olive grove allows you to breathe an atmosphere of bygone days. Description of the house The house is on three floors. On the ground floor is a double bedroom and bathroom with tub / shower en suite with separate entrance. On the mezzanine floor there is the living room with fireplace and window overlooking the lake and the kitchen. On the first floor it is located a double bedroom and a bathroom with shower. Outside is a barbecue and a panoramic porch ((URL HIDDEN) for lunch throughout the summer. The house is surrounded by a fenced private garden of 2000 square meters so you can take on holiday even friends to 4 feet big and small (max. 1 per room). total area 85 square meters of the villa c.a.La Energy class is G. The energy performance for winter heating is 270.97 kWh / m²a. SERVICES AND FACILITIES INCLUDED • fitted kitchen • Kitchen equipped with 4 electric plates • Table 4 chairs outside • intercom • color TV with satellite receiver • washing machine • dishwasher • electric heating system • microwave • mini HiFi with CD and cassette radio • Bed linen (initial supply)
We arrived very late, Mirko was most gracious to have waited at train station for us. After a short ride to the parking lot where we started our very grueling climb to the villa, in the dark, we were pleased how nice the villa was. The view was Great, It was very quiet, but the walk down to closest store was exhausting. There is a restaurant right down the main road that was very good. The only way if you don't have a car is Taxi or walk. We did walk all the way into Veranna a couple of times. But again its a long walk on a very busy road. Mirko was great . I would message him, and he would respond within minutes. We had a few run ins with scorpions in the firewood, but fortunately, we got them before they could get us.
New dolan67
2016-10-12T00:00:00Z
ประเภทห้อง
บ้าน/อพาร์ทเมนท์ทั้งหลัง
---
ประเภทที่พัก
วิลล่า
---
พักได้
4
---
ห้องนอน
Fiumelatte, Lombardia, อิตาลี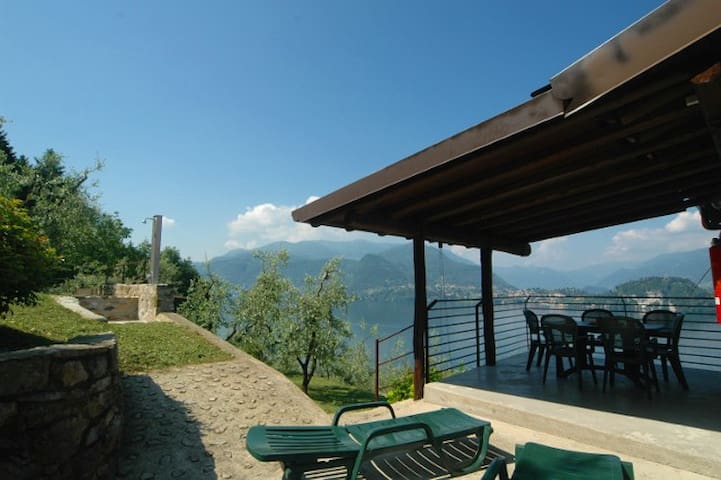 Superb detached villa with a view over Lake Como, surrounded by a quiet 1000-square-metre garden with olive and fruit trees: an oasis of tranquility. Two minutes' walk from Vezio castle, ten minutes' from Varenna.
A villa in the heart of Vezio, surrounded by greenery, far from noise and bustle, with a glorious view over Lake Como. The house sleeps six, in a double room with a 60-square-metre terrace, a smaller room with a large single bed, and a double sofa-bed in the downstairs living room, and smaller room with single bed. Two bathrooms, one with a massage-bath and the other with a shower. Spacious American-style kitchen, opening onto 1000-square-metre garden with fruit trees and barbecue. Dining/living room with fire-place, television and DVD-player. Studio/playroom. Laundry room with washing machine and dryer. Just below the villa there is charming local restaurant and five minutes' drive away visitors can eat at midday or in the evening at the "CROTTO DEL PEPOT", an enchanting place perched in a ravine above the rushing waters of a mountain stream.
Beautiful house, with very modern kitchen and in a beautiful location. The huge garden is a real delight! Christina was very kind in waiting for us to arrive quite late (11pm), and organised for us to get a second parking permit. The location is perfect, as it is just 4 minutes from Varenna, where you can get ferries to anywhere around Lake Como. Thanks so much for a lovely and memorable visit!
Zihao
2015-08-23T00:00:00Z
Caterina did a lovely job taking care of the place and making sure everything was clean and well-stocked for us. Her team was also very helpful if we had any questions. They have a helpful 'guide' to the area that they have thoughtfully put together, as well. The house seems very recently redone, especially the kitchen. The walk to the house down from Vezio is "rustic," but she was careful to inform us of that before we arrived. The view is lovely. We wished we had time to use the outdoor BBQ, which seemed great. Overall very nice visit. I would definitely recommend if you have a car and want a quiet place out of the town's bustle (walking up and down with kids several times per day would be tricky and tiring in summer heat).
Meredith
2015-08-15T00:00:00Z
An absolutely beautiful house off the beaten path with spectacular views of the surrounding hillside and Lake Como!!! Caterina was a gracious host and responded promptly to our questions. The house is located the very charming village of Vezio and the local restaurant has great food! There is a small enclosure just outside the house with a spring and very drinkable water. The path down to Varenna is very steep but convenient. The house itself is spacious with a modern kitchen. The closer grocery store is a 10 minute drive with a good selection of products. The were only a few downsides to the house: the washing machine didn't work, the jacuzzi wouldn't work and a thunderstorm tripped the circuit breakers. Overall, I would HIGHLY recommend this place!!!
George
2015-06-24T00:00:00Z
We have just returned from a lovely stay at Caterina's Italian cottage. Christina was prompt in meeting us and in helping us find parking. The view from her terrace was beautiful and private. The path to and from her house requires good walking shoes. It takes about 15 minutes to get into Varenna via footpath. We weren't able to log onto the wireless. It wasn't a big deal for us, but could be a factor for those traveling from overseas. Overall, we had a great experience staying in her cozy, clean cottage. Thanks again for a great stay, Christina.
Chad
2016-07-01T00:00:00Z
Great experience!! The house is wonderful, it was clean and the location was amazing. Thanks to Catherina for her attention, we were received with a present and the stay was nice and peaceful. Everything perfect!!
carlos
2015-08-11T00:00:00Z
Caterinas place was as pictured and a great value for the accommodations offered. The place sits 300' off a winding road high above the town of Varenna with great views of Lake Como. There is a incline stone path of stairs and walkway that goes directly to the town just behind the house that is a 15 minute hike that drops you in the center of town. It's a steep hike but a great way to work off all the great food that you ate that day. Side note, there's a great little Italian restaurant just above the house. Would recommend to those that love the outdoors and enjoy to hike!
Tom
2015-10-07T00:00:00Z
We spent a lovely weekend at Castello di Vecio with the house being exactly as shown on the website - charming & very clean. It has the most spectacular views across the lake to the mountains and a wonderfully large garden which was more than perfect for our two dogs. I wouldn't recommend it for the elderly or if you have lots of luggage as the walk to the house from the car is a good 5 minutes, though the position and the view makes up for its difficult access. We went in February and although had beautiful weather, it was cold and the kitchen was too cold to sit around in which was a shame - more of a Spring/Summer stay from this point of view. The rest of the house lovely and warm and Caterina and Kirsty very helpful and accommodating in every way. Highly recommend it.
Zoe
2017-02-26T00:00:00Z
The house was beautiful, and was exactly what we were looking for. There were great views of the lake, everything was perfectly clean, and the stone grill in the back made us feel like we were at home. Caterina and Cristina were great hostesses, they were very responsive with all of our requests and very helpful with helping us figure out how to get around Vezio, Varenna, and the Lake as a whole. Highly recommend booking with them.
Aris
2015-09-06T00:00:00Z
ประเภทห้อง
บ้าน/อพาร์ทเมนท์ทั้งหลัง
---
ประเภทที่พัก
วิลล่า
---
พักได้
6
---
ห้องนอน
Varenna, Lombardy, อิตาลี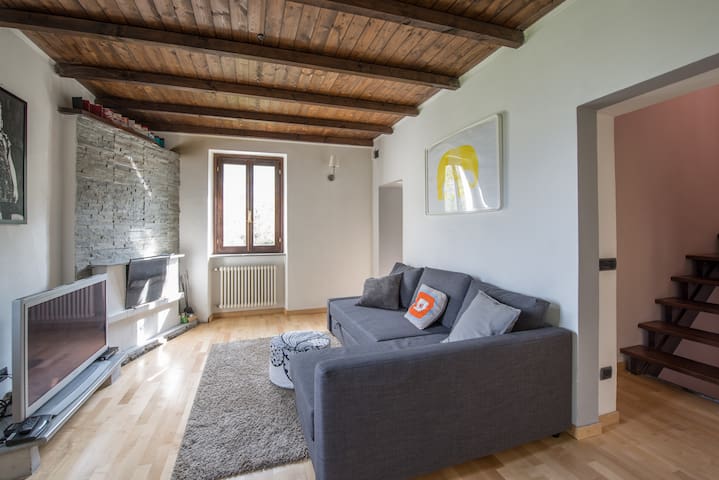 Exclusive Villa Luisa big lake view è una grande Villa su 2 piani con cucina indipendente con tavolo e sedie, salotto con camino, tv e terrazzo vista lago, 4 grandi camere da letto e 2 ampi bagni con doccia, giardino privato con patio e barbecue, Garage per 4 autovetture.
Per una splendida vacanze nel "triangolo magico" del Lago di Como - Varenna / Bellagio / Menaggio. La Villa ha una vista mozzafiato sul lago e sul castello di Vezio. Si possono intravedere le vicine Alpi Svizzere. Villa di 180 mq, molto accogliente di 5 locali (fino a 11 persone) La villa è costituita da due appartamenti indipendenti, uno al piano terra e il secondo al primo piano. Ampio salotto con camino e TV 2 Cucine indipendente con tavole e sedie, 4 fuochi, bollitore, forno, macchina per il caffè. 4 camere da letto: 2 con letto matrimoniale (con letto per bambino) 2 con 2/4 letti singoli o matrimoniale a scelta (specificare la tipologia di letto prima di partire) 2 Bagno: WC, bidet, lavabo, doccia e 2 lavatrice. Set biciclette possibile, BOX Parcheggio nella proprietà. A poca distanza dalla casa si trova l'esclusivo Sporting club Olivedo (Varenna) con: Piscina riscaldata, idromassaggio,solarium, accesso al lago, Bar, Ristorante e giardino con parco giochi per bambini. E' possibile comperare i biglietti direttamente presso il ristorante del club al prezzo di 20€ al giorno (bambini sotto i 10 anni entrano gratis) . In alternativa a 4 km da Varenna c'è la bellissima piscina del Lido di Bellano (prezzo di accesso 10€ al giorno a persona). - Completamente arredato e attrezzat(URL HIDDEN) - Asciugacapell(URL HIDDEN)Eventuale Garage - Moto - Riscaldamento - Animali su richiesta - Lenzuola fornite - Non fumatori - Asciugamani Mano / bagno fornit(URL HIDDEN) - Trasferimento aeroporto - a pagament(URL HIDDEN)possibile raggiungere le località sciistiche come Madesimo (treno), Spliigen, St.Moritz, in circa 60/90 minuti, Adatto per gli amanti della cultura, questo posto è un vero paradiso (chiese, ville, mostre d'arte, concerti, spettacoli in piazza della chiesa e teatro).
Exclusive Villa Luisa si trova in zona collinare subito sopra a Varenna, la stazione ferroviaria è a 400 mt , il traghetto si trova a 500 mt, il centro di Varenna a 600 mt. L'auto non è strettamente necessaria, ma se la avete sarete più comodi , tenete presente che trovare parcheggio in centro a Varenna sarà molto difficile! quindi è consigliabile muoversi a piedi! FERMATA DELL'AUTOBUS A 20 MT DALLA CASA! E' POSSIBILE ORGANIZZARE SU RICHIESTA IL TRASPORTO PERSONE E VALIGIE GRATUITO DALLA STAZIONE FERROVIARIA ALLA CASA (5 MIN IN AUTO) SU TUA SPECIFICA RICHIESTA PER IL GIORNO DEL CHECK IN E DEL CHECK OUT! PER SPOSTARSI NELLA ZONA L'AUTO NON è ESSENZIALE MA CONSIGLIATA.
La villa est comme sur les photos, la vue est à couper le souffle. Luisa nous a accueilli très gentillement malgré notre arrivée tardive! C est cependant une location de villa et non un vrai Airbnb donc par exemple pas de liquide vaisselle, pas de machine à café .. Ce n'est pas très fonctionnel. C'est cependant un très bon rapport qualité prix!
Dorothée
2015-05-03T00:00:00Z
L'hôte a été très avenante et disponible. Le logement était conforme à la description. Très belle vue sur le lac de Côme. Quartier très calme. Villa tout à fait correcte pour 2 familles de 5 et 4 personnes Seul bémol : le chauffage n'est pas prévu dans la location. A notre arrivée, il faisait 13° dans la maison... un peu froid surtout avec des enfants.
Rachel
2015-10-25T00:00:00Z
Vom Balkon oder einer der vielen Terrassen hat man einen tollen Blick auf den Comer See! Sehr ruhige Lage. Hundefreundlich. Zum Zentrum sind es nur 10 Minuten den Hügel runter. Viele Wander- und Kletterziele sind schnell mit dem Auto erreichbar. Sehr freundlicher Empfang!! Wir hatten einen tollen Aufenthalt in Varenna.
Alex
2016-05-20T00:00:00Z
Ein wunderschöner Ort! Wer Abendsonne und spektakuläre Sonnenuntergänge über See und Bergen liebt, findet hier ein Paradies! Schönes Haus, bezaubernder Garten, man weiss fast nicht wo man am schönsten sitzen und die Sicht geniessen kann. Alles sehr sauber und gepflegt! Super Gastgeberin, auch unser Klientel, Menschen mit Behinderung, war begeistert von Ort und Gastfreundlichkeit. Vielen Dank
Ina
2016-09-10T00:00:00Z
We had six adults for our stay. We were picked up at the train station by our host and she made two trips from the station to the house to get us and our baggage to the house. Above and beyond! The house lived up to every detail in the description. The view from the front terrace is in the top one percent on the planet. Our stay on lake Como was epic.
Jeffrey
2016-09-14T00:00:00Z
Värden svarade snabbt på mina meddelanden och frågor. Vi hade dessutom en jätte bra värd på plats (Louisa) som visade oss boendet och var tillgänglig för oss. Vi hade en fantastisk vistelse i Varenna som är en pittoresk liten pärla vid Comosjön!
Anna
2016-10-16T00:00:00Z
ประเภทห้อง
บ้าน/อพาร์ทเมนท์ทั้งหลัง
---
ประเภทที่พัก
วิลล่า
---
พักได้
10
---
ห้องนอน
Varenna, Lombardy, อิตาลี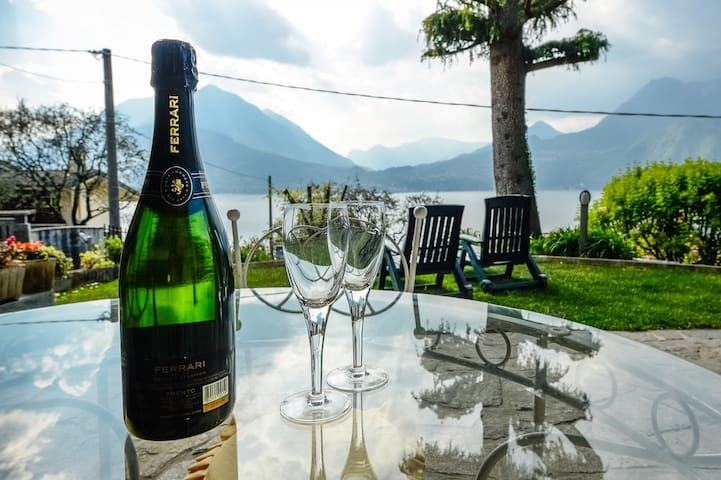 Villa Guardini, is a beautiful, glamorous Liberty style villa, perched above the town of Varenna. The villa has amazing lake views, an art deco interior and offer wonderful accommodation for a family stay or even a base for wedding party. Enjoy the Lake Como sunsets with a lovely glass of wine on the terrace!
The villa has amazing lake views, an art deco interior and offer wonderful accommodation for a family stay or even a location shoot for film or photography. Preserved and rich in history with lots of references to the bygone 1920's. There are very few intact villas to this standard that are not public treasures. Located just a stones throw from the centre of Varenna where frequent boats and ferries can be found, offering excellent transportation links. There is also a train station in the village. The villa is entered by grand wrought iron gates and stone pillars, the walls covered in ivy. Steps lead up to the villa and its gardens that contain terraces and pergolas. They are the perfect place to enjoy the visually pleasing views of Lake Como. Inside, the house is spacious and combines on the ground floor large and spacious rooms for entertaining. There is a large reception room with sofa's for lounging, a complete dining room - also with a lake view and a fully equipped ground floor kitchen. there is also a downstairs bathroom. All three double bedded bedrooms are located on the first floor and all have either a lake or garden view and are furnished with lovely pieces and wooden floors. One bathroom on each floor. Varenna, has plenty to offer and is a charming fishing (and tourist) village with attractive gardens.Situated on the eastern shore of Lake Como, looking over the central part of the lake towards Bellagio. Varenna's picturesque lanes and old fishermen's houses are unpretentiously appealing, and some visitors prefer the town to its grander neighbours. Although Varenna is a tourist destination, and its pretty waterfront and tiny stone beach fill up with holidaymakers, it has somehow a more authentic air than the other resorts. The main tourist activities in Varenna are relaxing by the lake, and visiting the gardens of two villas, Villa Monastero and Villa Cipressi. Regional trains run from Varenna to Milan's Stazione Centrale approximately every two hours, taking an hour. The railway station in Varenna is a short uphill walk from the ferry stops, following the signpost to the left as you leave the boat. The town is connected to the other lake resorts by passenger ferries, and there is also a car ferry crossing to Bellagio, on the central promontory and Menaggio on the far shore of Lake Como.
Art deco villa in Varenna beautiful lake view car not necessary!! enjoy the sunset while sipping an aperitvo in the garden
ประเภทห้อง
บ้าน/อพาร์ทเมนท์ทั้งหลัง
---
ประเภทที่พัก
วิลล่า
---
พักได้
8
---
ห้องนอน
Varenna , Lombardia Como, อิตาลี
The cozy Casa Viola, is a detached residence, directly overlooking the eastern shore of Lake Como, located in the unique context of the Riva Bianca beach, one of the most beautiful beaches of Lake Como.
The house enjoys a unique and privileged location on the beautiful beach Riva Bianca. The property is spread over several levels, connected by an internal staircase made of walnut. The ground floor there is a double bedroom with bathroom. On the first floor, we find a large and bright living area with a local kitchen with all appliances. From the windows of the living area it leads to the terrace where you can eat with friends, enjoying cocktails and dinner with views and breathtaking views. On the second floor there are two double bedrooms and a bathroom. Climbing the stairs we arrive in an attic with wooden roof, where there is a double bedroom with bathroom. This bathroom has a large jacuzzi which unfortunately is currently not functioning. Pertaining to the house there is also a garage on the ground floor.
Everything was great!
attila
2016-09-11T00:00:00Z
Absolutely fantastic property. The pictures do not do it justice! It's much bigger than shown in the pictures. Over 4 levels with a lovely open plan living area. We were a group of 8 and it was more than enough room. Fully equipped kitchen so we could cook evenivg meals. Aldo was very very helpful, gave us lots of tips about the local area with ideas of things to do. And was easily contactable and answered messages straight away. The location is also very convenient- only a short 7min drive to Varenna where there are many ferry boats to go to other towns. There is a mini mart and bakery only 5 min walk which is very conveneinet. Also il crotto restaurant around the corner is fantastic!! Overall, fantastic trip. Would love to come again! Thank you Aldo for an unforgettable experience
ani
2017-03-28T00:00:00Z
We had a fantastic time at the Casa Viola, celebrating our mother Viola's 60th birthday. The house is even more beautiful than in the pictures, very neat and well equipped. The view is astonishing! You will not feel like leaving the house at all - just relax and enjoy the view! Our group of three generations found enough to feel entertained around the Lago di Como - while our youngest (age 4) was happy enough to feed the ducks in front of the door step. Aldo was a very nice and relaxed host.
Thordis
2017-03-16T00:00:00Z
Do yourself a favor and stay with Aldo. He was the friendliest host that I've ever met. He kept in touch with anything we needed throughout our entire trip, guided us to some great restaurants, let us stay an extra few hours after checkout, and drove us to the train station even though it was in the next town over. He helped make the stay a memorable one, and I haven't even mentioned the property yet! His building is clean and comfortable with a newly renovated interior. It is literaly footsteps away from the beach, and it had a great patio for late night relaxing. My friends and I are still talking about how perfect our vacation was because of Aldo's place. Do yourself a favor, take a break, and stay with Aldo. You won't regret it.
Sean
2016-09-06T00:00:00Z
Spending a holiday week in casa viola was a true privilege. Aldo welcomed us in a very friendly and efficient manner and helped us quickly feel at home. He remained available during the week to answer our few questions. The house is located right on the nice and lively beach of riva bianca. We just had to walk out the door to go swimming or relax on the beach - a truly unique location in the area. The garage in the house fits one small to midsize car. Aldo provided us with parking permits so we could park the other car in the residents car park around the corner, which never proved to be a problem. The house looks very charming from the outside, the inside is spacious and completely renovated. We found all the comfort and equipment we needed for two families of four. The terrace overlooking the beach is particularly enjoyable! Lierna is a nice village on Lake Como and there are plenty of sites to visit and outdoor activities in the region. I would warmly recommend casa viola and Aldo to anyone looking for holiday accommodation of such capacity in the region!
Pierre
2016-08-08T00:00:00Z
I use Airbnb very very frequently, both with my family and for business purposes, and I must say our stay in Aldo's house has been a wonderful experience, certainly one of the best. The house is great: ideally located just in front of the lake, very comfortable and quiet (rarely the case if you are close to the lake), large and convenient, well furnished and with easy parking. You really feel at home and wish you could stay longer! Aldo is also a wonderful host - easy communication and kind attentions... Do not hesitate for one second, I am sure you'll love it!
Emmanuel
2016-10-26T00:00:00Z
Das Haus ist einfach ein Traum. Der Blick in jede Richtung ist malerisch. Die Casa Viola liegt direkt am wunderschönen Strand von Lierna. Wir konnten jederzeit schwimmen gehen, was wir reichlich genutzt haben. Das Wasser war wunderbar klar und sauber. Obwohl das Haus direkt am Strand und sehr zentral liegt, war es immer ruhig und doch auf sehr angenehme Weise belebt. Der Weg zum Einkaufen ist nicht lang. Nur 20 Meter bergaufwärts oberhalb der Via Roma haben wir einen schönen Fußweg ins Ortszentrum gefunden, durch den sich die etwas beengte Strecke entlang der Hauptstraße angenehm vermeiden ließ. Die Eisdiele und die kleine Bäckerei im Zentrum sind sehr zu empfehlen. Wir haben kleine Wanderungen in die Berge gemacht und uns die Städte Como und Lugano angesehen. Das Haus ist sehr geschmackvoll eingerichtet und es ist alles ist vorhanden. Es bietet großzügig Platz für 8 Personen in vier separaten Schlafzimmern. Unserer Autos haben nicht in die Garage gepasst, aber wir haben von Aldo Parkberechtigungsscheine bekommen und so immer Parkplätze in direkter Nähe gefunden. Aldo hat uns sehr nett empfangen. Wir wurden mit einer Flasche Wein und frischem Obst begrüßt, er hat uns viele hilfreiche Tipps gegeben und uns sehr herzlich verabschiedet. Wir empfehlen die Casa Viola absolut weiter und werden gerne wiederkommen. Vielleicht auch mal im Frühling oder Herbst um weitere Wanderwege zu erkunden und uns Mailand anzusehen. Die Fotos sind im Internet sind toll - es ist in echt aber noch schöner :-)) Vielen Dank für die schöne Zeit – es war perfekt!
Katrin
2016-08-21T00:00:00Z
Aldo jest świetnym gospodarzem. Nie było żadnych problemów ze skontaktowaniem się. Można było liczyć na jego pomoc. Bardzo dobrze mówi po angielsku. Lokalizacja jest genialna. Dom spełnia wszystkie potrzeby. W przypadku wynajmowania w kilka rodzin, trzeba zwrócić uwagę, że pokój na ostatnim pietrze nie ma własnych drzwi. Na pewno będziemy wracać
Ww
2016-08-28T00:00:00Z
ประเภทห้อง
บ้าน/อพาร์ทเมนท์ทั้งหลัง
---
ประเภทที่พัก
วิลล่า
---
พักได้
8
---
ห้องนอน
Lierna, Lombardia, อิตาลี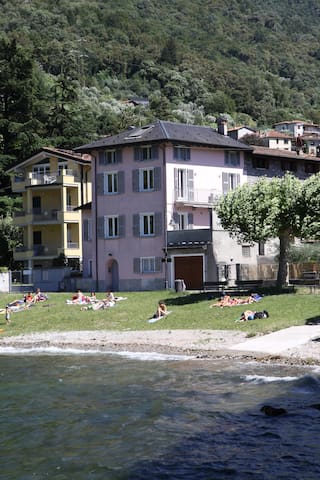 My accommodation is close to the beach. My accommodation is suitable for couples, lone adventurers and business travelers. Children under 15 years are not allowed, there are no triples only double
ประเภทห้อง
ห้องส่วนตัว
---
ประเภทที่พัก
วิลล่า
---
พักได้
2
---
ห้องนอน
Varenna, Lombardia, อิตาลี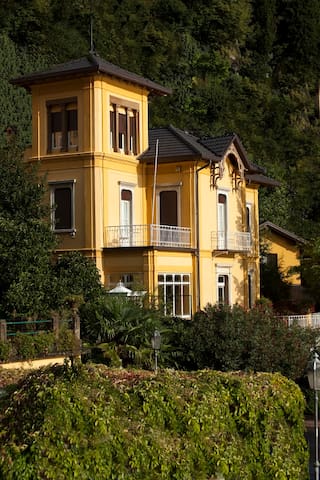 Villa con ampio giardino e box, disposta du due piani. Piano giorno: ampio soggiorno con camino, sala da pranzo e cucina abitabile e bagno con doccia. Piano notte: Camera padronale, camera a 2 letti, camera letto a castello, bagno con vasca/doccia
La Villa a meno di 200mt. dalla spiaggia, si trova nel borgo di Fiumelatte a meno di 1 Km. dal centro storico di Varenna, lungo la strada provinciale; gode di un'impagabile vista su Bellagio, Menaggio, Tramezzo e Varenna. L'ampio giardino è attrezzato per piacevoli pranzi e indimenticabili cene con tramonti mozzafiato!
Fiumelatte è una piccola frazione di Varenna. Fiumelatte prende il nome dal Fiume che l'attraversa, noto come "Fiume più breve d'Italia". La posizione strategica di Fiumelatte regala una magnifica vista del Centro lago e durante le sere d'estate offre suggestivi ed indimenticabili tramonti
Norma was very nice and helpful. The house is gorgeous and overlooks the lake. Definitely recommended for family holiday.
Iakiv
2016-09-16T00:00:00Z
ประเภทห้อง
บ้าน/อพาร์ทเมนท์ทั้งหลัง
---
ประเภทที่พัก
วิลล่า
---
พักได้
6
---
ห้องนอน
Varenna, Lombardia, อิตาลี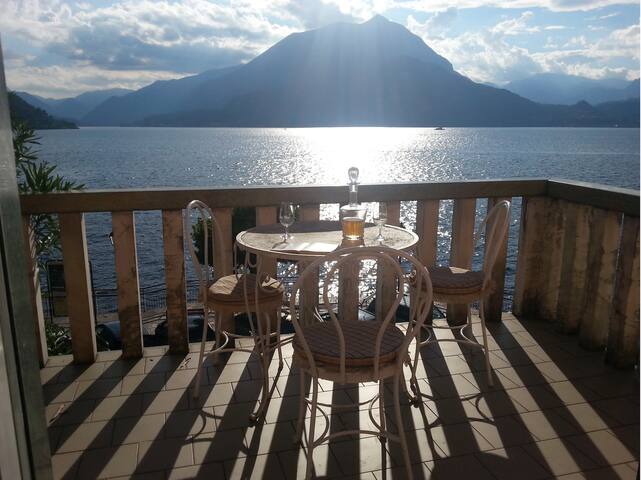 For an unforgettable holiday fantastic detached house with a garden by the lake , great location on the most beautiful beach of Lake Como .
For an unforgettable holiday fantastic detached house with a garden by the lake , great location on the most beautiful beach of Lake Como . The absolute best location . The detached house on two floors with the garden will be at your disposal We will be at your disposal to need by phone or in person . The house is located close to a historical center to visit consist of the walls of a castle . You will be less than 500 meters from public transport , 5 minutes drive from Varenna and in front to Bellagio. The house that everyone would dream , unique !
Leonardo was well reachable, we enjoyed our stay in his house. The view is spectacular, but the kitchen wasn't fully equipped we couldn't use it efficiently.
Shaikha
2017-04-02T00:00:00Z
Una bella e grande casa sul lago, con una bella vista, un grande e comodo sofà, un camino che funzionava bene, il pavimento caldo, e letti comodi. Leonardo e stato molto amichevole e rispondeva subito quando scrivevo per qualche domanda. Grazie per tutto !
Chloe
2017-02-19T00:00:00Z
The host canceled this reservation 60 days before arrival. This is an automated posting.
Lydia
2017-03-26T00:00:00Z
ประเภทห้อง
บ้าน/อพาร์ทเมนท์ทั้งหลัง
---
ประเภทที่พัก
วิลล่า
---
พักได้
6
---
ห้องนอน
Lierna, Lombardia, อิตาลี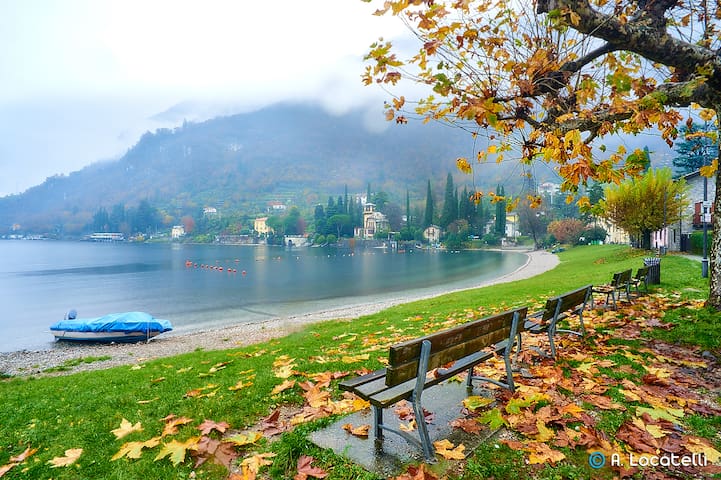 VIVI IN UNA VILLA MODERNISTA IN CLASSE A+ DI ULTIMA CONCEZIONE AVVENIRISTICA IMMERSA NELLA QUIETE DELLE COLLINE, CON SUPERBA VISTA LAGO SU BELLAGIO E MENAGGIO. VILLA PROGETTATA CON SISTEMA DI CLIMATIZZAZIONE FREE-COOLING PER IL MASSIMO CONFORT.
TYPE of Property •one-of-a-kind Modernist VILLA Geothermal technology living (free cooling) 100% Eco-Green SURFACE: •300 m². GENERAL FEATURES: •Parking; •floor and wall cooling / heating in free cooling system; with recirculation of clean air in all indoor for a maximum indoor comfort especially in winter season; •No-Smoking indoor; •Wi-Fi; •Washing machine and dryer: "the service is provided with pick-up and delivery of" linen, towels, shirts and pants, do not retreat coats, fur jackets and / or special clothing or garments luxury branded "; •Linen provided (set of 3 each guest included big towel for bath/shower) KITCHEN: •The kitchen is equipped with: •Dining room seating for 10 people; glass table and extendable steel up to 10 seats, luxury leather and steel chairs •Spices; •Induction cooker; •Toaster; •Dishwasher Bosch; •Fridge american style in stainless ,G.E.; •2 microwave ovens and 1 professional oven Bosch; • Sink with garbage disposer; •Dishes and cutlery up to 12 people; •American and Nespresso Coffe Machine; BATHROOMS: •Bathroom 1 – Full bathroom with sink, toilet, bidet and shower; •Bathroom 2 – Full bathroom with sink, toilet, bidet and shower; •Bathroom 3 – Master Bathroom : Full bathroom with sink, toilet, bidet and tub; •Towels included; •Hair Dryer; •Linen included; DINING & LIVING ROOM: •Dining room 10 people seating; •Modern 5 seats corner Sofa with pouff, tv, hi tech fireplace with rock design •Fireplace stone design: Ignition is by the HOMEOWNER who will provide the TENANT guidelines for use; •Children High Chair; BEDROOMS: •Bedroom 1, Master bedroom – 1 Double Bed; •Bedroom 2, Loft - 1 Double Bed; •Bedroom 3 – 3 single Beds •Bedroom 4 - 1 Double Bed; •Optional: Living room with sofa bed available for a person, on request; ENTERTAINMENT: • Tv satellite. • Internet wi-fi OUTDOOR: •Large outdoor park with old trees Chestnut; •Veranda overlooking the lake with a table for 12 people; •Balcony Room in the Manor; •Solarium on the roof with a stunning Lake view on Bellagio and Menaggio;
best total privacy location with amazing lake view, far from noise and bustle, just few minutes from the lakeside promenade
Beste Empfehlung - von all meinen Teamkollegen und mir! Nebst der grandiosen Villa selbst (Lage, Aussicht, Umschwung; Räumlichkeiten, Ausstattung, Sauberkeit etc.) ist vor allem auch der perfekte Kundenservice zu erwähnen. Damit spreche ich sämtliche Dienstleistungen an, beginnend von der Anfrage der Villa bis hin zum Check-Out. Die Account Managerin von CASA D'ASTA war permanent bemüht, offene Fragen zu klären, Wünsche zu erfüllen und immer telefonisch oder per Email erreichbar - ein Kundenservice, der aus meiner Sicht sehr wichtig ist! Etwas spezieller war es deshalb gerade deshalb in unserem Fall, da wir mit unserem Team à 11 Personen nicht nur einen Ferienaufenthalt, sondern auch unserem Teamworkshop in diesem Hause organisiert haben. Und es hat alles perfekt geklappt, wir haben den Aufenthalt sehr genossen und können die Adresse nur bestens weiterempfehlen. CEO, Account Managerin und auch die Besitzer waren present wo nötig, Gespräche und Kommunikation war sehr angenehm und freundlich. An dieser Stelle ein grosses, herzliches Dankeschön an alle Beteiligten, Gastgeber, Airbnb-Mitarbeitern und Dienstleistern!
Mélanie
2015-09-12T00:00:00Z
The House is designed as pictured in a very modern way and the views are stunning. The owners do not speak English and so communication on how to use the sophisticated Italian language appliances was quite impossible. Although they seemed very nice. The real estate agent do respond very quickly but they do not always acknowledge the issues. Here are some of them. The whole house is very sparsely furnished with considerable wear and tear. Examples: stove is cracked, dishwasher handle is broken, walls have scribbles, the electric water pot is rusted and filthy, the lounge chairs in the solarium and garden are old and rusty - there are actually only two upstairs and one downstairs in the garden. The bathrooms have no accessories no where to put towels or toilet paper. In fact one of the 3 bathrooms with a tub has no shower curtain or anything to mop the floor which gets soaked after a bath. The bottom bedroom has no blinds and so basically sleeping in the garden because the window is huge and light comes in at the crack of dawn. The 2nd loft bedroom should be discounted as anyone that sleeps there is subject to no privacy. The top bedroom actually has 4 very uncomfortable bed/sofas not at all like pictured. All the mattresses are very uncomfortable sponge type. The cooling system while very sophisticated and green was not very effective on a hot day. Hot water is only available at certain hours during the day so be sure to ask when that is. There are a lot of insects - need to keep doors and windows closed at all times as there are no screens on any window. Wifi is only available in the downstairs area. The couch only seats 3-4 people. Owners provide one key was bit of challenge for 3 families and they also have complete access while we were out would be coming in to the house. The walls are very thin - in the top bathroom if someone used the bathroom it was very noisy in the master bedroom. Large changing tables in the bathrooms left to put things on due to lack of accessories. Large crib in the master bedroom not in pictures. In general at the cost/night of the house a luxury hotel could easily be a much better more comfortable accommodation.
Dalya
2016-08-08T00:00:00Z
The house is incredibly beautiful and modern. The location is outstanding, at the top of a hill, with a beautiful view of the lake, of Bellagio and with singular tranquility.
Pedro Ivo
2016-08-16T00:00:00Z
Outstanding view of the lake from this hilltop location. Need to plan for transportation. Not walkable. After you are down the hill (by car), the ferry boat departures are convenient and easy walk to Varenna. Host provided contact info for local driver which was very helpful. Architectural design of the home was consistent with the pictures. Some challenges with communication since local host does not speak English. Listing agency provides interpretation support.
Jamie
2016-10-08T00:00:00Z
ประเภทห้อง
บ้าน/อพาร์ทเมนท์ทั้งหลัง
---
ประเภทที่พัก
วิลล่า
---
พักได้
10
---
ห้องนอน
Perledo, Lombardia, อิตาลี
These two large, luxurious interconnecting apartments, one above the other, are located in the grounds of the historic Villa Capoana. Combined, (ID:140) and (ID:134), sleep up to 10 people in the most idyllic of surroundings.
These two large, luxurious interconnecting apartments, one above the other, are located in the grounds of the historic Villa Capoana. Combined, (ID:140) and (ID:134), sleep up to 10 people in the most idyllic of surroundings. Villa Capoana was constructed in the year 1605 for the Duke of Mount Marciano in the locality of Fonte Uga in Fiumelatte. It was home to noble families for many generations until, just recently, a part of it was reconstructed. In renovating, the construction company has ensured the preservation of the monumental fountain and garden area, a highlight of the historic villa and now showpiece of the condominium, thus retaining the beauty of the area. These newly constructed apartments offer top quality fixtures and fittings throughout. The interior finishing's of the apartment are beautifully done, from the bleached-oak parquet floor to the elegant painted suede finish walls. It is fitted with all modern appliances to facilitate property ID 140: Two fully fitted kitchens allow you to cook for your friends & family, using fresh herbs available from the garden area behind. There are flat wide screen TV's with sky cable and DVD players in the living areas, framed by large sliding glass doors to access the spectacular terrace, giving picture-postcard views of the lake throughout the apartments. You can enjoy the heat of the sun on these front facing terraces. There are four bedrooms and four bathrooms, one of the bathrooms has a 'built–in' tiled bath tub, big enough for two, letting you relax together in style. Enjoy the spectacular historic, monumental fountain in the private terrace gardens behind the apartments. There is a stone outdoor table & chairs where you can relax and dine under the shade of the cypress & palm trees, while listening to the gentle sound of the fountain and cascading stream which runs straight down to the lake from the fountain and the mountains above. Both apartments have an under floor heating system which keeps them warm during the colder periods and a centralized air-conditioning system with individually controlled zones to keep them cool in the summer. Outside, you can enjoy & relax in the brand new 5 person Hydro Spa, feast with a brand new SMEG Gas BBQ and dine 'al-fresco' at the large table & chairs for 12 people. This terrace is a wonderful extension to the living area and it goes without saying, that it is a real sun-trap! There is also a private garage with automatic remote control doors. The property is accessed by an elevator (private keys are necessary). Fiumelatte's train station is also within walking distance of the apartments. As mentioned above, these two apartments are connected by (lockable) internal doors which give necessary privacy between two families or a group of family & friends. This Villa is in the village of Fiumelatte, part of the beautiful town of Varenna, just 1km away on the Eastern shore of Lake Como. The property has been designed to take full advantage of the lakes premier view of the 'Golden Triangle' (Bellagio, Menaggio and Varenna). Varenna is home to Italy's shortest river, the Fiumelatte. Only 250 meters long, it rushes, frothy and milky-white (hence the name) down the rock face and crashes into the lake from the end of March to the end of October each year. And then it stops - just like that. Leonardo da Vinci climbed down to find out where the water came from. Varenna is home to Italy's shortest river, the Fiumelatte. Only 250 meters long, it rushes, frothy and milky-white (hence the name) down the rock face and crashes into the lake from the end of March to the end of October each year. And then it stops - just like that. Leonardo da Vinci climbed down to find out where the water came from (without success!), as recorded in his Codice Atlantico notebook. Two famed villas to visit here are Villa Cipressi, with terraced gardens cascading down to the shores & Villa Monastero, a true showcase. With the mild climate & abundant sunshine & warmth right into the evening; olive & cypress trees abound.
ประเภทห้อง
บ้าน/อพาร์ทเมนท์ทั้งหลัง
---
ประเภทที่พัก
วิลล่า
---
พักได้
10
---
ห้องนอน
Fiumelatte, Lombardia, อิตาลี
Villa Vittoria is located near the center of Bellagio (500 meters, 6 minutes walk) in a residencial area. Picture-perfect panoramic views spread as far as the eye can see from the villa's windows and its mature gardens, perfect for making those lasting Lake Como memories
There is a car parking (free 5 cars) and the villa is near the center. Bellagio is difficult to find parking. There is private parking in the villa and it is 500 meters from the center. In the center it is difficult to find a parking space, from Villa Vittiria you can easily move on foot.
Very quite and you have some restaurants near the Villa
ประเภทห้อง
บ้าน/อพาร์ทเมนท์ทั้งหลัง
---
ประเภทที่พัก
วิลล่า
---
พักได้
7
---
ห้องนอน
Bellagio, Lombardia, อิตาลี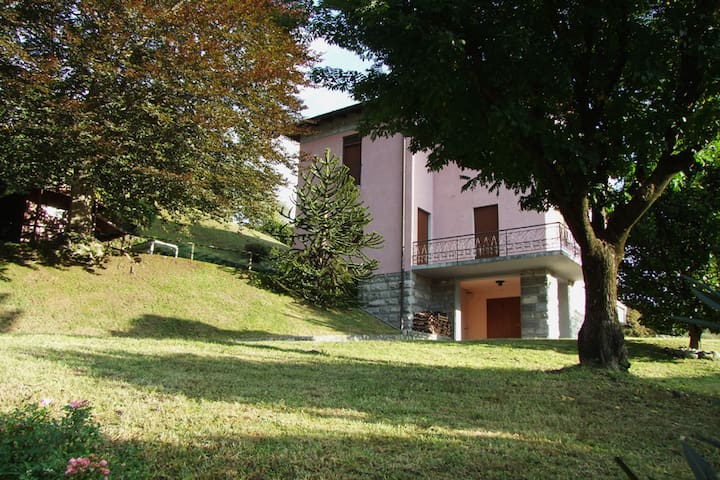 Villa Canottaggio: Difronte a Bellagio nel paese prima di Varenna, a Lierna, Villa sul Lago su due piani con 5+1 (camera con divano letto doppio) camere da letto e 4 bagni. Sala da pranzo, salotto vista lago e ampia terrazza su cui pranzare.
Villa Autonoma sul lago con spiaggia davanti, borgo medievale di fronte e piccolo porticciolo privato con possibilità noleggio barche. Grosso terrazzo al primo piano e piccolo terrazzo al secondo piano con vista lago difronte Bellagio. 5 stanze su 6 vista lago.
Il Borgo Medievale di Lierna Castello con la Chiesa dedicata a Maurizio e Lazzaro dall'Ordine Mauriziano della Casa Savoia. Sulla spiaggia ci sono due Bar per colazione ed aperitivi. Nelle vicinanze (10 min a piedi) negozi e diversi ristoranti. Parcheggio a pagamento (solo Giugno-luglio-agosto) 5 € al giorno a 50metri da casa. Sulla strada pubblica eventuali parcheggi gratuiti.
THE HOST MADE US FEEL WELCOME AND WE ENJOYED OUR STAY
Prem
2016-07-12T00:00:00Z
Grazie Andrea, sono stati quattro giorni fantastici, una casa meravigliosa in un contesto magico! che dire di più? Andrea e la signora Marina sono stati gentilissimi e disponibilissimi. Il molo con le barche in affitto sotto casa, e la gentilezza di Luca, hanno completato il tutto! La sento come un po' casa mia !! :-)
Francesco
2015-09-08T00:00:00Z
Emplacement de rêve pour cette maison qui possède vraiment une âme Apres un accueil des plus chaleureux une vraie maison de famille spacieuse avec une vue splendide Plage à 20m Location de bateau sans permis chez Lucas à 50m Excellent pizzeria à100m(5€ la Margarita) Repas sur une énorme terrasse aménagée On y reviendra avec grand plaisir
Claude
2016-08-15T00:00:00Z
Die Unterkunft war perfekt für unsere Ferien. Direkt am Strand mit einer sehr tollen Terrasse mit Pizzaofen! Andrea's Eltern haben uns willkommen geheissen und waren sehr unkompliziert. Das Haus ist sehr schön, sowohl innen wie auch aussen. Wir konnten alles im Hause benutzen und fühlten uns wie zu Hause. Das Preis-/Leistungsverhältnis stimmt total. Die einzige Schwierigkeit war, einen bezahlbaren Parkplatz zu finden.
Janis
2015-07-21T00:00:00Z
very good
Michalis
2016-12-28T00:00:00Z
Our host, Andrea, made us feel very welcome via our communications on the web. His neighbors met us, and all were extremely helpful and kind. in fact, everyone we came into contact with in Lierna were just fantastic, welcoming people!!! The description and pictures of the listing were accurate. This villa is in a great location; it is close to the ferry, train station, and local eateries,etc. The walk to each place was easy and relaxing!
Carol
2016-10-09T00:00:00Z
The house has a fantastic location. The view, the atmosphere was tremendous. The house is perfect for large groups. You can socialize, and you can choose to be alone. The house is big enough :) The chalet is located right on the beach. There is a cozy restaurant, bar and boat rentals on site. It is within walking distance of several cafes, grocery stores, pharmacies, etc . We have had a perfect holiday!
Magnus
2016-08-06T00:00:00Z
ประเภทห้อง
บ้าน/อพาร์ทเมนท์ทั้งหลัง
---
ประเภทที่พัก
วิลล่า
---
พักได้
12
---
ห้องนอน
Lierna, Lecco, อิตาลี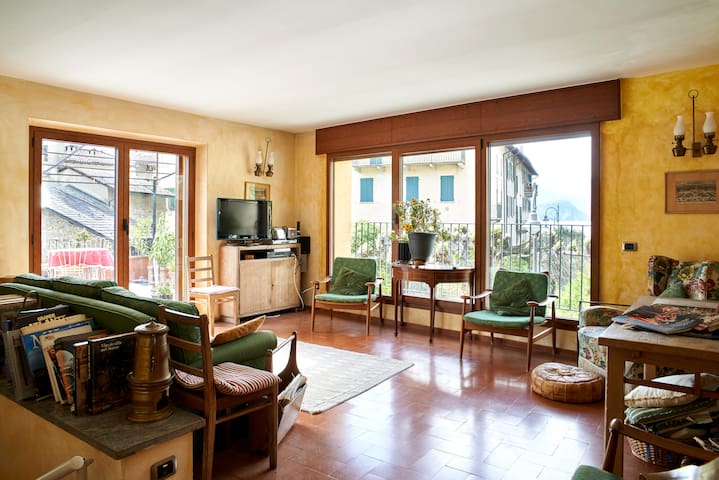 The Villa comes from an old farmhouse completely renovated in 2009.Surrounded by a garden with centuries-old olive trees, in a sunny and quiet location just 10 minutes walk from the village of Bellagio and 100 metres from the lake.The villa of 160 square meters, spread over two floors: . on the ground floor: a kitchen, a bathroom with shower, a dining room complete with a large living room with sitting area and satellite TV; . to the first floor: two double bedrooms, one single bedroom, a bathroom with shower and a large balcony overlooking the garden and with panoramic views.
This is a beautiful property in a amazing location! 10-15 minute hilly walk from town. The villa was very clean, modern and spacious, and had a housekeeper come in every day to tidy everything. The kitchen was equipped with the basics making it easy to stay in and cook if we wanted. The hosts had coffee, wine and some groceries waiting for us when we arrived - very nice touch! Parking was convenient and easy. The property does not have air conditioning. We stayed here at the end of June and our rooms were quite warm one night. However, when we asked Luca for fans, they were delivered in minutes and made the subsequent nights pleasant. Luca was waiting for us upon arrival and was readily available if we needed anything. We really enjoyed our time here, if it is in your budget, we'd recommend staying here. The guide books recommended staying in Bellagio or Varenna. Both towns are wonderful and offer plentiful restaurants and shops.
Nathan
2015-07-01T00:00:00Z
We arrived in a hailstorm and left six days later in a drizzle, but in between we enjoyed wonderful weather and this bright, spacious house, every inch as marvelous as the photographs make it look. Mary greeted us in the storm and showed us around. She left us with some starter supplies -- wine, coffee, tea, bread, jam, fruit, olive oil, spices -- and recommendations for local restaurants. (Try Silvio's first.) The beds were comfortable, the bathrooms big, the Wifi strong. The furnishings tended to the modern, dotted with curios like an old accordion or an old crank-handle calculator. The yard was just as interesting, manicured and secluded, with palm trees and olive trees, azaleas, benches, a well, a garden, a table for picnicking. From one side of the house you can see the lake, from another you can see the mountains. Our smallest requests were answered immediately. There's a good trattoria up the hill, near a decent produce market. The town is a short, scenic, but challenging walk away. (Find the pier on a blue-sky day, hop on a ferry, and ride from town to town. Perfecto.) We hated to leave, but when at last we were forced to, Luca walked us to our waiting car, in the drizzle, holding an umbrella for my wife. Five stars, across the board.
Bill
2015-05-20T00:00:00Z
Beautiful house, well stocked and better than the photos
Stacey
2016-07-17T00:00:00Z
What a wonderful experience!! Beautiful home well appointed. Quite great beds felt comfortable and home. Air conditioning great and well stocked and great kitchen. Luca met us at the boat and took us to the home and the hosts were available anytime. The house is slightly out of the way and I would recommend a car. 20 min walk to store and or to the center of town. The gardens and olive grove are so beautiful and the house is warm and inviting.
Gary
2016-07-09T00:00:00Z
ประเภทห้อง
บ้าน/อพาร์ทเมนท์ทั้งหลัง
---
ประเภทที่พัก
วิลล่า
---
พักได้
5
---
ห้องนอน
Bellagio, Lombardy, อิตาลี
Villa i Due Leoni è una Villa Signorile di gran fascino nel cuore di Bellagio, a 10 minuti a piedi dalla zona pedonale del centro storico. Ottima soluzione per rilassarsi con la famiglia o per godersi con gli amici il contesto unico del lago di Como
la Villa I Due Leoni è Situata sulla principale via di accesso al centro di Bellagio La Villa I Due Leoni dista solo 15 minuti a piedi o 3 minuti in auto dal vivace fascino del centro storico di Bellagio. L'incantevole giardino privato e la signorile dimora in vero stile italiano si fondono per regalare ai nostri ospiti un'atmosfera di lussuoso relax e divertimento con tutta la famiglia e gli amici. Concedetevi giornate di puro relax nel giardino esterno attrezzato con gazebo e sdraio o godetevi una cena sotto il patio esterno attrezzato con il BBQ. La casa puo' accogliere comodamente fino a 9 persone ed i bambini sono bene accetti. Dal box coperto è possibile accedere direttamente alla zona giorno della casa dove vi accoglie un elegante salone con camino. Gli ospiti possono godersi una giornata di privacy leggendo un libro, guardando la tv o navigando su internet. Da salone si passa poi alla zona pranzo e alla cucina, che e' completamente attrezzata: piano cottura, forno, tostapane, forno microonde, bollitore, lavastoviglie e frigorifero. Dalla cucina è poi possibile accedere direttamente alla zona pranzo esterna. Dalla scalinata gli ospiti hanno accesso alla zona notte suddivisa in due piani: ad ognuno il suo spazio per rilassarsi e sentirsi a casa. La camera principale con il suo bagno privato, una camera matrimoniale con il piccolo salottino privato, una camera singola ed un secondo bagno. Le camere al primo piano sono dotate di balcone. Al secondo piano l'accogliente mansarda suddivisa in 3 camere matrimoniali e un bagno. I proprietari possono poi aiutarvi ad organizzare visite ed attivita' a Bellagio, come escursioni in barca sul lago, corsi di cucina. A brevissima distanza dalla casa gli ospiti potranno ad esempio visitare l'incantevole Villa Melzi. Per gli amanti del Golf, sono poi disponibili pacchetti di green fee allo storico Golf di Menaggio e Cadenabbia situato sulla sponda opposta del lago e che si puo' raggiungere facilmente con un traghetto ( il cibo e la vista valgono la pena ve lo assicuriamo).
Situata nel quartiere residenziale di Bellagio, a 800 metri dal centro storico. Nelle immediate vicinanze troverete un ristorante bar con piscina esterna o uno dei più eleganti ristoranti di Bellagio: Alle Darsene di Loppia. A pochi metri i due supermercati di Bellagio, le scuole, la posta, i carabinieri e l'ambulatorio medico. A soli 300 metri i meravigliosi giardini di Villa Melzi.
We had an absolutely great stay in Bellagio, much thanks to this great villa and the care provided by Silvia and Andrea. The villa itself is fantastic. With the five separate bedrooms it is very spacious and it has a good kitchen, dining room, living room and outside veranda (with a roof) on the back side of the house. The location is good, although close a road that has some traffic. Walking distance to a supermarket is around 5-10 minutes. I would very much recommend anyone to stay in this fantastic place if visiting the beautiful town of Bellagio.
John
2016-07-16T00:00:00Z
Brilliant! Silvia and Andrea were happy to help with queries, and made us feel very welcome. There were many thoughtful touches such as a guide book of the lakes we could use for day trips, umbrellas to hand, and a bottle of prosecco waiting for us, along with fresh milk, coffee, fruit and little cakes. The villa is exactly as seen on the website, with many French doors and windows all giving way to magnificent views. Have your morning coffee/evening aperitivo on the first floor balcony and watch the sun arrive and set over the mountains. You can see the lake from up here as well. We stayed in the first floor bedrooms that had everything we needed. Plenty of towels, blankets, pillows and a hairdryer. Great showers and loads of cupboard and wardrobe space with hangers. The road does have a few motorbikes and cars passing in the night, but we slept with the French doors open, and apart from the odd rev of an engine, we slept well. The kitchen was well stocked with excellent cooking tools and all the basics as well as a large fridge, dishwasher, and espresso machine. Also, there is a washing machine and iron downstairs. Large outdoor eating terrace that could easily accommodate two families. At dusk, make sure you wear mosquito repellent and use smoke rings to keep the mozzies away. We bought these at the local grocery store. There are two grocery stores within 5 minutes of the house and both are well stocked. They close for afternoon siestas. The neighbourhood is very nice-- mainly residential, with the Bellagio Sporting Club two minutes away. Lots of locals use it too, and they would always say hello. A good sized pool for swimming (bring a swim cap or they sell you one for only 3€). In the early mornings we found quite a few walks leading down to the Villa Melzi Garden. You should stop at the Ristorante "Alle Darsene" (onVia Melzi D'Eril), opposite the garden entrance and sit outside for a coffee. At around 8:30'ish in the morning they start to prep for lunch service, and were always happy to make a cappuccino. Walk through the parking lot, behind the stone boat house (by the big tree) and out towards the jetty to feed swans and ducks. What a view! We often walked through the beautiful Villa Melzi Garden into Bellagio (€6,50 per person, two day-pass €8,00 and each extra day €4,00). Silvia and Andrea thank you. We'll be back again.
LOUISE
2016-09-08T00:00:00Z
Probably the most beautiful house on the planet. I'm not joking. It's so perfect. I wish I lived here.
Colin
2016-08-22T00:00:00Z
Staying at Andrea's Villa in Bellagio is like having the warm and generous arms of an Italian family wrapped around you. We had a wonderful stay at this family home which is filled with amazing treasures and is just a 15 minute walk from the centre of town. There is plenty of room for families, and the house is equipped with everything you will need to self cater, if you can pull yourself away from all of the delicious Italian food in Bellagio! We were treated with local pastries by our hosts, and they shared lots of local knowledge to help us find the best spots around town. Andrea also owns the local Boat Hire company and we had a morning out on the Lake on one of his boats, which was definitely the highlight of our stay (especially for my little girl who couldn't believe we got our own boat!!) We wouldn't hesitate to come back and stay again, thank you to Andrea and Silvia for everything you did to make this such a special trip for my family.
Emily
2016-05-17T00:00:00Z
The villa is an enchanting house with more than enough space for our family of five adults. Andrea and Silvia were gracious and thoughtful hosts who always responded quickly with helpful advice. This is a wonderful way to experience Bellagio and the beauty that surrounds it.
Seda
2016-09-20T00:00:00Z
The place is amazing, exactly like in the pictures. Silvia and Andrea are a really great, they really helped me and my family to feel at home. Even though we were late they waited for us. If you are looking for a place that can host a lot of people look no more. The location is 10-15 min walk from Bellagio center.
Uri
2016-10-06T00:00:00Z
The house is as described by Andrea. It is very charming and close to Bellagio (10mn walk). Everything is provided by Andrea and Sylvia to make your stay at the house confortable. Andrea and Sylvia are finally very kind and available.
Mathieu
2016-07-25T00:00:00Z
We stayed in this beautiful villa for a couple of days. The pictures accurately describes the house, which is conveniently located close to Bellagio and with nearby supermarkets, restaurants and Bellagio Sports Club. Andrea communicated well both before and during our stay and helped with many things. Henrik
Henrik
2016-07-22T00:00:00Z
ประเภทห้อง
บ้าน/อพาร์ทเมนท์ทั้งหลัง
---
ประเภทที่พัก
วิลล่า
---
พักได้
9
---
ห้องนอน
Bellagio, Lombardia, อิตาลี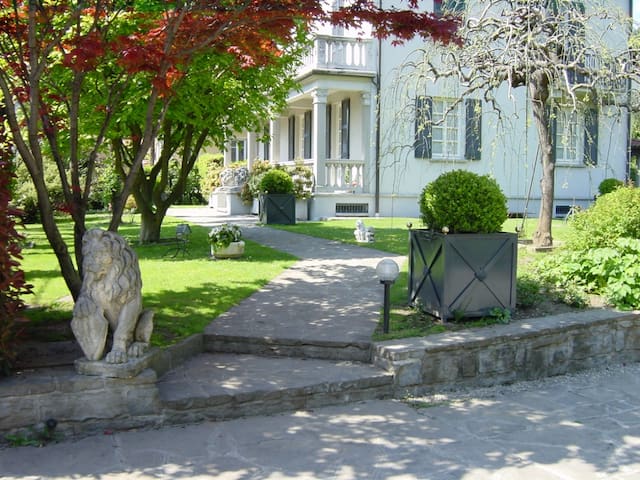 Villa inside a private park with a large terrace directly overlooking Como Lake with views of Varenna, Bellagio and Menaggio. The house is on three floors garden level: living room and bathroom ground floor: large living room / kitchen first floor: double bedroom, 2-bedded room, single room and bathroom.
The house is equipped with everything you need: heating, washing machine, dishwasher, refrigerator, freezer, electric oven, microwave oven, TV, Wi Fi and is equipped with linens, dishes, glasses, cutlery, and everything needed for cooking.
Amazing location right on the edge of the lake. Property was very spacious and perfect for a short or long stay in the area. The village is quite small so would need a vehicle primarily for travelling to and from supermarkets etc for food and drink however this is a worthwhile effort to have the pleasure of staying at this property.
Rachel
2016-09-22T00:00:00Z
It was a really great place! The views are gorgeous.
Yash
2016-05-02T00:00:00Z
This was our most favorite place during our whole 10 day vacation in Italy. Giovanni made everything so easy. We were able to park across from the house with no problem. The house is fabulous. We didn't want to leave. We spent every night on the lakeside terrace eating and drinking. The view is fabulous. Giovanni was a wonderful host and the house was so clean!! There were food staples in the kitchen- it was so well appointed and had everything we needed for cooking and bringing food to the terrace. We can't say enough good things!!
Carl
2016-09-11T00:00:00Z
Our host, Giovanni was wonderful. He was in constant communication with us and met us at the villa on our arrival and departure. He had lots of suggestions about the area. The Villa was wonderful with incredible views ; truly breathtaking! The location right on the lake was amazing.
Sarah
2015-10-01T00:00:00Z
Die Villa Eli ist eines der schönsten Ferienhäuser das wir jemals gebucht hatten. Die Lage, direkt am See mit eigenem privaten Seezugang und der Terasse über dem See gelegen, lässt sich definitiv nicht toppen. Oft hat uns erst der Sonnenuntergang dazu gebracht uns von der Terasse weg zu bewegen. Tagsüber gibt es im Bereich des Gartens auch immer ein schattiges Plätzchen. Die Ausstattung des Hauses und vor allem auch der Küche sind perfekt. Sogar Handtücher und Bettwäsche, die 1x wöchentlich gewechselt werden, waren im Preis inbegriffen. Wir waren zu 5. und haben dadurch die 2 Bäder sehr zu schätzen gelernt. Der einzige Wermutstropfen ist die doch oft recht laute Straße, welche direkt am Haus vorbei führt. Auf der Seeterasse ist sie aber kaum mehr zu hören. Der Weckservice mit Hähnen und anderen Tieren in der Nähe gehört zum Landleben hingegen dazu! Giovanni ist ein sehr angenehmer Gastgeber. Jederzeit zur Stelle (er wohnt direkt neben dem Haus), hat immer einen guten Tipp parat und war trotzdem unaufdringlich.
Michael
2016-08-28T00:00:00Z
Il n'y a eu aucune fausse note lors de ce séjour. Giovanni est un hôte particulièrement attentif, disponible et discret. Nous avons aimé passer un peu de temps ensemble pour le simple plaisir d'échanger autour d'un verre de Prosecco. La vue sur le lac est formidable. La villa est parfaite pour une famille (en tout 5 couchages à l'étage et 1 canapé lit dans le séjour). Tout était parfaitement propre et préparé pour notre arrivée. Encore une fois rien à dire. C'est selon moi un privilège qu'offre Giovanni en partageant cet endroit avec nous, les touristes. la maison est effectivement à distance des commerces mais cela n'est pas gênant. Il y en a quelques uns à 2 minutes (Il bon gusto !) et Varenna offre un accès rapide à l'autre côté du lac ou à Bellagio par les ferrys. C'est aussi un très bel endroit avec de bons restaurants. Nous avons aimer y flâner plusieurs fois. A recommander si on cherche à s'écarter un peu de la foule et que l'on est véhiculé.
Guillaume
2016-04-13T00:00:00Z
A warm welcome from the very start! Giovanni was a wonderful host and a couple of evenings invited us for Prosecco and snacks on his patio. The property is stunning and very well maintained. A very special bond for me! Thank you Giovanni and of course Valentina too! Keep in touch!
Stephen
2016-09-10T00:00:00Z
Wir wurden sehr gut aufgenommen. Giovanni hat öfters gefragt, ob wir etwas brauchen bzw. er kam auch w./ der Müllentsorgung immer wieder vorbei. Wir haben uns sehr wohl gefühlt. Das Haus ist super, direkt am See, sehr großzügig geschnitten. Einziger Wermutstropfen ist die Straße, die hinterm Haus vorbeigeht. Wir kommen auf alle Fälle wieder.
wolfgang
2016-05-18T00:00:00Z
ประเภทห้อง
บ้าน/อพาร์ทเมนท์ทั้งหลัง
---
ประเภทที่พัก
วิลล่า
---
พักได้
5
---
ห้องนอน
Lierna, Lombardia, อิตาลี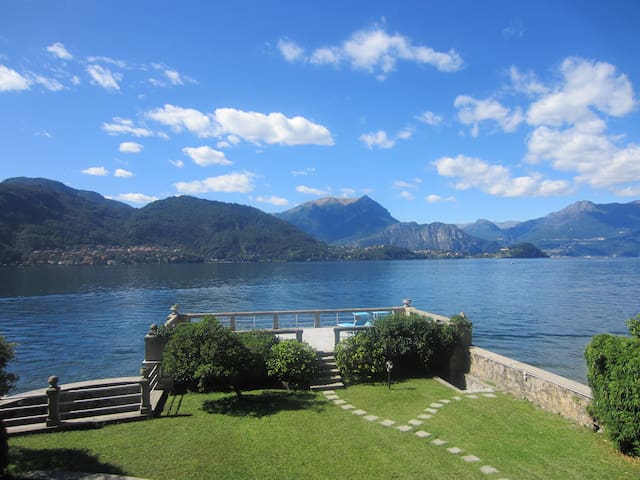 Situated in a panoramic position, the house overlooks both branches of the lake, the fantastic Como Bellagio branch as well as the Lecco branch. During the winter time ( from November to March) In the property is available also a sauna and a hot tub. In winter time opening, hours and use are to first establish with each guest. The last 20 meters of road to access the house is about 1.8 meters wide. If your car does not pass, their luggage will be carried by us.
the house is a very particular position. It's in the midle of the olive tree forrest in a very quite area.
Our overall stay was great! Marco was very friendly and always willing ro give advice or help. The house is ok. If you come with kids the house is "kidsfriendly" just consider that you are up the mountain and everything needs to be done by car. This we did not consider when we booked the house. Marco is a good host and very cooperative. The area is beautiful and the view from the terras is stunning. The equipement in the house is partly a little outdated. Overall a Nice stay and holiday!
Daphne
2016-08-19T00:00:00Z
The location of Maurizio's place is indeed the mirror of a beautiful dream. The view from the spacious terrasse is stunning and must certainly be amoung the best around Lake Como. The drive all the way up to the house is challenging and requires some driving skills. The reward is a very quiet location with no traffic noise whatsoever. The house itself is quite rustic. We found the beds and the kitchen to be somewhat sub-standard, but there are plenty of OK bathrooms. From the presentation we got the impression that there is access to the lake from the property, but this is not the case due to the high elevation above the lake. The sauna and hot tub in the presentation were not available to us. Our host Maurizio, who lives on the ground floor of the house, was helpful, forthcoming and communicative in all matters. He met us by car in nearby Varenna and guided us the last few kilometers up the house, which otherwise would have been difficult to locate. In summary we had a wounderful time at Lake Como with lots of outdoor activity and joyful evenings on one of best terrasses around the lake.
Frank
2016-07-31T00:00:00Z
Hey everybody, we stayed at Maurizios and Marcos place for 10 days this summer. We wanted to stay longer :) We loved the remoteness, away from the busy streets, in combination with the fantastic view. Having breakfast on the large balcony and watching the lake come alive was awsome, having dinner there and observing the sunset behind the mountains on the other side was perfect! We stayed with two kids and more family members and were super happy to have enough beds and bathrooms. We used the kitchen and balcony extensively and were very happy about it. The rooms lack some possibility to hang and arrange clothes, especially for longer stays this would be good to have. All was very clean and the beds are comfy. From the house you can start nice hikes into to the surroundings, the next little shop and cafe are around 15 mins by foot. We liked Varenna (going down there by foot takes around 20 mins, but longer for up again!) but for nice beaches, you need to drive a bit further. Maurizio and Marco were always helpful, very nice and easygoing. We can recommend the place to everybody who is not looking for huge luxury but for a nice and clean place in the nature and a nice mix of options from hiking to (sun)bathing and sightseeing in order to recover from hectic lives. Ideally your car should not be bigger than our Renault Scenic in order to drive through the narrow path to get to the house :).
Eliette
2016-08-30T00:00:00Z
We had spent two weeks at Marco and Maurizio's home. To explain the arrangement, the owners live on the bottom half of the home and you will rent the top half of the home. There are three sections of the home for renters and depending on how many people you are given the space they believe you will need. We were three people and we had two bedrooms and two baths, although they gave us the last or third section when there wasn't any closets to hang our cloths (more on that later). The Pros 1.) the view is incredible and seeing the lake and the mountains first thing in the morning and at sunset is something you will think about for the rest of your life. 2.) Marco and Maurizio are two of the nicest people you will ever meet and they took very good care of us. 3.) You are less than 4 minutes by car or fifteen minutes walking (It's on a mountain so you will need to walk back up) into Varenna and the ferry to see all of the lake. The train station is near by also. The roads to and from are all hills, windy and the lanes are very tight. Hard to navigate when you first get there, but after a couple of days I was flying around the mountain. 4.) There are markets and restaurants within driving distance. I would recommend if you are going to stay here, you need to rent a car. Getting around without one is near impossible. The Cons 1.) the final section driving to the home is nerve racking. It is very narrow and winds down to the home. We had a Fiat 500L and we just fit. The owners say your can park your car before you take that road, but walking it is not easy and especially if you need to carry things like luggage and groceries. I will say it was very scary the first couple of times I drove it, but by day 3 it was not and issue for the remainder of our trip. 2.) There is virtually no closet or chest of draws in the home. They need to work on this. 3.) The Bathrooms and showers are small. 4.) There is no air conditioning and heat. Although you will get a nice breeze it's not enough to cool down the house and if you open the windows then you have to deal with the mosquitos. 5.) There is no hot tub or sauna. Don't know why they show that in the pictures. The sauna was not working and half of it is a tool shed. The hot tub was not there when we arrived, but they were in the process of building a new one while we were there. Hopefully they complete and both will be functional when you stay. I would ask before booking. This was our first time using AirBnB and we learned to ratchet down our expectations...
R
2016-09-24T00:00:00Z
ประเภทห้อง
บ้าน/อพาร์ทเมนท์ทั้งหลัง
---
ประเภทที่พัก
วิลล่า
---
พักได้
10
---
ห้องนอน
Province of Lecco, Lombardy, อิตาลี