Detached cottage, romantic mountain retreat in the medieval village. Salto Lake 3 km, Rieti 25 km, 780 m. altitude. Ideal for hiking in the mountains, near plateau Rascino 38km.
Quiet, ideal for complete relaxation in touch with nature, pure mountain air.
ประเภทห้อง
บ้าน/อพาร์ทเมนท์ทั้งหลัง
---
ประเภทที่พัก
บ้าน
---
พักได้
4
---
ห้องนอน
Petrella Salto, Lazio, อิตาลี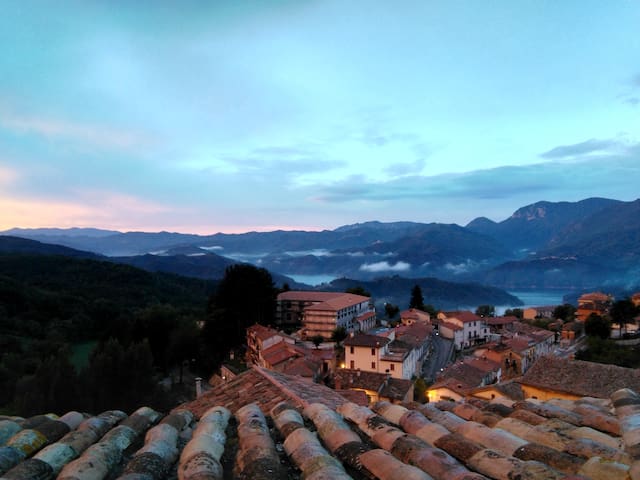 Affitto graziosa casa ind. su due livelli appena ristrutturata con tutti i i servizi composta da: soggiorno con angolo cottura, due bagni,camera e cameretta. Cortile esterno arredato ad uso esclusivo della casa. Affitto weekend settimanale.
la casa è accogliente e fresca, nelle calde giornate estive si gode del fresco dato dal verde che domina il paesaggio che da sui monti
Che dire? Devo ringraziare di cuore Dario e sua moglie Viviana per il modo in cui si sono presi cura del nostro soggiorno, seppur breve ma intenso. L'attenzione, la disponibilità, la gentilezza e la cortesia mostrata per farci sentire a nostro agio ci ha emozionato. La casa è carinissima e molto pulita, dotata di un bel camino e un letto matrimoniale comodo e molto grande. L'appartamento si trova a 10 minuti dal Lago del Salto e lo consiglio vivamente a chi volesse trascorrere dei giorni di relax e riposo.
Davide
2016-05-31T00:00:00Z
Ci siamo regalati un weekend per Pasqua immersi nella natura. Dario ci ha accolti con il massimo della cordialità, dandoci tante informazioni e idee su come sfruttare al massimo il nostro soggiorno. La casa pulitissima è fornita di tutto. Molto piacevoli gli arredi, e il letto matrimoniale grandissimo! Non vediamo l'ora che arrivi l'estate per tornare con più giorni a disposizione. Siamo rimasti colpiti dal posto dove abbiamo fatto lunghe camminate e dal lago, incantevole! Un luogo perfetto in tutte le stagioni per rilassarsi e godere come abbiamo fatto noi della natura.
Marco
2016-03-31T00:00:00Z
ประเภทห้อง
บ้าน/อพาร์ทเมนท์ทั้งหลัง
---
ประเภทที่พัก
บ้าน
---
พักได้
4
---
ห้องนอน
rieti, Lazio, อิตาลี
Comoda residenza con vista sul Lago del Salto situata al centro del paese di Borgo San Pietro a 600 Mt. slm, località che offre innumerevoli attrazioni e percorsi naturalistici soprattutto per gli amanti della natura e degli sport all'aria aperta
La casa è spaziosa molto ariosa e dalle camere da letto c'è una suggestiva veduta del Lago del Salto. Immersa nella tranquillità del paese di Borgo San Pietro ma a due passi dal bar, dall'alimentari e a 5 min. a piedi dalle rive del lago, è una location strategica per chi ama la natura, gli sport all'aria aperta e soprattutto passare qualche giorno di tranquillità lontano dal caos cittadino.
Il paese è estremamente tranquillo ma con servizi di prima necessità a portata di amno: bar, alimentari, ufficio postale, chiesa, ristoranti..
The host canceled this reservation 8 days before arrival. This is an automated posting.
Giusy
2015-05-29T00:00:00Z
Tutto bene, casa calda, confortevole e atmosfera tranquilla.
Alex
2015-10-12T00:00:00Z
Fabiola was there to meet us at the peaceful village and guided us to the site. She showed us around the house: how heating worked (pretty quickly), extra blankets, towels, pans, mineral water... The bathroom was well equipped with shampoo and soaps. We cooked a lot (big gas stove) and were lucky enough to bring our own salt because there was only sugar. There were no cutting board, chef's knife, spices or cooking oil. But it's okay to get a bit creative. The shop was near. We didn't try the restaurants. The surroundings of Relax sul Lago del Salto were really beautiful and there were some campers by the lake even though it was off season in early December. It felt like a vacation on someone's once loved fancy cottage. Stars: Interaction with host after payment and before arrival * interaction on arrival ***, surroundings *****, amenities ***, site as described ****, tidiness ***, atmosphere ****
Liisa
2015-12-15T00:00:00Z
ประเภทห้อง
บ้าน/อพาร์ทเมนท์ทั้งหลัง
---
ประเภทที่พัก
บ้าน
---
พักได้
4
---
ห้องนอน
Borgo San Pietro, Lazio, อิตาลี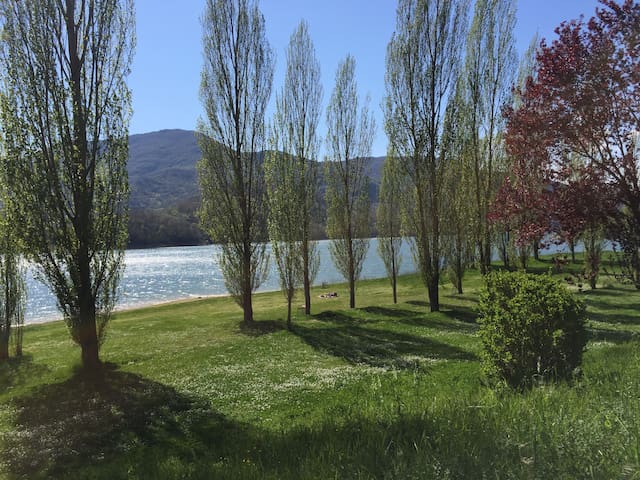 Ours is a convenient and comfortable family-run accomodation, furnished with all the services. We are placed Fiumata in the hamlet of Petrella Salto in Rieti on the Salto lake bank. Tucked away, we are surrounded by mountains populated by ancient chestnut and oak woods. Our facility is designed for those who want to enjoy the calm and tranquility of the place while visiting the natural beauty of the Valle del Salto Cicolano. check the site: (URL HIDDEN)
The house is situated in Fiumata village. It has all the comforts: little garden, terrace/solarium, barbecue and fully furnished kitchen. My family is native from the area. Depending on the season, we carry many recreational activities including the collection of mushrooms and chestnuts, fishing, mountain biking, boating and Stand Up Paddle (SUP). On request we organize trips and excursions in Cicolano region.
ประเภทห้อง
บ้าน/อพาร์ทเมนท์ทั้งหลัง
---
ประเภทที่พัก
บ้านพักตากอากาศ
---
พักได้
4
---
ห้องนอน
Fiumata, Lazio, อิตาลี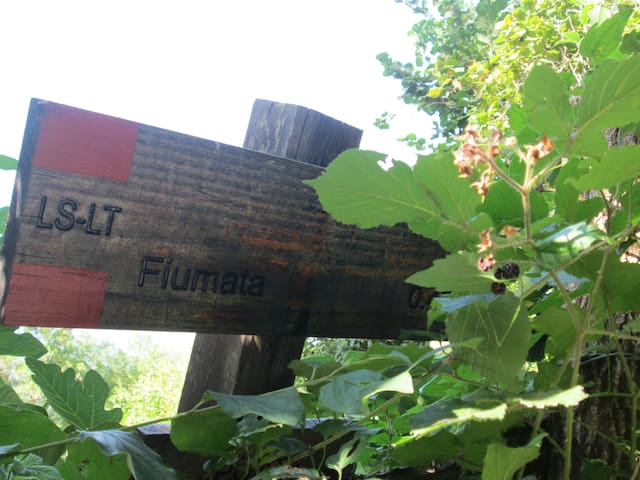 Этот маленький дом находится в маленькой деревушке недалеко от Фьяминьянно. это крутой побег из города летом и уютно весной и осенью. Наслаждайтесь прекрасными продуктами Лацио в местных ресторанах и мирной жизни деревни. Идеально подходит для пары.
Мой маленький дом со вкусом оформлен полностью оборудован новой кухней и ванной комнатой. Терраса выходит на главный вход в тихом городке так весело смотреть, кто приходит и уходит. Панорамный вид из города являются захватывающими. Далее вверх по дороге только пастбища для коров и овец. Лучший рикотта я когда-либо пробовал производятся каждый день по местному пастуху и доступен для покупки. Вы также можете увидеть, как это делается, если интересно.
Крошечная маленькая деревня. Шумные с Римляне ищет беглеца тепла в июле и августе, но тихой все остальное время (за исключением праздников, как Пасха, Рождество и Новый год).
ประเภทห้อง
บ้าน/อพาร์ทเมนท์ทั้งหลัง
---
ประเภทที่พัก
บ้าน
---
พักได้
3
---
ห้องนอน
Brusciano, Lazio, อิตาลี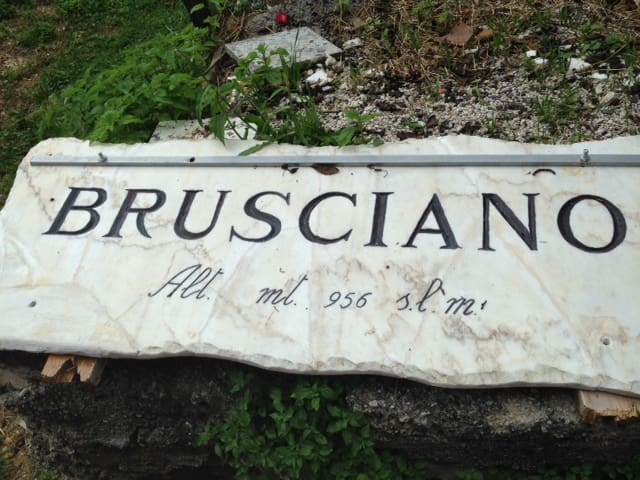 Lovely and romantic full furnished cottage located in the centre of Roccaranieri, a medieval village within Rieti's province.
Lovely cottage located in the centre of Roccaranieri, a medieval village within Rieti's province. Standing at 700 metres above sea level, Roccaranieri overlooks the Cicolano valley and offer a very nice view of Terminillo. "The Little House of Love" is a perfect location for those who would want to spent a very romantic and relaxing holiday far away from city stress, for those who love walking and horse riding through gorgeous woods of Natural reserves as Monte Cervia e Navegna or Duchessa mountains, for all those who are interested in doing lake and river activities (Lake Turano and Lake Salto). Roccaranieri is also perfect for those who would like to live the folkloristic life style of italian villages during religious celebration, festivities and sagre. In August and during the sagra of Roccaranieri is also possible to taste some of the most traditional dishes in the suggestive context of the ancient village, among the alleys of the stronghold.
Per chi ama scalare a Grotti, quest'appartamento è fantastico come posizione! L'appartamento è accogliente e Michela disponibilissima!
Martina
2016-12-10T00:00:00Z
Ho comprato con qualche titubanza ma arrivati a roccaranieri abbiamo apprezzato la bellezza antica del paese e quella moderna della casa, ben arredate e con tutti i comfort, abbellita dall'estro artistico di Michela con oggetti graziosi e simbolici che sottolineano il titolo della casa. Molto carine le lenzuola coi cuoricini e i gufetti innamorati. Senz'altro torneremo per un periodo più lungo di relax nel gran silenzio. Un grazie anche al papà di Michela.
corrado
2016-01-10T00:00:00Z
It is a lovely appartment on the hills of an ancient village. It was really clean and she even provided us with things for breakfast. It was easy to find and her dad was there to welcome us. The neighbours are also very friendly. We felt like Italian inhabitants for one day :-)
Freya
2016-08-03T00:00:00Z
Lovely little apartment in a very peaceful location! All necessities provided, super clean and Michela's dad was waiting for us with the keys when we arrived. To repeat!
Lucy
2016-06-04T00:00:00Z
Casa molto carina ed accogliente, siamo stati bene.
Fabio
2016-02-01T00:00:00Z
Siamo stati in questa casa per due settimane, e l'accoglienza è stata ottima: il sig. Gianfranco, il padre di Michela, ci ha accolto al nostro arrivo e ci ha fatto trovare tutto quello che poteva servirci per l'inizio del nostro soggiorno (molto gradito il vino di sua produzione, nonché le uova fresche e la passata di pomodoro fatta in casa). La nostra permanenza si è svolta senza alcun problema, a Roccaranieri d'estate si sta benissimo, c'è fresco anche di giorno e di notte si dorme di gusto, visto il silenzio del paese. Una nota positiva sono anche gli abitanti, tutti molto gentili e cordiali, insomma ci siamo sentiti a casa. Nell'abitazione c'è tutto ciò che può servire, io in particolare ho avuto bisogno del wifi per lavoro, e l'ho molto apprezzato. Molto belli anche i dintorni, in particolare Longone Sabino e l'Abbazia di San Salvatore. Torneremo senz'altro, e lo consigliamo a tutti.
Marcello
2016-08-22T00:00:00Z
Nous sommes arrivés tard et on nous a accueilli chaleureusement malgré tout, le village est joli, les alentours sont magnifiques avec des lacs superbes, beaucoup de choses à visiter aux alentours, parfait !!!
Delmet
2016-07-13T00:00:00Z
Lovely little apartment perched on the top of the mountains. Great for a cosy romantic getaway. We had our little boy with us (1.5 year old) and was great too. Loved the stove added to the atmosphere. Fantastic views and really beautiful places to visit. The house was very nicely presented and clean.
Alan
2016-06-08T00:00:00Z
ประเภทห้อง
บ้าน/อพาร์ทเมนท์ทั้งหลัง
---
ประเภทที่พัก
บ้าน
---
พักได้
4
---
ห้องนอน
Roccaranieri, Lazio, อิตาลี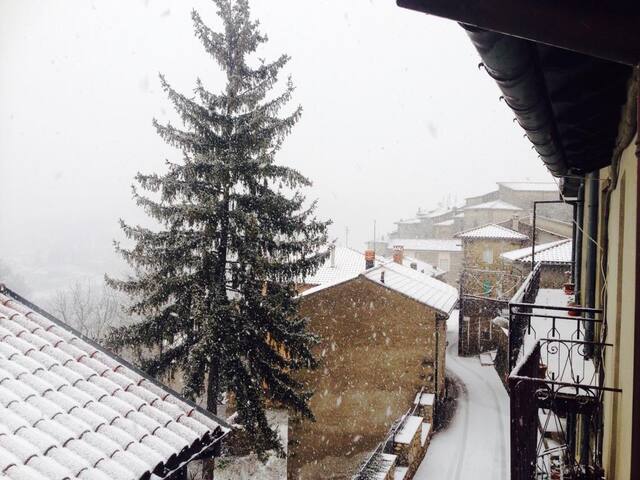 The house, just minutes from the lake, is surrounded by forests with a fantastic mountain panorama.
Questa è la mia prima recensione e la scrivo volentieri. È anche la prima volta che affitto una casa vacanza: io e la mia famiglia siamo rimasti pienamente soddisfatti. Paesaggio incantevole con alberi quasi fin sotto le finestre e splendidi castagni intorno. L'immobile era pulitissimo e in buono stato. Pierfrancesco è stato puntulale, gentilissimo e disponibile, lo consiglio a tutti quelli che amano la natura, gli animali e la tranquillità
Nixcar
2015-09-01T00:00:00Z
ประเภทห้อง
บ้าน/อพาร์ทเมนท์ทั้งหลัง
---
ประเภทที่พัก
บ้าน
---
พักได้
3
---
ห้องนอน
Pace, Lazio, อิตาลี
In the hidden gem of Gran Sasso Park, Rocca Calascio, an absolutely unique place to enjoy history and nature. At the foot of the fortress,surrounded by stunning views of the mountains,the valley and the castle itself, a charming house from the XIII century renovated in perfect harmony with the style of the ancient village.Double room, private bathroom, kitchen with dining (URL HIDDEN) garden, solarium area, direct access to the castle. A must see.
ประเภทห้อง
บ้าน/อพาร์ทเมนท์ทั้งหลัง
---
ประเภทที่พัก
บ้าน
---
พักได้
4
---
ห้องนอน
Calascio, Abruzzo, อิตาลี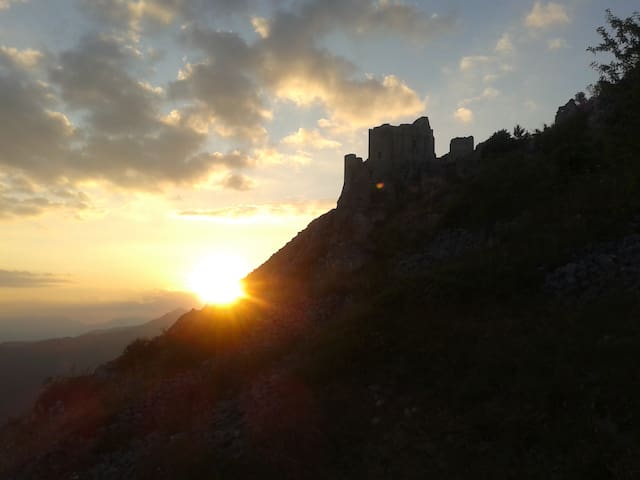 Immersed in the nature reserve Navegna and Cervia have 10 independent apartments; facing the lake, living room with fireplace and kitchenette, spacious bathroom and double bedroom, garden, parking and barbecue ideal for relaxing moments.
Apartments detached stone on two levels, easily accessible access from street level, living room with sofa bed, fireplace, kitchenette and large bathroom; first floor with double bed and single bed for a total of five beds; adjoining garden equipped with games for children, barbecue and free parking. Thermo autonomous apartments with heat pumps, furnished in every environment and provided with crockery and provisions. Heating and cleaning included in the price, cost for use of the fireplace including wood supply excluded.
Un posto tranquillo e rilassante con una vista lago bellissima, da migliorare l'area dedicata alla piscina. Gli appartamentini sono freschi e confortevoli, x il resto tutto bene, lo consiglio come luogo di vacanze per l'intera famiglia o semplicemente per un weekend di relax a pochi passi da Roma
Anna
2016-08-19T00:00:00Z
Tutto ok
fabio
2017-04-02T00:00:00Z
panorama stupendo, posto accogliente e pulito.
Anita
2016-11-20T00:00:00Z
Joli appartement situé dans un cadre magnifique. Les hôtes se sont montrés réactifs et disponibles. Parfait pour une escapade au calme.
Marie
2016-05-29T00:00:00Z
Mi dispiace solo di aver soggiornato così poco tempo. Il posto è un piccolo angolo di paradiso, diventerà il mio luogo di fuga dalla città. Gli appartamenti sono davvero molto graziosi e a disposizione c'è tutto quello che serve. La vista è fantastica così come lo spazio verde che circonda l'agriturismo. Ci tornerò e ne parlerò sul mio travel blog (URL HIDDEN) Consigliatissimo!
sabina
2016-08-22T00:00:00Z
Lovely location and room !! Thank you . Better directions would help though :)
Gerald
2016-08-30T00:00:00Z
Ottima accoglienza, posizione incredibile :) con affaccio direttamente sul lago del turano e Monte Antuni. L'appartamento ha tutto quello che serve per dei giorni di relax immersi nella natura.
Giovanni
2016-06-06T00:00:00Z
ประเภทห้อง
บ้าน/อพาร์ทเมนท์ทั้งหลัง
---
ประเภทที่พัก
อพาร์ทเมนท์
---
พักได้
5
---
ห้องนอน
Castel di Tora, Lazio, อิตาลี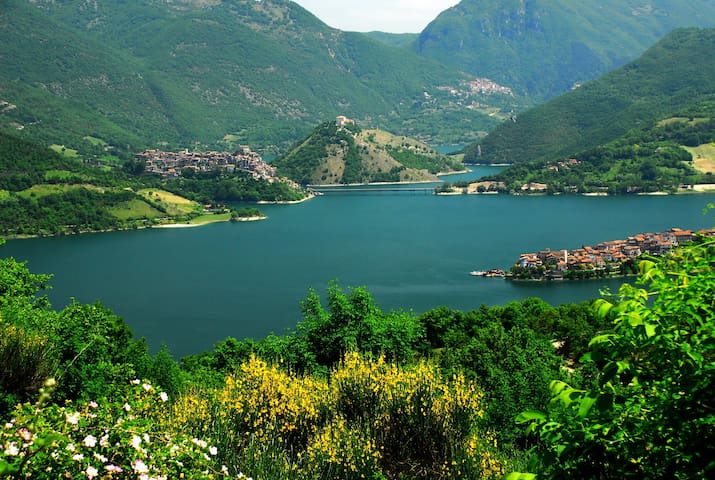 Den Casale er på to etager og består i stueetagen af en luftig stue med en gammel pejs og med en dobbelt vindue til panoramisk have, et fuldt møbleret køkken med spiseplads og et badeværelse med bruser.
Set på bredden af de unikke bakker mellem Rocca Sinibalda og Turano sø i den sydlige del af provinsen Rieti, også kendt som Sabina, som de gamle romere arvet fra sabina mennesker, der først bosatte der. Strukturen går tilbage to århundreder siden, men blev for nylig fuldstændig restaureret og udstyret med vælge designer og inventar til de standarder for landet levende. Den Casale er på to etager og består i stueetagen af en luftig stue med en gammel firplace og med en dobbelt vindue til panoramisk have, et fuldt møbleret køkken med spiseplads og et badeværelse med bruser. På første sal er der tre panorama soveværelser: et stort soveværelse (ca. 30 kvm) med højt til loftet med træbjælker med en dobbeltseng, et andet soveværelse med en dobbeltseng, et stort firedobbelt soveværelse (ca. 30 kvm) med højt til loftet med træbjælker og med en dobbeltseng og en opholdsstue med en dobbelt sovesofa og et badeværelse med bruser. Huset har udsigt til imponerende Sabina dalen og private olivenlund på to tønder land. Det omkringliggende landskab er blød og skrånende, indeholdt af skovklædte skrænt og byen Rocca Sinibalda. Bag huset er der en swimmingpool til badning i de varmeste timer og selvfølgelig er der de udendørs indretning med sofaer, liggestole, spisebord og stole Ejendommen er indhegnet og helt privat, inden for få minutter af byen Rocca Sinibalda, kendt for sin berømte slot.
En smuk rolige og turistet område af Italien, kun et stenkast fra Rom. Sabinas landskab er et tæppe af olivenlunde, vinmarker og gamle bjerglandsbyer, rig på middelalderlig arkitektur og tradition. Der er så meget at gøre i Sabina: trek på tværs panoramiske bjerge, klare vandløb og maleriske olivenlunde, se middelalderlige borge, fantastiske bakketop landsbyer og gamle klostre. Prøve den verdenskendte Sabina olivenolie og lokale vine og tage del i Sabina madlavningskurser, hvor du kan opdage hemmelighederne af lokale køkken for dig selv. Slap af i det fantastiske Sabina landskab - gåture, cykling, eller hvis du ønsker, selv af hesten. Sabina er meget bekvemt placeret omkring en time fra Rom, med tog fra byen eller i bil, enten fra Rom eller fra Roms to største lufthavne - Ciampino eller Fiumicino. Det Sabina-området ligger på den nordøstlige del af Rom.
Fantastic location, absolute quietude! Fits perfectly 4-6 people. Boris is a fine host, always available for help and advice.
Ortwin
2016-07-17T00:00:00Z
We voelden ons heel erg welkom! Boris gaf duidelijk aan ook op het moment waar we moesten zijn, en heeft ons naar het huis geleid. bij aankomst was hij erg vriendelijk en heeft hij voor ons gekookt.
Marije
2015-08-13T00:00:00Z
Stayed at this fantastic house for 8 days. Loved the scenary, the pool and the garden. A lot of space indoor. In front of the house there was a nice table for dining. In the back, a large pool with sun beds. Gras for the kids to play on. A pergola to enjoy when it got to hot during the day! Our host made us feel like home and was very helpful if we had any queistions. Me and my family hope to come back again next year! Frida
Frida
2015-07-20T00:00:00Z
ประเภทห้อง
บ้าน/อพาร์ทเมนท์ทั้งหลัง
---
ประเภทที่พัก
วิลล่า
---
พักได้
8
---
ห้องนอน
rocca sinibalda , rieti, อิตาลี
Apartamento construido en el antiguo castillo, en un pueblo encantador rico en leyendas e historias de bandoleros, en el verde prístino del centro italiano a una altitud de 800 mt / lm. Consta de 2 dormitorios, sala de estar, pasillo, baño, cocina. El edificio está equipado con cocina, nevera, televisión, internet wi-fi, ropa de cama, toallas, secador de pelo, baño, amplio jardín con barbacoa, aparcamiento (no vigilado)
El apartamento está en una casa antigua en el centro histórico, junto a la iglesia del pueblo de Poggio di San Giovanni Pescorocchiano: un pueblo encantador en el Valle del Salto Ciudad de absoluta tranquilidad inmerso en el verde intenso de los bosques de roble y castaño que siglos dominan los Apeninos entre Lazio y l '(email hidden) del encantador lago de Salto, spas Cotilia con las famosas aguas sulfurosas, cueva Valle Dè Varri, Dawn Fucens antigua ciudad romana
Siamo stati nell'appartamento del signor Luigi nel ponte del 25 aprile. L'appartamento é ben arredato e spazioso, siamo stati bene se non fosse per la mancanza di riscaldamenti. In quei giorni la temperatura é scesa a 8 gradi, il signor Luigi ci ha offerto di andare in un altro suo appartamento dotato di riscaldamento ma avendo pagato per quello descritto qui su air b&b abbiamo rifiutato accontentandoci dunque di uno scaldino. La casa é un po' buia, non ce lo aspettavano perché nella descrizione dell' appartamento c'é la foto di una camera da letto immersa nella luce ma in realtà é stata scattata aprendo una porta che abbiamo trovato chiusa a chiave senza possibilità di aprirla. La cucina é dotata di tutto ma ci sono delle piastre elettriche poco efficienti con cui é difficile far bollire l'acqua della pasta. Tutto sommato il signor Luigi é stato disponibile, non l'abbiamo mai conosciuto ma ha fatto si che ci accogliesse la simpatica e gentile signora Liuda. Avevamo bisogno di un posto tranquillo (con il wifi) dove studiare e ci siamo riusciti. Tornando a Roma con il raffreddore, ma ci siamo riusciti.
lorenzo
2016-04-26T00:00:00Z
We had a pleasant warm welcome by Luigi and his wife, they gave us some folders and tips for things to do. The house is traditional, big and clean. It's about a 20 minute drive from Lago de Salto which is a beautiful lake with panoramic views.
Rick
2015-08-30T00:00:00Z
The house was wonderful, in the old historical village. We had a very nice time. The valley is really beautiful to walk around in. And do try the sausages at the local butcher. Thanks Luigi!!
Merijn
2015-10-01T00:00:00Z
Key collection and drop off was easy and as described by the host Luigi. The house was easy to get to (and no meandering through streets getting lost). The house was comfortable (cool) for the time of year. The village was nice and quiet so it was the perfect place to retire after the festival we came to attend. All in all great value and nice place.
Brianna
2015-06-07T00:00:00Z
Abbiamo passato 4 giorni splendidi a Poggio San Giovanni. La casa è come descritta e molto tranquilla. Ci sono moltissime possibilità di belle escursioni nelle vicinanze e il paesaggio è sempre diverso. Luigi è un ottimo comunicatore e il check in è stato facile. Da raccomandare per un soggiorno all'insegna della tranquillità e della natura.
Joanna
2015-10-05T00:00:00Z
We were very pleased. If you're after parties, this place is hardly the right thing. If you love to live in the mountains, surrounded by nice people, take time to hike and think, this is definitely a place I recommend. My wife and I had 5 weeks time and wanted to take a creative break. It was a great success. Nevertheless, Rome and Pescara can both be reached in less than two hours. In 40 minutes you are in a small but nice town "Rieti", where you eat beside the geografical middle of Italy. But the real impressive stuff is in the mountains. Campo Imperatore, "Little Tibet" is a must see, as well as all the national parks close to this place.
Juerg
2014-08-05T00:00:00Z
Lovely place in an ancient village in the mountains, and we got a very warm welcome from the friendly hosts! Romantisch appartement in een idyllisch bergdorpje, met hele gastvrije mensen. Echt een aanrader! Appartamento incantevole in un antico borgo, con persone molto ospitali! Fortemente consigliato.
Melvin
2014-08-25T00:00:00Z
Schlüsselübergabe trotz Anreise um Mitternacht problemlos, Blumen auf dem Tisch, steter und direkter Kontakt/ Hilfestellung per email, Wohnung exakt wie auf den Fotos. Vielen, herzlichen Dank Luigi! Wir hatten eine tolle Zeit in den Abruzzen!
Nicole
2016-05-15T00:00:00Z
ประเภทห้อง
บ้าน/อพาร์ทเมนท์ทั้งหลัง
---
ประเภทที่พัก
บ้าน
---
พักได้
5
---
ห้องนอน
Poggio San Giovanni di Pescorocchiano, Lazio, อิตาลี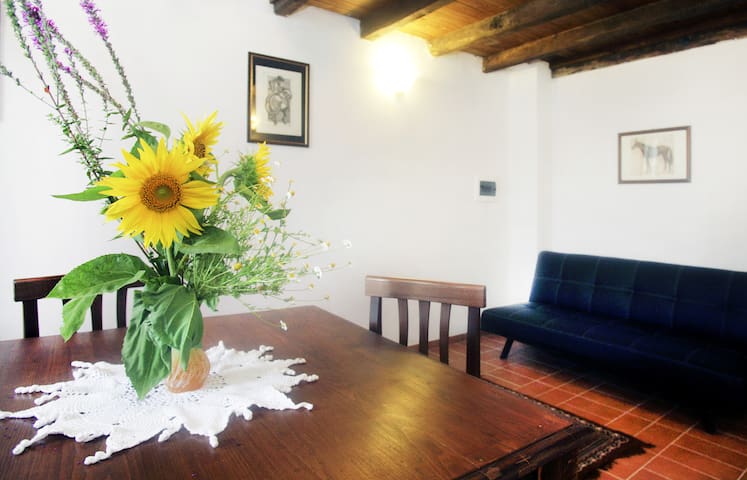 Il mio agriturismo è circondato da splendide viste panoramiche. Ti piacerà soprattutto per questi motivi: l'intimità, la cucina, la luce ed in particolare la natura. Il mio alloggio è adatto a coppie, famiglie (con bambini) e amici pelosi (animali domestici).
ประเภทห้อง
ห้องส่วนตัว
---
ประเภทที่พัก
ที่พักพร้อมอาหารเช้า
---
พักได้
12
---
ห้องนอน
Fassinoro, Lazio, อิตาลี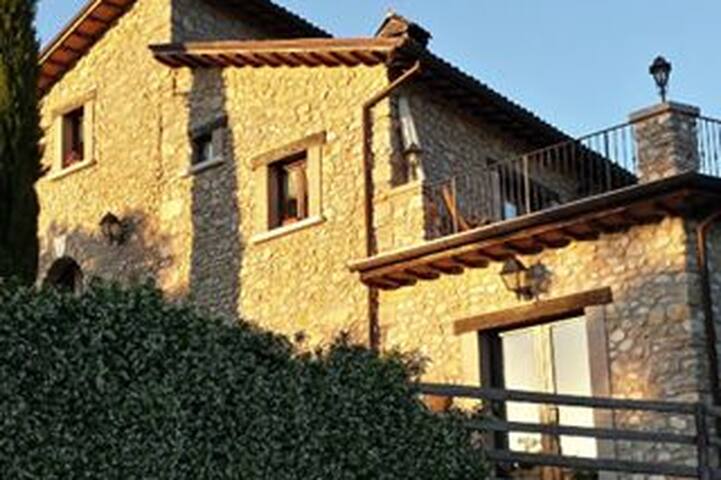 The Green Room is located in a residence that is the beginning of a small village in the countryside at the foot of Monte Fratta, near transit routes of hiking trails on foot or by bike. The European path E1 also have the cave of the Knight (please visit (URL HIDDEN) in the village we have the S. Vittorino church. Shared bathroom in case there were to be guests in the Purple Room (info at 'Host)
ประเภทห้อง
ห้องส่วนตัว
---
ประเภทที่พัก
บ้าน
---
พักได้
2
---
ห้องนอน
Pescorocchiano, Lazio, อิตาลี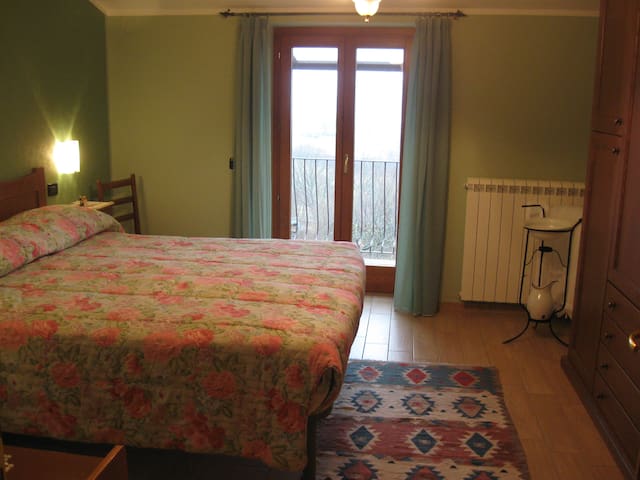 Ti piacerà il mio alloggio per questi motivi: i panorami, l'atmosfera e la posizione. Il mio alloggio è adatto a coppie.
ประเภทห้อง
บ้าน/อพาร์ทเมนท์ทั้งหลัง
---
ประเภทที่พัก
วิลล่า
---
พักได้
4
---
ห้องนอน
Colle di Tora, Lazio, อิตาลี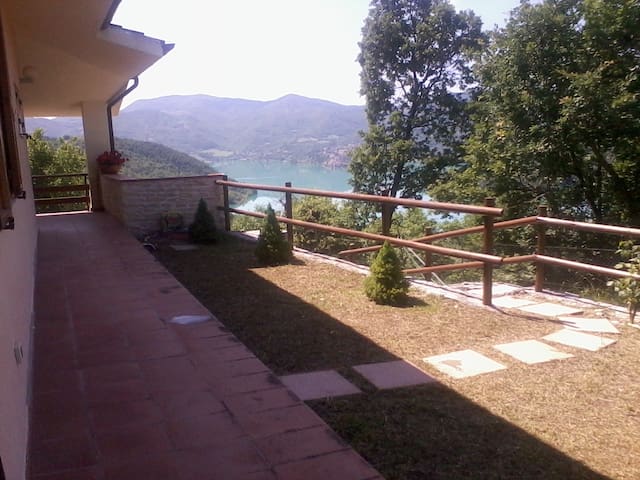 The room is located on the ground floor of a pretty house that is in the small village of San't Elpidio, away from city chaos and surrounded by nature, a few kilometers from Lake Salto and from the ski resort of Campo Felice, and Campo Imperatore Terminillo . The house is located in the town surrounded by forests suitable for long walks and bike tours. The room is served by private bathroom on the floor.
ประเภทห้อง
ห้องส่วนตัว
---
ประเภทที่พัก
บ้าน
---
พักได้
2
---
ห้องนอน
Pescorocchiano, Lazio, อิตาลี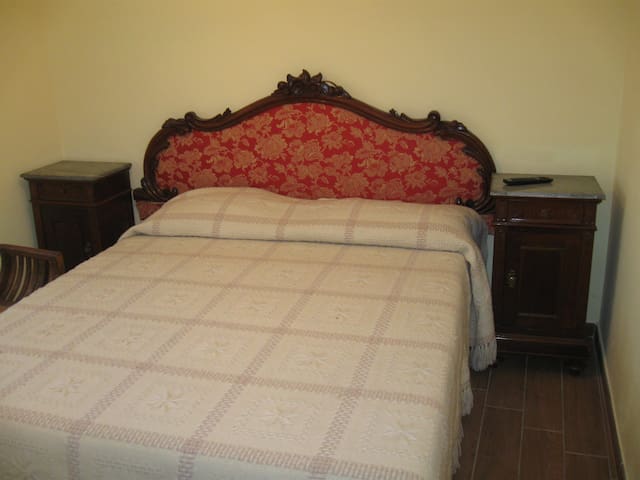 Apartment in the city center on the main street with separate entrance, living room, kitchen, bedroom, bedroom and bathroom. Completely renovated in compliance with local regulations.
L'host è molto cordiale e disponibile. L'abitazione molto carina e funzionale, in posizione strategica al centro del paese.
Renata
2016-07-05T00:00:00Z
The host could not have been more helpful and the location is stunning!
Sophie
2016-06-09T00:00:00Z
Posto incantevole, appartamento confortevole con tutto il necessario nel centro del paese di Castel di Tora.
Emiliano
2016-06-06T00:00:00Z
Unique place - it is authentic rooms in medieval old town. Almost no tourists. The flat is not as shiny as in a 5 star hotel, but the feeling to live in such a place is countervailing.
Tomas
2016-06-19T00:00:00Z
Il luogo è veramente carino e bellissime le risorse naturali. La casa è minimale e purtroppo mancante di molte cose di prima (URL HIDDEN) si vuole usare la cucina bisogna portarsi anche le posate da casa. Vanno migliorate anche la pulizia e decisamente l'accoglienza.
Monica Aitanga
2016-09-19T00:00:00Z
Castle di Tora is a quiet, beautiful village, with nice people. We don't speak Italian, and most villagers don't speak English, but we felt welcome, and everybody smiled and said 'ciao'. Our 2 kids (6 and 8 years) went to the shop on their own in the morning to buy 'pane' (bread), and we went to the lake each day to take a swim. Enrico is a super nice host, he did everything to make us feel comfortable. He gave us a lift from the airport to the house, and made sure we could get back to Rome. Language was a little problem, but (SENSITIVE CONTENTS HIDDEN) translate was our friend. The house was perfect for the four of us, but I think it's a little small for 6 persons. It was clean, we could cook and wash our clothes, everything we needed. Castel di Tora is the perfect place to escape from our hectic life and take it slow.
Marieke
2016-08-01T00:00:00Z
Ottima casa e posizione centralissimo. Non badate a recensioni precedenti, la casa è provvista di tutto (posate comprese)!
Luca
2016-10-02T00:00:00Z
ประเภทห้อง
บ้าน/อพาร์ทเมนท์ทั้งหลัง
---
ประเภทที่พัก
อพาร์ทเมนท์
---
พักได้
4
---
ห้องนอน
Castel Di Tora, Rieti, อิตาลี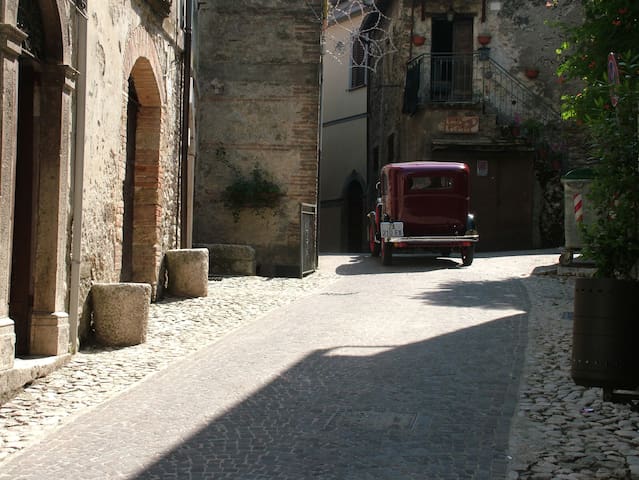 Located 70 km east of Rome, the Castle of Rocca Sinibalda is one of the most fascinating Italian castles. Listed as a National Monument, it has been standing since the 1Oth century on a spur of rock overhanging the Turano Valley. It offers magnificent private rooms and gorgeous internal and external common spaces.
Durante la permanenza sarà possibile ascoltare concerti, conversare con artisti che nel Castello lavorano e trovano ispirazione, scoprire a piedi, in bicicletta o a cavallo il Cammino di San Benedetto, con bellissime chiese medievali e parchi naturalistici.
ประเภทห้อง
ห้องส่วนตัว
---
ประเภทที่พัก
ปราสาท
---
พักได้
4
---
ห้องนอน
Rocca Sinibalda, Lazio, อิตาลี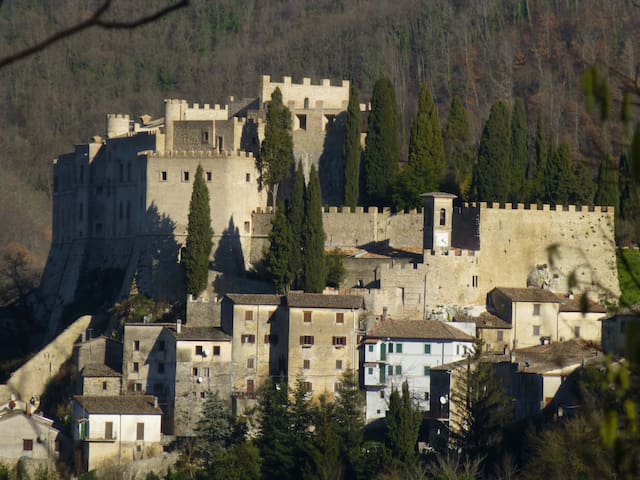 Привет, ребята, если вы хотите отдохнуть, вы нашли правильное место! Пожалуйста, оставайтесь в каменном доме в деревне на берегу озера, и вы будете наслаждаться озеро (рыбалка, плавание, весло, парусное ..), горы (походы, грибы, каштаны ..), органическую еду, камин и многое другое ...;)! Все новое, полностью восстановлено ON 2017 года!
Средневековые замки, деревни, трекинг, оливковое масло, Трюфели, каштан, езда на велосипеде, походы, рыбалка, парусный спорт, плавание и многое другое ...
This place is gorgeous! As our first Air BNB experience, it could not have been more perfect. From our pickup at the airport, the scenic view we had outside our window, culture of Castle Di Tores, food/ restaurants in the village, to the people we spent time with were all beautiful! Paulo and Melina gave us an experience that we could not have received otherwise. The accommodations were great! Clean house with everything we needed. Our host we're so gracious and always around to help with recommendations and transportation. They treated us like family and made us feel right at home. We are forever grateful for the hospitality Paulo and Melina showed us during our first stay in Italy! We highly recommend this place, along with the other Air BNB homes Paulo and Melina offer!!!!
Becca
2017-03-27T00:00:00Z
panorama SUPER, casa appena ristrutturata ed accessoriata (anche caffe' e WiFi gratis;), padroni di casa gentili e disponibili e grazie ai quali abbiamo fatto delle escursioni magnifiche. torneremo in estate per sfruttare il lago! ciao!
Meli
2017-03-30T00:00:00Z
Authentic Italian home in a traditional town. Lovely view out the front door and bedroom balcony where we had breakfast and coffee. Well equipped kitchen. The apartment stays cool during the heat, we were there in the middle of summer and coped ok without air conditioning. We were able to have a late check in (for a fee) which was appreciated. The apartment is on a very steep street, my husband dropped me up in the car each day! But that is how you get the good views and is very typical of the area. Free parking is down the hill. The town is cobbled and traditional and not at all touristy. There are a a couple of small shops for a few basics, we did a big shop on Rieti for most of our supplies. There are a number of restaurants in this town and the one across the bridge, Colle di Tora. The lake was amazing to swim in each day. This is very much a traditional Italian home which may not suit everyone but we had a lovely time and it was just what we were on the lookout to find.
Steph
2015-08-04T00:00:00Z
We loved our stay in Castel di Tora! Paulo and Melina were fantastic communicators and has us picked up from the airport!! Castel di Tora is a charming village and we spent a relaxing week enjoying the surroundings and eating some great food! The house is lovely and we would stay there again in a heartbeat. Grazie!!
Norah
2013-04-28T00:00:00Z
La casa offerta da Paolo & Melina si trova nella parte vecchia del paese, lungo il perimetro esterno. Facile da raggiungere lasciando la macchina al parcheggio sottostante, si trova vicino alla piazzetta principale e ai negozi di prima necessità che Castel di Tora offre. La vista su parte del lago e sui paesi circostanti è bellissima ed è stato un piacere svegliarsi ed iniziare la giornata ammirando il panorama. Paolo e Melina inoltre sono pieni di iniziativa e sanno darti le giuste "dritte" per poter godere al meglio di cio' la la zona offre. E' stato un piacere soggiornare nella loro struttura. Consigliatissimo.
Fabio
2015-09-21T00:00:00Z
Paolo and Melina were lovely and really helpful. They picked us up and gave us a tour of the village. The house was great, with everything we needed, in a really beautiful location with some nice cafes and friendly locals. If you want a quiet and relaxing place, this is it!
Beno
2015-05-22T00:00:00Z
Great little house in a beautiful village just above a stupendous lake! We had a great time and surely intend to come back!
Valerie
2016-08-08T00:00:00Z
The house was cleaned and fresh linen and towels provided. Puala was very prompt in communication and he organised a pick up etc through his friends. His friend Davide organised some fabulous hiking expeditions.
Usha
2016-06-18T00:00:00Z
ประเภทห้อง
บ้าน/อพาร์ทเมนท์ทั้งหลัง
---
ประเภทที่พัก
บ้าน
---
พักได้
6
---
ห้องนอน
Castel di Tora, Rieti, Lazio, อิตาลี
Petrella Salto - Airbnb
:
เฉลี่ย

4.33

จาก

5

ดาวจาก

71

รีวิวผู้เข้าพัก
1

–

18

จาก

ที่พัก 62 รายการ
กรอกวันที่เพื่อดูการกำหนดราคาเต็ม มีค่าธรรมเนียมเพิ่มเติม อาจมีภาษีเพิ่ม