Enjoy Athens by staying in a green suburb! This apartment is located in Pendeli, 16 km from down town Athens and in close proximity to a metro station (8 - 10 min by car). The pool and the garden will make you fell that you are in the countryside.
ประเภทห้อง
บ้าน/อพาร์ทเมนท์ทั้งหลัง
---
ประเภทที่พัก
อพาร์ทเมนท์
---
พักได้
4
---
ห้องนอน
Penteli, กรีซ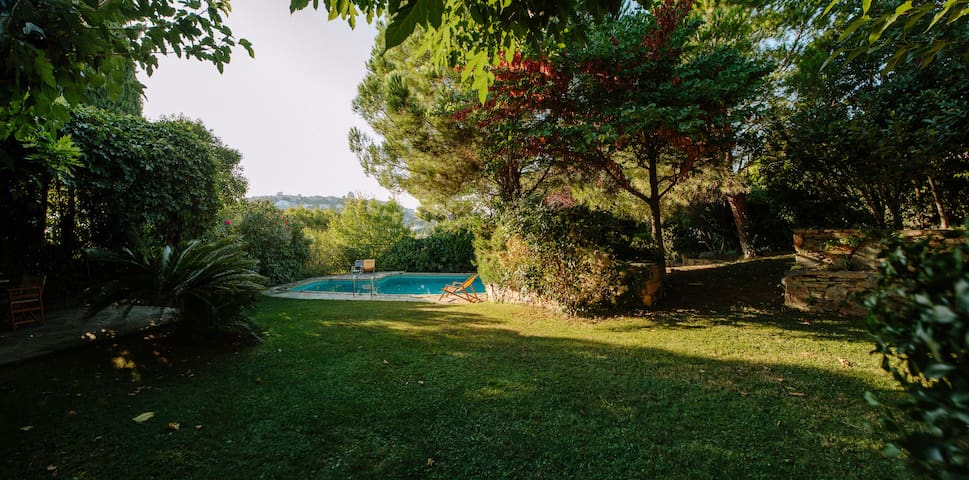 My place is located in Penteli, a lovely northern suburb, on a quiet hill overlooking the city of Athens and on a clear day the port of Piraeus and the Saronic Gulf. It is a well-known historic area with many attractions ranging from Classical times to the Byzantine era. Restaurants and dining are close by as well as public transportation (bus). Excellent for hiking and rock-climbing by the ancient marble quarry.
ประเภทห้อง
ห้องส่วนตัว
---
ประเภทที่พัก
อพาร์ทเมนท์
---
พักได้
2
---
ห้องนอน
Penteli, Attica, กรีซ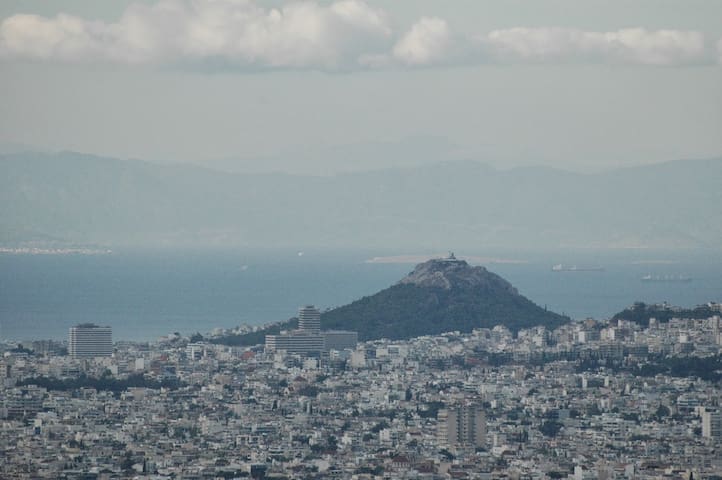 Beautiful and spacious - 1 bedroom - apartment. It offers all the necessary amenities for a pleasant stay in a suburb of Athens, 20 minutes from the center, in a quiet street. Warm and friendly to accommodate 2 people.
放鬆裝飾
科迪,雅典甜美相當郊區。必須做一個,幾個-分鐘步行到森林,當然要漂亮的酒吧均在步行距離的訪問。春季或夏季夜晚只是令人驚訝的一個!
Evelyn was a great host! Very friendly and accommodating. Answered all our questions quickly over email, text, and phone. The room is exactly as described, very clean and stocked with all necessary amenities. The neighbourhood is quiet, calm, and well-positioned for drivers, easy trip to the airport and to the major roads/highways of Athens (plus parking is easily available outside the house).
Chris
2016-03-31T00:00:00Z
The living room is very well, the apartment is a real little cocoon where you feel at either, everything is there and the street is very quiet. When Evelyn, she's great, we were very well received and very well oriented during our stay. It is really great and very kind. I recommend this apartment as much for comfort as for the person who will welcome you.
Mathilde
2016-10-15T00:00:00Z
Η Ευαγγελία ήταν πολύ ευγενικη και επικοινώνησε μαζί μου άμεσα.Το σπίτι ήταν πολυ καθαρό και άνετο παρεχοντας ακριβώς ότι χρειαζόμουν.
Γρηγόρης
2015-05-24T00:00:00Z
Evelyn has created with love and attention to details a beautiful, warm and peaceful place where you feel like home. The apartment has everything you need during your stay, is very clean, situated in a quiet neighborhood, has a fully equipped kitchen and all the amenities as described, also great wifi, and a nice bedroom for a relaxing sleep. I was very lucky to have Evelyn as a host for my first time at an airbnb place and I totally recommend her and her place.
Fotini
2016-05-24T00:00:00Z
The place was as described, and Evelyn was a great host that made me feel very welcomed. She was happy to give me recommendations of what to see; I met her friends (who are great); and her family was very kind. If that wasn't enough, the details that won me over: there was a small unopened toothpaste tube placed by the bathroom sink, Evelyn had stocked my apartments fridge with some simple food and juice, everything was nicely organized right where I would think it should be. I had a great time in Greece. I hope to come back. And I know where I hope to stay next time.
Audrow
2015-07-21T00:00:00Z
We had a great time staying at Evelyn's. The apartment is in a nice, quiet neighbourhood and has everything you'll need inside. Evelyn herself was extremely welcoming, helpful and flexible. The perfect host. We'd definitely stay with her again and would recommend the place to other travellers.
Christopher
2015-06-03T00:00:00Z
Evelyn was awesome and super accommodating. She maintained excellent communication throughout our stay and was a doll when it came to extending our stay last minute. The apartment is in a decent neighborhood, that is approximately 10 minutes walking to the bus stop. Evelyn is really sweet & I'd totally recommend her to anyone wanting to travel to Athens.
Ashley
2015-09-27T00:00:00Z
Evelyn is a great host! She was really accommodating and gave us all due privacy and any information we needed! The apartment is cozy, convenient and near many shops and big supermarkets.
Andriana
2014-09-23T00:00:00Z
ประเภทห้อง
บ้าน/อพาร์ทเมนท์ทั้งหลัง
---
ประเภทที่พัก
อพาร์ทเมนท์
---
พักได้
2
---
ห้องนอน
Lykovrysi, Attica, กรีซ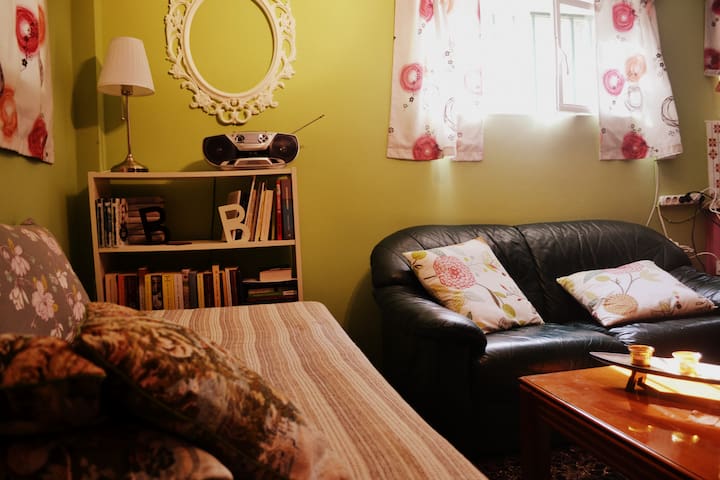 The flat is situated 1 minute walk from the train station. The train takes you in 25 mins to the center of Athens where all the historical monuments are.It is the easiest and cheapest way to go to the center of Athens (costs 1,40 euros for a ticket lasting 1,5 hour). Easy arrival to the flat from the airport in 20 mins. The flat is also situated about 40 mins drive from a beach. Around the flat you can find everything you might need. Stores, restaurants, cafes, grocery stores, banks, cinemas,etc
A new, comfy and very nicely decorated flat, situated in the very center of Maroussi, a beautiful northern suburb of Athens, only 1 min away from the train and 25 mins to Athens center, also the arrival from the airport is very easy. Next to everything you might need. One bedroom flat with a double bed and a big comfy sofa-bed in the living room . Small kitchen fully equipped. The flat is ideal for: families, couples, professionals, friends. Pets are welcome.
Maroussi is a northern suburb of Athens with a lot of green. The flat is situated in the very center of Maroussi. Around the flat, in less than five mins walking, you can find everything you might need: retsaurants, souvlaki places, cafes,banks, super markets, shops, etc
Cute little place, very well located close to amenities and public transport.
Diagoras
2017-03-15T00:00:00Z
Πολύ κεντρικό . Καθαρό . Πολύ καλή οικοδέσποινα . Το συνιστώ σε όλους
Panagiotis
2017-02-24T00:00:00Z
ήρεμη και ευχάριστη διαμονή, 3 λεπτά από την πλατεία και τον ηλεκτρικό, όμορφο και ανετο σαλόνι!
Mandy
2017-03-13T00:00:00Z
Olga is friendly and open-minded person and she is ready to help you whenever you have asked any questions. The room is enough to share to just 3 people and so it is really close to metro station which can be accessible to all parts of Athens.
Khin Swe
2016-09-21T00:00:00Z
The apartment is easy to find, we drove and it wasn't too far off the highway. There is plenty of free street parking outside. It is very close to many restaurants, shops, and of course the metro. To get to the airport is easy too, take the metro one stop and then take the train directly to the airport. The apartment is clean and very spacious for two people and has a great balcony! The neighborhood is very quiet but just a few blocks to all the bars/restaurants. Olga was very helpful and communicative.
Jessica
2016-09-25T00:00:00Z
The apartment was very nice, in an excellent location, with Marousi station literally around the corner. The street of the apartment was very quiet though. Olga was a wonderful host, even had some cold water for us ready in the fridge, as it was a warm summer day.
Katharina
2016-08-22T00:00:00Z
The Place was well organized and Olga place was easily accessible through train or Car. The apartment is super cozy and all the amenities are well defined. We loved our stay there and communicating with the host was superb. The place has a nice neighborhood if explored more, but for a vacation, the place is superb and calm. A bit away from the center, but a totally wonderful place. I will definitely recommend staying there if you want to have a longer stay. Olga is a wonderful host.
Sarosh
2016-09-24T00:00:00Z
Olga has been very flexible and available. Our time of arrival was not set in advance but she was ready for us even if we were late on the planning. The place is really cosy. With a big balcony and a huge sofa. We only stayed 2 nights but we felt like home. And the train station is just beside the flat and direct to the center of Athens. I recommend! And thank you again for everything.
Mary
2016-10-14T00:00:00Z
ประเภทห้อง
บ้าน/อพาร์ทเมนท์ทั้งหลัง
---
ประเภทที่พัก
อพาร์ทเมนท์
---
พักได้
3
---
ห้องนอน
Marousi, Attica, กรีซ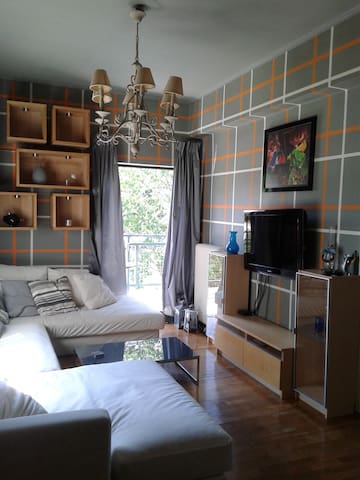 Twenty minutes away from the center by train, from station Neratziotissa. On Neratziotissa station you can find a huge mall and there is also a connection to the suburban railway.
Cute apartment and nice view
Tim
2017-03-14T00:00:00Z
Definitely recommended. Great host.
Chris
2017-01-22T00:00:00Z
Everything was as it should. Cute and quiet place with nice view. It has everything you need in the area. (food,super market etc). I will visit again soon.
Athanasios
2017-04-04T00:00:00Z
Small place nice view needs some renovation on the appliances
Christina
2017-01-12T00:00:00Z
It was very nice stay
Panagiotis
2017-03-21T00:00:00Z
Συμπαθητικό δώμα με ωραία θέα σε μια όμορφη (αλλά και κεντρική) γειτονιά του Αμαρουσίου. Αξίζει επιπλέον αν έχεις κάποια δουλειά ή φίλους στην περιοχή. Ο εξοπλισμός του είναι ο απόλυτα βασικός, τίποτε περισσότερο.
Theodoros
2017-03-18T00:00:00Z
ประเภทห้อง
บ้าน/อพาร์ทเมนท์ทั้งหลัง
---
ประเภทที่พัก
อพาร์ทเมนท์
---
พักได้
2
---
ห้องนอน
Marousi, กรีซ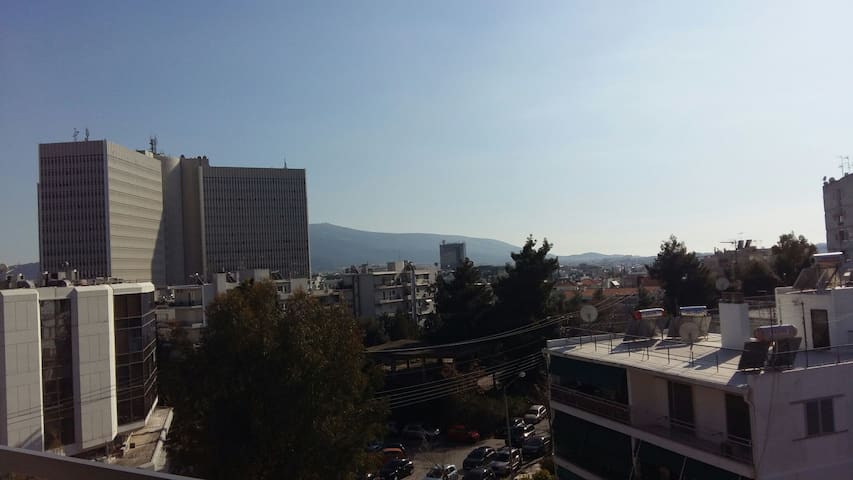 Sunny and modern - my apartment will truly make you feel at home with its carefully decorated cozy corners highlighted with tasteful details. You'll be delighted by the quiet and green area of Marousi and by the easy access to all means of transit.
The arrangement of the exclusive furniture coupled with the spatial flow create a sense of inhouse freedom that will give you a peaceful easy feeling. From the library full of books waiting for you to unfold, to the views from amongst the plants on the fourth floor balcony, you will be surrounded by creature comforts. A countertop bar separates the fully equipped kitchen from the dining room, which leads into the living room where one big couch can serve as a comfortable bed for the third guest. In the bedroom there's a luxurious double bed and full in-suite bathroom with a bathtub. There's an air conditioner for the summer season and a heater to warm you during winter in case the central heating is not enough. Most cupboards and drawers are empty, together with two big shelves above the washing machine to fit suitcases, leaving plenty of storage space, even for long term accommodations. Exactly opposite the bedroom there is an extra bathroom with shower. High speed wi-fi connection covers the whole apartment, and there is also free parking on the grounds upon request. The house is situated in a quiet residential neighborhood with a cornermarket, bakery, pharmacy, and other small stores just one or two blocks away. Citrus and olive tree lined streets lead all directions, including a short walk to Alsos Siggrou recreational park with many well developed tracks and small footpaths winding through the vineyard, orchard, meadow, and up & down the hills of the pine forest. This upmarket residential northern borough of Athens is well known for its open air public spaces, its easy access to the city center and all parts of Attica, and its nestled location between the up and coming area of Chalandri and other posh neighborhoods of Kifissia, Erythrea and Ekali. A short drive beyond takes one to the edges of Attica and the mountain recreational areas of Parnitha, Penteli, and Ymittos with vast forests, long trails, and great views. A five minute stroll along Alexander the Great street in front of the apartment, leads to Kifissias Avenue, with access to all major bus lines. One kilometer south on the avenue is the suburban train station with direct access to Athens International Airport. The quaint pedestrian shopping area of central Marousi, and its Metro station leading to downtown Athens, is just one kilometer from the house. During recent years, Marousi has become the biggest commercial and business district outside the center of Athens. Here you'll find shopping centers like the Golden Hall and The Mall with plenty of shops, cafes, restaurants, bars, and cinemas. Just behind them lies the renovated Olympic Complex with myriad sporting facilities available to the public. Since the end of the Summer Games in 2004, after the entire area was upgraded, it has become an important attraction to visitors, and a daily escape for parents to play with their kids. My modern and freshly designed apartment is here to act as a homebase for you to explore the diverse and seemingly endless Athens!
Myrto always answered me promptly, and was wishing me a good stay by email because she was not at Athenes. I was welcomed by her brother, who was kind enough.
Adriana
2014-09-26T00:00:00Z
This was an amazing house . Myrto is always stand by to assist you. When I travel to Athens again I will definitely book again .Location is convenient with many shops around . I suggest the place 100% :)
manolis
2015-02-13T00:00:00Z
Myrto is a very good and helpful host.The apartment is beautifully decorated, very clean and fully equipped, located in a quiet residential area, yet close to everything (bus, metro).There are a lot of amenities nearby, e.g. supermarket, bakery, pharmacy . All in all we had a lovely stay and would definitely recommend it!! Thanks Myrto!
Vania
2014-11-19T00:00:00Z
Appartement totalement conforme à la description. Accueil parfait. Quartier très calme. Literie très confortable, sanitaires très propre. Balcon très agréable. En résumé un très bon séjour.
Leonidas
2016-03-29T00:00:00Z
This was my second stay at this apartment. My stay was great! the apartment had everything I needed and was quite lovely, I had the opportunity to meet and spend some time with Myto, who was wonderful. She treated me like family. The bed was a dream; extremely comfortable. everything in the apartment is beautiful, and tastefully done. Even the dishes are pretty! The bathroom is very large buy Greek standards and is well-equipped and comfortable. It was nice to have a washer. I enjoyed having coffee on the balcony. I rented a car and had no difficulty finding parking in front of the building. The neighborhood is quiet and green , and it is a fairly quick walk to buy groceries or go for a meal at one of the charming little restaurants in the area. I highly recommend it!
Rose
2016-06-14T00:00:00Z
We thoroughly enjoyed our stay and the help and assistance we received from Myrto and her family. The accommodation was in good condition and exactly as described on your website. We would recommend this accommodation to anyone seeking to stay in Marousi which has good public transport links to the rest of the city. We are planning to return for another week's holiday in the autumn.
ANDREW
2014-03-21T00:00:00Z
Η Μυρτω ειναι πολυ ευγενική και φιλική. Το σπίτι της είναι πολυ όμορφο και με ιδιαίτερο γούστο!! Στις φωτογραφίες φαίνεται πολυ ωραίο αλλα από κοντα είναι ακόμα καλύτερο!!! Θα εμένα ξανά και ξανά στο σπίτι της Μυρτως.
Γεωργια
2015-05-25T00:00:00Z
mydol家非常好!她是一个设计师,房间内都是室内设计的书籍,房间用色非常大胆!她不在,米老头(我给mydol老爸取的外号)非常友善,还介绍附近的海鲜吃食给我们,是个爱看书,有涵养又风趣的希腊老人!家里各种布置也是非常用心,总之住的很舒服!强烈推荐住在这里喔!
Cherish
2015-05-29T00:00:00Z
ประเภทห้อง
บ้าน/อพาร์ทเมนท์ทั้งหลัง
---
ประเภทที่พัก
อพาร์ทเมนท์
---
พักได้
3
---
ห้องนอน
Marousi, Attica, กรีซ
The apartment is located close to main roads (Kifisias av., Attiki, Pentelis, Doukisis Plakentias) and is well connected with a variety of public tranportation (suburban,metro, railway, bus). Close enough are also The Mall, Avenue, Mediamarkt.... Olympic Stadium, hospitals (Hygeia,Iatriko, Iaso), Parks, ... It is a small (30 m2), cute apartment, at the basement of a block of flats, in a quiet neighborhood, near to the center of Vrilissia. Suitable for couples and singles as well.
The house is wonderful! Better than the pictures! very clean, Cozy, warm, well organized! Artemis is the perfect host. Very friendly and helpfull, every time we needed her, she was there, wearing her beautifull smile! Definitely we would visit Small and Cozy again in the future!!
Maria
2016-11-17T00:00:00Z
Άρτεμις σ'ευχαριστώ πάρα πολύ που με παρέλαβες με την βαλιτσάρα μου και για την υπομονή σου μέχρι να βρεθούμε! Πολύ ζεστό σπίτι παρά τον χιονιά!! Άνετο γραφείο για να δουλέψω. Εννοείται θα ξαναμείνω με την πρώτη ευκαιρία!
Afroditi
2017-01-15T00:00:00Z
The apartment was much better than I expected. It was really, really clean and everything was new: kitchen, fridge, TV. Moreover, the TV was huge and well placed near the bed. There was also a big desktop which was very useful. The apartment is very close to the Pentelis suburban railway station, from which you can catch a train to the airport or to the city center. Artemis was an extraordinary host. She gave me a lift to the supermarket the day I arrived because it was about to close. She also gave me good tourist advice and she was very very helpful when I needed to wash my clothes .
Víctor Manuel
2016-09-12T00:00:00Z
Great hospitality
Γιάννης
2016-11-14T00:00:00Z
Very nice place , would definitely recommend it! Everything was perfect
Konstantinos
2017-01-05T00:00:00Z
Τό δωμάτιο ήταν αρκετά καθαρό και σε καλή τοποθεσία και καλή τιμή. Η Άρτεμης ήταν αρκετά φιλική και εξυπηρετική σε ότι απορία είχα.
ΙΩΑΝΝΗΣ
2016-12-12T00:00:00Z
We totally recommend this place!!! We loved it!!! Artemis and her husband Stratos were both extremely accommodating and helpful in every possible way from the very first moment we met. Artemis communicated in order to make our stay better without losing at all her discretion. At first we were pleasantly surprised by how clean and smartly decorated the place was. We even loved the bedsheets! Everything that was in the place seemed to be chosen by two criterias; practicability and elegance! It has a work place that could be very convenient to business travelers. The pictures of the place in Airbnb lack the hospitality that the house inspires. It's much nicer and cozy than it seems in the photos. You feel really at ease in this house as it's small but it has all that you need and this is admirable! The place is in one of the nicest area of Athens because it combines trees and fresh air as well as the easy transport to the center of Athens, to the airport (it is only a few stops away from the airport via suburban railway, proastiakos).The district is safe and quiet. I felt I was in a neighbourhood I knew. It's a very good value for money! Thank you, Artemis and Stratos!
Χαρά
2016-09-13T00:00:00Z
The apartment was really well connected to the airport and city center. The host was wonderful and really helpful. The neighborhood is very safe, and has very close facilities like supermarkets and bakeries. I totally recommended this place, because I feel like home without any doubts. Aww on top is very very clean which is definetely a plus for me.
Denisita
2016-09-17T00:00:00Z
ประเภทห้อง
บ้าน/อพาร์ทเมนท์ทั้งหลัง
---
ประเภทที่พัก
อพาร์ทเมนท์
---
พักได้
2
---
ห้องนอน
Marousi, กรีซ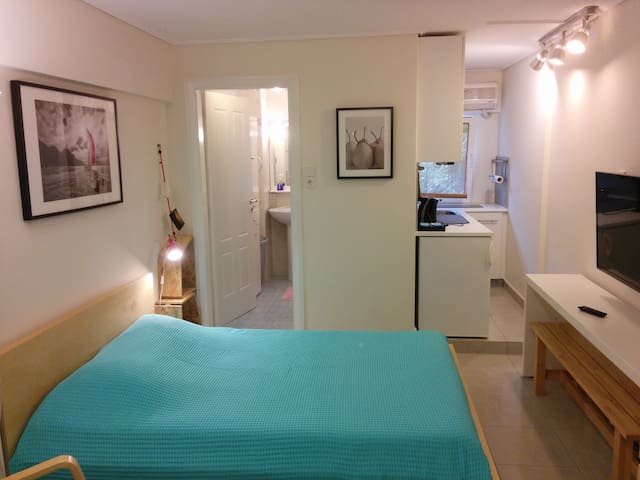 Ο χώρος μου είναι κοντά σε νυκτερινή ζωή, δημόσια συγκοινωνία και δραστηριότητες για οικογένειες. Λόγοι που θα σας αρέσει ο χώρος μου: η θέα, η τοποθεσία, οι άνθρωποι, το περιβάλλον και ο εξωτερικός χώρος. Ο χώρος μου είναι κατάλληλος για ζευγάρια, δραστηριότητες για ένα άτομο και επαγγελματίες ταξιδιώτες.
Fantastic apartment with stunning views all around. With a parking spot just outside and an excellent neighborhood restaurant downstairs, this is a great choice for the travelling businessperson who wants more independence than the typical hotel / taxi setup. Really great owners - super responsive. Highly recommended
Mark
2016-09-14T00:00:00Z
Incredible luxurious and comfortable. I loved it.
Tera Josephine
2016-11-09T00:00:00Z
Great apartment with an International vibe.
Philip
2016-10-11T00:00:00Z
Nice place
Marco
2016-12-10T00:00:00Z
On a passé un très bon séjour, l'appartement est magnifique ! L'équipe est à disposition si on a besoin d'informations, la terrasse est superbe, rien a redire!
Pierre Alexis
2016-09-10T00:00:00Z
I was in Athens for Business and the apartment worked out very well. Next time I will come in the summer to enjoy the pool and beautiful roof top deck.
David
2016-10-07T00:00:00Z
What a wonderful place. The apartment was exactly as described / photographed - maybe better. Enter straight from the elevator and find yourself in a beautiful flat featuring floor to ceiling windows, tastefully minimalist design and delightful features like the fishbowl view of the swimming pool above. Oh the swimming pool!...and private roof terrace. Such a delightful part of the stay. Lovely to spend lazy mornings or relaxing at night. The area felt safe, the resturant downstairs was delicious and the staff helpful. Plus, it's a quick taxi into Athens (even the bus is easy and comfortable). I definitely recommend this as a superb base from which to explore Athens and surrounding areas if you're not all too concerned with being caught in the busy, touristy fray. Or in fact if you're on business, please don't pay for a hotel. Treat yourself to a stay right here!
Tayo
2016-09-01T00:00:00Z
Appartement fidèle au photo au top Rien à dire allez y sans hésitation à 20 min en voiture de Athènes. La piscine privée sur le toit une merveille.
Fabrice
2016-08-22T00:00:00Z
ประเภทห้อง
บ้าน/อพาร์ทเมนท์ทั้งหลัง
---
ประเภทที่พัก
อพาร์ทเมนท์
---
พักได้
2
---
ห้องนอน
Marousi, กรีซ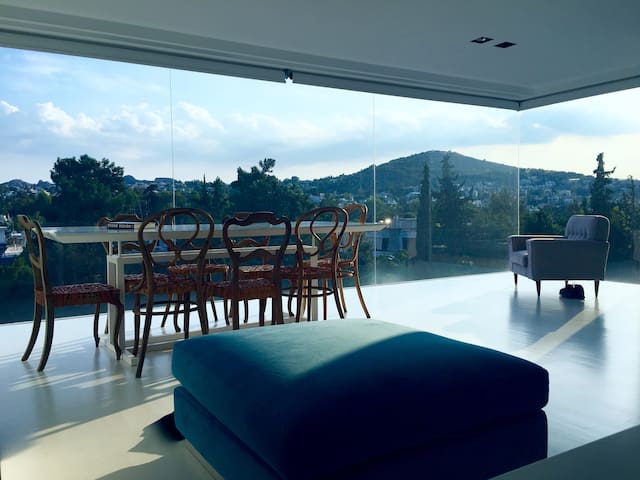 A beautiful, spacey, sunny, wonderful apartment next to Kifissias avenue, but in a totally quiet and easy to live neighborhood, with two bedrooms, a big living room with a fire place, a great balcony for enjoying sun or some quality time, even a barbecue, easy access to bus stations, metro, and all the central attractions and things to do and see in the northern suburbs of Athens. You can also use the great piano if you feel like it. Wonderful choice for couples, families, groups, professionals
A master bedroom with a queen size bed A second bedroom with a comfortable great double bed A big living room with a sofa that can sleep easily a (even big sized) adult and an extra single bed. There is also a wonderful Eams lounge chair to sit back and relax, a fire place, and a piano. Also a big table/office for professionals to use for any purpose and a TV set A fully equipped kitchen, with a stove, refrigerator, and everything you may need to cook, or prepare a dream meal for you and your loved ones. Also a small table for four, to have your breakfast or lunch. A full bathroom, with a tub, and a big american, washing machine Two balconies, one from the side of the bedrooms, and one next to the living room and kitchen. The second one, the big one, has chairs, a lounge and a barbecue to use.
Neighborhood is quiet, full of trees and easy to get there. You'll find anything you may need, in walking distance, from supermarkets, to high class bakeries. Kifissias avenue is just three blocks away, Pentelis street just two blocks away, Maroussi's central market just 5-6 minutes away, and all the big hospitals and venues in a range of 5-10 minutes driving away.
Όμορφο σπίτι σε ωραία περιοχή
angeliki
2017-03-27T00:00:00Z
The whole experience is amazing. The neighborhood is really quiet and and the house is always sunny. Big balconies, nice decoration, and it definitely contains everything you can ask for from a property in Athens.
Dennis
2016-11-09T00:00:00Z
Ότι το σπιτι είναι μεγάλο αλλα θα πρέπει τουλάχιστον να είναι από άκρη σε άκρη καθαρό..
Giannis
2017-03-14T00:00:00Z
Great apartment in a great location if you don't mind being away from the centre of Athens. Even though we didn't meet Petros (we only stayed one night) he was very helpful and answered all the questions through the app.
Kostas
2017-04-04T00:00:00Z
Very easy to find great location
Jo
2016-10-14T00:00:00Z
The host canceled this reservation 3 days before arrival. This is an automated posting.
Δάφνη
2017-02-13T00:00:00Z
ประเภทห้อง
บ้าน/อพาร์ทเมนท์ทั้งหลัง
---
ประเภทที่พัก
อพาร์ทเมนท์
---
พักได้
6
---
ห้องนอน
Marousi, กรีซ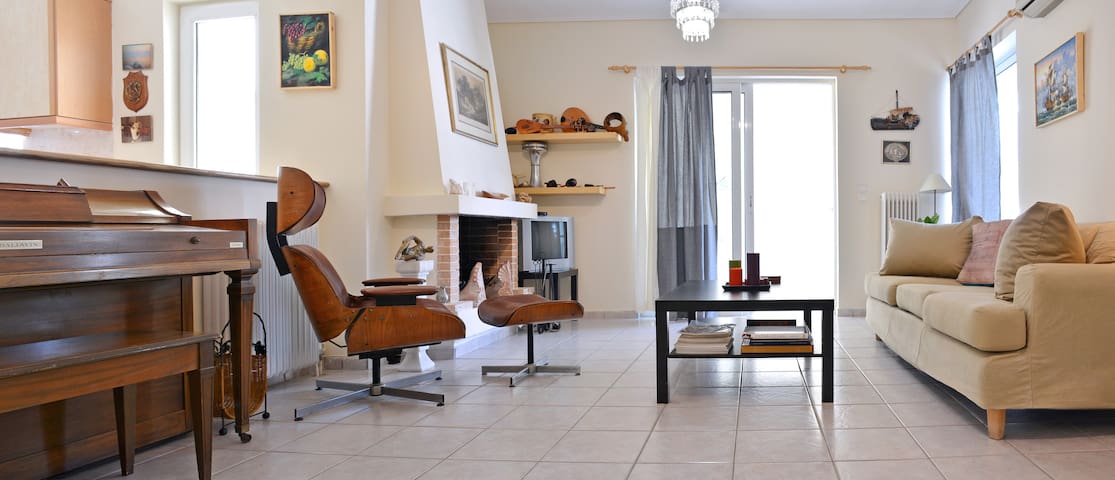 Ο χώρος μου είναι κοντά σε εστιατόρια και χώροι εστίασης, νυκτερινή ζωή, δημόσια συγκοινωνία και δραστηριότητες για οικογένειες. Λόγοι που θα σας αρέσει ο χώρος μου: η τοποθεσία, οι άνθρωποι, το περιβάλλον, γειτονιά και ο εξωτερικός χώρος. Ο χώρος μου είναι κατάλληλος για ζευγάρια, δραστηριότητες για ένα άτομο και επαγγελματίες ταξιδιώτες.
My house is 35 sq.m. and it is located at Marousi which is one of the most popular suburbs of Athens in a quiet neightborhood and next to a shopping center. Nearby, you can find Bars, Cafe, Restaurants and Cinemas. "Marousi" station is the green line of the Athens Train, three minutes only away from my house which links to the center of Athens and to the famous shopping center " The Mall " (only one station away from Marousi station, called Neratziotisa station). From Neratziotisa station, you can take suburban for Eleftherios Venizelos Airport (only twenty minutes away).
Very close from my house, there is Siggrou Park, a very big park, where you can walk, jog etc...
Πολύ ζεστό σπιτάκι!! Καθαρό, σε ήσυχη και ασφαλή τοποθεσία, πολύ κοντά στο σταθμό του Ηλεκτρικού! Τρομερή εξυπηρέτηση από μεριάς του οικοδεσπότη!! Αξίζει να το επιλέξει κάποιος για τη διαμονή του!
liana
2016-11-04T00:00:00Z
Ανετο διαμέρισμα σε καλή τοποθεσία. Σίγουρα καλη επιλογή για όποιον θέλει να μεινει στο βόρειο τομεα.
Alexandra
2016-11-20T00:00:00Z
Πολύ καλό και πολύ κεντρικό στο Μαρούσι ! Άψογη συνενόηση !
Giorgos
2017-02-24T00:00:00Z
Όλα εξαιρετικά!! Όμορφος και άνετος χώρος, ήσυχη γειτονιά!! Άμεση πρόσβαση στα μέσα μεταφοράς,καταστήματα,καφέ, κλπ
Fay
2017-01-16T00:00:00Z
House is really lovely. Also location is perfect ! Easy to reach all the places !
Indrė
2016-12-08T00:00:00Z
It fits its discription. For me the Marousi is a good location, the Mall rail station (Access to the Airpot) is one metro stop Kifissia is only two
Ron
2017-02-04T00:00:00Z
Για ακόμα μια φορά τέλεια επικοινωνία ,και ακρίβεια !
liana
2016-12-11T00:00:00Z
Ine poli zestos o xoros isixia exis oti xriaze konta sou
Skevi
2017-03-03T00:00:00Z
ประเภทห้อง
บ้าน/อพาร์ทเมนท์ทั้งหลัง
---
ประเภทที่พัก
อพาร์ทเมนท์
---
พักได้
2
---
ห้องนอน
Marousi, กรีซ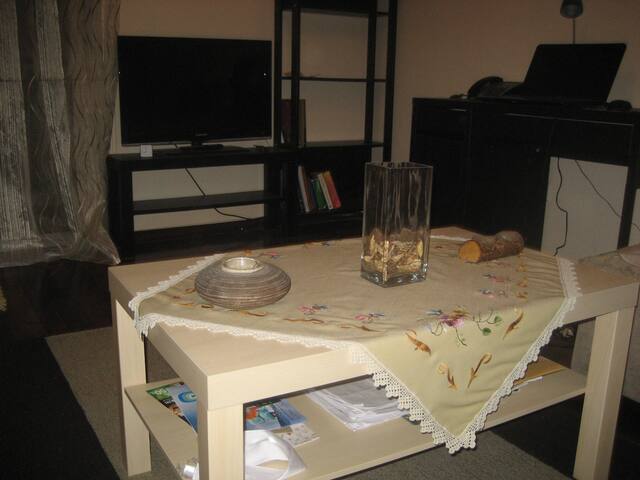 Nice, comfortable little studio 25m2, with central heating, bathroom and balcony, two beds, a large wardrobe, dining table, fridge and a fully equipped kitchen. 5' walking from Amarousion Metro Station, 20' travelling to the center of Athens, and 15'-20' from Athens International Airport by metro. Two metro stations to the Athens Olympic Stadium and to the Athens Mall. 10' walking to the down town of Amarousion with a variety of shops, super markets and restaurants.
I came to Marousi for work and mainly picked this accommodation as it was very close to my future work place. At the time of the booking I did not know yet how much more I will gain with it. The studio apartment is in a quiet, residential street of Marousi, about 5 minutes walk from the metro station and similarly 5 minutes away from a big supermarket. The apartment is freshly renovated, with cosy and functional furniture; it also has a huge balcony with plenty of sunshine in the mornings. The kitchen comes fully equipped with a stove, tea kettle and all sorts of plates and other kitchen utensils. The bathroom includes a small bathtub, a washing machine and self-regulated hot water supply. The heating is centralized in the building but an additional individual heater is also provided. Amalia has made visible efforts to decorate the apartment in a beautifully esthetic way that makes you feel home immediately. She has been a fantastic host - she welcomed me with a kitchen full of food, she picked me up at the airport and helped with my luggage and never accepted anything in return. Any problems I had, even if it was not related to the apartment, I could always count on her. I can recommend her wholeheartedly as one not only meets a reliable, communicative and helpful host, but an exceptionally friendly person as well.
Erika
2017-03-31T00:00:00Z
ประเภทห้อง
บ้าน/อพาร์ทเมนท์ทั้งหลัง
---
ประเภทที่พัก
อพาร์ทเมนท์
---
พักได้
2
---
ห้องนอน
Marousi, กรีซ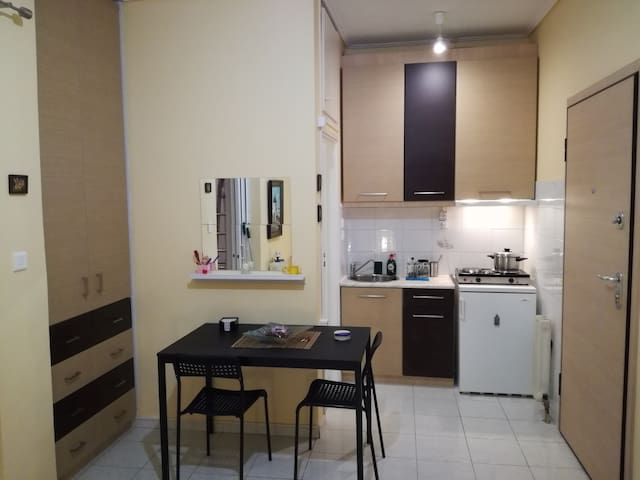 A two-bedroom apartment capable of accommodating five persons, fully modernized, with 2 double beds,cable TV, two 40" LCD TV's, washing machine, fully equipped kitchen, dishwasher, washing machine, fully air-conditioned, close to the metro station,
It is located in the northern suburbs of Athens close to the metro station and 20 minutes from the (URL HIDDEN) flat can easily host 4 persons
The house is close to the central square of Marousi which is full of restaurants, cafes, bars and one of the most comprehensive markets of athens in the two renowned streets "Ermou" and "Dimitros". Moreover, the flat is very close to "The Mall Athens" the bigest Mall of the country. Finally, the Olympic Stadium where the 2004 Olympic Games were held is at foot distance.
Ioannis place is great. We were traveling with three young kids and his apartment was perfect for our needs. It is very modern, clean, fast wifi and close to the center of town. Ioannis had bought for us fruits, bread, deli and water which was a very thoughtful and welcoming gesture. There is a mini market and a bakery right next to it which was very convinient. Marousi is great town for families and young people. We will definetly choose his place again if we are in the area.
Thora
2016-08-05T00:00:00Z
The appartment is located in a great area with all amenities. Lively around Marousi station on evenings. We enjoyef our stay and John was very helpul and friendly. We loved every minute of our stay.
Sebastien
2015-10-24T00:00:00Z
the house was very well equipped and offer a very quiet stay, but at the same time close to the main urban areas of the city. I definitely will visit it again in the next trip to Athens.
Marios
2016-11-21T00:00:00Z
Wonderful apartment, quiet location, close to train, fast commute to the center, very well equipped. All in all we recommend it and will come again
Thomas
2016-12-30T00:00:00Z
Πολύ καλό διαμέρισμα σε βολικό σημείο
Kostas
2017-01-13T00:00:00Z
Το διαμέρισμα ήταν ακριβώς όπως το είδαμε στις φωτογραφίες. Καθαρό, προσεγμένο με όλα τα απαραίτητα, σαν να είσαι σπίτι σου... Κοντά στο κέντρο του Μαρουσίου, με θέση για parking στην οικοδομή. Πολύ καλή επιλογή το συνιστώ ανεπιφύλακτα. Σίγουρα θα το επισκεφτώ πάλι.
Kostas
2016-01-05T00:00:00Z
Ioannis was a great host, he show me everything I needed in the apartment and he was very welcoming. The location of the apartment was ideal for me for the purpose of my stay. Small supermarket and bakery at the feet of the apartment. Quiet with huge terrace that allowed me to relax and work at the same time . Honestly nothing to complain about. Highly recommended!
sergio
2016-09-23T00:00:00Z
The photos don't do justice to the apartment. It is a very well appointed space, pleasantly decorated with excellent facilities. The location is very convenient with small shops nearby and a short walk to Marousi station and restaurants. Beds are very comfortable and the kitchen well equipped. Ioannis was very welcoming and generous. We were late arriving on the first night and he was very kind and helpful when we had to change plans for the remainder of our trip due to a family emergency.
Angus
2016-07-16T00:00:00Z
ประเภทห้อง
บ้าน/อพาร์ทเมนท์ทั้งหลัง
---
ประเภทที่พัก
อพาร์ทเมนท์
---
พักได้
5
---
ห้องนอน
Marousi, กรีซ
Hello people, My appartment is located in one of the most beautiful locations and suburbs in Athens. The room is perfect for couples and individuals. Pet and eco friendly. I've lived in Germany,Australia and New Zealand and traveled half of the world so far :) I have friends all over the globe and would like you to feel like home at my place! Anything you like to know im always here to help you. Relax and enjoy the view!
ประเภทห้อง
ห้องส่วนตัว
---
ประเภทที่พัก
อพาร์ทเมนท์
---
พักได้
2
---
ห้องนอน
Marousi, กรีซ
This is a light, airy, open plan apartment in a pleasant, leafy suburb of Athens. A 10 min walk from the town centre with a host of shops, metro which will take 20 mins to Athens centre, or 5 mins to The Mall or high end shopping in Kifissia.
Whether it's for a romantic getaway, family city break, or corporate traveller, this apartment gives you that home from home feeling to allow the independence you just don't have in a hotel. The apartment is an open plan, airy space with a neutral, clean decor. Although clean lines are the theme, the apartment is still family friendly, with all the amenities you need. It is comprised of: Kitchen area, separated from the dining area/living room by a worktop bar. The kitchen is fully functional and equipped with some integral appliances (full oven, hob, fridge freezer, dishwasher) base and wall units and cabinet lighting, as well as toaster, coffeemaker, etc. The dining table seats 4. The living area has a sofa and a sofa bed. This allows the bedroom to be used for children and a single bed can be added; whichever suits you best. There are fitted wardrobes in the bedroom, allowing the space to feel like home, without having to live out of your suitcase. The bathroom has a shower, toilet and vanity unit, as well as a cupboard housing the washing machine and laundry/ironing facilities. There is also a hairdryer and mozzy plug-ins, should you need them. There are 2 steps down to the front door and a small patio area for sitting or drying clothes. There is on street parking available, with no local restrictions. We have a handbook available for useful information as well as some tips you may find handy!
We like the park at the end of the street- it's one of the largest remaining parks in Athens, and great for stretching the legs in the afternoon. Lovely cafes, shops, informal eateries and tavernas can be found in town and the square by the metro station comes alive around 11pm when you can sip a lovely cocktail, or cold beer (or cold coffee?), in the twinkling lights of the cafe bars, open till the customers leave. A nip on the metro takes you to Kifissia where you can find all manner of high end designer shops and chic bars for the sophisticated styles. For a fantastic restaurant, head to Penteli...or just ask around for the flavour of the month! And if you're feeling like a night in, look at the takeaway menus for Vidma's souvlaki.
I left a few comments on the previous page.
Crystal
2016-09-22T00:00:00Z
The apartment was very clean and provided everything we needed. Located in a safe and quiet area. Very close to Marousi centre and metro station.
Vasilis
2016-11-19T00:00:00Z
Great place. Very accurate description but with extra homemade cake by Mrs Voula. Thank you Suzie and Voula.
Vassos
2016-05-27T00:00:00Z
Πολύ καλή φιλοξενία αν και επειδή ήταν ισόγειο υπήρχαν προβλήματα θορύβου από το δρόμο.
Manolis
2016-08-29T00:00:00Z
Άριστη φιλοξενία, γλυκό σπίτι με όλες τις ανέσεις, ζέστη, σεντόνια, σκεπάσματα, μαξιλάρια, πετσέτες, απορρυπαντικά, σαμπουάν, αφρόλουτρα, μέχρι και βατονέτες, δηλαδή φουλ εξοπλισμένο, καταπληκτική διαμονή, για έναν ολόκληρο μήνα. Η κυρία Βούλα εξαιρετική και διακριτική. Κάθε εβδομάδα καθαριότητα. Ήσυχη γειτονιά με λίγα προβλήματα πάρκινγκ. Μικρή ισχύς σε σήμα Wind, αλλά καλό σήμα internet. Το συνιστώ ανεπιφύλακτα και μη πάρετε τίποτα μαζί σας, υπάρχουν τα πάντα !!! Φοβήθηκα τη διαμονή μου για ΕΝΑ ΜΗΝΑ, αλλά θα έμενα και για πολλά χρόνια !!!
Νικόλαος
2017-03-04T00:00:00Z
Great communication from Suzie with quick and thoughtful replies, including the suggestion of adding an extra roll-out bed. No worries with key handover and a nicely shaded, cool, apartment. On-street parking okay. Basic pantry supplies (including home made marmalade) provided. Would definitly stay again if needing something in Marousi. Thanks Suzie.
Thomas
2016-06-26T00:00:00Z
Ήσυχο σπίτι, σε καλή γειτονιά. Μόνο μειονέκτημα το πολύ ασθενές σήμα κινητής τηλεφωνίας (Vodafone) και η έλλειψη internet. Κατά τα άλλα όλα ήταν μια χαρά
Bill
2016-03-25T00:00:00Z
ประเภทห้อง
บ้าน/อพาร์ทเมนท์ทั้งหลัง
---
ประเภทที่พัก
อพาร์ทเมนท์
---
พักได้
4
---
ห้องนอน
Marousi, กรีซ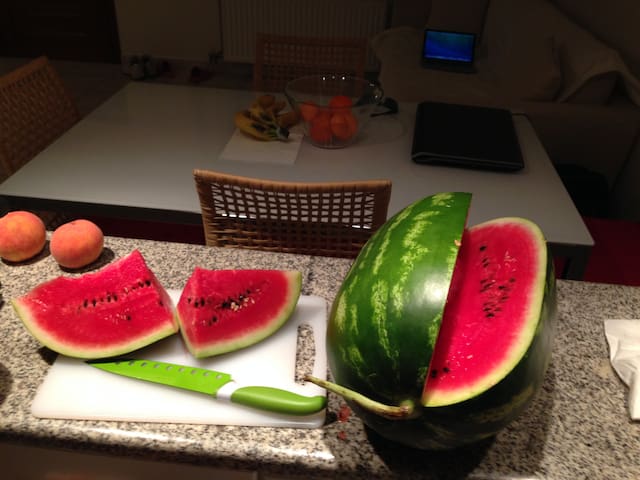 Φωτεινό διαμέρισμα στο πιο πράσινο κομμάτι του Αμαρουσίου. Πρόσφατα βαμμένο και ανακαινισμένο. Τα περισσότερα έπιπλα είναι καινούρια. Το σπίτι απέχει με τα πόδια 15' από το κέντρο του Αμαρουσίου, όπου υπάρχει σταθμός τρένου και 4' από τη στάση του λεωφορείου. Sunny apartment in the greenest part of Amarousion. It is located in the northern sector of Athens, which is known for its natural beauty, green and beautiful architecture. Recently renovated and easy access to public transportation.
The appartment has been recently renovated, the walls are freshly painted and most of the furniture are new.
The neighborhood is very quiet, beautiful and very green.
ประเภทห้อง
บ้าน/อพาร์ทเมนท์ทั้งหลัง
---
ประเภทที่พัก
อพาร์ทเมนท์
---
พักได้
2
---
ห้องนอน
Marousi, กรีซ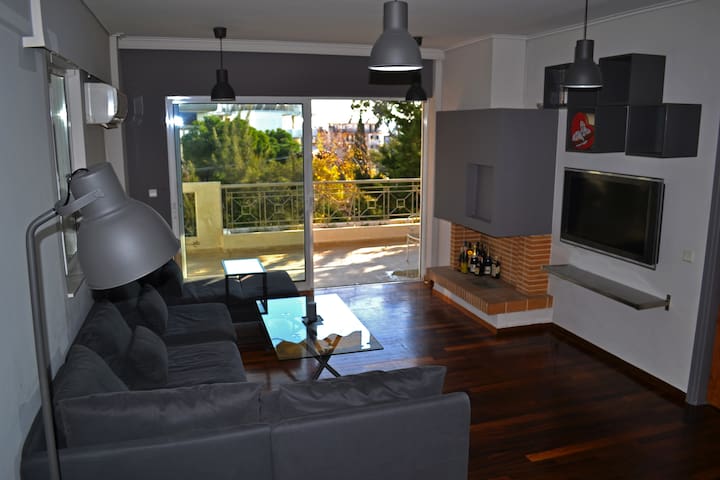 -A 85 m2 apartment, just 5' minutes walk from the metro station. -Τwo lovely decorated bedrooms with double beds and anatomical mattresses. -One big living room, with great couch, LED-TV and air-condition. -A fully equipped kitchen. -One full bathroom. -Two air-condition units. -Free WiFi - 24/7 communication. I am here for you before, during and after your stay!
The apartment is located in North suburbs just 10 minutes walking distance from the central square of Chalandri. Chalandri is located just 5 km northeast of Athens city centre and is a well-developed, quiet, green and safe area of Athens. The apartment is located next to two metro stations: Agia Paraskeui (5 minutes' walk) and Chalandri (10 minutes' walk). The apartment is located close to all big boulevards of Athens, Attiki Odos, Mesogeiwn and Kifisias, while the distance from the center of Athens-Syntagma is 15minutes by metro and from the airport is 20 minutes by metro. The apartment consists of an entrance hall, which opens onto a cosy living room and a big space kitchen, two bedrooms and a full bathroom. In the living room, there is a very comfortable sofa, which can sleep comfortably 1 person, and has great light all day. The decoration is designed in order to make you calm and relax. There is a Flat-screen TV, a DVD player and an A/C unit, and a dining table for 6 persons. There are two nicely decorated bedrooms providing a great atmosphere with double beds and anatomical mattresses, fresh bed linen, anatomical pillows, soft and warm duvets. The kitchen, spacious and bright, is equipped with: Electric cooker, Refrigerator, Dishwasher French coffee maker, Toaster, Kettle , Cooking utensils, Glassware ,Coffee, sugar, tea, herbs, spices are offered. There is a full bathroom with a shower, towels, liquid soap, toilet papers as well as cotton, antiseptic solution and plaster strips. The apartment features air-conditioning units in the bedrooms and in the living room, and free wifi connection. In winter, besides the air-conditioning units, there are also two electric heaters. There is also a parking place available. This a non smoking apartment, but one can smoke on the veranda. Pets are not allowed. The sheets and towels in the apartment are of the finest quality and are handled, washed and ironed professionally.
Close to the apartment (70 and 100m) there are two supermarkets, banks, ATM and two bakeries. The apartment is just five minutes away from the busy center which is full of trendy café and restaurants, designer boutiques, stores , museums, galleries, indoor and outdoor cinemas, supermarkets and banks. The city of Chalandri is famous for its shops, cafes ,bars and its great food.
This is a beautiful fully refurbished flat that I highly recommend! Very clean and cozy. George is an excellent host and always available. More than highly recommended
Kostis
2016-10-17T00:00:00Z
A perfect place, we had a wonderful stay at George's apartment!!! Beautiful, warm, comfortable, bright and spotlessly clean (exactly as seen in the photos!), suitably equipped both for short and long stays and decorated to a high standard. It had everything we needed. Situated in a quiet and safe neighborhood, the apartment is just a 5 minute walk to Agia Paraskeui tube station, which is most convenient for quick and easy access to the heart of Athens and to the Airport and also 5 minutes walk to the center of Halandri where you can find shops, bars, cafes and anything you might want! George is a great host. Extremely helpful and communicative and easy to reach. Highly recommended and will definitely book again!
Eirini
2017-03-05T00:00:00Z
Υπεροχος χωρος ολες οι ανεσεις σε κομβικο σημειο και με παρκιν περασαμε καταπληκτικα
Νατασα
2017-04-02T00:00:00Z
Very nice place close to metro and Chalandri square. Very convenient and accurately shown at the pictures. Nice colours, relaxed atmosphere freshly renovated. George was there to welcome me even before the check in time cause i had an early flight. Very kind and accommodating. Good value for money.
Marinos
2016-12-19T00:00:00Z
Happily recommend this super apartment to anybody looking to stay in Chalandri, Georges apartment is very well located with two metro stations and supermarkets within close walking distance. Also close to the town center where many good restaurants, bars and interesting shop can be found. The apartment is tastefully decorated and well equipped showing thoughtfulness from George the owner. This being our first time on Airbnb he graciously answered our many questions and was kind and helpful throughout. Like a home from home.
Marta
2017-02-19T00:00:00Z
Όλα ήταν τελεια
Giannis
2017-02-14T00:00:00Z
Very nice and comfortable apartment and fantastic host.
Paulo
2017-01-13T00:00:00Z
The host canceled this reservation 7 days before arrival. This is an automated posting.
Dena
2016-09-13T00:00:00Z
ประเภทห้อง
บ้าน/อพาร์ทเมนท์ทั้งหลัง
---
ประเภทที่พัก
อพาร์ทเมนท์
---
พักได้
4
---
ห้องนอน
Chalandri, กรีซ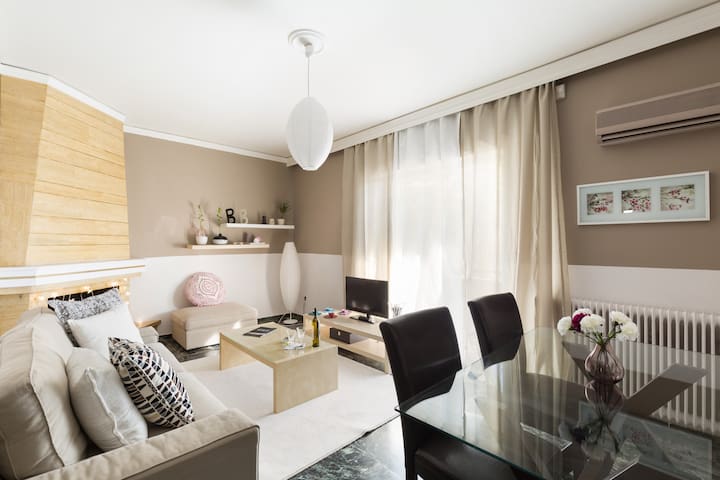 Quiet single room with private WC located in Marousi north suburbs in a green neibourhood next to the local riding club. 5 minutes walking to the bus station 5 minutes driving to the railway 2 bus stops to the suburban railway
Shopping at golden hall and the mall Athens that are both very close Horse riding at the local riding club which is right outside of the house
ประเภทห้อง
ห้องส่วนตัว
---
ประเภทที่พัก
อพาร์ทเมนท์
---
พักได้
1
---
ห้องนอน
Marousi, กรีซ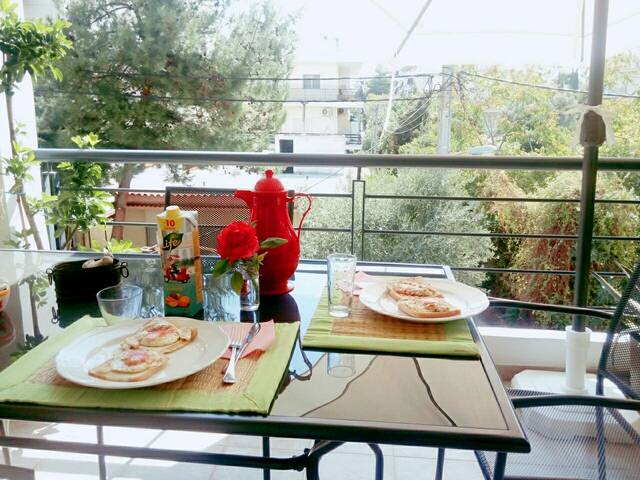 Spacious room with open sunny balcony in a quiet green neighborhood near - suburb area! About 1 hour from Piraeus port and 1 and a half from Eleftherios venizelos airport and 30 minutes from city center by train. The apartment is less than 10 minutes walking distance from the train station. All comforts provided for my guests : Hot water, WI-FI, fresh towels, laptop, TV and space to put your things. Mini market and cafe are really close for anything you might need! Welcome to my home :)
Spacious, covers all your needs :)
Quiet, green neighborhood .
The host canceled this reservation 4 days before arrival. This is an automated posting.
Georgios
2016-09-22T00:00:00Z
Very convenient location proved to be. Host was just great and we were pleased with our stay and communication with him. House was delivered clean also.
Aggelos
2016-09-26T00:00:00Z
Sergio is the perfect Airbnb hoster you would meet: flexible, willing, pleasant and kind as well. I spent in his home 15 days and I have never regretted my decision: for every needs of mine, he always tried to accomodate the request. His house is in a beautiful and peaceful suburb of Athens. On top of that it is close to the metro station and all the essential services. Absolutely recommended
olimpia
2016-11-18T00:00:00Z
The flat is comfortable, bright, clean, and has all the necessary equipment. I liked the big balcony. Located in a quiet area but central. It is close to the metro station and close to many stores and restaurants. Sergio is a very nice host. He could give you any advice where to eat and where to go in the neighborhood. Everything was perfect as expected. Would come again to Sergios house.
Manuela
2016-10-03T00:00:00Z
Sergios was such a nice host. He fetched me from the train station (Neratziotissa) and even cooked pasta for me when I arrived. He also helped me find the schedules for when I have to go back to the airport. The room was spacious and clean as seen from the photos. Bathroom was also clean. Bed was really comfortable. It was a generally quiet neighborhood which is around 10-15 mins away by foot from both the Marousi and Neratziotissa stations. At Marousi there are lots of restaurants where one can have dinner. I had a really pleasant stay. Would totally recommend this place!
Chrizaldy Neil
2016-10-15T00:00:00Z
Sergios is a nice, friendly, straightforward person who will do his best to accommodate his guests' needs. He picked me up from the train station (without even asking for that), I was hungry so he ordered food to be delivered at home, and in general he made me feel completely at ease. The room is simple (no frills) but clean and the bed comfortable. Also the area is nice, walking distance from the metro station and several lovely bars and restaurants.
Patrizia
2016-10-11T00:00:00Z
ประเภทห้อง
ห้องส่วนตัว
---
ประเภทที่พัก
อพาร์ทเมนท์
---
พักได้
2
---
ห้องนอน
Marousi, Attica region, กรีซ