Appartamento per vacanze medio-lunghe, completamente restaurato ed arredato con gusto a Pellestrina. Il monolocale si compone di una cucina attrezzata, tavolo con sedie, divano letto matrimoniale e bagno con doccia. Ideale per una o due persone.
L'alloggio è un monolocale completamente ristrutturato e arredato con stile. E' composto da una stanza in cui si trova una cucina funzionale con mini frigo, una tavola in legno massello con 2 sedie e molti cassetti, un comodo divano letto che si può trasformare in letto matrimoniale e un finto caminetto. In una stanza separata si trova un bagno con doccia. L'arredamento è nuovo e moderno, pensato per sfruttare al meglio lo spazio. La posizione del monolocale è strategica perchè si trova a soli 3 min a piedi dalla spiaggia sabbiosa di Pellestrina. E' ideale per passare un periodo di sole e relax d'estate. Pellestrina è un isola della laguna da cui si può facilmente raggiungere Venezia, Lido di Venezia e Chioggia. Le principali attrazioni sono: _ il carnevale di Venezia (a febbraio) _ l'esposizione d'arte della Biennale di Venezia (durante l'estate ai Giardini della Biennale) _ la mostra del cinema che si celebra ogni anno al Lido di Venezia a cui partecipano tutte le star del cinema. _i fuochi d'artificio in onore del Redentore. La più conosciuta festa estiva di Venezia che si celebra il terzo sabato di luglio. Moltissime barche si riuniscono nel bacino di san Marco per vedere i fantastici fuochi d'artificio. Un evento da non perdere. _ durante l'estate a Pellestrina ci sono varie sagre paesane con musica dal vivo, vendita di oggetti tipici, lotteria e stand gastronomici. _la regata storica, una gara di velocità tra imbarcazioni a remi tipiche veneziane che si svolge nel Canal Grande ogni anno il primo sabato di Settembre. _i fuochi d'artificio di capodanno in piazza San Marco. Ogni anno per capodanno Venezia organizza una festa in piazza San Marco con fuochi d'artificio per salutare il nuovo anno. A Pellestrina si può visitare in bici l'oasi e il forte di Ca'Roman. Un area protetta dal Wwf e dalla Lipu, ideale per passare una giornata a contatto con la natura incontaminata. La spiaggia di Pellestrina è libera, per questo incluso nel prezzo Vi fornirò 2 teli mare e un ombrellone. Ovviamente anche le bici sono a Vostra disposizione.
A pochi passi dall'appartamento si trova un negozio d'alimentari, farmacia, macelleria e durante la settimana si fermano vicino casa fruttivendoli e venditori di formaggi ambulanti.
Highlight of our Venezia trip. Davide is the perfect host with the perfect accomodation. Seriously, don't miss this one! It only takes an hour to reach -- a simple route, really. Davide's mother met us at the bus stop and brought us to the fantastic apartment. She even helped us order a great pizza! The rest of our time, we either cooked in the kitchen or went out to eat. Davide was the most helpful and accomodating host I have ever had. The island is GORGEOUS and the seafood pasta very, very good. Also, Davide's bikes were a blessing for exploring the island. Do not miss this gem!
Alexis
2015-04-22T00:00:00Z
The apartment was perfect - it had everything you needed and it was clean, comfortable and cozy AND QUITE, which was just what was needed. Davide and his parents were wonderful and welcoming. The bike they had for guests to borrow was a nice change of pace to get around the island. I did not have a chance to go onto the beach though. I would recommend this little gem if you want to just relax.
Michele
2014-05-28T00:00:00Z
Davide was a great host and the room is great and very clean. Location is a good hour from Venice, but Davide's directions were very helpful. It's a beautiful location and nice to get out of the city for a bit.
Andrea
2015-06-06T00:00:00Z
Davide was an exceptional host!He was always responsive and full of recommendations. The location is a little further from Venice but well worth the commute. The islands of Pellestrina and Lido are very charming and the waterbus ride offers a tremendous view. The studio was spotless and equipped with everything you need from fresh towels to condiments and utensils. He and his family live right next door and are very accessible if you have any questions. He let us ride his bikes around Pellestrina and even ordered a pizza for us. His transportation instructions are very detailed and fool-proof. We would most certainly recommend this place to anyone willing to experience Venice from a different perspective. Davide thank you for being so kind and helpful! You are truly a super host :)
Nehal
2015-05-31T00:00:00Z
Davide was an excellent host and helped us allot on our way to his aparment and when we were in Venice. We wanted to know at which times we had to take the bus and waterbus to the train station, early in the morning. Davide checked it all for us and we made it on time, we don't know what we would have done without him! The apartment itself was really nice, and has everything you need to have really relaxing days in Venice.
Roy
2016-07-31T00:00:00Z
We had a great time in Pellestrina. It's a beautiful part of the island and it's worth the drive to get there. Very peaceful and away from the touristy Venice. Everything you need is at the studio and if we had a question we always got a fast answer from Davide.
Wannes
2014-09-20T00:00:00Z
L appartement est très mignon. Nous n'avons pas rencontrer Davide mais sa maman nous a très bien accueilli.
Elise
2016-10-17T00:00:00Z
Nice view , great apartment . Very welcome host , did help us a lot with direction. Thank you so much !
Liliya
2015-09-26T00:00:00Z
ประเภทห้อง
บ้าน/อพาร์ทเมนท์ทั้งหลัง
---
ประเภทที่พัก
อพาร์ทเมนท์
---
พักได้
2
---
ห้องนอน
เวนิซ, Veneto, อิตาลี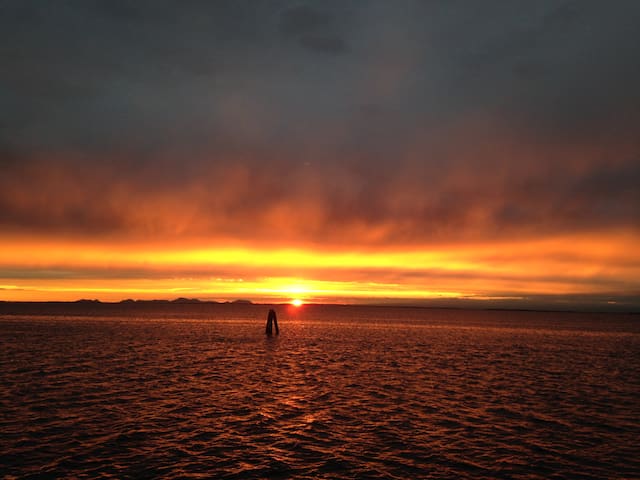 La casa è situata in posizione centrale dell'isola che è conosciuta per i suoi numerosi locali dove si può degustare dell'ottimo pesce appena pescato.
Casa singola su piano terra e primo piano con entrata singola e giardino privato con box (per passeggini e biciclette) e seconda doccia all'aperto. Composta da: ampia sala da pranzo/salotto, angolo cottura e bagno al piano terra; al 1° piano due camere (1 matrimoniale ed 1 doppia) può ospitare fino a 5 persone. Nelle vicinanze vi sono negozi, supermercato, farmacia e rinomati ristoranti dove gustare dell' ottimo pesce fresco e spiaggia libera. Adatta sia per trascorrere le vacanze estive sia per il periodo invernale che per il periodo della MOSTRA del CINEMA. Solo per il periodo della Mostra del Cinema il soggiorno minimo e' 10 giorni.
L' isola di Pellestrina è a soli 5/10 min. dal Lido di Venezia, da cui è raggiungibile in auto o in autobus con ferry boat, e 40 min da Venezia. Isola tranquilla tra mare e laguna con ampia spiaggia libera ed oasi naturalistiche, ideale per escursioni in barca, gite in bicicletta e per chi ama il relax all'aria pura. Comoda per visite a Venezia, Lido e Chioggia.
Cinzia war eine sehr liebe und gewissenhafte Gastgeberin, wir hatten sehr ruhige und entspannte Tage.
Daniel
2015-02-19T00:00:00Z
ประเภทห้อง
บ้าน/อพาร์ทเมนท์ทั้งหลัง
---
ประเภทที่พัก
อพาร์ทเมนท์
---
พักได้
5
---
ห้องนอน
เวนิซ, Italia, อิตาลี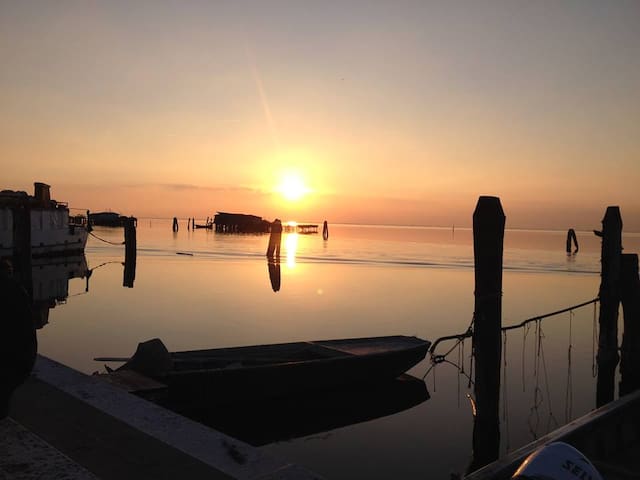 Nella laguna di Venezia, un salto indietro nel tempo sull'Isola di Pellestrina. "Villa Mariuccia" (il nostro modo di chiamare questa nostra tipica casa di pescatori), silenziosa, luminosa, ristrutturata ed attrezzata per accogliere fino a 4 persone.
Tipica casa di pescatori su tre livelli e con le travi in legno a vista, "Villa Mariuccia" si trova in località Portosecco a Pellestrina, a pochi minuti dalla spiaggia ed a ridosso della laguna. Prevede un ingresso indipendente dalla corte; al piano terra la zona living con tavolo da pranzo per sei persone, divano con angolo TV, cucina moderna e completamente attrezzata. Al primo piano, la camera matrimoniale ed il bagno con doccia e lavatrice. Al secondo piano la mansarda, un ampio open-space dove si trovano i guardaroba per riporre i vs abiti e due comodi letti singoli. Dotata di riscaldamento autonomo, impianto di aria condizionata, televisore a parete, è stata completamente ristrutturata. Perfetta per ospitare fino a quattro persone. Fornito un cestino di benvenuto contenente i prodotti per la prima colazione. A disposizione degli ospiti due biciclette per girare comodamente l'Isola!
L'Isola è perfetta per chi vuole sentirsi in assoluta libertà, lontano dagli schemi cittadini ed immerso nella quiete dei ritmi scanditi e lenti. Vicini i principali servizi, facilmente raggiungibili a piedi o in bicicletta.
La casa l'abbiamo trovata confortevole molto ordinata e pulita, ben fornita per quanto riguarda la cucina. Arrivarci è stato un po' difficoltoso, ma ne vale la pena, molto bella l'isola di Pellestrina. Grazie a Michela per la disponibilità, per le biciclette e la colazione messa a disposizione !
Kenza
2016-04-10T00:00:00Z
Excellent host, the location is great as well as the place
Stefano
2016-10-24T00:00:00Z
C''est une adorable petite maison, située en bordure de la lagune où nous avons été incroyablement bien reçues. Michela n'était pas là, mais elle nous avait tout parfaitement indiqué. Elle s'était même préoccupée de nous inscrire à la bibliothèque car ma fille, pour ses devoirs, avait besoin d'un accès à internet. Dans la maison, nous attendait une corbeille pleine de gâteaux typiques de l'île et le réfrigérateur était plein de yaourts et de lait. En plus, Pellestrina est une magnifique île de pêcheurs dans le prolongement du Lido. C'est un endroit tranquille où il fait bon se réveiller le matin, en écoutant le bruit des oiseaux et le clapotis de l'eau dans la lagune. C'est surtout un lieu authentique où il fait bon rentrer le soir, loin des hordes de touristes de Venise. C'est un peu loin, à une heure en bus et vaporetto de Venise, mais ça laisse le temps de lire, d'apprécier le paysage en chemin. Pellestrina et la maison de Michela valaient bien ce temps de trajet !! Merci encore pour cette expérience inoubliable !
Corinne
2015-10-30T00:00:00Z
La casa è perfetta, c'è tutto il necessario e anche altro, molto comoda e gradevole. Michela ha pensato a tutto quello che può farti sentire a casa, sempre con un tocco grazioso e gentile. Siamo stati benissimo! Le 2 biciclette hanno reso tutto molto più semplice e gradevole e Pellestrina è incantevole. Anche i vicini di casa (Monica e la sua famiglia) sono stati più che gentili. Ci tornerò sicuramente. Grazie Michela e Cristina!
Maria Angela
2016-09-23T00:00:00Z
Michela was a great host. Communication was excellent and there was a lovely basket of goodies waiting for us when we arrived. There were good recommendations of things to do and places to eat - Lunch at Bar de Nikky was a particular highlight. The house itself is lovely - quite tiny but had everything we needed for a week stay. The bikes were brilliant - we spent most of our time cycling up and down the island and over to Lido. Pellestrina itself is a gem - hidden away from the tourists of Lido and Venice and utterly charming. Everyone was really friendly and helped us out when we needed to find things. We spent a couple of days in Venice - the journey there on the bus - ferry - bus - boat was really good fun and added to the experience for us (and was quicker than we thought) and it was great to be able to escape back to Pellestrina at the end of the day. We had a wonderful time in Michela's cottage. We will be back!
Becca
2016-05-15T00:00:00Z
Michela is a great host. She ist very friendly and warmhearted and described the way to her flat in Pellestrina very well and when we arrived we found everything what we needed for the evening and the next breakfast. The flat ist very nice furnished and equipped. The traveling to Venice is very easy by bus, every day and the whole night. But also Pellestrina island is nice and quiet. It was a perfect stay and we would really like to come again.
Ingrid
2016-05-22T00:00:00Z
Michela is an absolute angel! The island of pellestrina is incredible and Michela made everything better! The listing is exactly as we envisioned and she gave us more than enough food for breakfast for days. I cannot recommend this place enough. We absolutely will be back.
Mikolka
2016-05-31T00:00:00Z
Alles super, danke!
Jürgen
2016-09-08T00:00:00Z
ประเภทห้อง
บ้าน/อพาร์ทเมนท์ทั้งหลัง
---
ประเภทที่พัก
บ้าน
---
พักได้
4
---
ห้องนอน
Pellestrina Venice, Veneto, อิตาลี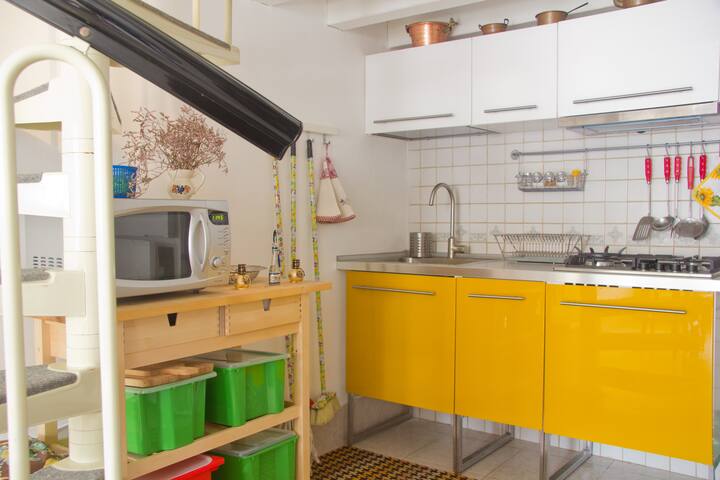 The apartment is as described in the locality Pellestrina, an island between the sea and typical lagoon of fishermen, in the village within walking distance, there are all essential services, Pizzerias Bakery Food and Fishmonger. The beach is 100 meters, it is clear there are no beaches, the sea is crystal clear ideal to spend a relaxing holiday.
Accommodation well renovated in the center of the island with basic services (Wi-Fi, washing machines, microwave, 2 bikes TV and more) cleanliness and tranquility is our lifestyle, to pass the days relaxing you have found the ideal place , recommended to tourists, young people and people who love the beautiful sunsets over the Lagoon.
Location located at the side of a wonderful historic Venetian Campiello "Brasiola Field" relaxing and interesting ...
Consigliato! Aldo e Luigia sono due persone accoglienti e simpatiche. L'appartamento affaccia su un campo prospicente la laguna e abbiamo trovato la pace che cercavamo. I Murassi sono a pochi passi. Aldo e sua moglie ci hanno messo a disposizione 2 bici ottime per girare l'isola.
Pierandrea
2016-04-26T00:00:00Z
Tutto perfetto! Aldo e Luigia sono stati dei fantastici host: premurosi e discreti al tempo stesso. Appena arrivata mi hanno dato tutte le informazioni che mi hanno reso autonoma su qualsiasi necessità e mi hanno consigliato sui luoghi da visitare su questa meravigliosa isola. Le biciclette sono preziose per girare in lungo e in largo l'isola. L'appartamento è curatissimo in ogni minimo dettaglio ed è collocato proprio di fronte alla laguna. Davvero una bella location! Lo consiglio. Anche in pieno inverno è un luogo magico.
nadia
2017-01-04T00:00:00Z
Il soggiorno a Pellestrina è stato davvero piacevole e confortevole. La casa è molto accogliente dotata di tutto il necessario e in un posto molto tranquillo. Aldo e sua moglie sono stati molto molto disponibili ed ospitali.
Eva
2016-06-05T00:00:00Z
Ospite accogliente e preciso. appartamento all'altezza dele aspettative. consiglio vivamente questa soluzione!
FABRIZIO
2016-08-29T00:00:00Z
Aldo e Luigia sono stati gentilissimi e accoglienti. La casa è così come si può vedere dalle foto: una vecchia casa di pescatori, col soffitto basso e le travi a vista. Piccola, ma dotata di tutto quel che può servire. Forse, per dare un consiglio, per una vacanza lunga manca un divanetto. Ma è proprio per trovare il pelo nell'uovo. Il quartiere è molto tranquillo: esattamente quello che volevamo. La casa è prospiciente la laguna e a due passi dalla spiaggia sul mare aperto. Vicina (poche pedalate in bicicletta o una piccola passeggiata) ai negozietti: panificio-pasticceria-alimentari, edicola, piccolo supermercato coop, una pizzeria, una buonissima gelateria. A noi è piaciuto tanto l'ambiente: pieno di bambini che giocano e vanno in bici e di persone sedute fuori a chiacchierare. Era come essere tornati un po' indietro nel tempo. La spiaggia, poi, era quasi tutta per noi! Decisamente un bel soggiorno. E un grazie ai nostri gentili ospiti.
Raffaella
2016-06-19T00:00:00Z
Aldo and his family were very welcoming and even provided a little breakfast basket for us upon arrival. The accomodation was well cared for and equipped and also very clean. We loved the bikes provided for use, they were awesome to ride around the island. We absolutely recommend this place and advise anyone looking to stay in venice who would like to escape from the crowds to give Pellestrina a try. Everything was perfect.
Adrian
2016-04-11T00:00:00Z
La casa è spaziosa e confortevole. La pulizia impeccabile. Aldo e Luigia sono ospiti generosi, attenti e premurosi. Consigliato a tutti!
Irene
2017-01-29T00:00:00Z
Es war alles absolut perfekt! Aldo und seine Frau sind wundervolle Gastgeber. Vielen Dank! Ich komme gerne wieder.
ilona
2016-05-08T00:00:00Z
ประเภทห้อง
บ้าน/อพาร์ทเมนท์ทั้งหลัง
---
ประเภทที่พัก
อพาร์ทเมนท์
---
พักได้
4
---
ห้องนอน
Pellestrina, Veneto, อิตาลี
Apartment for medium-long vacations, fully restored and furnished with taste in Pellestrina. The studio consists of a fully equipped kitchen, table with chairs, sofa bed and bathroom with shower. Ideal for one or two people.
The accommodation is a studio completely renovated and furnished with style. E 'consists of one room in which there is a functional kitchen with cooking utensils, a table made of solid wood with 4 faux leather chairs, a comfortable sofa bed that can be transformed into a double bed and a double bed with faux leather structure. To store all your stuff the apartment has two comfortable and spacious drawers. In a separate room is a bathroom with shower. The furniture is new and modern, designed to make the most of the space. The studio location is strategic because it is located just 3 minutes walk from the sandy beach of Pellestrina. And 'ideal to spend a period of sunshine and summer relaxation. Pellestrina is an island in the lagoon from which you can easily reach Venice, Lido of Venice and Chioggia. The main attractions are: _ The Venice carnival (February) _ The art exhibition of the Venice Biennale (in the summer at the Giardini) _ The Film Festival which is celebrated every year at the Venice Lido with the participation of all the movie stars. _the fireworks in honor of the Redeemer. The most famous summer festival of Venice, which is celebrated on the third Saturday of July. Many boats gather in the basin of San Marco to see the fantastic fireworks. An event not to be missed. _ During the summer at Pellestrina there are various village festivals with live music, sale of typical objects, raffle and food stands. _ the Historical Regatta, a race between typical Venetian rowing boats that takes place in the Grand Canal every year on the first Saturday of September. _the of New Year's fireworks in Piazza San Marco. Each year Venice hosts a party New Year's Eve in Piazza San Marco with fireworks to greet the new year. A Pellestrina you can visit by bike the oasis and the Fort Ca'Roman. A protected area by the WWF and Lipu, perfect for spending a day in contact with nature. The Pellestrina beach is free, so included in the price I will provide 2 beach towels and an umbrella. Obviously the bikes are at your disposal.
Near the apartment is a small supermarket (50 meters), and a butcher; during the week of itinerant fruit and vegetables or cheese may park and sell their products at 30 meters from the apartment. Emergency room and pharmacy are within 150 meters, with bikes you can easily get excellent seafood restaurants, ice cream parlors, or a supermarket! The neighborhood is very quiet at night and lively in the morning!
It was very nice to stay at Davide's place. I would recommend it to anyone who wants to visit Venice with a peaceful and unforgetable experience. The location is a bit away from Venice city center, you have to take ferry and bus for about 40 minutes. But it is totally worth the traveling. Because the place is close to beach and beautiful neighbourhood. The apartment is equipped with kitchen and you can buy groceries from the nearby COOP supermarket using the bikes provided by the host. It is amazing.
Jingjing
2015-05-26T00:00:00Z
Ottimo soggiorno a Pellestrina : la casa di Davida è in un'ottima posizione, pulita e dotata di tutti i confort necessari, esattamente come descritta. Davide e la sua famiglia sono stati molto gentili e disponibili!
Luisella
2016-04-26T00:00:00Z
grazie, Davide è stato gentilissimo, la casa è confortevole e pulita, Pellestrina magica anche sotto la pioggia. Siamo stati proprio bene.
simona
2016-02-29T00:00:00Z
We had an incredibe time at Davide's house, the whole family tried their best to make our stay as pleasant as possible! The island is so lovely and beautiful, totally worth visiting, even if you don't book Davide's flat - which is a mistake;). The way to Venice takes about an hour, but that was no problem at all! We can only recommend you a stay at pellestrina, and I am sure that I will come back one day!
Mara
2016-10-11T00:00:00Z
Perfect stay in a beautifil, clean and modern apartment. The host met our expectations: kind and professional. Definitely a place I highly recommend.
FABRIZIO
2015-08-27T00:00:00Z
A great stay in a quiet, clean nice studio! Thank you Davide for the hospitality!
Annelies
2017-02-27T00:00:00Z
Positive - It is very close to bus stop, supermarket, pharmacy, pizzeria, bakery, bar and restaurants. Very quiet and calm location. Feels like you are in a Italian village and moreover very friendly villagers. A very thin strip of land with beach on one side and lagoon on the other. Very clean and cosy house with all required facilities. Davide was a very friendly host. Felt very safe and relaxing. The island itself has a few attractions such as bird watching etc.. Negative - The location is a bit far. I would not recommend it if you are on a short tour to Venice with the intention of seeing the whole of Venice because you would lose a lot of time travelling to and fro. The busses are twice every hour and once every hour after 8pm. The bus trip takes 45 min to Lido and then 15 - 25 minutes from there to Venice depending on the ferry you are taking. Overall - The place is perfect for a quite, relaxed experience on a venetian lagoon village but if you are on the run to visit may places then this would not be a good choice. But, we went there to lay back and enjoy and it turned out to be a perfect location for this and I would recommend it to everyone who wishes for a relaxed vacation.
Sivaprakash
2014-09-24T00:00:00Z
We had such a lovely time staying at Davide's. The location was so beautiful - right on the water! Very clean with all the amenities you would need to cook and feel at home. He also gave great directions for reaching the place. Wonderful people.
Maryam
2016-04-05T00:00:00Z
ประเภทห้อง
บ้าน/อพาร์ทเมนท์ทั้งหลัง
---
ประเภทที่พัก
อพาร์ทเมนท์
---
พักได้
4
---
ห้องนอน
Pellestrina, Veneto, อิตาลี