This welcoming, rustic & cosy cottage stands in the broad sweep of the landscape, where moorland meets farmland, overlooking Fryup. Guests stay in the low roofed field-house adjacent to the owner's home; (private entrances, see photo). It is "off grid" but a generator supplies power & heating and hot water is provided by the multi-fuel stove. Bring wellies, & jumpers! An ideal place for those who like to listen to the cry of the curlew and watch stars at night.
Double or twin beds via short, steep flight of stairs and a single bed on a landing area. A living / dining room houses the wood-burner which heats all the hot water for radiators and shower. There are lovely views over the fields, hills, and moorland. The shower room has a pot sink for a basin and the beach-type shower has, as a shower tray, an antique Butler's-sink. The galley kitchen has an LPG cooker with hob, grill (for toast) and oven. There is crockery, cutlery and an assortment of pots& pans. Tea, coffee, biscuits and a starter breakfast will also be provided and when the hens are a-laying there can be eggs too. There is a small gas fridge in the log house which is a moody thing and tries to freeze everything it can but there is a meat safe which can be used as cool storage. Being 'off-grid' there is no washing machine. There is WI-FI & mobile phone coverage can usually be found inside or just outside the building. There is storage for bicycles. Bed linen and towels are included. During the colder months there is an "honesty box" for contributions towards the cost of logs and coke.
Bainley Bank Cottage is in Great Fryupdale, in the heart of the NYMNP, 3 miles from the pubs, shops and railway stations of Lealhom and Glaisdale. The Lion Inn, the highest pub on the North Yorks Moors is 6 miles distant. Danby Castle, the home of Catherine Parr, Henry Vlll's 6th wife, is 3 miles away. The fishing port of Whitby, the Jurassic Coast and lovely beaches, Runswick, Robin Hoods Bay and Sandsend are only 12 miles away
The arrival at Bainley Bank cottage was a relief after all those 25%roads. What an awesome place to be, the perfect place to empty your mind and soul. Dee( Fay's friend) provide a warm fire and everything needed for a nice breakfast. It was a real adventure to get the heat on to become hot water, but that belongs tot the Moor Experioence. We have had a great time and after a few days we drove with a joyful heart over the 25% roads. We hope to come again to this unique place on earth! THanks Fay for sharing it.
Jet
2016-05-05T00:00:00Z
We have just returned from a wonderfully relaxing stay at Bainley Bank Cottage. Fay was a delightful host, the cottage was completely charming, peaceful and tranquil and set in a breathtakingly picturesque area. Just what we wanted, perfect.
Simon
2015-07-08T00:00:00Z
Once again a lovely welcome from Fay, who feels like an old friend after this 3rd visit. Welcomed with fresh raspberries, shortbread biscuits, a roaring fire in the stove and a lit-up Halloween pumpkin in the window! Everything clean and beautiful. Great to see Fay again.
david
2016-10-30T00:00:00Z
We had a fantastic time! Fay's cottage is the perfect rural get away to recharge your batterys. We chose to have a technology free weekend so we were pleased that the telly was discreetly hidden behind a tapestry allowing us to go back to basics. Fay's friend Dee was looking after the cottage while she was on holiday. Dee was welcoming, very helpful and the perfect host. Overall the visit was Warm, friendly and without a doubt worth the visit. If visiting in winter make sure you take your wellies!! We hope to go back again.
Rosemary
2016-01-10T00:00:00Z
It was a wonderful experience altogether. The cottage is simply lovely and has everything one needs, the location is stunning and as remote as it gets in the UK. The impression of the place is only exceeded by the impression from the host. I really recommend Fay's place (as it is known to locals) to anyone who wants to tour the moors, it will be an unforgettable stay. We are definitely coming back!
Michael
2015-06-16T00:00:00Z
From the start Fay make us very welcome. We were left cereal, fruit, bread and milk for Sunday breakfast as well as freshly made drop scones. A pot of choccy buttons and a vase of roses were also left for us. All lovely gestures. Great location, right on the moors with walks from the door and very peaceful, we've rarely slept so well. The cottage was fantastic with really great fixtures and fittings and so warm and cosy. We especially loved the shower room. Bob (our dog), was made very welcome too, and made friends with Eddie and Pipkin (Fay's dogs). We also loved the hens, cockerels, horses and the sheep roaming free on the moors. The wild birds, particularly the grouse and lapwings were full of the joys of spring and very entertaining.
James
2016-05-22T00:00:00Z
A very warm and friendly welcome by Fay. She met us on arrival and we were given a tour and how everything worked etc., A welcome pack of essential food and drink was in place followed by the offer of a plate of freshly griddled scones; needless to say these were eminently 'scoffable' Cottage as described, set in a beautiful location of undulating moorland landscape, big big skies and nature all around, including a horse in the field next to the cottage who leans in through the window to be fed tit bits. Open fires and everything you would need for a quiet, away from it all break. If there be heaven on earth, this be it
Stephen
2016-05-25T00:00:00Z
Another super minibreak in this gem of a bolt hole. One rainy morning - I managed to get some studying done, away from distractions - but two days with glorious sunshine for autumnal walks. We also had an atmospheric Hallowe'en with gas lamps on, fire banked up and even a carved squash with a nightlight in it (the hens ate the seeds and pulp - a thank for their eggs!) Fay and neighbour Dee are officially fabulous.
Jill
2015-11-01T00:00:00Z
ประเภทห้อง
บ้าน/อพาร์ทเมนท์ทั้งหลัง
---
ประเภทที่พัก
บ้าน
---
พักได้
3
---
ห้องนอน
Lealholm, สหราชอาณาจักร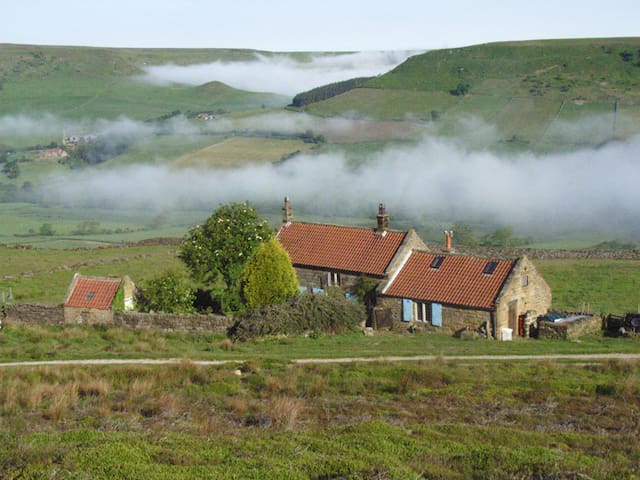 This is a home from home - Just 1 mile outside of Rosedale Abbey with stunning views across the valley and within easy reach of the north Yorkshire coast. Footpath leads directly from the cottage to walks back into Rosedale or up the Dale to the Lion Pub.
Remote enough to see the stars at night with hardly any light pollution but also within walking distance of the lovely village of Rosedale Abbey with it's excellent pubs, cafes and useful shop. The house has a large kitchen diner with a wood burning stove which is a fantastic sociable area and a separate "formal" lounge where you can also enjoy a wood burning stove.
The North York Moors is an area of outstanding beauty with a host of things to do for both young and old, and it's all right on your doorstep. The coast is approx 35 minutes away (Whitby, Robin Hoods bay). The North Yorkshire Moors steam railway runs from Pickering to Whitby and stops at nearby Grosmont. The Orange Tree spa is a mile down the road if you fancy some relaxation therapy or even closer to home is the Sycamores spa and beauty.
The cottage is in a beautiful location and was immaculate. It was really well equipped, with everything you could possibly need. The directions from David made it really easy to find and he also provided good recommendations for places to eat/visit. We had a lovely walk on Saturday. Would definitely consider returning. Thank you!
Alison
2016-09-26T00:00:00Z
What a find!? We wanted a house big enough for 8, in a rural location, not too far rom the sea in the North Yorks Moors and this place was 100% on the nose. The house is spacious, well decorated and equipped with a wonderful kitchen and dining/sitting area with superb moorland views all round. Plenty of parking and a lovely garden / outdoor sitting area looking out on the moors again. Bedrooms had comfortable beds with excellent duvets and pillows. One very large bathroom with toilet, bath and shower, one small toilet and a toilet downstairs. Rosedale village is about 1 mile away with 3 pubs, two shops and a great tearoom. Though we travelled to Whitby and RHB the best walks were through the dales and up on the moor direct from the doorstep. Excellent 4 mile walk up the dale and up to The Lion on the moor where the food was very good. A perfect place for a great rural holiday and all through Airbnb. All in all the host's description was accurate
David
2016-08-21T00:00:00Z
We spent a few days at the cottage and had a wonderful time walking. The cottage was great, very much as described. David's directions to the cottage were really helpful and accurate. Our communications went well. Very relaxing, a beautiful setting and fab accommodation.
linda
2016-04-25T00:00:00Z
This house/cottage is unbelievable - excellent standard of cleanliness, modern yet tasteful decor and David provided us with everything that we might have needed for a girls weekend away. This house is set in a beautiful location with the countryside literally at the front door - perfect for families and friends wanting to get away from it all! We couldn't have asked for more, a magnificent find and we hope to be back. Thank you
Hannah
2016-10-17T00:00:00Z
We had a perfect time at the cottage, with 6 adults and 4 small children. The location was lovely with beautiful view out the back and it was a short walk into the village where there were a couple of lovely pubs. the main kitchen/dining room also has a large L-shaped sofa in so made this an ideal family room and we spent almost all of our time in this room. It wasn't too difficult to find and the cottage was well fitted out, with everything you could want in the kitchen and things like salt and pepper and some tea bags still left in the kitchen which was great.
Rory
2016-03-29T00:00:00Z
David communicated well and quickly after I booked his house for a weekend away. He was very helpful at providing information on the area and advising me on what shops were nearby as we wanted to do an online food shop. The house itself was beautiful. Warm, peaceful and with amazing views and near a typical Yorkshire village (10 minutes walk with pubs etc. The house had everything we needed and the bedrooms were lovely with comfortable beds . I will be back again!!
Elle
2016-11-27T00:00:00Z
We absolutely loved our stay at Rosedale Cottage. The house is in impeccable shape and has an extremely good lay out. The best thing though is the location and view. Unbeatable!
Annina
2016-08-30T00:00:00Z
What a beautiful cottage in a stunning setting. With everything you could need and more for a perfect break. Thank you David for allowing us to stay we had a fantastic time.
Laura
2016-01-22T00:00:00Z
ประเภทห้อง
บ้าน/อพาร์ทเมนท์ทั้งหลัง
---
ประเภทที่พัก
บ้าน
---
พักได้
8
---
ห้องนอน
Rosedale Abbey, สหราชอาณาจักร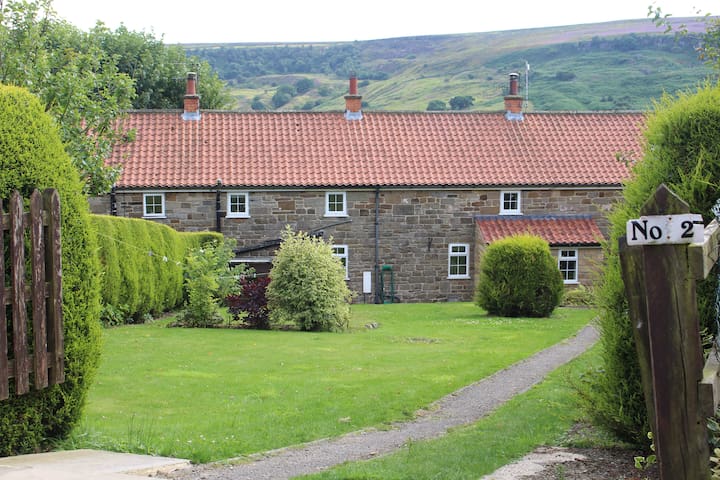 Set in beautiful countryside with walks from the door, our cosy cottage was built for the miners who came here in the 1860s. We have lovely views, a peaceful garden (with writing/painting hut), and plenty of room for muddy boots. 2 rooms (1 en-suite)
This is an old cottage so the rooms are warm and cosy, and full of pictures and books. We have two double rooms, one with en-suite. Will suit anyone interested in walking, or in search of peace and quiet (or some creative inspiration).
Well placed for walkers, close to the Coast to Coast and the Cleveland Way, we're an hour from York, half an hour from Whitby, and twenty minutes from Pickering. The famous East Kilns and the start of the Rosedale Railway walk are just a few minutes away. After a day's walking there are several pubs close by (with great food) and there's also the Orange Tree Relaxation Centre with its sauna and hot tub!
Hilary was so kind to both pick me up and drop me off at Malton station as I have no idea how to drive let alone have a car! She showed me around her lovely cottage and even bought in some food shopping for me so I could make some meals whilst staying at the cottage. I was there to get some writing done, which I did in the writers shed at the end of the garden and in the house too. Hilary was out and about for most of my trip, which was fine as I was working, but we still have some nice chats and I met her new cats which were so cute. The place has everything you need for a lovely trip in the moors, was great to have my own en-suit and the room was very cosy. Thanks so much Hilary.
Alix
2016-08-24T00:00:00Z
I had a great time in the Moors and Hilary was really welcoming and helpful. There are great walks in this area and a lot of nice pubs and cafe's nearby - perfect for a getaway from city life.
Tor
2016-06-11T00:00:00Z
Straying with Hilary was like staying with an old friend. With no qualms she picked me up from the train station, provided me with a lovely room, a breakfast that hit the spot, packed lunches and even home cooked meals to share. Hilary and I worked on some writing exercises together (as mentioned in the listing that budding writers can get a hand along) and even had a night out in Scarborough together. A totally unique experience, and what I think airbnb is exactly about. In terms of amenities the bedroom is fantastic, quite large and air, the bed very comfortable, and there is even an ensuite which is perfect! The location is also provides a unique experience, and armed with an ordnance map there is plenty of remote moorland to explore. I would highly recommend this listing, and if I could, would love to come back to stay in the summer.
Emily
2015-12-10T00:00:00Z
Hilary was the perfect host/ess. She gave me good advice to drive to her place via Castle Howard, which was a wonderful way to come through the Moors. She made excellent breakfasts, suggestions for walks and we enjoyed good conversations at the kitchen table. Her cottage is delightful and the bedroom a cosy nest. Thank you, Hilary, for a memorable visit in every way.
Barbara
2016-07-10T00:00:00Z
We loved our stay with Hilary in Rosedale East. It is a gorgeous setting with a wonderful and welcoming host. A home from home indeed. Thank you Hilary!
Karen
2016-09-26T00:00:00Z
Brilliant find. Perfect get away from it all location.
Tim
2015-11-18T00:00:00Z
Fabulous location, host and surroundings. Hilary took the time to make everything suitable for my needs and I really felt looked after. In order to get around easily, it would be better to have a car otherwise you would be reliant on infrequent local transport.
Elaine
2016-06-06T00:00:00Z
As I was arriving by bicycle and coming from a reasonable distance, I couldn't be exact about my arrival time, and ended up waking late on both mornings. Hilary was excellent at accommodating this, and it was a pleasure to talk with her over breakfast. The place was very clean and characteristic, and in a great location. Hilary had usefully written an 'cheat sheet' of local cafes and pubs, as well as some spots worth visiting, which I found useful, and was more than happy to give me a little pointer as to a route to the coast avoiding the busy main road to Whitby/Scarborough. Really enjoyed the stay.
Sam
2016-06-27T00:00:00Z
ประเภทห้อง
ห้องส่วนตัว
---
ประเภทที่พัก
ที่พักพร้อมอาหารเช้า
---
พักได้
2
---
ห้องนอน
Rosedale East, North Yorkshire, สหราชอาณาจักร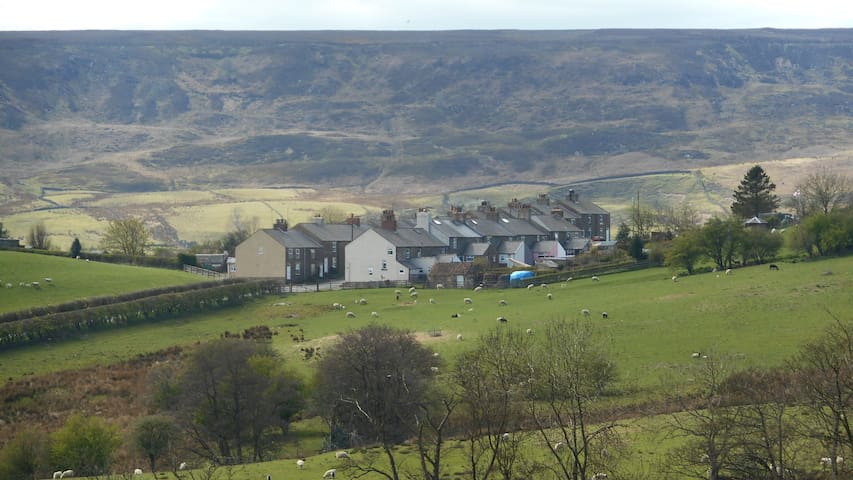 A detached Victorian conversion to very spacious accommodation within the 4 acre grounds of Sevenford House, sharing the views of the valley and moors. The Coach House is the perfect base from which to explore the moors and North Yorkshire.
ประเภทห้อง
บ้าน/อพาร์ทเมนท์ทั้งหลัง
---
ประเภทที่พัก
บ้าน
---
พักได้
6
---
ห้องนอน
Rosedale Abbey, สหราชอาณาจักร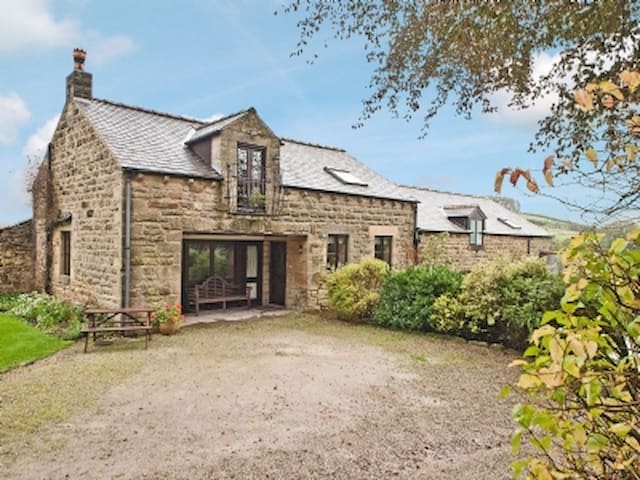 Set in the heart of the North York Moors National park, this spacious double room has an ensuite bathroom (bath and shower over) a large double bed, complimentary tea,coffee and hot chocolate and wifi in public area.
Originally a Norman longhouse, the Inn boasts a wealth of features, you can see the original heugenot stonework in the bar and can trace the original longhouse through the features of the lovely grade II listed building. Although the Abbey has long gone, we have an active historical society and can provide places of interest and suggestion for visits. The Inn provides a warm homely haven to walkers, cyclists and fine dining alike.
Lots more details can be (EMAIL HIDDEN)
ประเภทห้อง
ห้องส่วนตัว
---
ประเภทที่พัก
ที่พักพร้อมอาหารเช้า
---
พักได้
2
---
ห้องนอน
Rosedale Abbey, สหราชอาณาจักร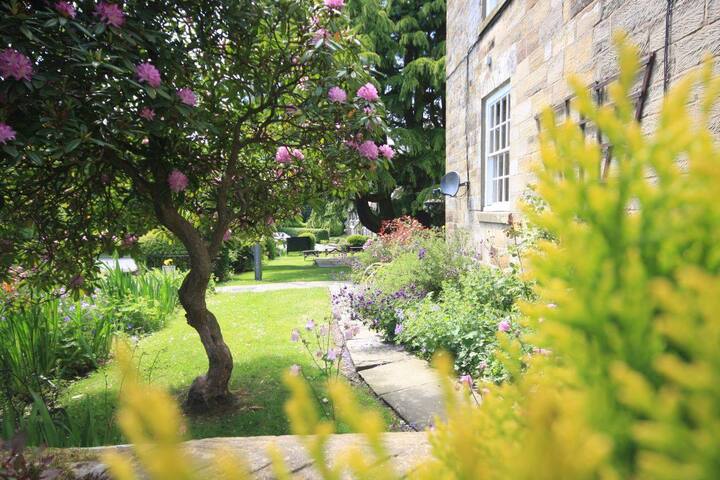 Sevenford House is set in 10 acres of grounds overlooking the beautiful village Rosedale Abbey. Located in the North Yorkshire Moors, Sevenford House combines stunning views, a comfy stay and a breakfast set to keep you going for the full day!
The host canceled this reservation 10 days before arrival. This is an automated posting.
Aimee
2016-03-16T00:00:00Z
ประเภทห้อง
ห้องส่วนตัว
---
ประเภทที่พัก
ที่พักพร้อมอาหารเช้า
---
พักได้
2
---
ห้องนอน
Rosedale Abbey, สหราชอาณาจักร
กรอกวันที่เพื่อดูการกำหนดราคาเต็ม มีค่าธรรมเนียมเพิ่มเติม อาจมีภาษีเพิ่ม