Only a 10-minute drive from the historic quarter, Red Rose is in a striking building in Amman's Umm Uthaina area, near shops and restaurants. It features an in-house club and 24-hour room service.
Equipped with free Wi-Fi access and air conditioning, rooms at Red Rose Amman Hotel have a modern lay-out. Some rooms include large flat-screen TVs in spacious sitting areas.
Most popular landmarks US Embassy2.4 km Zahran Palace2.9 km Al Khaldi Hospital3.3 km King Hussein Business Park4 km The Islamic Scientific College4.5 km Royal Automobiles Museum4.7 km Al Hussein National Park4.7 km Rainbow Street4.9 km The Children's Museum5.1 km The Jordan Museum5.5 km
ประเภทห้อง
บ้าน/อพาร์ทเมนท์ทั้งหลัง
---
ประเภทที่พัก
ที่พักพร้อมอาหารเช้า
---
พักได้
2
---
ห้องนอน
อัมมาน, Amman Governorate, จอร์แดน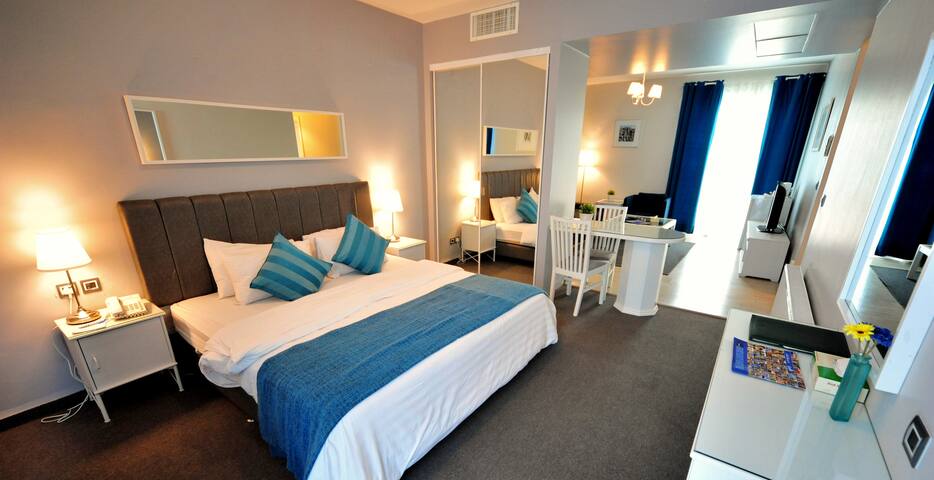 Nobel Hotel is a two-star home style accommodation located in a quite neighborhood walking distance from downtown. This room is a fully furnished double bedroom with a view on Amman's Citadel. (room has a nice breeze - no AC needed).
Nobel Hotel is a home style accommodation, where we make sure that everything you need is made available to ensure you a comfort stay. Brilliantly located, Nobel hotel is 5 min taxi ride from Abdali and Tabarbour main bus stations - which are your gate to the world of Jordan to visit (Petra, Dead Sea, Wadi Rum, Um Qais).
Quite neighborhood centrally located: 10 minutes walk to the Citadel, 10 minutes walk to the Roman Theater 10 minutes walk to Paris square
I really liked my stay in this place (considering the possibilities). It is not the best place in Amman for sure, the environment is bit creepy and old, but for the price you pay it is very much worth it! There were some problems (for example broken heater for water) and things not working, but they always tried to solve it and were very nice. The place is not probably for someone, who wants to stay in pretty, very clean place, but for those (mostly backpackers), who want to save money and be in trustful environment, I would really recommend this place. Thank you Ahmed and your team. I spent very nice nine days in your hotel! Lukáš
Lukáš
2016-10-09T00:00:00Z
Nice and cosy guesthouse in the center of Amman
Erik
2016-05-05T00:00:00Z
Very nice place and extremely affordable! Stayed for one night only but would happily stay longer. If you're on the budget, definitely consider this!
Milena
2016-09-15T00:00:00Z
Nice staff, clean room, sweet tea on arrival, great location,... you need more?
Karlos
2016-10-22T00:00:00Z
It was such a wonderful experience being first time in Jordan, and Ahmad has made my trip 5 *****. I arrived late at night in Amman. Ahmad has arranged for airport pickup. The transfer was seamless, and my stay with him was wonderful. With the price I paid for the room, I don't think any hotel or guesthouse could beat this place, as it is so well located to everything in Amman. The center city is only five minutes walk with shops, restaurants and cafe's surrounding the apartment. Ahmad communicated well, and his staff were all attentive. Somebody is always in a lobby to help. Highly recommended for all budget travellers, especially in Amman. You don't find another place like this one. Thanks Ahmad and the Team!
Bert
2016-10-29T00:00:00Z
It was amazing stay, very good location (5 min from downtown) for affordable prize with breakfast included. Atmosphere at the place is very friendly and host is so kind and helpful. I arrived late at night and he waited me at the airport, helped me with the luggage. I felt very comfortable and welcomed here. I can highly recommend it!
Alexandra
2015-11-12T00:00:00Z
The place was in a prime location in walking distance from downtown. Ahmad was very helpful, making sure me and my friend were well informed about sites, attractions, and how to get to these places. The place has everything you need and it's clean and comfortable! The airport pickup was very helpful! Thanks for everything!
Catalina
2015-10-16T00:00:00Z
Ahmad was a great host, very responsive before and during our visit. The hotel was suitable to our needs, and very well priced. The shower was warm, and the room was clean and smoke free. We only stayed briefly, but everyone was very friendly and helpful. It was difficult to navigate Amman, though, so if you are driving, be patient.
Erin
2015-12-24T00:00:00Z
ประเภทห้อง
ห้องส่วนตัว
---
ประเภทที่พัก
ที่พักพร้อมอาหารเช้า
---
พักได้
2
---
ห้องนอน
อัมมาน, Amman, จอร์แดน
My place is close to the city center and restaurants and dining. My place is good for couples, solo adventurers, business travelers, families (with kids), and big groups.
ประเภทห้อง
ห้องส่วนตัว
---
ประเภทที่พัก
ที่พักพร้อมอาหารเช้า
---
พักได้
4
---
ห้องนอน
อัมมาน, Amman Governorate, จอร์แดน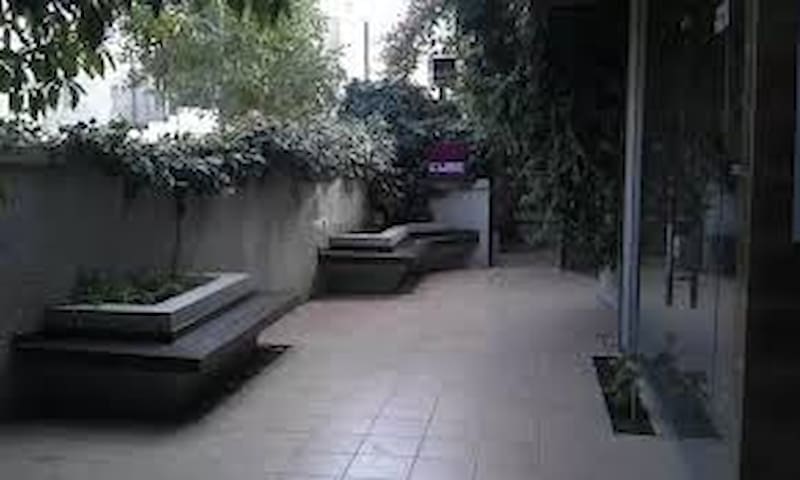 This listing is for a private room, with inside bathroom, located in the heart of downtown, we have more rooms available even if no availability is shown online, contact us
The Perfect Experience, Welcome to The Boutique Hotel Amman. Located in the heart of downtown Amman. We offer the perfect combination while being located within walking distance from the Roman Amphitheater, Citadel,all the restaurants cafes and bars in Rainbow street also you can find antique and local produce markets. You will experience the warmth and hospitality of staying in an original house that has been fully renovated in 2012. Accommodation in downtown Amman could not get any better with our newly renovated rooms with spring mattresses clean white linen same as 5 stars standards.
Ibrahim is perfect host, warm and easygoing. You can feel like at home. I would recomended his place to anyone.
Tomislav
2016-11-08T00:00:00Z
Im Boutique Hotel Amman ist man gut aufgehoben. Ala, der Manager ist ausgesprochen nett und kümmert sich sehr gut um seine Gäste. Yousef, mal am Empfang, mal als Fahrer tätig, ist ebenfalls sehr nett und hat sich als kompetenter und verantwortungsvoller Fahrer gezeigt. Die Lage des Hotels könnte nicht besser sein, mitten im alten Amman, unweit der Sehenswürdigkeiten und umgeben von Restaurants und Shops. Will man Ausflüge, z.B. nach Jerash , etc. machen, wendet man sich an Ala, den Manager. Er koordiniert alles und wenn man das Glück hat, dass es noch andere Interessenten gibt, reduziert sich der Fahrpreis für den Einzelnen erheblich. Das Hotel ist sehr sauber, einfach, aber hübsch eingerichtet, genau wie es auf den Bildern zu sehen ist. Sollte ich wieder nach Amman kommen, würde ich auf jeden Fall wieder dort übernachten wollen. Mein Aufenthalt war perfekt. Danke Ala und Yousef
Annamarie
2013-11-08T00:00:00Z
Ibrahim is a great host! Really helpful and provides great tips and directions for exploring the city. Location is really downtown so you're in the center of where it happens (and across the street there's a great coffee house), walking distance from many of the highlights in Amman. Would definitely reconmend the Boutique Hotel for a visit to Amman
Ynte
2016-12-14T00:00:00Z
This is a tiny room in a small hotel, up a narrow staircase. The downstairs street is fairly noisy but the neighborhood itself is nice, lots of shops, etc. Central location and reasonable place to stay for the cost.
Zina
2014-02-14T00:00:00Z
The neighborhood was safe with a lot of restaurants, cafes, and shops around. The Roman Theater was also a short 20 minute walk away! Ala was very accommodating and flexible with some last minute changes that came up. My friend and I were impressed by everyone's hospitality at the hotel and it was really a pleasant experience overall. Every time we needed help with something, whoever was around would go out of their way (call, look something up, explain) to help :)
Silvia
2014-08-03T00:00:00Z
Very good place to spend a couple of days in Amman.
Yannick
2013-12-27T00:00:00Z
Ibrahim was fantastic and spoke English very well. He set up a amazing package and we got to see almost all of Jordan. The rooms are amazing so don't listen to the reviews about size. They meet all of the basic needs and much more. It's located in a perfect place with everything very close. We had an amazing stay and highly recommend this place to anyone coming to this hotel. Thanks again Ibrahim Masalamaa Joey & Alanna
Joey
2016-09-15T00:00:00Z
My friend and I stayed at Ibrahim's hotel for a night and booked the room shortly before we checked in. Ibrahim responded to our request fairly quickly. The room was very small and basic but appeared clean. The washroom was also small but clean. The bed was fine and there was a small balcony as well. The part that we found to be the most annoying though occurred during check-in. When we got to the hotel Ibrahim refused to let us stay in the same room together because we were a female and a male not married to each other. He claimed that an Arab man cannot stay in the same room with a female who is not his wife, according to some Jordanian law. My friend is a male of Arabic descent but born and raised and lived his whole life in North America and was now all of a sudden a subject to some crazy law because of his ethnic background, supposedly. We argued with Ibrahim for long time until he finally agreed to let us stay in the same room once we said that we were leaving. He also initially claimed that the booking was made for one person but of course I had the airbnb request which indicated the request was for two people. We were flat out discriminated against and it was very unpleasant and not appreciated at all. I have never experienced such a thing at any hotel or accommodation I have ever been to. I'm not sure why he was so adamant and made such a scene. We stayed at two other hotels in Jordan and an airbnb apartment and no one else even mentioned anything about being a problem that the two of us are sleeping in the same room.
Ana
2015-06-04T00:00:00Z
ประเภทห้อง
ห้องส่วนตัว
---
ประเภทที่พัก
ที่พักพร้อมอาหารเช้า
---
พักได้
2
---
ห้องนอน
อัมมาน, Amman, จอร์แดน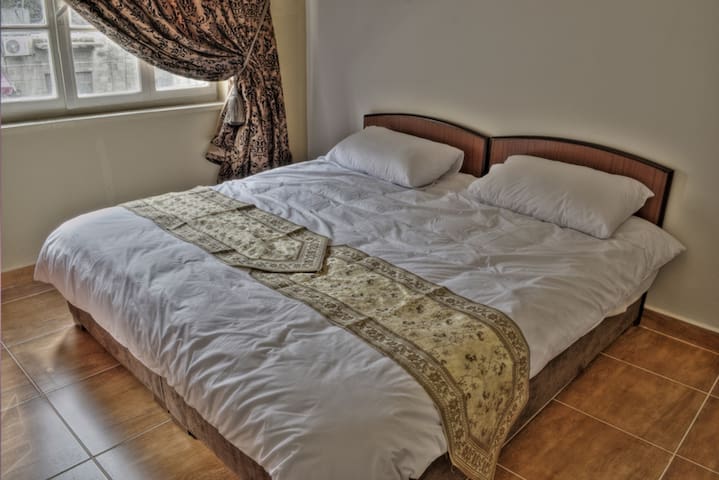 Antika Hotel is a one of a kind boutique hotel in Amman, Jordan. It is located in the heart of the Amman in Rainbow Street which is the busiest street in Amman, it is 5 minutes away from Downtown Amman. We have 17 Rooms with private bathrooms
Rooms are minimum 16m2 wide, all rooms have a full view of the city of Amman. the hotel has a special breakfast and multi sitting areas.
We are located on the first circle which is the first circle to be built in Amman. Rainbow street starts from our hotel, which is the most touristic area in Amman, including Restaurants, bars, pubs, cafes, libraries and oriental shops. Down Town Amman is only 5 minutes walking distance. Our room have a high view over Amman viewing the Citadel, the Museum, Jordan Towers, old churches and mosques.
Place was great. Staff were very friendly and helpful with things such as making phone calls in Arabic. Room was fine and no troubles. Great location near rainbow Street especially for the price. Definitely recommend if you are coming to Jordan.
Brian
2015-11-07T00:00:00Z
The hotel is located near the 1st circle and the famous rainbow street. It is easy to find an ATM machine, a supermarket, a lot of coffee shops and restaurants near by. The hotel is authentic. I felt at home as it is held by a real Jordan family. George, Marlene and their children were very accomoding to us. They have a great experience regarding travels, tours, and so on. Do not hesitate to ask them any kind of advice. They are available let's say 24/7 !!! I do recommand this place as the room rate is really affordable. Great welcome ! Shukran Sincerly Clarisse
Clarisse
2016-05-15T00:00:00Z
This is a fantastic location to access the neighbourhood. Lots of wonderful restaurants and cafes in the area.
Eleanor
2016-11-12T00:00:00Z
Exactly what you expect... Location is perfect right at the beginning of rainbow road. Accommodation and breakfast are rather simple but OK.
Christian
2015-10-15T00:00:00Z
A family run hotel in traditional style. Excellent English spoken with everyone so helpful.
Ann
2017-01-15T00:00:00Z
Great location - walkable to some of the best restaurants in the city. Reception was incredibly smooth and the owner was able to coordinate a great tour guide with almost no notice. The laundry service was quick, great quality, and fairly priced.
Andrew
2016-03-21T00:00:00Z
My experience at Hiba's hotel was great. My journey started with 4 hours delay at the airport due to some complications, but the taxi driver of the hotel was more than ready to help me out and wait for me... At the hotel, everything was very good, the cleanliness and the size of the room were impressive, the decoration was fabulous in the hall... And I would give 5 stars for the location, in the very heart of the vibrant part of Jabal Amman. The breakfast was decent and the family members running the hotel were all very helpful and really nice and open minded.
Ribal
2015-12-17T00:00:00Z
Nice clean little hotel, in a superb location in the nicest part of Amman. Convenient to everything with friendly hosts.
Javier
2015-10-06T00:00:00Z
ประเภทห้อง
บ้าน/อพาร์ทเมนท์ทั้งหลัง
---
ประเภทที่พัก
ที่พักพร้อมอาหารเช้า
---
พักได้
16
---
ห้องนอน
อัมมาน, Amman, จอร์แดน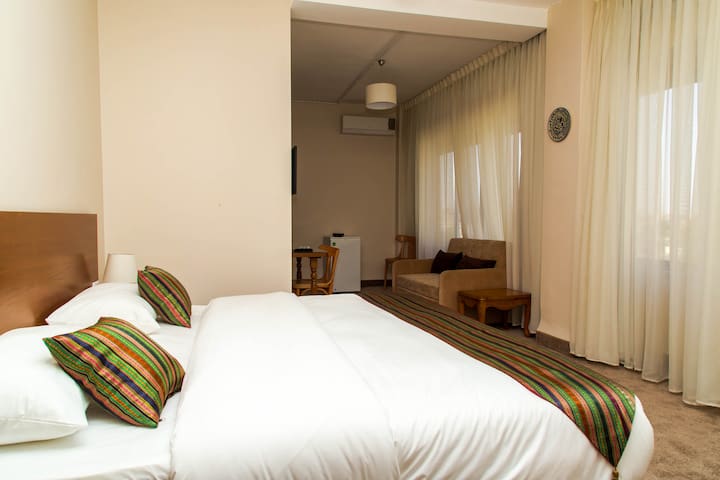 Hidden behind a high wall you'll find the secret garden of Hawa Guesthouse. The house is over 100 years old and has loads of character. We offer free breakfast and wifi. Airport pickup is available for 20 JD. Air conditioning is available for 5 JD. Hawa; your home in Amman!
Hawa Guest House is situated in a old Ottoman house that was build in 1907 for a member of the Ottoman army. High ceilings, small doors and old floor tiles remember of these times. Hawa tried to bring you back to the early 1900s but with the comfort of nowadays. The view from the garden and the roof over Jabal Qala'a and Down Town is absolutely magnificent. You can sit for hours smoking shisha and drinking fresh lemon mint without getting bored!
The Guest House is just a stone's throw away from Paris Circle where you'll find nice shops and cafes. Downhill you'll find the Roman Theater and the souk, it's just a 5 minute walk.
I had a great stay at Hawa. My room was beautiful, clean, and very spacious. The house in general was very quiet and the room service and breakfast was excellent. Muath answered any questions and was always available when I needed something. I can highly recommend this gorgeous place, located very conveniently in Amman.
Julie
2016-01-30T00:00:00Z
Sehr schönes Hostel, super Lage, sehr freundliche und hilfsbereite (organisation Trip nach Wadi Rum) Gastgeber - eine Oase in Amman! Sehr sauber überall und leckeres, abwechslungsreiches Frühstück.
petra
2014-11-01T00:00:00Z
What a wonderful welcome in Jordan! The Hawa house is a magical place, with cats, bunnies, chickens, ducks, and a talking parrot. Our room was comfortable, clean and charming and the breakfast was yummy. Strongly recommended!
Tanya
2015-08-01T00:00:00Z
Great place, very clean and quiet. We had a very relaxing time in the beutiful garden with the amusing cats and bird. Our first few days in Jordan were so enjoyable there that we came back at the end of our journey spontaneously. Eefje and Muath are very helpful with lots of informations about Jordan. Everything was easy and effortless with them. Would definitly stay there again.
Martina
2015-09-17T00:00:00Z
Staying here for the first two nights of our trip was relaxing and useful. Lovely area. Muath helped plan the rest of our trip and book a driver on arrival, even though we arrived late. By the morning, our driver and schedule was sorted. Room very comfy. Lots of hot water in shower. Everywhere spotless. Lounge and garden quite charming and the cats were lovely. Great value and great start to our vacation.
Claire-Louise
2016-03-16T00:00:00Z
We thoroughly enjoyed our stay in one of the premium rooms at the Hawa Guest House. Muath & Eefje were very welcoming and provided helpful suggestions to our activity plans. The guest house is easy to find by car, situated in a great location - within walking distance to all things in old Amman - Rainbow Street, Citadel, Roman Theatre, Souk Jara, etc. It was also a great place to start day trips north to Jerash and beyond. The room was spacious and comfortable without the need for air conditioning in August as there was a cool enough breeze at night through the window. We loved eating breakfast outside in the gardens among the cats, chickens, ducks, rabbits. Another great feature is the honor system of self-service snacks and beverages. Muath & Eefje also helped me wash and dry my laundry which was a big help after traveling (and hand washing my clothes) for almost 3 months. Overall, a great place to stay! You can't go wrong booking several nights here.
Cory
2015-08-30T00:00:00Z
Hawa Guest House is great place to stay in Amman! We loved it. The house is clean, beautiful and in a great location. Our room came with a nice patio and plenty of space for two. We stayed in November and it was chilly and raining the whole time but the bed was warm and comfy even if the room and floor were a bit cool. The location is great, only a 15 minutes walk from Rainbow Street - definitely walk to rainbow street as the steps are beautiful and the side streets are truly romantic and unique - a great place to find good food and drinks. The host and staff are great and very accommodating. Great place. I only thing I would add is that cab rides (uber, not yellow cabs) are super cheap and the airport has wifi, so save yourself 12JD and hail a ride to Hawa electronically.
Jeff
2015-11-08T00:00:00Z
Facile d'accès Proche du centre ville et des centres d'intérêt
juan
2017-01-05T00:00:00Z
ประเภทห้อง
ห้องส่วนตัว
---
ประเภทที่พัก
ที่พักพร้อมอาหารเช้า
---
พักได้
1
---
ห้องนอน
อัมมาน, Amman, จอร์แดน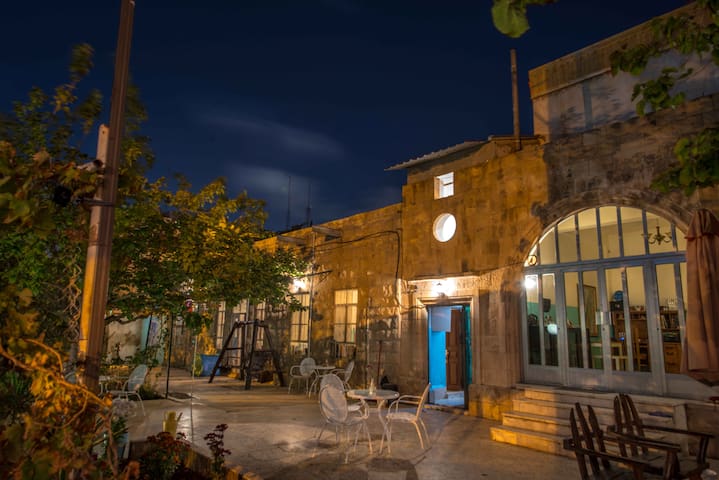 ACOR is a safe space for curious travelers. Our private rooms with en suite bathrooms & individual apartments are directly above a research center for scholars working in Jordan. Pour through our library, dine with archaeologists, and sleep soundly.
The ACOR residence for scholars is above ACOR's library, one of the premier research libraries in the region. It contains over 40,000 volumes and periodicals; with a focus on archaeology, anthropology, Arabic language and culture, art and architecture, conservation, history (Jordan and Near East), and Near Eastern studies.
ACOR is walking distance from the campus of the University of Jordan and close to the main highway connecting the suburb of Sweileh with the Amman city center. It is located approximately 40 km from the QAI Airport and 10 km from downtown Amman.
ประเภทห้อง
บ้าน/อพาร์ทเมนท์ทั้งหลัง
---
ประเภทที่พัก
ที่พักพร้อมอาหารเช้า
---
พักได้
4
---
ห้องนอน
อัมมาน, จอร์แดน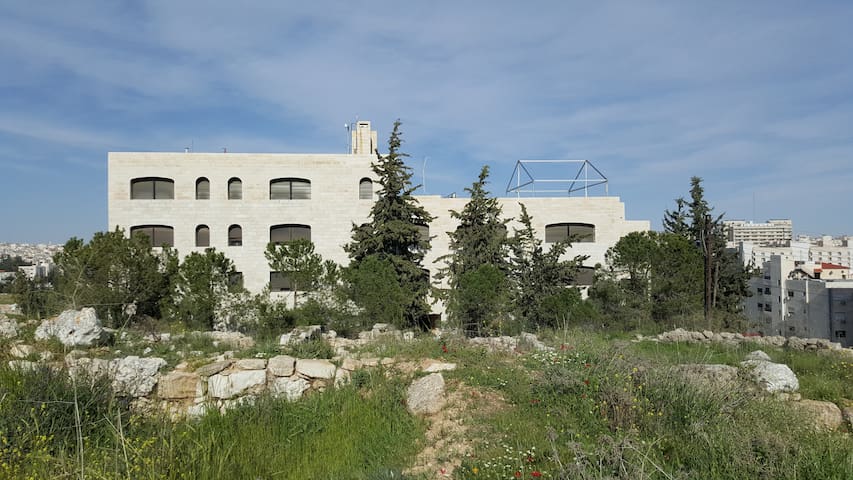 Located in a historical building, a hotel since 1963 that has been fully renovated in 2017. A quite comfy room with private bathroom, LCD screen with Satellite channels, minibar, AC unit, hot water and free WiFi. Delicious buffet breakfast is included in the price. Walking distance to all major touristic site, local restaurants and shops such as the Romain Theater, Citadel, Hashem Restaurants and the famous Rainbow street. Rated #1 on TripAdvisor with high ranking on other channels.
Located in a historical building, a hotel since 1963 that has been fully renovated in 2017. The Sydney Hotel is the best place for backpackers and budget travelers that are seeking a memorable and safe stay in Amman away from the noise but minutes on foot to all major touristic site, local restaurants and shops such as the Romain Theater, Citadel, Hashem Restaurants and the famous Rainbow street. The hotel provide a smoke free environment, 24-hour assistance, budget tours and packages, free high speed WIFI, a spacious communal area where you can socialize and a cozy sunny backyard area. Most rooms have private bathrooms, LCD screens with satellite channels, minibar and self controlled A/C system... The rooms with balconies are the best. Rated #1 on TripAdvisor with high ranking on other channels
Wasat al-Balad (Downtown Amman) is the oldest area in the city and it is 5 minutes Away by foot. The area is filled with shops selling souvenirs, traditional clothing, gold, spices and more. There are many famous traditional restaurants that are both delicious and cheap. This vibrant part of town is what the real Amman is. To experience the more modern side of Amman, Rainbow Street which is 5 min walking distance away provides a variety of cool bars, Shisha cafes and restaurants.
I will certainly come back and stay at the Sydney Hotel. This place is affordable, clean and accessible with friendly and attentive staff. I will recommend this place to my friends who will be visiting Jordan.
Abe
2015-03-16T00:00:00Z
Wonderful stay in Amman in this Hotel. It has all you need. The location is perfect, in the center. It's clean and comfortable. Communication is always quick and very helpful. 100% recommended!
Finn
2015-01-18T00:00:00Z
Thank you for all) very good place, I recommend this hotel
Elena
2014-09-24T00:00:00Z
The room was comfortable and the hotel was close to the city centre, which is a convenient location in Amman. I also really appreciated that Diya was able to set up some trips for me around Jordan. Will recommend in the future.
Randel
2014-12-24T00:00:00Z
Funduq Sydney was a great place to stay - very comfortable and in a convenient location. Tariiq was very helpful for showing me new things around Amman and solving problems with buses and any other logistical problems. Very happy with my stay.
John
2014-10-10T00:00:00Z
The Sydney Hotel was a great place to stay! We felt welcome, safe, and comfortable!
Lindsay
2015-04-11T00:00:00Z
This was my first time staying in a hostel (but renting a private room) because I wanted to meet other travellers to travel with while touring Jordan. I came in a time of very very bad weather (snow and ice) but the experience was still great because I met 5 other people, I traveled to with them various sites like the Dead Sea and Madaba, and employees at the hostel were great and easy to talk to! Tarik, the hostel manager, was great to talk with as well. He works hard in organizing everything for you to the best of his abilities. The big common room is very conducive to meeting people. It's large, has a homely feeling, and the place invites you to come with sit especially with the 2 cute cats. The rooms are pretty basic but that's not a bad thing. It has everything you need and I was very comfortable in there. All in all, if you want experience Jordan and meet travellers, I highly suggest the Sydney Hotel.
Tim
2015-01-13T00:00:00Z
My wife and I stayed at The Sydney Hotel for 5 days and have only good things to say about our stay. Both Dia and Tarik were very helpful with everything we wanted. Before we even arrived, Dia had organized for a car to pick us up from the airport early in the morning. Breakfast was nice and always brought to us with a smile. Dia told us how we could find all the best places in Amman, and Tarik spent a lot of time on the phone making bus reservations for us. He never gave up and in the end we were able to see everything we wanted to! The hotel has lots of choices for tours around the country and really friendly drivers. In addition to the tours they offer, they can help you do anything. The Sydney Hotel attracts friendly and diverse travellers, many of whom we met and will remain close friends with. We were very happy with our room. There was always hot water. The room was clean and big and comfortable. We always felt that our belongings were safe in our room. If we ever return to Amman, we wont hesitate to stay at the Sydney. Until then we will recommend it to all our friends!
ozgehan
2014-04-12T00:00:00Z
ประเภทห้อง
ห้องส่วนตัว
---
ประเภทที่พัก
ที่พักพร้อมอาหารเช้า
---
พักได้
2
---
ห้องนอน
อัมมาน, Amman, จอร์แดน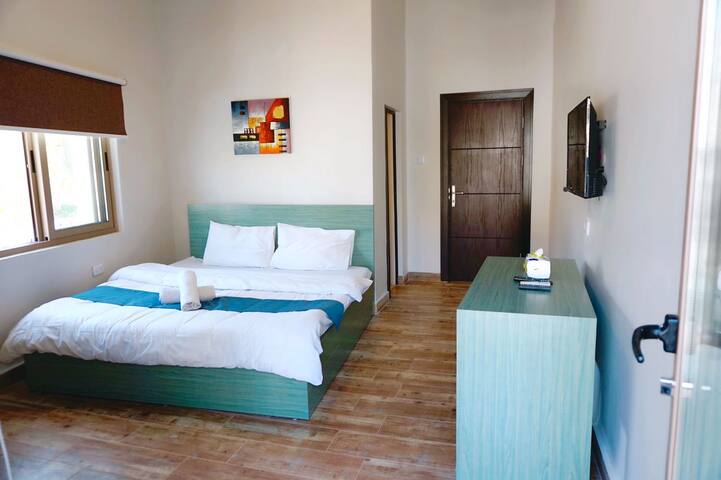 You are welcome to stay in our warm home. It is a room in our house, and you will have you private bathroom. The location is prime, and centric in amman.
You will be staying in one bedroom with queen size bed, a desk and lot of storage. You will also have a private bathroom.
It is very safe neighborhood, and very easy to get a taxi to go to any place in amman. The place is very close to one of the biggest parks in Amman
The hosts (Ayman's parents) were the greatest people I ever met. They were exceptionally nice and kind people. They made me feel as part of their great family. I was actually lucky to meet the entire family and even the extended family in Karak and Amman. The description of the listing was accurate. The neighborhood is great - very quite but about one km away from the main road to catch taxi. If you are willing to walk then it is the best destination you can find in Amman. The streets in the neighborhood are safe in the morning to jog or run. Even if you stay, I am sure, Ayman's father would offer you a ride to the closest taxi as he offered me a ride on numerous occasions. If you want to experience a Jordanian hospitality this is the place for you. Next time I am in Amman I am definitely staying with Ayman's parents.
Nargiza
2015-09-12T00:00:00Z
ประเภทห้อง
ห้องส่วนตัว
---
ประเภทที่พัก
ที่พักพร้อมอาหารเช้า
---
พักได้
1
---
ห้องนอน
amman, Amman, จอร์แดน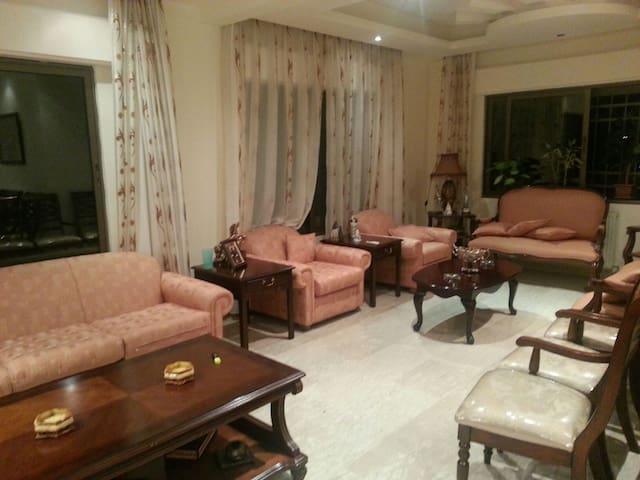 My place is close to parks, supermarkets, post office ,. You'll love my place because of the coziness, the location, and the people. My place is good for solo adventurers.
ประเภทห้อง
ห้องส่วนตัว
---
ประเภทที่พัก
ที่พักพร้อมอาหารเช้า
---
พักได้
2
---
ห้องนอน
อัมมาน, Amman Governorate, จอร์แดน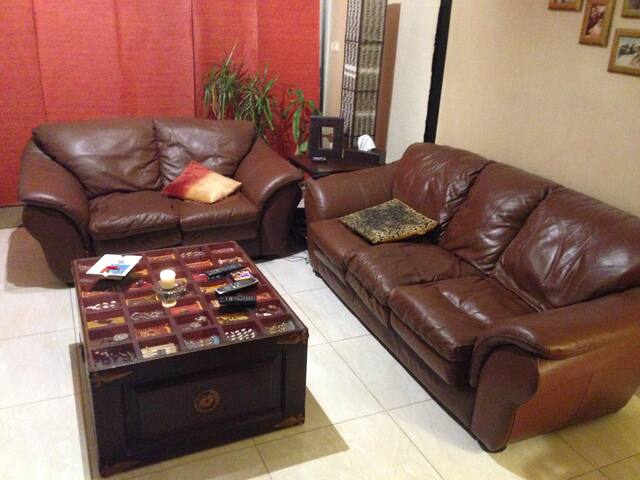 This room offers 6 single beds, free Wi-Fi. The shared bathroom is equipped with a shower.located in Down Town. Breakfast not include in the rate of the room.
When travelling to Amman, you simply MUST stay here. I arrived from Dubai (single female travelling alone) late at nite and, as promised, Hany had arranged for an English speaking driver to meet me on arrival (Thank You Ahmad!). Hany greeted me SO warmly and in no time, we were talking like old friends. Hany drew me a map of the special attractions of Amman, including restaurants, mini markets, currency exchange, food market - how to get there and what to expect to pay. Both in English AND Arabic. As simple as it seems, and when you have '(SENSITIVE CONTENTS HIDDEN)Maps' Hany's map was absolutely brilliant. I still have it with me! Everyday staying here was like having a second home. So much so, I extended my stay and I have already recommended fellow travellers I have met, to stay with Hany. The hotel rooms are impeccably clean, the breakfasts are very reasonably priced and like a smorgasbord. The location is perfect for exploring the city and so close for shopping and eating out. Yes, the description IS accurate but let me add this - Hany's warm welcome, knowledge and willingness needs to be experienced first-hand. You will only be disappointed if you "don't" stay. This is a place you will come back to again and again. How could you not? Shukran Jazilan, Hany.
Chris
2015-12-01T00:00:00Z
For as cheap as this is, it's a good value for Amman if you're a solo backpacker traveler. It's in an area of town that appears old and quite run down, but very near the citadel, rainbow road and the amphitheater (all within walking distance). The accommodation itself is VERY basic. Nothing is new or has been modernized. I doubt there is air con in the summer in the dorm room (luckily I was there in oct and didn't need it). It doesn't appear outright dirty but I didn't particularly feel like the place was clean (given its old appearance etc). Hany was awesome and very helpful but this should NOT be on Airbnb as it would've been more appropriate to be on Hostelworld.
Anya
2016-10-22T00:00:00Z
The hotel was good . There are few things : 1. The kitchen: it is better to be renewed. 2. International signs : such as small bills of money to be hanged on wall, a world map with pins, multi languages signs, so the guest will feel familiar with the new place. 3. A cheap carpet . 4. Lovely wall colours instead of dead colours. 5. Lockers in dormitory rooms.
ADAM
2016-08-06T00:00:00Z
I had a very good time there, this was a typical jordanian experience! the place is located downtown, close to the citadel and roman ruins, and many many shops, if you are looking for a cheap place, this is the place to you, would stay here again if I visit Amman again. Thank you.
André
2015-10-27T00:00:00Z
Hany is friendly and welcomming. He works a lot and still has plenty of time for his guests. The listing description was accurate, no negative surpsises. Neighbourhood is safe and close to downtown center.
Geza
2015-10-20T00:00:00Z
Hany was a great host and I felt very safe and comfortable under his hospitality . The location was great , the wifi was fast, and the breakfast in the morning was personable and made just for me :) The shared room had all I needed and the bathroom was clean and private . I would recommend this room to anyone and for the price it's one of the best spots in downtown Amman.
Theodore
2015-07-11T00:00:00Z
Hany is nice, who know everything about this area. The room is clean and cheap. Most of time the wifi is good in the public area, but some problems in the room. Any it is a good place to recommend.
Cong
2015-11-12T00:00:00Z
My third visit back to Jordan River. What can I say? The warmest welcome from Hany and guests and I have made many new friends who became like family. I hope to return to Jordan very soon and, of course, to Jordan River Hotel. Shukran jazilan Hany. Ma'asalama.
Chris
2015-12-08T00:00:00Z
ประเภทห้อง
ห้องรวม
---
ประเภทที่พัก
ที่พักพร้อมอาหารเช้า
---
พักได้
6
---
ห้องนอน
อัมมาน, Amman, จอร์แดน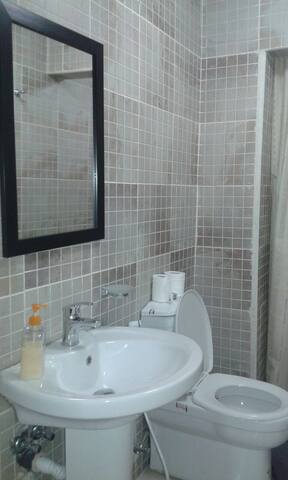 Double or twin room. Includes all utilities, a/c and Wi-Fi, along with access to a fully equipped kitchen with washer & dryer, a glorious roof terrace, tea & coffee making facilities, bottled water and washing machine detergent
By The Lemon Tree is not a hotel. This is our house. We live on the ground floor whilst the guest rooms and kitchen are located upstairs and are accessible through a separate entrance. By The Lemon Tree is best suited to self sufficient individuals that do not require hand holding daily. Also there are many dogs and cats on the premises and our guests may have pets staying with them. Although we only have two rooms registered with Airb&b, we have 10 rooms available. It is always a good idea to check with us regarding availability even if the calendar shows we are fully booked.
By Jordan's standards, Jabel Webdeh is a historic neighborhood dating, as it does, from the 50s. Within 20 minutes on foot, you can reach the Gallery of Modern Art, the French Cultural Center, Darat El Funun, Dar Al Anda, coffee shops, little snack counters, two reasonably well stocked supermarkets, a hospital, Hashem and Auberge restaurants, the citadel (a bit more than 20min), the Roman amphitheater and the Husseini Mosque. And, of course, the Italian embassy is just next door.
I am sûre there is not a best place on amman for stay! Ultra clean very well located, thé room was like a 5 stars hôtel! Guido and her wife were excellents hosts ( Léa their daughter adorable 3) .. the personal of thé house very kind and efficient , the breakfast was delicious!! I ll come back next time i ll visit amman! Absolutely recommend it!
Tatiana
2014-05-03T00:00:00Z
Guido is an excellent host and The Lemon Tree is a great property. We felt welcome by Guido as well as the other guests. The Lemon Tree caters more to business travels and those doing independent tourist traveling. Guido was helpful in providing basic information about the city as well as arranging an early morning transfer to the airport. Keep in mind that this is not a full service hotel. You don't have a front desk to consult if you want more in depth assistance with reservations, maps, etc. If you do your homework before arriving so you are prepared for Amman, The Lemon Tree is a great place to stay at an even better price.
Lenny
2015-10-28T00:00:00Z
What I love about By The Lemon Tree is that it is not a hotel--it's a home. It's a place where I can cook my own dinner, lounge on the rooftop, and have stimulating discussions about world events with the other residents over breakfast. Guido is a great host, providing the tools so that guests can be as independent as possible, but at the same time helpful and responsive. This is a great base, especially for long stays. I hope to stay here again on my next visit to Amman!
Holly
2016-07-17T00:00:00Z
The room was very comfortable and clean. The bathroom was nice and modern, and the shower was always hot. Nice rooftop terrace and common area. Great if you want to do your own thing.
Nav
2016-12-11T00:00:00Z
This is one of those rare places that looks better in real life than it does in the pictures. The room was clean and spacious, the kitchen was really well equipped and the view over the city is lovely. There are staff that cook a delicious breakfast in the morning and keep the place clean during the day. The host also makes an effort to keep the place social, which encourages people to get to know each other. I will definitely be staying here again!
Cee
2017-02-10T00:00:00Z
Guido is the perfect host and the apartment was wonderful!
Domenico
2012-08-20T00:00:00Z
Wonderful place. Recommend without reservations
Jason
2014-07-18T00:00:00Z
Everything about this was the perfect experience - great neighborhood, fun guests and thoughtful and welcoming host.
Cameron
2016-09-07T00:00:00Z
ประเภทห้อง
ห้องส่วนตัว
---
ประเภทที่พัก
ที่พักพร้อมอาหารเช้า
---
พักได้
2
---
ห้องนอน
อัมมาน, จอร์แดน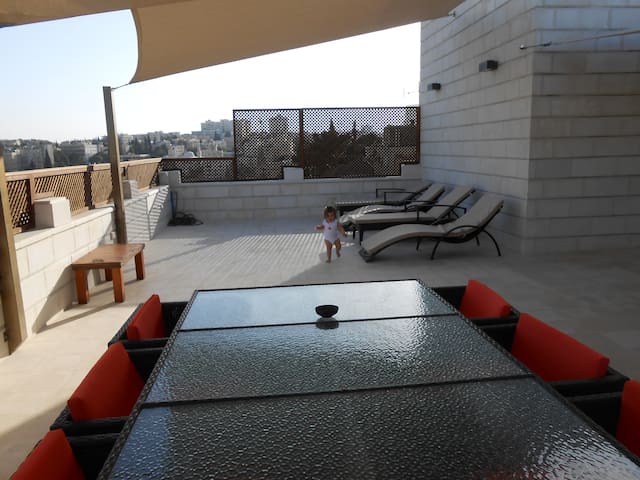 Air-conditioned room with four single beds, satellite TV, and a private bathroom with hot water available 24 hours a day shower and toilets. Free wifi: Heat in winter; coffee and tea the morning
City center
Jaber is nice and friendly. They also offered attractive and customized tour although I had already planned in advance and had no time to join it.
Dylan
2016-07-11T00:00:00Z
ประเภทห้อง
ห้องส่วนตัว
---
ประเภทที่พัก
ที่พักพร้อมอาหารเช้า
---
พักได้
1
---
ห้องนอน
อัมมาน, Amman, จอร์แดน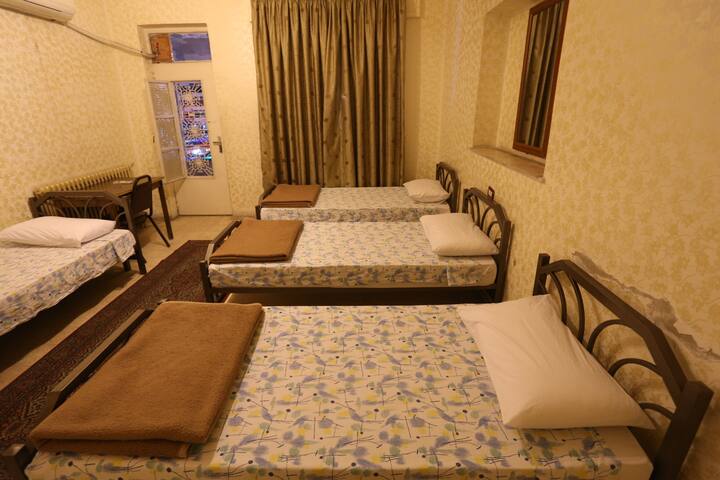 We are a centrally located, low budget simple family business, offering B&B in an upscale area in the heart of one of the best areas of Amman, The hotel is great for backpackers, small group tours, private tours, FIT's, single travelers, families, long stays, since the low room rates are excellent for every budget. We also have different room categories to suit your budget.
We have different room categories to suit every budget, the prices listed on this site are for our Budget Rooms (shared bathroom). Our standard Rooms offer a private bathroom and The newly renovated Deluxe Rooms at 3* standard. Special features of this room category is an LCD TV, AC, balcony, private bathroom with shower. Please ask us for the prices for an upgrade on site.
We are strategically located near the restaurants, cafes, shopping area and business center of the Al-Shmeisani area. It is within walking distance to supermarkets, such as Carrefour,Banks,Western Union,Travel agencies, Fitness First,Power Hut,Chi Centre for Yoga and Meditation, Fast Food chains such as Burger King, Pizza Hut, Popeyes, KFC,Arabic Street Cafes. Downtown, the Roman Theatre, Rainbow Street, Weibeh are nearby.
ประเภทห้อง
ห้องส่วนตัว
---
ประเภทที่พัก
ที่พักพร้อมอาหารเช้า
---
พักได้
6
---
ห้องนอน
อัมมาน, Amman Governorate, จอร์แดน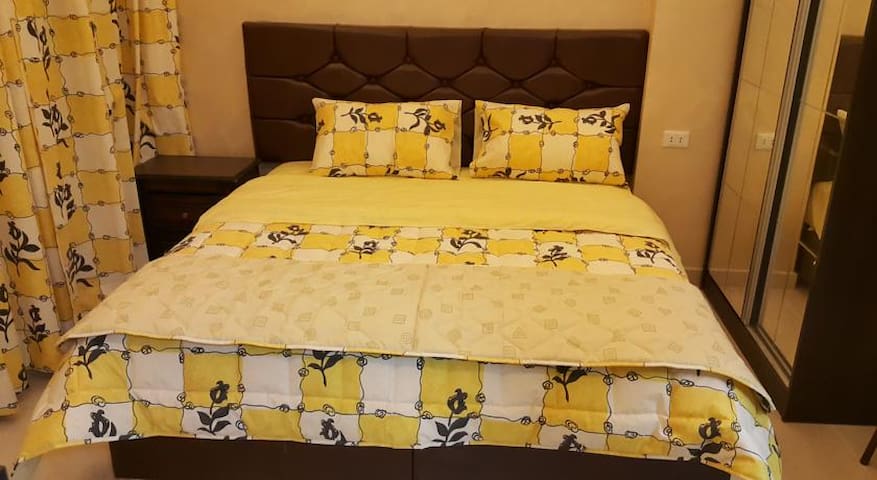 Corner House Bed & Breakfast is located in the Center of the capital of Jordan, Amman. Each Studio has a bedroom, living room, kitchenette and a bathroom 50$ / Night per Studio maximum of 2 Guests/ room Free Wifi available
Each room has a fridge, kitchenette and TV. Free Wifi. Located in The Heart of Amman Maximum of 3 Guests
Beautiful view. Safe neighbourhood. Easy transportation. Lots of cafes Pubs and restaurants
Corner House B&B is a great place to stay. Our room was clean, spacious, with proper air-conditioning and plenty of natural and artificial light. The bathroom was a tad small but functional, the water pressure was low but this is fairly common in Jordan. There was a nice dresser, plenty of drawer spaces and electrical outlets, which make a difference when one stays for a long time like we did. The only facility not working in the room was the intercom. The B&B sits above one of the better restaurant-bars in Amman. The food is excellent (the Pasta Carbonara is the best I've ever had!), and the cocktails are great too. The bar can get pretty noisy in the evenings, especially when it is hosting a live music event (when it gets REALLY crowded), so people looking for a quiet place may not prefer it. In terms of location, the Corner House is tucked away on a quiet street off 2nd Circle. It's a short walk from other bars and restaurants at 1st Circle, and one can easily catch taxis to other parts of the city from 2nd Circle. The host was very helpful, and arranged a taxi in advance for me to pick up my partner from the airport. The service staff were very helpful and courteous as well, but a little forgetful. We often had to remind them for room service such as changing the sheets, or for supplying cutlery along with our breakfast. That wasn't a big inconvenience, except for the fact that the intercom wasn't working and we were on the 2nd floor. One other problem is that the bar and hotel seemed to work along different rules. Some hotel receptionists told us that food from the bar could not be delivered to our room, which we found strange, while others allowed us to receive the food in our room. Aside from these minor niggles, our long stay at Corner House was a wonderful experience, it was good value-for-money (especially due to the 50% discount for month-long bookings), and we would definitely recommend it to anyone visiting Amman!
Malay
2016-09-01T00:00:00Z
nice place, our room was big and clean, very well location with a nice bar to chill out and enjoy this amazing city!
Carlos
2016-06-12T00:00:00Z
Je suis très satisfait de mon mois passé dans les murs du corner house b&b. Les personnels de la réception ont été très accueillants et m'ont aidé à chaque fois que j'ai eu besoin d'eux. Le deux pièces était spacieux, calme et particulièrement bien situé sur le jebel Amman.
Paul
2016-07-30T00:00:00Z
Very kind staff that was very attentive and always and gracious.
Susan & ManKit
2015-01-23T00:00:00Z
The location is good as we were able to walk to Rainbow street with food and bars. The hosts were great at answering all our questions and making sure we were looked after. They even helped us book a great driver for our day tour. The room had three sections, bedroom (with bathroom), lounge and kitchen. The room door was very hard to open, we had a cold first shower which they fixed. The water In the shower ran out as we were checking out in the morning. The service was great and on that alone I would recommend this place.
Brendan
2016-10-21T00:00:00Z
We stayed at the Corner House Bed and Breakfast for 5 nights and loved it. They are so nice, and helpful. Always brought our breakfast to our room and were there if we needed anything. The location is also WONDERFUL. A few blocks away from 2nd circle where you can find shawarma reem (the best shawarma), and just a 10 minute walk to rainbow street. HIGHLY recommend this place!!
Eliana & Adam
2014-01-04T00:00:00Z
The staff at the Corner House B&B were polite and welcoming. Mehdi, in particular, was wonderful — a lovely, friendly man (give him a raise in his salary!). The hotel/apartment is well-situated; right by Rainbow Street. The apartment itself is decent for the price: nice and clean bedroom and bathroom; the living room is a bit dated, but not a problem. The kitchenette should be improved, though, as we were given a portable cooker, but no cutlery or pots. That said, I might stay again.
Abul-Hasanat
2014-12-07T00:00:00Z
Excellent service. Great location. Very warm in the winter months. Great for women traveling alone. The men in the facilities were very respectable. It is noisy on Thursday and Friday nights so I recommend rooms on the 2nd floor. This is due to the pub downstairs. The food there is excellent and very fairly priced for this area. Two grocery stores in walking distance. Very affordable and warm stay.
Susan & ManKit
2015-01-18T00:00:00Z
ประเภทห้อง
ห้องส่วนตัว
---
ประเภทที่พัก
ที่พักพร้อมอาหารเช้า
---
พักได้
2
---
ห้องนอน
อัมมาน, Amman, จอร์แดน
My place is close to nightlife, public transport, family-friendly activities, and the city center. You'll love my place because it is a vibrant neighbourhood in walking distance of cheap local tourist attractions: 10 minutes walk to the Citadel, 10 minutes walk to the Roman Theater, 10 minutes walk to Paris Square, 10 minutes walk to The Duke's Diwan.
This was a great bargain place that was conveniently located, had nice staff, and spacious rooms. The only issue was that the power went out at 2 am and wasn't fixed by 10 am so it was FREEZING and that is why I switched to another hotel.
Sarah
2017-01-04T00:00:00Z
ประเภทห้อง
บ้าน/อพาร์ทเมนท์ทั้งหลัง
---
ประเภทที่พัก
ที่พักพร้อมอาหารเช้า
---
พักได้
2
---
ห้องนอน
อัมมาน, Amman Governorate, จอร์แดน
Hidden behind a high wall you'll find the secret garden of Hawa Guesthouse. The house is over 100 years old and has loads of character. We offer free breakfast and wifi. Airport pickup is available for 20 JD. Air conditioning is available for 5 JD. Hawa; your home in Amman!
Hawa Guest House is situated in an old Ottoman house that was build in 1907 for a member of the Ottoman army. High ceilings, small doors and old floor tiles remember of these times. Hawa tried to bring you back to the early 1900s but with the comfort of nowadays. The view from the garden and the roof over Jabal Qala'a and Down Town is absolutely magnificent. You can sit for hours smoking shisha and drinking fresh lemon mint without getting bored! The room is located in the newer part of the house and has a shared bathroom just across the hall. It also has a shared patio.
The Guest House is just a stone's throw away from Paris Circle where you'll find nice shops and cafes. Downhill you'll find the Roman Theater and the souk, it's just a 5 minute walk.
Haws were perfect hosts and couldn't have been more helpful. The guesthouse is really lovely, especially the cats and garden and is in a very convenient place. They even have a Christmas tree and fire!
Sarah
2014-12-02T00:00:00Z
Muath & Eefje are amazing people, they made me feel home in their beautiful house right from the start. Hawa guest house is located in what ended up being my favorite neighborhood in Amman.. It's right around the corner from everything interesting .. The house itself is gorgeous.. Old, high ceilings, beautiful hundred year old tiles and full of light and good vibes. It's a beautiful refuge in the heart of the city with its beautiful garden and travelers coming and going through the place. We enjoyed having a drink on the part of the garden that over looks an ancient castle .. Be sure to try out Muath's cooking for delicious authentic homely jordanian food.. Eefje will happily point you in the right direction if you have any questions on where to go and what to do... I had a surprisingly awesome stay in Jordan and if I'm ever in Amman again I'll certainly stay in the Hawa house .. I love it .. Highly recommended
rami
2014-08-09T00:00:00Z
Such an incredible place of peace and quiet. I felt right at home and would have stayed longer if I could. I loved the menagerie of animals, the gardens, the indoor and outdoor seating and the room. The hosts were so friendly and helpful. I would recommend Hawa to anyone travelling to Jordan, whether for one night or a month! I love it.
Kat
2015-04-08T00:00:00Z
The room was beautiful and spacious, and the rescued cats were a delight to play with!
Angalee
2016-08-26T00:00:00Z
An amazing place to stay in Amman, everything is perfect ! Hosts are super friendly and welcoming, accomodation is very clean and you are in the city center within 10 min. Will definitely come back if I have a chance.
Jean-Gabriel
2014-10-29T00:00:00Z
Really lovely place with welcoming hosts! The garden is charming and very peaceful, even though the birds are a bit loud in the morning so depending on where your room is situated, you may hear parrots / chickens in the early hours of the morning. I loved it though, and actually returned just four days after my stay to spend another night.
Lisa
2015-09-22T00:00:00Z
Eefje and Muath made us feel very welcome and they helped us with information on any aspect of our trip, with places to visit and drivers as needed. Hawa House has a wonderful calm and welcoming atmosphere. It is lovely to sit and have breakfast outside, in shorts (difficult to wear in Amman) with a beautiful view. The gardens are lovely and so it is not too hot. So much nicer than being in a hotel. The rooms are all clean and quite comfortable. Hawa House was a wonderful oasas to our trip to Jordan. It is relaxing and easy to be there and allows you to meet other travelers. The location is great, easy to walk to the Daoud Art Foundation, great restaurants, downtown, Paris Circle. Dinner with Eefje and Muath was delicious and allowed for great conversation about Jordan.
Amy
2015-07-27T00:00:00Z
We had a nice experience at Hawa Guest house. The hosts were very welcoming and helpful. The location is quiet and secure, and the space is well laid out so that guests can spread out and enjoy the outdoors or indoors like a home. They were constructing a chicken coop while we were there, and our bathroom didn't have a door, but as they are still setting up it's understandable.
margie
2014-08-16T00:00:00Z
ประเภทห้อง
ห้องส่วนตัว
---
ประเภทที่พัก
ที่พักพร้อมอาหารเช้า
---
พักได้
2
---
ห้องนอน
อัมมาน, Amman, จอร์แดน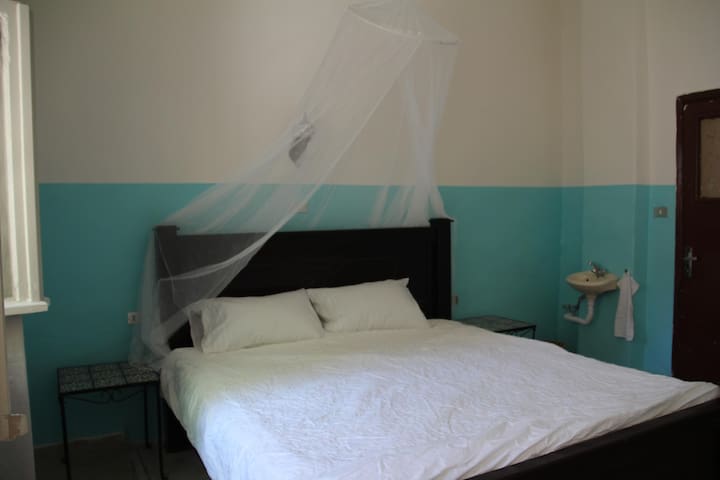 My place is close to family-friendly activities, nightlife, public transport, and the airport. You'll love my place because of the neighborhood, the light, the comfy bed, and the coziness. My place is good for couples, solo adventurers, business travelers, and big groups.
The hotel's location in the luxurious Um Uthaina Commercial Market,‭ ‬also known as Souk al Dahab‭ (‬Gold Market‭)‬,‭ ‬is walking distance from the‭ ‬6th‭ ‬Circle,‭ ‬only‭ ‬10‭ ‬minutes from the old‭ ‬city center and‭ ‬25‭ ‬minutes from Queen Alia International Airport.
Close to all night live areas and to business areas.
ประเภทห้อง
ห้องส่วนตัว
---
ประเภทที่พัก
ที่พักพร้อมอาหารเช้า
---
พักได้
2
---
ห้องนอน
อัมมาน, Amman Governorate, จอร์แดน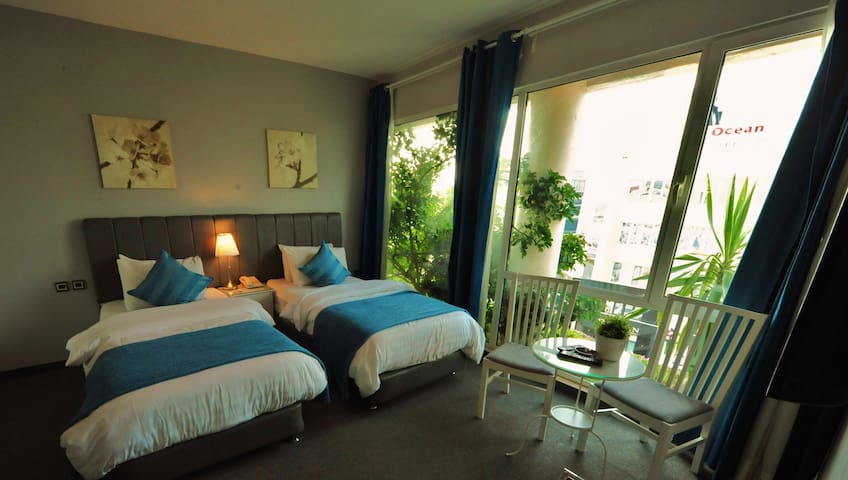 1

–

18

จาก

61 ที่พักพร้อมอาหารเช้า
กรอกวันที่เพื่อดูการกำหนดราคาเต็ม มีค่าธรรมเนียมเพิ่มเติม อาจมีภาษีเพิ่ม