Double bedroom in private home. Private bath with shower. Shared kitchen and living space, private parking. Shopping, restaurants, cafes, boda boda and taxi stages a short walk away. We have 2 rooms listed on AirBNB--this one and Feel More at Home in Muyenga. We also have a 3rd room that is not listed on AriBNB. Please email us for availability if the calendar is full for your dates.
The room is a very large bedroom with a private bath with shower. There is a queen size bed appropriate for an individual or a couple. No additional guests are allowed. We have two separate rooms available. See our other listing for 'Feel More at Home in Muyenga'.
Muyenga is an old residential neighborhood that is safe and secure. It is close to Kabalagala, Gaba Rd, and the US embassy. There are many restaurants, bars, coffee shops, supermarkets and shopping within walking distance.
Peter and Sherry made my first week in Uganda go swimmingly. Always on hand with tips, advice, and help, I fully recommend staying with them and Molly! Muyenga is also a great area, and their house is lovely. Thanks!
Laura
2016-07-04T00:00:00Z
Peter is one of the most gracious hosts! His home is warm and charming. His staff will make you feel at home! Great place!!
Jeff
2015-10-25T00:00:00Z
Well, Well. Staying with Peter was pretty interesting. It was like riding a roller coaster. But I truly think he means well as a whole. He was pretty informative about Africa but I felt like I had to walk on pins & needles. My fiance was fixing us a cup of ice one evening & he scolded him & said that we had to make our own when we was not even informed on how to make ice. It was other episodes where he was nagging but its too much to type. His wife kind of made me feel a little uncomfortable as well with the glares & silence but I pulled through it so that I can broader my perspective about people who live different from myself. The garden was not available because he mentioned that he was out of the country for 4 weeks & the workers didn't keep up with it. Thank God my rest wasn't interrupted so I'm grateful for that.
Tiffany
2015-12-03T00:00:00Z
This is a beautiful location in a really nice, safe part of town with great hosts. Superb views of the city from terrace and has everything you need. Only 10-15 minutes from anywhere on a boda boda.
Danny
2017-02-09T00:00:00Z
Peter and Cheryl were wonderful hosts and very helpful in getting me acquainted with the area. Their house is spacious and gets a lovely breeze up on the hill. The area is well situated to access most areas of the city by boda. I would definitely recommended staying with them in Muyenga!
Samantha
2016-05-28T00:00:00Z
I had a very pleasant three week stay and would happily recommend Peter's to anybody looking for somewhere comfortable in Kampala. Good location not far from Kabalagala if you like nyama choma
Emmanuel
2015-10-15T00:00:00Z
I had a wonderful stay at Peter and Sherry's home, and I look forward to coming back at my next trip to Kampala. It is a comfortable and peaceful haven in Kampala with every amenity. I loved sipping tea on the wraparound covered porch in the morning and getting advice from Peter & Sherry on the neighborhood (and occasionally sharing the fruits of their garden and cooking!). The kitchen is large and well equipped. The location is convenient and quiet, and it served as a great home base while I worked nearby.
Loren
2017-03-15T00:00:00Z
I love staying here! Peter and Sherry's beautiful and very comfortable home is my home away from home. This is my fifth stay here in three years, and I would recommend it to anyone who needs a quiet retreat to work or relax in Kampala. I especially enjoy their garden and the reliable wifi! Their house staff-- Molly and Paul-- are super helpful and caring. You feel like one of the family right away.
Amanda
2017-03-25T00:00:00Z
ประเภทห้อง
ห้องส่วนตัว
---
ประเภทที่พัก
บ้าน
---
พักได้
2
---
ห้องนอน
กัมปาลา, ภูมิภาคตอนกลาง, ยูกันดา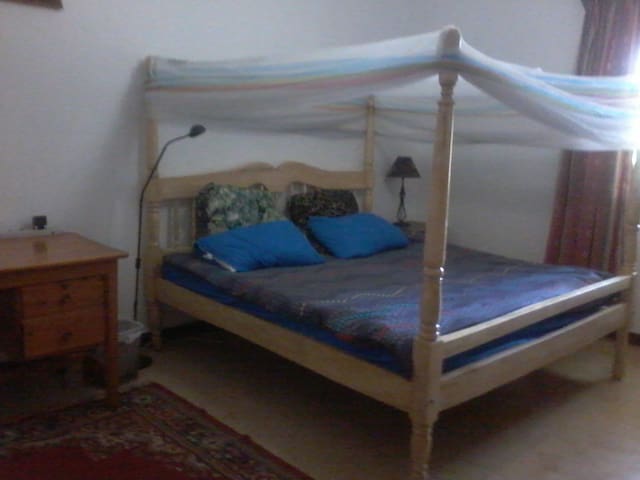 Welcome to my house, located close to Ntinda New Market, and only a 10 minutes drive away from Acacia and Kololo where you can enjoy Kampala's lively nightlife or great dinners. There are two extra rooms available for visitors, tourists, backpackers, or anyone who would like to enjoy low budget accommodation in a friendly environment.
I am a friendly, helpful and social male who would like to share my home with you. If you have any question of any matter in Kampala, please notify me, and I can help you with any concern regarding living in Kampala (or what to experience in other areas of the country). The house has a bright and spacious combined dining and living room with TV, movies and selected games, fully equipped kitchen, three bedrooms, two bathrooms and a small private compound. All facilities are on one flat. The room up for rent are spacious and adequately aerated with big functional wardrobes, a 4X6ft bed and mosquito net. Bathroom and toilet is shared with one more person.
The neighbourhood is safe, silent and serene. Three minutes walk from the main road and Ntinda New Market where you can access local food, fresh fruits, vegetables, meat, fish and other necessities. 10 minutes walk or 2 minutes ride from Capitol Shoppers where you access a major supermarket, ATM, pharmacy and selected shops. 10 minutes drive from Acacia where you can access food delecatessé shops, cinema, dining and clubs/bars.
ประเภทห้อง
ห้องส่วนตัว
---
ประเภทที่พัก
บ้าน
---
พักได้
1
---
ห้องนอน
กัมปาลา, ภูมิภาคตอนกลาง, ยูกันดา
My place is within walking distance to Village Mall shopping centre in Bugolobi, there are lots of restaurants and bars nearby. The house is located in a nice and very safe residential area, perfect for a jog or a walk. You'll love my place because of the green garden, the pool and the dogs. My place is good for couples, solo adventurers, and we welcome furry friends (pets)!! We offer included breakfast every morning (fruit salad, multi cereal bread + jam, fruit juice, tea and instant coffee).
We are renting out the biggest room in the house, with a double bed, mosquito net, fan, desk, cupboards, lounge chair and a swimming pool view. The private bathroom with hot water for this room is across the corridor. We are also renting out our slightly smaller room (with an ensuite bathroom, a queen size bed, desk and cupboard) which can be booked in one go on this listing or separately through the second listing called 'Private room, house with garden & swimming pool 2'. Our house is not the newest or most luxurious compared to European standards, but it is cosy and the veranda and garden are very enjoyable. Our house is located in a safe residential area, has burglar proof windows and doors and we have an armed night-guard.
Bugolobi residential area Village Mall shopping centre with a supermarket, several bars, a food court, a frozen yoghurt shop, salon, bookshop ...
I had a great time at Charlottes place. Perfectly located in a quiet neighbourhood and still close to all commodities. Not only was Charlotte a great host, giving us lots of good advice, we also had Margret shopping and preparing delicious food for us. The house has everything you need, beautiful garden und we enjoyed to sit on the comfi terrasse in the evening with views over the city. Bella and Pixie best watchdogs ever :). Place to feel at home and so much better than staying in a hotel! Hope to be able to go back - thank you so much Charlotte
Eveline
2017-02-18T00:00:00Z
Charlotte's place is an amazing oasis in the middle of Kampala. Located in a quiet yet central neighborhood, it is beautiful, clean, and well-equipped with any amenities you may need during your stay including a lovely swimming pool and a gym. The guestroom is very spacious and well-lit. I needed a getaway after a long month of work, and Charlotte's place provided the perfect weekend escape. Although Charlotte was not around during my visit, she arranged for a very easy arrival. Margaret, the house caretaker, was at the house to welcome me, provide me with a tour of the house and offer any help. Moses, the gardner, was also on hand when I had any questions. Thank you Charlotte!
Masha
2017-02-26T00:00:00Z
ประเภทห้อง
ห้องส่วนตัว
---
ประเภทที่พัก
บ้าน
---
พักได้
4
---
ห้องนอน
กัมปาลา, ภูมิภาคตอนกลาง, ยูกันดา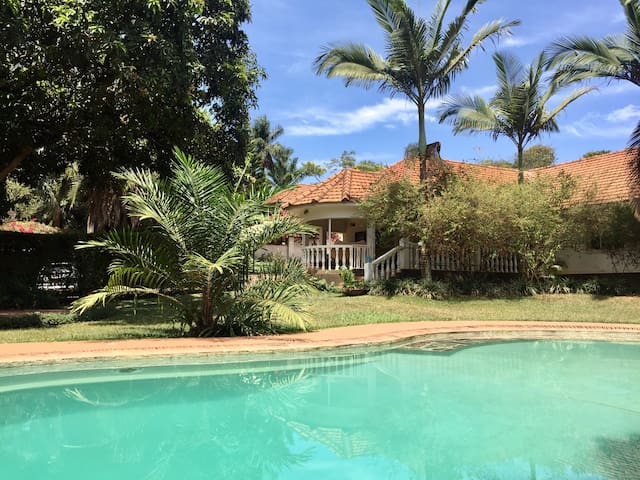 Relax in a tranquil sunny room set amongst leafy gardens on Mbuya Hill. Our home is a stone's throw from excellent bars, restaurants, and fresh food markets. Bugolobi Village Mall is around the corner, and you're a 10 minute ride from Kololo. Enjoy relaxing in the hammock, playing table tennis, and eating breakfast on the verandah. Fresh eggs, papayas, avocados and mangos are all available, home-grown! Your double room has its own bathroom, with full access to the kitchen and laundry.
The house is tranquil and spacious; a perfect retreat from hectic city life in central Kampala. Mbuya is a very safe neighbourhood, and once you reach the top of the hill, you're rewarded with stunning views. We keep a few animals in the garden, including chickens, rabbits, and a young dog. Our avocado, mango and papaya trees mean we have a good supply of fresh fruit! We have 24hour security, so there will always someone available to open the gate for you.
Great range of local bars, shops, restaurants and markets.
Alice and Luke's place is a nice, large bungalow in a quiet and leafy suburb of Kampala, with good access to Bugolobi market, Bugolobi Village Mall, and a good range of bars and restaurants. We stayed here for 10 days whilst we found our own place to live in Kampala, and it proved to be a comfortable place to base ourselves. Alice and Luke provided sound recommendations of how to get around and where to go (and where not to go!) in Kampala, and take a 'hands-off' approach to hosting - giving us the freedom to use their space and facilities. Breakfast was self-service – normally eggs and avocado, which we supplemented by buying our own bread, tea and juice as required. The staff in the house – guards James and Jude, and maid Olivia, were friendly and courteous, and there's a cute puppy to keep everyone entertained. Alice and Luke kindly helped organise a transfer from the airport and also let us leave our bags at theirs whilst we went away for the weekend :)
Amy
2017-02-10T00:00:00Z
Luke and Alice were great hosts and made my stay in Kampala comfortable. They included me in several of their activities, including a kayaking trip to Jinja on a weekend. I felt welcome in their home, which was 15 minutes or so from my workplace (Naguru Hospital). Tako the puppy was a definite bonus! Looking forward to coming back to see them next time I'm in town.
Marlena
2017-01-26T00:00:00Z
The place is really nice! Nicely 'tucked away' in the middle of Kampala with a great garden and very nice room & bed. Alice and Luke are very nice, friendly and helpful. Would definitely go there another time!
Ronald & Sanne
2016-12-15T00:00:00Z
Alice & Luke's place is one of the loveliest you can imagine in Kampala. Perfectly comfortable room and bathroom (with GREAT water pressure). Alice and Luke are warm and welcoming, as well, with answers to any and all questions, and they provided coffee and breakfast too. I visited for a two week work trip and would certainly stay again!
Erin
2017-03-02T00:00:00Z
Very nice and comfortable house in a quiet area. The double room is large and beautiful. Alice and Luke are very friendly and accomodating. All amenities are provided, included WIFI, laundry and a very nice breakfast. Great stay thanks to great hosts. Not to mention the small dog Mango, absolutely irresistible!
Sandrine
2016-11-27T00:00:00Z
ประเภทห้อง
ห้องส่วนตัว
---
ประเภทที่พัก
บ้าน
---
พักได้
2
---
ห้องนอน
กัมปาลา, ภูมิภาคตอนกลาง, ยูกันดา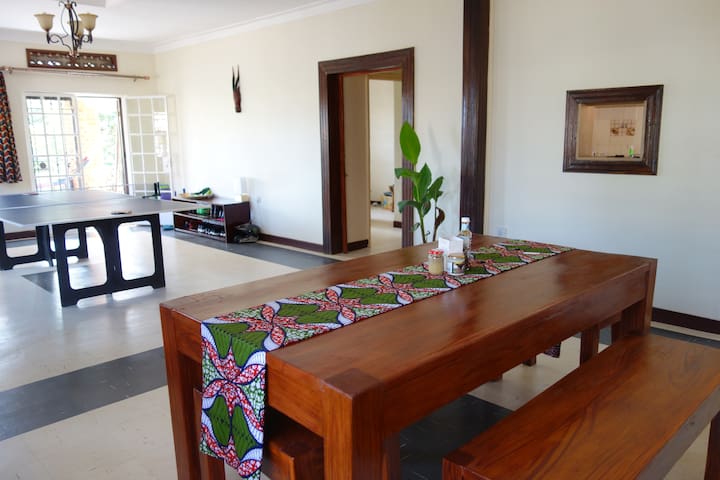 A Three Bedroom property with all the comforts from Hot Water, Washing Machine and En-suite Shower facilities. The property occupies two floors with all the three bedrooms located on the top floor with balcony access. A Maximum of 5 people at no extra charge.
The property occupies the ground floor and first floor, has an open space living room and dining room, a fully equipped kitchen with gas cooker, large fridge / freezer, en suite master bedroom with hot water shower facilities, another separate hot water shower on the upper floor. All three bedrooms are situated on the upper floor all with access to the balcony with a clear view of Ntinda and surrounding areas. The kitchen, living room and dinning are situated on the ground floor and lead on to a large compound. The property is security proofed and enclosed in a high perimeter wall fence with remote controlled security alarm system. Daily Cleaning and maintenance of the property is included and inclusive. The property is in Kampala Kiwatule off Ssebowa road near Gape Hotel , three minutes' drive from Ntinda trading centre, five minutes from kiwatule recreation centre with very good transport links in and out of the city centre including fast access to the newly built Northern Bypass highway for fast access to the city centre. Maps address: 220 Raven Namuli Road, Kampala, Central Region, Uganda Great walking paths for site seeing. A variety of restaurants, banks, shopping malls, Health clubs, Ndere Cultural Centre, are within a short distance. Sliding mosquito screens are installed on all windows and vents in the property with Mosquito Nets and repellent for bedrooms and beds also provided. The property is in Kiwatule, Ntinda a town in Kampala. Kiwatule is mainly a middle class residential neighbourhood with growing commercial outlets and a very large variety of access roads in and out of the city centre. The Kampala Northern Bypass passes through Kiwatule for fast links to the city centre. The area is in a safe neighbourhood with friendly people. As the property is a 3 bedroom house, the maximum number of people is six people that can occupy the house comfortable. There is 'No Extra Charge' for additional people up to the maximum of six. The property is let as a whole property with gas, electric, Bed sheets & Towels change as per your request with cleaning of the house included. Super Fast Unlimited Wi-Fi Internet is provided to connect up to 10 internet enabled devices. A Laptop and phone are also provided. Feel free to contact me if you have any questions, requirements or requests and I will respond within the hour. A seven seater vehicle with driver is available to rent if required. Breakfast and meal preparation services are available if required. FAQ. 1. What's the minimum stay? A. 1 (One) Days. 2. Is cleaning of the property inclusive? A. Cleaning of the property is included and is done as requested by you by the helpers that say on the grounds. 3. Is Internet provided? A. Unlimited Superfast Internet is provided for up to 10 Wi-Fi enabled Devices at no extra cost. 4. Are Meal services available? A. Yes. If you require meals to be prepared for you, this can be done, just let us know what you require eg. Breakfast, lunch or dinner and the meal types. 5. Availability of House? A. There are two similar houses on the premises available to rent so please check out the second property also advertised on airbnb in Kampala for availability of required dates or message me. Search for Semi-Detached Furnished Hse Kampala on airbnb.
The property is in Kiwatule, Ntinda. a town in Kampala with Kampala the capital city of Uganda. Kiwatule is mainly a middle class residential neighbourhood with growing commercial outlets. The Kampala Northern Bypass passes through Kiwatule for fast links to Kampala city centre. The area is in a safe neighbourhood with friendly people. Gape Hotel is a two minute walking distance from the property for access to their sauna and steam bath and their lounge restaurant.
Vi hade en helt underbar vistelse i detta fantastiska hus. Wycliffe gav oss ett oerhört varmt bemötande och vi kände oss välkomna och väl omhändertagna under hela vår tid i Kampala. Dom var hjälpsamma, tillmötesgående och mycket trevliga. Det fanns alltid någon tillgänglig vid boendet vid funderingar. Rekommenderar starkt detta boende till alla som besöker Kampala och vill bo riktigt tryggt och bekvämt. Vi hyser stor tacksamhet till Wycliffe och hans anställda!
Veronica
2016-03-01T00:00:00Z
One of the best places to stay in Kampala!
Naafi
2017-03-12T00:00:00Z
Wycliffe's place is really nice to stay in with a group of friends.Clean and tidy with a nice garden.Kitchen well equipped and mom and pop stores around the corner to provide for cooking essentials.We were warmly received and every query we had was catered to.Location wise it's a bit far from the tourist spots (ie. the city centre) and not too easy to be found,so make sure to call one of the contacts provided before going there,they can direct you.All in all we had a lovely stay and I'd definitely recommend the place to my friends.
Claire
2015-11-30T00:00:00Z
The place was indeed fantastic and just as the host had described it, my family had a pleasant stay and the assistance of Joseph made us feel very much at home. It's a home I would stay again when in Kampala and would definitely recommend this place to anyone who wishes to have a short stay in Kampala especially if you are a group of 3 to 6 people. Thanks Wycliffe and Joseph and do keep up the good work. Regards Kenny
Kenny
2016-08-16T00:00:00Z
I love the house as it was very homely. it is well finished with back up electricity which is help. I will definitely be stay there on my regular trips.
Clifford
2015-10-21T00:00:00Z
Very clean and secure place to stay for vacation and leisure. Seat at the balcony and view the beautiful city of Kampala best in town period
Lawland
2017-02-28T00:00:00Z
This is a great house, especially if you are a business traveler. The wifi was good, the area relatively quiet and the house well equipped and clean. The in-house driver, Joseph is a special bonus. He will pick you up from Entebbe and get you anywhere you need to go for a fair price. I would definitely stay there again.
Sarah
2017-03-09T00:00:00Z
Spotless, secure, comfortable and well appointed, this house was exactly as Wycliffe described it. Joseph, who lives next door, and manages the property, was very kind to us, unobtrusively solicitous and helpful. We were able to use the washing machine, which was a great relief after a week on the road. Visitors should note that there is an excellent little shop right next to the compound gate, selling essentials from eggs and onions to mobile airtime and washing powder. Supermarkets and a market in Ntinda are an easy walk up the road (about 1km) for other items like fresh fruit, bottled water, &c.. and the neighbourhood children are very friendly and love to chat!
Benjamin
2016-11-02T00:00:00Z
ประเภทห้อง
บ้าน/อพาร์ทเมนท์ทั้งหลัง
---
ประเภทที่พัก
บ้าน
---
พักได้
6
---
ห้องนอน
กัมปาลา, ภูมิภาคตอนกลาง, ยูกันดา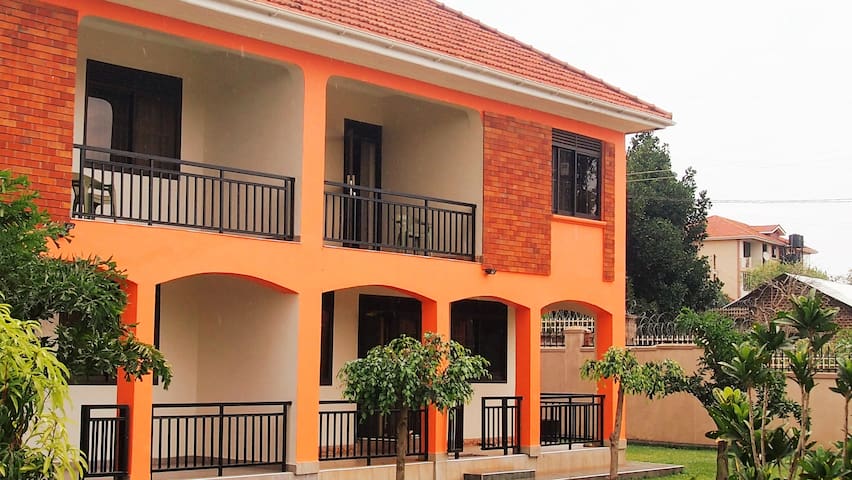 Independent self contained rooms, with sitting area, private veranda, private kitchen, beautiful gardens, provided with private security. Good location in Mbuya Hill, along the main Jinja Road, few minutes from Kampala city center. Ideal for any business in town or planning any trip. Office of Destination Jungle Tour and Travel in the same compound.
The guests rooms are located outside the main building. Each is self contained. The rooms share a common living room and a common kitchen. Next to them a raised roofed verandah and gardens for relax.
ประเภทห้อง
บ้าน/อพาร์ทเมนท์ทั้งหลัง
---
ประเภทที่พัก
บ้าน
---
พักได้
2
---
ห้องนอน
กัมปาลา, ภูมิภาคตอนกลาง, ยูกันดา
We offer special deals for this large double bedroom in private home. Ensuite bath and dressing rooms. Shared kitchen and living space, private parking. Shopping, restaurants, cafes, boda boda and taxi stages a short walk away. Enter your travel dates to see our discounted rates. We have 3 rooms--only 2 are listed on AirBNB. This one and Feel at Home in Muyenga. Please email us if your dates are not available on the calendar.
Two story private home in residential neighborhood, close to shopping, transportation and entertainment. We have two separate rooms available. See our other listing for 'Feel at Home in Muyenga'. The room is a very large bedroom with an en-suite dressing room and private bath with shower and bath. There is a queen size bed appropriate for an individual or a couple. No additional guests are allowed. The house is shared with a quiet expatriate couple in their 60s, 3 dogs and a cat (who stay outside). The house is surrounded by beautiful gardens. We have an organic vegetable garden in the back yard with a brick pizza oven and seating area. Other shareable areas include front veranda, living, dining room and fully equipped kitchen. We are staffed with a full time maid, gardener and security staff. The house is off-grid, powered by solar electricity and solar hot water. Drinking water is provided, as we have rainwater filtered through reverse osmosis system.
Muyenga is an old residential neighborhood that is safe and secure. It is close to Kabalagala, Gaba Rd, and the US embassy. There are many restaurants, bars, coffee shops, supermarkets and shopping within walking distance.
Feeling at home in Muyenga certainly worked for me in this nice, spacious house with a very pleasant atmosphere. Housekeeper Molly stayed until late to receive me, she is a very helpful and nice person. All of the staff is very friendly. Host Peter came back from long journeys and turned out to be a great source of information and good stories. They will provide you with dependable taxi and bodaboda drivers. For the latter there is even a helmet you can borrow! Within walking distance is Cafe Kawa where you can have good breakfasts and coffee. Banks, supermarket etc. can be reached on foot as well. The Western traveller should adhere to the 'when in Rome' adagio, in Africa even more than in Rome. Internet is shaky, slow or just not there, hot water not always available and the same goes for power. Fortunately this house is largely self-sufficient. I enjoyed my stay here and will return.
Marije
2015-10-19T00:00:00Z
Sherry and Pete are great hosts. The booking process was easy and they always answered promptly. They arranged a reliable driver to pick me up from the airport. Everything worked easily and smoothly during my stay and before arrival. Sherry and Peter as well as their lovely staff were helping whenever I had a question or needed something. I stayed here for four weeks and felt very much at home. No problems with power cuts or water as the house is self-sufficient. Peter also provided me with Wifi during my stay. Molly the housekeeper is extremely nice and helped with organising a driver and my laundry. She as well as Sherry and Pete themselves are a very good source of knowledge regarding everything in Kampala. The house is in a safe and nice neighbourhood. Would definitively stay here again!
Julia
2015-12-19T00:00:00Z
pete and sherry are kampala veterans and over many years have built their home here into a self-sustaining off-grid haven. it is a small sacrifice to abide by conservation-inclined house rules when the payoff is their spectacular vegetable garden, better than any you can buy in kampala. the room is spacious and private, and the common areas pleasant and open. we received a warm welcome on arrival and from the outset were invited to pizza nights (cooked on the wood pizza oven out back) and other events. pete and sherry are a font of local knowledge, always available to provide tips on kampala and surrounds. muyenga is a green, residential part of kampala, home to many ngos and a short boda ride from anywhere else you'd want to be, and so makes a great home for temporary work and/or base from which to explore kampala.
Andrew
2015-07-13T00:00:00Z
Loved this house! Would definitely stay here again. Molly is a wonderful hostess and made me feel very welcome. The room was very spacious and comfortable. The vegetable garden was great and I loved picking spinach from the garden with Paul. Good location, very central and a nice cool breeze in the evening from the garden.
Chantelle
2015-08-22T00:00:00Z
The place is nice and cool, quiet and feel like home, so comfortable. I would like to say thanks to Peter and Cheryl all you have done for the guest for sharing and caring. However, we could not meet each other, could imagine how good they are. I love African collection, environmental friendly water, electricity, waste management system in kitchen, etc. I hope to see you next time! Special thanks to Molly, Paul and team for their hospitality throughout our stay. Lovely Monkey too..
Nilar
2017-02-09T00:00:00Z
I had a great stay at Pete and Sherry's home. I would definitely book to stay again next time I am in Kampala. The house is clean and equipped with everything you need for a comfortable stay. It's lovely to go out into the garden and pick fresh salad to have for lunch. Molly the housekeeper is also helpful and very friendly. As for Pete and Sherry, they are incredibly welcoming and full of interesting stories about their time in various countries. They've really helped me to feel at home in Kampala by introducing me to their friends and even inviting me along to my first ceilidh (and excusing my novice attempts to Scottish dance!). Along with this lovely house and lovely people, you also get to play with their very sweet and energetic dog Monkey. Highly recommended.
Jennifer
2017-04-02T00:00:00Z
Another great stay in Muyenga! Thank you Sherry and Peter
Juri Georg
2017-02-20T00:00:00Z
Peter and Sherry's house has become a home away from home for me. Love the location, ambience and kind and helpful staff. I will be back next week!
Juri Georg
2017-02-15T00:00:00Z
ประเภทห้อง
ห้องส่วนตัว
---
ประเภทที่พัก
บ้าน
---
พักได้
2
---
ห้องนอน
กัมปาลา, ภูมิภาคตอนกลาง, ยูกันดา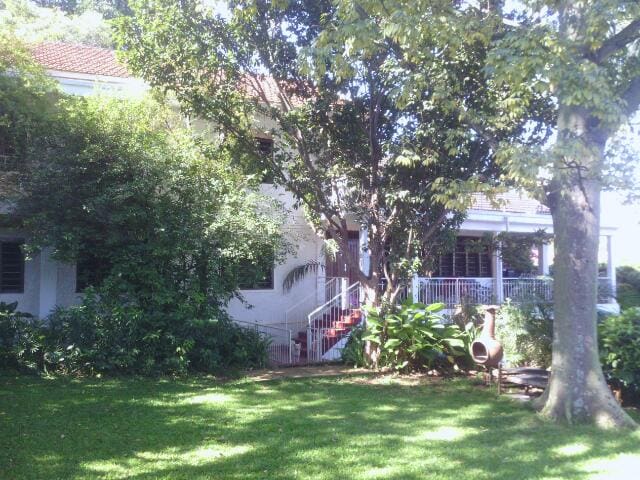 This house has a Modern/ Cultural decor. It's is located not far from the main road and walking distance to the shopping center with major supermarkets, farmers market, malls i.e.Capital Shoppers yet it's serene, breezy and quiet with a lot of birds.
It's located in a good neighborhood with easy access to the Central Business District as well as the local market. There are other houses on the compound with more permanent residents who are very friendly and helpful.
It's located in in an middle-upper class neighborhood of Kampala.
ประเภทห้อง
ห้องส่วนตัว
---
ประเภทที่พัก
บ้าน
---
พักได้
2
---
ห้องนอน
กัมปาลา, ภูมิภาคตอนกลาง, ยูกันดา
Welcoming you to a gated house in prime secure location in Ntinda; close to main road, Malls and public transport. Extra security - panic buttons in key rooms. 2 bedrooms with living area and equipped kitchen. Fitted with cable TV. Can accommodate up to 4 people on single beds with option of bunk bed and double bed available. Internet access and washing machines available as extras. Let of one room acceptable. Owner close by and meals available on request. Cleaning services 3 times a week
Easy access to shopping malls, health centre, places of worship. Local grocery stores and 3 shopping malls are within 10 minutes walking distance. Churches (Anglican, Catholic and Pentecostal) and 1 mosque are all within walking distance. There are 4 reputable clinics, 3 hospitals and pharmacies within walking distance incase of any medical emergency including ambulance services
The listing is close to all major amenities and yet in a secure environment. I am quite flexible and will work with you to make your stay as comfortable and memorable as can be. There are several eat outs including fast foods, coffee shops, restaurants (multi cuisine) and road side stands that open late including the famous Ugandan "Rolex"
ประเภทห้อง
ห้องส่วนตัว
---
ประเภทที่พัก
บ้าน
---
พักได้
4
---
ห้องนอน
กัมปาลา, ภูมิภาคตอนกลาง, ยูกันดา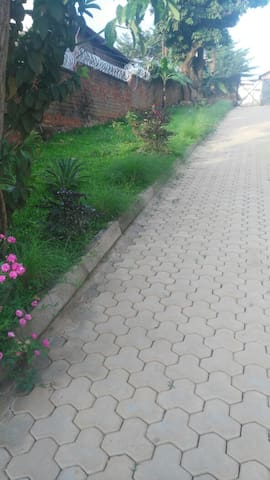 Centrally located, fully furnished villa in a quiet location in Naguru. Fits comfortably 4 people and up to 6 (three couples). All amenities included. Cleaning service 3 times/week included. Internet not available.
Excellent location & space with everything we needed for a busy few days for a working trip in Kampala. We especially enjoyed the quiet (unusual in KLA) and outdoor veranda - perfect.
Lisa
2015-11-18T00:00:00Z
Hugo met us at the house and was there when we arrived - super convenient. He also checked in on us during our stay, which was nice. The house was big and clean and exactly as described.
Mitch
2015-11-10T00:00:00Z
ประเภทห้อง
บ้าน/อพาร์ทเมนท์ทั้งหลัง
---
ประเภทที่พัก
บ้าน
---
พักได้
6
---
ห้องนอน
กัมปาลา, ภูมิภาคตอนกลาง, ยูกันดา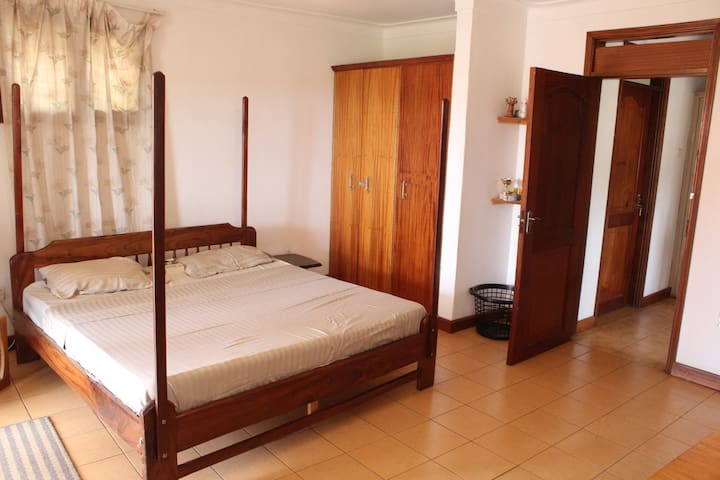 The House is 200m from shoreline of Lake Viktoria ("Miami Beach") with great view over Lake Viktoria and the historical harbour Port Bell (Railway Ferry to Kenya!). Available:Table Tennis ,Volleyball. The house offers renting Motorbikes and LandRover
Green Garden & close to Lake
quiet, no hectic as in central Kampala, no crimes
This was my second time staying at Klaus's and was very happy again! Klaus wasn't around for the first few days but his maintenance staff were very helpful and able to help us with whatever we needed. His watchman even lent us his bike for the week to use! Again I was very happy staying here and would definitely come back again! Highly recommend if you are looking for a affordable, accommodating, safe place to stay!
Mandy And Raymond
2015-01-09T00:00:00Z
Klaus is really cool, he has one rule "feel at home", and that is what I felt during my stay. It was my first time visiting Kampala, and he was very kind to send his driver Chris to meet me when my plane landed at 3am. I felt safe and welcomed during my stay. It was easy and fun to get to town using the boda bodas usually parked just a few meters from the house. ps. the room was really very comfortable, with a private bathroom.
Merna
2015-07-27T00:00:00Z
Klaus has a place that exceeded my expectations. Lake Victoria proximity makes it special with the cool breeze that keeps mosquito away. Klaus will help you with anything, always relaxed and smiling. I rented his Honda and went off the beaten track, discovering a bit of the real Africa. Thank you Klaus!
Mihai
2016-08-22T00:00:00Z
Great stay. Please see previous review
Jeffrey
2016-07-19T00:00:00Z
It has been a great pleasure to be the guest of Klaus & his extended family of both people & animals. The house was fully equiped with everything one needs. The large garden annex zoo & the green neighbourhood near the Lake give a rural feeling even where the City is not far away. Klaus was very helpful in any way, giving me a lot of information, showing me around & letting me use his Honda motorbike. It was a very good first encounter with Uganda, Kampala & Luzira for me & I'm sure this will not be my last visit to Uganda......
John
2015-10-10T00:00:00Z
Klaus is wonderful and the house is an oasis of civilasation. Washing machine and internet and a large and comfortable room and bathroom. However, there is not much to do, easily, in the surrounding area.
Katherine / François
2017-01-23T00:00:00Z
Klaus und Catherine sind tolle Gastgeber! Er empfängt dich, obwohl du erst spät in der Nacht mit dem Flugzeug angekommen bist und führt dich in die Wohnung und in die wichtigsten Dinge ein, die du wissen musst. Er kennt sich hier gut in der Gegend aus und kann dir immer Tipps für deine Reise bzw. deinen Aufenhalt in Uganda geben! Luzira ist ein Stadtdteil südlich gelegen in Kampala. Man hat hier seine Ruhe und mit dem Fahrrad kommt man zum nächstgelegenen Supermarkt. Dafür braucht man jedoch etwas länger ins Stadtzentrum. Rundherum eine gute Unterkunft, Betten sind mit Mosiktonetze ausgestattet und alles ist hier immer sauber gewesen. Vielen Dank!
Konstanze
2017-01-15T00:00:00Z
Klaus has a beautiful place located right beside the lake. He was very friendly and accommodating. I chose to stay in the small guest house beside the main house. We had our own set of keys and it was very private. The location is a bit farther from the city centre but still easy enough to get to on a boda or by car. If you are looking for a private, quieter setting outside the city I would definitely recommend his place. It is also very reasonable and he is fine with you coming and going when you please. I would definitely come to stay again!
Mandy And Raymond
2014-10-06T00:00:00Z
ประเภทห้อง
บ้าน/อพาร์ทเมนท์ทั้งหลัง
---
ประเภทที่พัก
บ้าน
---
พักได้
8
---
ห้องนอน
กัมปาลา, ภูมิภาคตอนกลาง, ยูกันดา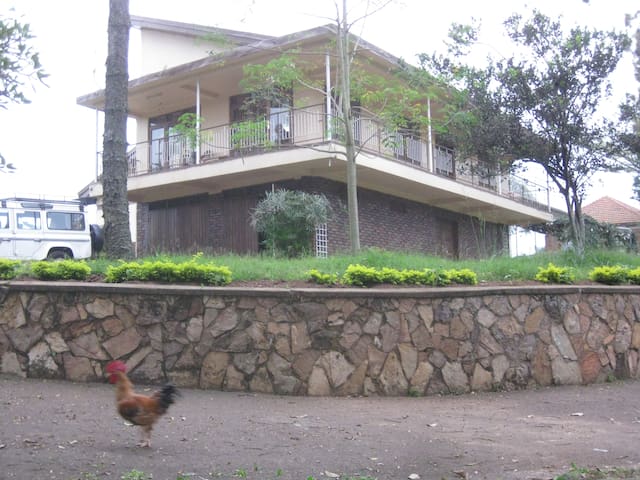 We have a lovely large 5- bedroomed house, located in the leafy, beautiful and secure Mbuya Hill neighborhood- overlooking Bugolobi. Furnished rooms available for long and short stays. Rates includes internet, cleaning, laundry and utilities.
A lovely house located in an upscale expatriate neighborhood of Bugolobi- Kampala and, listed at a very low rate. The house can comfortably take in 4 guests in single occupation and 7 for double occupation.
The Bugolobi- Mbuya Hill neighborhood is a quiet leafy and clean area that is mostly inhabited expatriates. It is peaceful and secure, and offers an ideal surrounding for those longing for peaceful environment, nature and fresh air. A few walkable distance away is the Bugolobi centre; that is a hub for various entertainment places, restaurants of different international and local cuisines, fast foods (KFC), spas and saloons, Banks and Atms, supermarkets and a fresh food farmers market.
I had a great 10 days staying with Winnie and her family. They were so helpful and were always around to answer all my questions about Kampala and to take me around the city. They also cooked great food! The house was lovely and the neighbourhood had everything I needed. There is a supermarket within walking distance and it's very easy to catch a taxi from outside the house into town. Thanks Winnie for a lovely stay. I will definitely be coming back - hopefully next time for longer!
Florence
2016-07-20T00:00:00Z
Loved it
Abu Ilyaas
2015-03-09T00:00:00Z
Winnie is a wonderfully welcoming host: cheery and accommodating, careful to strike that balance between letting you do your own thing and making you feel at home. She and Uncle Bob will take you out to some great clubs, to hear fantastic music and to eat yummy fried chicken at 2 a.m. if that's what you're into, and they'll leave you the space to work quietly in your room if that's what you need to do. Mbuya is really a great place to be based in Kampala, too. It's safe, it's quiet, it's near the Central Business District but not too close. The house is a fun mix of expats and Ugandans, very chilled out and quite comfortable. There's satellite TV and shared internet and a nice garden and the kitchen has pretty much everything you need. I'd stay there again for sure.
Francisco
2015-01-24T00:00:00Z
Where to even begin raving about Winny? Winny became like family over the 5 weeks I stayed with her. From the moment I arrived, she and her family made me feel very welcome and at ease. We went out together, even traveled together, and became good friends, sharing many laughs. The neighborhood is safe and conveniently located near affordable taxis and bodas for transport. I can't imagine my Uganda experience without Winny, and I'll certainly be seeing her again-- my home is your home, wherever I may be!
Michelle
2016-08-28T00:00:00Z
Had a great time in this house! The rooms are nice and spatious and it has a nice garden and porch - a perfect place to relax and read a book. Winny has been a great guide to Kampala as well! Thanks for everything!
Anne
2015-12-22T00:00:00Z
The host canceled this reservation the day before arrival. This is an automated posting.
Diana
2017-02-13T00:00:00Z
Our stay with Winfebry was great. The surroundings and the house were nice and quite in the hectic Kampala organised chaos. Always a pleasure coming home!
Gemma
2016-12-20T00:00:00Z
Winny is a fantastic host! She is very responsive and communicative. Her family is very kind and welcoming. They truly make you feel like you're part of the family and their home is your home. The house is in a nice and quiet residential area of Kampala and is easily accessible by public transport and Uber. I really enjoyed my stay!
Christine
2016-11-29T00:00:00Z
ประเภทห้อง
ห้องส่วนตัว
---
ประเภทที่พัก
บ้าน
---
พักได้
4
---
ห้องนอน
กัมปาลา, ภูมิภาคตอนกลาง, ยูกันดา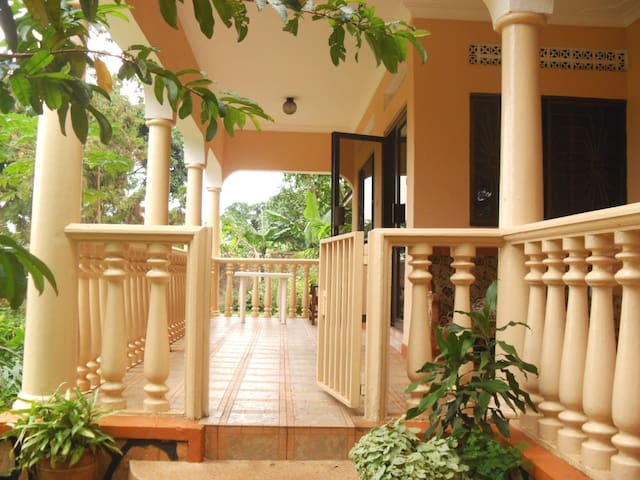 We are renting out rooms in our shared house. It is nicely located in a very quiet and safe neighborhood. All rooms are fully furnished. Free Wifi is included.
The rooms inside the main house go from $250 to $350 a month, the smaller rooms outside for $200. All rooms are fully furnished and include: - Free Wifi - water & electricity - mosquito net - parking - security - fully equipped kitchen - cozy living room and chillout area outside We are happy to host you for a long- or short-term stay :)
The host canceled this reservation 6 days before arrival. This is an automated posting.
Justine
2017-01-31T00:00:00Z
ประเภทห้อง
ห้องส่วนตัว
---
ประเภทที่พัก
บ้าน
---
พักได้
2
---
ห้องนอน
กัมปาลา, ภูมิภาคตอนกลาง, ยูกันดา
Our place is close to restaurants and food, nightlife, and family-friendly activities. You'll love my place because of the atmosphere, the outdoor space and light. My accommodation suitable for couples, solo adventurers and business travelers.
Good value. Friendly host and employees
Evan
2017-03-24T00:00:00Z
ประเภทห้อง
ห้องส่วนตัว
---
ประเภทที่พัก
บ้าน
---
พักได้
2
---
ห้องนอน
กัมปาลา, ภูมิภาคตอนกลาง, ยูกันดา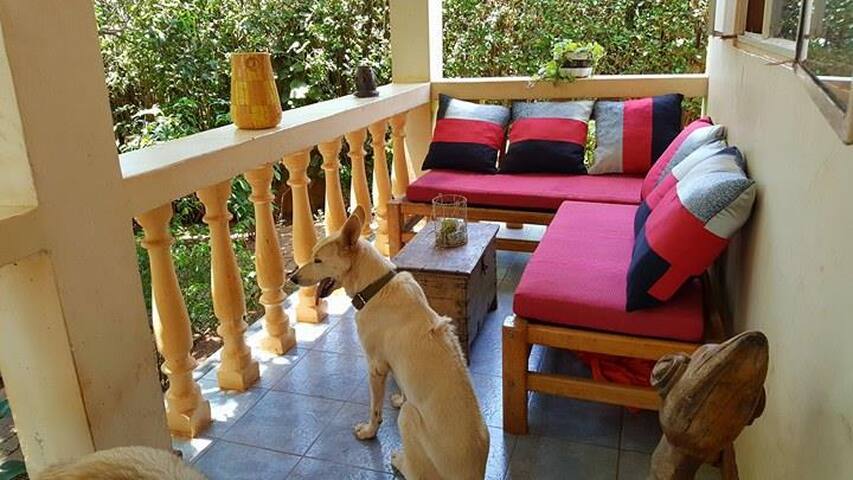 My place is located in Naguru, close to Kabira Country Club. It is a beautiful bungalow with 3 bedrooms, of which 2 can be used by guests (the other one will be used to store items). It is set in a beautiful green, lush garden which makes the house serene and cool. If you enjoy waking up to the sounds of birds and having breakfast outside on a veranda with a view in the green, this is the place to be!
The house is spacious, with 3 bedrooms, 2 bathrooms, a large living room and kitchen. Especially the master bedroom is large leaving a lot of room besides the king size bed. The bathrooms are basic but functional and clean, water pressure is good. The living room has a large lounge-sofa with coffee table and a desk to work on, or have breakfast. The rest of the space is left empty to avoid cluttering the place. The dinner table is outside on the veranda, but can be moved inside if the guests wish so. The veranda is just perfect, as it is a cool place during daytime and a pleasant location for dinner and drinks in the evening. There is parking space for about 5 cars.
Naguru is one of the prime neighborhoods in Kampala, next to Kololo hill. Though there is a lot of activity around, the specific location of the house is quiet. There are small shops just up the road, and for big shopping Acacia mall and Lugogo are very near. The Surgery is just around the corner, so in case of any medical needs, you can be there in minutes.
Nice and quite place in a very convenient location. Excellent value for money!
Bjorn
2017-02-22T00:00:00Z
ประเภทห้อง
ห้องส่วนตัว
---
ประเภทที่พัก
บ้าน
---
พักได้
2
---
ห้องนอน
กัมปาลา, ภูมิภาคตอนกลาง, ยูกันดา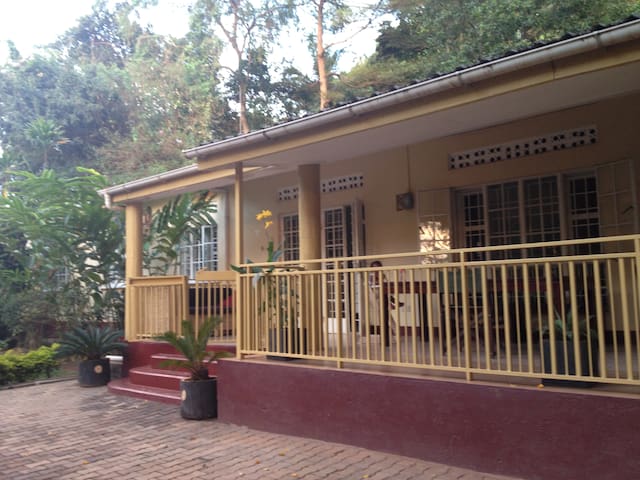 My place is close to restaurants and dining, art and culture, the beach, nightlife, citycentre. You'll love my place because of the location, it is gated, the privacy, how airy and bright it is, the cosiness, cleanliness, the affluent neighbourhood, good transport links, the security, 20 minutes drive from Gaba beach, 15-20 minutes from Kampala town centre. My place is good for couples, solo adventurers, business travellers, and families (with kids).
It can comfortably fit four people, it has a shower and bath tab. Very good quiet location yet close to city centre and all amenities like transport links, restaurants and night life. It has a very good neighbourhood.
The place is so lovely,the people are welcoming and nice.the security is good.
Zein
2017-03-04T00:00:00Z
ประเภทห้อง
บ้าน/อพาร์ทเมนท์ทั้งหลัง
---
ประเภทที่พัก
บ้าน
---
พักได้
4
---
ห้องนอน
กัมปาลา, ภูมิภาคตอนกลาง, ยูกันดา
The property is a house with indoor living/ outdoor dining area, a fully equipped kitchen, washing machine, en suite bedroom with hot water shower facilities, 1 other bedroom with attached bathroom. 2 bedrooms, 2 bathrooms (URL HIDDEN) quiet residential neighborhood of Ntinda, walking distance to mall, restaurants, and public transport.
A colorful living room with nice African decor. leads to a patio with seating and overlooks a compound with parking and a shared garden. The property is secure with day and night guard and enclosed in a perimeter wall fence with an apartment complex next door. Neighborhood residents are mainly middle class with area having a growing number of commercial outlets. The Kampala Northern Bypass is close to it for fast links to the city center. The area is in a safe neighborhood with friendly people.
The property located in Kampala Ntinda Ministers Village , 1 minutes' drive from Ntinda trading centre, 10 minutes from Kiwatule recreation centre with very good transport links in and out of the city centre. Close to Kyambogo and Naguru. Great walking paths for site seeing, jogging. A variety of restaurants, banks, shopping malls, Health clubs, Ndere Cultural Centre, are within a short walking distance.
ประเภทห้อง
บ้าน/อพาร์ทเมนท์ทั้งหลัง
---
ประเภทที่พัก
บ้าน
---
พักได้
3
---
ห้องนอน
กัมปาลา, ภูมิภาคตอนกลาง, ยูกันดา
Friendly hosts from Uganda and Germany welcome you to our Sunshine House in Muyenga. It is a quiet secure place located in one of the best areas of Kampala. It is an entire house which you can either rent complete or per room. The ambience, the neighborhood, the spacious bright rooms and the comfortable King Size bed are perfect for couples, Solo travelers, business travelers and families. Restaurants, Lake Victoria and nightlife are close by. Internet is available. Airport transfers and tours
Secure, quiet and very comfortable place, just 2 to 5 minutes walk to all public means and 15 Minutes close to Lake Victoria.. Enjoy either the whole two leveled house or rent either the double room with a huge King size bed or the Single room. The Bath room and toilet need to be shared in this case. Though there is another shower and toilet behind the garage. If the Sunshine house is occupied we are offering another double just 10 Minutes walk in lower Muyenga. Please check our other listings of Sunshine house and Green Oasis. Other rooms can also be arranged nearby or at the relaxed Ayapapa open house at the beautiful Lyatonde Crater Lake 25km from Fort Portal. Many other airbnb guesthouses, hotels or community projects can be booked and transfers arranged. Wireless with 3GB comes for guests who stay one month and more. For short stays a small modem with smaller units will be provided which will be plugged to your laptop for normal social media use and mail programs. But unlimited Wireless is available in nearby coffee places. Bread, jam, peanut butter, teabags are always available for a small breakfast. You can either prepare your own meals in the fully equipped kitchen with fridge and gas cooker or you can join us sometimes for Ugandan dishes with European influence. Other meals can be requested for an extra charge. Fresh fish from Ggaba beach is only one of the many options. Mangoes and guavas can be also found in the compound. Many coffee places and restaurants can be found very close to your home or within Kampala. A dvd library with latest movies is also available.
We are living in a very secure area and one of the best of Kampala where you can go on nice walks and enjoy a fresh breeze. Kabalagala is also not far for those who want to enjoy the nightlife of Kampala. Wine garage and Fuegos are some of the nice places to work from or hang out in the evenings, big shopping malls like Garden City and Bugolobi are also not far. Many markets or supermarkets are in walkable distance. Many swimming pools are in the neighbourhood. The Speke Resort with an Olympic pool can be found in nearby Munyonyo.
Nice people, good environment, good infrastructure for cooking.
Renate
2016-12-09T00:00:00Z
Nice and comfortable house. Easy to reach Shops and Restaurants.
Renate
2017-01-31T00:00:00Z
This was my second time at Sunshine House. I stayed for 1 month. The house is great, in a good location, clean. Yvonne is available when needed. Clear communication. I would come back anytime.
Michelle
2017-01-05T00:00:00Z
Alex andYvonne take care of everything.
Renate
2017-02-18T00:00:00Z
It is a very nice and comfortable house. Located in quiet area, though very close to nightlife action. Yvonne, her mother and Alex - that takes care of the place - are very helpfull and kind.
Morten
2017-03-06T00:00:00Z
Liebe Yvonne, ich musste ja leider kurzfristig absagen. Ich reise aber öfter nach Uganda und werde bei einem Aufenthalt in Kampala auf jeden Fall wieder bei euch wohnen wollen. Vielen vielen Dank für die schnellen Antworten auf meine Fragen und die netten Nachrichten zwischen durch. Bis dahin und viele Grüße nach Uganda, Thomas
Thomas
2017-02-13T00:00:00Z
We enjoyed our 10-day stay in Yvonne's apartment. Yvonne is a very kind and helpful hostess. She runs a tour company and is very knowledgeable about Uganda. The apartment is clean, comfortable and located in a quiet, yet very safe neighborhood in Muyenga.
Shaka
2016-10-17T00:00:00Z
Nice place at good value. Close to some cafés and restaurants. Felt like being at home as house is spacious. Easy to cook meals. Muyenga us a nice neighbourhood.
Michelle
2016-11-27T00:00:00Z
ประเภทห้อง
ห้องรวม
---
ประเภทที่พัก
บ้าน
---
พักได้
2
---
ห้องนอน
กัมปาลา, ภูมิภาคตอนกลาง, ยูกันดา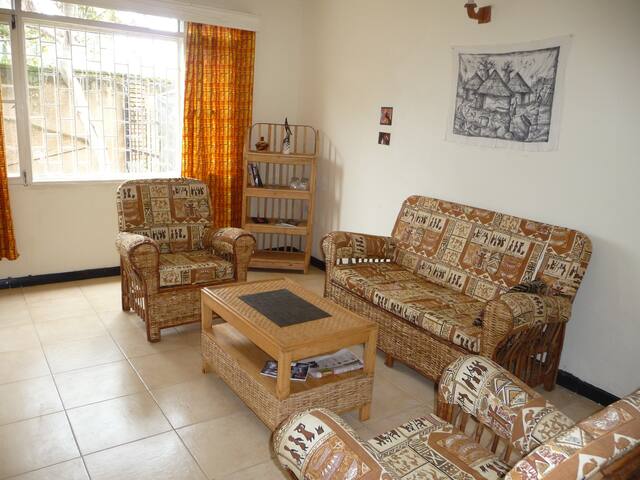 1

–

18

จาก

168 บ้านให้เช่า
กรอกวันที่เพื่อดูการกำหนดราคาเต็ม มีค่าธรรมเนียมเพิ่มเติม อาจมีภาษีเพิ่ม