Bright, queen size room in a 3-bedroom unit. Short walk to Wollongong railway station and only a 15 minute walk to the city centre where there are lots of restaurants, shopping and nightlife options. A free bus also stops close by for convenient access to the university or the beach.
The room has carpet and is big enough for 2 people. Your bed will have full bed linen and towels. You have exclusive access to the main bathroom which is next to your room. There is one other bathroom in the house that we use ourselves.
Our place is on a nice quiet street but only a short distance to all amenities. We have some lovely kookaburras that like to sing during the day and the area is nice and leafy.
Michelle and Damian are very nice hosts and made for a comfortable stay. The apartment is quite pleasant, is in a quiet residential area and is just a short walk from Crown Street and the shuttle bus.
Tim
2017-01-31T00:00:00Z
Thank you Michelle and Damian you were so nice with us ! I will come back sure ! House very cute, quiet and clean! Close to the city and 10min by bus from the beach. Everythings were Good ! Thank you so much :)
Coralie
2017-01-01T00:00:00Z
Michelle and Damian place is very suitable for couple to stay. They give us a warm welcome though we arrive late. The room and kitchen just work great and fit. A wonderful stay.
Steven
2017-02-16T00:00:00Z
We received such a warm welcome from Damian and Michelle that we felt immediately as in our own house. The room was perfect and we could rest perfectly. The private bathroom and restroom were an absolute plus to have. Do not miss it if you are staying in Wollongong
Roberto
2017-02-22T00:00:00Z
Michelle and Damian are great hosts. Very open, friendly and they communicate clearly. The room is very nice and cosy. It was very clean and tidy and the kitchen has everything you'll need.
Marc
2017-02-28T00:00:00Z
Good communication, lovely people and very comfy bed!
Mark
2017-02-02T00:00:00Z
Lovely people in a nice little house. Great value
Joe
2017-03-11T00:00:00Z
We really enjoyed meeting Michelle and Damien, they're very warm and easygoing! Plenty of street parking and felt at home, as we were given our own set of keys :)
Evelyn
2017-02-04T00:00:00Z
ประเภทห้อง
ห้องส่วนตัว
---
ประเภทที่พัก
อพาร์ทเมนท์
---
พักได้
2
---
ห้องนอน
โวลลองกอง, นิวเซาธ์เวล์ส, ออสเตรเลีย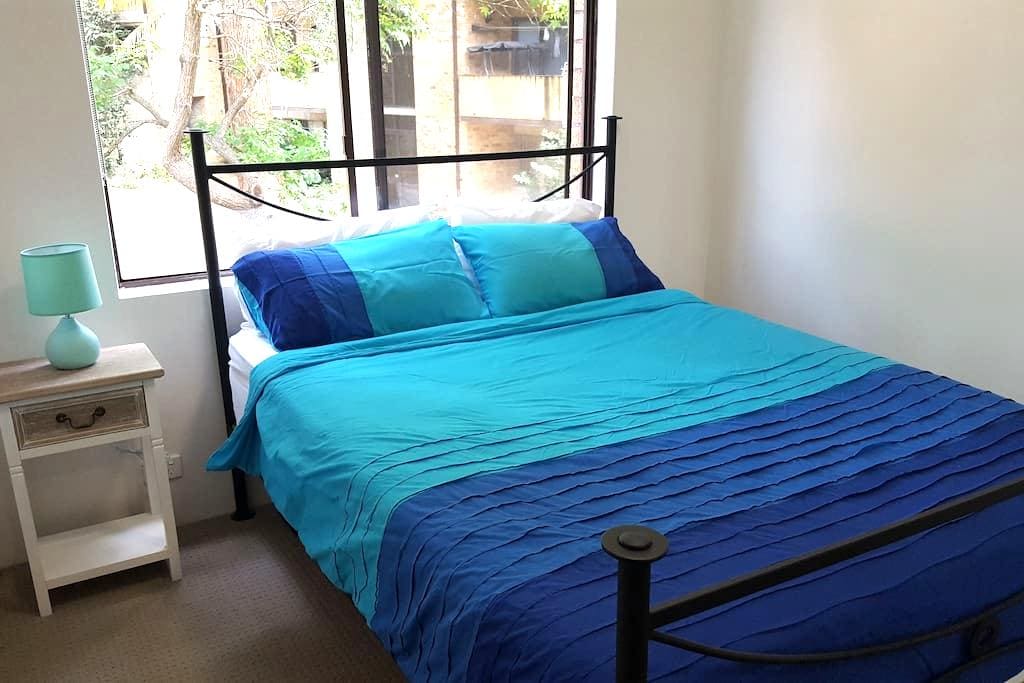 Situated on a hill overlooking the city. Our bright one bedroom apartment has a fully equipped kitchen including dishwasher and all the utensils required to cook up a storm. The comfortable living-room has a large TV with DVD player, stereo and comfy chairs to relax after a hard day of sightseeing. The bedroom has a queen bed, ceiling fan, built-in-robe & ensuite. We can add an extra single bed or a portacot for a baby. Walk to free bus, hospital, CBD, public transport & train station.
A quiet abode in quiet, leafy suburbia. Our one bedroom apartment easily caters for two adults. If you have a baby we can supply a portacot & high chair if needed. We also have a supply of children's toys and a big backyard to play in. Kitchen is well equipped with dishwasher, gas stove, electric oven, microwave, refrigerator and all necessary utensils to cook up a storm. The living area has a small dining table and chairs, TV, DVD and stereo and two comfortable lounge chairs. The bathroom has a shower/half bath, vanity unit, toilet, washing machine and tub.
We are on Mangerton Hill with views of Wollongong lighthouse, city and escarpment. The street is lined with jacaranda, cedar and bottle brush trees. It is a quiet street with lovely and engaging residents. It is a delight to listen to the birds in the trees of morning and the resident blue tongue lizard wanders past occasionally.
Cathryn and Rodney are absolutely wonderful hosts. They were very welcoming and helpful, and we could not have asked for a better experience. The apartment was better than we imagined- it was very clean and quiet. My only regret is that we were not able to stay for longer. Thank you again for a wonderful Airbnb experience!
Veronica
2015-01-27T00:00:00Z
Cathryn and Rodney are the wonderful hosts. They prepared everything more than our expectation. We enjoy their cakes, flowers, fresh towel, travel info, etc. They are flexible and caring. Cathryn also recommends the activities held in the mall of Wollongong central which is wonderful. The apartment has a nice view since it situates at the high land; and very close to the train station. Our family enjoyed this convenient and comfortable stay. Thanks Cathryn and Rodney!
Ling
2015-07-04T00:00:00Z
Cathryn made me feel very welcome and couldn't have been more accommodating with last minute hassles. The apartment has lovely views and is generously outfitted for guests. The home made biscuits and cheese were most welcomed after a busy day. Very comfy bed too. I can highly recommend this place.
carole
2015-01-14T00:00:00Z
Our host Cathryn was so lovely and made us feel very welcome by leaving out some homemade slice and cheese and biscuits. It was also very thoughtful of her to leave essentials such as milk and yogurt in the fridge so we didn't have to rush to the shops the moment we arrived. The place itself was just perfect - very close to town, everything you need in the kitchen and big bedroom. We will definitely be back!
Jessie
2015-07-27T00:00:00Z
필요한 모든 것이 준비되어 있으며, 독립된 생활 공간을 편하게 사용하실 수 있습니다. 간단한 조식과 간식거리, 커피, 차 등도 제공해주며 편의시설이나 식당, 관광지에 대한 정보도 제공해주는 매우 좋은 호스트입니다.
CHAN
2016-09-18T00:00:00Z
This is a Wonderfull place, with a lovely outlook. On a quiet street. The unit is beautifully kept, very clean. quiet and homely. The hosts where there for a lovely welcoming and they even baked us some treats! I would highly recommend this place,
Brad
2015-03-15T00:00:00Z
We had excellent communication,the flat was perfect ,very clean and so lovely to relax,the host fantastic,the bed ,linen ,towels flowers ,cheese ,crackers,coffee etc so appreciated,we had the best stay and enjoyed the short time we had,meeting our host was a highlight ....
Annette
2015-01-30T00:00:00Z
"I had a three week stay in January 2016, and the aparment filled all my needs and more. It is fresh and clean and well equipped. Since I don't had a car I especially appreciated the closeness to the city centre. It is only a 10 minutes comfortable walk away. Nice surroundings and Cathryn and Rodney are very friendly and hospitable. Thank you for letting me stay in your nice apartment." Eva
Tiffany
2016-01-23T00:00:00Z
ประเภทห้อง
บ้าน/อพาร์ทเมนท์ทั้งหลัง
---
ประเภทที่พัก
อพาร์ทเมนท์
---
พักได้
3
---
ห้องนอน
โวลลองกอง, นิวเซาธ์เวล์ส, ออสเตรเลีย
2 very comfortable ensuite bedrooms with lovely garden outlook. Main has Queen bed with brand new ensuite and washing machine. Second has 2 singles/King. Spacious lounge, kitchenette and dining. Ground floor of family home. Completely private. Option to rent 1 or 2 rooms. Please note, if 2 people wish to rent a room each extra charges apply. No charge for children requiring a cot.
A great central location in Wollongong, yet peaceful and private. Close to hospital, CBD and public transport, including Free Bus to University , CBD and beach. Close to railway station.
Beautiful leafy quiet area, yet close to town, beach and public transport.
We were in Wollongong for a lions convention. The apartment was perfect and our hosts delightful. We had everything we wanted and more. The setting was peaceful and close to all amenities.
Katrina
2015-10-19T00:00:00Z
Anne was very good at communicating with me. Everything was set up to make it easy for me. I greatly enjoyed my stay. It is a large beautiful apartment. I would recommend a car to get around. I would stay here again
Edward (Ted)
2015-10-01T00:00:00Z
Excellent, lovely, spot on, homely, spotless, enviable, just read the reviews.
Mark
2015-06-09T00:00:00Z
Beautifully appointed apartment which was exactly as described. The breakfast provisions for the first morning were much appreciative. Anne communicated in a very easy and friendly manner. Guests will be amazed at the view from the top of the hill. Thank you Anne
Elizabeth
2016-07-06T00:00:00Z
Thanks Anne for providing a wonderful home away from home with all the amenities you could wish for. It was a wet weekend but your lovely spacious home with the downstairs all for us, was a welcome respite. Loved the bathroom - extra large shower heads and aromatic toiletries! Breakfast was really generous. Loved also the little touches - basket of fruits and Easter 'bunny'chocolates. Internet was also provided and was handy. Anne and Peter are kind, thoughtful hosts who are non-intrusive yet available for any queries and assistance. They do go out of their way to assist and I highly recommend this as a place to stay when you are in Wollongong. It's like being back in nature when you're not too far away from the centre of town. A car or a bike is advisable to get about quickly. Otherwise if you don't mind a walk in nice hilly surrounds, it's not that far away from the main train station and shops. We'll certainly go back!!!
Anita
2015-04-06T00:00:00Z
This is a beautiful spacious apartment in a very pleasant area with great views over the city. Anne is a lovely host - lots of great breakfast provisions in fridge on arrival. It's a very well appointed flat and had lots of extras provided to make it feel homely - plenty of crockery, glasses etc, wash up liquid, washing machine & liquid, handwash - just lots of things that you sometimes miss when travelling. Also good info in flat on places to eat, visit etc. Excellent value for money!
Iain
2016-10-15T00:00:00Z
The first time I have used Air BnB, & it was an excellent introduction. Peter & Anne were very relaxed & friendly, & the accommodation was immaculate, spacious & quiet.
Joseph
2015-02-07T00:00:00Z
Great place, in a peaceful and scenic location. Everything was as described. Beds, linen, pillows, towels etc. all good quality. Communication from the first contact was excellent. Coming from Victoria, where all showers have flow limiters to save water, the showers in the two ensuites were fantastic! I highly recommend Anne's place.
Jason
2016-08-23T00:00:00Z
ประเภทห้อง
บ้าน/อพาร์ทเมนท์ทั้งหลัง
---
ประเภทที่พัก
อพาร์ทเมนท์
---
พักได้
4
---
ห้องนอน
โวลลองกอง, นิวเซาธ์เวล์ส, ออสเตรเลีย
Unique comfortable self contained loft apartment in Wollongong. Five minutes drive to beautiful surf beaches, hipster cafés, restaurants & bars. The Wollongong Entertainment Centre & WIN Stadium home of The Dragons & Illawarra Hawks.
The apartment is fully self contained with separate king bedroom, comfortable & modern with 2 living area's. There are 2 bus stops within a short stroll that will take you to the train station, Wollongong Hospital, Local beaches, shopping etc. There is a local coffee shop & convenience store less than 5 minutes walk. Westfield Figtree is a 10 minute walk. The UOW is a 10 minute drive.
We are only 5 minutes drive to CBD as well as beaches, cafés restaurants etc.
Lovely place and very comfortable it had everything you could need and more. Host was easy to communicate with and helpful, would recommend staying here.
Yara
2015-11-24T00:00:00Z
The property was well located and nice. The house was clean and well maintained. Nice quite part of the town with a small eatery at a walking distance and shops not too far off. Dean and Tracy have ensured that all Guest requirements were taken care off. Met Dean and Tracy briefly and they made us very welcome.
Peter
2015-10-19T00:00:00Z
The neighborhood was extremely peaceful which was fitting for such a perfect, calm, and cozy loft environment.
Brooke
2016-09-18T00:00:00Z
This was such a fantastic self contained apartment with an awesome loft bedroom and large living area. Dean and Tracy were great with their cute little dog. Would come back in a second and will make sure when in Wollongong for work or pleasure this is a must stay.
Luke
2015-11-20T00:00:00Z
We had a very cordial at Tracy's apartment. The apartment has everything you need with a very comfortable bed and sofa, and functional kitchen. The gas heater provides the needed warming during our cold stay in Wollongong. Tracy and Dean are very pleasant hosts and Roxanne, their pet, is so friendly. Just a bit of problem connecting though on the wifi since the losses its signal inside the apartment.
Ronald
2016-08-29T00:00:00Z
Thank you Tracy for your warm hospitality in the gorgeous Loft for our last minute getaway. Modern, homely and great amenities! Highly, highly recommend!
Lea
2016-08-27T00:00:00Z
Tracy and her husband Dean were very welcoming, polite and hospitable. They offered their knowledge of the local area and places to visit or eat. Down to earth, helpful and polite. We had our privacy respected, yet the occasional visit from Roxanne (their dog) was always welcome company and a delightful visitor, even if her visits were brief! Would recommend the loft for those looking for a relaxing getaway with the beaches/restaurants only a short drive away. Thank you to both Tracy and Dean for a wonderful and enjoyable stay! Couldn't have asked for better hosts or a nicer welcoming. Although our stay short and sweet, we will definitely look forward to coming again! :)
Ray
2017-01-06T00:00:00Z
Is a lovely place close to everything, has everything you need Hosts were amazing and very welcoming, any questions needed answering would be answered in adequate timing Felt like home away from home for a few days :)
Zara
2016-11-05T00:00:00Z
ประเภทห้อง
บ้าน/อพาร์ทเมนท์ทั้งหลัง
---
ประเภทที่พัก
อพาร์ทเมนท์
---
พักได้
2
---
ห้องนอน
Mangerton, นิวเซาธ์เวล์ส, ออสเตรเลีย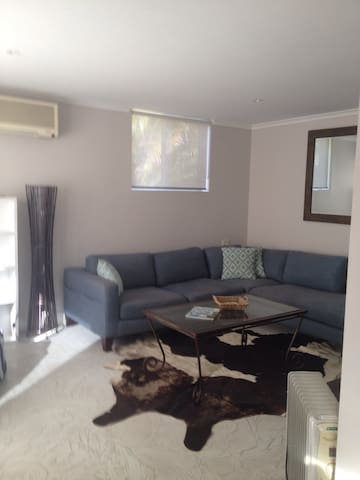 This is a private room not entire unit. A clean, cozy and beautiful private room great for business traveler or visitor, the place is very close to town, University of Wollongong and Wollongong hospital. FREE bus bus station is 2 minutes away on foot. You get a private room and your own balcony, share bathroom, kitchen and other utility with host. Garage parking space is available.
good for single or young couple come to the gong for short trip and business.
FREE BUS bus stop is 2 minutes away.
Excelente anfitrión. Muy cómodo y confortable
FACUNDO
2017-03-24T00:00:00Z
Howard did an absolutely wonderful job. I would highly recommend anyone staying in Wollongong to stay here! It is very easy to get to and he has the place so well prepared and thorough for his guests! Thank you Howard!
Noah
2017-03-31T00:00:00Z
Couldn't have asked for a more convenient place to stay. 10min walk to the trains... Howard took great care of me, the house was clean and I honestly enjoyed my time in Wollongong. Would recommend his place 100%!!!
Sebastian
2017-03-26T00:00:00Z
Ultra clean - Howard goes beyond in effort for making you feel comfortable. Access/ check in was a breeze and treated with personal cosmetics upon arrival. The house is well organised which made navigating through the kitchen very easy if you plan on cooking your own meals. Howard is humble and down to earth and always up for a yarn. Would definitely stay here in the future
Brigham
2017-03-07T00:00:00Z
We had a great stay at Howard's place. We only stayed one night but he was really friendly and nice to chat with. The flat was very clean and well organised. The room and the bed were really comfy and the house was easy access. We would highly recommend this place !! Thank you Howard !!
Sara
2017-03-22T00:00:00Z
Howard was a perfect host. He offered advice on what was around the area and gave clear instructions. He had prepared the house well for visitors. The place was perfect for me. I really enjoyed waking up to birds singing in the morning, also loved the fresh plumbs & other fruit in the Guest cupboard. I felt welcomed and not an intruder.
Renee
2017-03-21T00:00:00Z
Clean, tidy, close to central, quiet and peaceful, would stay again of needed
Deepak
2017-03-29T00:00:00Z
Very convenient, comfortable nice and quiet. Would definitely stay again.
Eavan
2017-03-18T00:00:00Z
ประเภทห้อง
ห้องส่วนตัว
---
ประเภทที่พัก
อพาร์ทเมนท์
---
พักได้
2
---
ห้องนอน
โวลลองกอง, นิวเซาธ์เวล์ส, ออสเตรเลีย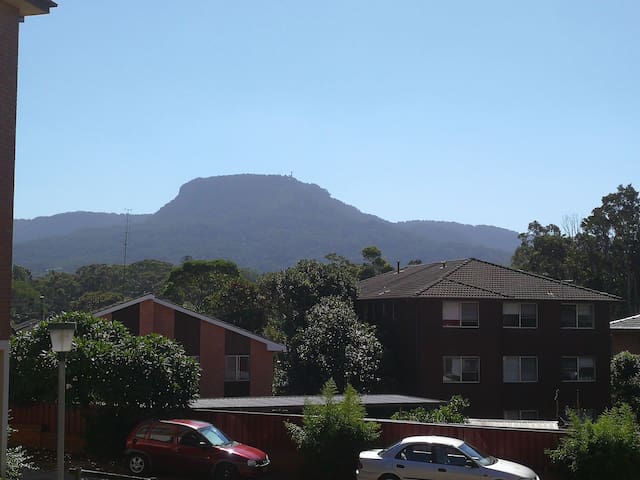 Our newly renovated and gorgeous flat is a stones throw to UOW, Wollongong hospital, Wollongong city, the train station (literally a 3 minute walk!) and our beautiful beaches. Sleeps two adults comfortably, can fit a child or 3rd adult on sofa bed.
The flat is newly renovated and sits in our backyard behind some large gates so you have total privacy from the street and your own entrance so you can come and go as you please. The queen sized bed is super comfortable with king sized duvet so no one is left out in the cold . We have a heater, a large fan and an evaporative cooler. We do not have air conditioning. Kitchen is fully equipped and for breakfast you will find numerous types of tea, pod machine coffee, bread for toast with a variety of condiments and delicious toasted muesli. All windows have blinds to give you total privacy. Bathroom is modern and clean with an excellent shower, body wash, shampoo and conditioner. PLEASE NOTE. The sink is very small. We were limited with space and chose room to move over a large vanity. Also, water splashes out of the shower. This sometimes bothers people. Again, we decided the glass was cleaner and more practical than a shower curtain. Tv in the lounge room has only local channels. If you've brought your own device and want to watch a movie we can lend you our chrome cast, please just ask. We have NBN so stream away! For a romantic getaway, we can organise special touches (for a fee) such as sparkling wine and chocolates on arrival. We hope to welcome you to our gorgeous, cosy space.
We are 2 minutes walk from North Wollongong station, walking distance to uni and hospital, walk to free shuttle which goes into Wollongong city, the uni, Wollongong entertainment centre, the hospital, fairy meadow and the beaches. Beaton Park leisure centre (gym and pool) is also walking distance. North Beach is a 6 minute drive or a 15 minute walk.
Great unit. Comfy bed and well decorated with everything you could need.
JJ
2016-12-20T00:00:00Z
Natalia was a great host and great communication. The location is a quiet residential area in Wollongong. There was a train line near by but the trains were infrequent and didn't cause us any issue. The flat was easy to find, private and very clean. Thank you Natalia for letting us stay the night, especially in the week of Christmas.
Sam
2016-12-21T00:00:00Z
This is a lovely, centrally located place for 1-2 people, perhaps 3. Everything was as per the description and Natalia was a fabulous host. I'll be back!
Brian
2017-01-18T00:00:00Z
My boyfriend and I really enjoyed our stay. Great hosts who were always helpful when we needed anything. The flat is very well located near the train station, beach and centre. We could also borrow two bikes during the 8 weeks we stayed there. We can absolutely recommend the flat for short and long stays. Hopefully we'll have the opportunity to come back! Thanks again for the great time!
Marlene
2017-03-20T00:00:00Z
Great place to stay, great location and clean.
Zhenyang
2016-12-05T00:00:00Z
A lovely little spot to stay for a few nights while I attended a workshop nearby. Very handy to get to from North Wollongong train station. Lots of great places within a couple of kms to explore on foot i.e. Botanic Gardens, Wollongong CBD, beach etc.
Anna
2016-09-30T00:00:00Z
Such a lovely place to stay! The flat was exactly as the pictures show it - very neat and beautiful. It felt like having my own little home away from home. Highly recommend!
Boni
2016-08-30T00:00:00Z
Natalia was warmly welcoming and we felt very cosy and private in the space. It was great to be able to break our journey south with an overnight stay so easy to get to from the motorway. Also great to be able to have a Nespresso coffee in the morning - just like home.
Karel
2016-09-20T00:00:00Z
ประเภทห้อง
บ้าน/อพาร์ทเมนท์ทั้งหลัง
---
ประเภทที่พัก
อพาร์ทเมนท์
---
พักได้
2
---
ห้องนอน
Gwynneville, นิวเซาธ์เวล์ส, ออสเตรเลีย
Two single beds in a fully furnished, top floor apartment. Perfect for anyone visiting Wollongong for both business and leisure.
The apartment has two bedrooms and is on the top floor of a small apartment complex. With both east & west facing windows it has plenty of natural light during the day. There is a small balcony with a seating area overlooking the backyard. The second bedroom is on the western side of the apartment and is furnished with two single beds, each with their own bedside table and lamp, and power-points galore. The room also has a remote controlled ceiling fan for those balmy summer days. The apartment is a 2-5 minute walk to a "FREE Gong Shuttle" bus stop, a 5-10 minute walk to the Wollongong train station and a 10-15 minute walk to the CBD. Unfortunately previous guests have stained the carpet in this bedroom and due to my full calendar I have not had a chance to clean or replace it. The apartment is in need of a refresh which will be taking place in early 2017, but I aim to keep the apartment in the best condition I can for its age. If you are unhappy with its condition upon arrival, please let me know & I will be over ASAP to rectify the problem.
The apartment is in a small block with quiet neighbours of a night time but unfortunately there is construction work next door 7am-5pm week days and 8am-3pm on Saturday. If you're after a sleep in on any day but Sunday and are a light sleeper then my place may not be suitable for you.
It was nice staying i slept so well. Hannah was very friendly and busstop, convenience store, cafes are near there. 백팩커에서 계속 지내다가 이런방에 오니 너무 좋았어요. 침대랑 이불도 좋아서 잠 엄청 잘잤고 콘센트도 쓰기 편하게 양옆에있고 주인도 활발한느낌에 엄청 친절했어요. 세면대가 좀 작다던가 화장실엔 그런 사소한 불편함이 살짝있긴했지만 이틀 잘 지냈습니다. 버스정류장도 가깝고 근처에 편의점 카페들도 있어요.
Sun
2016-12-08T00:00:00Z
Goid communication.Friendly welcome. Comfortable stay. Thanks
Renee
2016-05-04T00:00:00Z
Hannah's place was just right for me and just as described in her Airbnb blurb. She's a great host, including offering and giving me a lift on her way to work to my destination on leaving her place (the Port Kembla terminal to pick up my car which had been shipped back from Tokyo, where I'd been living for several years). Highly recommended!
Maxwell
2016-12-20T00:00:00Z
Very good
Amanda
2017-01-06T00:00:00Z
Hannah was very sweet and accommodating. The place is spacious. There is construction at 7am but if you such the windows and doors cuts out a lot of noise.
jaclyn
2016-12-18T00:00:00Z
Hannah is a lovely Host and did everything in her power to make us feel comfortable. The communication was very easy and she provided a clean living space.
Beatrice
2016-10-16T00:00:00Z
Hannah left out a key for me and her cat Bob was lovely company.
Jane
2016-07-22T00:00:00Z
Molt acollidor amb un gatet estupendu! La Hannah ens ha tractat molt be i ajudat en tot el que ha pogut. Totalment recomanable.
Olga
2016-08-11T00:00:00Z
ประเภทห้อง
ห้องส่วนตัว
---
ประเภทที่พัก
อพาร์ทเมนท์
---
พักได้
2
---
ห้องนอน
โวลลองกอง, นิวเซาธ์เวล์ส, ออสเตรเลีย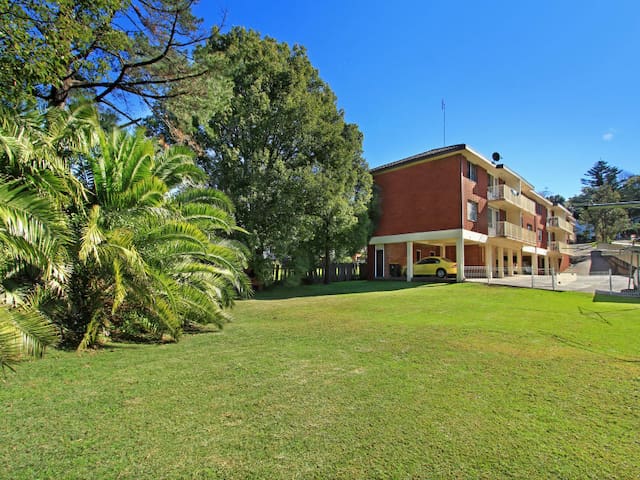 My place is close to public transport, parks, and the city centre. You'll love my place because of the light, the comfy bed, the kitchen, the cosiness, and the high ceilings. My place is good for couples, solo adventurers, business travellers, and families (with kids). The one bedroom accommodates two and We also can accommodate another two persons on a comfortable air bed in living area.
Great place, a 3 level unit, nice and quiet, walking distance from the university, friendly, helpful host. Kitchen stocked with eggs, cereal, milk and a few other things.
Robert
2017-03-01T00:00:00Z
We had a great stay at Kerrie & Tony's place. What lovely people. They didn't just make us feel at home, they made us feel like family! Kerrie fussed over our little one like a good grandma would....and she didn't have too! Besides the great hosts, the granny flat had it all. The house, the area...wow, everything was awesome. We loved our quick stay and will definitely pop back again.
Darren
2016-11-05T00:00:00Z
Clean, comfortable, well-equipped and Kerrie is a lovely host.
Katherine
2017-03-25T00:00:00Z
Kerrie was definitely very hospital. She prepared a very warm and big place for my husband and myself; even a very thoughtful breakfast plate! :)
Burcu
2016-10-31T00:00:00Z
I needed somewhere peaceful near the University to spend a quiet night and Kerrie's separate granny flat provided this amply. Kerrie is a flexible and generous host, one on whom I felt I could call if I needed help with anything. The external door to the flat is a little tricky to lock but otherwise there was everything and more than I required for a very pleasant stay. Thanks very much Kerrie.
Elizabeth
2016-07-31T00:00:00Z
The host canceled this reservation 18 days before arrival. This is an automated posting.
Paula
2016-07-19T00:00:00Z
We had a lovely 2 nights at Kerrie's - she was a lovely host and made us feel so at home The accommodation was great with our own kitchen and bathroom It is very convenient so close to the beach and university We will definitely be back Thankyou Kerrie and Tony
Suzanne
2017-01-21T00:00:00Z
The granny flat is great- excellent bathroom, kitchen and bedroom seperate from living area. Kerrie was a great host- friendly and accommodating around check in and out. The second blow up bed (which we didn't use except to laze on and look at the great views out the window) would be comfortable to sleep on. We were close to the city, and there are a number of nice cafes very close by, or other great places in the city which is a short drive away.
Renee
2017-03-05T00:00:00Z
ประเภทห้อง
บ้าน/อพาร์ทเมนท์ทั้งหลัง
---
ประเภทที่พัก
อพาร์ทเมนท์
---
พักได้
4
---
ห้องนอน
Keiraville, นิวเซาธ์เวล์ส, ออสเตรเลีย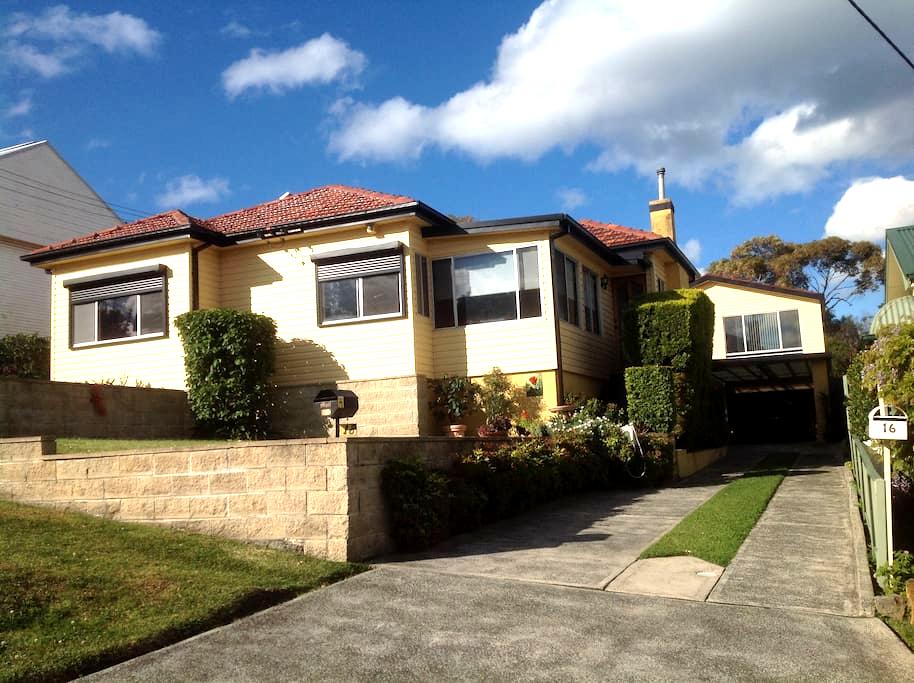 This small breezy apartment is 50 metres from the beach. Right near the best cafes and beach in North Wollongong. Stroll to the beach or relax on the balcony with the perfect view. Great stopover or stay awhile to wind down.
A private sanctuary with the best views in Wollongong. 30 sq metres with small balcony. Ensuite bathroom. Small galley kitchen. Designated parking space on-site.
The North Gong vibe is great this time of year. A good selection of cafes. Bars. And a great little fish n chip shop downstairs a stones throw from the beach.
Nice view,easy to find in good spot.Curtain rather than a door between toilet and bedroom was problematic.
Neil
2017-02-19T00:00:00Z
Great for a couple for a weekend away, in a good location!
Samara
2017-01-28T00:00:00Z
Great location and views
Summer
2017-02-13T00:00:00Z
Perfect location. Great stay for a short trip to Wollongong
Matthew
2017-02-24T00:00:00Z
the location was perfect. right across from the beach and the views from the kitchen and balcony were amazing. everything was clean and the dvds were a nice touch
Olivia
2017-02-05T00:00:00Z
Beautiful views close to the beach
Elena
2017-02-03T00:00:00Z
Nice cosey place for a weekend away
Bryce
2017-03-05T00:00:00Z
Small place but great location. Leigh was organised and place was easy to find.
Heidi
2017-02-04T00:00:00Z
ประเภทห้อง
บ้าน/อพาร์ทเมนท์ทั้งหลัง
---
ประเภทที่พัก
อพาร์ทเมนท์
---
พักได้
2
---
ห้องนอน
โวลลองกอง, นิวเซาธ์เวล์ส, ออสเตรเลีย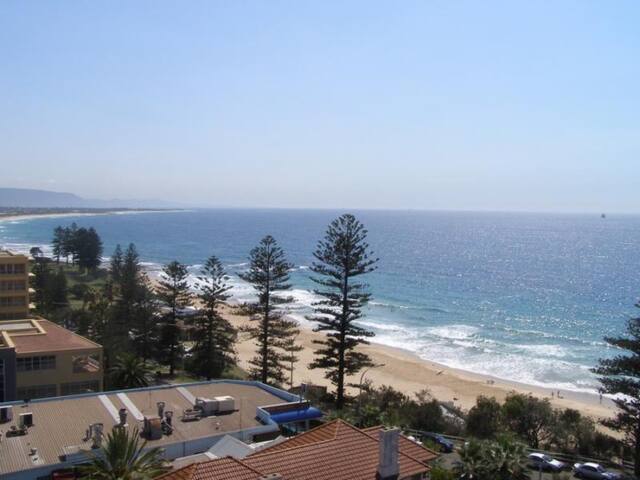 Lovely presented unit in a quiet block, situated 5 minutes walk to Wollongong's finest attractions 'the blue mile', beaches, harbour, cycleway, parks, restaurants, cafes, entertainment centre and skydiving.
Off street parking, free shuttlebus close by
I live in a beautiful part of Wollongong, which I would love to share with others.
Michelle is a charming host. The apartment is close to nice beaches and some good restaurants. I'ts a perfect springboard to tour Woolongong and surrounds and I enjoyed my summer stay here.
Tony
2017-01-19T00:00:00Z
Michelle's unit is located close to beaches but also walkable distance to the city centre. Loved my morning walks along the waterfront and a lovely cafe along the way. Easy access to roads north and south for exploring the area.
Berni
2017-01-16T00:00:00Z
Central location. Once parked in visitor parking, we didn't have to drive anywhere! Bust stop.around the corner. Bus took us to the beach, shops and uni. There are lovely restaurants a block away. Clean, tidy, neat unit. Interior design was appreciated as was the wifi and netflix! Michelle is a great host. Went beyond the call of duty in feeding back information that was beneficial for our stay. Felt welcomed from arrival to departure. Would definitely stay again.
Country
2017-01-26T00:00:00Z
The unit was very easy to find and the neighbors were friendly when we finally saw some. If you are in town for An event or a rest there wasn't any reason to drive as you could walk to most things within 10 minutes. The host was helpful and left good and easy explanations for the apartment and local area. Use it and enjoy it.
Gregory
2017-01-09T00:00:00Z
ประเภทห้อง
บ้าน/อพาร์ทเมนท์ทั้งหลัง
---
ประเภทที่พัก
อพาร์ทเมนท์
---
พักได้
4
---
ห้องนอน
โวลลองกอง, นิวเซาธ์เวล์ส, ออสเตรเลีย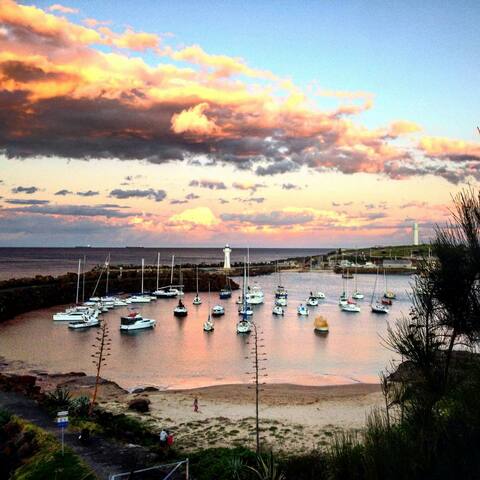 房子在wollongong大学边上,处于Ashcroft PI静街区,学校边上唯一的安全富人区,步行到校 仅6-8分钟。目前二楼仅一间招租。 房子是两层house,新装修,砖瓦结构,带精致后院和宽阔前院,整套house干净,安全,安静。带两个室内车库和若干室外车位,全新地毯,设施齐全。 入住此house,即可拎包入住,车库提供仓库堆放,如果你东西够多。 一个干净清洁够大的房间,一个生活质量很高,同时离学校很近的house,一个装修萌萌哒又大气的house,看过照片,相信你会喜欢这个house,我想说的是,实景房比照片更美, 家里没有蟑螂和蜘蛛, 如果对生活有品质要求的会喜欢。 房子设施:公用电饭煲,冰箱,微波炉,床,衣柜,写字台,洗衣机等。 只需负责自己的卫生间和卧室,其它公共区域每周有专人打扫。对于环境,我们要求:适合读书,温馨,干净。如果你是爱学习,喜欢干净的同学,你不会错过。 联系信息: Carina , (SENSITIVE CONTENTS HIDDEN):C_L201
Carina and James were very welcoming. They made sure I was comfortable and even went out of their way to help me find things to do, to book taxi services (which are notoriously bad in Wollongong), and to help me get to the train station when I left early on a Sunday morning. The room I stayed in tended to be a little too hot, particularly when hit by the morning sun, and some sort of cooling would make this a bit more comfortable. The house is also very close to the uni, which was useful for my purposes, however it takes a little bit of travelling to reach central Wollongong. I would recommend staying at this location despite some of the cons I've listed, mostly because James and Carina were such lovely hosts.
Matthew
2016-11-05T00:00:00Z
ประเภทห้อง
ห้องส่วนตัว
---
ประเภทที่พัก
อพาร์ทเมนท์
---
พักได้
1
---
ห้องนอน
โวลลองกอง, นิวเซาธ์เวล์ส, ออสเตรเลีย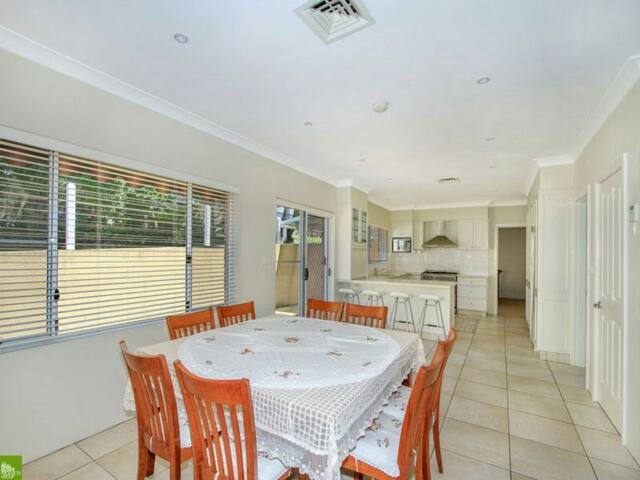 Just 500 metres from North Wollongong's pristine beach, coffee shops & restaurants this bright & sparkling apartment also provides convenient access to train station, university & the freeway. Enjoy our first floor, 2 bedroom apartment with a single off street carspace with views of the Mt Keira escarpment from the kitchen window. You'll love our place because of the location, the views, & the people. Our property is great for couples, solo adventurers, business travellers & families.
Accommodates: 4 Bedrooms: 2 Bedroom 1 has a double bed, Bedroom 2 also has a double bed Total Beds: 2 Shower: 1 Check In: 3pm-8pm Check Out: 10am Property Type: Apartment
See 'Basics' .....House Manual Check out (URL HIDDEN) And You tube We are Wollongong to see our fantastic area
Clean, comfortable and great location. Host lovely and thoughtful.
Debbie
2017-02-04T00:00:00Z
Finding Sheree's beautiful space was the best choice I could have made to start my trip to Wollongong. Sheree is beyond sweet, communicated great, and helped us out more than we could thank. This clean cozy place had absolutely everything my friends and I needed to get settled in to the land down under. As you walk into the upstairs apartment you enter an open sitting space with plenty of lounging chairs and a sofa to enjoy some TV or a nice breeze from the ocean coming from the outside patio. I sure love to eat and her kitchen had all the amenities I needed to cook my meals. Her two spacious rooms provided the perfect place to sleep and store all our luggage and clothes in the full closets and drawers(URL HIDDEN) What's even better is that it could not be in a more PERFECT location! About a 2-minute stroll to the beautiful North Gong beach, and several waterfront restaurants with great drinks and food! It is also about a 30 second walk form Stuart Park, which is perfect for a stroll, run, or if you dare, signing up for skydiving which is located right in the park! Also, right around the corner is the free bus which can take you into town for some shopping or to the University. Sheree's place offers an experience for any bodies desires or hobbies. We sure will miss rolling out of bed to surf and enjoy this little slice of heaven! We cannot wait for our next adventure here! Until next time! Thankyou Sheree!!!
Jayde
2017-03-02T00:00:00Z
Thank you for a lovely stay, Sheree!
Aidan
2017-02-09T00:00:00Z
Sheree is a wonderful, helpful and attentive host. The apartment is very neat and clean. The apartment is set up with everything you need and is in a perfect location, walking distance to everything you need. Thanks for the wonderful stay it was a perfect welcome to Wollongong. :)
Carmen
2017-03-24T00:00:00Z
This place is wonderful,we have stayed in many air BnB but this was the best,clean ,beautifully furnishes,fab location,very good and friendly host and excellent beds linen towels etc,thanks for a lovely home away from home.
Annette
2017-03-12T00:00:00Z
A fantastic location, especially when you have kids to entertain - a hop, skip and jump to the beach, awesome park and playground, science world and restaurants. Very quiet spot yet accessible to everything. Great communication, friendly and helpful host.
Jenny
2017-04-01T00:00:00Z
Sheree's place was perfect for what we needed. Communication, checkin and out was easy, great location and the place was super clean. We would stay again.
Justine
2017-03-04T00:00:00Z
Our extended stay at Sheree's place was great! Thanks for accommodating us for the extra nights.
Carmen
2017-03-16T00:00:00Z
ประเภทห้อง
บ้าน/อพาร์ทเมนท์ทั้งหลัง
---
ประเภทที่พัก
อพาร์ทเมนท์
---
พักได้
4
---
ห้องนอน
North Wollongong, นิวเซาธ์เวล์ส, ออสเตรเลีย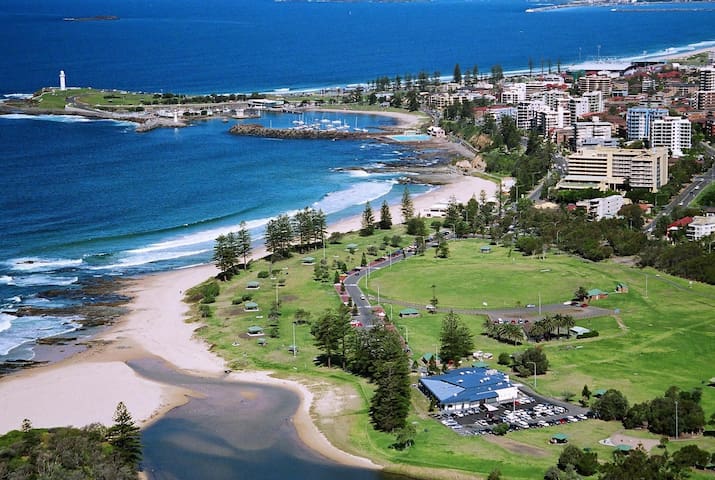 Spacious and bright double bedroom, suitable for Yogi-minded guests! This lovely, large Private Room (with your own key) is in the residence, above the Wollongong Yoga Centre. Ideally located in central Wollongong, 5mins from beach, 5mins from train station, free City bus and 2mins from shopping area. Includes FREE yoga classes during your stay (hot, warm and yin yoga).
Huge Private Room (lockable door) where you can enjoy relaxing in comfort. Room contains king-size, very comfortable bed and pillows/towels, plenty natural light, private desk/workspace with free WIFI and free yoga class vouchers. Includes tea/coffee and kettle in your room. Down the hallway is a large shared bathroom with shower, toilet, washing machine, drying rack and dryer. Fully-equipped galley kitchen with fridge for self-catering. Your stay includes FREE unlimited hot and warm yoga classes downstairs. Ideal for travellers wanting a healthy holiday or mini-break in Central Wollongong.
Central address makes this an excellent location for exploring Wollongong. Short walk to cafes, shopping mall, restaurants and supermarket. Five minutes walk to main Beach, where you can swim or walk along the coast to explore breathtaking scenery.
Alexis was a very organised and helpful host who kindly arranged to meet me to facilitate an early check in. The location is reasonably central and the room very comfortable with a large, comfortable bed. I would recommend this to everyone.
孟慧
2017-01-20T00:00:00Z
This place was so perfect for our stay in Wollongong. Walking distance to town and public transport. Ample parking as well. Apartment was clean and tidy and the room is the same. Fantastic hosts, communication was clear and smooth and we had no problems!
Holly
2017-02-12T00:00:00Z
The host canceled this reservation 27 days before arrival. This is an automated posting.
Rachel
2016-12-04T00:00:00Z
Alexis was very welcoming and easy to get along with! The accomodation was accurate as to what was advertised and the location was perfect- walking distance from the beach, mall and multiple restaurants.
Kate
2017-01-07T00:00:00Z
We stayed for four nights at Alexis' place in Wollongong. Alexis was away during our stay but met her super cute daughter and partner Martin, who warmly welcomed us in and made us feel at home. The apartment was spacious, as was the bedroom. Unfortunately, we felt the apartment wasn't as clean as we would have expected, especially the bathroom. The location is in a great central spot, walkable to the center of town, shops and the beach.
Christy
2017-03-24T00:00:00Z
Alexis was a great host! She went out her way to make my stay enjoyable which was really appreciated. The room is spacious, the bed is comfy, and located in an excellent central location.
Scott
2017-01-12T00:00:00Z
Lovely clean convenient place. Good communication. I had a great stay. Thoroughly recommended.
Tim
2017-03-18T00:00:00Z
Good location, short walks (around the corner) bus/train station and grocery store/market. Room was pretty sound proof and had plenty of space and bed was comfy which made sleep-ins easy. There through mini heatwave, so some warm nights, but the extra fan provided helped.
Anne
2017-01-15T00:00:00Z
ประเภทห้อง
ห้องส่วนตัว
---
ประเภทที่พัก
อพาร์ทเมนท์
---
พักได้
2
---
ห้องนอน
โวลลองกอง, นิวเซาธ์เวล์ส, ออสเตรเลีย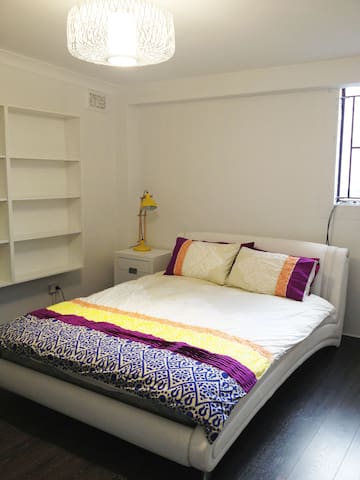 This is a beautiful, fully renovated Victorian era apartment. The building was constructed in 1880 and it is the second oldest home in Wollongong. You will be a 5 minute walk from the CBD and a 10 minute walk from the beach. This is a two bedroom apartment with a queen bed in the Master bedroom and a single bed and mattress in the second bedroom. There are two desks and free WIFI. The kitchen is fully equipped and there is a washing machine and dryer.
The neighborhood is one of the most sought after in Wollongong. It combines easy access to town with easy access to the beach. There are several parks nearby and a corner store and Asian grocer within 200m of the apartment. Within a 5 minute walk of around 20 restaurants and Cafes. A 5 minute walk from COLES (large supermarket) and the major shopping center.
Jon provided excellent and accurate information for our stay. Information provided was accurate. Location good for our intentions of being in Wollongong. Our stay was easy.
Janelle
2016-09-12T00:00:00Z
Lovely heritage house in a great area, close to everything. Would stay again.
Helen
2016-09-26T00:00:00Z
ประเภทห้อง
บ้าน/อพาร์ทเมนท์ทั้งหลัง
---
ประเภทที่พัก
อพาร์ทเมนท์
---
พักได้
4
---
ห้องนอน
โวลลองกอง, นิวเซาธ์เวล์ส, ออสเตรเลีย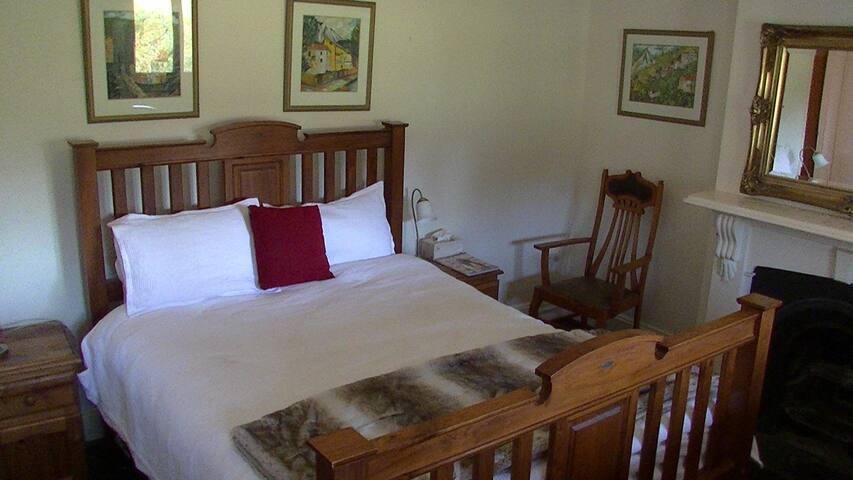 Private room to share with a married couple. Just bring your bags. Cooking facilities, high speed wireless internet. Close to public transport, and close to the city
Scott was there waiting for me when I arrived, and was great with communication during my stay. The room was perfect for my few days in Wollongong. Recommended!
Edward
2016-03-28T00:00:00Z
Location and apartment as described. Nice people too.
Igor
2016-03-25T00:00:00Z
The hosts were GREAT people, and very helpful in terms of both suggestions as to where and what order to do my exploring, and Scott even took time personally to show me around a few places. Great hosts for sure. I didn't expect the bed to be an upper bunk bed, but it was quite comfortable so no worries! If you bring a bottle of Pisco Brandy along for your stay, you might get treated to a damn fine Pisco Sour, as the hosts have the recipe nailed!
Brant
2016-12-09T00:00:00Z
Scott and her wife are really nice even if I did not pass a lot of time with them and that we had some trouble to communicate whith our phone. Feel free to host them!
Micheal
2014-11-29T00:00:00Z
Scott was very welcoming and showed me around the sights. But the amenities were not acceptable and I was not offered any breakfast. Also, I don't like sharing with cockroaches.
Chris
2016-11-22T00:00:00Z
I had a very pleasant time at Scott's place. Nice room helpful host and good located to places I spotted on. Just to recommend. . In particular if you need to go to UOW
Hans-Georg
2016-02-01T00:00:00Z
Scott was a more than welcoming host. Even though I was only there for a night, we had more than a few great conversations about anything and everything. The room was nice and cosy, there was a nice view of the coastline on a night with a spectacular lightning show. Highly recommended.
Adrian
2014-12-03T00:00:00Z
Scott has a lovely room in a great location. He provided a lot of information about the town and I would come back anytime
Kishan
2014-12-20T00:00:00Z
ประเภทห้อง
ห้องส่วนตัว
---
ประเภทที่พัก
อพาร์ทเมนท์
---
พักได้
1
---
ห้องนอน
โวลลองกอง, นิวเซาธ์เวล์ส, ออสเตรเลีย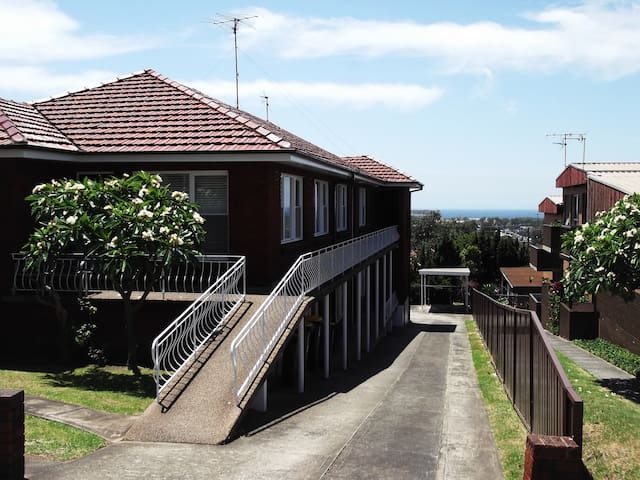 The 1st floor apartment is close to beaches, parks, cycle way, ocean pools, restaurants and cafes. There is a great selection of activities at the doorstep including many nightlife and sporting venues. The apartment is situated 10 minutes walk to the direct train line to Sydney and the airport and also the University is 5 minutes drive. The apartment is suitable for families, as well as couples and business travellers. Come and relax in a quiet street in the heart of North Wollongong coastline.
It feels like home.
Prime real estate area. Quiet neighbours.
Great location. Waking distance to beach. Beautiful, well appointed home- with Netflix. Lock up parking. Generous supply of extras to make our stay comfortable. Thanks for the chocolates.
David
2017-01-24T00:00:00Z
This place is excellent. Early check in and later check out is perfect. The location is walking to the best beaches and café scene in Wollongong.
richard
2017-02-12T00:00:00Z
The place was just as the photos suggest. It was clean, spacious, well cleaned, very close to the beach and Michelle had very kindly filled the place with anything we might need for our stay. When we told Michelle we were coming up for a concert, she did some research for us and gave us advice on how long to allow to get into Sydney. She was also happy to help out when we accidentally locked a phone in the apartment, coming down to open the place up for us before we returned home. I would recommend this place to anyone else who is looking at spending some time in Wollongong, the place and the host were both amazing. Thanks Michelle!
Nicholas
2017-03-12T00:00:00Z
This was my first adventure with "Airbnb" ... and it could not have gone better. Michelle was a wonderful host and has a great unit which is very well located. Close to the beach, public swimming pools, rock pools, restaurants, cafe's, public transport ( bus & train) ... ie. walking distance ... and is very close to the city centre. It was easy to get around. Michelle had stocked the pantry with breakfast food, tea, coffee, sugar, long life milk as well as pasta and tacho's. We were very pleasantly surprised when we opened the fridge ... it was also stocked with a lovely bottle of "bubbly", various chocolates, milk, butter, soft drink, bottled water and other treats. The freezer was stocked with bread, frozen vegetables and the odd frozen treat. The kitchen was well layed out and had everything we required for any meal ... pots pans, utensils, etc. The rooms were great and the beds comfortable. The bathroom was modern, well layed out and there was ample hot water for myself and my two teenage sons ... we did not run out at any time! There was also an internal laundry which we used ... the instructions were clear and easy to follow. Michelle also has Netflix and a great big television ... it was like we were in a movie theatre. Happy The was parking for cars underneath ... but if you have a 4WD they will not fit ... so you will have to park in the limited visitor park spaces or in the street. As we had a large 4WD we parked in the street and had no issues finding a spot each day. I can fully recommend Michelle's unit as a place to stay when visiting the wonderful Wollongong region.
Robert
2017-01-13T00:00:00Z
Thank you Michelle. We were greeted by this lovely host & shown everything we needed to know. It was so well stocked I didn't need to buy toiletries or food. Very convenient to shops, bars & restaurants. So close to the beach. We really enjoyed our stay & hope to come back.
samantha
2017-02-05T00:00:00Z
Michelle was a very helpful and flexible host who did all she could to make our stay in her home successful. The apartment was a great base for our business trip and we would recommend Michelle and her home to other visitors to Wollongong.
Richard
2017-02-17T00:00:00Z
A quant and cosy apartment in ideal location close to cafe's and restaurants of North Wollongong Beach. Michelle is a fantastic host, making the time to come and meet us in person on our arrival, despite being later than expected. The apartment was well presented and well stocked with snacks and all the basics you need for breakfast along with coffee and tea, and even a bottle of champagne. The location is fantastic with only a 5 minute walk to the beach and surrounding cafe's and restaurants. We'll certainly be back next time we're in the area. Thanks again Michelle.
Ben
2016-11-26T00:00:00Z
Nice place. Michelle was just great
Osemwonyemwen
2016-12-07T00:00:00Z
ประเภทห้อง
บ้าน/อพาร์ทเมนท์ทั้งหลัง
---
ประเภทที่พัก
อพาร์ทเมนท์
---
พักได้
4
---
ห้องนอน
North Wollongong, นิวเซาธ์เวล์ส, ออสเตรเลีย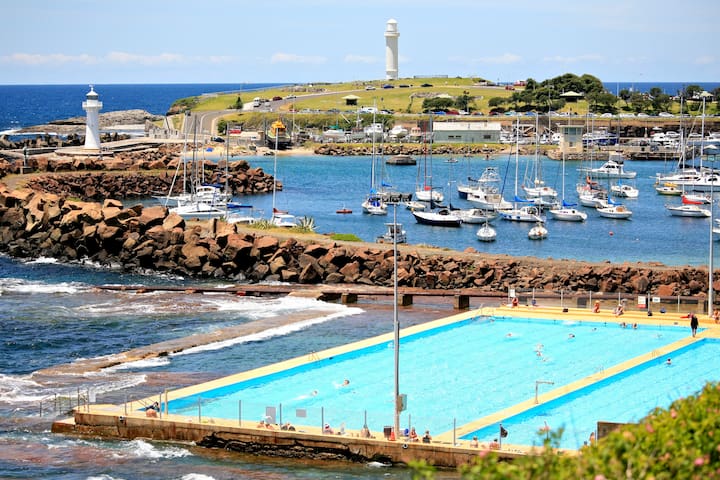 Queen bed available in a fully furnished two bedroom apartment on the top floor of a quiet block with an east facing balcony.
The apartment has two bedrooms and is on the top floor of a small apartment complex. With both east & west facing windows it has plenty of natural light during the day. There is a small balcony with a seating area overlooking the backyard. The master bedroom is on the eastern side of the apartment and is furnished with a queen sized bed, bedside tables, a desk and power-points galore. The room also has a remote controlled fan for those balmy summer days. Unfortunately previous guests have stained the carpet in this bedroom and due to my full calendar I have not had a chance to clean or replace it. The apartment is in need of a refresh which will be taking place in early 2017, but I aim to keep the apartment in the best condition I can for its age. If you are unhappy with its condition upon arrival, please let me know & I will be over ASAP to rectify the problem. The apartment is a 2-5 minute walk to a "FREE Gong Shuttle" bus stop, a 5-10 minute walk to the Wollongong train station and a 10-15 minute walk to the CBD.
The apartment is in a small block with quiet neighbours of a night time but unfortunately there is construction work next door 7am-5pm week days and 8am-3pm on Saturday. If you're after a sleep in on any day but Sunday and are a light sleeper then my place may not be suitable for you.
The location was very convenient. Just a few minutes away from the free shuttle service. The room was quite neat and comfortable. Unfortunately, we could not meet Hannah but we spoke to her on phone and she was very friendly and helpful.
Hussain
2016-12-28T00:00:00Z
I didn't actually get to stay at Hannah's as I fell ill on the trip to Wollongong and ended up in hospital, but during the booking procees she was a friendly, helpful and communicative host
Kerry
2016-10-29T00:00:00Z
Great communication and location, nice and clean too, value is second to none around the area!
Bo
2016-12-17T00:00:00Z
Hannah's place is in a great location if you want to be walking distance to the cbd of Wollongong. We were able to walk everywhere and leave our car parked. The bed was comfy and her place is clean. We only stayed one night, but we would've stayed longer if we were going to be in Wollongong longer. There is construction next door if you're a light sleeper and you like to sleep in. However, it never bothered us. Thanks again Hannah!
Tiffany
2016-11-19T00:00:00Z
We went down to Wollongong for house hunting and Hannah's place was perfect. 2 minute walk to the free shuttle which will get you everywhere you want to go. The best thing about Hannah's apartment was her, I asked if I could pay her to drive us around Wollongong and show us the sights. She declined my offer, drove us around for free and told us about what to do in Wollongong. Would definitely recommend to anyone who is looking for an airbnb in Wollongong. Thank you Hannah for making our trip in Wollongong one to remember :)
Matthew
2016-12-09T00:00:00Z
Fantastic Host! Excellent room, clean, neat and tidy. Would highly recommend.
Rahim
2016-11-24T00:00:00Z
Hannah's place was perfect for our overnight stay in Wollongong. The bed was really comfortable. Sorry we didn't meet you Hannsh but we enjoyed our stay. Thank you.
Sarah
2016-12-10T00:00:00Z
Hannah was very helpful and responsive, and this location was very cozy and everything I needed!
Rachael
2016-11-27T00:00:00Z
ประเภทห้อง
ห้องส่วนตัว
---
ประเภทที่พัก
อพาร์ทเมนท์
---
พักได้
2
---
ห้องนอน
โวลลองกอง, นิวเซาธ์เวล์ส, ออสเตรเลีย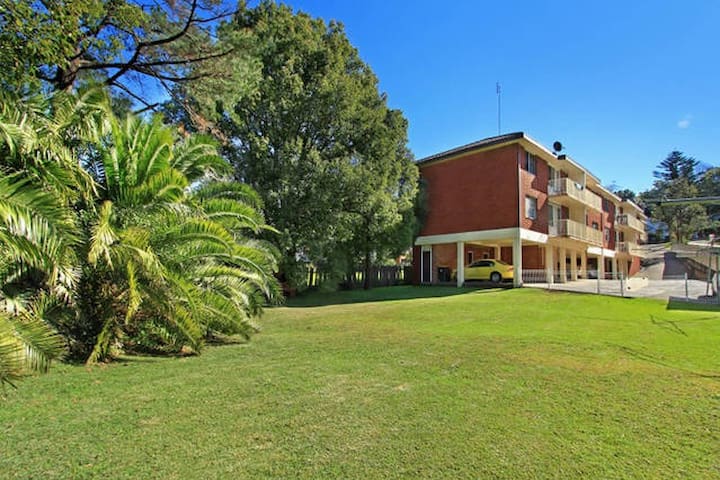 Modern 2 bedroom apartment located only 200m from the shore of North Wollongong beach. Freshly renovated, furnished and listed, its location is ideal for visitors/holiday makers with or without transport. Unwind by the pool, the beach or countless cafes and explore what Wollongong has to offer
This beach side unit in North Wollongong is perfectly located in arguably one of the best streets in Wollongong. Complete with swimming pool, guests are guaranteed to fall into holiday mode upon arrival. Free high speed unlimited NBN internet also included.
Walk to the most popular, most photographed beach in the region, in under a minute. There are many local cafes/restaurants and bars to experience. There is direct access through the property to Stuart Park for events, relaxation, skydiving, or BBQs.
Great location and very clean unit. Every thing in the unit was modern and easy. The Beds were extremely comfortable. Communication with Mitch and Brigitte was so quick and they were so easy and helpful hosts. Definitely recommend this unit.
clare
2017-03-04T00:00:00Z
This apartment is in the BEST location, walking distance to the beach, beautiful cafes and restaurants. It's in a quiet street with tonnes of parking. The unit itself is clean and tidy with everything you could need.. Mitch was a fantastic host, very accessible and helpful throughout our stay. I would definitely recommend Mitch's place, and plan on staying here again too.
Baylie
2017-02-26T00:00:00Z
Great apartment! Has everything you need and great location!
Sarah
2017-03-17T00:00:00Z
Great host. Wonderful house. Cozy room. Clean kitchen. Everything is double thumbs up.
Youngmin
2017-02-16T00:00:00Z
We had a wonderful stay at Luxe apartment in North Wollongong. The place is beautifully styled in coastal style, the bed was super comfortable, kitchen and bathroom really well appointed. We were at the Gong as my son was playing basketball so having a fully functional laundry as well was such a bonus. The apartment is a 3 minute walk to the beach with great cafes. Would highly recommend this apartment. Even the neighbours were really friendly and helpful
Christine
2017-03-25T00:00:00Z
We just stayed for one night and it was perfect. We would have loved to stay a week, if we had more time. We checked in pretty late and it wasn't a problem at all. She answered quickly and did everything to make our stay as comfortable as possible. Thanks again for everything
Lukas
2017-02-19T00:00:00Z
Highly recommend Mitch's apartment as a place to stay. Clean modern apartment in terrific location. Easy walk to the beautiful North Wollongong beach.
Judy
2017-04-06T00:00:00Z
Great place, pictures do not do the space justice. Really close to the beach and places to eat.
Sam
2017-03-11T00:00:00Z
ประเภทห้อง
บ้าน/อพาร์ทเมนท์ทั้งหลัง
---
ประเภทที่พัก
อพาร์ทเมนท์
---
พักได้
4
---
ห้องนอน
North Wollongong, นิวเซาธ์เวล์ส, ออสเตรเลีย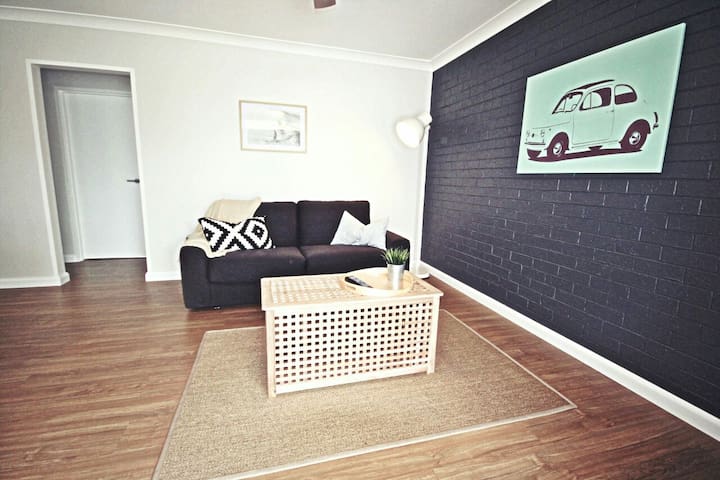 Mount Saint Thomas - Airbnb
:
เฉลี่ย

4.88

จาก

5

ดาวจาก

602

รีวิวผู้เข้าพัก
1

–

18

จาก

50 อพาร์ทเมนท์ให้เช่า
กรอกวันที่เพื่อดูการกำหนดราคาเต็ม มีค่าธรรมเนียมเพิ่มเติม อาจมีภาษีเพิ่ม