Ausgestattet mit einem Doppelbett und ein Badezimmer bietet das Zimmer einen atemberaubenden Blick auf die Wale und Delfine das ganze Jahr .Terrasse mit Hängematten. Frühstück inbegriffen.
Ansicht Walen das ganze Jahr
Aufgrund seiner Ruhe ist, sicher sein!
Hard to find the right words to describe that place. It's simply WONDERFUL! Veronique and Arthur are absolutely nice persons. A very unique and friendly couple that does everything to make you feel comfortable at their place. Playin cards,drinkin wine,makin barbecue and Crêpes. Unbelievable! I can highly recommend this place to stay in Pico. For sure you'd never regret! Thanks for everything! Ralph & Raquel
Ralph
2015-06-08T00:00:00Z
Gemütliches Zimmer und Umgebung (von der Hängematte bis zum Liegestuhl alles vorhanden), leckeres Essen, super Lage (Meerblick, manchmal sind im Fernglas Wale zu erspähen, nur ein paar Minuten Fußweg bis zum Wasser) und eine überwältigende Gastfreundschaft, was will man mehr? Vielen Dank für die viele Mühe (insbesondere das Abholen von Lajes), die Ihr Euch gemacht habt. Alles Gute, Mareike
Mareike
2016-06-21T00:00:00Z
Perfectly located little sweet house with ocean view. A car is recommended from my side. Our stay couldnt have been better. Veronique and Arthur are the perfect hosts and very friendly, funny and communicative. We enjoyed the evenings sitting with them outside on the terasse talking about everything and nothing. They even invited us to an excellenz dinner - an unforgettable holiday!
Tanja
2016-10-02T00:00:00Z
Veronique et Arthur nous ont accueilli chaleureusement et avec beaucoup de gentillesse. Ils ont su être présents pour nos questions tout en nous laissant notre intimité. La chambre est très bien située et agréable. Merci pour ce charmant séjour!
Marlène
2016-08-22T00:00:00Z
Un grand merci pour le jovial et chaleureux accueil dans votre havre de paix à terra do pao Nous avons cependant été surprises en relisant l annonce a posteriori par un certain decalage entre promesses de l annonce et situation sur place: Petit déjeuner non - inclus lessive payante mobilité difficile si non motorisé Écart entre tarif annoncé pour 7 jours (200e) et tarif payé pour 6 jours(300e)...afin d éviter des malentendus avec de futurs hôtes pensez à actualiser votre page! En tout cas nous rentrons revigorées ,pleines de bons souvenirs de PICO amitiés Florence et milena
milena
2015-09-09T00:00:00Z
Merci à Véro et Arthur d'avoir rendu notre séjour si agréable. On se sent à l'aise chez vous, comme chez des amis que l'on n'aurait pas vu depuis longtemps. Simplicité et naturel me semble être les mots pour vous décrire. Et puis partir en ballades avec de bons conseils et le super petit déjeuner de Véronique, rien de tel pour profiter pleinement de ses vacances. Merci à vous 2 pour tout.
helene
2016-08-12T00:00:00Z
Veronique and Arthur are a nice couple living in a fantastic and cozy house (which Arthur has built by himself!). We enjoyed our time there and felt like staying with some friends. Thank you very much again for your great hospitality and all your recommendations. It was a pleasure to meet you!
Irina
2016-12-28T00:00:00Z
Veronique and Arthur made me feel like a member of the family. Their hospitality was unmatched. I have traveled all over the world, but this was my first solo experience and first time using Airbnb. I felt safe, welcome, and loved by this wonderful couple. I came as a stranger and left as a friend. The room was perfect for a single traveler, but would also be lovely for a couple. The bed was comfortable and even more important was the hot shower! I was also happy to have towels provided, as I forgot to pack one. From the moment I booked, I had a good feeling about my decision to stay here. Veronique replied to my request within minutes and offered a ride from the airport. Booking and communicating was with ease and always in a timely manner. The location is perfect. Far enough from a city for peace and quiet, but close enough to bike! Although biking on a hilly island, as I learned, is not as easy as one may expect :) I also enjoyed sitting outside, late at night, eating good homecooked meals from the King of the BBQ and Queen of Crepes! The wine was plentiful and the sounds of nature provided the perfect background music. I highly recommend staying with Veronique and Arthur! They made the island even more magical than it already is :)
Jillian
2015-04-02T00:00:00Z
ประเภทห้อง
ห้องส่วนตัว
---
ประเภทที่พัก
ที่พักพร้อมอาหารเช้า
---
พักได้
2
---
ห้องนอน
Terra do Pao, Azores, โปรตุเกส
The house is over one hundred years old, located within the civil parish of São Caetano, on Pico Island, and is surrounded by a unique landscape between the mountain and the sea.
A typical Azorean house built at the end of the 19th century by a small farming family of little means. Júlia's Little House is located high on a slope within the civil parish of São Caetano on Pico Island, next to the regional road. It is surrounded by other houses, which means it is integrated in neighbourhood life. The house has a historic atmosphere about it as a result of the several generations that have lived there and enjoys a unique location, marked by the powerful presence of the mountain and the limitless blue sea. The house has been modified several times over the years, slowly catching up with the comforts of modern living. The last of such refurbishments was carried out earlier this year, where the bedroom and living areas were totally renovated, making them more functional and comfortable. The house can accommodate 6 people and is split into two levels. On the upper level, you can find the kitchen and bathroom, and an open-plan space with a sofa-bed and a bedroom with a double bed. The lower level has a bedroom with a double bed, a small office space and a storage area. The two levels are connected by an internal staircase at the centre of the living area. The lower level enjoys direct access to the outdoor patio area, towards the front of the house. In summary, the house can accommodate 6 people and has two rooms (each with a double bed) and a living area with a sofa-bed that sleeps 2. Please remember that the room on the upper level is open-plan with the living area. The patio has a large dining table, chairs and a parasol. There is also a barbecue area with wooden stools, where you can cook a meal or simply enjoy a warm fire on a summer's evening. We have plenty of firewood that you can use. The kitchen is equipped with all the essentials (including an oven) and includes a small dining area. The bathroom is a good size; the shower is a little smaller than we would like but it is perfectly functional. Despite the fact that this part of the house is relatively modern, we hope to make it more functional in the near future. We have made a personal choice not to have a microwave, a TV or Internet access in the house. However, there are two cafés nearby with Internet access and TV.
São Caetano is a small civil parish located on the south side of the island, between Madalena and Lajes do Pico. It enjoys access to a bathing area on one of the island's loveliest bays, known as Prainha do Galeão. You will often see fishermen arriving and leaving in their boats and children playing and jumping into the water during the long summer afternoons. Here, you can enjoy a pleasant swim with a splendid view of the mountain. The sea in this area is almost always calm due to the local geography, and the site is known among divers because of the coral reef located just a few metres from the coast. Júlia's Little House is located on a higher point in the parish, but the coast is roughly 10 minutes away on foot. The house is surrounded by other houses, but enjoys an unobstructed view towards the sea. There is a café that serves meals by Prainha do Galeão. There is another, simpler café behind the house and, a little further up, a bakery/patisserie where they bake their own bread and pastries.
Eine sehr schöne Unterkunft! Vor Beginn der Reise hat Ana uns einen kleinen Guide zugemailt, sodass wir schon einige Infos hatten. In dem Haus können bis zu 5 Leute übernachten, wir hattten das Haus für uns (2 Pers.) allein. Hand- und Badetuch lagen auf dem Bett bereit und wir haben uns dort in den 3 Nächten richtig zuhause gefühlt. Es war alles da, was wir benötigt haben, um uns selbst zu versorgen, die Küche ist gut ausgestattet.
Sandra
2015-09-25T00:00:00Z
To keep it short: we loved our stay in Ana's house! The house has everything you need, the surroundings are beautiful and the neigbours are nice. Recommended!
Frans
2015-09-21T00:00:00Z
Wir waren etwas überrascht, als wir beim Haus ankamen. Wir hatten erwartet, dass es etwas abgeschiedener liegt. Zugegebenermaßen sieht man aber auch auf den Fotos, dass es das nicht tut. Es liegt am Rand einer kleinen Siedlung. Das macht aber auch überhaupt nichts. Vor dem Haus ist, wie auf den Fotos zu sehen, eine kleine Grasfläche, auf der während unseres Aufenthalts eine Kuh mit ihrem Kalb weidete. Das passte sehr sehr gut zu den Azoren und der Idylle. Alles in allem war das Haus wunderbar, groß und wirklich passend zu den Azoren. Was zu 5 Sternen fehlt: Wifi und eine Mikrowelle
Timo
2015-10-14T00:00:00Z
great stay!! :-) we cooked a nice evening dinner in the cosy little house! we simply loved it! beautiful surroundings! good facilities!
sarah
2014-10-03T00:00:00Z
Julia's little house is in a wonderful place, just under the big mountain of pico. Super clean, super cosy. Just loved it. It was great waking up every morning with a huge rainbow at our door! What a great stay!
Miguel
2014-09-21T00:00:00Z
Nous avons passé 5 jours dans cette petite maison idéalement placée entre Madalena et Lajes do Pico pour visiter l'île avec vue sur l'océan. La maison était ouverte avec les clés à l'intérieur quand on est arrivé, la cuisine est complète et pratique pour cuisiner (même pour 5). Propre et au calme, on a passé un super séjour chez Ana. On n'a pas pu utiliser le barbecue mais peut être la prochaine fois!!
thibault
2014-09-15T00:00:00Z
The location was awesome. Right underneath Poco mountain in a traditional village. The house was clean, well equipped with many sleeping accommodations. For active people exploring the island, and day tripping to other islands, it is a good base from which to explore. The hostess was very clear on directions and recommendations.
Carol
2015-06-13T00:00:00Z
Enjoyed our stay in Julia's little house. Very rustic and charming in a small friendly and quiet village on the south coast. Arrangements made through Ana worked well and we enjoyed our stay.
Bernie
2015-11-10T00:00:00Z
ประเภทห้อง
บ้าน/อพาร์ทเมนท์ทั้งหลัง
---
ประเภทที่พัก
บ้าน
---
พักได้
6
---
ห้องนอน
São Caetano, Ilha do Pico, Açores, โปรตุเกส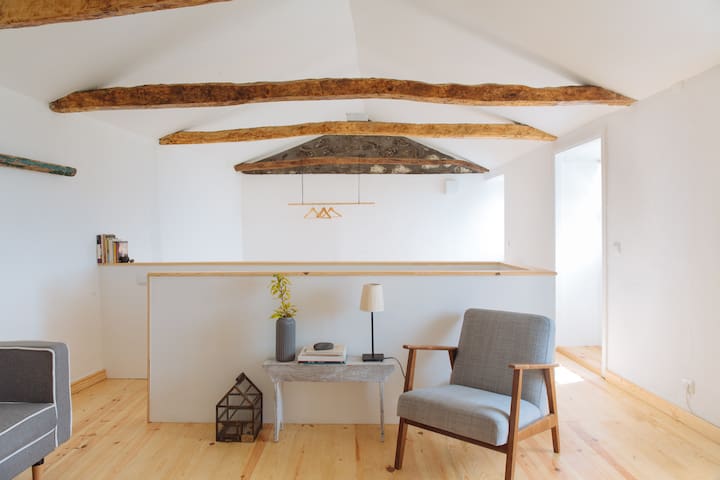 Mount Pico - Airbnb
:
เฉลี่ย

4.76

จาก

5

ดาวจาก

92

รีวิวผู้เข้าพัก