The house is situated by the sea. It sited in rural setting. The house is 100 yares old. Refurbished and old style retained. Fuelwood availeble. Cozy and charming. Listing price pr person pr nigth is 350 norwgian kr.
Karin is a very friendly and helpful person. We love the house and the area around, it has a wonderful and fantastic view and is located directly in the nature! It's not possible to go there without a car but we would highly recommend to stay there! It has space for a lot of people, we were only three and had plenty of space for everything!
Veronika
2017-04-12T00:00:00Z
Karin is a welcoming person really recommendable place to spend some relaxing time. It was a great experience staying in such an old house. 5/5
Sergio
2017-04-10T00:00:00Z
ประเภทห้อง
บ้าน/อพาร์ทเมนท์ทั้งหลัง
---
ประเภทที่พัก
บ้าน
---
พักได้
7
---
ห้องนอน
Strønstad, Nordland, นอร์เวย์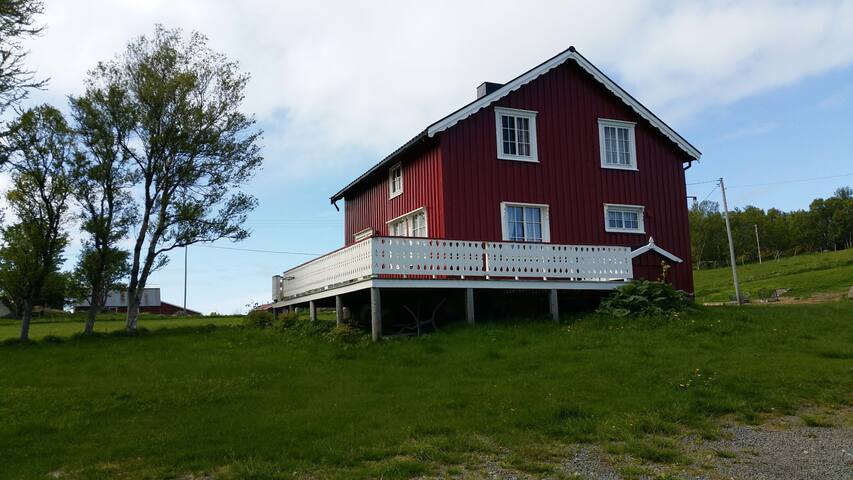 New house (2015) for all year use next to the sea on the Hadsel island. Right by secluded beach facing spectacular mountains, jetty and rowing boat, perfect for hiking, fishing or just slow living under the midnight sun or northern lights.
We have built the house of our dreams by the sea and next to the smallholding farm where Teresa grew up. Perfect for all-year use; skiing in winter, hiking, swimming, bird-watching or boating in summer. The house has heated floors and a fire place, as well as a large terrace. The birdlife along the seashore is particularly rich. The ocean is full of fish, and sometimes you may even spot small whales (porpoise), seals or otter. The moose can often be seen wandering peacefully in the outskirts of the woods, only meters away from the house. Across the road is a jetty, where you'll find a rowing boat at your disposal. (Life vests are available and obligatory to use.) Following a path of about 70 meters you'll reach a secluded beach with coral sand and views to the mountains of Lofoten and Vesterålen. During low tides, a bank of sand reaches the surface with different kinds of shells - free to pick and eat for supper.
Hadselhamn is a tiny community consisting of eight houses along a gravel road leading to the sea. The house is the last on the road.
Nous avons été très bien accueillis par Sissa la mère de Teresa qui habite près de la maison, disponible pour aider et donner des conseils. La maison est confortable et bien équipée, l'endroit est superbe, avec une vue fantastique sur la mer, une petite plage cachée, beaucoup de faune sauvage (notamment un élan qui venait se nourrir dans le jardin tous les jours, beaucoup d'oiseaux). Parfait pour se reposer, se promener dans la nature ou pêcher. Nous y reviendrions avec plaisir! Merci pour tout
Benjamin
2016-08-28T00:00:00Z
The view from the house is amazing and we really enjoyed looking at the snow-covered mountains and the northern lights. Cozy and warm, just perfect. Location is ideal to explore the Vestralen and Lofoten. I hope, i can come back again.
Marco
2017-04-03T00:00:00Z
The accommodation was fantastic, with amazing views and in a perfect setting. Teresa's mum was lovely and really helpful, she dropped by a couple of times to check we had everything we needed. The house is great, we really loved everything Teresa and her family have done with it, and we felt honoured to be able to stay there! :-)
Emily
2015-10-28T00:00:00Z
Teresas Mother greeted us warmly, the whole stay at the house could not have been better, we loved it. Everything is there, clean, tasteful, light and cosy. We had a wonderful stay! The little boat trip we took was adventurous, and this nature just makes you sing happy songs. Such a good occasion to widen the horizon, peace and quiet and lots of things to discover. Thank you so much for hosting us.
Antya
2016-09-07T00:00:00Z
Huset ved havet er ein perle av ein stad! Vi hadde to herlege veker her i juli/august, og er allereie i gang med å planlegge vår neste tur til Vesterålen. Plasseringa er midt i smørauga for den som ønskjer å reise rundt og forsyne seg av den ville naturen i Vesterålen. Lofoten er også berre ein svipptur unna. Vi anbefaler Dronningruta (halvannan time unna) og topptur opp Tanipa på Hadseløya. Teresa og mammaen hennar Sissa var ein gjestmildt og hyggeleg vertskap. Takk for oss! Vi kjem gjerne att.
Silje
2016-08-08T00:00:00Z
Die Unterkunft war genau so, wie auf den Bildern zu sehen. Das Haus ist neu gebaut und alles ist sehr sauber und in einem sehr guten Zustand. Einrichtung und Ausstattung sind liebevoll ausgewählt und haben einen besonderen Charme. Die Lage am Meer ist traumhaft und wir konnten direkt aus dem Wohnzimmerfenster Polarlichter sehen! Das Haus ist sehr günstig gelegen für Ausflüge auf den Vesterålen und zu den Lofoten. Teresa hat alle Ausflugtips mit Prospekten, Fahrplänen, Landkarten etc. in einer Mappe zusammengestellt. Der Empfang durch Teresas Mutter war ausgesprochen freundlich, sie hat uns sogar vom Schiff abgeholt und für uns eingekauft, da wegen der Feiertage bei unserer Ankunft keine Geschäfte geöffnet hatten. Wir bedanken uns ganz herzlich und werden sicherlich wiederkommen!
Gunnar
2016-01-05T00:00:00Z
What a treasure! We really enjoyed our stay and had a warm welcome from Sissa, Teresa's Mom! Great communication with quick response and very helpful people! The interior of the house was great and there was everything in the house you could possibly ask for. We could enjoy a warm day on the terrace, the jetty and the beach. The surroundings are beautiful! Highly recommended!
Christiane
2016-06-30T00:00:00Z
The cottage is clean, beautiful and comfortable. Teresas mother welcomes us warmly and give us some tips. We saw moose, northern lights and a lot of birds. We had a very great stay!
Johannes
2017-03-10T00:00:00Z
ประเภทห้อง
บ้าน/อพาร์ทเมนท์ทั้งหลัง
---
ประเภทที่พัก
บ้าน
---
พักได้
6
---
ห้องนอน
Stokmarknes, Nordland, นอร์เวย์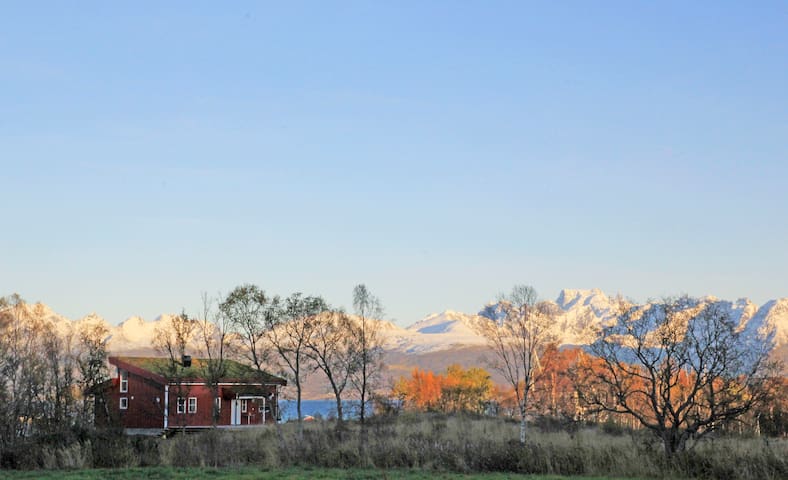 Stedet mitt er nært Melbu sentrum, 15 min til Stokmarknes Lufthavn, Skagen og 700 m fra fergeleiet til Lofoten. Du vil elske stedet mitt på grunn av det har atmosfære og ligger nært alle serverdigheter i Vesterålen og Lofoten. Stedet mitt er bra på par, reiser alene og familier.
Veldig rolig og avslepen plass.
Milja Victoria
2016-08-23T00:00:00Z
We had 3 nights in this nice private house. It was located central in melbu. We slept in one bedroom, and there was another bed outside the bedroom where our 5 year old slept. The host fixed a babybed, high chair and a changing table for our 1 year old. The kitchen was fully equipt with everything we needed. There was a big screen tv and wifi. The house had a dining area, kitchen, tv living room and bathroom downstairs. The bedroom was upstair. The host Karen Sofie was fast to respond on messages. We had some lovely days and will rent this house again if we come back.
Nadia
2016-07-14T00:00:00Z
Lovely spotlessly clean apartment. Very comfortable with everything we needed. Great communication from Karen before we arrived and found the house without any problems. Great facilities and large TV.
Catherine
2016-08-08T00:00:00Z
Flott plass og bo, rolig og veldig nært fagskolen ! 11/10 :)
Niilo
2016-09-09T00:00:00Z
Logement dans une maison proche du port de Melbu
Amine
2016-07-21T00:00:00Z
We stayed 2 nights in Karen Sofies accomandation and we really enjoyed it. There was everything you needed and we felt really welcomed. Although we did not meet Karen Sofie, everything was perfectly organized and she ever checked one day later if everything was still ok. I can fully recommend this accomandation.
Catharina
2016-08-11T00:00:00Z
Excellent house, as described on the web. Everything you need was there. Full equipped kitchen, excellent internet connection, TV, etc. Very well situated to travel to Lofoten Islands and Vesteralen Islands. Quite neighbourhood. If you are lucky and the sun comes out, you can enjoy a terrace outside with fantastic sight. Thank you Karen Sofie. We feel like at home.
Javier
2016-08-31T00:00:00Z
Ver nice property. Karen was very responsive and had communicated well in advance on the keys. Excellent value for money.
Venkatesha
2016-07-31T00:00:00Z
ประเภทห้อง
บ้าน/อพาร์ทเมนท์ทั้งหลัง
---
ประเภทที่พัก
บ้าน
---
พักได้
4
---
ห้องนอน
Melbu, Nordland, นอร์เวย์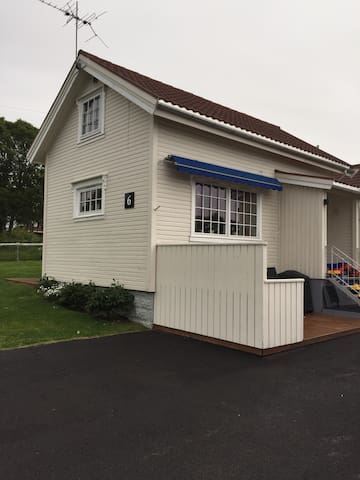 Cozy old house in a smal village i Lofoten.
ประเภทห้อง
บ้าน/อพาร์ทเมนท์ทั้งหลัง
---
ประเภทที่พัก
บ้าน
---
พักได้
8
---
ห้องนอน
Strønstad, Nordland, นอร์เวย์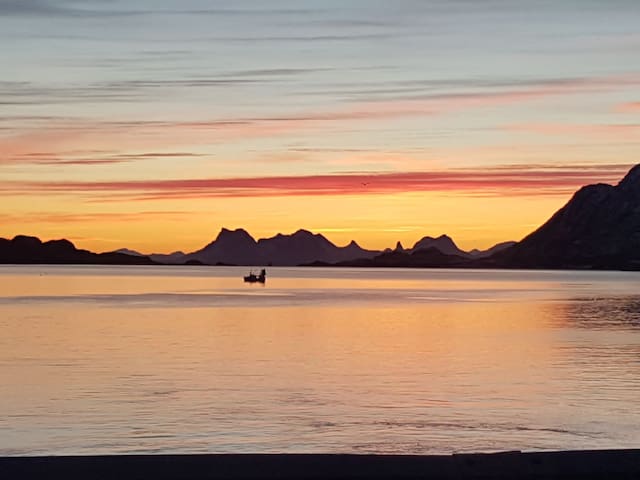 Sommer som vinter ligger vi midt i et område som passer for toppturer,fiske, kajakk,båt,fotturer,sykling. Du kan nyte havutsikt og midnattsol fra altanen. 8 min m/ bil til ferga fra Fiskebøl - Melbu, og du er klar til å utforske Vesterålen;Nyksund, Andøya,Bleik, Hvalsafari osv. 35 min m/ bil til Svolvær. Båtturer til Trollfjorden. Utforsk steder som Henningsvær, Vikingemuset på Borg, Spill golf på Gimsøya i midnattsol, Nusfjord,Smeden i Sund,Reine mm. Stedet vårt passer familier og grupper.
Huset inneholder 2 stuer og et oppholdsrom som kan brukes til en 3 stue eller soverom. Her kan det legges ut 2 madrasser. Kjøkkenet er romslig med oppvaskmaskin og 2 steikovner. Stort bord med sitteplass til 12 pers. Stort kjølerom ,så man kan handle stort inn av matvarer( nærmeste matbutikk er på Melbu eller i Svolvær). Vaskerom. Et bad med toalett/dusj,og et med bare toalett/vask. 3 soverom med dobbelseng,1 soverom med dobbelsofesofa m/ overmadrass. Mulighet for å sette inn barneseng/ madrass v/behov. NB. Ikke ellergivenlig pga. husdyr(har katt/hund).
Stilt og rolig,kun 4 andre hus i samme gate. Ingen innsyn fra naboene. Ingen trafikkstøy,kun bølgebrus da huset vårt ligger helt nede i fjærsteinene.
ประเภทห้อง
บ้าน/อพาร์ทเมนท์ทั้งหลัง
---
ประเภทที่พัก
บ้าน
---
พักได้
12
---
ห้องนอน
Strønstad, Nordland, นอร์เวย์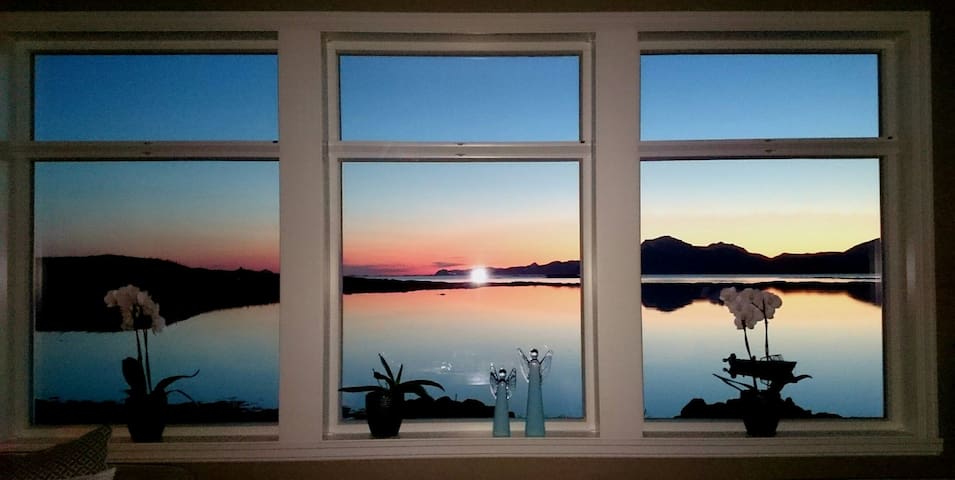 We rent out the whole house but only two out of three bedrooms will be available since we do not rent out our childrens room. We have wifi, TV in all rooms with dvd players (only TV chanels in livingroom), stero, fully kitchen and bathroom.
Short to the ocean for fishing and mountains for hikes and nearby plenty of lakes and rivers for inland fishing. There is also a varaiety of small and big white sand beaches within short distance from the house. Strønstad have great sunsets in summer and beautiful northern lights right outside the house in wintertime. Wildlife is great with seaeagle, fox, moose and lots more.
Lovely and helpful neighbors
Veldig koselig og fint hus i et rolig område av Lofoten. Stor fin uteplass og vi fikk låne grill.
Lars Emil
2016-08-01T00:00:00Z
eravamo in cerca di un alloggio spazioso e confortevole lontano dal caos della vita in città e lo abbiamo trovato.
Floriana
2017-01-06T00:00:00Z
Beautiful and cozy house in a rural area. The sea in the front of the house and the impressing mountains in the back make an amazing surrounding. In 9 out of our 13 nights here we saw amazing northern lights, it was just incredible! Even when we not met him in person, Rudi is a very helpful and nice host. The neighbours are very friendly.
Steffen
2017-03-09T00:00:00Z
Stor hus på landet i trevlig miljö med bundgård som grannar. Fina människor i omgivningen.
Galina
2016-07-11T00:00:00Z
Farm house in the countryside, we didn't meet the host, but everything were arranged well, and host left message for all instruction, so we got in the house easily and enjoyed our stay there. Thanks, Rudi :)
Hsiao-Ping
2016-07-30T00:00:00Z
ประเภทห้อง
บ้าน/อพาร์ทเมนท์ทั้งหลัง
---
ประเภทที่พัก
บ้าน
---
พักได้
4
---
ห้องนอน
Strønstad, Nordland, นอร์เวย์
The house is 35 km from Svolvær the capital of Lofoten. Is in the end of Lofast, the main road to Lofoten. Is a smal village with frendly people. You can see the midnight sun her from middle of jun to late july. No stors or gasstation.
ประเภทห้อง
บ้าน/อพาร์ทเมนท์ทั้งหลัง
---
ประเภทที่พัก
บ้าน
---
พักได้
8
---
ห้องนอน
Strønstad, Nordland, นอร์เวย์
Newly renovated charming house, magnificent view by the sea. Located in small community, calm surroundings. Lofoten's highest mountain as nearest neighbor! Perfect base for exploring Lofoten! Fully equipped - perfect for 2 couples or a family. The house has WiFi.
The house is newly renovated, easy to access, with a calm location near the sea and Lofotens highest mountain. 4 new beds in 3 bedrooms, nice cosy living room and fully equipped kitchen.
Kjempefint hus! God standard og grei belligenhet. Litt langt fra Svolvær (15 min kjøretid), men det hadde ikke så mye å si for oss. Veldig hyggelig vert
Sissel
2016-07-29T00:00:00Z
Hermund's house is just perfect. It has everything you need, from washer/dryer and Sat-TV to all cooking utensils. The location is great for exploring Lofoten and we'll certainly try to stay at Hermund's place again for a winter tour. Hermund is a very nice chap and he came by on the first evening and we chatted about everything, from photography to sheep. I highly recommend Hermund as a host.
Andreas
2015-09-05T00:00:00Z
Hermund was away when we visited, but we had good email communication and his assistant made sure everything was nice for our arrival. The house is great! It has a very good kitchen which had all that we needed to cook a good meal each night, the bathroom was good and the living room very comfortable. The bed was very comfortable, and we slept well as it is very quiet. The view from the front deck ( with chairs and table for morning coffee) was lovely, and the mountain behind awesome. It is an area of outstanding beauty, and during the short drive into Svolvaer we stopped many times to take pictures. It was a perfect base for many wonderful drives.
Amanda ( Mandie)
2015-08-23T00:00:00Z
Very nice house with a great view. The house was very clean, perfect place to enjoy the Lofoten and Vesteralen.
Frank
2015-07-30T00:00:00Z
Comfortable and cozy house with a great view on the ocean. There is everything what you need for perfect holidays. It's perfect to explore the Lofoten. Hermund is very kind and helpfully.
Severin
2016-06-12T00:00:00Z
A wonderful place to spend your holidays in the Lofoten. The house is cozy and warm, provides all you need and is perfectly located to explore the Lofoten and Vesterålen! If we could ... We would have extended our stay without any doubt. Hermund is a wonderful host and makes you feel welcome, even on late arrivals! :) Thanks! Hope to be there again soon.
Wim
2016-07-26T00:00:00Z
Un superbe endroit pour découvrir les îles Lofoten et les Vesteralen Un excellent accueil. On est aussi bien à l'intérieur qu'à l'extérieur (terrasse). Vous aurez envie d'y revenir, comme nous
Franck
2015-08-29T00:00:00Z
Location of the house is excellent, it's easy to explore Lofoten from there by car. The nearest mountain top can be reached without any special equipment. House is very well equipped and cosy. Surroundings is peaceful and views are more amazing than in photos. Thank you Hermund! family Savolainen from Kuopio, Finland
Mika
2016-07-16T00:00:00Z
ประเภทห้อง
บ้าน/อพาร์ทเมนท์ทั้งหลัง
---
ประเภทที่พัก
บ้าน
---
พักได้
4
---
ห้องนอน
Laupstad, Nordland, นอร์เวย์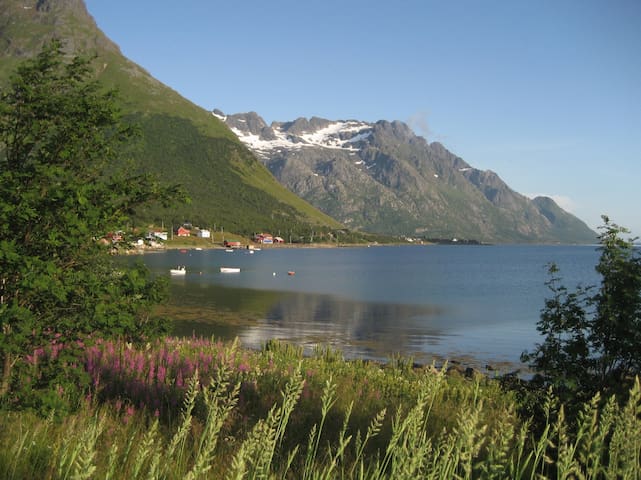 This is the perfect place to stay if you like to visit Lofoten and Vesterålen, just in the middle of it all. One our by car to Lofoten, or stay and explore Vesterålen. Come hunt for the Northern light or the midnight sun. We will do our best to help.
Newly renovated charming house bu the sea, magnificent view. Located in the countryside of Hadseløya, calm surroundings. ! Perfect base for exploring Lofoten and Vesterålen! Fully equipped - perfect for 2-3 couples or a family. This is also a perfect place for hunting the Northern light. Situated with very little light pollution from other buildings and street lights so that the conditions are right for taking good pictures. The surroundings are also perfect for taking great photos, with the sea and mountains. There is of course no warranty that you will see the Northern light, the weather must be suitable. But there will always be the "arctic light"-all year around. Clear true clours, always changing. In the summer- no dark nights, and in the winter-short days and the special "blue hour" when the light during a hectic afternoon hour shifts from clear ice blue to soft pastel colors and then go into the quiet dark blue tones before darkness falls.
The house is located in the countryside with several farms in the surroundings, but still quite and "by it self". Easy access to the mountains and the seaside. we recommend to go mountain hike as well as a day to explore the seaside. Maybe take a walk through the neighborhood and meet the locals?
We spent a wonderful week in Vesteralen. The house is charming and so quiet. Many thanks to Per Helge and Solvie for their hospitality and availibility. We had no car and they gave us 6 bikes to discover thé Island Hadseloya which is like paradise ! White sand, blue sea (cold water but we had a bath!), high and beautiful mountains , kind people. We went to Lofoten Islands with the ferry too. But Hadseloya Island could be sufficient for a week in family.
Samuel
2015-08-18T00:00:00Z
We can absolutely recommend a visit to Borghildstua; this house has a great atmosphere, beautiful scenery and quiet surroundings. It is fully equipped with everything one might need, and with possibilities for enjoying the beautiful landscape in close proximity. Very nice and helpful hosts as well. We'll be back!
Katrine
2016-06-06T00:00:00Z
Reint og fint hus i landleg område.
Nils Åge
2016-07-31T00:00:00Z
La maison est très bien équipée, refaite entièrement, avec le charme des Iles Lofotens, dans un environment calme. Helge et son épouse nous ont réservé un accueil plus que chaleureux, ils ont été adorables et pleins d'attentions. Les enfants ont adoré la balançoireet les vélos.
olivier
2015-08-10T00:00:00Z
We were staying 4 nights in this lovely house in group of 5 adults and 2 babies. The house was really charming and cosy in a beautiful and peaceful surrounding. We totally enjoyed the quiet atmosphere of Melbu. Location was good and the Lofoten which was our main target was easily reached by car using Melbu-Fiskebøl ferry. Per and Sølvi were lovely hosts who really had put effort to make our staying enjoyable. Everything went fine and we would sincerely recommend staying to everybody and probably will be revisiting in the future.
Samuli
2015-06-25T00:00:00Z
Really charming place with beautifull view. Great outdoor area for children. Nice and clean.
Kamilla
2016-07-22T00:00:00Z
Per Helge and Sølvi were absolutely wonderful hosts. The cottage was inviting, warm and had everything we needed. The area is stunning , and it was a pleasure to come back in the evening and cook and be with family. We would highly recommend staying here to anyone travelling to the islands
juliet
2015-08-03T00:00:00Z
Wonderfoul place, big house with all comfort ! Per Helge is a fantastic host, very nice.
Davide
2017-01-16T00:00:00Z
ประเภทห้อง
บ้าน/อพาร์ทเมนท์ทั้งหลัง
---
ประเภทที่พัก
บ้าน
---
พักได้
7
---
ห้องนอน
melbu, Nordland, นอร์เวย์
Opplev fantastiske Hanøyvika ved Raftsundet. Det nyoppussede huset har panoramautsikt over sundet der hurtigruta passerer to ganger i døgnet. The house was completely remodeled two years ago and features a new kitchen and open living space. Outdoors we have a great deck with grill for summer cooking. The house is on a quiet location with magnificent view of the sea and the surrounding mountains.
ประเภทห้อง
บ้าน/อพาร์ทเมนท์ทั้งหลัง
---
ประเภทที่พัก
บ้าน
---
พักได้
6
---
ห้องนอน
Hanøy, Nordland, นอร์เวย์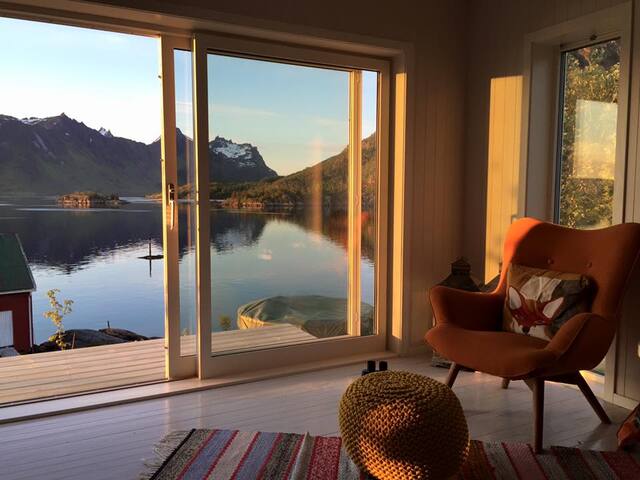 Die beste Lage direkt über dem Fischerhafen von Sandnes. Sonnige Lage im Sommer. Hier werden die lokalen Fischer Männer segeln oft am Morgen aus. In nächster Nähe Gehgelände. Brennholz, saubere Bettwäsche und Handtücher bei der Ankunft. Self-Service-Trockenfutter. Zurückgezogen Standort ohne direkte Sicht von Nachbarn.
Außergewöhnliche Lage direkt neben einem nordnorwegischer Fischerhafen. Mögliche frischen Fisch mehrere Tage in der Woche zu kaufen, auch entlang der örtlichen Fischer auf Angeltouren zu verbinden. Schließen von großen Wandergebiet und das Costal Dampfer Museum. Gemütliche Lage.
Sandnes, wo das Haus gelegt wird, ist eine kleine und gemütliche Gemeinschaft in Vesterålen. Da das Haus der nächste Nachbar zum Hafen Angeln ist, ist oft frischer Fisch von den Fischern zur Verfügung.
ประเภทห้อง
บ้าน/อพาร์ทเมนท์ทั้งหลัง
---
ประเภทที่พัก
บ้าน
---
พักได้
5
---
ห้องนอน
Sandnes, Nordland, นอร์เวย์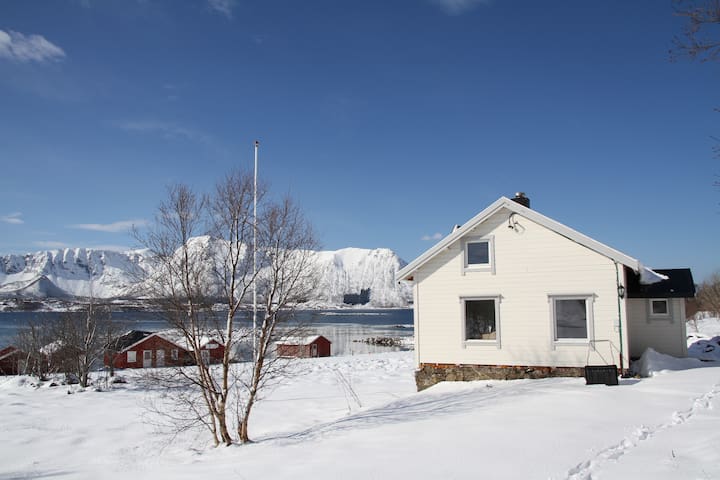 Is and old house with modern facilities. Its located in the end of Lofast. The Main road to Lofoten. Its 35 km from Svolvær, the capital of Lofoten. Its on the Contry side, and you can se the midnigth sun her. It's a smal Village. With frendly People
ประเภทห้อง
บ้าน/อพาร์ทเมนท์ทั้งหลัง
---
ประเภทที่พัก
บ้าน
---
พักได้
8
---
ห้องนอน
Strønstad, Nordland, นอร์เวย์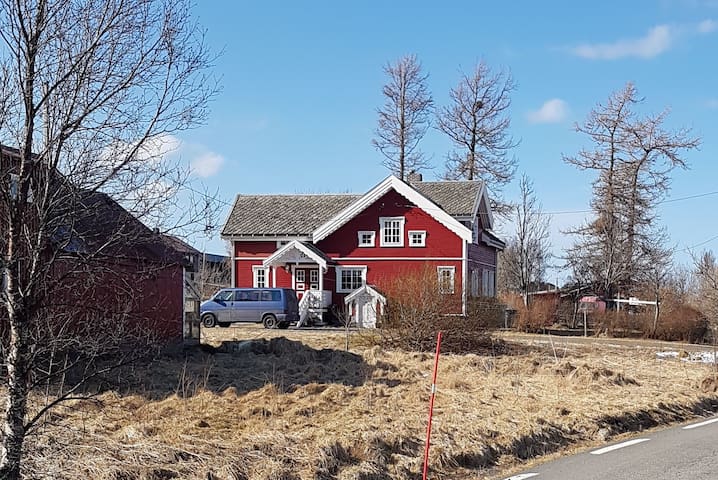 Leter du etter landlig idyll, er dette stedet for deg! Nært hav og fjell! Ligger i hjertet av Vesterålen!
Stille og rolig nabolag! Nydelig utsikt
Mathilde provided a great home away from home and we felt welcome.
Anne-Marte
2016-08-22T00:00:00Z
Mathilde gjorde alt for at vårt opphold skulle bli så bra som mulig. Huset ligger på en fin plass og er fylt av nostalgi. Det er naturligvis et gammelt hus, og man må forvente at enkelte oppgaver krever litt improvisasjon, men det er ikke noe problem om man er litt handy.
Reidar
2016-07-08T00:00:00Z
Great location near the shore, very quiet. This is the best house we stayed in during the whole trip, really a beautiful wooden house, like an old Norwegian farm house. No traffic. Rustic and fantasy like house.
matthew
2016-07-21T00:00:00Z
Mathilde var servicminded och lätt å kontakta. Det fina Nordlandshuset låg fint till vid en strand med midnattssol - på landsbygden ca 15 min från Stockmarknes. Fin uteplats med långbord med plats til 10st under tält-tak. Något övermöblerat innomhus.
Susann
2016-07-04T00:00:00Z
Kommunikasjonen med verten i forkant var ryddig og fin. Beskrivelsen av huset opplevdes riktig. Et innholdsrikt og hjemmekoselig hus hvor vi trivdes veldig godt. Rolige og vakre omgivelser, og et fint utgangspunkt for ulike turer.
Harry
2016-07-14T00:00:00Z
ประเภทห้อง
บ้าน/อพาร์ทเมนท์ทั้งหลัง
---
ประเภทที่พัก
บ้าน
---
พักได้
6
---
ห้องนอน
Stokmarknes, Nordland, นอร์เวย์
Rom i fantastisk beliggende hus i Vesterålen. Panoramautsikt og usjenert tomt ved sjøen. Velkommen.
Christian was a magnificent host , very kind & even pick us up at odd hours ( 1:30 am) at the Port . . Actually there is a Bus stop right in front of his house . No problems to move about in Hadsel . We felt very much like at home in a cozy room and a green view ( back to nature) from the window . The new kitchen was fully equipped for us to do our Asian Cooking . Christian parents are very warm couple and his father caught some Cods for us . We were very lucky to have fresh Cods for our dinner . There is a spectacular view from his balcony ( No Words can describe , see it by yourself ) We went for a 2 hours walk to explore the surrounding area . There were Cows to Moo Moo , Sheeps to Mek Mek & of course Meow Meow to take care his house . . We would love to come back & highly recommend Abnb friends a visit to this spectacular place .
Irene
2016-07-08T00:00:00Z
We enjoyed our four day stay at Christian's house. The view was stunning, we felt so lucky to wake up to those mountains every day. The house had everything we needed and Christian went out of his way to give us advice on hiking, sight seeing and giving us a lift when we needed it. He was a great host and we'd stay with him again.
Sarah
2015-07-22T00:00:00Z
ประเภทห้อง
ห้องส่วนตัว
---
ประเภทที่พัก
บ้าน
---
พักได้
2
---
ห้องนอน
Stokmarknes, Nordland, นอร์เวย์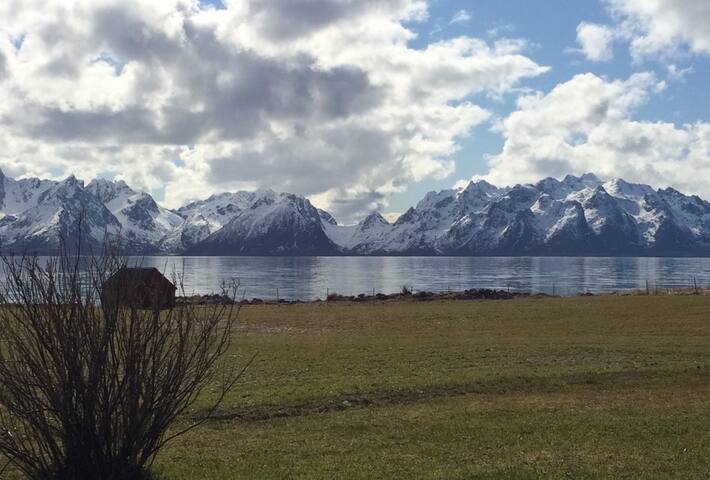 The house is an original "Nordlandshus" that goes back to the early 1900', but has since then been renovated. It has a lovely view, and it is located in a quiet neighborhood. Great space around the house! A storage-room is also available if needed. The house can also be used in winter-time. Laukvik is a peaceful place with about 400 inhabitants. Wonderful opportunities in terms of fishing, hiking, norther lights, and more! A local marked is here, as well as a tavern.
Midnightsun, lovely landscape, oceanview, mountains and more! There's a general store about 2km from the house, ocean about 1km. The nearest city is "Svolvær" and is about 36km away. Laukvik is mosly known for its fishing and lovely nature. The only business in Laukvik is a School, Fishing Factory, a general store, and several one-man business.
Laukvik is truly a one-of-a-kind place with its beautiful mountains, and rough sea crashing against the foreshore.
We had a very nice time in Jon's house ! The home is very well located , in a very nice and quiet place , close to enough to Laukvik to go there by walk ! Furthermore it's a perfect place to see Northern lights : just put a step outside and you can see those beautiful lights in the sky ! The house is as described on the annouce : all equiped, nice and confortable ! No problem at all with internet connexion! Jon and Kate are really nice , very helpfull and ready to help us at any time . If you want to have a nice adventure in Lofoten , come there , you'll have great time !
Tony
2016-01-05T00:00:00Z
Jon and Kate´s house is located in a tiny village on the northern coast, it has great view on the sea and gorgeous mountains all around. It is also ideal starting point for exploring whole Lofoten (however, car is more than needed) :-) Everything was prepared, when we arrived, our hosts live just next door and they were very helpful anytime we needed something. We had wonderful weather and spent on Lofoten absolutely amazing time, thank you for all that! I can highly recommend this place for anybody! :-)
Veronika
2016-04-22T00:00:00Z
Great house to watch the northern lights! We saw them almost every time the night sky was clear, including one amazing display of many colours and much fast movement. Excellent hiking nearby and fun surf too (just bring a thick wetsuit!) Also, Jon was the best host! He was always in touch and helping us with advice almost every day. Highly recommended :)
Carlo
2016-10-08T00:00:00Z
La casa si trova in una zona tranquilla vicino alla casa del proprietario ed in caso di necessità Jon è sempre disponibile a risolvere eventuali richieste....posto in una zona buona per spostarsi a nord o a sud delle Loforen....nel piccolo paese c'è un piccolo supermercato chiuso la (URL HIDDEN) casa è calda e accogliente ....
Alberta
2016-08-17T00:00:00Z
jon and kate的房子位于laukvik,一个安静的小村子,村里的人很热情,第一次敲错了门,热心的女主人二话没说,帮我们打电话联系房东,并确定了位置。jon的家是我第一次在airbnb上找到的房间,舒适、温暖、干净;我们在这里幸运地看到了强烈的极光;因为我的不小心,碰坏了窗上的吊灯。但jon很慷慨的没让我们赔,谢谢了!
Yi
2016-02-04T00:00:00Z
It's a nice house and everything you need is there. Jon was very kind and we enjoyed our trip. It was also possible to see some northern lights!
Arne
2015-10-31T00:00:00Z
Czuliśmy się w tym miejscu komfortowo. Jon cały czas gotowy do pomocy ale absolutnie nienachalny. Dobra lokalizacja i cena adekwatna do standardu domku.
Agnieszka
2016-08-13T00:00:00Z
the house was nice and well equiped.the area was calm as we wanted. 15 to 30 min drive to practise ski mountainering, which was great. we were lucky because we saw several times the northern light by the house.
vincent
2016-04-04T00:00:00Z
ประเภทห้อง
บ้าน/อพาร์ทเมนท์ทั้งหลัง
---
ประเภทที่พัก
บ้าน
---
พักได้
8
---
ห้องนอน
Laukvik, Nordland, นอร์เวย์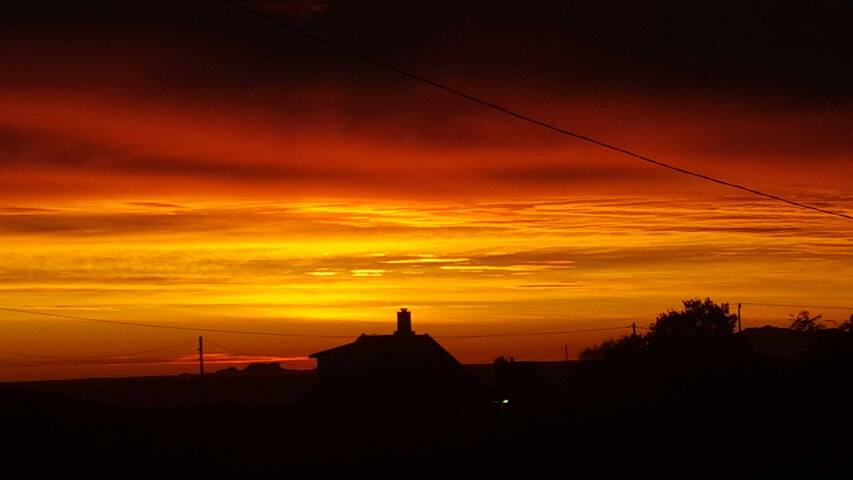 Big and beautiful holiday house built in 2011. Instant access to the sea and the possibility to fish, but also the mountain if you prefer. Many beautiful islands to visit nearby. NB: Spring/summer 2017 there will be some construction activity at the neighboring plot. We also have a page on (SENSITIVE CONTENTS HIDDEN), please search for Casa Laidback :-)
Storå is a fantastic place where you can feel your shoulders relax. You can discover a rich animal life here with moose, eagles, weasels and seals. You can sit down on the porch and see Møysalen to the right or the start of Raftsundet straight forward. Hurtigruten passes by two times each day at approximately 03:45 pm and 00:45 am.
The area consists of 7 cabins/holiday houses.
Monica and Knut's holiday house is amazing, the location is so peaceful we wish we had more time to spend here. Highly recommended.
Scott
2016-09-06T00:00:00Z
Vi hadde et flott opphold på Storå. Hytten har god plass og ligger flott til ved Raftsundet og var et flott utgangspunkt for vår Lofotferie. Vi fikk tatt noen flotte Nordlysbilder fra Hytten og vi storkoste oss. Hytten var noe undersolt siden det var sen høstes, men siden vi bare hadde hytten som et utgangspunkt for Lofot ferie hadde ikke det noe å si.
Jan Otto
2016-10-16T00:00:00Z
I never really got to the house because of the bad road condition. After we booked the house in the afternoon for the same evening I got a friendly message with all the informations needed for the check in. I as well got a message in which they told us that there might be some ice on the road, they wrote "you just have to see when you arrive". I drove up the gate in my Defender (I am a very experienced off-road Driver!) and saw that the road was icy, I enabled the engine brake but my vehicle just slid down the mountain and almost overturned after it slid in the deep snow. There was no way for the vehicle to get back on the road itself. Walking to the house was not possible as well, it's was too far and too icy for my mother with a damaged leg and my grandmother (over 70 years). I than called Monica but she couldn't really help us neither because she lives too far away. After a fu***ing cold night in the car of my mother we got help from an Norwegian Automotive Club. The rescuer was very angry about the fact that the Norwegian host send tourist on such dangerous roads that even he (with spikes on the tires) wouldn't drive under any circumstances. He even offered me to send the rescue bill to the host because of their manner which he called grossly negligent. I refused that and paid the bill. I as well told the rescuer that the hosts don't live close and couldn't check the road, he than replied that they should not offer the house if they are not able to maintain the road. At least Monica and Knut always reasoned to our messages and paid back some of the rent... I would suggest no one to rent this house in wintertime!
Merlin
2017-01-28T00:00:00Z
It was absolutly beautiful! There is no need of claim
Michi
2016-09-26T00:00:00Z
We loved the house and the amazing landscape behind the window. We were two families with four children in different ages and for everybody there was enough space for sleeping, eating and playing. There is many possibilities to spend free time. We were using the motorboat, we did fishing and we travelled a lot through Lofoten. This place was perfect for us. We highly recommend it. Thank you so much Monica and Knut.
Magdalena
2016-08-08T00:00:00Z
It is a beautifull place and the house is very confortable. We met Knut at the airport he is very Nice. This place had To be recommended!
Claire
2016-04-05T00:00:00Z
Non c'è molto da dire la casa è stupenda con una vista incantevole. Ovviamente isolata come è giusto che sia in questa zona per poter assaporare al meglio l'ambiente che ti circonda. bagno spazioso, ottima la doccia! cucina dotata di ogni comfort e living room spaziosa e luminosa. consigliatissima!
Giuliana
2016-12-02T00:00:00Z
We had a very pleasant stay at Monica & Knut's place. The house is exactly as described. The bedding is very comfortable, the kitchen is superb, house is sitting in a very tiny "settlement", location is amazing, very peaceful yet very attractive. We had quite some unforgettable encounters with the galaxy and aurora borealis by simply gazing up into the sky from the open terrace. Monica & Knut are very easy to communicate, quick responding and warm-hearted. With their advices our road trip in Lofoten went very smoothly. Highly recommended, will definitely visit again. Thank you Monica & Knut!
Yun
2016-10-08T00:00:00Z
ประเภทห้อง
บ้าน/อพาร์ทเมนท์ทั้งหลัง
---
ประเภทที่พัก
บ้าน
---
พักได้
12
---
ห้องนอน
Hennes, Nordland, นอร์เวย์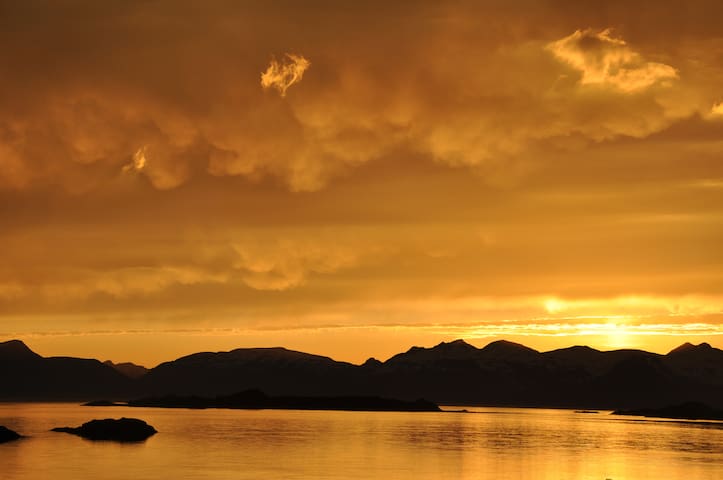 Cosy house with a big barn and a hot tub. The house have everything you need including wifi. The Ocean with fish is 50 meters away. Wintertime its a perfect spot for the northern light. The nice village is 10 min walk away. Read my guests feedback :)
The house is part of a big farm with a big barn. It's located in a peaceful area but not far away from a little village nearby. You will be living near the ocean with a spectacular view all around you. See the northern light, go out and fish in ocean or lake, walk the beautiful mountains or just relax in some of the most beautiful nature you can find. You will have the place all by yourself, and a person nearby will help you with questions if necessary. Both him and me are certified guides for the area. There are three dobbel bedrooms inside the house. In the barn there is also a room with a pull out dobbel bed, and in the toolhouse its a dobbel bed. In the house there is two bathrooms and one shower. The kitchen is big with everything you need. Outside there is a hot-tub that you can use if you want to (extra cost 500 NOK). Notice that it take some hours to prepare it. Its fantastic to sit in the hot-tub during cold winter days or during the summer nights. The house have TV (only Norwegian NRK) and radio. Bø i Vesterålen have 2700 residents and the nearest village is only 10 minutes walk away from the house. There is a food store, cafe, post office, cinema, pub, gym and more. There are countless opportunities for running/walking in the mountains, fishing in lakes or in the ocean. The house and the area is unique because of its peaceful location and its many opportunities. The nearest city is Sortland, 10.000 residents, one hour drive away. The easiest traveling route is by plane to Harstad/Narvik (Evenes) airport and then drive with car to Bø in Vesterålen.
The house is 10 minutes walk away from "down town" Bø in Vesterålen. There you have a grocery shop, gym, bank, museum, cinema, fishing boats and fish landing area, a big pool and some other shops.
We had a great time during our stay in Catos cottage. The house is cosy and warm, fully equipped and in a beautiful area - well located for nice walks (e.g. to visit the The Man from the Sea), hikes (I really recommend to walk up Vetten) and walking distance to grocery shop. Cato was very welcoming, super helpful and always reachable. Thanks to him we had a really great fishing trip with his friend Dag. Thanks a lot for everything. We highly recommend this place and we would like to come back in the wintertime to use the hot tube under the northern lights :-)
Anne
2015-09-03T00:00:00Z
This was our second stay. It is a beautiful and relaxing place to visit. The host made us feel very welcome.
Kjell
2016-07-11T00:00:00Z
We simply loved Catos Place! The house is wonderfully located with water on both sides. If the midnight sun is shinning, you can eat dinner in the middle of the night with sunshine on the table. The house has a warm and cozy atmosphere. Just 2 min walk from the house my husband caught many fishes that we could grill on the grill in the garden. Cato answered all our many questions beforehand and always responded very fast. All in all a ones in a life time experience for us. Thank you Cato!
kh
2013-06-29T00:00:00Z
we were two families> 4 adults, 5 kids. It was a bit tight, but the place is wonderful. full of hidden rooms and gems. Being in the hot tub outside in the middle of the night with full aurora borealis showing was just magical. Thank so much for a wonderful stay. be aware that getting the tub ready takes a total of about 7-9 hours. so you might want to get that going first thing as you arrive. (takes a bit of work, which makes it all the more rewarding)
Roy
2014-02-23T00:00:00Z
The accomodation was as described and met fully my expectations. The house has a great charme, because it is very cosy and equipped with everything you need, as well with tasteful details and beautiful memories. That's really a place to feel comfortable. The owner, who's living away from the house, contacted me immediately after booking and after arriving at the house to provide his help ant to give useful information about the house, the environment and the neighbourhood. In urgent cases, a friend of the owner is living around there. This accommodation is really a recommendation ! You can spend there a fantastic holiday.
Christoph
2014-05-30T00:00:00Z
The reservation was canceled 34 days before arrival. This is an automated posting.
Nicolas
2014-03-10T00:00:00Z
We had a fabulous two week stay over Christmas and New Years, enjoying the beautiful surroundings. The house is cosy and well equipped, and everything is set up for a peaceful and relaxing stay, with as much outdoor fresh air as you can handle. We enjoyed northern lights down on the pier, the clear star spangled night skies, fresh fish and the SILENCE. The silence of this place :-) Cato has been very helpful with information and assistance as required. And people in the area opened up their hearts and doors for us. We love Bø in Vesterålen! Thank you!
Louise
2014-01-07T00:00:00Z
For our family, this vacation is looking for somewhere calm. Coto's home is the best one we experienced. We read books, watched movies, had jogging, and spent hours for billiard. Watching northern lights from bed room. Playing with snow at his estate. Regretfully, we were not brave enough to prepare Jacuzzi in snow. Small town, 2 minutes for SPAR. Very convenient location. Everything you can buy. Wine shop is in a same building. Perfect year-end holidays. Will not forget.
Hajime
2017-01-03T00:00:00Z
ประเภทห้อง
บ้าน/อพาร์ทเมนท์ทั้งหลัง
---
ประเภทที่พัก
บ้าน
---
พักได้
10
---
ห้องนอน
Bø, Nordland, นอร์เวย์
Cozy old house renovated to modern standards. Big parking space and a veranda. Are you many people will you have the house to yourselves. Are you alone, to or tree, you may have to share the house with me. We agree on that. Bedlinen and towels on me.
ประเภทห้อง
บ้าน/อพาร์ทเมนท์ทั้งหลัง
---
ประเภทที่พัก
บ้าน
---
พักได้
8
---
ห้องนอน
Strønstad, Nordland, นอร์เวย์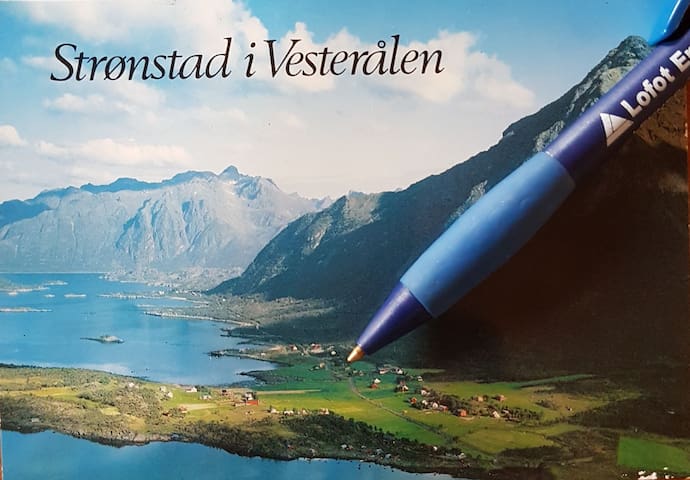 Melbu - Airbnb
:
เฉลี่ย

4.65

จาก

5

ดาวจาก

193

รีวิวผู้เข้าพัก