Hello, we are Peter and Gilles and we offer a Bed-and-Breakfast-Romm in the middle of Munich (just in front of the quarter of museums). We are very open and friendly and hope to see people from all over the world.
Wir bieten ein preisgünstiges Bed-and-Breakfast-Zimmer mitten in München an. Bitte beachtet, dass sich das Zimmer im 5. OG ohne Lift befindet. Für die w-lan Nutzung bitte die Hausregeln beachten. Insbesondere benötigen wir die Macadresse (physikalische Adresse des Computers).
Wir sind mitten in der neuen Museumsmeile, viele Bars und Restaurants um uns herum und die direkt vor den beiden Universitäten (LMU / TUM). Viele zentrale Ziele sind zu Fuss erreichbar
Had a great time here! Convenient location close to public transit system and comfortable room and bed. Peter is very kind and provided great restaurant recommendations. Would highly recommend!
Jay
2016-12-05T00:00:00Z
nice location, decent value
NANXIN
2017-04-03T00:00:00Z
The host Peter was quick to get back to me with all communications and arranged to leave the keys with his neighbor as he had to leave the country due to unexpected personal matters. The apartment's location was great - it is very close (~10 minutes walk) to university LMU and the city center. The room was spacious, with a bathroom and kitchen to share with another guest. Breakfast, which was included, was nice. Heating system could use an upgrade, especially for cold nights. I would recommend this accommodation and would stay again if I visit Munich. Thank you again for your hospitality!
FERNANDO
2017-03-08T00:00:00Z
Alles Bestens! Nett, unkompliziert, hilfsbereit (Bügelbrett...), München erfahren, nettes Frühstück und nette Gespräche
Florian
2017-03-30T00:00:00Z
The owners are just so nice. I spent a unforgettable Christmas with them.
Liu
2016-12-24T00:00:00Z
Комната в центре Мюнхена. Удобно ездить в центр (трамвай и автобусы в двух шагах от дома). Около квартиры есть рестораны, 2 остановки до технического университета, 2 минуты до музеев и галлереи.
Julia
2017-02-25T00:00:00Z
The room is very tidy and has a nice view. Peter is a very friendly host and both he and his dog are very welcoming!
Henry
2017-01-23T00:00:00Z
Gute Lage, ruhiges Zimmer, freundliche Besitzer. Ich komme gerne wieder zu Euch!
Christoph
2017-01-15T00:00:00Z
ประเภทห้อง
ห้องส่วนตัว
---
ประเภทที่พัก
ที่พักพร้อมอาหารเช้า
---
พักได้
2
---
ห้องนอน
มิวนิก, Bayern, เยอรมนี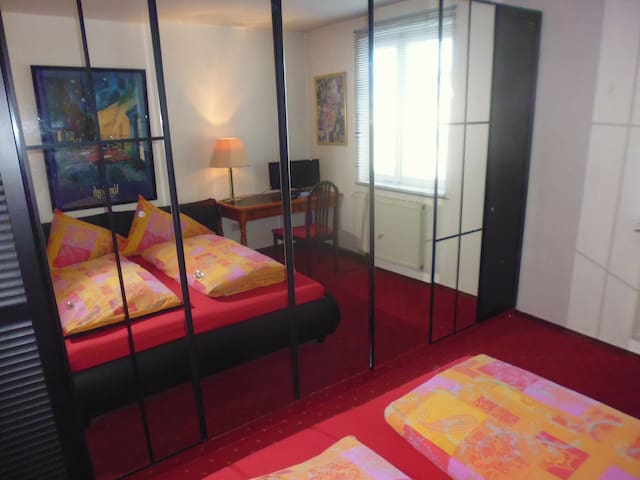 I'm renting a sleeping room in my two room apartment. We share the bathroom, you can use the fridge, water cooker etc., proper cooking only upon agreement. I am living and working in the other room, so this is neither a hotel nor a holiday apartment.
I live alone in a beautiful, individually dressed and quiet two room apartment with a porch and small garden in the center of Munich (Maxvorstadt, about 1 km / 0.7 miles from Central Station). You'll have my cosy sleeping room with a double bed (140x200 cm) all for yourselves. The bed is without metal and equipped with a thick, high class futon but a bit harder than a standard hotel bed. A third person can sleep on a comfortable air bed on the floor if needed. Please see the detailed information below if you need separate beds for two guests or arrive by car (convenient free parking is no problem but not right next door). I can arrange pretty much everything if you let me know. Of course Wi-Fi, refrigerator, water cooker, washing machine, hair dryer, clothes iron etc. are at your service for free. Clean sheets and towels are being provided - just ask if you need something else. I'm also having two spare bicycles that you can use for free.
Maxvorstadt is Munich's university quarter and known for "arts and pubs". All important art galleries are right around the corner, as well as many cafes, bars, restaurants and small shops of all sorts. Metro, tramway and bus are all next to my door but you can even walk to the inner city within 15 minutes. It's an especially attractive and exciting neighborhood, now that's why I live here ;-)
Hagen was the most hospitable host we have ever had using air BnB. Always helpful with maps, trains and suggestions, he made our stay so easy. The room and the apartment are exactly as they seem. Amazing experience.
Mike
2015-05-21T00:00:00Z
Все еще лучше, чем на фото)! Все чисто! В комнату принес угощения : фрукты, конфеты, сок, чай, кофе . Не мешал, тихий, вежливый. Все супер!
Ekaterina
2016-06-04T00:00:00Z
Hagen's place is easy to find, and is only a 10/15 minute walk to the main train station. He is very friendly, and welcoming, also let us collect the key the evening before checking in, which was very helpful. His place is clean, and the bed is comfy, the bathroom is also clean and spacious. Hagen even let us use his kitchen and washing machine, which was nice. The only thing we would mention is there appears to be a strong smokey/spice type aroma in the vicinity of the apartment, which is not a problem but slightly strong at times. Overall a pleasant stay with Hagen, and would recommend to other travellers heading to Munich. Thanks again Hagen.
Giles
2015-01-29T00:00:00Z
Es war ein netter und unkomplizierter Aufenthalt. Auch wenn wir nur kurz da waren, haben wir uns bei Hagen wohl gefühlt! Vielen Dank!
Michael
2012-03-25T00:00:00Z
Hagen was an amazing host and extremely accommodating. The photos of his home on Air BnB don't do the space justice. It was a lovely, cozy home - very neat, clean, and private. Hagen welcomed us into his home with open arms. There were lovely pieces of chocolate on the pillows for the both of us (which were delicious), and a guide to help us navigate the city. Hagen, himself, was also very helpful in recommending places to visit during our stay. We had a wonderful time and would absolutely stay at Hagen's home again. Highly recommend.
Zane
2013-10-18T00:00:00Z
We stayed at Hagen's appartment for 2 nights. You can absolutely tell that he's enjoying having people over! We had a great time, chatting and having good tea. The whole appartment is cute, it's a great place to stay. Great area as well, not far from everything you need. Highly recommended!
Nina
2012-01-01T00:00:00Z
We arrived late at night but Hagen was kind enough to wait and let us in. He responded immediately to texts. He gave us some tips on how to get around the city. The accommodations were very comfortable and clean.
Faisal
2016-05-14T00:00:00Z
Great location, easy and comfortable stay. Hagen was very friendly and helpful!
Marcus
2016-09-23T00:00:00Z
ประเภทห้อง
ห้องส่วนตัว
---
ประเภทที่พัก
ที่พักพร้อมอาหารเช้า
---
พักได้
3
---
ห้องนอน
มิวนิค, บาวาเรีย, เยอรมนี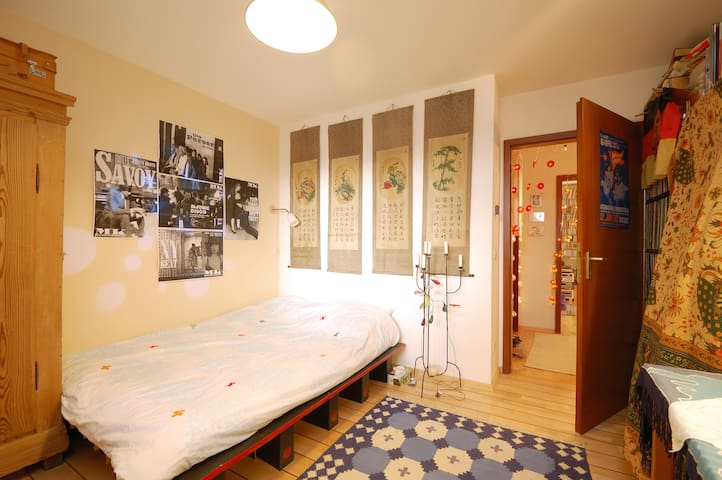 Schönes großes Zimmer mit herrlichem Blick auf das Museumsviertel, direkt neben den Universitäten (LMU / TU) teilweise mit Stilmöbeln ausgestattet. Bitte beachtet, dass sich das Zimmer im 5. OG ohne Lift befindet. Das Zimmer verfügt über TV und w-lan Hello we are Peter and Gilles. We hope to entertain people from all over the world in our appartement, which is situateted very in the center of munich, we speak english et nous parlons francais aussi !
Herrlicher Blick auf die Pinakotheken, ein Zimmer mitten in der neuen Museumsmeile
Das Zimmer befindet sich mitten in der Museumsmeile und dem Univiertel (LMU / TU), viele innerstädtische Ziele sind vor dort aus zu Fuss zu erreichen, im Viertel finden sich zudem viele bekannte Bars, Restaurants und Szene-Treffs.
Meget venlig og imødekommende vært, bl.a. rigtig godt med en besked med rejsebeskrivelse til adressen fra lufthavnen, som Peter sendte til os samme aften, som vi skulle ankomme. Værelset er rummeligt og fungerede fint til 3 voksne. Stedet ligger super centralt i forhold til diverse museer og flere slags offentlig transport, ligesom diverse cafeer og restauranter er i meget kort gåafstand. Et velfungerende ophold - som vi gerne anbefaler.
Hanne
2016-11-07T00:00:00Z
Das Zimmer ist groß, hell und freundlich und mit schönen antiken Möbeln möbliert. Peter ist sehr nett und hilfsbereit und unkompliziert. Insgesamt alles prima.
Kerstin
2016-11-19T00:00:00Z
Very nice room. Would recommend it toanyone looking for a room in the centre of Munich. The surrounding area is beautiful, and the city centre as well as many museums are within walking distance. The hosts are friendly and offer great service, with a good breakfast served every morning.
Giel
2016-02-06T00:00:00Z
Great neighbourhood, v. close to TUM and Theresianstrasse metro stop, decent selection of places to eat etc. Had a handy little kitchen for those evenings I didn't feel like dinner outside, bathroom was clean, Peter himself is a nice guy.
sanjay
2015-09-23T00:00:00Z
Peter and Gilles are just wonderful, welcoming and talkative hosts. The apartement is fine, the bedroom is large and the bed is very comfortable. I just stayed two days, and I immediatly felt very comfortable. I recommand.
Richard
2016-10-16T00:00:00Z
Peter takes a genuine interest in his guests and is very accommodating/helpful. The location of the apartment is great for being within walking distance to the Marienplatz and it's a safe area (we were two female friends on this reservation). Also convenient to the street car stop which goes to the Marienplatz and gets you close to the Oktoberfest location :) If you are coming by car, pad some time before meeting with Peter to check in, so that you can find parking on the street. Have up to 6 Euros in coins for parking; paper money not accepted in the parking machines (6 Euros for 24 hours).
Lisa
2015-09-25T00:00:00Z
Peter was nice and friendly .. and his place was just the way it is from the pictures :)
Japheth
2015-05-16T00:00:00Z
Fantastic stay, perfect service provided. Would love to return to this place once I'm back in munich!! Location-wise it is very ideal, and the room and bed were very comfortable. Could not ask for more, and host is very understanding! Overall satisfied, I'd rate it 5/5
Yi Sern
2015-04-20T00:00:00Z
ประเภทห้อง
ห้องส่วนตัว
---
ประเภทที่พัก
ที่พักพร้อมอาหารเช้า
---
พักได้
3
---
ห้องนอน
มิวนิก, Bayern, เยอรมนี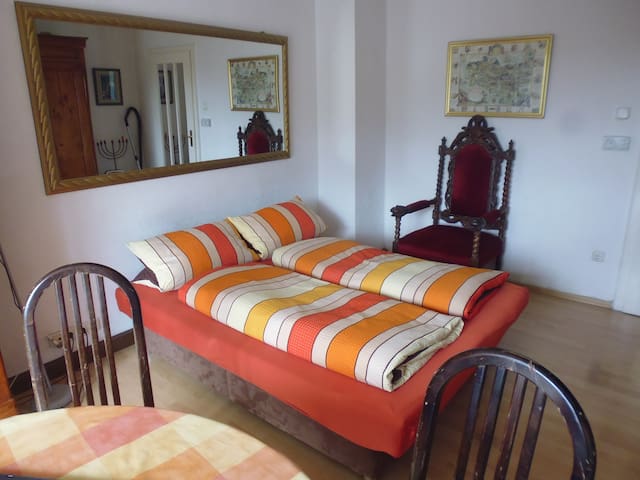 Hallo liebe/r Reisende/r, Die Wohnung liegt genau an der Grenze zwischen Maxvorstadt und Neuhausen. Zur U-Bahn-Linie U1 sind es 3 Minuten von Haus- zu Bahntür, wodurch man in zwei Stationen am Hauptbahnhof und in drei Stationen am Sendlinger Tor ist.
In Deinem/ Eurem Zimmer steht ein Glasschreibtisch, sowie ein Drucker zur Verfügung. Letzterer kann gegen eine Gebühr von 20 cent pro Seite gerne benutzt werden. Zudem besteht die Möglichkeit Kleidungsstücke in den offenen, leeren Kleiderschrank zu hängen oder zu legen. Seife, Shampoo, Duschgel und andere Kosmetikartikel stehen bei Bedarf gerne zur freien Verfügung. Am Morgen gibt es Frühstück, welches nach Wunsch zubereitet wird. Lass/t mich nach erfolgter Buchung einfach wissen, wonach Dir/Euch der Sinn steht und ich werde meine Depots dementsprechend auffüllen.
ประเภทห้อง
ห้องส่วนตัว
---
ประเภทที่พัก
ที่พักพร้อมอาหารเช้า
---
พักได้
2
---
ห้องนอน
มิวนิก, Bayern, เยอรมนี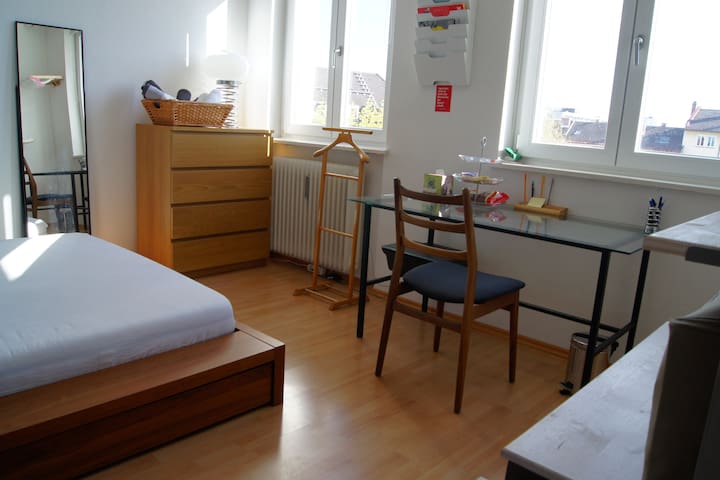 Super Zentral am Hauptbahnhof, Alle wichtigen Sehenswürdigkeiten gut erreichbar. Ideal für einen Städtetrip mit allen Verkehrsanbindungen( S-Bahn,U-Bahn,Tram) vor der Haustür. Reichhaltiges warmes und kaltes Frühstücksbuffet.
very good location, right next to the central station. friendly stuff and comfortable, clean rooms.
nutsa
2016-02-28T00:00:00Z
Zentral, sauber,ruhig und gutes Frühstück was will man mehr?
Frank
2016-07-10T00:00:00Z
This apartment is across the street from the train station and it was very clean. When the window is closed you can barely hear train station and road. The room is inside a hotel so there is no host to greet you. The hotel feels like a hostel. The room is uncomfortably hot and the only way to cool it down is to open the window, however then you have to put up with the noise from the street. It is not a comfortable environment to sleep in. In addition the room is very small (especially the bathroom) and does not look like the photos. There are two single beds and a small side table. The size of the apartment is okay for 2 people for a short stay. The wifi only works in the hotel lobby and not in the room. The included breakfast was great and the buffet included many options.
Tamsyn
2016-07-13T00:00:00Z
I stayed for 3 nights and all the days went very well. Great breakfast, a quiet room at night and I can't understand the feedback from others regarding the room. For these amount in Munich for 3 days just for sleeping???
Toto
2016-02-19T00:00:00Z
The hotel is wonderfully convenient for the main railway station and also for the hire car pick-up and return garage. However our room was uncomfortably hot even with the window wide open and then we had the noise of drunken merrymakers to contend with. The room was very clean and comfortable and the hotel staff were very friendly but unable to help with the temperature problem in the room.
Michael
2015-09-06T00:00:00Z
Bei Ankunft und Abreise fand ich ein freundliches hilfsbereites Team vor. Das Hotelzimmer war einfach und klein, aber sauber. Gute Matratzen. Wegen der bahnhofsnahen Lage schlief ich mit Ohrstöpseln. Am Morgen gab es im angenehmen Ambiente des Frühstücksraums neben dem Üblichen in guter Qualität sogar sehr leckere amerikanische Pancakes mit Ahornsirup! Zu meiner großen Freude. :-) Fazit: Preis und Leistung passen.
Gabriele
2015-11-22T00:00:00Z
It is very convenient is close to the central train station. And the room is very clean.
安庭
2017-03-07T00:00:00Z
Great Location & Great Space
Ashley
2017-03-25T00:00:00Z
ประเภทห้อง
ห้องส่วนตัว
---
ประเภทที่พัก
ที่พักพร้อมอาหารเช้า
---
พักได้
2
---
ห้องนอน
มิวนิก, Bayern, เยอรมนี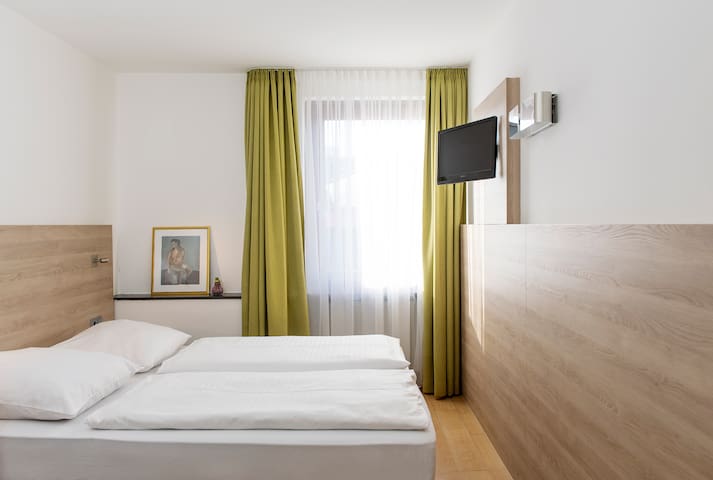 Maxvorstadt - Airbnb
:
เฉลี่ย

4.48

จาก

5

ดาวจาก

422

รีวิวผู้เข้าพัก