The house is close behind the medieval walls and one of the towers, its construction dates back to the XVIII century, it has been completely restored, but carefully preserving identity and original materials.
Like in every farmhouses, from outside we enter directly into the kitchen, true heart of the home, beside which there are two bedrooms and a bathroom. In the attic there are three further bedrooms, a bathroom and a laundry-utility room. In the basement, in what was once the barn it has been realized a room of about 70 square meters with a large fireplace and a toilet. Below, with access from the street, is the ex stable, dug into the rock, which is currently used as a wine cellar. Around the house a garden of about 1000 square meters allows a marvelous view of Mount Velino and Fucino plain, but also outdoor dining or simply enjoy the sun and silence.
The medieval village of Rosciolo dei Marsi (part of the municipality of Magliano dei Marsi, province of L'Aquila-Abruzzo) is 900 meters high above sea level, at the foot of Mount Velino, in the Regional Natural Park "Velino Sirente." The medieval structure of the country is still clearly visible, with its ancient walls and towers that look over the Fucino´s valley, the houses are built of stone, leaning against each other and overlook the narrow streets.
Ci siamo trovati veramente bene a Rosciolo, la casa era pulita, spaziosa e ubicata in un posto silenzioso, dotata di tutto ciò che può servire per passare una settimana serena. Sia la signora Elisabetta che la signora Anna dono state molto gentili e disponibili a rispondere ad ogni nostra domanda.
Selika
2015-08-15T00:00:00Z
Splendida casa, piena di piccoli dettagli da scoprire! Fresca all'interno con comodi spazi esterni. Tutto davvero pulitissimo, la signora Anna che ci ha accolto gentilissima e disponibile. Abbiamo passato davvero una bella vacanza, consigliatissima!!
Lucia
2015-08-30T00:00:00Z
abbiamo passato dei giorni di vacanza veramente belli.. La signora Anna che ci ha accolti è stata gentilissima e molto disponibile. La casa è davvero bella e tipica di montagna. Nel salone di sotto abbiamo preparato della buonissima carne alla brace e ci siamo molto divertiti. Siamo ripartiti pensando di voler tornare!! Grazie Anna per la disponibilità!
Federica
2015-01-03T00:00:00Z
This was an amazing experience. We just came back fro a wonderful vacation on this beautiful and peaceful village. The house was large enough to host 10 people of our family. A few days before arriving Elisabetta contacted us in order to arrange the children's beds according to our preferences. Upon arrival a basket of fresh fruits and a bottle of wine were waiting for us. While for the children colors and paper were ready for their use. The house and its facilities matched our expectations and the description on the site.
Michael
2016-04-26T00:00:00Z
Very nice place. We certainly want to come back there.
Peter
2015-09-30T00:00:00Z
ประเภทห้อง
บ้าน/อพาร์ทเมนท์ทั้งหลัง
---
ประเภทที่พัก
บ้าน
---
พักได้
10
---
ห้องนอน
Rosciolo dei Marsi, Abruzzo, อิตาลี
My accommodation is next to the ski slopes ... Ovindoli Campo Felice at 15 minutes and 30 minutes. Located at the foot of Mount Velino reserves panoramic views and tours of the Abruzzo parks. My accommodation is suitable for couples, lone adventurers, families (with children), large groups and furry friends (pets). Heating is not included in the price, please read thoroughly the house rules.
Ho passato un week end in montagna con i miei amici. La casa è molto bella e comoda per gli spostamenti. I padroni di casa sono cortesi e accoglienti.
Federico
2017-02-05T00:00:00Z
ประเภทห้อง
บ้าน/อพาร์ทเมนท์ทั้งหลัง
---
ประเภทที่พัก
บ้าน
---
พักได้
10
---
ห้องนอน
Province of L'Aquila, Abruzzo, อิตาลี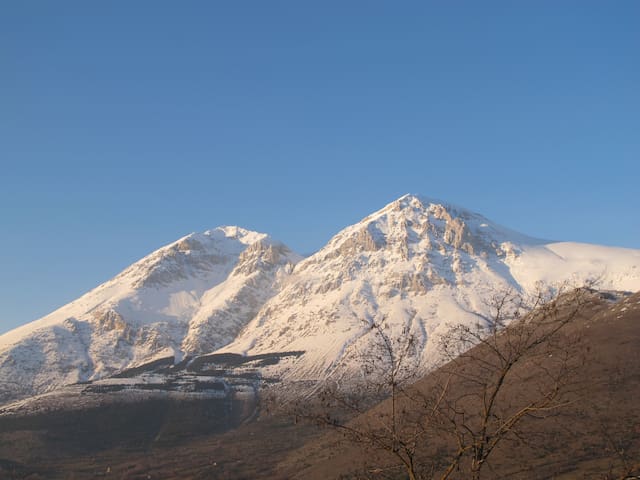 Our stay in Abruzzo was absolutely wonderful. Sabrina, her brother Luca and the rest of the family were perfect hosts and treated us like part of the family. We were fortunate to have timed our visit with the Ferragosto holiday in August, so more family members were visiting, and we were able to partake in delicious family meals and hospitality. The huge main house and the smaller private Casetta dei Cavalli where we stayed sit near the base of Mount Velino in a beautiful rural setting. There was plenty to do – including hiking, horse riding, visiting the local village, chatting with the family, and even some dancing and music. The compound also houses two horses, Penelope and her foal Serene, both adorable and affectionate. This is one of the most easy going and relaxed places I've been in a while, and it will surely be a highlight of my stay in Italy.
Amanda
2014-08-30T00:00:00Z
ประเภทห้อง
บ้าน/อพาร์ทเมนท์ทั้งหลัง
---
ประเภทที่พัก
บ้าน
---
พักได้
3
---
ห้องนอน
Massa d'Albe, Abruzzo, อิตาลี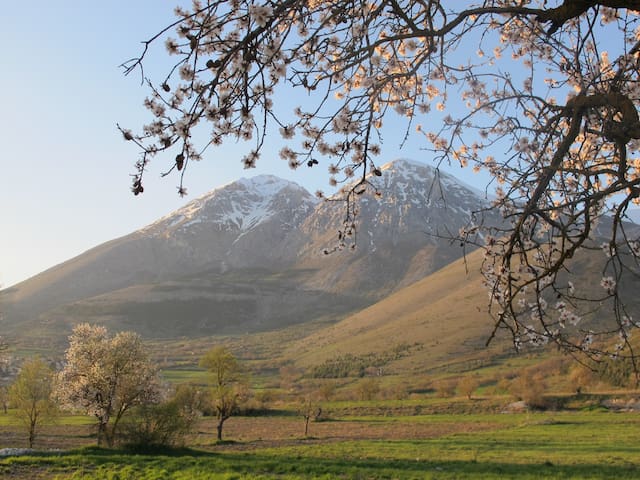 Evin başkenti yakınlarındaki çok yüksek dağ görünüyor, Roma ve hiçbir zaman yoldan sadece 1 saat ... Bu fiş çeker !!! , Ayak ve at sırtında Walking yürüyüş ve arkeolojik ve kayak pistleri sadece 20 dakika ziyaretleri
Roma yakınlığı vurgulayarak olmadan stresten kurtulmak edebilmek yeteneği çok kolay hale getirir !!! Ve size kahvaltı şirket yapmak atlar doğa ile ilişkinizi yeniden değerlendirmek yardımcı kalmak farklı hale getirmek için. Bu ev üç konforlu yatak odası 8 kişiye kadar hizmet verebilir. Ve 'olan bir doğum günü veya mutlu (gizli web sitesi) kutlamak için iki ortak banyo, iki mutfak ve iki şömine isteyen çocuklarla değil, aynı zamanda arkadaş grupları için ailelere kesinlikle uygun. ortak kullanım alanları iki, mutfak, yemek odası, şömine, kanepe ve TV ve birçok etkinlik, büyük bir şömine, kanepe sandalye ve müzik aletleri için büyük masası içeren bir mutfak ile geniş bir oturma odası ile geniş bir oturma odası bulunmaktadır. grup 8 kişiyi aşarsa diğer odalara sahip olma olasılığı vardır ...
L'esperienza in questa casa é stata bellissima. Abbiamo soggiornato io ed altre 8 persone la settimana di capodanno. La presenza di 2 camini ha reso le notti fredde molto calde e rilassanti, il tutto immerso in una location molto suggestiva, lontano dal ritmo frenetico delle città. La proprietaria é stata sempre gentile e disponibile. La casa é divisa in 2 parti gemelle, da 3 piani ciascuna. Da una parte c'eravamo noi, mentre nell'altra c'erano Sabrina con la sua famiglia. I due appartamenti sono divisi da una porta di vetro al secondo piano. Ringrazio Sabrina per tutti i confort che ci ha offerto (sopratutto il pane fresco ed il latte) appena siamo arrivati. Spero di rivederci presto.
Enrico
2016-01-05T00:00:00Z
ประเภทห้อง
บ้าน/อพาร์ทเมนท์ทั้งหลัง
---
ประเภทที่พัก
บ้าน
---
พักได้
8
---
ห้องนอน
Massa d'Albe, Aquila, อิตาลี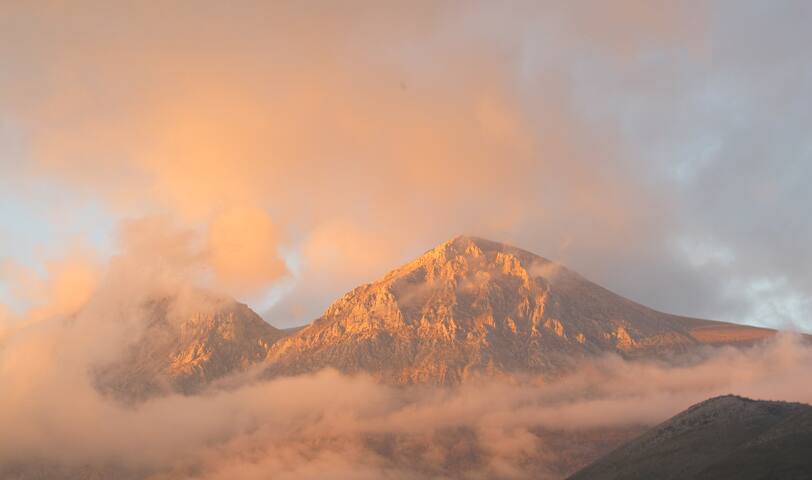 Siamo stati ospiti di Sabrina e Luca lo scorso capodanno, è stato un soggiorno splendido. La casa è grande, comodissima, accogliente e curata nei dettagli, fornita di tutto quello di cui si possa aver bisogno, bella davvero (il contrario di ciò che uno possa aspettarsi da una casa data in affitto) Sabrina e Luca poi sono persone fantastiche, cordialissime e davvero disponibili. Super consigliato, speriamo di tornare presto.
Mariano
2015-01-03T00:00:00Z
ประเภทห้อง
บ้าน/อพาร์ทเมนท์ทั้งหลัง
---
ประเภทที่พัก
บ้าน
---
พักได้
10
---
ห้องนอน
Massa d'Albe, L'Aquila, อิตาลี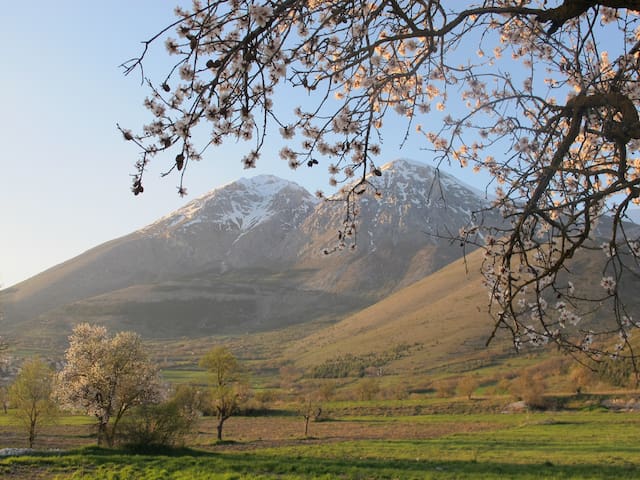 กรอกวันที่เพื่อดูการกำหนดราคาเต็ม มีค่าธรรมเนียมเพิ่มเติม อาจมีภาษีเพิ่ม