The apartment is located in a peaceful area of the city, offering amazing views of Maribor. The center of the city is 5 minutes away by car and 10-15 minutes by foot. It can accommodate 3-4 people, with its grand master bedroom with a king-size bed and one extra single bed in the separate room. It has contemporary furnishings, with a few designer pieces for a modern feel. Benefit from a balcony, a beautiful green private garden, smarthome amenities and on-site parking for a pleasant stay.
The apartment is located on a beautiful spot, nearby the forrest. It is 110m2 and consists of two parts - the inside living area - and the outside garden terrace. It has a fully equipped kitchen, a modern dining room, a living room with beautiful views of nature and a large hallway with an artist's corner - that's where the white piano is. The other three rooms are separated with doors and another hallway, that's leading all the way to the grand master bedroom. The apartment has a big bathroom with a bath tub and a separate shower and one separate toilet. There is also one extra bedroom with a single bed and a workspace. With your access to a beautiful green private garden, smarthome amenities and on-site parking, this is really a place to stay.
The apartment is situated in a very quiet neighbourhood, not too far away from the city centre. It is located in a very hilly area and offers some amazing views of nature.
Wunderschönes Appartement, eig das Beste in Maribor! Superfreundliche Gastgeber, wunderschöne Aussicht, Top Ausstattung, superbequemes Bett, eig alles perfekt! Ruhige schöne Lage mit einer super Aussicht auf Maribor. CheckIn und Checkout haben reibungslos funktioniert, auch die Kommunikation sowie die Führung durchs Appartement warten super. Für mich bis jetzt mein schönster AirBNB Aufenhalt!
Georg
2017-04-09T00:00:00Z
Nina's parents were fantastic hosts. They greeted me cheerfully upon my arrival and provided very useful information about the beautiful town of Maribor. The view from the apartment is outstandingly beautiful - just as Nina described, the house has a large outside sitting area with a garden, which is even prettier in real life than in the pictures. The apartment had a special, positive energy. I really recommend it to anyone who likes style, good spirit and a hint of vintage. It is great for families. I was curious to try their breakfast option for an addition of 5eur and all I can say is... Scrambled eggs made in heaven!
Robert
2017-02-26T00:00:00Z
Apartment was large and clean. Very peaceful at night. Has everything you need for cooking and bath. Hosts are wonderful and friendly. Easy parking and a quick drive close to the city if you have a car.
Asja
2017-04-05T00:00:00Z
ประเภทห้อง
บ้าน/อพาร์ทเมนท์ทั้งหลัง
---
ประเภทที่พัก
บ้าน
---
พักได้
4
---
ห้องนอน
มาริบอร์, Upravna enota Maribor, สโลวีเนีย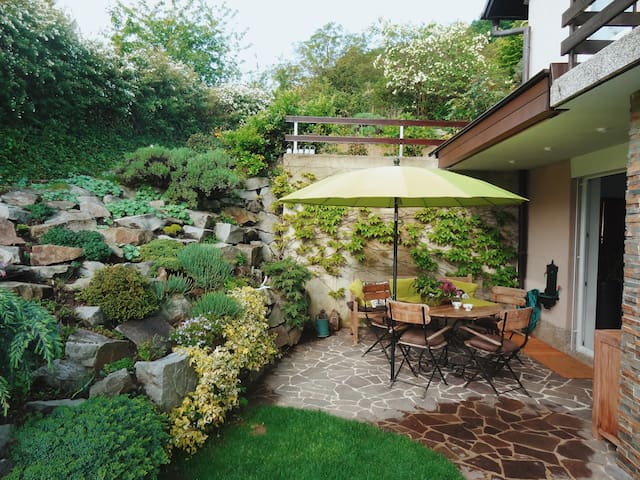 Only 200m to Pohorje ski,mountain biking, and hiking resort and 100m to nearest store and 2 km to city centre. Multiple parking spaces, garage for bikes/ski equipment. 2 storey apartment. The furniture/house is in socialist style from Yugoslavia ( old, but clean and spacious ).Guests have entire first and second floor of the house for themselves. Airport pickup and taxi service to centre is possible.
The house and furniture is not new, but new things are frequently added. Its a standard house that was in the era of socialism in Yugoslavia. The place is spacious
Located approx. 200m to Pohorje mountain ( GoldenFox ), store 100m away. Neighbourhood is family friendly and very queit, so no parties allowed.
Luka is an incredibly fast host to respond to questions. He was very helpful. The place is accurately described in the description. The family was very nice and let us eat a lot of goodies from their garden.
Hondo
2016-10-01T00:00:00Z
Luka was really great. He was flexible with our arrival time as we were coming in late and even left us a few things for breakfast in the morning. The house was very clean and cozy. Plenty of blankets and clean towels for our entire group. Overall had a wonderful stay and would stay there again.
Liz
2016-12-24T00:00:00Z
Very nice and friendly place, thank you!
Martin
2016-07-30T00:00:00Z
It is said in the advertisement that the distance between the house and downtown is almost 2 km, and the reality is that you must wait for more than 20 minutes to a taxi and it's lasts for more than 15 to reach downtown by taxi, which, from my point of view, is the most comfortable way.
Felipe
2017-03-02T00:00:00Z
Citili jsme se na tomto miste jako doma. :-)
Tomas
2017-02-12T00:00:00Z
Danke fürs quartier. War alles "alt" aber sehr nett und voll geräumig und super Ausstattung. War das ideale Quartier für uns!
Richard
2016-07-16T00:00:00Z
Le meilleur de nos 3 logement en Slovénie en une semaine ! Hôtes accueillants, serviables, chaleureux, disponibles, à l'écoute... De nombreuses petites attentions : chocolats de Noël, potica, biscuits et même une place dégagée dans le garage pour ranger nos skis et un aspirateur pour compacter nos bagages ! Merci ! L'appartement est spacieux même si une chambre est petite. L'équipement de la cuisine est très bien avec ici encore des attentions et du dépannage : fromages, huile, vinaigre, sauces... L'appartement est vraiment bien pour 6 et bien chauffé en plus ce qui est important en Décembre.
Nathalie
2016-12-29T00:00:00Z
Очаровательный дом, со своей неповторимой атмосферой. Не новый, но очень ухоженный и уютный. В доме было все необходимое для проживания и даже больше! Прекрасная территория около дома, где можно насладится тишиной и покоем, походить босиком по мягкой траве, встретить рассвет с чашкой кофе или закат с барбекю и бокалом вина. Тихий, спокойный район, обязательно поднимитесь в горы- подъемник всего в 200 метрах от дома. Хозяева- милейшие люди, сделали все возможное, чтобы наш отдых удался! Очень рекомендую!
Светлана
2016-08-04T00:00:00Z
ประเภทห้อง
บ้าน/อพาร์ทเมนท์ทั้งหลัง
---
ประเภทที่พัก
บ้าน
---
พักได้
9
---
ห้องนอน
มาริบอร์, Upravna enota Maribor, สโลวีเนีย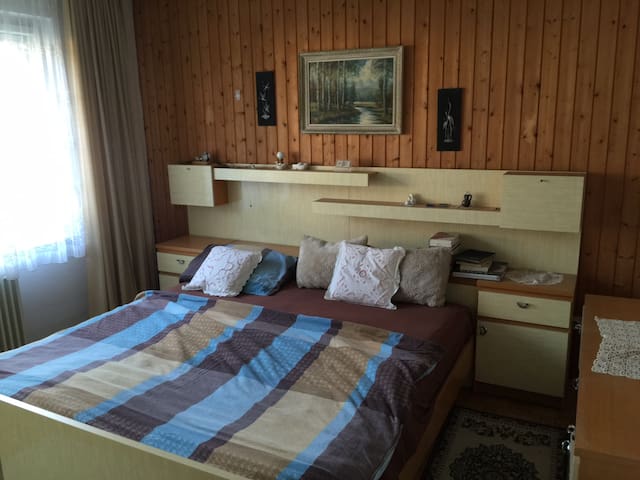 My place is close to parks, art and culture, restaurants and dining, 2 min to city centre. You'll love my place because of the neighborhood, the ambiance, and the comfy bed. My place is good for couples and solo adventurers.
ประเภทห้อง
ห้องส่วนตัว
---
ประเภทที่พัก
บ้าน
---
พักได้
2
---
ห้องนอน
มาริบอร์, Upravna enota Maribor, สโลวีเนีย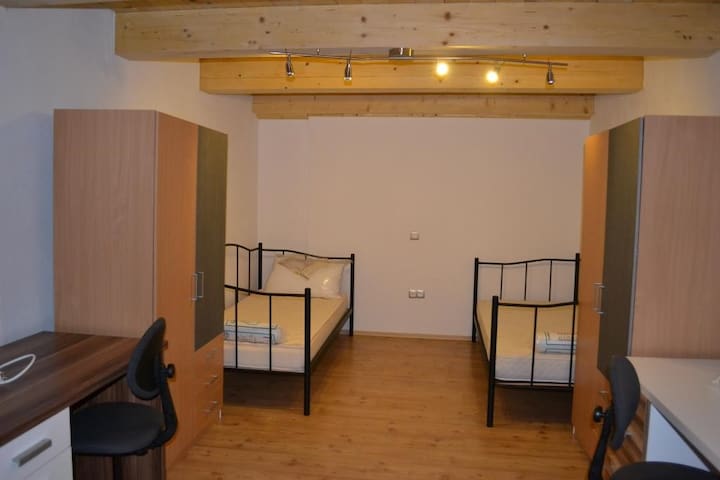 Only 150m to Pohorje/Bachern ski&cykling&hiking resort and 2 km to city center. Renovated cozy house with garden, 2 parking places ,outside gear storage house . In the house you may use kitchen,3 bedrooms 2 living rooms,terace. Free Wi FI
The host canceled this reservation 71 days before arrival. This is an automated posting.
Peter
2015-10-20T00:00:00Z
ประเภทห้อง
บ้าน/อพาร์ทเมนท์ทั้งหลัง
---
ประเภทที่พัก
บ้าน
---
พักได้
6
---
ห้องนอน
มาริบอร์, Maribor, สโลวีเนีย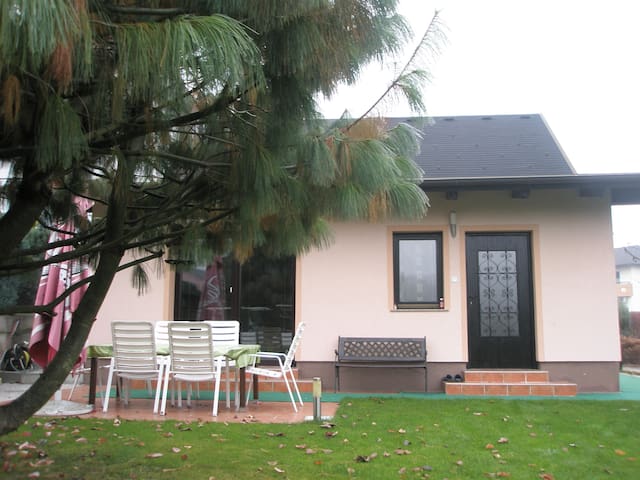 Meine Unterkunft ist gut für paare. Cosy stay in Maribor
bravo!! what a great, stylish and beautiful little Appartment. Apo was always there and went also to party with us and showed us all the hot spots. so much fun with him :)
Harison
2016-05-29T00:00:00Z
ประเภทห้อง
ห้องส่วนตัว
---
ประเภทที่พัก
บ้าน
---
พักได้
2
---
ห้องนอน
มาริบอร์, Upravna enota Maribor, สโลวีเนีย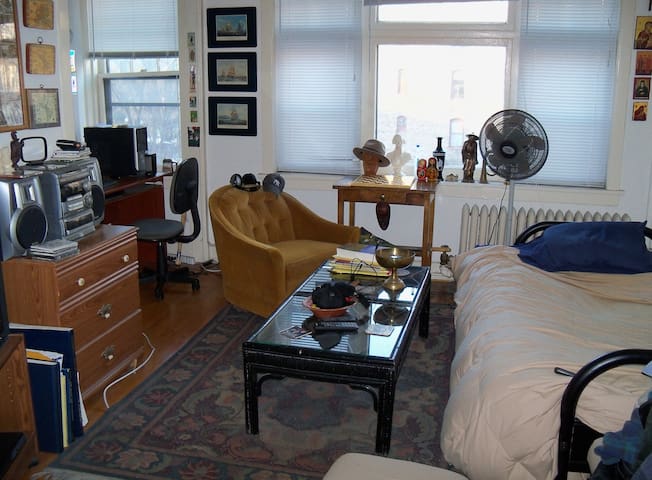 Naše místo je v blízkosti Bresternica jezera, asi 15 minut jízdy od města Maribor. Zamilujete si své místo, protože čistém a klidném přírodním prostředí, nádherné panorama a autentické ubytování ve stylu country. Budete ubytováni v klasickém statku, který je vhodný pro páry, skupiny, sólové dobrodruhy, rodiny (s dětmi) a chlupatí přátelé (zvířata). Váš hlavní hostitel bude Vida, kreativní duši, která zrekonstruovaný statek s láskou k tradici, krásy a inovace.
Jedná se o statek století 19., který byl nedávno zrekonstruován s cílem usnadnit autentické a komfortní ubytování na venkově. Existují dva klasickém stylu pokoje s vlastní koupelnou, velmi prostorný, stylový salónek s krbem a spousta prostoru pro čtení, jídelna, strečink, jógu nebo jen chlazení. K dispozici je také velká zasedací místnost, kterou můžeme zajistit pro větší skupiny pro profesionální účely. V prvním patře se nachází kuchyň (přístupný přes venkovní schodiště) s veškerým základním vybavením na vaření. Vedoucí do horního patra je velmi okouzlující schodiště, kde si můžete chytit první ranní světlo a užívat krásný noční pohled, při popíjení regionální šumivé víno. Dům je obklopen spoustou otevřeného prostoru a zelenou plochu pro všechny druhy více či méně aktivní činnosti. Ubytování je velmi tichý a soukromý (pokud jste si celé místo), jak žijeme v samostatném domě přes nádvoří. V zimě, místo je vytápěna dřevem kamen a krytým krbem a zatímco my vám může pomoci obrátit na ohni v dopoledních hodinách, nebo když jste pryč, budete muset být přidání dříví udržet místo v teple.
Jedná se o velmi klidné a zelené kopce, který nabízí skvělé prostředí pro relaxaci, povzbuzující procházky, pěší i cykloturistiku přes osvěžující les a nezkrotnou louky. Náš dům je menší než 5 minut do kopce autem od hlavní silnice, která vás zavede přímo do Mariboru. Prosím, podívejte se na mapu níže, kde najdete značení s mými doporučeními pro rekreaci, jídlo a obchodům s potravinami v této oblasti a jejím okolí.
Ho soggiornato a Maribor con gli amici per Capodanno e questa casa è stata ideale. È molto grande, con ottimi spazi per fare festa e rilassarsi. Oltre agli spazi interni, puliti e ben curati, c'è anche un giardino che circonda la casa e che regala una bellissima vista sulla vallata. All'interno la casa è riscaldata con stufa e termosifoni. Ci sono diversi posti letto e all'arrivo tutto era pronto, con coperte, asciugamani e stufa (URL HIDDEN) casa è vicina alla città di Maribor (10 minuti di macchina) e ad alimentari vari. Abbiamo trovato la neve ma la strada, anche se un po' ripida e con dei tornanti, era pulita e senza ghiaccio. I proprietari sono stati molto gentili e ospitali, flessibili negli orari e sempre disponibili (vivono accanto alla casa, dall'altra parte del giardino). Ci hanno anche offerto un aperitivo di ben venuto e tre prosecchi per festeggiare. Ottima la comunicazione con i proprietari. Esperienza molto positiva. Unici piccoli problemi la luce che è saltata due volte e un po' di freddo in alcune stanze molto grandi e quindi più lente a scaldarsi.
Giulia
2017-01-01T00:00:00Z
Beyond all expectations!! We arrived much later than planned to an amazing warm, friendly candlelit welcome. We instantly wished we could stay a week. The views are breathtaking, the house is stunning, with every little detail thought through, and Vida and Nina were kind and helpful. Vida's cooking is incredible. This is one of those places you should book if it is available. We are already planning our return.
Camilla
2016-08-29T00:00:00Z
Clean and comfortable, with great views.
Ferenc
2017-02-26T00:00:00Z
I recommend you to accept this offer. This farm house is a wonderful place in the quiet and tranquil hills over Maribor. Warm and tasteful. With old wooden beams and a lot of candles. With a beautiful garden and a large meadow, with two hammocks that you can use. And you should accept Vida's offer to cook for you. She is really an excellent cook. We enjoyed a rabbit and mushrooms from the surrounding woods and vegetables from Vida's carefully cultivated cottage garden. As good bye present we got a jar of her delicious homemade red currant jam. Needless to say we will come again. Dear Vida, thank you for your great hospitality!
Irene
2016-09-11T00:00:00Z
We were staying with two small kids and we all loved it! The surroundings and the house itself were wonderful! Welcoming was truly warm and pleasant: the host had made pumpkin soup for us all! I highly recommend this house, we will go back!
Eve-Maria
2016-11-20T00:00:00Z
Wonderful! This place was amazing, a tasteful and beautiful farmhouse, stunning idyllic location and gardens, character in abundance, with a real homely feel. Just an incredible place to relax and spend a few days. Dusan's mum was very thougtful and kind, despite our language barrier, and her home-made juices and jams were delicious. Very friendly neighbours. Our one year old son loved the baba swing! We stayed for 4 nights, but we could have happily stayed here for weeks in different circumstances... 100% recommended.
Paul
2016-09-19T00:00:00Z
It was all above our expectations: fantastic rustic house with charming atmosphere and great view into surrounding hills. Lovely host, Vida, offering vegetables from her garden for our cooking - thank you! We´ll come back again.
Petr
2016-09-27T00:00:00Z
What a wonderful stay! A very authentic farm house and the most kind host. We hope to come back another time!
Nisse
2016-10-30T00:00:00Z
ประเภทห้อง
บ้าน/อพาร์ทเมนท์ทั้งหลัง
---
ประเภทที่พัก
บ้าน
---
พักได้
16
---
ห้องนอน
Srednje, Upravna enota Maribor, สโลวีเนีย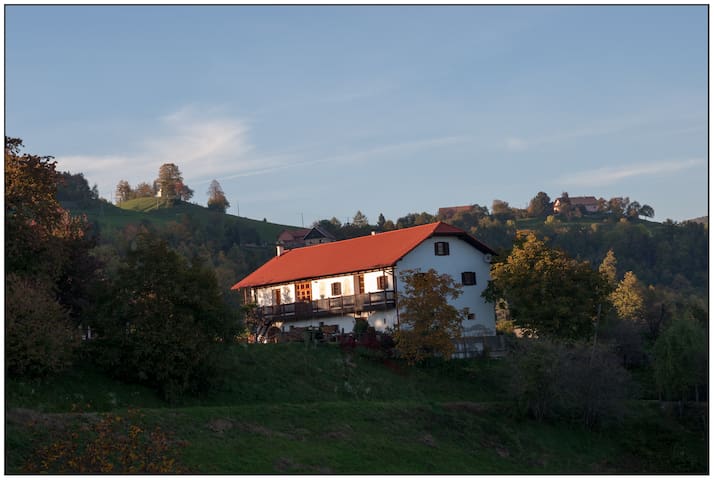 Our room is located near the city center. You can also use the kitchen. This room has shared batroom and toilet ( two rooms).
ประเภทห้อง
บ้าน/อพาร์ทเมนท์ทั้งหลัง
---
ประเภทที่พัก
บ้าน
---
พักได้
3
---
ห้องนอน
มาริบอร์, Upravna enota Maribor, สโลวีเนีย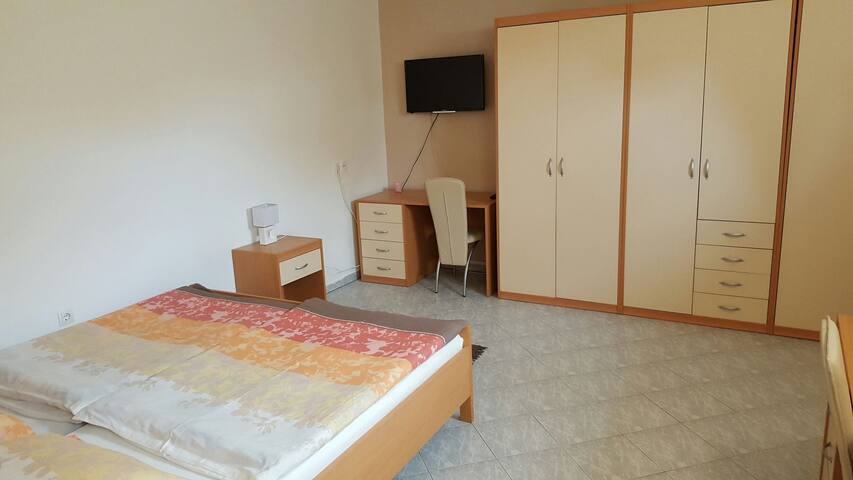 Mé místo se nachází v blízkosti dálnic, restaurací a stravovacích zařízení i krásným výhledem, jezero, dálnice, trh, pošta, krásné přírody. Zamilujete si svoje místo, protože pohodlné postele, pěkné přátelské místnosti. Mé místo je vhodné pro páry, sólové dobrodruhy, obchodní cestující, rodiny (s dětmi), velké skupiny, a chlupatými kamarády (zvířata).
Velmi krásná krajina s jezerem v blízkosti.
Perfect! Thank you!
dan
2016-09-02T00:00:00Z
Great place to stay! Maribor center just 20min by car
Christoph
2016-08-16T00:00:00Z
Great place to stay for one night. Close to the highway. The rooms are very small, but clean. Thanks.
Ramunas
2016-08-06T00:00:00Z
The beds were really comfortable, everything was clean. Maribor is easily accesible by bus and the bus station is near. All in all a great place.
Mátyás
2017-01-02T00:00:00Z
ประเภทห้อง
บ้าน/อพาร์ทเมนท์ทั้งหลัง
---
ประเภทที่พัก
บ้าน
---
พักได้
8
---
ห้องนอน
Pernica, Upravna enota Maribor, สโลวีเนีย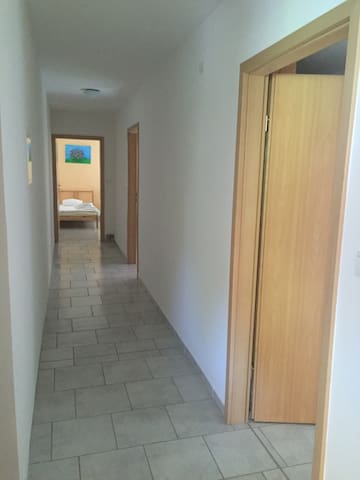 You are welcome....
Lili ist eine sehr nette und zuvorkommende Gastgeberin. Ihr Hexenhäuschen liegt im Grünen, nur wenige Kilometer von Maribor enfernt. Um in die Stadt zu gelangen, ist allerdings ein Fahrzeug erforderlich. Es ist sehr kuschelig und liebevoll eingerichtet aber sehr klein. Drinnen ist wirklich nicht mehr Platz als für zwei Personen. Der schöne Garten mit hohen alten Bäumen ist sehr großzügig und sonnig. Neben dem Häuschen stehen ein rustikaler Pavillon, um den Abend entspannt ausklingen zu lassen sowie ein liebevoll gezimmertes Baumhaus für Kinder. Den einzigen Nachteil, den wir an diesem netten Platz finden konnten, war das unterschwellige Rauschen, der sich in Sichtweite befindlichen Autobahn.
Mocca
2016-08-10T00:00:00Z
Lili's place was very cozy and convenient. She was very attentive and made my stay feel very warm. The house was basic but had all the required essentials to make my stay pleasant. I would definitely stay again without no second thoughts! !!
Samir Raoof
2015-06-20T00:00:00Z
Lili and her father made us feel very welcome and gave us a bowl of delicious fruit. The house is really amazing - totally unique with so much attention to detail! The bed is under the eves of the loft and accessed by a steep ladder/stair - so perhaps not ideal if you sleepwalk! :-) Downstairs there is a seating area, tiny kitchen and modern bathroom. The tree house is amazing and my 11 year old son loved it! It has its own sleeping loft, beanbags and cushions, lanterns and seating area on the verandah - as well as a slide and a rope to go down. It really is like something out of a fairy tale, and is set in a lovely garden with fruit trees - a real oasis on the outskirts of Maribor. The road leading to it can be tricky to spot - but if you look out for the zebra crossing, it's right next to that.
Lynn
2015-06-28T00:00:00Z
The house was very nice and Lili a friendly Host. Thank you for the calm night!
Gabriela
2016-03-21T00:00:00Z
Vraiment sympa la Old House ! Une petite maison avec une âme ... Au début on s'est dit que c'était fort petit, et au final tout y est pour passer un super bon moment (3 jours) et rayonner dans la région. Accès au potager et au jardin, c'est très calme malgré l'autoroute qui est visible au loin. La chambre à coucher sous le toit est très sympa ainsi que son éclairage ... Nous n'avons pas vu Lili, mais son Papa nous a accueillis et s'est montré très attentif et sympathique. Il nous a manqué de quoi faire du café, et point de vue ergonomie une petite table escamotable trouverait bien sa place dans la cuisine. Nous qui aimons le calme, on recommande !
Christophe
2015-07-30T00:00:00Z
Nice little cottage, plenty of parking. Quit location. We didn't see Lili but she left the key on the door or us. Shower ran out of hot water quickly.
Jack
2015-10-18T00:00:00Z
We had a very pleasant stay in Maribor. The house was nice, and the hosts we're great.
Marielle
2015-07-22T00:00:00Z
Lili's Häuschen ist ein wunderbarer, romantischer Ort zum Wohlfühlen und Lili ist eine liebevolle Gastgeberin.
Klaus
2015-08-23T00:00:00Z
ประเภทห้อง
บ้าน/อพาร์ทเมนท์ทั้งหลัง
---
ประเภทที่พัก
บ้าน
---
พักได้
2
---
ห้องนอน
มาริบอร์, สโลวีเนีย
Lakes, green, natural, friendly clean place Located in the main park of Maribor. Surrounded of nature, vegetation, vineyards. The best place to rest and enjoy Maribor, the pearl of Slovenia.
Comfy, space full, fresh!
Lakes, full of green areas, nature. Plenty of hiking paths. 10 minutes walking to the city centre.
Ho soggiornato nel periodo di capodanno, mi sono trovata benissimo qualità, prezzi e cortesia alla massima valutazione dei voti, Edwin il proprietario e' molto cortese e disponibile, quando siamo arrivati ci ha consegnato un pacchetto di benvenuto con tutte le informazioni sulla città e ci ha dato indicazioni su cosa fare e cosa visitare. Era sempre disponibile a qualsiasi ora. L'appartamento è a due passi dal centro, nel cuore del parco molto curato.
silvia
2016-01-03T00:00:00Z
ประเภทห้อง
ห้องรวม
---
ประเภทที่พัก
บ้าน
---
พักได้
7
---
ห้องนอน
มาริบอร์, Upravna enota Maribor, สโลวีเนีย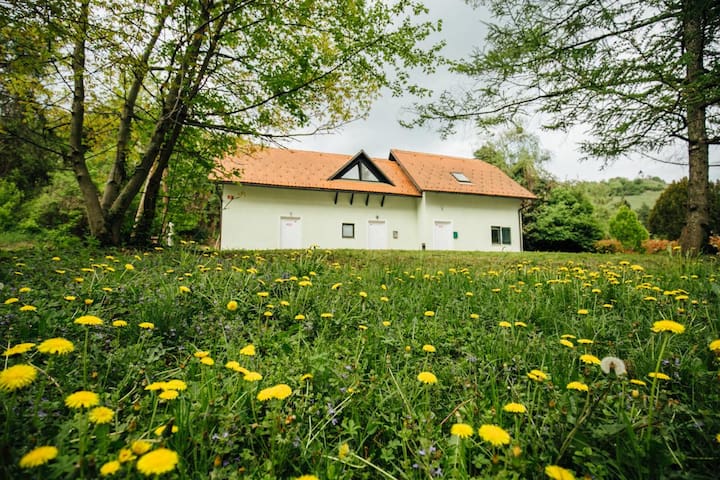 My place is close to highway exit, nature - lakes. House was build in 1850. The entire floor is available for guests (60m2). It is completely renovated. The surroundings of our estate is apropriate for wandering around in the nature.
Room has a smell of the fresh wood and there is a balcony with a view on a surrounding nature. There are total of 5 beds (linens included) but you can also set your sleeping bag. Relax in peace and silence, have a quality sleep and wake up with the sound of the birds.
Safe area, friendly neighbours, nice traking trails, a lot of fresh air, positive feeling on the location... The surrounding area is covered with fields of maize and cereals, forests and meadows. People engaged in agriculture, agriculture, winemaking… There are ponds that offer fishing but you can also walk or ride a bicycle around. You can eat typical dishes in a established restaurant or visit small towns Lenart or Sveta Trojica (Holy Trinity) with a beautiful church.
Very nice place, friendly people and animals, we were very happy at Lucia's place
Vera
2015-08-22T00:00:00Z
staying with Lucija and Thomas is an experience that everyone should do, if you want to be part of the Slovenian experience. Lucija is a great host, and they live in a magical place with a beautifal house and lots of awesome animals. Anneke and Guido
An
2015-08-08T00:00:00Z
Our stay at Lucija's was nust wonderful! Lucija and her companions are great hosts with big hearts. We felt like at home and also the property offers variety of impulses and activities.
Ondřej
2015-09-05T00:00:00Z
Lucija and Tomas are the nicest and most welcoming hosts we have had in all of our time travelling. They arranged a tent as well as sleeping bags for us, invited us to dinner and breakfast. Lucija even made it possible for us to try horse riding ;) They have lovely animals, we especially fell in love with Smrklja, the funniest pig on earth! I definitely recommend staying here - if you are not afraid of animals and open-minded lovely people :)
Julia
2015-08-03T00:00:00Z
We only slept one night on Caval but we enjoyed every moment. Warmly welcome late at night with a glas of redwine, feeling like friends from the first moment. Lucija is a perfect host for anybody who likes unusal accomodation. We learnt in short time other friends and animals too. It`s a very special place to be.
Oliver
2016-08-26T00:00:00Z
Nothing but good about Lucija and the wonderful old manor house! I was looked after, every half an hour if I wished so, with coffee, cake, a visit to the town, a horse ride, or anything I wished for. The organic and veggie food was fanTAStic too, and this food lover appreciates such things a whole lot. The nature around, the charm of the house itself, the much beloved horses and warmhearted Lucija and her friends – all of this was part of my wonderful stay. DO NOT hesitate a minute to stay here! [+ my electric motorbike surrounded by a black pig, three chicken, two black sheep and a goat, with a beautiful black horse looking into the matter, made me laugh out loud one morning]
Trui
2015-09-04T00:00:00Z
What an incredible stay in Lucija´s place. She is so nice, she will do her best to make you feel confortable. You will really enjoy this special stay. Nauture is everywhere, and she can provide a lot of tips. I am planning to come back with my 4yo daughter to show her how nice is it to stay in this superbe environment and maybe enjoy the horses a little bit as we did not have chance to stay longuer to see them. Thanks again Lucija for being such a nice host.
Clem & Mat
2016-08-15T00:00:00Z
Staying with Lucija and Tomaš was a powerful experience! Me and my friends stayed on Grušova for only one night. Even there was a rain and we were sleeping in a tent, the morning next day was a magical for all of us: woke up by animal voices, eating traditional Slovenian bread, tasting butter with lavender, horse-riding lesson and many more. We hoped we could stay longer but for sure it was not the last time we were on Grušova. Lucija, thank you once again, it was great pleasure to be your guest.
Piotr
2015-09-22T00:00:00Z
ประเภทห้อง
ห้องรวม
---
ประเภทที่พัก
บ้าน
---
พักได้
5
---
ห้องนอน
Malečnik, Maribor, สโลวีเนีย
We came very late (around midnight) but owner was very friendly and open.
Jaroslaw
2016-08-20T00:00:00Z
ประเภทห้อง
ห้องส่วนตัว
---
ประเภทที่พัก
บ้าน
---
พักได้
3
---
ห้องนอน
Pernica, Upravna enota Maribor, สโลวีเนีย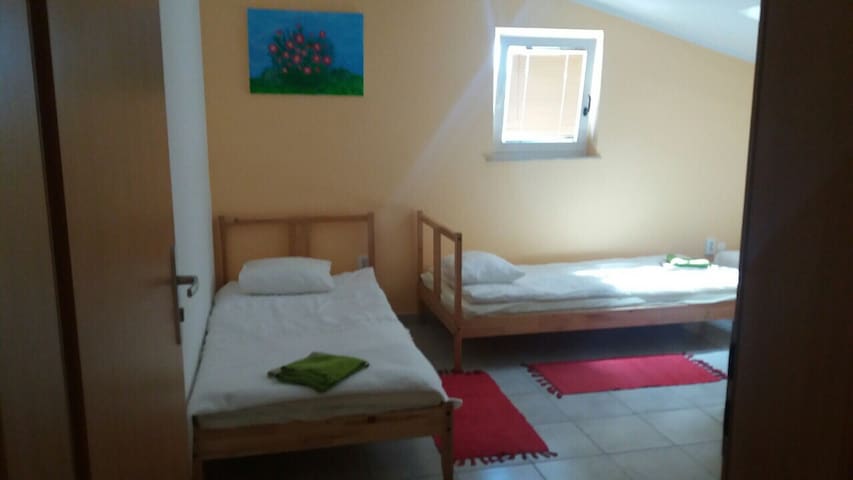 escapada excelente para familias o individuos. Único, hecho a mano, cabaña de madera en el corazón de la montaña Pohorje, pocos minutos de una gran variedad de deportes (esquí, ciclismo, senderismo), actividades recreativas y de bienestar, que sea en invierno o en verano.
We were welcome by Matej's Mother , she is a really kind person , show us the whole flat and gave advices to visit on our stay. The apartment is fully equipped, you can find everything what you need for a good stay. Our only problem was that we reserved this place especially because they had wifi connect, but it didn't work anymore so we had to go to another place to catch some network. And the owner hadn't let me know before. Finally, it was a great stay, loved the flat and the beautiful view, I can recommend to everyone. Best wishes!
Brigitta
2016-09-04T00:00:00Z
The host canceled this reservation 45 days before arrival. This is an automated posting.
Christel
2016-06-20T00:00:00Z
ประเภทห้อง
บ้าน/อพาร์ทเมนท์ทั้งหลัง
---
ประเภทที่พัก
บ้าน
---
พักได้
8
---
ห้องนอน
Frajhajm, Slovenska Bistrica, สโลวีเนีย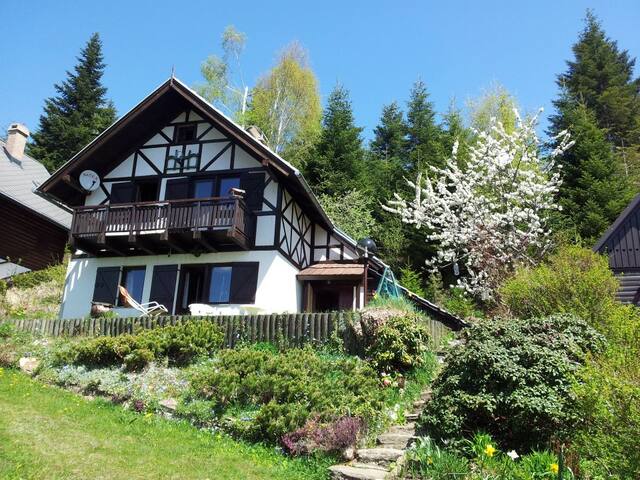 It is a holiday cottage in the wine district, surrounded by woods, orchards and fields. The house takes place in the heart of nature, surrounded with silence. The village and the nearest grocery store are at a distance of one km.
The house has a living room with fireplace, kitchen, bathroom with shower and toilet, a room with two beds. There is a cellar with homemade wine, which is included in the price.
We had the most beautiful time in Tina's house. Peaceful and calm in a beautiful yet totally not touristy region. A perfect place to stay and get a rest.
Otto
2015-08-15T00:00:00Z
We hade a great stay in the cottage, which was beautiful. Tina was very accommodating and overall a great host. Communication ahead of our arrival was swift and problem-free. Highly recommended.
Jesper
2015-08-18T00:00:00Z
Tina was a great host. Overall great experience staying in the cottage (and the wine is good too)
Amit
2015-07-15T00:00:00Z
ประเภทห้อง
บ้าน/อพาร์ทเมนท์ทั้งหลัง
---
ประเภทที่พัก
บ้าน
---
พักได้
2
---
ห้องนอน
Jakobski dol, Pesnica, สโลวีเนีย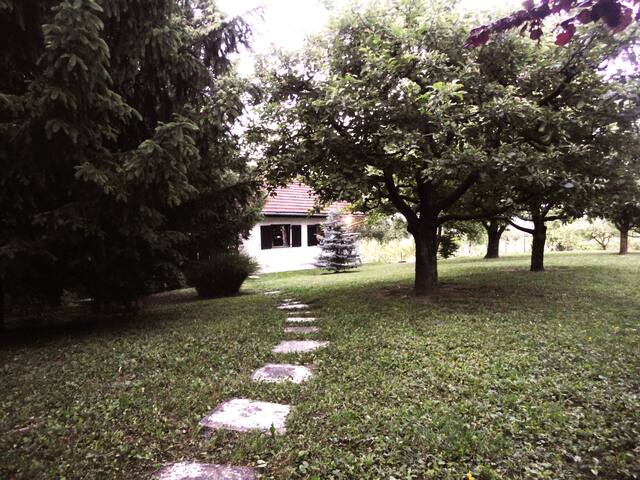 Mein Platz ist in der Nähe Maribor, Pohorje, Skigebiet, Fluss Drau, Kozjak, Wein. Sie werden meinen Platz wegen der Natur, Ruhe, Berge, Radwege, Skipisten, Wandern, Sportaktivitäten, Kajak, Padling lieben. Mein Platz ist gut für Paare und Solo-Abenteurer.
Frühstück auf Anfrage.
Selnica ob Dravi ist 13 km von Maribor in der Nähe von Landstraße nach Dravograd und Klagenfurt. Es ist 15 Minuten Fahrt zum Stadtzentrum von Maribor. Selnica ob Dravi ist eine kleine Stadt mit einigen Restaurants, Markt Cafeteria und Tankstelle. Es gibt gleich gute Plätze zu essen. Sie können unsere Stadt mit schönen Apple-Straße, Pohorje, Kozjak und Maribor erkunden.
Mateja and her husband Simon were awsome! They have amazing house in a great peaceful nature, but still very close to Maribor. We had many things in common because they also love sport and traveling. I am really glad that they helped us with planning our trips around Maribor, because otherwise we would not have so pertect days as we did. Room is very nice and pretty big. Bed is big and very comfortable. Bathroom is clean and perfect. I would definetly recommend staying at this place :)
Miha
2016-11-01T00:00:00Z
Mateja's place was excellent! The room and bathroom were both extremely clean, and the bed was very comfortable. We enjoyed very much talking to them, and are very grateful for the warm hospitality that Mateja and her husband Simon has shown towards us, as well as the effort they put in to help us plan our trips around Maribor and Pohorje, and made our experience at their place amazing. The only caveat might be that you need a car to get to their place easily from Maribor (it's just a short drive) - other than that, I would stay with them again if I'm visiting Maribor in the future!
Ghim
2016-12-30T00:00:00Z
ประเภทห้อง
ห้องส่วนตัว
---
ประเภทที่พัก
บ้าน
---
พักได้
2
---
ห้องนอน
Selnica ob Dravi, Ruše, สโลวีเนีย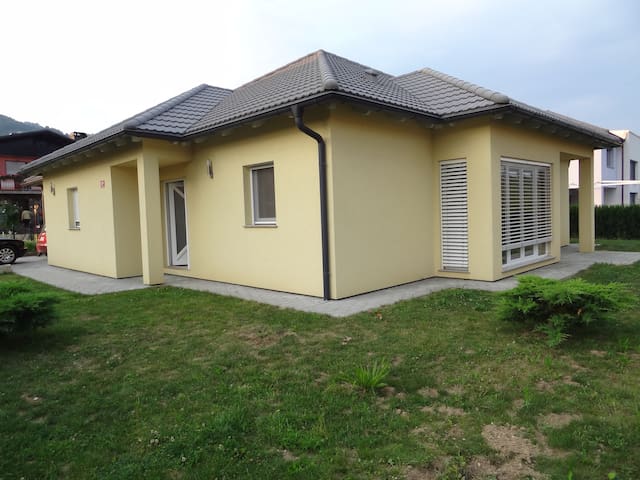 Room for three people with a shared bathroom and toilet
ประเภทห้อง
ห้องส่วนตัว
---
ประเภทที่พัก
บ้าน
---
พักได้
3
---
ห้องนอน
Miklavž na Dravskem Polju, Maribor, สโลวีเนีย
Er du interesseret i naturens rigdom, afsides byen publikum og lugt af bjerge 'græs? Så er du kommet til det rette sted. Vores husstand ligger i hjertet af skoven på en solrig lysning, to kilometer fra mai gaden.
Vores hus har en livlig og misundelsesværdig fortid. Du vil være i stand til at rapportere til dine venner, at du har opholdt sig i en mere end 300 år gamle bjælkehytte. I 2009 kabinen blev ombygget og omdannet til et lejlighedskompleks, ikke desto mindre det holdt sit oprindelige udseende. Hovedhuset kan nu rumme op til 4 gæster. Det har 2 separate soveværelser med dobbeltsenge, en rummelig spisestue med en pejs, ideel til sociale sammenkomster og et fuldt udstyret køkken. Der er også en stor terrasse med en betagende udsigt og en klub i kælderen. En vidunderlig bygning med en sjæl. Du kan også leje et mindre hus for kun 2 gæster. Det har sin egen terrasse, balkon og en mindre køkken. Større grupper kan desuden leje et dobbeltværelse med et badeværelse i den store bygning, hvor ejerne bor.
I en rolig beliggenhed i den nordøstlige del af Slovenien, højt over floden Drava, kan du finde et vidunderligt sted for en fantastisk ferie. Den smukke ejendom består af 3 huse og er beliggende på de skovklædte bakker i Kozjak, ikke langt væk fra byen Maribor, Pohorje bakker, den slovenske vindyrkning regionen og den populære østrigske vin vej. Hovedbygningen er et nyligt renoveret 300 år gammel hytte, hvor man kan plaske rundt i en swimmingpool og nyde en fantastisk udsigt over det omkringliggende område.
We were looking for just a base camp for our motorbike tour ( Austria - Slovenia) but we found a piece of Paradise! Toplak ranch is located at the top of a mountain with a beautiful view. The houses are in old local country style and they are very well equipped with all the necessary things. Our host - Rok - was very helpful and communicative. He helped us to find the best restaurant, shops and gas station. Our host and the ranch was excellent, we had an amazing time at this fantastic place. Thanks Rok and I hope we will meet again!
Kornel
2014-06-25T00:00:00Z
Dear Rok, You were so helpful and friendly from the beginning. We are fully satisfied with the host and a house :) Thank you! Anita
Anita
2014-06-07T00:00:00Z
We (Dutch family, three children: 12, 14 and 16) stayed four nights in House Toplak and every new day was like another day in paradise. This venue is located on the top off a hill with a breath-taking view. The chalet is tasteful decorated, well maintained and above all clean. There is a small pool with crystal clear water, a nice fireplace for BBQ and garden games to play with. You can pick vegetables and fruits from the garden. The hospitality of the owners is warming and they do everything within their power to make your stay a comfortable as possible.
Frans
2015-08-09T00:00:00Z
We had an awesome time. Our hosts were totally engaged, warm and gracious. The cottages are clearly a labour of love, you can see and feel that everyday.
Luke
2016-07-21T00:00:00Z
Nous avons été chaleureusement accueilli par nos hôtes , lesquels étaient aux petits soins avec nous. L'endroit est particulièrement calme et beau, avec une vue sur la vallée slovène d'un côté et l'Autriche de l'autre.
fabrice
2016-08-13T00:00:00Z
Perfect!!! We had the most warm welcome by Rok's parents Cvetko and Diana in this amazing house. Everything was beautiful here, especially the wonderful garden and the awesome pool with the gorgeous view. We would definitely recommend to others and would not hesitate to return. Thanks again Cvetko and Diana for the great stay, for the delicious "schnaps", the most delicious food, for the wine, for everything what you have done for our little boy!!! We enjoyed every minute at your house...
Andrea
2015-08-31T00:00:00Z
Wer die Natur liebt und die Ruhe sucht ist hier genau richtig. Ein wunderbarer Ort und eine liebevoll gestaltete Unterkunft, mit allem was man braucht und darüber hinaus, sehr freundliche und bemühte Gastgeber! Wir waren 3 Tage bei den Toplaks und haben die Zeit dort sehr genossen, besonders die herrliche Umgebung und die Ruhe war für uns alle etwas Besonderes. Die Ruhe hat natürlich auch einen "Preis": Proviant nicht vergessen, für den nächsten Einkauf ist es doch ein Stückchen zu fahren! Wir kommen sehr gerne wieder! Vielen Dank!
Claudia
2016-11-02T00:00:00Z
We were sitting and arguing what to write here, but were not able to get into the consensus. So we decided just to thank Rok for an unforgettable and unbelievable experience. We have decided that we should back for a longest stay next time and then write a full review. Thank you Rok!
Vebr
2014-09-07T00:00:00Z
ประเภทห้อง
บ้าน/อพาร์ทเมนท์ทั้งหลัง
---
ประเภทที่พัก
บ้าน
---
พักได้
4
---
ห้องนอน
Veliki Boč, สโลวีเนีย
Mijn plaats ligt dicht bij de snelweg, restaurants en eetgelegenheden, een prachtig uitzicht, meer, snelweg, markt, postkantoor, een prachtig landschap. U zult genieten van mijn plaats als gevolg van het comfortabele bed, mooie vriendelijke kamer. Mijn plaats is goed voor koppels, solo avonturiers, zakelijke reizigers, families (met kinderen), grote groepen, en harige vrienden (huisdieren).
ประเภทห้อง
ห้องส่วนตัว
---
ประเภทที่พัก
บ้าน
---
พักได้
2
---
ห้องนอน
Pernica, Upravna enota Maribor, สโลวีเนีย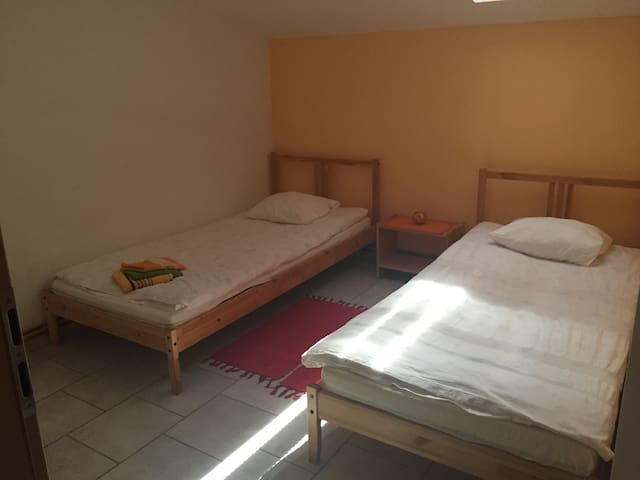 กรอกวันที่เพื่อดูการกำหนดราคาเต็ม มีค่าธรรมเนียมเพิ่มเติม อาจมีภาษีเพิ่ม