Apartment in the center of the small town of Chiesina Uzzanese, close to the highway Florence -Mare, convenient to reach by car Florence, Pistoia, Montecatini, Pisa, Versilia and the 5 lands. On the first floor, romantic room with exposed beams to the Tuscan.
bedroom and bathroom with ceiling with exposed beams, windows to Tuscany in the center of the country. Many shops within walking distance: grocery, butcher, bakery, bakery, bars, restaurants, newsagent, pharmacy, hairdresser ...
Beautifully atmospheric place! Great apartment! All the amenities! Very clean! Responsive hostess! Highly recommended!
Артём
2017-01-01T00:00:00Z
alloggio perfetto. comodo, pulito, tranquillo. non manca nulla per godere di qualche giorno di vacanza. a disposizione degli ospiti degli accappatoi e l occorrente per la prima colazione. host impeccabile!
Amarilis
2017-01-28T00:00:00Z
L'appartamento è in posizione strategica per visitare le maggiori città d'arte toscane. Il rapporto qualità/prezzo è ottimo. Angela non l'abbiamo vista ma è sempre stata presente per qualsiasi chiarimento e intervento. Appartamento molto consigliato. Torneremo.
giulio
2016-11-29T00:00:00Z
My friend Travis and I had a great stay in Angela's Chiesina Uzzanese flat in Tuscany. She wasn't able to greet us at the time we arrived but left a key under the mat so we were able to get into the apartment smoothly and quickly. The flat was simple, clean, and basically everything we needed for a comfortable week's stay. It was in a pretty good location for those traveling by car as it was within 1 1/2 - 2 hours from Pisa, Cinque Terre, Florence, Lucca, and more so we were able to make lots of day trips. We also were invited to play tennis one afternoon with Angela and her husband in a nearby city, which was really fun. They are quite talented tennis players! All in all, we had a great stay here, and fully recommend Angela and the place to others.
Molly
2016-05-28T00:00:00Z
L'appartamento è come da descrizione e foto, vicino a negozi, pizzeria, ristoranti e supermercato. È vicino al casello autostradale. La comunicazione con Angela è stata puntuale e facile. Ottimo rapporto qualità-prezzo. Lo consiglio.
Francesca
2017-01-31T00:00:00Z
L'alloggio è fedele all'annuncio. Punto strategico per visitare le città d'arte e per itinerari per borghi e castelli. La signora Angela è stata disponibile e gentile già per L'accoglienza. Il paese è ben fornito di negozi, ottimo il forno e la pasticceria del paese, così la macelleria.
Maria
2017-01-06T00:00:00Z
Неоправданно низкая цена. Квартира чистая. Удобно расположена, для осмотра Городов Тоскании. Не бойтесь низкой цены, квартира хорошая! Рекомендую!
Leonid
2016-10-12T00:00:00Z
Clean, well equipped apartment. Fast internet. Enjoyed my stay there. Angela was very helpful too.
Benjamin
2016-06-04T00:00:00Z
ประเภทห้อง
บ้าน/อพาร์ทเมนท์ทั้งหลัง
---
ประเภทที่พัก
อพาร์ทเมนท์
---
พักได้
2
---
ห้องนอน
Chiesina Uzzanese, Toscana, อิตาลี
La nostra casa, circondata dagli olivi della campagna toscana, ha tutte le comodità di una casa di città appena costruita. Godetevi le colazioni all'aperto e l'ospitalità familiare dei proprietari, che vi circonderanno di cure e di attenzioni!
Sulle prime pendici della collina di Montecarlo, che separa la Piana lucchese dalla Valdinievole, in mezzo ad un "podere" coltivato ad olivi (oltre 400), viti ed ortaggi, il bed and breakfast "Il podere di Giustina" è ospitato all'interno di un'abitazione recentemente ristrutturata e rinnovata, che è in grado di offrire lo stesso comfort delle più moderne abitazioni cittadine. Nella casa abitano anche i due proprietari, che sono disponibili a condividere con gli ospiti i numerosi elettrodomestici (lavatrice, lavastoviglie, frigorifero, ecc.), la cucina-soggiorno, la biblioteca con le guide e le mappe dei luoghi da visitare, il giardino, gli ampi spazi esterni forniti anche di attrezzature da gioco per bambini e il boschetto ombroso con tavoli e sedie. Per chi lo desidera, è possibile anche partecipare ad alcune semplici attività agricole, come la vendemmia o la raccolta delle olive. La camera da letto degli ospiti, ideata e arredata con una certa originalità, accostando strutture moderne e mobili ereditati dai nonni, è separata dal resto dell'abitazione ed è situata al primo piano dell'edificio; dispone di doccia, bagno privato, TV lcd hd con collegamento satellitare ed abbonamento gratuito a Sky, lettore dvd e bluray, asciugacapelli e ventilatore. Il collegamento wi-fi è disponibile e del tutto gratuito. Dalla finestra ampia vista sul paesaggio circostante. E' perennemente disponibile tutto il necessario per ospitare bambini di meno di 4 anni (lettino a gabbia, seggiolone, ecc.). Durante il loro soggiorno, gli ospiti potranno gustare al mattino una ricca colazione di tipo continentale, preparata da Paola con prodotti locali e molto apprezzata in tutte le recensioni del B&b. La colazione viene servita nelle stagioni più fredde nell'ampia cucina tinello dell'abitazione e d'estate quasi sempre all'aperto a breve distanza dagli olivi e dalle viti della campagna circostante. Ciò che rende unico il soggiorno presso "Il podere di Giustina" sono l'ospitalità di tipo familiare, la cura e l'attenzione di cui sarete circondati dai proprietari, che in passato sono stati insegnanti di scuola secondaria e che avranno voi come unici loro ospiti, come anche il prezzo, mantenuto basso proprio dalle piccole dimensioni della struttura e dal fatto che non c'è alcun bisogno di personale supplementare. Dal 1932, per oltre 60 anni, ha abitato in questo luogo Giustina, la nonna dell'attuale proprietario, molto conosciuta nella zona per la sua disponibilità, giovialità ed allegria, ma anche per la tenacia nel lavoro e per la grande abilità nel preparare pranzi e nell'accogliere gli ospiti. Dopo la morte del marito, è rimasta proprietaria del "podere" fino al 2000, quando si è spenta all'età di 96 anni. E' alla sua ben conosciuta abilità nell'accogliere gli ospiti che si ispirano gli attuali proprietari.
Partendo dal Bed and breakfast è possibile fare passeggiate a piedi nei dintorni in mezzo al tipico paesaggio della collina toscana con i suoi olivi e le sue viti, raggiungere rapidamente il paese di Montecarlo, molto caratteristico per il suo impianto medievale e la fortezza medicea, ma anche ricco di numerosi e ottimi ristoranti e pizzerie. Le numerose fattorie della zona producono un ottimo vino, per il quale è stata riconosciuta la D.O.C., ed un olio extravergine di oliva, considerato tra i migliori della Toscana; sono molto apprezzate le visite alle cantine ed ai frantoi e sono possibili visite guidate, che permettono di capire il modo in cui il vino e l'olio di oliva sono prodotti, ma anche di assaggiare vini ed oli di oliva di ottima qualità. Numerose sono le manifestazioni organizzate a Montecarlo, dal "Festival del vino" nei primi giorni di settembre, a "Via Vinaria" a maggio (tour delle 17 cantine della zona con degustazione del vino), da "Montecarlo chocolate" (ottobre) alla "Festa del vino novello e dell'olio nuovo" (novembre), dalla stagione teatrale a "Montecarlo estate", ecc.
My stay with Marco and Paola was magnificent! The room and home were exactly as described, very clean and comfortable. Marco responded immediately to every email and helped me with all my travel arrangements before I arrived, while I was there and also for my next destination. He provided books and maps of the areas I wanted to visit and taught me much about the history of Italy. I felt very at home. Paola prepared a lovely breakfast every morning at whatever time I wanted. I also enjoyed eating fresh fruit off the trees in their orchard. It was fun to swing on the swing in the shade of the trees in the backyard. I was easily able to walk to San Salvatore and Montecarlo for meals and groceries. They invited me to go with them to a festival and to their friends house for dinner, both unexpected treats. I got a real taste of Italian country life! Marco speaks good English which helped immensely because I am new to the Italian language. I loved my stay and would stay here again.
Valerieann
2016-07-26T00:00:00Z
En realidad es el mejor AirB&B que he visitado hasta ahora y aprendo para hacerlo mejor yo misma! Marco estuvo muy pendiente de ayudarme y recogerme en el tren! Aún cuando a las 22:10 me doy cuenta que me equivoqué de parada y no había más trenes! Vino a buscarme! También me ayudó a organizar la continuación de mi viaje poniendo toda su experiencia para el éxito en mis decisiones! Paola también se lució con la mejor cocina Toscana que he probado! Seguro que los recomendaré y volveré si se da. La habitación es muy independiente y cómoda! Luz, amplitud , comodidad, y me permitieron lavar ropa ... me gustó mucho! También el pueblo vecino de Montecarlo, muy especial!
Elisabeth
2016-09-23T00:00:00Z
We've had a wonderful stay in the farm of Giustina. Room was very comfortable and private bathroom was a big plus. We visited Italy for the first time and had no plan when came to the farm. Marco was super helpful with guiding us through the cities and providing us with all the necessary maps and guidebooks which made our vacation great. Every day we had breakfast with Paola's home made bread and tasty jams. We recommend farm of Giustina, you'll be surely happy about the stay. If you'd like to taste some local pizzas and foccacias you have to visit Bar Grazia nearby. You won't be disappointed. We've loved the food and wine in there.
Paweł
2014-09-10T00:00:00Z
Marco and Paula were very welcoming, right from the booking stage. Nothing was too much trouble, we were picked up from the airport, and shared a lunch and dinner with the family. They let us use the kitchen and their car to go and get some dinner, was so unexpected and the best place we have stayed in Italy by far. We love you, Sonya & Al xxx
Sonya
2012-08-27T00:00:00Z
As a solo traveler I felt very safe at their home. The bed is comfortable, the decor in the room is high end. Paola's breakfast is amazing. I stayed here while I visited nearby areas.
Kelly
2016-12-30T00:00:00Z
La stanza messa a disposizione e' molto bella, curata nei dettagli e dotata di comfort: un posto decisamente piacevole in cui soggiornare. Marco e Paola sono disponibili sotto tutti i punti di vista, e allo stesso tempo discreti e attenti alle esigenze di privacy. Ottima scelta nella zona di Montecarlo
Sabrina
2017-02-19T00:00:00Z
Lugar Maravilloso, los anfitriones, Marco y su esposa nos hicieron sentir como en nuestra casa, habitaciòn hermosa con todos los detalles y con baño en suite. Altamente recomendable
Osvaldo
2012-07-08T00:00:00Z
Marco and Paola were great hosts and very welcoming. Marco was very helpful with information-comming from his big map and book selection, as well as his personal knowledge. We felt very comfortable, beautiful house and gardens. Thank you Marco and Paola!
Alexandra
2012-09-01T00:00:00Z
ประเภทห้อง
ห้องส่วนตัว
---
ประเภทที่พัก
ที่พักพร้อมอาหารเช้า
---
พักได้
2
---
ห้องนอน
Montecarlo (LU), Italy-Lucca, Toscana, อิตาลี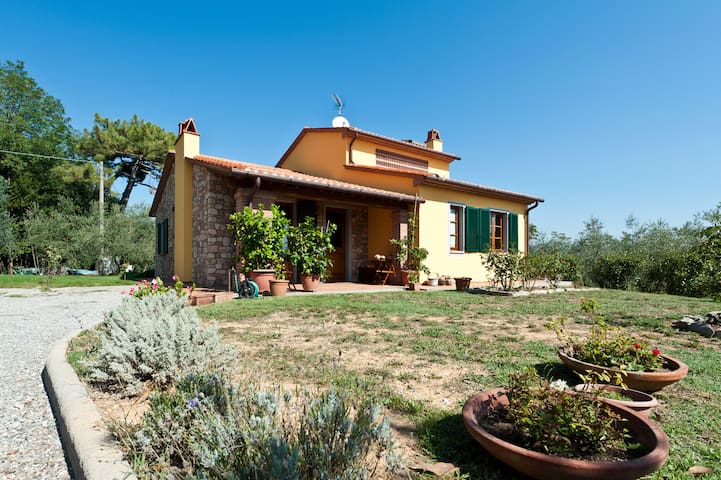 Appartamento di circa 120mq in casa indipendente nella splendida cornice di Montecarlo. Giardino e veranda, lavanderia, free wi-fi, due camere matrimoniali con la possibilità di aggiungere un letto supplementare. Consentiti animali.
This is a wonderful place. It is clean, spacious, cosy and good for getting to Pisa, Florence etc. It is a little hard to find and easy to drive past in the dark. It is a one way road, the property is on your left hand side and has a big white electric gate. We didn't meet Valentina but she was in contact and gave all the information we needed. Her mother who checked us in greeted us with sweet treats which was lovely, and she was very helpful in making our stay comfortable. Very well equipped and is home from home. We are family of 4 and space was plenty for us. One room with a double bed and 2nd room with a double and a single bed. Car parking right outside the front door. Big garden which we didn't use because if rain and the fact that we were out everyday. Definitely recommend this place. This is our 5th self catering accommodation so far on our 3 month trip and is the best one.
Thuy
2016-11-22T00:00:00Z
Sistemazione discreta e pulita. Gentilissima la signora con gli immancabili biscotti!
Alec
2016-12-11T00:00:00Z
Siamo stati a casa di Valentina, con i nostri due bimbi, per una vacanza nella meravigliosa Toscana. La casa è rustica, ma ben riscaldata ed accogliente. Si trova in una zona di campagna tranquilla ed abbastanza centrale per le escursioni. E' necessaria la macchina. La mamma di Valentina ci ha accolti con i biscotti lucchesi fatti da lei ed una bottiglia di prosecco. Biscotti buonissimi!!
Alessandra
2017-01-06T00:00:00Z
nous avons été chaleureusement accueillis par la maman de Valentina avec des gâteaux, des pêches et du vin dans un cadre fleuri et très spacieux
Ginette
2016-08-01T00:00:00Z
The accommodation was excellent and we had an amazing experience A highlight was enjoying the Montacarlo hilltop annual village dinner. The walk to the mountain top village and back again (at mid night) was the highlight of our 5 weeks in Italy. The liitle coffee shop at the Altopascio station was just a perfect spot for a coffee and crossiant before a long day in Florence or Lucca. The walk to the station was a little way but is a full of wonderful country side sceney. We have so many pictures of diffence scenes along the way gorgeous memories. We thank you for a perfectly wonderful, unassuming, uncomplicated BUT authentic Tuscany experience.
Robyn
2016-06-20T00:00:00Z
signora.valentina molto gentile
Yongmin
2015-08-24T00:00:00Z
Valentina und ihre Unterkunft waren super! Das Haus ist riesig und wunderschön. Der Garten ist eher ein Park und eignet sich hervorragend zum Sonnenbaden oder zum Spielen von Kindern. Valentinas Mutter, die im oberen Stockwerk wohnt ist ebenfalls total nett und beantwortet einem alle Fragen. Während wir dort waren, haben wir unser Portemonaie verloren und Valentina hat uns geholfen, es zurück zu bekommen. Also wir können diese Unterkunft nur empfehlen!
Zarah
2016-06-01T00:00:00Z
agréable séjour en toscane .merci a l'hote pour ce sejour dans cette belle maison.
virginie
2016-06-27T00:00:00Z
ประเภทห้อง
บ้าน/อพาร์ทเมนท์ทั้งหลัง
---
ประเภทที่พัก
บ้าน
---
พักได้
5
---
ห้องนอน
Montecarlo, Toscana, อิตาลี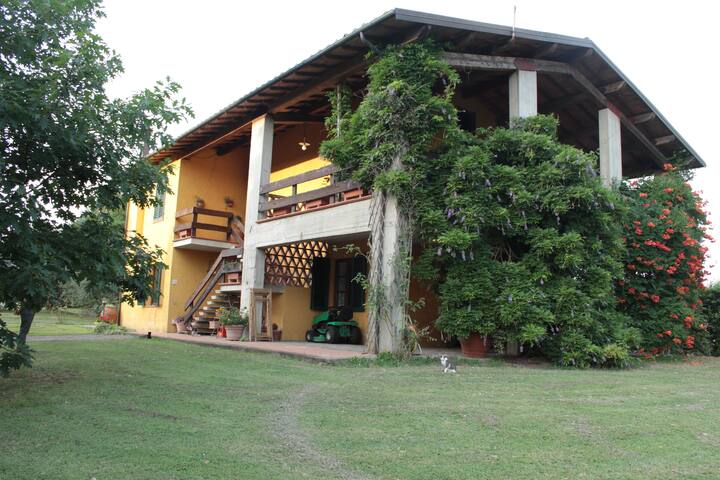 Located at the foot of the characteristic medieval village of Montecarlo, and nestled in the hills of Lucca is our house completely enclosed by a large garden. Excellent as a base for visiting Tuscany or to spend a relaxing holiday. It is 2 km from the highway and 200 meters from the station. It has a living area with kitchen and sofa bed, a double bedroom with possibility 'of adding a single bed and bathroom with shower.
The accommodation is completely free on all 4 sides, so it features a large garden fenced fully specified. In primaveriel and summer period is put at guests' disposal a gazebo with table and chairs where you can dine al fresco or enjoy a silky outdoors. The kitchen has a dishwasher, oven and all necessary utensils
The area is surrounded by greenery and calm ', but in the same way a few steps we can find bars, pizzerias, risptoranti, pharmacy Station
Esperienza positivissima. Casa pulita, accogliente e dotata di tutti i comfort (riscaldamento autonomo, impianto stereo e tv e anche cadeau di benvenuto) in zona tranquilla e immersa nel verde. L'appartamento ha ingresso autonomo per cui è possibile muoversi con la massima indipendenza. Samuela è stata molto disponibile e cortese venendo incontro alle nostre necessità. Assolutamente consigliato.
Mario
2017-03-20T00:00:00Z
Very nice quiet area to relax.
Alius
2017-03-30T00:00:00Z
ประเภทห้อง
บ้าน/อพาร์ทเมนท์ทั้งหลัง
---
ประเภทที่พัก
บ้าน
---
พักได้
5
---
ห้องนอน
San Salvatore, Toscana, อิตาลี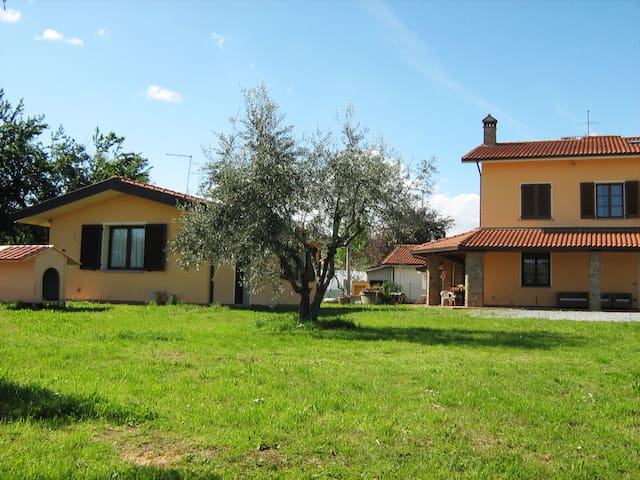 Casa Esterina si trova a Chiesina Uzzanese in posizione favorevole per potere raggiungere le grandi città d'arte toscane come Firenze, Lucca, Pistoia (capitale italiana della cultura 2017) oppure inoltrarsi negli scenari naturali della Garfagnana. Facilmente raggiungibili tutte le località balneari della Versilia. Vicina all'autostrada. Ben servita dagli autobus pubblici per raggiungere Firenze, Lucca e Pisa. L'alloggio è adatto a chi viaggia per lavoro, a famiglie (con bambini) e a gruppi
Situato in un terra-tetto nel centro storico del paese, di antica edificazione e ora finemente ristrutturato. Si accede allo stabile da una scala esterna in ferro (una rampa) che è posta in una piccola corte di proprietà. La camera, per coppia, è collocata al 2° piano; bagno grande privato sul piano, da condividere con l'altra camera, se anch'essa occupata. La camera ha un letto matrimoniale, un armadio, una scrivania e la cassapanca in fondo al letto. Uso cucina al piano di sotto. Arredo elegante e ben curato. No ascensore.
La zona è dotata di un ristorante sotto casa, di due pizzerie, una all'ingresso della corte e l'altra a poche decine di metri nella parte pedonale del paese. Qui si possono trovare altri bar, le macellerie, il giornalaio, la farmacia, la gelateria e un piccolo market. Nelle vicinanze si trova anche una grande piscina all'aperto, per il periodo estivo. Sulla piazza è presente un bar/pasticceria. A 2 km, direzione Pescia, si trova un market e a 3/4 km, in direzione Montecatini Terme, un Ipercoop con grande centro commerciale.
Ilija e Paola sono stati gentili puntuali disponibili e accoglienti. La casa molto bella, pulita e calda (che non guasta, sul finire dell'inverno). Io e Andrea siamo entusiasti e torneremo di sicuro.
Silvia
2017-02-27T00:00:00Z
Ilija e Paola sono stati due ospiti fantastici, gentili e disponibili sia prima che durante il nostro soggiorno presso Casa Esterina. Le stanze e gli ambienti comuni sono luminosi, funzionali e accuratamente arredati, ti senti a casa appena varcata la soglia. Chiesina Uzzanese è una cittadina deliziosa e comoda per raggiungere svariate mete turistiche, inoltre il b&b dà proprio sulla piazzetta, fornita di tutti i servizi. Non possiamo che ringraziare Ilija e Paola e consigliare caldamente la loro ospitalità!
Silvia
2016-10-30T00:00:00Z
ประเภทห้อง
ห้องส่วนตัว
---
ประเภทที่พัก
บ้าน
---
พักได้
2
---
ห้องนอน
Chiesina Uzzanese, Toscana, อิตาลี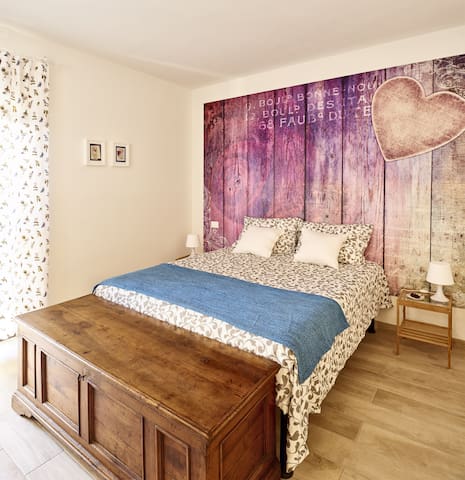 Gabriella offers to her guests a nice and huge bedroom for four people with a private bathroom in her recently renewed house. She is going to welcome you with kindness to feel you at home.
The bedroom has four beds: one is a double bed and other two single beds. The bathroom is private and it's next to the room: only my guests will use it.
Montecarlo is a small village where everyone knows each other, in the heart of Tuscany.
La Signora Gabriella è stata molto cortese e disponibile sia durante il soggiorno sia al momento del check e check out. La mansarda è esattamente come descritto nella presentazione: grande, accogliente e pulita. La camera è molto grande ed i letti (1 matrimoniale e 2 singoli) non la rendono meno abitabile. Il bagno è anch'esso spazioso e pulito e come la camera sembra appena rifatto. Molto suggestivo anche il posto anche se il periodo autunnale e la brevissima permanenza non ci hanno permesso di goderne appieno. In definitiva confermo tutto quanto di positivo è stato scritto nei feedback precedenti. Grazie Gabriella!
Paolo
2015-10-31T00:00:00Z
Excellent host. Very friendly even though she spoke Italian and we spoke English. She made every effort to make the stay enjoyable. Good recommendation of a local restaurant. Room was clean, tidy and private on the top floor of the house.
Sameer
2016-07-08T00:00:00Z
Perfect place and stay. My son and I stayed and enjoyed the region. Comfortable beds and all that we needed from Gabriella. Place is tastefully done -- clearly a new renovation with modern features. We were 30min from Lucca and Pisa. Beautiful countryside too. I recommend.
Sue
2015-07-16T00:00:00Z
Very nice place to stay in, we came a bit late but Gabriela was very nice and welcoming.
Liran
2015-10-12T00:00:00Z
Nous avons été très bien accueillis. La chambre et la salle-de-bains étaient très propre, tout ce que nous attendons durant nos séjours à l'extérieur. Parfait pour un petit séjour ou plus. Merci Gabriella.
Nathalie
2015-07-12T00:00:00Z
Muy buena experiencia en casa de Gabriela. Se casa es fabulosa, habitación y baño muy limpio y espacioso, con 3 camas, 2 normales y una muy grande y cómoda. Gabriela nos sugirió un sitio excelente para cenar. Fue muy amable y atenta. La casa está muy bien situada entre Pisa y Florencia. Sin duda, muy recomendable en todos los aspectos.
Noelia
2016-06-13T00:00:00Z
Gabriella è una donna meravigliosa, devo dire che mi sono trovata talmente bene che mi sembra di conoscerla da sempre. La camera rispecchia quanto descritto, e' grande e accogliente. Il letto è molto comodo e, nonostante la camera si trovi in mansarda e durante la mia visita le giornate fossero calde, la camera è rimasta fresca e piacevole. Il bagno privato è grande e molto pratico.
Paola
2015-06-03T00:00:00Z
La signora Gabriella è stata molto gentile,ci ha accolto in modo caloroso e sembrava di essere come a casa. La camera ed il bagno,in perfette condizioni,si trovano nella mansarda interna dove la stessa Gabriella ci (URL HIDDEN) casa è in una zona di campagna tranquilla e riservata. Inoltre ci ha permesso di usare anche la sua cucina per il pranzo e la colazione senza problemi. Anche se abbiamo soggiornato una sola notte abbiamo avuto modo di chiacchiere con Gabriella e raccontarci un po le nostre storie. Sicuramente se dovessimo trovarci in quella zona ci ripasseremo!
Danilo
2016-08-13T00:00:00Z
ประเภทห้อง
ห้องส่วนตัว
---
ประเภทที่พัก
บ้าน
---
พักได้
4
---
ห้องนอน
montecarlo LU, Toscana, อิตาลี
In the village center, near the highway convenient for visiting Lucca, Pistoia, Florence, Pisa, Viareggio and the 5 lands (preferably with your own car). On the ground floor, security door, living room with kitchenette, bathroom with shower, large room with small closet. On foot you can reach grocery, butcher, bakery, bar. pastries, pizzerias and restaurants, ATM and pharmacy. On the ground floor is a room available with washing machine and iron. Possibility to use bicycles.
The apartment is for two / three persons. For any kids ask how much is the supplement
Gentilissima lo nostra Host a fornirci un alloggio in poco tempo e sufficientemente adeguato. Ci sono stati numerosi problemi con la connessione wi-fi, raggiungibile solo nel soggiorno. Da fare qualcosa con gli spifferi in soggiorno.
Ambra
2017-03-04T00:00:00Z
Descrivete bene cosa c'è in casa altrimenti ti da la colpa.
Doriana
2016-12-12T00:00:00Z
ANgela si è rivelata estremamente disponibile ed attenta. Appartamento grazioso ed accogliente dotato di ogni comfort. Esperienza molto positiva, ideale per coppie automunite che necessitano di una sistemazione economica in un punto strategico.
Alessio
2016-03-11T00:00:00Z
Appartamento comodo, pulito e gradevole in un paese anonimo, ma comodamente posizionato ad un'uscita dell'autostrada principale della Toscana, ideale per chi vuole visitare Firenze, Pisa e Lucca spendendo poco e stando in mezzo tra Firenze e le altre due città, dormendo in una zona assolutamente tranquilla. In pochi minuti si raggiunge Montecatini. Angela host impeccabile.
Fabrizio
2017-01-28T00:00:00Z
Molto comoda per raggiungere Lucca e città limitrofe, in un cittadina silenziosa. A pochissimi metri si trova parcheggio, ristorante e tabaccaio. Ottima accoglienza, la signora è stata tanto carina da farci trovare tutto pulito ed ordinato, si anche resa sempre reperibile per qualsiasi domanda. Nella casa era presente tutto l'essenziale. Bellissimo soggiorno, consigliatissimo. Speriamo di tornarci.
luca
2016-11-02T00:00:00Z
閑静でこぢんまりとしたエリアに位置するお部屋で、のんびりリラックスして過ごせます。設備も一通り揃っており、食料品店も近くにあるので快適に生活できました。最寄り駅やルッカへもバスで30分と便利です。 アンジェラさんは事前に詳しい情報を下さったりと親切な方でした。そして何より、この地域の方々は非常に心温かくて感動しました。 しかし問題は行きのアクセスで、バスを見つけるのがちょっと難しかったです。
美久仁
2016-09-19T00:00:00Z
bonsoir nous avons été accueilli avec une bonne intention sur la poignet de porte. le logement est fidèle aux photos de descriptions . La disponibilités de l'hôte qui répond rapidement et efficacement a nos attente . Le village est très bien située pour visiter la toscane je recommande le villages a 5 kilomètre monté Carlos vue magnifique village atypique . Placer entre Pisa et Firenze . Un grand merci a Angela et ses voisins qui son a l'écoute pour des renseignement et des services …..
Ayelevi
2016-08-18T00:00:00Z
Tranquillo e comodo. Una seconda casa.
alexander
2017-03-18T00:00:00Z
ประเภทห้อง
บ้าน/อพาร์ทเมนท์ทั้งหลัง
---
ประเภทที่พัก
อพาร์ทเมนท์
---
พักได้
3
---
ห้องนอน
Chiesina Uzzanese, Toscana, อิตาลี
The house is close to the historic cultural cities of Lucca, Pisa and Florence, with panoramic views of the hills of Lucca and Pescia (where is located the Pinocchio park). Nearby are several quaint towns like Montecatini Alto, Colle di Buggiano and Montecarlo where you can taste typical dishes of Tuscan cuisine and wines Doc.
By road coming up with A11 motorway exit Chiesina Uzzanese (800 meters away from the house) By Air PISA Galileo Galilei Airport distance home about 40 km By Air FLORENCE Leonardo da Vinci Airport about 50 km away abit Pescia Railway Station about 5km away home Bus stop 400 meters
In the vicinity of the motorway exit you will find the complex Don Carlos (Swimming Pool Restaurant Disco) Nearby you will find Pizzeria Bar Tabacchi Supermarket Pharmacy Kiosk
ประเภทห้อง
บ้าน/อพาร์ทเมนท์ทั้งหลัง
---
ประเภทที่พัก
ทาวน์เฮาส์
---
พักได้
5
---
ห้องนอน
Chiesina Uzzanese, Toscana, อิตาลี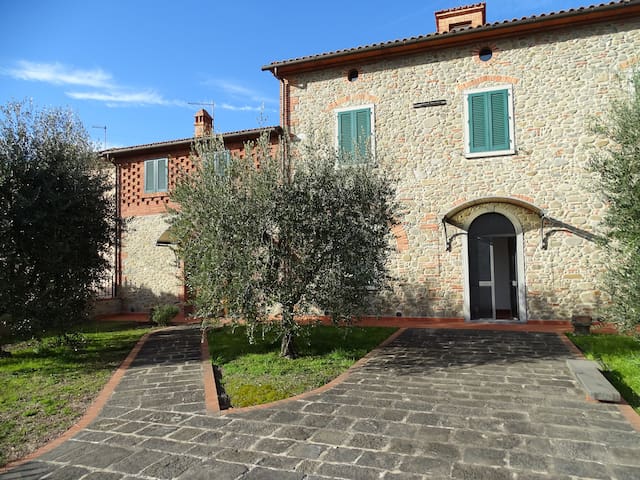 The accommodation is on the second floor of a '600 villa, in a private park with parking spaces, shared entrance. Pleasant stay for visits to Lucca, Pistoia, Versilia, Florence, Pisa and Liguria, including those easily to reach given that the A11 motorway exit is 500 meters.
The apartment is on the second floor of the villa, access to the ground floor is common to other parts of the house, inhabited by the owners. There are four flights of stone stairs "serene", spacious and comfortable with lift, there is no elevator. E 'consists of a spacious living room, one attic room, with beautiful lighting, three bedrooms, and a single bed for the sixth guest is located in the lounge. The toilet is equipped with all health and a large shower and closed. The living room features a location for breakfast (coffee machine, cappuccino maker / kettle). The accommodation does not have a kitchen. And 'available the use of the kitchen on the ground floor: Guests who wish to use it are encouraged to report it, will agree on a slight increase in cost.
Chiesina Uzzanese is a small town of the Valdinievole, which offers particularly local for all types of catering and recreation, just ask to suit your needs!
Mari è stata davvero molto accogliente e non ci ha fatto mancare nulla, il paesino di Chiesina U. lo abbiamo molto tranquillo, non lo abbiamo girato abbastanza, ma la casa si trova proprio a due passi da tutto ed è un ottima base per visitare la Toscana.
Luca
2016-10-31T00:00:00Z
Appartamento spazioso e pulito. Ottima accoglienza. Comodo l'accesso dal paese all'autostrada.
Sara
2016-12-31T00:00:00Z
Abbiamo soggiornato con dei nostri tecnici presso la struttura di Chiesina Uzzanese per circa tre mesi nel periodo estivo. Ottima sia l'accoglienza che la struttura nel suo complesso. Molto apprezzabile soprattutto la disponibilità di Mari e Pietro. Consigliato!
Giuliano
2016-09-11T00:00:00Z
ottima accoglienza , location riservata ma nello stesso tempo facile da raggiungere; rustico elegante; consigliato a tutti tranne che a persone anziane con dificoltà a salire 4 rampe di scale con bagagli. Rapporto qualità prezzo ottimo.
Vincenzo
2016-05-23T00:00:00Z
Posto carinissimo e accogliente. Mari inoltre è stata gentile e disponibile.
irene
2017-01-01T00:00:00Z
L'accoglienza è stata ottima, la sig.ra Meri è stata gentilissima e disponibilissima. L'annuncio rispecchia perfettamente la struttura. Soggiornerei volentieri di nuovo. Ringrazio ancora la sig. Meri per il pensiero di arrivederci.
Carlo
2016-11-02T00:00:00Z
Mari необыкновенна гостеприимна. Дом уникален! Место замечательное - рядом Винчи, Коллоди, Монтекатини. И, конечно, Лукка, Пиза, Флоренция! НЕЗАБЫВАЕМЫЙ ОТДЫХ!!! СПАСИБО, Mari! Привет и благодарность Вашему сыну!
Нина
2016-10-18T00:00:00Z
L'appartamento è comodo e accogliente, una bellissima soffitta ristrutturata in una splendida villa del 600 con un magnifico parco. Mari e i suoi famigliari sono stati degli ospiti perfetti, gentili e disponibili. La posizione della residenza è perfetta per muoversi tra le belle città e località di montagna e di mare del NE della Toscana. La mia migliore esperienza con Airbnb!
Fabio
2016-05-02T00:00:00Z
ประเภทห้อง
บ้าน/อพาร์ทเมนท์ทั้งหลัง
---
ประเภทที่พัก
อพาร์ทเมนท์
---
พักได้
6
---
ห้องนอน
Chiesina Uzzanese, Toscana, อิตาลี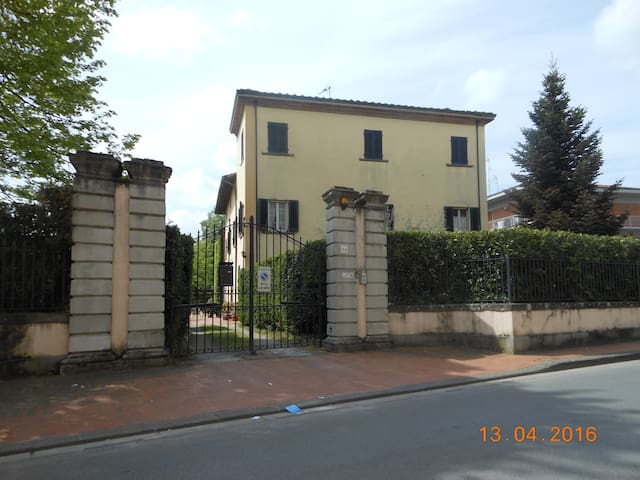 We have a big house with a completely independent flat on the ground floor. In this flat, you will have a living room with fireplace and a private big garden, where you can relax after a tiring day. Here you can find silence and peace, while being very close to the centre of Montecarlo (only 800 meters) and other attractions of Tuscany by car (20 mins to Lucca, 40 mins to Pisa and 55 mins to Florence). Our place is good for couples, solo adventurers, business travelers, and families (with kids).
Our flat is comfortable with completely independent access and a private garden. Furthermore, you will have a fireplace in the living room. 4 people can stay in the flat. In the bedroom, there is a double bed and a sofa bed that turns into two single beds and one work table. The role flat has heater, and also you can enjoy the sunny day at the balcony.
Here you can find silence and peace, while being very close to the centre of Montecarlo (only 800 meters) where there are restaurants, pharmacy, small markets. You can also easily reach other attractions of Tuscany by car.
Eu e minha esposa ficamos na casa de Yesim e gostamos muito. O quarto é muito confortável e faz você se sentir em casa imediatamente. Há um muito espaço em todo o flat e um enorme jardim fora. Além disso tudo estava muito limpo. Altamente recomendado. 5 min caminhando da cidade murada, que eh pequena, mas tem o necessário para estar tranquilo tranquilo, ideal para famílias, residencial
Bruno
2017-03-05T00:00:00Z
We were indeed satisfied with our stay at Yesim's house. Her whole family gave us a very warm welcome. The appartment is spacious, with a huge living room, Tuscan style fireplace. We were 3 adults + 2 little kids and could stay comfortably in the bedroom. Kitchen missed a few basic equipment items but the host was indeed available to share the main kitchen upstairs. Overall the location and property was a pleasant surprise. We would only have appreciated a more detail description of the whole property on the portal.
Jolita
2016-11-01T00:00:00Z
This is a wonderful house with amazing hosts! The place is very spacious, clean, beautiful and equipped with everything you need. Plus, the location is perfect to visit the main attractions of Tuscany by car. At the end of a long day, you can enjoy Montecarlo wine in the peaceful garden. We had a very comfortable stay at Yesim's house, while discovering beautiful Tuscany. They were very friendly, helpful and gave many local tips. Also, we had an early check-in and late check-out without any problems. Definitely recommended!
Adriana
2017-02-19T00:00:00Z
ประเภทห้อง
บ้าน/อพาร์ทเมนท์ทั้งหลัง
---
ประเภทที่พัก
วิลล่า
---
พักได้
4
---
ห้องนอน
Montecarlo, Toscana, อิตาลี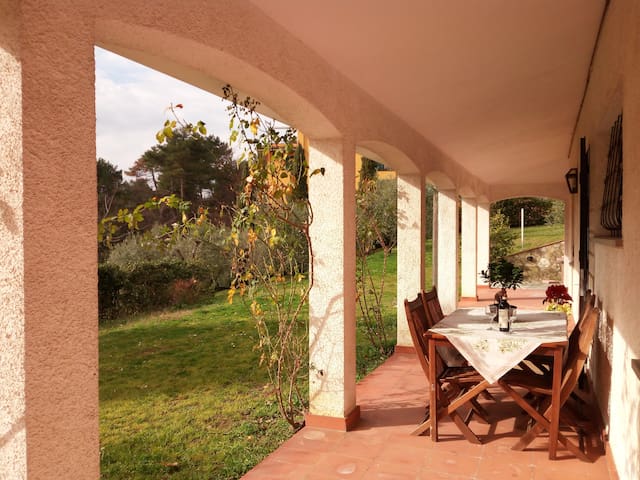 Appartamento spazioso e luminoso, zona centrale. Piano terra con giardino. 2 Camere e 2 Bagni. Posizione strategica per raggiungere le principali città storiche, solo 10 minuti a piedi dalla stazione ferroviaria che collega Lucca, Pisa e Firenze.
The apartment is on the ground floor, offering a garden and a terrace. Very bright and spacious, composed of 2 bedrooms, kitchen, living room and 2 bathroom.
Altopascio rises along the Via Francigena, one of the most important streets in the medieval pilgrimage that led from Rome to France and then went to England. It established in the mid-eleventh century around the Hospital, a structure like many others along the Via Francigena which aimed to reception and rest of the pilgrims traveling to Rome. Today Altopascio is an important transport hub and a city rich with history, and with well-established industrial activity, but above all it is one of the Italian capital of the bread. Inherits this tradition from the ancient bakers in the Middle Ages produced the bread with which they could feed the pilgrims. In July you can assist to reenactment with duels between knights, pilgrims camps, exhibitions of falconry, games, dances, acrobats and banquets with dishes inspired by the Middle Ages.
ประเภทห้อง
บ้าน/อพาร์ทเมนท์ทั้งหลัง
---
ประเภทที่พัก
อพาร์ทเมนท์
---
พักได้
3
---
ห้องนอน
Altopascio, Toscana, อิตาลี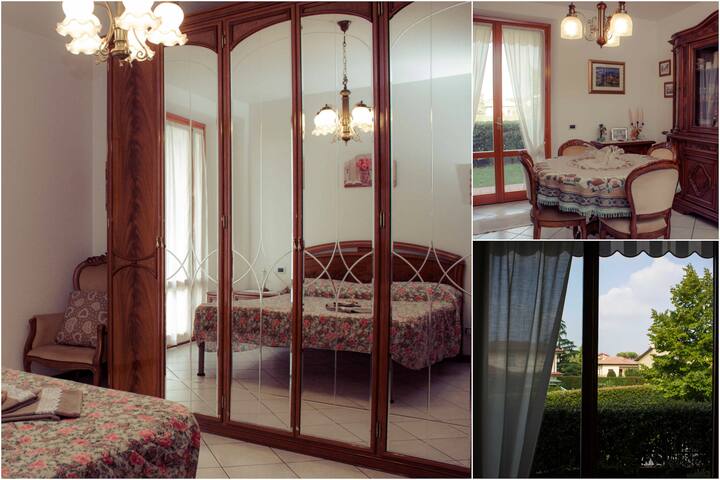 Finale di corte di un tipico casolare toscano, la casa offre un'atmosfera accogliente e tranquilla, immersa nel verde dei vigneti e degli ulivi. La piscina a disposizione con sdraio e gazebo è un ottimo luogo per leggere un buon libro e rinfrescarsi
apartment for 5/6 persons. There are 2 bedrooms with ceiling fun, 1 bathroom and a large living room with kitchenette, chemney and a spiral staircase. Outside it has available to use a portion of the private garden. Besides Winery for tasting wine and oil of local production Nice handmade t-shirts : a souvenir for your family and friends Next famous restaurant managed from excellent chef Gabriele who cooks traditional Tuscan dishes
le degustazioni di vino e di olio, la passeggiata fra le rose damascene del vivaio di fronte al complesso, l'ottima osteria dello chef Gabriele distante solo 20 passi, il piccolo borgo di Montecarlo con un bellissimo "belvedere, della piana lucchese.
It is a place easy to be founded. Comunication is good and the place very confortable. Thanks for all.
Bety
2016-02-22T00:00:00Z
A cute place among the vineyards with a lovely host
Chloé
2016-04-23T00:00:00Z
logement agréable, spacieux. les hôtes sont disponibles.
Christian
2016-08-15T00:00:00Z
ประเภทห้อง
บ้าน/อพาร์ทเมนท์ทั้งหลัง
---
ประเภทที่พัก
บ้าน
---
พักได้
5
---
ห้องนอน
Marginone, Tuscany, อิตาลี
===== Exterior ===== Beautiful independent villa with private pool situated 3 km away from the charming, small, medieval town of Montecarlo, in Lucca surroundings. This villa was completely restored in 2010 and turned into a welcoming country house providing all comforts. The interiors are nicely and tastefully furnished. Outside, guests can enjoy use of a large, beautiful furnished garden and of a private pool. The location allows easy access to most of the art cities of the region such as Lucca, Florence Pisa as well as to the Tuscan coastline (Versilia) with nice beaches, night-life and excellent restaurants. The access to the property is via an unpaved but well-maintained road. Distances: Montecarlo 3 km away, Altopascio (general stores) 3 km, Collodi (renowned park dedicated to "Pinocchio") 6 km away, Montecatini Terme 12 km, Lucca 20 km away, Pisa (airport) 40 km, Viareggio and the Versilia coastline (beaches) 52 km, Florence (airport) 65 km away. At guests' disposal: large garden with private swimming-pool (1(URL HIDDEN)min. depth 1,2 m – max. depth 1,5 m – open from 01/04 to 30/10), large furnished area ideal for al-fresco dining, barbecue, table tennis. This villa provides wi-fi internet connection (free of charge), satellite TV and air conditioning in all of the bedrooms. Washing-machine available. Parking within the grounds. Extra Services: Baby bed upon request (€ 20,- / per week to be paid locally). Maid service available by arrangement (€ 15,- / per hour to be paid on the spot). Small pets are allowed by paying an extra charge of € 50,- / per week / per pet (payment on site). ===== Interior ===== 300 m2 Ground floor: living-room (satellite TV) with dining area, kitchen (barbecue, dishwasher, oven, freezer, microwaves, American coffee maker), 2 double bedrooms with ensuite bathroom with shower, toilet with double sink and washing machine. 1st floor: 2 double bedrooms with ensuite bathroom with shower, double bedroom with sofa-bed and ensuite bathroom with shower, 2 double bedrooms with "French" sofa-bed and ensuite bathroom with shower. ===== Apartment Policies ===== Arrival between 17:00 and 20:00 Departure between 08:00 and 10:00 Pool open from 1 April to 30 October Not included in the rental price and to be paid on the spot: Maid service (on request): 15.00€ per hour Refundable security deposit in cash (mandatory): 500.00€ Heating: 40.00€ per day Babycot (on request): 20.00€ per week Pets (on request): 50.00€ per pet per week Included in the rental price: Final Cleaning Internet Wifi Air conditioning
ประเภทห้อง
บ้าน/อพาร์ทเมนท์ทั้งหลัง
---
ประเภทที่พัก
วิลล่า
---
พักได้
16
---
ห้องนอน
Altopascio, Tuscany, อิตาลี
House with garden in the heart of Altopascio. Arranged over 2 floors: 4 bedrooms,2 bathroom, dining room,TV room, kitchen,4 balconies. Bright and freshly decorated. 20 min far from LUCCA, 50 from FLORENCE, immersed in the peace of the Tuscany country
Indipendent house of 200 mq on two floors, really bright , surrounded on three sides by a wide garden, fenced and with a private parking lot. It is the ideal solution to visite Tuscany , staying in comfort , away from the busy city . Very close to the highway exit of Altopascio and the train station, you can reach the main cities in a short time . Every 30 minutes, there are direct trains to LUCCA - VIAREGGIO - PISA - FLORENCE - MONTECATINI - PISTOIA. The house, recently furnished, at the first floor it is composed of four bedrooms, all with ample balcony,then 1 bathroom with shower and a laundryroom. At the groundfloor there is a diningroom , a TV room with couch, one bathroom, a habitable kitchen with dishwasher, fireplace, table and direct access to the garden. Then two external loggiatis with a big table where you can have dinner during the summer. Finally a very beautiful green space where you can relax and enjoy the sun of Italy.
Quiet area in the center of the village , really close to the countryside. The house is five minutes walking far from the main street of Altopascio (Via Cavour); Altopascio is a city of 15000 inhabitants, so you can find any kind of shops, restaurants, markets, cinema, theatre. Then from the train station, direct trains for Florence, Lucca, Pisa, Montecatini, Pistoia every 30 minutes.
Maison exceptionnelle ! Jardin superbe ! L'accueil et la disponibilité de notre hôte tout au long du séjour ainsi que les informations qu'il nous a transmis sur les activités aux environs ont facilité notre arrivée Altipascio. Belle ville tranquille; les habitants sont gentils et aimable avec les touristes malgré notre"italien" de niveau débutant
Marie-France
2016-06-27T00:00:00Z
Great place - Brando's house is even greater than captured within the photos. Large rooms, very beautiful decorated and having a romantic tuscan touch. It is a ideal place for a great holiday in the heart of Tuscany! Many thanks to the host, we will be back again for sure!
Diana
2016-07-06T00:00:00Z
We just loved it!! Splendid (and very clean) house with 4 large, beautifully decorated bedrooms , spacious kitchen, 2 bathrooms. Lovely terrace and large garden. Plenty of towels, washing machine etc. Nice details like water and milk in the fridge and a large bowl of fresh fruit to welcome us. Good location between Florence and Pisa; many nice restaurants within walking distance from the house. (Do eat at Martinelli and Il Melegrano) Very friendly and welcoming host you can reach at all hours.
Maria
2016-09-15T00:00:00Z
This is by far the best Airbnb in Italy! Location wise is just perfect. Walking distance from the train, next to Montecatini, Prato, Firenze... Altopascio has top restuarants, cute boutiques and the most friendly locals who are always making you feel at home. On top of that, the house is stunning. Has 4 massive rooms with natural light, a beautiful living room with all kind of books for whoever feels like just chilling, a fantastic kitchen facing the garden and an outside patio where you can eat and spend some quality time with your friends and family. Brando and his parents are always the best hosts. Me and my husband can't have enough of this place. We keep going back and every time we need to leave is just painful!! Everything is perfect about this house!
Ross
2017-03-21T00:00:00Z
Brando e stato un angelo dalla prima mail che ci siamo scambiati. I suoi gentilissimi genitori ci hanno ricevuto troppo afettuosamente. Abbiamo trovato un paradiso in casa. Tutto pulito, profumato, nuovo. Le stanze con una bellissima luce toscana. Un giardino fantastico tutto curato in ottime condizioni con dei bellissimi fiori. La casa a persino una stupenda colezzione di libri di arte, literatura e cinema. Il buon gusto si vede ovunque. E propio stata una bellissima sperienza. Siamo andati per sposarci e d'e stata la miglior scelta al mondo. La gente di Altopascio e molto speciale pero senzaltro la mia familia preferia sono i Guelfi!!. Ci siamo sentiti in casa. Troppo cari. Grazie mille! Dieci stelle. Rossella Pernia Absolutely amazing are the only two words to describe our two week stay at Che Bella Toscana! From spacious bedrooms to impeccable interior design and a stunning garden with covered patio, no detail is spared. There are even turtles in the garden. Located in charming Altopascio, wedged between Pisa and Florence, the home is an ideal place to explore the rest of Tuscany. Brando, the owner, and his parents who lived across the street, were the biggest selling point, making us feel like a member of the family. We will be coming back!!! Carl Paraskevas
Ross
2016-05-08T00:00:00Z
Hemos pasado 4 días en esta maravillosa casa de la Toscana, mi familia y yo hemos quedado encantados!! Brandon es un maravilloso anfitrión que se preocupo en todo momento de que estuviéramos a gusto. La casa es increíble tal como demuestran las fotos, todo nuevo y limpio, lo mejor para nosotro disfrutar de los desayunos en la terraza. La estación esta a 5 minutos a pie con conexión directa a Lucca, Pisa, Florencia.... A más en el pueblo encuentras supermercados así como restaurantes donde comer una buena pasta. Mil gracias por la hospitalidad Brando, sin duda cuando volvamos a la Toscana volveremos a tu casa. Grazie Mile
Luisa
2016-05-24T00:00:00Z
Abbiamo passato il Capodanno 2017 nella casa di Brando con un'altra famiglia di amici. 4 adulti e due (URL HIDDEN) casa di Brando è veramente molto grande e spaziosa, accogliente,e ben arredata con gusto.un bellissimo camino in cucina ha scaldato le nostre serate. i bambini si sono trovati molto bene nel giocare nella sala da pranzo quando faceva freddo e a giocare a pallone fuori nel giardino con il sole. È tutto veramente molto vicino a portata di macchina ma c'è anche la stazione del treno vicina. Partendo dalla casa di Brando come base abbiamo potuto visitare Collodi, lo zoo di Pistoia e il mercatino di Babbo Natale a Montecatini Terme. Ad Altopascio ci sono tutti i servizi necessari e all'entrata dell'autostrada c'è una grossa Conad per la spesa. Non abbiamo visitato Pisa per motivi di tempo ma anche quella è molto vicina. Sarebbe bello poter tornare in primavera e godersi il bellissimo patio e di più il giardino. Non da ultimo, Brando e la sua famiglia sono stati molto disponibili.
Rita
2017-01-03T00:00:00Z
El pasado mes de Agosto yo y mi familia decidimos viajar a Italia y alojarnos 17 días en casa de Brando. No podemos estar más contentos con el resultado final, hemos estado muy agusto en todo momento gracias a Brando y sus padres. El día de llegada hicimos el check-in algo tarde ya que veníamos de civitavecchia y Brando no puso ningún impedimento y nos espero hasta tarde. Una familia encantadora que a parte de estar por nosotros en todo lo relativo a la casa (por ejemplo arreglar la conectividad del wifi) quisieron hacer de nuestra estancia unas vacaciones de verdad ayudándonos a planificar excursiones. La casa se encontraba en un estado inmejorable tal y como se aprecia en las fotos y muy bien comunicada, ideal tanto para visitar la Toscana como parte del norte de Italia en coche. Si algún día volvemos a Italia indudablemente volveremos a Altopascio y a Che Bella! Toscana.
maria luz
2016-09-01T00:00:00Z
ประเภทห้อง
บ้าน/อพาร์ทเมนท์ทั้งหลัง
---
ประเภทที่พัก
บ้าน
---
พักได้
6
---
ห้องนอน
Altopascio, Toscana, อิตาลี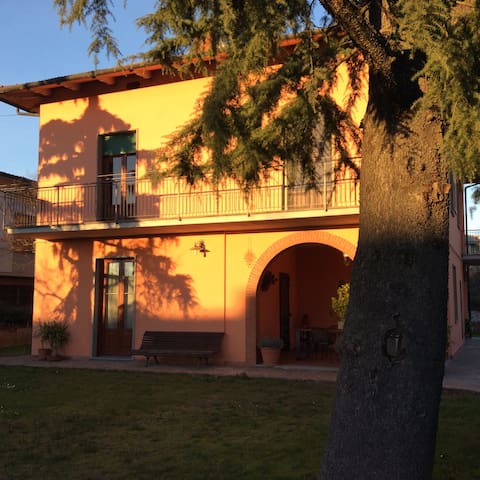 lovely double room with panoramic view and bathroom within the B&B Antica Casa Naldi in the medieval village Montecarlo at only 15 km far from Lucca. Montecarlo is located in a strategic position for visiting Lucca, Pisa, Pistoia and Florence, but also the mountains of Garfagnana and the coast of Versilia. Very close there is the Park of Pinocchio in Collodi and the terms of Montecatini.
our B&B is an ancient Tuscan house restored with a lot of details and very charming. The kitchen is always at guests disposal, not only for breakfast! From the house there is a private access upto the medieval walls of the village with great panoramic view!
the house is located in the center of the medieval village and therefore restaurants, shops, pharmacy are within walking distance from the house, but it is still in a quiet and scenic location. Free parking places are outside the village within a 2-5 min. walk, but you can reach the house to unload your suitecases.
ประเภทห้อง
ห้องส่วนตัว
---
ประเภทที่พัก
ที่พักพร้อมอาหารเช้า
---
พักได้
2
---
ห้องนอน
Montecarlo, Toscana, อิตาลี
RUSTICO DI CAMPAGNA CON 2 CAMERE DA LETTO, 2 BAGNI E POSSIBILITA' DI 2 POSTI LETTO AGGIUNTIVI IN SOGGIORNO CON DIVANO LETTO MATRIMONIALE. PISCINA CON IDROMASSAGGIO E GIARDINO ESCLUSIVI.
Troverete sicuramente speciale il giardino e la piscina ad acqua salata, con idromassaggio e cascata che contribuiranno al vostro relax quotidiano della vacanza. Il giardino curato in ogni dettaglio vi offrirà un angolo particolarmente intimo e piacevole.
TROVERETE UN AMPIO SPAZIO ESTERNO A GIARDINO ATTREZZATO CON GIOCHI PER BAMBINI E ZONA RELAX ALL'OMBRA PER I GRANDI.
ประเภทห้อง
บ้าน/อพาร์ทเมนท์ทั้งหลัง
---
ประเภทที่พัก
บ้าน
---
พักได้
6
---
ห้องนอน
Altopascio, Lucca, อิตาลี
Villa con piscina e parco di oltre 20000 metri immerso nel verde e nella quiete della campagna lucchese posta sulle pendici della collina di Montecarlo.
ประเภทห้อง
ห้องส่วนตัว
---
ประเภทที่พัก
บ้าน
---
พักได้
2
---
ห้องนอน
Altopascio , Lu, อิตาลี
La villa è dotata di 3 camere matrimoniali molto grandi con possibilità di aggiungere le culle x bambini; tre bagni spaziosi con box doccia e due sale da pranzo attrezzate con cucine ma anche con due comodi divani letto. Gli arredi particolarmente curati rendono questa casa molto chic e ricercata.
Porzione di Villa con accesso privato e la più bella vista panoramica di tutta la Valdinievole e dell'antica Rocca di Montecarlo che la sovrasta. Zona totalmente servita con bar, ristoranti e supermercati a pochi passi o a pochi minuti di auto. Accesso autostrada a circa 2 km che collega velocemente alle più belle città d'arte della toscana quali Firenze, Pisa e Siena. Posto strategico, e di grande relax per un soggiorno in Toscana.
Montecarlo è nel cuore della toscana, un posto tranquillo e rilassante, immerso nella campagna dove mangiar bene e bere buon vino. Dotato di tutti i comfort, ed a pochi km da tutti i maggiori punti d'interesse quali Pisa, Firenze, Siena, Livorno, Forte dei Marmi, la zona dei marmi di Carrara. Siamo a due Km dall 'autostrada, con la quale in pochi km potrete visitare tutta la Toscana. Pochi Km da Montecatini con il suo storico parco Termale e i suoi numerosi negozi ed a pochi km anche da Lucca, meravigliosa cittadina ricca di vita, negozi, cinta da mura storiche meravigliose.
Everything in the beautiful house of Valinfiore was perfect. Allesandra and her nephews were very kind and hospitable and they were always at our disposal when we needed them. We will come back in the villa one day for sure. PS: The restaurant they recommend us- I'll Poggio has incredible local cousine.
Nikolina
2016-09-23T00:00:00Z
ประเภทห้อง
บ้าน/อพาร์ทเมนท์ทั้งหลัง
---
ประเภทที่พัก
วิลล่า
---
พักได้
10
---
ห้องนอน
Montecarlo, Toscana, อิตาลี
Marginone - Airbnb
:
เฉลี่ย

4.7

จาก

5

ดาวจาก

318

รีวิวผู้เข้าพัก