Widumer is an idyllic, former parsonage, which we have very elaborately renovated and converted into a horse farm. We offer 4 double rooms and 2 single bedrooms, each with separate shower, toilet and a training room and lounge with a small kitchen, if you want with breadfast. From us you can make trips to Regensburg, Nuremberg, Munich, Passau, Straubing, Bavarian Forest, Bavaria, and to all the attractions our region has to offer. Close by is a large recreational area with lake and water skiing and also the Bavaria Park is not far away. It is also possible to travel with your horse, there are 11 spacious guest boxes. Guided trail rides, lessons, horseback, etc. upon request. For questions and special requests are available and we are glad to be able to help you!
Die Unterkunft ist in einer ländlichen Gegend. Leicht zu finden wenn man ein Navi besitzt. Frau Auer hat damit nicht untertrieben, War dort für eine Nacht und selbst meine Kinder fanden es toll dort. Nochmals vielen Dank für die Gastfreundliche Unterbringung..:-)
Bülent & Heike
2014-08-17T00:00:00Z
The reservation was canceled 3 days before arrival. This is an automated posting.
Asylke
2015-04-17T00:00:00Z
Sehr schönes Ambiente, sehr herzliche Gastgeber und eine wunderbare Linde unter dem man lauschige Abende verbringen kann! Sehr empfehlenswert!
Günther & Doris
2013-07-22T00:00:00Z
Andrea was very kindand helpful, the room is above a sable, so if you like horses and horse riding this is he prefect place for you. The room was clean and tidy. Andrea served breakfast for us, for a little extra. I recommend the place to anyone!
András
2014-07-21T00:00:00Z
The place provided by Andrea was welcoming and comfortable. The scenery was amazing. Beautifully situated in a secluded area, very peaceful with very friendly neighbors. Andrea was very friendly and went out of her way to help us whenever needed. Her husband also provided us with directions and to nearby places to visit. Would recommend this place to anyone looking for a quiet relaxing break from the city. Rooms were clean and comfortable.
Rosa
2014-09-29T00:00:00Z
Andrea was a perfect host. The area was nice and so peacefull. We only needed a place to sleep and we slept perfect. Beds were comfortabel and shower was good. Our kids enjoyed the horses. I would recommend a stay at Andrea for shure.
Clinton
2016-05-02T00:00:00Z
Alles bestens sehr Netter Empfang. Schönes Zimmer. Sehr zu empfehlen
Marco
2015-11-22T00:00:00Z
Andrea was very welcoming and a pleasant hostess. She provided information on the area, including a great dinner recommendation nearby and a great day trip to Regensburg. The location was easy to find and somewhat near a local grocery store. The rooms were clean, but there was residual smoke in the common kitchen area, hallway, and some of the bedrooms. She did, however, arrange for the guest to smoke outside. Andrea provided fresh bread for breakfast and the kitchen was well equipped to cook our own meals. The horses were not available for riding during our stay. Our overall rating is based on the promise she would amend specific description details.
Eric
2016-04-17T00:00:00Z
ประเภทห้อง
ห้องส่วนตัว
---
ประเภทที่พัก
ที่พักพร้อมอาหารเช้า
---
พักได้
10
---
ห้องนอน
Mengkofen, บาวาเรีย, เยอรมนี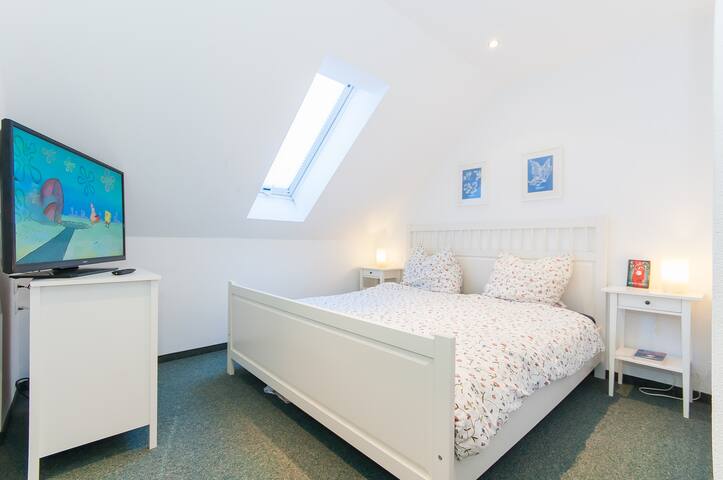 In a cozy room (for 1 or 2 people) with clay plaster, floorboards and open roof truss you forget stress and everyday life. Middle to do without exclusivity without in nature. experience organic farming first hand. A full breakfast with mostly own organic products is included in the price.
Nice room with private bathroom in a renovated landmarked Rottal farm with clay plaster and old building materials. Large bathroom with bidet. Shower in Tadelaktausführung, floorboards and clay plaster in the bathroom. For individuals and couples Active organic farm with old breeds of domestic animals, pigs in free range, Aubrac cattle, chickens Sulmtaler. Organic meat from our own animals, organic vegetables and salad from the cottage garden, organic fruit from their own trees and shrubs. Situated in the middle of nature, surrounded by fields in a hilly, dreamy landscape. Rich breakfast with own organic products. Evenings grilling on the patio or with neighbors under the Hoflinde a glass of wine. Possibilities for a visit to Therme Bad Birnbach (12 km). The largest golf resort in Europe in Bad Grießbach is only 15 km, Passau 40 km, Salzburg 100 km Munich 150 km away. Everything within reach on a day trip.
Ankommen und wohlfühlen! Wir wurden sehr herzlich empfangen, und haben uns auf Anhieb in dem wunderschön restaurierten Vier- Seit- Biohof willkommen gefühlt. Ein tolles Frühstück mit Eiern vom Hof, und exzellentem Schinken von den eigenen Tieren , mit anschliesender Besichtigung des Hofes, und den artgerecht gehaltenen Tieren, hat unseren kurzen Aufenthalt wunderbar abgerundet. Gerne kommen wir wieder! Ein angenehmes, inspirierendes Domizil- DANKE!
Kristin
2014-11-20T00:00:00Z
The host canceled this reservation 40 days before arrival. This is an automated posting.
Luc
2015-06-16T00:00:00Z
Wir wurden auf das Herzlichste empfangen - "unser" Zimmer, das ganze Haus, insbesondere der Raum auch, in dem wir frühstückten (liebevoll und reich an verschiedenen Köstlichkeien!) erfüllten alle erhofften Wünsche. Ein gemeinsamer Spaziergang zu den gehaltenen Tieren war, da sie nicht konventionell im Stall gehalten werden, sehr interessant. Der faire Umgang mit ihnen erklärt dann auch den guten Geschmack der Produkte. Wir waren nicht nur von der schönen Umgebung, sondern von diesem Konzept begeistert. Eine tolle Adresse zum Erholen und zum Nachdenken anregend, welche alternativen Wege man beim Fleischeinkauf gehen kann.
Petra
2014-08-27T00:00:00Z
What an absolutely fantastic stay. Anton and Gudrun were very accommodating, provided a delicious breakfast and have an amazing house. Despite a thick layer of snow outside, the traditional farmhouse was warm throughout and in the morning we took the dog on a walk in the nearby woods and then met their various farm animals. Our night in Bavaria was only supposed to be a stop off on our drive back to the UK, but turned into one of the highlights of the holiday.
Tom
2015-01-02T00:00:00Z
Wir haben uns sehr Wohl bei Anton und Gudrun gefühlt. Wir haben dort Silvester verbracht und sogar ein wenig zusammen im familiären Rahmen das neue Jahr begangen . Die ganze Familie war sehr höflich, herzlich und nett. Alles war sehr sauber. Einchecken, Organisation und Kommunikation waren hervorragend. Das Zimmer und das Bad waren sehr gemütlich und komfortabel. Die Gastgeber waren sehr freundlich und umsichtig. Das Frühstück war hervorragend und vielseitig mit guten Biozutaten, teilweise vom hauseigenen Hof und ist sehr zu empfehlen. Unserem Hund würde sogar Reis gekocht. Wir bekamen hilfreiche Tipps für Ausflüge und Unternehmungen inklusive Karten, Flyern und Prospekten und eine Taschenlampe für eine Nachtwanderung. Uns fehlte es an nichts. Wir kommen gerne wieder.
Susanne
2017-01-02T00:00:00Z
Wir haben einen viertägigen Kurzurlaub auf dem Hausberghof verbracht. Die Unterkunft ist sehr schön und rustikal gestaltet. Besonders hervorheben möchten wir die große offene Dusche. Gudrun und Anton sind sehr aufmerksame Gastgeber und haben uns bei einer Hof-Führung Wissenwertes zu den einzelnen, teilweise seltenen Nutztier-Rassen mitgeteilt. Das Frühstück war immer sehr reichhaltig. Besonders gut haben uns die hauseigenen Produkte (z.B. Leberwurst, Speck vom Turopolje-Schwein) geschmeckt. Die Gespräche mit Gudrun und Anton über den Bio-Hof, Kunst und Musik waren sehr interessant und inspirierend. Wir empfehlen diese Unterkunft uneingeschränkt weiter.
Tino
2015-10-15T00:00:00Z
Nous avons passé un séjour agréable à la ferme bio. Nous avons fait connaissance avec les hôtes mais aussi les cochons, les vaches, les chiens et la basse cour. Anton et Gudrun nous ont préparé, à notre demande, un repas le soir de notre arrivée bien que cela n'était pas prévu, merci! Gudrun est une vraie artiste qui propose des cours de piano et a décoré la maison avec goût (elle peint également). Tout est propice à déconnecter de la vie en ville.
Ln
2014-08-06T00:00:00Z
Staying with Anton and Gudrun was one memorable experience. The house is 300 years old, in a charming Bavarian countryside, and has so much style and atmosphere it is hard to put into words. Anton greeted us despite us arriving at almost 11 pm. Next morning the breakfast was to die for - we were served fresh farm eggs and bacon made at a local monastery from meat grown at the hosts' farm. We absolutely wish we could stay longer and would recommend our hosts to anyone who ever travels in the area. Many, many thanks !!!
Olga
2015-07-08T00:00:00Z
ประเภทห้อง
ห้องส่วนตัว
---
ประเภทที่พัก
ที่พักพร้อมอาหารเช้า
---
พักได้
2
---
ห้องนอน
Egglham, บาวาเรีย, เยอรมนี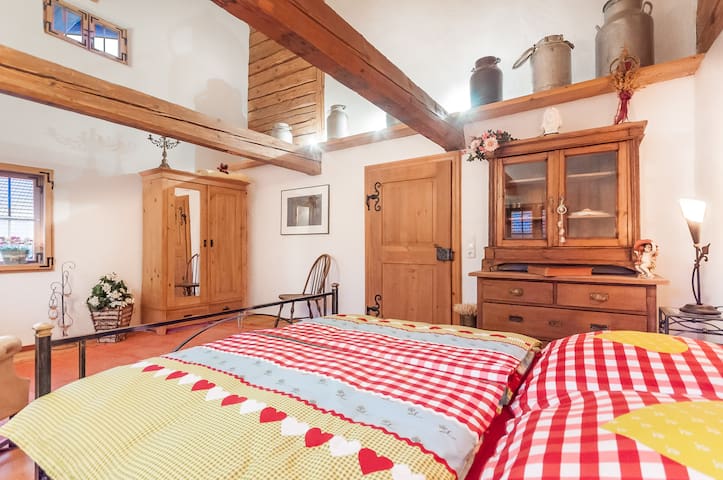 Unsere Wohnung liegt in Ergolding, 5 Gehminuten von 2 möglichen Stadtbussen entfernt. Wir wohnen in einer ruhigen Nachbarschaft mit einem italienischen Lokal 5 Gehminuten entfernt.
Das Zimmer das wir zur Verfügung stellen können ist ca 15 m2 gross. Auf der ausziehbaren Couch können 2 Personen gut schlafen. Wir haben einen kleinen Sohn der im Juni 2 Monate sein wird. Darauf sollte man sich einstellen. Ohrstöpsel stellen wir zur Verfügung :-) Frühstück, Kaffee und Tee sind im Preis inbegriffen.
ประเภทห้อง
ห้องส่วนตัว
---
ประเภทที่พัก
ที่พักพร้อมอาหารเช้า
---
พักได้
2
---
ห้องนอน
Ergolding, Bayern, เยอรมนี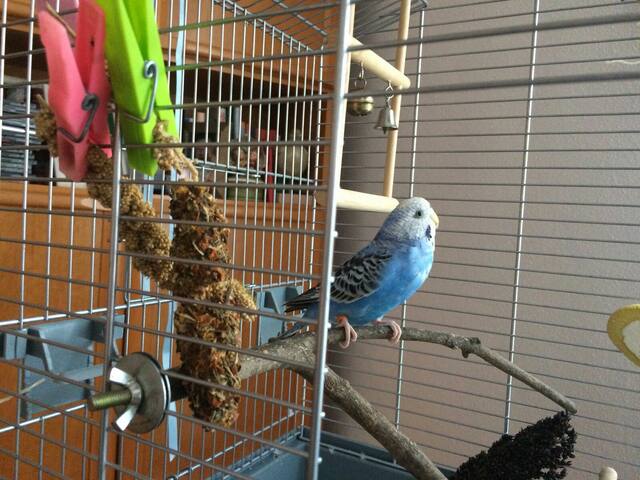 Our house is right next to a nature reserve with a small lake , forest and meadows . In the morning you are woken by the s u n and you can enjoy your breakfast on the terrace . Absolutely quiet and gorgeous , modern atmosphere . Taufkirchen is low in the south - east region o(URL HIDDEN) (URL HIDDEN) in the tertiary hill country between the lowlands of Rott and Isen about 5 k m south of Neumarkt - Sankt Veit , an(URL HIDDEN)north of the county town of Mühldor f. By linking the rural municipality run in a north - south direction of the highway 2 9 9 and the lin(URL HIDDEN) (URL HIDDEN).
Ortrun´s home was nice and clean ,quite area . She offers breakfast but for 10 euro is a little too much money. She was nice to talk with .
Tracy
2016-07-08T00:00:00Z
The reservation was canceled 7 days before arrival. This is an automated posting.
Mühle&Co
2015-01-17T00:00:00Z
Nach einer tollen Begrüssung konnten wir das Paradis, dem Wettergott sei Dank, in vollen Zügen geniessen. Nach dem erfrischenden Bad, gab es dann auch schon das voraus besprochene z'Nacht - wobei auch hier gesagt werden muss, die Erwartungen wurden mehr als nur erfüllt. Ortrun ist eine fantastische Köchin und Gastgeberin! Das Haus sehr originell, geräumig und gemütlich, gerne würde man da länger bleiben, doch leider sahen unsere Pläne etwas anderes vor. Nach einer erholsamen Nacht und einem erfrischenden Bad gab es dann noch ein feines Morgenessen bevor wir leider unsere "Zelte" im Paradies wieder abbrechen mussten. Rundherum empfehlenswert für alle die paradisische Zustände suchen und gerne gut bewirtet werden! Vielen Dank Ortrun - hoffentlich verschlägt es uns wieder mal in deine Gegend!!
Andi
2014-07-19T00:00:00Z
Angekommen und sofort wie zu Hause gefühlt! Tatsächlich würde man solch einen schönen Platz mit großem Gartenteich zum Schwimmen nicht erwarten in einem Neubaugebiet eines Dorfes in Deutschland. Auf Niveau eines Meisters: Wenn Ortrud kocht! Sie macht leckere Vorschläge. Vielen Dank für alles!
Stefan
2014-05-24T00:00:00Z
ประเภทห้อง
ห้องส่วนตัว
---
ประเภทที่พัก
ที่พักพร้อมอาหารเช้า
---
พักได้
5
---
ห้องนอน
Niedertaufkirchen, บาวาเรีย, เยอรมนี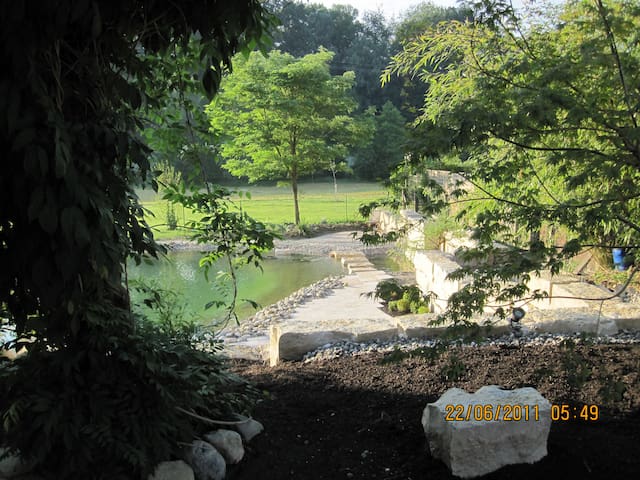 Small but very comfortable,quiet room in private appartment.Private bathroom next to the (URL HIDDEN),toilet,shower. TV,tape and CD player in the room. The room is ideal for a single Person. In the kitchen everything can be used to make yourself a snack or coffee(Microvave,Stove,waterboiler..) For your notice- there are 2 dogs living in the appartment as well.If you are allergic,you shouldn`t book in.You also may bring your own dog along.(5,00€/day) W-Lan is available when you bring your own laptop. Booking can be made for 1 to 5 nights.For longer stays we will offer a spcial (URL HIDDEN) case you would like to book in for a whole month,the price will be 385,00€ and is only available for 1 person. Landshut city is a 5min drive away.Bus stop is 50m away.There you will find lots of pubs,restaurants,shops and interesting culture spots. Munich,as well as Regensburg are a 45min drive away.Public transport is also available. Munich airport you will reach in about 30min. Pick up service can be arranged.(20,00€) Mail me for more information and availability! We are looking forward to hearing from you!
Unsere Nachbarschaft ist sehr ruhig. Die Nähe zur Natur lädt ein zu Spaziergängen oder Joggen.
Annette was wonderful. Her place is lovely and not far from Old Town Landshut. I walked, but there is a bus very close. Annette's friend Hulya was also fantastic. She picked me up from the station, which was above and beyond what I would have expected, then showed me around since Annette wasn't there my first night. Annette was kind, generous and warm. I really enjoyed staying there.
Halina
2016-09-20T00:00:00Z
Ich muss Annette und ihre süsse Mr. Pepper und Julie für den herrlichen Aufenthalt bei ihnen bedanken. Das Zimmer ist sehr gemütlich, die Lage ist schön und ruhig, und das Frühstück in der tolle Terrasse mit Musik war super! Ich hoffe, wir können uns wiedersehen. Alles Gute!
M. Beatriz
2013-07-21T00:00:00Z
Ich habe mich bei Anette sehr wohl gefühlt,fast wie zu Hause.Auch ihre zwei Hunde haben mich gleich akzeptiert.
Edith
2013-10-07T00:00:00Z
Annette was a good host and always ready to sacrifice her time for my convenience. She was really a nice host.
Rasheed
2016-09-30T00:00:00Z
Annette was excellent host, accommodating and helpful. And dogs are just adorable, cuddly and smart. We loved our stay, big and clean apartment, nice little room and wonderful Landshut - beautiful old Bavarian town. Thanks a lot Annette!
Dean
2012-10-07T00:00:00Z
Die Drei sind sehr, sehr lieb und das Zimmer ist Stillvoll eingerichtet und ruhig. Annette kann sehr gut Tavla ( Backgammon ) spielen, sie hat sogar gegen mich gewonnen, hoch Achtung... Herzlichsten Dank für alles ihr lieben
Murat
2013-05-01T00:00:00Z
Ich habe den Aufenthalt sehr genossen. Das Zimmer ist zwar klein, aber super gemütlich, sehr schön geschnitten, liebevoll eingerichtet und das eigene Bad echter Luxus. Insgesamt war es ein sehr nettes Miteinander. Auch die 2 total lieben Hunde habe ich ins Herz geschlossen - jedes Mal ein einzigartiges Herzlich Willkommen an der Tür :) spätestens dann ist jeder Alltagsstress weg. Nur zu empfehlen!
Steffi
2016-07-03T00:00:00Z
Annette war eine sehr liebenswerte Gastgeberin, die uns bei der Ankunft mit Kaffee und Tee erwartete. Das Zimmer ist perfekt für einen Wochenendtrip und genauso liebevoll wie die gesamte Wohnung eingerichtet. Zum Frühstücken ist die Sonnenterrasse der absolute Hit. Jederzeit wieder!
Thomas
2012-09-17T00:00:00Z
ประเภทห้อง
ห้องส่วนตัว
---
ประเภทที่พัก
ที่พักพร้อมอาหารเช้า
---
พักได้
1
---
ห้องนอน
Landshut, บาวาเรีย, เยอรมนี