séjour de charme, au calme et au centre ville
ประเภทห้อง
บ้าน/อพาร์ทเมนท์ทั้งหลัง
---
ประเภทที่พัก
อพาร์ทเมนท์
---
พักได้
2
---
ห้องนอน
Lorgues, Provence-Alpes-Côte d'Azur, ฝรั่งเศส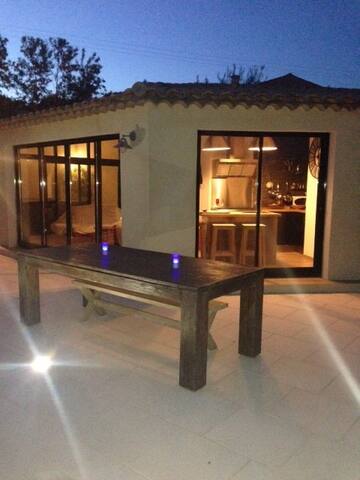 In the heart of the provencal village of Lorgues. Very comfortable and perfect to spend holidays in the region. Ideally situated between the Verdon and the Sea.
Nice and charming 47 m2 appartement. Situated at the 3rd floor, very bright. Big living room opened on the kitchen. Fully equipped kitchen (oven, micro wave, induction plate, fridge, washing machine) Bed room with a 160x200 double bed and a dressing. Possibility to add a single mattress in the living room for a 3rd person. Plenty of good restaurants at walking distance for all tastes.
In the center of the atypical provencal village of Lorgues. Big well known market every tuesday. 5-10mn drive to Le Chateau de Berne. Driving distance from the Gorges du Verdon and the sea. Many walks and outdoor activities around A lot of free parking places near the appartement.
We we're traveling for two months and stayed in many air b and b's and this was by far the most comfortable and all around best. Best location, best host, best decor. Such a beautiful apartment. Charlie was a very attentive host and made the end of our trip easy and wonderful! Thanks Charlie!
Emma
2016-07-04T00:00:00Z
Charlies's flat and the entire surrounding are absolutely beautiful and perfect for some relaxing days during your vacations. The apartment itself is very clean, stylish and comfortable. Charlie sent us some voice messages where he explained us all details about the flat, Lorgues and activities around the city. We really recommend Charlie's apartment and will rent it again as soon as we are back in Lorgues! Many Thanks for the perfect stay!
Marcel
2016-10-13T00:00:00Z
The apartment is nice, clean and well organized, maybe a little hard to reach because it is at the last floor without lift. Charlies is very friendly and helpful.
Lucio
2016-08-10T00:00:00Z
Charlie's place was very nice, clean And location was perfect!thank you for making our trip good:)
Moona
2016-07-30T00:00:00Z
The stay at Charlie's place was truly exceptional. He went above and beyond the call with communication, and was the most gracious host. The place is tucked away in the center of Lorgues, which is conveniently located to many spots within Provence, most notably Le Gorge du Verdon. It was a perfect escape.
John
2016-07-18T00:00:00Z
Charlie a été très accueillant, donnant des conseils de restaurants, de circulation et parking, ainsi que de visites à réaliser. Logement très agréable, joliment décoré et spacieux. En plein centre de la jolie ville de Lorgues qui a été une découverte magnifique en pleine fête de village qui plus est.
FREDERIQUE
2016-07-24T00:00:00Z
The flat was beautiful and so clean - even better than the photographs. Charlie was a great host, gave us all the information we needed ahead of time, and useful tips for when we were there. Just wish we had more time to explore Lorgues - Thanks Charlie!
samantha
2016-10-17T00:00:00Z
Superb, well-decorated and very clean apartment with all essentials provided. We really felt at home here. Lorgues is the perfect place to discover the region by car. We recommend staying at Charlie's place, a great and very flexible host.
Timothy
2016-08-07T00:00:00Z
ประเภทห้อง
บ้าน/อพาร์ทเมนท์ทั้งหลัง
---
ประเภทที่พัก
อพาร์ทเมนท์
---
พักได้
3
---
ห้องนอน
Lorgues, Provence-Alpes-Côte d'Azur, ฝรั่งเศส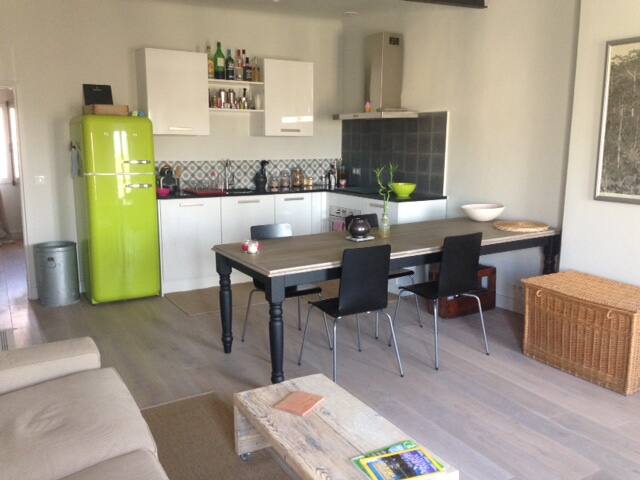 Appartement totalement indépendant situé dans une maison mitoyenne à 25 km de la mer et à 45 min des gorges du Verdon est calme et parfait pour de bonnes vacances. Lorgues est un village très apprécié pour sa belle région, pour son marché provençal et les nombreuses activités alentours. Pour encore plus de confort, des services vous seront proposés sur place : plats prêt à déguster ( (URL HIDDEN) 100 % local et 100 % maison, garde d'enfants, nettoyage du linge...)
Logement refait à neuf, calme, tout confort, frais en pleine été, est idéal pour se ressourcer.
Maison dans un chemin calme, mais proche du village et dans une région magnifique.
Nous avons passés un très très bon séjour ! Nos hôtes ont réussi à créer une atmosphère dans laquelle nous ne pouvons que nous sentir bien dès les premiers instants ..... CASABELLA c'est juste magique
NATACHA
2016-08-22T00:00:00Z
The appartement is clean and cosy. Although the bed is a bit short (like always in France) it sleeps really well. The pool is a big plus. And we even played some table tennis! Mathilde is very kind and flexible. We can definitely recommand this place!
Marieke
2016-09-24T00:00:00Z
Grâce à la famille COSTA et à leur accueil très convivial, nous avons passé de superbes vacances. Maison très agréable, au calme, à côté d'un très beau village provençal (Lorgues). La maison est idéalement située pour visiter l'arrière pays et le Haut-Var (des gorges du Verdon à la Méditerranée). Avec les bons conseils de Mathilde et Julien, nous avons pu faire de belles découvertes (visites, restaurants, lieux peu connus,etc...). Une fois que vous aurez testé cette adresse, vous n'aurez qu'une envie: y revenir!
Guillaume
2016-08-10T00:00:00Z
We arrived to be greeted with a bottle of wine, fruit and some yoghurts which was a nice touch. The weather turned for the worse and they left an additional heater for us without asking for one which was thoughtful. I would be very happy to stay there in the Summer with great weather, as the pool and surrounding area looked like a really nice place to spend the day. We were made to feel most welcome and both hosts were very helpful.
Cathy
2016-10-16T00:00:00Z
ประเภทห้อง
บ้าน/อพาร์ทเมนท์ทั้งหลัง
---
ประเภทที่พัก
อพาร์ทเมนท์
---
พักได้
4
---
ห้องนอน
Lorgues, Provence-Alpes-Côte d'Azur, ฝรั่งเศส
Mon logement est parfait pour les couples, les familles (avec enfants) et les compagnons à quatre pattes.
Un vrai petit paradis terrestre, au calme et qui correspond exactement à nos attentes suite à la description. Angelica est une personne vraiment adorable, chaleureuse, discrète et à l'écoute. On se sentait vraiment comme à la maison et le départ à été difficile...
Elodie
2016-09-16T00:00:00Z
Un petit paradis , paisible, une vue splendide depuis la terrasse , un accueil parfait.
ingrid
2016-08-15T00:00:00Z
ประเภทห้อง
บ้าน/อพาร์ทเมนท์ทั้งหลัง
---
ประเภทที่พัก
อพาร์ทเมนท์
---
พักได้
4
---
ห้องนอน
Lorgues, Provence-Alpes-Côte d'Azur, ฝรั่งเศส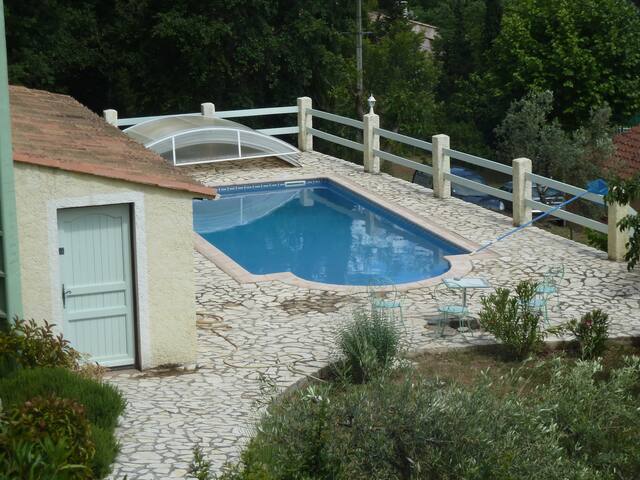 Spacious 2-room apartment, 65m2, tastefully renovated on 1st-floor in a 1600- century house, in quiet quarter near shops, restaurants, bars. Modern equipment, fridge , 4-platte cooker, oven & micro wave, dish- & washing-machines, coffee machine, toaster, TV, queen size bed, sheets & towels. Obs! Shower cabin not suitable for X-large persons because of a small door
Doté d'une cuisine bien équipée et bien fournie - réfrigérateur /congélateur, lave-linge et lave-vaisselle, cuisinière 4 feux et four, micro, cafetière et grill-pain, nbrs ustensiles-, d'une chambre avec grand lit confortable placards et penderie, d'une salle d'eau comprenant 2 vasques en lave et meubles de rangement, une douche cylindrique (impropre à personne corpulente) et d'un WC séparé entièrement carrelé en céramique de Salernes.
Lorgues est une bourgade ancienne et moderne de quelques milliers d'habitants qui a gardé son caractère typiquement provençal avec sa rue principale bordée de platanes. Le village offre de nombreux commerces, restaurants et bars, des vestiges du moyen-âge bien entretenus, chapelles, fontaines, lavoirs mais également des équipements modernes, un cinéma, une médiathèque, de nombreuses installations sportives piscine, boulodrome, cours de tennis, terrains de foot, dojo etc. La vie associative est riche et variée et il est toujours possible d'intégrer un groupe de marcheurs ou une soirée de conteurs. La salle des fêtes produit des spectacles de qualité et les manifestations estivales souvent au cœur du village sont appréciés de tous.
Josiane et son charmant époux, nous attendaient devant l'entrée de leur appartement avec le sourire malgré notre retard. L'appartement est digne d'un d'hôtel 5 étoiles : La chambre est magnifique, un lit gigantesque et douillet, une salle de bain unique et somptueuse, une cuisine superbement équipée. Un séjour inoubliable ! Bravo pour ce superbe appartement. Merci encore à Josiane et son époux. À l'année prochaine !
Tania
2016-09-03T00:00:00Z
Wonderful stay in Lorgues, the apartment was exactly as described, very clean and the bedroom and ensuite exceeded expectations. Josiane was extremely helpful on arrival and departure. Highly recommended.
Erin
2016-05-30T00:00:00Z
We stayed here for New Year's Eve 2016/17. The description matches what you get - simple (in a good way) accommodation in the heart of a lovely French village. Both the bedroom and living area are large, along with smaller but adequate bathroom, toilet and kitchen. You have all the modcons you need (except a kettle) and Josiane and Staffan are so helpful. You couldn't ask for better hosts. The village is an excellent location to stay if you want a peaceful time, but you can also easily travel to Nice, Monaco, Toulon and St Tropez. I would rate this as 4.5 out of five, not four. I would definitely visit again.
Antony
2017-01-03T00:00:00Z
Lovely stay, excellent bed and bathroom. Josiane is ever so sweet with providing tips and useful information!
Charlotte
2016-05-07T00:00:00Z
Josiane and Stefan were very friendly and amenable hosts. They welcomed us at the time we asked and were there to show us the apartment and give us advice on restaurants, shops etc. The apartment is truly lovely; in a centuries old building it retains all its character and charm but is warm, comfortable and has a well appointed kitchen and very smart bathroom. The photos are very accurate, and the apartment is in the centre of Lorgues, so its very easy to get around. The place was spotlessly clean and the bed was large and very comfortable.
Alex
2016-03-11T00:00:00Z
Cet appartement est extrêmement agréable et fabuleux. Josiane et son mari sont vraiment gentils et généreux. Les plus: - Le logement est grand, tout confort et très bien situé. - chauffage performant. - Le lit est grand et vraiment comfortable. - cuisine bien équipée parfait pour préparer un repas de Noël. - En Bonus, Josiane a offert une bouteille de vin chaud avec quelques produits régionaux. WoW. Les moins: - Internet ne fonctionne pas partout - le parking n'est pas toujours disponible a l'extérieur du logement.
remy
2016-12-26T00:00:00Z
ประเภทห้อง
บ้าน/อพาร์ทเมนท์ทั้งหลัง
---
ประเภทที่พัก
อพาร์ทเมนท์
---
พักได้
2
---
ห้องนอน
Lorgues, Provence-Alpes-Côte d'Azur, ฝรั่งเศส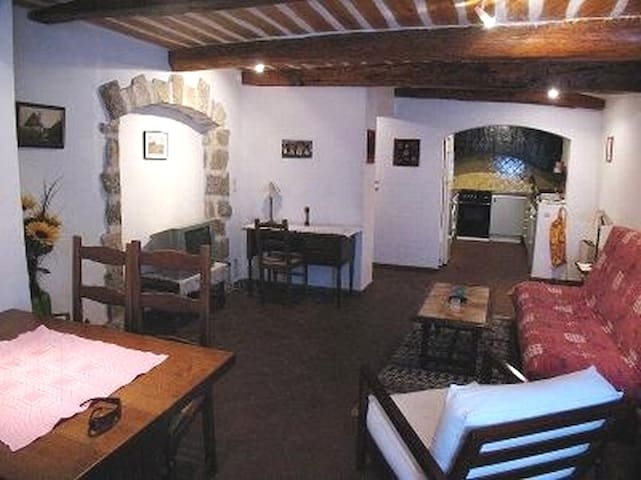 Our beautiful two bedroom holiday apartment is situated in the small, magical provincial town of Lorgues which makes it the perfect base for all types of holidays. Sit on the balcony and sip a chilled glass of rose made in one of the many local vineyards or take a short stroll to the centre of the town where you will find many delicious cafes, restaurants and local amenities. The apartment is in a small private development with a shared outdoor pool and secure parking.
Very well appointed, decent sized bedrooms. Excellent central location very close to town centre and the best Bäckerei in town.
Richard
2017-02-07T00:00:00Z
ประเภทห้อง
บ้าน/อพาร์ทเมนท์ทั้งหลัง
---
ประเภทที่พัก
อพาร์ทเมนท์
---
พักได้
4
---
ห้องนอน
Lorgues, Provence-Alpes-Côte d'Azur, ฝรั่งเศส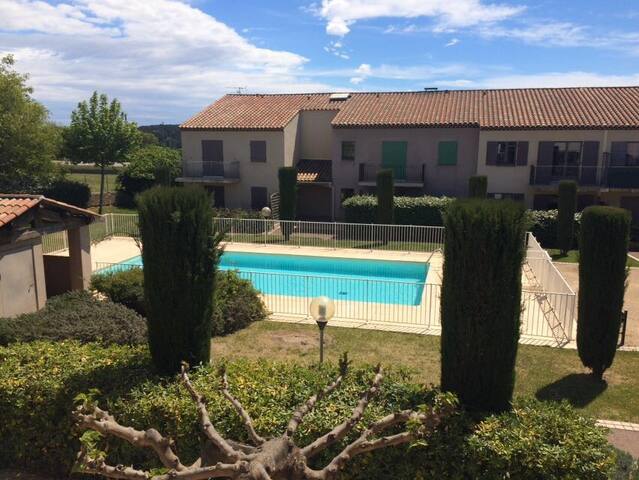 Dans une propriété de 6 hectares (chênes, oliviers, pins) accessible aux promenades, l'appartement est indépendant, avec sa propre voie d'accès, très calme, sans vis-à-vis et avec la campagne pour paysage.
Le logement est d'une surface de 65 m2 et dispose d'une terrasse offrant une vie à l'extérieur très agréable : repas, bain de soleil, lecture...avec vue sur les oliviers. L'intérieur se compose d'une grande cuisine, d'une salle d'eau, d'un salon et d'une chambre. Une banquette clic-clac est disponible dans le salon. Le véhicule a sa place réservée au frais sous les micocouliers, devant la maison.
Situé à 2 km du village (10000 habitants), le logement se trouve en campagne, sans être isolé, dans une zone très agréable.
ประเภทห้อง
บ้าน/อพาร์ทเมนท์ทั้งหลัง
---
ประเภทที่พัก
อพาร์ทเมนท์
---
พักได้
2
---
ห้องนอน
Lorgues, Provence-Alpes-Côte d'Azur, ฝรั่งเศส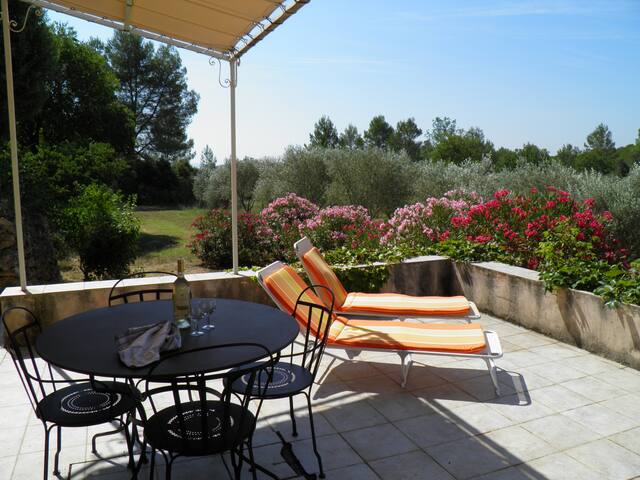 Mon logement est proche des activités adaptées aux familles. Vous apprécierez mon logement pour l'ambiance. Mon logement est parfait pour les couples et les voyageurs en solo.
La quartier est très calme et totefois proche du village et de tous les commerces de proximité.
Excellent séjour chez Ghislaine ! L'appartement est vraiment très agréable, fonctionnel et parfaitement situé dans un quartier très calme (à quelques minutes à pied du centre ville). La literie est de très bonne qualité. De plus Ghislaine est une personne très sympathique, disponible et très arrangeante. Bref, vous pouvez voyager chez Ghislaine en toute tranquillité, vous ne serez pas déçu. En tout cas, nous reviendrons avec plaisir !
Thibaud
2016-09-27T00:00:00Z
Un superbe séjour passer chez Ghislaine un jolie petit appartement au calme, pas loin de la ville environ 15 minutes à pied et 45 minutes de sainte-maxime tout était très bien. Merci Ghislaine pour votre accueil et votre gentillesse.
sophie
2016-08-20T00:00:00Z
ประเภทห้อง
บ้าน/อพาร์ทเมนท์ทั้งหลัง
---
ประเภทที่พัก
อพาร์ทเมนท์
---
พักได้
2
---
ห้องนอน
Lorgues, Provence-Alpes-Côte d'Azur, ฝรั่งเศส
My place is close to restaurants and dining, the beach, family-friendly activities, public transport,. You'll love my place because of the light, the comfy bed, the coziness, and the kitchen and the pretty garden. My place is good for couples, solo adventurers, business travelers, and families (with kids).
The barn apartment was actually built at one end of a large open barn, which David uses for storage of tools. The front door of the aparment is through the living room door which is off a large stone terrace. The private fenced garden has sunbeds, a bbq a stone terrace outside the kitchen with chairs and a table. It also has sun awnings to prtect the apartment and you from the summer sun.
We are surrounded by vineyards and great wine Chateau's with excellent wine. There is an adventure park across the road from us and a riding school 1/2 a kilometre away. There are lakes and rivers and we are 35 minutes from the sea. Lorgues our local village has many restaurants and the best market in the area on a Tuesday morning.
ประเภทห้อง
บ้าน/อพาร์ทเมนท์ทั้งหลัง
---
ประเภทที่พัก
อพาร์ทเมนท์
---
พักได้
3
---
ห้องนอน
Lorgues, Provence-Alpes-Côte d'Azur, ฝรั่งเศส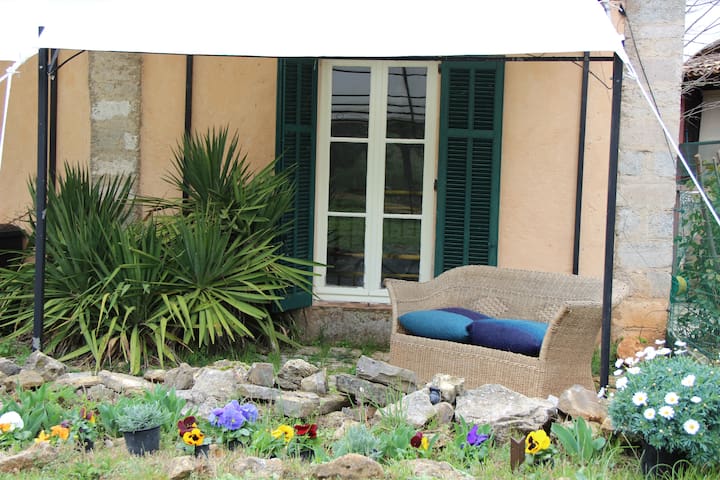 villa située dans un cadre calme et accueillant, petit coin de paradis avec vue magnifique sur le massif des Maures, idéal pour passer un agréable séjour, à 1 km du centre ville et à mi-chemin de la mer et des gorges du verdon
vue exceptionnelle avec une piscine au sel chauffée en intersaison.
situation dominante avec vue magnifique sur le massif des Maures. Quartier calme
We had a wonderful stay, the appartment is spacious and nice, and has all necessary equipment. The terrasse overlooking the pool has a fantastic view, the pool is clean and lovely, and the area is quiet. Communication prior to arrival was quick and easy, and Micheles brother welcomed us at the house. Lorgues is a nice village, and this is a great place for exploring this part of Provence.
Kristin
2016-07-17T00:00:00Z
Fantastic place, quiet neighborhood. Michèle is a great host and helped us in the beginning very friendly. We were really satisfied with our stay there.
Jussi
2016-07-10T00:00:00Z
We booked out 2 of Michele's apartments for extended family for the duration of a family wedding at nearby Chateau de Berne. The location was perfect for us! Michele was very welcoming and prompt in communications prior to our arrival. The apartments were both very clean and tidy with everything we needed. The pool was well used by the whole family for the duration of our stay. Thank you.
Amy-Jane
2016-07-03T00:00:00Z
ประเภทห้อง
บ้าน/อพาร์ทเมนท์ทั้งหลัง
---
ประเภทที่พัก
อพาร์ทเมนท์
---
พักได้
6
---
ห้องนอน
Lorgues, Provence-Alpes-Côte d'Azur, ฝรั่งเศส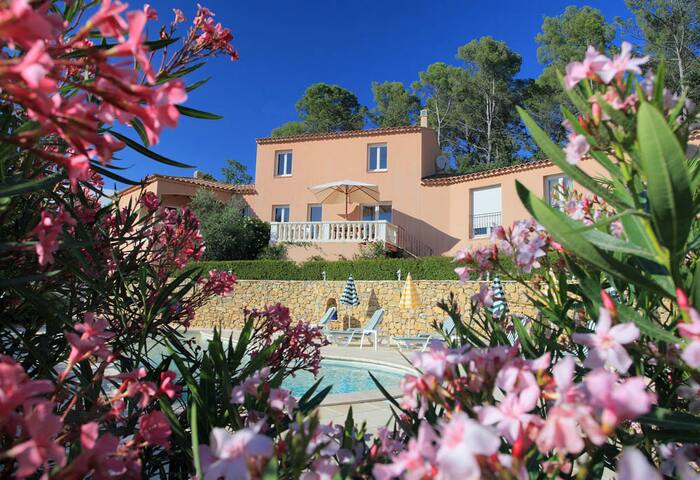 This charming cabanon is located in the hamlet 'Les Mauniers', Lorgues, in the Provence, France. The cabanon is ideally situated between the Cote d'Azur and the Gorges du Verdon. It hosts 2 persons and a baby and is equipped with all comforts. It is surrounded by mountains, a vineyard and the large garden leads to a river, l'Argens, where you can swim. You can take a refreshing outdoor shower under the tree. You can also play jeu de boule or relax in the hammocks.
This studio is located in Les Mauniers in the beautiful Provence, France. It hosts 2 persons and is equipped with all comforts. It is surrounded by mountains, a vineyard and the large garden leads to a river, l'Argens, where you can swim. The studio includes air-conditioning/heating, bathroom with shower, a fully equipped kitchen, barbecue stand, veranda with furniture, 2-persons bed, garage and a large garden. Wifi is now provided through a separate connection installed in the studio so the connection is very strong.
We absolutely loved our stay in Provence. The De Jongh's we're wonderful hosts and incredibly helpful and knowledgeable. It is a stunning part of France and we would love to return.
Peter
2014-07-30T00:00:00Z
Séjour remarquable endroit très calme et reposant. Merci à vous .
Djo
2016-08-25T00:00:00Z
Das Studio liegt sehr idyllisch und ruhig in der Provence. Die Terrasse und der Garten sind sehr groß und man kann direkt vom Garten aus in den Fluß Argens gehen und dort schwimmen. Maggies Bruder war vor Ort und hat uns einiges gezeigt und erklärt und uns Wein geschenkt und uns Liegestühle gegeben, was sehr nett war. Der Kontakt mit Maggie war unkompliziert und zuverlässig, die Nachbarn waren auch sehr freundlich. Im Studio selbst findet man Karten für Aktivitäten in der Umgebung, die Küche ist gut ausgestattet und der Grill ist auch gut. Unser Aufenthalt war sehr erholsam und entspannend und wir waren dort sehr glücklich und können dieses Studio Allen weiter empfehlen, die sich in der Provence in Ruhe entspannen wollen!
Mia
2015-09-05T00:00:00Z
Nous avons passé un très bon séjour dans le studio de Maggie. Le reveil au milieu de la campagne est très agréable et le lieu est très relaxant. Merci à Maggie pour son. accueil.
Thomas
2015-06-28T00:00:00Z
L'ensemble de ce séjour a été un merveilleux moment. L'accueil a été formidable et chaleureux, et la disponibilité des hôtes exemplaire. Ce fût un merveilleux séjour que nous renouvellerons avec un immense plaisir !
Lionel
2015-07-20T00:00:00Z
Maggie wrote to me beforehand and gave me information about how to get there. Her brother also wrote to me with some further information about wifi and so on. They were very available via email. There was a lovely bottle of wine and some water waiting in the fridge. A really comfortable bed too.
Elizabeth
2015-07-29T00:00:00Z
We had a fabulous time staying in the studio - the setting is really quite rural but that was perfect for us, as was the river at the bottom of the garden, which we swam in numerous times! Our only regret was that we didn't stay longer... It's not the easiest place to find and be prepared for some driving on very narrow roads to get there but it is well worth it!
Andrew
2013-08-25T00:00:00Z
Die Buchung und Organisation mit Maggie war völlig komplikationslos! Ihr Bruder Mauritz war gerade in Lorgues und hat uns sehr nett empfangen: Wein und Bier im Kühlschrank, frische Blumen auf der Terrasse und gute Tips. Auch wenn man nicht damit rechnet, so war es doch erstmal sehr praktisch, dass eine gewisse Grundausstattung wie z.B. Salz, Kaffee, Spülmittel, Toilettenpapier vorhanden war. Da es im Sommer sehr warm wird, fanden wir den Air Conditioner nachts sehr angenehm - und leise! - und man ist vor Moskitos geschützt. Die Lage, mit Blick in die freie Landschaft, ist wirklich wunderbar und ruhig. In den Argens zu hüpfen macht Spass. An der empfohlenen Badestelle in der Nähe (gut 10 Min mit dem Auto), kann man richtig gut schwimmen. Die Unterkunft ist ein guter Ausgangsort um die Provence zu erkunden, und man hat ein wunderbares Refugium um "zu Hause" zu entspannen. Problemlos kann man auch einen Tag an der Küste verbringen. Wir haben die Zeit sehr genossen, und wären gerne noch ein paar Tage geblieben.
Jutta
2016-08-06T00:00:00Z
ประเภทห้อง
บ้าน/อพาร์ทเมนท์ทั้งหลัง
---
ประเภทที่พัก
อพาร์ทเมนท์
---
พักได้
2
---
ห้องนอน
Lorgues, Provence-Alpes-Côte d'Azur, ฝรั่งเศส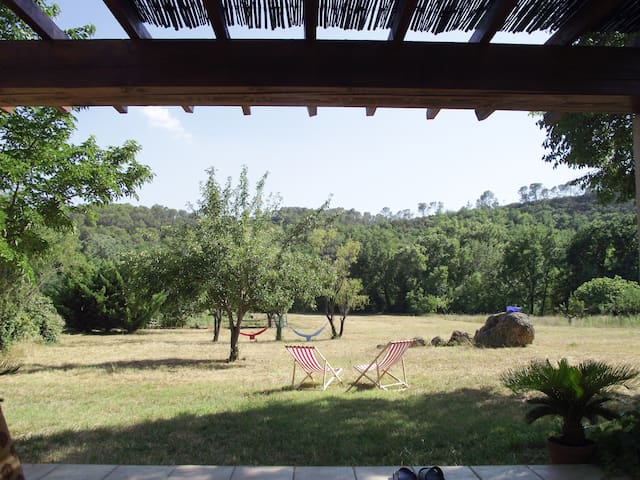 A third floor studio appartment with lift in an attractive square just off the Main Street . Very convenient for restaurants and shops.Has views of the distant hills. The studio is modern , light and airy.
The apartment is very well situated in the center of Lorgues. Three minutes walk from all restaurants, shops etc. It's really well decorated and everything is there for a comfortable stay. As we entered the apartment there was a bottle of wine and bread, butter and jelly waiting for us. And, of course, Marilyn is a very kind and friendly host. We had a long discussion with her and her husband about life in the Centre Var. We really recommend this apartment. You won't be disappointed!
Robert
2017-03-04T00:00:00Z
Marilyn was a fantastic host! She went out of here way to meet me in another part of the town, which was easier to get to by car, and took me to the apartment. When I arrived there, it was already stocked with bread, condiments, coffee, milk, and of course wine .... A very nice and welcoming touch The town itself is very picturesque and the market day is not to be missed All in all, and excellent host and location.
Terry
2016-08-05T00:00:00Z
ประเภทห้อง
บ้าน/อพาร์ทเมนท์ทั้งหลัง
---
ประเภทที่พัก
อพาร์ทเมนท์
---
พักได้
2
---
ห้องนอน
Lorgues, Provence-Alpes-Côte d'Azur, ฝรั่งเศส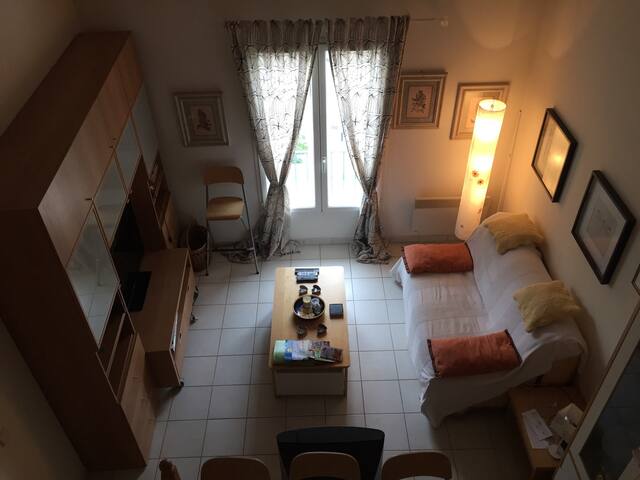 Beau studio de 28m2 refait à neuf peu héberger. 2 voir 3 personnes tout équiper
ประเภทห้อง
บ้าน/อพาร์ทเมนท์ทั้งหลัง
---
ประเภทที่พัก
อพาร์ทเมนท์
---
พักได้
3
---
ห้องนอน
Lorgues , Neuf, ฝรั่งเศส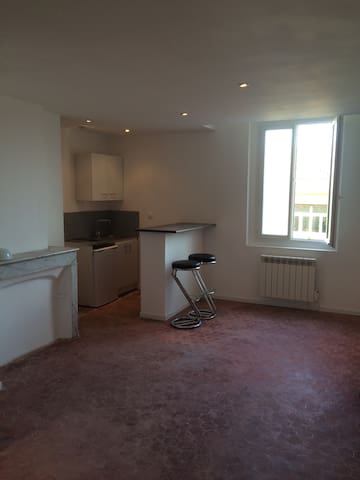 A warm welcome is assured at "Villa Azur" by your English & French speaking hosts. The accommodation is set within a lovely villa with heated pool & beautiful views. Numerous bars & restaurants are walking distance to the village of Lorgues.
Prices are based on 2 adults.
Superbe séjour, trop court... Équipement complet et moderne et neuf. Literie confortable et impeccable. Piscine chauffée et sécurisée. Rangements etudiés un plus apréciable: cuisine d'été. accueil chaleureux et convivial site tranquille dans un charmant village pithoresque.
Anne
2016-08-21T00:00:00Z
We had a great stay at Debra's place over a weekend when a friend was getting married in the area. It was the perfect base for us: clean and comfortable, with all the amenities we needed. The pool and the setting are also lovely, and it is just a short walk to restaurants etc. in Lorgues. Debra and her family were very welcoming and responsive.
Sophie
2016-09-06T00:00:00Z
Nous vous encourageons à louer chez Debra et Patrick leur villa est superbe les studios très propres où rien ne manque . Tout est bien pensé pour que notre séjour se déroule pour le mieux . La piscine de 8x4 est chauffée et traitée au sel bien agréable pour un mois d'octobre.
James
2016-10-31T00:00:00Z
Debra and Patrick welcomed us in person and showed us to the studio. They also showed how to operate the facilities in the studio and the poolhouse. A complimentary bottle of rosé was waiting in the cooler. The studio was a nice base camp for our day trips. We didn't get to use the pool house facilities due to the cool mornings (it being November after all) and the fact that we always had lunch in a restaurant. Had it not been winter, things would have been no doubt different in that respect as the facilities were quite impressive. The Intermarché store was under 5 minutes drive away and we got our breakfast and supper ingredients from there. We spent a great week here!
Arto
2016-11-22T00:00:00Z
ประเภทห้อง
บ้าน/อพาร์ทเมนท์ทั้งหลัง
---
ประเภทที่พัก
อพาร์ทเมนท์
---
พักได้
2
---
ห้องนอน
Lorgues, Provence-Alpes-Côte d'Azur, ฝรั่งเศส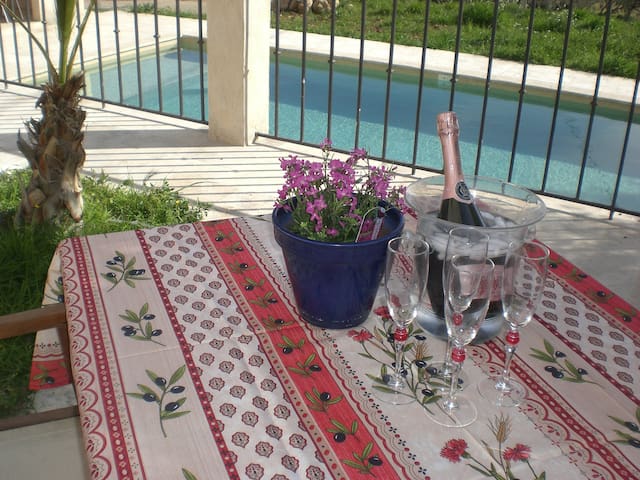 The apartment is decorated in a homely style and is comfy and cosy. It is set in the middle of the vineyards in a large open barn. You can cycle to town. The Tuesday market is the best in the area. We are 35 minutes from the coast and 35 minutes to the lake.
This place would ideally suit 1-3 people or a couple with a child and also suits either active adventurers or people who just want a quiet relaxing time visiting the local sites.
Lorgues is a beautiful medieval village which once was used as a center of the Knights Templars. We are also near St Tropez, one hour from Cannes and one hour from Aix-en-Provence. We are surrounded by beautiful countryside, vineyards, poppy fields and lavender. We have hills and forests and beautiful rivers. Fantastic local makets. Paradise.
ประเภทห้อง
บ้าน/อพาร์ทเมนท์ทั้งหลัง
---
ประเภทที่พัก
อพาร์ทเมนท์
---
พักได้
3
---
ห้องนอน
Lorgues, Provence-Alpes-Côte d'Azur, ฝรั่งเศส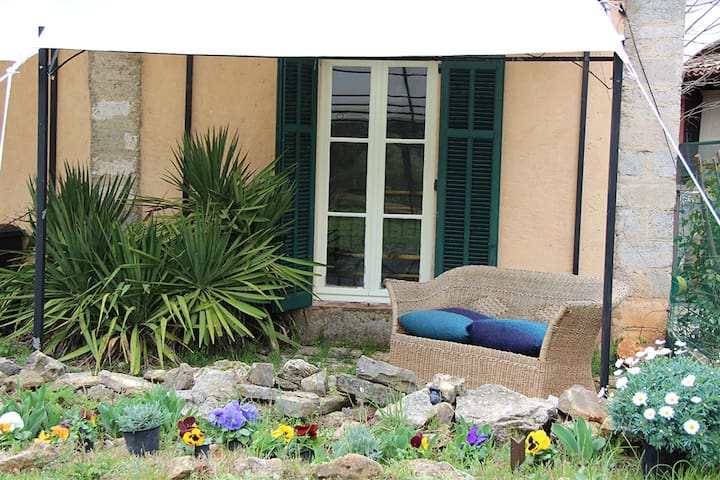 Bienvenue En plein coeur du village de lorgues. Les chambres donne vue sur le jardin tandis que cuisine et salon donne sur la rue. Possibilité de se garer devant l'immeuble gratuitement pendant 1h30 et aussi parking a 50 m.
ประเภทห้อง
บ้าน/อพาร์ทเมนท์ทั้งหลัง
---
ประเภทที่พัก
อพาร์ทเมนท์
---
พักได้
6
---
ห้องนอน
Lorgues, Provence-Alpes-Côte d'Azur, ฝรั่งเศส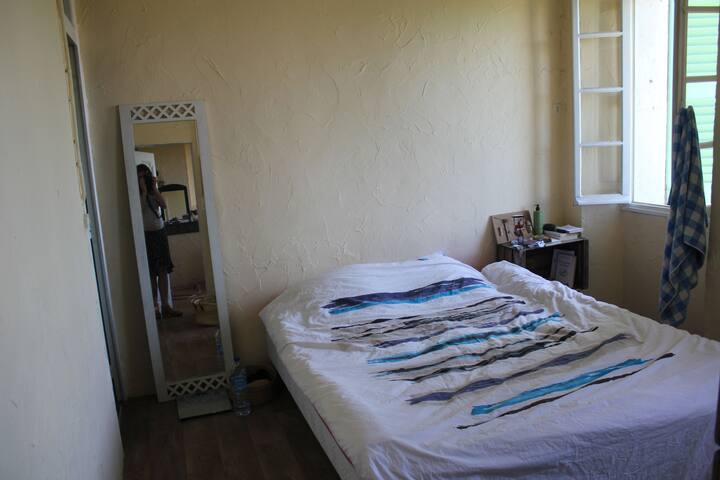 The only apartment for rent is on the ground floor of the villa in which the owners live. The villa is in the center of the village of Lorgues, yet it is completely isolated and is surrounded by a large garden. It is a quiet oasis in this medieval village. The apartment has an independent entrance from rue des Ourtin 8. The entrance by car is from rue Notre Dame 5. The apartment is approximately 50 square meters and sleeps max 4. It has one bedroom with a double bed. A living room with 2 single beds. There is an open kitchen corner fully equipped, a dining table that seats 4. A bathroom with shower. A small terrace with a garden in front of the apartment. A swimming pool for use by the guests only. Bed sheets and towels are changed weekly. Guest have to provide their own towels for swimming pool use only. THE SURROUNDINGS Lorgues en Provence is a picturesque village in the center of the Var and is dominated by the village cathedral build in the 18th century. It is one of the largest in the Var. The village is situated in the vine-growing region where famous several famous wine producers are located. Lorgues has several restaurants, including Bruno, famous for its menu based on truffles. There are two supermarkets within 10 minutes walking distance and several others within 20 minutes drive. ACTIVITIES In house painting lessons and sculpture in ceramics, for a fee, can be arranged. These courses are given by Godelieve Bastiaen, a well-known artist. One can spend a day golfing; there are numerous golf courses in the region. In the vicinity of a village, one can go horseback riding, mountain biking, playing tennis or simply go for wine tasting in the Chateaux and Domains that surround the village. Within 50 minutes drive one can visit the Gorge du Verdun and Lake Saint Croix where one can go swimming, fishing, canoeing, hiking or bungee jumping. Also within one-hour drive one can spend the day on the French Riviera, swimming on the beaches of St. Tropez, Saint Maxim, Saint Raphael, Cannes, Antibes and Nice. Montecarlo, the in place for billionaires, is within 70 minute drive.
Sani and Gody are amazing hosts and their apartment is a fantastic oasis in the centre of Lorgues offering relaxing retreat and easy access to the Var / Côte d'Azur region
Dave
2014-06-29T00:00:00Z
Goldly and her husband sami made us feel so welcome by leaving biscuits and wine for the children as well as cold drinks in the freezer. we were shown around the villa and informed of certain activities going on and parades that the children would enjoy. We were invite to a party they were having with friends and offered drinks and food. they were very friendly to our children giving them both gifts and showing them their cats. we met their daughter and her friends who were brilliant with my children as well as making us feel comfortable and welcome at all times. full of information and recommendations of place to visit and eat. ~The villa was just how we expected actually better as the photos don't do it justice. we thoroughly enjoyed ourselves and will return. the town is so cute and prefect location with the children as there parks, shops and restaurants all within walking distance.
Jocet
2015-08-23T00:00:00Z
Nous avons eu beaucoup de plaisir a passer quelques jours chez Sani et Godi, qui nous ont accueilli merveilleusement bien. La Villa Vivax est un lieu paisible et très agréable. Nous avons pu profiter à fond de la magnifique piscine et du super jardin aux multiples plantes. L'appartement est également très sympathique et il reste frais :-) ce qui n'est pas négligeable durant les grandes chaleurs. Le village et les environs valent aussi la peine d'être découvert. Nous recommandons chaudement cet endroit!
Fanny
2015-07-14T00:00:00Z
ประเภทห้อง
บ้าน/อพาร์ทเมนท์ทั้งหลัง
---
ประเภทที่พัก
อพาร์ทเมนท์
---
พักได้
4
---
ห้องนอน
Lorgues, Provence-Alpes-Côte d'Azur, ฝรั่งเศส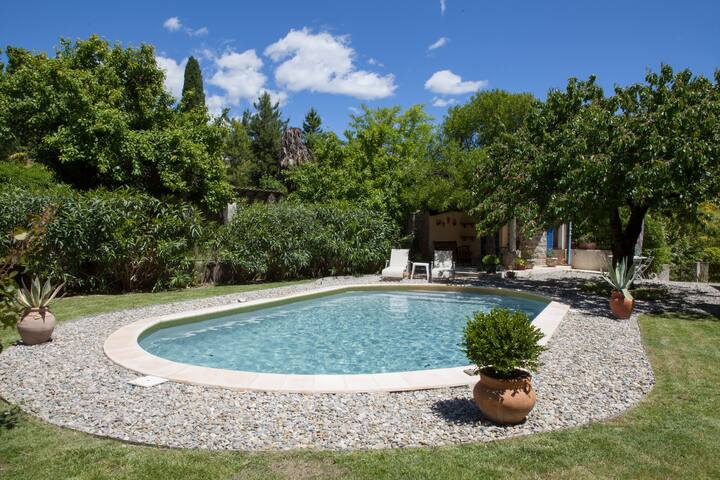 All modern convinience:wash machine,oven,microwave,tv and so on ...Price:including:sheets,towels,wifi,tax, cleaning.Pets and ticket holidays accept.Five hundred meters for from tow center.
Typical provence with kitchen and bathroom with tiled floor from Salernes. Brightness.
Accomadation is next the village center ( 500 m ) very lively. On tuesday a very animate market.Good to do you shooping.
Nous avons passé un excellent séjour ! Accueil formidable, gîte parfaitement équipé, bref, rien à dire sauf que nous reviendrons avec plaisir !
Lionel
2016-07-17T00:00:00Z
Staying at Vincent's apartment was by far my favourite Airbnb experience so far. The apartment, although the smallest in the tiny hamlet of buildings, was perfect for the two of us. It is essentially one long room with a breakfast bar separating the bed and the kitchen, the bathroom is at the back in a separate room. Comfy bed, hot shower, fridge/freezer, hob etc, all worked perfectly. Vincent met us promptly and showed us around the shared pool and the front garden (that we would be eating breakfast in every morning). The apartment itself is very shaded so it keeps very cool during the day which was great to come back to after a day of exploring the Verdon region. All the facilities are there for easy use and we cooked several meals and a bbq on our last night. The location is about perfect with the Town a 5-10 min walk away and the Supermarket a 1 min drive away. The shops do work on very French hours which caught us out a few times but once you're used to it you can plan your day around them. The village itself is very quaint and provides lots of places to eat and buy fresh produce. The Market on Sunday (?) was lovely and we ate our weight in cured meat just tasting the samples. Lorgues is perfectly situated to explore the region. We hired a car, which is essential, and drove up to Lake St Croix and the Verdon Gorge which we kayaked up- (highly recommended). It is also possible to Kayak some of the local rivers which provide great sport with the rapids and dams etc. Overall staying at Vincents was 5 star and being somewhere where the French holiday made it feel like an authentic experience of French life. If you're lucky you might even be invited to play petanque! (If you do watch out for Vincents mean tactics :)
Joseph
2014-09-07T00:00:00Z
ประเภทห้อง
บ้าน/อพาร์ทเมนท์ทั้งหลัง
---
ประเภทที่พัก
อพาร์ทเมนท์
---
พักได้
2
---
ห้องนอน
Lorgues, Provence-Alpes-Côte d'Azur, ฝรั่งเศส
Lorgues - Airbnb
:
เฉลี่ย

4.12

จาก

5

ดาวจาก

68

รีวิวผู้เข้าพัก
1

–

18

จาก

300+ อพาร์ทเมนท์ให้เช่า
กรอกวันที่เพื่อดูการกำหนดราคาเต็ม มีค่าธรรมเนียมเพิ่มเติม อาจมีภาษีเพิ่ม