Jeg behandler mine gæster som venner og ønsker dem til at føle sig helt hjemme.
Jeg bor i et roligt og sikkert villakvarter med gode transportforbindelser ad landevej, jernbane og luft. Der er to supermarkeder i gåafstand. Nogle lokale restauranter: Curry Delight (indisk) The Pheasant (britisk)
Excellent hosts. Felt like visiting good old friends. Food coffee and everything as if I was at home. Genuinely Friendly and helpful people and the small room was really comfortable.
Jóhannes
2016-07-09T00:00:00Z
I chose to stay with Darshan to be close to Heathrow but came away thinking this would also be perfect for a longer London visit. Lovely house and Darshan is the perfect host.
Colin
2016-09-13T00:00:00Z
Staying at Darshan's house was a great experience. It was very comfortable and clean, and I would highly recommend it! Darshan and his wife were very attentive and willing to help out with anything if I needed it! Which I did since public transportation is not my strong suit haha! If you're looking for a home away from home then you need to book Darshan's place! Thanks for the great couple of days you guys!
Emma
2016-11-14T00:00:00Z
Darshan and Deepti were very welcoming and friendly people. It was a pleasure to meet them.
Masood
2016-09-02T00:00:00Z
How friendly and welcoming Darshan was and will be again as I've already booked his place again for my return layover in Heathrow. Highly recommended.
Calvin
2016-07-30T00:00:00Z
Darshan went above and beyond to make my son Corbin and my boyfriend Rich feel completely welcome. He retrieved them from the metro station late and ensured that they made it to Heathrow one time for their early morning flights. Thank you for being such a wonderful host!
Danalynn
2016-07-24T00:00:00Z
Communication with Darshan went smoothly since his replies are always prompt and efficient. He made sure I arrived (checking train times and providing sufficient information) and departed safely (called me a cab to the airport). Prior to my arrival, Darshan took note of the little things like asking my preference for breakfast (which he graciously cooked for the next morning). The house is clean and spacious, the location is ideally situated. Deepti, his wife, was so lovely to talk to and they both really made sure I didn't go hungry. Easily one of the best airbnb hosts I've ever had the pleasure to meet.
Miriam
2016-08-16T00:00:00Z
Darahan was great!! He offered to pick me up at the airport, but u felt bad so I just walked (which was soooo easy). His home was great! Very clean and I enjoyed my room a lot. Very cozy. Darshan offered me breakfast and drove me back to the airport to catch my flight. Definitely would recommend! Wooo
Tucker
2016-09-05T00:00:00Z
ประเภทห้อง
ห้องส่วนตัว
---
ประเภทที่พัก
บ้าน
---
พักได้
1
---
ห้องนอน
Hayes, สหราชอาณาจักร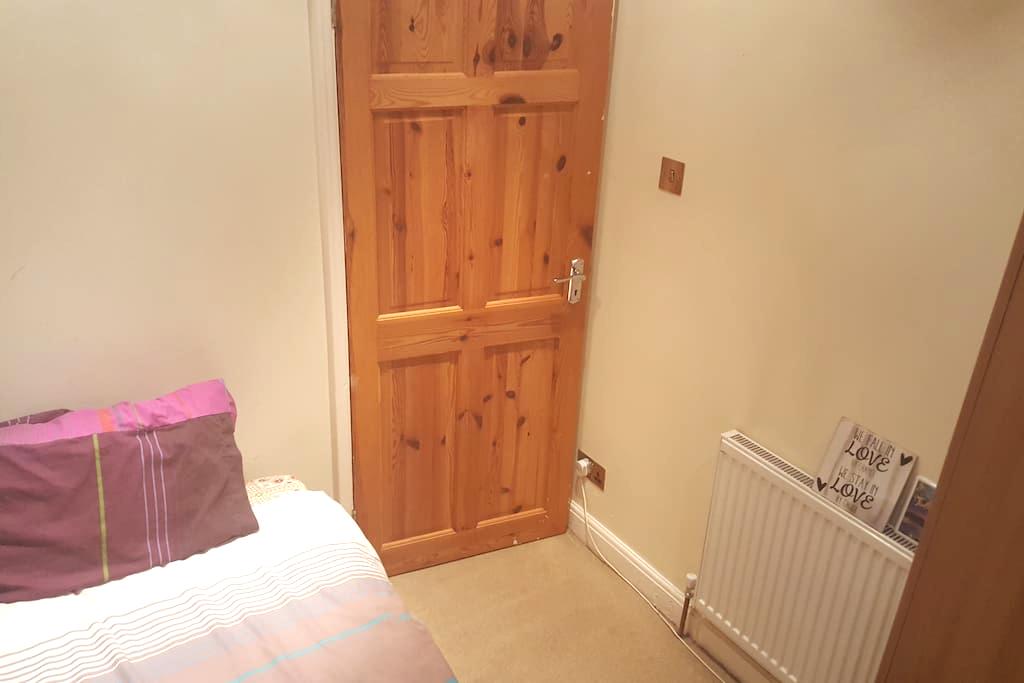 Our cosy and contemporary 2.5 bed cottage style house is moments from Ham Common, open fire in cosy sitting room, large open plan kitchen leading to South facing back garden with easi grass for safe play with children. Dog friendly and moments from the best walks in London...
Quiet, not overlooked, on a sweet one lane road leading to Ham Common, no parking restrictions. Top floor ensuite master bedroom with wonderful bathtub looking through roof light to the stars. Second floor large double bedroom, family bathroom, children's bedroom with cot. Ground floor - cosy alpine-esque sitting room with open fire place and beautiful sliding barn door to create an open plan feel or closed room. Wonderful open plan kitchen and dining looking onto south facing garden.
The wonderful access to the outdoors - this really is a small bit of countryside in the city - river Thames meadowlands, Ham Common, Richmond Park. There are so many hidden gems within minutes / beautiful pubs, Thames foot ferry crossing to Twickenham, Ham House, the Palm Centre, Ham Polo Club, Hawker Centre Soft Play, Ham Parade. Access to Richmond - charming town with all your needs from boutique shopping to friendly pubs and upscale dining - Richmond has it all plus direct access to Waterloo train station in 20 minutes.
ประเภทห้อง
บ้าน/อพาร์ทเมนท์ทั้งหลัง
---
ประเภทที่พัก
บ้าน
---
พักได้
5
---
ห้องนอน
ริชมอนด์, England, สหราชอาณาจักร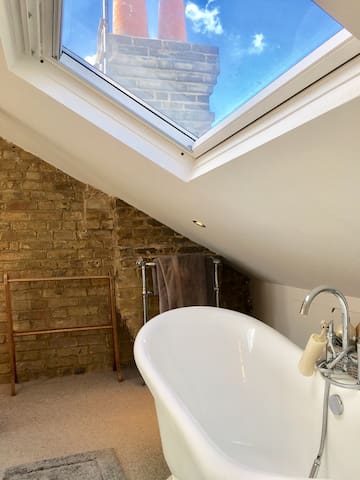 My place is less than 100 metres from The Pheasant Inn & Restaurant , a few minutes walk to Starbucks and Mcdonalds which are on the Bath road , If you choose to stay you have a double room and own "Bath" room, Wifi And access to a nice private garden during the warmer months The Free bus service to Heathrow terminals are a very short walk away Terminals 1,2,3 are a 5 minute journey away, Terminal 4 and 5 is 10 mins Discreet entrance From Main House No Smoking Free parking upon request
Guest Bedroom Guest only bathroom Nice garden space is also included with Seating No Kitchen Facilities are available but food can be Refrigerated upon request
I would like to start by saying by far, this was one of my favorite experiences as a guest of Airbnb... Before I arrived Gary had given me precise instructions on how to arrive from London City Airport. The message explained which trains and buses to take, "Piccadilly Underground Line to Heathrow Terminals 123, take the free Red Buses to the Marriott Bath Road, then arrive at New Road number 12" the exact directions!!! I don't have cellular service when in England so this was very helpful. Arrival: Gary was very welcoming, came out and greeted me upon arrival. Carried all my bags and walked them up the stairs (I don't travel light) poor guy! Location: The location couldn't be better. I don't travel light, so I would say it was definitely a plus having the airport close by. Food service: For an extra 5£ each day, I was treated to an all organic, gluten free breakfast, I wish I could post a picture of my breakfast!! A delightful experience! It was also comforting to know that Gary is into health and wellness :) Entertainment: I would say Gary is a great entertainer and host, he looks after his guests very well. He recommended The Pheasant Inn & Restaurant, I enjoyed dinner my first night there as well as lunch. I had jacket potato with shredded cheese and a rocket salad, I would also recommend the chicken plate for lunch or dinner, great big portions and prices are within reason :) Accommodation: The bedding was amazing, I believe it was Egyptian cotton! I slept like a queen! I had my own bathroom with a lovely bath (ohhh how I love my bath time) body wash and shampoo were provided. Noise: There were no disturbances and it was a quite stay. The house is just around the corner from the Pheasant Inn, so I had expected to hear some noise at some point but didn't hear a thing! Departure: Gary was kind enough to offer me a lift to the airport and waved me off! Extra details: I can tell the place is well looked after, brand news sheets, towels, pillows very comfortable, heating was perfect, wifi connection was great! Gary goes above and beyond to make you feel welcomed and comfortable! I am very happy to have had the pleasure of staying here and meeting such a wonderful, caring individual! When I mentioned I loved the outdoors and live an active lifestyle, Gary offered some advices on how to improve my lifestyle, which I took onboard! He also recommended a walk on the trails of Swinley Forest, the scenery was beautiful and calming. To be honest I feel like I was "undercharged!" The place was very neat and clean. For the quality of service and comfort of the place I expected to be paying way more!!! I had a very pleasant experience and I will definitely return in the future. I am very blessed to have had this experience. So...
neveen
2017-03-06T00:00:00Z
I cannot say enough good about Gary's place. Pristine, comfortable, thoughtful, and Gary creates such a good atmosphere, a high quality offering on every count.
Barbara
2017-03-11T00:00:00Z
Loved my stay! Gary went out of his way to be accommodating. Was able to catch a great nights sleep with only a short commute to the airport in the morning. Perfect location.
Jenna
2017-03-04T00:00:00Z
Super great host would definitely recommend! Gary helped me sort out my ride to the airport and did lots of things that made my stay much nicer.
Rudy
2017-04-02T00:00:00Z
Friendly host, close to the airport, parking. Really accommodating.
Kathryn
2017-04-09T00:00:00Z
Great room, ideal for Heathrow and a great host too. Would highly recommend
Ian
2017-03-23T00:00:00Z
Both Gary and the room exceeded my expectations. The room is spacious, well lit and very clean - I really appreciated the white bed linens. The bathroom was the same. There is a bathtub and no shower but this is typical in Europe so I expected it. The room is a free, short bus ride from the airport or a 10 pound Uber ride (cheaper to Terminal 2 & 3) , which I recommend if you have a lot of luggage. Finally, Gary was extremely hospitable the entire stay. Thanks Gary.
Simone
2017-03-15T00:00:00Z
Exactly how it looks in photos! Very clean, cozy room you can call home! Gary is a kind soul, this is my new go-to room for my next layover. cheers!
Stefan
2017-03-26T00:00:00Z
ประเภทห้อง
ห้องส่วนตัว
---
ประเภทที่พัก
บ้าน
---
พักได้
1
---
ห้องนอน
Harlington, England, สหราชอาณาจักร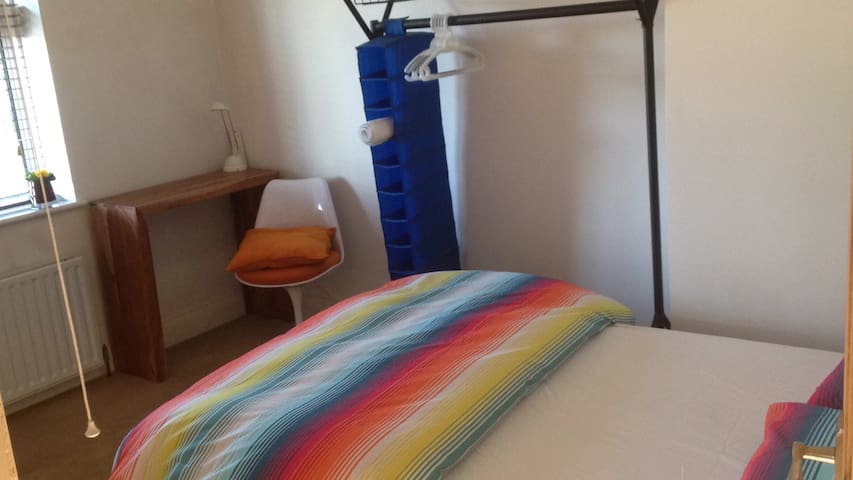 An affordable accommodation in a friendly household, close to local 24 hour transports links, perfect for last minute Travelers! 15 minutes by tube to Heathrow Airport and 30 minutes by tube to Central London. This accommodation is perfect if you need somewhere to stay before an early morning flight, or a meeting in the city. There are many shops nearby, and several takeaways available within walking distance.
5 minutes walking distance to Lampton Park
10 minute walk from a High Street and Shopping Center featuring lots of restaurants and cafe's.
ประเภทห้อง
ห้องส่วนตัว
---
ประเภทที่พัก
บ้าน
---
พักได้
2
---
ห้องนอน
ฮูนสโลว์, England, สหราชอาณาจักร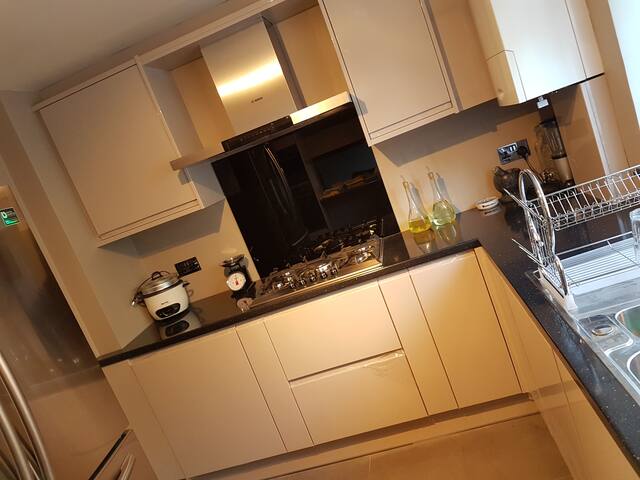 Room to share with boy 22 years old
ประเภทห้อง
ห้องรวม
---
ประเภทที่พัก
บ้าน
---
พักได้
1
---
ห้องนอน
ฮูนสโลว์, England, สหราชอาณาจักร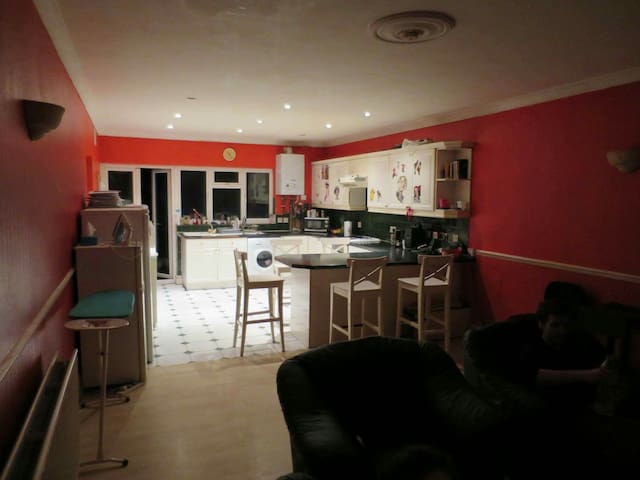 Große, geräumige Loft-Zimmer in einem Einfamilienhaus mit nach Süden gerichtete Fenster und ein eigenes Bad. Schrankraum, Schreibtisch, TV / DVD und Wifi. Eine Minute zu Fuß zu Chiswick High Street mit einer Vielzahl von Restaurants, Bars und Geschäften. Chiswick House, Park und den Fluss sind in der Nähe für schöne Wanderungen. Gute Anbindung an den öffentlichen mit Turnham Green Rohr weniger als 10 Minuten zu Fuß und Chiswick oberirdisch einen kurzen Spaziergang entfernt.
Große, geräumige Loft-Zimmer mit Kingsize-Bett, Schrankraum, einem Schreibtisch und TV / DVD. Privates Badezimmer auf der gleichen Etage mit Dusche, Waschbecken und Toilette.
Steine werfen von Michelin-Sterne-Restaurant "La Trompete", "Italian Job" (italienische Handwerk Bier dient), "Vinoteca", "Chiswick High Road Brasserie 'und viele weitere schöne Chiswick Restaurants und Weinbars.
Great place with a beautiful family! If you are looking for a quite and cozy place near a nice neighborhood look no further. Thanks guys!
Renny
2017-04-06T00:00:00Z
Great room, nice house, good shower, all in all a pleasant stay
Lewis
2017-04-04T00:00:00Z
John and his wife are nice, extremely kind and helpful hosts. The room was neat and comfortable, as well as the private bathroom. They also provided a kettle with tea and biscuits. Within walking distance from the Tube station in a quiet neighbourhood. It was a really pleasant stay, highly recommended!
Saverio
2017-03-16T00:00:00Z
A lovely warm welcome to a great loft space. Very good private bathroom and the all important tea making facilities! John is the perfect host in this quiet Chiswick street within easy reach of the High Street and all its amenities. Highly recommended
Thomas
2017-03-14T00:00:00Z
Fantastic communication and check-in process. John and his partner made me feel welcome into their home. I was a big fan of the mini Oreos!!! :)
Grégoire
2017-04-01T00:00:00Z
Great room and bathroom, super people and lovely area. Staying again soon!
Richard
2017-04-12T00:00:00Z
It's the third time I have stayed at John's. Always friendly welcome and a fantastic spacious room. You would be hard pushed to do better in Chiswick!
Thomas
2017-04-13T00:00:00Z
John and family were very welcoming hosts and have very adequate and comfortable facilities. It was a pleasure to stay and hope to again in the future.
Graham
2017-04-08T00:00:00Z
ประเภทห้อง
ห้องส่วนตัว
---
ประเภทที่พัก
บ้าน
---
พักได้
1
---
ห้องนอน
ลอนดอน, England, สหราชอาณาจักร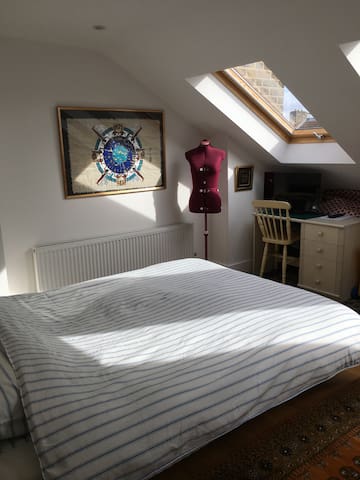 Beautiful big double room in a New amazing house: Breakfast available all day, Wi-Fi Unlimited Broadband, Sky, Desk, Private Car parking, Garden, very well connected and much more to choose our room! The room can accommodate up to 4 person.. UPGRADE ROOM (January 2017) NEW MATTRESS....NEW MICROWAVE and FRIDGE in the room!!!
Katia and I have been living in London for almost 15 years and we've been housemates and friends since the first day. We are sisters and we consider ourselves a small family. We've been working in the hospitality industries since we were only teenagers. I'm a Graduate Italian Chef and Katia is a HR director. We know how to take care of our guests and we love to do it! We have a new gorgeous house with 3 big double bedrooms, a beautiful garden, a terrace and our own private car parking available to our airbnb guests! The house is spacious, clean, bright and maintained daily clean to a very high standard. We have a car and if possible we will be more than happy to come and pick you up from the station We have two full-furnished bathroom in the house and a small one. The bigger one is attached to your room and is almost an en suite bathroom as you will share it only with me, Irene! Katia has her own bathroom in her room (lucky her!) The room is very spacious and can accommodate up to 4 person. The second bed will be a double guest bed very comfortable. Even when we add the second double bed there still plenty of space in the room!! Room: corner breakfast, fridge, microwave, wardrobe, chest of drawers, 2 bedside cabinets, office desk. Guest have tea/coffee facilities in their room if they want privacy and relax as much as possible or they can have breakfast in the living room in our "Sweet Corner Breakfast". We also have a wireless printer available in the living room. The room is perfect for tourist as we are very well connected to the center; for business trip or students as you will have a desk in your room, a printer available, unlimeted wi-fi and etc.... for families, we love children and as Katia has been working as childminder in the past we have plenty of stuff that can be useful for your staying with your little ones. Plus her friendly daughter will be more than happy to speak english italian french or spanish with your little ones!!!
Hounslow has a large shopping center which adjoins its high street and a large number of restaurants, coffee and small businesses. Hounslow is very well connected by rail and tube. 10 minutes walk from home we have an amazing beautiful park.
Katia greeted me and showed me their great little room in their shared house. It is ideally situated for Heathrow airport. The bed is comfy and the provisions in the room were an added bonus. I only stayed one night but my hosts were very hospitable. You have a space in the fridge and can help yourself to bread, cereals and biscuits. We wandered down to a local pub for a spot of late lunch and it was only 5 mins away. I did not even hear the planes going over.
Melissa
2016-05-09T00:00:00Z
We were welcomed very well. Everything was clean and accurate. Thank you to the Hosts!
Marta
2016-02-08T00:00:00Z
Everything listed in listing was as it was when we arrived. Great host! Close to airport and great pubs! Perfect for getting rest after a long flight! Very accommodating and kind host! Bathtub was great for relaxing! Perfect breakfast to start our day! Would definitely stay again. Thanks so much!
Cassi
2016-09-02T00:00:00Z
Great room to stay, really close to the airport, Katia is really nice! We enjoy a really good night here! Thank you!
Pei
2016-10-03T00:00:00Z
Was good.
Gislaine
2015-12-30T00:00:00Z
Thank you very much for having me on a short notice. Lovely family and fantastic place to stay short term. I would highly recommend. Easy parking and easy to find. not far from Hounslow underground.
Asif
2016-11-24T00:00:00Z
Très agréable séjour à Londres! Les enfants comme les grands ont été ravis! Merci pour votre accueil, à bientot !
gaelle
2016-04-11T00:00:00Z
Highly recommended. Will be worth your money staying here. Feels like home - very neat and clean.
Siddarth
2017-02-13T00:00:00Z
ประเภทห้อง
ห้องส่วนตัว
---
ประเภทที่พัก
บ้าน
---
พักได้
4
---
ห้องนอน
ฮูนสโลว์, เกรเทอร์ลอนดอน, สหราชอาณาจักร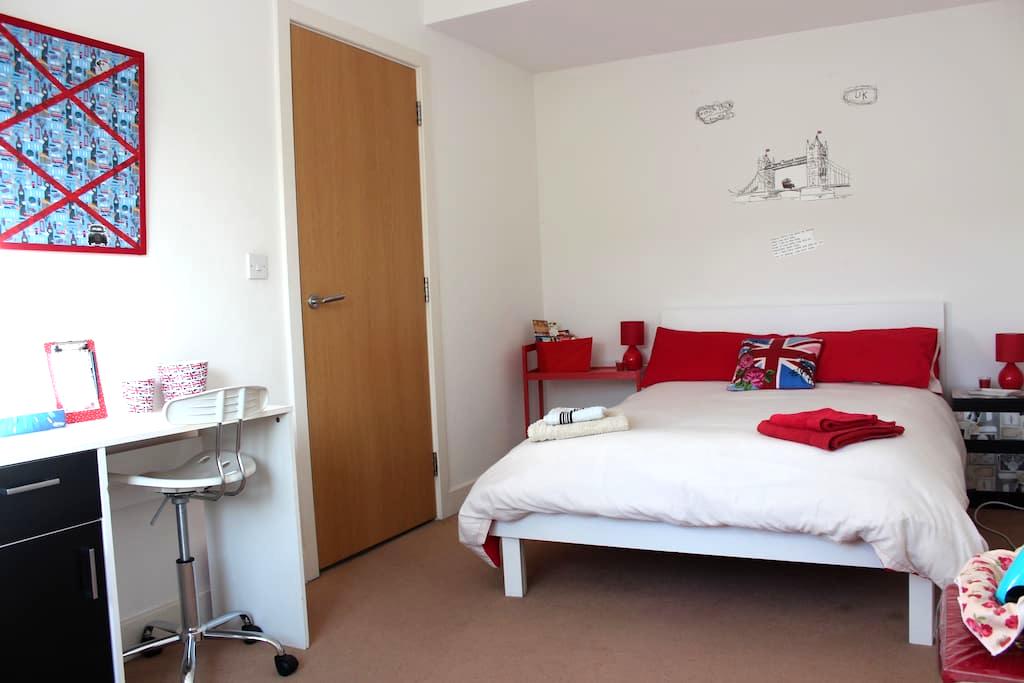 Cosy room, we are 2 mins walk to the overground train to London Waterloo, 30 mins in to London.15 mins from Heathrow airport. The direct bus stops at the top of our road. 2 tube stations within a 15 min walk. Very close to all the main motorways. There are many points of interest close by, Country Houses, great parks and Richmond Upon Thames is a few train stops away. For leisure or business you couldn't be better placed. It is suitable for couples, solo adventurers, and business travellers.
A very new space. Comfortable and bright with a garden outlook. It is accessed along the side of our Victorian house, so you have your own entrance. Through our side gate with your own key and in through double French doors to the space. You step straight into the bedroom/sitting area with a sofa bed which is very easy to use, all cushions etc fold under as you pull out. The room is small but cosy and very comfortable. There is a small sink and fridge, kettle and toaster. We also supply tea and coffee and fresh milk. No cooking in this space but cutlery and bowls and plates are supplied if you want to bring anything in. I am happy to heat anything up for you. There is hanging space and a shelf for your things and room for suitcases. The bathroom is brand new and has a shower, sink and toilet. We supply towels and soap.
We live in the conservation area of Hounslow. The roads are tree lined and the houses are Victorian. There are strict guidelines for residents to adhere to in preserving the conservation area. We have a great community here one of the things that keeps me from moving. There are lots of restaurants nearby and the area specialises in Indian cuisine. I am happy to recommend these during your stay.
Jane has a cute, cozy place & very clean. Her location is very close to the train station and is very convenient. She is also a very welcoming person.
Jo Ann
2017-02-26T00:00:00Z
Jane is a lovely host, the place is quite small, when the bed is open there isn't space to move, but if you are a tourist is a perfect place as you won't be in home and is 5 min away from the station! Loved the water, milk, tea and coffee she left for me, and was very easy to contact her, and the room is very private.
Macarena
2017-01-29T00:00:00Z
The room is small but cosy and completed with the necessity. Privacy is taken care of. Jane is a great host! Would recommend this place especially to those leaving to airport on the next day as it's strategically located.
Wei Xii
2016-12-03T00:00:00Z
Jane was very welcoming and amenable, even though due to travel difficulties we were late arriving at the property.
Sonia
2016-12-18T00:00:00Z
Jane was very helpful with a flexible check-in. The room and en suite were just as described. The location is perfect for transportation links, and very accessible for a range of dining out options, in such a rich, diverse area. I would recommend Jane's place to anyone, and I for one would have no hesitation in staying again.
Noel
2017-02-05T00:00:00Z
The room is quite small (a bit tricky negotiating two people's worth of suitcases when the bed is down), but beautifully presented, and with everything you need. Jane was very welcoming and friendly. The private access, own bathroom, and close proximity to both Heathrow and the trains made this a highly convenient and easy place to stay while exploring London.
Martin
2017-01-18T00:00:00Z
Did exactly what I needed it to do. Nicely done out and functional.
James
2017-02-10T00:00:00Z
Lovely private room to stay in for a few nights. It was very neat and clean and Jane is very friendly and flexible!
Wai Wai
2016-10-20T00:00:00Z
ประเภทห้อง
ห้องส่วนตัว
---
ประเภทที่พัก
บ้าน
---
พักได้
2
---
ห้องนอน
ฮูนสโลว์, สหราชอาณาจักร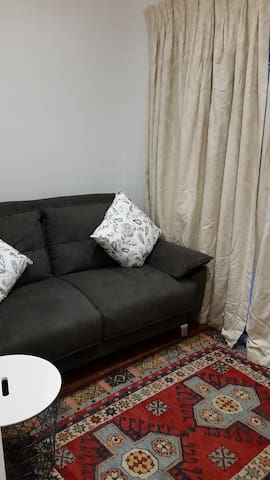 ประเภทห้อง
บ้าน/อพาร์ทเมนท์ทั้งหลัง
---
ประเภทที่พัก
บ้าน
---
พักได้
4
---
ห้องนอน
ทวิคเกอร์แฮม, England, สหราชอาณาจักร
5 mins drive from Heathrow or 10 mins bus ride. Located in quiet residential area, not in flight path, easy access to Tube, Train and Buses to go to Heathrow Airport or Central London. Free bus service available. Check photos in listing. Good for professionals, solo adventurers, business travelers. Check in 4 PM. Check out 10 am. Early check in / late check out at £5 each to be paid on arrival. Breakfast / coffee offered. Car park available. Help with Pick up & drop to airport.
Single Bed Room in three bedroom house with a family bathroom. Lounge, kitchen and dining on ground floor, bedrooms on first floor. Private rear garden. Private driveway for off street parking.
Neighbourhood is a very quiet residential zone just 5 mins drive from Heathrow Terminal 4 with easy access to public transport, restaurants, pubs, supermarkets, pharmacy.
Sam and his lovely family were fabulous hosts who always made me feel at home. They were very considerate during my short stay with good suggestions for transports and amenities nearby. The room is a very good value for money. I would definitely recommend it to everyone traveling to Heathrow airport or close areas.
Cristiano
2016-12-17T00:00:00Z
Great location and price, very friendly and proactive host!
Gary
2016-12-04T00:00:00Z
Fantastic stay! Got everything I needed during my stay.
Sonia
2017-03-19T00:00:00Z
It was my first airbnb experience and I am glad that Sam was my first host. Especially the communication prior my arrival was excellent. Thank you for your help and kindness.
Sebastian
2017-01-10T00:00:00Z
Friendly very helpful host. What more could you ask. Would use again.
John
2016-11-20T00:00:00Z
It was great experience staying here.
Tina
2017-04-06T00:00:00Z
Sam was very welcoming, helpful, and available, the bedroom is accurately depicted, the location for a quick overnight stay for a Heathrow traveller is very convenient. Good coffee, and the cheese toast I chose for breakfast was perfect. Great wifi. I would stay again when I need an overnight through Heathrow. Sam's help and friendly conversation much appreciated after a challenging travel day!
Sandra K
2016-10-28T00:00:00Z
Sam is very nice. At first, I cannot find the place. Sam come out to find me. Also he show me a lot of buses to the airport. Room is clean and wifi is good
Polina
2016-11-19T00:00:00Z
ประเภทห้อง
ห้องส่วนตัว
---
ประเภทที่พัก
บ้าน
---
พักได้
1
---
ห้องนอน
Feltham, England, สหราชอาณาจักร
ห้องพักเตียงเดี่ยวนำเสนออย่างสวยงามด้วยเลานจ์และห้องน้ำในตัวพร้อมฝักบัวอาบน้ำ ตั้งอยู่ในใจกลางของแฮมป์ตันเวสต์ลอนดอนใกล้กับแม่น้ำเทมส์ / รอยัลพาร์ค Bushy / NPL / BP / รถไฟไปยังกรุงลอนดอน 40 นาทีและให้บริการรถโดยสารที่ดี ช้อปปิ้งเยี่ยมในคิงส์ตัน พระราชวัง Hampton Court Twickenham สถานีรักบี้และปราสาทวินด์เซอร์อยู่บริเวณใกล้เคียง
ห้องพักเตียงเดี่ยวขนาดใหญ่ที่มีพื้นที่เลานจ์ (โซฟาเบด) และเตียงคิงไซส์พร้อมฝักบัวอาบน้ำส่วนตัว ตั้งอยู่ที่ด้านหน้าของบ้านมีที่จอดรถส่วนตัว 3 ยานพาหนะ ฟรี WiFi ไม่ จำกัด สำหรับผู้เข้าชมขององค์กรเราอยู่ใกล้กับ NPL ใน Teddington และความดันโลหิตในซันเบอรีในแม่น้ำเทมส์ สำหรับ adventurist Traveler: มีสถานที่ทางวัฒนธรรมมากมายที่จะเยี่ยมชมพระราชวัง Hampton Court บ้านของเราทิวดอร์เตียงขนาดคิงไซส์กษัตริย์เฮนรี่ที่มี 6 ภรรยาเป็น! ริชมอนด์และละครวิมเบิลดันอยู่ใกล้และเป็นที่เดินเล่นไปตามแม่น้ำเทมส์ สำหรับ The Foodie และ Shopping Lover: มีศูนย์ช้อปปิ้งในคิงส์ตันมีชีวิตกลางคืนที่ดีกับการเลือกที่แตกต่างกันของร้านอาหาร Hampton มีความหลากหลายของร้านอาหารพิซซ่า / แกง / จีน / อิตาลี / ญี่ปุ่น แม้ว่าจะชื่นชอบที่แท้จริงของฉันคือสวนครัวตลาดในแฮมพ์ตันฮิลล์ที่ทำหน้าที่ร่วมสมัยและแผ่นฟิวชั่นทาปาสภาษาอังกฤษ / อิตาลี
พื้นที่ใกล้เคียงคือง่ายมากที่มีมากมายของร้านอาหารอร่อย ... Bushy Park เป็นเพียงแค่เดินออกไป (อายุต่ำกว่า 5 นาที) เป็นแม่น้ำเทมส์ - จาก 1 มีนาคม - 31 ตุลาคมมีเรือเฟอร์รี่ข้ามไปยัง East Molesey (เพียงแหวน เบลล์และเบนฟากหรือ Sacha ภรรยาคนสวยของเขาจะข้ามฟากคุณข้ามน้ำ) มีจำนวนมากของผับและร้านอาหารท้องถิ่นมี
From the moment you walk in, Carole is simply the sweetest host- she's incredibly welcoming and thoughtful and always offering tea and yummy food. The room itself is great, very spacious and has a ridiculously comfortable bed! Regarding the house- Carole may very well have the coolest kitchen I've ever seen, just watching her give you demonstrations of how everything works is so fun! The overall property makes you feel like you're at a mini resort (very relaxing vibe), the backyard has all sorts of awesome things :) If you're a fan of nature (and dogs), this place is perfect- there's a lovely park very close by where you'll come across the cutest dogs ever! There is lots of food options located about a 5 minute walk away, and the bus needed to get into the city center is just a 30 second walk away! The location of the place is truly in a lovely area, I greatly enjoyed my time here. Carole is genuinely fantastic, definitely a one of a kind person (and airbnb host) :)
Joanna
2017-01-26T00:00:00Z
Lovely people and lovely place, would happily stay again and recommend to others.
Richard
2017-01-17T00:00:00Z
Carole's is an absolutely ideal place if you are staying in this part of London. It is a peaceful haven with a really lovely atmosphere. The welcome was great and really friendly, the room private and the bed extremely comfortable. I could not have asked for more.
Edwin
2017-03-29T00:00:00Z
Carole was a perfect host. Very approachable and welcoming. The location was ideal for us and it has everything is walking distance. Also with a bus stop right outside!
China
2017-02-12T00:00:00Z
Lovely place and friendly, thoughtful family. Will definitely stay again. Thanks!
Richard
2017-02-22T00:00:00Z
Excellent host, and a marvelous house ... with non advertised fabulous perks, a marvelous garden with a river and a jacuzzi, a professional massage garden house ... well simply fabulous!
Nuno Jorge
2017-01-14T00:00:00Z
This place was perfect for us! The location is very convenient for transport, shops and restaurants; the room is self-contained and comfortable; and Carole is the perfect host, very welcoming, kind and helpful. We needed to stay longer than planned, and she went out of her way to rearrange things to make it possible. We very much enjoyed our stay in her home, and would certainly go there again. Thank you, Carole!
Carol
2017-03-31T00:00:00Z
Absolutely brilliant! Carole welcomed us with open arms and a warm smile. She offered so much information about the area and how to get to and from many places in London as she has lived in the area for more than 20 odd years. The room was beautiful. The bed is super comfortable, there is so much space in the room that a fridge and microwave is there for use and a very tidy ensuite. It gave us a sense of having our space although we were welcome to use the utilities in the home or relax in the living area. We stayed in December and although it was freezing outside our room was so warm that we could walk around the house in a t shirt and shorts. It was such a welcoming warmth after spending the afternoon in the near by park or shopping in downtown London. There is a beautiful garden out the back where you can read, reply to emails, enjoy the sun on the sun bed or have a spa. A lovely peaceful place to escape the busyness of London. There are bus stops two steps from the home which offers great transport to any of the nearby attractions and shops. A supermarket is short walk and you pass restaurants, pubs and many great cafes along the way. Would recommend staying here 1000% and WILL stay again when in London.
Amber-Rose
2016-11-19T00:00:00Z
ประเภทห้อง
ห้องส่วนตัว
---
ประเภทที่พัก
บ้าน
---
พักได้
4
---
ห้องนอน
Hampton, England, สหราชอาณาจักร
Beautiful insuite double bedroom available for a single female plus one child aged 0 to 12 . The room is equiped with wifi. We are very welcoming couple and welcome professionals or students. Kitchen facility is also available for the guests.
On looking into a beautiful garden we have a Spacious luxury double bedroom (Minimum 4 weeks stay)
Nice quite neighbourhood.
My stay was good . I found the family very welcoming . It was walkable to public buses. The room is spacious.
Shirisha
2017-03-31T00:00:00Z
ประเภทห้อง
ห้องส่วนตัว
---
ประเภทที่พัก
บ้าน
---
พักได้
1
---
ห้องนอน
Feltham, England, สหราชอาณาจักร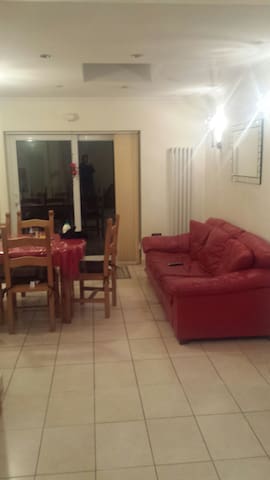 Ma place est près de Twickenham Stadium. Il n'y a pas de parking les jours de Match. Nous sommes très près du stade et à proximité de Kew Gardens et Richmond Park. Nous sommes un mile de la gare de Twickenham station et un court trajet en bus pour la ligne Piccadilly à la station de métro Hounslow Central. Nous avons deux chambres dans la maison à louer, chacune pouvant accueillir jusqu'à 2 personnes. L'autre chambre est en droit 'Double (RM1) à 5 minutes à pied du stade de Twickenham' Ceci est le simple / double sofa chambre à coucher. Chambre 1 a un lit double.
ประเภทห้อง
ห้องส่วนตัว
---
ประเภทที่พัก
บ้าน
---
พักได้
2
---
ห้องนอน
Isleworth, England, สหราชอาณาจักร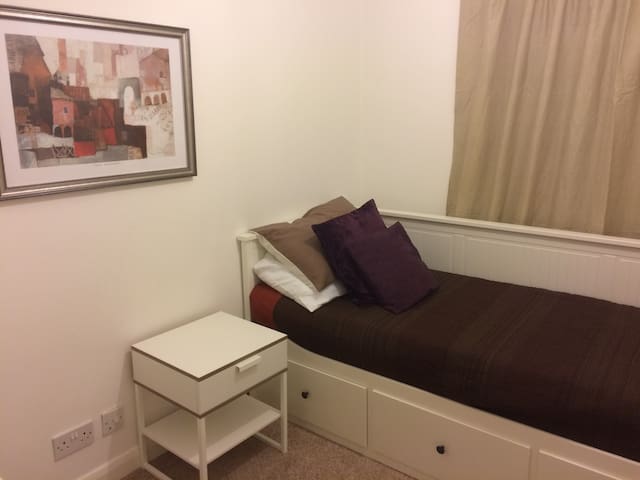 角を回ってPinkwell公園レクリエーショングラウンド ヘイズの町の中心部へ10分活発な徒歩:地元のお店、銀行、アズダ、鉄道駅 25分のパディントン行きの列車(地下鉄) ヒースロー・エクスプレス経由で空港をHeathowする10分 空港から£25タクシー
It's great for everything in the house.Kamini is a kind host.Thank you so much (*ˊˋ*)੭ ੈ
michiko
2017-03-20T00:00:00Z
Everything is good except for some minor noise from the airport.
Junhao
2016-12-29T00:00:00Z
I met with Kamini briefly to collect the keys, she was friendly and showed me around her home. Simple room and exactly what I needed. Thank you.
Jeff
2016-05-02T00:00:00Z
The room was exactly as it looked in the picture. I know the area very well so I was happy with the activities and facilities in the area. Its has very convenient transport links to the airport, the city and beyond. Kamini was very friendly and was only too happy to help with any questions and tell me what was available in the area. A comfortable sleep and for an extremely reasonable rate. I enjoyed my stay very much and will not hesitate to recommend to friends and family if they need anywhere to stay in the area.
Pamela
2016-05-07T00:00:00Z
Great room, Kamini was lovely, I'd definitely recommend it. Thanks
Libby
2016-11-24T00:00:00Z
Had a really lovely stay and it was really convenient for my onward journey from Heathrow airport. Thanks!
Tom
2016-06-28T00:00:00Z
The host canceled this reservation 5 days before arrival. This is an automated posting.
John
2016-11-15T00:00:00Z
Kamini's place was very comfortable, quiet and close to the airport. I'll recommend it for an early morning flight!
Francesca
2016-09-06T00:00:00Z
ประเภทห้อง
ห้องส่วนตัว
---
ประเภทที่พัก
บ้าน
---
พักได้
1
---
ห้องนอน
Hayes, เกรเทอร์ลอนดอน, สหราชอาณาจักร
Our 5 bedroom home is perfect for get-togethers, family reunions, weddings or the family that likes to stay in style. Why waste time traveling, when you can all live together in luxury in one London's nicest neighbourhoods? We're just minutes from the River Thames, Richmond Park, Kingston with Heathrow & the city center close. The study, kitchen, dining, living & music rooms are rustic & sunny. There are 7 beds, 3 1/2 baths, a giant garden, a driveway w/ 2 spaces & free street parking.
Our three story home has plenty of bedrooms! Upstairs, there are 5 proper bedrooms. None of them are "box rooms" Downstairs, the front room can be closed off to serve as a 6th. Three of the house's bedrooms are en suite. Upstairs, the master bedroom has a king size bed, a walk-in closet and a bathroom and shower. On the same floor, three more bedrooms share one beautiful bathroom with both a shower and a tub. They are kids' rooms but work very well for adults as well! One of the bedrooms has a double size bed, another - a single size bed. The third bedroom has 2 single sized bunk beds. The (spacious) bedroom in the loft has a double size bed and its own bathroom with a shower and separate tub. It's a sort of guest apartment minus a kitchen. Very nice. The loft also has a view of Richmond Park and Pembroke Lodge - for those of you who might be getting married there!
Kingston Upon Thames is a quiet residential neighbourhood on the Thames riverside. The river's great for walking and there's a couple great pubs right along it within a couple minutes. We like the Boaters in Canbury Gardens - it's about a ten minute walk - and the Anglers at Teddington Lock - which is about a 15 minute walks. Richmond Park - about a 20 minute walk away - is London's largest and is home to the Queen's deer. There are many good places to run - including the loop around the two bridges - out our front park but there is no better place for the runner, biker or nature lover than Richmond Park. This is the place to stay if you're doing something at Pembroke Lodge. We've hosted more than a couple wedding parties passing through Pembroke. Oh and if you like you're shopping, Kingston & Richmond themselves have PLENTY of it. The very closest place to eat is (URL HIDDEN) and it's just a 5 minute walk away. There are also a number of good places to eat on Ham Parade, which is also about a 5 minute walk. We also think we're in a pretty nice spot for you if you're visiting WIMBLEDON and we're pretty close to WEMBLEY STADIUM and TWICKENHAM STADIUM.
Ella was prompt and helpful when welcoming us to Ryan's home - she made herself available for any queries and the house was just as the pictures showed: very charming and family friendly. We had a smooth experience and a pleasant stay. Many thanks to Ella, Ryan and family.
Sacha
2015-08-31T00:00:00Z
Ryan was in contact with us before the stay and followed up with us after we checked in to make sure everything went smoothly. The house is great and my family enjoyed it immensely. It was perfect for our 8 person group.
Candy
2016-08-22T00:00:00Z
Thank you Ryan for letting us stay at your lovely house. It exceeded all our expectations. You have been more than kind and generous. This house was perfect for us, a company of six adults and two kids (who by the way loved to play with the toys). It was a good thing the house was a couple of houses away from the main street. And the morning view from the top floor: WOW! We quickly figured out how to use the public transportations to get us where we wanted since the bus stops where close by. The whole process of booking and getting there felt smooth thanks to good dialogue and Ryan did a good job answering all the questions.
Jan
2016-04-04T00:00:00Z
I'm sorry we arrive the house very late, almost midnight, the host Ryan's friend Ella wait me in the house. The house is very beautiful and comfortable, it is big enough for our family of 8. The host was very welcoming indeed. He was in touch via messages almost immediately both before and during our stay.he give us many information. Would definitely stay again-thanks for a lovely stay.
min
2015-07-25T00:00:00Z
Our stay in Ryan's house was fantastic. We spent our family Christmas and New Year in the house - there was plenty of room for our entire family for both entertaining and sleeping. The house is as described on the website and the pictures give an accurate visual depiction of the house. The house is well equipped with everything that you need for entertaining. The location of the house is great. It is very close to some beautiful areas of West London including great walks along the River Thames and Richmond Park. There are some good pubs and restaurants within walking or driving distance in Richmond, Ham, Kingston and Teddington. It is also close to local supermarket, buses and trains into central London. Ryan was absolutely fantastic at communicating with us before we arrived, during our stay and afterwards. He dealt with all our questions promptly and appropriately. We always felt that he was available to help if we needed anything. We will definitely return to his house for another holiday and would highly recommend Ryan's house to other visitors. It is great!
Jennie
2016-01-02T00:00:00Z
My family and I went on a trip to London this August. Ryan's house is very spacious. It is located near Kingston and the neighborhood is quiet and relaxing. We were very unlucky because the 65 bus which the local public transportation heavily relies on was suspended during our stay. However, Ryan is very nice and he helped us reschedule our transportation. The information proved to be very helpful and make our journey smooth again. This house is definitely a great place to relax oneself and escape from crowded urban life.
Haoyu
2016-08-04T00:00:00Z
My family and i stayed here for a week of my wedding! Ryan and his wife are incredibly helpful, great communication, and having the opportunity to stay at their house for our wedding was so special !!! My family came from overseas so really needed space to bond over several days, and space for bridesmaids to get ready with me in the morning. The house is warm, cosy, and incredibly generous size with an amazing 4 distinct reception spaces yet open plan. The huge kitchen quickly became the 'heart of the home' for us in the 4 days there. The top floor space was perfect private level for me to get ready too. Soo many bathrooms , and access to use the sonos sound system, it really felt like home. The location is also great a short bus ride to kingston and richmond for shopping and public transport. Very close to a Europcar pick up for anyone needing a hire car. Our wedding week wouldn't have been the same without your generosity. Thank you too for the welcome champagne and card!
Charmaine
2016-02-21T00:00:00Z
I'm so pleased I booked this fantastic house. 7 of us were attending an event nearby in Kingston and the location was perfect: a quiet street that felt safe and secure (as we often walked home late in the evening). There's a reasonable selection of shops within a few minutes walk, and larger shops and the great market are also very close in Kingston itself. Buses to Kingston and Richmond are very close and we appreciated that one of the group travelling by car could park in the driveway. The house itself is light and spacious, very well-equipped and beautifully furnished. We particularly liked the unique furniture and loved the rugs! The huge kitchen area meant we could cook and bake in comfort, and we loved that there was enough space to eat informally round the "island" or outside in the large south-facing garden. The bedrooms are all a comfortable size and it was good the loft bedroom had ceiling fans and large French windows to help cool things down on hot summer days. All the bathrooms are stylish and functional and the friend using the sofabed in the living room downstairs appreciated there being a toilet on the ground floor. Ryan, Nadya and Elizabeth couldn't have done more to welcome us and make our stay so enjoyable: from making sure there were extra keys available, providing information on the wifi and especially for leaving us some provisions (including some lovely wine and beer!) to keep us going until we'd had time to go shopping. If the event we attended is in the same area next year we'd love to pay a return visit. Thank you Ryan and Nadya!
Davina
2016-07-31T00:00:00Z
ประเภทห้อง
บ้าน/อพาร์ทเมนท์ทั้งหลัง
---
ประเภทที่พัก
บ้าน
---
พักได้
11
---
ห้องนอน
คิงส์ตันริมแม่น้ำเทมส์, สหราชอาณาจักร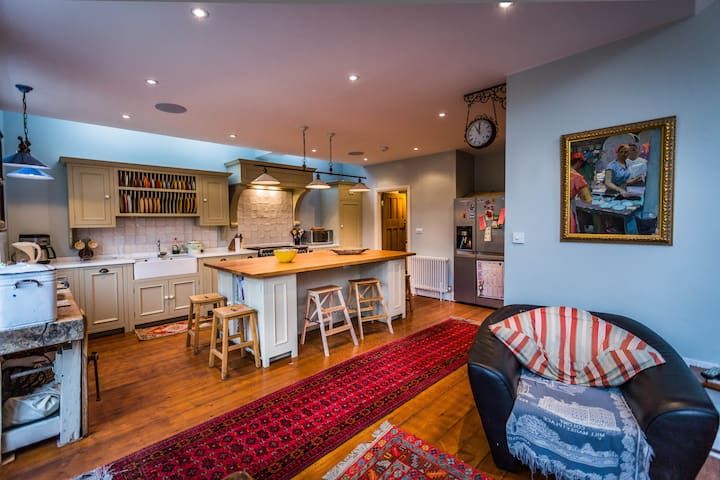 Nyrenoveret og udvidet! Et ideelt sted for familier (med børn) og par. Vores sted er tæt på South Ealing & Northfields tube stationer og høje gader. Der er masser af gode lokale cafeer og pubber i nærheden også. Du vil elske vores sted på grund af den store stue (vores helt nye udvidelse), komfortable værelser, hyggelig gårdhave og solrig have. Plus vores dejlige venlige kvarter er bare es. Tilføjet til alt dette, får du nem adgang til London og omgiver.
Stue Moderne, industrielle stil køkken med morgenmad bar, kaffemaskine, opvaskemaskine, vaskemaskine / tørretumbler. Spisebord med plads til 6 +. Kabel-tv, i loft AirPlay-højttalere. Sofa og stole med udsigt til haven. Fussball tabel også! soveværelse 1 Super-comfy Queen size seng, store indbyggede skabe, helt nye tæpper. soveværelse 2 Etageseng, indbyggede garderobeskabe. Undersøgelse / Den Kabel-tv, dvd-afspiller + dvd'er, plus en spillekonsol. Desk for at studere. Badeværelse Shower (med bluetooth højtaler) og bad. Rene, moderne indretning. Have Kunstig græs med grill, trampolin og fodboldmål. Separat brolagt gårdsplads med siddepladser.
Venlig, imødekommende kvarter med alle de væsentlige (og mere) lige ved døren. 5 min gang til butikker, caféer, barer og røret. Regelmæssige busser blot et par minutter ned af vejen.
Toby was a superb host, very responsive with clear communication and very aware of the needs of parents travelling with young children. The house itself proved an ideal base for adventures in central and west London (museums, Westminster, Kew Gardens, Westfield, Holland and Hyde Parks all within easy striking distance utilising straightforward public transport routes) and an excellent respite for recovering after the adventures, even with the aforementioned young children, as Toby kindly allowed us use of much of what's necessary to keep a family entertained while at home. It's a lovely place to stay and helped make our holiday something special.
Paul
2016-08-18T00:00:00Z
ประเภทห้อง
บ้าน/อพาร์ทเมนท์ทั้งหลัง
---
ประเภทที่พัก
บ้าน
---
พักได้
4
---
ห้องนอน
ลอนดอน, England, สหราชอาณาจักร
Una habitación individual soleado ordenado, con una cómoda / colgando instalación, la ventana y calefacción. La ropa de cama y las toallas están incluidas. Es en el primer piso cerca del cuarto de baño. Hermoso jardín amurallado, donde puede sentarse si el tiempo es bueno. Wi-Fi gratis. Lavadora disponible en £ 5 por lavado. Hay una gran cantidad de información turística y de viajes en la habitación y siempre estoy para servirle.
NO FUMADORES SOLO PLEASE.Small y luminosa habitación individual disponible en una casa privada. El dormitorio tiene una cómoda instalación y colgando. Es en el primer piso, cerca del cuarto de baño. El baño incluye una bañera y una ducha separada. La ropa de cama y las toallas están incluidas. También al lado de una habitación doble, que ahora está en la lista con Airbnb. La casa tiene tres plantas y es muy ligero con un hermoso jardín amurallado, que se puede utilizar en el verano. La casa está en una tranquila calle residencial a unos veinte minutos de Heathrow, hay aparcamiento gratuito en la calle. A poca distancia de la parada de autobús que te lleva a Richmond. También puede ir hacia y desde Heathrow en autobús. Gran cantidad de información y folletos sobre el área disponible en la habitación. La casa está a sólo cinco minutos a pie hasta la parada de autobús que le llevará a la estación de tren de Richmond para los trenes y el metro directo al centro de Londres. También puede caminar a lo largo del camino de sirga del río Támesis a Richmond, que es un muy bonito paseo. Se tarda unos veinte minutos en llegar al centro de Londres. Se trata de un corto paseo de Estadio de Twickenham ya 10 minutos a pie de St Margarets donde hay un supermercado, bares y restaurantes. Cerca de la casa hay una tienda con comida, etc. básica y una comida para llevar chino y un bar con restaurante lleno whic también sirve el desayuno. En Richmond que tiene todas las tiendas que necesitas, tres cines y muchos bares y restaurantes diferentes. De Richmond es un paseo de Richmond Park, que es de 2.500 millas cuadradas de bosque accesible, lagos, etc. También se puede coger un barco de Hampton Court Palace desde Richmond. Puedo cobrar a Heathrow por un suplemento.
Hay un muy buen café de la esquina para el desayuno y el almuerzo. El fácil acceso a río Támesis camino de sirga. También cerca de los Archivos Nacionales de Kew para los interesados en la genealogía. Muy cerca de Twickenhamn Rugby Estadio-perfecto para Rugby y otros eventos. Es sólo diez minutos a pie. Hay una gran zona para los corredores y caminantes por igual. Cerca de Hampton Court y muchos otros lugares turísticos.
Lark was a wonderful host who made me feel very welcome in her beautiful home. The room was clean and tidy with plenty of space for all my luggage. Would definitely stay here again! Thanks
OLIVER
2014-11-15T00:00:00Z
I had a very pleasant two night stay with Lark and her husband .I loved their terraced house,its furnishings and the room was most comfortable . The location was perfect and its proximity to the river was a bonus. I so enjoyed my stroll along the Thames path into the centre of Richmond .. Thank you so much and you are marked on my wishlist for future trips to London .--Maire
Maire
2013-05-21T00:00:00Z
Lark is very nice. Her room is full of art atmosphere. It's convenient to Heathrow from her home. I will definitely to book it again!
Yang
2014-12-11T00:00:00Z
Lark was a perfect host for my needs and desires in the city of Richmond. I picked this location because it is near Heathrow by very affordable city bus. I didn't have any idea I would grow so fond of Richmond in all its varied attributes. The food, the green spaces, The River Thames, the history around every block, and a must-see...Hampton Court, also a very affordable local bus trip. Lark was most generous and met me at a coffee house next to train station and escorted me home. She was most willing to help out in many ways such as arranging an early morning cab, suggesting trips, and sharing her interests in life. We found we had some interests in common. A perfect stay in a perfect area outside of the bustling center of London and well worth a look.
William
2014-07-01T00:00:00Z
This was a very pleasant stay in a lovely part of town. The room was exactly as described, comfortable and clean. My host Lark was extremely accommodating, helpful and friendly. I would recommend this to anyone staying in the area.
Nik
2016-01-17T00:00:00Z
Hi, I really enjoyed the time spent in Lark's house. My room was cosy, clean and the most important I liked the communication with Lark. She made me feel very confortable. She's very educated,knowledgeable, polite, clean and really nice :) We spent many evenings watching the TV and discussing about many interesting subjects :) I'll definitely recommend her as an excellent host. I also met her daughter which was very polite and nice person. The location is cool, very close to Richmond, St Margaret's and isleworth. The house is situated very close to the river, only 1-2 minutes. Also, there is a bus H37 which is 1 minute walk till the station. Thank you very much Lark. Best wishes Sergiu
sergiu
2015-05-01T00:00:00Z
Lark is the perfect host and made me feel very welcome. A lovely house in a great location. Highly recommended.
kieran
2016-04-11T00:00:00Z
Such a wonderful place to stay if you happen to be visiting London. Lark's home is lovely and her garden is a magical little oasis. I really enjoyed my time there, and hope to stay again if I pass through London.
Melodi
2013-07-15T00:00:00Z
ประเภทห้อง
ห้องส่วนตัว
---
ประเภทที่พัก
บ้าน
---
พักได้
1
---
ห้องนอน
Isleworth, Middx, สหราชอาณาจักร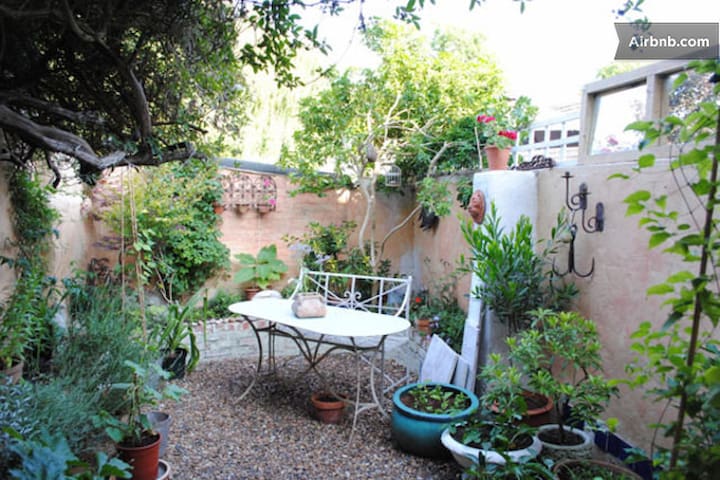 บ้านของเราอยู่ใกล้กับ South Ealing สถานีรถไฟใต้ดินที่เหมาะสำหรับทโธรว์และกลางกรุงลอนดอน คุณจะรักบ้านของเราเพราะความสงบและเงียบสงบเตียงอุ่นหนาฝาคั่งมากห้องน้ำของคุณเองและมุมมองที่น่ารักในสวน มีสวนสาธารณะที่น่ารักและร้านกาแฟที่เป็นอิสระและร้านอาหารในบริเวณใกล้เคียงมี ห้องพักประเภทนี้จะเหมาะกับคู่รักนักผจญภัยเดี่ยวและนักธุรกิจ ที่จอดรถบนถนนที่สามารถใช้ได้ผ่านแหวนไปใช้อยู่อาศัยของเราอนุญาตให้สำหรับค่าใช้จ่ายเพิ่มเติมเล็กน้อย เรามีแมวสองตัวที่เป็นมิตร
มันสงบมากและเรามีเพื่อนบ้านที่เงียบสงบมาก มีสวนสาธารณะที่น่ารัก, ร้านกาแฟและร้านอาหารที่อยู่ใกล้กับ
Lovely people and place. Would recommend to anybody who needs a nice place to stay with a warm welcome
Garvin
2017-01-05T00:00:00Z
Great place...very comfortable...very friendly...definitely recommended
Steve
2017-03-16T00:00:00Z
Home from Home, can only recommend Judith & Lulu, great hosts.
Eugen
2017-01-13T00:00:00Z
Judith was very welcoming. The house is lovely and the room is very comfortable. Recommended.
Sion
2017-03-02T00:00:00Z
Lovely house, quiet and welcoming and friendly hosts.
Gordon
2017-03-31T00:00:00Z
A perfect place and a nice room. The bathroom is great and the view out of the window is very green - rare for London. Fantastic host(s) and super close to the underground stop, ideal for Heathrow. Definitely recommended!
Ricardo
2017-03-09T00:00:00Z
Couldn't recommend you stay here more !
Luzy
2017-02-15T00:00:00Z
Very convenient for South Ealing tube and walking distance to Ealing Broadway, Judith's house is comfortable and quiet. Judith and Loulou were thoughtful and welcoming. I'd happily stay again.
Liz
2016-12-21T00:00:00Z
ประเภทห้อง
ห้องส่วนตัว
---
ประเภทที่พัก
บ้าน
---
พักได้
2
---
ห้องนอน
ลอนดอน, England, สหราชอาณาจักร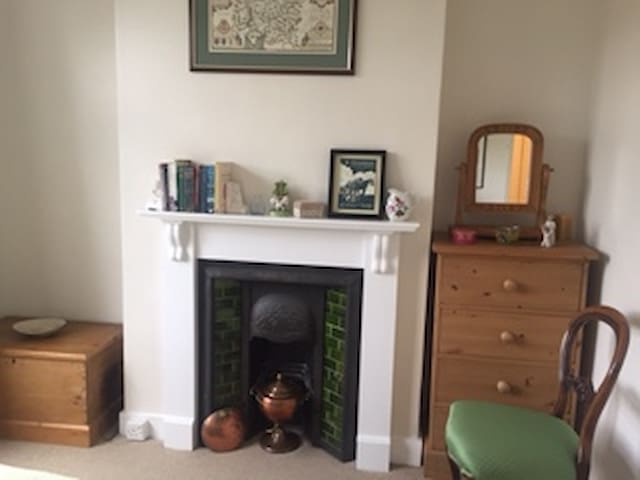 1

–

18

จาก

300+ บ้านให้เช่า
กรอกวันที่เพื่อดูการกำหนดราคาเต็ม มีค่าธรรมเนียมเพิ่มเติม อาจมีภาษีเพิ่ม