Our ecological house is locates close to The Route du fjord between Tadoussac and Saguenay… a hidden paradise of great wildness, 23 activities of eco tourisme and aventure - 4 seasons. We offer a fantastic and impressive view directly on the fjord!
Located near the Route du fjord between Tadoussac and Saguenay, a super comfortable eco efficient glassed house surrounded by a breathtaking sunset setting facing the fjord. Belugas and whales observation are possible directly from our spacious front deck. A bedrooms overlooking the fjord, including queen size beds and a separate bathroom, a spacious living room with a home theater, a small fridge, private terrasse, exterior grill. Welcome to a paradise on the fjord of Saguenay !
The nearest town is 20 km away and has a population of 2000.
We had the most fantastic holiday at Marie - Claude and Robys home! Stunningly beautiful home with a breathtaking view ! Marie - Claude helped us to orientate around and also plan what attractions to do. We have really enjoyed their company and will definitely keep dreaming of those days for a long !time! Many, many thanks
Shay
2015-09-12T00:00:00Z
Nous avons passé un très agréable séjour chez Marie. Le cadre et la maison valent vraiment le détour ! La vue sur le Fjord est superbe.
Lisa
2016-05-29T00:00:00Z
A stunning house in a beautiful location!
Kenneth
2014-08-08T00:00:00Z
L'endroit est aussi merveilleux que sur le descriptif, mais surtout nous avons eu l'impression de passer un week-end chez des amis. Super soirée passée avec Marie. Robert et leurs copains tout en admirant le coucher de soleil. Des gens formidables. (Marie. Merci pour la confiture).
Martine
2015-09-14T00:00:00Z
Marie-Claude et Robert nous ont très bien accueillis et nous nous sommes sentis comme chez nous. Les photos ne mentent pas : la maison est extraordinaire et la vue est incroyable. Nous avons eu la chance d'apercevoir des bélugas depuis la terrasse. Nous recommandons de rester plusieurs jours pour profiter de la beauté et de la tranquillité des lieux.
Guillaume
2014-10-07T00:00:00Z
La maison correspond parfaitement aux photos et c'est vraiment une belle maison d'architecte! Nous n'avons pas eu la chance de voir les bélugas depuis la maison car nous ne faisions qu'une courte halte dans le coin et étions la plupart du temps en vadrouille mais marie nous a dit les avoir vu après notre départ-argh! (Mais on aura vu le magnifique colibri qui vient sur la terrasse tous les matins-magique!) Du coup on a quand même profité des bons conseils de nos hôtes pour visiter les alentours et goûter de bonnes choses :) surtout lisez bien les instructions pour venir, elles sont bien précises et permettent de trouver facilement!
Isabelle
2015-07-19T00:00:00Z
Un espace tranquille, loin des bruits de la ville, une vue à couper le souffle, une accessibilité directe aux sentiers de la SÉPAQ (nous sommes partis à pieds de la maison) et une mise à l'eau sur le Fjord tout près. Idéal pour le plein-air! Attention, chez Marie, vous n'êtes pas à l'hôtel :-) Il s'agit d'une véritable expérience de rencontre humaine, dans le respect et l'ouverture.
Catherine
2015-10-16T00:00:00Z
We absolutely loved our experience in Sacre-Coeur. Marie and Robbie were amazing hosts and their stunning flat and location exceeded our expectations. We could not have had a nicer stay in the area. Ski trails were right across the road, and the wildlife farm down to road that ours hosts recommended us to visit was perfect.
Debrah
2016-02-20T00:00:00Z
ประเภทห้อง
ห้องส่วนตัว
---
ประเภทที่พัก
วิลล่า
---
พักได้
3
---
ห้องนอน
Sacré-Coeur, ควิเบก, แคนาดา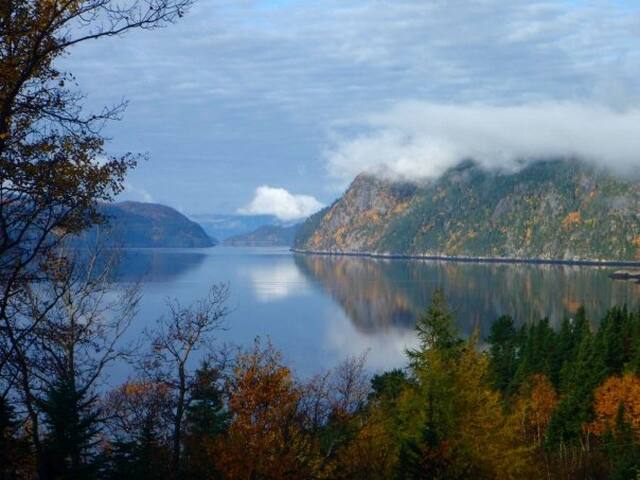 St-Fabien-sur-mer, adjacent au Parc du Bic et son environnement marin et montagneux, ce chalet de 3 chambres avec 3 lits doubles, offre un site splendide avec vue imprenable sur le fleuve St-Laurent et ses couchers de soleil magnifiques, disponible 12 mois par année. Nous offrons la possibilité de location durant les 4 saisons, la saison d'hiver étant des plus pittoresques. Toute équipée et meublée= lave-vaisselle, laveuse,sécheuse, cablée et les postes de musique Galaxie, 3 téléviseurs. La salle de bain comporte 2 pièces, une avec bain sur pattes et lavabo, l'autre avec toilette et lavabo. Vous êtes à 10 minutes du Théâtre des gens d'en bas, de Bic et du restaurant l'Auberge du Mange Grenouille. les autres activités disponibles sont le golf avec le Golf du Bic, le vélo sur les pistes du Parc du Bic, la randonnée pédestre avec les sentiers menant au sommet du Pic Champlain, la raquette et le ski de fonds sur ces mêmes sentiers, le canot, le kayak de mer, les expéditions en mer, la planche à voile, 4 centres de ski alpin à moins de 30 minutes, l'équitation, l'alpinisme sur glace et tout simplement les marches sur le bord de la mer ---- Prix demandé : entre $300 et $800 par semaine
Site magnifique directement sur le fleuve. Maison bien équipée mais encombrée. Maison qui manque d'entretien et qui se détériore malheureusement. Les lits double sont des lits 3/4. Nous avons pu communiquer facilement avec le propriétaire par courriel et par téléphone durant notre séjour.
Anne-marie
2015-05-19T00:00:00Z
This house is beautifully located directly on the banks of the St. Lawrence. During our winter stay, it was very quiet and private. For our arrival, the snow had been cleared from the drive, and there was abundant firewood for the wood stove. From the large windows of the sitting room we watched birds and wildlife on the water, and ships passing by. The Parc du Bic is only a short distance away, with two trails located quite close, while Rimouski, with many restaurants, trails, and other activities, is a 30 minute drive. The house, though a bit quirky, is charming, and we very much enjoyed our stay there.
Brian
2017-03-22T00:00:00Z
On a passe une super semaine ici. Envie de le refaire!
Till
2015-03-09T00:00:00Z
J'ai dis ce que j'avais à dire et en toute franchise. Je n'ai jamais évalué une location auparavant, n'en sentant pas le besoin. Mais depuis mon retour chez moi, cela me chicottait. À bon entendeur. N.B.: Je dois aussi vous dire que la vidéo sur YouTube (lien proposé par Michel nôtre hôte) présentant la maison est plutôt réaliste. Cependant, un malaise est certain en regardant une vidéo où ce dernier fait de l'exercice. TROP D'INFORMATION ICI. Merci.
Jean-François
2016-09-19T00:00:00Z
Endroit super chaleureux. Site exceptionnel. Il y a tout ce qu'il faut (équipement de cuisine, bois de chauffage, literie, etc.). Intimité par rapport au voisin. À 10 min de la 132. Près d'un accès au parc du Bic. Nous y sommes venu au printemps et nous y retournerons surement en été, pour profiter pleinement des activités extérieures. L'hôte répond rapidement aux messages.
Justine
2016-04-24T00:00:00Z
ประเภทห้อง
บ้าน/อพาร์ทเมนท์ทั้งหลัง
---
ประเภทที่พัก
วิลล่า
---
พักได้
7
---
ห้องนอน
Saint-Fabien, ควิเบก, แคนาดา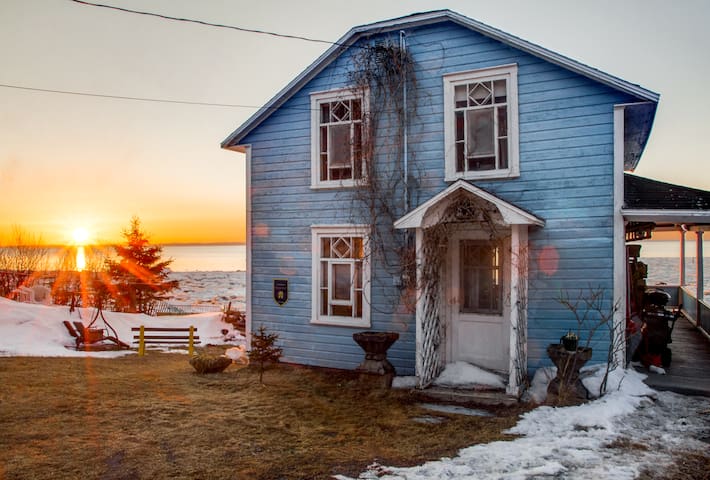 Maison bicentenaire située entre deux mers, sur la presqu'île du Domaine Floravie au Bic, dont l'intérieur de la maison a été conservé tel quel. Grâce à sa galerie vitrée située au sud, vous pourrez admirer le fleuve tout en savourant un petit déjeuner. L'Ancestrale" permet d'accueillir jusqu'à 6 personnes et tout le nécessaire y est inclus. La taxe d'hébergement, la TPS et la TVQ sont incluses dans le prix.
La maison est sur la presqu'île de la pointe à Santerre près du parc du Bic. Le fleuve est visible au nord et au sud de la maison.
Situé sur la rive sud du grandiose estuaire du Saint-Laurent, entouré de paysages à couper le souffle où la nature est omniprésente, le secteur du Bic de la ville de Rimouski, en plus de son parc national, est réputé, comme l'ensemble du Bas-Saint-Laurent, pour ses produits régionaux de grande qualité et pour le sens de l'hospitalité exemplaire de ses habitants. Ainsi, à proximité du Domaine Floravie, vous pourrez pratiquer une multitude d'activités divertissantes et enrichissantes ainsi que vous procurer des biens essentiels chez nos producteurs et commerçants locaux, qui vous permettront de profiter pleinement de votre séjour dans notre région. (URL HIDDEN)
ประเภทห้อง
บ้าน/อพาร์ทเมนท์ทั้งหลัง
---
ประเภทที่พัก
วิลล่า
---
พักได้
6
---
ห้องนอน
Rimouski, Québec, แคนาดา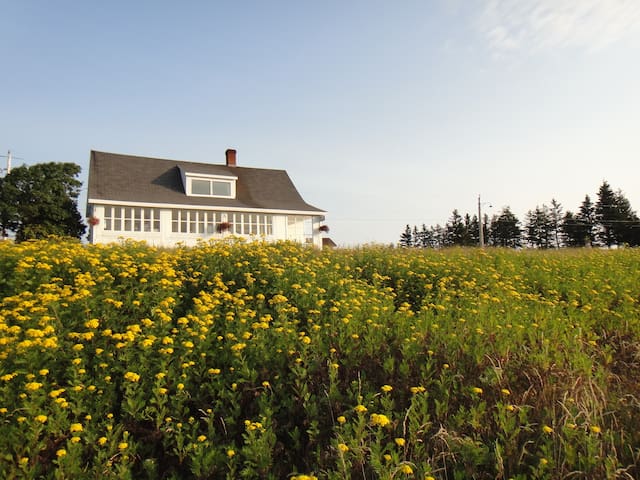 Our eco contemporary house is located on the edge (75M) of the fjord… in a hidden paradise of great wildness, 23 activities of adventure 4 seasons. We offer a fantastic and impressive view on the fjord and the belugas ! Peace assured!!
Our eco efficient cottage is unique in the world. Located near Tadoussac (15min) and Saguenay, (1hour) a super comfortable intelligent glassed house surrounded by a breathtaking sunset setting facing the fjord. Beluga and whale observations are possible directly from our spacious front deck. Three enclosed bedrooms and one open on a mezzanine overlooking the fjord, including queen size beds and 3 bathrooms, a fully equipped kitchen, mass fireplace with pizza oven and exterior grill. Welcome to a paradise on the fjord of Saguenay! We assure peace and quiet.
The nearest town is 20 km away and has a population of 2000.
SUPERBE maison avec une vue à couper le souffle ! On a passé 3 jours extra!Nos enfants ont adoré chouchouter les animaux !Merci Marie !On a hâte de revenir !!!
Fabienne
2016-08-13T00:00:00Z
The house of Marie is great, the view is fantastic ! We had the chance to see bélugas from the living !! The whole family enjoyed the stay in Marie's house.
Gaetane
2016-07-29T00:00:00Z
Superbe endroit avec une vue magnifique !! Que du bonheur dans cette maison!! Nous avons passé un excellent séjour . Merci à Marie pour sa gentillesse
Aude
2016-08-31T00:00:00Z
The Glass House was enjoyed by the three couples staying there. We enjoyed the views and use of the quite well-equipped kitchen. Marie-Claude was generous in her offer to use many of her supplies and produce from her garden - and fresh eggs. Her recommendations for grocery shopping, etc. were appreciated. My husband and I really enjoyed meeting Marie-Claude and at the end of our stay along with her husband, Robert. They are a charming couple.
Kathy
2016-09-21T00:00:00Z
What a wonderful experience! The pictures in the listing can't even do justice to the house and the location. The architectural and interior design are absolutely stunning. The view is probably the best we've had from any point in the world. The mountains and the fjord put on a continual show of changing light, fog, wind, and natural beauty. The region is quiet and friendly with a quaint little town (Tadoussac) about 15 minutes away with good restaurants, pubs, shops, whale watching and other activities. The house was well equipped with a comfortable linens/towels/beds, one open loft-style master bedroom with a curtain to the beautiful glass walled living room and view, smaller bedrooms on the main and lower floors, three bathrooms (the master bathroom upstairs is also open, partitioned but not walled from the living room), chef's kitchen, grill, appliances, excellent comfy TV room downstairs (no cable, just BluRay movies),and dishwasher/washer/drier. All the doors and windows are custom and you need to be careful in operating them. Marie and Robert were gracious hosts and great people, never intruding but making us feel cared for with recommendations about the region, fresh eggs from their hens and vegetables from their garden, and warm conversation whenever we had questions or needed anything. Truly they went out of their way for us and we couldn't ask for better hosts, particularly since we were new to the area. This house and property are definitely rustic. If you are looking for a hotel room this is not for you. They put great care into the construction with an eye for conservation and ecological balance and expect you as a guest to be equally careful and respect their unique home. The property is open and there are neighbors about 40 yards to the north with small children. No one bothered us, but the house is not isolated nor particularly private. The house is only a year old and they had not completed the landscaping yet, so the front yard on the opposite side from the view had some piles of wood and construction materials. There was an issue with the water having a sulfur smell which was annoying at times though not unsafe, they explained that this was a new issue due to the low amount of well water and was being fixed. All in all this is a one in a million house and we definitely plan to go back and would definitely recommend this enthusiastically to anyone looking for a rustic and picturesque get-away.
Steven
2014-09-07T00:00:00Z
Wonderful location, wonderful house, wonderful host, what more can we say ?
Julien
2016-08-07T00:00:00Z
Beautiful Home and view. Great size. We even saw Beluga's!
Michael
2016-08-10T00:00:00Z
Wonderful hosts MarieClaude and Robert are full of positive energy and shared their good tips with us. They have built this absolutely stunning house (think of the house in the movie North by Northwest), which is gorgeous and has great views on the Saguenay river. We actually saw Beluga whales from the sun deck of the house.... As a bonus it has the greatest sunset view ever The house with its contemporary design is ecologically well thought through and is very comfortable. There is no TV, so no bad news, to quote Marie Claude, which is very true. However there is wifi and a high end home cinema room. Great bbq out on the sun deck. Use of swimming pool a few hundred meters away. As for the location: It is very close to the river St Lawrence, just a 15 minutes drive from the Ferry at Tadoussac crossing the Saguenay. A supermarket with fresh bread, meat and veggies and local microbrewery beer (I recommend the Flacoutine !) is only a 5 minutes drive. Things to do: You do need a car to get there and to get around. If you go on a St Lawrence cruise to spot the big whales, do take the Zodiac from Essipit croisieres in Bergeronnes. They are very respectful of the animals and with a Zodiac you will get a much closer sensation than on one of the big boats of Dufour or AML. We also did the sea plane from Lac Long, about 8 km up from Tadoussac on the RN 138. It was wonderful and exciting. 10 km west of the house on the RN 172 there is the Ste Marguerite parc. You walk 45 minutes there and you get to see the Belugas really close. Staff there have binoculars for you. There is a little marina close to the house where you can do kayak excursions on the Saguenay. In short, we recommend this place to anyone with plans to visit the area.
Menno
2014-08-06T00:00:00Z
ประเภทห้อง
บ้าน/อพาร์ทเมนท์ทั้งหลัง
---
ประเภทที่พัก
วิลล่า
---
พักได้
8
---
ห้องนอน
Sacré-Coeur, ควิเบก, แคนาดา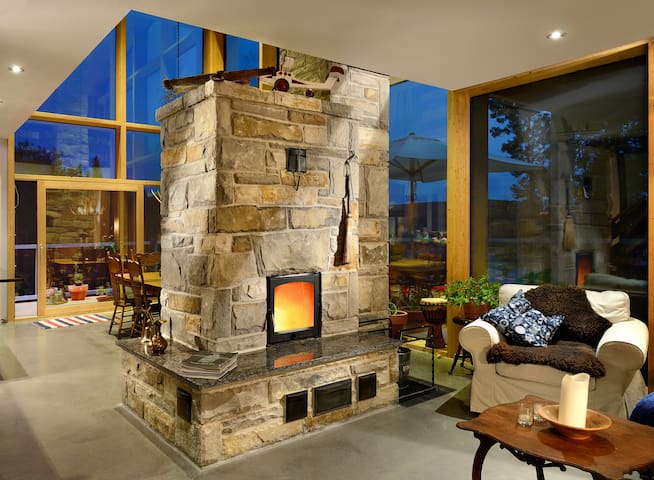 Les Escoumins - Airbnb
:
เฉลี่ย

4.49

จาก

5

ดาวจาก

75

รีวิวผู้เข้าพัก
กรอกวันที่เพื่อดูการกำหนดราคาเต็ม มีค่าธรรมเนียมเพิ่มเติม อาจมีภาษีเพิ่ม