"The little house" is a charming house immersed in the nature reserve of the Pliocene Buttress, where nature is pristine and lush with many trails for hiking and mountain biking. It is 3km away from the motorway, providing easy access to cities like Bologna and Florence. At 10 minutes the Sasso Marconi station (from which trains to Bologna every 30 minutes), shops, gas stations, banks, etc .. At 5 minutes of the "Piccolo Paradiso" outdoor pool.
We offer free breakfast the first day, to give you time to find the shops and buy what you need. We leave tea, coffee, salt, sugar and oil at your disposal. We Can Provide you with the information you need about restaurants, visits and walks to pleaces When You arrive. We offer breakfast the first day, to give you time to buy things from the stores that you like the most for your stay. There will be at your tea, coffee, salt, sugar and oil. We can give you information about restaurants, places to visit and walk when you're here with us.
We have the great advantage of beeing in the country, but at a short distance from the centre of Bologna, so you can make the most of relaxing in a beatifull natural environment without feeling isolated from civilazation. You'll be able to find numerous factory shops, selling designer goods at Barberino Outlet, not far away.
Ottima accoglienza e disponibilità. Indipendenza e tranquillità. È necessaria l'auto. Casa. In così piccola, ideale X single o coppie. Grazie
Paola
2017-03-18T00:00:00Z
Luke e la sua famiglia sono delle persone molto gentili e incredibilmente ospitali. Ci hanno fornito tutto il necessario per un soggiorno piacevole e ci hanno addirittura messo a disposizione il loro orto. La casa è piccola ma dotata di ogni comfort (compresa la lavanderia) ed è circondata da un bellissimo giardino. The little house è immersa nella natura ma allo stesso tempo è facile raggiungerla perché non lontana dal casello dell'autostrada.
Carol
2016-09-04T00:00:00Z
Luke and his family have been very welcoming, warm and helpful! They were so nice in offering help and information when we needed, and at the same time preserving our privacy and independence. We also had great time and conversations with them. We are very happy to have met them!!! The little house in the back of their garden is spacious, fully equipped, autonomous, and confortable. We could have very nice dinners in the garden, watching the stars and hearing the cicadas. The place is perfect for a romantic trip!!! And the surroundings are magnificent! We could enjoy Italian food, history and architecture in the cities of Bologna, Ferrara, Ravenna, road trips in the beautiful countryside of Emilia-Romagna, and we could hike in the small mountains whose trails start just behind Luke's house. Wonderful place!!! We highly recommend.
Mehdi
2016-07-11T00:00:00Z
Un cadre magnifique! On ne peut que s'y sentir bien. L'accueil et les prestations sont parfaites! J'ai vraiment apprécié mon séjour. Et je garde précieusement cette adresse ;-) Solenn
Solenn
2017-03-21T00:00:00Z
Kay and Luke met me on arrival and made me feel very welcome. The "lodge" was beautiful and set in the grounds of a wonderful Italianate garden with a soaring rock escapement in the background. The countryside, views and surroundings are breathtaking. Had a wonderful time and will be back at some point with my family to spend some time walking in the hills. A lovely place. Thank you, Jeff.
Jeff
2016-11-02T00:00:00Z
ประเภทห้อง
บ้าน/อพาร์ทเมนท์ทั้งหลัง
---
ประเภทที่พัก
บ้าน
---
พักได้
4
---
ห้องนอน
Sasso Marconi, Emilia-Romagna, อิตาลี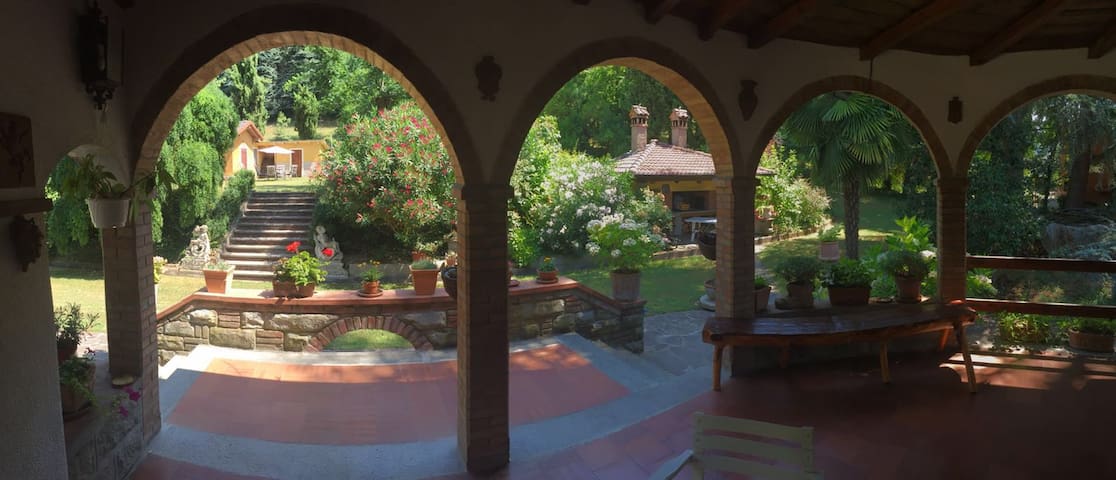 Casa immersa nel verde sulle colline di Sasso Marconi. Vicina al Centro del paese, 30 minuti da Bologna. Grande parco e bosco. Bologna è una meravigliosa città medioevale famosa perché qui si trova la più antica Università. Ricca di chiese, piazze, nota per i Portici, Le Due Torri, i colli verdi e la squisita gastronomia. Possibilità di vedere mostre importanti e di mangiare nel tempio della cucina. A richiesta di lezioni di cucina con nota gourmet. Oppure lezioni di Pilates su prenotazione.
An amazing home in Sasso Marconi, very close to Bologna. Bologna is a medieval city, full of churches, squares, ancient buildings. Very famous for an excellent gastronomy: it's possible to visit The Quadrilatero a place rich of restaurants, groceries, little bistrot where to eat and drink a lot of typical plates. But if you want to stay in a quiet place our home is perfect for you. From here it's possibile to come to Florence in an hour; by train in 30 minutes.
Sasso Marconi è un delizioso centro poco distante da Bologna. Da qui sono facilmente raggiungibili Firenze e Pistoia. Ogni fine settimana sono organizzate sagre, mercatini, eventi di varia natura. Nei ristoranti è possibile apprezzare la tipica cucina emiliana: è possibile gustare prelibatezze agroalimentari nel centro o sulle colline di Sasso Marconi.
Mercedes e suo marito ci hanno letteralmente fatto sentire ospiti ben graditi nella loro bella casa. Siamo arrivati stanchi, dopo ore di cammino, con due ore di ritardo: nonostante questo si sono dimostrati fin da subito più che cordiali ed accoglienti. Al nostro arrivo la tavola era già apparecchiata e le camere pronte. Il mattino seguente la colazione ci aspettava al nostro risveglio. La casa è splendida. Parecchio grande e curata, con una cucina ben fornita, un bagno con vasca. Ci sono stati dati asciugamani e lenzuola.Un bel giardino ed una posizione ottima: poco lontano dal centro del paese, su una collina, con ina splendida vista. Ringrazio parecchio entrambi i proprietari di casa per la loro accoglienza serena e mi rallegro del fatto che esistano ancora persone che amino gli incontri, sinceri, anche se fulminei.
ilaria
2016-04-24T00:00:00Z
Soggiorno positivo.
Alessia
2016-10-07T00:00:00Z
Meraviglioso soggiorno. La casa è bellissima, immersa nel verde a poca distanza dal centro di Sasso Marconi. Mercedes è una persona piacevole, disponibile e davvero molto gentile. Consigliata sotto tutti gli aspetti.
Simone
2016-09-17T00:00:00Z
Ottima sistemazione per i miei ospiti a Sasso Marconi! Mercedes è stata molto disponibile. La casa è affascinante, perfetta per chi vuole trascorrere qualche giorno in pace e nel verde con però la comodità di essere a 4 minuti dal paese. Consigliatissimo!
Beatrice
2016-07-02T00:00:00Z
ประเภทห้อง
บ้าน/อพาร์ทเมนท์ทั้งหลัง
---
ประเภทที่พัก
บ้าน
---
พักได้
6
---
ห้องนอน
Sasso Marconi, Bologna, อิตาลี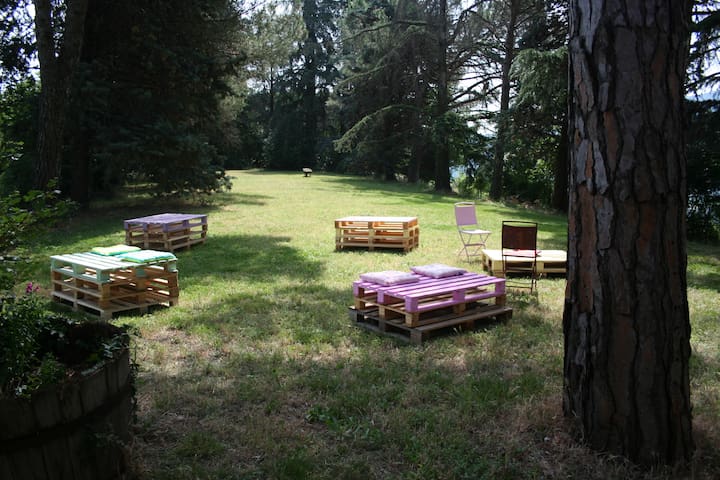 Located in a forest of chestnut and cherry trees in a scenic location at the edge of the historical park of Monte Sole, Borgo pinch and an old barn at the end of '700 on two levels, carefully restored with full kitchen, three comfortable bedrooms, two bathrooms and a large livingroom with fireplace. Staying in Borgo pinching means savoring the authenticity of country life and the beautiful surrounding nature.
Secret Diamond of a place to stay!!! The cozy fireplace, top notch bedding, 110% stocked kitchen for the executive chef. For sure our favorite place to stay in our 27 day trip. We will be back for sure. It is close to all locations, Bologna, Florence, Milan, Modena, 30 minute drive to all great locations. Private, Private mountain , quite and safe area.
Debbie
2016-09-25T00:00:00Z
Wir hatten einen sehr entspannten und angenehmen Aufenthalt in Pizzicaré. Das Haus ist sehr gut ausgestattet und sehr geräumig für bis zu fünf erwachsene Personen. Das Haus wurde vor wenigen Jahren aufwendig im lokalen traditionellen Stil renoviert und mit Gespür und Verstand ortstypisch und kreativ eingerichtet. Dabei ist es technisch auf der Höhe der Zeit, in der großen gut ausgestatteten Küche kann man prima arbeiten. Schön sind die Außenbereiche, die das Haus deutlich erweitern, die Terasse, die Wiese mit schattenspenndenen Bäumen, wie auch der Pizzaofen. Das Anwesen liegt hübsch und abgelegen vom nahen Ort in abschüssigen Gelände auf dem Hügel, wo immer ein lauer Wind geht und es daher immer ein paar Grad kühler als im Tal oder in Bologna ist. Eine moderne Heizung und offener Kamin versprechen den Ort als wetterunabhängig und für die Übergangszeiten interessant zu machen. Das nahe Dorf ist italienisch praktisch für Einkauf, das schnelle Essen gehen und den Aperitivo an der Bar, gut angebunden an Bahn und Autobahn für die Ausflüge nach Bologna (15-20min, Bahn 30), Florenz (45 min, Bahn 70 min), die Po-Ebene und deren sehenswerte Städte und zum Meer (70 min). Der Kontakt zu den Gastgebern war super angenehm, unkompliziert und sehr freundlich. Wer Ruhe, kaum Tourismus und Natur in weitläufigem Gelände liebt und dennoch angeschlossen sein möchte an urbane Räume mit üppiger Kultur und Geschichte, für den können wir diesen Ort wärmstens empfehlen.
U
2016-08-20T00:00:00Z
Pierefrancesco was helpful & communicative as we planned our trip, which was much appreciated since it was heading into the Christmas holidays. Upon arrival, Niccolo' was most excellent & helpful, even staying up late to welcome us after our long journey & helping us to order a pizza for dinner one night. The farm house is perfect for groups or romantic couples with a great view of the Italian countryside, a large fireplace, good kitchen, large dining area & porch. Parking was easy, which was helpful after our trip to the top of the hill to get there. We would definitely recommend Pizzicare', and hope to return soon!
Brian
2016-12-21T00:00:00Z
Oltre ogni aspettativa. Torneremo certamente
fabio
2017-01-08T00:00:00Z
Very nice house outside of Bologna. Everything was very clean when we arrived and everything we needed was in the house. Pierfrancesco and his friends were all really nice and helpful. We can definitely recommend this house to other people, we had a great time!
Petra
2016-11-01T00:00:00Z
Great place to stay near Bologna. Spectacular rustic house with all the right ammenities. We'll come back next year for longer period to enjoy the surroundings a bit better. Nicolo was a great host. The house was a jewel. Everything worked as expected or better. 5 adults fit perfectly. Our GPS in the car left us about 300 yards short of the place but we kept going and found it on our own, so we didn't have to call Nicolo who suggested us to call him if we couldn't find the place. The road up to the house is very steep even for a car, but we enjoyed the drive every single time. A spectacular place indeed. Can't wait to head back.
Juan
2016-11-21T00:00:00Z
ประเภทห้อง
บ้าน/อพาร์ทเมนท์ทั้งหลัง
---
ประเภทที่พัก
บ้าน
---
พักได้
5
---
ห้องนอน
Monzuno, Emilia-Romagna, อิตาลี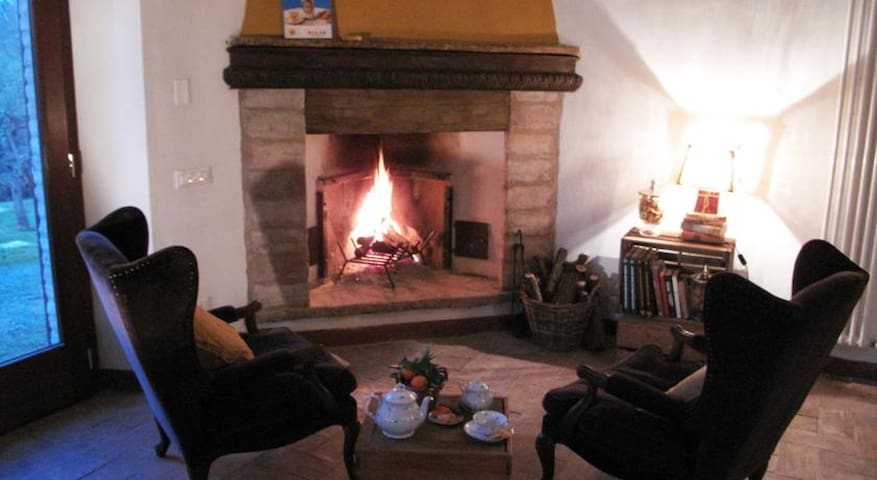 Are you ready for Tortellino-experience? You will learn how to make tortellini, tortelloni, tagliatelle ... (according to the program of the week) in the big tavern, in the evening we will taste together what we have produced, passing together a convivial and relaxed time. Our large, Shabby-style rooms will pamper you for the night, while in the morning we will greet you with a rich breakfast of local produce.
Our villa is located on the tosco-emilian appendix, is divided into 3 floors, on the ground floor there is a large tavern where we will put the leaf. On the first floor, there are two rooms at your disposal and the two bathrooms. On the second floor, I live there, so I'm available for any need. Everything is surrounded by a lush garden full of fruit plants and flowers! In the private yard and fenced, you can park your car.
The house is located in a quiet hillside village, is in a favorable position, with views of a beautiful and green valley. At different times of the day, you can see strolling deer, squirrels and many other animals that surround the surrounding forests.
ประเภทห้อง
ห้องส่วนตัว
---
ประเภทที่พัก
บ้าน
---
พักได้
5
---
ห้องนอน
Pioppe di Salvaro, Emilia-Romagna, อิตาลี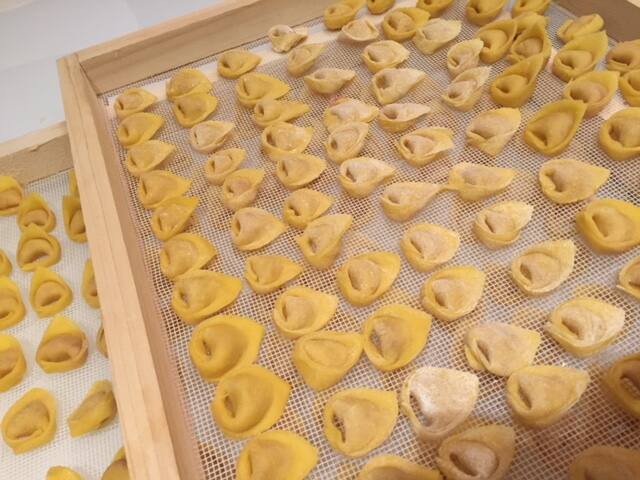 La nostra villa in bifamiliare è ideale per che vuole rilassarsi lontano dai rumori metropolitani ma servita bene per raggiungere la città. Ampi spazi e stanze grandissime. Cucina attrezzata, vasche e docce per tutte le esigenze. Giardino e ampie terrazze in cui godersi panorama e vita all'aperto. Lusso e relax!
Luce, relax, spazi grandi, vista panoramica, silenzio, vicinanza ai servizi, completamente arredato
assoluta tranquillita e assoluta mancanza di rumori molesti
Posto molto bello, ottima accoglienza, gentilezza e disponibilità. Consigliato!
Stefania
2017-03-21T00:00:00Z
Great place :)
Grzegorz
2017-03-18T00:00:00Z
Siamo stati per 3 giorni nella casa di Daniela, che dire, ottima!
Andrea
2017-01-01T00:00:00Z
ประเภทห้อง
บ้าน/อพาร์ทเมนท์ทั้งหลัง
---
ประเภทที่พัก
บ้าน
---
พักได้
12
---
ห้องนอน
Monte San Giovanni, Emilia-Romagna, อิตาลี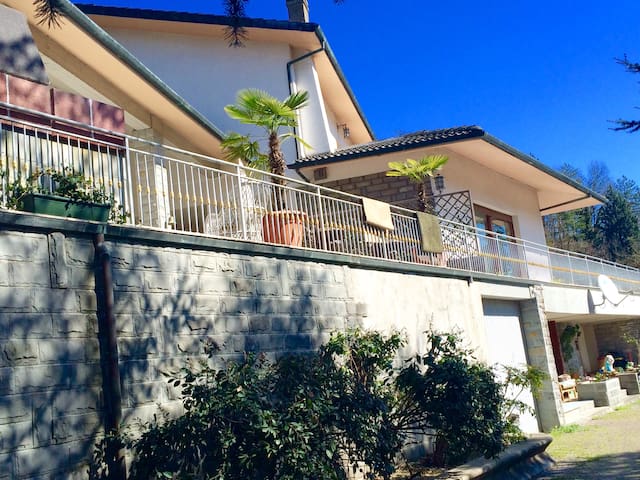 "Ca'del Piero"è un magnifico podere ristrutturato immerso nel verde dei colli bolognesi. A disposizione esclusiva degli ospiti un intero appartamento al piano terra con ingresso indipendente, camera matrimoniale,ampio bagno e soggiorno enorme con angolo cottura e zona relax con vetrata sul parco di 2000 mq
"Ca'del Piero" is a beautiful renovated farm lying in the green hills of Bologna surroundings. The guests have exclusive access to the whole ground floor, with independent entrance, a double room, a large bathroom and a relaxing living room on the 2000 sq meters (0.5 sq acres) garden. "Ca'del Piero" is an oasis of relax plunged into the green of Bologna's hills, a few minutes drive from Bologna, Casalecchio di Reno and Sasso Marconi, very close to the A1 motorway and to Bologna's freeway. A charming majestic entrance will greet the guests in a lightful double room in front of the garden. Quiet and privacy are ensured by an independent entrance on a large living room/patio furnished and endowed with all the comforts and by the elegant private bathroom. Ideal for business trips, for a visit to the gorgeous town of Bologna or for a food and wine holiday through the restaurants and wineries of Bologna's hills. "Ca'del Piero" is also perfectly suitable for families with children or pets, that can enjoy the 2000 sq meters (0.5 sq acres) of fenced park. The rooms have independent heating. -------------------------------------------------------------------------------------------- "Ca' del Piero" è un'oasi di relax immersa nel verde delle colline bolognesi a pochi km da Bologna, Casalecchio di Reno e Sasso Marconi, vicinissimo all'uscita dell'autostrada A1 Bologna-Firenze e alla tangenziale. Un affascinante ingresso padronale accoglierà gli ospiti in una luminosa camera matrimoniale affacciata sul parco. La quiete e la privacy sono assicurati da un'entrata indipendente sull'ampia sala - veranda arredata e munita di tutti i comfort e dall'elegante bagno privato. Ideale per soggiorni di lavoro, per una visita alla suggestiva città di Bologna, o per trascorrere una vacanza enogastronomica alla ricerca delle prelibatezze dei ristoranti e delle cantine dei Colli Bolognesi. Perfetta anche per famiglie con bambini e/o animali domestici che potranno godere di 2000 mq di verde recintato. L'ambiente dispone di riscaldamento autonomo regolabile.
"Ca' del Piero" è uno splendido podere che fa parte di un elegante complesso abitativo indipendente che comprende le colline ai piedi di Montechiaro. Nelle immediate vicinanze potrete trovare bancomat, supermercati, farmacie e tutti i principali servizi. La zona è ricca di percorsi escursionistici, adatti a appassionati e sportivi, ed enogastronomici, per chi ama la buona cucina e il buon vino.
Damiano ci ha accolto in modo gentile e attento. Ci siamo sentiti come a casa! L'appartamento corrisponde all'annuncio. Buona la posizione della casa immersa nel verde e nella tranquillità. Esperienza positiva.
Maria Rosa
2016-06-18T00:00:00Z
La casa è davvero stupenda, situata in un panorama fantastico sui colli appena fuori Bologna, è curata nei minimi dettagli per fornire un'esperienza confortevole e familiare. Damiano ed i coinquilini sono stati davvero premurosi rendendosi disponibili per ogni richiesta e problematicità (anche per quanto riguarda la strada per raggiungere la struttura), inoltre tutto il servizio è stato ottimo ed amichevole. La struttura è situata sul pian terreno ed è completamente indipendente rispetto a quella dei proprietari, colgo l'occasione per consigliarla a tutti (va bene per qualsiasi tipo di esigenza) per il confort, il paesaggio nonché la gentilezza di Damiano e coinquilini.
Marco
2016-01-24T00:00:00Z
The place is elegant and relaxing, including two playful cats. Damiano has always been very helpful and responsive. A very pleasant stay.
Federico
2016-04-15T00:00:00Z
Really nice place, like a paradise! Around the mountain, so its really beautiful. Very kindly people. Thank you!
Lina
2016-03-20T00:00:00Z
Damiano è un ottimo ospite, molto disponibile e gentile. Bello l'appartamento, pulito e dallo stile rustico molto accogliente. La vera sorpresa però è il panorama stupendo, immerso nelle colline. Peccato che in inverno non abbiamo potuto godere dell' enorme parco che offre la casa.
Elena
2016-01-16T00:00:00Z
We had a really great time in this apartment. We stayed for 2 nights and had our own car so it was perfect for us. Very quiet and beautiful. If we had a question we could always ring upstairs and ask. I would totally recommend this place!
Lenka
2016-04-08T00:00:00Z
We stayed 5 days in this beautiful self contained unit. We used it as a base and traveled to a number of cities from there. The flat is in a gorgeous location and is very quiet. It was a pleasure to come back to after visiting busy cities every day. Damiano and his flat mate were very helpful with any questions we had. Highly recommended place to stay!
Ronette
2016-03-13T00:00:00Z
Damiano is a very nice host. We arrived late in the night at his location and did not find it very easy since was already dark outside and we've misread the street numbers, so he drove to the address we were and helped us get there. His house is really interesting renovated, well maintained and nice to wake up in the morning. We started our trip to Tuscany there and it was a nice choice. We would definitely stay here again. Thank you, Damiano!
Ovidiu & Ana
2016-07-23T00:00:00Z
ประเภทห้อง
บ้าน/อพาร์ทเมนท์ทั้งหลัง
---
ประเภทที่พัก
บ้าน
---
พักได้
2
---
ห้องนอน
Sasso Marconi, Emilia-Romagna, อิตาลี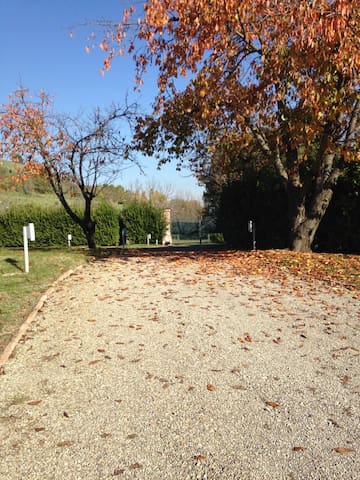 The house in which you host is an old stone house, restored and surrounded by green Tuscan-Emilian Apennines. On the ground floor a large kitchen with fireplace is the perfect place for lunch or dinner, on the first floor the living room and the rooms. A large garden for outdoor dining in summer. We have farm animals and that will not be a problem having a few little guest to 4 feet. We are 35 km from Bologna, 100 km from Ravenna, 75 miles from Ferrara, 48 km from Modena to Maranello 37 km, 110 km from Florence. and 0 km from the silence of the woods, countryside, green and a beautiful starry sky.
La casa es sencillamente preciosa. En la campiña, perfecta para vacaciones, quizás no tanto para trabajo. Es muy acogedora y con todos lo necesario para pasar unos estupendos días en el campo.
María-Eugenia
2015-10-05T00:00:00Z
La descrizione di questa casa era precisa e fedele Questa abitazione ci ha offerto ritmi e sapori antichi ( il proprietario ci ha permesso di assaggiare i fantastici prodotti del suo orto), abbinate a comodità di una ottima restrutturazione moderna, funzionale e rispettosa delle antiche forme Questa è una abitazione che ha permesso alla mia grande famiglia di trovare un centro attorno a cui ruotare, condividendo pranzi e cene assolutamente bio, sotto alla frescura di tigli profumati, cosi come colazioni appetitose coccolati dalla brezza mattutina ,garantita dalla buona posizione collinare della casa Ben fornita di tutto quanto ci occorreva, sia come stoviglie , che come suppellettili nelle stanze, abbiamo potuto regalarci una decina di giorni di pieno relax, con tempi lenti e pieni di buone occasioni di condivisioni Raggiungibile anche a piedi,ma con 5 minuti di auto, vi è il piccolo borgo di Montepatore,dove si trovano tutte le piccole botteghe piene di cibo sano ed accoglienti bottegai, sempre pronti ad accompagnare gli acquisti ,con gratuiti sorrisi La famiglia proprietaria si è dimostrata tutta molto accogliente, coniugando bene la disponibilità con la discrezione, offrendoci la loro presenza senza mai imporla o invadere Una vacanza da 10 e lode, che ci sentiamo di consigliare, e che con grande piacere , ripeteremo sicuramente Sissi e Giovanni
Sissi
2015-08-17T00:00:00Z
Camilla and her family and friends made us feel incredibly welcome in their home near Montepastore. We were three couples traveling from the states to get off the beaten path in Italy. Camillas home was a wonderful home base for our exploration of Bologna, Parma, Modena, and Tole. Their trattoria in Montepastore is a sublime experience. We would have eaten every meal there (we almost did.) I would definitely recommend this to some one looking for a cultural experience- away from the crowds, surrounded by beautiful hikes, wonderful people, and amazing food. Our whole party agreed we'd be back for more nochino and beautiful views. Don't expect wifi or great cell reception- plan on disconnecting- you will be glad you did! Soak in the pomegranate trees, great wine, fresh pasta, and walnut liquor- work emails can wait.
Max
2016-09-28T00:00:00Z
ประเภทห้อง
บ้าน/อพาร์ทเมนท์ทั้งหลัง
---
ประเภทที่พัก
บ้าน
---
พักได้
7
---
ห้องนอน
Savigno, Emilia-Romagna, อิตาลี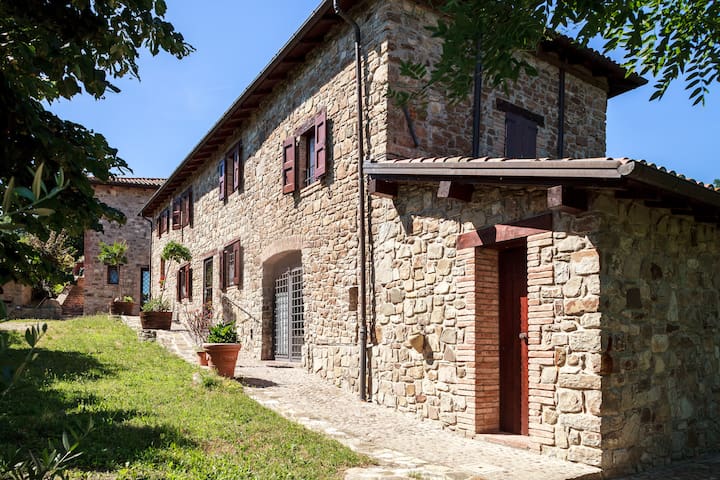 La casa è divisa a metà ed è così composta su 2 piani al pianoterra si trovano le cucine entrambe con una zona camino (una parte di queste è ad uso esclusivo della proprietà e l'altra per gli ospiti) al 1° piano ci sono le camere 1 adibita agli ospiti e 1 bagno da condividere con la proprieta al 2° piano mansardato altre 2 camere e 1 bagno. L'entrata della casa è condivisa con la proprietà. La strada per raggiungere la casa non è asfaltata ma si può arrivare con l'auto.
Questa casa immersa nel verde lascia spazio alla vostra fantasia potrete fare lunghe passeggiate nei dintorni oppure rilassarvi davanti al camino acceso e immergervi nella lettura . È un tuffo nel passato dove la sera lascia lo spazio a cieli stellati immacolati. Immerso nel verde, e nel silenzio in ambiente rurale Gli ospiti possono accedere alla terrazza panoramica dove possono pranzare o prendere il sole dotata di ombrelloni e lettini e barbecue. Saremo presenti nella casa a giorni alterni per ogni necessità potete contattarci telefonicamente. Arriva una corriera più volte al giorno fino alle ore 19 .nei dintorni potrete trovare piscina,, trattorie e ristoranti caseifici e mercati settimanali. Ci sono animali di campagna cani, gatti e galline. Sono comprese la biancheria da letto e da bagno e stoviglie per la cucina su richiesta pulizie.
Appennino, Mountain.
Pour un séjour tranquille avec un accueil très très bon
stephan
2017-03-20T00:00:00Z
ประเภทห้อง
บ้าน/อพาร์ทเมนท์ทั้งหลัง
---
ประเภทที่พัก
บ้าน
---
พักได้
4
---
ห้องนอน
Savigno, Emilia-Romagna, อิตาลี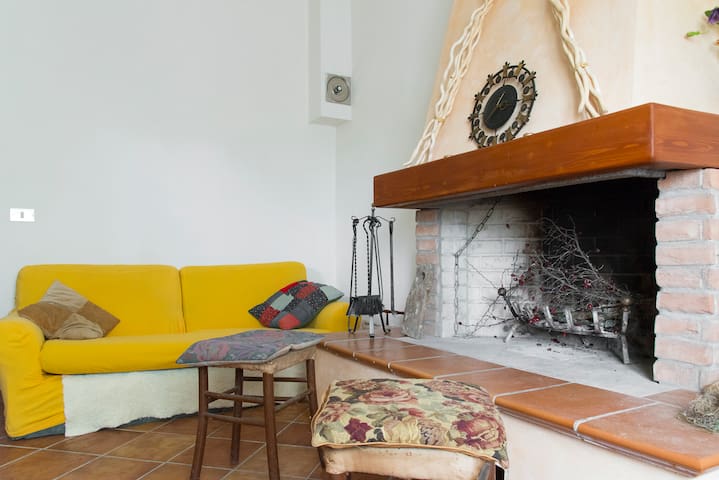 In a typical village in the bolognesi hills 20 min from Bologna special house build in the rock, by franco begliossi designer. For an authentic italian experience, dinners with neighbors in the village, fresh food from the locals
Unique Bolognesi hills house! Staying in this four storey house in the village of Livergnano (15 km from Bologna) is a unique experience, as it is actually dug into the rocks! On the front side, you'll have a wonderful view of the famous rolling surrounding Bologna (i collini Bolognesi). Inside the house, you can still see the nude rocks at the back, giving the interior a very warm and relaxing atmospere. On the ground floor, there is a fully equipped kitchen (i.e dish washer, stove, oven etc). One level up, a cozy living room with a comfortable sofa (which can be transformed in a double bed) awaits you as well as the bathroom. A double bed with second toilet is on the third floor and on the third floor there is a lovely roof terrace facing the south. Excellent to enjoy breakfast in the morning or have dinner at night! WiFi internet is available at all four levels of the house. Livergnano itself is a small hill town where you will find no difficulties to relax and enjoy life. Just have a coffee at the local bar just around the corner, a tasty dinner in one of the restaurants very close by or go hiking or mountainbiking in the hills that surrounding you (especially in the national park Riserva naturale Contrafforte Pliocenico! Situated along the Strada della Futa (known from the classing and vintage "Mille Miglia" car race), the historic center of Bologna (Italy's culinary capital!) can be reached by car within half an hour. Also several other historic cities in the area (Florence, Modena, Ferrara, Ravenna) are only a short drive away. Although a car gives you some more flexibility to explore the region and do day trips, it is also possible to geta round by public transport. In short, this house is the perfect base to relax, explore the Appenini hiand Toscane countryside and make city trips. We would love to welcome you at this cosy place!
A pochi metri dall'appartamento è presente un particolare museo storico ( della seconda guerra mondiale) allestito e interamente nella roccia e curato dal sign. Umberto; molto cordiale e disponibile a guidarvi all'interno.
It's not easy to find the words to describe Massimo's apartment. Calling this little jewel an apartment doesn't really describes what I really felt when I first walked into the "house". I was not prepared to it because the few pictures posted are useless. It's not a house the way we know it, it's something that belongs more to the oniric world. The "house" is a sort of tower literally dug into the mountain. a winding stairway surrounded by the mountain (no walls, no wallpapers, just the nude rock!!!) walks you all the way up to the top: first floor: kitchen, second floor: living room and a nice restroom, third floor: bedroom with small toilet, fourth floor: panoramic terrace. The place is clean and comfortable (two plasma tvs, wifi). This is a perfect place if you want to escape your everyday city stress for a few days. Bologna downtonw is 25-30 minutes away (car needed). Last but not least Massimo is a great host. Wow!!!!! This place is f.....ing unreal!
Davide
2014-04-07T00:00:00Z
This house is modern, with all the comfort you need (washing machine, dishwasher...) and has a *wonderful* terrace on the rootftop, on which you can sunbath, eat, watch the sunset and gaze at stars at night while slowly drinking a good glass of italian wine... You can even take a shower on the terrace, since no neighbors on the left or on the right have terraces, so nobody can watch you! You just have the countryside in front of you, and the roofs of the other houses on your sides. Livergnano is a small village in the hills not so far from Bologna (very interesting town!), and Massimo's house is not on the main road through the village but on a little and peaceful nearby street, so don't bother about noise. The hills around Livergnano are very beautiful, and you can easily spend hours driving on the winding roads around, or escape to Firenze for a day trip. The neighbors you can meet in the street are very friendly (but not intrusive), especially Umberto, who have a little "museum" just nearby, displaying old things from World War II, since there were fierce battles which took place here between German and American soldiers. Massimo itself is very friendly, and you will have no problem communicating with him. To sum it up: it's a very good idea to stay there, especially because of the wonderful terrace, the beautiful countryside, the relative freshness of the hills... Nothing negative!
Frederic
2016-08-07T00:00:00Z
Un accueil très chaleureux de la part du propriétaire. Une vue imprenable sur la nature et le calme sont très appréciables. La maison située dans un petit village (200 habitants) a été refaite à neuf à tous les équipements nécessaires pour passer un séjour agréable et confortable. Un endroit de rêve que l'on ne pourra oublier et que l'on souhaitera découvrir à nouveau
A
2016-09-29T00:00:00Z
We spent 3 nights in the "house of rocks". Massimo is a phantastic host, his house beautiful and absolutely unique. Livergnano has a lovely community. We enjoyed it a lot.
Pia
2016-08-21T00:00:00Z
Casa super attrezzata dotata di tutti i comfort (lavatrice, lavastoviglie, forno, frigo, frizer, WiFi,tv) e perfetta come da foto. Anche il cane si è ambientato benissimo fin da subito. Ci si sente come a casa propria. Host molto gentile e disponibile. Comunicazione facile e veloce. Location molto particolare e suggestiva. Anche i vicini e il paesino super accoglienti e cordiali. Da ripetere il prima possibile!!
Alessia
2017-01-01T00:00:00Z
Casa stupenda, accogliente, silenziosa e moderna. Possibilità di fare lunghe passeggiate nei dintorni. Ottimo per staccare la spina qualche giorno e rientrare in contatto con la natura. Ottima comunicazione, gentilezza e disponibilità. Ci torneremo sicuramente
Micol
2015-01-03T00:00:00Z
ประเภทห้อง
บ้าน/อพาร์ทเมนท์ทั้งหลัง
---
ประเภทที่พัก
บ้าน
---
พักได้
4
---
ห้องนอน
Livergnano, Emilia-Romagna, อิตาลี
Situata nel Parco Naturale del Contrafforte Pliocenico, e' una casa circondata da boschi e campi. La fermata della corriera (in paese a Livergnano) e' a soli 10 minuti a piedi, e si può raggiungere il centro di Bologna in 30 minuti (durata del viaggio in corriera). Vicino vi sono: (URL HIDDEN) (5 mins a piedi) ce(URL HIDDEN) (3 hr a piedi) Il fiume Savena, usato dai Bolognesi come alternativa al mare (URL HIDDEN) (20 mins a piedi) giardi(URL HIDDEN)
Mi é piaciuto tanto stare nella casa di (URL HIDDEN) casa é grande e molto carino l'unico problema era soltanto che un po lontano da Bologna,peró si puo fare senza fatica.Ivana era molto gentile,lei ci aspettava a farci vedere la casa quando siamo arrivati(tardi di notte) e é venuta a prendere le chiavi presto di mattina per noi.SE avessi l'opportunitá ci andrei un'altra volta.
Klára
2016-07-17T00:00:00Z
Dit huis was als een thuis voor ons gezin. Helemaal compleet, praktisch en mooi ingericht en midden in een prachtig gebied. Onze dochter had op 5 minuten loopafstand een Manage waar ze een aantal keer heerlijk heeft gereden. Onze zoon is flink op onderzoek gegaan in de gigantische tuin en heeft een aantal nieuwe dieren en insecten ontdekt. Mijn man en ik hebben heerlijk genoten. De hond had de tijd van zijn leven. Naast dat dit een top huis is, is de omgeving ook ideaal als je van natuur en pittoreske dorpjes houd. De rivier de Savena met Dam en waterval was een cadeau. Dit is een aanrader en wij plannen om volgend jaar weer te komen!
margreet
2016-07-28T00:00:00Z
La casa e' molto accogliente ed esattamente come descritta. Ivana e' molto gentile e discreta. Un soggiorno perfetto!
Ester
2016-11-01T00:00:00Z
Merci beaucoup nous avons passé un très bon moment
jean-baptiste
2016-08-13T00:00:00Z
Come accoglienza nulla da eccepire, il luogo è ottimo per chi vuole soggiornare in mezzo ai boschi, ma mi sono riccreduto quando sono entrato nella casa. Nall'annuncio non ci sono foto dell'interno della casa (solo una foto), troppi oggetti personali in (URL HIDDEN) in un attaccapanni sulle scale ho trovato delle camicie, delle scarpe sulle scale, non ho potuto disfare le valigie poichè sia gli armadi che il comò li ho trovati pieni di indumenti personali dell'host.
Ezio Giacomo
2016-08-21T00:00:00Z
ประเภทห้อง
บ้าน/อพาร์ทเมนท์ทั้งหลัง
---
ประเภทที่พัก
บ้าน
---
พักได้
4
---
ห้องนอน
Livergnano, Emilia-Romagna, อิตาลี
Seventeenth century colony house, with a 3000 square meters garden and a private chestnut wood. In the Appennino mountains, at an half hour by car from Bologna downtown and at a few kilometers from Tuscany. Very close to the "Casoncello gardens" and the "Molino Del Pero Golf Club". Ideal starting point for trekking or bike excursions.
La casa e` grande ma suddivisa in piccoli spazi. Nella sala c'e' un camino , ideale per cuocere le castagne raccolte nel castagneto. Travi a vista. In alcuni punti sono visibili gli antichi muri in pietra. Nell' insieme un ambiente caldo e intimo.
Excellent house and excellent landscape
GEORGE
2017-03-19T00:00:00Z
ประเภทห้อง
บ้าน/อพาร์ทเมนท์ทั้งหลัง
---
ประเภทที่พัก
บ้าน
---
พักได้
7
---
ห้องนอน
Loiano, Emilia-Romagna, อิตาลี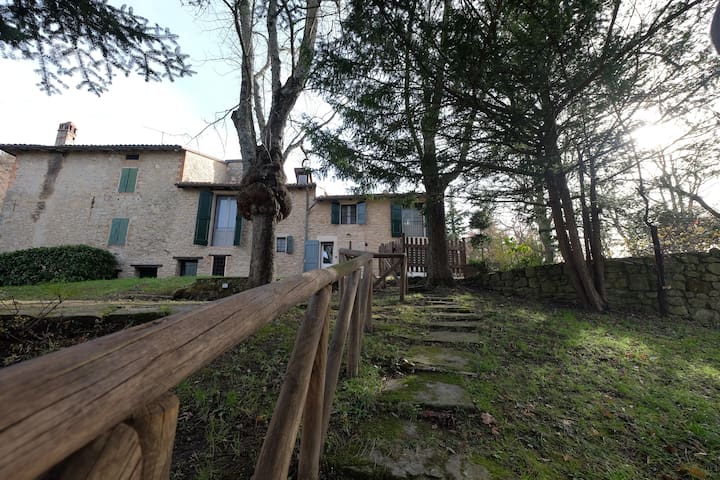 The house is an old stone farmhouse of 1891, just outside the town equipped with all services. Surrounded by greenery of the Apennines, not far from Bologna and Florence. For lovers of hiking the Way of the Gods, Monte Sole and the Gothic Line, Marzabotto and surroundings. The accommodation is suitable for both couples, even those with children, both for single travelers, for short breaks or longer stays. Enjoy the peace and beauty of the place and our hospitality.
The room is located on the second floor of the house, but the rooms are so big and spacious privacy and peace are assured. You need to work or just relax the environment is ideal.
La camera è enorme, la casa bellissima e immersa tra le colline. Ideale per riposarsi. La colazione è stata servita in giardino: buona torta fatta in casa e frutta!! Consigliatissimo!!
Cecilia
2016-08-29T00:00:00Z
Nous avons passé un agréable moment chez antonia. Leur maison est au calme, la chambre est spacieuse, propre. Tout était parfait. Merci pour votre accueil ! Olivier et Claire
Olivier
2016-08-02T00:00:00Z
It was a really nice place to stay! Very very lovely people... we stayed one night! Incredible vieuw from the bed on the mountains in the morning! I want to wake up like this every day! They made us a excellent breakfast. We felt like princesses in a castle! We would love to come again..and stay longer. Maybe with our kids. We loved the dog! So sweet! Cecilia speeks perfect english and the owner can speak german! Thanks for your hospitality! We had a great time! Lots of love Christina and Eileen
Christina
2016-08-25T00:00:00Z
Antonia und ihre Familie waren wunderbar! Sie haben uns alle herzlich empfangen! Für unsere Fragen konnten wir uns jederzeit an Cecilia wenden (Antonia spricht nicht englisch). Das Haus ist wunderschön außerhalb gelegen, super ruhig (wir haben sogar einmal einen Hirsch oder so was ähnliches gesehen! Für Stadtkinder ein Highlight! :D). Es war alles mehr als sauber und sehr gemütlich eingerichtet. Das Frühstück jeden Morgen war auch toll und liebevoll zubereitet :) Wir können einen Aufenthalt bei Antonia und ihrer liebenswürdigen Familie (samt Hund und Katzen :)) zu 100% weiterempfehlen!
Denise&Alex
2016-09-28T00:00:00Z
The house is located on the top of the hills, so it is convenient if you have a car. In case you come from the direction of Florence on motorway A1, towards Bologna, choose the older, Panoramic route as on the other route there is no exit to Rioveggio so you need to go a few extra km-s to exit the motorway. The house and the surrounding area is very peaceful from the windows you can see the mountains and the beautiful landscape. We just spent one night here but everything was great, the whole family is very friendly and helpful. Thank you for the nice breakfast. All in all is a relaxing atmosphere with nice people. We would recommend this house and would come back again.
Lóránd
2016-09-12T00:00:00Z
Очень радушные хозяева, встречали нас прям у ворот поместья, очень переживали, т.к. мы приехали поздно. Все фотографии соответствую действительности. Само поместье находится в живописных горах. Утром накормили очень вкусным завтраком. Лучшее размещение во всей Италии. Нам все очень понравилось, советую всем!
Ewgeny
2016-09-16T00:00:00Z
The host canceled this reservation 145 days before arrival. This is an automated posting.
Eliana
2016-09-14T00:00:00Z
Wow! This stay was only planed as a one night rest in travel. Turned out to be the most memorable AirBNB night we have had in our Europe trip. Our GPS malfunctioned, so got a little lost getting there (highly recommended, as awesome drive through little mountain towns). It is actually not far off the main motorway. Hosts are the nicest of county Italian people; we felt very welcome and were suggested a top Pizza restaurant in the nearby town. Breakfast was home-made cake baked the night before ( THANK YOU ANTONIA). Original old stone house, inside is fully renovated. If touring anywhere near Bologna, make this a MUST STAY on your trip.
David
2016-09-20T00:00:00Z
ประเภทห้อง
ห้องส่วนตัว
---
ประเภทที่พัก
บ้าน
---
พักได้
2
---
ห้องนอน
Monzuno, Emilia-Romagna, อิตาลี
The house is inserted in a hilly area overlooking the Po Valley. The secluded location amid the hills subtracts the guest from any source of noise nuisance, and allows us to capture the sounds produced by animals that are present both inside the park and in the surrounding woods. Is a 15-minute drive from Bologna and the motorway junction for Milan, Florence, Rimini and Venice. The Bologna Central Station and the city center are all within 30 minutes.
The house offers its guests a whole floor: two double bedrooms with double beds and possibly a the baby bed, a private bathroom and a study with a notebook and wifi. It also provides the family kitchen with appliances and kitchenware. Guests can also enjoy the large wooded garden and porch with tables and chairs.
The house is located in the municipality of Monte San Pietro, in San Lorenzo in Collina, inhabited until 2500 BC as evidenced by some archaeological finds which testify to the presence of Neolithic peoples. Other findings, attributable to more recent times, are attributable to the Etruscan civilization (VI-IV century BC.).
host gentilissimi, come sentirsi a casa. Posto incantevole
Mirko
2017-02-09T00:00:00Z
The house is located in the beautiful country side and Andrea and his wife were wonderful hosts. Great stay.
Daria
2017-03-31T00:00:00Z
Esperienza assolutamente positiva perché, oltre ad essere immersi nella natura, la famiglia è stata molto cordiale e disponibile
Francesca
2017-04-02T00:00:00Z
ประเภทห้อง
ห้องส่วนตัว
---
ประเภทที่พัก
บ้าน
---
พักได้
4
---
ห้องนอน
San Lorenzo in Collina, Emilia-Romagna, อิตาลี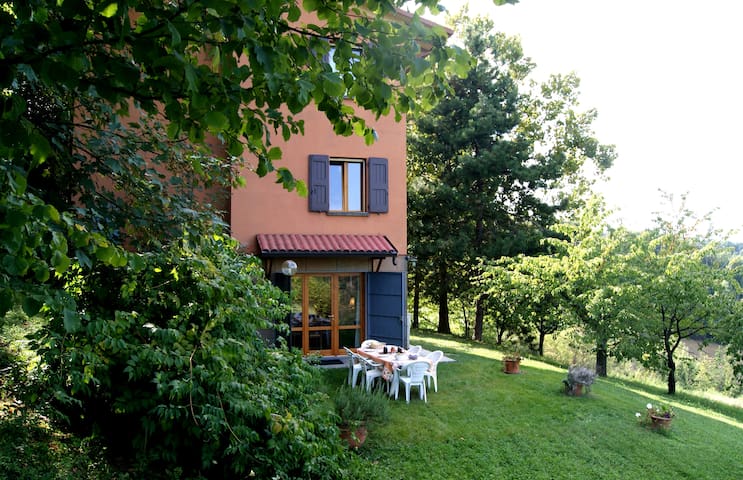 Ideale per chi è in viaggio, a due passi dall'A1 . Mansarda luminosa in Edificio Rurale con giardino, Casa-Studio di una Decoratrice Murale. Paese di Monzuno, in collina tra Bologna e Firenze. Letto matrimoniale, Futon, Tavolo, Bagno, Ingresso indip.
La mansarda è provvista di tavolo e cabina armadio, con un'affaccio interno sul fienile restaurato. Il bagno è interamente decorato. Servizio WiFi.
Il paese di Monzuno si trova tra Bologna e Firenze, in collina a 650 m a due passi dall'autostrada A1. In estate il clima è fresco e ventilato.
ประเภทห้อง
ห้องส่วนตัว
---
ประเภทที่พัก
บ้าน
---
พักได้
2
---
ห้องนอน
Monzuno, Emilia-Romagna, อิตาลี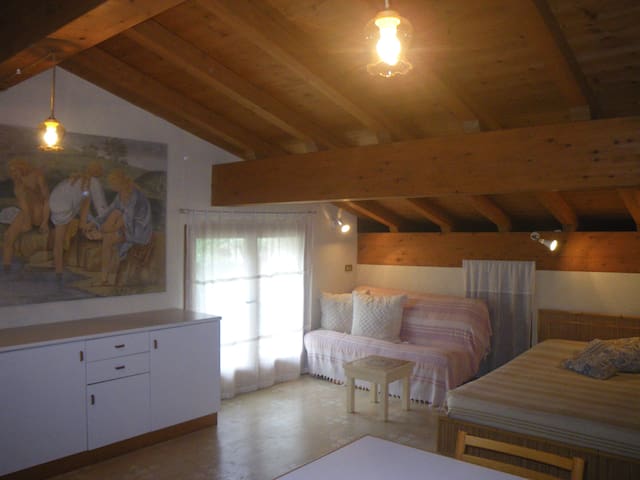 In the middle of the wonderfull hills and valleys of Monzuno, (ONLY 30 MINUTES BY CAR FROM BOLOGNA) this amazing house (recently renewed and converted from a old barn) waits you with its 800mt2 of garden and its two patios!
An Old Barn Reconverted in a wonderfull stone House with 800mt2 private garden. From 2 to 5 people maximum, located on the gracious hills of Monzuno (40 minutes from Bologna by Car). We also offer transfer service from the near Train Station of Vado to the Villa. Possibility of Horse riding, Mountain bike and Walking in the nature, but also a Go-Kart Racetrack in Rioveggio (few minutes from the house) Fornitures: Oven / Barbecue in the Patio FirePlace, Electric Oven, Dishwasher, Washingmachine, Tv. Free internet wi / fi . 80 km from Florence, 37km from Bologna Don't esitate to contact us for any information.
La casa è davvero incantevole con tutti i comfort, tutto nuovo e pulito. Molto bello lo spazio esterno e il giardino perfettamente recintato per i miei cani. Ho apprezzato molto anche la cordialità e la disponibilità dei proprietari subito pronti a intervenire per piccole richieste o inconvenienti. Ottima e strategica la posizione. Io ero lì per lavoro e relax, ma l'uscita dell'autostrada BO-FI è a meno di 5 min e con l'auto tutti i servizi sono facilmente raggiungibili. Sicuramente torneremo.
Alice
2015-07-12T00:00:00Z
The host canceled this reservation 4 days before arrival. This is an automated posting.
Kristi
2015-09-23T00:00:00Z
The stay at the Piccolo Fienile was just fabulous! Upon arrival we were greeted by the owners of the house, Daniela and Claudio (as Marco had communicated us) two people very kind and super-helpful. They advise us and get us a table at the restaurant La Piazza, a 5-minute drive, exquisite!The house is decorated beautifully and very clean and tidy, just like the pictures! The owners lent us four mountain bike and we made a little excursion to the river, even though we were a bit 'out of practice! Monday we took advantage of the proximity to Florence for a day trip, by car it took us about 45 minutes, and in the evening on our return we grilled fiornetina steak in the barbecue in the garden of the house! What can I say, it was really a weekend of relaxation, nature and good food, we recommend it to anyone wants to relax for a weekend from the busy life and enjoy a nice house in the company of friends! My friends and I will definitely be back in September when we are going to join the "via degli Dei" walkway! Elena
Elena
2015-06-16T00:00:00Z
We spend few days in the Marco's house to discover Bologna and Emilia Romagna. Nice location and the house is very nice. It's a perfect place for a family. The house is located not too far from a small town where you can buy all you need.
Benoit
2016-08-11T00:00:00Z
La casa se encuentra en plena zona montañosa. El espacio del jardín, muy amplio, se aprovechó mucho por los peques de la casa. Estuvimos muy cómodos. Solamente a considerar incorporar más vasos, cubiertos,... pues eramos 5 personas y quedaba justo.
Diego
2016-07-31T00:00:00Z
Il soggiorno è stato molto piacevole. La casa immersa nel verde è molto grande, ben arredata, collocata strategicamente: è facile raggiungere moltissime città della regione e Firenze. Esperienza sicuramente da ripetere.
valéry
2017-01-05T00:00:00Z
ประเภทห้อง
บ้าน/อพาร์ทเมนท์ทั้งหลัง
---
ประเภทที่พัก
บ้าน
---
พักได้
5
---
ห้องนอน
Rioveggio, Monzuno, Emilia-Romagna, อิตาลี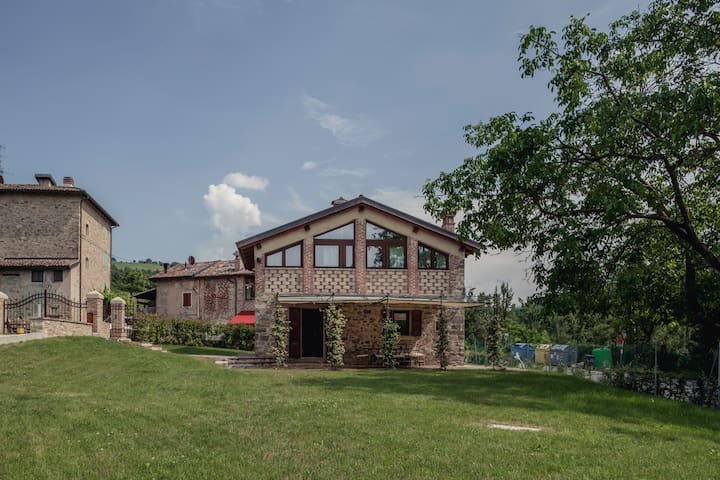 Sulle dolci colline della Valsamoggia "Le terre di mezzo" fra Bologna e Modena, fra vigneti e ciliegi nella nostra casa in sasso, risalente al 1300, mettiamo a disposizione due camere doppie, con bagno privato e piccola colazione. ANNUNCIO A
Abbiamo ristrutturato questa vecchia casa, piano, piano e gran parte dei lavori li abbiamo fatti noi: io, mio marito, Tonino e mia figlia Camilla. Siamo orgogliosi, anche delle imperfezioni.
Siamo tra Bologna e Modena, facile in poco tempo raggiungere queste spendite città Terra di motori: Ferrari, Lamborghini, di cibo magnifico: Tortellini, prosciutto, parmigiano reggiano, ciliegie di Vignola
il luogo è tranquillo, immerso nel verde delle colline. Luisa e Tonino sono molto disponibili e accoglienti, come anche lo è la loro casa, curata con gusto nei minimi dettagli. è stato un po' come essere ospiti degli zii! la colazione non è per nulla modesta, buonissime le torte fatte in casa! è da sottolineare l'attenzione per la celiachia, ottimo anche il cibo senza glutine. se tornerò mi fermerò ancora lí sicuramente, e nel frattempo consiglio a tutti di andarci!
elisa
2017-03-19T00:00:00Z
ประเภทห้อง
ห้องส่วนตัว
---
ประเภทที่พัก
บ้าน
---
พักได้
2
---
ห้องนอน
Castello di Serravalle, Emilia-Romagna, อิตาลี
Casetta interamente indipendente, calda e accogliente, composta da camera matrimoniale, camera con letti a castello, cucina, sala da pranzo, salotto e bagno. Giardino privato e barbecue.
La nostra è una bellissima casetta in sasso su due piani. All'entrata ampia zona giorno con divani, cucina e tavolo da pranzo. Al secondo piano camera matrimoniale, camera doppia con letto a castello e bagno. Arredata in stile vintage con mobili di famiglia che abbiamo recuperato. La casa è immersa nel verde con un panorama mozzafiato, che quando il cielo è limpido consente di vedere fino alle Alpi Veronesi. Il panorama è ancora più suggestivo quando è innevato. Il giardino è attrezzato per poter mangiare e cucinare fuori alla griglia; è inoltre il posto ideale per famiglie avendo i bambini a disposizione numerosi giochi sia all'aperto che in saletta al chiuso. Il prezzo include la biancheria ma non le spese di utenza. Ci troviamo ad 1,5 km dal centro di Savigno, rinomato per essere città del tartufo. Sono numerosi i borghi che potrete visitare nella nostra Valsamoggia, ma sarete anche comodi per andare alla scoperta di Modena e Bologna. E' necessario venire in auto.
Il nostro paese è tutto da scoprire e pieno di borghi e castelli medioevali da visitare nelle vicinanze. Savigno è terra di tartufo,di vini, castelli e buon cibo!
Elisa is very pleasant woman
Vláďa
2017-03-20T00:00:00Z
We want to Bologna children book fair and were looking for apartment near Bologna. Elisa's house is aprox 40 min drive from Bologna. We had a separate little house with two floors - two bedrooms upstairs and kitchen with living room downstairs. The location is beautiful - the tiny road up to mountain and with the breathtaking view from property. House is old but charming, Elisa is very nice and welcoming host - we had a great dinner and breakfast (not included in price).
Agnese
2015-03-31T00:00:00Z
The house was in a fantastic location with a beautiful view. Elisa was very friendly and helpful. We had great weather and a great time. We'll be back I'm sure.
Frau
2016-03-30T00:00:00Z
Great stay in Elisa's agriturismo! The view from the estate over the entire Po valley is breathtaking . Our house was absolutely charming, well equiped and very quite. And Elisa is a very nice host. Savigno is a 10mn drive from the estate, it is a lively small city with restaurants, a small supermarket and great bottegas and cafés. In a nutshell: the perfect location for those who want to spend some time off the beaten track near bologna and modena!
Jerome
2014-09-06T00:00:00Z
Our experience in the home on Elisa's property was wonderful. She was an ideal host who made use feel as if part of her family. The house and the countryside are lovely and her cooking is divine. The house is also ideally located between Modena and Bologna and just a short drive from incredible restaurants, walking trails, cheese factories, watermills, horse farms, etc. We hope to return again soon!
Lia
2015-05-05T00:00:00Z
ประเภทห้อง
บ้าน/อพาร์ทเมนท์ทั้งหลัง
---
ประเภทที่พัก
บ้าน
---
พักได้
4
---
ห้องนอน
Savigno, Emilia-Romagna, อิตาลี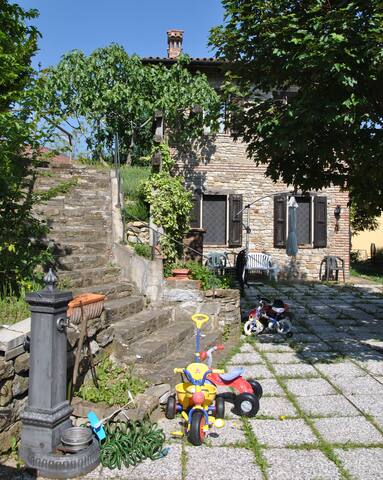 Il mio alloggio si trova sul crinale tosco-emiliano, immerso nella meravigliosa cornice dei paesaggi dell'Appennino bolognese dipinti da Giorgio Morandi. E' situata a pochi passi dal centro del paese e dalla casa di Giorgio Morandi, meta di turismo proveniente da tutto il mondo. Oltre agli antichi borghi circostanti, Grizzana Morandi è a pochi chilometri dalla incantevole Rocchetta Mattei, recentemente restaurata e aperta al pubblico.
La villetta è circondata dal verde con acesso ad un ampio giardino privato e ad un grande terrazzo panoramico .L' ambiente è caldo , accogliente e pieno di colori! Curato nei dettagli e nei confort,offre la possibilità di trascorrere piacevoli giornate
ประเภทห้อง
บ้าน/อพาร์ทเมนท์ทั้งหลัง
---
ประเภทที่พัก
บ้าน
---
พักได้
4
---
ห้องนอน
Grizzana Morandi, Emilia-Romagna, อิตาลี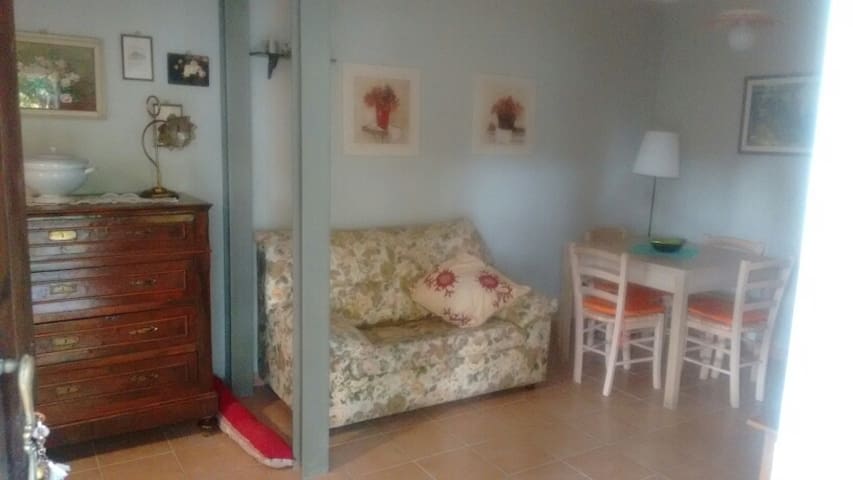 กรอกวันที่เพื่อดูการกำหนดราคาเต็ม มีค่าธรรมเนียมเพิ่มเติม อาจมีภาษีเพิ่ม