Skvěle vybavený apartmán v srdci Šumavy i Kvildy, hned vedle Pekárny Kvilda s minipivovarem a cukrárny Na Kvildě. Před okny máte loučku pro děti, nástupní místo na běžky, dětské a sportovní hřiště minutu pěšky. Zdarma sáně a vozík za kolo. Užijte si!
Centrum Šumavy, centrum obce. Komfort uprostřed nekonečných lesů. Křižovatka výletů, ať již pěšky, na kole či na běžkách. Prameny Vltavy, hranice, rýžoviště, slatě. Na Kvildě najdete samobsluhy, sportovní potřeby, půjčovny kol, lyží, koloběžek. Muzeum, kostel a časté kulturní aktivity. Uprostřed mezi obecemi Modrava, Borová Lada, Filipova Huť.
ประเภทห้อง
บ้าน/อพาร์ทเมนท์ทั้งหลัง
---
ประเภทที่พัก
อพาร์ทเมนท์
---
พักได้
4
---
ห้องนอน
Kvilda, South Bohemian Region, สาธารณรัฐเช็ก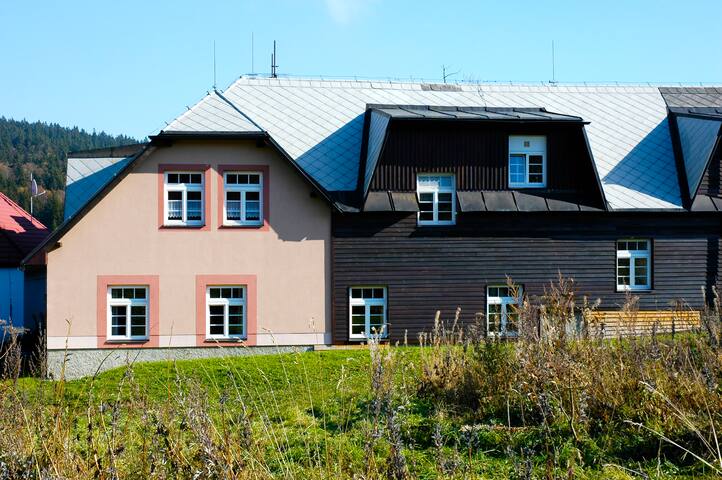 Modern apartment in Kvilda - Šumava mountain, which contains two separate four-bedroom, living room, fully equipped kitchen, bathroom, WC. Lockable space for sports equipment. Clean air and wonderful nature around.
Moderní apartmán v
The host canceled this reservation 18 days before arrival. This is an automated posting.
Miroslav
2016-08-22T00:00:00Z
The host canceled this reservation 3 days before arrival. This is an automated posting.
Hana
2016-10-24T00:00:00Z
I got all the information needed to stay at Jaromir's place. the apartment is big! i was sad they were only 4 of us who made it for the trip. there was an event happening and there was a lot of people when we came. lots of sports shop around as well.
Qatrun Nadhrah
2015-05-16T00:00:00Z
Příjemné ubytování v centru Kvildy. Popis apartmánu přesně odpovídá skutečnosti. Vše potřebné k dispozici. Moc se nám tam líbilo. Když, to bude možné, tak přijedeme zas. Mohu jen doporučit.
Miroslav
2016-09-18T00:00:00Z
The host canceled this reservation 25 days before arrival. This is an automated posting.
Ondřej
2016-06-21T00:00:00Z
The accommodation was clean and spacious and very comfortable for the 6 of us. The location was excellent, close to the trails, slopes, and brewery :)
Stefanie and Jakub
2016-03-30T00:00:00Z
Vše bylo v naprostém pořádku. Majitel milý a ochotný, bezproblémová komunikace. S ubytováním jsme byli spokojeni, vše odpovídalo popisu. Strávili jsme zde jednu noc při cyklo přejezdu Šumavy. Děkujeme a rádi se sem příští rok opět vrátíme.
Robert
2015-08-30T00:00:00Z
ประเภทห้อง
บ้าน/อพาร์ทเมนท์ทั้งหลัง
---
ประเภทที่พัก
อพาร์ทเมนท์
---
พักได้
8
---
ห้องนอน
Kvilda, South Bohemian Region, สาธารณรัฐเช็ก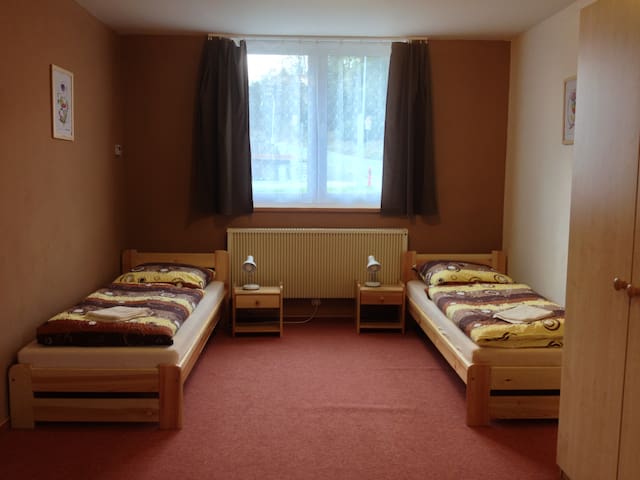 Moderně zařízený nový byt v Srní 119 s krásným výhledem do lesa , ideální pro páry , kompletně vybavený. K dispozici 1 manželská postel - rozkládací gauč. Ze Srní je blízko do všech atraktivních míst Šumavy - Vydra, Modrava, Vchýnicko-Tetovský kanál. Apartmán je skvělý pro páry a sólové cestovatele.
Dům 119 je umístěn v centru obce Srni, přímo u lesa vedle hotelu Depandance Srni ( dříve Htl Šumava) . Parkování je přímo před domem
Skvělé místo. I když jste ještě doma, tak si už připadáte jako v lese. Pod okny chodí srnky a všude se rozléhá les. 2 minuty odsud je také hotelový bazén, obchod, restaurace nebo cukrárna a spoustu tras na běžky i procházky.
michaela
2017-01-22T00:00:00Z
Ubytování malé, ale moderní, velice útulné a dostačující. Před okny každé ráno srnky a veverky u krmelce, takový pohled se jen tak nenaskytne! S hostitelem p.Markem rychlá spolehlivá komunikace telefonem. Skvělá lokalita pro běžkaře vyhledávající mírný terén. Určitě doporučujeme.Hana a Standa
Hana
2017-02-08T00:00:00Z
This flat was really nice, it was clean, newly renovated, quiet and had a nice view. We didn't meet Marek but the lady who gave us the keys was very nice. The location is beautiful and is close to other small towns in the area, it was quieter than the others which we liked. We would recommend staying here. A tip for staying in this town is that the only supermarket is open for a few hours Saturday mornings and closed the rest of the weekend.
Lana
2017-02-14T00:00:00Z
Krásně vybavený byt pro 1-2 osoby v centru Šumavy, ideální na výlety v létě i na lyže v zimě jako výchozí bod. Bezproblémové parkování. Blízko je obchod s potravinami. V okolí je plno možností na výlety. Moc jsme si to užili. Jen na spaní je rozkládací sedačka, což nemusí všem vyhovovat.
Ondřej
2017-03-05T00:00:00Z
ประเภทห้อง
บ้าน/อพาร์ทเมนท์ทั้งหลัง
---
ประเภทที่พัก
อพาร์ทเมนท์
---
พักได้
2
---
ห้องนอน
Srní, สาธารณรัฐเช็ก
Newly furnished apartment for 2 plus 2 EB in a family house with a garden gate in the Bohemian Forest, 15km from ski resorts and pristine nature of the Sumava National Park , 1 km from the complex cross-country skiing and biking trails nearby.
The historic town with a castle, glassworks, cultural events and major sports possibilities.n
Beautiful nature and sports.
Hostitelka byla velice milá a příjemná. Poradila nám pěkná místa v okolí, na které jsme se jeli podívat. Fotografie ubytování byly přesné. Veškeré vybavení kuchyně i jiných místností bylo funkční. V jednom z pokojů možnost sledování DVD. Internetové připojení dostačující. Parkování přímo před domem. Během našeho pobytu nebylo třeba řešit žádný problém, vše bylo v pořádku a ubytování se nám velmi líbilo. Pokud se chystáte navštívit Šumavu, určitě doporučuji ubytování u paní Magdaleny.
Petra
2015-08-21T00:00:00Z
Het was heel fijn verblijven bij Magdalena! We werden bij aankomst direct warm verwelkomd. Aangezien we met 2 huurders waren met elk een eigen agenda, waardoor we dus op andere momenten 'thuis' zouden komen, liet Magdalena meteen een set sleutels bijmaken. Het appartement was comfortabel, en de buurt zeer aangenaam (veilig, stil, en met parkeerplaats recht over de deur). Te voet ben je binnen enkele minuten bij een heerlijke Italiaan, verschillende bankautomaten, een apotheek en kruidenierswinkels. Het zetelbed is zeker bruikbaar als bed, en het schept zelfs de mogelijkheid om het appartement onder te verdelen in 2 slaapkamers. Het opbergen van een fiets was geen enkel probleem, en de badkamer beschikte zelfs over een wasmachine. De keuken is praktisch, maar beschikt wel enkel over de absolute basisbenodigdheden qua bestek en potten en pannen. Wifi werkt voortreffelijk en is echt een meerwaarde. Vimperk is een mooie uitvalsbasis voor het Sumava natuurpark, en ligt slechts op een uurtje van wereld erfgoedstad Cesky Krumlov.
Karen
2016-08-22T00:00:00Z
Наша поездка была из Праги на выходные и так случилось, что поезд был отменен. В Vimperk мы приезжали в 23:30 и Magdalena встретила нас на станции, за что ей огромное спасибо! Проживание было на первом этаже дома, у нас был свой ключ, своя ванная и туалет, интернет работал хорошо. В поселке есть магазин Lidl, до границы с Германией 25км, до Шумавы - около 15 км. В поселке есть прекрасная Cukrarna (советуем!) Чисто, красиво, но было холодно - дом большой и пока не прогрелся. Планируем сюда вернуться зимой! Уже предварительно договорились с хозяйкой)
Алексей
2015-10-06T00:00:00Z
My whole family spent 30 days (from 1/7-30/7) at Magda place in Vimperk. The apartment we rent from Magda is very cozy and absolute big enough for a family like us (2 adults+2 kids). It has one double bed and one sofa bed. Fridge, cooking tools and the other daily needed (such as clothes hangers, washing machine and so on) are available. Magda is a very warm-hearted and kind person who can always give good advices and tips on travels. We loved the blueberry pie which she invited us every weekend, so delicious! She introduced our children to English summer camp in Vimperk which has been wonderful time for our kids. All of us like Magda very much. Vimperk is a wonderful place, small but has nearly everything you need. It closes to Sumava national park where you can find nature and fun. We have tried hiking and sightseeing at Sumava. At the same time, we did daily trip for instance from Vimperk to Passau (Germany), Linz (Austria), Prag, Cezsky Kromlv, and other historical places with castles and ruins respectively. Vimperk has at least 3 quite big supermarkets, one outdoor swimming pool and 2 bowling place which are quite or very close to Magda's house. There is also one local beer brewery pub close to Vimperk square, where you can drink very good beer at very reasonable or low price (compared with the Swedish or German price). In the end, we wish our comments can give enough information to you and wish you could also have awonderful and glad holiday at Magda place. 我们全家在玛格达大姐家度过了一个快乐的假期。公寓是她房子的一部分。有单独的厨房和卫生间及浴室。适合于带孩子的家庭。VIMPERK是一个很安静却很有魅力的城市。我们喜欢去城市里的露天游泳池,还有酒店里打保龄球,清晨的时候还可以在城堡公园散步。VODNIK是一个水塘边的餐馆,也很不错,提供很地道的捷克或者德国菜。 由于VIMPERK地处于边境地区,所以我们驾车去奥地利及德国的边境城市,当天都可以返回,去布拉格,CK城,LIPNO也可以当天返回,非常方面。这边的SUMAVA自然保护区很美,山清水秀,还有梅花鹿公园,猫头鹰公园等。捷克有太多的教堂和城堡,我们自驾车去了捷克南玻希米亚的几乎所有古迹,非常的美,绝对是值得一看的。 Magda大姐非常热心肠,有问必答,而且也可以英文交流。她可以告诉你,那些地方是值得看的, 怎么自驾车去等。她烤的蓝莓派非常好吃,还总是在周末邀请我们吃!十分怀念在VIMPERK的日子,争取未来有时间还去此处度假。
Vivian
2016-08-01T00:00:00Z
Ubytování odpovídalo fotkám, paní Magda nás přivítala a nabídla pomoc kdybychom potřebovali, doporučila nám několik možných výletů po okolí. Velmi vstřícné a milé od paní Magdy bylo, že nám sama iniciativně nabídla dětskou postýlku i s povlečením. Ubytování není žádný luxus, ale ani se tak nereprezentuje, kuchyň je vybavená, topení i teplá voda fungují, není o vytknout.
Marta
2015-12-23T00:00:00Z
The apartment is spacious and fully equipped. Magdalena is very kind and always prepared to help out.
Stefan
2016-04-01T00:00:00Z
Vše proběhlo naprosto v pořádku, moc milá paní hostitelka, doporučujeme.
Antonín
2016-08-14T00:00:00Z
I když byla při našem příjezdu hostitelka na dovolené, zajistila milé uvítání. Místo odpovídalo popisu, nic honosného, ale naprosto dostatečné pro pohodlné ubytování. Byli jsme zde moc spokojeni.
Barbora
2016-08-26T00:00:00Z
ประเภทห้อง
บ้าน/อพาร์ทเมนท์ทั้งหลัง
---
ประเภทที่พัก
อพาร์ทเมนท์
---
พักได้
4
---
ห้องนอน
Vimperk, South Bohemian Region, สาธารณรัฐเช็ก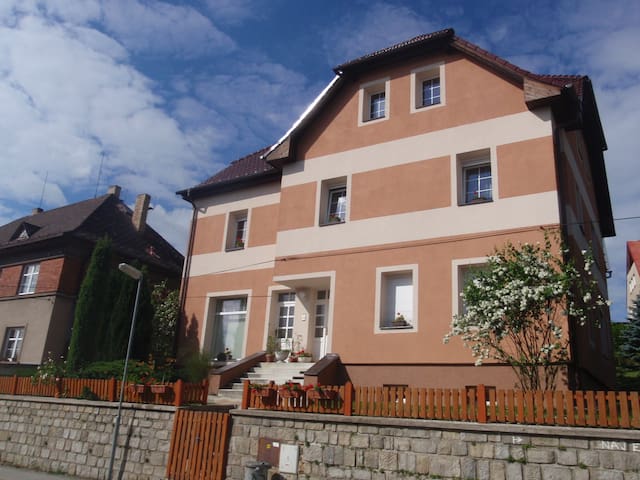 apartment, 2 - 3 people, 2 room/s, 1 bedroom/s, 1 bathroom/s, approx. 50 m², 1 floor/s, apartment on floor 1. Please note: Permanent tenant lives in the house.
apartment, 2 - 3 people, 2 room/s, 1 bedroom/s, 1 bathroom/s, approx. 50 m², 1 floor/s, apartment on floor 1., Please note: Permanent tenant lives in the house. Feature: Property in a multi-family housing (3 units in total). Furnishing: holiday standard, homely, laminate floor. Equipment: satellite TV; internet access Wi-Fi (included); Heating. Living room/bed room: double bed, sofa bed, exit to balcony. Dining area: (corner bench) in the kitchen. Kitchen-cum-living room: separate., Kitchen/ cooking equipment: 4 electric plates, oven, refrigerator, coffee machine, water boiler, toaster. Sanitary 1: shower, WC. Situation: panoramic view. Access/parking: parking on the estate. Estate: (shared use with holiday guests): approx. 500 m², open plot, meadow. Sports facilities/ leisure time: shared use (against payment): bikes. Infrastructure: breakfast service.
Next village/town: Center Mauth in approx. 5 km Finsterau in approx. 70 m Passau in approx. 50 km Shopping: Next supermarket in approx. 200 m Ski run: Mitterfirmiansreut in approx. 8.5 km Cross-country skiing trail: in approx. 30 m
ประเภทห้อง
บ้าน/อพาร์ทเมนท์ทั้งหลัง
---
ประเภทที่พัก
อพาร์ทเมนท์
---
พักได้
3
---
ห้องนอน
Mauth, Bavarian Forest, เยอรมนี
Wohnung Almberg befindet sich gleich am Nationalpark Bayerischer Wald in idyllischer Lage. Ein Ort wo sich Naturfreunde wohlfühlen. Weg vom Stress der Welt findet man hier ein magisches Plätzchen.
Helle freundliche Wohnung mit allen notwendigen Utensilien. Großes Tageslichtbad mit Badewanne. Vollausgestattete Küche mit Geschirrspüler. Ruhige Lage, direkt an den Wanderwegen.
Ruhige Lage am Wald. Herrlich für Naturfreunde und Ruhesuchende.
The host canceled this reservation 4 days before arrival. This is an automated posting.
Lukas
2017-01-23T00:00:00Z
Liebe Annette, wir waren sehr zufrieden und haben die Ruhe genossen. Unsere Tochter war auch total begeistert. Wir haben uns sehr wohlgefühlt und können die Ferienwohnungen von Annette weiterempfehlen. Wir kommen sicher wieder. Viele liebe Grüße aus Leimen, Anna, Roman und Amelie
Roman
2015-08-10T00:00:00Z
We voelde ons gelijk welkom bij Annette! Mooi en ruim appartement met alle benodigdheden om een aantal dagen te verblijven. De kamer was schoon. Annette stond altijd voor ons klaar, sprak goed Engels. Prachtige omgeving, genoeg wandelroutes in de buurt (aan te raden zijn de wandelingen naar Rachel 15km en Lusen 5km). Jammer dat we niet langer konden blijven, we gaan zeker terugkomen!
Miriam
2016-07-28T00:00:00Z
Das war wirklich ein rundum gelungener Aufenthalt! Eine total nette und hilfsbereite Gastgeberin und die Ferienwohnung war einfach spitze: blitzsauber, großzügig und mit allem eingerichtet, was man so braucht, um sich wohl zu fühlen. Wir wären gerne länger geblieben, wirklich ein kleines Paradies! Und gute Matratzen! Vielen Dank!
Evelyne
2015-05-01T00:00:00Z
Very beautiful
Autohaus
2015-10-21T00:00:00Z
A really great place to have a short break. Lots of walking paths in the area. Annette is a super host. Kind and always help full. The appartement was perfect, nice and clean. We will definitely come back.
Etienne
2015-06-16T00:00:00Z
The place is beautiful, Annette and daughters are very kind, I recommend
Claudio
2016-12-11T00:00:00Z
We had a lovely stay in the Bavarian Forest at Annette's Ferienwohnung. The house itself was spotless and Annette made us feel very much like we were at home. The breakfasts she provided were delicious and plenty for all of us. The location of the Ferienwohnung is perfect for families who would like a quiet break and it is within walking distance of the Spiegelau Waldspielplatz which is great fun for children and adults! Other points of interest in the area, such as the Baumwipfelpfad and Tier-Freigelände are only a short drive away. Thanks Annette!
Stuart
2016-09-07T00:00:00Z
ประเภทห้อง
บ้าน/อพาร์ทเมนท์ทั้งหลัง
---
ประเภทที่พัก
อพาร์ทเมนท์
---
พักได้
4
---
ห้องนอน
Spiegelau, Bayern, เยอรมนี
Appartment with 1 bedroom. Open kitchen,-living-diningroom with garden and Your own terrasse. Bathroom with shower, whirlpool, toilet separat. The 3rd bed ist located in the livingroom.
Die Unterkunft ist für ein geruhsames Wochenende mit Wanderungen oder einfach relaxen....aber auch für längeren Aufenthalt in den Ferien für Familien oder ein ruhesuchendes Paar gut geeignet. Aber auch Einzelreisende für 1 Nacht sind willkommen. Fragt einfach nach einem Preisangebot direkt nach Ich vermiete für 1 Nacht oder länger. Absolulte Nichtraucherwohnung mit Raucherecke auf der eigenen Terrasse
Kirchdorf i W. liegt im "Unteren Bayer. Wald" , Die Aussicht in die Alpen ist traumhaft ( 200 km Fernsicht) außer es ist trüb !!! Wanderwege ( auch Winterwanderwege) direkt vor der Haustüre, hier gibt es auch ein Alpaka-Zuchtgehege......frag einfach oder lese die Brochüren unter dem Fernseher SKISAISON ist eröffnet Loipe Klingenbrunn mit der Nachtloipe ist nur 6 KM entfernt. Arber-Skiregion ( 34 km ) Geiskopf-Skiregion-Bischofsmais ( 24) Nahe Reiseziele: Zwiesel (16 km ), Regen ( 16 km ), Deggendorf ( 30) und Passau (50 km ) In Deggendorf gibt es auch ein Ausflugschiff nach Passau und zurück an einem Tag
Eine gemütliche Wohnung für zwei in einer super Lage, wenn man wandern und ausspannen will. Es hat uns nichts gefehlt, alles war sauber und ordentlich. Andrea ist eine supernette Gastgeberin und unser Hund war auch kein Problem.
Melanie
2016-10-08T00:00:00Z
Andrea war die perfekte Airbnb Gastgeberin. Schneller Kontakt vor der Buchung, freundliche Begrüssung vor Ort und stets ein offenes Ohr für ihre Gäste. Die Wohnung ist perfekt eingerichtet und bestens für einen längeren Aufenthalt im bayrischen Wald geeignet. Kommen gerne wieder!
Oliver
2016-07-15T00:00:00Z
Die Wohnung bei Andrea ist in jeder Hinsicht perfekt, geräumig, liebevoll eingerichtet und mit allen modernen Geräten ausgestattet. Unser Aufenthalt gestaltete sich sehr angenehm. Unsere Gastgeberin war wie das Wetter - sehr, sehr gut.
Manfred
2016-07-03T00:00:00Z
Le logement est fonctionnel. Andrea est une hote très sympathique et a de bonne adresse de restaurants :). Merci pour tout!
Hélène
2016-11-08T00:00:00Z
Schöne Unterkunft und sehr nette Gastgeberin. Total unkompliziert. Und auch, wenn einige Dinge noch nicht perfekt fertig waren (wir waren ihre ersten Gäste), eine sehr angenehme Unterkunft.
Thomas
2016-05-01T00:00:00Z
We were looking for a place to stay for the night before our flight back home and Andrea warmly welcomed us into her home. At first it was a bit confusing to find the correct house as the houses are built very close together and Andrea's fence was under construction at the time. However, using the common sense you are able to locate the correct house with an ease. The area itself is quiet and safe. We arrived around 10 PM in the evening, tired and hungry. Andrea was very kind to suggest places where we could still get something to eat. The apartment was exactly as described, very tidy, spacious, cozy and had everything you would normally have in your home. It is a perfect place to stay, if you travel in 3. In the morning Andrea had left us a little surprise, she had made us a cheese plate with some jam on the side and of course there was some freshly baked bread. This is definitely one of the nicest things to come across. You will also have an amazing view over the mountains from the living room window and there is availability to enjoy the breakfast on the patio. We would like to highlight that Andrea is simply a wonderful host. She is very modern, friendly, kind and helpful. We enjoyed our stay a lot and would highly recommend Andrea's place to everyone who can appreciate a lovely home and look after it as it was your own. Thank you ever so much for having us and we will definitely come back in the close future. Stefi, Carmén & Anneli
Stefi
2016-10-31T00:00:00Z
Wer einen erholsamen Urlaub in der Natur verbringen möchte, ist bei Andrea bestens aufgehoben! Wir wurden sehr herzlich von Andrea und Benny - ihrem zuckersüßen Hund - empfangen und haben uns sofort wohl gefühlt. Andrea hat die Wohnung mit viel Liebe zum Detail gemütlich eingerichtet. Sogar eine Flasche Sekt, Betthupferl, drei Gesichtsmasken und Badezusätze für unseren angekündigten Wellness-Plan standen bereit. Die Wohnung war sehr sauber, wohlig warm schon bei der Ankunft und alle benötigten Utensilien waren ausreichend vorhanden. Auch ein Schlitten für die geplante Rodeltour hat im Flur auf uns gewartet. Dank Andreas Tipps und den vielen Prospekten, die in der Wohnung ausliegen, hatten wir genau den Kurzurlaub, den wir uns erhofft hatten. Schmusen mit Alpakas, Wandern zwischen Baumwipfeln, Rodeln auf dem Arber, gemütliches Kochen und Kartenspielen in der Wohnküche und Sonnenbaden auf der Terrasse. Wir können Andrea und ihre Unterkunft mit ganzem Herzen weiterempfehlen und kommen selbst gerne wieder.
Julia
2017-02-28T00:00:00Z
Gastgeberin war sehr freundlich und hilfsbereit. Unterkunft sehr ruhig und sauber. Es hat an nichts gefehlt. Wir kommen gerne wieder.
Kathrin
2016-09-04T00:00:00Z
ประเภทห้อง
บ้าน/อพาร์ทเมนท์ทั้งหลัง
---
ประเภทที่พัก
อพาร์ทเมนท์
---
พักได้
3
---
ห้องนอน
Kirchdorf im Wald, Bayern, เยอรมนี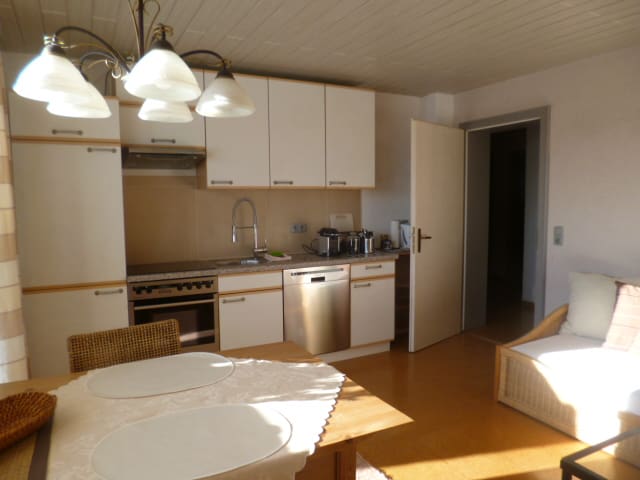 apartment, 2 - 3 people, 2 room/s, 1 bedroom/s, 1 bathroom/s, approx. 50 m², apartment on floor 1. Please note: Permanent tenant lives in the house.
apartment, 2 - 3 people, 2 room/s, 1 bedroom/s, 1 bathroom/s, approx. 50 m², apartment on floor 1., Please note: Permanent tenant lives in the house. Feature: Property in a multi-family housing (3 units in total). Furnishing: holiday standard, homely, laminate floor. Equipment: satellite TV; internet access Wi-Fi (included); Heating. Living room/bed room: double bed, sofa bed, exit to balcony. Dining area: (corner bench) in the kitchen. Kitchen-cum-living room: separate., Kitchen/ cooking equipment: 4 electric plates, oven, refrigerator, coffee machine, water boiler, toaster. Sanitary 1: shower, WC. Situation: panoramic view. Access/parking: parking on the estate. Estate: (shared use with holiday guests): approx. 500 m², open plot, meadow. Outdoor facilities: (shared use): reserved open space, terrace, furnishing provided (garden table, chairs), sunshade, transportable barbecue, barbecue hut. Sports facilities/ leisure time: shared use (against payment): bikes. Infrastructure: breakfast service. Plot description: balcony (roofed), furnishing provided.
Next village/town: Center Mauth in approx. 5 km Finsterau in approx. 70 m Shopping: Next supermarket in approx. 200 m
ประเภทห้อง
บ้าน/อพาร์ทเมนท์ทั้งหลัง
---
ประเภทที่พัก
อพาร์ทเมนท์
---
พักได้
3
---
ห้องนอน
Mauth, Bav. Forest/Lower Bavaria, เยอรมนี
Apartmán se nachází cca. 100m od nástupní stanice lanovky na Churáňov a přibližně 1000m od lyžařského areálu Kobyla, v nadmořské výšce 910m a je ideálním východiskem jak pro výlety po Šumavě tak i pro lyžařské pobyty milovníků sjezdového lyžování. Apartmán nabízí ubytování až pro 4 osoby (2 na rozkládácím dvojlůžku), vybavenou kuchyni, sklep k úschově lyží či kol, terasu a vlastní parkovací stání. Cena je za celý apartmán bez ohledu na počet osob (max 4)
Stravování (pokud nestačí vybavená kuchyňka) je možné v blízkých restauracích - Dobrá chata nebo Elsyn dvůr.
ประเภทห้อง
ห้องส่วนตัว
---
ประเภทที่พัก
อพาร์ทเมนท์
---
พักได้
1
---
ห้องนอน
Stachy, South Bohemian Region, สาธารณรัฐเช็ก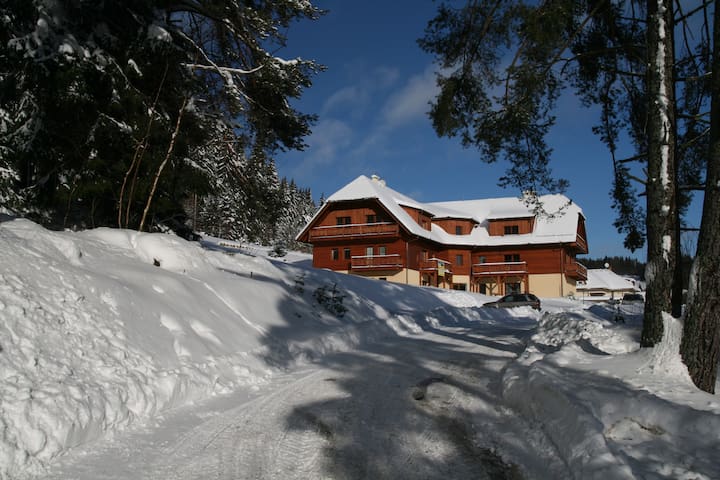 Wifi, satelitní TV, kompletně vybavená kuchyně, nově i toaster. Krásný výhled, tiché místo,1.patro,pro velkou rodinu,soukromí má každý :-) Bezproblémové parkování, v blízkosti se nacházejí obchody,restaurace a cukrárny. K dispozici je vždy ložní prádlo a ručníky. Také fén. Vhodné pro rodiny s dětmi (je zde dětská židlička, nočník a dětská postýlka).
Zima- běžky- bilastopa cz ( zeleznorudsko) + sjezdové lyžování - viz dále Léto- cykloturistika, turistika, lanové centrum, houby, boruvky Koupání- 15 km - LAM Německo: zima - bazen +sauna, po 17. hodině slev(URL HIDDEN) léto- venkovní aquapark- vstup celodenní , levný(URL HIDDEN) osserbad
Penzion Bultas- 300 m Restaurace Rudolf II. ( viz foto) Hotel Ostrý- 200 m cukrárna Beruška, Charlotta
Krásná lokalita, milí hostitelé, ubytování přesně odpovídá popisu, doporučuji.
Martin
2016-07-30T00:00:00Z
Die Unterkunft von Stepan ist sehr schön eingerichtet und komfortabel. Alles war sehr sauber. Stepan hat immer prompt und schnell reagiert. Ich kann die Unterkunft sehr empfehlen.
Christoph
2016-09-12T00:00:00Z
Uns hat es super bei Stepan gefallen. Die Wohnung ist super sauber, sehr hell, ruhig und prima ausgestattet. Alles ist neu und modern und die Wohnung war für uns (2 Erwachsene mit 2 Kindern) sehr groß und komfortabel. Lebensmittelgeschäfte, Skiverleih und Restaurants sind in zwei Minuten zu Fuß erreichbar. Wir kommen gern wieder.
Matthias
2017-02-25T00:00:00Z
Naprosto dokonaly pobyt. Nechybelo vubec nic.Hostitele jsou perfektni a komunikace byla naprosto na jednicku.Moc se tesime az se sem opet vratime.Lepsi ubytovani jsme si nemohli prat a velmi doporucujeme.:-)Vybaveni bytu bezkonkurencni, vse perfektne vybavene, ciste a pro rodinu s dermi idealni. Mockrat dekujeme za tak perfektni servis!:-)
Veronika
2017-03-11T00:00:00Z
Wir waren zu viert für eine Woche zum Skifahren da. Die Wohnung ist geräumig und sehr sauber & gepflegt. Es ist alles da, was man auch in der eigenen Wohnung vorfinden möchte: Mikrowelle, Geschirrspülmaschine etc. Stepan & seine Frau sind sehr freundlich und sprechen gut deutsch. Wir planen schon den nächsten Aufenthalt.
Patrick
2017-03-04T00:00:00Z
Das Appartment war sehr schön und gut geeignet für 2 Erwachsene und 2 Kinder. Es war alles da was wir brauchten, das Appartment war sauber, Stepan hat alle Fragen zügig beantwortet. Wir haben uns sehr wohl gefühlt.
Rainer
2017-01-08T00:00:00Z
Byt se nachází v malebném horském městečku Železná Ruda na Šumavě. Byl jsem s rodinou velice spokojený jak s přístupem hostitele, tak se samotným bytem, ve kterém jsme se cítili jako doma. Uhranul nás výhled na Šumavu a ocenil jsem hlavně bezproblémové parkování. V blízkosti se nacházejí obchody a restaurace. Vhodné pro rodiny s dětmi. Vřele doporučuji!
Martin
2017-01-01T00:00:00Z
Doporučujeme pro rodiny s dětmi. Byt je v perfektním stavu, nové zařízený. Dětský pokojíček ma patrovou postel, kde na spodní velké posteli se vyspí i dvě deti, dále je zde i další samostatná postel a jedna matrace navíc.Z moderne a plné vybavené kuchyně je luxusní výhled na Šumavu. Vůbec se nám nechtělo odjizdet domu. Hned kousek od domu je 1 z 10 ti nejlepších cukráren v CR ( Charlotte).Byt se nachází v krajině, která poskytuje mnoho turistických a cyklistických výletu, které za týden nestihnete.Z bytu je vidět na obchod s potravinami,na obchod se zviratky(mají zde rybky, rejnoky a krokodýla na prodej) a infocentrum.
Martin
2016-08-28T00:00:00Z
ประเภทห้อง
บ้าน/อพาร์ทเมนท์ทั้งหลัง
---
ประเภทที่พัก
อพาร์ทเมนท์
---
พักได้
6
---
ห้องนอน
Železná Ruda, Plzeň Region, สาธารณรัฐเช็ก
It's me close to the City, Castle Kasperk, activities suitable for families, restaurants and gastronomy. For me, you will love it because it had a flat (URL HIDDEN) accommodation is great for couples, solo travelers, business travel and pets
Kašperk, motorcycle museum, ski lift, swimming pool in Susice, lots of places to go
Amazing wildlife and peace
Príjemný byt v centre Kašperských Hor v tichom prostredí, len pár krokov od námestia/večierky a výborného miestneho pivovaru. Hostitelia nás očakávali a boli k dispozícii počas celého pobytu. Kašperské Hory sú jedným s najkrajších miest oblasti a výborný východzí bod pre cyklotúry na Šumave. Odporúčame.
Ivan
2016-08-16T00:00:00Z
Die Ankunft: Zdenek war nicht wirklich erreichbar, dafür seine Freundin und obwohl wir wegen einem grausigen Verkehr 2h zu spät waren, wurde uns recht schnell Zugang zu der Wohnung gewährt. Im Großen und Ganzen war das dann positiv zu sehen und die Schwester seiner Freundin zeigte uns sehr freundlich auch noch kurz die Wohnung. Die Gegend selbst war mir bestens bekannt, ebenso die Nachbarschaft (alles bestens), allerdings fiel schon stark auf, dass die Wohnung nicht von Handwerkern oder handwerklich begabten Menschen renoviert wurde; der Boden war geflickt, die Tapeten teils krumm, es fehlten Sockelleisten usw. Dennoch war die Einrichtung sehr zweckmäßig und schön, wenngleich der Boiler, der sich direkt über der Badewanne befand, etwas gewöhnungsbedürftig war :-) Alles in allem dennoch sehr unkompliziert, daher auch kein Punktabzug. Gemessen mit dem dortigen Standard ist es dennoch eine schöne Wohnung und wir würden wieder dort übernachten!
Jan
2016-10-03T00:00:00Z
Die Wohnung liegt wunderschön ruhig in einer Seitenstraße von Kašperské Hory und war perfekt als Ausgangspunkt für Wanderungen in den Sumava Nationalpark. Unsere Gastgeberin hat uns sehr freundlich empfangen und war für Rückfragen gut erreichbar. Die Küche ist im Gegensatz zu üblichen Ferienwohnungen sinnvoll und alltagstauglich ausgestattet, das hat uns sehr gut gefallen. Absolut empfehlenswert.
Robert
2016-08-27T00:00:00Z
The host canceled this reservation 8 days before arrival. This is an automated posting.
Katy
2017-04-06T00:00:00Z
Cítili jsme se vítaní, paní byla velmi příjemná a ochotná. Ubytování bylo bez problémů, cítili jsme se jako doma. Lokalita příjemná, cenově oproti nabídkám jiných portálů bezkonkurenční. Doporučuji.
Markéta
2016-08-08T00:00:00Z
ประเภทห้อง
บ้าน/อพาร์ทเมนท์ทั้งหลัง
---
ประเภทที่พัก
อพาร์ทเมนท์
---
พักได้
4
---
ห้องนอน
Kašperské Hory, Plzeň Region, สาธารณรัฐเช็ก
We use fully equipped apartment with one bedroom, living room, kitchen, hallway and bathroom facilities. There is also wi-fi, washing machine, clothes dryer, iron, coffee maker, refrigerator, smart TV, several cabinets and shelves. We can offer you an apartment with one bedroom, living room, kitchen and bathroom. You can find here Also wi-fi connection, smart TV, coffee maker, fridge, washingmaschine and some shelves for your clothes etc.
ประเภทห้อง
บ้าน/อพาร์ทเมนท์ทั้งหลัง
---
ประเภทที่พัก
อพาร์ทเมนท์
---
พักได้
4
---
ห้องนอน
Kašperské Hory, สาธารณรัฐเช็ก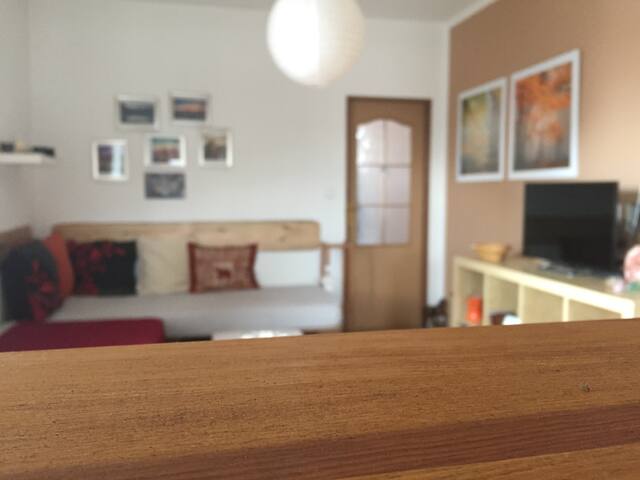 Ferienwohnung in ruhiger Lage direkt am Waldrand, für 2 - 3 Personen im Dachgeschoss eines Einfamilienhauses. Buchenau ist ein idealer Ausgangspunkt für Wanderungen in den Nationalpark Bayerischer Wald.
Gemütliche Einrichtung im Landhausstil, sehr gut ausgestattete Küche mit Esstisch und Eckbank, Wohnzimmer mit Sofa (auch als zusätzliches Schlafsofa nutzbar), Balkon, grosses Schlafzimmer mit Doppelbett und zusätzlichem Einzelbett für Kind. Bad mit Badewanne und Waschmaschine. Grosser Garten zur freien Nutzung.
In unmittelbarer Nähe das Schloss Buchenau, herrliche Wandermöglichkeiten zur Talsperre Frauenau, zum Latschensee und den Schachten.
Die Ferienwohnung der Familie Schreiner ist wunderschön gelegen, gemütlich, äußerst sauber und bestens ausgestattet. Heizung und Warmwasser funktionierten auch bei frostigen Temperaturen einwandfrei. Die Einrichtung hat den Charme der 70er Jahre; sehr schön das kleine Wohnzimmer mit alten Möbeln. Die Gastgeber waren immer freundlich und hilfsbereit. Buchenau liegt landschaftlich schön zwischen mehreren Langlaufzentren, die jeweils in ca. 10 Minuten zu erreichen sind. Der kleine Ort hat zwei Gasthöfe; den Gasthof Weber fanden wir sehr gut.
Markus
2017-01-23T00:00:00Z
Absolute Top-Empfehlung! Familie Schreiner ist ein super Gastgeber, wir sind extrem spät angereist und wurden trotzdem gut gelaunt gefragt, ob wir Unterstützung beim Kofferttragen benötigen. Die Wohnung ist derart praktisch eingerichtet, dass keine Wünsche offen bleiben- wie bei Mama.... Die Bettwäsche sowie die Handtücher duften herrlich und man könnte vom Boden essen! Wir werden wiederkommen! P.S. Die Unterkunft liegt direkt am Waldrand neben dem Buchenauer Schloss! Die Umgebung lädt zum Wandern ein, bis zum Werksverkauf vom Premium-Glashersteller Schott/Zwiesel und zum Skifahren ist es nur ein Katzensprung.
Felix
2015-02-08T00:00:00Z
Staying at Tom's parents was just great! The flat is clean, nice and spacious, equipped with everything necessary, including kitchen staff. The area around is beautiful, calm and quiet countryside, we slept so well there. The hosts were kind, helpful and understanding, even gave us the cake on Saturday! Strongly recommended, I really felt at home, like visiting my own grandparents there.
Sacha
2017-03-20T00:00:00Z
Wir haben uns sehr wohl gefühlt. Alles was man braucht war vorhanden - Tücher, Salz Pfeffer usw. Der frisch gebackenen Kuchen und Sekt war ein Bonus. Das einzige was gefehlt hat, war Internet, aber in der Anzeige stand es auch nicht drin. Wir haben kein Netz gehabt - schön, wenn Sie komplett ausschalten wollen.
Natalie
2015-07-24T00:00:00Z
Deze accomodatie was fantastisch. Zeer vriendelijke verhuurders. Bij aankomst heerlijke taart en sekt! Prachtige omgeving vooral voor natuur en wandelliefhebbers. De accomodatie was goed beschreven en we hebben genoten van het zeer complete appartement
Dorien
2015-08-03T00:00:00Z
they made a cake on sunday. everything was very clean and the check in and check out was very easy
Ari
2016-11-01T00:00:00Z
Sehr nette Familie und sehr gute Gastfreundschaft. Die Wohnung ist super sauber und sehr gut ausgestattet. Mehrere Wanderwege fangen in unmittelbarer nähe an.
Stefan
2015-05-26T00:00:00Z
Unser Wochenend-Wandertrip hätte schöner nicht sein können. Vor allem auch wegen der Gastfreundschaft der Familie Schreiner. "Der Gast ist König" ist in diesem Haus wirklich noch ganz groß geschrieben. Meine Frau, unsere kleine Tochter und ich haben das Wochenende in vollen Zügen genießen können. Danke dafür!
Martin
2016-05-23T00:00:00Z
ประเภทห้อง
บ้าน/อพาร์ทเมนท์ทั้งหลัง
---
ประเภทที่พัก
อพาร์ทเมนท์
---
พักได้
3
---
ห้องนอน
Lindberg, บาวาเรีย, เยอรมนี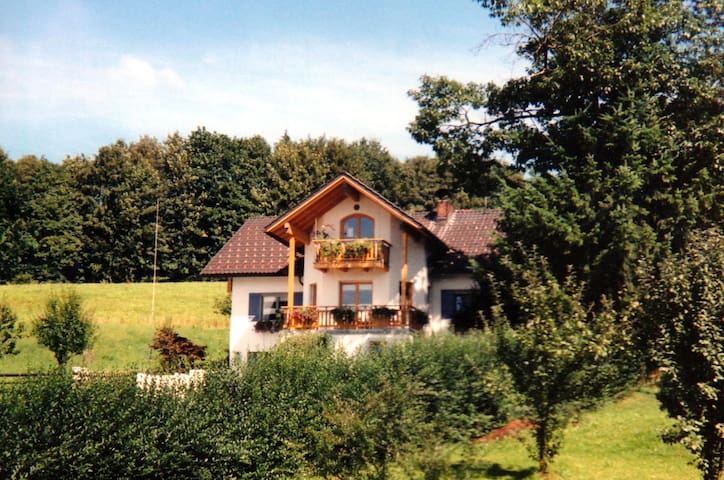 Our apartment is in a hotel in a lovely mountain village close to skiing resort Mitterdorf. The skiing resort is great for families with kids. The place is in the heart of Bayerischer Wald and is also great for hiking and relaxing in summer. The apartment has one double bed and one sofa, ideal for families with small child. Kitchen and bathroom s part of the apartment. The hotel offers breakfast and dinner in season.
Close to ski resort Mitterdorf. Great for kids. Great for walking and hiking in summer.
ประเภทห้อง
บ้าน/อพาร์ทเมนท์ทั้งหลัง
---
ประเภทที่พัก
อพาร์ทเมนท์
---
พักได้
3
---
ห้องนอน
Philippsreut, Bayern, เยอรมนี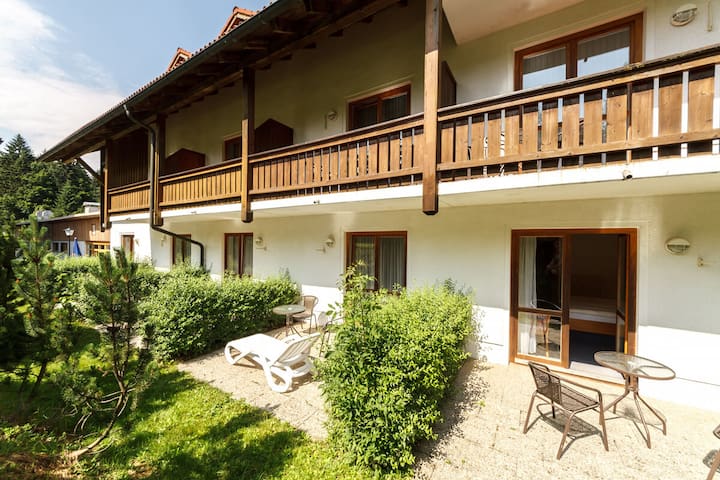 New modern furnished spacious apartment in stunning views of the square and on the slopes, ideal for families with children, fully equipped. Available 1 double bed in a separate bedroom, 1 sofa bed in the living room + 1 baby travel bed.
Z ubytování tady se pomalu a jistě stává závislost. Těšíme se, až zase vyrazíme ;-)
Pavla
2017-03-12T00:00:00Z
Krásný moderní byt uprostřed malebného města. Hostitelé byli velmi příjemní a během pobytu nápomocní. Hostitelku Alexandru, jejího manžela a jejich byt v centru Kašperských hor mohu vřele doporučit jak pro romantický pobyt ve 2, tak i pro rodinnou dovolenou s dětmi. Ještě jednou moc děkujeme za možnost pobytu a určitě se velmi rádi vrátíme. :)
Tomáš
2016-10-30T00:00:00Z
Alexandra's apartment has an ideal location on the main square of Kašperske Hory. This is a great base to explore the nearby towns and nature. The apartment looks exactly like the photos - it is very modern and comfortable. All amenities like dishwashing pods and laundry detergent are included. The wifi router is not located inside the apartment but the signal was still very good. There is just no connection in the living area by the couch. We did not meet Alexandra as her neighbor checked us in instead. She was very nice but only spoke Czech so it made it difficult to communicate or ask any questions. Overall, we had a great time at this apartment and I would recommend it for sure.
Maya
2016-09-24T00:00:00Z
Highly recommended place to stay if you want to see the region. The flat is super clean, new, great light, fantastic location on beautiful square and is also a great base for tours and trips in the area. It is a completely new flat, the view on one side is a fountain and some beautiful old buildings, from the bedroom you can see mountains in the background. In the square where flat is located there are several places to go for dinner, coffee, museums, super markets and even the tourist information center. Although it is located right in the center, it is a very quiet flat. Really loved it. Alexandra was very helpful and gave us loads of great tips and advice - definitely a great hostess.
Lone
2016-06-22T00:00:00Z
Great location, new apartment with everything you might need. Responsive host and small brewery just across the street
Petr
2016-08-15T00:00:00Z
Největším potvrzením naší spokojenosti s ubytováním u Alexandry je naše touha se tam i v budoucnu vrátit a pobyt si zopakovat. Nejenže umístění je dokonalé, ale překvapil nás i klid. Parkování ve dvoře skvělé, čistota a celková svěžest bytu velmi vítaná. Pozvání do začínající restaurace v pivovaru bylo poslední báječnou tečkou našeho kratinkého pobytu a už se těšíme na jeho návštěvu příště - rozhodně doporučujeme si tam dát nejen pívo, ale i jídlo. Vstřícnost, okamžitá reakce a koncepce bytu ideální pro první krůčky našeho synka...prostě paráda, střihli jsme si i společný polední spánek, jak déšť krapkal do střešních oken a klid náměstí příjemně tepajícího polaskal do uší...
Pistalka
2016-08-11T00:00:00Z
Ubytování u Alexandry bylo nádherné. Byt vypadá opravdu, jako na fotkách. Vše je nové, čisté a moderní. Byt byl plně vybaven- mikrovlnná trouba, trouba, vařič, rychlovarná konvice, tv, pračka, vysavač, lednice, fén, wifi připojení. Výborná lokalita bytu, ihned na náměstí, nám umožnila si udělat výlet po okolí na nedaleký hrad Kašperk, navštívit kavárnu, restauraci atd. Tímto i hodnotím kladně výhled z bytu, jak na krásně upravené náměstí, tak i na hory v dálce :) V kuchyni jsme měli nejnutnější kuchyňské vybavení, akorát chyběla utěrka a jar na nádobí. V koupelně byl 1x ručník a 1x malý ručníček, mýdlo na ruce a šampón. Parkování bylo ve dvoře a nebo na náměstí. Celkově jsme byli velmi spokojeni. Jediné, co nás mrzelo, bylo že paní Alexandra ( i když měla byt přes chodbu) nás nepřišla druhý den přivítat osobně. Viděli jsme jí pouze v den odjezdu na 2 minuty. Vřele tento byt doporučuji i pro rodinu s dětmi :)
Veronika
2016-08-01T00:00:00Z
Náš pobyt proběhl v naprostém pořádku, byt je velmi pěkný a Kašperské Hory příjemné městečko. Když budeme hledat ubytování v této oblasti, rádi přijedeme znovu.
Vladimír
2016-08-21T00:00:00Z
ประเภทห้อง
บ้าน/อพาร์ทเมนท์ทั้งหลัง
---
ประเภทที่พัก
อพาร์ทเมนท์
---
พักได้
4
---
ห้องนอน
Kašperské Hory, Plzeňský kraj, สาธารณรัฐเช็ก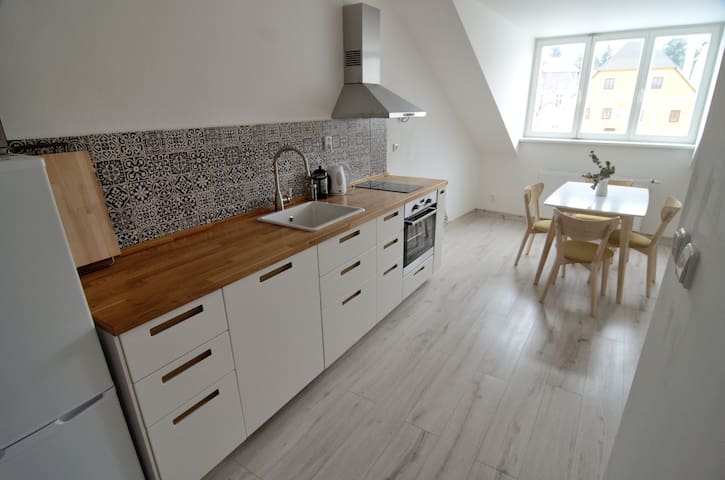 120 qm Größe: 2 Doppelzimmer(Bay. blau Zimmer),Herzerl Doppelzimmer mit getrennten Betten, je 1 TV. 1 großes Bad mit Eckbadewanne, Dusche extra, großes Waschbecken, Fön, Waschmaschine (gegen Gebühr). WC separat! 1 große Wohn- Essküche mit Spülmaschine E-Herd mit Ceranfeld und Backofen oben, Kaffeemaschine, Toaster, Wasserkocher,Geschirr! 1großer Balkon (10qm) mit Balkonmöbel, Garten mit Liegen darf auch genutzt werden!
Elfriede and Peppi we're so sweet! They welcomed us with cake and coffee as soon as we arrived and explained all about the area, things to see, places to go and we're super helpful with everything we needed during our stay with them. The house is simply beautiful, very well equipped and very cozy and homey. They have a beautiful garden with fresh vegetables, greens and so many flowers, and the cutest cat hanging around. Even though they don't speak a lot of English and we don't speak any German, we managed to communicate perfectly and they were very helpful with anything we needed and so much more. Very close to the national park, and an endless amount of hiking trails, small rivers, a beautiful lake and also a big supermarket and even a couple of restaurants. All in all, we highly recommend staying with Elfriede and Peppi!
Haim
2015-07-14T00:00:00Z
Nous avons été très bien accueillis par Elfriede et Peppi qui nous ont expliqué par l'intermédiaire d'une jeune fille qui parlait anglais, le fonctionnement de la maison et toutes les choses à savoir sur notre séjour. Ils nous ont ensuite offert le café avec un excellent gâteau maison. L'endroit est très joli, un beau chalet au milieu des collines verdoyantes, notre logement était très propre. Le village n'est pas très loin et on y trouve ce dont on a besoin. Ils nous ont aussi fait bénéficier, (grâce à leur carte), de réductions pour visiter le Parc Régional, juste à côté de chez eux. Elfriede et Peppi nous ont expliqué les endroits et les villes à visiter, dont PASSAU qui est une ville magnifique au bord de l'eau avec des ruelles charmantes. Nous n'avons eu qu'un petit problème de communication car nous ne parlons pas Allemand et Elfriede ne dit que quelques mots d'Anglais, il a donc fallu faire beaucoup de signes et autres expressions de visage souvent très comiques !!... ce qui n'a pas empêché quelques incompréhensions. Elfriede et Peppi ont tenu à être présent lors de notre départ à 5h00 du matin et se sont levés pour l'occasion, nous permettant de bénéficier de leur part du rituel de départ très sympatique.
Bertrand
2016-05-29T00:00:00Z
The apartment was even better than expected! Elfriede Trixl and Joseph gave us the most warm welcome you could possibly wish with a very delicious strawberry chocolate cheesecake! It was very hot at our arrival and the fridge was already filled with cold drinks and they welcomed the kids with a sand box in the garden and a separate playing pool with water to cool down in! Moreover, Elfriede gave us the best tips e.g. for good parking places near the Bayerische Wald. The apartment was perfect for the 6 of us, with two kids, there was a special cupboard for cleaning the children in the bathroom and the children's room was full with toys to play with. Its location is perfect as it is close to the wonderful city of Passau, and just near the most beautiful Bayerisch Wald! I would highly recommend the apartment and the service of Elfriede and Joseph to everyone!
Franca
2015-07-25T00:00:00Z
The host canceled this reservation 10 days before arrival. This is an automated posting.
manuel
2017-02-12T00:00:00Z
ประเภทห้อง
บ้าน/อพาร์ทเมนท์ทั้งหลัง
---
ประเภทที่พัก
อพาร์ทเมนท์
---
พักได้
6
---
ห้องนอน
Hohenau, บาวาเรีย, เยอรมนี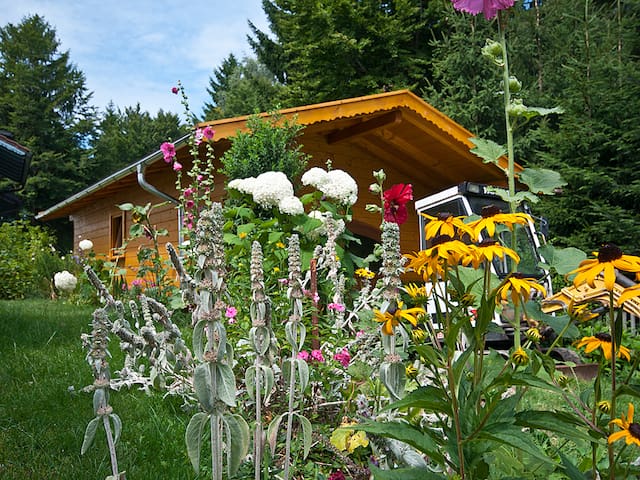 Liebevoll eingerichtete 2-Zimmer-Wohnung liegt im Ferienpark Geyersberg über Luftkurort Freyung in ca.800 Meter Höhe und bietet einen großartigen Blick. Direkt im Haus finden sie das Schwimmbad (kostenlos nutzbar), Massagepraxis, Restaurant (Frühstücksbuffet und Abendessen) und Waschmaschine/Trockner (gegen Gebühr). Kinderspielplatz, Minigolfanlage, Kinderskischule mit Übungskarussell, Kinderskilift und Skiverleih, Wanderwege und viele Ausflugsmöglichkeiten.
Stadt Freyung liegt in Dreiländereck in der Nähe von der Grenze zu Tschechien und Österreich, ca.15km nördlich vom Nationalpark Bayerischer Wald, ca.35 km von der "Dreiflüssestadt" Passau und ca.40 km von Westernstadt "Pullman City" entfernt. Bis zum Baumwipfelpfad Bayerischer Wald (längster der Welt) sind es nur 15 km. Im Haus gegenüber gibt es Kiosk (mit frischen Semmeln, Kaffee, Süßigkeiten und Getränke), kostenlose Sauna mit Schwimmbad sowie Spielzimmer mit Billard, Kicker, Tischtennis, Spielautomaten (jeweils gegen Gebühr) Für den perfekten Familienurlaub verfügt die Anlage im Außenbereich auch über Kinderspielplatz, Bolzplatz und Minigolfanlage. Für Winterurlaub und Skiurlaub befinden sich direkt vor dem Haus eine Kinderskischule mit Übungskarussell, Kinderlift und Skiverleih. Ca. in 500 m finden sie auch 540 m langen Schlepplift und kleine Eishalle. Skizentrum Mitterdorf (mit Junior-Ski-Zirkus) ist 15 km entfernt.
Wir hatten das große Vergnügen, Katharinas erste Gäste zu sein. Wir haben uns in ihrer liebe- und geschmackvoll eingerichteten Wohnung rundum wohl gefühlt und können einen Aufenthalt wärmstens empfehlen.
Oliver
2017-01-01T00:00:00Z
Tolle Wohnung. Super preis Leistungsverhältnis. Nette Gastgeber. Gerne wieder!!!!!!
Jessica
2017-02-05T00:00:00Z
ประเภทห้อง
บ้าน/อพาร์ทเมนท์ทั้งหลัง
---
ประเภทที่พัก
อพาร์ทเมนท์
---
พักได้
4
---
ห้องนอน
Freyung, Bayern, เยอรมนี
We offer an accommodation in new apartment called Stela located in village Stožec, in the heart of National park Šumava. Modern equipment will provide you with a high comfort and feeling of your home. Apartment Stela is convenient for family holiday, since having 4 beds, fully equipped kitchen, wi-fi connection and private parking. Just arrive to have a rest or gain new energy in gorgeous nature of National park Šumava. We are looking forward to your visit!
ประเภทห้อง
บ้าน/อพาร์ทเมนท์ทั้งหลัง
---
ประเภทที่พัก
อพาร์ทเมนท์
---
พักได้
4
---
ห้องนอน
Stožec, Jihočeský kraj, สาธารณรัฐเช็ก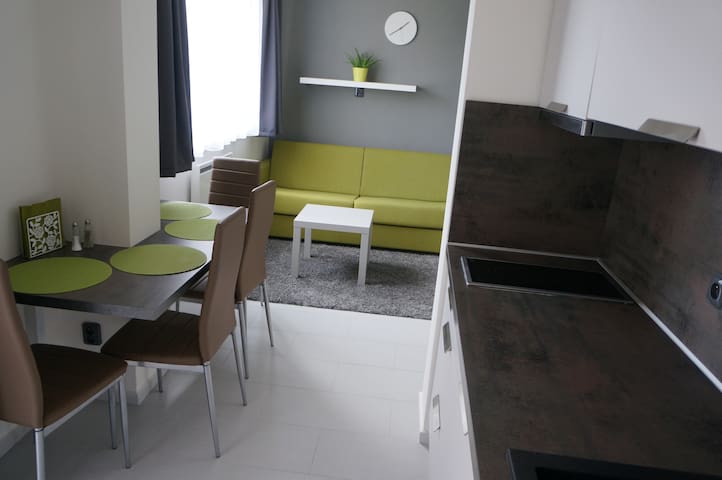 Kvilda - Airbnb
:
เฉลี่ย

4.71

จาก

5

ดาวจาก

117

รีวิวผู้เข้าพัก
1

–

18

จาก

63 อพาร์ทเมนท์ให้เช่า
กรอกวันที่เพื่อดูการกำหนดราคาเต็ม มีค่าธรรมเนียมเพิ่มเติม อาจมีภาษีเพิ่ม