Right on the lake in Central Queenstown sits this newly renovated three bedroom penthouse with sweeping 180 degree views of Lake Wakitipu and the Remarkable Mountains! 6 minute walk to the center of town. Perfect for a luxury escape to the mountains!
It is a newly renovated 3 bedroom penthouse positioned right on the lake in Queenstown. It's conveniently located and just a 6 minute from walk from the centre of town. The apartment is on a single level and is only available to lease as a WHOLE apartment rental. We do not lease this apartment by individual rooms. There are three bedrooms: Master Bedroom with a King sized bed and Ensuite. Second Bedroom with Queen bed and shared main bathroom. Third Bedroom with two Single beds and shared main bathroom. LED SMART TV, NETFLIX and Wireless WiFi are included. The apartment accommodates a maximum of six guests. We love kids and this apartment is definitely child safe and friendly! Guest Access Guest will have access to the whole apartment and can come and go as they please. This is not shared accommodation. The apartment has a dedicated under cover car park on the lower level of the building. Please note there is no elevator and there is access only to the apartment via stairs. We are three stories up. Interaction with Guests There may be someone to greet you on your arrival, however you will have the whole apartment to yourselves for the length of your stay. Getting Around ADELAIDE VIEWS is a six minute walk from town. It is almost at lake level so very little hill climbing!
Robert & Charles place was nicely styled, modern, clean and as it appears in the photos. It is positioned close to the walking track along the lake and it's an easy and scenic walk from the apartment to Queenstown town itself (through the Queenstown gardens). It has sweeping views across the lake to the surrounding mountains. The hosts were easy to deal with and the check-in process hassle free.
Ben
2016-04-14T00:00:00Z
We loved the central location too all the city had to offer, plus walks to the mountains and car convenience for any day trips.
Heather
2016-11-01T00:00:00Z
Great spot. Easy walk into the town. Clean and comfortable. Thanks!
James
2017-01-11T00:00:00Z
非常舒适的套间,配套齐备,景观一流!是个闹中取静的好地方,距离市中心很近,购物逛街方便!超级棒!
薇
2017-01-19T00:00:00Z
Gorgeous house with easy access to town! :)
Jaime
2017-03-14T00:00:00Z
Robert and Charles offer a delightful property with an outstanding deck over looking the lake. Checking in was a breeze and it has everything you need for a luxury break in one of NZ's "Must Do's" Its in a residential road and only a brisk,scenic walk into Town. Its a classy apartment with a lovely deck overlooking the water. Be sure to check out The boatshed Cafe just 5 mins away in the car. One thing to mention if you are traveling with mobility challenged people. It is on a very steep hill so you get great views but a little care is needed with the former. Enjoy !
mike
2017-02-09T00:00:00Z
Modern and cozy,with advanced facilities. I like the location and the awesome lakeview.
fita
2017-01-29T00:00:00Z
Great location with awesome views. Easy to walk to the city center in a few minutes. Nice access to lake paths. Spacious and cozy during colder months.
Jonathon
2016-05-24T00:00:00Z
ประเภทห้อง
บ้าน/อพาร์ทเมนท์ทั้งหลัง
---
ประเภทที่พัก
อพาร์ทเมนท์
---
พักได้
6
---
ห้องนอน
ควีนส์ทาวน์, Otago, นิวซีแลนด์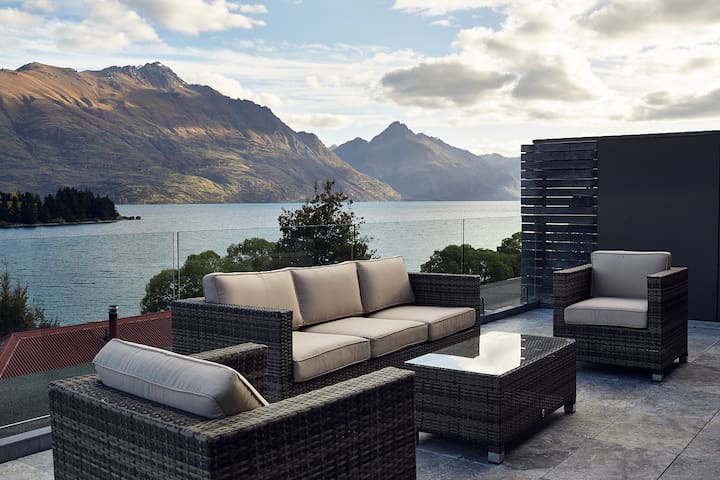 Spacious warm studio room with comfy king size bed, leading onto large lakefront patio with spectacular views. Modern en-suite with mini kitchenette, Storage wardrobe/closet, relaxing chairs, TV, coin operated laundry, and close to local amenities.
You have your own private apartment with your own private balcony! Our location is perfect for the upcoming snow season with NZ Ski transport pick up and drop off just a stones throw away on the main road :) There is a mini kitchenette area complete with mini fridge, washing up liquid, dining ware, microwave, sink and kettle. There is unlimited wifi and Netflix that can be viewed. If staying with us for 3 nights or more let us know what wine you lean more towards (red or white) and we'll have a bottle waiting to greet you while you take in the breath taking view.
We are located right on the Frankton track between Queenstown & Frankton, beautiful and scenic easy walk to or from town right beside Lake Wakatipu. If you walk up towards Frankton on the walking track you'll be at the very tip of the Frankton Bay which is has a beautiful park over looking the lake, great for stunning sunset pics! Our favourite healthy place to eat is Rehab which is located in the heart of Queenstown. Fresh juice, expertly blended smoothies (all dairy free), amazing breakfast bowls, healthy lunches with vegan and meat eaters options. Queenstown may be small but you are spoiled for choice from all the restaurants and bars. I am a Remedial Massage Therapist with my own clinic in Queenstown. During your stay if you have any aches or pains or just want a bit of relaxation, let me know and I can book an appointment in for you! Whether you're here in Winter or Summer (or anything in between) there are loads of things to choose to fill your day. From walking trails, to jet boating, to sky diving or a bungee and wineries, we'll list all those kind of things in our handy dandy guide book.
Fabulous studio apartment in a stunning location right on the lake. I definitely recommend and would love to stay again.
Sally
2016-04-04T00:00:00Z
Fantastic setting and stay at Megan's apartment in Queenstown. Location an easy 4 mile walk along a path to Queenstown. Views unbelievable and we enjoyed our breakfasts and happy hour on the porch. The apartment was lovely and had everything we needed as well as a well equipped small kitchen. I would definitely recommend this stay. Nice that it wasn't too close to town but yet accessible either by foot, bike or car. Also centrally located to roads to take you out of town (Arrowstown, Glenorchy, etc.).
clarissa
2016-10-22T00:00:00Z
Beautiful little studio, very clean and well maintained. Wonderful stay, amazing lake and mountain views just as the pictures. We spent 4 days and had a great time. Megan was very helpful and easy to communicate with, left us a bottle of milk along with some fruits and muesli - Thanks Megan :)
Mike and Nish
2015-11-25T00:00:00Z
Stayed her for my wife's 30th birthday, it was amazing. She really loved it. We had a beautiful view of the lake and mountains and the apartment had everything we needed. Also enjoyed watching Netflix and chilling while a view to the side. Would definitely choose this over a hotel.
Penieli
2016-11-19T00:00:00Z
Megan made a point to ensure we got details about the apartment and arrival process early, and checked in with us during our stay to see if we needed anything. She also provided a booklet of information on local attractions and discount tickets to popular events/locations. All amenities were considered and we had shampoo, conditioner, and body wash available to us - and a hair dryer for me, which was very nice. From a hospitality perspective, this was an excellent stay. The location is also gorgeous - although not terribly close to downtown, so plan to grab a cab or have a car if you want to get around Queenstown. We found the shower was a bit dingy - the grout is either very stained or there is some mold and mildew on it that could use a cleaning. Also, the bed is two twins pushed together and was one of the less comfortable beds that we slept on during our stay in NZ.
Sheena
2016-09-02T00:00:00Z
Megan was an amazing host. Her place is so beautiful and comfortable. It was an easy check in with the instructions and lock box. We loved her recommendations and she did everything to make our stay safe and we felt we were locals! Waking up every day and looking into the water was magical. Megan is also a great massage therapist! I did a two hour session and it was amazing. Thank you for making out stay so wonderful. Highly recommend!
Jeanne
2016-05-19T00:00:00Z
Everything was fantastic and exceeded my expectations. The view from the apartment was beautiful and the apartment itself was well maintained. Megan was a great host, she responded promptly to any questions that I had. We would definitely recommend and will stay there again!
Natalie
2016-05-24T00:00:00Z
Perfect place to stay! A million dollar view with a very comfy bed and great shower. Wanted to stay longer. Megan accommodated me very last minute and was super organised to ensure I had a great stay. Highly recommend.
Lauren
2016-08-27T00:00:00Z
ประเภทห้อง
บ้าน/อพาร์ทเมนท์ทั้งหลัง
---
ประเภทที่พัก
อพาร์ทเมนท์
---
พักได้
2
---
ห้องนอน
ควีนส์ทาวน์, Otago, นิวซีแลนด์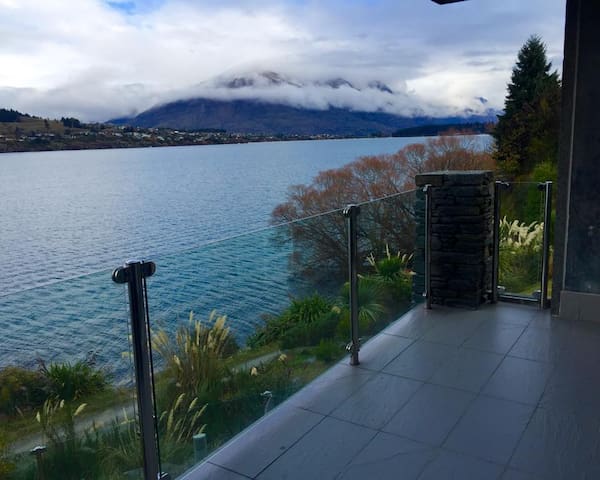 Centrally located in Queenstown, Million Dollar Views is a 2-bedroom apartment with magnificent lake and mountain views. Conveniently located, we are within walking distance to shops and restaurants. Located in a quiet part of town, we are pleasantly set apart from the bustle and rush that Queenstown can sometimes experience. The apartment is fully self-contained with a full kitchen. A washing machine and dryer are also provided. The bedding in the apartment consists of one Queen bed and two singles. Best suited for a couple or a family with up to 3 children. If you are arriving in Queenstown by car, covered parking is provided for your convenience. Whether you are a ski bunny visiting Queenstown in winter to take advantage of our amazing slopes, or an adrenaline junkie looking for your next thrill, or simply want to enjoy the scenery, Million Dollar Views is the perfect place to base yourself. Amenities and Inclusions: * TV * Air Conditioning * Kitchen * Covered Parking * Family and Child Friendly * Washer * Dryer
Alles wie versprochen. Toller Blick auf die Hafeneinfahrt von Queenstown, Kitchen und restl. Apartement sinnvoll und gut ausgestattet (mit Wäschetrockner!!). --nur das Wetter hätte besser sein können aber dafür kann der liebe Brian auch nichts.
Simone
2013-12-29T00:00:00Z
Absolutely perfect! Everything was clean & cosy. The view was a million dollars & a pleasure to wake up to everyday. Great location just out from the hustle & bustle. Great communication also. Thank you.
Lee
2014-11-30T00:00:00Z
Great place in prime location! Clean tidy apartment with all the essentials for a good holiday! Short walk to centre of Queenstown. Quiet area and the apartment has breathtaking views, would highly recommend! Thanks for letting us stay!
Jordan
2015-08-20T00:00:00Z
Brian's apartment definitely had a great view of the lake and the mountains "The Remarkables" as advertised. It is located about a 10-15 minute walk from the small downtown of Queenstown. The walk from town includes a steep incline to reach the apartment, but that contributes to the great view. Brian provided very good instructions prior to our arrival via email. It detailed how to get the key to the apartment and other details. A cab from the airport was about $50 and the return trip was about $42. There is a bus, but that wouldn't work as you need to stop somewhere to pick up and drop off the key. The apartment was comfortable and clean, but was a bit spartan as far as furniture and decor. The bed was very comfortable. It also has a clothes washer and dryer, which was very helpful. You do need to provide your own detergent, as well as shampoo and conditioner for showers. The walls could use some fresh paint in places. As Brian noted in his ad, internet is not provided, but it was available to purchase online. Brian is not resident, but everything went smoothly. A grocery store is available in town if you want to buy food for breakfast or other meals in the apartment. If you want a reasonably priced place to stay with a great view, this is a very good place to stay. We enjoyed our experience.
Mike
2014-11-07T00:00:00Z
The host surprised me with the key exchange that had to take place 7 km away from the property, but this ended up to be a very convenient place both in and out of town. The main feature of the property is its true million dollar view on the lake and the mountains. This compensates minor inconveniences with walking up the hill, parking in a limited space and dirty Windows marking the great view. The unit fits the description, it is comfortable for 2. We enjoyed 3 nights there doing the Kjet, Kiwi park, and a salary to Gyvichy, all are must to do tourist attractions.
Iouri
2016-03-02T00:00:00Z
This location really does have a million dollar view! It was clean an comfortable and very close to the downtown core of Queenstown. You must remember that everything is built on the slope of a mountain so there is a steep grade going down and a very steep climb going up! Great cardio!
Kathleen
2016-09-11T00:00:00Z
The apartment was great and the view is indeed GORGEOUS. Would be good to know that the house is on a rather steep hill, if you aren't driving that would mean a legit hike up back. Other than that, it was a pleasant 4-day stay. Would definitely be back :) Thanks Brian & Lynece!
Sharifah
2014-04-19T00:00:00Z
It was very easy to get the keys and find the place. Accommodations were adequate and the view was so beautiful. The bedding seemed a bit tired and worn but the beds were very comfortable. The refrigerator was barely cool but by the end of our 3 days it didn't work at all. If I were to return I would probably stay there again assuming the refrigerator was fixed. Really a good rate, close to town, and very comfortable.
Linda
2014-10-11T00:00:00Z
ประเภทห้อง
บ้าน/อพาร์ทเมนท์ทั้งหลัง
---
ประเภทที่พัก
อพาร์ทเมนท์
---
พักได้
4
---
ห้องนอน
ควีนส์ทาวน์, Otago, นิวซีแลนด์
Our one - bedroom apartment has a king size bed in the bedroom and 2 single beds in the lounge. There is also a flat-screen television. Full kitchen facilities are available along with a dining area. A washing machine and Free WiFi are also available for your convenience. The apartment also features lake views from all rooms. Our warm, comfortable apartment has an air conditioner along with a heat pump for those cooler months. Conveniently located, the apartment is only a 5 minute drive from the centre of Queenstown and is within walking distance of the lake (there is a lovely lakeside trail to walk, run or cycle on). Public transport (bus) passes our street quite regularly (every 15 minutes during the day, and about every 30 minutes in the evening). We look forward to meeting you soon. Amenities and Inclusions:- * TV * Wireless Internet * Air Conditioning * Heating * Kitchen * Parking Included * Washer
The view from Lesley & Chris's living room was just awesome! The place was spacious and it had everthing we needed. Also, the location was so close to everything yet not in the middle of town centre - which was great. Lesley & Chris were very professional and I would recommend this place.
Elly
2016-08-04T00:00:00Z
Spent four nights here on our honeymoon. The apartment is in a great location just a short drive from town. The apartment is really comfortable and provides a great view looking out to the remarkables. Leslie and Chris do a great job and are very accommodating. Would definitely recommend!!
Justin
2015-11-18T00:00:00Z
We had a great 7 day stay here, such a fantastic location being only a 5 min drive from the middle of Queenstown. Amazing mountain views exactly as pictured. The room was very clean and fully equipped for a relaxing stay, the hosts Lesley & Chris greeted us on arrival and showed us around the apartment and we felt at home from day one! We are already planning another NZ break and we would love to stay here again
Blake
2015-08-07T00:00:00Z
Absolutely perfect place when you are looking for great views and some privacy!! Easy check in process, great amenities and close to grocery stores ect. Would highly recommend!
Robin
2016-09-26T00:00:00Z
We loved our stay at Lesley and Chris' apartment. It is very spacious and comfortable, and has all the amenities. Lesley was great with whom to communicate and also had excellent suggestions for what to do in town. The apartment is only a short drive to downtown and is a short walk to a lovely lakeside trail. The view is incredible. Highly recommend.
David
2016-10-04T00:00:00Z
We didn't have a lot of time in Queenstown but Lesley was a wealth of information and readily helped us figure out a game plan for our night on the town. The apartment was clean and spacious. Wonderful view! Wish we could have spent more time there.
Emily
2016-01-23T00:00:00Z
Thank you for a lovely 4 nights, the apartment was a perfect base to explore Queenstown. It had everything we needed, and most importantly, was lovely and warm. Thanks also for posting the earrings I left behind, very much appreciated. Sam, Martin & Izzy
Martin
2016-07-07T00:00:00Z
We very much enjoyed our stay at Lesley and Chris's place. The apartment really does have a gorgeous view over the lake! Inside, it was spacious, clean, and had all the amenities. There was also a handy guide with information on local transportation and restaurants within walking distance, which we found very helpful. We would happily stay here again if we return to Queenstown.
Elena
2016-12-16T00:00:00Z
ประเภทห้อง
บ้าน/อพาร์ทเมนท์ทั้งหลัง
---
ประเภทที่พัก
อพาร์ทเมนท์
---
พักได้
4
---
ห้องนอน
ควีนส์ทาวน์, Otago, นิวซีแลนด์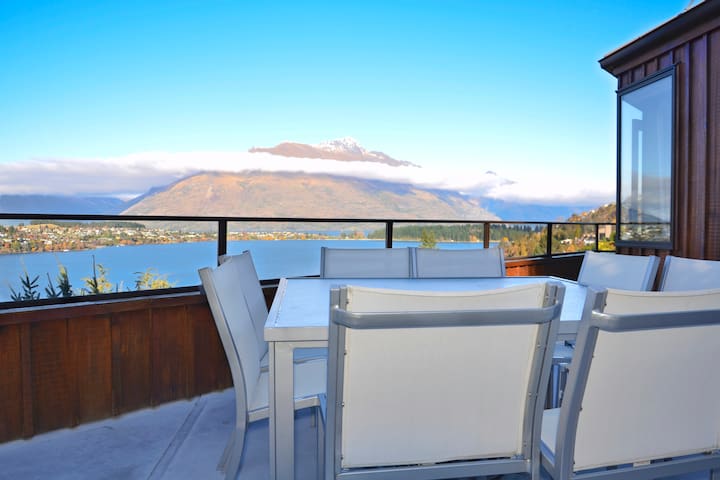 A modern and small home available near central QT. Suit couple looking for a weekend getaway or travellers who would like their own private space. 15 - 20min walk to the centre. Large balcony which is the perfect spot to gaze out over the lake and mountain ranges.
Petite and modern. This home has everything you need to make it your home away from home. The main bedroom has a queen bed and the 2nd room now has a new double bed. There is a heat pump for cooler nights and winter times. The views from the living room and bedrooms are sensational - it's like having your own private look-out! Free view TV and WIFI is available. The house is fully kitted out with all kitchenware and there is also a laundry room with washer and dryer. There is also storage under the stairs for skis. It's about a 15-20min walk into town or a 5min drive/cab ride. Its a 10min cab ride from the airport. A bus into town is available at the bottom of the hill. The property is on a private road which means there is very little traffic. There is a parking space at the house for guests. There is a walking track at the bottom of the property, which takes you around the lake or there is a walking track up the hill behind the property for those who like a good hike. The house is non-smoking. Smoking on the balcony is acceptable provided the butt pot is used. Check in is at 2pm. Check out is 11 am. All linen is provided.
15-20 minutes walk to the centre of QT. 10min cab ride from the airport. There is a walking track at the bottom of the property, which takes you around the lake or there is a walking track up the hill behind the property for those who like a good hike. The property is on a private road which means there is very little traffic. Parking space is available to park in.
My friend and I had a great time staying for the night at Nina's place. It is a very relaxing spot yet very close to the heart of Queenstown. The views across to the lake are breathtaking! It was very well kept, clean and comfortable, totally recommend for either a short or long term stay in Queenstown!
Liam
2016-03-02T00:00:00Z
What a beautiful spot! We are still sad that we had to leave. Nina has a gorgeous place on the side of the mountain with the most incredible view of Queenstown! We couldn't get enough of the views and it was a perfect escape from the busy city life in Queenstown. Five minute drive to the city center made it perfect to go back and forth throughout the day.
Erin & Carson
2016-01-13T00:00:00Z
Great house and fantastic views! Had everything we needed and the beds were super comfy! Would definitely stay again and highly recommend
Steph
2016-01-18T00:00:00Z
Nina and Kitty are communicative. The place is just as described. It is a cozy home of locals with impeccable view. We would definitely stay there again if re-visiting Queenstown. Thanks both again!
Cher
2016-12-27T00:00:00Z
Great little place, everything you need for a stay in Queenstown. Nina was very helpful with the check in process and made sure we had everything we needed. Amazing Views!
Andrew
2016-09-10T00:00:00Z
I liked the view. The place was comfortable and clean, nice bed, warm heaters, good location close to town. Communication with the hosts was good.
Tan
2016-11-28T00:00:00Z
Nina's place was amazing. It was exactly as pictured and I couldn't of asked for a better experience. The views were incredible, the apartment was clean and very comfortable. It was in a great location - you could either walk into town during the day or take a relatively inexpensive taxi, or rent a car. Will definitely recommend Nina's place to others.
Katherine
2015-09-08T00:00:00Z
Great house, fantastic view! My daughter and I stayed a couple of nights (13/14 March) and loved the experience of Nina's place. The views really are spectacular and change throughout the day. The place has everything you need and is very spacious. Nina was a great host, providing tips before our stay on places to see and eat. Thanks, Nina, hope to return later in the year. Brian and Alice
Brian
2015-03-16T00:00:00Z
ประเภทห้อง
บ้าน/อพาร์ทเมนท์ทั้งหลัง
---
ประเภทที่พัก
บ้าน
---
พักได้
4
---
ห้องนอน
ควีนส์ทาวน์, Otago, นิวซีแลนด์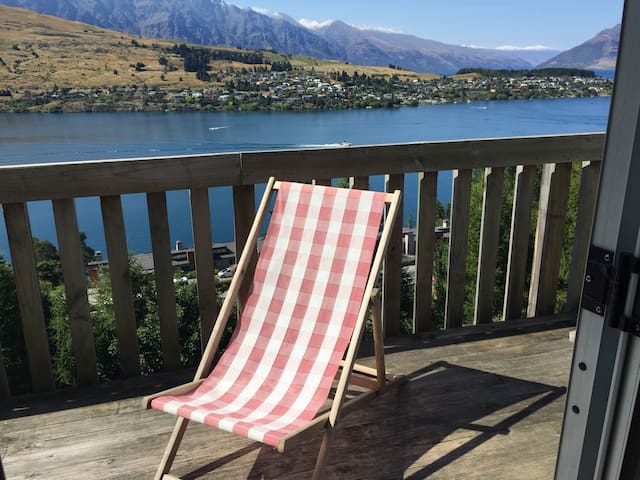 Peninsula Road cottage (crib) is the perfect relaxing holiday spot in summer and winter. From the moment you walk in, you will feel relaxed.
A character crib modernised and contemporised, it has all the comforts and yet still retains the simplicity of a traditional holiday house that you remember from your own childhood holidays. Basking in all day sun with expansive water views, this crib is the perfect base for your holiday. In summer you can practically spend all day on the sunny deck- morning coffee and papers, al fresco lunch and then to enjoy the long Central Otago evenings with drinks and BBQ dinner until it gets dark well after 10pm in summer. In winter you can enjoy the sunshine streaming in the windows and the log burner whilst you take in the views of the calm lake and snowy mountain tops. It's so warm and cosy in winter that a relaxing dinner at home and local pinot noir after skiing will be very appealing. The crib was one of the earliest on Kelvin Heights and has been built in several stages and now recently refurbished. The two queen bedrooms are connected internally or can be accessed independently through French doors off the large deck; There is plenty of off-street parking. The garden is in constant bloom for most of the year so you can enjoy fresh flowers during your stay.
Staying at Fiona's home was the best decision my husband and I have made when we decided to head to Queenstown for our honeymoon. What you see in the pictures does not do justice to the real-life view as the actual scene was even more breathtaking. We were so comfortable with staying in the well-equipped and clean house we didn't feel like heading out. I personally love the flowers which Fiona planted around the house, so beautiful! Would definitely choose to stay here again if we go to Queenstown again!
Xiao Hui
2014-11-29T00:00:00Z
Wonderful house! We can see the beautiful view of Queenstown and lake Wakatipu, and the room is clean and tidy! Fiona is also a warm host! Thank you very much!
qinghan
2016-03-11T00:00:00Z
Hi Fiona, I just wanted to thank you so much for allowing us to stay in your home the past 4 nights. We have had a wonderful relaxing time and your home is so beautiful. The view is gorgeous and we will definitely be coming back. You're a fabulous host. It's been a lovely end to our 2 week stay in NZ and to celebrate our 25th wedding anniversary. Thank you!
Jodie
2016-03-08T00:00:00Z
Fiona's gardens were filled with well cared for spring flowers which she encouraged us to cut and bring inside to enjoy. The cottage was clean, neat, and inviting. There was much kitchenware available so we could cook. The cottage is 10 minutes from Queenstown and close to the airport (noise was not an issue). And the views!!!
Frances
2016-09-27T00:00:00Z
This incredibly cosy cottage is perfectly situated to provide an unrivalled view of Lake Wakatipu and the surrounding snow capped mountains. Our beds were super comfy and the whole house is immaculately well kept. Despite not meeting face to face, Fiona proved mighty helpful with detailed folders providing clear details of the amenities, house keeping and local takeaway. Our stay couldn't have been more comfortable. Thank you Fiona.
Michael
2014-09-29T00:00:00Z
Such a comfortable cottage with great views! Felt like home. Kitchen is well equipped and we cooked every night. It is a little bit of a drive into town (~20 minutes), but its so nice to come back to peace and quiet.
Janis
2016-11-01T00:00:00Z
Fiona's house is beautiful, clean and is well-equipped. Her instruction and tips are very clear and useful. Fiona is very kind to offer help if needed and is very responsive. I especially appreciate how she cares about small details- I really love the flowers placed on the dining table and bathroom on our first day of arrival. Although we could not meet Fiona in persons, I could still feel her warm welcome because of the flowers. This is our first time renting a house via AirB&B and Fiona's house definitely boost our confidence in using this App in future. Thank you so much Fiona for lending us your house. We had a wonderful stay and time in Queenstown! :D
Karen
2015-10-04T00:00:00Z
Fiona's place is the perfect place to enjoy all the beauty and charm of Queenstown and its surroundings. The outstanding views of the lake and mountains, the well appointed amenities and all the comfort to make you feel you are in your own place, make Fiona's place a truly piece of heaven on earth! Don't hesitate, book her place and you will not want to leave! All her restaurant recommendations are spot on, so don't miss on that either!
César & Emil
2016-02-28T00:00:00Z
ประเภทห้อง
บ้าน/อพาร์ทเมนท์ทั้งหลัง
---
ประเภทที่พัก
บ้าน
---
พักได้
4
---
ห้องนอน
ควีนส์ทาวน์, Otago, นิวซีแลนด์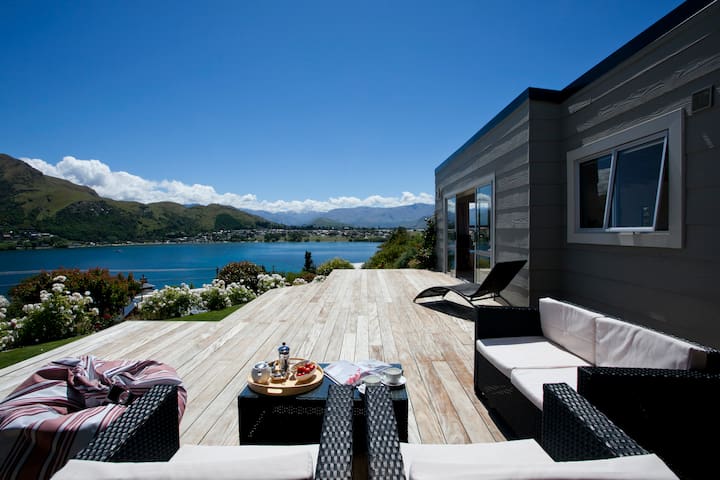 El barco extendido está a sólo 25 minutos de las pistas de esquí Remarkables y sólo 40 minutos a Queenstown. También estamos en el camino de Te Anau y Milford / dudoso de sonido. Muy bien situado fuera del bullicio de Queenstown sin dejar de ser accesible. Tenemos grandes vistas a su alrededor y estamos a sólo 80 metros del lago Wakatipu. Ideal para parejas, aventureros en solitario, y viajeros de negocios - esta extensión de nuevo diseño en nuestro barco Kingston es elegante, cómodo y bien equipado.
Estamos tan contentos de poder compartir la adición extendida del Kingston barco con usted. Hemos construido recientemente esta extensión y con un estilo que a nosotros mismos para que coincida con el ambiente de mediados del siglo del barco originales. De cavar los cimientos de escritorio hecha a la medida, hemos puesto nuestro corazón en este diseño que se basa en lo mejor de la región Queenstown Lagos. El espacio ofrece una serie de características muy cómodas, muy buenas: - el dormitorio tiene una impresionante vista sobre el lago y una gran suite con una gran ducha y tocador reformado precioso. - el entrepiso elevada tiene una silla oscilante precioso y divertido, un escritorio y una biblioteca. - el salón inferior tiene una fantástica vista hacia el lago y las montañas circundantes, así como el acceso instantáneo a la cubierta. - la cocina está cargado con todo lo que necesitas para unas vacaciones de amantes de la cocina y si no está ahí, sólo hay que preguntar. - el jardín exterior cuenta con alrededor de 99 cosas comestibles que crecen dependiendo de la temporada y nos gustaría ayudarle a usted mismo a cualquier cosa de hierbas frescas en Quince.
Kingston es un bonito pueblo tranquilo en el lago con paseos escénicos, una enlaces campo de golf de nueve hoyos y la gente super amable. Perfecto para escaparse y relajarse en el lago, sólo hay una pequeña cafetería y una tienda de la carretera así que asegúrese de obtener todos los suministros antes de dirigirse a Kingston.
Emma-Kate and Patrick were extremely welcoming hosts, lending us their bikes, allowing free rein of their vegetable patch, and giving us some delicious homemade granola. The property is stunning, the decor is beautiful, with lots of homely touches. The location is extremely peaceful, with lovely views over the lake and scenic walks/cycle trails nearby. We would recommend this property for anyone looking for a peaceful lakeside retreat. The property is also a handy base for trips to Queenstown/Milford Sound.
Andy
2016-12-23T00:00:00Z
Fantastic studio, brilliant design and great people! wish we had stayed longer!
Steven
2017-02-06T00:00:00Z
Unique location right at the foot of the mountains and a great quiet private home base close to Queenstown and all of the surrounding adventures. Superb scenery and lovely hosts
David
2017-01-30T00:00:00Z
Oh my goodness. The view, the apartment, the hosts. We spent one night here as a stop on our two week drive around the South Island. Wish we could have stayed longer! The apartment is immaculate and beautifully designed. We were invited to harvest some veggies from their well-stocked veggie patch and gosh are we glad that we did. A fresh garden salad, roasted veggies and some incredible slow cooked short beef ribs from Patrick made for the best dinner we have had in a long time. With the fire roaring and 180 degree views it made it quite difficult to leave. Thank you so much for an incredible stay – your hospitality is like none other.
Jade
2017-03-07T00:00:00Z
A beautiful relaxing holiday cottage, tastefully presented with style, cleanliness and freshness, with all the comforts of home! Emma-Kate and Patrick were so friendly and helpful! They even helped us find extra accommodation for the rest of our family, who unexpectedly dropped in. We highly recommend The Boatshed to anyone looking for a holiday stay!
Lana
2016-11-28T00:00:00Z
Patrick and Emma-Kate are the sweetest and most welcoming hosts. When you walk into the Boathouse, you immediately notice all the thought and detail that went into making sure that our stay was a comfortable one. They made sure that we had everything we needed and even made us granola and made sure our coffee pot was always full. The location is close enough to Queenstown for shopping and in-town activities, but also far enough to experience Lake Wakatipu in all its tranquility. Their home is perfectly situated. Every room has a view of the mountains and lake! We didn't want to check out.
Randall
2017-03-14T00:00:00Z
The place is beautifully decorated and designed with fantastic sun lit rooms with views over the lake. Patrick and Emma-Kate's passion for design shows in every corner, as does their love of good food (with the garden and kitchen). Great location, great coffee and great hosts.
Ben
2017-03-18T00:00:00Z
An inspiring, ever changing location with beautiful presented and comfortable accommodation that has all the essentials for a great stay. Generous and friendly hosts who have thought of every detail you may need and are happy to assist with information about the area. A wonderful place to stay!
criena
2017-02-10T00:00:00Z
ประเภทห้อง
บ้าน/อพาร์ทเมนท์ทั้งหลัง
---
ประเภทที่พัก
บ้าน
---
พักได้
2
---
ห้องนอน
Kingston, Otago, นิวซีแลนด์
寻找一个伟大的住宿地点靠近湖泊,配备了一个伟大的厨房,超温暖的壁炉,舒适的真皮沙发和一个伟大的大号床。你找到的地方。位于从道路到蒂阿瑙和米尔福德峡湾的机场和卓越山脉滑雪场仅有30分钟。
我们邀请您留在我们的阳光,温暖,和现代家居。休息和放松,这里美丽的金斯顿,同时享受所有的地区提供。位于从道路到蒂阿瑙和米尔福德峡湾的机场和卓越山脉滑雪场仅有30分钟。 这房子是装备精良的休闲渡假,双层玻璃,良好的绝缘,木材燃烧炉和抛光混凝土地面是沉浸在白天的阳光和保持房子温暖整个晚上。 我们朝北家有周围群山的美景和湖泊仅有2分钟的步行路程。我们正在创造酒店周围的原生花园,我们希望你会喜欢坐在在周围的庭院浸泡。
金士顿是一个小村庄,噪音很小或交通。大多数人漫步到湖边去钓鱼,或上山(衬衫的下摆轨道),用于进行锻炼和一个伟大的观点。他们是一个可爱的小Links高尔夫球场离我们家仅2分钟为好。
Patrick and Emma-Kate has provided me and my girlfriend with wonderful service. Responding with quick replies, arrangement on short-notice and a fire burning for our arrival. It was a beautiful home with wonderful scenery, the layout of the house was very modern and classy; living up to the name of 'eco-house'. Greatest experience ever, especially coming from the busy central of wellington :) Thanks Patrick and Emma-Kate!
TaeJin
2016-08-31T00:00:00Z
What a perfect place to stay! We absolutely loved our 2 nights here. A really well built place, great location, and amazing view. The house is really cool and we loved looking around at the different decorations and features. My wife especially liked the fresh cut plants/flowers placed in the house, bedroom, and bathroom - nice touch! The reclining couch and big TV were nice treats as well. Comfy bed and easy check in and check out. Great cafe just a few minutes walk away.
Matt
2016-09-02T00:00:00Z
What a superb space! Nestled in a great spot away from the overwhelming tourist vibe of Queenstown, but close enough to check out all the things you're interested in. Everything we needed (and more) was in the space. It was so warm and cozy, so easy to relax there.
Rebecca
2016-07-07T00:00:00Z
Fantastic! A very modern, clean perfect house. Great kitchen well stocked and a beautiful yard and garden. It is a block from the beach and small park on the lake, in a small village with a bike trail. There is a coffee shop and restaurant a couple blocks up. Quaint quiet peaceful, and very comfortable. We loved it.
Rachel
2017-02-12T00:00:00Z
A perfect stay in Kingston...This modern, spacious place had an awesome fire place. It gave away a comfy warmth and was very calming especially in conjuction with the lake view. Everything was clean and very quite, exactly as Patrick described it. We would stay again in a heartbeat.
Dominik
2017-03-13T00:00:00Z
We were stoked with Patrick's place. Very comfortable, great views and definitely like minded with all the great natural products that were there.
Harry
2016-06-26T00:00:00Z
We really enjoyed our stay at this wonderful eco-house. Kingston is just a little town with not much to do, but it was wonderful to stay in such a lovely home, where we could relax and enjoy the surroundings. The house is perfect for two, and we appreciated such a big kitchen. Cannot recommend this highly enough.
Solveig Marie
2017-02-09T00:00:00Z
The place is great for rest, Kingston it's really quiet and nothing is heard from the street. We loved the house and the lake it's only 5 minutes walk. Definitely we'll stay again in our next trip to NZ.
Alex
2017-03-11T00:00:00Z
ประเภทห้อง
บ้าน/อพาร์ทเมนท์ทั้งหลัง
---
ประเภทที่พัก
บ้าน
---
พักได้
2
---
ห้องนอน
Kingston, Otago, นิวซีแลนด์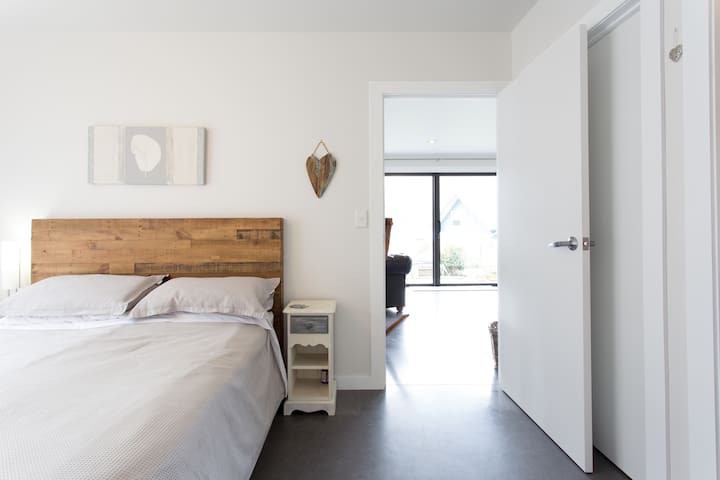 Lake End Lodge ist schön Villa verpackt mit Charakter am Ufer des Lake Wakatipu. Umgeben von Bergen und Ackerland, in dem niedlichen Dorf Kingston, sind wir zu Hause weg von zu Hause. Das Haupthaus hat Wohnheim und BnB Zimmer, während dieser Raum ein schrulliger umgebauten Bus mitten im üppigen Garten. Sie werden absolute Privatsphäre haben, während immer noch das Haupthaus zugreifen zu können. Die Toilette ist im Inneren. Wir bieten kostenloses Frühstück, und es viele Einrichtungen wie Kajaks, ein Whirlpool, eine Sauna, Kino & Bikes.
Gus der Bus hat ein bequemes Doppelbett, Camping WC, Hängematte, einen Essbereich und ein Waschbecken. Es ist weg von der Haupt-Lodge, in den Baum des versteckt, ist aber nach wie vor nur einen Steinwurf von allen Einrichtungen im Inneren des Haupthauses. Sie können auch unsere anderen lisitings überprüfen, ob Sie sich in einem Raum bevorzugen würden: Rimu Zimmer: https://www.airbnb.co.nz/rooms/9513927 Die Container-Kabine: https://www.airbnb.co.nz/rooms/13941756 Lake Side Suite: https://www.airbnb.co.nz/rooms/9577958
Kingston ist ein kleines Dorf direkt am Seerand. Wir haben ein Geschäft, ein Café, ein Pub, Post (alles in einem) so am besten Ihre Einkäufe in Frankton zu, vor der Ankunft. Hier in Kingston haben wir einen Golfplatz, Rasen Boccia, Tennis, um die Berge Radweg, Wanderungen, Kajakfahren, Angeln und vieles mehr! Hier finden Sie die Einheimischen sehr freundlich zu sein. Wir sind weg von der Hektik von Queenstown, während immer noch nahe genug, um es zu genießen!
The host canceled this reservation 32 days before arrival. This is an automated posting.
roman
2016-12-03T00:00:00Z
Kimberley and John where super welcoming. Quick response and great hosts. The bus was amazing next to all the facilities that you can use. We would definitely stayed longer if we had the time. Also the breakfast and fresh eggs are another add on. Thanks for the short but very nice stay!
joffry
2017-01-27T00:00:00Z
We're both in our late twenties but that did stop up from playing bus driver so much fun in gus the bus! Perine checked us in and she was great and showed us around. It was a rainy stay but we made use of the table tennis. Great place to meet friendly people and such a beautiful house as well. Highly recommended!!
Phoebe
2017-03-11T00:00:00Z
Such an amazing place to stay. Nice and tucked away from the hustle and bustle of Queenstown with a nice walk up the hills nearby.
Alex
2017-03-04T00:00:00Z
This is the best Airbnb experience my partner and I ever had! This is more than just a comfortable bed to stay the night, this is a hub for entertainment and adventures within and outside the premises. We enjoyed the hot tub, the sauna, the BBQ, the equipped kitchen, the bicycles, the games room, the beautiful lake, the hikes and most of all- the vibes and the company of our lovely host. John and his partner (literally) built a little world that holds their values of hospitality, exploration & relaxation. I would highly recommend it to anyone!
Osnat
2017-03-17T00:00:00Z
Super fun place to stay. Welcoming hosts and via rant atmosphere. I'd suggest packing warm close if staying in Gus the bus (gets Cold at night- but there is a heater!). And take spray for the sand flies. Awesome place. Would stay there again.
Helena
2017-01-12T00:00:00Z
This place is out of this world! Hot tub, sauna, games room, massive kitchen/living room, great breakfast and wonderful hosts. We stayed just one night in Gus the Bus, a fun and quirky bed for the night that didn't compromise on comfort. John and Kim are very capable hosts and have thought of everything to make your stay a pleasant one. Only tip....stay more than one night and make the most of this place!
Euan
2017-03-21T00:00:00Z
Had a great stay in Gus the Bus, a very fun and comfortable place to stay. Love all the amenities with the hot tub, kayaks, fresh bread etc. Second time staying here and fully recommend!
Jared
2017-02-14T00:00:00Z
ประเภทห้อง
ห้องส่วนตัว
---
ประเภทที่พัก
ที่พักพร้อมอาหารเช้า
---
พักได้
2
---
ห้องนอน
Kingston, Otago, นิวซีแลนด์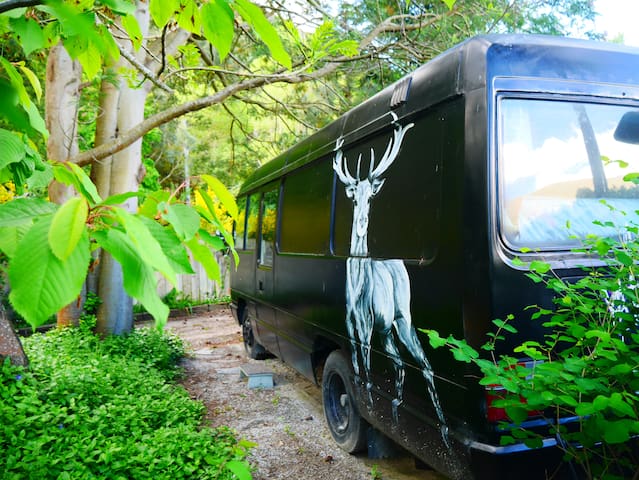 Wenn Sie einen erholsamen, ruhigen Ort suchen, zu bleiben, werden Sie hier lieben. Atemberaubende Aussicht auf den See aus dem Wohnzimmer und Balkon im Zimmer mit Vogelgesang.
Wenn Sie einen erholsamen, ruhigen Ort suchen, zu bleiben, werden Sie hier lieben. Atemberaubende Aussicht auf den See aus dem Wohnzimmer und großen Deck oder aus dem Fenster und Balkon im Zimmer mit Vogelgesang. Wir haben einen kleinen Bauernhof und ein grünes Haus im großen Garten. Sie würden hier, wenn Sie wie organische und einfaches Leben lieben. Dies ist ein umweltfreundliches Hotel. Einige haben es als zu Hause. Es gibt auch ein paar autarke Elemente in diesem Konzept, wenn Sie interessiert sind. Es ist ein kleines Eco-System mit Gleichgesinnten und den Austausch von Ihren Erfahrungen einladen. Der Whirlpool nur auf Anfrage erhältlich. Bitte lassen Sie uns wissen, wenn Sie die Reservierungsanfrage senden, wenn Sie bereit sind, es zu benutzen. Ein Zuschlag gilt.
Mei's place is adorable and in a stunning setting - Kingston is a much better option than Queenstown if you're looking for a bit of serenity. Mei was a helpful and accommodating host. Highly recommended.
Vikki
2017-01-25T00:00:00Z
Cosy home, lovely views. Nice scenic drive into Queenstown. Great if you are looking for a peaceful retreat but want to be close to the action.
Samuel
2017-02-05T00:00:00Z
This place has amazing views, is perfectly situated between Queenstown, Te Anau (Milford Sound) etc. The house is quiet and comfortable. Mei was very communicative and helpful - let us have late checkout when I only gave 12 hours notice which was nice. I have to mention that Kingston is not connected to mains water so you need to take care on water consumption. Read house rules ahead of booking. If there are no photos (eg, kitchen) it is because these parts are a little old looking, but it's all comfortable enough Overall, a good place
john
2017-03-10T00:00:00Z
Staying at Mei home was a very relaxing and cozy. The house has an awesome view at the lake from your bedroom, fast internet and everything you need. Being close to Queenstown but having also a quiet time is great. I highly recommend Meis apartment to you.
Mathias
2016-12-29T00:00:00Z
We had a pleasant stay in this place during the Christmas break. It's within a short drive from Queenstown (~35 mins) but you'll definitely need a car to get anywhere. The hottub was a nice perk!
Tommi
2016-12-27T00:00:00Z
Mei made us fell at home. For starters the slippers then some wood ready to be tossed into the fireplace! That was really nice from her. The place matches 100% with the description provided. All instructions were clear and useful. We really enjoyed the peace and tranquillity of that incredible part of the world. Hopefully one day we are going to be fortunate enough to go back there.
Daniel
2016-09-28T00:00:00Z
The place was just as described, in a beautiful setting in the country. We used it as a base to get to Milford Sound (instead of staying in Queenstown). Mei provided great instructions and the house was ready for us (including two pairs of slippers!). Just a reminder to read the house rules about water and food prep before you arrive. This is Mei's home, so you can enjoy her sense of style.
Mary
2016-04-26T00:00:00Z
Kingston is a lovely, quiet and attractive place to visit at the end of the lake. (Buy your groceries in Frankton before coming) Mei and Sandy offer a good value in this charming A-frame home in lovely gardens, with deck, hammock and hot tub. We were not able to arrange a meeting with them but they were very attentive by email. All their instructions were thorough and their advise generous. They are very interesting, well intended people.
Rebecca
2016-02-26T00:00:00Z
ประเภทห้อง
บ้าน/อพาร์ทเมนท์ทั้งหลัง
---
ประเภทที่พัก
บ้าน
---
พักได้
2
---
ห้องนอน
Kingston, Otago, นิวซีแลนด์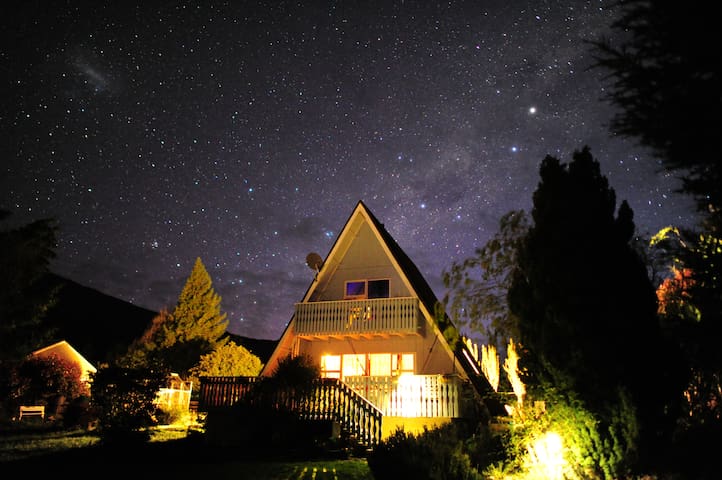 サニーとキングストンで湖畔の右まだ人里離れたこの1970年代の休日の家は、リラックスするのに最適な場所です。楽しむ - オープンプランとは、上品なミッドセンチュリーモダンな家具でビーチやプライベートパッドよりもさらに行くする必要が飾られていません。
半分手入れのネイティブの木のエーカーこの家と庭に位置するリラクゼーションのために設計されています。家は快適で、気取らないです。この家に住んでいるようなオープンプランのスタジオは、カップル、または小さな家族のために理想的です。またはスペア布団を共有して喜んでいる友人のため。新しい木材バーナーとヒートポンプ。
フレンドリーな隣人。安全で静か。 クイーンズタウンの混乱せずに古いワカティプを体験するのに最適な方法。自然愛好家やチルアウトすることを好む人のための理想。
Very cool atmosphere place. A couple of feet away from the lake. Nice place
Dalia
2015-11-20T00:00:00Z
We had freedom and privacy and there were precise directions to be in the house. We couldn't meet Philippa but everything was ok and the place was really quiet. The garden was perfect for a relaxing stay and the lake was only fifty meters from the house.
Beatriz
2016-01-13T00:00:00Z
Communication with Philippa was very easy and uncomplicated. The house is exactly as it is described and located right on a beautiful river bank. We enjoyed our stay there!
Fabio
2017-01-27T00:00:00Z
It is a little nice house with a beautiful landscape around. i have enjoyed the quiet place. The communication with Philippa is very good.
Stefan
2017-02-07T00:00:00Z
We had a beautiful time in this adorable cabin. The place is really nicely set up and super comfortable. We spent hours chilling out in the garden which is just magical. The kitchen is fine for cooking - be prepared to cook as it is a bit of a drive from town and the local cafe was pretty terrible and over priced. The lake is stunning and we had some lovely swims. The water tank ran out of water which was a bit annoying but Philipa did everything she could to help and it worked out fine in the end. Big thank you!! We can't wait to come back....
Nadia
2016-02-17T00:00:00Z
Nice secluded place, good location for road tripping from. Loved the wood burner.
Terris
2015-11-27T00:00:00Z
The house is a cozy place with a beautiful garden. We found everything that was descripted. Fantastic place to relax and enjoy the nature.
Francesco
2015-12-31T00:00:00Z
Philippa was an amazing host, and Lalapanzi is a beautiful hideaway we hope to visit again! The cottage is put together with great love, and an artists eye; the garden is large and full of flowers and plants. Philippa went out of her way to make our stay as comfortable as possible, as well as making sure we had all the information we needed before we arrived. She was easily contactable, and made us very welcome when we arrived. Thank you again Philippa!!
Flora
2016-01-29T00:00:00Z
ประเภทห้อง
บ้าน/อพาร์ทเมนท์ทั้งหลัง
---
ประเภทที่พัก
บ้าน
---
พักได้
4
---
ห้องนอน
Kingston, Otago, นิวซีแลนด์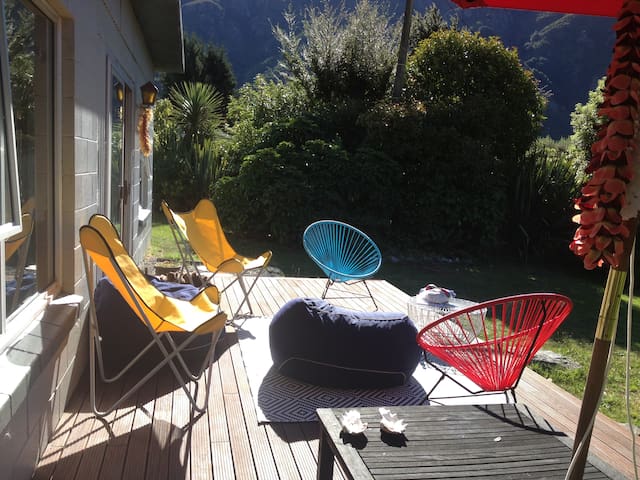 Une nouvelle maison de trois chambres à coucher. Tous double vitrage, isolation complète et avec les planchers de tuiles chauffées. Conçu pour capturer un ensoleillement maximum et toutes une vue imprenable impressionnante de Kingston. Avec un grand débit d'intérieur-extérieur sur l'enveloppe autour du pont. Avis: Cette maison est notre endroit préféré en Nouvelle-Zélande, la vue imprenable sur le lac et belles étoiles la nuit. Recommande fortement. Nous aurions rester plus de jours. / Ne peut pas décrire assez précisément ce que une superbe maison dans un endroit magnifique c'est ... il est tout à fait beau
Vous avez l'utilisation de toute la maison. Le linge est situé dans une petite pièce à l'extérieur par la porte arrière.
À côté de la maison est la piste cyclable. Aussi juste la route est un parcours de golf 9 trous. Et sur la route est le lac - il est toujours prêt à vous baigner dans À travers la route de notre maison est un parc de jeux pour enfants..
The host canceled this reservation 42 days before arrival. This is an automated posting.
Anupam
2016-02-08T00:00:00Z
We loved this place and could have spent the whole holiday just lounging around enjoying the views and peace and quite. The house was well equipped and clean. A perfect place to escape the frenic activity of Queenstown.
Catherine
2016-04-01T00:00:00Z
Paul house is located just near the beautiful river. We love the house cuz it's very quiet and new. The view from the house was perfect and really suitable for taking photos
Blair
2017-03-20T00:00:00Z
사진에 보이는 것처럼 좋은 집이었습니다. 깨끗하고, 필요한 것들이 잘 갖춰져 있어서 편리하게 사용했습니다. 킹스턴 전체가 물 사정이 여의치않아서 샤워를 5분 안에 끝내달라고 적혀 있어서 괜히 부담스러웠습니다. 킹스턴에서 퀸즈타운을 오가는 도로가 호수를 따라 있어서 경치를 구경하며 달릴 수 있는 것은 좋았지만, 30-40분 정도 걸리는 거리라 오가기가 조금 불편했습니다. 그러나 바로 앞에 호수가 있고, 조용하고 한적한 곳으로 편안하게 머물수 있어서 좋았습니다.
Euna
2017-03-07T00:00:00Z
Great place
Luke
2017-03-17T00:00:00Z
Very quick response to booking request. Awesome views and great location for our activities. House was lovely and had everything you needed. Thanks so much for sharing your house it made our New Zealand holiday great.
Rangimarie
2016-07-05T00:00:00Z
The listing was very accurate , the house was amazing not only the great views but with a well equiped kitchen . As we did a lot of site seeing everyday , we were unable to meet up with Paul . Very quiet and relax neibourhood I thouroghly recommend it
Joao
2016-03-10T00:00:00Z
Fabulous house, fabulous view!! Lovely house well provisioned, beautiful setting. Very comfortable. Great communication from host.
richard
2016-03-27T00:00:00Z
ประเภทห้อง
บ้าน/อพาร์ทเมนท์ทั้งหลัง
---
ประเภทที่พัก
บ้าน
---
พักได้
5
---
ห้องนอน
Kingston, Otago, นิวซีแลนด์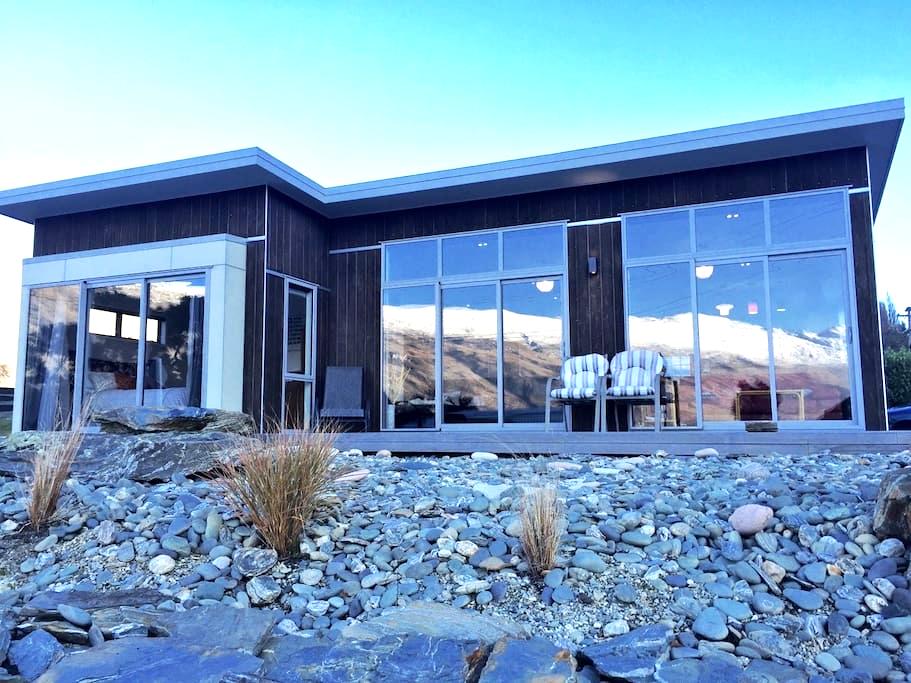 Lake End Lodge ist schön Villa verpackt mit Charakter am Ufer des Lake Wakatipu. Umgeben von Bergen und Ackerland, in dem niedlichen Dorf Kingston, sind wir zu Hause weg von zu Hause. Das Haupthaus hat Wohnheim und BnB Zimmer, während dieser Raum ein schrulliger umgebauten Schiffscontainer mit Ihrem eigenen Bad, privaten Innenhof und eine Küchenzeile ist. Sie werden immer noch Zugang zum Haupthaus haben. Wir bieten kostenloses Frühstück, und haben jede Menge kostenlose Einrichtungen wie Kajaks, ein Whirlpool, eine Sauna, Kino & Bikes.
Die Container-Kabine ist Ihr eigenes privates gemütlichen Rückzugsort von der Haupt-Lodge trennen. Badezimmer en suite, kleine Küche (Wasserkocher, Toaster, Wok, Grill), privaten Innenhof und epische Aussicht, während immer noch mit vollen Zugang zu allen Einrichtungen innerhalb des Hauses. Dies kann 3 Personen passen, wenn erforderlich.
Amazing property with great views, peaceful area and good accommodation. Hosts were super friendly and helpful
Laura
2017-02-26T00:00:00Z
Amazing place to stay! Set up with absolutely anything you could want - highly recommend! Oh and definitely try the fresh eggs and bread - so good!
Kate
2017-01-01T00:00:00Z
Superb stay within the cabin, don't be put off but the title it is very nice and everything you would need for a stay, plus the main house is only next door. The location is next to the lake and the return drive to Milford sound is doable in a day and Queenstown in an hour.
Robert & Janet
2017-03-16T00:00:00Z
Great place to enjoy the area. Wonderful amenities. John and Kimberly have paid attention to every detail in providing a comfortable space. A home away from home. Loved the separate accommodations in the uniquely outfitted storage container.
Maxine
2016-11-16T00:00:00Z
Great spot, friendly hosts. Thank you
Iri
2017-02-05T00:00:00Z
John and Kimberley were great hosts! They are two very friendly people and willing to share any information they had about NZ. I highly recommend a stay here!
Alyssa
2017-02-09T00:00:00Z
Kimberley and John are two of the coolest people you get to meet in your lifetime. The place is impeccable and you will fall in love with the peace and quite Kingston has to offer. Highly recommended.
Mandy
2016-11-28T00:00:00Z
Every thing it was advertised as .Great hosts and a very good set up with plenty to do in your spare time.
Justine
2017-02-18T00:00:00Z
ประเภทห้อง
ห้องส่วนตัว
---
ประเภทที่พัก
ที่พักพร้อมอาหารเช้า
---
พักได้
2
---
ห้องนอน
Kingston, Otago, นิวซีแลนด์
一個可愛的裝修的家庭與一個偉大的廚房,華麗的花園,距離湖畔100米,從卓越山脈滑雪場25分鐘,40分鐘到皇后鎮和優越,適合外出遊玩米爾福德和神奇峽灣。湖的美景和山脈,方便前往騎自行車和徒步旅行路線,釣魚和划船。熱情親切,放鬆。
這個可愛的還原70年代的房子已經重新設計的新鮮創造一個美好的週末或週遠在湖邊。坐落於南端的瓦卡蒂普湖,船屋的地理位置優越,給你帶來山脈和湖泊的壯麗景色。老芮木實木地板和壁爐創建一個新的廚房和浴室包圍著溫馨的氣氛。廚房設施齊全,適合在大90厘米燃氣灶具有三個不同的烤箱(所有者是一名廚師)烹調,伴隨著大量的檯面空間的水準備用餐。浴室是新的大淋浴和一個可愛的虛榮心,光線充足,通風翻新。飯廳適合4人,生活支持湖泊或與朋友聊天難以駕馭的下午讀。臥室俯瞰湖和理由在這裡我們的花園也隨時為您想吃什麼就吃什麼日益增長的時間。 用很短的步行百米到湖邊,你可以釣鱒魚和鮭魚(需要捕撈許可證),或者把你的皮艇兜風。如果你想冒險進入新設計的自行車賽道,從金斯頓到南方或者你可以冒險了襯衫故事跟踪在湖壯麗景色我們提供2輛自行車。如果你想一頭扎進皇后鎮箭鎮或者,你開車只需要40分鐘或30分鐘的卓越山脈雪字段或弗蘭克頓的購物中心。 這家是理想的浪漫之旅或寫,或只是閱讀的和平與寧靜大書一筆的創意孤週末。帕特里克與艾瑪 - 凱特住在隔壁的新建延伸,但都致力於您的隱私和和平的各種方式。
安靜的湖畔居委會與友好的人民各地。
What a gorgeous place! Perfect for some downtime, reading by the fire, sleeping - with just a few walks and a spot of fishing. An absolute joy to have a chef's kitchen to work with - we ate like royalty. Patrick and Emma-Kate were very generous hosts - the house was immaculately presented and chock full of fresh herbs and firewood. Hope to come back soon!
Will
2016-07-24T00:00:00Z
Patrick and Emma-Kate were extremely welcoming and fantastic hosts. They were extending the property when we stayed, at first we thought it might impact on our stay but it was still very private and it was nice having them next door. Patrick and Emma-Kate have fantastic kitchen and cooking facilities, everything was extremely well presented and honestly, they are just great people. If you're looking to get away from Queenstown and you want to read by a fireplace and relax in an amazing space then this is the spot. 10/10 would stay again :)
Chris & Ally
2016-08-08T00:00:00Z
Absolute Little Gem. Was very comfortable and warm, fantastic kitchen and decorated very tastefully. Perfect place for a complete rest and relax. It is as good as the pictures look! Thank you very much for a fantastic stay Patrick and Emma Kate.
Kylie
2015-09-27T00:00:00Z
The boat house is such a special place, we instantly fell in love with it. Emma-kate and Patrick have done a great job at ensuring you have everything you need. The gardens are beautiful and so is the little town of kingston. We would highly recommend this listing to anyone, and hope we get the chance to stay again.
Katherine & Jake
2015-12-09T00:00:00Z
It's often hard to tell via images on the internet, but this place exceeded all expectations. From the moment you walked in you could feel the love and care that went in to this home and the attention Patrick and Emma Kate put into sharing it with you. Places like this are why we stay with airbnb and not hotels. Surrounded by mountains and overlooking a lake, we found a few days to relax and rejuvenate before continuing our New Zealand road trip. Beautiful on the inside too with very comfortable furnishings and I enjoyed so much making meals in that kitchen! A lovely little garden to explore and hang out in as well. Patrick was so easy to communicate with and always proactive in providing information. Amazing scenic walks nearby too. Didn't want to leave this place. Very special and feeling very lucky to have experienced it.
Simone
2015-02-11T00:00:00Z
The Boatshed was the perfect place to stay for a few days of relaxation and serenity. Patrick and Emma-Kate have created a beautiful space to live in. I wouldn't change it in any way.
Phillip
2016-02-28T00:00:00Z
Patrick and Emma-Kate's Boat House is as beautiful as the pictures look. The area is peaceful and it only took us about 30 minutes to drive to Queenstown. Patrick and Emma-Kate are friendly and welcoming. They gave us access to their very well-stocked garden and we got to have freshly picked salads for dinner. Their kitchen is well-stocked if you like to cook yourself. Patrick even surprised us with some of his super tasty creations! We had a wonderful time at the Boat House and wish we could've stayed longer to explore Kingston, there's a 1.5 hour return hike you can do near the lake, you can go fishing, bike-riding or even just take a walk at the lake. Very good value for what you get and we would've loved to stay longer.
Jocelyn
2017-03-03T00:00:00Z
Patrick and Emma-Kate have such a lovely home! They did a wonderful job communicating with us before, during, and after our trip! It was very clean and when we arrived, they had a fire started to warm the house. Their home was so cozy and relaxing. We loved our time at The Boat House and wish we could have stayed longer. My husband and I now have an idea of how to design our dream home!
Sarah
2015-07-13T00:00:00Z
ประเภทห้อง
บ้าน/อพาร์ทเมนท์ทั้งหลัง
---
ประเภทที่พัก
บ้าน
---
พักได้
2
---
ห้องนอน
Kingston, Otago, นิวซีแลนด์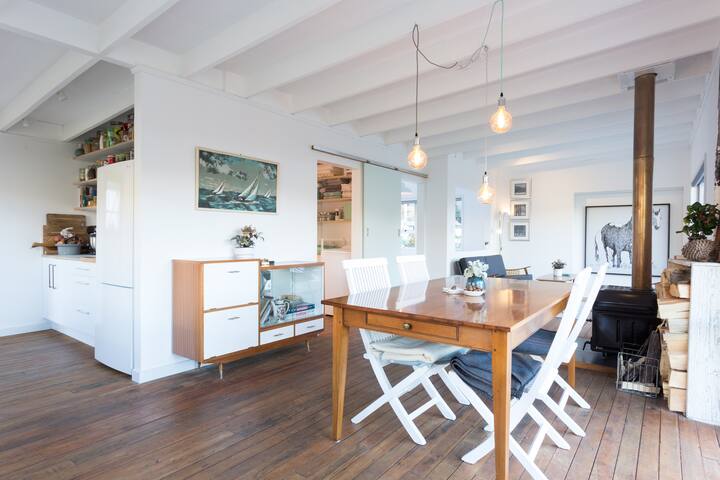 The host canceled this reservation 190 days before arrival. This is an automated posting.
patrick
2016-06-20T00:00:00Z
Nice cozy place, 40 minute drive to the city.
Janet
2017-01-23T00:00:00Z
Great place - lovely decor, cosy and beautiful location. Patrick was there to meet us as we pulled up and gave us some great hints and tips about the area and using the log burner. Really nice man, and then we stayed 3 nights. 2 minute walk to the lake front, 5 minutes to some really cool walks and about 10-15 walk away from a nice café. Will definitely stay again!!
Dave
2016-10-02T00:00:00Z
Lovely and quiet! Patrick is very caring and professional
Bridgid
2016-11-24T00:00:00Z
We very much enjoyed our stay at Patrick's place. It's well-equipped, and there is a lot of space to relax after a day of exploring the surroundings. Everything was clean, communication was easy and I recommend staying there without reservation.
Sebastian
2017-02-19T00:00:00Z
great place to stay friendly host nice view good way to queenstown reccommend
Sarang
2017-02-22T00:00:00Z
This place is super cute! Like a modern log cabin in a winters paradise. All the amenities are there, the fireplace was lit and toasty warm when we arrived, so we sat in front of it with a bottle of wine with no worries in the world. Patrick (host) was very helpful and hospitable especially when we got lost trying to find the place! Lol We also had our 3yr old son with us aswell which was not an issue whatsoever :) Thanks so much! We hope to return again for a longer stay! Josh, Jocelyn and Baxter
Josh
2016-10-12T00:00:00Z
It's a nice and quiet house just like home. The place is easy to find and just 1 minute walk to the lake, wonderful view! Patrick and Lynn are very nice. Thank you!
钱
2017-03-02T00:00:00Z
ประเภทห้อง
บ้าน/อพาร์ทเมนท์ทั้งหลัง
---
ประเภทที่พัก
บ้าน
---
พักได้
2
---
ห้องนอน
Kingston, Otago, นิวซีแลนด์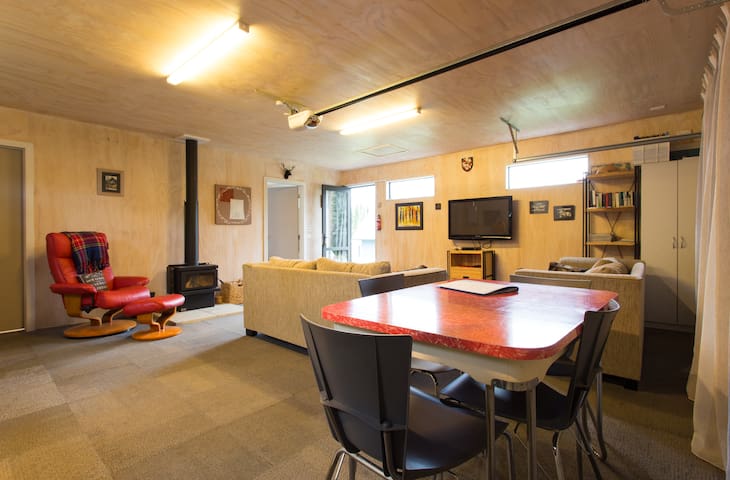 The flat is very cozy and it has got everything you need: big couch, cozy fireplace, huge shower, very well equipped kitchen - Jayne even provides you with fresh eggs from her own chickens as well as honey and milk. Jayne is super nice and very uncomplicated - she will do her best to make your stay perfect. The flat is located only 5 walking minutes from the beautiful lake and within 30 minutes by car you're in the middle of Queenstown. We highly recommend to stay at Janye's place!!!!
Carmen
2016-11-17T00:00:00Z
Bloody marvellous!!! An absolute peach of a place. Jayne, the host is a lovely warm, genuine & friendly (URL HIDDEN) too are the pet sheep; the chickens; the cat and the dog. The fully self contained place is very, very spacious, clean and stocked with everything you could need...especially in the kitchen. Which is very handy if you're skint/fed up from eating out all the while. I was a little surprised how much stuff had gone up in NZ...but what price for holiday heaven eh? A proper log burner which kicks out HUGE amounts of heat - great for us Brits who don't like the cold . Seriously though, it was our fist time with an Airbnb and having been here I can't recommend Jayne's place enough...you can. You can book this knowing you WILL NOT be disappointed. Thank you Jayne, hope to come stay with you again sooner rather than later. x
mark
2017-01-04T00:00:00Z
We really enjoyed our stay in Jayne's place. It was clean and tidy and had everything we needed. She had lots of blankets in there and a fire place, which was good because we weren't used to the cold (even in summer). Jayne was really lovely on arrival she showed us around the flat and let us know if we needed anything that we could message her. She was quite happy to leave us be for the duration of our stay. I would definitely recommend staying here, plus she has a very cute cat!
Jacquie
2017-01-07T00:00:00Z
Wonderful place, super nice owner, love to be here again
禾康
2016-12-28T00:00:00Z
Jayne was a wonderful host and truly went the extra mile to make our stay a home away from home.
John
2016-12-31T00:00:00Z
Had a great time. The place is amazing and the view spectacular. Well beyond our expectations. Thank you for everything. U all are excellent airbnb host.
Sang Soo
2016-11-21T00:00:00Z
ประเภทห้อง
บ้าน/อพาร์ทเมนท์ทั้งหลัง
---
ประเภทที่พัก
อพาร์ทเมนท์
---
พักได้
2
---
ห้องนอน
Kingston, Otago, นิวซีแลนด์
Scenic 45km nach Queenstown. Aussicht auf den See und die Berge. Das ruhige Ein-Zimmer Haus ist ideal für zwei Personen. Gemütliche Holzofen, herrliche Glasdusche und Terrasse mit Grill. Abgeschieden starry Nächte & Morgen mit herrlichen Sonnenaufgänge & ruhige Spaziergänge am Strand.
Sie erhalten eine ganze Wohnung für weniger als die Kosten für ein Hotelzimmer. Der Raum ist ganz privat und in sich abgeschlossen. Auf Reisen ist es immer schön, die Möglichkeit zu haben, um zu kochen und das kann helfen, Kosten zu halten und mehr Geld für Abenteuer zu verlassen. Und da wir die Abenteuer-Hauptstadt der Welt sind, die eine gute Sache ist. Ski-Saison ist hier bald und die Remarkables haben einen neuen Aufzug. Am besten für zwei geeignet, sondern kann ein Kind oder Erwachsener auf dem umklappen Couch im Wohnzimmer unterbringen.
Kingston ist eine kleine Stadt leben vom Feinsten. Mit einer Bevölkerung von weniger als 300 sind die Dinge sehr kalt stellen. Bummeln Sie durch die Stadt, Pop bis hin zu den "Top Shop" a / k up / a lokale Bar, Restaurant, Laden an der Ecke und ein Postamt in einem. Rund um die Mountain Trail soll am 1. November geöffnet, 2014 Buchen Sie einen Aufenthalt bei uns und einer der ersten sein, diese großartige Ergänzung zu der Region zu genießen. Kingston ist ein guter Ausgangspunkt mit allen Veranstaltungen Queenstown nur eine 45-minütige Fahrt. Weitere jährliche Veranstaltungen in der Umgebung sind die jährlichen NZ PGA Tour bei Millbrook, Audi Winterspiele (2105) und das Herbstfest in Arrowtown (April). Es ist Winterfest im Juni und Jazzfest im Oktober und in diesem Jahr ist das erste Queens Marathon. Weinland ist ein Tagesausflug entfernt, zusammen mit Milford Sound (MUST SEE), Te Anau, Invercargill und Dunedin.
This house is so good. We can walk to nearly lake there can see wonderful stars.
SHOGO
2017-02-18T00:00:00Z
This place is located only 25-30 mins drive from Queenstown center, surrounded by mountains and lake! Beautiful views, quiet and peaceful. You can see sheep next door, and lake is about 5 mins walk away. The host, Susan, is super friendly and helpful. She reminded us stock up grocery because there's no big supermarket in Kinston. And this place is as close as we can get from Milford Sound, which is a must-see if you visit South Island.
Julia
2015-12-31T00:00:00Z
Susan was an excellent host, with good communication and advice about how to get there what is available in area. The listing was an accurate description of the property which is modern, well maintained and very comfortable. Susan was more than helpful, meeting us when we arrived and giving us the low down on where everything was and how it worked and checking occasionally to make sure we had enough firewood and even providing us with beach towels when I mentioned we were going swimming. The Kingston area is a nice alternative to Queenstown, it's has a quite and laid back atmosphere but still has a lot to offer with scenic walks an the lake foreshore close by to explore and the drive down from Queenstown is absolutely stunning. To sum up, our experience was very enjoyable and Susan and Stone are fantastic hosts, I am so glad we chose "Suite as Kingston" rather than your run of the mill motel in Queenstown.
aaron
2014-07-04T00:00:00Z
We had a lovely stay! Really enjoyed the view and the relaxed atmosphere.
Nadav
2016-11-19T00:00:00Z
Sehr schöne, gemütliche Unterkunft. Mit allem was man braucht ausgerüstet. Und abends gemütlich vor dem Ofen sitzen. Susan war sehr hilfsbereit und die Kommunikation war bestens!
Jutta
2016-11-23T00:00:00Z
Highly recommend. Made this reservation on the day of and Susan went out of her way to make my wife and I feel welcome. Very large space with all the essentials. Would definitely stay again.
James
2016-02-26T00:00:00Z
What an amazing experience. We booked this place at the very last minute (literally the day before) and yet, Susan managed to get everything ready for our arrival. Communication with her was very easy and she took time to meet us upon arrival and gave us a really warm welcome. Susan's place is immaculate. Clean, cosy and modern, it is fully equipped with the necessary amenities for our 3 nights stay. The house is airy and spacious, with plenty of space to lounge and really relax. Having stable wifi and a laundry machine are huge pluses. Location is perfect too. Just 30mins drive from Queenstown, you are basically staying in an oasis of calm and tranquilly, away from the crowds, yet never far from the action. The mountainous backdrop provides the most dramatic of sunrises and sunsets. Thank you Susan and Stone, for all the lovely memories. Highly recommended!
Guy
2016-02-17T00:00:00Z
We visited in January 2015 from Seattle WA U.S.A. The listing was as described, and our host went out of her way to make us feel welcomed, Thank you, Susan for the garden-fresh berries! The rental unit is lovely, clean and has modern appointments. The bed is especially comfortable and the wifi was a nice luxury. The unit is walking distance from the lake, park, and golf course, and is about a 30 minute drive to/from Queenstown.
Crystal
2015-01-07T00:00:00Z
ประเภทห้อง
บ้าน/อพาร์ทเมนท์ทั้งหลัง
---
ประเภทที่พัก
บ้าน
---
พักได้
3
---
ห้องนอน
Kingston, Otago, นิวซีแลนด์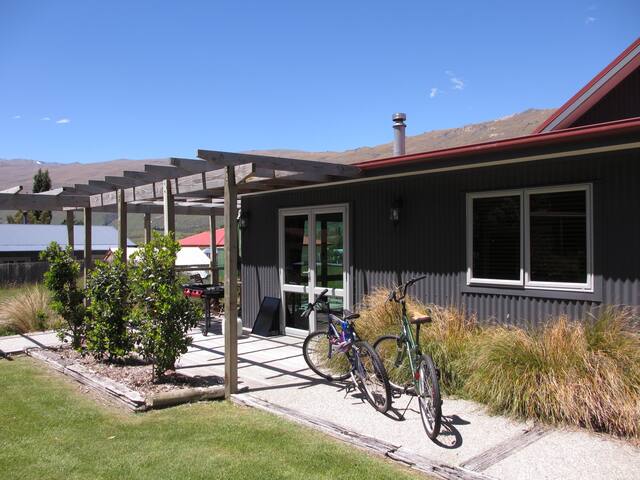 Lake End Lodge je krásná stará vila plná charakteru na břehu jezera Wakatipu. Obklopeni horami a zemědělské půdy, v roztomilé nepatrnými vesnice Kingston. Nabízíme bezplatnou snídani, a má spoustu zařízení, které můžete použít jako kajaky, lázně, sauna a kol.
Místnost v nabídce je slunný pokoj s krásným výhledem do zahrady. Tam jsou palandy, které byly postaveny na zakázku z krásné recyklovaného Rimu. K dispozici jsou až 4 mezery v místnosti v nabídce, stejně jako spoustu úložného prostoru, jednotlivé kóje děr, světlo a závěsem pro každou palandu. Je to 30 $ na osobu a noc. I když neexistuje žádný vlastní příslušenství, jsou k dispozici 3 sprchy a 4 toalety, takže už nikdy nebudete muset počkat. BNB se nachází v krásně zrekonstruované 100 let staré vily. Great plně zásobený kuchyň, společný obývací prostor, velký otevřený oheň a vysoké stropy. Také jsme dostali velkou velké hernu v naší garáži se stolním tenisem, kulečníkem a jiné zahradní hry. Tam je BBQ / kuchyňský kout, a rozsáhlé zahrady těšit. Také pro vaše potěšení: kola, kajaky, tenisové rakety, golfové hole, lyže / snowboardového vybavení, sauna, lázně / Vířivka, kinosál, knihovna, Arcade Machine, Xbox, velký pohodlný sedací soupravou pro chlazení ven.
Kingston je malá vesnice na samém konci jezera Wakatipu, pouhých 30 minut od airprt a 40 minut Queenstown. Velmi přátelská komunita a příjemným místem k životu, a přijít na dovolenou. Máme jezera Wakatipu právě tam, kde si můžete vychutnat lodičky, vodní sporty, rybaření, jízda na kajaku a plavání (máte-li odvahu!) Existuje několik fajn procházky můžete udělat v této oblasti, stejně jako Okolo hory cyklotrasa, která začíná nebo končí buď v Kingstonu. Kingston je také skvělý pro horolezectví, a tam jsou tenisové kurty, golf a travní mísy. Jsme na cestě k Milford Sound, a může vám pomůže zorganizovat svou cestu tam, nebo navrhnout jiná zajímavá místa, jako je Queenstown, Arrowtown, nebo údolí Gibbston pro degustaci vín. The Remarkables Ski Field je 25 minut jízdy, a budeme dělat pravidelné výlety tam v zimě (což není zač se k nám připojili k).
Kimmy and John were both very friendly and made us quickly feel at home. We stayed in the bunk beds which were very comfortable. The lodge was full of people and it seemed like they were all willing to have fun and make conversation. It was also really nice being right next to the lake. I would recommend anyone who wants a great place to stay for one night or a few nights to stay at Lake's End Lodge.
Tim
2016-01-07T00:00:00Z
These guys have an amazing set-up- we loved using all the great facilities and chatting to everyone in the house. The dorm beds were really comfy and private, and we really enjoyed relaxing here. Thanks Kimmy and John!
Annaliese
2016-05-04T00:00:00Z
Kim and John were very nice as we showed up after midnight and had everything ready for us with no issue. Enjoyed the game room and beer on tap.
Andrew
2016-01-06T00:00:00Z
I love there very much. There are beautiful lake, peaceful atmosphere, awesome game room and most important- very nice people. Kimberley & John are very friendly and enthusiasm. Hope I have chance to visit there.
杰龍
2016-08-31T00:00:00Z
John & Kimberly were very accommodating. We had a couple changes in our plans and they were able to help us reschedule our stays and add on extra nights with no problem. Even let us store some extra luggage while we did our travels around the south part of the island. The house is lovely - a true bed and breakfast experience. J&K have updated it with gorgeous rooms and features. There's tons to do if you're there on a rainy day - hot tub, games, and sauna. I highly recommend staying here. Definitely a great experience.
Karina
2016-06-12T00:00:00Z
These guys are so cool! Easily the best place we stayed at during our whole trip. Awesome people, great house, and awesome stay mates. HIGHLY RECOMMEND :)
Minwoo
2016-02-16T00:00:00Z
This place is a hidden gem of the area. We loved our stay at Lake's End Lodge! John, Kimmy and Sian made us feel right at home and it was a joy to get to know the other guests. This place combines a social atmosphere with quality quiet time if that is what you need. The location was great near trails and the water. There was so much to do we filled up 4 nights easy with kayaking, hiking, using the spa and sauna and having a game night with the other guests. The dorm room was quiet and each bed had its own light, power source and surrounding curtain. Great place to stay!! Thanks for everything and blessings to you in the future!
Kathy
2016-03-24T00:00:00Z
Totally awesome! One of the best experiences I had on the South Island. Homey and lots of fun. My friend and I had a great time.
Sarah
2016-07-22T00:00:00Z
ประเภทห้อง
ห้องรวม
---
ประเภทที่พัก
ที่พักพร้อมอาหารเช้า
---
พักได้
6
---
ห้องนอน
Kingston, Otago, นิวซีแลนด์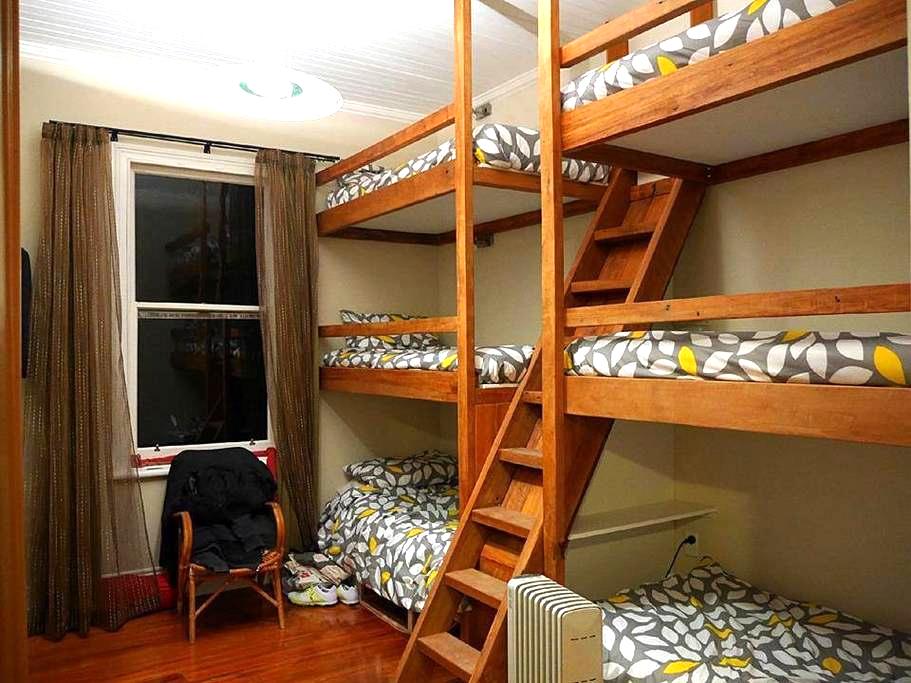 Kingston - Airbnb
:
เฉลี่ย

4.91

จาก

5

ดาวจาก

1289

รีวิวผู้เข้าพัก
กรอกวันที่เพื่อดูการกำหนดราคาเต็ม มีค่าธรรมเนียมเพิ่มเติม อาจมีภาษีเพิ่ม