กรอกวันที่เช็คอินของคุณในรูปแบบ ดด-ดด-ปปปป
กรอกวันที่เช็คเอาท์ของคุณในรูปแบบ ดด-ดด-ปปปป
ทารก 0 คน
อายุน้อยกว่า 2 ปี
ที่พักที่คุณจองได้โดยไม่ต้องรอการอนุมัติจากเจ้าของที่พัก
ที่พัก 14 รายการ
· Haines Falls
ที่พัก 14 รายการ
· Haines Falls
กรอกวันที่เพื่อดูการกำหนดราคาเต็ม มีค่าธรรมเนียมเพิ่มเติม อาจมีภาษีเพิ่ม
เดือนกรกฎาคมและสิงหาคมนี้ คุณสามารถลองหนึ่งในบ้านที่ได้คะแนนสูงสุด 100 หลังเหล่านี้ที่ราคาเท่าใดก็ตามและสัมผัสมุมมองโซโนมาแบบคนท้องถิ่น เช็คอิน 24 ชั่วโมง การจองทันทีและไวน์ท้องถิ่นและของว่างให้คุณผ่อนคลายและสนุกกับการเดินทางของคุณ
You'll love my place because of the location and the outdoors space. My place is good for couples, solo adventurers, business travelers, families (with kids), and furry friends (pets).
ประเภทห้อง
บ้าน/อพาร์ทเมนท์ทั้งหลัง
---
ประเภทที่พัก
---
พักได้
8
---
ห้องนอน
3
Haines Falls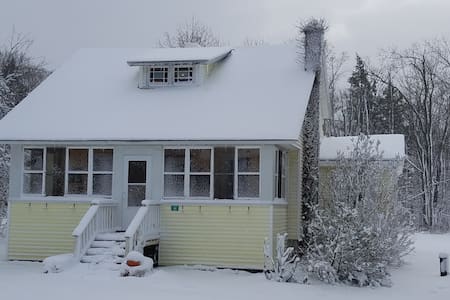 Amazing 26 foot Yurt located in Palenville NY. Close to amazing food and great experiences. Full Running water Kitchen (hot water as well) and bathroom connected to Yurt (The Annex) Full Bathtub & Compost Toilet. Only 2 hrs from NYC! Important to keep a camping state of mind when visiting the Yurt. You are going to be in the middle of the wilderness (in a small community of other yurts). We go to extensive lengths to keep the yurt clean however but you may see a bug here or there.
26 Foot yurt in the Catskills. Full Surround Sound/Blu-Ray Projector setup. Woodburning stove (free wood supply on premises) as well as kerosene heater. Hot water heater in the Annex, just needs to be flipped on, in the fusebox in the same room. Compost Toilet (you throw woodships down after you, cleaned monthly) Built a tiny patio on the side to BBQ on (grill on premises) Access to Full Yurt/Annex
Check out the Circle W General Store, best breakfast in town!
Easy communication from the start with Pete. Cosy and comfy yurt. Lots of hikes around. I loved sleeping in the hammock and enjoying the view over the moon or the sunlight through the roof. Great getaway from the city.
alexandra
November 2016
Bring a hatchet and understand how to use a wood burning stove.
Nick
November 2016
The Yurt an amazing spot for a getaway! Awesome wood burning stove, super cozy.
Elizabeth
October 2016
First off - this is a REALLY cool space. The whole experience was rustic, but with a good amount of amenities. The place is essentially a giant reinforced tent in the middle of the woods, and slept 5 of us comfortably. We really enjoyed our stay. Pete was great about communicating with us and setting expectations. It's rustic, so if you expect hotel grade glamping, I would not recommend this. If you want cozy, rustic, great value and a cool location near hiking, climbing and other fun outdoor activities, then I definitely recommend this place. The only thing I would say is that the bathroom is a bit intimidating if you've never used a compost toilet before. Pete definitely gave us a heads up about how it works, but it was new to most of us, so just don't expect that to be the same as a regular indoor toilet. Overall, A+ stay, excellent communication by the host and would definitely come back for a visit again. Highly recommend.
Rob
September 2016
I had a wonderful stay at Pete and Jenny's yurt. Exactly as described in the details! Before we left, we received a ppt via email which detailed directions and amenities in the yurt (surround sound and a record player. Yes, please!) When we arrived, the yurt was beautiful and incredibly tucked away. We only had 2 people but it could easily sleep 6 people as there was a comfy hammock (seriously, this thing had a comfy cushion and everything), and a futon, plus ample floor space. The kitchen was perfect for making coffee or breakfast in the morning. They even have a small chemex! I loved the yurt and would recommend it to anyone hiking around the Catskills or visiting Hudson.
Katie
September 2016
Accurate and cool yurt.
Jax
October 2016
Very good, pretty area, yurt was spacious and clean
Katie
September 2016
Everything was described well. Pete did a good job in communicating with us prior to making our trip. When we arrived there was a nice note welcoming us.
Sandra
August 2016
ประเภทห้อง
บ้าน/อพาร์ทเมนท์ทั้งหลัง
---
ประเภทที่พัก
---
พักได้
6
---
ห้องนอน
0
Palenville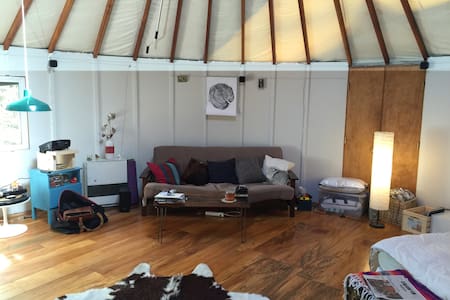 This 100 year old newly renovated house dark on the outside Is full of amazing colors and sunlight within. Adjacent to many walking trails . Hunter, Wyndham, Hudson and Catskill all close by. Huge screened in porch with cosy daybeds. Amazing views towards the Hudson Valley
We have total privacy , peace and quiet . We also have a wonderful outdoor shower overlooking the mountain . The beds are all extremely comfortable and have choice of pillows . the kitchen is fully equipped with a gagennau oven and Wolf gas range . the dining table can seat up to 12 guests and there are plates and cutlery for this . We have hot water on demand so there is no chance of running out ! there is a charming cafe at the bottom of the mountain with delicious food and many of your grocery needs , it's called Circle W . Access to all rooms of the house. Hill in front of house is steep and filled with stumps and rocks. Please don't use for your own safety. There is a caretaker who knows the house well her name is Marissa . She will be able to answer most of your questions about the house . We have left a list of contacts in the house handbook .
The neighbourhood is quite charming with easy access to many hiking trails there are books in the house which will give you moe information . There is a wonderful cafe at the bottom of our hill where you can buy anything from cheese to band aids !! The food is delicious and the staff even more so !!! Public transport is scarce around Palenville so it really is necessary to have a car . In the winter weather an all wheel drive is preferable as it is quite a steep road .
This house has been newly redone with incredible taste. The fireplace and screened porch were highlights. Don't hesitate.
emile
October 2016
We fell in love with Gaye and Roger's beautiful mountain home. The location is idyllic and the interior of the home is simply stunning. We loved the huge screened in porch and the amazing blaze of colour from the trees surrounding the house. Our children enjoyed exploring in the woods at the back of the house and curling up in front of the fire. We would like to return next year. What a great house and thank you for sharing it with us - and Gaye, thank you for all your help and advice in the lead up to our stay.
Sarah
October 2016
Gaye and Roger's fabulous stone house sits in perfect peace and quiet on the edge of a national park. The house is meticulously renovated and beautifully decorated. Gaye is attentive to all your needs and questions by email and phone - she is a super hostess. We had a wonderful family vacation over Memorial Day weekend - cooking meals in their super kitchen, and eating them on the long table on their screened-in porch overlooking a forest. Everyone raved about the comfortable, well-appointed rooms, spacious living-room and just how gorgeous everything was. I cannot recommend this place enough.
Georgina
June 2016
Gorgeous home, amazing setting, and lovely hosts! We had a great time and will definitely be back.
Patrick
October 2016
ประเภทห้อง
บ้าน/อพาร์ทเมนท์ทั้งหลัง
---
ประเภทที่พัก
---
พักได้
8
---
ห้องนอน
4
Palenville
Situated on the legendary Niobe Falls, THE WATERFALL HOUSE is a charming Victorian house at the end of a quiet country lane. Private steps down to these "pride of the Catskills" natural waterfalls make this home unique. Hiking trails abound!
Unspoiled Palenville, home of Washington Irving's 'Rip Van Winkle,' is ideally located between Woodstock, Saugerties, Catskill and Hunter. Furnished with country antiques and original art, this vacation rental home has two bedrooms, each with its own full bath plus a den with twin bed convertible chairs. The queen size sofa bed in the living room affords a glorious waterfall view framed by spectacular spring, summer and autumn foliage. The separate dining room seats six. French doors open to a romantic wraparound porch with majestic mountain, river and waterfall views! Enjoy breakfast on our romantic, wraparound porch, or lunch at the Circle W General Store. Stroll over to The Fernwood Restaurant for dinner or drinks. The entire waterfall home is yours to enjoy We are 100% available for our guests. We reside nearby should a need arise. Our home is yours to enjoy and as such we respect your right to privacy.
Ideally located in unspoiled Palenville, close to Woodstock (12 miles), Saugerties (8 miles), Hunter (10 miles) and Catskill (10 miles). Our area hosts many music venues, live theatres and festivals such as the Jazz Festival, Garlic Festival, and the Woodstock Film Festival each autumn. Antique and art lovers will find treasures galore. A variety of restaurants, farm stands and farmers' markets will satisfy any appetite. Horse lovers note - we are close to H.I.T.S. Fleas markets and tag sales are weekend treats. Ski Hunter Mountain for winter sports. A car is recommended. Amtrak to Hudson, Enterprise rental available with train pick up. Especially for Nature Enthusiasts: Discover nearby hiking trails. We provide trail maps and hiking guides. Wildlife is abundant, so bring your camera. We'll help you plan just the right outdoor adventure hike. In season, tour the neighborhood with bicycles we provide. Convenient to H.I.T.S.: Our proximity to this major equestrian center makes this home ideal for those participating in, or simply attending the wealth of seasonal events. Skiers, Take Note!: We are located a mere ten miles from Hunter Mountain! Windham mountain, and Belleayre are also in area. All three ski resorts host many activities year long.
What a stay! House and hosts far exceeded expectations. Amenities in the house were carefully considered by the host. They genuinely care about you. The waterfall views from the back are phenomenal. Would strongly recommend this house, and host. Great summer destination.
Edward
July 2016
What a terrific home! The location is beautiful and the home was very accommodating. Majorie was attentive and very pleasant to work with. I am local to the area and needed to find a house to take my disabled son to while our home was under construction. After looking at many airbnb listings I found that this house was the most "wheelchair friendly". There was one small step to get in the front door and otherwise the ground level was perfect for my boy. He enjoyed sitting out on the porch overlooking the creek and listening to the water rushing by. The master suite upstairs was a really nice getaway for mom too, really comfy bed, nice bathroom, great view!
Cheyenne
May 2016
This house is pure magic. We contacted Marjorie last minute and she was so informative, quick, and very understanding of our unique situation. Not only was the booking process seamless and thoughtful - she also emailed me in advance all the info I needed while I was traveling. Once we arrived at the home, the sounds of the waterfall had a peaceful roar. The power of the stream flowing was the ultimate playlist for the weekend. The space is built to enjoy the company you keep and we built close bonds during our stay because of its great layout and experience. The home was also very clean, cozy, and full of amazing art. The best part of this home was hearing the stories of the owners and the history of the home, as it gave us context of how to unlock the magic all around us. Thank you Marjorie for your kindness and open arms. I look forward to coming back to your home and other properties. This home is a must!
Darrick
November 2016
ประเภทห้อง
บ้าน/อพาร์ทเมนท์ทั้งหลัง
---
ประเภทที่พัก
---
พักได้
6
---
ห้องนอน
3
Palenville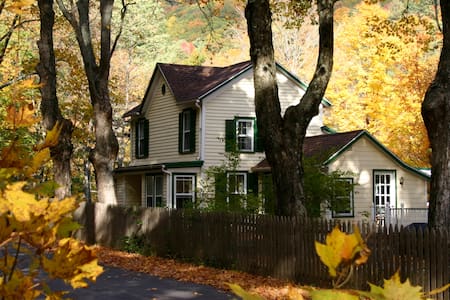 KAATERSKILL FARMHOUSE GETAWAY A beautifully restored Civil War era farmhouse nestled in the historic hamlet of Palenville, New York along the rushing Kaaterskill Creek. Featuring original hardwood floors, country kitchen, exposed beams, wifi, screened-in porch and outdoor stone fire pit. Perfect for a romantic weekend for two, family vacation, or a group of close friends looking to kick back and enjoy the wild magic of the Catskill Mountains.
The house was cute. However, it is located directly next to a gas station and along the highway which I was not made aware of.
Erin E
July 2016
The host canceled this reservation 4 days before arrival. This is an automated posting.
Simon
ประเภทห้อง
บ้าน/อพาร์ทเมนท์ทั้งหลัง
---
ประเภทที่พัก
---
พักได้
6
---
ห้องนอน
2
Palenville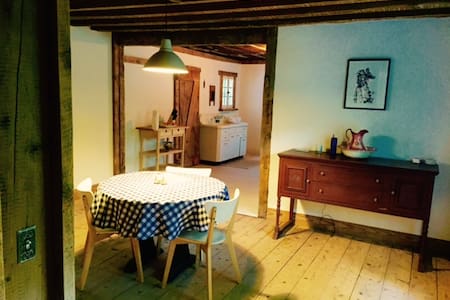 Welcome to our warm home in the Catskill Mountains. Sitting on three secluded acres at the end of a private road, this 4 bedroom, 3 bath house offers the perfect setting for your getaway. The property borders the Kaaterskill Wild Forest and is located just 15 minutes from both Woodstock and the Village of Saugerties, and 20 minutes from Hunter Mountain.
This is our family home, and we love it. It is updated with lots of modern touches, but it still retains that rustic charm of the outdoors. The large lawn, pool, deck, and grounds are ideal for enjoying the fresh spring air. In the summer, lounge by the pool and eat dinner on the deck. In the fall, immerse yourself in the forest's colorful display before heading out to pick apples at one of the local orchards. Curl up by the fire during the winter before hitting the slopes. We all feel like our home has lots to offer throughout the year and we look forward to sharing this special place with you and your friends/family. The property is located 15 minutes from both Woodstock and the Village of Saugerties, a half hour from Kingston, and 45 minutes from Albany. Fill your days with skiing, antiquing, hiking, kayaking, and exploring all that the Catskills have to offer. For those with children, feel free to use the crib, pack-n-play, children's library and wide selection of toys and art supplies. All are in like-new condition. The ranch-style house also offers easy access for those with limited mobility. It has only a few stairs as well as grab bars in several of the bathrooms if needed.
This is our family home, which we think creates a very warm and inviting space for your visit. We kindly ask that you remove your shoes upon entering the house,and please no smoking indoors or candles. We love our house and look forward to sharing this beautiful part of Upstate New York with you. Welcome to the Catskills!
ประเภทห้อง
บ้าน/อพาร์ทเมนท์ทั้งหลัง
---
ประเภทที่พัก
---
พักได้
8
---
ห้องนอน
4
เซาเจอร์ตีส์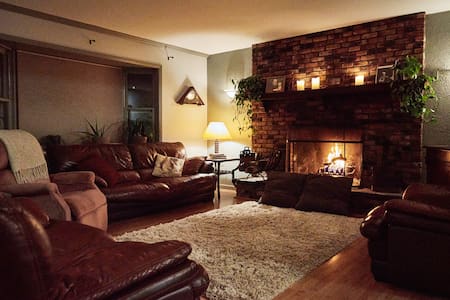 Nestled in the forest a 3 bedroom 2 bath large log home. You will enjoy a quiet place to get away from the hustle and bustle of every day life. front and back decks to lounge and relax. Our home is near hiking, fishing , skiing, and festivals.
Towels,and sheets are not provided, please bring towels and sheets 3 full size and 1 single. blankets and comforters are provided. the whole house
We rented Karen's home for the Fourth of July weekend and had an amazing time. It was cozy, clean, and well cared for in a quiet, secluded location. I would definitely go back.
Anthony
July 2016
Karen's house is so homey and charming; my friends and I had such a pleasant weekend together there. It was a very simple check-in/check-out process and the house had everything we needed. We could not have asked for more and hope to be back again!
Patricia
December 2015
This is a really nice, clean, and quiet country house. Plenty of room and properly equipped kitchen (not pizza pan, being clairvoyant we brought ours!). The setting is great without nearby neighbours. Difficult start due to problems with outside doors hence quit cold temperature inside (to cold to finish work at the computer inside...), but friendly and responsive host. We enjoyed the fireplace, the chocolate box as a welcoming gift, and our kids all of the animal themes in each rooms. Our stay overall was great. Make sure to have an AWD-equipped vehicle if you plan to visit during the winter. Must also be really great during summer time.
Benjamin
February 2016
The house was cozy and very private. The place is decorated as a home and not just another rental. There was care and attention to detail put into the space. A very nice gesture was a box of chocolates waiting in the fridge.
Ji Hae
October 2016
Karen's log cabin is a delightful getaway truly tucked back in complete privacy in a wonderful woodland setting. The location is exactly what you want if you're looking for what makes the Catskills such a special place.
Ryan
October 2016
Cozy log home in private rural setting. Karen is a wonderful host and even left chocolates for us. We had a few minor issues in the kitchen- the oven dial markings were worn off making it difficult to use, and the lazy Susan holding the pots broke with first gentle use. The home is otherwise charming.
Annette
October 2016
Place was nice. Near a lot of things in the Catskills.
Adam
June 2016
The house was a great get away from the city. Hunter mountain and Woodstock are in close proximity.
Stephen
August 2016
ประเภทห้อง
บ้าน/อพาร์ทเมนท์ทั้งหลัง
---
ประเภทที่พัก
---
พักได้
7
---
ห้องนอน
3
เซาเจอร์ตีส์
My place is close to Nature, Hiking, Skiing, Woodstock, Hudson Amtrak Station, Waterfalls and incredible food. The ambiance, outdoor space, the light, the comfy beds, the proximity to so many different towns and villages, and the serenity make it the perfect house to hunker down in for Winter or Summer. Cook, drink wine, watch a million movies with friends in the massive sunken in living room. Great ski house for a group too. Also makes the perfect spot for a romantic getaway for a couple.
Only 2 hours from NYC, this cabin-like home is outfitted with everything you need for an incredible mountain getaway. The kitchen is stocked with tons of cooking utensils and dishware to create decadent feasts. The property features an outdoor fire pit with soaring mountain views, a massive sunken in central living room with a modern wood stove, 70 inch SmartTV and Sonos Speaker system that fills the entire house with music. Relax on 1.3 acres of secluded wilderness a few hundred feet up the base of the Catskill mountain range - this property is home to deer, foxes, wild turkey and black bears. Have the best of both worlds with Palenville (5 mins), Woodstock (12 mins), Saugerties (15 mins), Tannersville, home of the beautiful Deer Mountain Inn (17 mins), Hudson and the Hudson Amtrak station (25 mins), Hunter Mountain Ski Resort (25 mins) and Kingston (nightlife and tons of restaurants - 27 mins). Kaaterskill Falls is only 10-12 minutes away, right up the mountain, and North South Lake Camping Ground and the boundless Catskill Mountain trails that branch off from there is only a 15 minute drive...
The wood stove takes 12 inch pieces of firewood or smaller. Please provide your own firewood - I typically stop at Lowe's/Home Depot/Walmart in Kingston right off the interstate on the way up and grab a bag of "Qualiflame" or "Enviro Logs". They are both safe for woodstoves.
A truly wonderful place to stay! We stayed for 4 nights with our parents & kids, the house was wonderfully laid out for a family gathering. Nestled in a quiet area, it's not far from multiple adorable small towns with excellent food & amenities. Josh was a great host, available at all hours via text for any info we needed. The kitchen is very well appointed, great for cooking (we did a full Christmas dinner). Highly recommended!
Ryan
December 2016
Josh was a terrific host! Pre-arrival, he offered for us to check in to the property earlier to avoid an incoming snow storm and was communicative and responsive throughout our stay. The house itself was perfect for our stay. In fact, I don't think the pictures of the property and house do it enough justice. The interior was warm, charming, and cozy - and the living area with wood stove was perfect for playing games and hanging out with friends. Additionally, it is super close to a variety of towns and ski resorts. I'd definitely stay again - I highly recommend.
Chris
January 2017
The listing was accurate and the home was extremely well kept and very comfortable. A great place if you're looking to spend a few days hiking/skiing/etc or just to get away from the urban sprawl. Appliances are all very modern. Wood stove and fire pit are great.
Joshua
November 2016
ประเภทห้อง
บ้าน/อพาร์ทเมนท์ทั้งหลัง
---
ประเภทที่พัก
---
พักได้
6
---
ห้องนอน
3
เซาเจอร์ตีส์
Edna's Valley is a cozy, charming two bedroom house nestled on an acre and surrounded by quiet. If you want to reconnect with your partner or with yourself, take your child hiking, or finish your novel, this is a great place for it.
Our house comfortably accommodates 3 people with a queen size bed in the larger bedroom and a single bed in the small bedroom. The single bed has a trundle beneath it so it can work for 2 children, or two adults who really like each other with a slight shifting of furniture. The house is painted in vibrant but soothing colors. Designed to be relaxing and comfortable with unique local art, pottery and furniture. The kitchen is fully equipped for cooking (electric stove, the house is all electric). You can also cook on the charcoal grill in summer. The living room has a view of the mountains and is a comfortable place to sit and talk, write, dream. There is no cable but it's stocked with DVD's and a DVD player, books, and games. There is a sweet back porch where 2 or 4 people can dine We will not be there during your stay but accessible by email and phone or text.
Our spot on Manorville Road is semi-secluded and an easy drive from the Throughway. West Saugerties is 9.5 miles from the village of Saugerties (according to Budget Traveler one of the top 10 of America's small towns) and 9.5 miles from Woodstock. The area has the best of both country and city: forests, hiking, movies, music, shops, great restaurants, farmers markets. It's best to have a car to reach Edna's Valley and to explore all the area has to offer. One dog is OK. There is a $60.00 additional pet fee. Sorry, we can't accommodate cats! We have a 3 night minimum on holiday weekends: Memorial Day, July 4th, and Labor Day,
Wonderful house! Me and a few friends had a fantastic stay at this cozy pad. Teresa was extremely helpful and always promptly responded to my questions and concerns.
Ryan
July 2014
Teresa's place is great, clean, quiet, sweet! Teresa is a great communicator and has great taste! We love the place!
Lea and Jeff
September 2014
We had a great time and Teresa was wonderful to deal with. The house is accurately advertised and in a good location for what we wanted (within an easy drive of hiking and some restaurants). Teresa was very responsive and extremely accommodating. I will definitely be back.
Quentin
August 2014
Teresa's home was clean, comfortable, and tidy. Our pup enjoyed the spacious yard, and we enjoyed cozying up and looking out at the fall trees. This place offers complete privacy, and that was one of our favorite parts; it feels like home. It's a good location -- about 15 minutes from many great spots in all directions -- and, as a writer, I especially appreciated Teresa's collection of books and literary journals.
Rebecca
October 2014
It's always remarkable how much impact the actions of the host and/or guest has on the whole experience of a vacation. Teresa was remarkable. Her focus seemed to be more on the guest having a positive experience and less on a long list of do's and dont's. The decor was interesting. Teresa's taste in music and movies, awesome. It was a very quiet, secluded, romantic location. We had the greatest time ever!
Anil
August 2015
Our experience was very positive. The back yard was lush and relaxing with a hammock to relax on and a table to dine at or have your morning coffee. It was very quiet and comfortable. The house was clean and had all the supplies you needed to cook and make yourself at home. It was tucked away in a very wooded area at the base of a mountain. We really enjoyed the stay and would definitely return.
Tennille
July 2014
Teresa was an awesome host from our initial email exchanges up until afterwards. She was super quick with her responses and gave plenty of suggestions for things to do in the area. As for the "sweet", it was PERFECT for me and my girlfriend who were on our first getaway trip ever. Great location that was close in proximity to the village of Saugerties, Platt Cove Mountain, Woodstock, Hunter Mountain, Kaaterskills Falls, etc. The house itself was very comfortable and incredibly clean and easy to find. The backyard was cute as well and made for a nice breakfast spot. Would definitely return!
Rahul
October 2014
Teresa was easily accessible via text or email. She left great suggestions for nearby trails, lakes, restaurants to explore. The home was clean, cozy and quiet. I appreciated that there's free wifi. No cable but a decent collection of DVDs. Water pressure was good, bring your toiletries but she provides towels. Laundry machines to use. Charcoal grill with appropriate equipment to use in the backyard. Equidistant between Saugerties and Woodstock; the drive is about 15-20 minutes each way, but pleasant and traffic-light free. Keep your eyes out for random animal sightings including wild turkey! The closest eatery/market is Circle W, which is about 2 miles away. Call ahead if a holiday. There's a CVS 10 minutes away by the I-87. We enjoyed Miss Lucy's Kitchen in Saugerties, reservations for dinner are recommended. Woodstock was bustling, we liked Sunfrost Farms for a refreshing breakfast/lunch though service was erratic. Lastly, if you are going to grill, stop by Smokehouse of the Catskills. Overall, a great getaway for a couple or a small family, like us! Thank you for having us.
Young
September 2014
ประเภทห้อง
บ้าน/อพาร์ทเมนท์ทั้งหลัง
---
ประเภทที่พัก
---
พักได้
3
---
ห้องนอน
2
เซาเจอร์ตีส์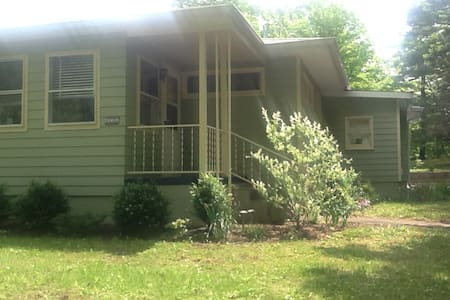 Leave the city behind. Wake up to majestic beauty. Our spacious one bedroom is perfect for two, and accommodates two guests. We are nestled in the foothills of the loveliest region in the Catskills, celebrated by the great Hudson River painters.
As you can see, our getaway is a little trailer house, and that is part of its charm. What you can't see, at first glance, is the wonderful interior add-on room, designed and constructed by the first owner's son, that transforms a standard domicile into the country chateau of trailer houses, a place that you'll love spending time in. In the comfort of this room you'll feel nature's surroundings, with a view through the woods to the stream below, and just beyond it, the soaring hills. From the kitchen window you can gaze down the winding road lined with a variety of trees and tall pines. Our home is perfect for a couple, and comfortable for two additional guests. Feel free to prepare meals and entertain at our home. Our kitchen is supplied with cookware, dinnerware, and space for you on the shelves and in the fridge. We have wifi, a video screen, and a sound system, along with some movies and great music to play. We provide sheets, towels, and blankets. The main rooms are the kitchen, dining room, and grand living room, along with a small bedroom. You may use the washer and dryer in the hall, and there's a bathroom off the hall. There is another room in the back, and while we don't prohibit entry, it is not part of the rental, because it is both my studio space, and "cat headquarters". So, feel free to enjoy the rest of the house, which is all set to be comfortable for you. The house is surrounded by lawn area and the rest of the property is wooded and extends back down a ravine almost to the stream, and to the right and left a little beyond our two driveways, one on either side of the lawn. Feel free to park in either one. We prefer the gravel one that's shaded and out of sight, leaving an open view of the garden form the porch. We prefer to give you your privacy. Call us if you need help.
The most endearing thing about our area is its physical beauty. A walk down our road is a delight of natural surprises; a variety of trees, rock formations, streams, and waterfalls. It is no wonder that the Hudson River painters loved this territory, and some of the most famous hiking trails are a short drive away. Aside from this, West Saugerties is the quiet and private center of a wheel of upstate culture that's there if you want it. We are a mile from Palenville, a charming country village that, in spite of its size, has some lovely architecture, a wonderful library, and a few good and unusual places to eat. And at short radii are the more famous Woodstock, Kingston, Catskill, and Hudson, which is a unique, historic town that has transformed into a cultural hub. If you have guests who come from the city, there are Port Authority buses to the area, and Metro North to Hudson, but to make the most of your stay, you really need a car here. Once you get here, you may enjoy biking excursions, like many enthusiasts who cycle by in serious gear! (Bring your own bike.) If you are allergic to cats, this is not the house for you! Remember, you are in a country setting, so be prepared for insects. My husband walks around in shorts and tee-shirts - so do many residents about - I prefer to cover up! Like all other upstate settings, there is a wildlife population here. For your own knowledge and comfort, check up on this. Deer are common, so be careful on the roads. It is always wise to obey speed signs for human and wildlife safety - we don't have sidewalks here! We do have neighbors, but our area is rural and sparse, and roads curve.
We had a nice stay at Joanne's. She manage to accommodate us although my booking request was very last minute. Thanks to her flexibility we manage to leave the city for an amazing weekend getaway in the Catskills. The house had a nice garden and a great location close to Woodstock etc.
Djanke
August 2015
ประเภทห้อง
บ้าน/อพาร์ทเมนท์ทั้งหลัง
---
ประเภทที่พัก
---
พักได้
2
---
ห้องนอน
1
เซาเจอร์ตีส์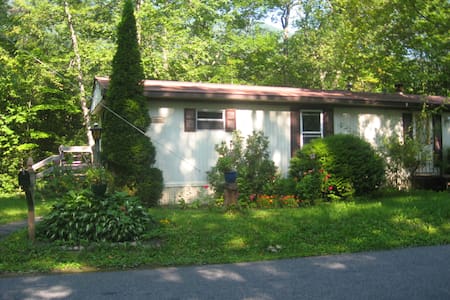 Very comfortable and warm cottage close to town, state park with beach, waterfalls, fishing, hiking, Mt biking
Remodeled a few years ago, hardwood floors, propane fireplace. Direct TV. Internet When checking in
Quite, church bells, close to town, small stores, Bus from NY is close...Taxi A nice family retreat...The state park is close, waterfalls, swimming, fishing, hiking, biking. 2 night min stay
Had a great time. The cottage is adorable. Would definitely stay again!
Luann
June 2015
Amazing little cabin and host :) Perfect for a weekend getawat
Mitali
November 2016
The cottage was cozy, clean and well-appointed, especially with the kitchen basics so we could cook meals. It's really conveniently located to a lot of hiking spots. The fireplace kept the place toasty on a very cold night. It's very quiet, despite being on a main route and the scenery is beautiful. The only drawback was there was no wireless, despite being listed and told it was available on the porch. Normally, this wouldn't be a big deal except cell service is very spotty in that area so we couldn't easily find the things we were interested in. Michael was incredibly flexible and accommodating and made the whole process really easy. It's clear (from the pictures in the house) how much work he put into making it a home for visitors.
Karen
October 2014
This cottage was cute and clean and had everything we needed. The house is slightly rustic and right on a main road but everything we wanted to do and see was very close. Easy access to the main stretch of town, hiking trails, Kaaterskill waterfalls, North South lakes etc. We spent a couple of days there with our 2 young kids and had a nice time.
Sofia
August 2016
The cabin was very convenient to hiking and town. Perfect for our needs. We enjoyed the deck in the beautiful weather. The bed was super comfortable. Mike was a very responsive host - right there when we asked. A great stay.
Carla
July 2016
PERFECT CABIN! everything you would ever need was to find and super close to some of the most beautiful hiking and the tallest waterfall in NY state. Felt super private and was really cozy, not in a cramped way, but in a warm and inviting way!
Acasia
June 2016
The host is very responsive and the location was close to many attractions, including a big supermarket. So overall, it was convenient and could have been a nice relaxing vacation. Unfortunately, however, we had a terrible experience especially on arrival. We arrived later than expected and we're hoping to wash up and go to sleep. But on arrival, we found out there was no signal whatsoever in the vicinity and the advertised wifi was not working. We felt quite unsafe as we had a toddler with is. We decided to take care of it first thing in the morning. Then we realized the heat wasn't working even though we had cranked it up to maximum in all the room (we found out the next day we had to turn on the electric circui) so we had to wear our jacket to sleep. Oh and the shower worked for about 3 minutes and turned to cold water. There was a post it sign in the bathroom warning us to take "short" showers but who could expect it to be that short. We were so miserable that first night. The next day, after we figured everything out, things were better. But I just wish we knew what we were getting upfront.
Jinny
October 2016
For a last minute booking, Michael made everything so easy. He responded to all my questions so quickly. We had the best time staying in the little cottage. The pictures don't do it justice. It was clean, nicely decorated and really close to town.
Marisa
August 2016
ประเภทห้อง
บ้าน/อพาร์ทเมนท์ทั้งหลัง
---
ประเภทที่พัก
---
พักได้
4
---
ห้องนอน
2
ฮันเตอร์
Nice comfortable non smoking family vacation home with Mt. views, close to state park, hiking, skiing,fishing, waterfalls, and many more activities. $600 for a winter weekend. 2 night minimum. You are taking a trip to
4br 1.5 bath and plenty of space.. The house sleeps 8 people max so please don't bring more than 8 All outdoors ,lots to do Only at check in
Close to town, stores, church bells The NY bus is close. Car. Tax craftsman style house cool old kitchen
Michael was very responsive and welcoming. The house is clean and spacious. Can get a little warm in the upstairs bedroom. Fire pit in the backyard is great. Watch out for the local bears.
Robert
June 2016
We had a great stay at Michael's house last weekend! We had more than enough room for the number of people we had and Michael was very responsive and clear with direction for our stay.
Tom
July 2014
The Top of the Pass is a lovely home, warm and inviting. Plenty of room with large kitchen, working TV, and the internet connection worked fine for us. We had access to the back porch off the kitchen with gas bbq, which was a nice perk. Great location close to Tannersville town and less than 10 minute drive to Hunter Mtn. Michael was a great host, came to say hi and see if we needed anything and then left us to our long weekend. I would definitely stay again if I have the opportunity. Thank you!
Jennifer
January 2015
Mike's place is in a great location, very close to the hiking trails and to the downtown area. The backyard is great, with a nice deck overlooking the yard and a fire pit. Mike was very communicative and helpful with check-in and whenever we had questions.
Jordan
July 2016
Michael was very nice and welcoming when I had arrived at the house. Everything was ready for us and the property was as described in the post. We weren't at the house much as we were attending a wedding at the Kaaterskill farm nearby. Seems like a good location for skiing and hiking trails as it was close by to both.
Kimberly
November 2015
Great location but very weak cell reception and the WiFi was not working
Ahmed
June 2014
The position of this house is amazing, really good for my ski group. Also there are variety of tools in the kitchen which make cooking convenient. It looks like a very old house. There are some inconvenient things as well: 1. The hot water is limited. We have two people took shower continuously, the hot water just drain out. It may took about 1 hour to reheat. 2.The beds are all full size, so it's kind of crowd for our 8 people group to share. 3. Wifi is very very slow. Although there are some downsides, it's still a good deal consider it's price.
响
January 2016
Michael was an awesome host. Easy breezy. The location is fantastic for outdoor activities and fun times. The house is super clean and he left all the things you would want for a great time. There's no cell reception at the house, but isn't that almost better ;)?
amanda
July 2014
ประเภทห้อง
บ้าน/อพาร์ทเมนท์ทั้งหลัง
---
ประเภทที่พัก
---
พักได้
8
---
ห้องนอน
4
ฮันเตอร์
My home has 9 bedrooms an 9 bathrooms, it has 4 living rooms and a huge kitchen. It is close to skiing , hiking, swimming ,boating, fishing, festivals,mountain biking and road biking, hunting and ATV rentals. The house is excellent for couples, families (with kids), and ideal for big groups.
ประเภทห้อง
บ้าน/อพาร์ทเมนท์ทั้งหลัง
---
ประเภทที่พัก
---
พักได้
16
---
ห้องนอน
9
Tannersville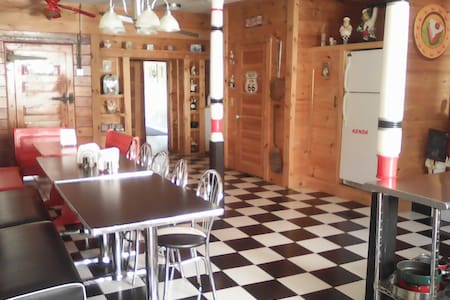 THE CATSKILL CABIN is the Perfect 4-SEASON LUXURY RENTAL Unlock the front door and watch your vacation dreams unfold. This sophisticated mountain home, 7 miles from Hunter, is situated on 6+ acres in a park-like setting. It takes you away from it all, but just minutes from all the action! Super immaculate, upscale, private cabin.
The Catskill Cabin - Tri-Level Log Chalet, 3 bedrooms/queen beds, Loft with 2 twins, 3 bath (sleeps 2-10) Super immaculate, upscale cabin ensures a special and memorable experience. - The Grand Room with an open floor plan, includes living room, dining room & kitchen (which is great for cooks who don't want to miss out on the action) located on the main floor. Floor to ceiling windows including skylights offer spectacular panoramic mountain views. You'll feel completely surrounded by nature, but in total warmth and cozy comfort. - The kitchen is great for gourmet chefs! Fully equipped (stove, oven, microwave, toasters, coffee maker, crock pot/slow cooker, dishwasher, refrigerator, pots/pans, dishes, baking sheets, lasagna pan, glass/stemware, utensils) and you can even help yourself to our full array of complimentary spices and condiments! - Also included on this floor is a bathroom/tub/shower (plenty of towels provided), and two bedrooms each with a queen bed. One bedroom has its own private entrance that leads out to the back deck that wraps almost entirely around the house. Each bedroom is beautifully appointed creating its own special charm. - This entire floor is surrounded by a huge 3/4 wrap around deck totaling 800+ sq. ft. - The Master Suite has cathedral ceilings, double french doors that lead out to it's own private balcony. Also includes a private bathroom/shower, seating area and TV. - The Loft includes two twin beds and seating area. - The entry level is fully furnished and includes a pool table, couches, washer/dryer and bathroom with shower. Plus plenty of board games (Scrabble, Trivial Pursuit, Backgammon, playing cards). - Plenty of parking is located in front of the cabin and right outside the front door. - There is cable TV (100 channels), DVD player, Sirius satellite radio, wireless internet access and a pool table to keep you occupied. JoAnn & Scott TO CONTACT US DIRECTLY GO TO THE INTERNET AND TYPE IN THECATSKILLCABIN. 4-digit entry code We are available 24/7 to answer any questions or needs.
Per Night Rate: $500-$1200 (depending upon time of year and number of nights requested) Email Owner Directly for Discounts or Special Packages 2 night Minimum; Holidays 3-night minimum We supply and require a signed rental agreement & copy of ID prior to booking.
JoAnn was super accommodating, even helping us out when we had a change in the number of guests staying. She was very communicative and positive throughout. The place was great - not too isolated, though we definitely felt like we were off in the woods. Thanks for everything!
Casey
August 2016
ประเภทห้อง
บ้าน/อพาร์ทเมนท์ทั้งหลัง
---
ประเภทที่พัก
---
พักได้
10
---
ห้องนอน
4
ฮันเตอร์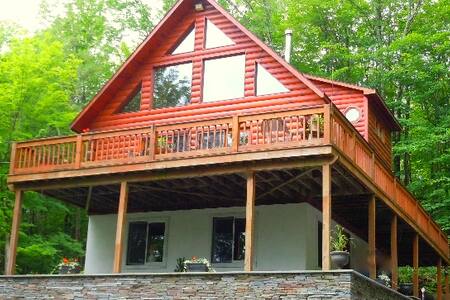 1

–

14

จาก

ที่พัก 14 รายการ