Pecs city center to our customers. The apartment is ideal for couples, lone adventurers, business travelers and small families. The property is a few steps away from the historic center, the charming pedestrian streets, where you can find all service units, restaurants and dining options, family-friendly activities. The city's vibrant nightlife and konfortos, characterized by rapid public transport.
We had a great time in this friendly little apartment. We received a warm welcome : a small chocolate and fresh mineral water. The apartment was really clean and offered everything that we needed ( including fresh linen and towels ). The communication with the owner went really smooth and fast. The bed was really comfy. The Wireless Internet was fast. We even had the opportunity to meet with the house's cute cat in the garden… :)
Csaba
2017-04-02T00:00:00Z
The host Éva is helpful and communicated.We arrived at midnight but she and another man waited and welcomed us.The flat is wonderful with perfect equipment,cozy environment and delicious hand made snacks.really recommended.
Chan
2017-04-03T00:00:00Z
Nagyon jó és kellemes szálláshely, Éva nagyon kedves és segítőkész szállásadó.
Anna
2017-03-17T00:00:00Z
Eva was kind enough to allow for a late check-in and to wait for my fiance and me throughout the night. As we are fairly new to Hungary and traveling by car in the country in general, this was more than accommodating and made us feel very welcomed. Her place is clean, spacious and delightful. It is close to the city center and the University of Pecs, so it brought back memories of my own college life, only more vibrant amid beautiful buildings and people. We enjoyed our visit to the various historic/religious museums/cathedrals/mosques/tombs, all in a walking vicinity of Eva's house. Thank you for your hospitality, Eva! -Sophy & Yong
Sophy
2017-04-01T00:00:00Z
Ajánlom mindenkinek a szépen felújított, kényelmes lakást. Konyha, fürdőszoba jól felszerelt szinte nem is kell semmit magával hoznia az embernek ruháin kívül. Éva szívélyes vendéglátó.
Krisztián
2017-03-05T00:00:00Z
Nice and cozy apartment!
Andrea
2017-03-01T00:00:00Z
Éva's place is located in a great area, only 5 minutes walk from the city center and closed to restaurants and bars. The rail station is on a 15-20 minutes walk distance. The house was very spacious and quiet and was presented in nice conditions. The only downside was that in the morning a lot of light was coming in the lateral window which was the only one without heavy curtains. The towels were new and the kitchen was fully equipped. Definitely going back on the next trip to Pécs! Thanks Èva for the lovely hospitality! Linda & Vidor
Linda
2017-03-28T00:00:00Z
ประเภทห้อง
บ้าน/อพาร์ทเมนท์ทั้งหลัง
---
ประเภทที่พัก
อพาร์ทเมนท์
---
พักได้
4
---
ห้องนอน
เปกส์, ฮังการี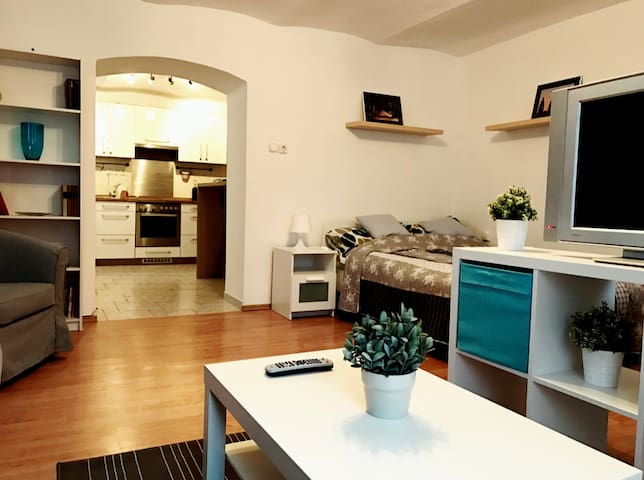 The appropriate place for this: couples, business travelers and families (children).
Köszönöm Andrea.
Balint
2017-03-18T00:00:00Z
ประเภทห้อง
ห้องส่วนตัว
---
ประเภทที่พัก
อพาร์ทเมนท์
---
พักได้
3
---
ห้องนอน
เปกส์, ฮังการี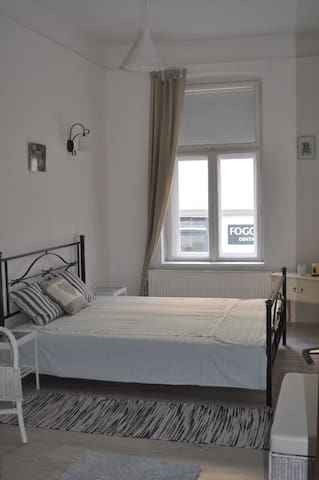 Ahoj všichni, Tato lokalita je ideální, velmi ústřední. rádi hosting hostů z celého světa! :) Já používám Airbnb pro cestování aswell. Byt je klidný, útulný, zbrusu nové cihlové designu v jedné z nejkrásnějších čtvrtí ve městě. Pár kroků od slavné baziliky a Seta tér, kde jsou organizovány všechny letní atrakce, a jen 5 minut chůze od hlavního náměstí náměstí Széchenyi. Doufám, že tě uvidím! :)
Rodiče postavený bytu a je připraven od roku 2016 May. Vybrali jsme si všechno, od cihlové konstrukce, aby každý malý kus. Doufám, že se vám bude líbit a budeme se snažit, aby Váš pobyt v komfortní, jak můžeme :) Má ideální polohu, velmi centrální vše dosažitelné během několika minut :)
Tato oblast se nachází jen pár kroků od slavné baziliky, a pěší ulice, kde se organizují slavnosti vína a další koncerty v létě. Hlavní náměstí, je jen kousek, 5 minut od bytu. Tam jsou pěkné barů a restaurací v okolí, které bych rád, aby vás doporučuji! :)
Egyszerűen minden szuper volt. A lakás pont olyan, mint a képeken. Szép, tiszta, jól felszerelt, az ágy nagyon kényelmes :) Az elhelyezkedése is nagyon jó. A belvárosban, közvetlenül a Barbakán mellett. A kultúrkert estére a legjobb kikapcsolódás nyáron, szintén 2 perc séta a lakástól. Fanni anyukája nagyob kedves volt. Elég későn értünk oda, de ez egyáltalán nem okozott problémát. A kedves fogadtatás mellett a hűtőben víz és barack, az asztalon keksz várt minket. Maximálisan csak ajánlani tudom mindenkinek a helyet :) The apartment, the location, Everything was just perfect. The bed is super comfortable :) Fanni's mother was very kind and helped us with everything. We really enjoyed the stay and hope to get back some day :)
Zsuzsanna
2016-08-07T00:00:00Z
Good communication, got in with no problems. Great location and excellent value. would happily stay again. Plug sockets a little dodgy and a full size duvet (rather than 2 small ones) would have been welcome but all in all excellent for the money!
Nick
2016-12-20T00:00:00Z
Fanni anyukája fogadott bennünket nagyon kedvesen. Kekszet, gyümölcsöt, kávét, ásványvizet és programajánlatot is kaptunk. A lakás fantasztikus, teljesen új, nagyon tiszta, igényesen, ízlésesen berendezett, pontosan olyan, mint a képeken. Az ágy szuper kényelmes. A városközpont nagyon közel van, gyalog is könnyen megközelíthető. Minden gördülékenyen ment, tökéletesen éreztük magunkat. Köszönünk mindent a házigazdáknak, mi biztosan visszatérő vendégek leszünk.
Julianna
2016-06-26T00:00:00Z
Kedves fogadtatás, tiszta, rendezett lakás. Az elhelyezkedése kiváló. Ajánlom mindenkinek!
Gabor
2016-07-17T00:00:00Z
Thank you Fanni for the apartment. It was really great to stay there. The apartment is modern, clean and comfortable. There was TV and Internet access, too. Another advantage is that the room is in the center. Thank you again. *****
Péter
2016-06-19T00:00:00Z
Very nice place with everything we needed and good location. Walking distance to City Centre and all Restaurants.
Jana
2016-08-11T00:00:00Z
Io e mia sorella siamo state ospiti di Fanni per una settimana e ci siamo trovate veramente bene. La casa è accogliente, molto bella e completa di tutto il necessario; si trova in una tranquilla via residenziale ma veramente a pochi minuti dal cuore della città, l'ideale per me. Fanni è molto gentile e disponibile, al nostro arrivo ci ha fatto trovare cibo e acqua in frigo, cosa molto gradita viste le tante ore di viaggio. La consiglio vivamente.
Carla
2017-03-06T00:00:00Z
We had spent years in Pécs as students in the old times, now case back as another Airbnb host with a family of 4. The location is perfect, just steps away from Barbican, also at the end of Ferencesek walking street, so location was the main reason to book it. The flat is exactly as in the pictures, room enough for all of us, equiped with everything you need for even a longer stay. I highly recommend this Airbnb, and of course it will be my choice for the next time.
Szabolcs
2016-10-31T00:00:00Z
ประเภทห้อง
บ้าน/อพาร์ทเมนท์ทั้งหลัง
---
ประเภทที่พัก
อพาร์ทเมนท์
---
พักได้
4
---
ห้องนอน
เปกส์, Baranya, ฮังการี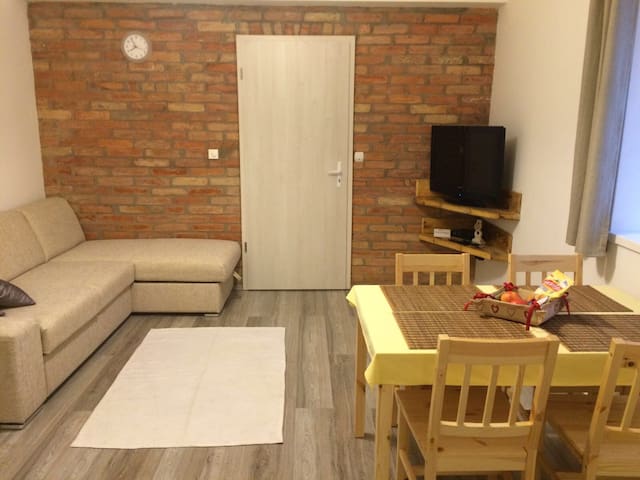 Puede encontrar nuestro apartamento en Pécs centro de la ciudad, entre la plaza Dom y la plaza Széchenyi. Es un una calle tranquila pero en el centro de la vida cultural de la ciudad. Apartamento es totalmente y recientemente renovado y 50 metros cuadrados.
Si quieres estar en el centro del acontecimiento cultural en Pécs, pero que quieren disfrutar de un apartamento bastante, venga a visitarnos. Ponemos a su disposición los programas y lugares interesantes para visitar en Pécs y en las áreas circundantes. Cuando se encuentra en Pécs, hacer lo que las personas hacen en Pécs. Vamos a ayudarle a sentirse en casa en nuestra ciudad!
El barrio es sinly la cntre ciudad de Pécs. Dóm Square, Sétatér, la plaza Széchenyi, la calle Király. Vamos a enviar a programar guías para su entartainment.
We had a wonderful time at Beata's place. It is spacious, clean and silent. The kitchen is great for cooks and we took advantage of it. We were even able to do laundry, which was excellent timing on our travels. Beata was communicative, kind and very easy to talk to in our few interactions. Highly recommended.
Talia
2016-07-01T00:00:00Z
Our experience at the Coffee & Wine Appartment was far better than we ever expected....or even hoped for. First, the location is ideal for activities in the historical, cultural centre of Pécs - the apartment is just around the corner from the Cathedral (and the museum quarter, early Christian mausoleum, champagne factory) and a 3-minute walk to Szécheny and Jókai squares. Public transportation is very convenient to the Zsolnay Cultural Quarter and the Kodály Centre (superb concert (URL HIDDEN) well as other historical and cultural sites. The apartment itself is large and well-appointed, including a very spacious bathroom. Recently renovated (July 2015), the apartment is very clean, secure, and comfortable. Beáta is the ultimate host....friendly and welcoming with lots of knowledge about the city. Upon our arrival, we were presented with welcoming snacks and a bottle of regional wine, lots of tourist information, and answers to all our questions. We stayed in the apartment for 10 days and, throughout our stay, Beáta was always available for advice and suggestions and to provide anything that we needed and/or requested to make our stay in the apartment more comfortable. Pécs is a city not to be (URL HIDDEN) is the home of Zsolnay porcelain, extraordinary Art Nouveau buildings, an exotic Sunday flea market, and some of the best wineries in Hungary which are just minutes away. The Coffee & Wine Appartment is an ideal place from which to explore this fabulous city and region. You will not be disappointed in Pécs, the Coffee & Wine Appartment, and definitely not Beáta! Thank you, Beáta, for the opportunity to meet you (and your daughter) and the unbelievable experiences we had in Pécs!
Ki
2015-08-04T00:00:00Z
Very nice place to stay. Big, good location et cetera!
Reinoud
2016-09-14T00:00:00Z
Bea kedves, közvetlen. Az apartman központi, mégis csendes, romantikus helyen található.Nagyon jól éreztük magunkat a négy nap alatt.
BARBARA
2015-09-26T00:00:00Z
I totally recommend a stay at Beata's Coffee&Wine apartment next time you are in Pecs! Beata is the best host, and the apartment is like a palace ... so large and with everything you need to enjoy your stay in the city! It is perfectly located between Dom Square and Szechenyi Square, and is cool in the summer heat, peaceful, and relaxing! I can't think of a better place to stay while in this beautiful city!
Rebecca
2015-08-17T00:00:00Z
Nagyon jó helyen elhelyezkedő, kedves kis apartman. Csak ajánlani tudom.
Nóra
2017-02-17T00:00:00Z
Kiváló elhelyezkedésű hely pécsi városnézéshez, gyalog minden elérhető közelségben van. Szép lakás nagy szobákkal, kényelmes ággyal, nagy fürdőszobával, újszerű berendezéssel. Jobb, mint amit a képek alapján vártunk. Pontos, segítőkész házigazda.
Gyorgy
2016-12-30T00:00:00Z
We simply had a very pleasant stay at Beata's place. The location is perfect as it is very near the historical centre. Finally, we would like to add that Beata is a friendly and helpful host. Recommended.
Kim
2016-11-05T00:00:00Z
ประเภทห้อง
บ้าน/อพาร์ทเมนท์ทั้งหลัง
---
ประเภทที่พัก
อพาร์ทเมนท์
---
พักได้
2
---
ห้องนอน
เปกส์, Baranya, ฮังการี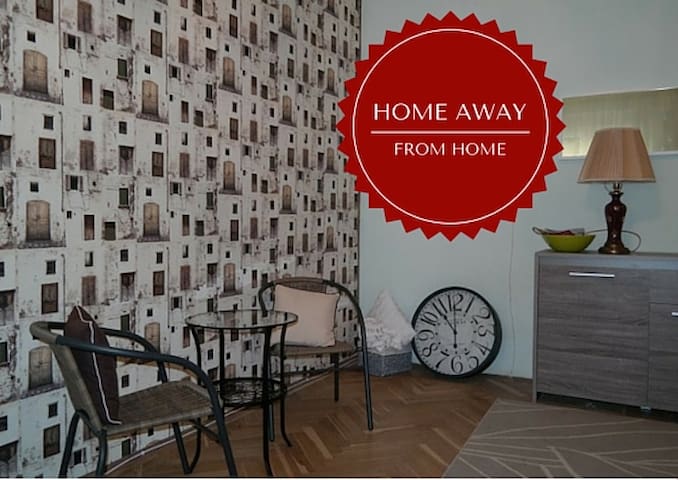 Lyceum Apartment liegt zentral im Herzen von Pécs, parallel zur Király Straße. Eine gemütliche Wohnung mit einer großen Terrasse. Sie können Ihr Auto in der Wohnung der Tiefgarage abstellen.
Very central clean flat with basic equipments. Mihaly was very helpful and friendly. Parking entry is really small so tale care. All together I would choose this flat again!
Melitta
2015-02-16T00:00:00Z
Nagyon segítőkész pontos minden problémát segített gyorsan és hasznosan megoldani. Mindenkinek szívből ajánlom.
Endre
2016-09-10T00:00:00Z
Fantastic apartment in the heart of a great city. Apartment fully equipped , the outside terrace was great for sitting outside for breakfast, had a great time in Pecs!
Hayley
2015-09-19T00:00:00Z
Nagyon szepen koszonjuk a segitokeszseget es kedvesseget. A lakas nagyon igenyes es jobb helyen nem is lehetne. Csak ajanlani tudjuk mindenkinek. :)
Katalin
2016-02-06T00:00:00Z
A lakás a belváros közepén található, minden pár perc sétával elérhető, teljesen felszerelt és nagyon szép. Minden gördülékenyen ment, a házigazdánk kedves és segítőkész volt, nagyon jól éreztük magunkat! Ha újra Pécsen járunk biztosan itt fogunk megszállni!
Bori
2015-10-11T00:00:00Z
Super schönes Appartement! Total hilfsbereite Vermieterin! Kann ich ohne jede Einschränkung empfehlen!
Birgit
2016-05-01T00:00:00Z
In the heart of Pecs...really was! Fantastic location one street off the main pedestrian walk but perfectly quiet. Wonderful bright and sunny room with a well equipped kitchen and modern bathroom. The bed was very comfortable and the linen luxurious. There was access to a nice little outdoor area also. We didn't meet Mihaly but his wife was delightful and very helpful. Parking under the apartment meant our car was secure and we could easily access it when ever we needed to. We had a wonderful stay and would recommend Pecs as a destination and this apartment as a great place to stay.
AndyandLinley
2014-10-17T00:00:00Z
Perfect location in the centre. Zsusana was very friendly and offered things to see and do
Josh
2015-04-13T00:00:00Z
ประเภทห้อง
บ้าน/อพาร์ทเมนท์ทั้งหลัง
---
ประเภทที่พัก
อพาร์ทเมนท์
---
พักได้
3
---
ห้องนอน
เปกส์, Baranya, ฮังการี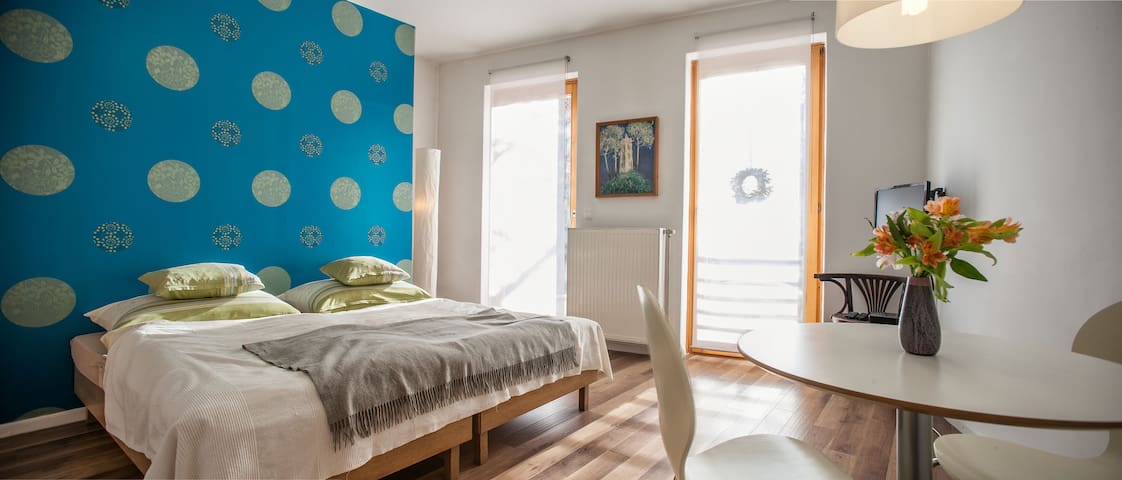 Unterkunft werden Sie mit einer Terrasse bieten, einen Garten und einen Sitzbereich. Es gibt eine voll ausgestattete Küche mit einem Kühlschrank. Mit einer Dusche, kommen ein eigenes Badezimmer mit Badewanne oder Dusche und einem Haartrockner. Free Wifi, Kaffee, Tee.
Wenn Sie einen Schaden im Haus oder in der Wohnung verursachen, oder die Schlüssel verlieren, müssen Sie die Kosten erstatten (die den Mietpreis der Wohnung für die Tage umfasst, kann es nicht zulassen werden). Die Vermietung dieser Wohnung kann nicht als Einladung verwendet werden, wenn ein Visum beantragen. Wenn die Wi-Fi in der Wohnung mit, Verletzung des Urheberrechts und Downloads von illegalen Inhalten sind nicht erlaubt. Die Folgen sind vom Gast getroffen werden, die das Gesetz violented hat. Rauchen und Haustiere sind in der apartman nicht erlaubt. Lautes Verhalten ist verboten. Türen der Wohnung und Haus haben eingesperrt zu sein.
Sehr nette Wohnung. Durfte ein Monat in Pécs verbringen und hab einen guten Einblick in die Stadt bekommen. Die Wohnung liegt 5 min zu fuß vom Hauplatz. Auf dem Weg dorthin kommt man an einigen Bars, Cafes und Restaurants vorbei, wo man sehr preiswert essen kann. Die Lage der Wohnung besticht einerseits durch die Nähe zum Stadtkern, andererseits durch die Nähe zu einem Naherholungsgebiet, den Hügel hoch. Die Wohnung empfiehlt sich für 1-2 Personen. Alles in Allem eine saubere Wohnung mit allem was man für einen Aufenthalt von einem Monat so braucht. Die Gastgeber, Gabor und seine Frau Eszter, sind sehr bemüht und jederzeit erreichbar, da sie im selben Gebäude wohnen. Kann die Wohnung wärmstens weiterempfehlen!
Lukas
2016-10-01T00:00:00Z
We had a great time the hpuse was lovely and we enjpyed our stsy.
Farida
2016-10-03T00:00:00Z
Elso osztalyu fogadtatas es lakas. Prima helyen van: nehany lepesre a legszebb muzeumoktol, 20 perc lassu gyalogolastol a Kodaly Kozponting. First class home and way the host Gabor received me. It's a cat's jump from the most excellent museums and a bare 20 min sloooow walk to the (very beautiful) Kodaly Kozpont.
peter
2014-11-02T00:00:00Z
The apartment was just as beautiful as on the pictures, and the little garden is amazing. Fresh wildflowers and candles awaited us, which was a really nice touch. Though the centre is easy to reach on foot, the immediate neighbourhood is more quiet, which ensured a good night's sleep. Gábor was really helpful and flexible - not only did he make sure that we had all the necessary information available, even though he could not meet us in person; he also generously let us check out later in the afternoon. There is even a list of nearby grocery stores with opening hours in the flat, which helped us a great deal on Sunday morning.
Nóra
2016-04-26T00:00:00Z
Estuvimos muy bien en el apartamento de Gabor, un espacio muy agradable, sencillo y sin pretensiones. Tienen un pequeño patio interior abierto que le da un plus. Está situado justo fuera de la muralla (lo que sería el centro histórico) al pie de la colina, por lo que se está muy tranquilo. Los anfitriones estuvieron muy atentos y dispuestos a ayudarnos en cualquier momento.
Curro
2015-08-08T00:00:00Z
Location was exelent and the apartment was just right for us for 3 nights in Pecs.
Jorma
2016-07-20T00:00:00Z
Great location, walking distance to city center, yet quiet, with free parking. Apartment is clean and tidy. Hosts very helpful and friendly.
Szonja
2015-04-04T00:00:00Z
Sehr schöne und geräumige Wohnung, nah am Zentrum und am großen Park. Freundliche Gastgeber :-).
Isabelle
2016-05-30T00:00:00Z
ประเภทห้อง
บ้าน/อพาร์ทเมนท์ทั้งหลัง
---
ประเภทที่พัก
อพาร์ทเมนท์
---
พักได้
2
---
ห้องนอน
เปกส์, ฮังการี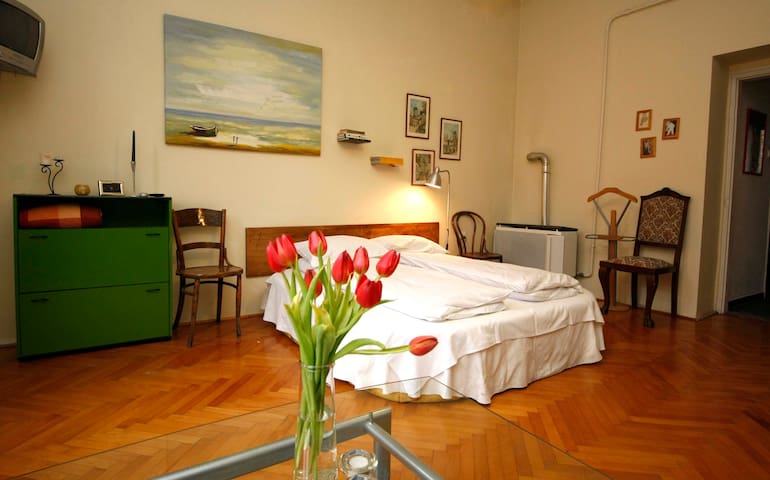 Apartman se nachází v centru města Pécs, se spoustou barů a restaurací v okolí. Objekt je krásně přestavěn dovnitř a ven. Noci jsou velmi ukončit a každý památkou města je snadno dosažitelné pěšky z místa.
Chcete-li poslouchat nějakou dobrou hudbu mám vybavení pro to, že stěny jsou zvukově izolované (ale hlavní dveře není tak trochu hluk z jede ačkoli) Pokud máte smartphone zařízení si můžete stáhnout aplikaci Philips odstín a můžete měnit barvy jednotlivých žárovek v místnosti. Pokud je teplota příliš zahřeje jen zapnout klimatizaci. Existuje spousta vonné svíčky v bytě a přestože nevadí mi zapaloval jednu nebo taky z nich mějte mimo dosah spálení všichni dolů :) Nejvíc ze všeho mít nádherný čas tady na mém místě! :)
Místo je velmi rodiny s dětmi se spoustou atrakcí a hlavní městské památky jsou v blízkosti. Restaurace a bary jsou blízko, ale jeho stále ještě v noci velmi tiché. To je ideální, pokud jste na služební cestě, rodinnou dovolenou nebo jen na návštěvě města na pár dní :)
Dàvid szuper hàzigazda, kedves és segítőkész. A lakàs modern, fiatalos és kifinomult...rögtön otthon éreztük magunkat :)
Orsi
2015-10-24T00:00:00Z
David has a really nice flat, very easy to stay here. It's quiet, clean, modern and quite central. I thoroughly recommend it.
Laz
2016-09-19T00:00:00Z
Lieber David Deine Wohnung war perfekt - Einrichtung, Lage, Sicherheit, Sauberkeit (auch sehr gute Betten!) - es hätte nicht besser sein können. Dank auch für Deine unkomplizierte und schnelle Antworten. Wir werden gerne wieder kommen. Es ist schön ein `Landeplatz´ in Pecs zu haben. Viel Spaß mit der Vermietung und grüße Rudolf und Pilar
Pilar
2015-05-25T00:00:00Z
Super host! Great location, beautiful apartman, what is fully equipped. Dave is really kind and helpful, thank you so much! We will choose this for the next time for sure!
Izabel
2015-11-28T00:00:00Z
Stayed an extra day it was so comfortable!
Laz
2016-09-20T00:00:00Z
Dávid nagyon rugalmas volt az érkezésünket illetően, kedvesen körbevezetett minket a lakásban, amit nagyon pofásan berendezett. A konyha is felszerelt így nem volt akadály néhány egyszerűbb kaja összedobása. Másnap ránk hagyta, hogy mikor megyünk el a lakásból, mert nem volt utánunk vendég, ami jól is jött, mert tovább tudtunk aludni. Ha legközelebb Pécsen járunk biztos, hogy visszatérünk.
Endre
2015-09-29T00:00:00Z
We loved staying here during our visit to Pécs! The apartment is very nice - comfortable, modern and clean. The location is great, very walkable and there are tons of shops, restaurants and things to see nearby. Very easy communication with David, and coordinating arrival went smoothly. Would highly recommend staying here - thank you David!
April
2016-09-15T00:00:00Z
The apartment was spotless, the garage was close and everything was just as described
Ninett
2017-02-25T00:00:00Z
ประเภทห้อง
บ้าน/อพาร์ทเมนท์ทั้งหลัง
---
ประเภทที่พัก
อพาร์ทเมนท์
---
พักได้
4
---
ห้องนอน
เปกส์, Baranya, ฮังการี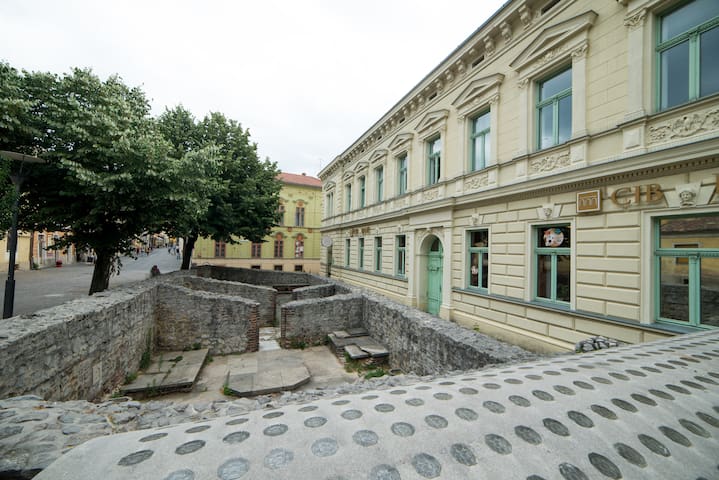 Recently converted apartment. Unique modern furniture, double terrace, view of the city. Bedroom has a double bed, pull-out sofa bed in the living room. Modern kitchen, dryer and a number of built-in furniture provides ease of use and convenience. Recently reconstructed apartment with unique modern furniture, double terrace and view of the city. Has a double bedroom, livingroom has a sofa bed. The modern kitchen, the washing machine and tumble and the number of built-in furniture offers easy use and comfort.
Excellent for families, couples, groups of up to 4 people, travelers, business people "American style kitchen, living room" apartment with two bedrooms. sofa in the living room into a comfortable bed for 2 people. Only one of the nets used. My place is good for couples, solo Adventurers, families, Business Travelers to group up to 4-5 persone. From just one two bedroom can be used - the other one is closed.
Hillside condominium, downtown 15 minutes on foot, Parking is free to use packages, bicycle garage, An ideal starting point for hiking Mecsek well. - hillside condominium, - 15 minutes from downtown on foot - Free Parking - garage can be Used for bicycle or packages - ideal starting point for mountain hiking
ประเภทห้อง
บ้าน/อพาร์ทเมนท์ทั้งหลัง
---
ประเภทที่พัก
อพาร์ทเมนท์
---
พักได้
4
---
ห้องนอน
เปกส์, ฮังการี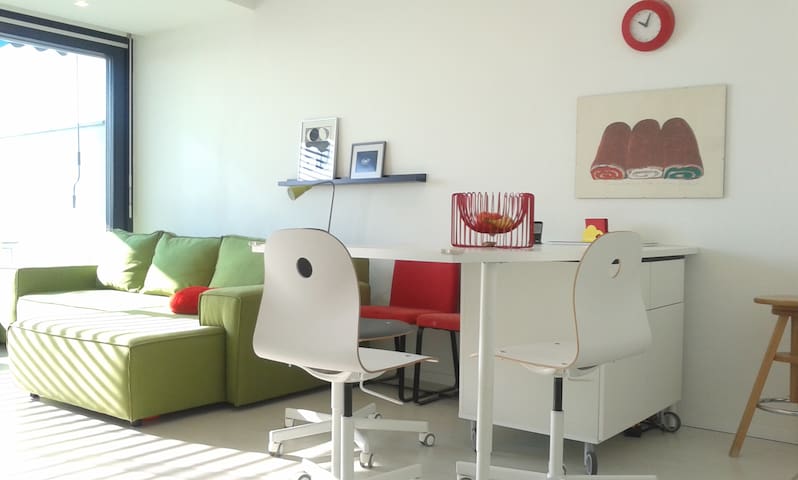 I wait for all travelers to Pecs families, friends! Our apartment is a cozy, quiet part of the town of Pécs Tettye. The three-room apartment is on the first floor so the stairs can cause problems older or overweight people. Nearby is a beautiful park and forest playground. The city center and the Mecsek 1 km from us. The cathedral, the Roman Necropolis, Cell Septihora, Zsolnay Cultural Quarter is just 1.5 km. Villany, Siklos, Orfű, Szigetvár 20 km from us.
59 m2 and spacious, bright apartments are very close to 10 minutes / to / forest and the city center as well. A small patio smoking is allowed. 4 people comfortable sofa bed in the living room but 2 people with extra bed for 6 people is located can be solved. Kids travel cot, baby bath, high chair, baby cutlery provided. books, program brochures on Pécs are provided. Clean towels (50x70) and bedding facilities. Arrival and departure by arrangement. TOURIST TAX is 400 HUF / person / night TOURIST TAX is 400 HUF / person / day
Tettye: This is a very charming, old part of town, pleasant walks can be made in the area. Next to us a Carmelite monastery and tufa caves. there is a big playground under the forest north direction from the house. A small wooden bridge you can walk a chapel above the cliffs, from which wonderful night view of the lights of downtown Pécs. The old family winery Somogyi 120 meters away from us savor great wines from Villany.
Minden nagyon rendben volt, tiszta és rendezett szállás. Ajánlom mindenkinek!
Zoltán
2016-09-24T00:00:00Z
Nagyon szep,tiszta,jol felszerelt apartman.A kozpont es a latnivalok gyalog is kozel vannak.A kornyek nyugodt es csendes.Jol ereztuk magunkat!
Krisztina
2015-09-07T00:00:00Z
We arrived by train and took the 32 bus and ended up walking a long way. Take the 33 bus. Dora still waited for us and was very welcoming. She informed us about a festival that was on and suggested a couple of good eating places. We were able to walk everywhere and enjoyed the walk up to the lookout and the hills behindTettye Very comfortable apartment with everything we needed.
Fiona
2016-05-11T00:00:00Z
L'appartement de Dora est très agréable, bien placé près du centre tout en étant au calme. Dora nous a très bien accueillis et renseignés sur Pecs.
Sabine
2015-08-24T00:00:00Z
Jol felszerelt apartman, kivalo elhelyezkedes, nagyon korrekt hazigazda. Legkozelebb lehet hogy nem is keresunk mast. Well-equipped flat, perfect location, nice and flexible host. Next time we may not even look elsewhere.
Vince
2015-11-08T00:00:00Z
Tökéletes méretű és felszereltségű apartman egy család vagy kisebb baráti társaság számára, csendes környéken, ahonnan mind a belváros, mind a Tettye és az onnan induló túraútvonalak rövid sétával, biztonságosan elérhetőek. A házigazda nagyon kedves és rugalmas, bármikor visszamennénk.
Katalin
2015-02-15T00:00:00Z
Great apartment - clean, spacious and light. Very close to the centre and right next to a nice hill walk. Recommended.
Peter
2016-03-30T00:00:00Z
Nagyon jól sikerült a pécsi hétvégénk a barátainkkal, amihez nagyban hozzájárult, hogy teljes kényelemben és szép körülmények között tudtuk őket elszállásolni a Masi Apartmanban. Dóra is mindent megtett, hogy minden simán menjen az érkezéssel és távozással. Köszönjük szépen!
Zsófi
2016-10-10T00:00:00Z
ประเภทห้อง
บ้าน/อพาร์ทเมนท์ทั้งหลัง
---
ประเภทที่พัก
อพาร์ทเมนท์
---
พักได้
6
---
ห้องนอน
เปกส์, ฮังการี
Mein Platz ist ein wunderschön renovierte, stilvolle Wohnung im Herzen von Pécs. Das Hotel liegt im 1. Stock eines historischen Gebäudes am ruhigen Ende der Hauptfußgängerzone von Pecs. Austere Interieur mit allen Notwendigkeiten ausgestattet, aber nichts mehr; wir bieten den Rahmen, können Sie Ihre Geschichte bringen. Das Sitzen auf dem Fensterscheibe des Wohnzimmers können Sie die Passanten auf Kiraly Blick auf die Straße, während aus dem Schlafzimmer die Ruhe des inneren Hof des Hauses genießen. Herzlich willkommen!
Die Wohnung befindet sich in einem einfachen zeitgenössischen Mode, kombiniert die Standards eines Business-Hotels mit der Einzigartigkeit und Unabhängigkeit leben in einer Wohnung komplett renoviert. Thougn nicht sichtbar auf die Fotos, wir haben schwarze Vorhänge auf beiden Fenstern.
Die Wohnung befindet sich nur wenige Gehminuten von Pécs Stadt Sehenswürdigkeiten, Museen, oder ein wenig weiter zu gehen und die Tettye Park gehen und in die Stadt hinunterschauen. Wenn Sie etwas Spaß zu entspannen oder haben wollen, brauchen Sie nicht zu weit zu gehen, wie es einige der besten Bars und Unterhaltungsmöglichkeiten in der Innenstadt sind.
We were welcomed just in time by a really friendly manner. Flat was in a perfect location and even though we were 3 we were comfortable. I would definitely recommend staying here to the ones visiting Pecs.
Bijen
2016-09-15T00:00:00Z
Good experience throughout, very clean and nice appartment, just missed the soap and shampoo unfortunately. It is well situated in Pecs.
Clément
2016-12-05T00:00:00Z
Nagyon kedves házigazda, a lakás központi fekveseu, par percre a belvárostól. Tiszta, rendezett ingatlan.
Norbert
2016-08-01T00:00:00Z
Perfect place to stay. Place was just like in pictures and everything was well organized and clean. At first night, the apartment was a bit cold. I contacted the host about it and it was fixed immediately! Thank you for having us, we will definitely come back some day!
Arttu
2016-10-10T00:00:00Z
Very nice place!
Gergely
2017-01-21T00:00:00Z
Again, great hosts, cheerfully meeting us at the apartment upon our very late arrival. It's a great apartment in a great location ... Notwithstanding that we spent most of our time away from Pecs visiting nearby towns - it was great to come back to a modern, clean and comfortable base. Thank you. We'd definitely stay here again. Scott
Scott
2016-09-19T00:00:00Z
Great location, comfortable apartman
Chris
2016-08-23T00:00:00Z
Nice central location. Clean and well maintained apartment. Recommended.
Hendrik-Jan
2017-01-07T00:00:00Z
ประเภทห้อง
บ้าน/อพาร์ทเมนท์ทั้งหลัง
---
ประเภทที่พัก
อพาร์ทเมนท์
---
พักได้
4
---
ห้องนอน
เปกส์, Baranya, ฮังการี
Il nostro apartman è a Pécs centro, a 800 m dalla piazza principale di Pécs. È possibile fare una passeggiata nel centro storico della città, visitare i nostri bei musei del 5 minut di cammino. Si possono trovare pub super e ristoranti in via Kiraly.
Il nostro apartman è nel centro della città. La sua perfetta godere della nostra città storica e la vita notturna a Pécs.
2 minuti a piedi piazza principale di Pécs.
A házigazda kedves és rugalmas. A lakás tiszta volt és nagyon hangulatos. Ha legközelebb arra járunk, biztosan őt választjuk.
Gáspár
2016-10-31T00:00:00Z
The house was clean, cute, and convenient to the city center. I enjoyed the ecclectic decoration! Very quirky. Would recommend to anyone staying in pécs
Joanna
2017-03-12T00:00:00Z
This house is the best house I have ever lived in Airbnb.The room is so beautiful and comfy, and the bed is large for one person ~Also,Tibor and his wife are both helpful and warmhearted!I'm sorry to trouble them for many times and they solved my problem patiently!They gave me a warm home in Pecs , thanks!
Vanish
2016-09-24T00:00:00Z
Kedves, barátságos lak. Egy kellemes kis sétatávolság a belváros.
Attila
2016-10-16T00:00:00Z
The heating stove quite works and the place also tidy. It's enough for our three girls to live:)
Xi
2017-03-20T00:00:00Z
It is a nice and cosy place. 2km from the town centre. Basic equipments. The hosts are really helpful.
Szabina
2017-01-19T00:00:00Z
Nagyon meghitt, és hangulatos volt a szállás,nem túl nagy, komfortos. Közel volt mindenhez,és a természethez.
Dalmasd
2017-03-19T00:00:00Z
A lakás nagyon hangulatos volt, egy pár perces sétára a belvárostól. A házigazdák nagyon kedvesek, rugalmasoka voltak. Csak ajánlani tudom!
Zsofia
2017-01-08T00:00:00Z
ประเภทห้อง
บ้าน/อพาร์ทเมนท์ทั้งหลัง
---
ประเภทที่พัก
อพาร์ทเมนท์
---
พักได้
3
---
ห้องนอน
เปกส์, Baranya, ฮังการี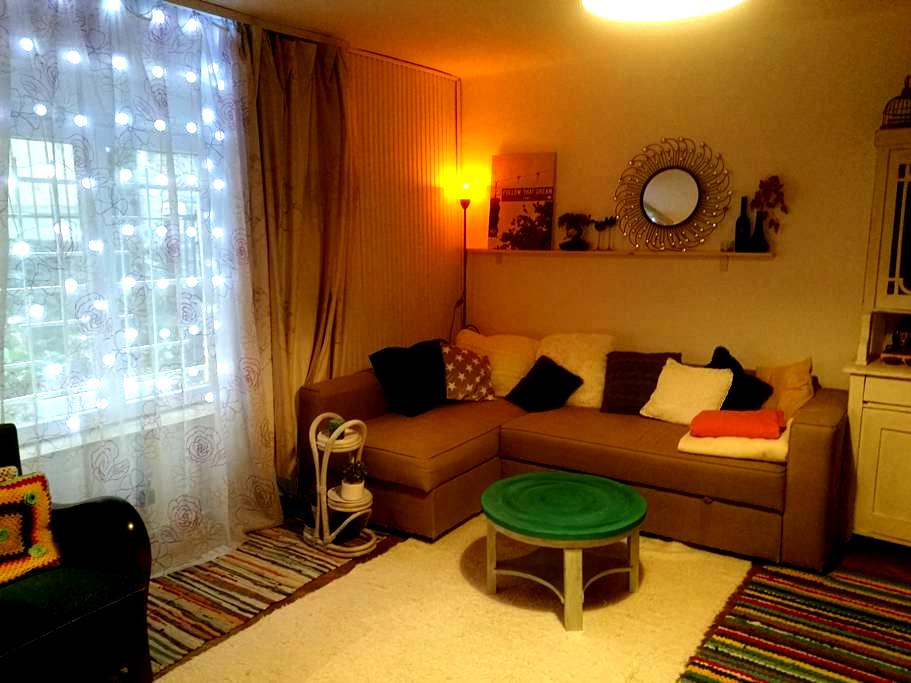 Gemütliches Studio-Apartment direkt neben den Fakultäten für Medizin und Geisteswissenschaften! Das Stadtzentrum liegt 15 Minuten mit dem Fuß, nur 5 Minuten mit dem Bus. Späte Ankunft ist möglich! Gratis WLAN-Zugang, kostenlose Kaffee und Tee!
Pleasent Blick aus dem ersten Stock zu einem schönen Park - Fenster mit Blick nach Süden.
Die Wohnung befindet sich in der Nähe der Campus der Medizin und Geisteswissenschaften in einer angenehmen und sicheren Gegend der Stadt. Es gibt viele Geschäfte, Restaurants Cafés und Spielplätze in unmittelbarer Nähe der Wohnung.
A lakás csendes, tiszta, kellemes a környék. Vizsgázóknak az egyetem közelsége miatt kiváló. Tömegközlekedéssel is nagyon jól megközelíthető. A házigazda maximálisan segít mindenben.
Ágnes
2016-04-07T00:00:00Z
Áron anyukája fogadott bennünket. A szállás szuper volt. Aki a campus mellett akar megszállni, annak ez a legjobb választás!
Mark
2016-10-08T00:00:00Z
Áron nagyon kedves és készséges szállásadó. A lakás nagyon szép, tiszta, napfényes, az ágyak nagyon kényelmesek. A környék is nagyon kellemes, közel van a belváros, kb. 10 perces sétával elérhető, 30-as busszal 3-4 megálló. Van a környéken élelmiszerbolt, éttermek. Nyugodt szívvel ajánlom bárkinek. :)
Marietta
2015-06-22T00:00:00Z
Nagyszerű szállás, Áron pontos és segítőkész, gyorsan válaszol. A lakád tiszta, teljesen felszerelt.
Orsolya
2017-03-31T00:00:00Z
A lakás pontosan megfelel a hirdetésben foglaltaknak, szép tiszta, modern. Áron segítőkész volt, a super-host kitüntetést nem olyan egyszerű kiérdemelni, ő rászolgált erre.
Tamás
2017-01-01T00:00:00Z
Áron has a lovely and central apartment that covered all my needs. The neighbours were friendly and the area was not noisy. He is easy to reach and will stribe to meet your expectations and needs. I highly recommend him and his apartment.
Mustafa
2016-11-23T00:00:00Z
A lakás pont olyan mint a fotókon. A késői érkezésem ellenére gördülékenyen el tudtam foglalni az apartmannt. Nyugodt szívvel tudom ajánlani mindenkinek.
Máté
2017-02-19T00:00:00Z
Áron anyukája kedvesen fogadott, segítőkész volt. A lakás nagyon jó volt.
Zsolt
2015-08-24T00:00:00Z
ประเภทห้อง
บ้าน/อพาร์ทเมนท์ทั้งหลัง
---
ประเภทที่พัก
อพาร์ทเมนท์
---
พักได้
3
---
ห้องนอน
เปกส์, Baranya, ฮังการี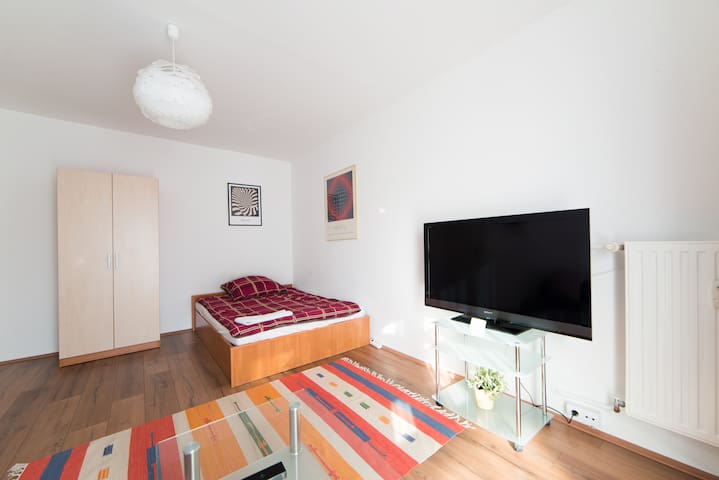 our loving and comfortable apartment is located on the outskirts of pecs in Nagykozár. Only 10 minutes by car to center of Pecs. Nearly from Hrkany (Spa) and Villany (wine area)
separate house part. Gardenterasse and roof terrace for max. 4 Person. 1 separate Sleeping room and 1 comfortable guest bed in the living room. Complett equipped kitchen, hot tube, fully automatic coffee, flatscreen, SAT-TV, WLAN
villany is one of the most important wine area of Hungary. You can visit the the tiny cellar and taste or buy their wine. Orfü is beautifully situated lake with aquatic possibility. Harkany is know Thermal area. Siklos is a leisure pool and spa.
ประเภทห้อง
บ้าน/อพาร์ทเมนท์ทั้งหลัง
---
ประเภทที่พัก
อพาร์ทเมนท์
---
พักได้
4
---
ห้องนอน
Nagykozár, Baranya, ฮังการี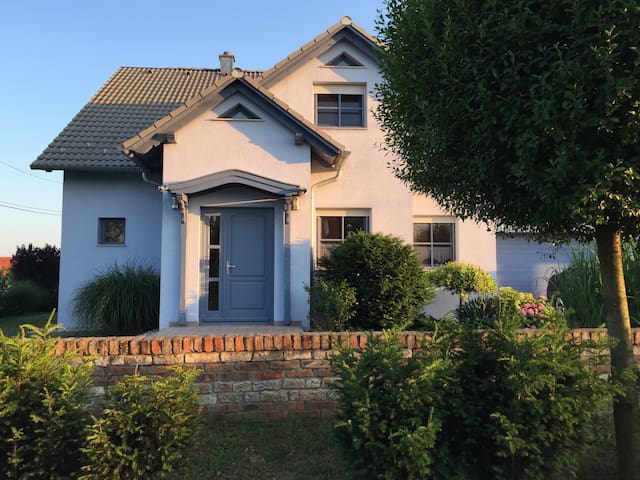 University City, 47 m2 floor area, two bedroom, fully refurbished II. floor apartment for rent. If required 3 people can sleep in the living room with a 120-200 cm bed in another room with a single sofa bed. The property location is excellent, nearby: health facility, pharmacy, located 10 minutes walk.
Csak ajánlani tudom! Kedves, rugalmas házigazda, szuper szállás!
Ágnes
2016-06-27T00:00:00Z
Edina and George are lovely hosts. Apartment was spotlessly clean and newly decorated, all conveniences provided, welcome refreshments provided, and they went to great trouble to give us information and advice. I would highly recommend this apartment on short or longer term let. The area is very quiet and peaceful and the apartment is in an older style block. Other residents gather to talk on benches in the garden area throughout the day and evening and it is very friendly and welcoming - even if you don't speak the language! Incredibly short walk from the university. Not sure how far to city centre.
Moya
2016-05-30T00:00:00Z
The apartment was very clean and tidy. It was cool indoor even though it was very hot outside. Around 20-minute walk from the city center but taking a taxi in pecs is cheap (around 1000 HUF to the city center) and easy if you don't want to walk. There was a small hiccup during the check-in process but luckily George and Edina sorted it out quickly. I haven't met the hosts but they seemed to be friendly. Recommended!
Eugina
2016-07-26T00:00:00Z
Really nice ! I recommand it.
Morgane
2016-07-05T00:00:00Z
Szép és kényelmes lakás. Pontos, kedves és készséges házigazda. A lakás nagyon közel van a belvároshoz. Nem is kell ennél több! :) Köszönöm az élményt!
Levente
2016-06-12T00:00:00Z
Kedves házigazda volt, a lakás nagyon szép és barátságos. Ajánlom mindenkinek!
Marina
2016-08-10T00:00:00Z
Nagyon kényelmes és jó szállás. Teljesen felújított. Csak ajánlani tudom mindenkinek.
Barna
2016-06-02T00:00:00Z
Tenyleg nagyon szepen felujitott lakas, tiszta, csendes kornyeken.
Mate
2016-06-29T00:00:00Z
ประเภทห้อง
บ้าน/อพาร์ทเมนท์ทั้งหลัง
---
ประเภทที่พัก
อพาร์ทเมนท์
---
พักได้
3
---
ห้องนอน
เปกส์, Baranya, ฮังการี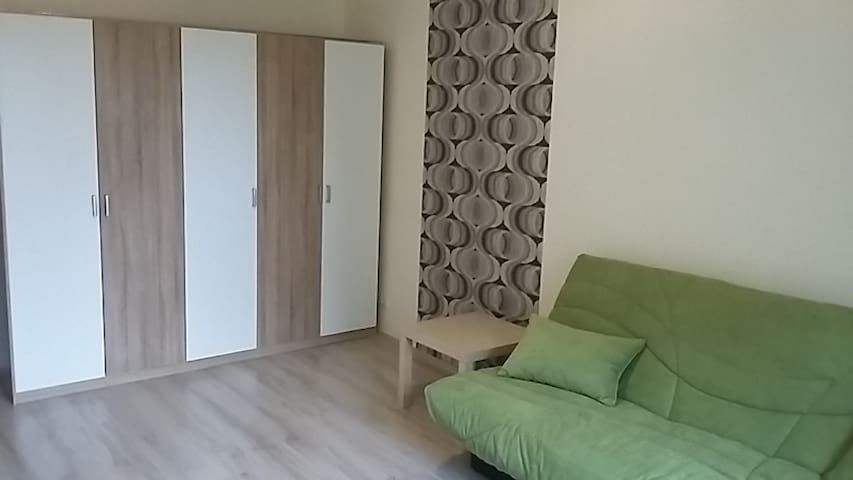 Если вы идете в Печ, Tettye надо видеть! Небольшая квартира может отдохнуть перед большим альпинизмом, или даже позже. Ночная жизнь в Печ, чтобы попасть в вас после того, как в нескольких минутах ходьбы. любое учреждение университета макс. в четверть часа ходьбы, так что просто не имеет значения, в каком направлении вы идете ... В квартире принципиально необходимые принадлежности, если у вас есть какие-либо вопросы, и скоро мы будем ваша помощь!
В квартире félalagsori, но хороший свет из-за расположения. Нагреватель Ночь хранения обеспечивает тепло и электричество с приводом тепла котла.
ประเภทห้อง
บ้าน/อพาร์ทเมนท์ทั้งหลัง
---
ประเภทที่พัก
อพาร์ทเมนท์
---
พักได้
2
---
ห้องนอน
เปกส์, ฮังการี
Diese charmante Wohnung ist mit schönen Blick auf die Kathedrale von Pécs, in Pécs Altstadt. Die Moschee in Szechenyi-Platz ist nur 200 Meter von hier entfernt. Alle Denkmäler und zieht sind wenige Schritte von hier entfernt.
Aufgrund der Wohnungen ist zentrale Lage leicht zu erreichen mit den öffentlichen Verkehrsmitteln Benutzer als auch für Autofahrer. Alle Sehenswürdigkeiten der Stadt zu Fuß entfernt.
A házigazda nagyon kedvesen fogadott. Rugalmas volt az érkezés időpontjával kapcsolatban. A környék gyönyörű, pár perc séta a belváros. Este az ablakból gyönyörködtünk a kivilágított székesegyházban.
János
2016-05-28T00:00:00Z
Gyönyörűen, igényesen felújított lakás, kedves tulaj, központi elhelyezkedés, jó parkolási lehetőség.
Csaba
2016-03-16T00:00:00Z
A szállás közel van a belvároshoz. Kicsi mérete ellenére jól felszerelt, igényesen felújitott. A házigazda készséges volt.
B.
2016-05-30T00:00:00Z
A kommunikáció Mártával tökéletes volt. Gyönyörű, igényes, tiszta kis lakás a Katedrális mellett. Ingyen tudtunk parkolni pár percre a lakástól és tényleg minden nagyon közel volt. Csak ajánlani tudom mindenkinek.
Anett
2016-11-03T00:00:00Z
A lakás nagyon közel van a belvároshoz, pár perc gyalog. Kicsi, de jól felszerelt. Szuterén jellege ellenére kifejezetten napos és világos. Szép a kilátás. Márta mindenben készséges volt, rugalmas és segítőkész.
Blanka
2016-03-07T00:00:00Z
Szépen berendezett kislakás.
Anna
2016-06-26T00:00:00Z
We had a great time in Pecs and Marta's apartment was great. The location is perfect, a short walk to the center of town. The apartment is beautifully furnished and has everything you need...including coffee! The place was clean and tidy:)
Mia
2016-08-23T00:00:00Z
ประเภทห้อง
บ้าน/อพาร์ทเมนท์ทั้งหลัง
---
ประเภทที่พัก
อพาร์ทเมนท์
---
พักได้
2
---
ห้องนอน
เปกส์, Baranya, ฮังการี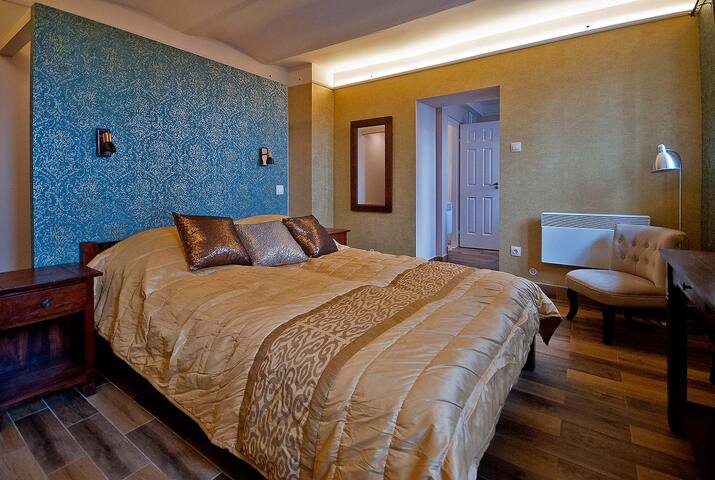 Impressions furnished air-conditioned apartment is located a few steps from the Zsolnay Cultural Quarter and the city center can be reached within easy walking distance in 10 minutes. Recommended for individual travelers, couples and families alike with a good heart (max. 4 people).
The 50 sqm apartment has a bedroom, living room and an open kitchen with a dining area received instead. From the living room a cozy terrace overlooking where outdoor tables and chairs for waiting. The bedroom has a double bed, a pull-out sofa in the living room provides comfortable accommodation for 4 people. The bathroom has a corner bath, towel and practical bathroom furniture provide a convenience only. The apartment is very well equipped with a flat-screen TV, dishwasher, full stove with oven, and many other household appliances (capsule coffee maker, kettle, toaster, microwave, etc.) at your disposal. Free parking is available in front of the house.
Beautiful historical, industrial environment, the Zsolnay Cultural Quarter is steps from the living room opens to a view. The Fourth numerous cultural events, museums, exhibitions, planetáriummal, children's playground, a puppet theater and one of the best Pécs restaurant, coffee-house awaits you.
Köszönjük, nagyon jól éreztük magunkat, kedves volt a házigazda, a környék nagyon jó és a lakás full extra, nagyon szép és igényes kialakítású.
Andrea
2015-09-06T00:00:00Z
Igényesen kialakított, tiszta, jól felszerelt, otthonos lakás Pécs belvárosától nem messze, ingyenes parkolással. A ház alapvetően csendes, de a forgalmas utcáról behallatszik a közlekedés zaja. A házigazda korrekt és segítőkész, hasznos tippeket kaptunk tőle.
Katalin
2015-10-06T00:00:00Z
Zsolt nagyon kedves volt, mindent részletesen elmondott. A lakás a Zsolnay negyedtől pár perc sétára van, a lakás gyönyörű és igényesen kialakított. Köszönjük!
Kata
2017-03-13T00:00:00Z
Rendkivul kedves, korrekt hazigazda. Gyonyoru, tiszta lakas, kivaloan felszerelve, 10 lepesre a Zsolnay negyedtol. Kicsit zajos utca. Very kind and helpful host. Clean and beautiful new apartment, very well equipped. Slightly noisy street.
Peter
2015-08-24T00:00:00Z
Mindennel elégedettek voltunk. Tiszta, szép lakás. Közel van a sétálóutca és a PEN bejárata is extra közel volt. Plussz: Ott felejtettük mindketten a töltőnket és megoldották hogy vissza tudjunk menni érte annak ellenére hogy ők nem tartózkodtak a városban. Jól éreztük magunkat.
Enikő
2016-05-01T00:00:00Z
A lakás nagyon jól felszerelt, központi elhelyezkedésű, tiszta, az ágyak nagyon kényelmesek, igazán otthonos volt. A Király utca pár perc sétával elérhető. Zsolt pontos, korrekt, segítőkész házigazda, a lakásban is sok infó elérhető a városról. Szívesen ajánlom mindenkinek.
Agnes
2017-01-08T00:00:00Z
We had a great time in the Sweet Moments Apartment is Pecs. The communication was very easy and our check in went very well. The Lady welcoming us was very friendly and answered for all our question. The Apartment looks really lovely and it was very clean so it was a nice stay. We recommend it to everyone who is looking for a relaxed time in Pecs close to Zsolnay Center.
Orsolya
2016-05-13T00:00:00Z
Everything was fine. Zsolt is a great host and the apartement is cosy, well equipped and modern.
Peter
2017-01-15T00:00:00Z
ประเภทห้อง
บ้าน/อพาร์ทเมนท์ทั้งหลัง
---
ประเภทที่พัก
อพาร์ทเมนท์
---
พักได้
4
---
ห้องนอน
เปกส์, Baranya, ฮังการี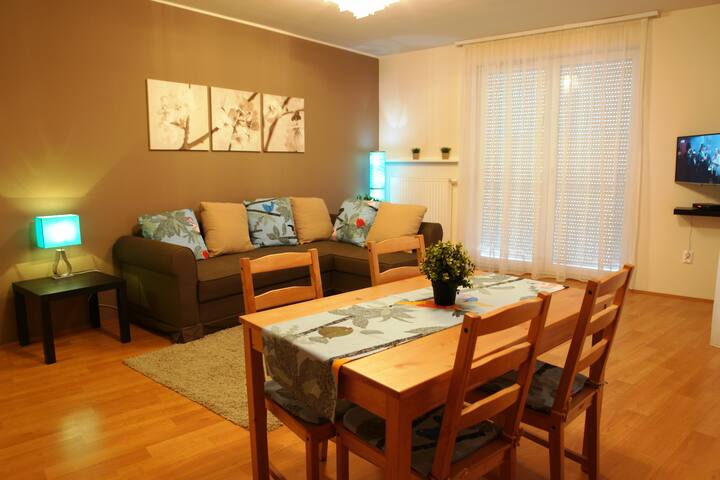 1

–

18

จาก

94 อพาร์ทเมนท์ให้เช่า
กรอกวันที่เพื่อดูการกำหนดราคาเต็ม มีค่าธรรมเนียมเพิ่มเติม อาจมีภาษีเพิ่ม